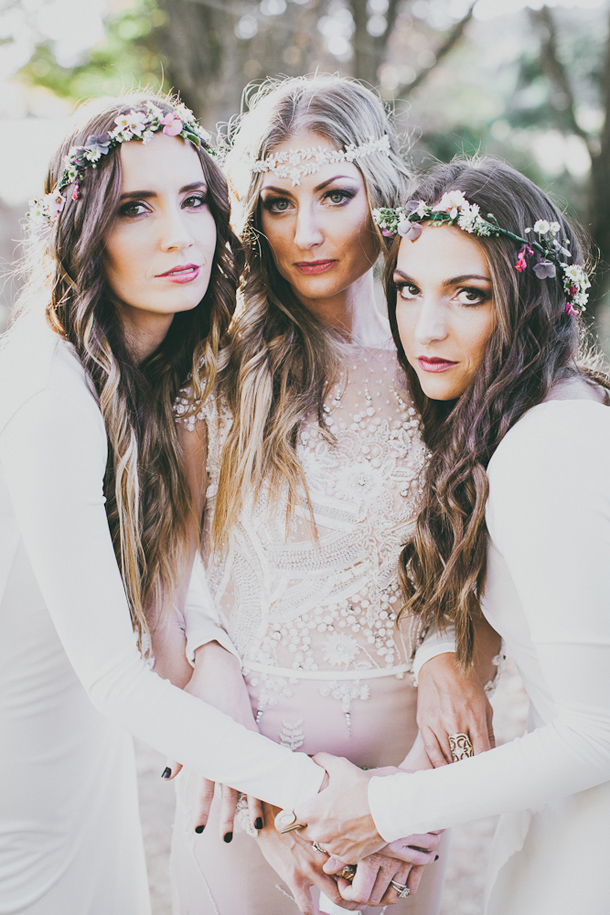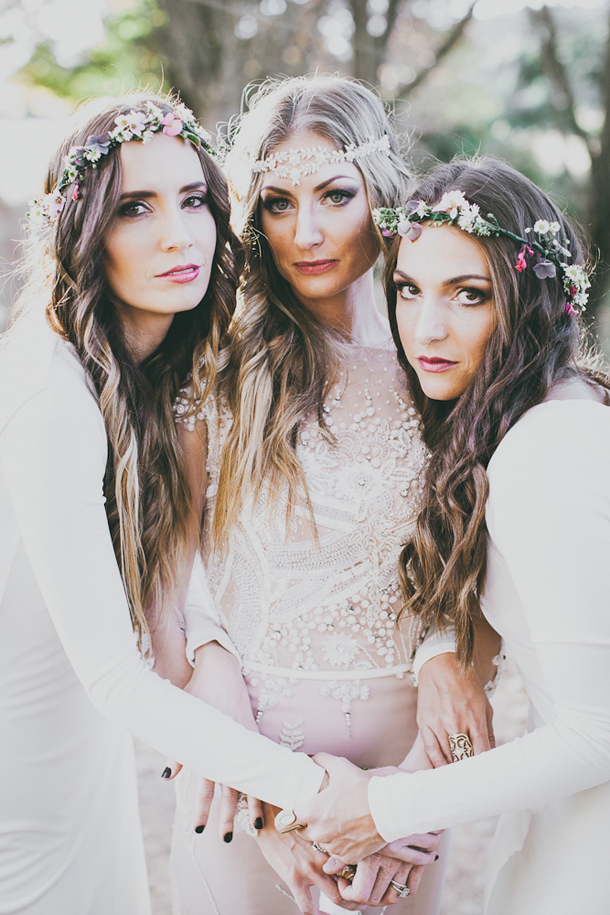 Hot damn, am I ever excited to share this wedding with you! The first time I saw it, I pretty much mailed photographer Fiona Clair straight away saying: "no seriously, that's a styled shoot, right?" And she laughed and reassured me that it was, in fact, a real wedding full of real (albeit ridiculously beautiful) people, and that the couple were awesome and head over heels in love, and the whole day was filled with the kind of feeling and joy that you just can't fake in a photo shoot. Look beyond the incredible wedding dress (OMG that dress!) and the fashion forward forest fairy bridesmaids and the ombre aisle and the forest fairytale decor, and you'll see that it's true. This is a wedding that's beautiful on both the inside and the outside – captured to perfection by Fiona's breathtaking pictures. A special huge thank you shout-out to the lovely Jean for finding time to answer our questions as a new mum – and congrats on your little one!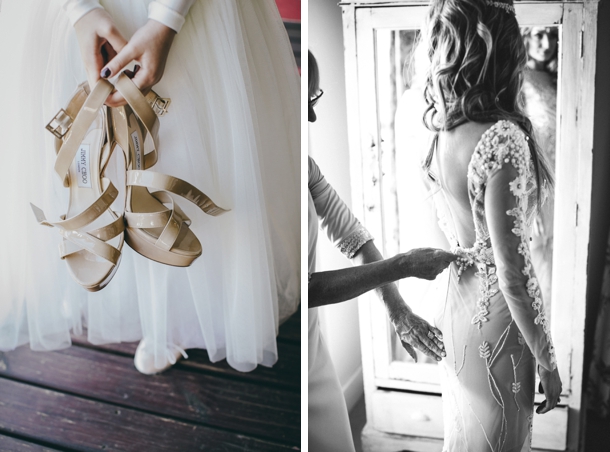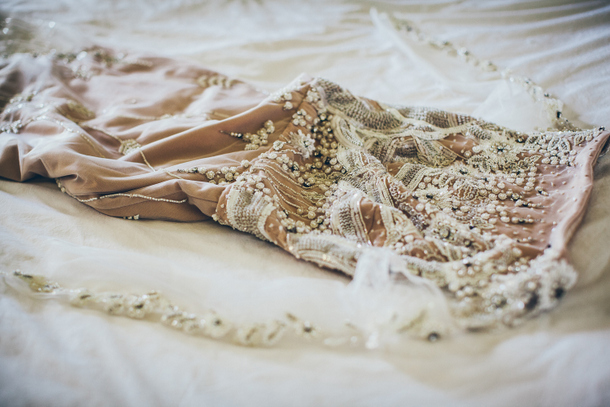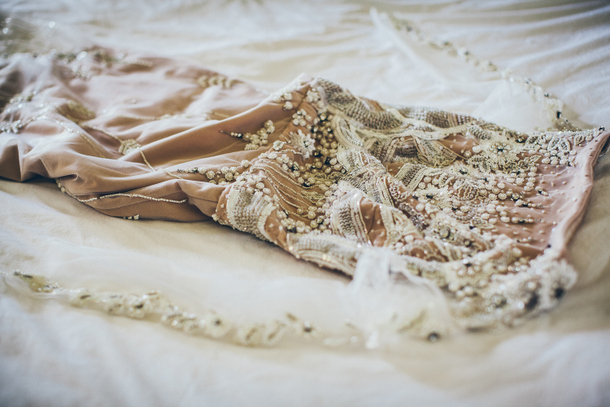 Love Story
We met at a Durban nightclub and became friends but it was twelve or so years later, on my birthday, on a twelve hour layover in Dubai airport that we reconnected. I was killing the time on Facebook and Brett popped up on my chat feed wishing me happy birthday. When I told him I was headed home from my travels abroad for a brief visit he suggested we meet for a drink and a catch up. A week later I was out for drinks with my girlfriends and invited Brett to join us… I clearly remember the surreal moment when he walked over to me at The Oyster Box; it was like time stood still and I just knew in that moment that he was the man I would marry! I realise this sounds like a crazy notion, especially as I was busy travelling the world and had no reason to feel such a strong attachment. Perhaps our souls connected on a deeper level, or perhaps it was just fate, but in that instant, I knew! We spent a just four days together! But in that time, we both fell head over heels for each other and it was as I was getting on the plane back to America that we decided to give long distance a try – the longest seven months of our lives! Thank God for the birth of Whatsapp and Skype! – but the distance meant we got to know each other so well as all we had was conversation, trust and the will to be together.
The Proposal
I dropped Brett off early birds at the airport as he was off for a day "business trip" to Joburg. When I collected him after work I had NO IDEA what he'd really been up to all day. We got home and the house was full of orchids and lit candles and he'd created a playlist of our special songs playing in the background. I was still so confused that he hadn't actually been in Joburg for the day – first I thought we had a stranger in the house! Then he told me he'd decided to do something special for me and surprise me with a romantic dinner – I never once suspected or even thought that he would propose! Probably because he does romantic spur of the moment gestures all the time. After dinner he had two sky lanterns ready with a love note that we tied together and let off from our balcony into the night… that's when I turned around to hug him and found him down on one knee :)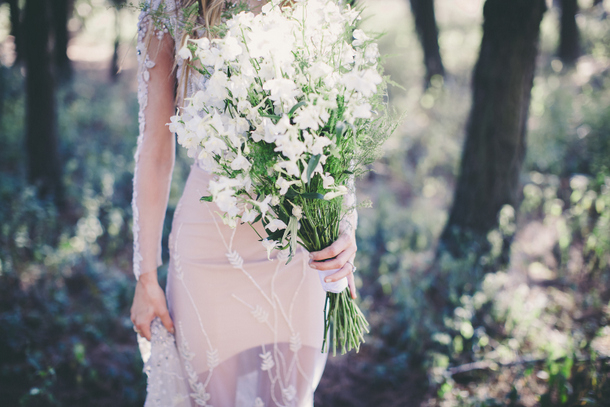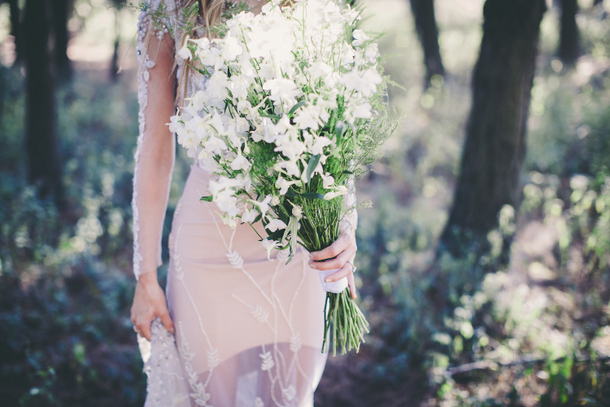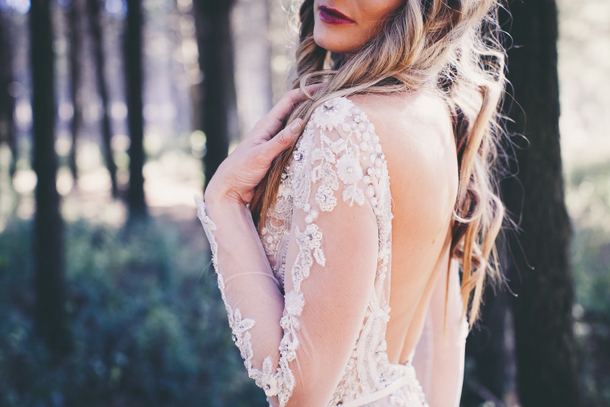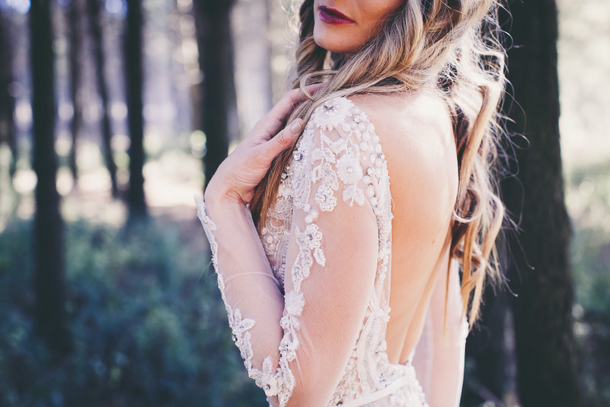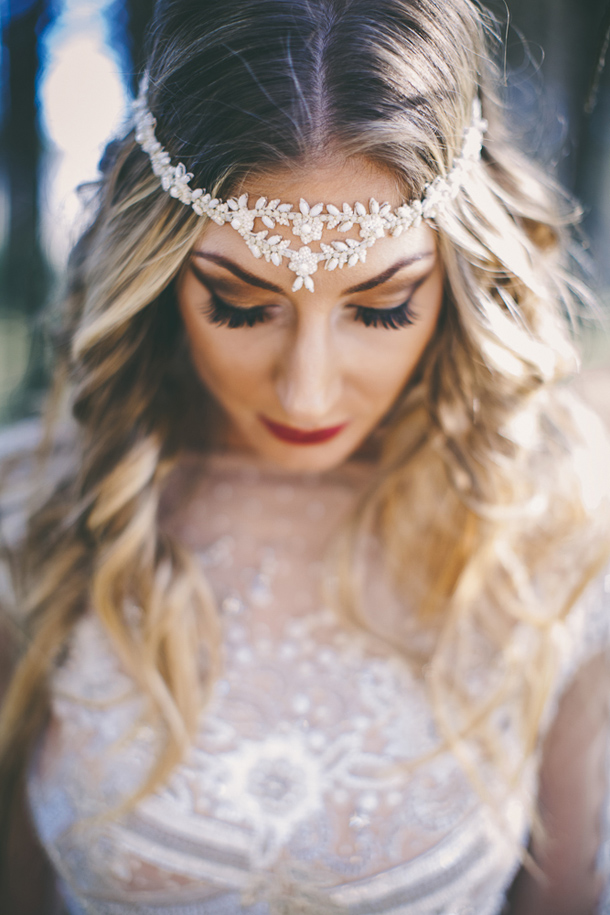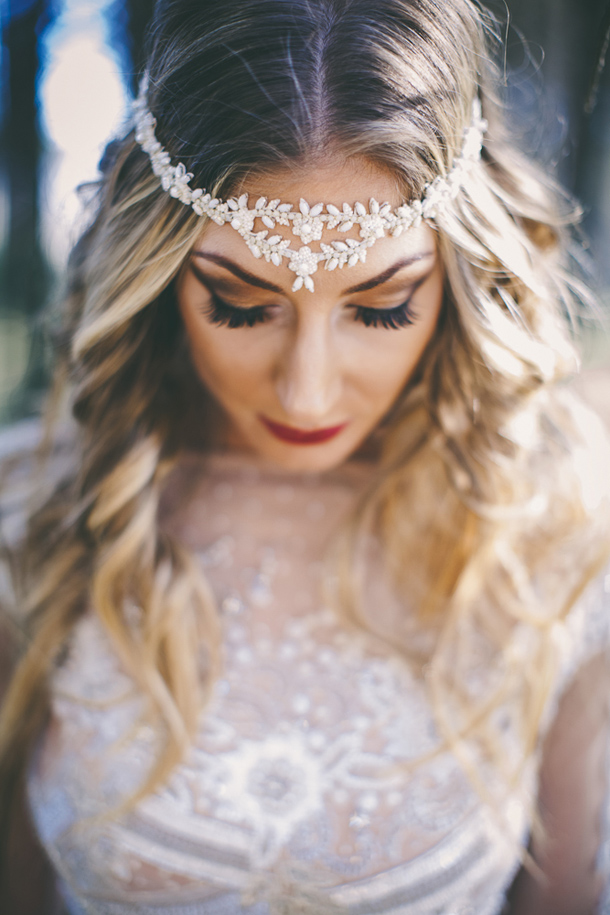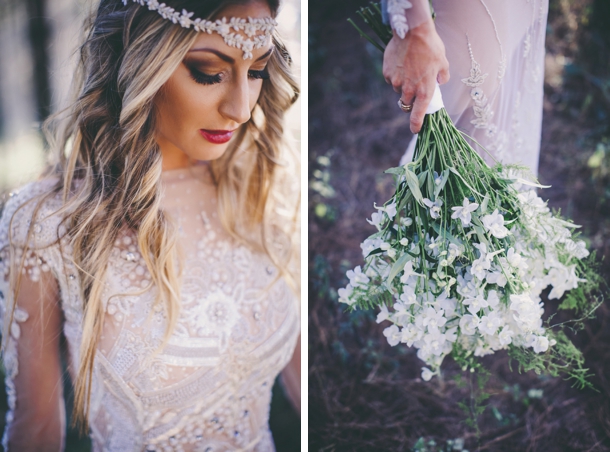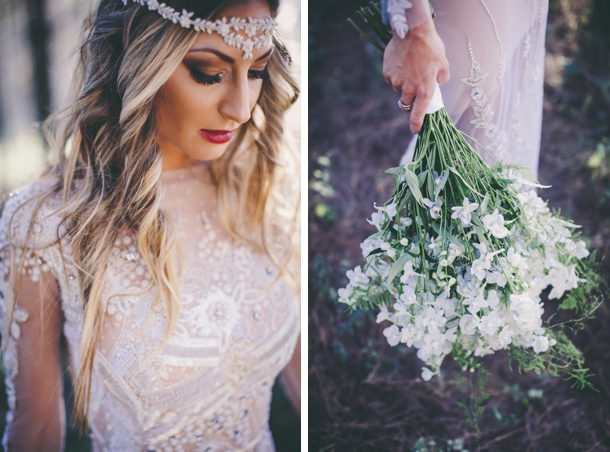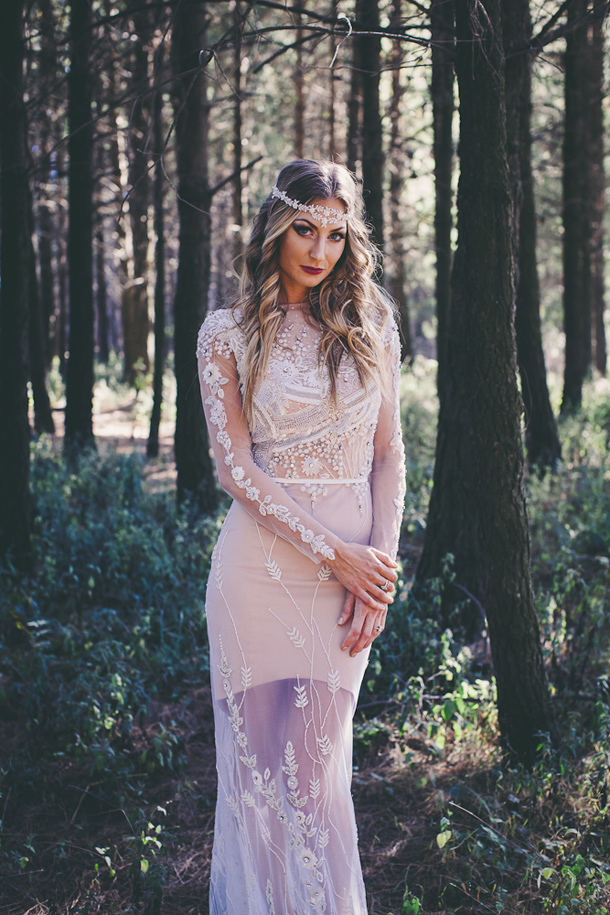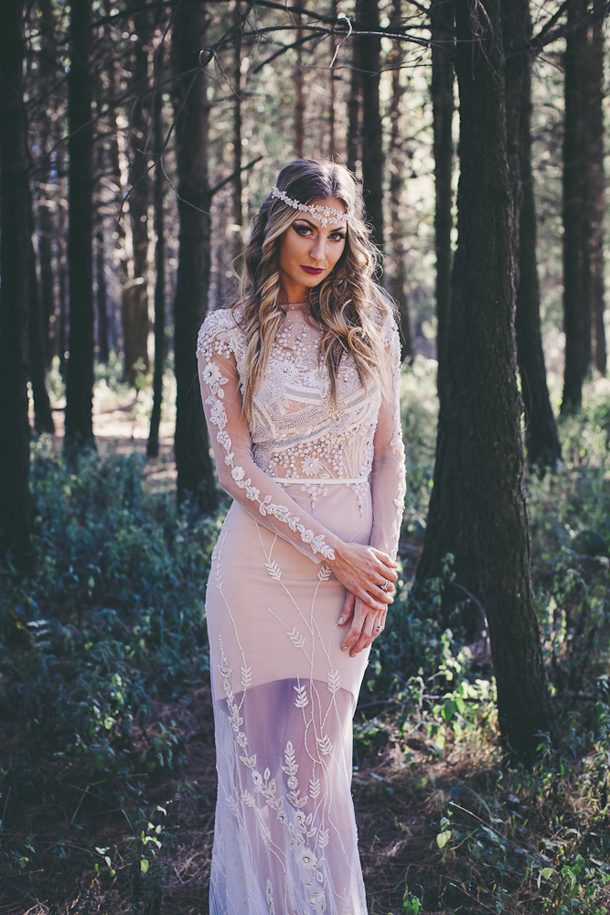 The Wedding in 3 Words
Intimate lovestruck forest-fantasy!
Wedding Style
I wanted an intimate, casually rustic wedding out in a forest. In my mind I wanted to be a bohemian bride surrounded by nature. I chose a vintage inspired colour palette of winter whites accented with old gold, earthy brown hues and deep plums.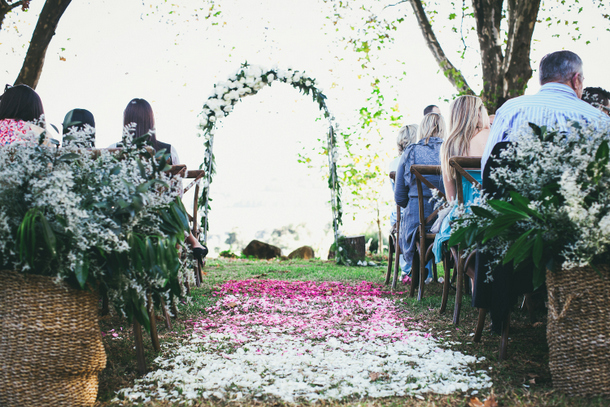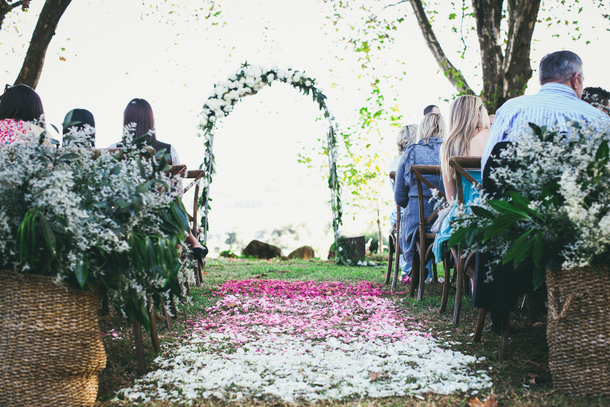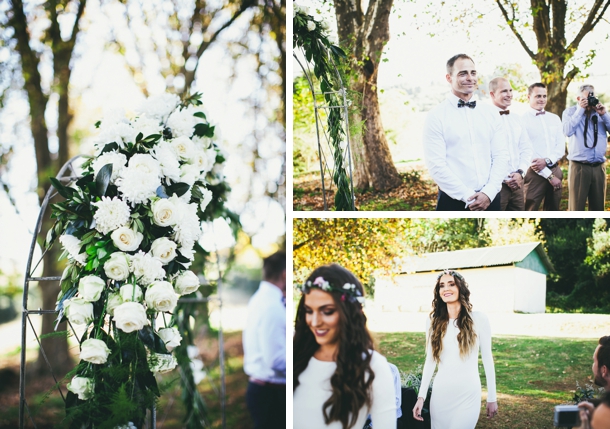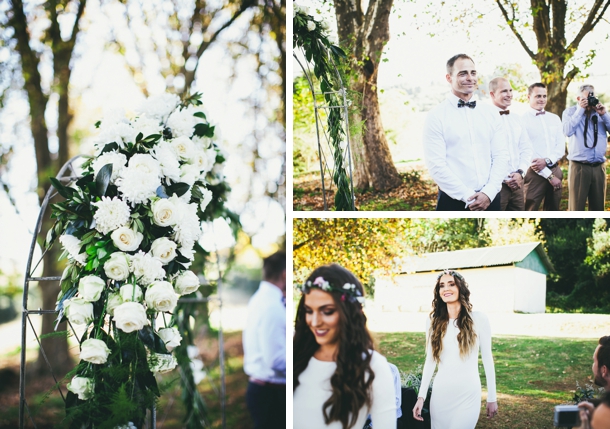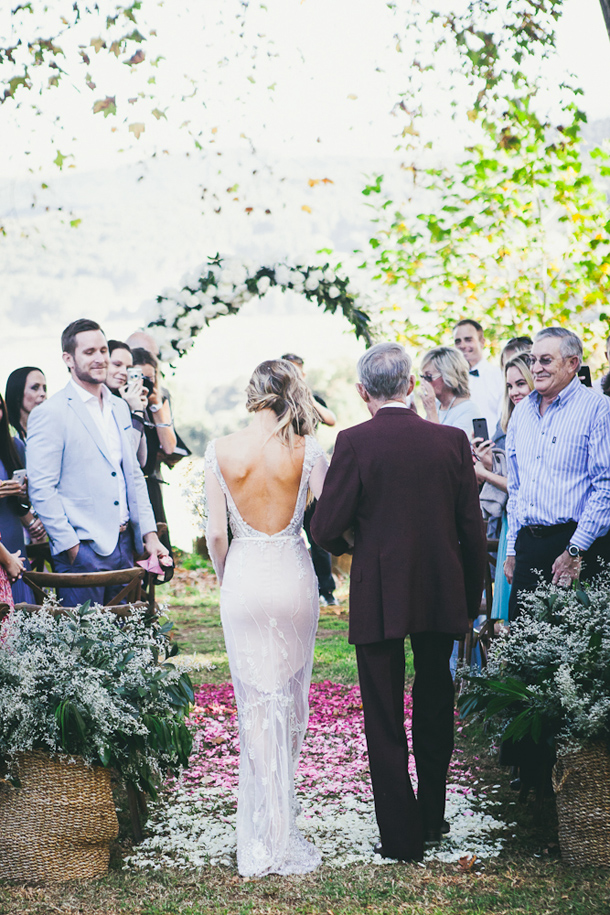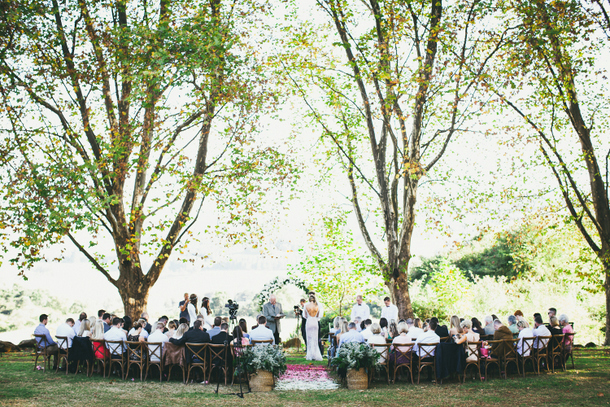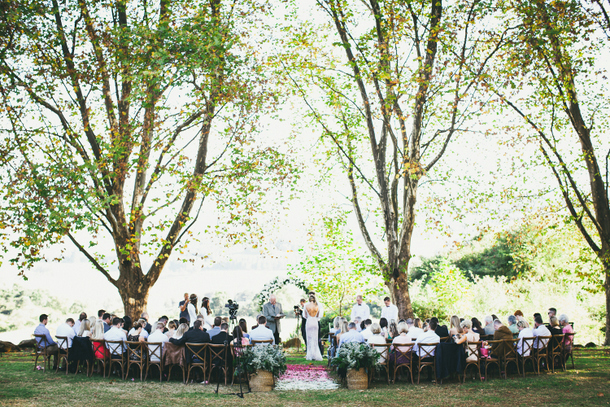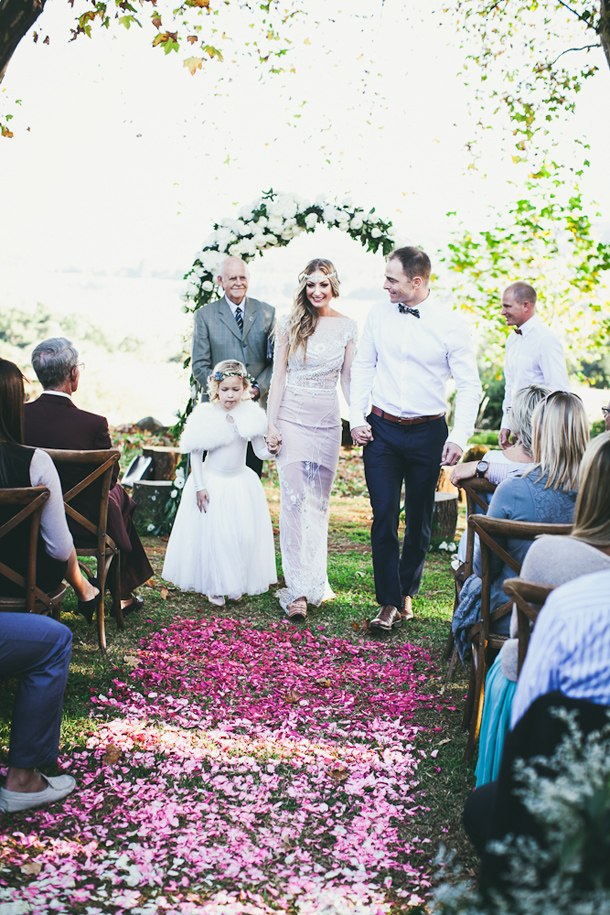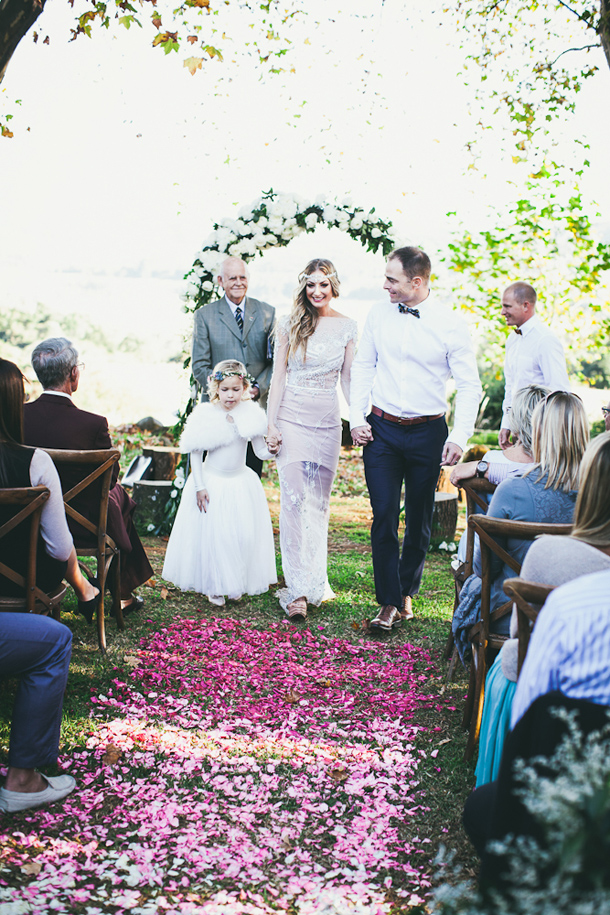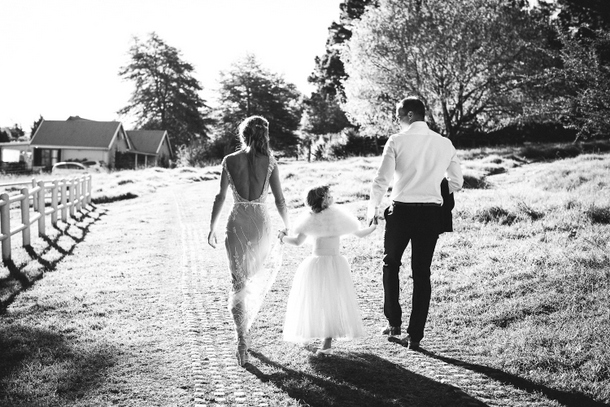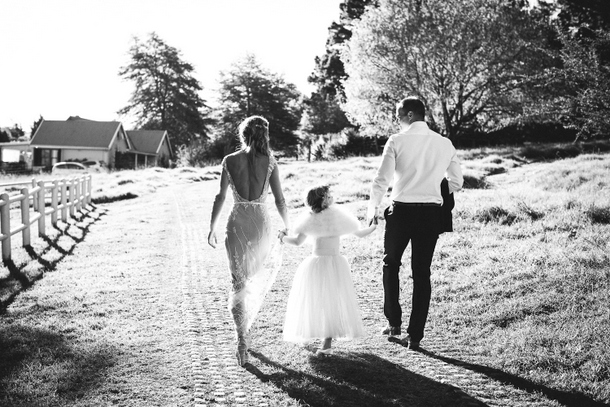 The Venue
The Glades was a very new wedding venue that had only had a handful of ceremonies there – perfect for us as we didn't want a 'commercialised' venue… it's a family farm surrounded by forest and the scenery is just breathtaking! I love its feeling of being away from the city; you are totally engulfed in nature here. You enter the grounds on a rustic farm road flanked by towering old oaks and arrive at an open field overlooking a 180 degree view of grazing horses and cows. We said our vows in this field under a canopy of old oak trees and had our reception in their barn which is fitted with a floor-to-ceiling glass window overlooking the forest. There are also two country cottages for family to stay in and a beautiful trout fishing damn on the farm. Brett actually caught our bridal breakfast that morning – fresh trout!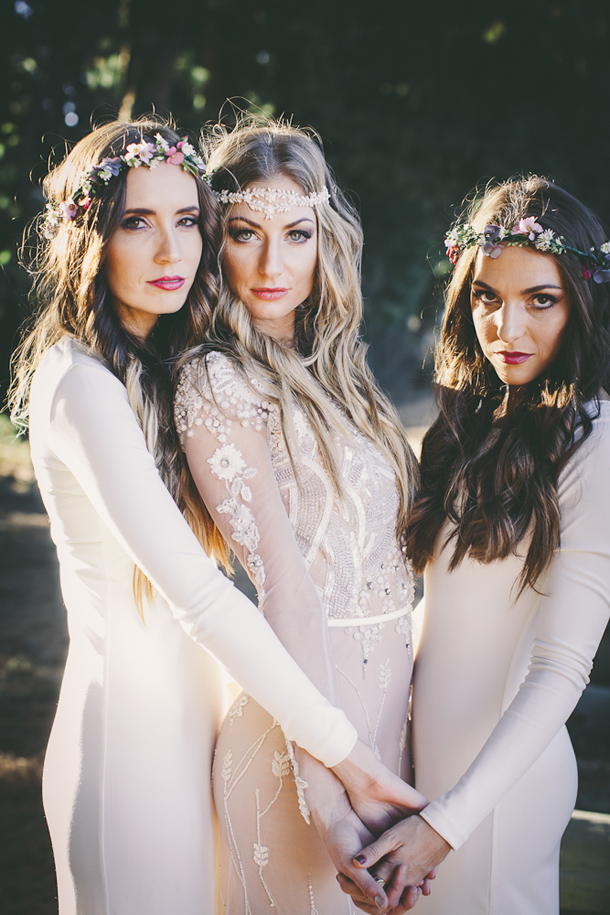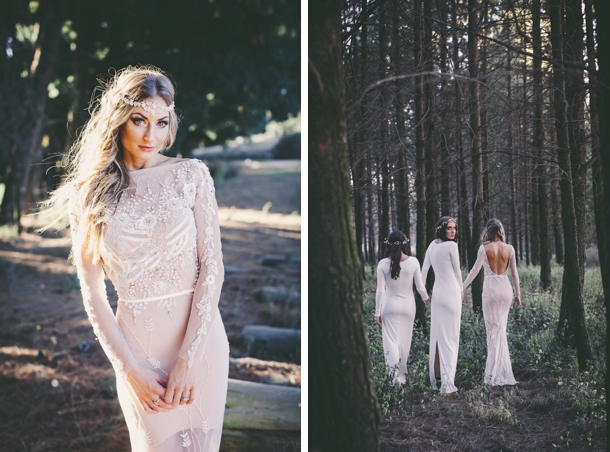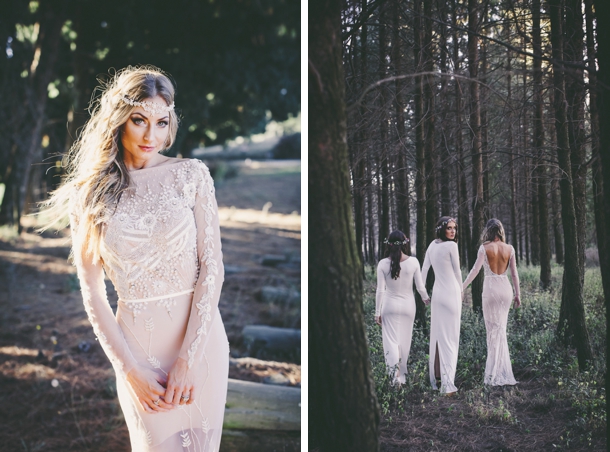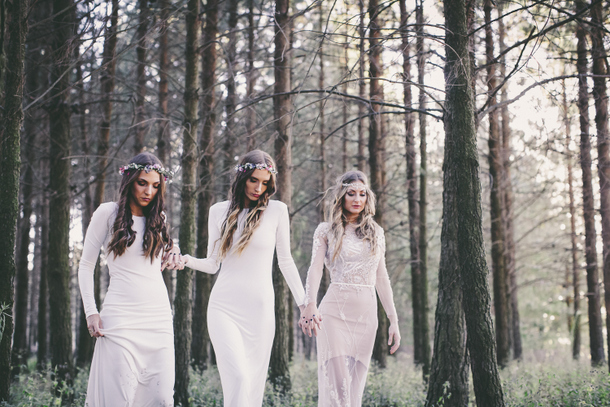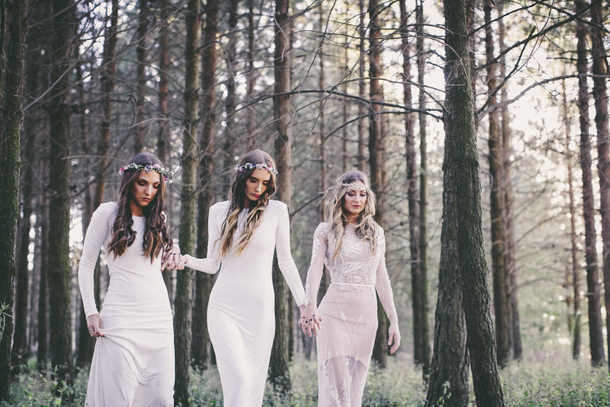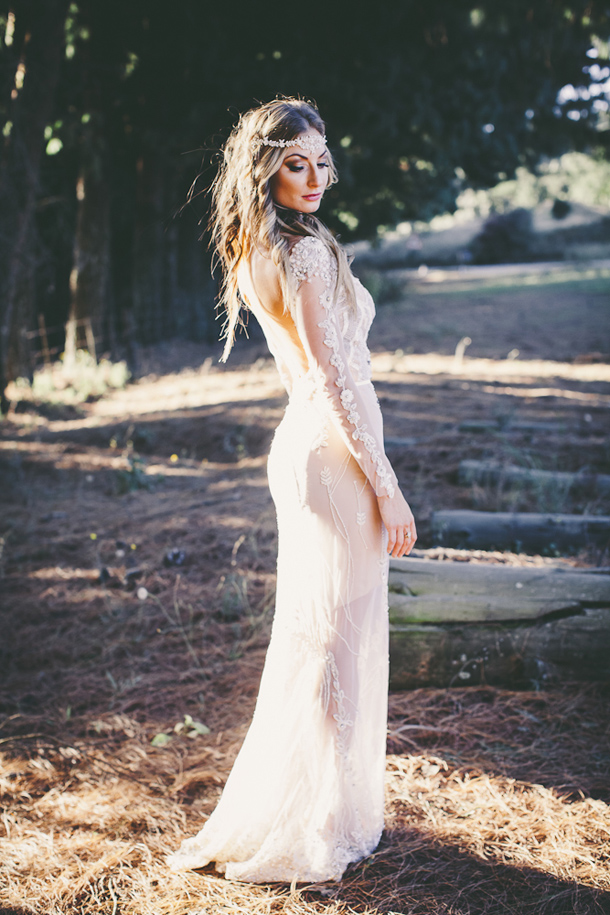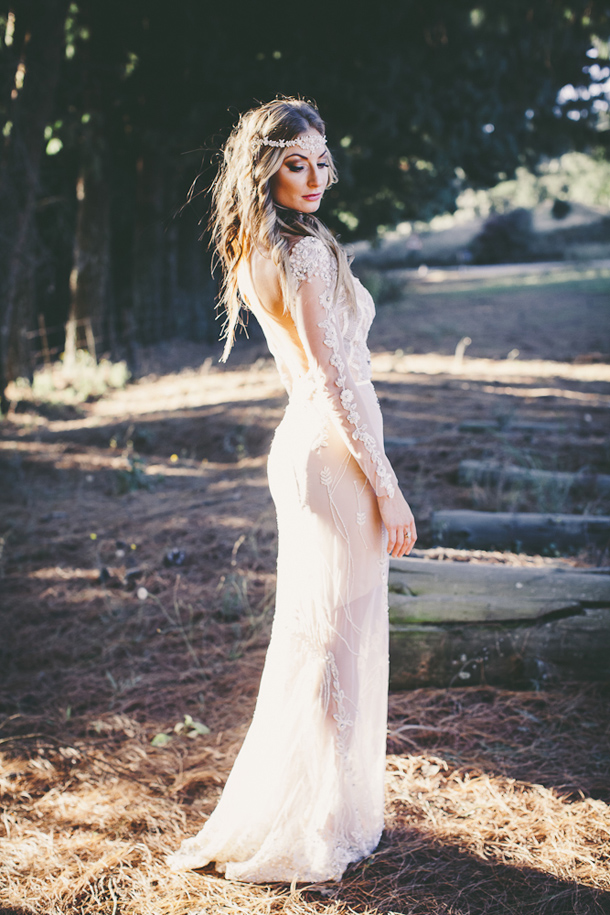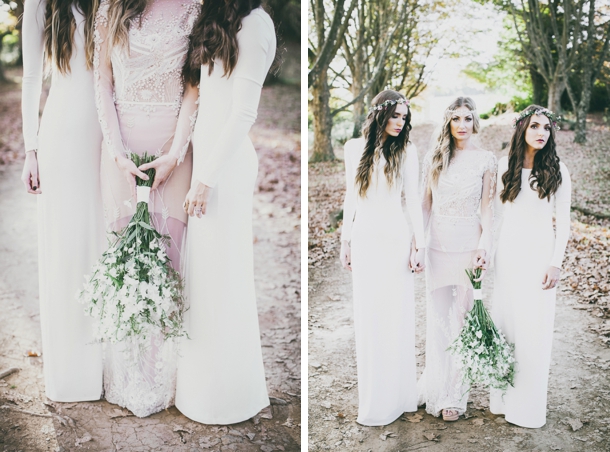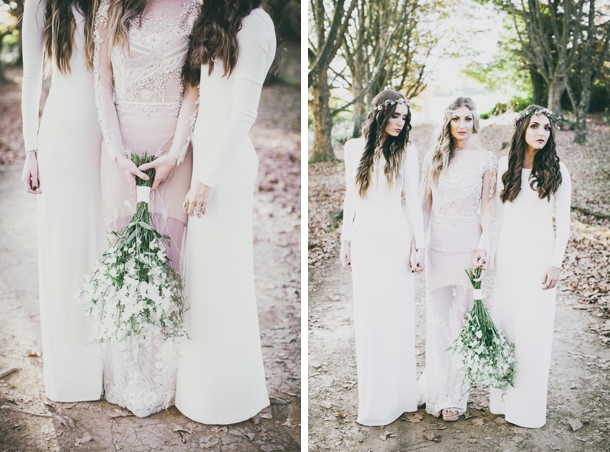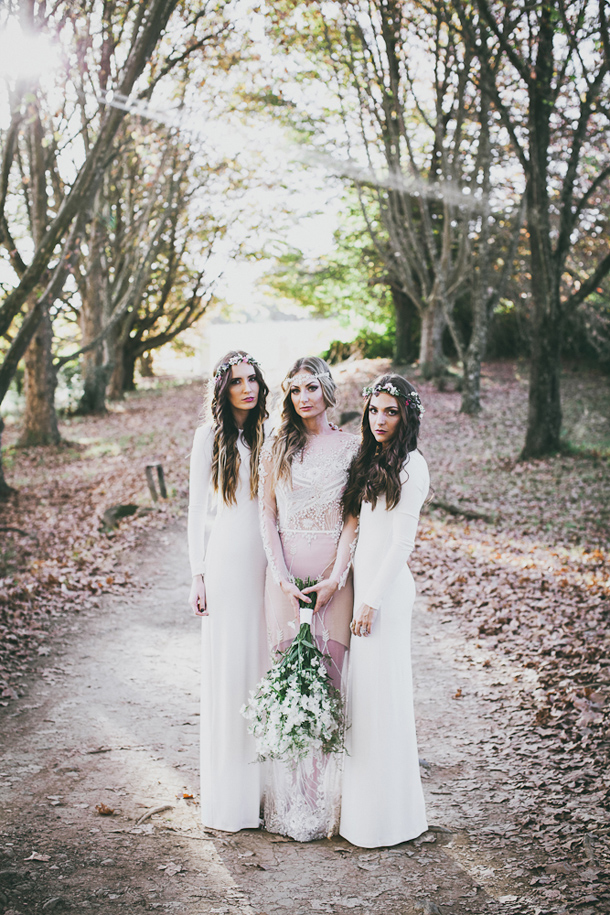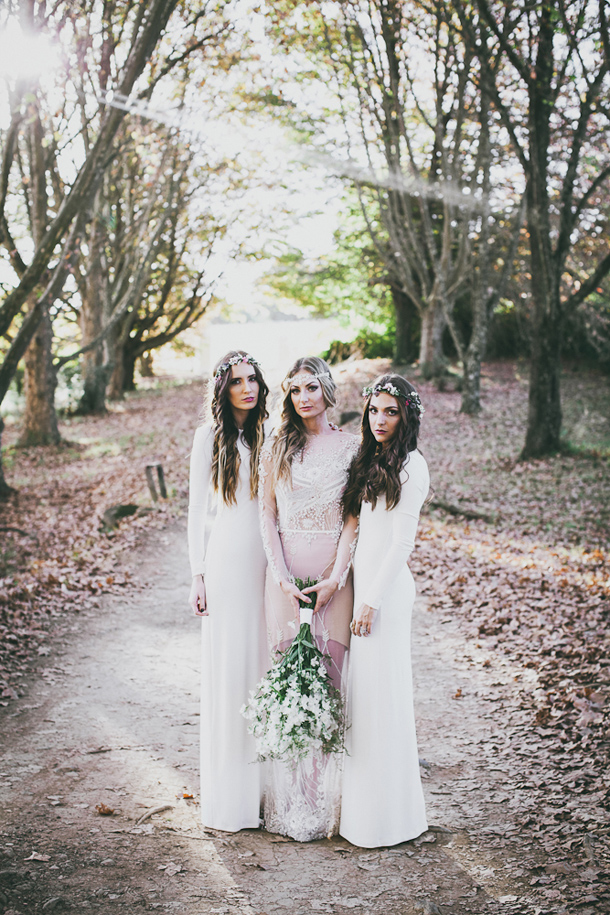 Wedding Details
Everything about our wedding was personal… We had a young muso do an acoustic version of our special song, Everlong (Foo Fighters), when I walked down the aisle and Brett had 'our' lines from this song tattooed on his arm. My dad walked me down the aisle wearing his wedding suit! I loved that! Above the fireplace we included pictures of our family, kind of bringing everyone together. We also had a pic of Brett's parents on their wedding day as well as mine. My mom passed away twelve years ago so we had all our guests light up sparklers in her memory at the beginning of the reception – this was such a special moment. The gold gilded glass bowl which Tia carried our rings down the aisle in was part of a 30th birthday gift from one of my best friends, my bridesmaid Sarah.
DIY Elements
So many! The bridesmaids had flower crowns which we added handpicked blooms from The Glades' garden; the fun cootie catchers for our order of service were hand folded by me and the bridesmaids, and the groomsmen gathered fallen oak leaves and scattered them on the barn floor for a rustic feel.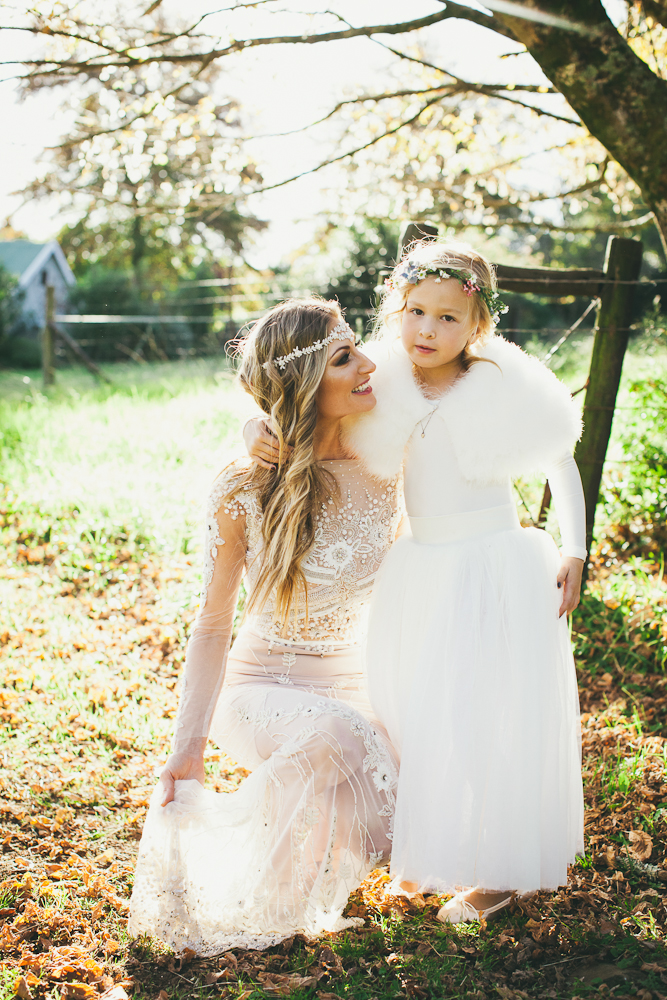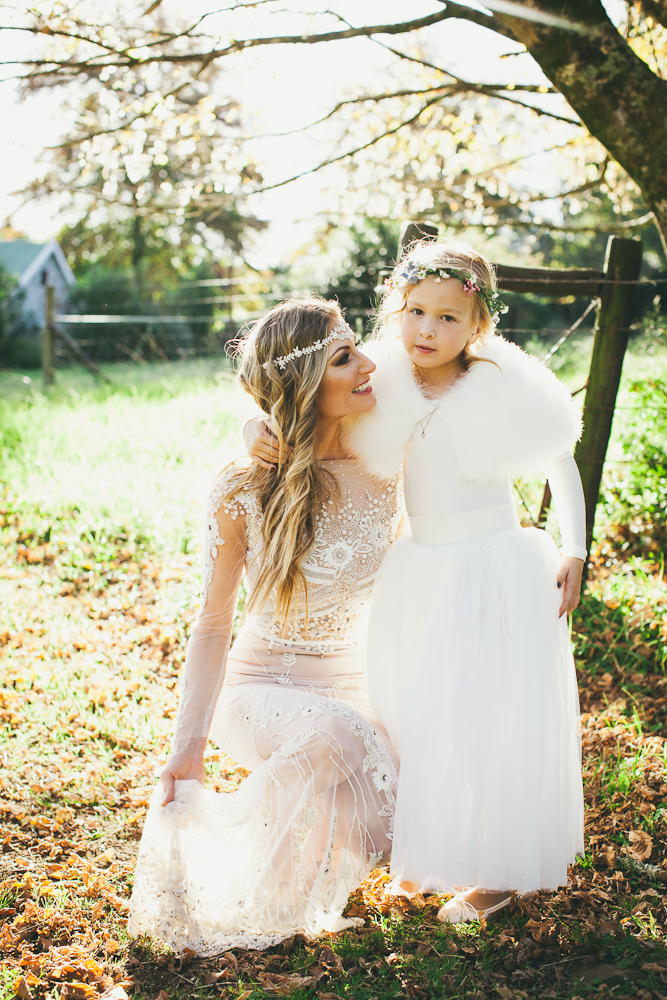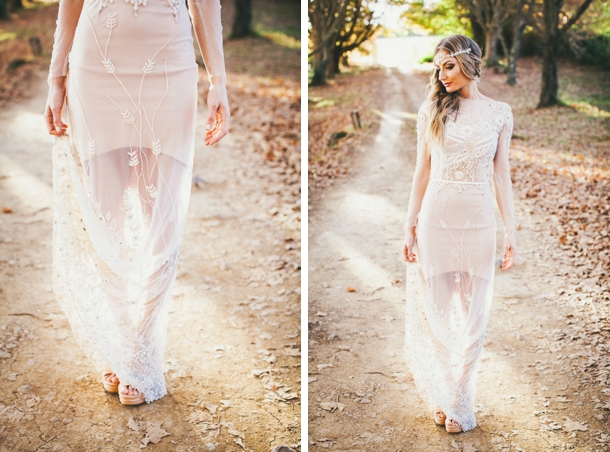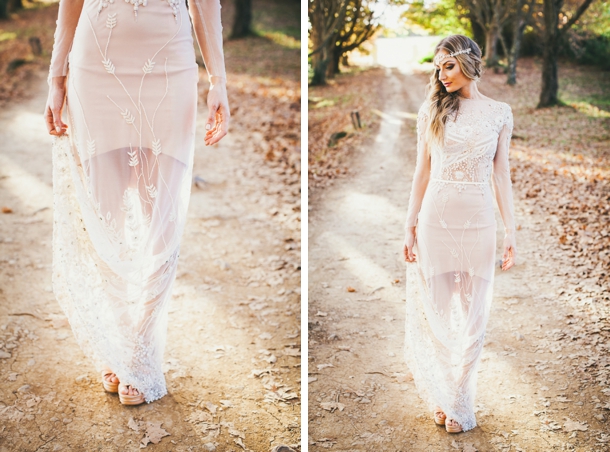 The Flowers
These were from Vanilla House. I went for a rustic 'freshly forest picked' look with a big bouquet of long stemmed winter white blooms and foliage. We said our vows under an arch of full-bloomed white roses and lush green foliage and had garlands of 'forest foliage' running down the centre of the dining tables interspersed with roses and hanging baskets of foliage… the flowers were just beautiful!
The Dress
I didn't want a gown off a rack; I wanted something very personal and unique but cost effective. I had my dress made by family friend, Hillary and it was just PERFECT! The detail in the dress was one of my favourite details of the day overall.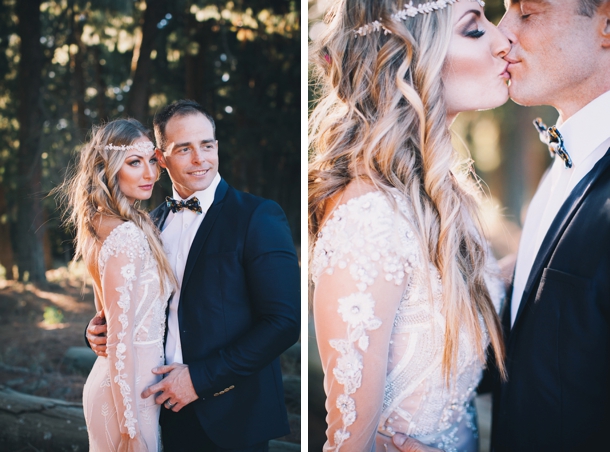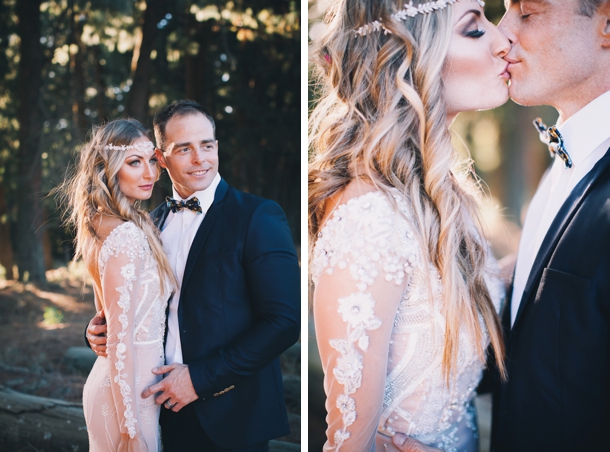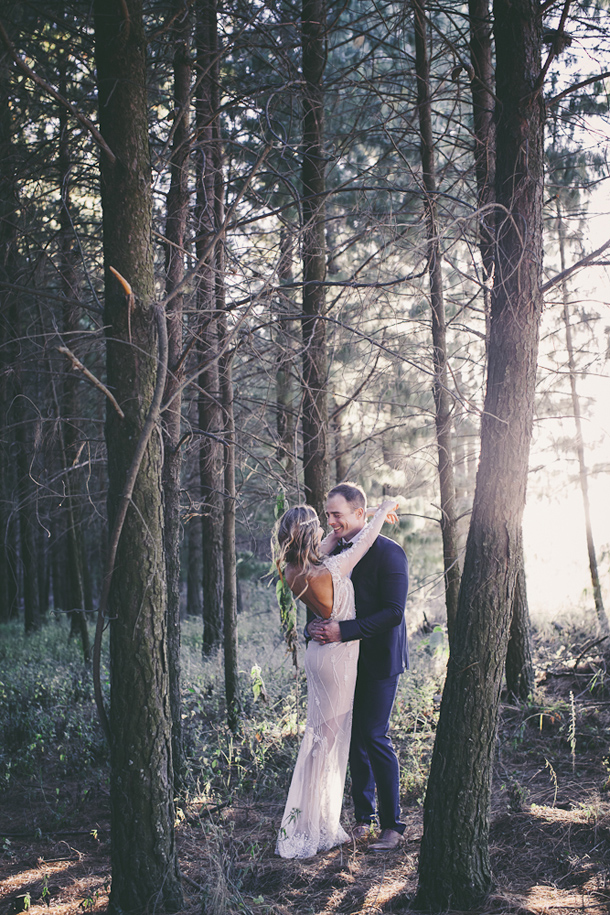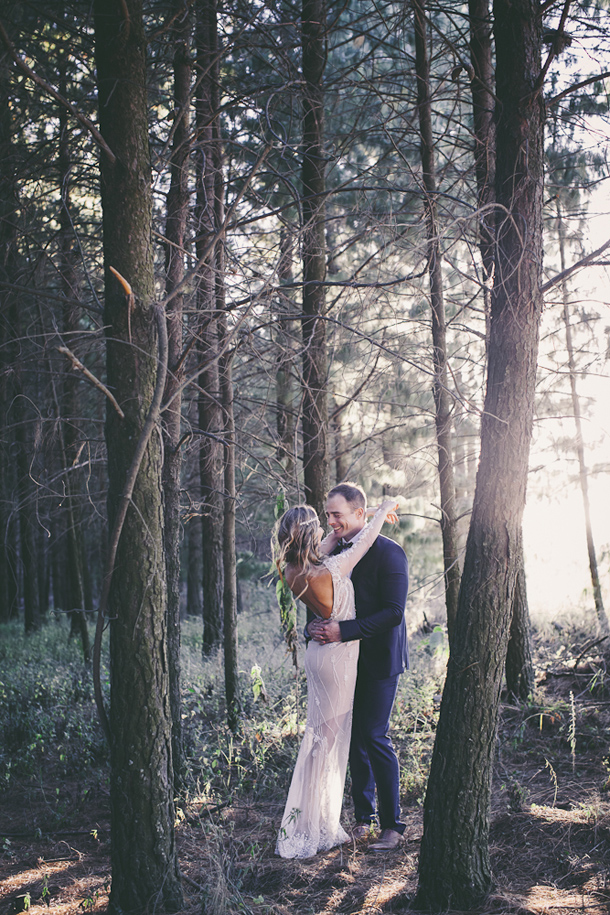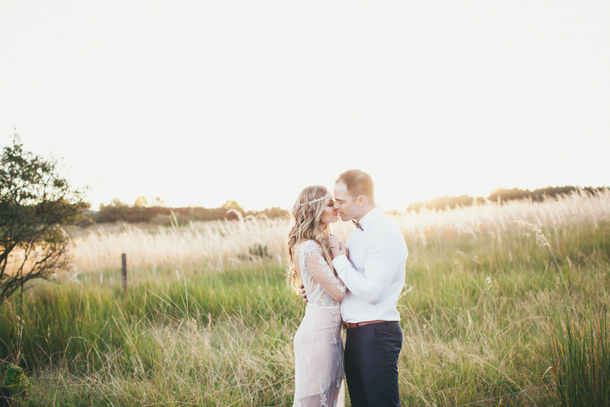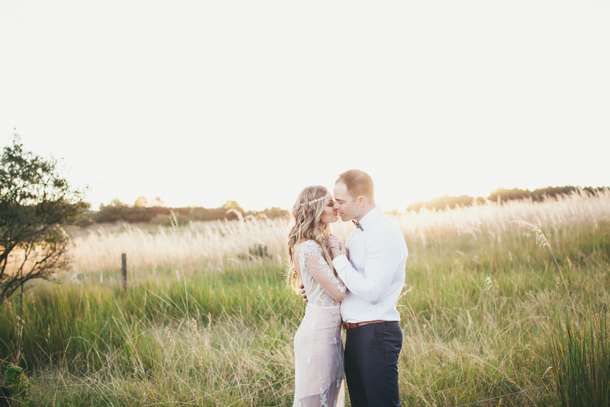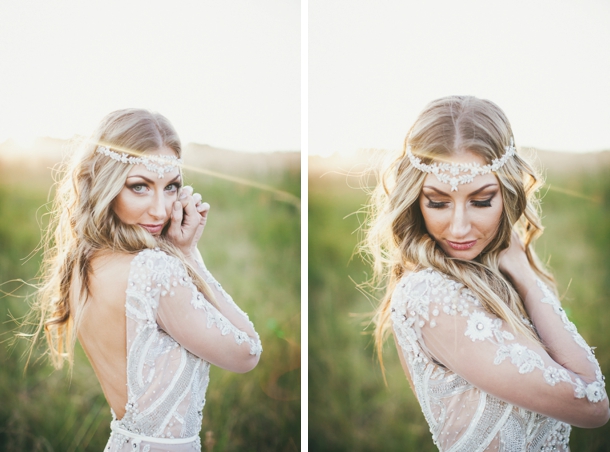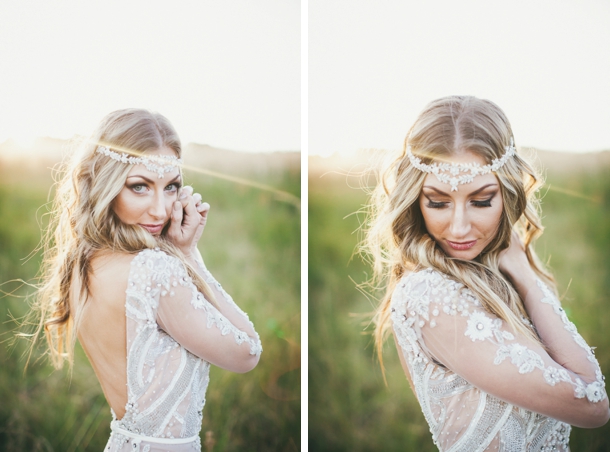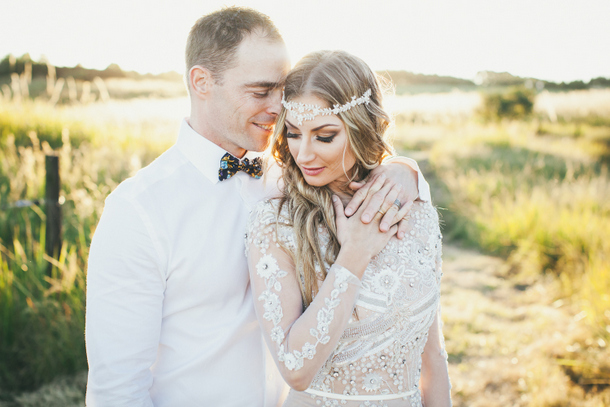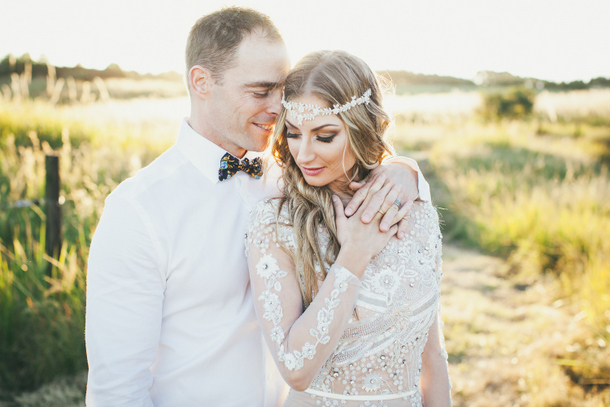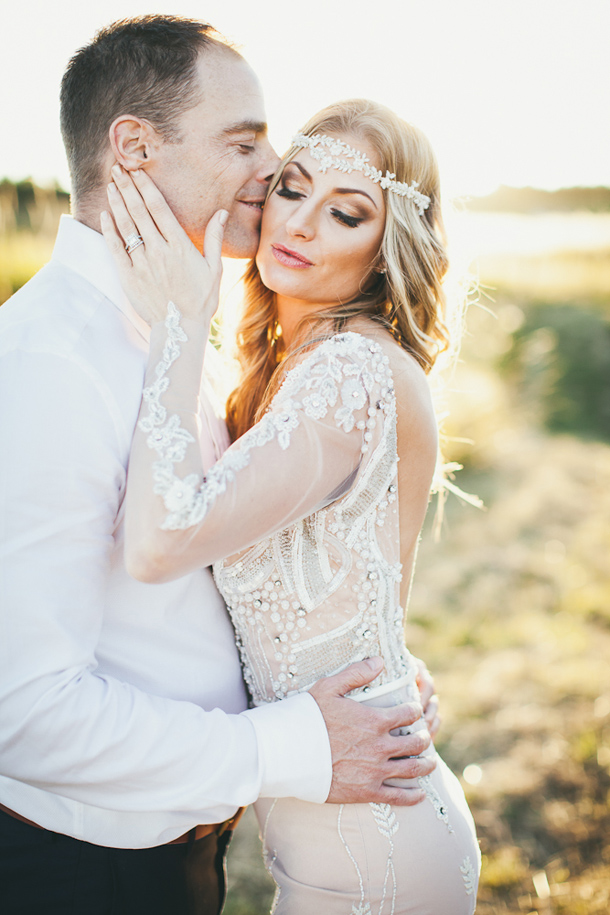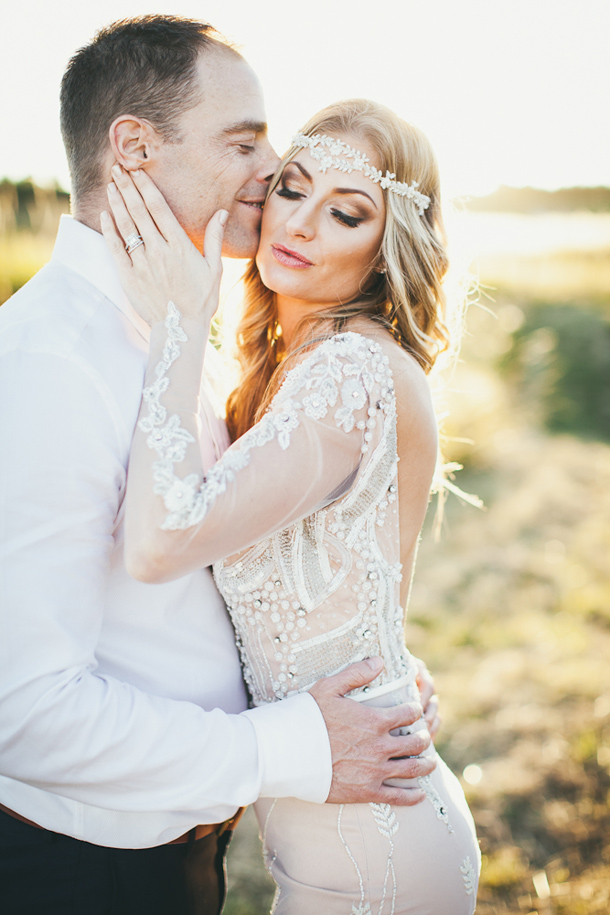 Memorable Moment
The most memorable moment was my hubby's speech – it was just incredible: so personal, so loving.
The Honeymoon
Zanzibar. We planned the trip together.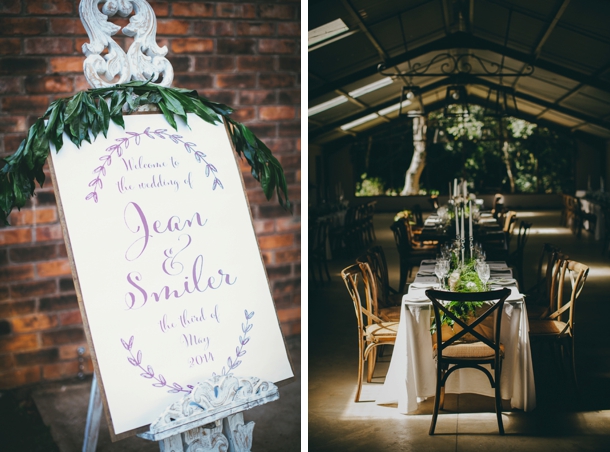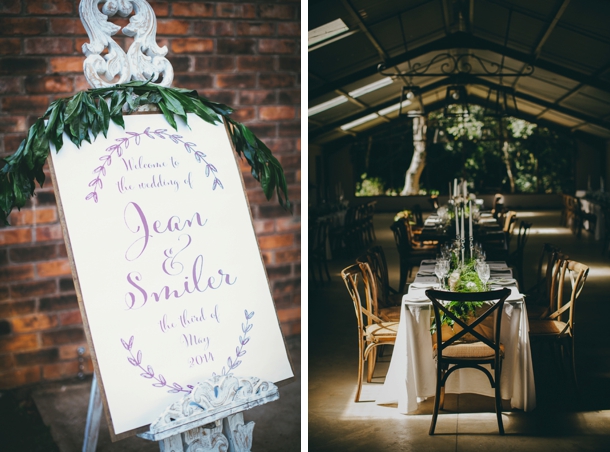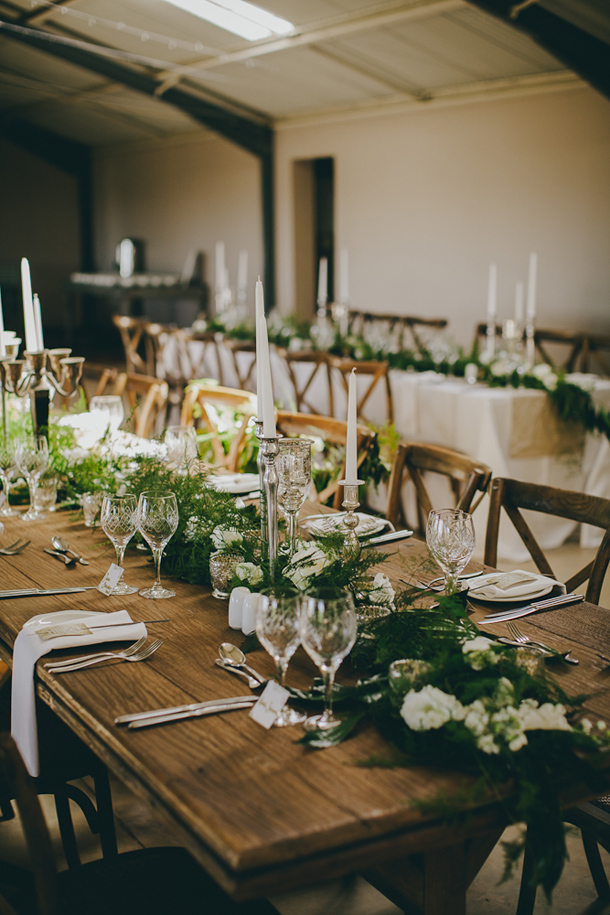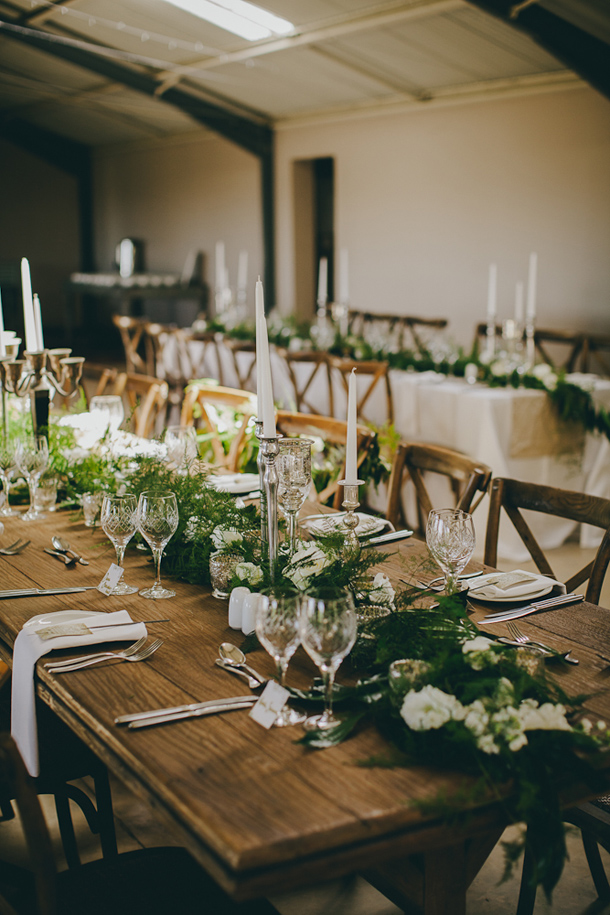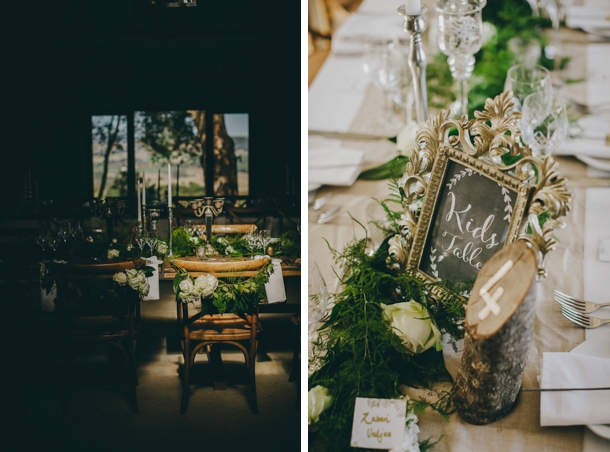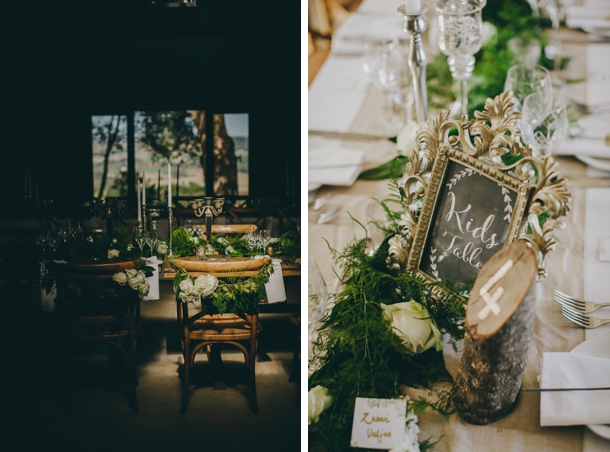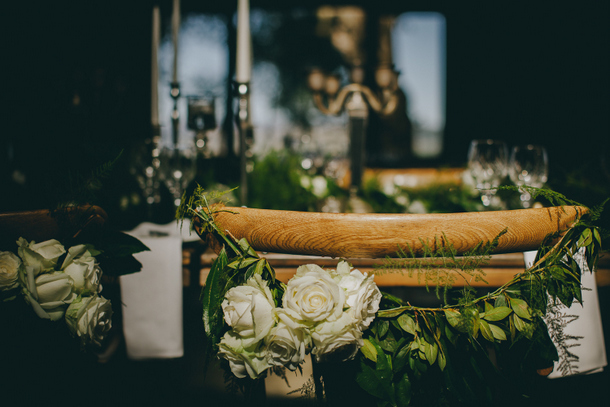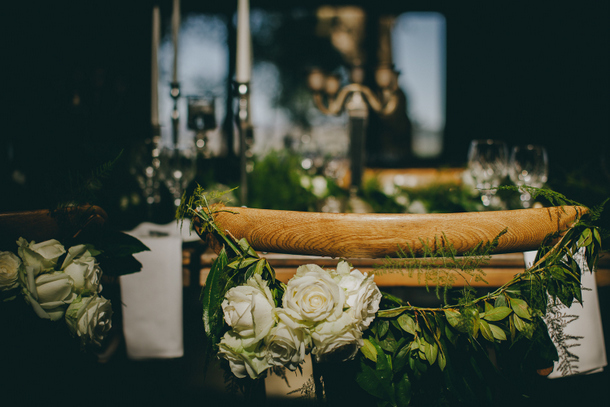 Advice for Future Brides & Grooms
Create a list of items in order of priority and then allocate your budget accordingly… you just will never ever be able to have everything you want so allocate wisely.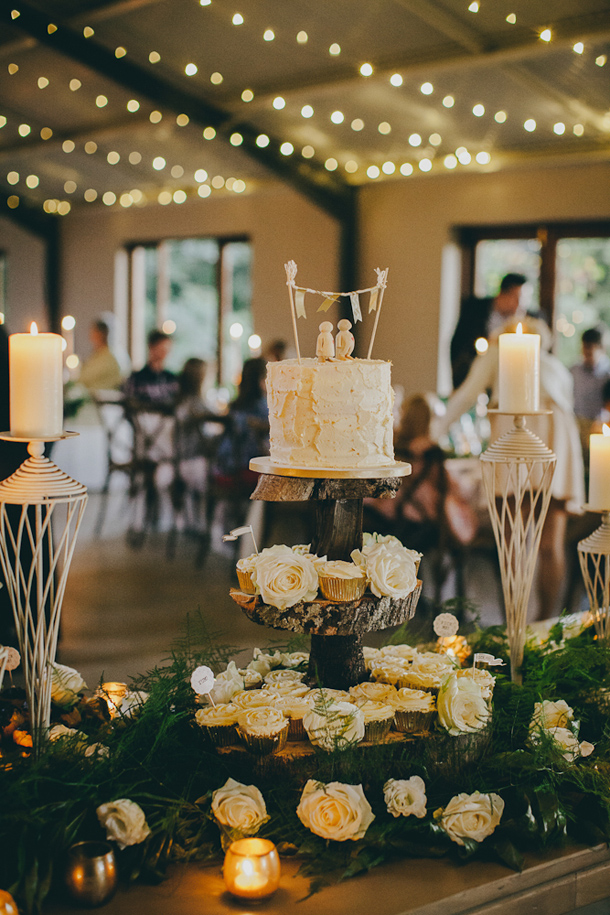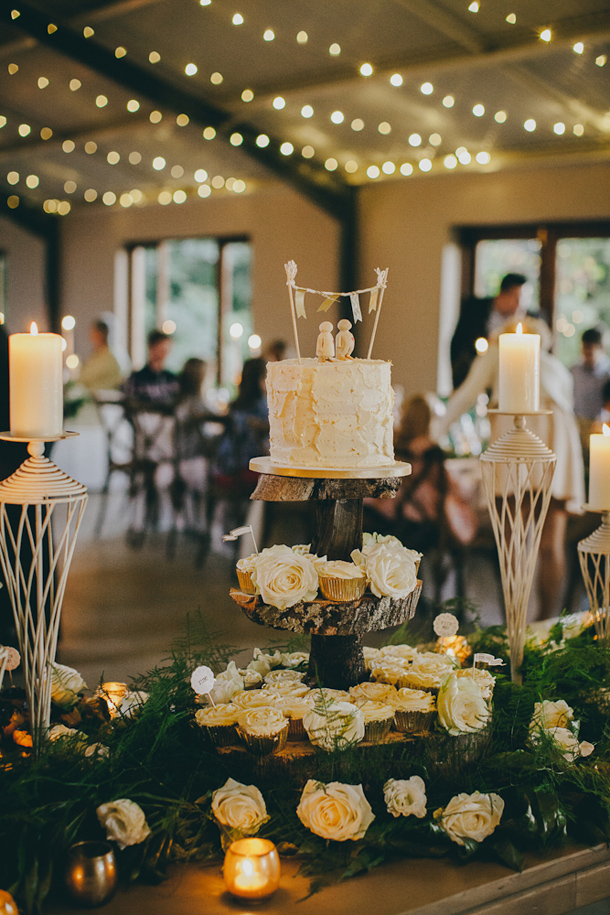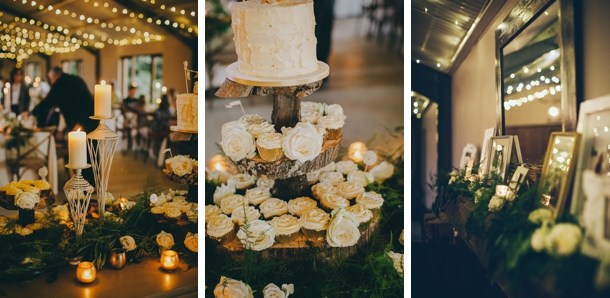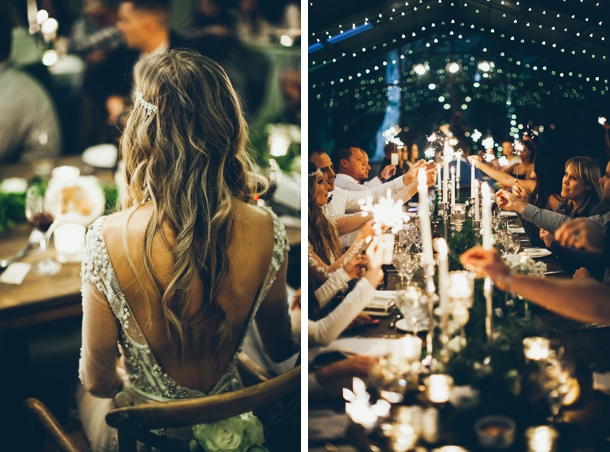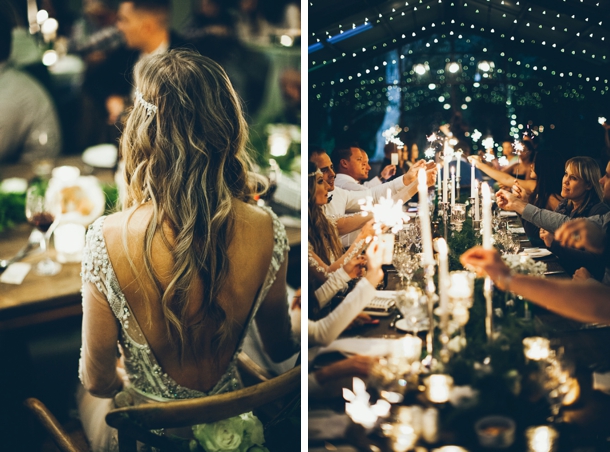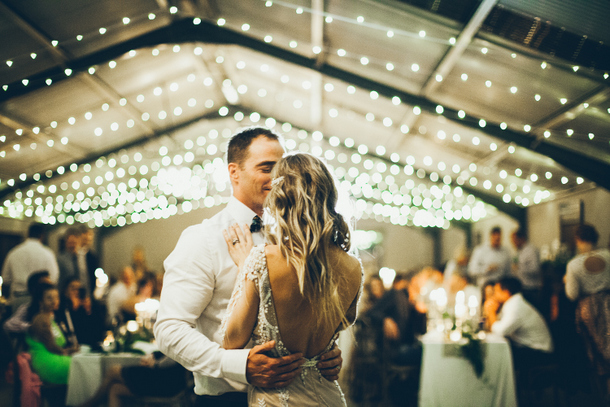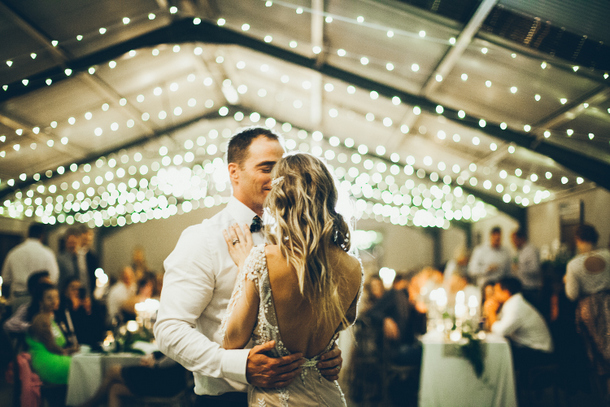 You can see more from this wedding on Fiona Clair's blog.
SERVICE PROVIDERS
Venue: The Glades Farm | Catering: CHC Catering | Photography: Fiona Clair Photography | Co-ordinator: Gaby of The Glades | Videographer: James Gibbs | Flowers & décor: Vanilla House | Evites & wedding app: Appy Couple | Bride's dress: Hilary Murray | Hair: Leigh Pearson | Makeup: Camilla Smith | DJ: Jason Elkington (082 488 6247)