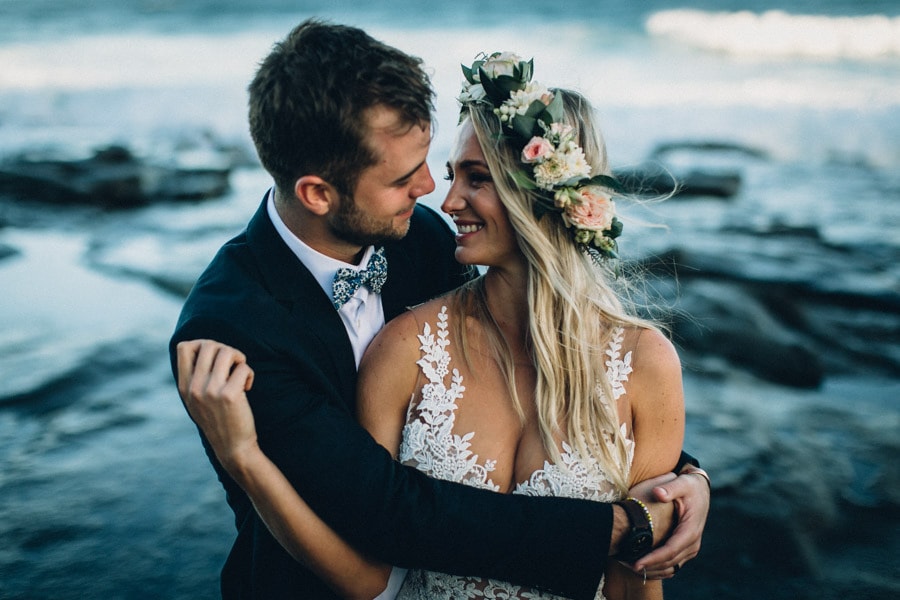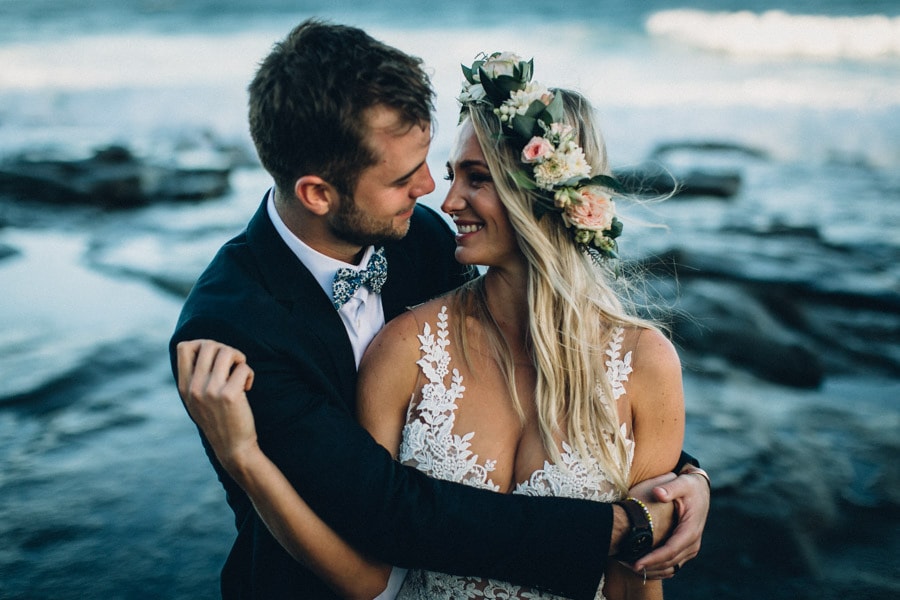 A couple of years ago, for my mama's birthday, we decided to have a day of girly spa fun. We stumbled across the perfect place, which is how I came to find Canelands Beach Club in Salt Rock for the first time. And not only was it an awesome spot for some mother daughter lunching and a massage, but I kept thinking that the patio looking out over the ocean with its beautiful infinity pool and simple, elegant furnishings, was a perfect spot for an intimate wedding reception. Well, I was right. Tanya and Mike, our fab couple today, turned that same thought into a reality themselves, with the most gorgeous reception right on the sands. And for good measure, they added a bunch of seriously adorable DIY and handmade details that really expressed who they are as a couple, from the ceramic skull favours (to remind their friends and family to give life horns – how cute is that?) to the custom beach bar and champagne station. And let's not forget one of Tanya's smartest ideas of all – her bridesmaids' 'bouquet's, which doubled up as floral crowns! This whole wedding is beach boho joy and loveliness from beginning to end, and I'm so thrilled to be sharing Andy & Szerdi Photography's images with you today!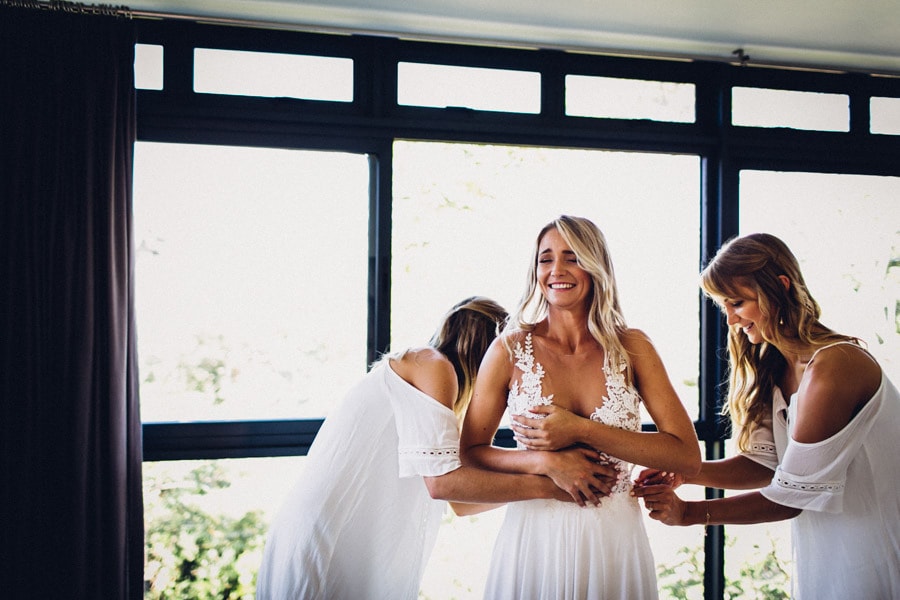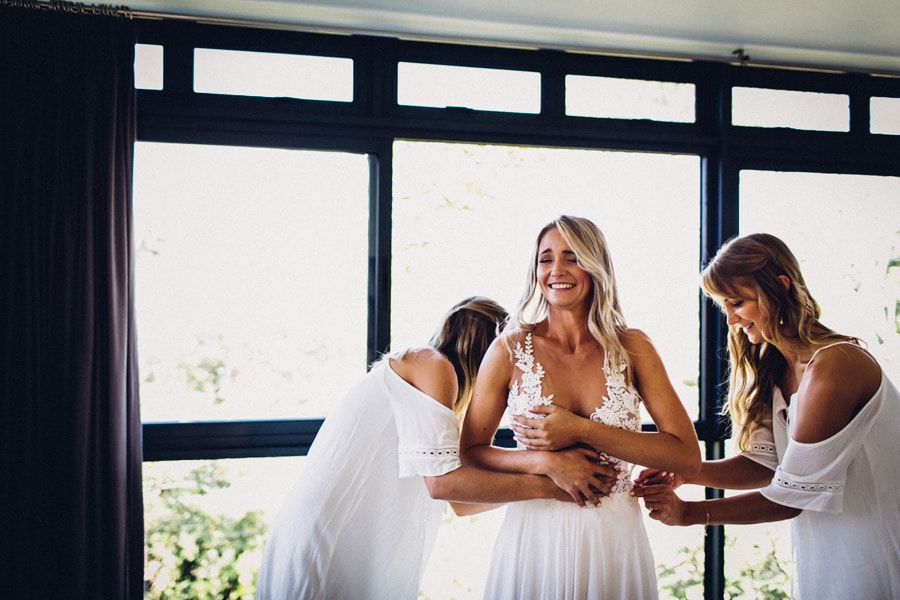 Love Story
Mike and I first met in Grade 1 as we were in the same class at Boskop Primary school in Honeydew. It wasn't until Grade 7 that things got serious, but not for too long! He asked me to be his girlfriend on the school playground and I managed to shyly mumble a 'yes', we held hands and hugged for all of about two weeks and then we 'broke up' but remained buddies into high school. Mike and I began to grow a little closer than just buddies and in Grade 11, we gave it another go! But this time it was serious. We dated and were inseparable for four years until I decided that I needed some time alone and therefore packed my bags and moved to Durban with my horses. The time away from Mike didn't last long and after a year and a half, I moved back to Johannesburg, and with my tail between my legs, I was after Mike again. We met for lunch that November and the rest as they say, is history! He is my best friend and I couldn't have asked for a better life-partner!
The Proposal
Our tenth year anniversary was around the corner and I was aware that Mike was taking me away for the event. All my friends were giddy about this and were putting money on the fact that he was going to propose to me that weekend. The thought did cross my mind, but because he was so cool, calm and collected the whole way there, I convinced myself that this wasn't the weekend and I was happy with that as he knows how I don't like 'predictability'! We arrived at Thanda Private Game Reserve on the Friday afternoon and had a good game drive, some chill time and then walked up to the boma area where a very romantic table for two was set up for us. For a moment I thought: "flip, he might propose, eeeeeek!" Dinner was served, dessert was served and we even got to the coffee ordering, but no proposal and by now I had made peace with the idea that this was just an anniversary getaway and not a proposal. A 4am wake up call on Saturday morning had us up and ready for another game drive, followed by breakfast and some more chill time in our luxury tent. We had had a shower and were relaxing on the bed when I decided to give him an anniversary gift (a watch). After trying it on and thanking me for it, he went to put it in the cupboard for safe-keeping. I rolled over, satisfied that he liked the gift, and had picked up my phone when he said "I also got you a gift." I rolled over to see him on his knee and with a little black box. The MOST incredible gift inside – my custom-made yellow diamond ring!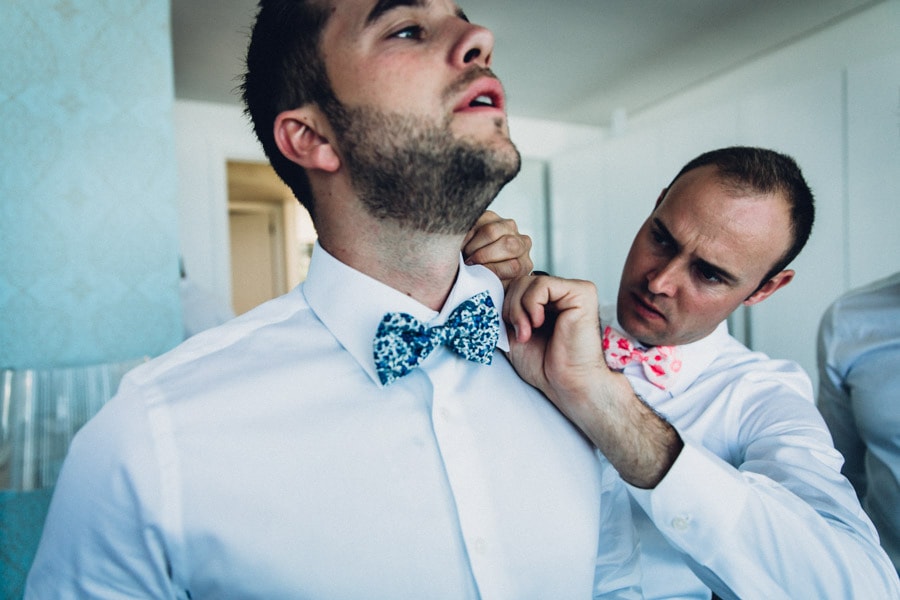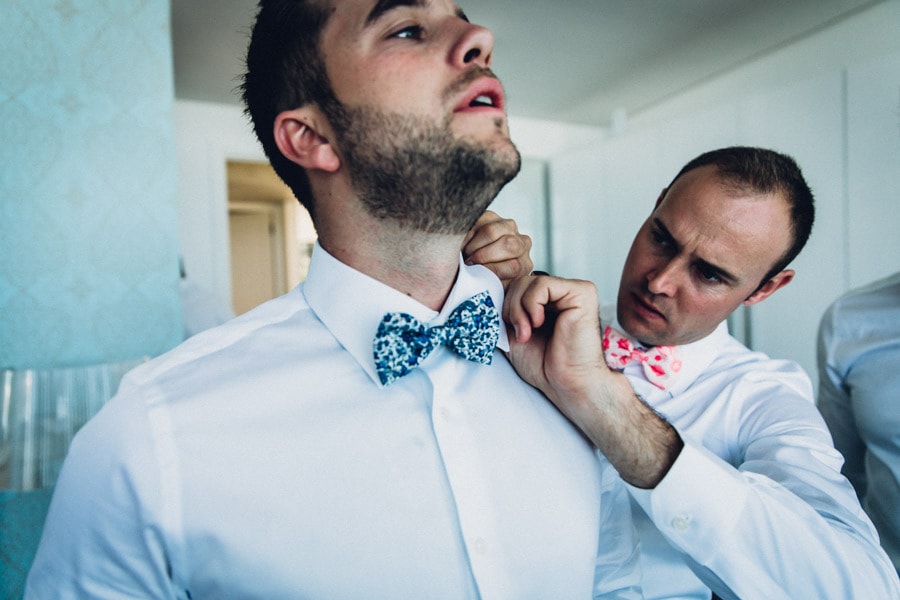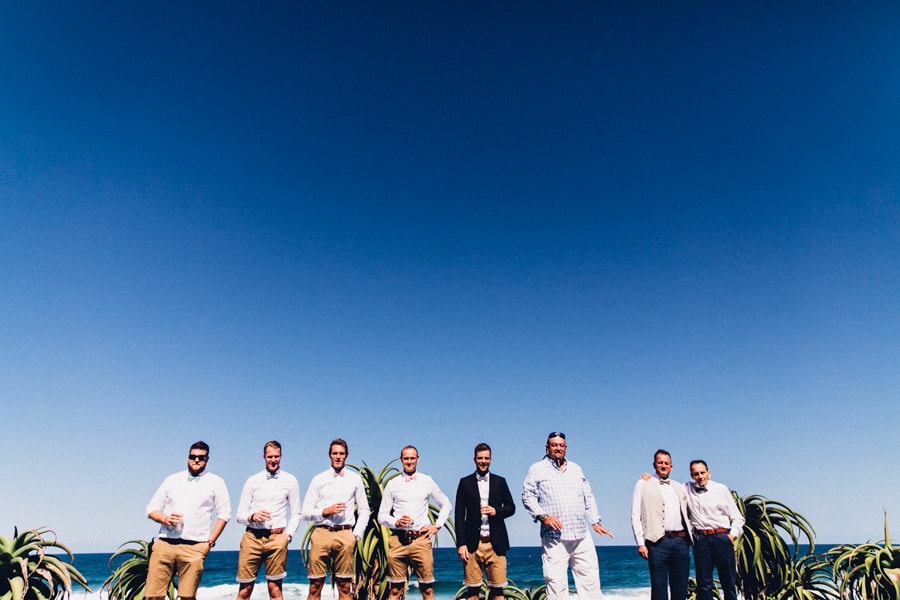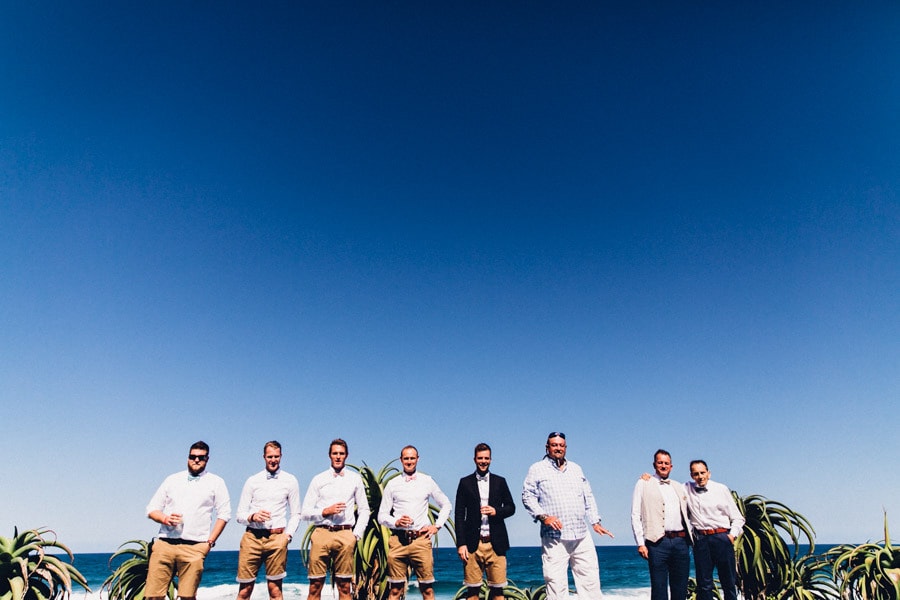 The Venue
We initially chose a beautiful wedding venue in Dullstroom, but logistically it was going to be a nightmare to get all the decor, equipment and overseas guests to the venue. We then came across Canelands Beach Club in Salt Rock, and because we had actually always wanted a beach wedding, we booked it immediately! It was the perfect venue for us! We orginally wanted to get married on the beach, but in the week building up to the wedding, it looked like the weather was against us and high-tide was going to be very high at the time of the ceremony. I was upset about not being able to get married on the beach, but due to time constraints, I had no time for feelings and had to find an alternative plan ASAP as the reception venue didn't have space for our ceremony. I went straight to Burnedale wedding venue and enquired about availabilty and to my luck, they could accommodate us for the ceremony! We booked and paid for it four days before the wedding and what a beautiful Plan B it was! I loved the venue at Burnedale and was so happy that we made the decision to get married there and not on the beach! The weather, by the way, was horrid… the day before! It poured heavily all night on Friday, but when I woke up to the sunshine crackling over the ocean at 5;30 am on Saturday, I knew that we were going to be okay! It was the most beautiful sun-shining day and it remained that way until Sunday morning, when the massive waves hit Durban and made headlines around the country!
Wedding Style
Boho beach! I know that the word boho can mean so many different things, but this is what I made of the term for my wedding. I wanted a fun, relaxed and simple feel to the day. I always had a picture in my mind of how I wanted my wedding, and the day was spot on in terms of the vibe, decor and colours. The colour palette: black, white, various metallics (copper/bronze/gold) and then the greenery had touches of nude/blush roses. There were garden games (giant jenga, ring toss and boulle) to keep the guests entertained during the photo session, live music from Jason Hartman and co (who are family friends of ours and also played at my mom's wedding a few years ago). We had a fun instant Polaroid photobooth with props where the guests had to stick their pic into the guestbook and write us a note (this book is one of my favourite 'gifts' as it brings back so many memories of the day, and is filled with so many special photos and messages). There were drinks on tap on the bar right by the beach (the cocktails were named after the 'nicknames' given us by two of our closest friends: 'Tannie Van Deweltien' and 'Mike Lauwry').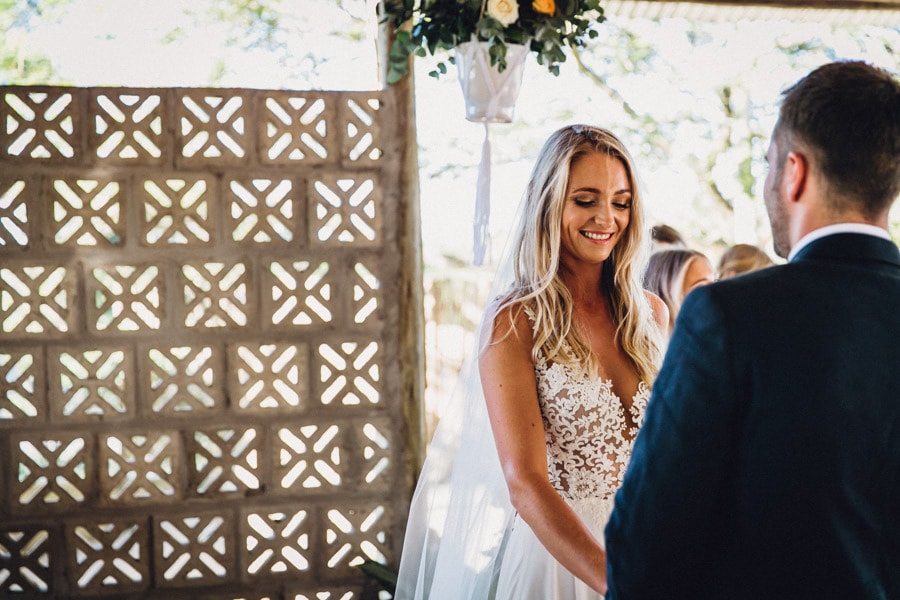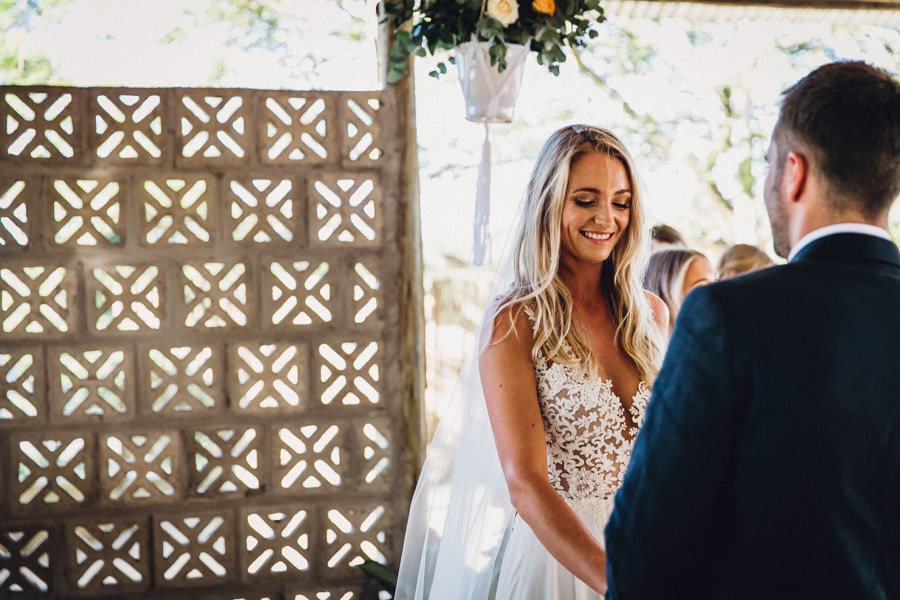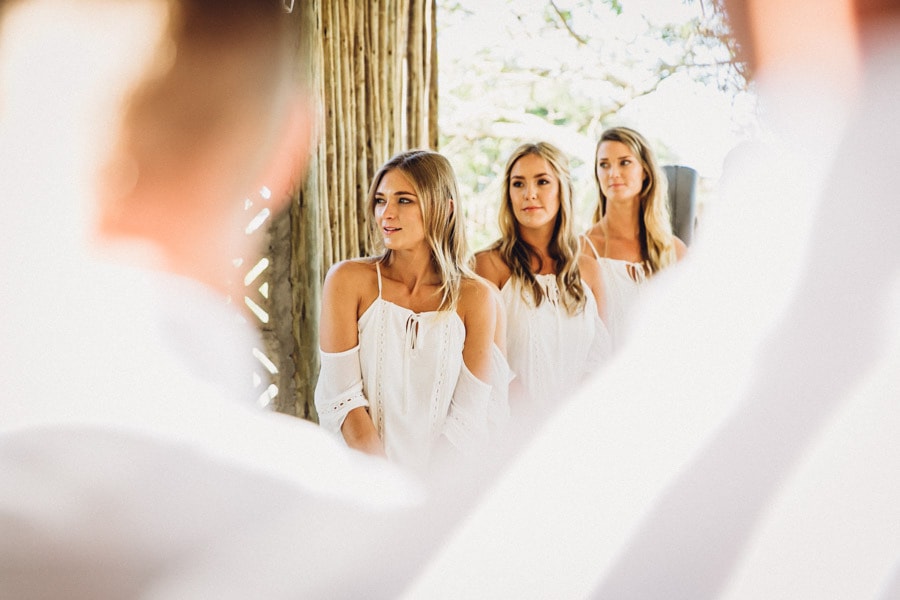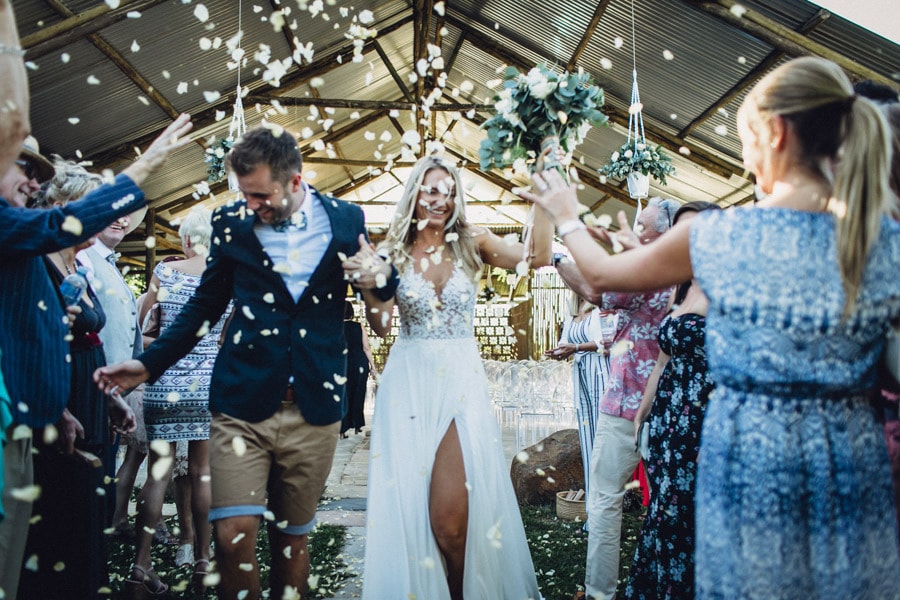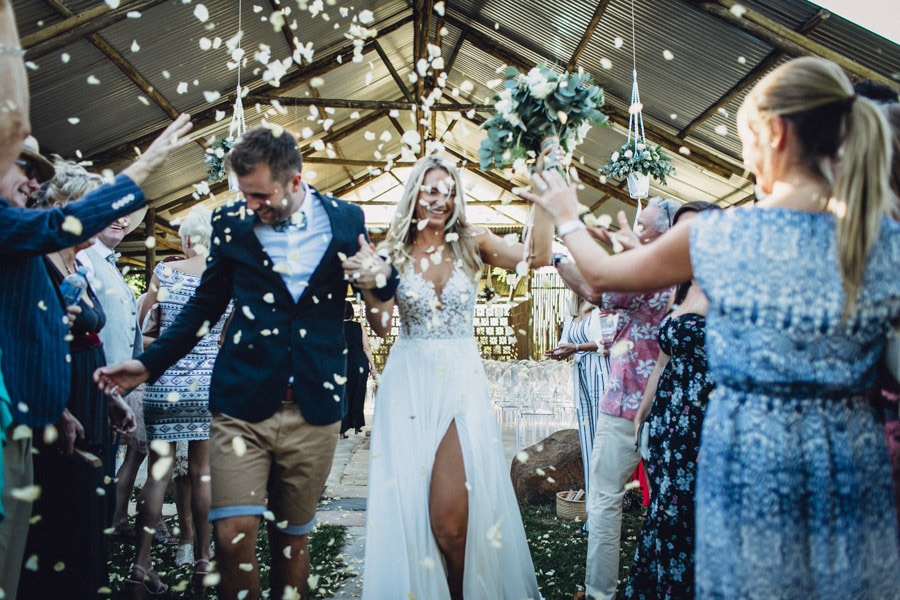 Wedding Details
Mike and I used the 'cow skull with horns' as a symbol of our wedding, which appeared on all of our wedding stationery, on the photobooth and also on the tables as wedding favours. The ceramic wedding favours were made from a customised mould that a Zulu artist made for us by hand-carving it! We chose it because traditionally, the skull is known as a symbol of strength and determination. We felt that the meaning was valuable to our relationship considering all that we have been through together. Our friends know the measures that we have taken to make it work and we have been so successful in making it through the 'thick'! We had a beautiful big cow skull mounted to the photo booth stand,with a boho flower arrangement in the head of the horn which was made to match our wedding stationery – and it did exactly! All the guests each received a little ceramic cow skull as a wedding favour (fridge magnet/decorative item) as a reminder of not only our wedding, but to 'give it horns' when the going gets tough and to face challenges with determination!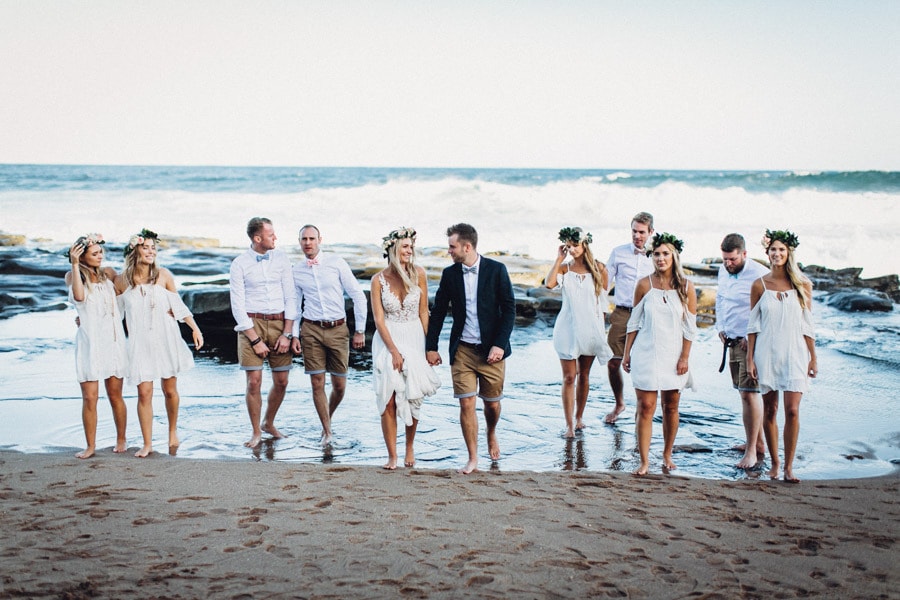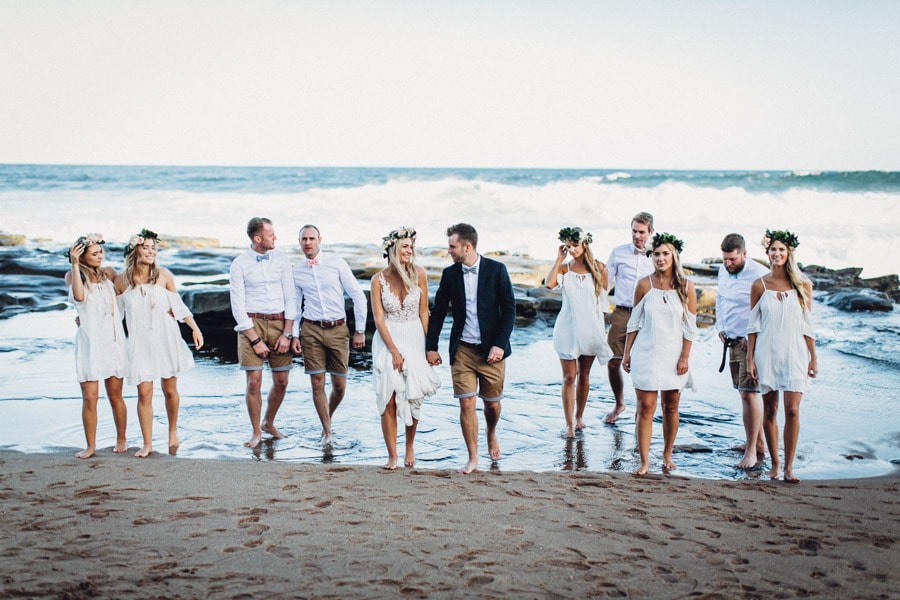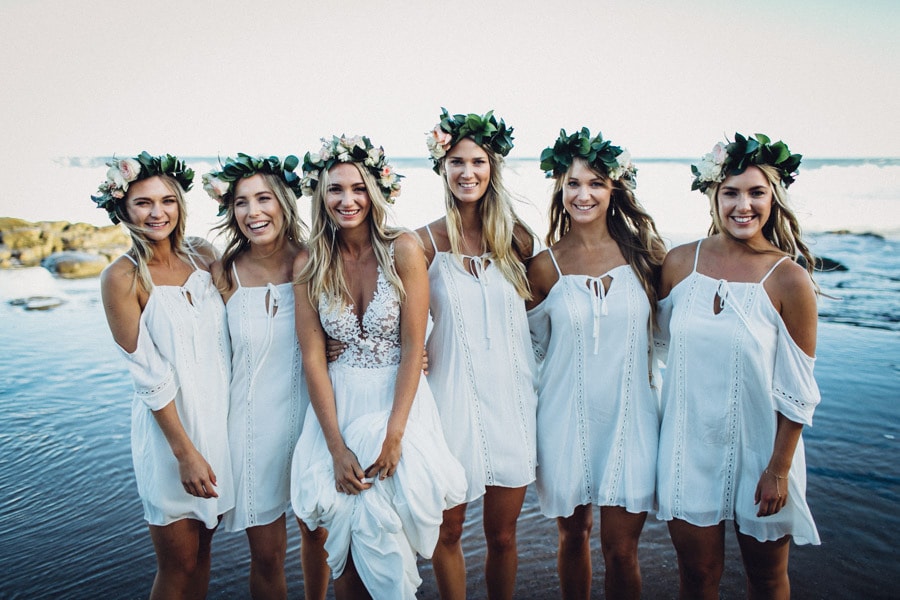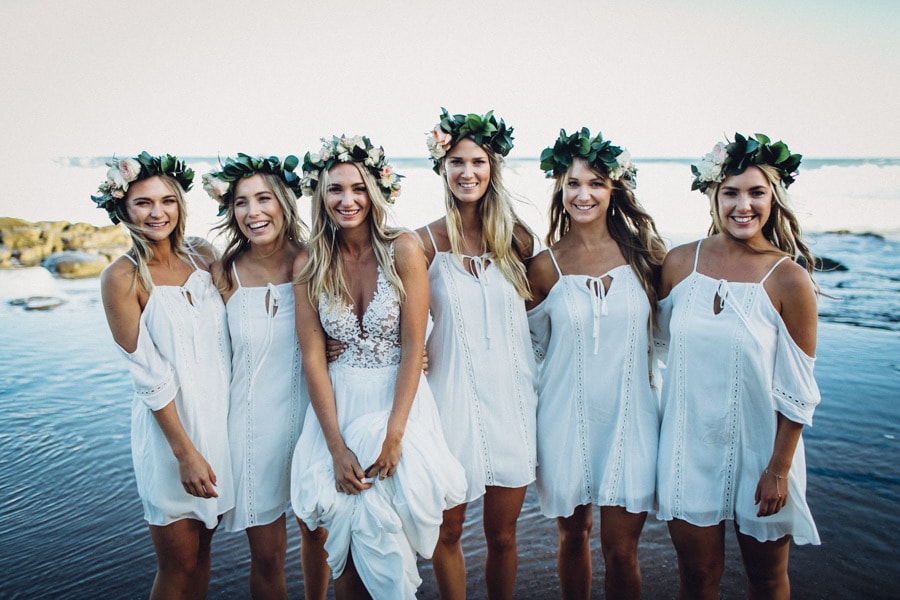 DIY Elements
It was a DIY WEDDING OF NOTE! We had a relatively small budget and were able to work within the limits by using our resources. Don't be afraid to ask your close friends and family for some help – they're usually honoured to help! We saved so much money by doing things ourselves, re-using items where we could, going to second hand stores, not sweating the small things! Where to start…. Stationery: my best friend designed and printed all the stationery for me with my direction as to how I wanted it. Decor – I made beautiful wood and copper hoops tied with long ribbons that went into the ground as sign holders, which looked amazing! We made the wooden beach bar which we then sold to one of the event suppliers. My colleague Jade hand-painted the most beautiful 'ceremony' sign for the ceremony entrance. Drinks trolley: I had an old stainless steel catering trolley from my dad's old restaurant, which we had sandblasted and powder-coated into a lovely copper colour and used as a 'champagne station'. Games: we made the ring toss. I also made all the little gift tags for my bridesmaids' gift bags and hangers. My boss at school (I am a teacher) made the beautiful gift bags with names and initials on them for my bridesmaids' gowns). I designed the table number signs myself and had them laser cut. I also made regular visits to second hand thrift stores and building yards to buy and revamp lots of other small things (gift & card basket, candle holders, wood, etc.).
The Ceremony
Our wedding was not traditional at all, and we do not follow any religion. We therefore had more of a spiritual feel to our ceremony. We also had a ring blessing ceremony (our rings were put into a nice trinket box and were passed around the crowd during the ceremony, so the guests could transfer good energy to the box as it was passed around).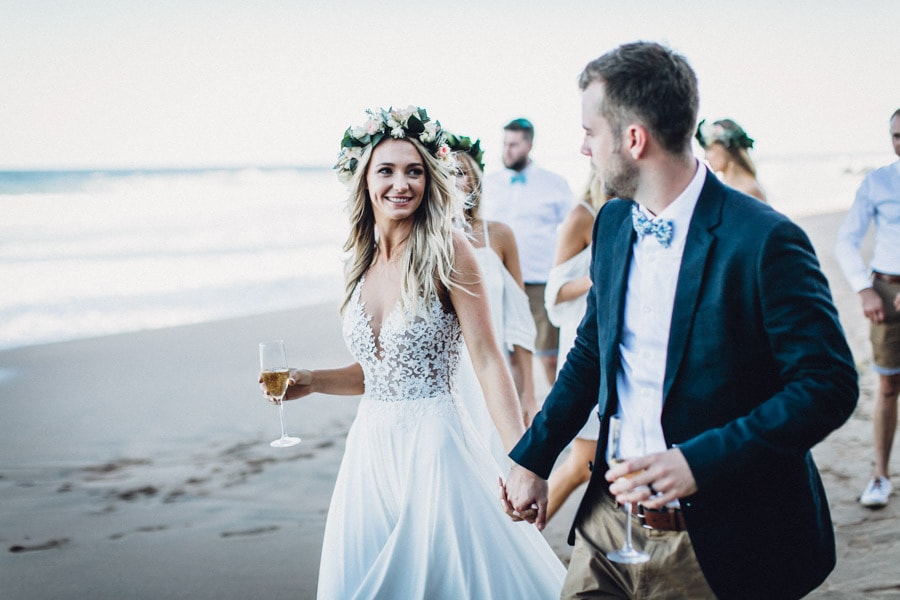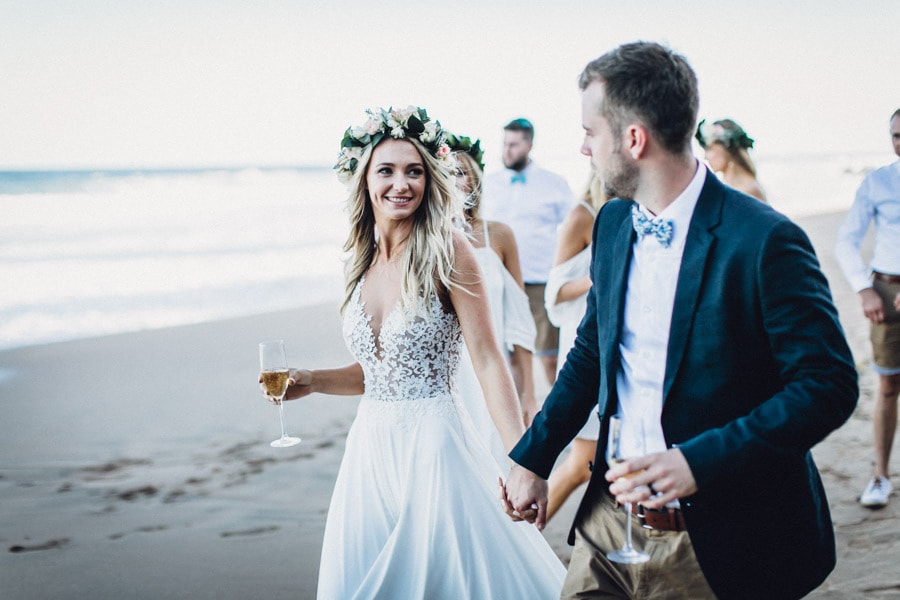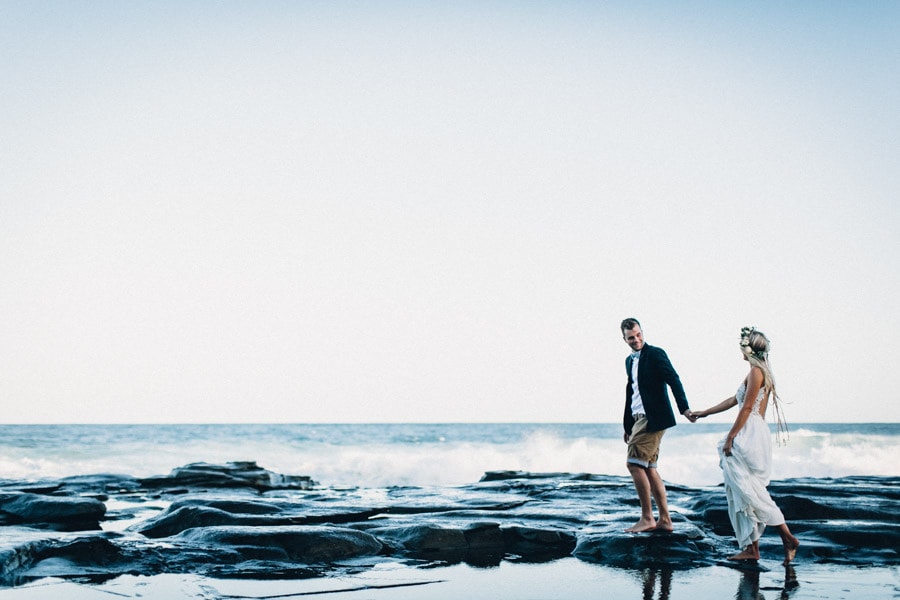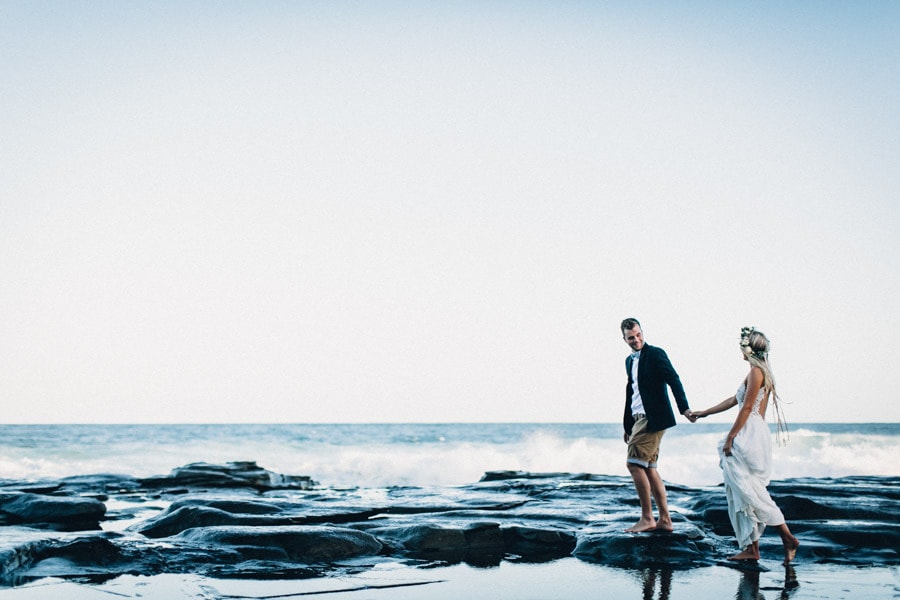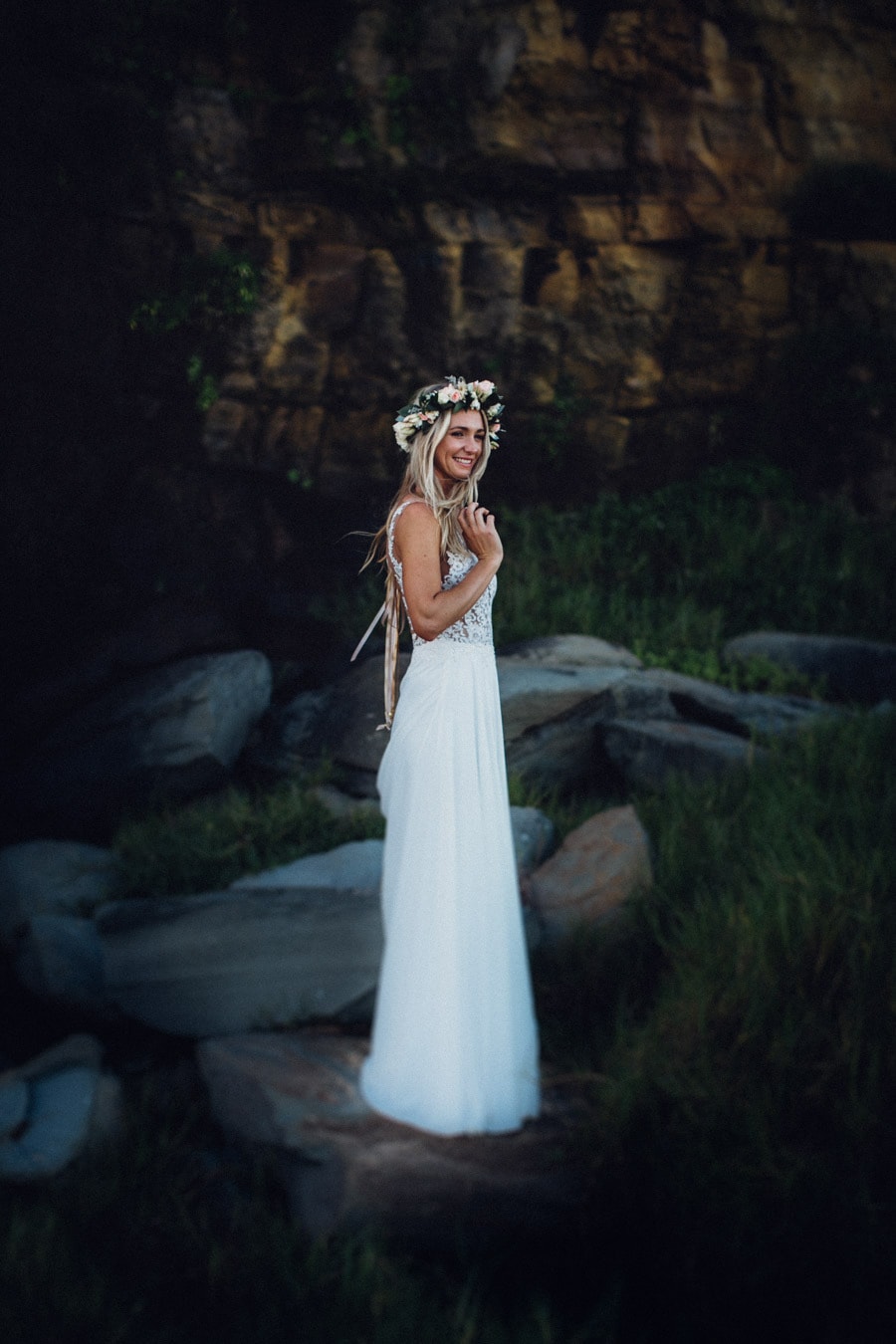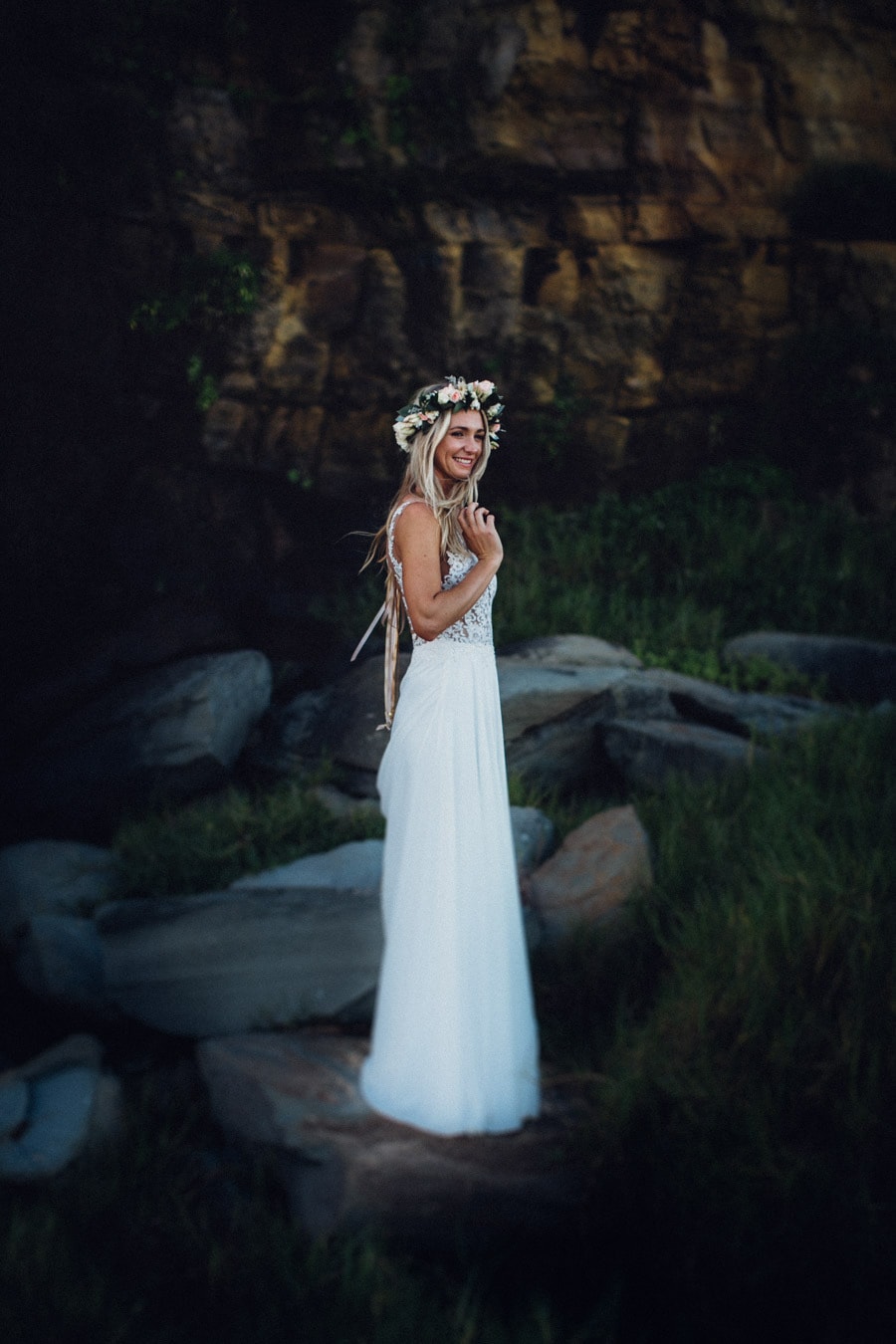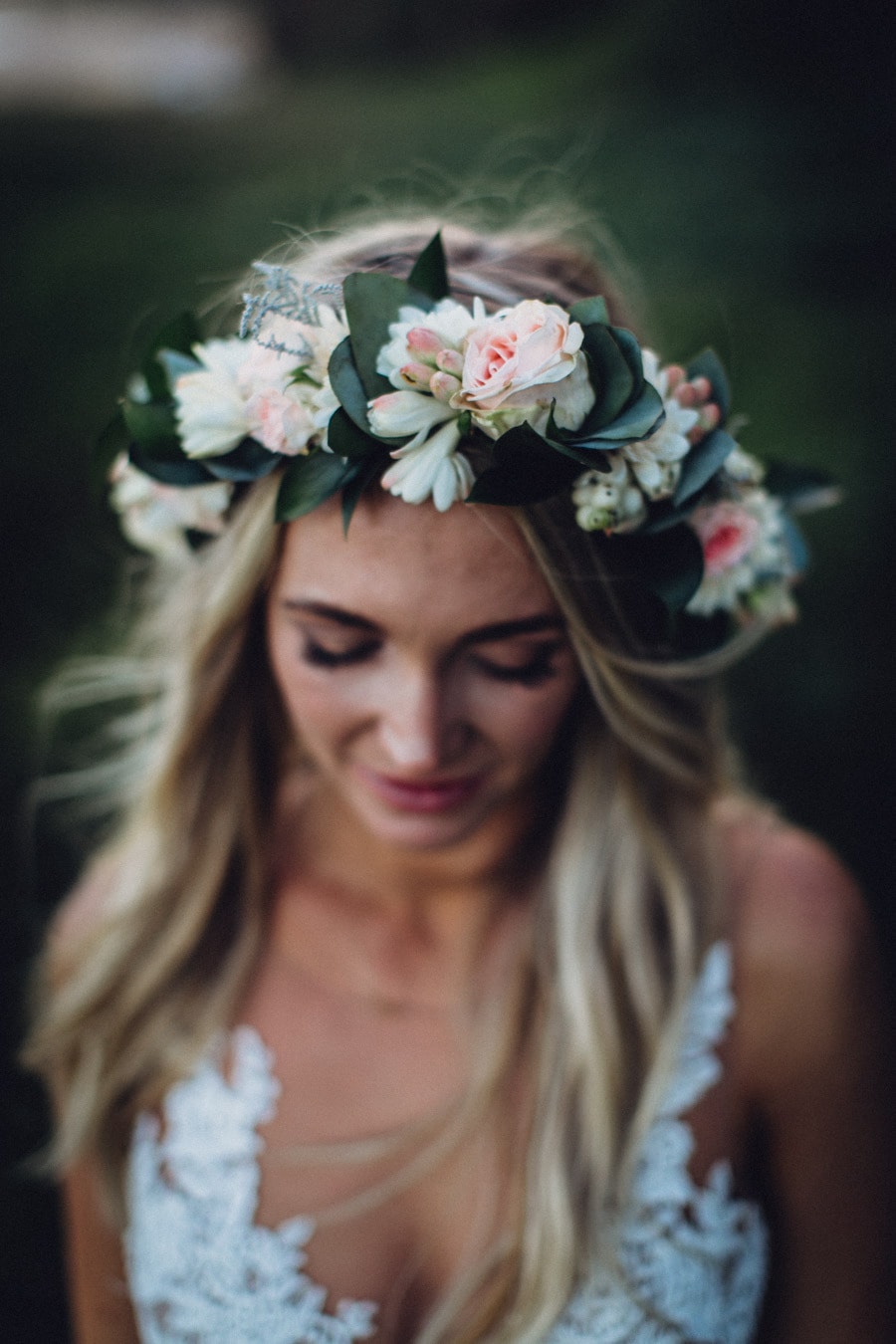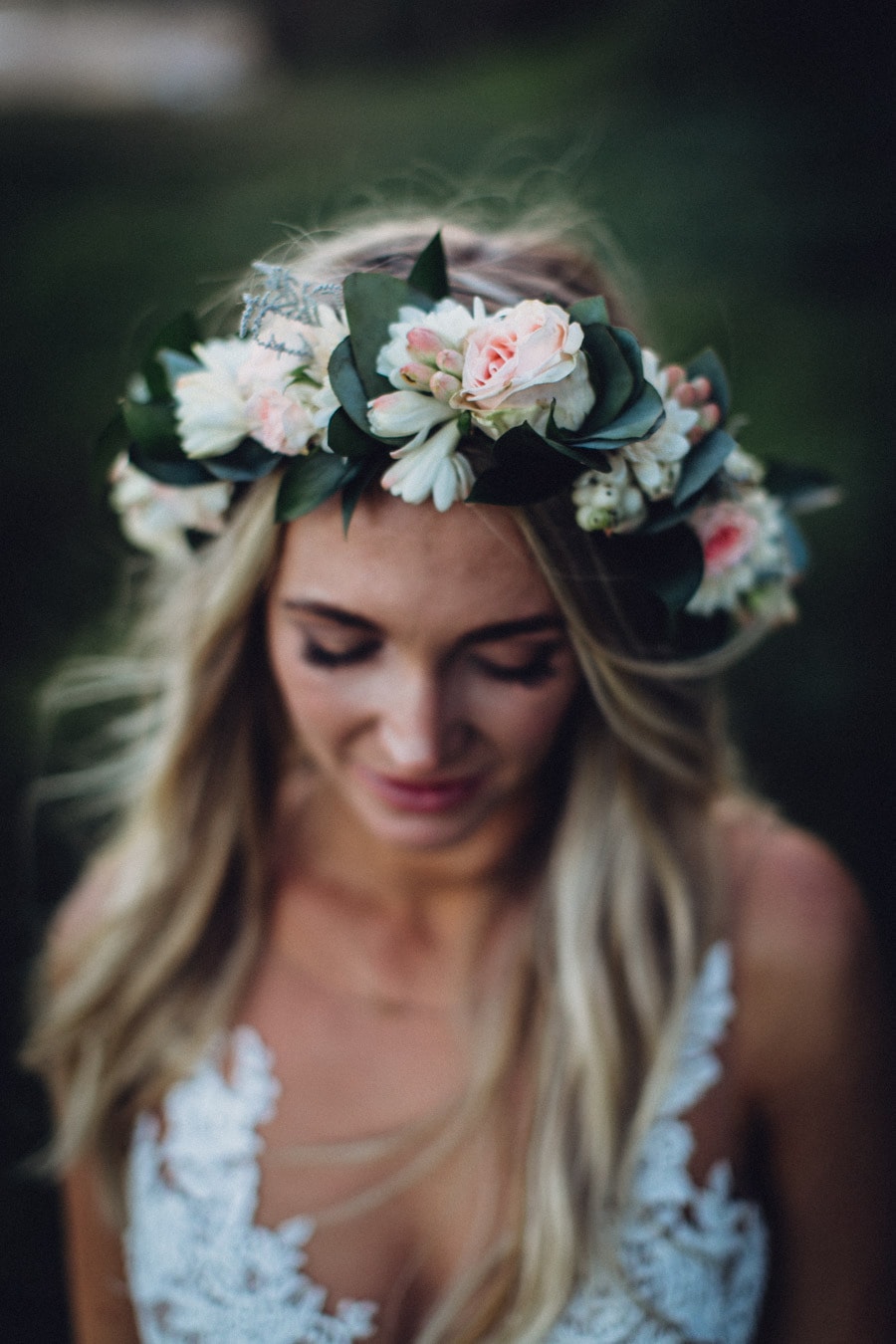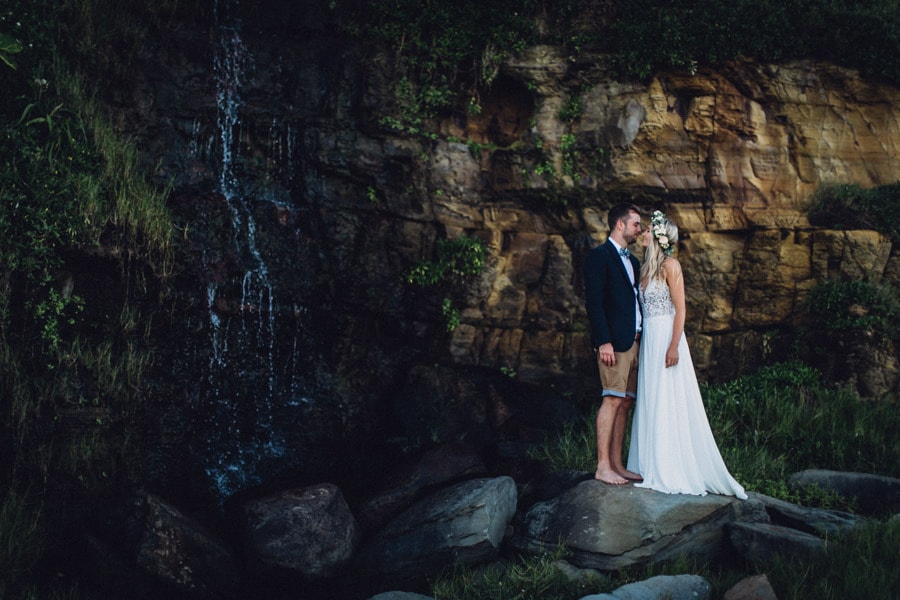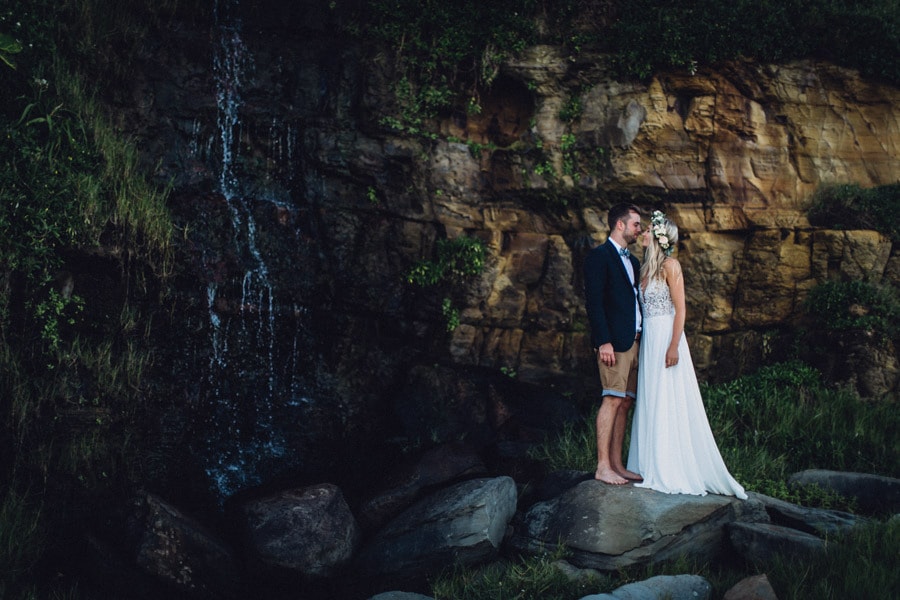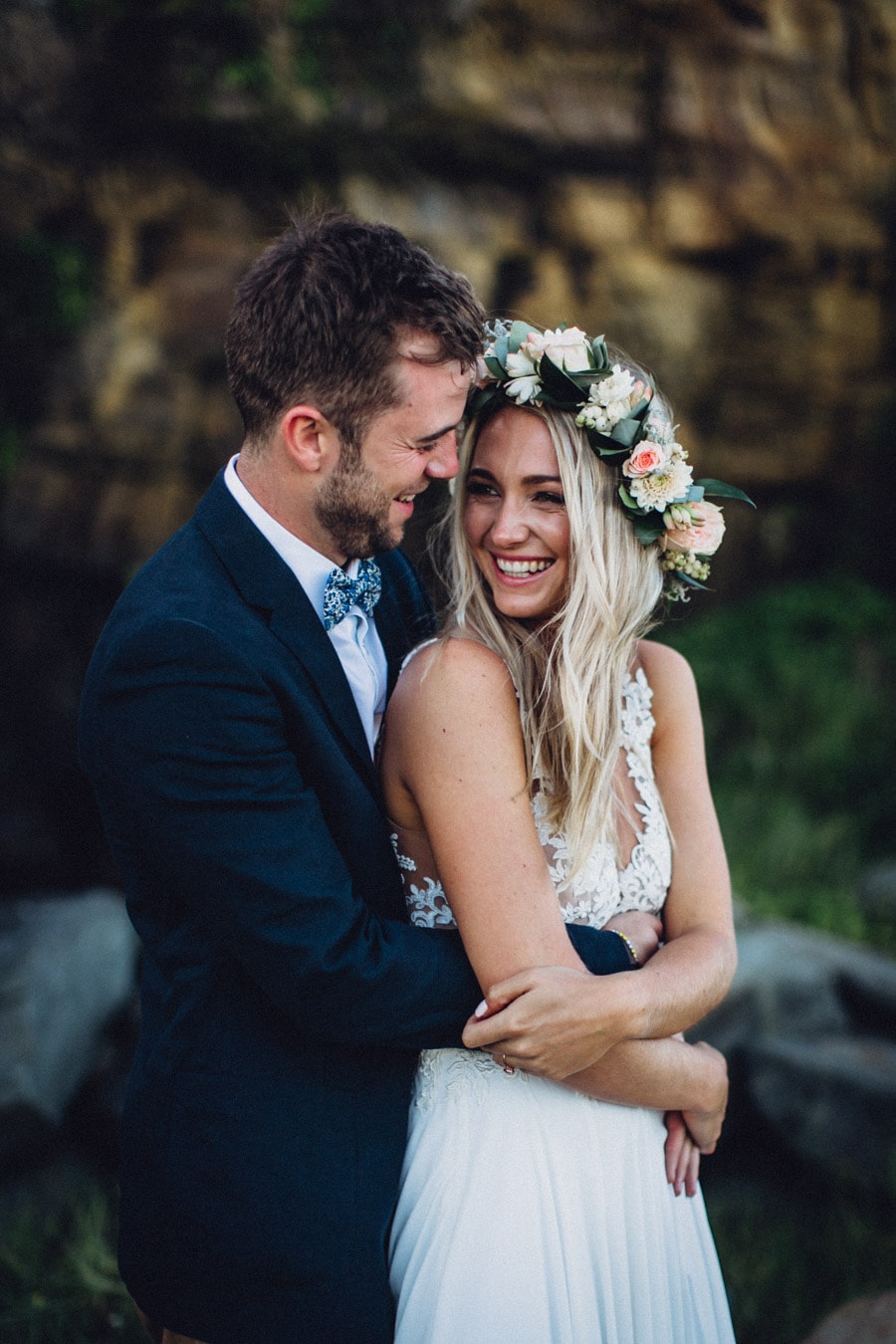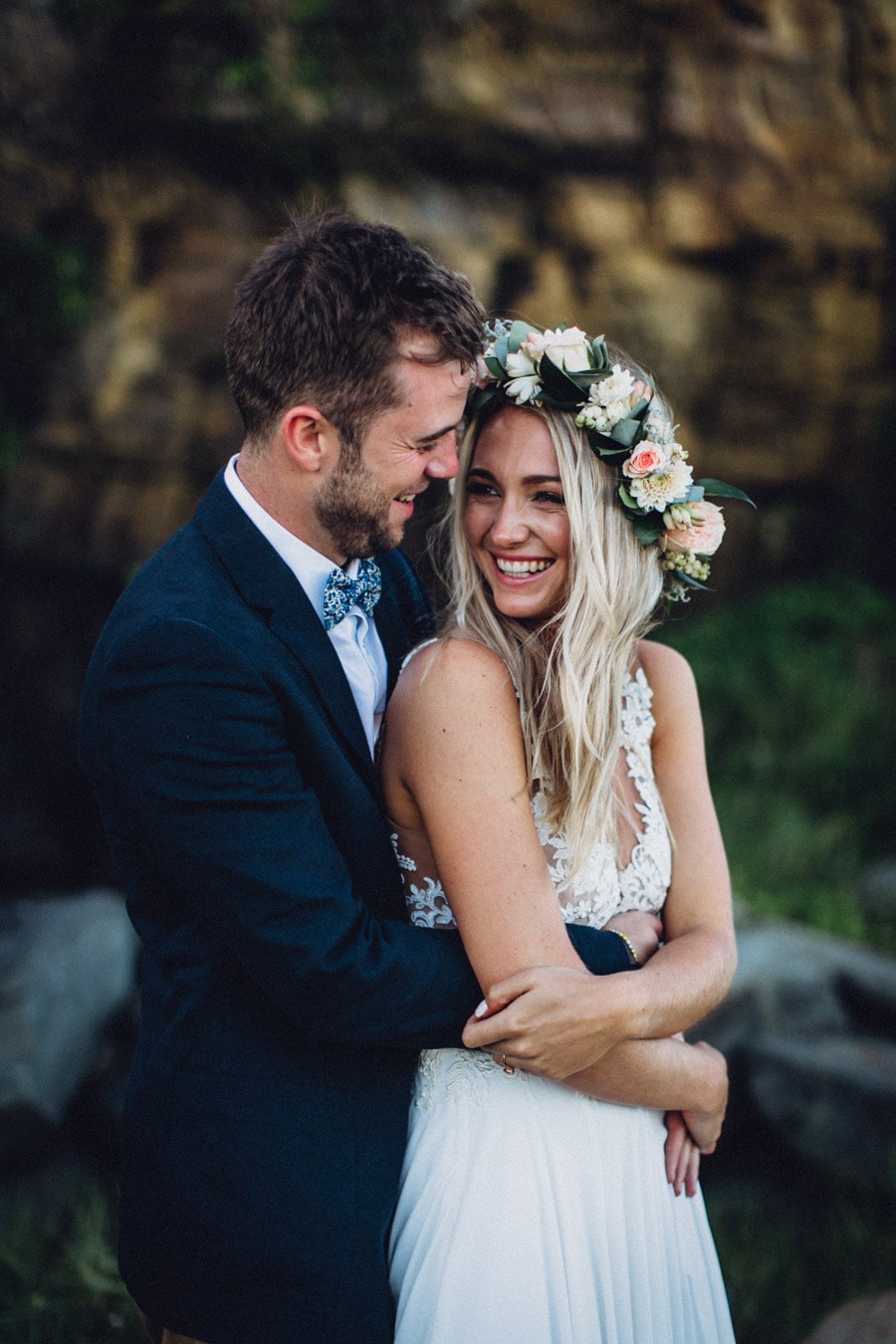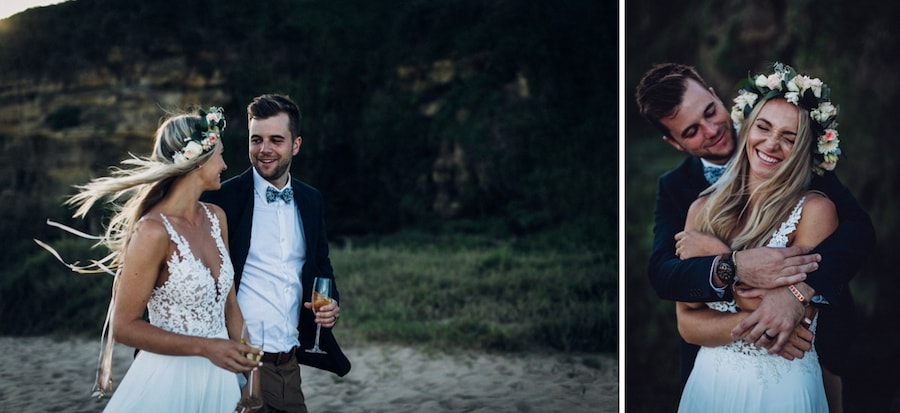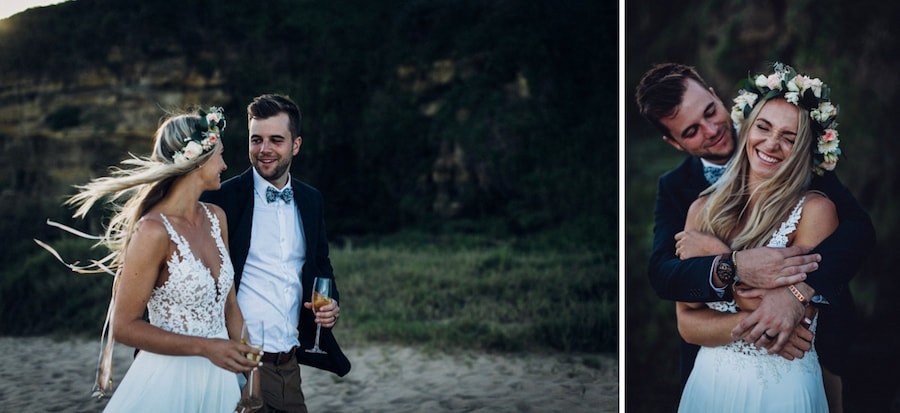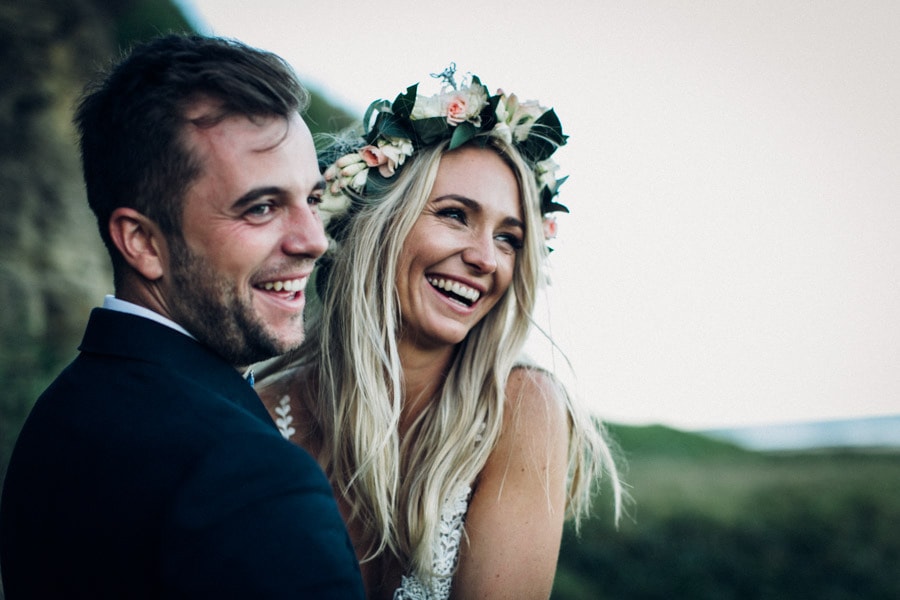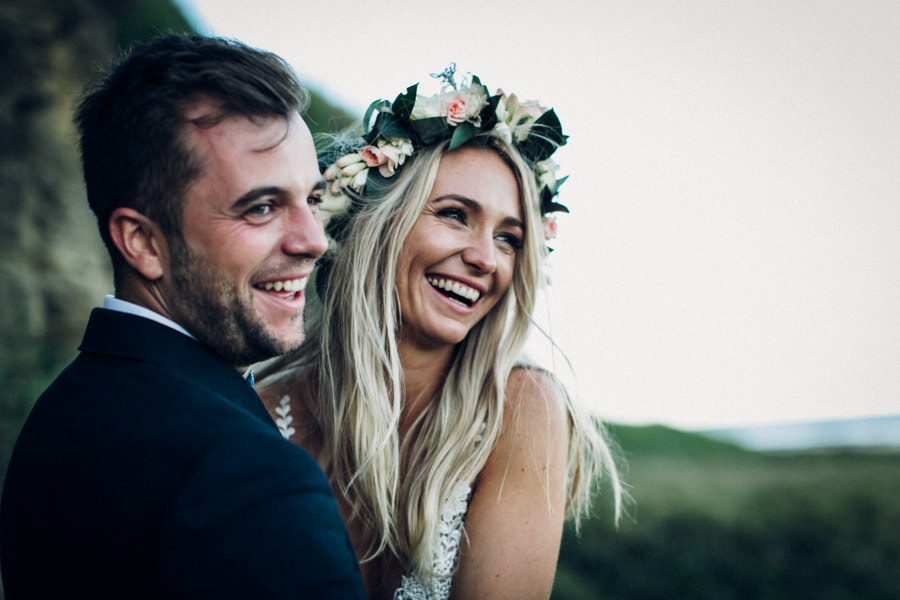 The Dress
I was completely in love with my wedding dress and couldn't have asked for something more beautiful and more 'me'! After meeting Julia Ferrandi for the first time and discussing my vision with her, I knew that she was going to be the creator of my dress! I never even tried on one wedding dress at all, as I knew that what I wanted was not going to be on a rail. Julia got my 'vibe' from the get go and the whole process was just so simple and peaceful. I wanted a 'boho' type dress, but with a an organic, wild and free feel to it. Julia cut different lace to create the 'botanical' look to the top part of the dress, and used illusion mesh lace to create a look that appeared to be 'open' and kept all the 'bits' in place! Julia and her mom/partner, Lyle, have the most beautiful studio in Ballito and any bride that is having her dress made by this duo, is a lucky one! I was loving my dress so much that towards the end of the night, I decided to go swimming in it at the venue pool, with a few friends and my new husband in the pool with me! Such fun!
The Bridesmaids
I had five bridesmaids, including my sister. Three of the girls I have known and been friends with since our days at Noah's Ark preschool when we were just four years old! I always knew that I wanted my bridesmaids to wear white with me, and their dresses were one of the first wedding purchases that I made! They were white boho dresses from Woolworths and I knew they were the ones the minute I saw them! My girls were such a vision walking down the aisle, with their golden tans, blonde hair and the most beautiful greenery, ribbon and flower wreaths! They all wore matching nude shoes from Mr Price (such a bargain!) and I got them all a matching bracelet which they received as a gift from me on the day!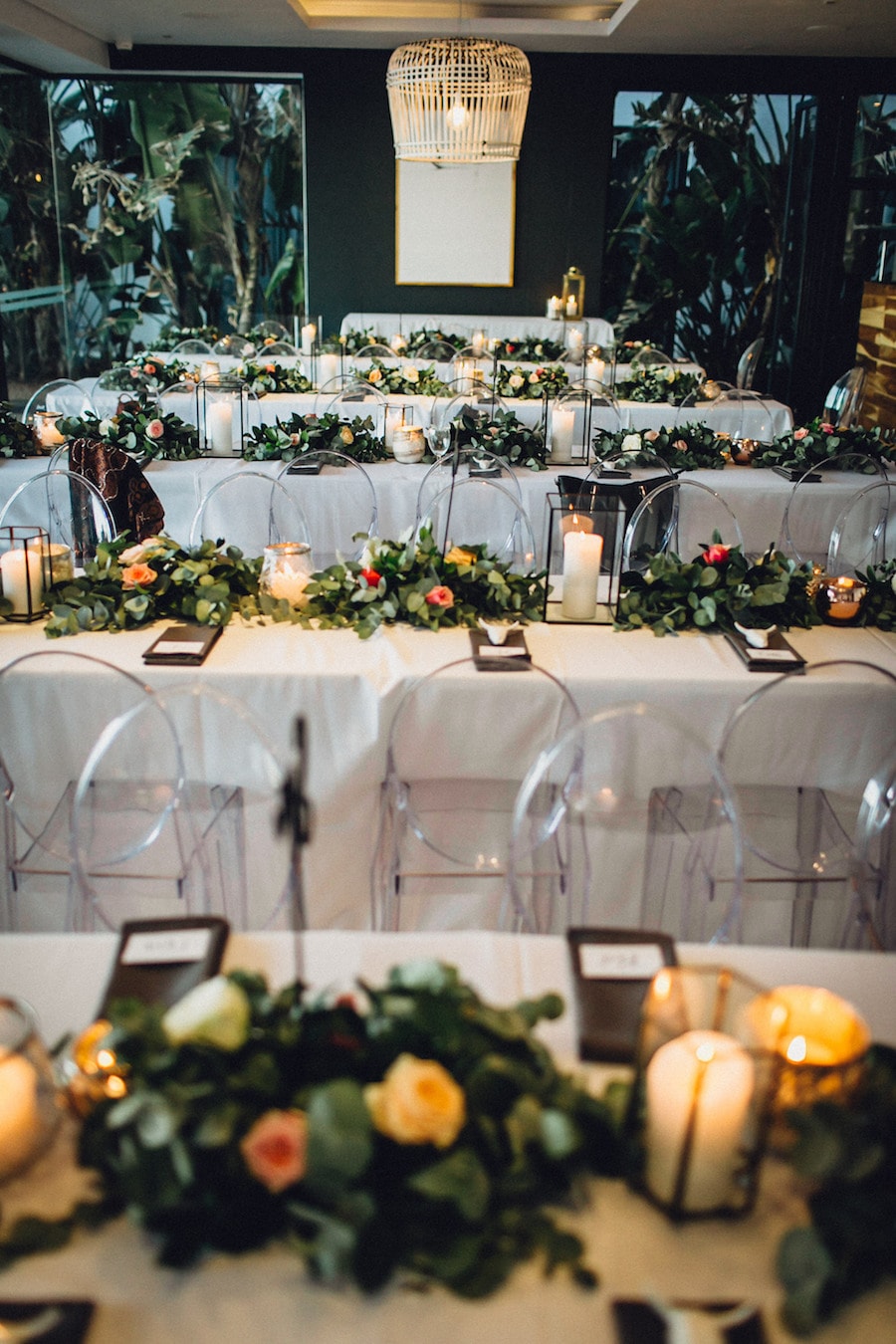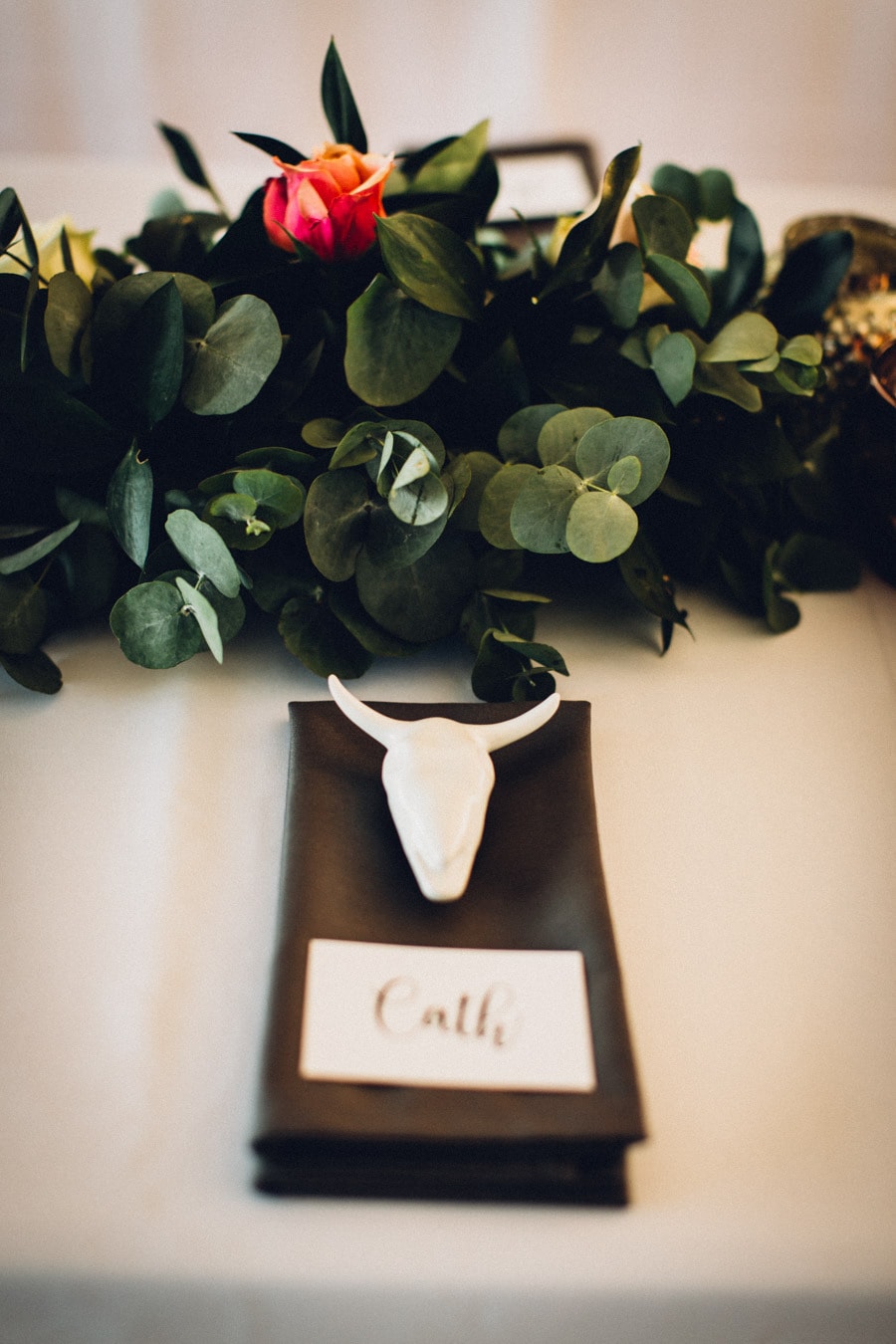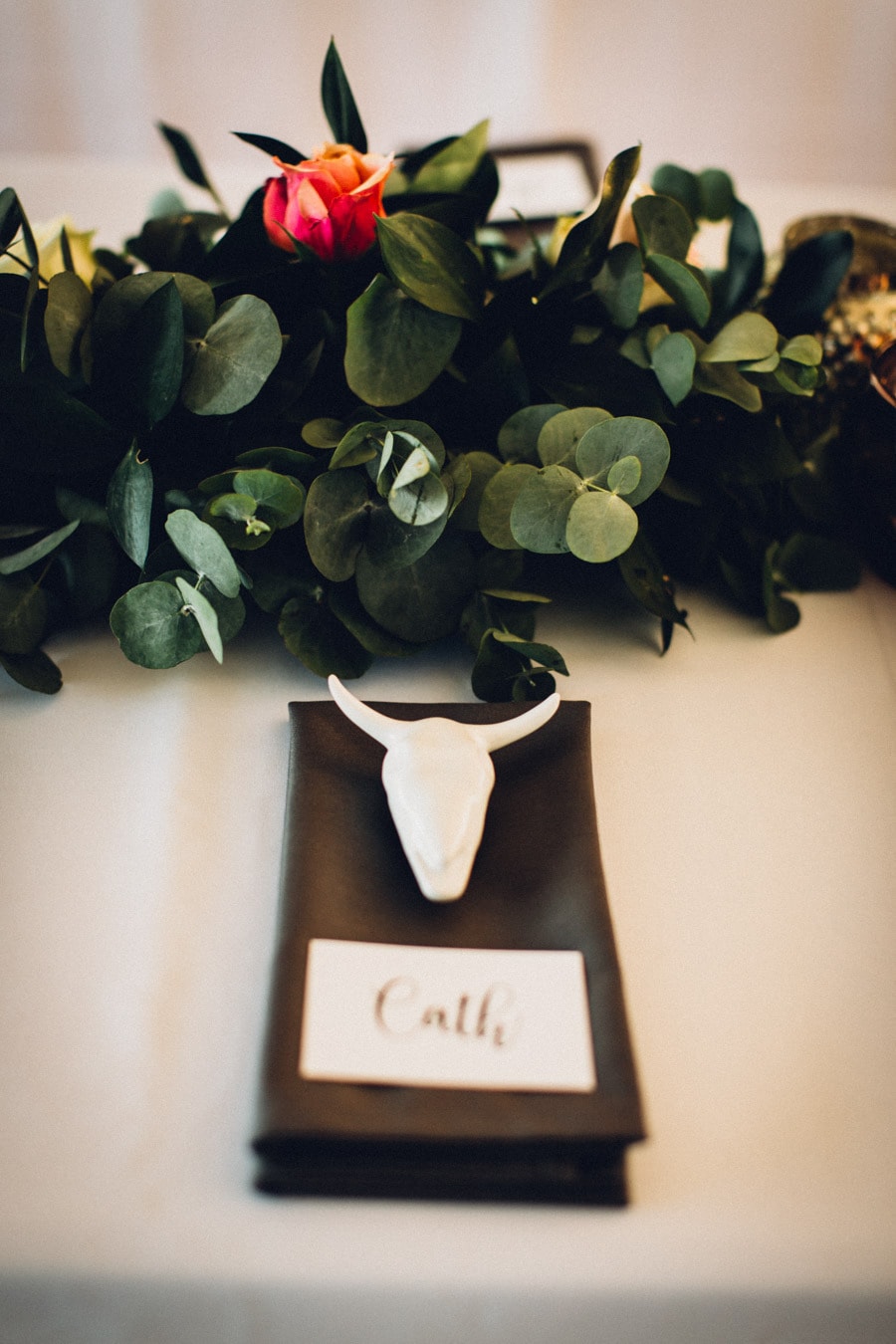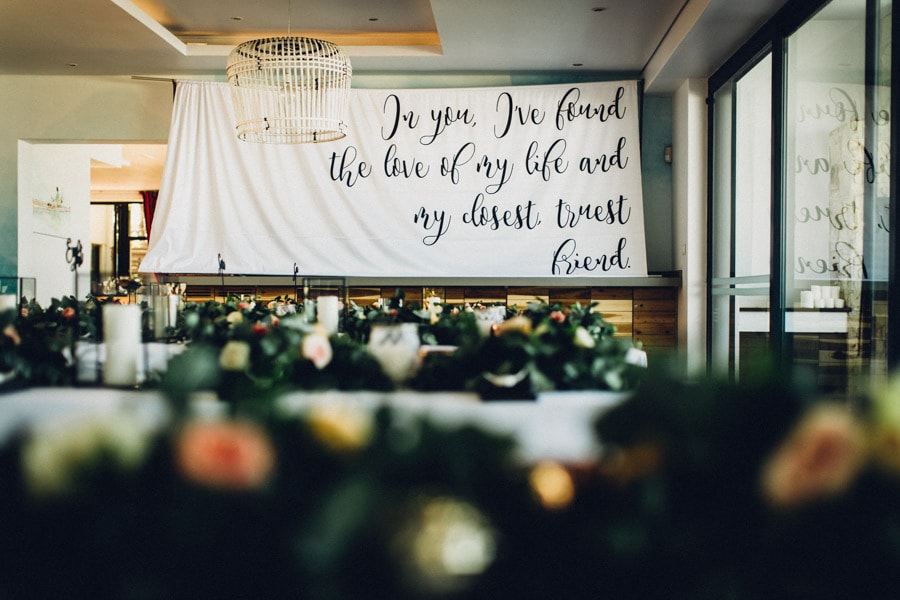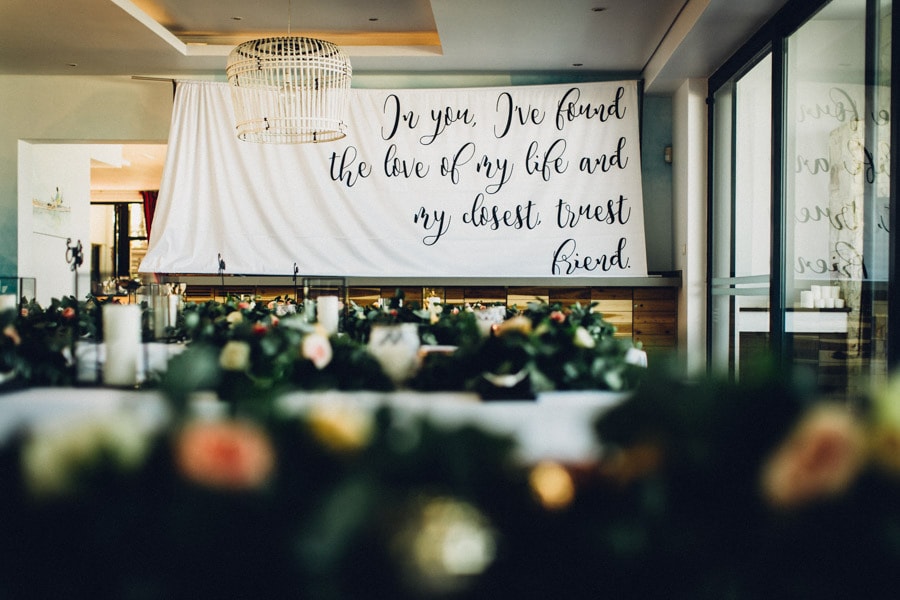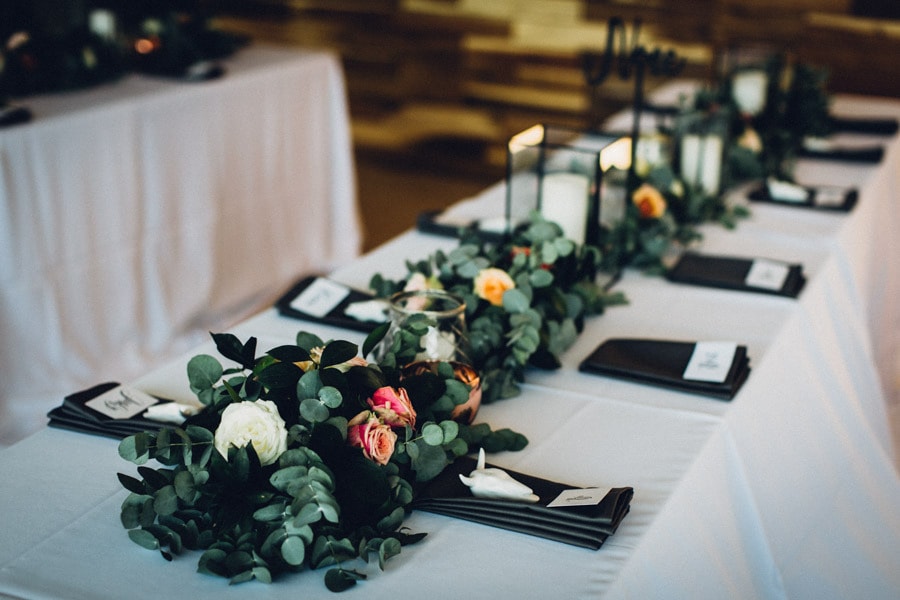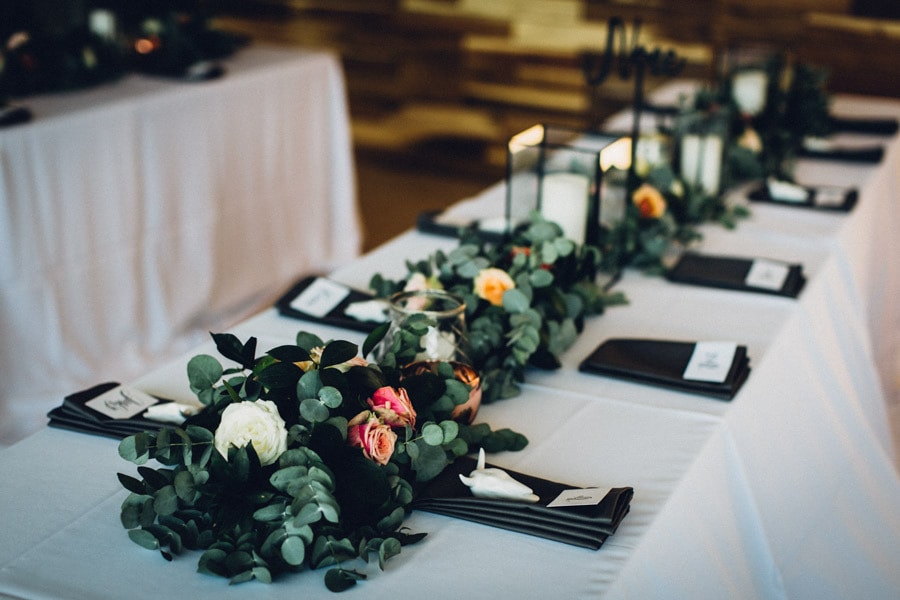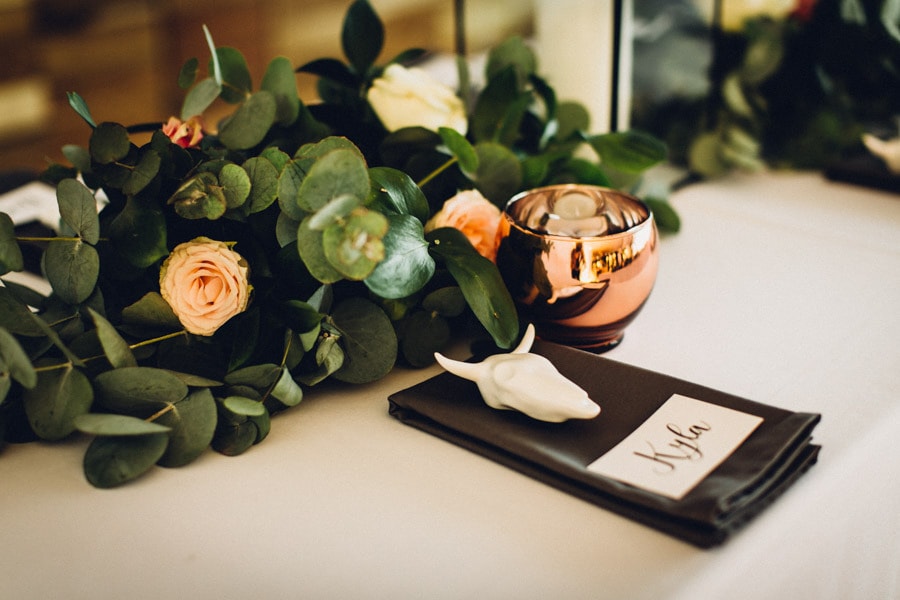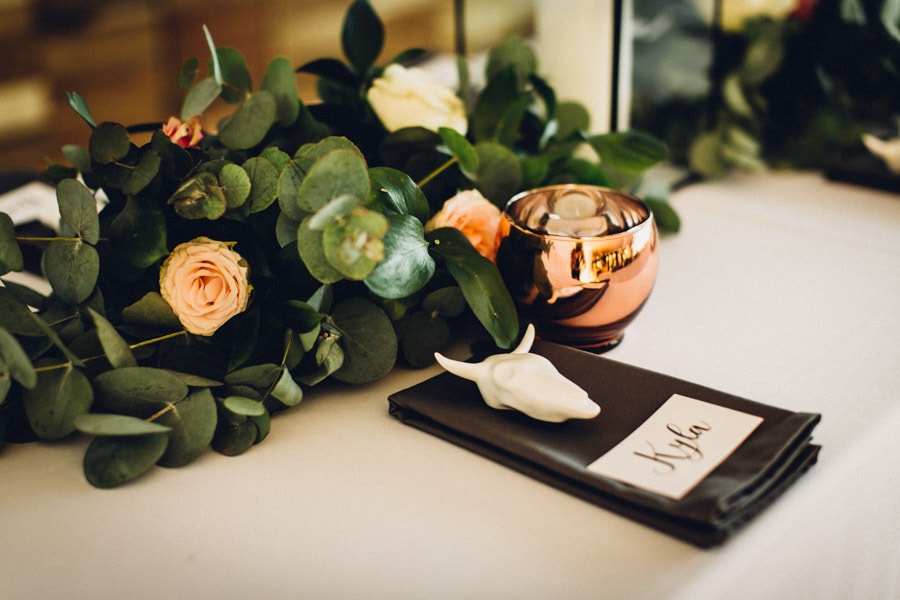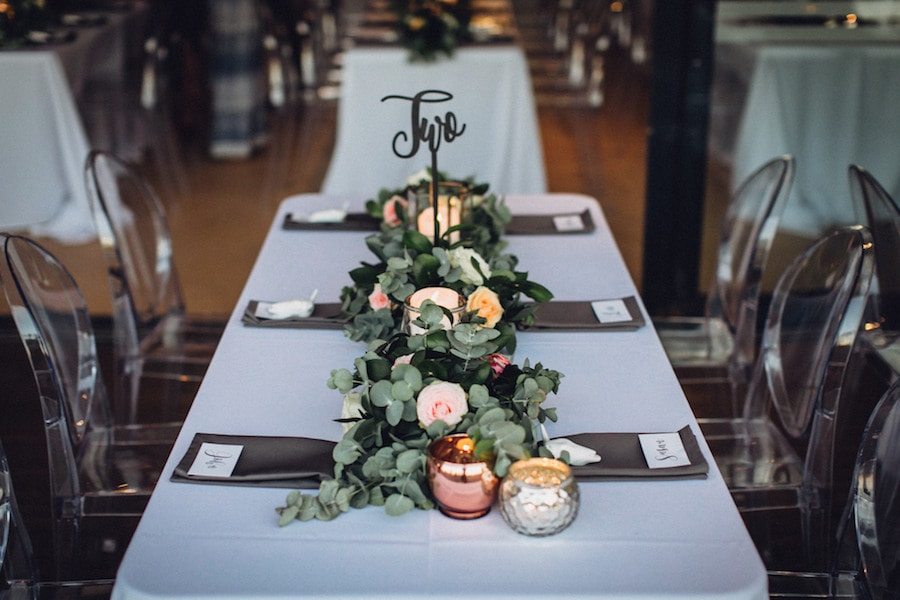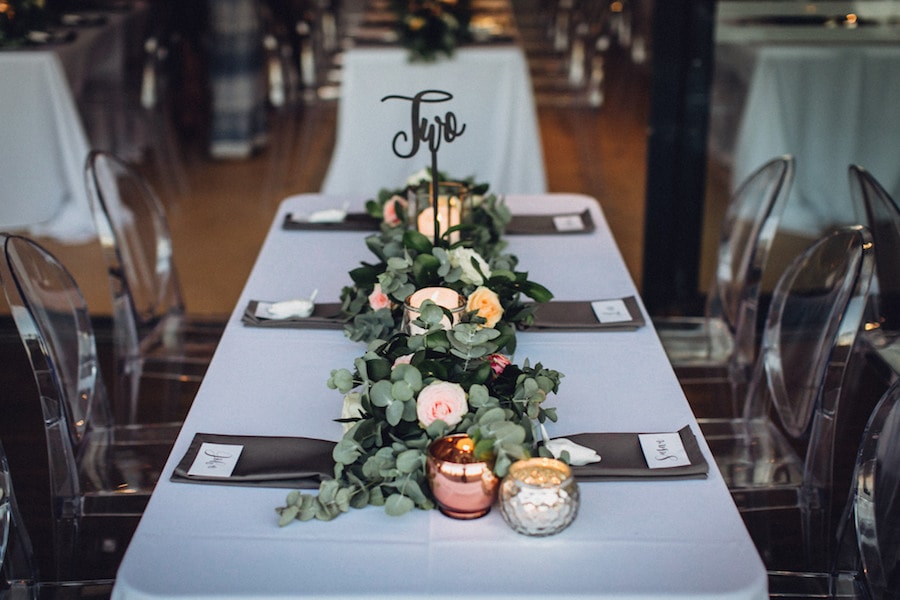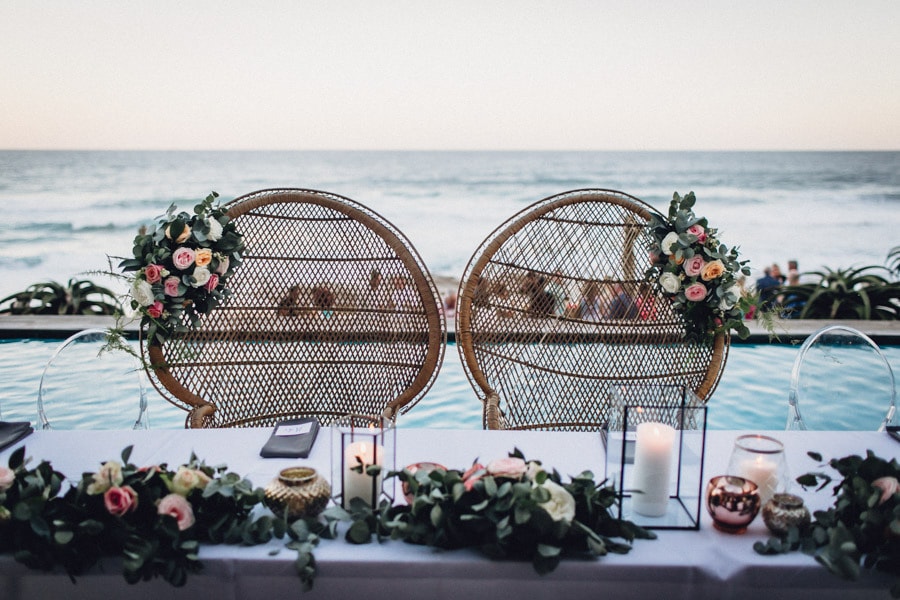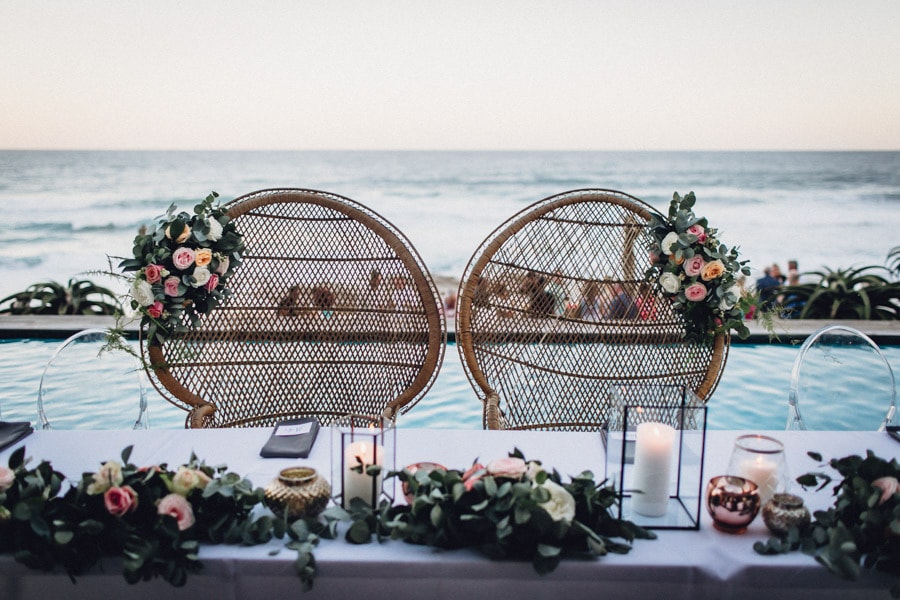 The Flowers
Cindy from Love Laugh Proteas from Salt Rock did my flowers for me and she did the best job! I wanted long greenery runners along the tables with just a pop of nude/blush every now and then. The bridal table had such a beautiful overflow arrangement on it, which faced the guests. Mike and I sat in old peacock chairs (borrowed from a friend, who got them from her grandparents). The sides of the chairs were draped in the same arrangement, which just flowed down the sides of the chairs so beautifully and made such a statement in the photos) We used the same type of flowers and greenery throughout the wedding (in the skulls, on the drinks trolley, the bar, etc.). My bouquet was very unstructured, with mostly greenery and long ribbons. The best was the bridesmaids' wreaths. In order to keep costs low, I wanted to re-use the flowers as much as I could. Therefore I asked Cindy if she could please make my girls a greenery wreath with ribbons, which they held as they walked down the aisle as opposed to walking down with a bouquet, and they then used them as flower crowns for the photoshoot and for the rest of the night!
Memorable Moments
Gosh… so many! The day was perfect right from the 5am start… Waking up to a view of the sun crackling over the ocean and seeing clear skies shortly after that, definitely gave me butterflies! Mike and I are such sun-lovers and outdoorsy people, and so having good weather meant a lot to us!… I loved watching my girls getting ready with hair and makeup, whilst listening to good music and just enjoying each other's company… the calm before the storm! I loved holding my mom's hand whilst she walked me half way down the aisle and then handed me over to my dad, who walked me the rest of the way! During the ceremony, two of my closest friends did a combined speech for us, which was more like a hilarious poem that ended off in song! These two girls went to school with Mike and I and so they too have known Mike since he was seven years old!) Their speech had me in tears – happy tears! Popping a big bottle of champagne on the beach with my new husband and our best friends at the start of the photoshoot session was a favourite too. But my best part was when Mike and I held hands and walked away from the venue a bit and just took a few moments to be with each other and watch all our favourite people dancing, smiling, going wild and having such a great time at our expense… It was a happy, humbling and very special moment that I will never forget!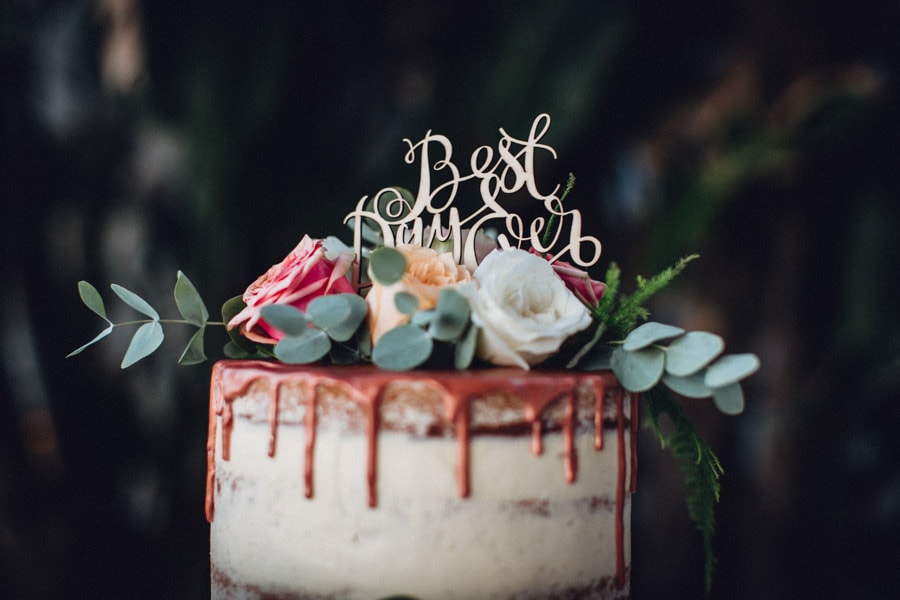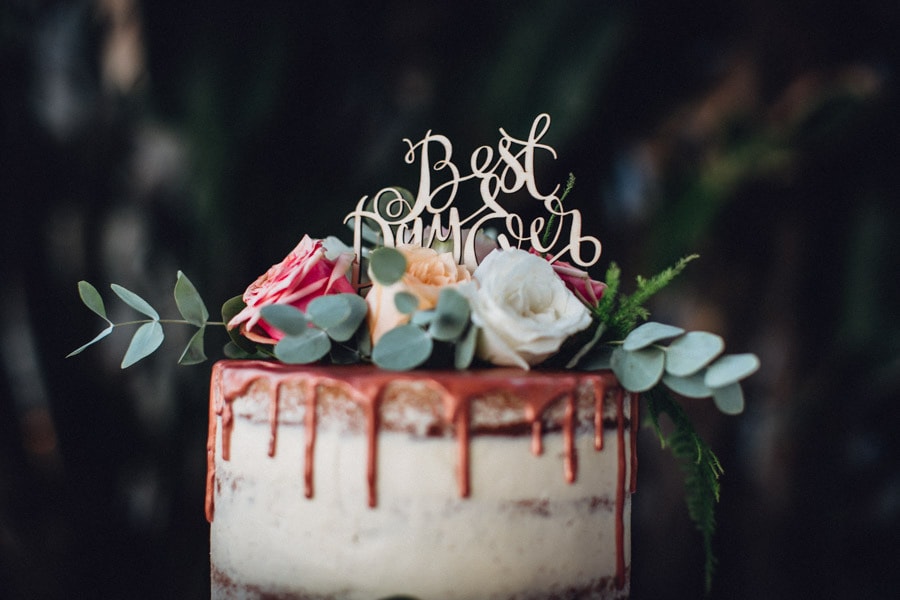 Best Decision
To do it myself with the help of my friends! I always wanted to plan my own wedding and although times got tough and I was sometimes desperate for a wedding planner, I managed to do it and am happy that it was symbolic of Mike and I as a result! Also, to have chosen the team of suppliers that I did! They were incredible. To have live music and not a DJ is another thing that I couldn't have done without… BUT THE BEST? To have our wedding at a location that was accessible for all of our favourite people to get to, as we had huge amounts of overseas family come for our wedding, some of whom had never been to SA before! They loved every bit of their stay and their presence definitely added to the fun and vibey feel of our wedding… The guest list is everything – the guests bring the party and we were so glad that 99% of our favourite people could be there to celebrate with us!
Advice for Future Brides & Grooms
It really does go by fast, just like people say. Take your husband, with drinks in hand, and go find a quiet spot away from the crowd and just sit together to be completely alone for a couple of minutes and just take it all in! Take a look at everyone and just enjoy some time watching them having the best time! Take in all the details that you worked so hard to get right!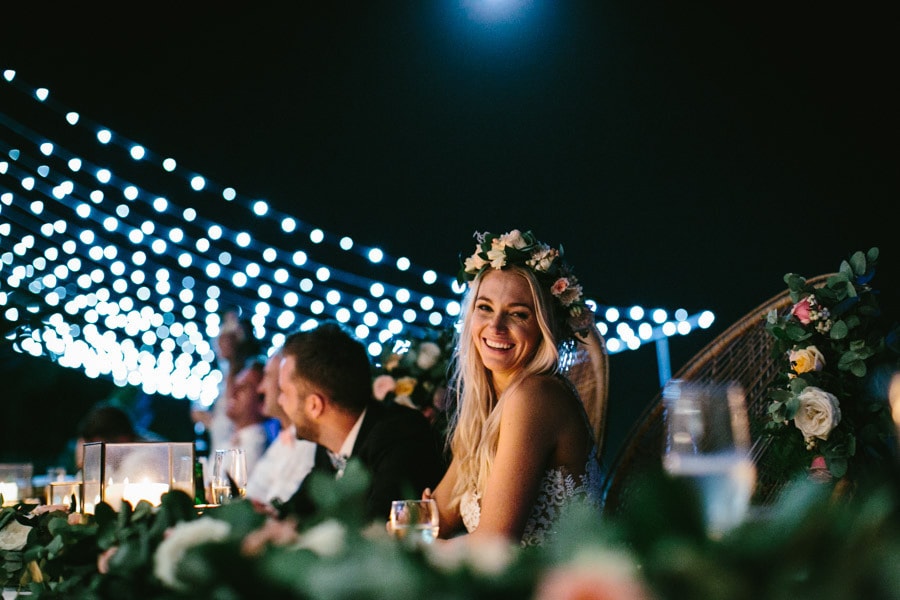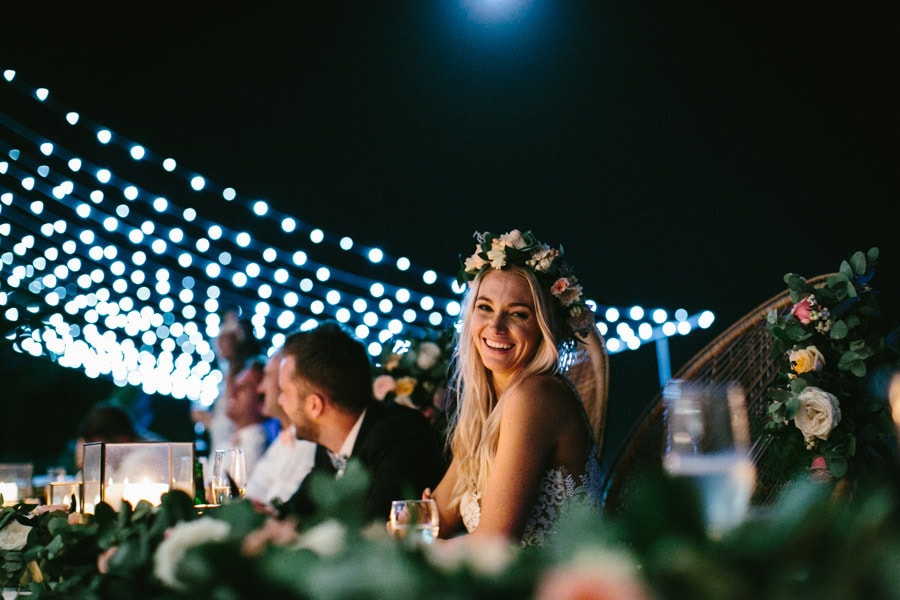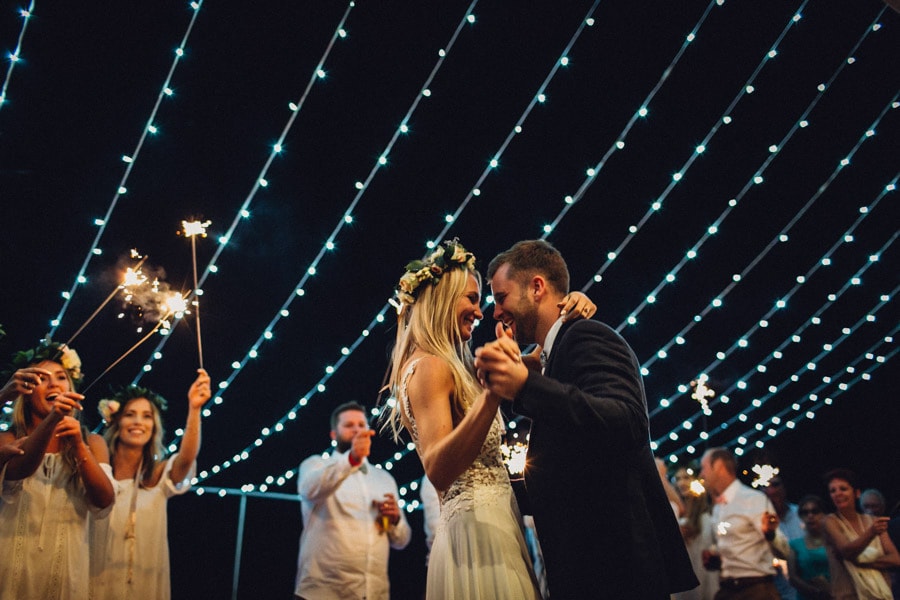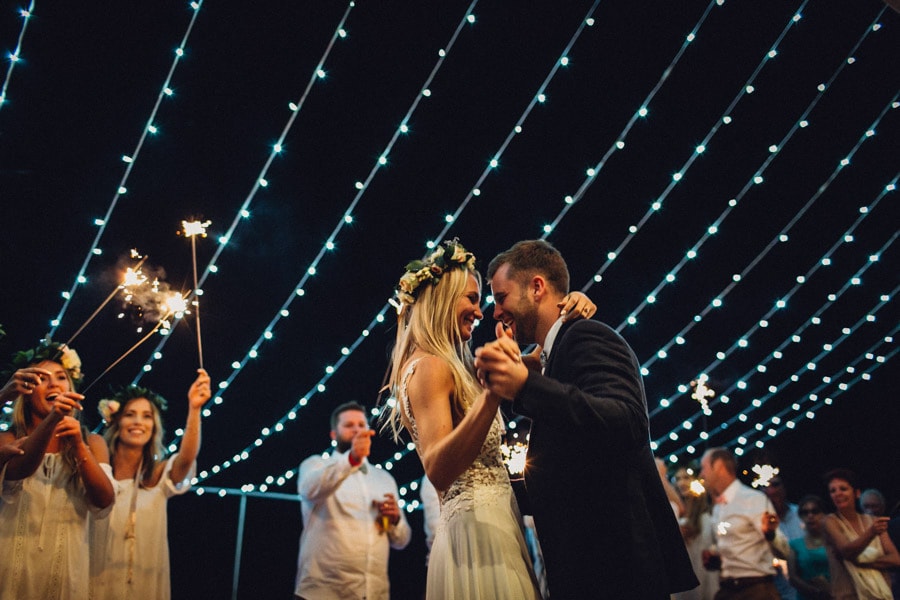 You can see more from this wedding on Andy & Szerdi's blog.
SERVICE PROVIDERS
Ceremony venue: Burnedale Venue | Reception venue: Canelands Beach Club and Spa | Photography: Andy & Szerdi Photography | Flowers & décor: Love Laugh + Crystal & Vine | Video: Speed of Wander | Cake: Smith's Bakeshop | Bride's dress & veil: Julia Ferrandi | Bride's accessories: Legit (shoes) | Hair & makeup: Kate Jennings of Spruce Beauty | Bridesmaids' dresses: Woolworths | Bridal party gowns: Tayla Hamilton Designs | Groom's attire: Woolworths (shorts & jacket) + No Name (shirt) + Mrs Bowtie (tie) + Old Khaki (shoes) | Hiring: House of Hudson (ghost chairs) + Crystal & Vine (decor) | DJ: Klaus in Da House (bride's dad!) | Band: Jason Hartman Band