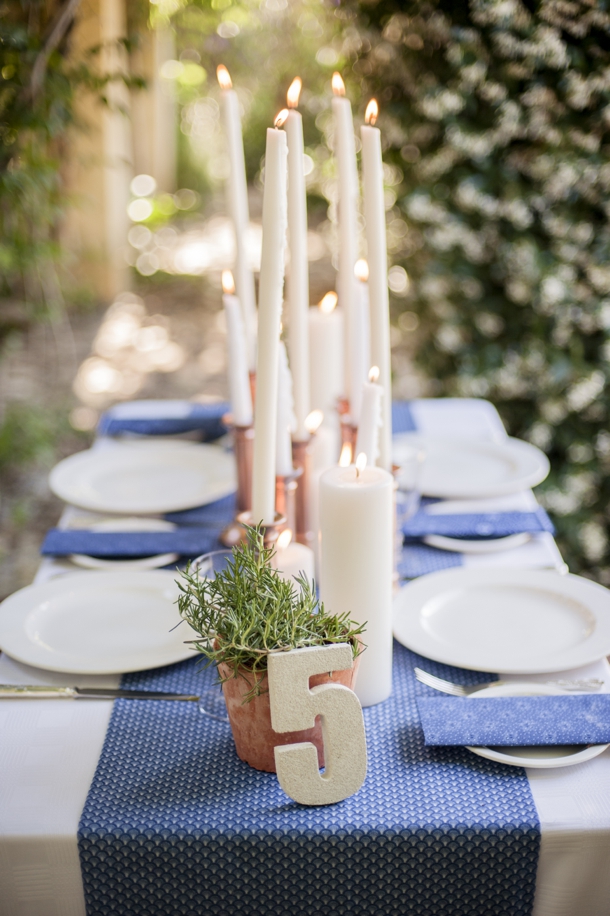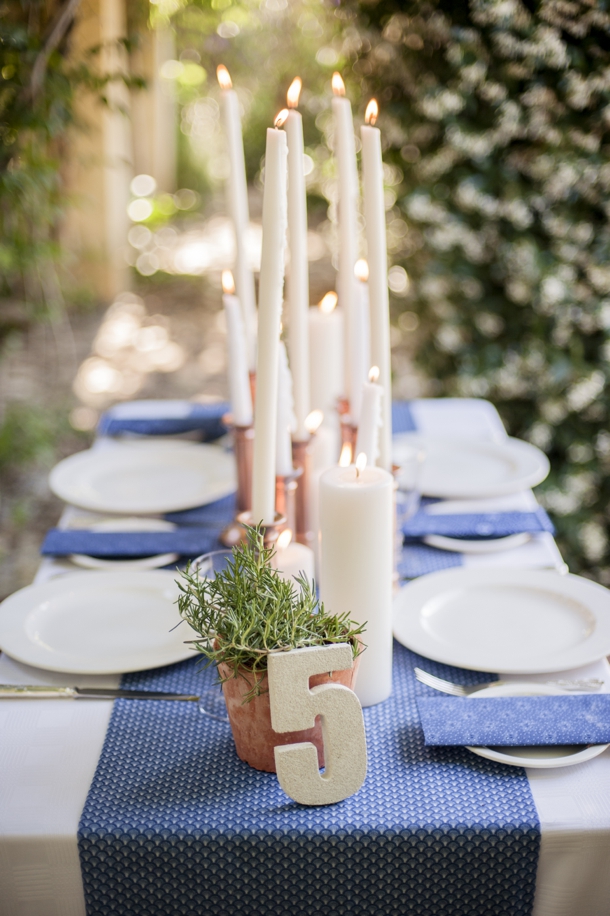 I am BEYOND excited to share today's shoot! Not just because I think it's so pretty, but because for me it's another step in the direction I have dreamed SouthBound Bride would grow. See, I don't just want SBB to be another wedding blog, another place of prettiness and support and inspiration (although it's all of these). What has always made the blog different for me is that it is all about South African weddings. So, to me, it's also important that SBB is a place that epitomises South African wedding style. What makes our weddings unique? What do they look like? How can I celebrate the designs and traditions that are close to our hearts? I still have work to do in many areas to adequately represent our diverse and beautiful country, but one thing I wanted was to celebrate what I think of as icons in SA style and design. I started dreaming of styled shoots that combined current international wedding trends, but had our very own homegrown twist. Today's is the first of these for 2014, and the uniquely South African element we're celebrating is shweshwe. Which I LOVE. And you guys, this is the year for shweshwe. It's happening.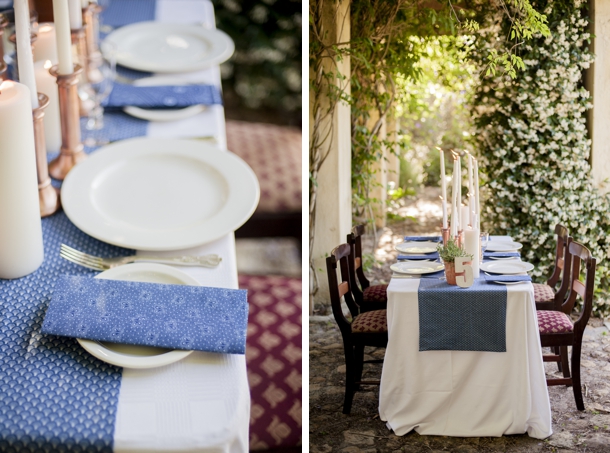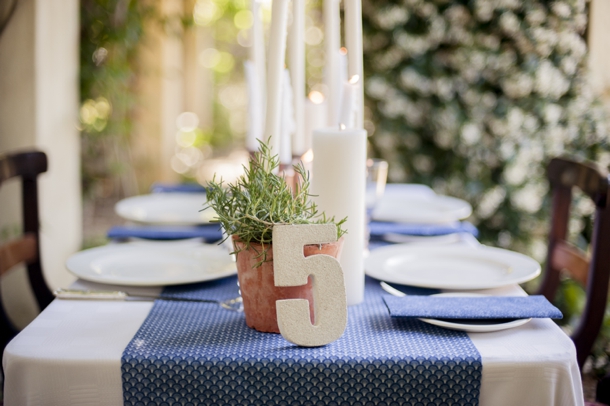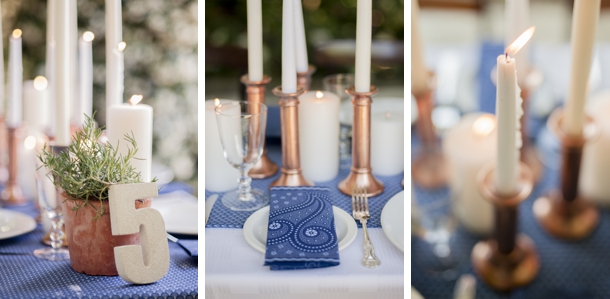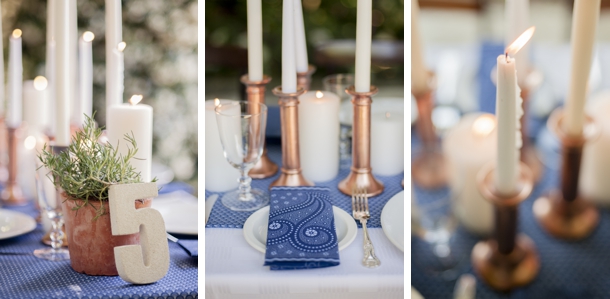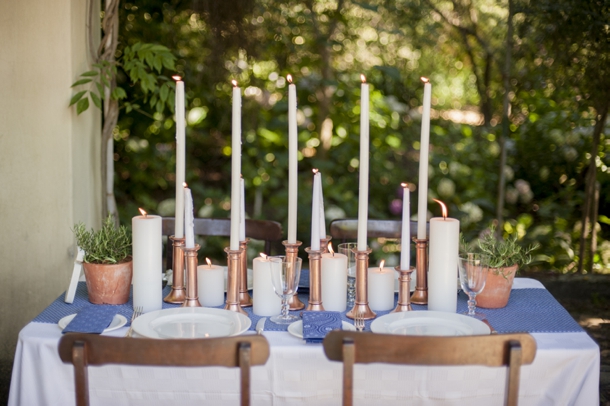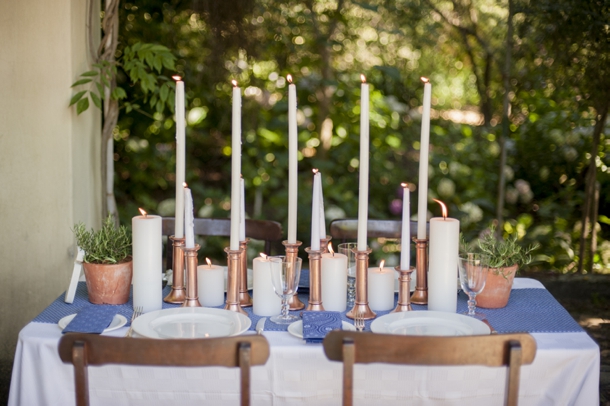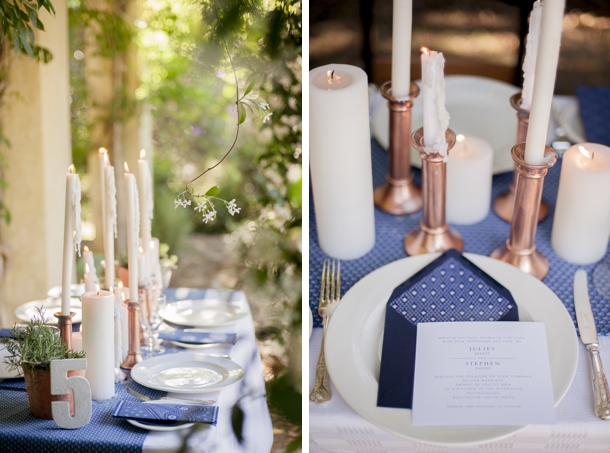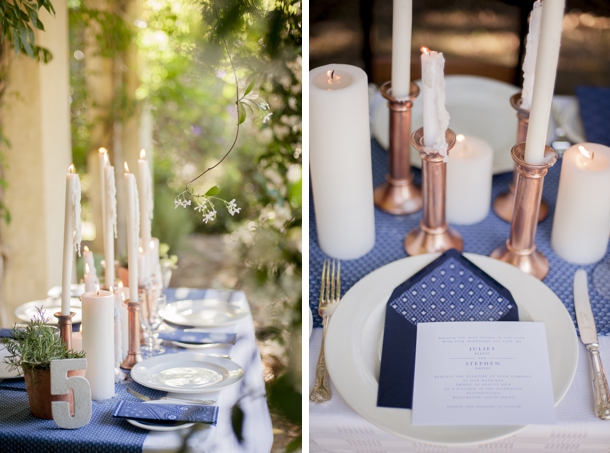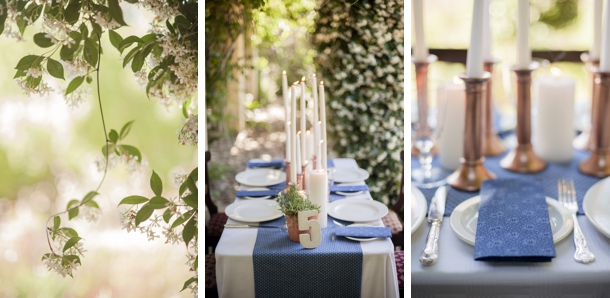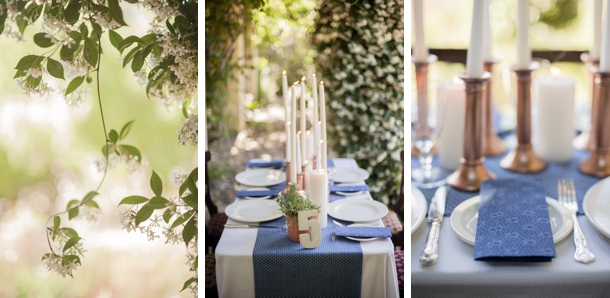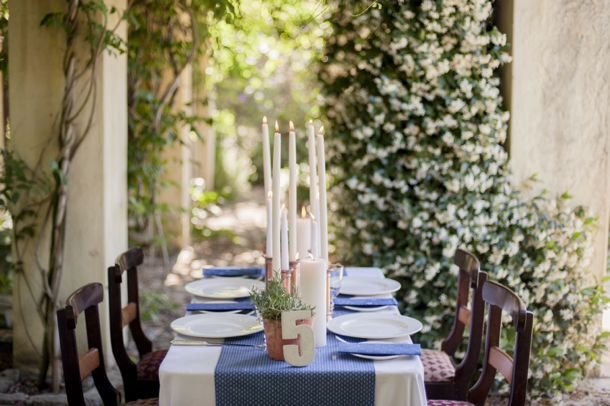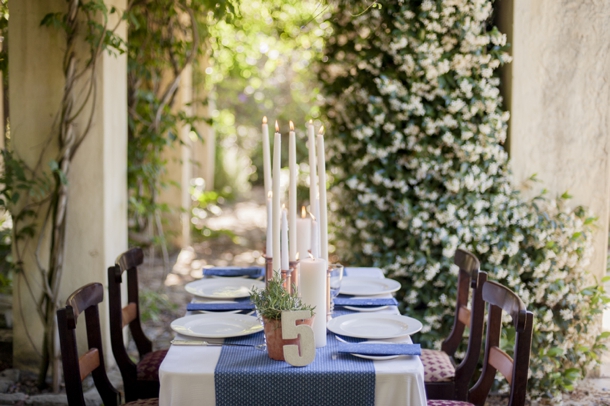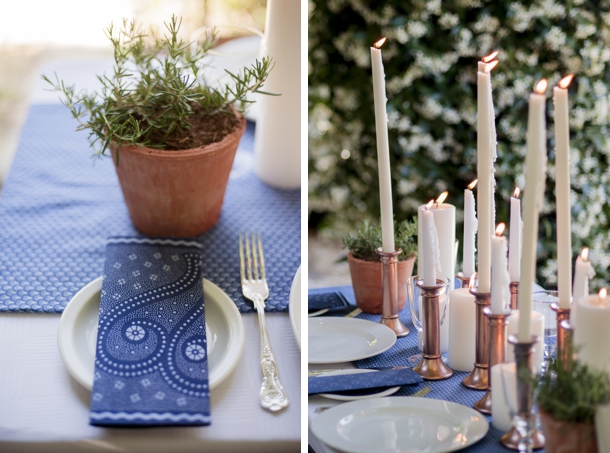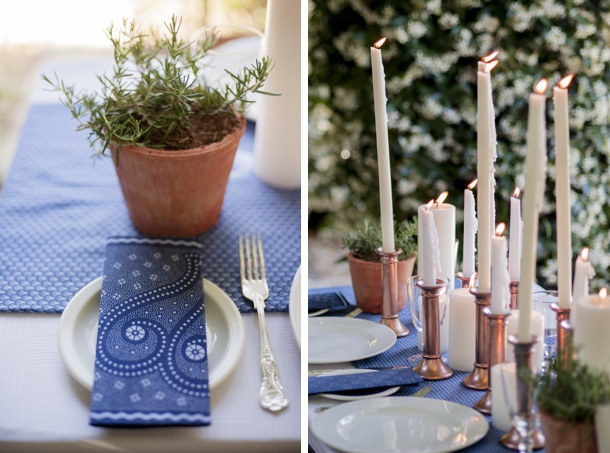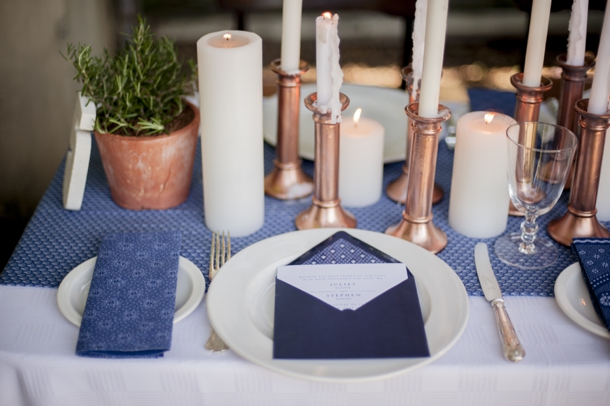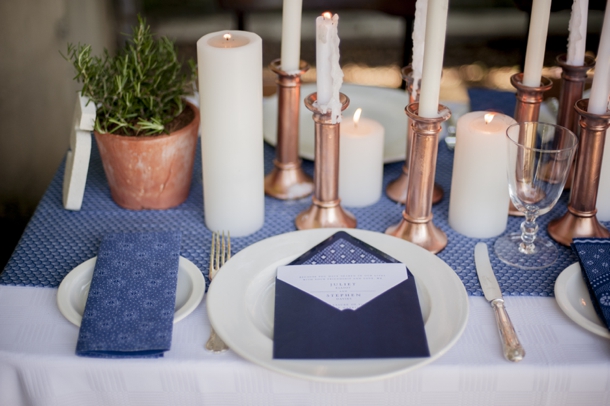 Our shweshwe mini-shoot also came about because I had the serendipity to be in Cape Town at the same time as two of my absolute favourite photographers. Luis and Kerry of Piteira Photography are dear friends – not only are they truly lovely people, but their photography is just so dreamy and beautiful, that I would never hesitate to work with or recommend them. Plus, working with a husband and wife team gives you such a complementary combination of skills and personalities. We didn't have a lot of time to plan, so we decided to keep this one small (what I like about this is that it let us create a table that was achievable and budget-friendly). For the table design, I combined three important elements. There was the shweshwe of course – bang on trend as a print, and in its original indigo shade that is perfect for the blue palettes we're loving right now. Then there was the colour copper, and candles – both major trends for 2014. And speaking of serendipity, Kerry's lovely dad just happens to run a hand-poured candle making company, Cape Candles, so we were spoilt with the most beautiful pillars and tapers you could imagine. A couple of days before the shoot I met up with the darling Anelle of Seven Swans, and when I mentioned shweshwe she showed me a gorgeous invitation sample with a shweshwe envelope liner – so of course, we HAD to have that! (See, I told, you. Shweshwe. It's a thing now.)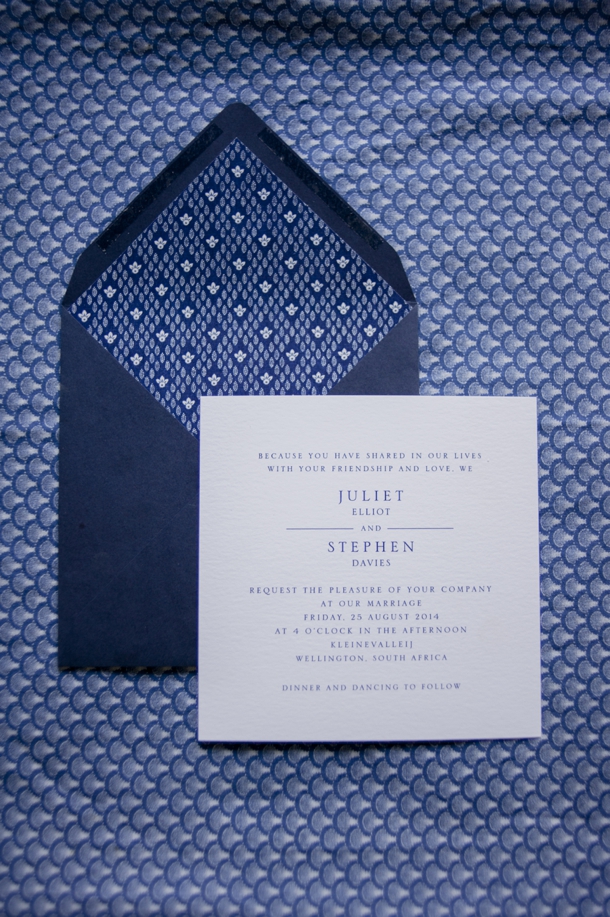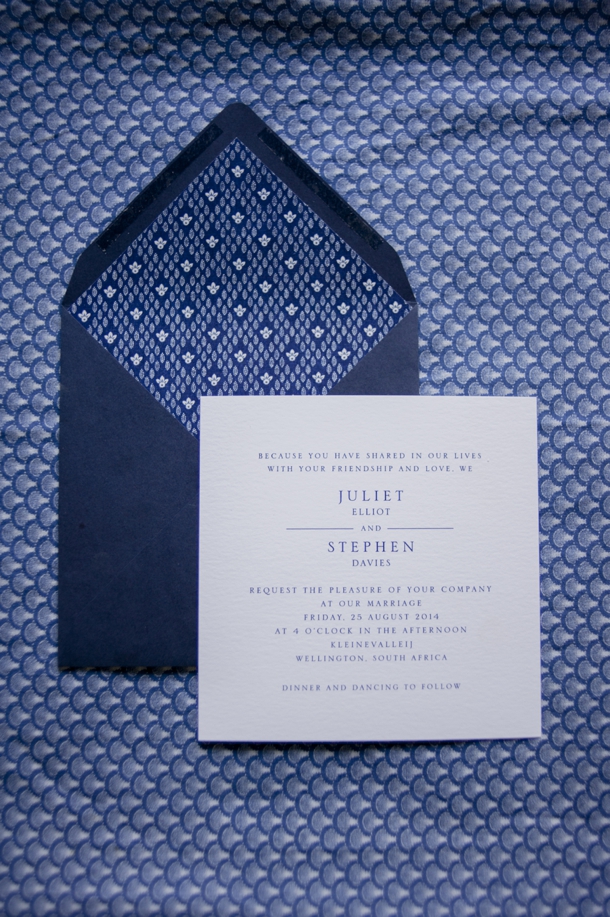 The final piece of the puzzle was our venue, and we were absolutely thrilled to be allowed to shoot for the afternoon at Langverwagt. One of my dear friends was married at the venue (I was in London and missed it, boo), so I'd heard great things about it but not been myself, but from the moment I drove up to the manor house with its French shutters and INCREDIBLE gardens, I was madly in love and knew it would be perfect for us. It was almost impossible to choose a place to shoot – that is until the lovely Juria showed me an old tennis pavilion that was now overgrown with jasmine in one of the prettiest parts of the garden. LOVE. The combination of French country elegance and rustic winelands whimsy surely makes Langverwagt one of the Cape's best venues.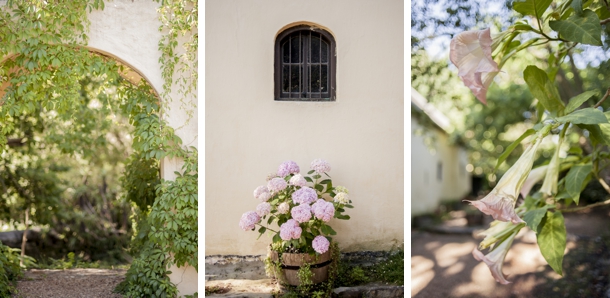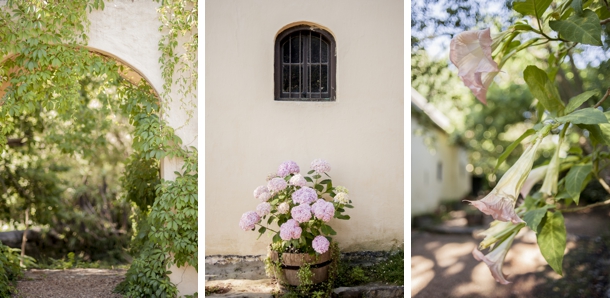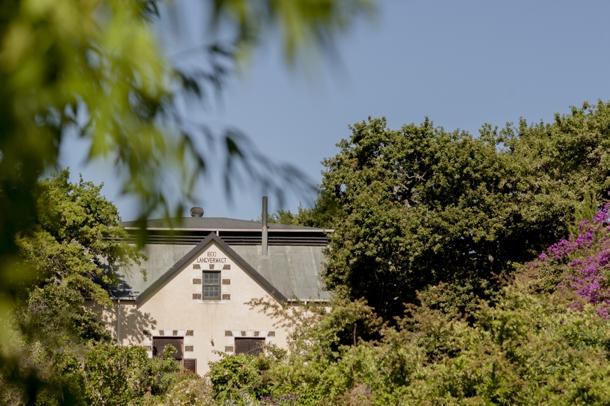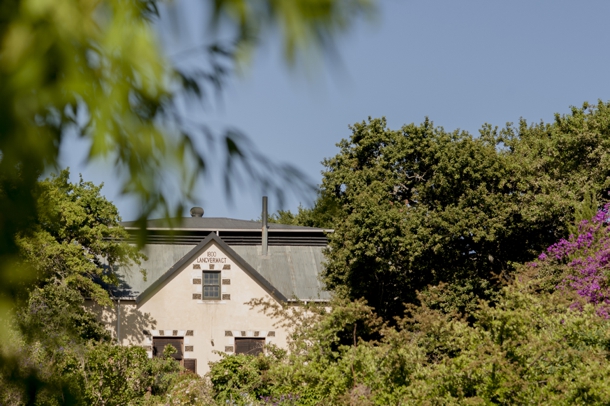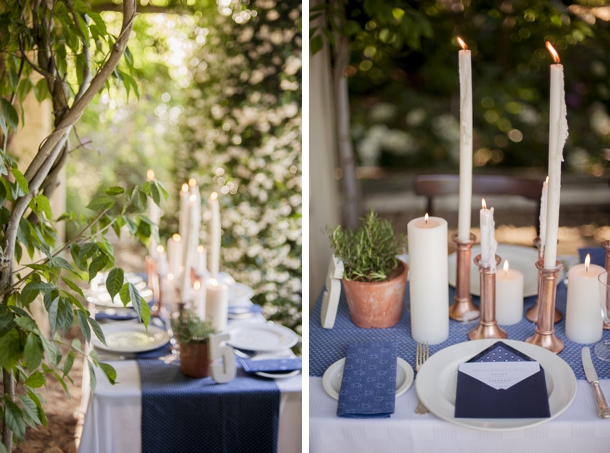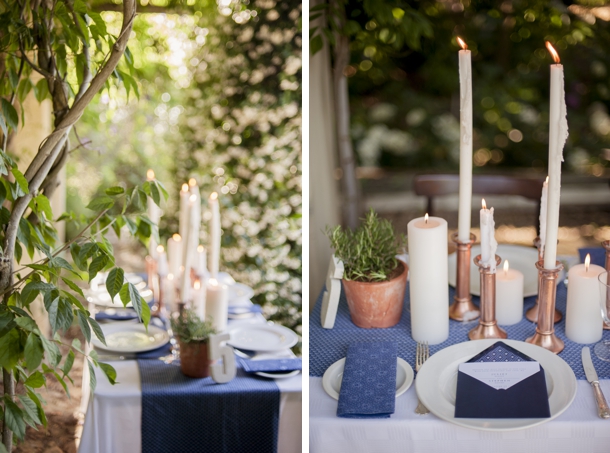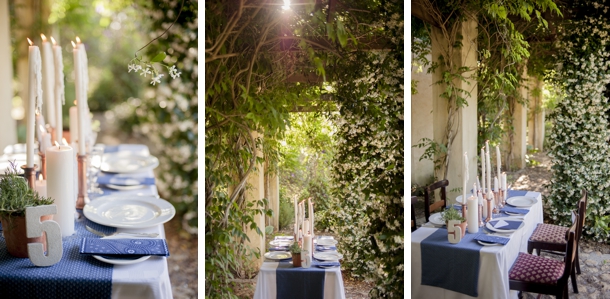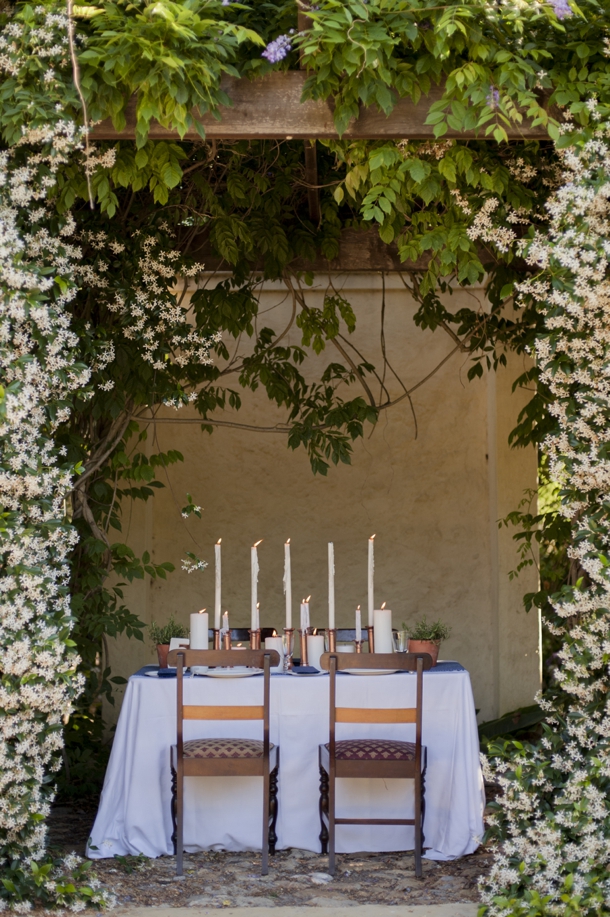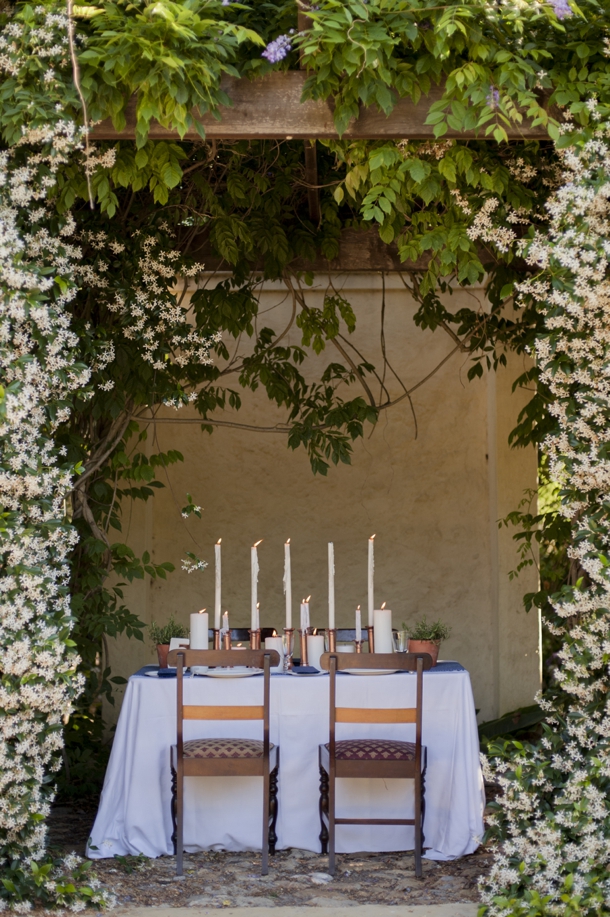 I put together two different tables for the shoot. On our main table, I placed a shweshwe runner and complemented this with shweshwe napkins at each setting. The great thing about this fabric is that there are LOADS of designs available, but they are really mix and match, so you can pick just one or have a selection in place for your linens. Down the centre of the runner, we placed a long centrepiece of candles – different heights and sizes, and a mixture of tapers and pillar candles so you get an attractive higgledy-piggledy effect. Proper brass or copper vintage candleholders would be lovely, but I decided to try something different, and bought plain glass candleholders from The Crazy Store. Yep, no kidding. And they were CHEAP. Then I primed them with grey spraypaint, and added a couple of coats of copper. I'll be honest, the glass didn't take the paint perfectly, but I'm really happy with the overall effect. Because we were going for a 'flower-free' table (don't get me wrong, I LOVE flowers, but candles can be a pretty cool and budget-friendly alternative in this case), I added little pots of herbs just to have an organic touch. These would make great favours for special people. Finally, for a table number, I added a rustic cement house number that I picked up at The Cape Quarter.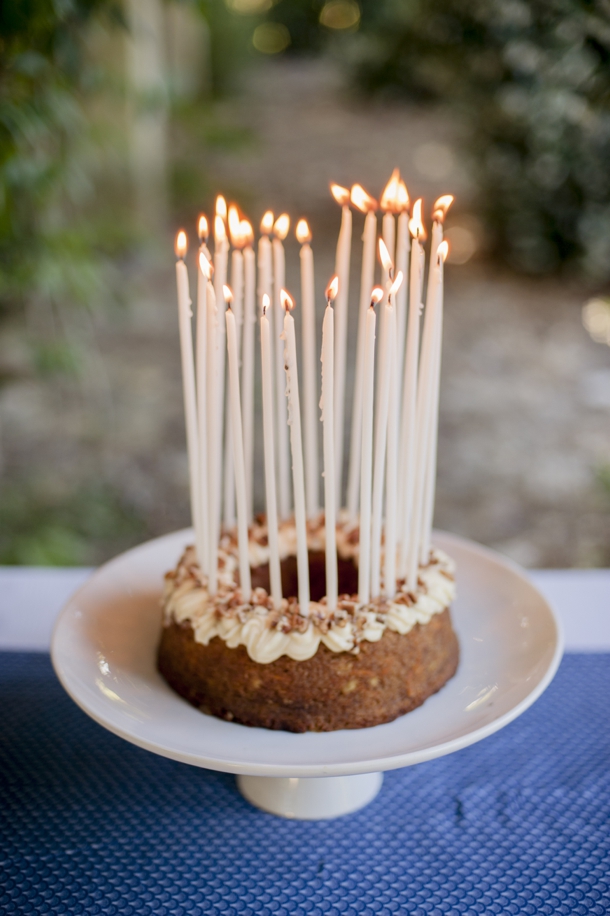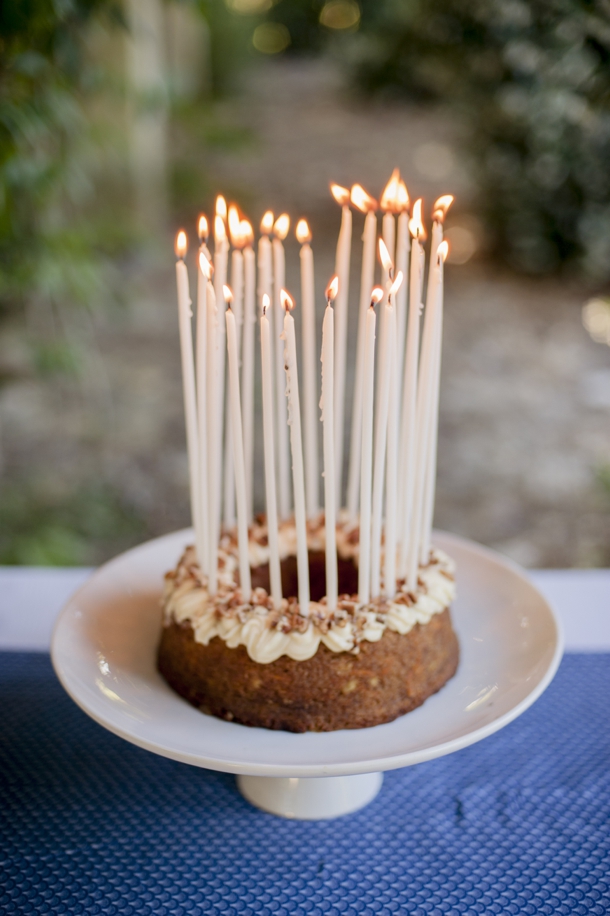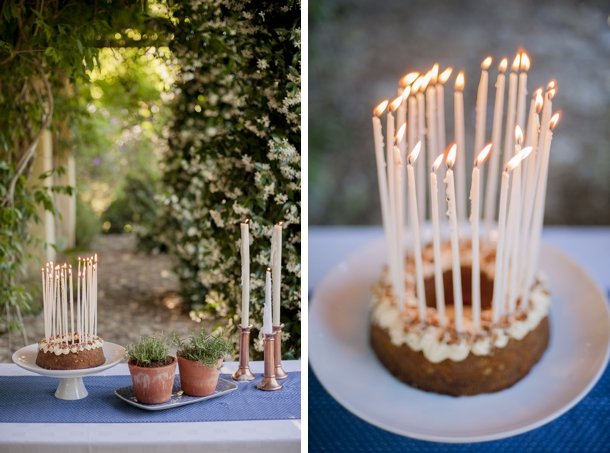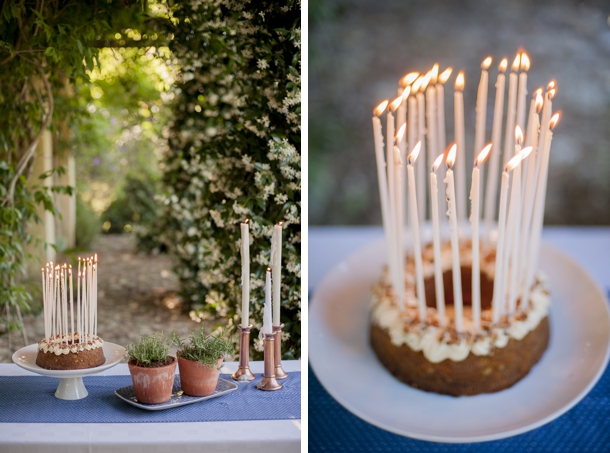 The second table was a dessert table, which combined some of the previous elements with our cake, which was my best! I also added a gorgeous ceramic platter that had a shweshwe type of pattern from blink, in Sea Point. Back to that cake – last year we were all about naked cakes, which were just perfect for a romantic rustic wedding look (and still are). But my new fave option is the bundt (or ring) cake. So that's what we used. And even better, I got to decorate it with loads of elegant, slim tapers. Yay for Kerry's dad! I know candles on a cake are supposed to be a birthday thing, but I have been seeing more of these in weddings, and I absolutely lovely them. And come on, who wouldn't want to make a wish as they blow out their candles together? So fun.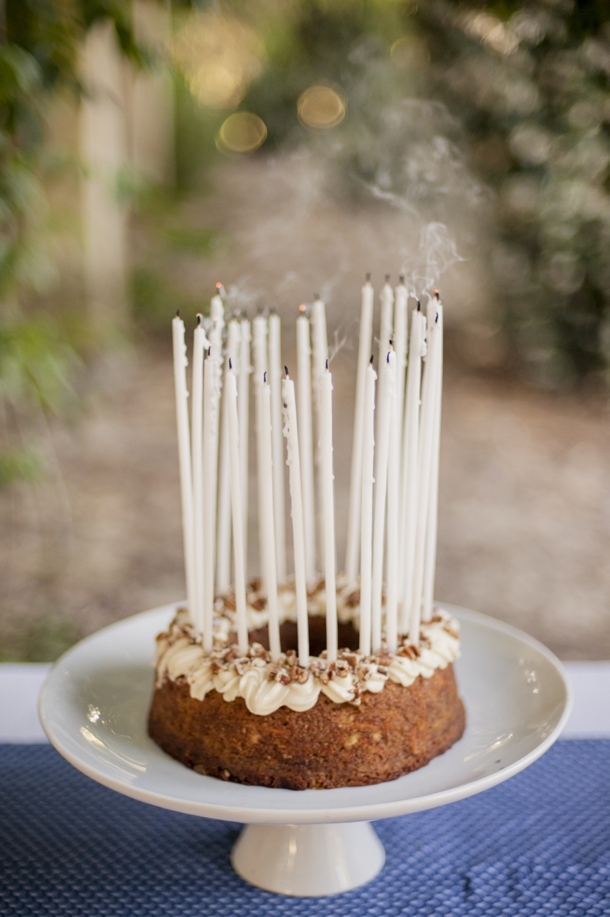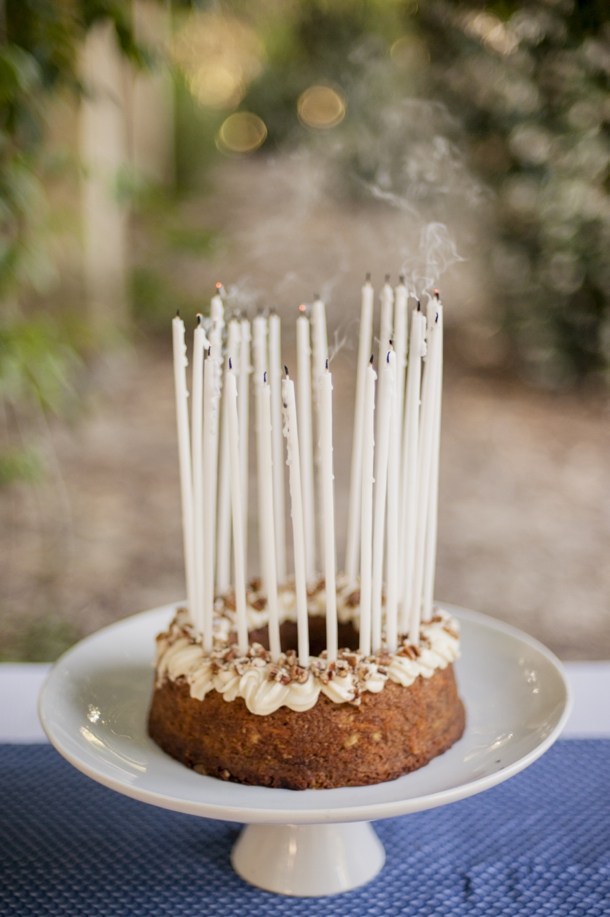 So there you have it. It's not the last you'll be seeing of shweshwe here this year, but it is a very pretty first. HUGE thanks to the awesome Piteira Photography, Seven Swans, and Langverwagt!
HANG ON, WHAT'S SHWE SHWE?
Shweshwe (or isishweshwe, or shoeshoe) is a fabric that was originally introduced into South Africa by German settlers in the 19th century – the indigo printed fabric soon gained in popularity here and continued to be imported from Europe (mostly from England by the 1930s). The starch that was added to the fabric to preserve it for long sea journeys is one of the distinguishing elements of genuine shweshwe, and continues to be used today. It's not certain how the fabric got its South African name, but it may either be from King Moshoeshoe I of Lesotho or from the swishing sound the material made as you walked. Production moved to SA from 1982, when Da Gama Textiles shipped the copper rollers over from Manchester and began producing shweshwe in South Africa. They now own the exclusive rights to the original designs. It was also at this point that brown and red shweshwe was introduced, although you can now buy it in a range of colours!
Top Tips for including shweshwe in your wedding:
The obvious place to include the fabric is on your tables, as runners and/or napkins. As mentioned above, the fabrics are usually complementary, so you can mix and match quite happily, as long as you stay in the same colour range. You could also consider having shweshwe bunting and rosettes (as this clever bride did), or a shweshwe sash for you or your bridesmaids. (Or go the whole hog and have a shweshwe dress – local designer Mantsho creates some absolute stunners with shweshwe, for example.)
Be sure to buy the genuine article and support the local SA textile industry – there are imitation shweshwes on the market from China, but they lack the gorgeous colour. The real thing is more expensive than the fakes, but it's still budget friendly. To tell the difference, you'll find the Three Cats brand on the back of the fabric, as well as the trademark stiffness.
The first thing you'll need to do with shweshwe is give it a wash to get rid of the starch. It will run a bit (so don't wash it with anything else!) but a couple of generous spoonfulls of salt will help to keep the colour in place and it'll dry soft and ready to use.
SERVICE PROVIDERS
Photography: Piteira Photography | Concept & styling: Gaby Frescura for SouthBound Bride | Venue: Langverwagt | Candles: Cape Candles | Stationery: Seven Swans | Platter: blink | Shweshwe: Da Gama Textiles