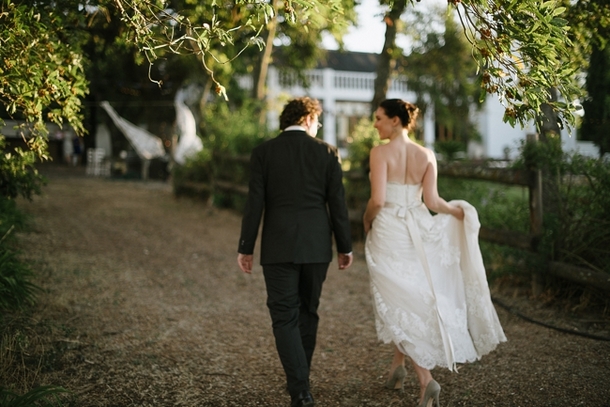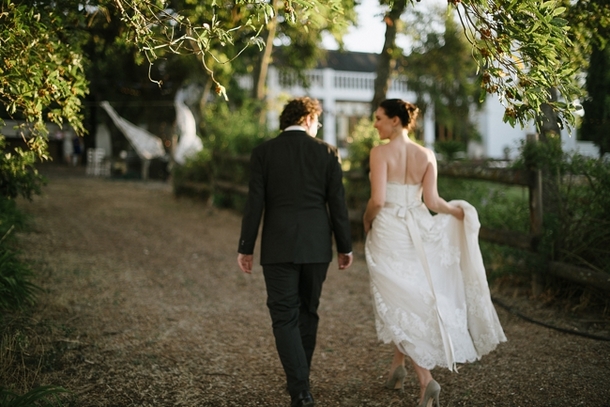 Today's bride is really, truly a SouthBound Bride, in so many senses of the word. Anita may not be from SA, but she has a deep bond with our country, and when she and her South African-bord husband tied the knot, they went above and beyond to include dozens of gorgeous South African elements in the mix, including loads of beautiful shweshwe. As a regular reader, Anita found all of her suppliers via SouthBound Bride, and having been in touch with her during the planning process, I loved her enthusiasm for every little detail. It's worth reading her story and advice below to get a sense of just how much thought went into each aspect – right up to a stargazing lounge so guests could see the Southern Cross, sigh. The day was beautifully captured by the wonderful welovepictures.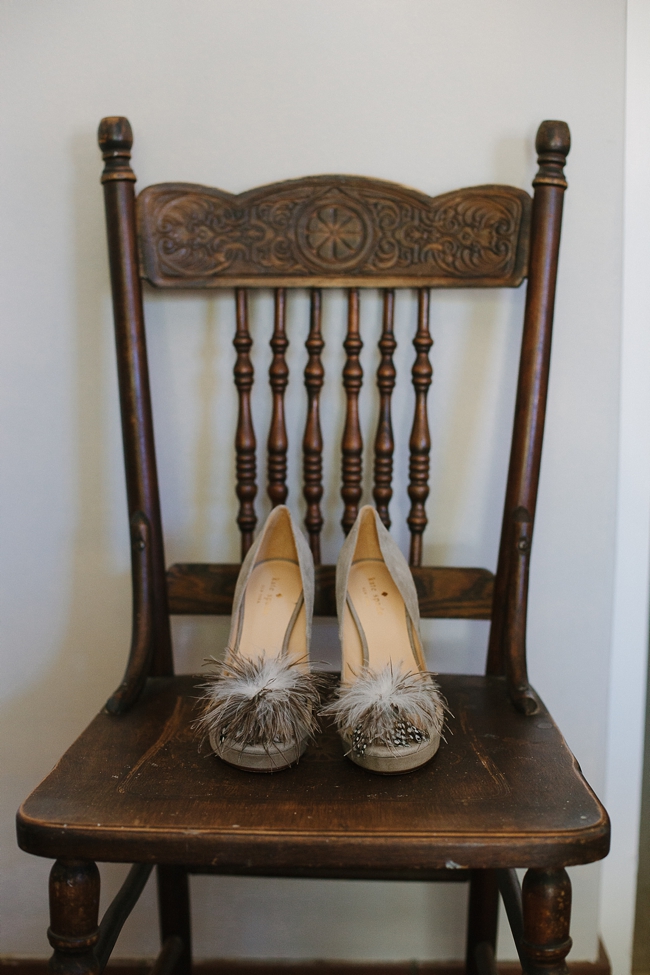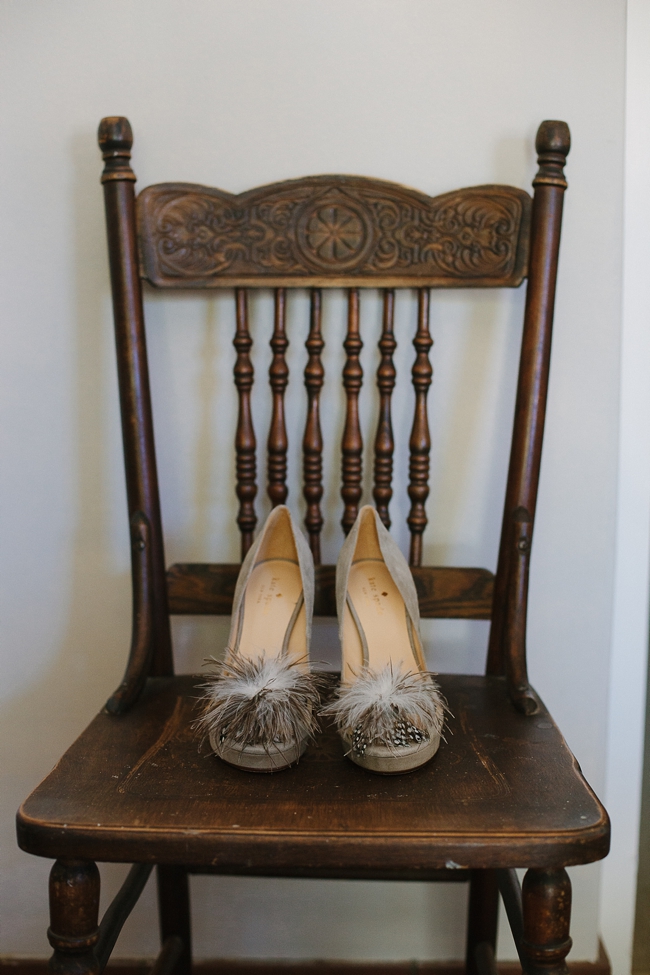 Love Story
I'm Swiss and my husband is South African living in New York, so our love story is a bit complicated… I guess our story starts eighteen years ago when a girl from South Africa decided to go on exchange to Switzerland and ended up in my class. We became close friends and after her year was up and she went back to SA, we stayed in touch and I visited her on several occasions, quickly falling in love with South Africa and the friendliness of its people. When my friend got married in 2006, of course I went to her wedding, where I met this handsome and funny guy who grew up next to the groom and flew in for the wedding all the way from New York for only 72 hours. We really liked each other from the start (romantics could almost call it love at first sight) and it didn't take much persuading from his side for me to come visit him in New York only a month later. What followed was a three year long distance relationship from Switzerland to New York. It was not as bad as it may sound because I was still a student and thus was quite flexible with my time as well as the fact that I worked part-time as a flight attendant which made trips over the Atlantic quite affordable. After I finished my Master's degree, I moved over the pond myself and we got engaged three years after that.
The Proposal
I actually spoilt his first attempt unknowingly and felt so bad afterwards! He didn't want to propose on a trip because he thought I might get suspicious, so he chose to do it in New York instead. He picked the perfect location and time – the Brooklyn Bridge Park, where you have stunning views of the skyline as well as our apartment, right after a Johnny Clegg concert, to tie in to our South African beginnings and mutual love for the country. But when he asked me after the concert if I wanted to go someplace fun I declined because I was tired and a little sick and didn't feel like going out any longer. If only I knew he was planning to propose that evening I wouldn't have minded staying up a bit more at all! He managed to get me there the following Saturday afternoon and it was wonderful, unexpected and very us. Afterwards we walked over the Brooklyn Bridge together and went to one of our favourite restaurants to celebrate.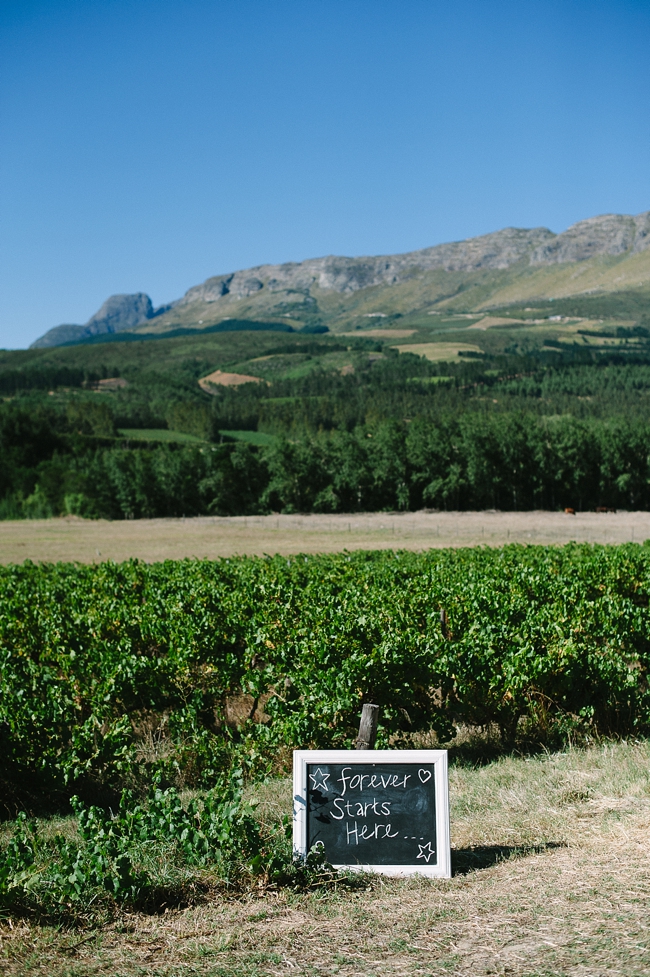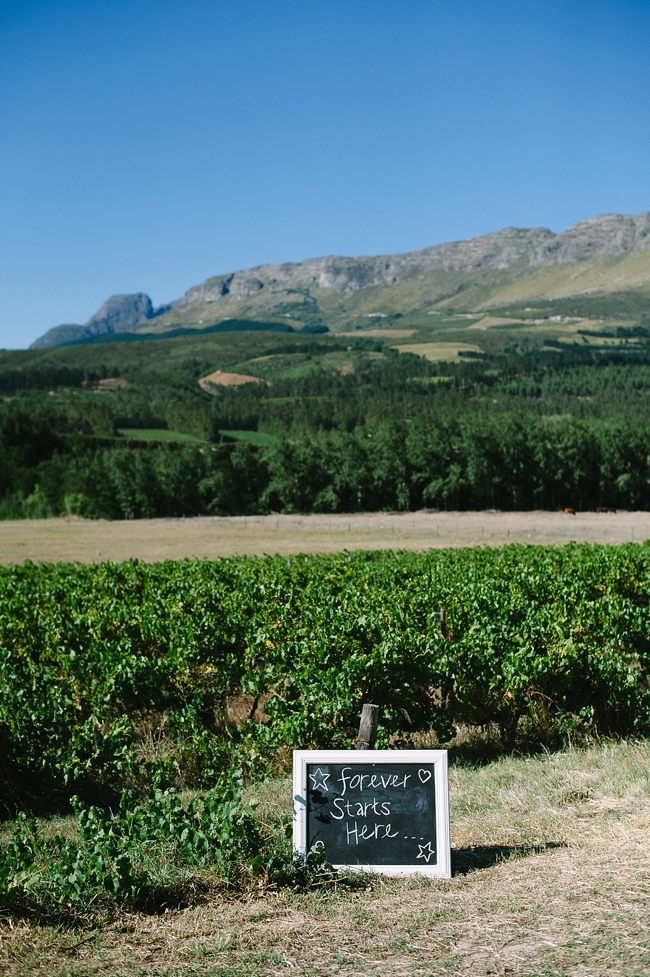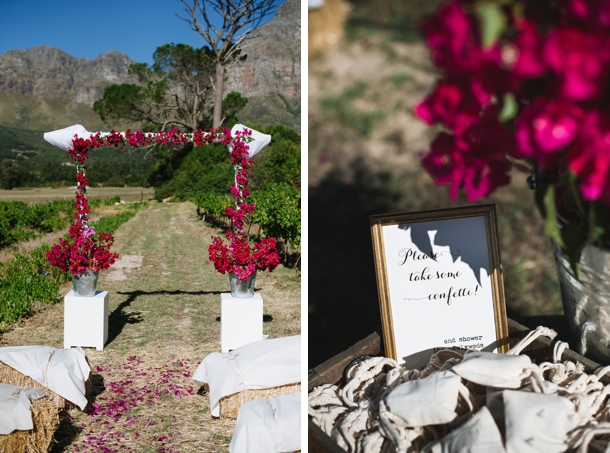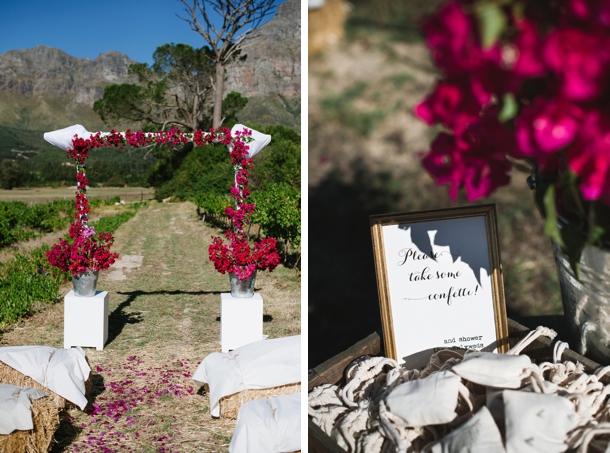 The Venue
We never had a doubt in our minds that we wanted to get married in South Africa versus New York or Switzerland. South Africa has a special place in our heart because it's where we met and fell in love. We share a deep love for the country and wanted to show our extended family and friends this amazing place. The venue itself was our most important and also our hardest decision. Planning a wedding from 12 500km away was definitely not easy, especially because I didn't know anybody local I could ask for help. The internet was my best friend and I did a LOT of research. Luckily I found SouthBound Bride very early in our planning process and I looked through every single venue that was listed on the website and made spreadsheets of pros and cons. If a venue fitted our requirements, I would look through the real weddings pages and browse through the websites of photographers and wedding planners as well to get a feeling for the venue. Eventually, we made a short list of six venues and planned a trip to South Africa to take a look at them in person. We loved the idea of a winelands wedding (we're both big wine drinkers), we wanted the ceremony and reception to take place at the same location and we needed enough rooms on the premises for our immediate family and our wedding party. There was one venue that stood out for us, but we could only get married there if we worked with a specific wedding planner, and when we decided not to hire them, we had to start again. This time we found two new venues that we hadn't considered before. One was just perfect for us: Mountain Shadows in Paarl. It's a family-run guesthouse, located on a small vineyard (but they allowed us to bring in our own wine, which was a big plus) with absolutely stunning views of the Drakenstein Mountains. There was an olive grove, a dam and the most beautiful surroundings. But most importantly the Truter/de Beer family are the loveliest people and they were so happy to accommodate all our crazy ideas. The daughter was our coordinator, her husband our DJ, and their Finnish daughter-in-law the most amazing chef. It was a very intimate and individual venue and planning experience and exactly what we were hoping for.
Wedding Style
We knew we wanted a fun and relaxed wedding and it should take place outdoors. But I always found it very odd when one of the first questions people asked was 'What are your colours?'. I found it so hard to pick only a few colours, why did I have to? Our inspiration came when we went looking for venues. The bright blue South African sky that you can find nowhere else, the different green shades of fynbos, olive trees and vines that surrounded us, the pinks of proteas and bougainvilleas, the little guinea fowl running around. In the end it all just kind of came together beautifully and I'm glad we didn't limit ourselves to a colour palette or theme.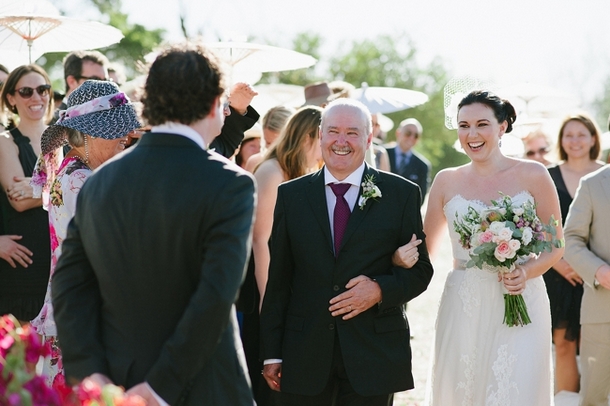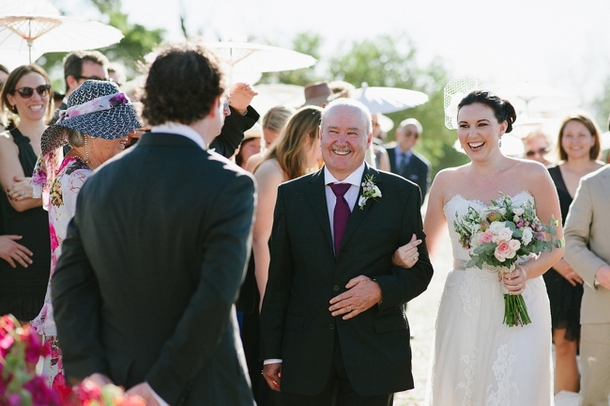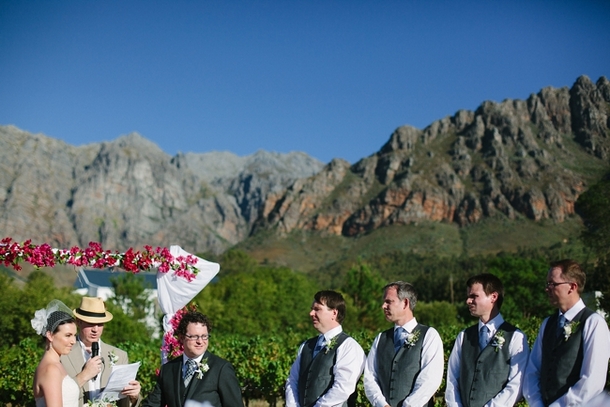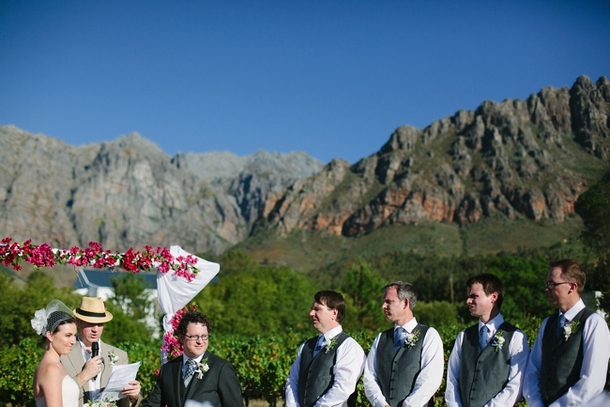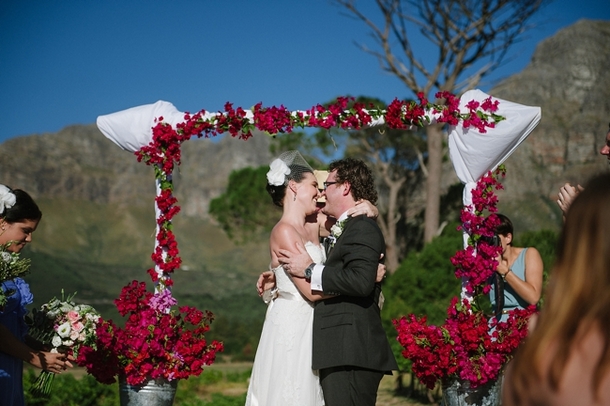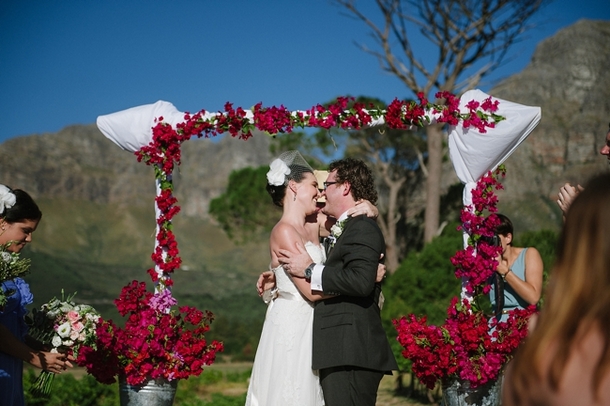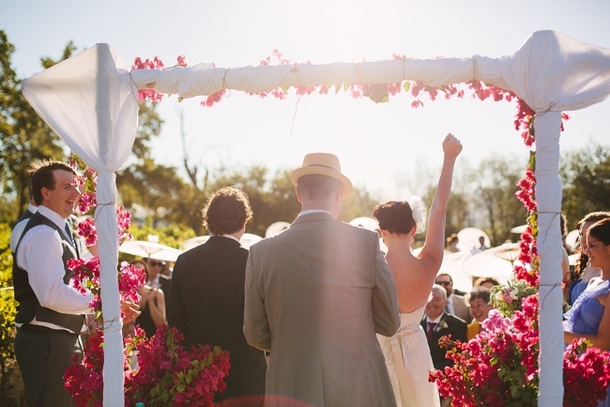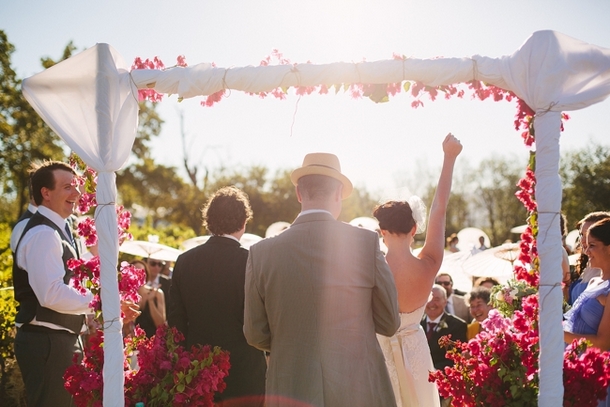 Wedding Details
All the details were chosen because they were meaningful to us. Our officiant was a friend from NY and we wrote the whole ceremony ourselves. Readings of our favourite poems were done by my brother and two close friends. Instead of a ring-pillow we used a carved out book that my brother made for his wedding: a book on marital advice that belonged to my grandfather, who was a pastor. In our wedding program we included a page of fun facts of our relationship – i.e. how many days we were apart/together during our LDR, how many times we flew over the Atlantic and how many miles we travelled to see each other during that time (17 times around the earth!). We served some of our favourite wines, including a Thelema Cabernet 2006, the year we met. In our welcome bag (in our guests' hotel rooms) we put a CD of songs that played a part in our relationship. Instead of a guest book we had collected vintage postcards of places where we had travelled to together, and asked our guests for advice, a favourite memory or what to do on our five year anniversary. We installed a stargazing lounge on the roof deck with the telescope that my dad had brought along (he's an avid birder and never travels without it) and showed our friends the Southern Cross and other constellations you can only see in the Southern Hemisphere.
DIY Elements
We did a lot of DIY because we love it! We hand-printed our Save the Dates and tied them together with twine and decorated with a guinea fowl feather. We also hand-printed our invitations with our Gocco and added a custom drawn map and little illustrations, all designed by the ever so awesome Seven Swans. I sewed our ShweShwe table runners and bunting, I made the tissue paper pompoms for our tent decoration. We stamped Thank You tags to go on our favours (olive oil from the venue), stamped little bags for our flower confetti, stamped our welcome bags with a guinea fowl feather motif. I wrote all the place cards in my best calligraphy, which we then wrapped around single rolls of bread on the morning of the wedding. We collected old frames to display our bar menus and other info during the day. The escort cards each had a swatch of the respective table runner where the person was seated and were displayed with wedding pictures of our grandparents, parents and siblings. I learned InDesign to create our welcome booklet and wedding program. I used WordPress to build our wedding website with lots of information about SA and extensive travel tips for our guests from overseas. I made my own birdcage veil and flower hair accessory. I stitched our initials and wedding date into my husband's suit and my dress. Because we had a long engagement we were able to do these things one at a time and we thoroughly enjoyed them. But we always promised ourselves that we'd stop if we thought it was getting too much of a burden rather than fun. Fortunately we never reached that point, but there were definitely details that I had to scrap because we were running out of time!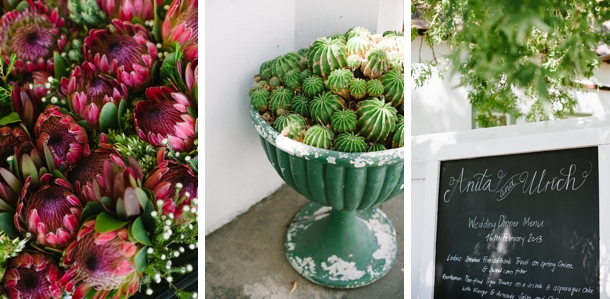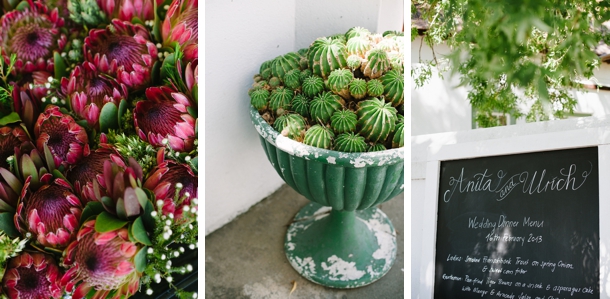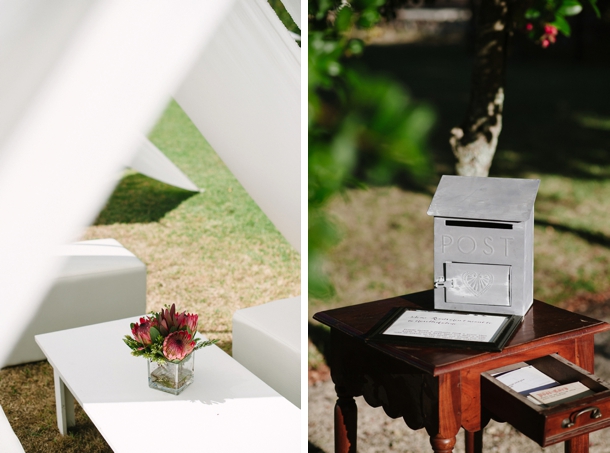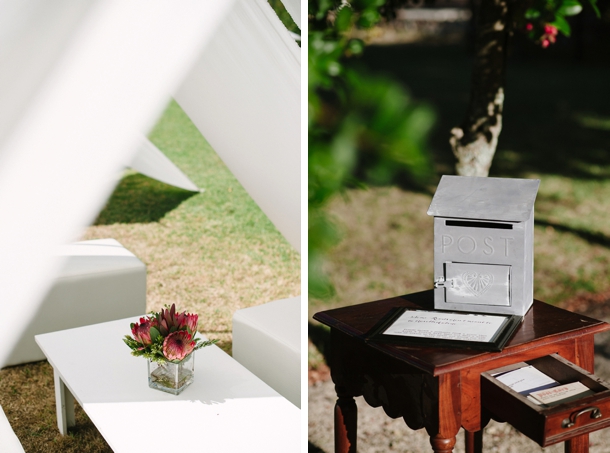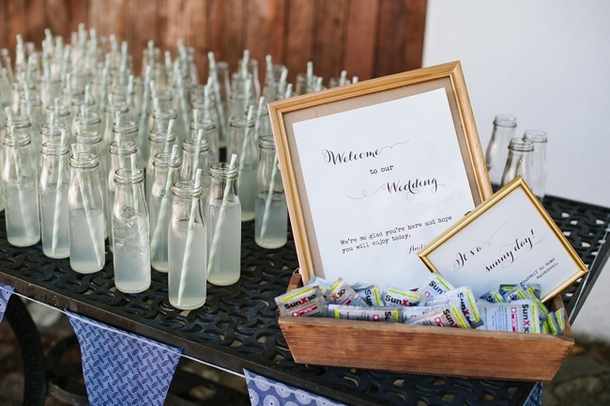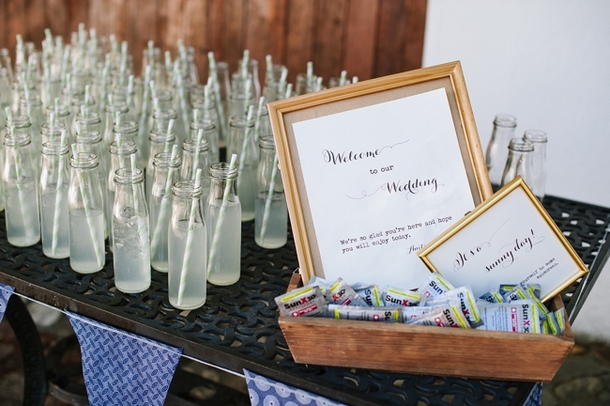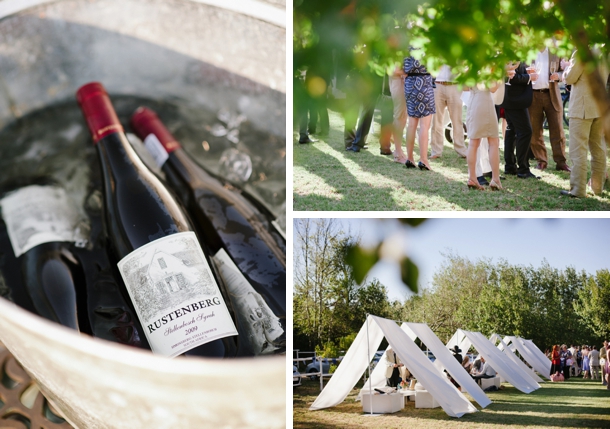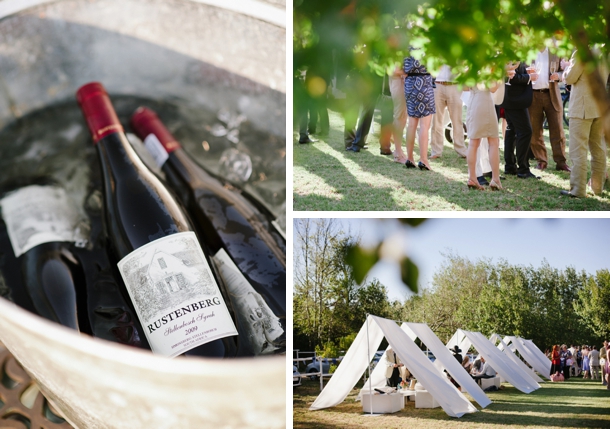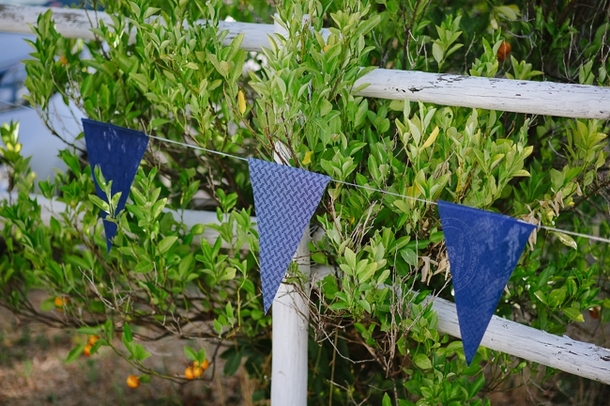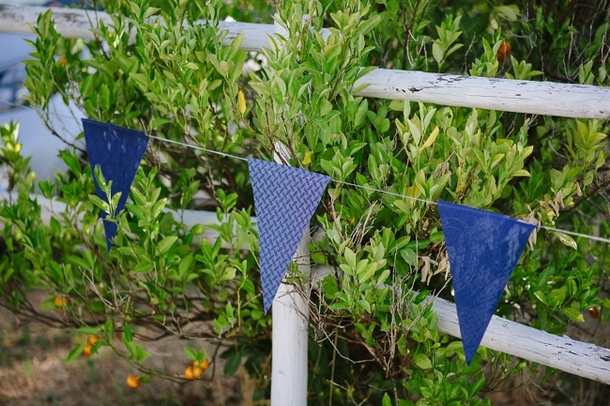 The Flowers
I really wanted to arrange my own flowers but my mom talked some sanity into me to avoid this stress on the day. I had a very clear vision and must have been a pain to work with ;) For our ceremony, I wanted pink bougainvillea, because I love how they look against the bright blue sky. The ladies of Mint & Magnolia did a great job making & decorating an arch last minute (they don't hold up well once they're out of the water). For our pre-drinks they built small, airy tents for some shade and all the flowers were proteas & fynbos. For our centrepieces we had more proteas & fynbos and added spray and garden roses, dahlias and carnations. From the tent ceiling we hung my tissue paper pompoms and bunches of baby's breath. I absolutely loved my bouquet of fynbos, spray and garden roses, a smaller variety of protea and lisianthus in white, soft pinks and greens. Our florist added rose germanium and the scent was amazing and reminds me of our wedding to this day. My bridesmaids had similar bouquets in white and green to match their blue dresses.
The Dress
Living in New York gave me many options for a wedding gown. I was looking for a vintage looking dress – lace, flowy, soft and romantic, with a natural waist but not too much poof. I tried on a lot of dresses, oftentimes alone because that way I was more focused and I learnt what was flattering for my body. When two of my best friends and bridesmaids came to visit from Switzerland we went to try on a dress that I had pinned for a while but that was only available in one store: a Lazaro (style 3004). The quality of lace and silk was exquisite and I felt so comfortable. And that was the one!
My shoes were a lucky find only three weeks before our wedding. I was in Bloomingdale's buying undergarments for my dress when I walked past this amazing pair of Kate Spade heels, perfectly topped with guinea fowl feathers – it was meant to be!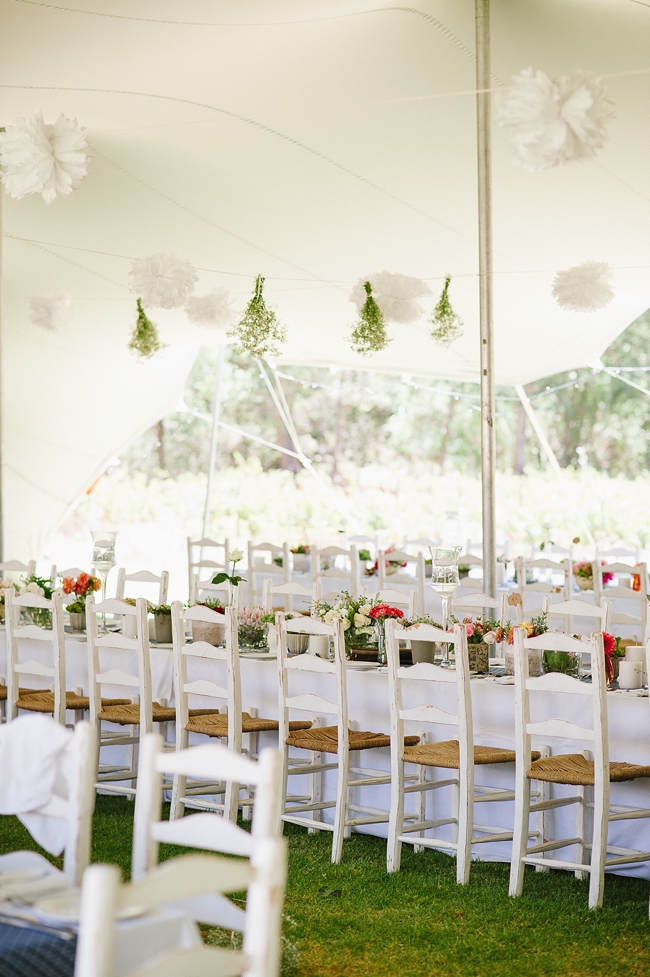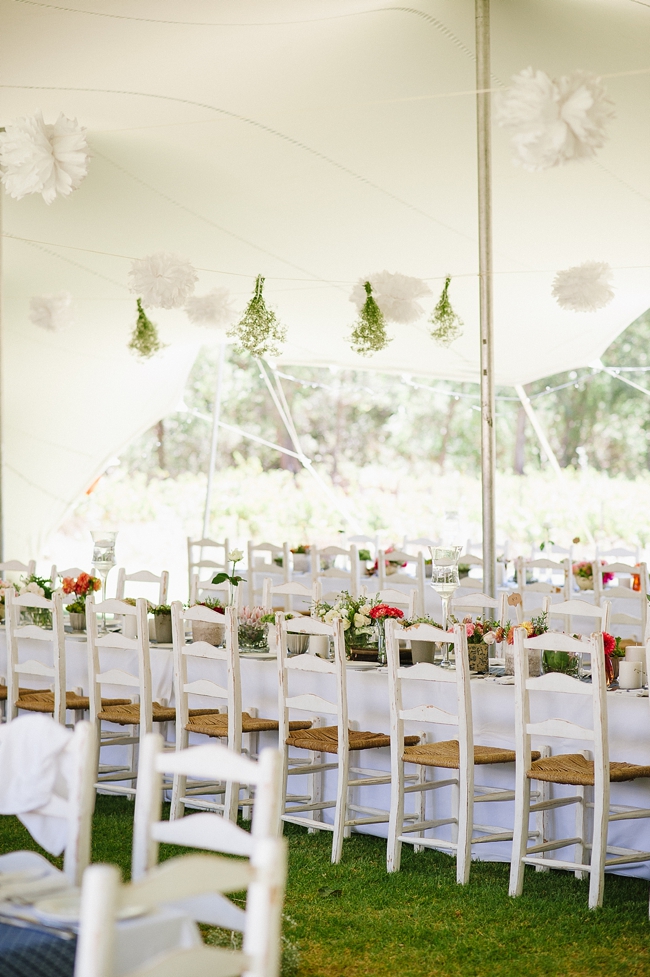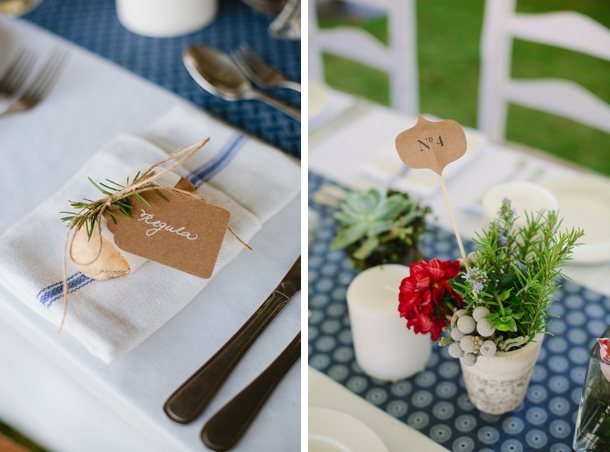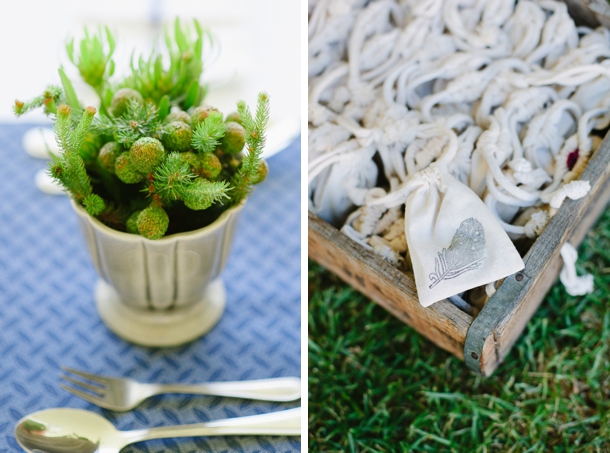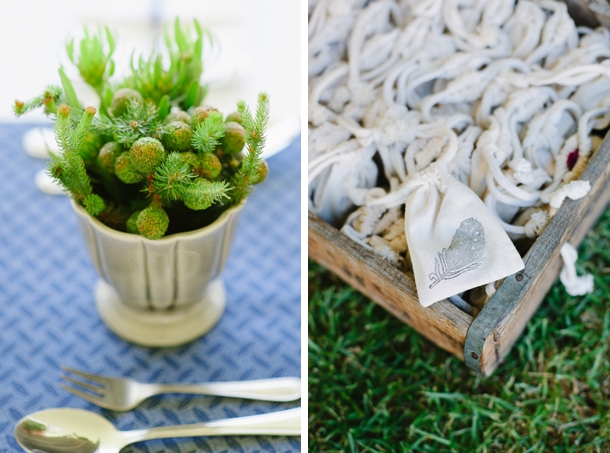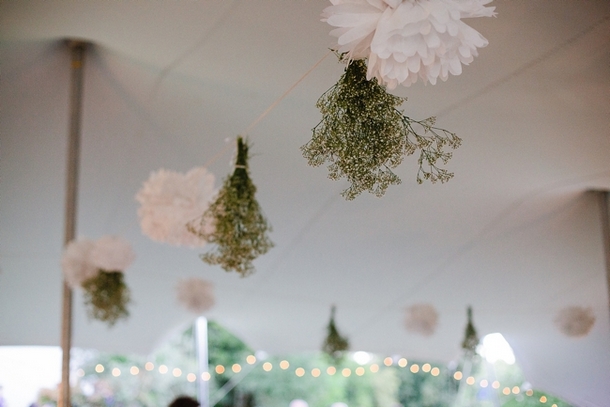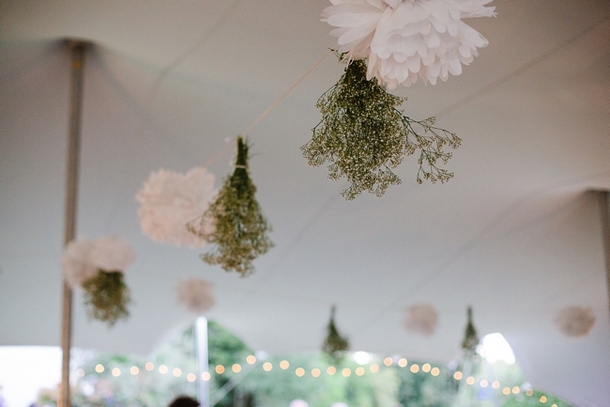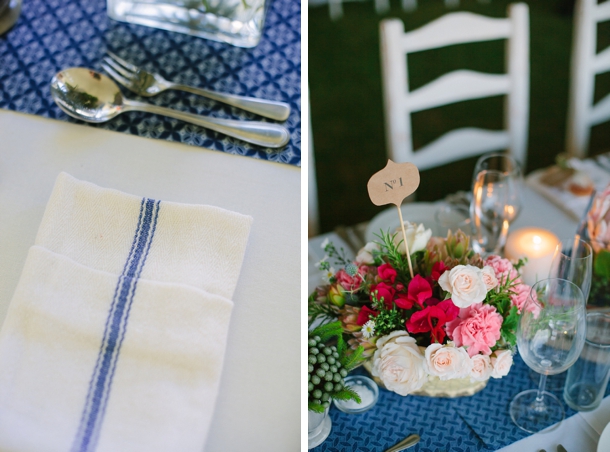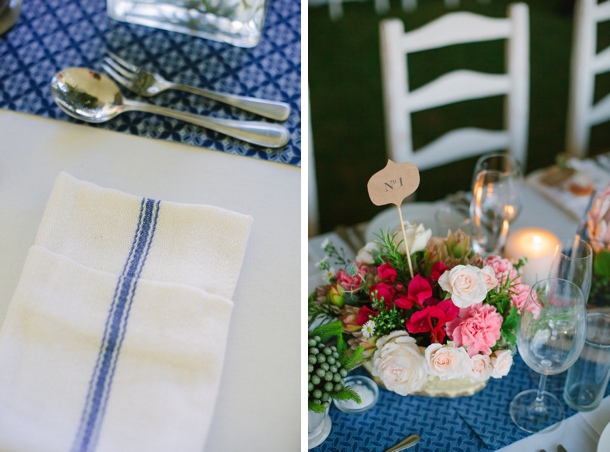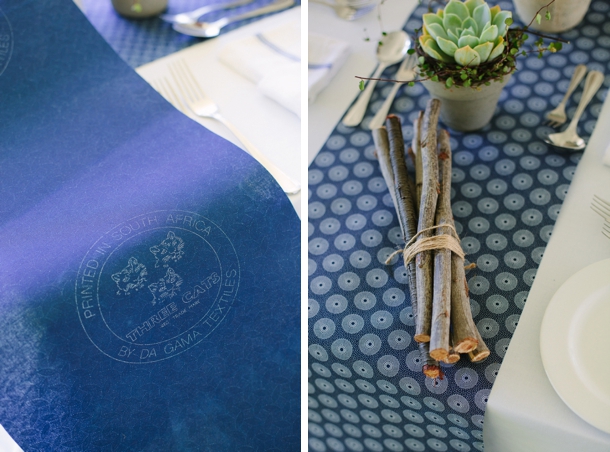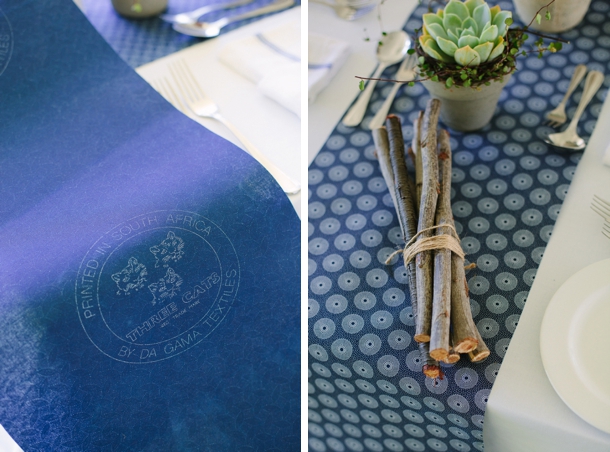 Memorable Moments
If I have to pick one, I was surprised how much I loved walking down the aisle. The excitement was overwhelming while we all proceeded, perfectly timed to 'Hoppipolla' by Sigur Rós, seeing my almost-husband at the end of the aisle, standing there in the middle of the vines. I grinned so much all day it hurt! And I really loved the end of the night at about 3:30, when the DJ played our last song ('Home' by Edward Sharpe and the Magnetic Zeros). We were dancing under the stars, the wind blowing in our hair and our friends spontaneously formed a circle and another circle around us and we all sang along and cheered and laughed so hard. The party obviously wasn't over then and we continued drinking & chatting.
Proudly South African Details
We really tried to incorporate a lot of proudly South African details into our wedding because we wanted to show our friends and family why we love this place on earth so much. It started with our welcome bags that each guest had in their hotel room. Apart from useful information about transport & timlines, maps, a CD and a hangover kit, we added some typical South African treats like biltong, Melissa's rusks, Mrs. Balls flavoured simba chips, Appletizer, rooibos tea and Tennis biscuits. (Our trip to Makro was so much fun!) All our food included some South African specialties too. For dessert we opted for a stacked cheese cake instead of a traditional wedding cake (I'm Swiss after all) and an array of small desserts like amarula tiramisu, mini pavlovas and dom pedros. As a late-night snack we passed around cheese and tomato sandwiches and borewors rolls. The food was absolutely divine! I was so impressed by Laura Truter (the chef). We also used ShweShwe as our table runners and bunting – I really love the design of ShweShwe. It's so South African to me and I'm really surprised more brides do not use it for their weddings! The hangers for my gown and my bridesmaids' dresses were purchased from the Desert Rose Project – I love the beading and it's for a good cause. We bought pillowcases from Skinny LaMinx to put on the lounge chairs – I don't think anyone even noticed this detail, but it made me happy and now they're on our couch ☺Finally, we were fortunate enough to have Jeremy Loops play at our wedding. He is such an amazing musician and performer and everybody loved his show! Considering how successful he has become in South Africa, we were lucky to get him when we did. His whole crew is fantastic.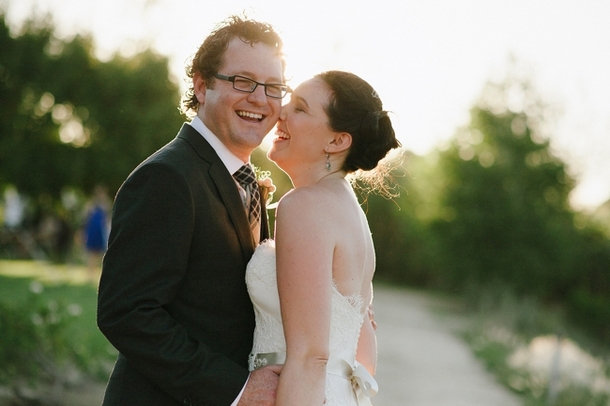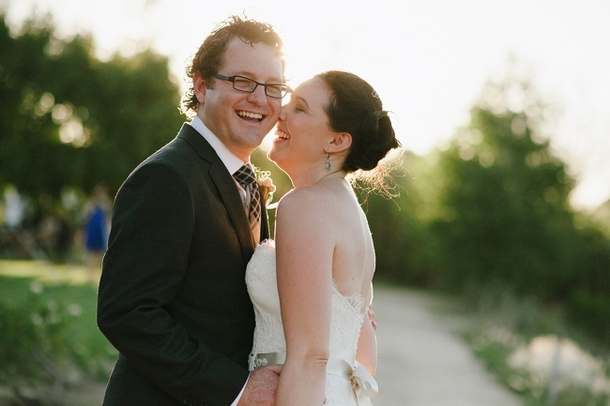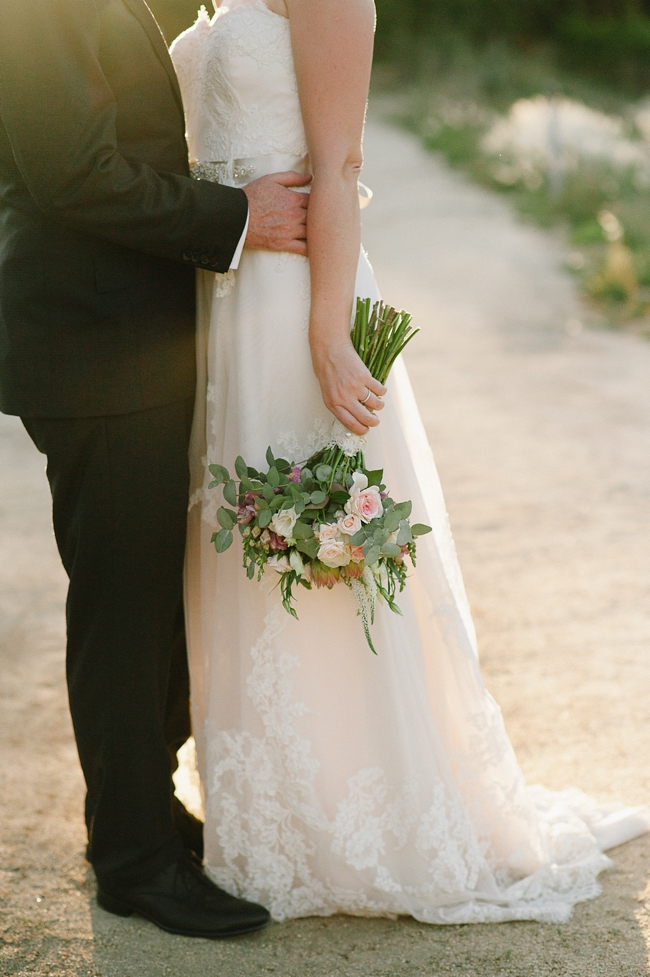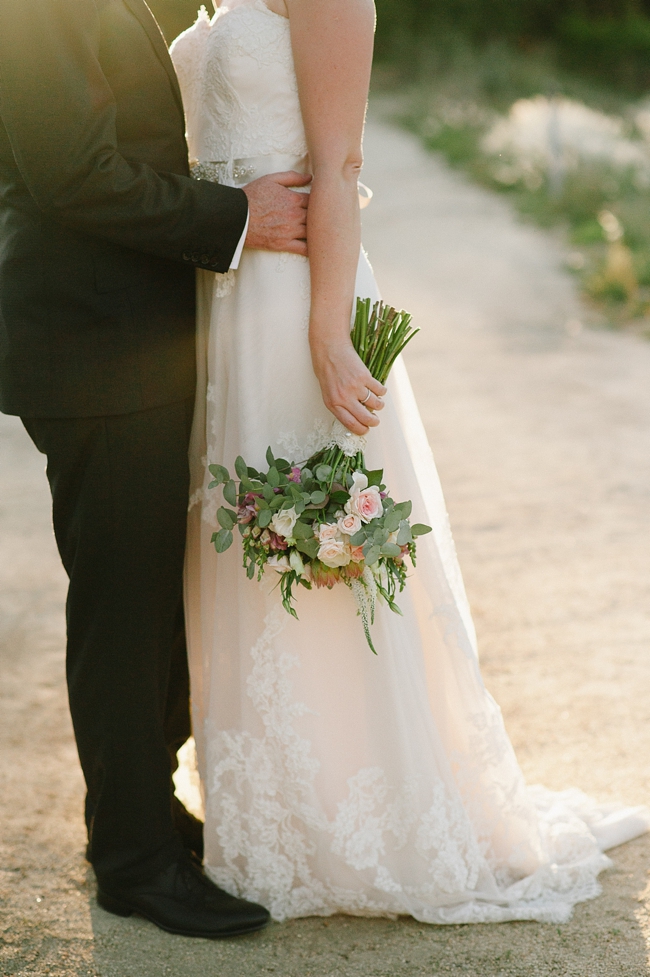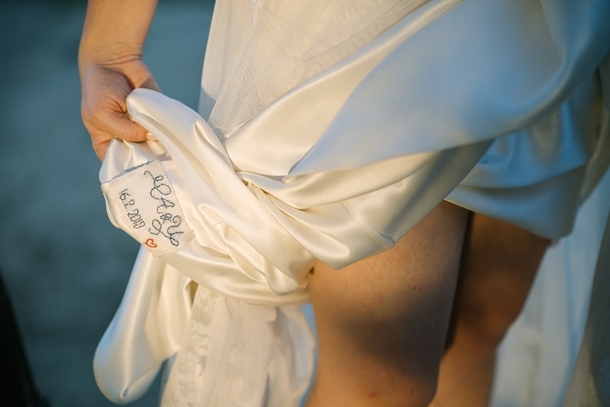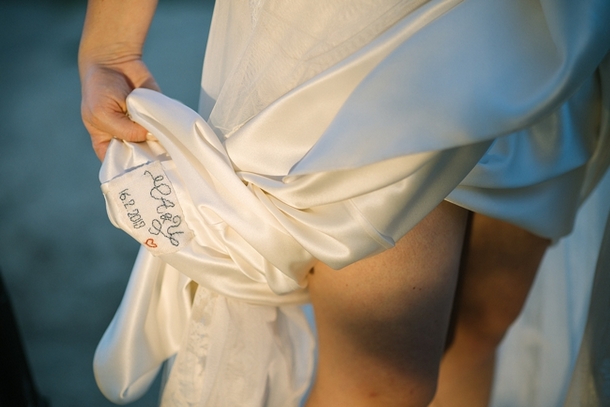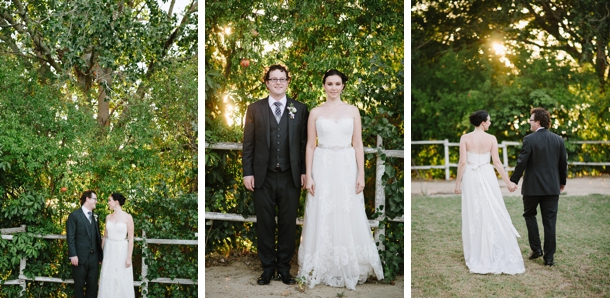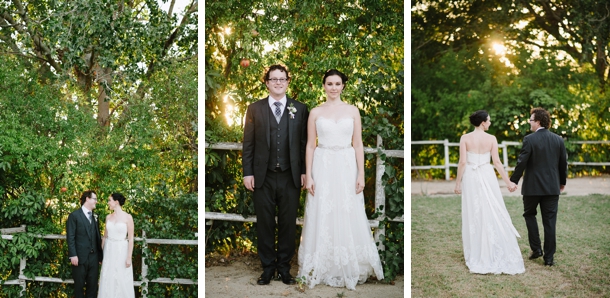 The Honeymoon
We didn't go on a honeymoon right away, and opted to have what we called a 'buddymoon' instead, to Durban and the Drakensberg. It was the perfect way to slowly ease out of our wedding madness! The last few days it was just the two of us and we enjoyed our newly wedded bliss in a small and remote B&B (Antbear Guest House) in the honeymoon cave.
Advice for Future Brides & Grooms
Talk about what expectations and wishes you each have about your wedding. Try to focus on what you want your wedding to feel like rather than look like. It's the feelings of joy and excitement that will last forever, not the perfectly matched napkins and linens. Remembering these essentials will help avoid stress und misunderstandings later during the planning process. ('A practical wedding' by Meg Keene is a really awesome book that helps keeping your sanity during planning btw) Regardless of how much or how little DIY you decide to do, try to enjoy it. If it becomes a task rather than fun, stop doing it. Nobody will know what else you had planned on doing. One tends to put a lot of time into planning the reception and party. But the ceremony is actually the reason you are having this celebration after all! Thinking and talking about the content of the ceremony made the whole marriage more real to us and brought us even closer together, and it ended up being my favourite part of the day!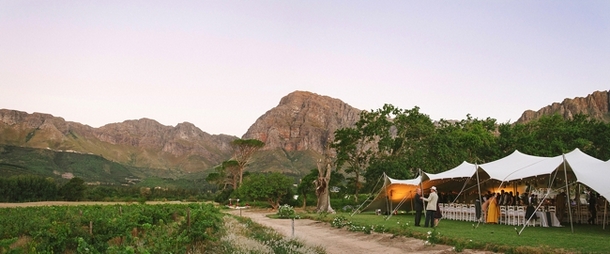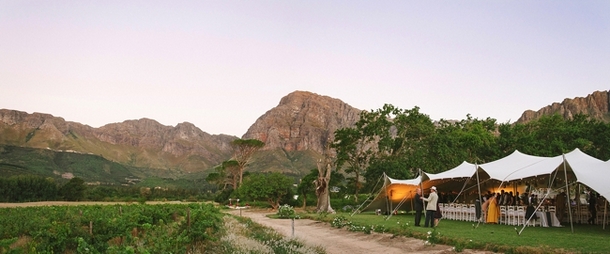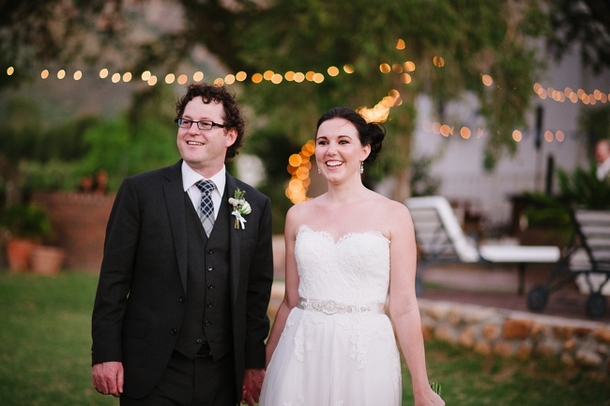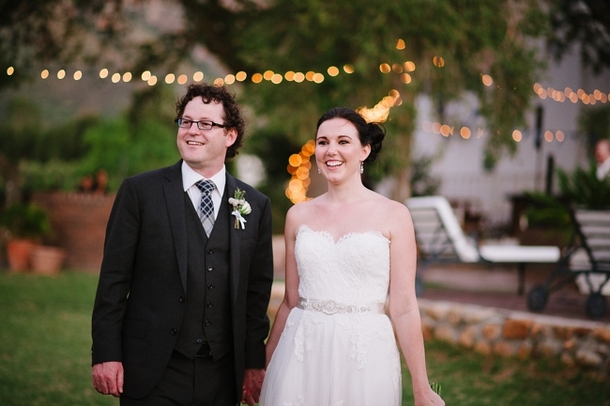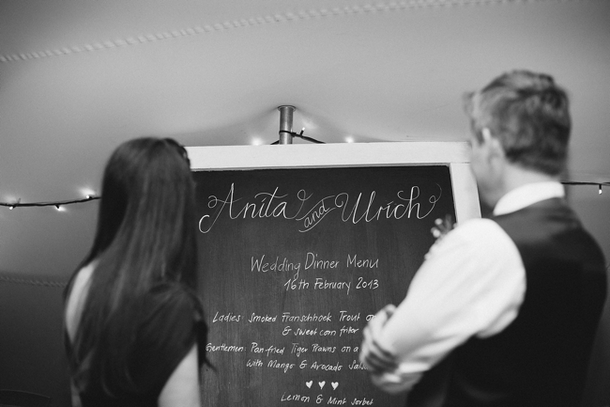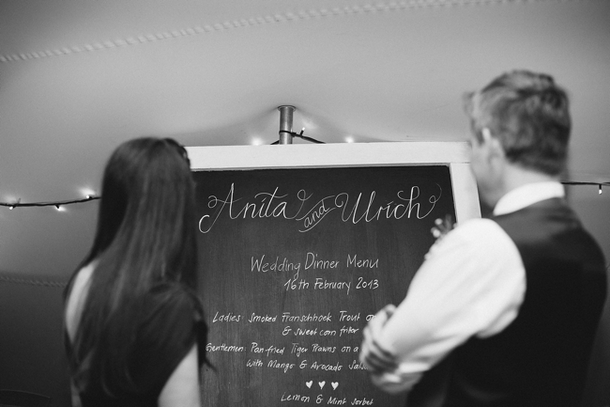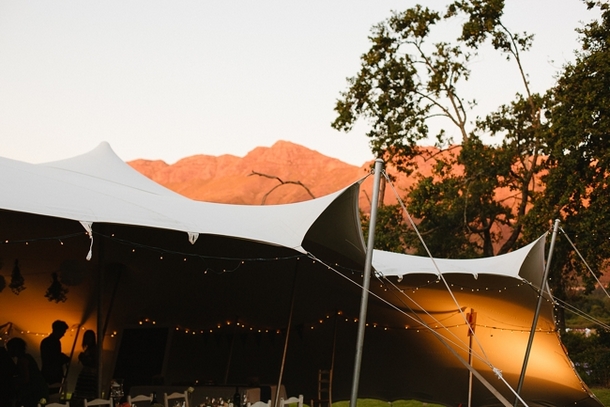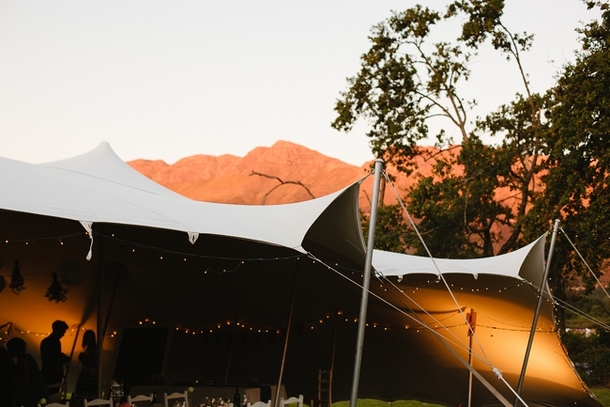 SERVICE PROVIDERS
Venue: Mountain Shadows | Catering: Laura Truter | Photographer: welovepictures | Co-ordinator: Misty de Beer | Videographer: Marius van Rensburg | Flowers & décor: Mint and Magnolia | Stationery: Seven Swans (I love Anelle and Ella so much!) | Bride's dress: Lazaro LZ3004 | Bride's accessories: Kate Spade 'Rigsy' pump | Hair & makeup: Daleen Stewart of Sixlove | Bridesmaids' dresses: Amsale G654C & G728C in hydrangea & J.Crew Arabelle in Casablanca Blue | Groom's attire: J.Crew Ludlow | Hiring: Nomadik Tents (tent); 4EveryEvent (chairs);  Dance Floor | Entertainment: Jeremy Loops | DJ: Piet de Beer