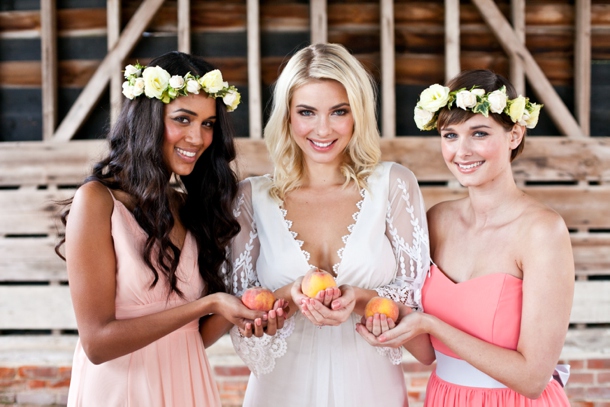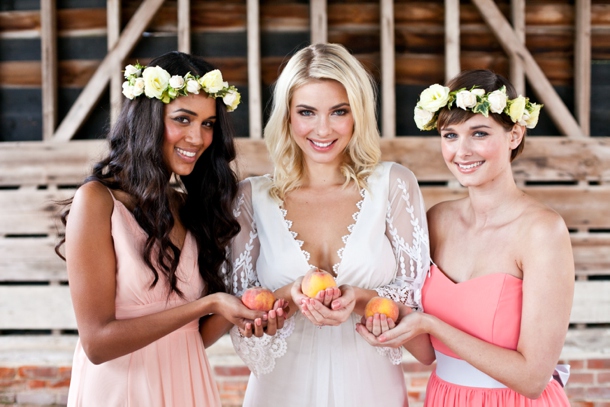 Call me crazy, but the days I get to show off styled shoots that I have been a part of are some of my favourites! And I have been dying to share this one, which I styled with a team of awesome suppliers last autumn. It all started with a conversation between myself and the lovely Anneli Marinovich – she wanted to photograph a rustic table in a field, and we loved the idea of using peach blossom, as peach is such an awesome colour to have in your wedding right now. As the English summer wore on though, we worried that our little dream wouldn't work as it was getting a bit late in the year, but when the day finally dawned in October, the sun came out for us (even if the wind did too). We had such a lovely day shooting in and around Gaynes Park, which has to be one of my absolute favourite UK venues, and working with the nicest (and most talented) bunch of people you could hope to find. The shoot subsequently was featured in Wedding and Wedding Flowers in the UK, and on Wedding Chicks blog. Honoured! Anyway, today we're finally bringing it home to SBB.
When we were putting the shoot together, Anneli and I had a wishlist of elements, which we were able to bring to life with the help of our team. There was the rustic venue, as I mentioned. There was the ombre/watercolour look (love this!), and I was adamant that I wanted to have a long graduated floral centrepiece – Jodi from Boutique Blooms made this better than I could have even imagined it. We wanted a naked cake, and a macaron tower (brought to life by French Made and Anges de Sucre respectively). Finally, we didn't just want to show off a happy, smiling bride, but to celebrate the friendship between a bride and her bridesmaids, so we decided to include a couple of them too. Our beautiful models are friends in real life, so the giggles and smiles that you see are real! Dressed to perfection by Maids to Measure, we couldn't have asked for more. I'm so thrilled with how this shoot turned out and I hope you will get some fab ideas from it – read on to find out about all the details get my top tips for recreating this look at your own rustic summer (or spring) wedding.
The Look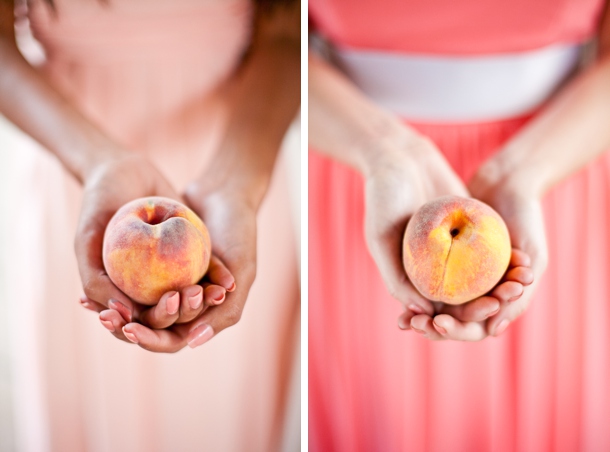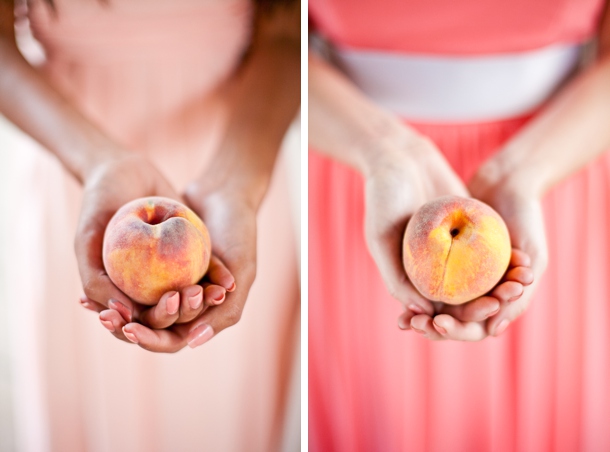 The palette for the shoot was the range of tones from pale cream into warm apricot and into pretty pink – the same colours that develop as a peach ripens. To show this off, we decided to use both real peaches – providing natural colour – and ombre/watercolour detailing, with fresh blooms and lush greenery. Our country venue, Gaynes Park, provided the perfect backdrop – their open-sided barn, scenic fields and elegant gardens and orangery are just beautiful. There's such a warm feeling to this venue, and so many places to use as a photo backdrop that we were really spoilt for choice. The look was romantic and rustic, like a warm breeze on a summer day. It's chilled out in a way that makes for happy guests, but still very pretty and feminine and delicate, and would work just as well for spring or summer weddings (possibly even autumn, with the addition of a few darker tones and cold weather elements). You can see the Pinterest board I built for the shoot here for lots more inspiration.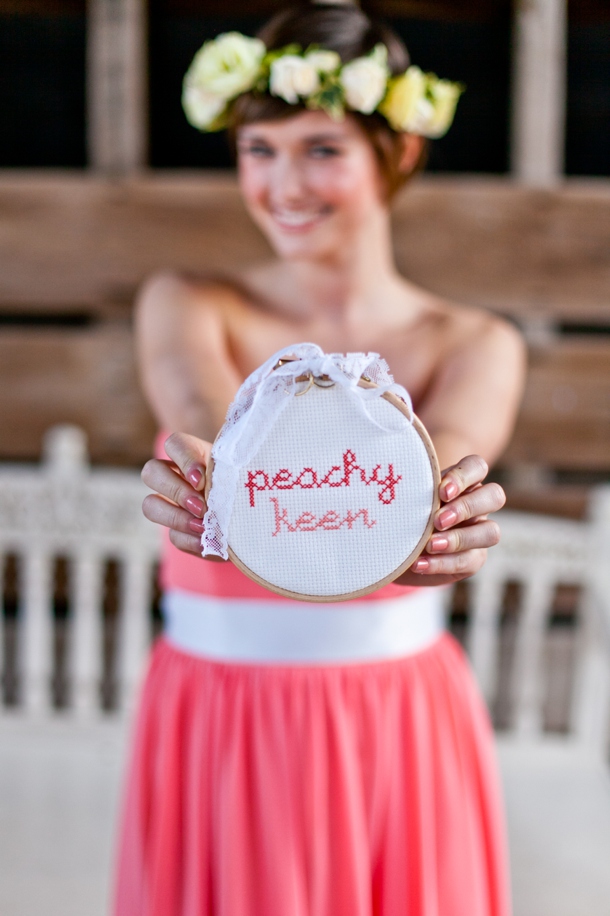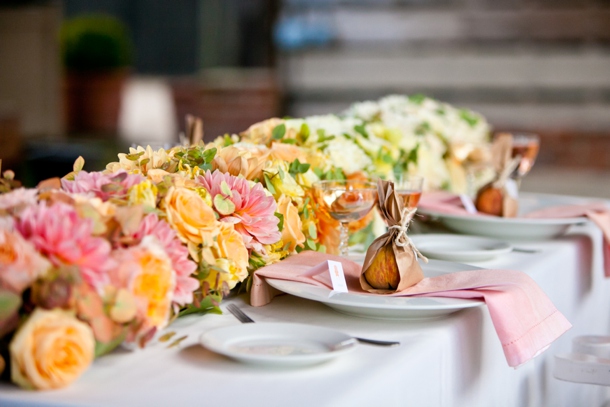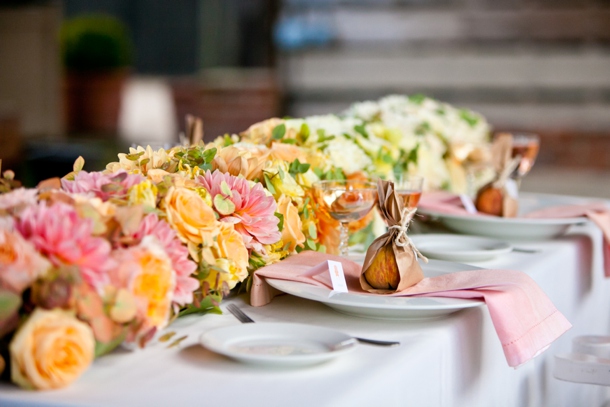 TOP TIP: Peach now is different to 1980s wedding peach, and one of the reasons is that it's no longer used so much as a flat colour. To add depth, allow your peach shades to range through coral and apricot as well – it's easier to shop for and style, and it looks beautiful!
The Stationery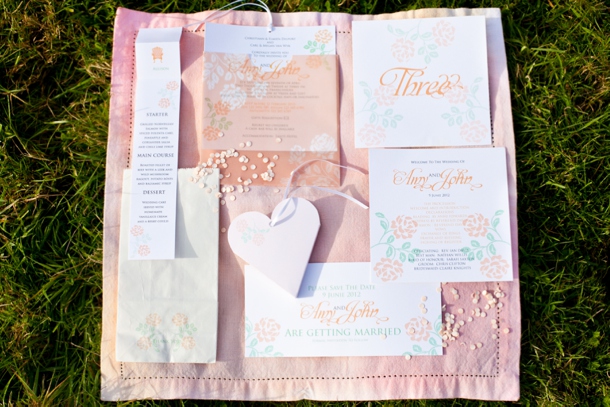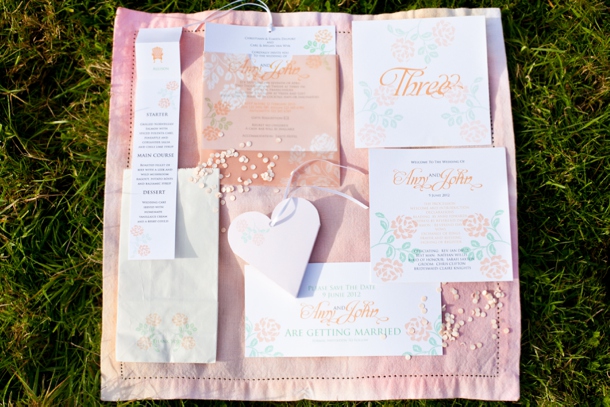 What serendipity! No sooner were Anneli and I talking about peach blossoms, but the SBB collection from the Invitation Gallery expanded to include a beautiful peach blossom themed suite! So of course there was no question that we would use it. There are lots of sweet touches to this collection, including printed paper bags for treats and favours, heart-shaped confetti holders, and sweet transparent peach coloured sleeves for the invitations themselves. I think my favourites, though, are the menus – long strips with a little chair at the top that you can fold to stand at each place setting and that double up as place cards.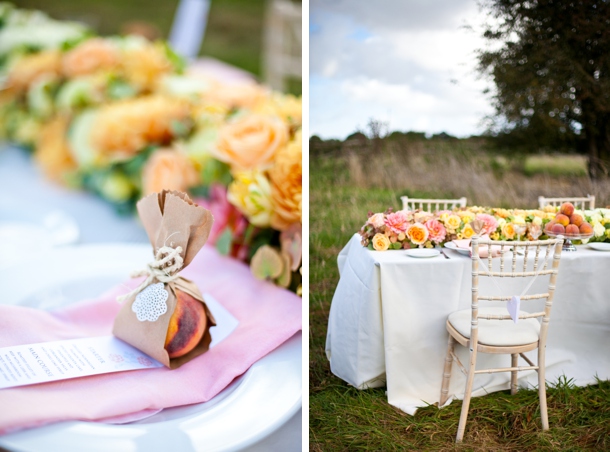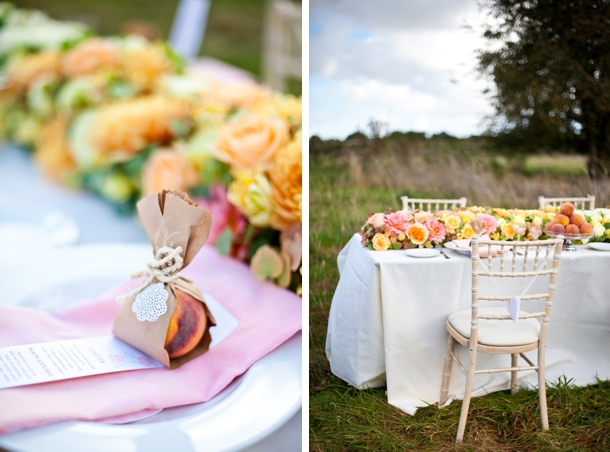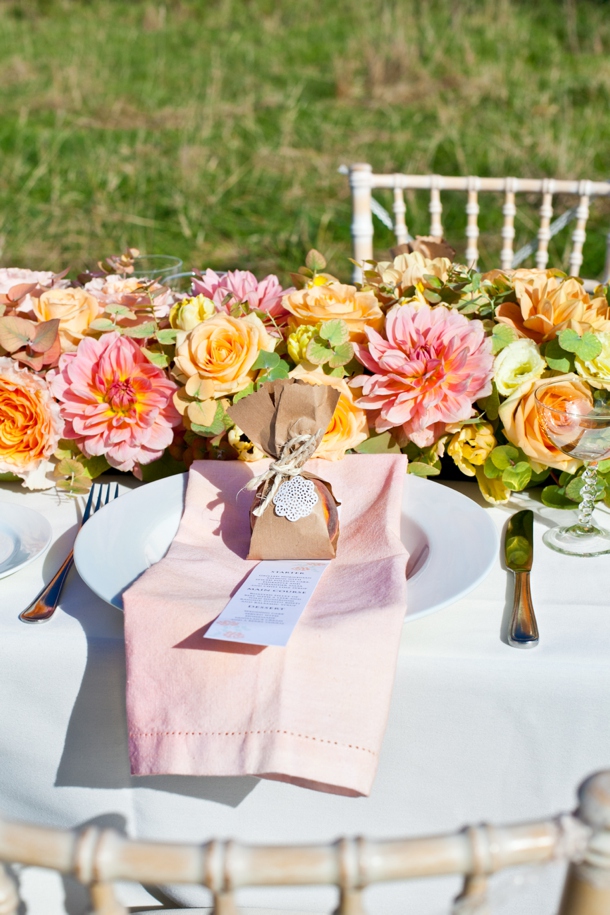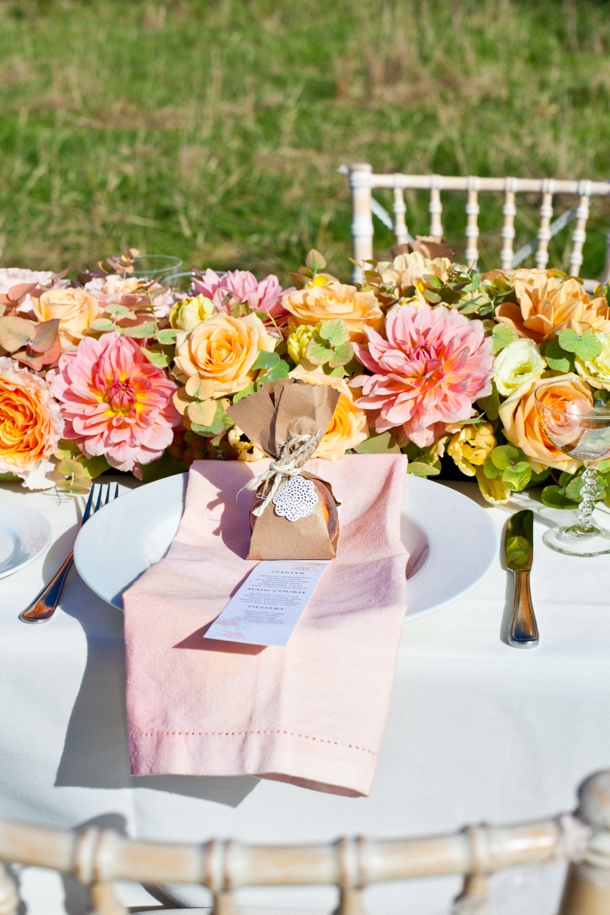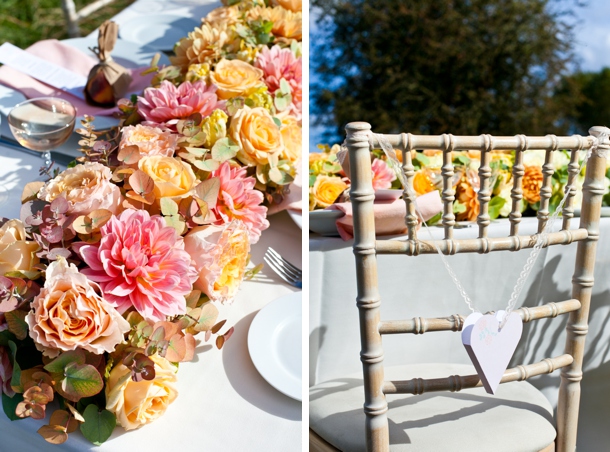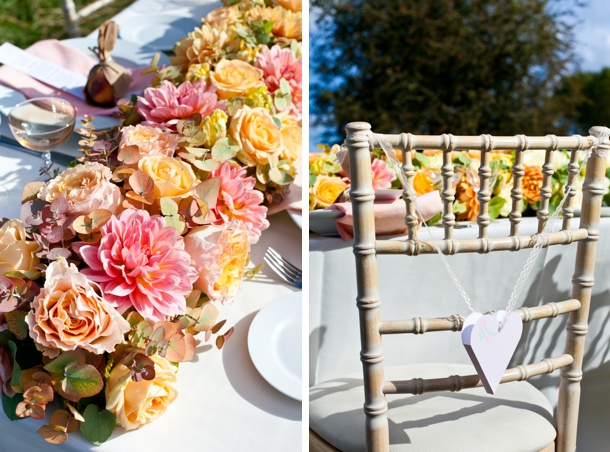 TOP TIP: Want a no-hassle table or place card holder? Slice a groove into a peach and slide in your card – hey presto! Just make sure you cut it at the correct angle so that the peach stands up properly and holds the sign upright.
The Flowers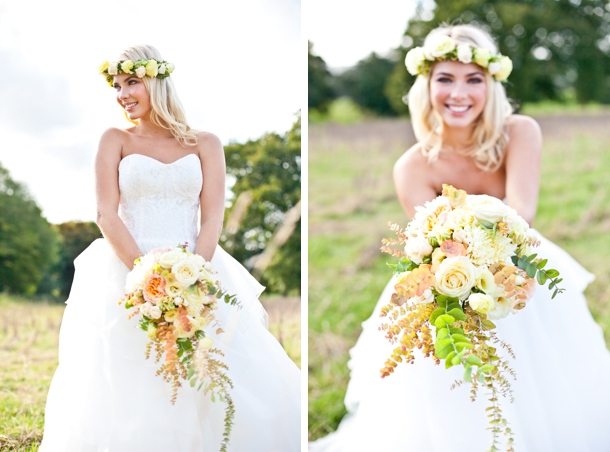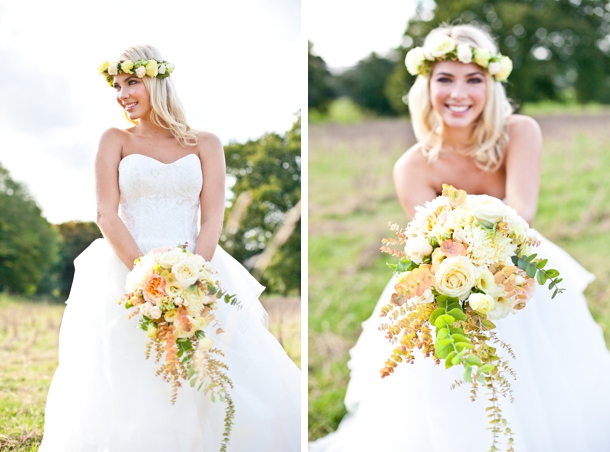 As I mentioned above, the look I really, really wanted for this shoot was a long central arrangement (similar to a garland) of ombre flowers, ranging through our palette. I'd only seen it done a couple of times, but I set Jodie of Boutique Blooms the challenge, and the result was breathtaking! The lush blooms went from warm pink and apricot through to pale blush. We also had two stunning bouquets, both inspired by the painterly quality of the watercolour details. Both were fresh, lush and loose. I especially love the trailing bouquet, which is making a real comeback at the moment. Our bride and bridesmaids wore simple floral crowns in rings of roses – ask your florist to create these for a lovely boho garden look.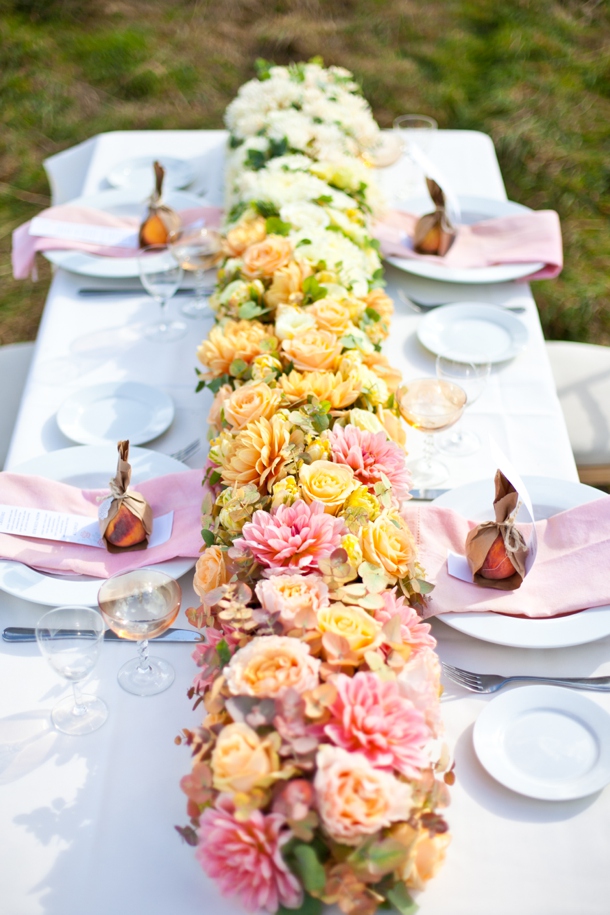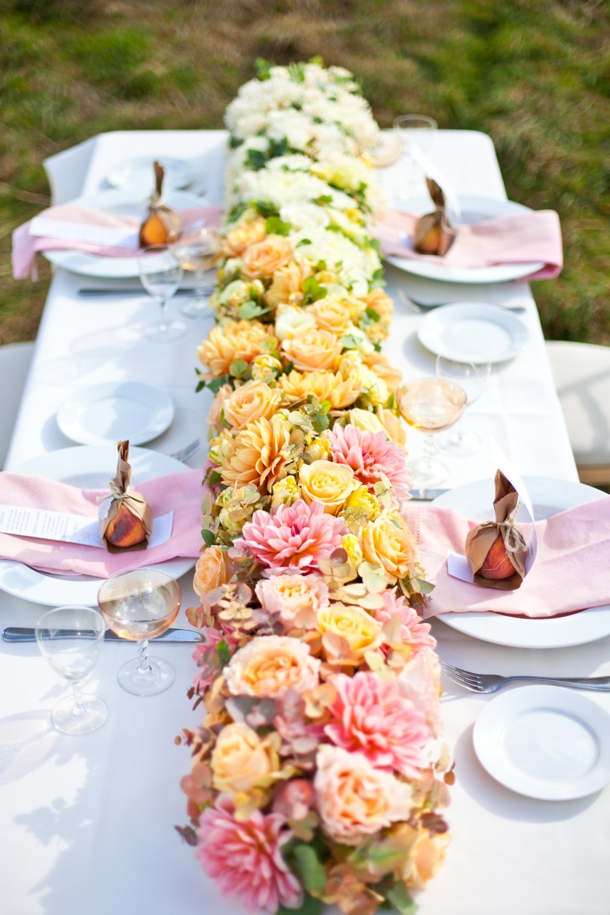 TOP TIP: Using long tables allows you to have central garlands, graduating in colour from one end of a spectrum to the other. With such a gorgeous display you won't need much more in terms of table décor, but if you're on a budget, you can use fewer flowers in a variety of containers, also graduating in colour as they move up the table.
The Decor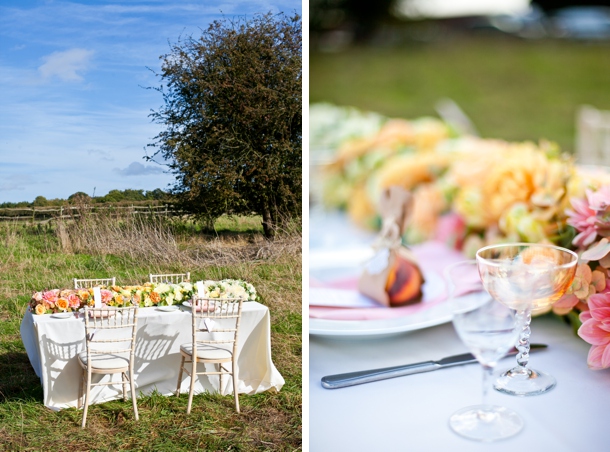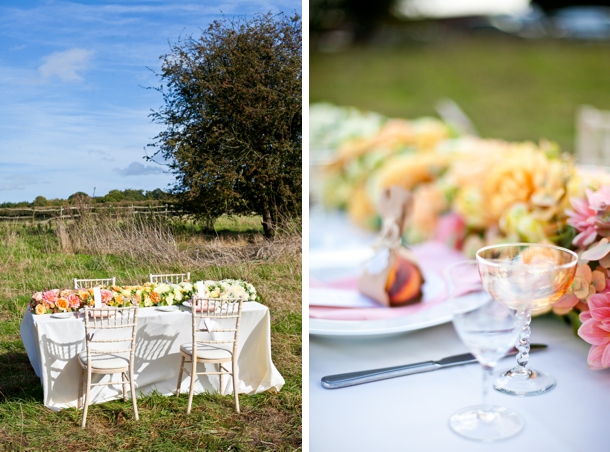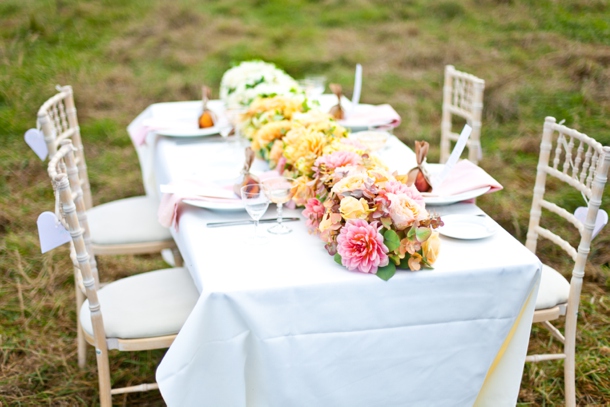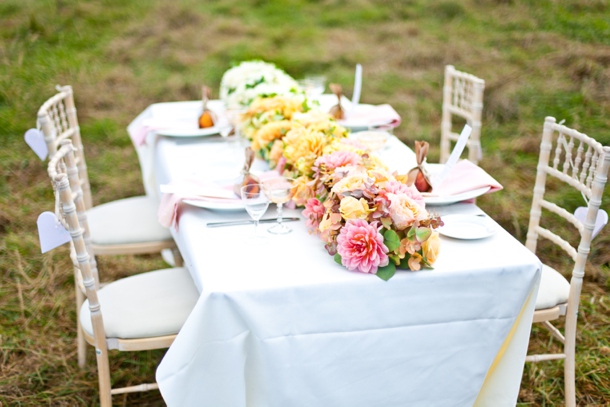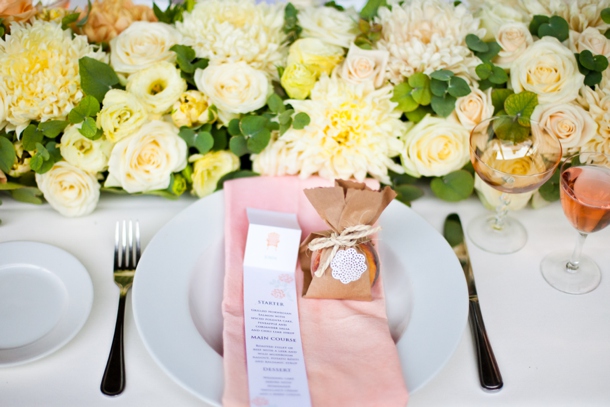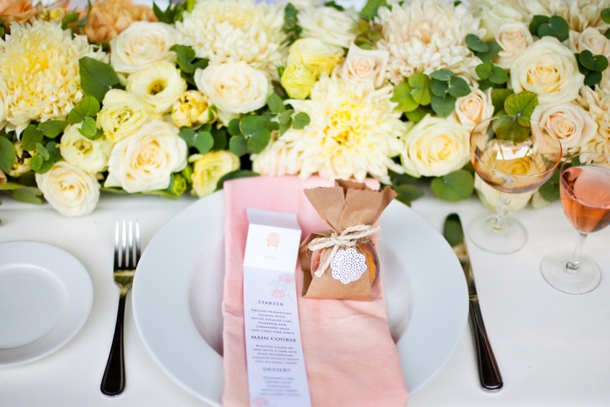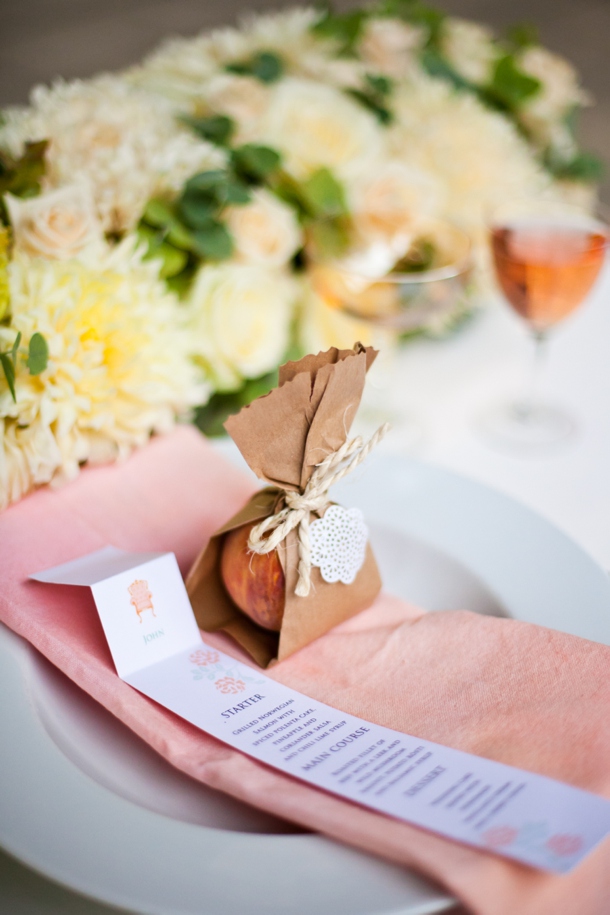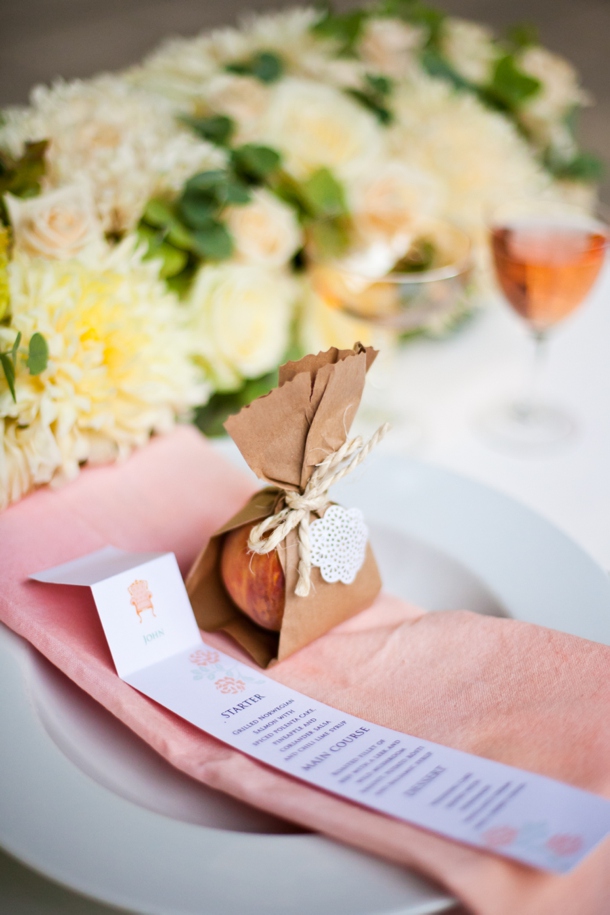 As I mentioned, the key element for the tables was the floral runner, and the rest was really there to complement this. We used a classic white tablecloth, and then set each place with a watercolour napkin (a nice, easy DIY item), coloured glassware and peaches in cute brown paper pockets tied up with twine. The fun part is that I sourced almost every item from charity shops (turns out the charity shops of Worcester Park were a winner). From the stand that we used for the peach tower to the coloured and clear wine glasses, they were all picked up and for just a small amount too.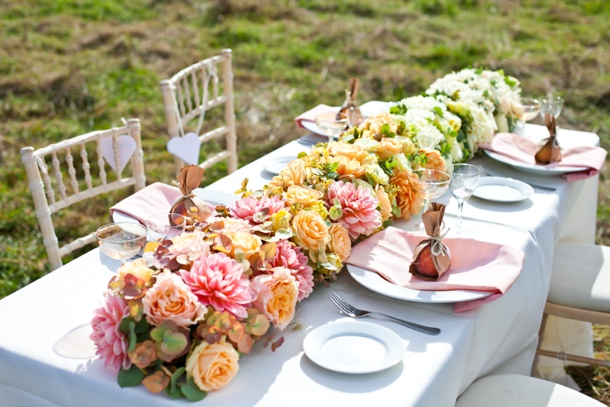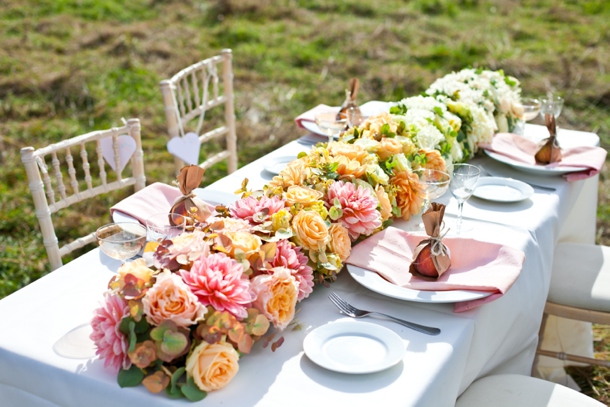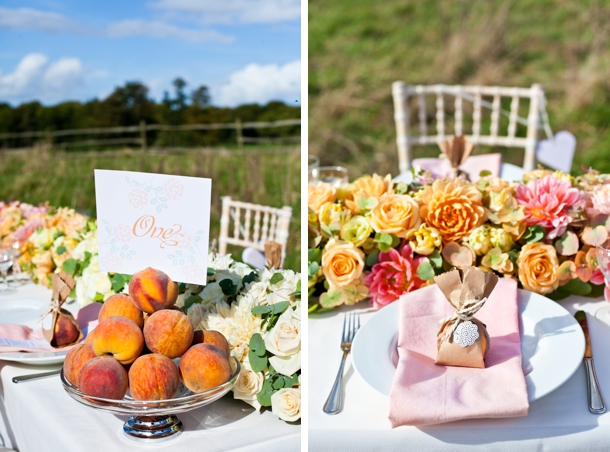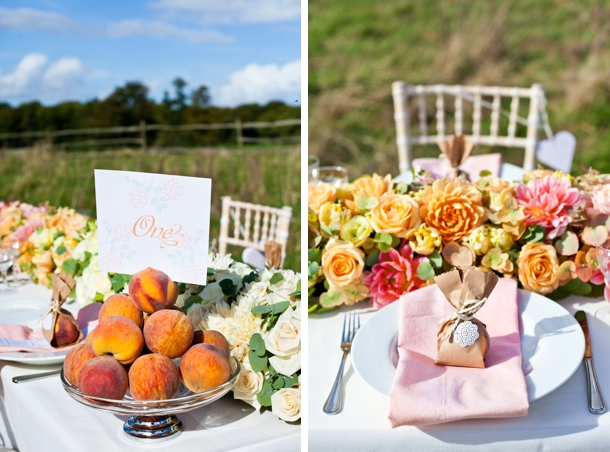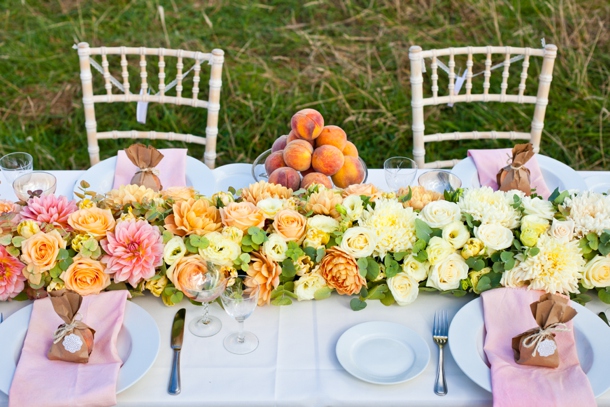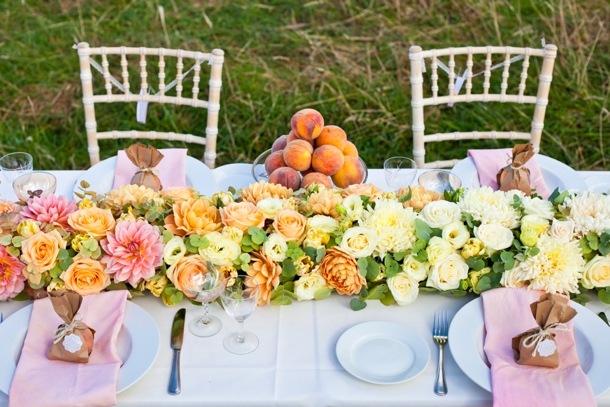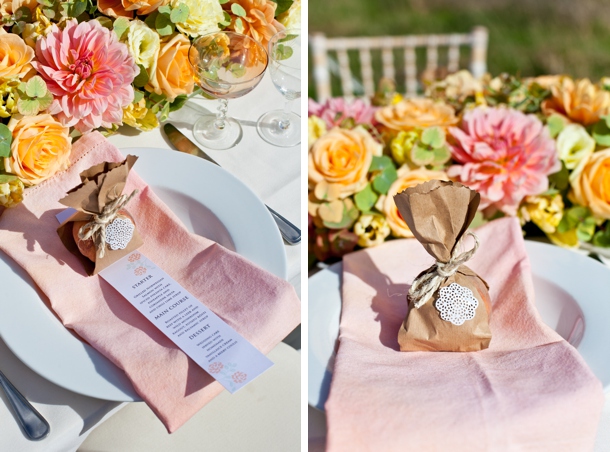 TOP TIPS:
Fresh peaches give a lovely feeling of natural abundance to the tables. Create peach pockets with brown paper and twine – a nice, simple DIY that really looks pretty.
Coloured glassware really adds something special (but subtle) to a table – you can hire glassware to match your colours, or do as we did and raid your local thrift stores! You'd be amazed what you can find.
To create the watercolour-style napkins, we mixed paint with water in small pump bottles and sprayed it on to plain white napkins. The spray allows you to control the intensity of colour.
The Bridal Party's Look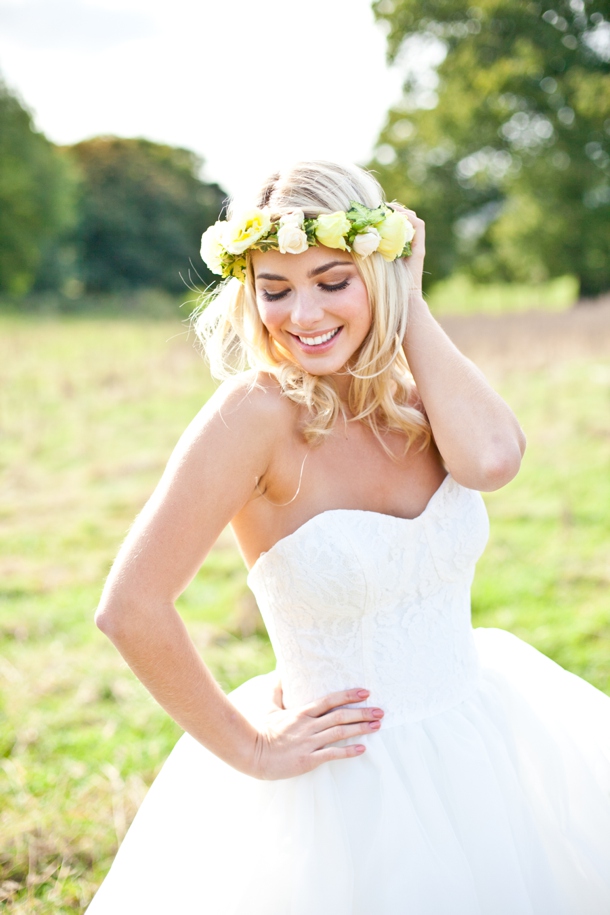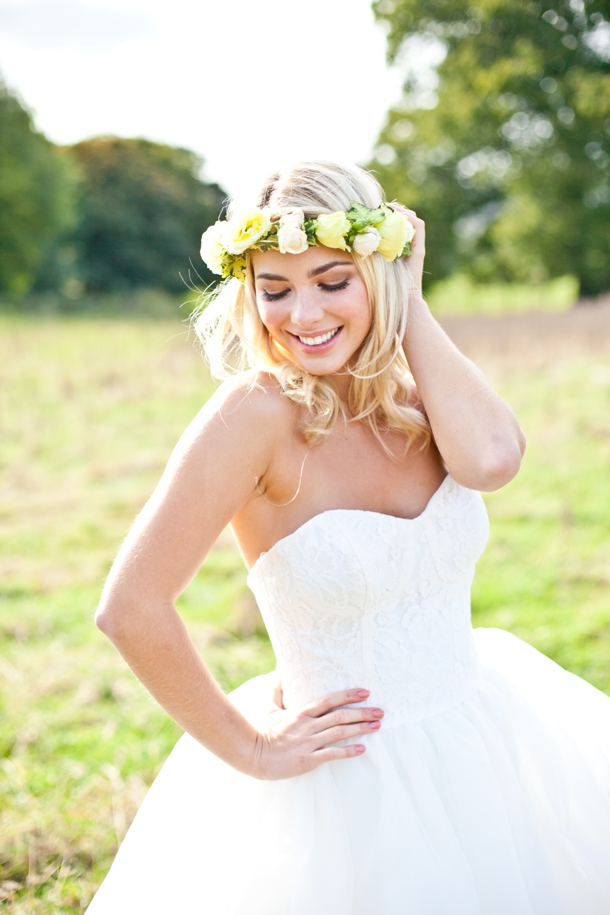 As I mentioned, instead of just showing a bride on her own, we wanted to capture the spirit of the bridal party as well, so included two looks for our bridesmaids in both short and long dresses. You'll see that, even with just two bridesmaids, varying the colour of the long dresses gave them a lovely ombre look, so don't feel that you can't pull this off if you don't have a big retinue! They carried bespoke vintage handkerchiefs, a gift from the bride – these are a top find from the awesome Benign Objects. Give them as a treasured gift to your girls, or print them up with menus and give them as favours to your guests.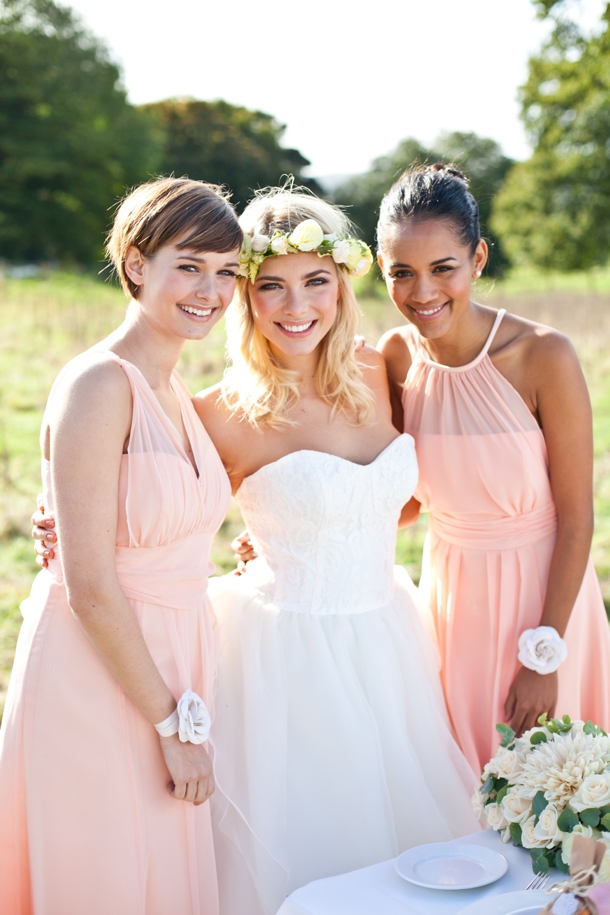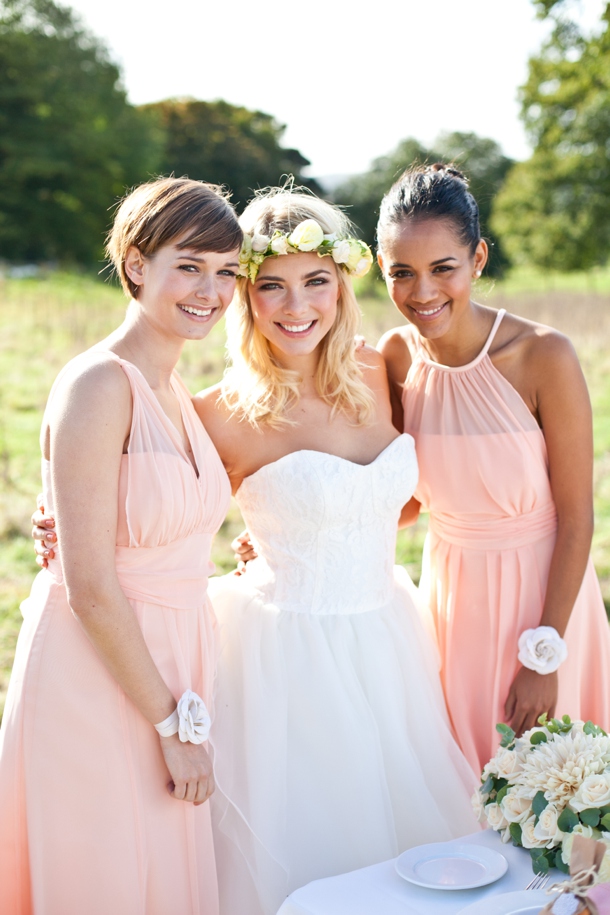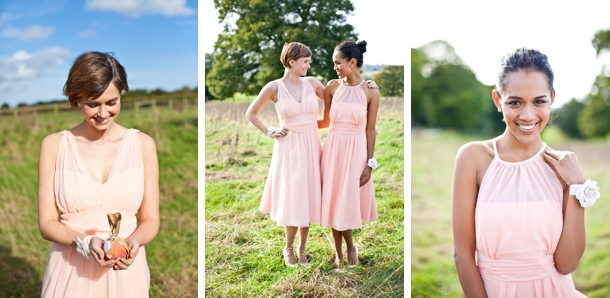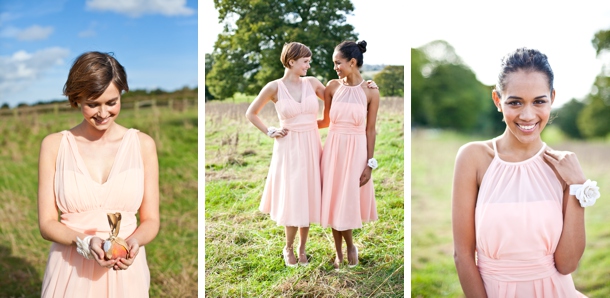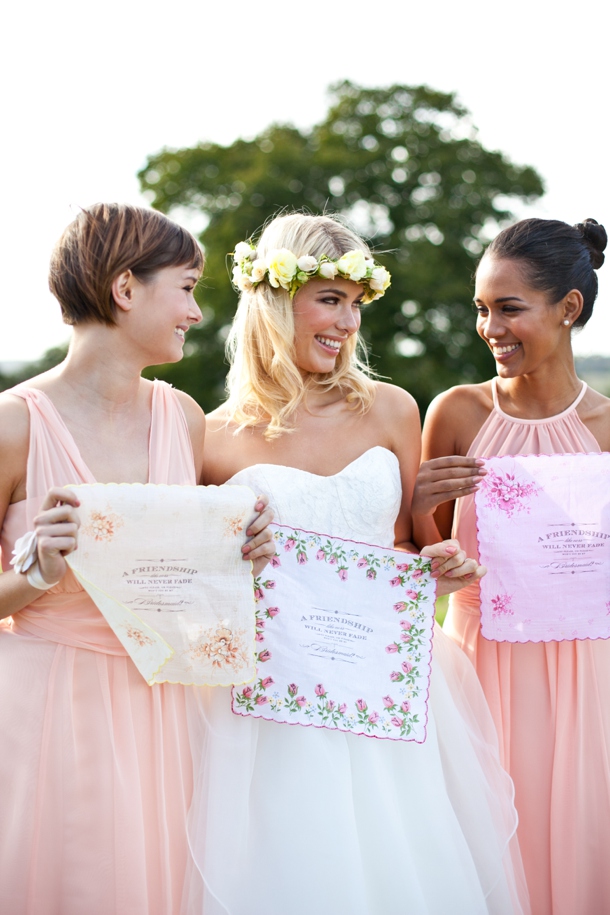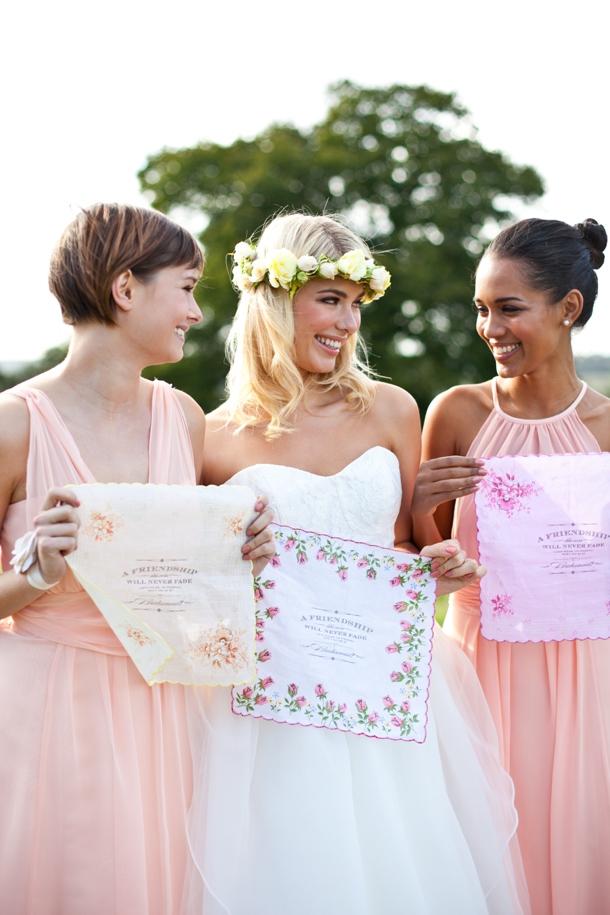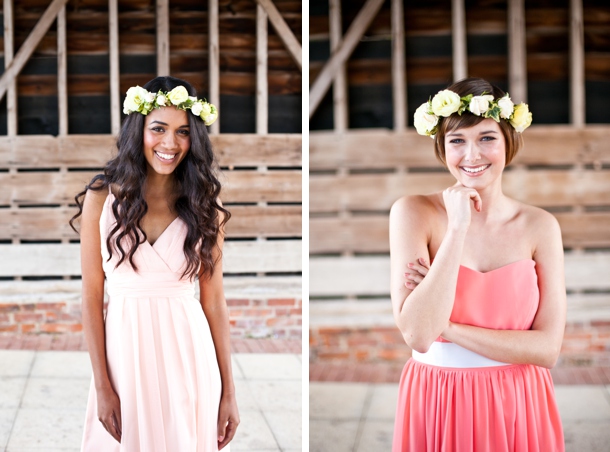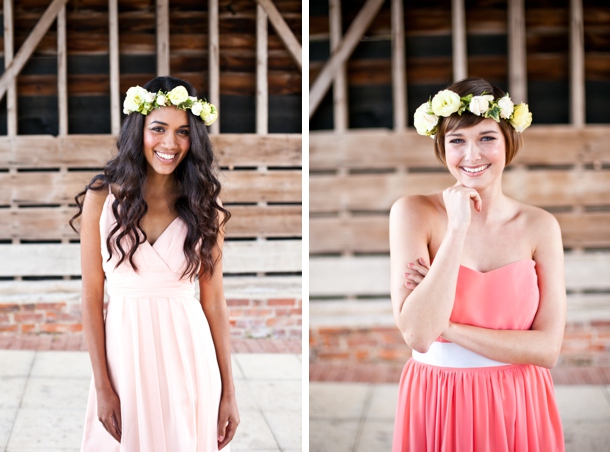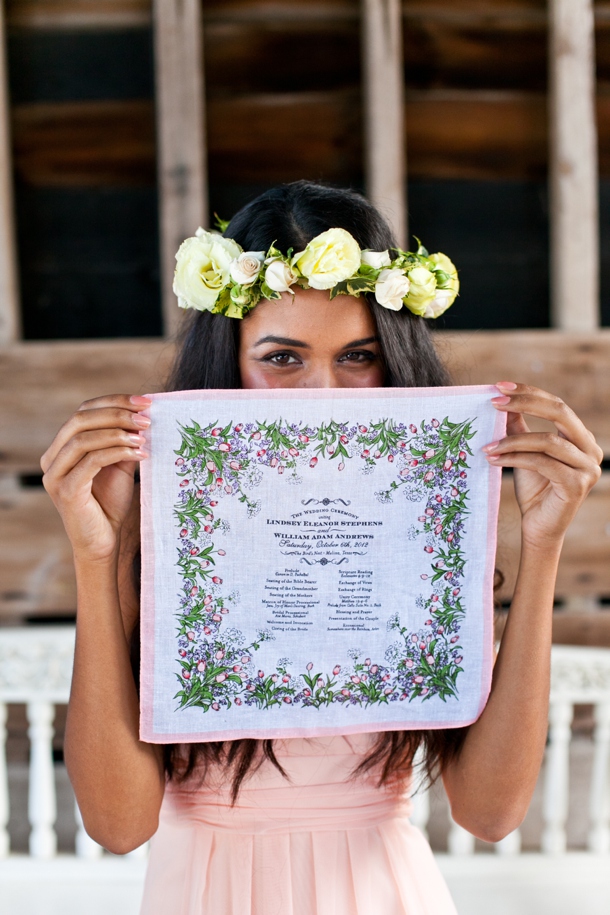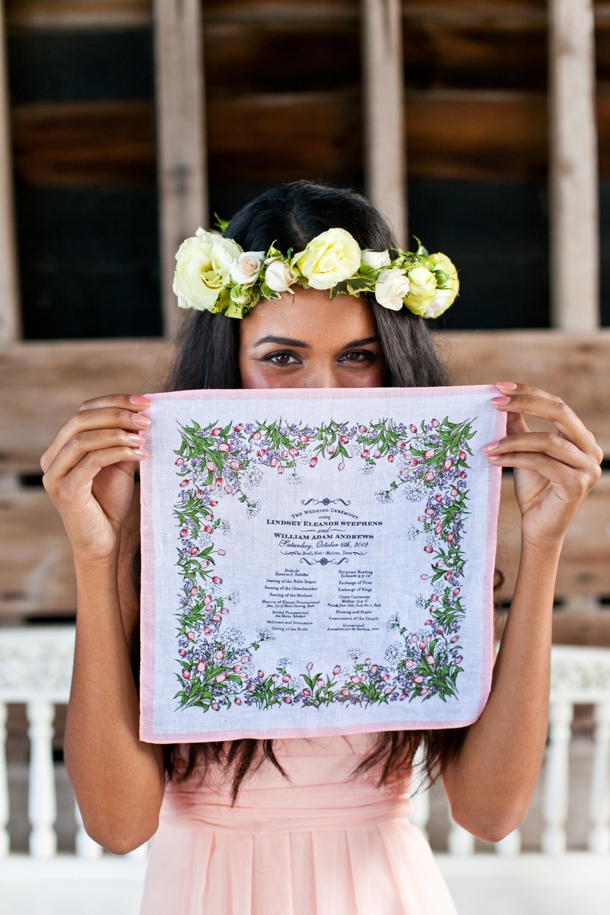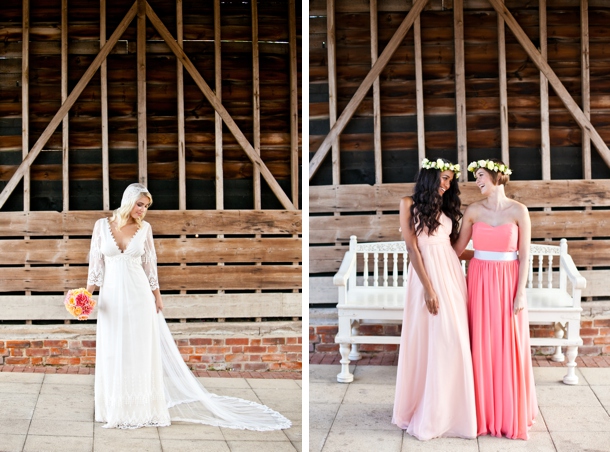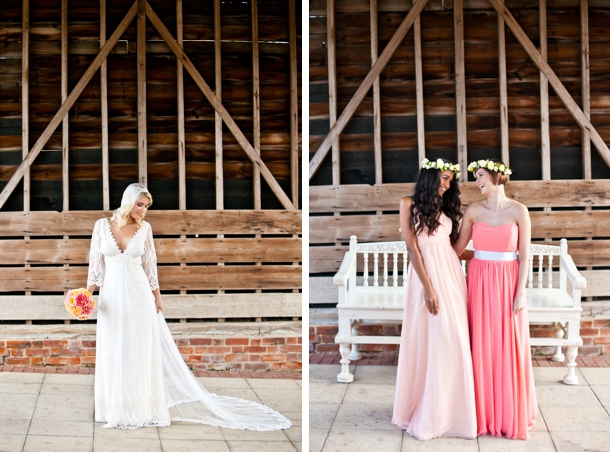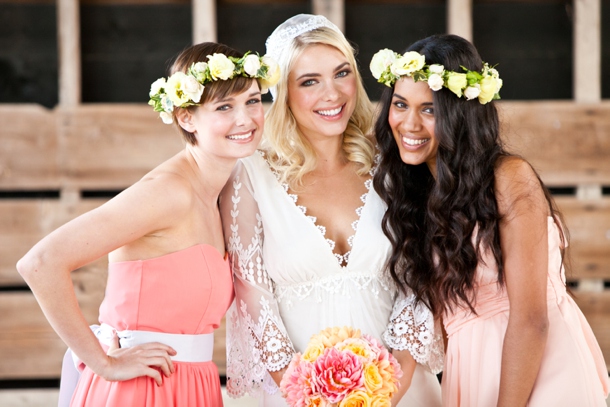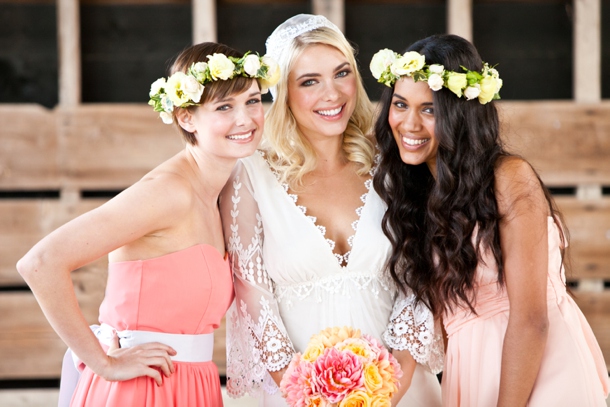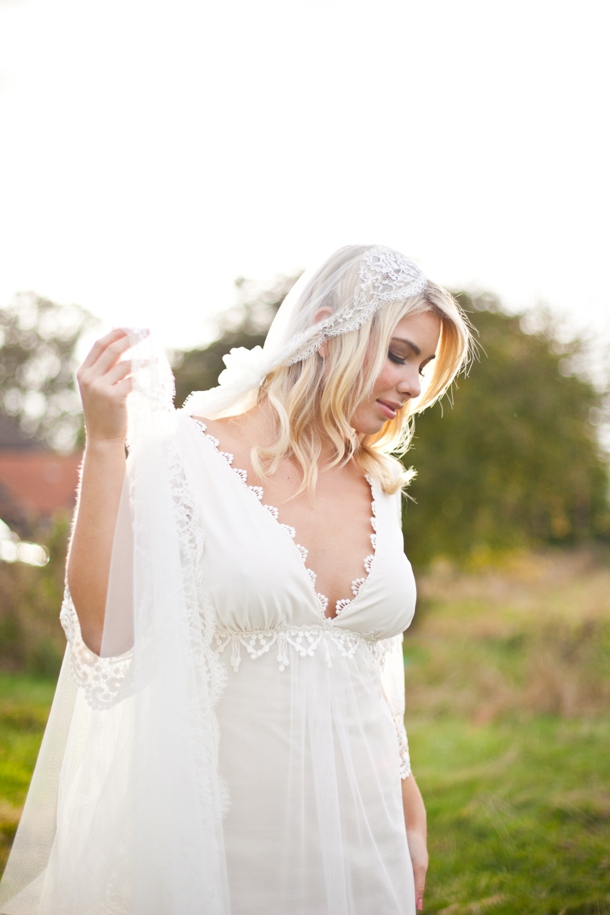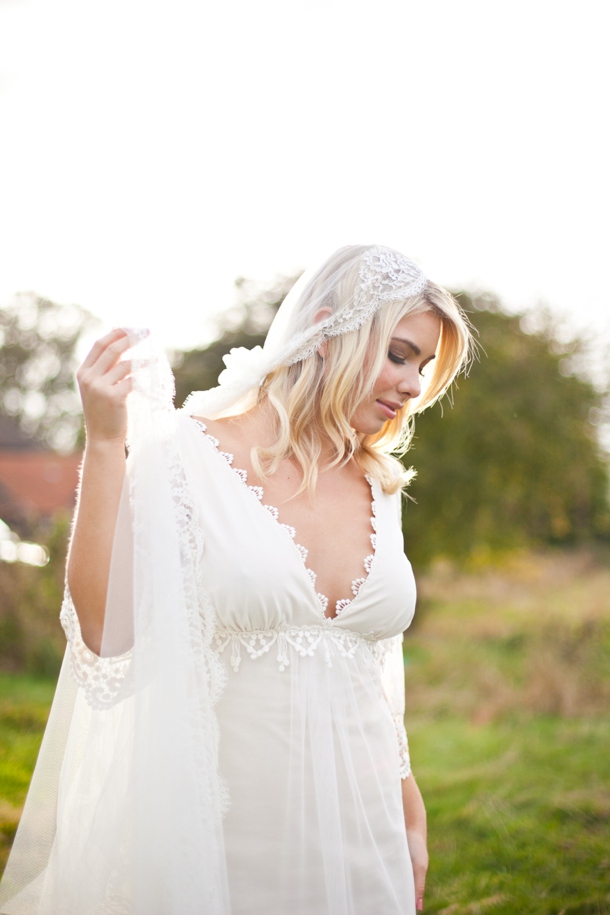 Our bride had three separate looks, all from Blackburn Bridal in London: a boho Claire Pettibone gown paired with a lace Juliet cap and veil for a boho look, a blush Sarah Janks lace overlay dress for a pretty, sophisticated look and a frothy romantic creation from Blush. Lara Rorich created a really natural makeup look for all the girls, and I loved the variation between the bridesmaids' hair down and hair up looks!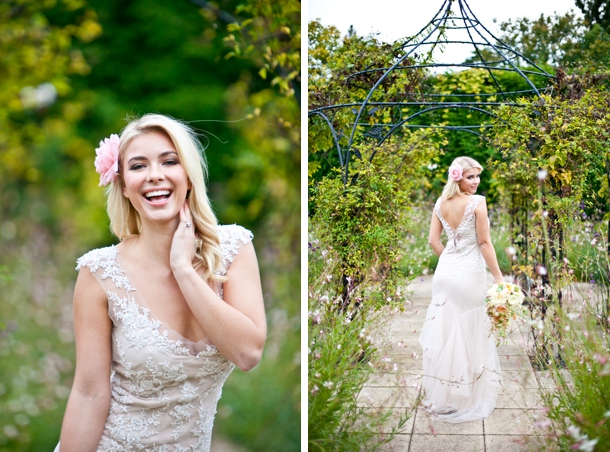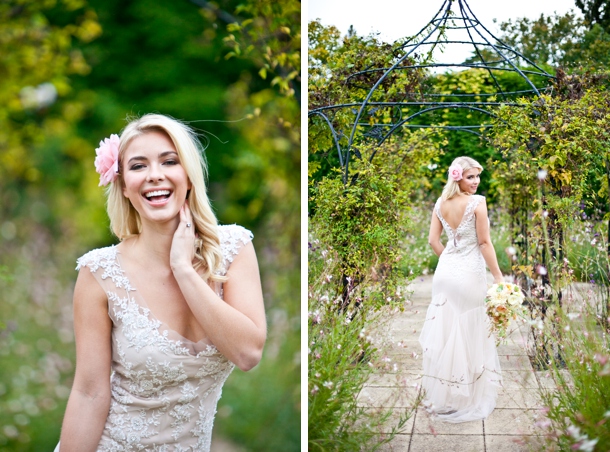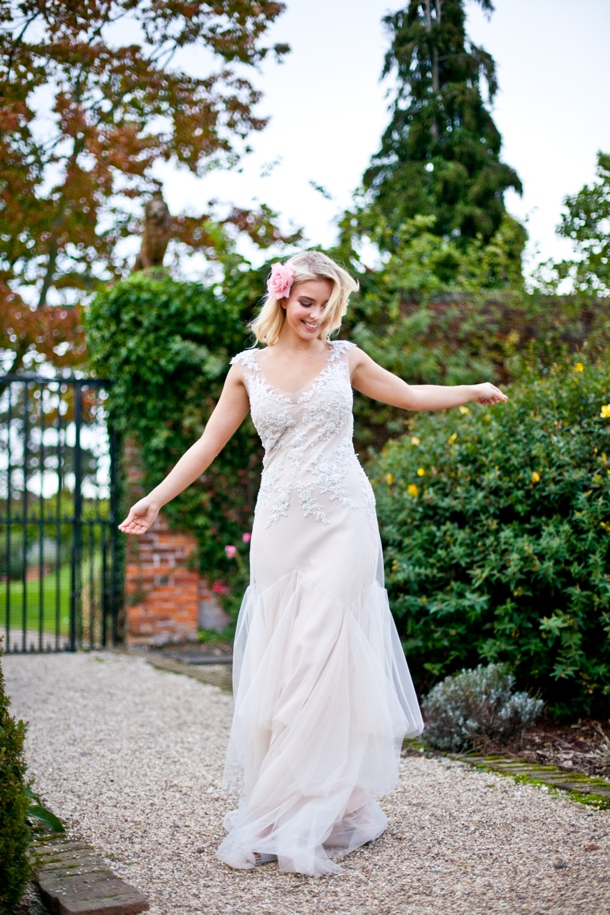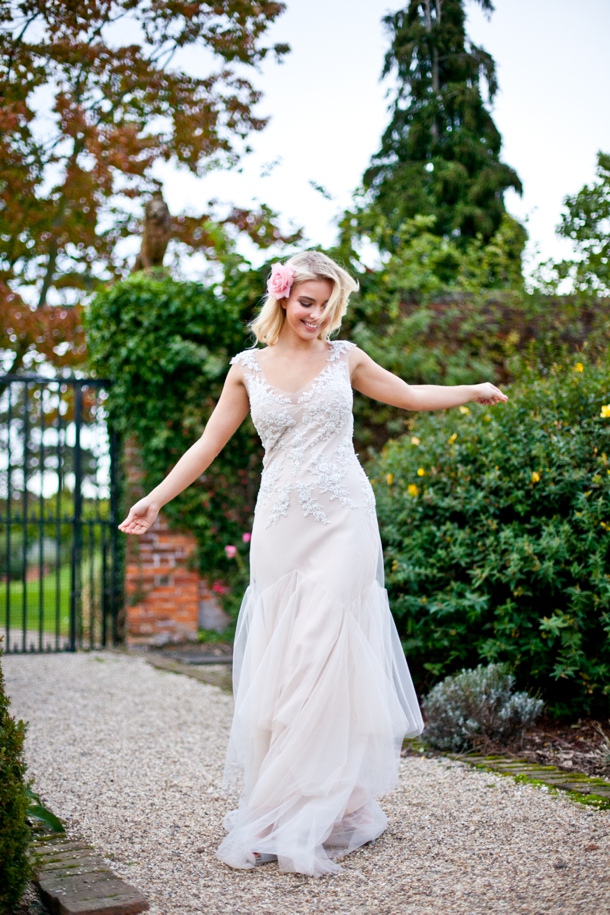 TOP TIP: Keep makeup natural for both bride and bridesmaids in soft peachy tones, with just a hint of colour on the lips.
Food & Desserts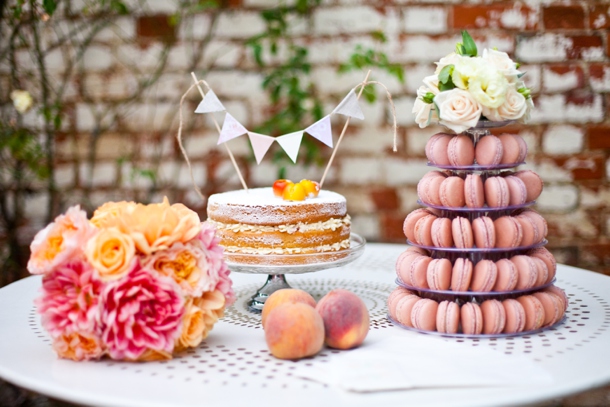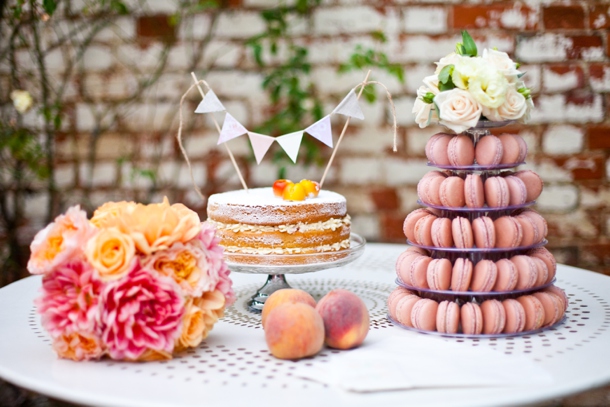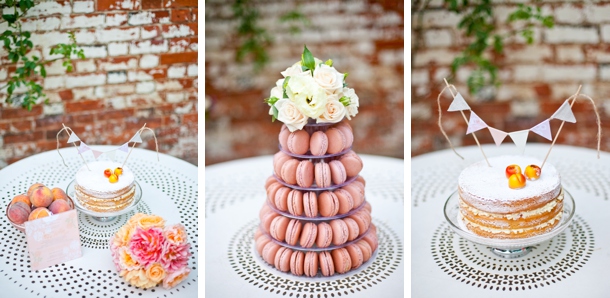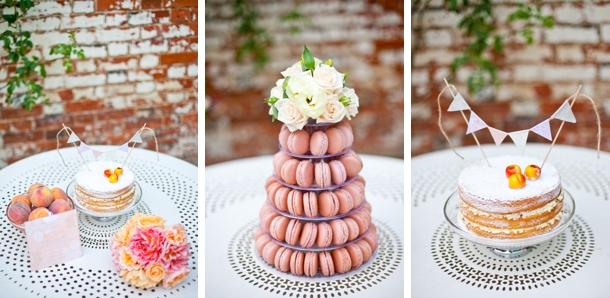 For something sweet, we set up a dessert table outside in the gardens, with a traditional Victoria sponge naked cake from French Made topped with simple icing sugar, marzipan peaches and mini bunting. We complemented this with macarons in peach and apricot flavours – I got to taste them afterwards and they were heavenly! (Thanks Anges de Sucre!) Simple sugar biscuits hung from lace ribbons, swaying gently in the breeze.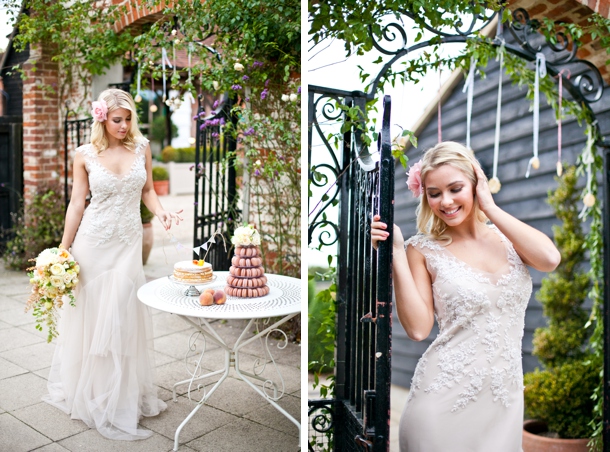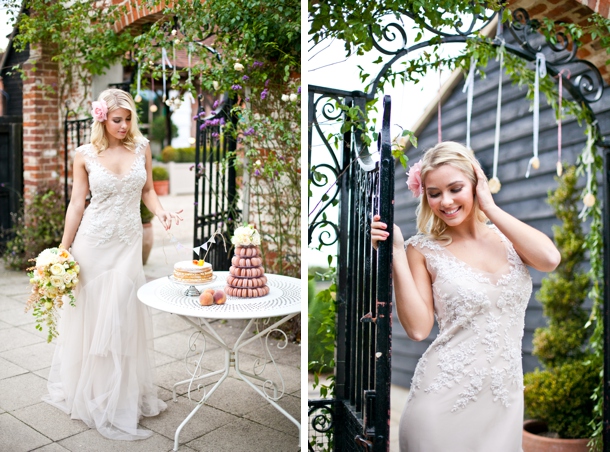 TOP TIP: A macaron tower makes such a special and attractive addition to a dessert table – I especially loved that ours was topped with a little rose posey for extra prettiness.
SERVICE PROVIDERS
Photography: Anneli Marinovich | Styling: Gaby Frescura, SouthBound Bride | Venue: Gaynes Park | Hair & makeup: Lara Rorich | Flowers: Boutique Blooms | Stationery: Invitation Gallery | Cake: French Made | Macarons: Anges de Sucre | Video: 2fresh media | Dresses: Blackburn Bridal | Bridesmaids' dresses: Maids to Measure | Custom handkerchiefs: Benign Objects | Models: Katja, Leila & Rose of MOT Models | Photography assistant: Liezel Fourie