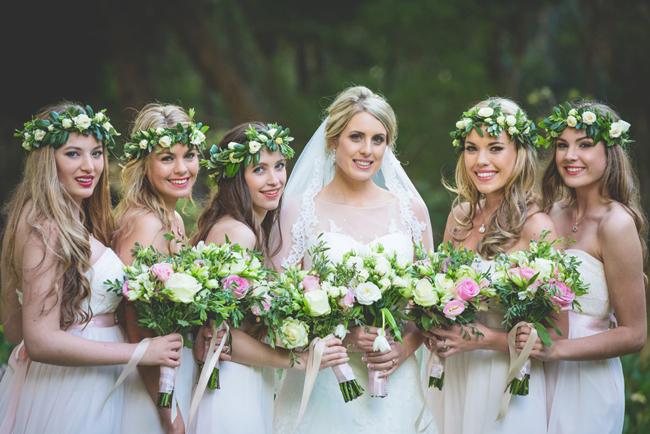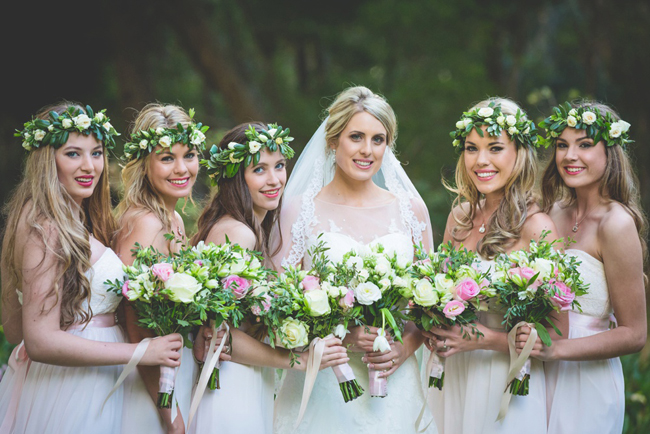 Close your eyes and imagine standing in a forest clearing, light falling dappled through the trees, and the quiet whisper of branches harmonising with the crunch of leaves and pine needles underfoot. Imagine garlands of crochet 'dreamcatchers' moving gently in the summer breeze, as a bride makes her way down the wooded path, attended by bridesmaids in forest fairy flower crowns and smiling at her groom in a suit as blue as the sky. Which might sound like a dream or a fairytale, but for Dylan and Lara, it was their wedding day reality. Following their magical forest ceremony, the couple and their guests headed to a marquee decked out for classic elegance, and danced the night away by the glow of hundreds of twinkle lights and candles. And capturing it all, was photographer Kobus Tollig.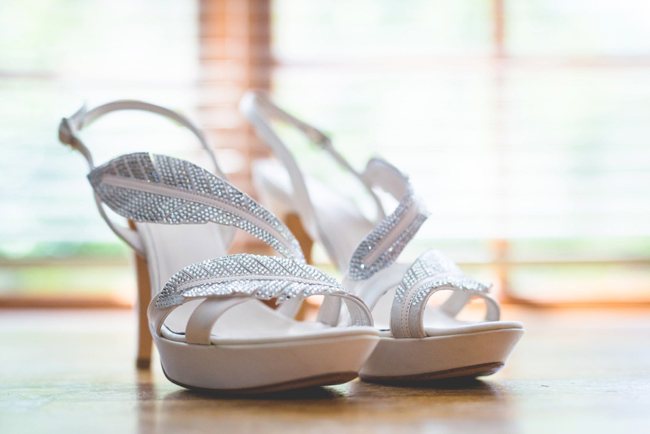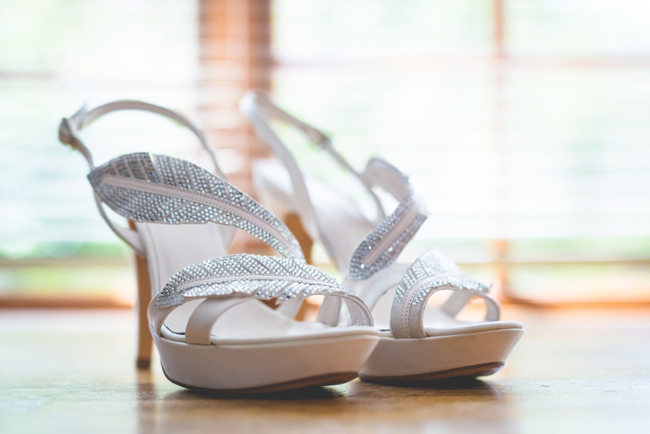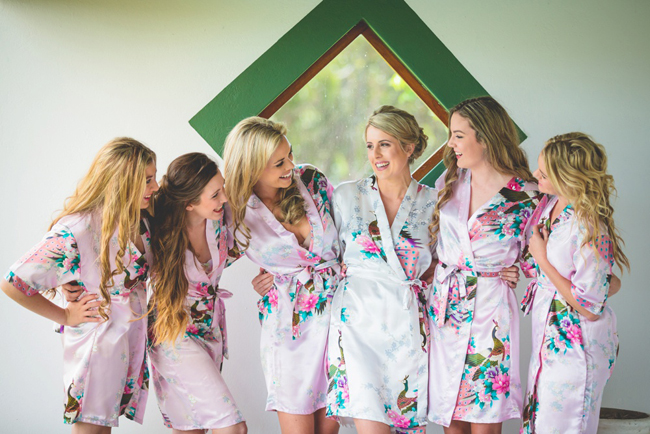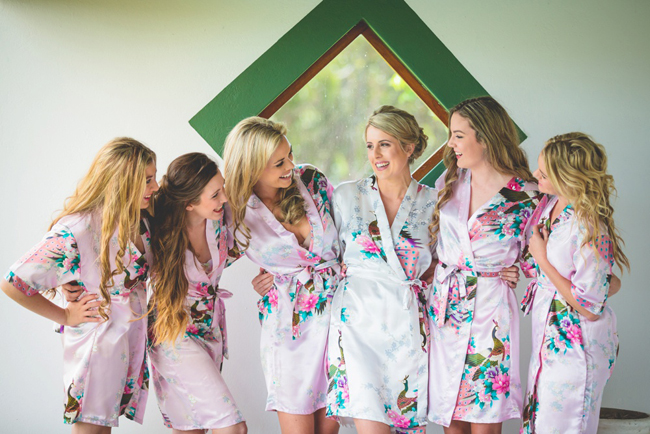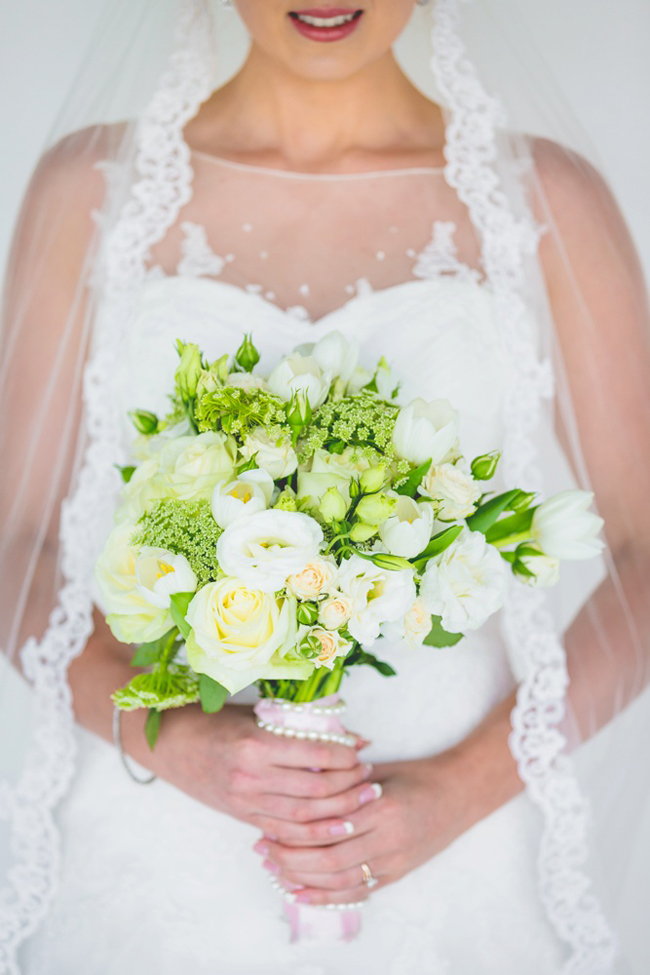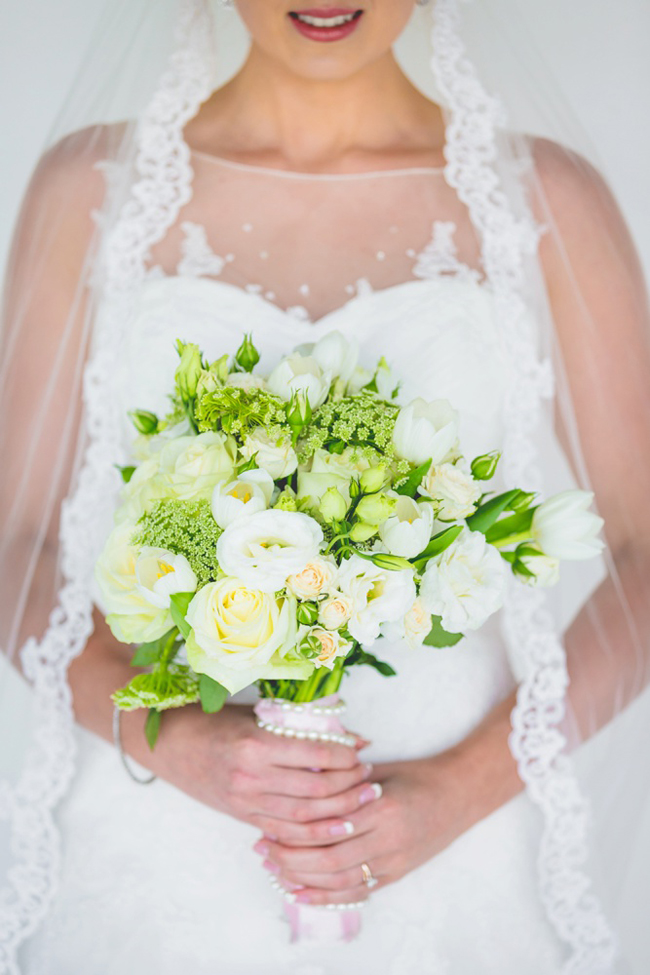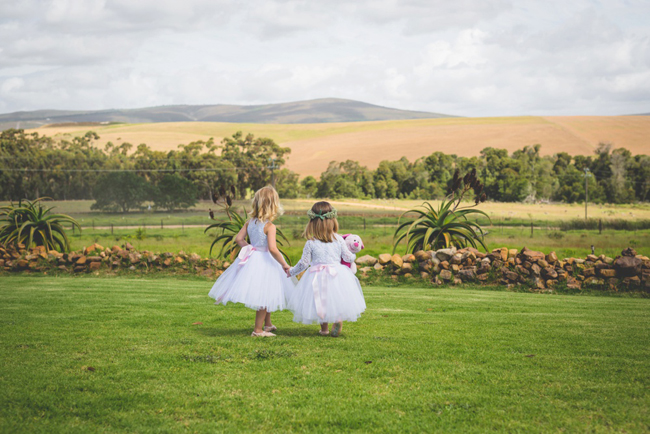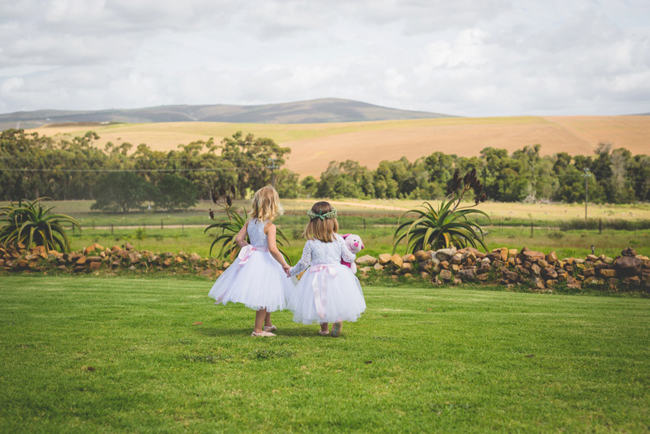 Love Story
We met at our previous workplace, a mobile software company. Dylan, a Mobile Software Engineer, was tasked with setting up my laptop and when he did, there was an instant connection!
The Proposal
Dylan took me away for the weekend to the beautiful KolKol Mountain Lodge near Bot River. He set out a gourmet picnic on the deck of our cabin and asked me to sit down. Then he brought me a cup of tea and as he gave me the cup I saw that there was a photo of us printed on it. I had a sip and as I turned the cup around, it said, "Will you marry me?" on it. I was so excited, happy and teary all at the same time! I said yes of course. The proposal happened on May 4th (Dylan is a Star Wars fan so this date was quite appropriate).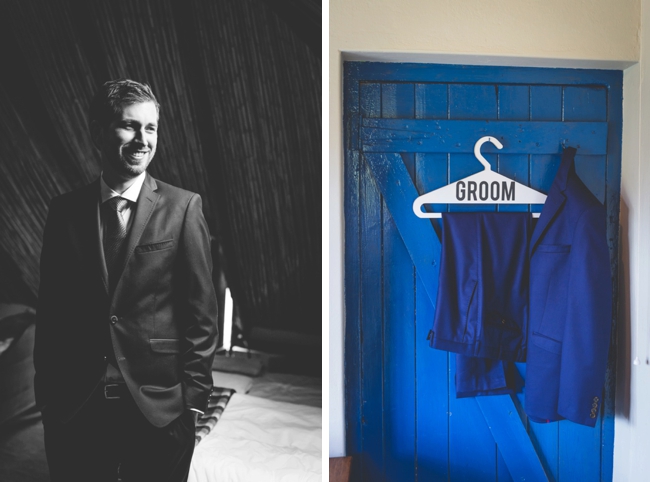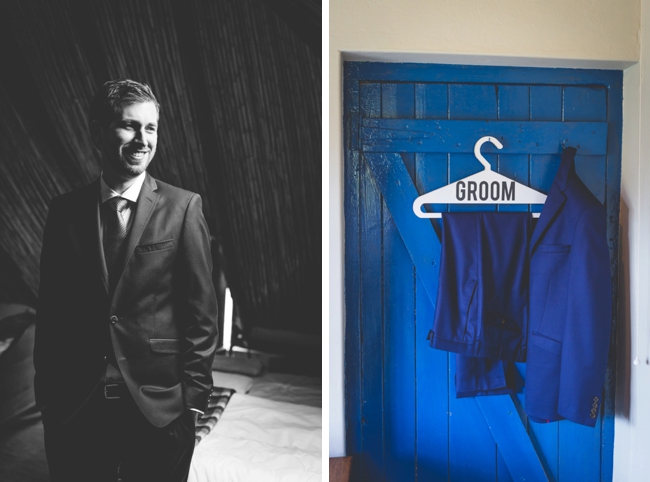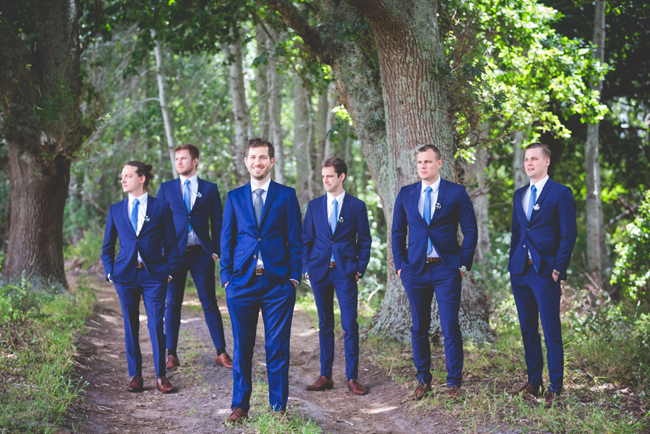 The Venue
I had visited Beloftebos wedding venue before I was engaged. After seeing it I knew that without a shadow of a doubt it was the venue I would get married at one day. I loved the natural beauty of the venue and the romantic and dreamy appeal it had.
Wedding Style
My vision was to have a classic and elegant white wedding in a magical forest setting. I just loved the idea of "classic and elegant meets natural" and that was my starting point for planning. Our ceremony took place under the old oak trees in a lush green natural forest setting. We hung doilies and bird cages in the trees and had traditional English lawn games and hand painted wooden signs with directions, biblical verses and fun sayings, which were displayed around the venue. We had fairy lights above the tables and a fairy light curtain behind the bridal table. Our wedding colours were predominantly white with a touch of rose gold. We wanted to keep them as neutral as possible to complement the beauty of the surrounding forest.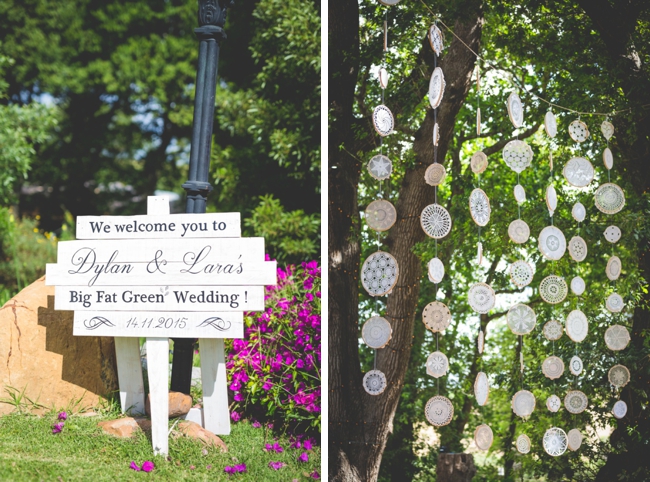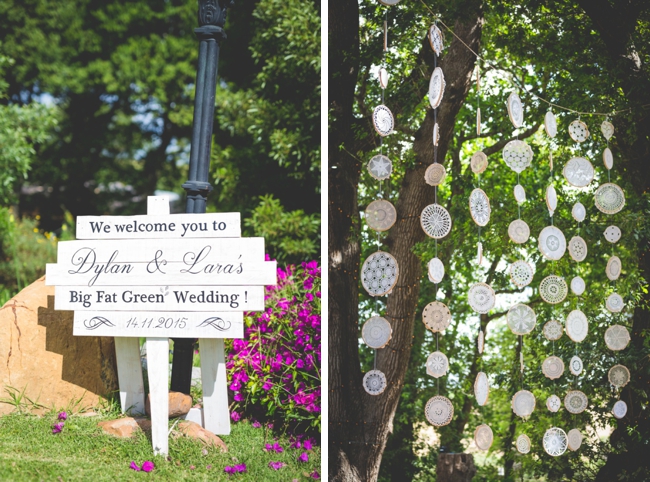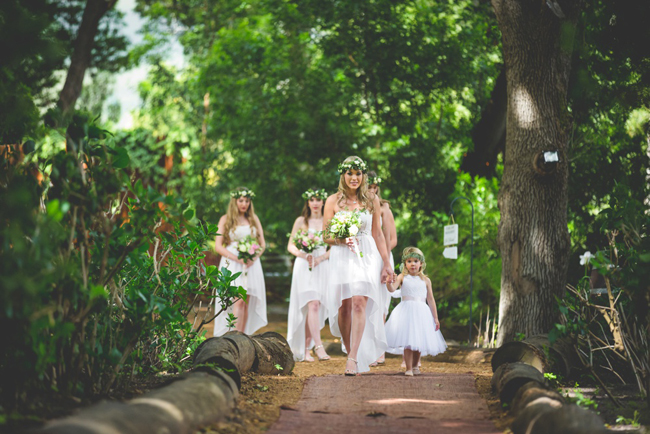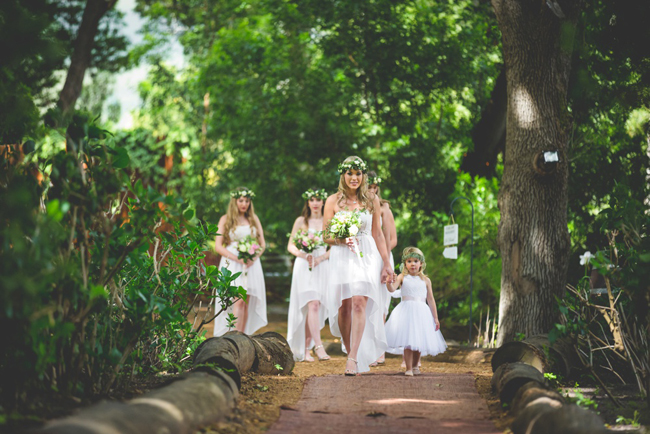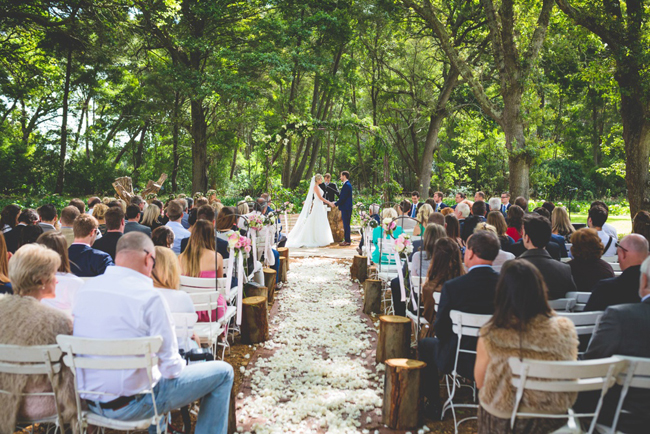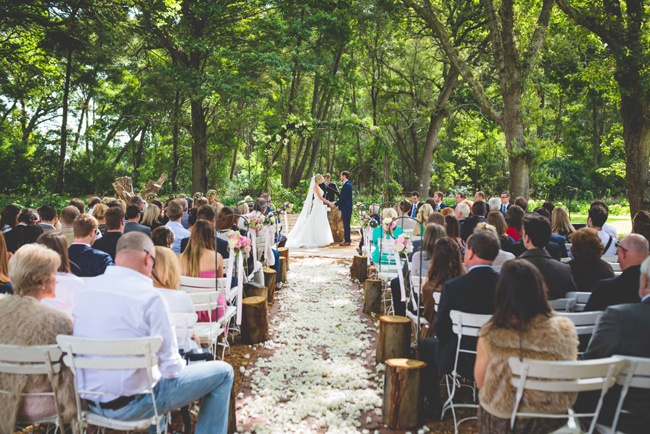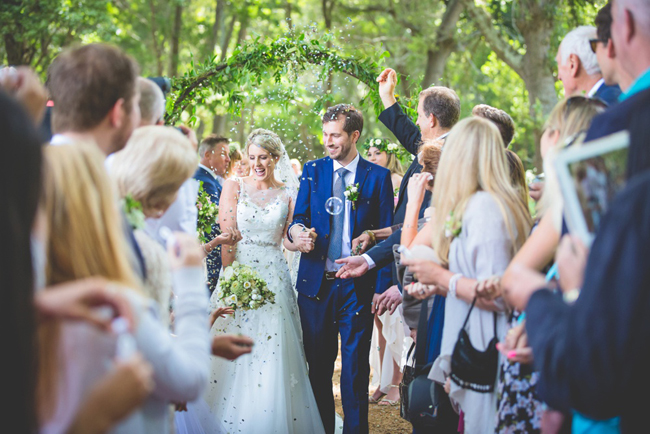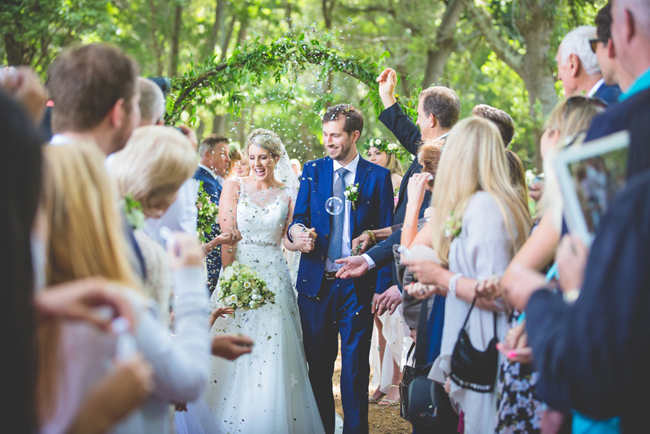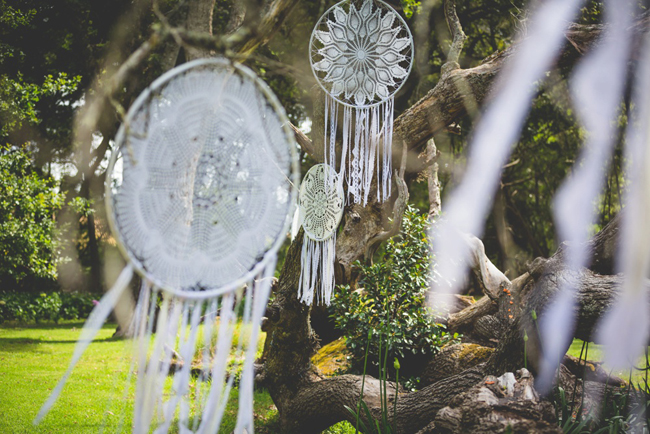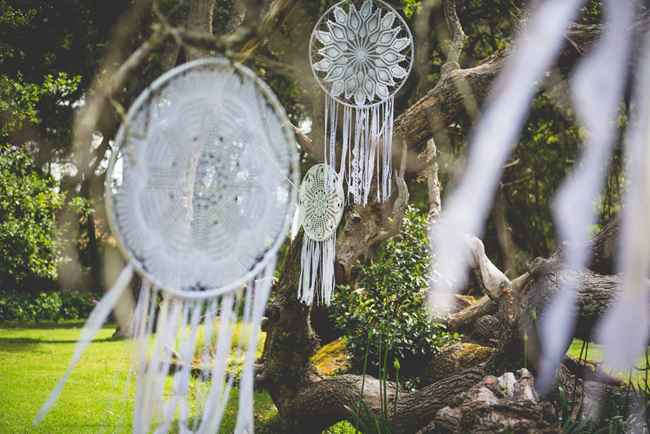 Wedding Details
There were so many little details that we incorporated into our wedding that were special to us. Dylan's uncle married us and this made our ceremony all the more intimate and personal. The bible he read from was also a gift he and his wife later presented to us. Because Dylan is a Star Wars fan we incorporated a few tasteful "Star Wars" décor elements into our wedding. Just before our confetti ceremony, Dylan's uncle (our minister) asked our guests to shout, "May the force be with you". That moment was super cool! Dylan and I designed most of the stationery items together including our invitations, menu and program cards. This was a lot of fun to do and was very cost effective too! Our name place settings were hand written on white beach stones. This personal touch was such a hit with all our guests and we now see their stones displayed in their homes. We framed black and white photos of each and every one of our guests and displayed these on big A-frame easels for them to take home as favours.
DIY Elements
My mom and mom-in-law played an integral part in helping me to see my childhood dream of a magical fairytale wedding come to fruition. It helped that these two ladies are both incredibly creative (my mom is an interior decorator and my mom-in-law is an art teacher!) My mom saw my vision of classic, elegant décor set in a lush, green oak forest. The three of us, in the lead up the wedding, sourced and handmade some unique and tasteful decorations for the venue. My mom-in-law repurposed old, crocheted doilies sourced from various charity shops around Cape Town and suspended some of the larger ones from the trees and the smaller doilies we hung above the dancefloor with crystals in between. She also made some traditional English lawn games and hand painted wooden signs with directions, biblical verses and fun sayings, which were displayed around the venue.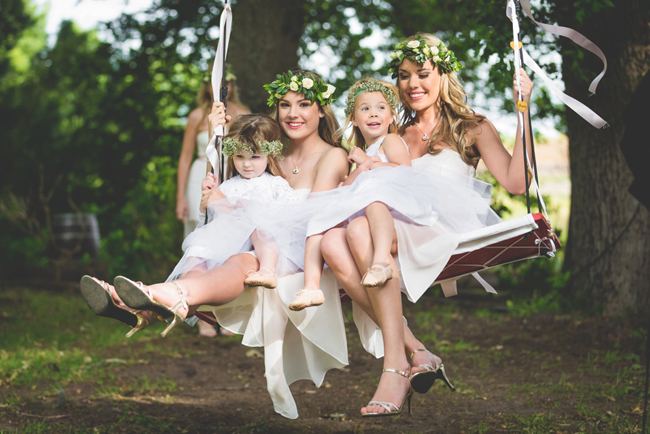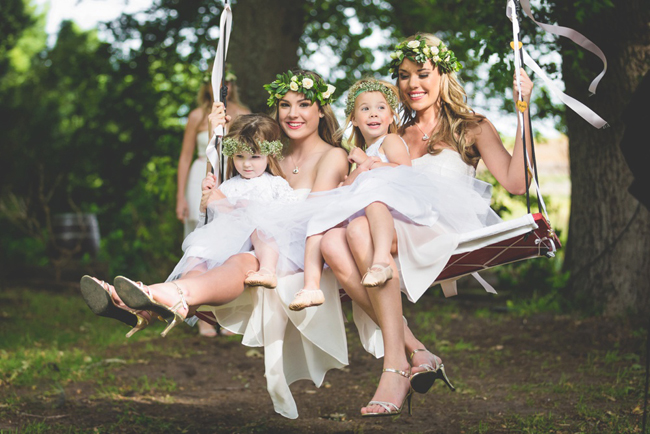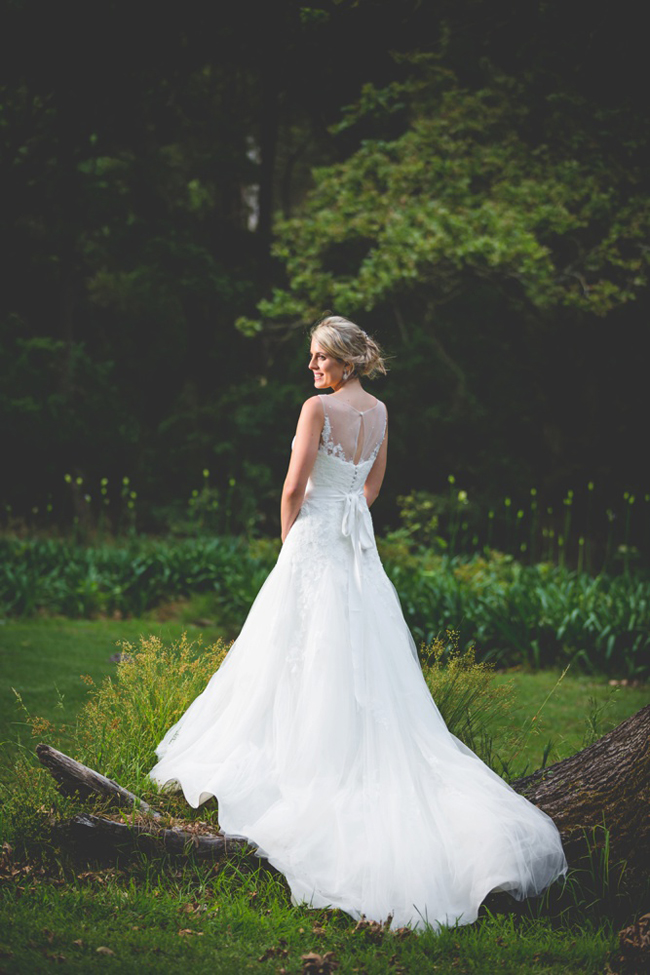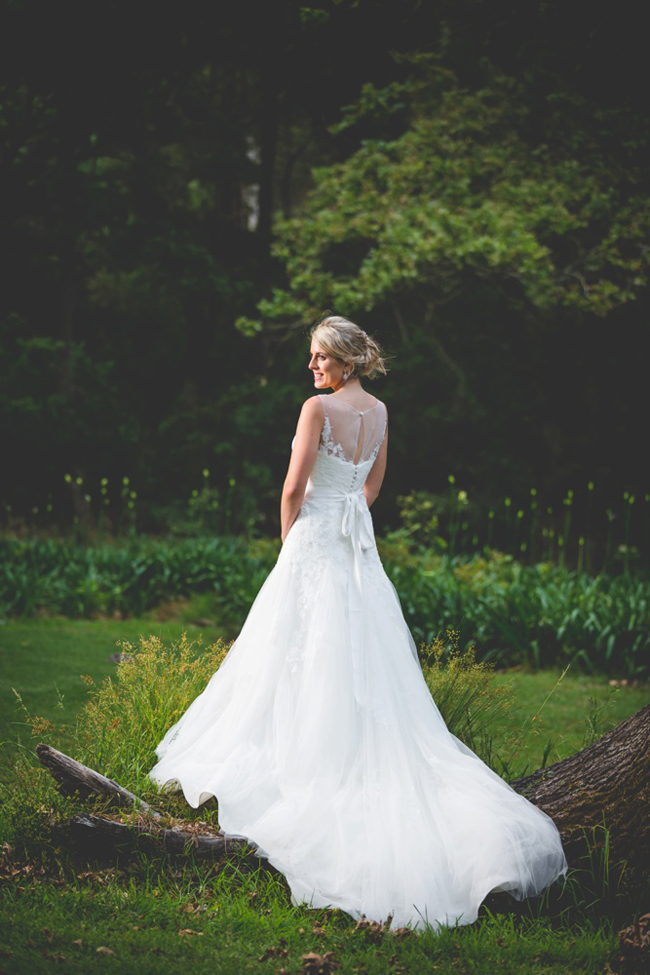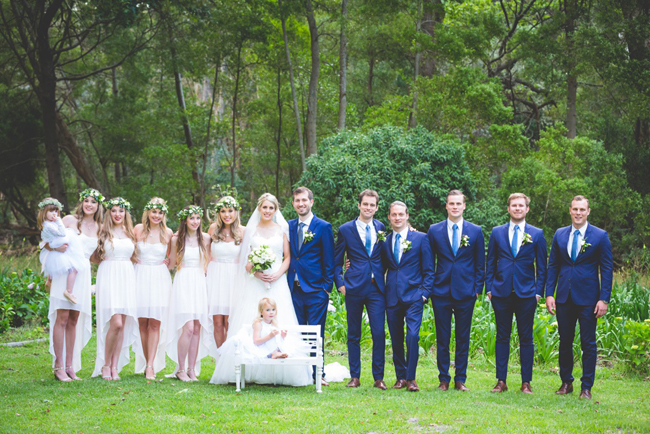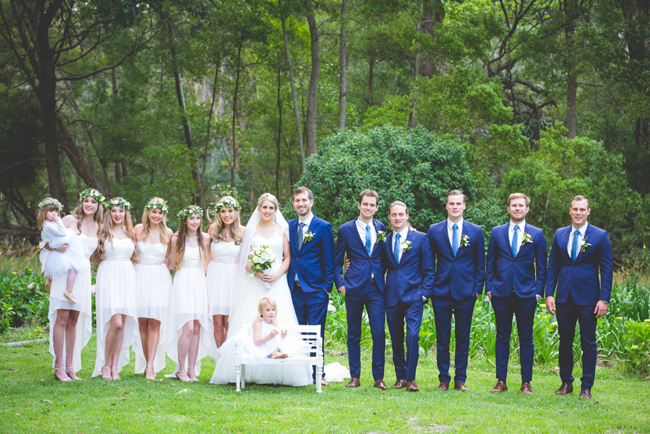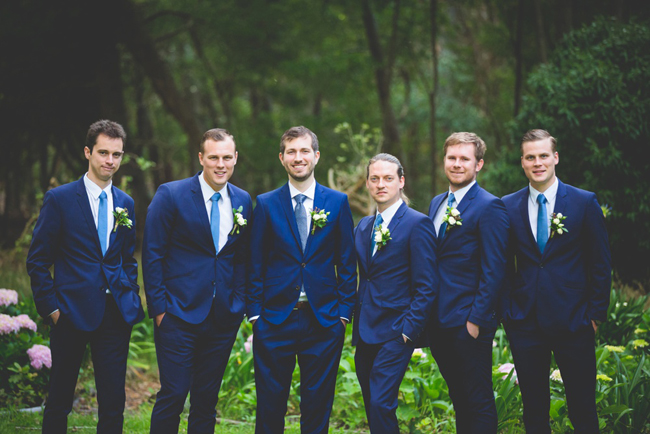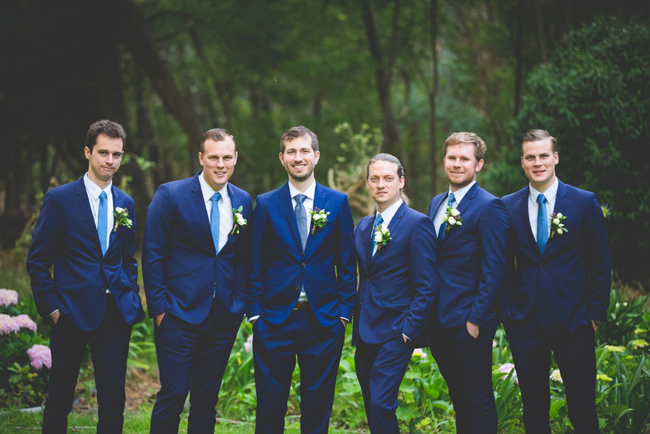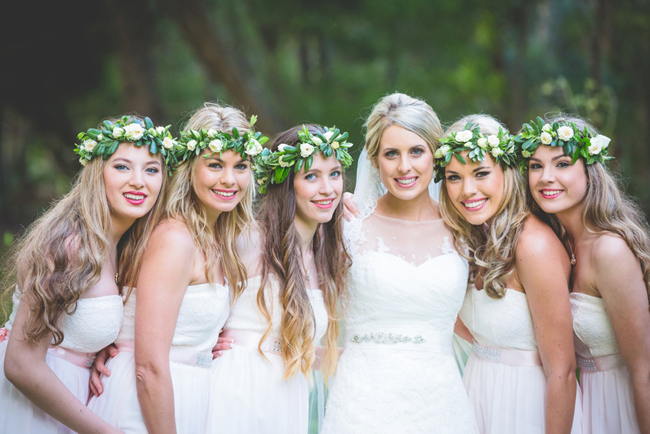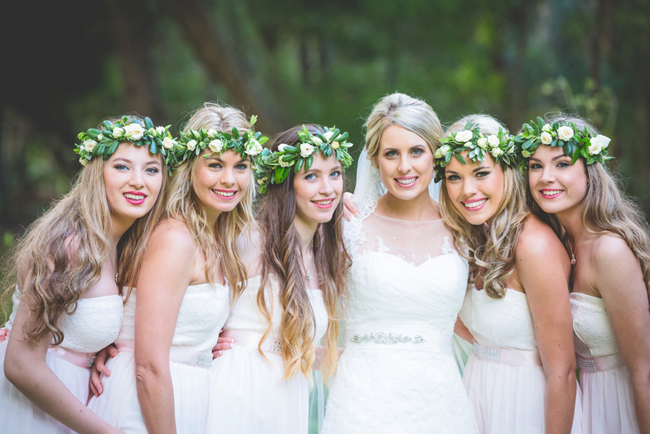 The Dress
Before trying on any gowns I had a vision in my mind of exactly what I wanted. I went to quite a few different bridal shops and tried on a lot of dresses, even one fairly similar to what I thought I wanted. Nothing looked or felt right! Then someone suggested I try Ever After Bridalwear in Durbanville. I am so glad I did! From the moment I walked into their boutique, I had a great feeling. I tried on a dress that fitted me perfectly and I just knew it was the one. When I walked out and showed my mom I could tell by the look on her face that we had found the dress and that is when I said my "Yes to the dress!" My dress is from the White One by Pronovias 2014 collection; the Nieves dress is soft, elegant and a timeless classic. It has beautiful tulle and has a detachable ribbon band with stunning Swarovski crystal detail. It has an illusion neckline with floral lace applique, subtle beads and delicate ruching over the sweetheart neckline. I felt like a princess in my dress!
Something Old, Something New, Something Borrowed, Something Blue
My mother's diamond tennis bracelet that she had worn at her wedding, my cousin's beautiful Pronovias clutch bag which I borrowed (my dress was a Pronovias), a gorgeous pair of imported Italian heels from Galluzzi e Gini (which I won at the SA Wedding Show), and a beautifully knitted garter made by my mom-in-law which was threaded with blue lace.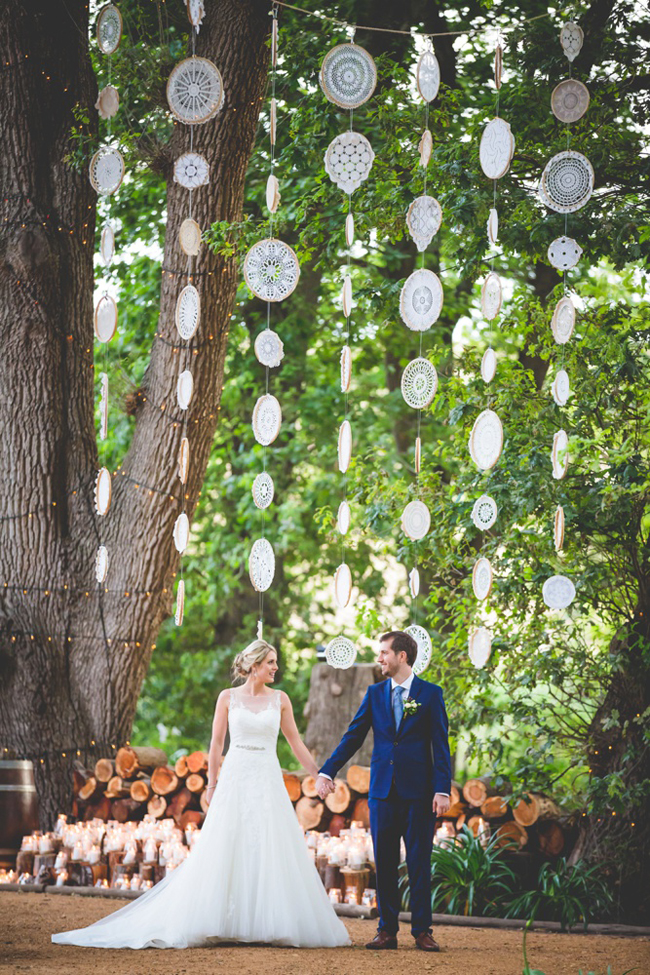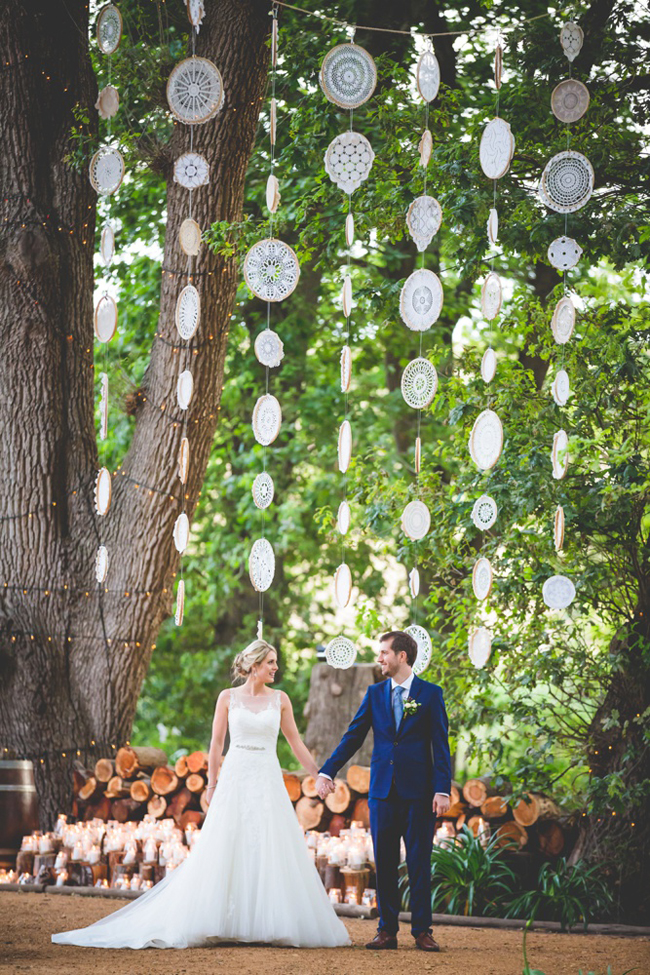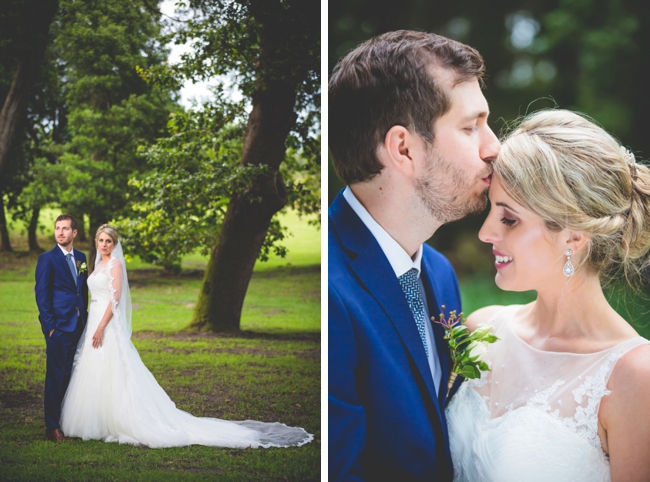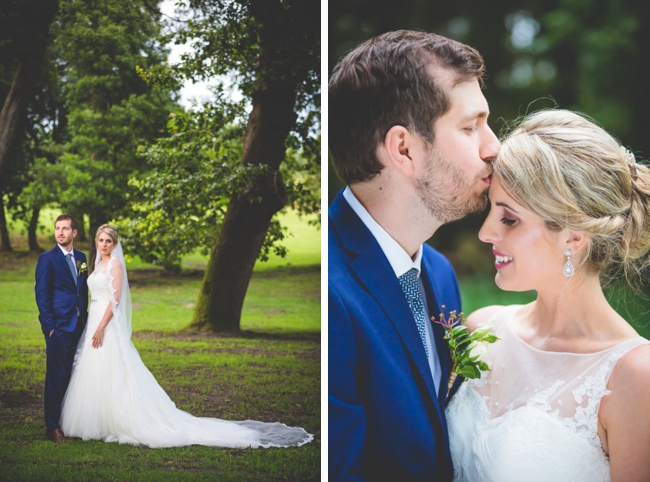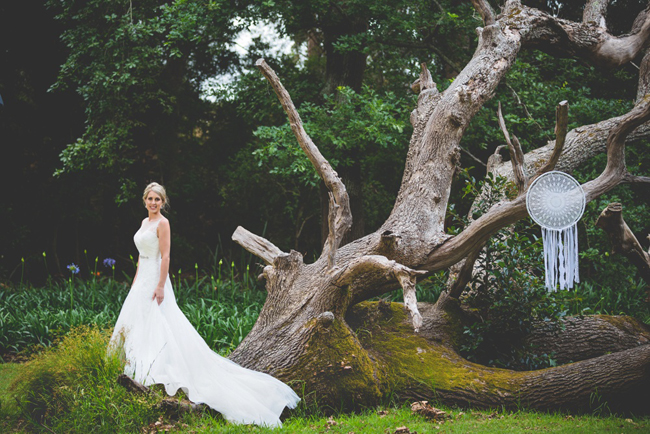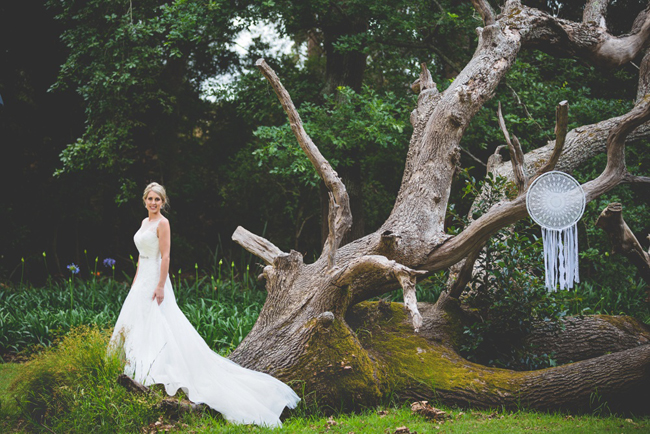 The Bridesmaids
I had four bridesmaids and a Maid of Honour. They wore pale pink high-low dresses from Forever New. The dresses had a soft, whimsical, look and feel to them. I added ribbon to the dresses to complete the look. They wore flower crowns and had gorgeous white and pink rose bouquets. They all looked just beautiful! I also had two very sweet little flower girls. They wore white dresses with big skirts and wore their ballet shoes. They looked like little fairies!
The Flowers
We wanted our flowers to reflect our classic and elegant décor style. My bouquet was made up of white roses and my bridesmaids' bouquets were made up of splashes of pale pink and white roses and penny gum. The bridesmaids wore whimsical, foresty flower crowns and the flowergirls had baby's breath flower crowns. We had glass jars with pink and white roses hung on shepherd's hooks displayed down the aisle. We also had white petals scattered down the aisle. For our reception our centrepieces were cut crystal stands with flower bombs of white roses, orchid stems and ivy. We also had small gold-rimmed glass vases with roses picked from our holiday house rose garden in Napier.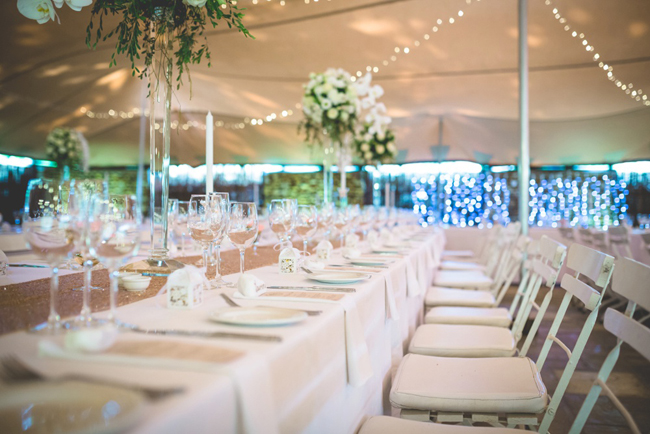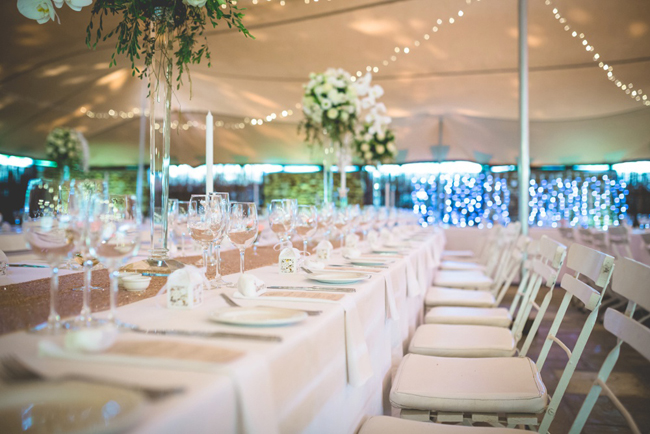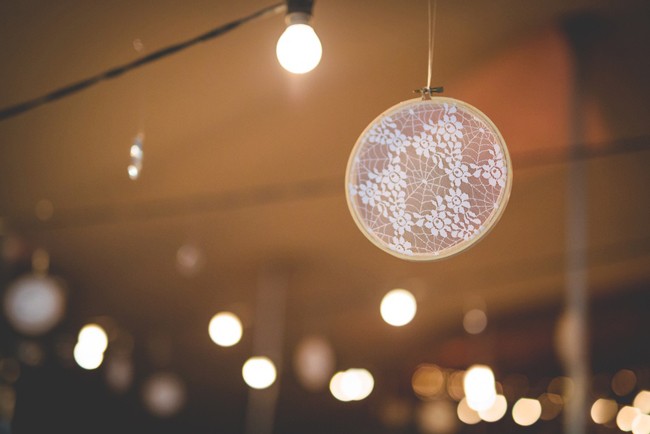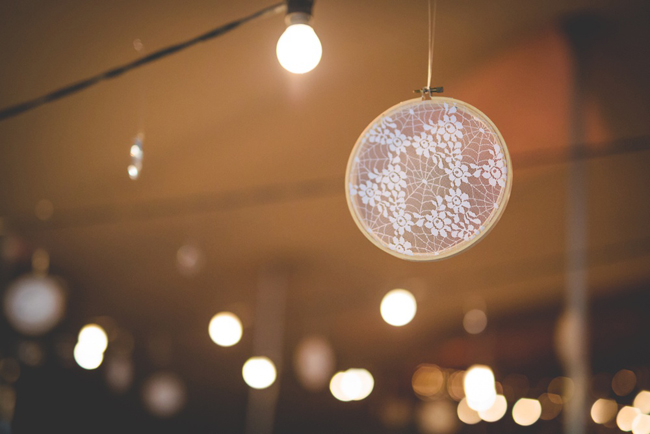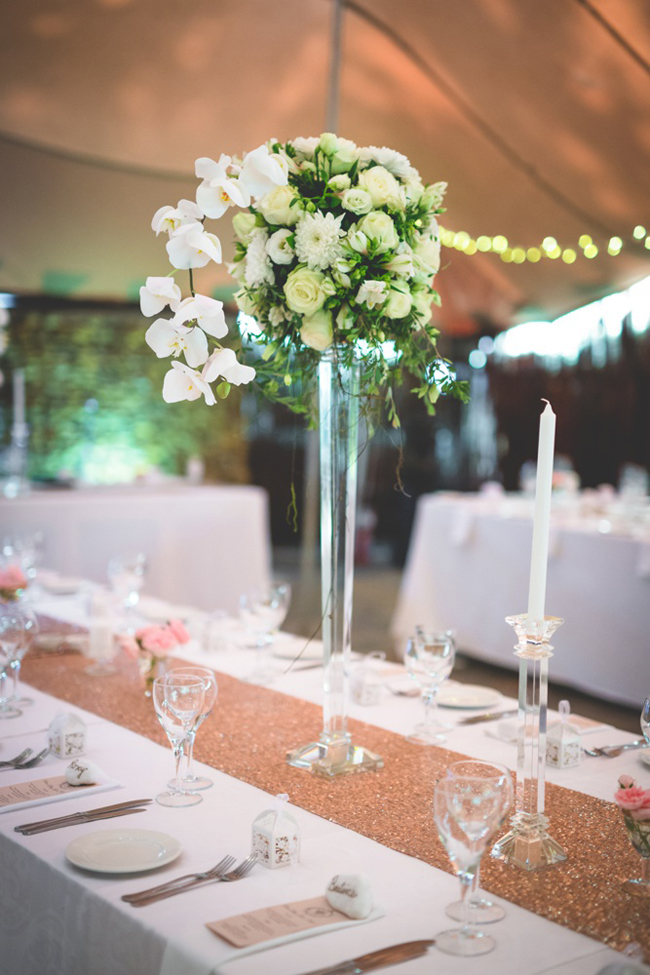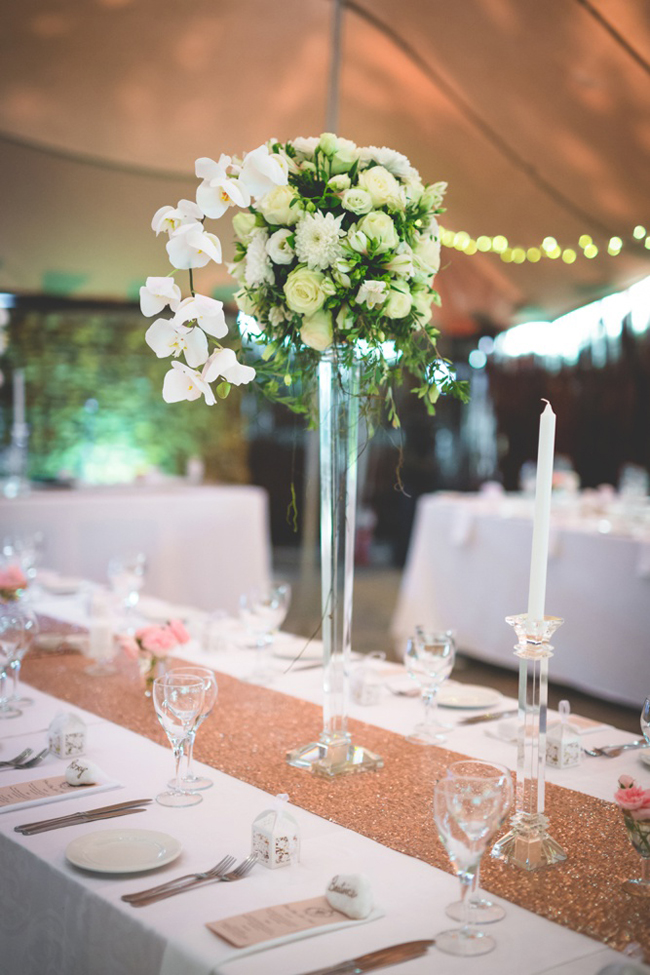 The Cakes
We had two wedding cakes! We wanted sweet but really wanted savoury too! So we had a three-tiered cake made up of a chocolate cake filled with layers of fudge and ganache, vanilla cake filled with salted caramel toffee and a red velvet cake filled with cream cheese. We cut this straight after the ceremony so the guests could have cake while our photos were being taken. Then we also had a cheese wheel cake made up of various types of cheeses which our guests could snack on as a midnight snack.
Memorable Moments
The most memorable part of the day for me was when my godmother read a tribute to my late father before I walked down the aisle. This was the same tribute I had read at her wedding for her late father ten years earlier. It was a wonderful way for me to honour my dad. There was not a dry eye amongst our guests! Another highlight for me was when Dylan danced with my granny to her and my late grandpa's wedding song called, "Mr Wonderful." I also loved seeing all our guests as I walked down the aisle. I remember that in that moment I felt so much happiness because all the people most important to me were there to witness me marry the man of my dreams. I will always treasure the memory of seeing my future husband's reaction as I walked down the aisle… absolutely priceless!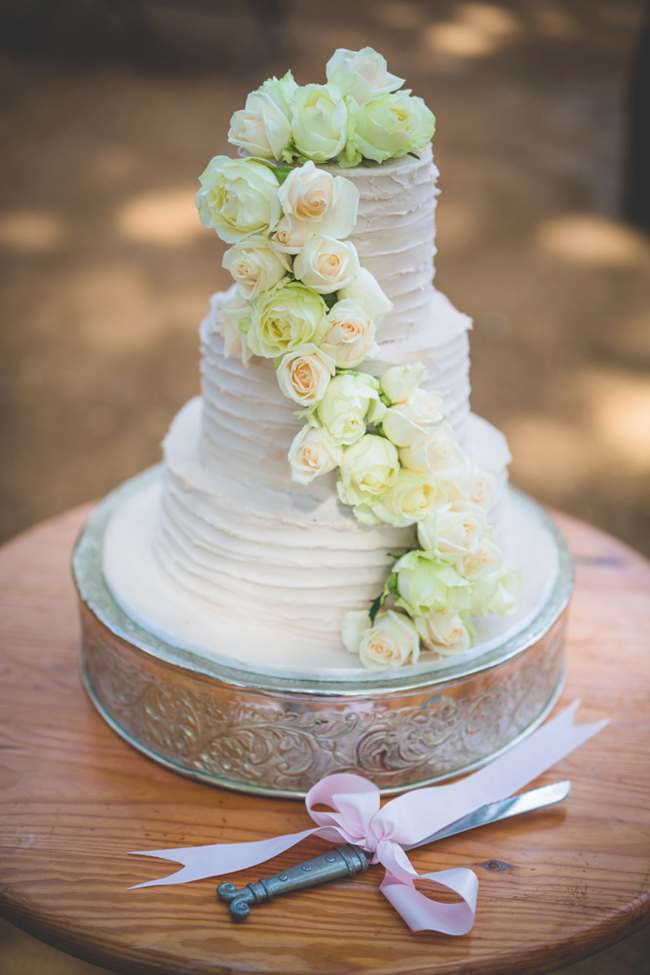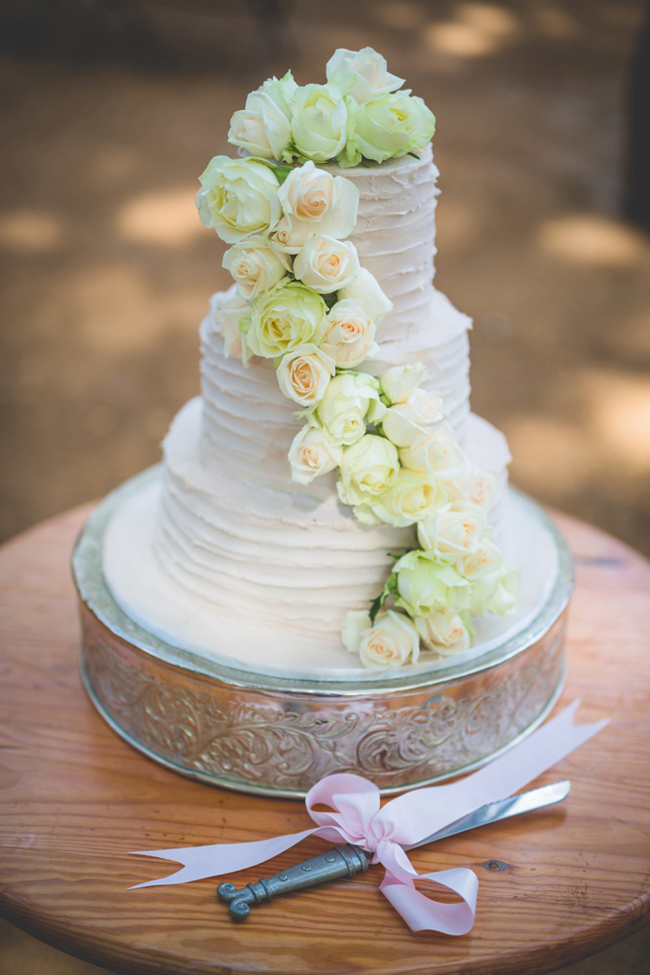 Best Decision
The best decision I made was sticking to the look and feel I envisioned and getting lots of help from my mom and mom-in-law. I also planned things well in advance and delegated to those that offered to help.
Advice for Future Brides & Grooms
The lead-up to the wedding can be stressful so try not to feel too overwhelmed. The day is not going to go exactly as planned so just embrace that! A bee stung my big toe just before I walked down the aisle and my whole foot swelled up!! The day goes by in a flash so take in every single moment and try and steal a few minutes together (just the two of you) during the wedding.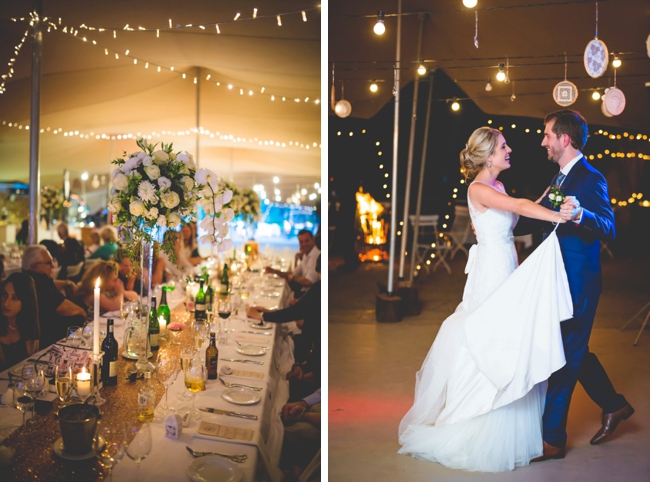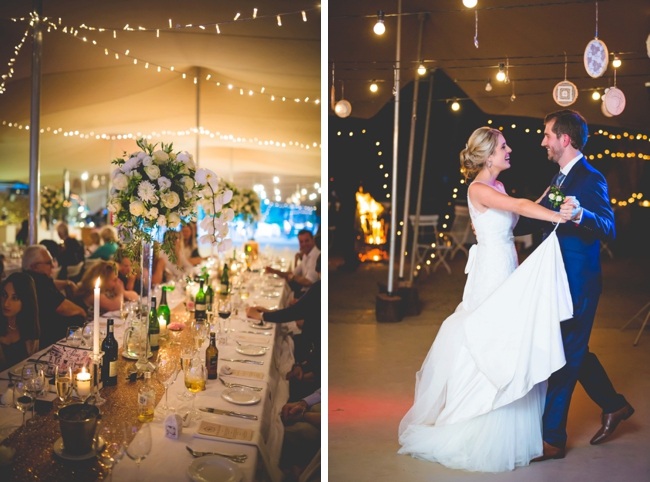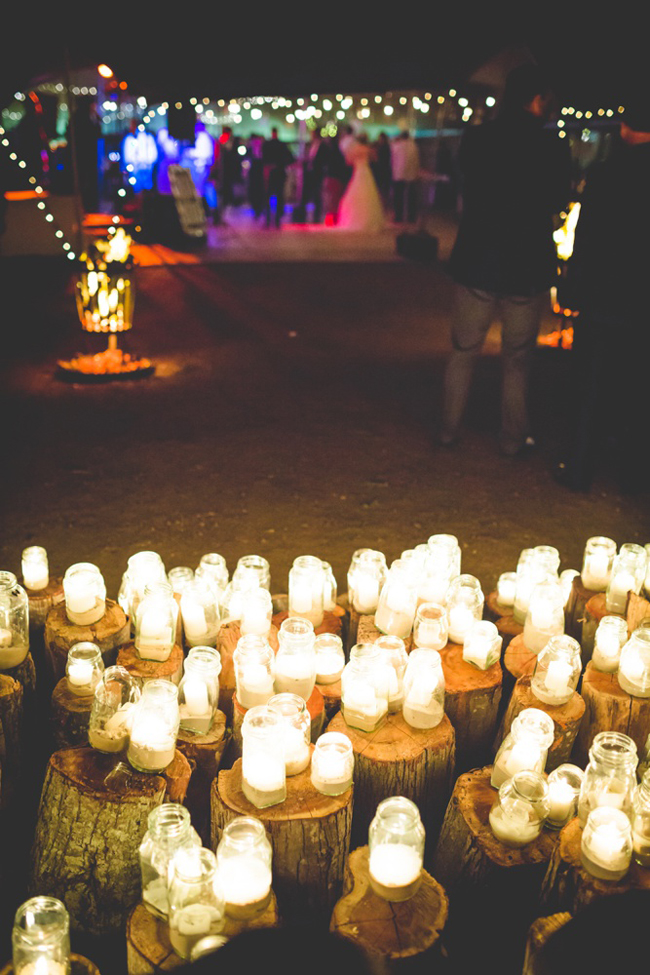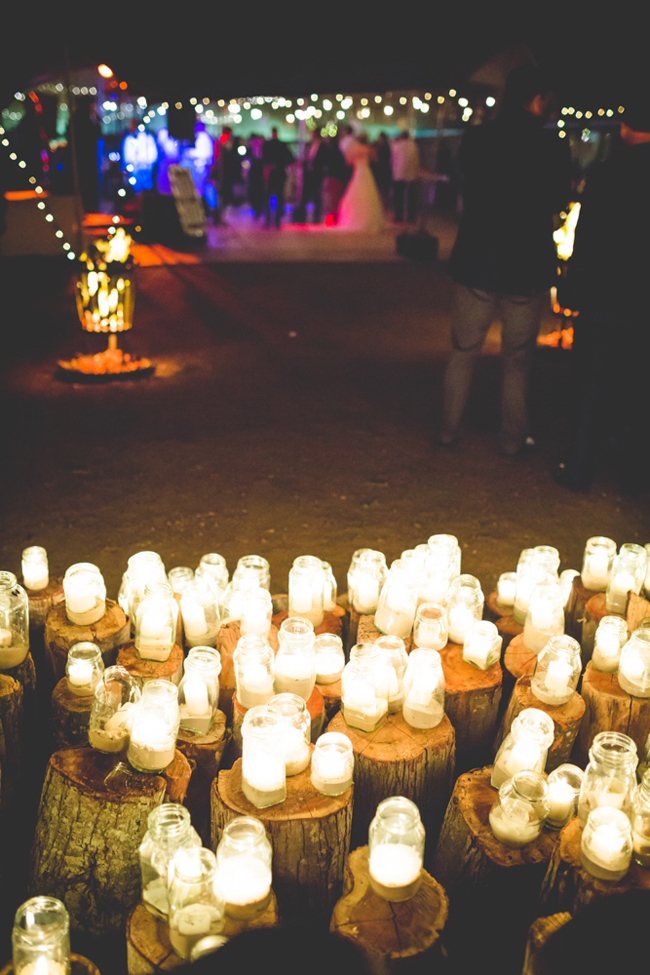 You can see more from this wedding on Kobus Tollig's blog.
SERVICE PROVIDERS
Venue & catering: Beloftebos | Photography: Kobus Tollig Photography | Flowers & décor: Saffron Functions | Cake: Leigh's Cakes | Cheese cake: Fairview |  Bride's dress: Nieve by Pronovias from Ever After Bridalwear | Rings: Victoria Jackson | Hair & makeup: Hair Styling , Make-Up & Eyelash Extensions by Almari | Bridesmaids' dresses: Forever New | Groom's attire: Fabiani (suit), Woolworths (ties & shoes) |Groomsmen's attire: Eurosuit (suit), Woolworths (ties & shoes) | Entertainment: The Professors Live