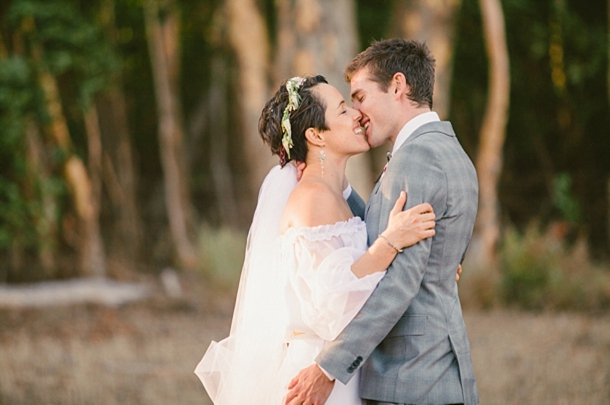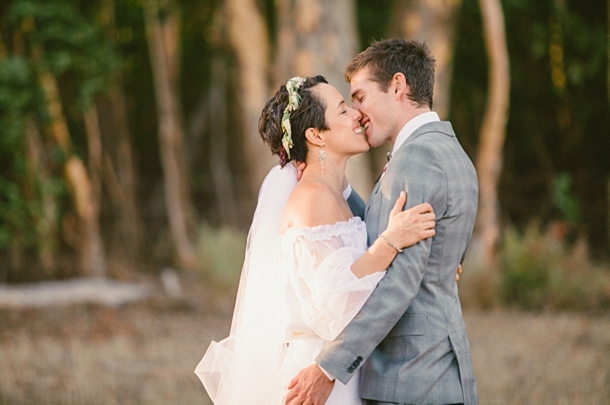 I've tried to write this intro a bunch of times, to describe an amazing couple who embody the joy and wisdom of 'seize the day' and whose ceremony was so heartwarming that their photographer, Charlene Schreuder, admitted it brought a tear to her eye. But the truth is, Charlene's incredible pictures tell the story better than I can – and they moved me to happy tears too. This is one wedding you should read every word of, and soak in. It teaches something. Because it's pretty, but it's also the reason weddings were invented: a celebration of the strength and wonder of love.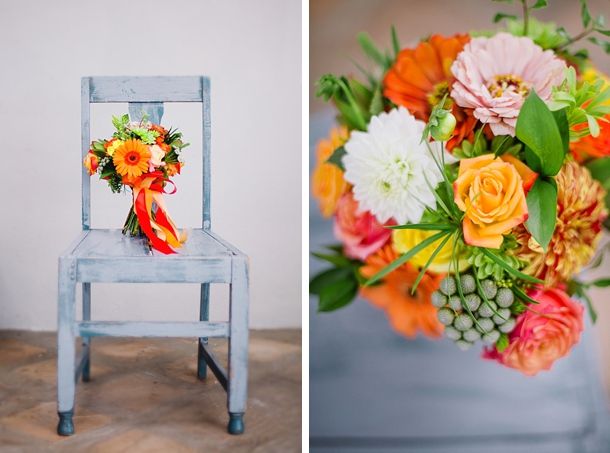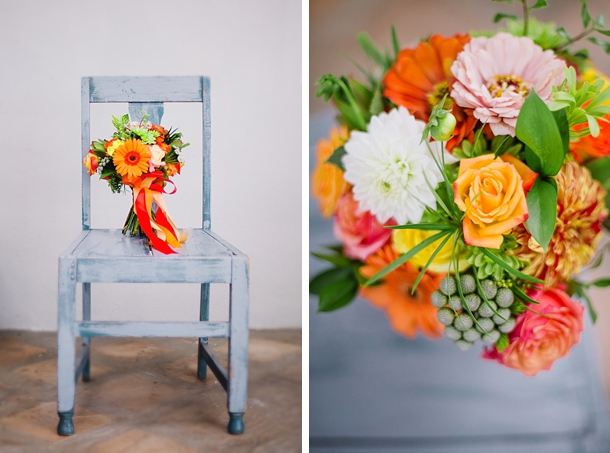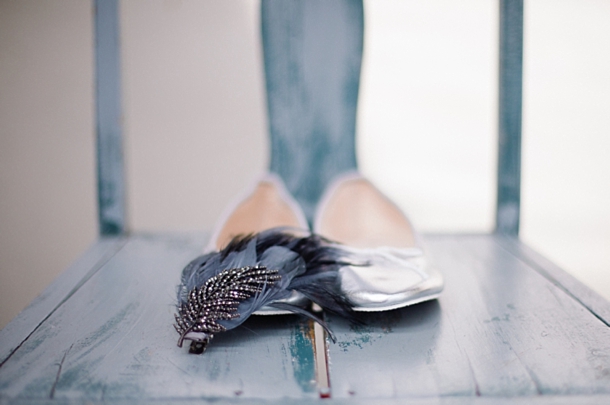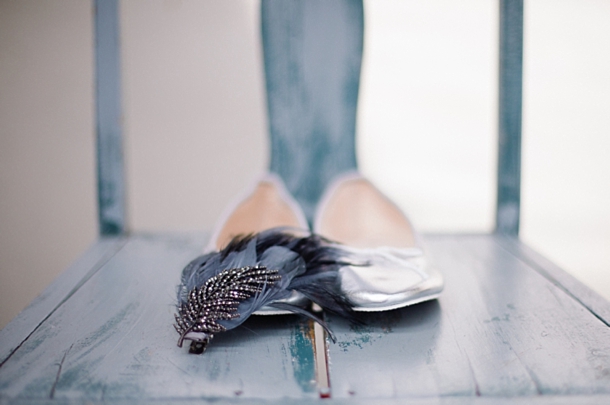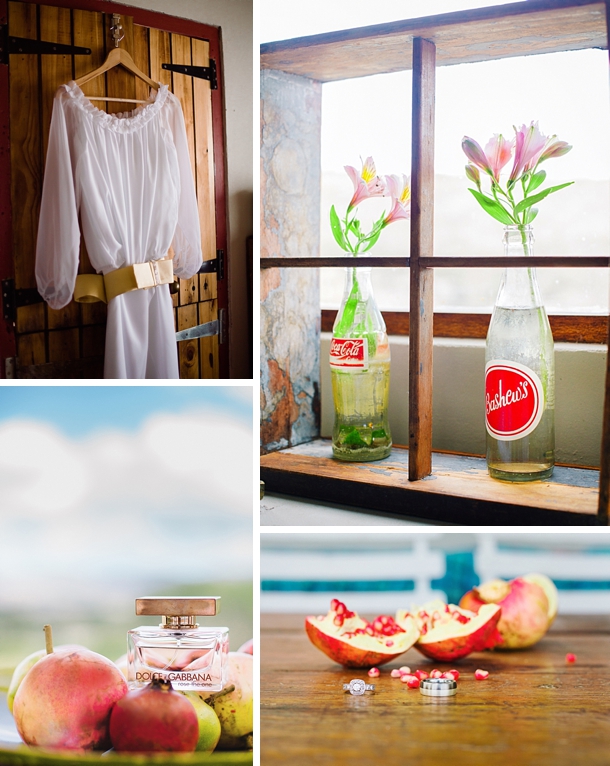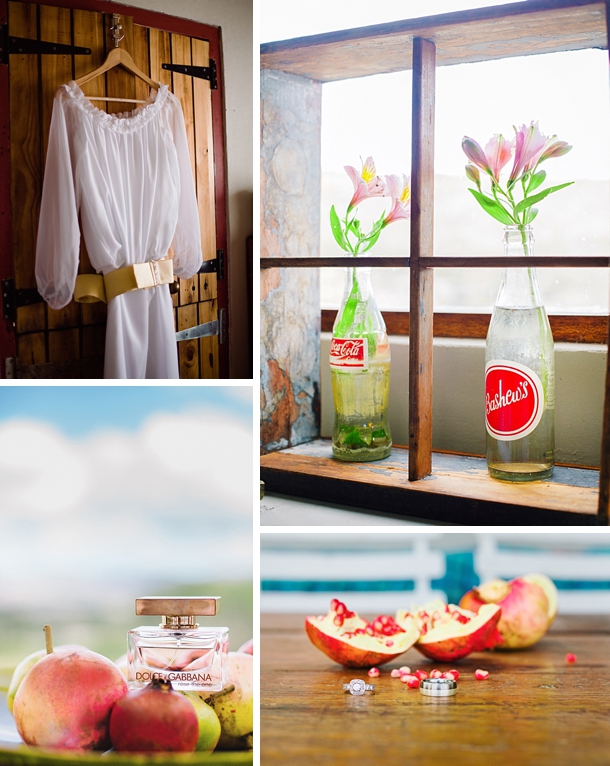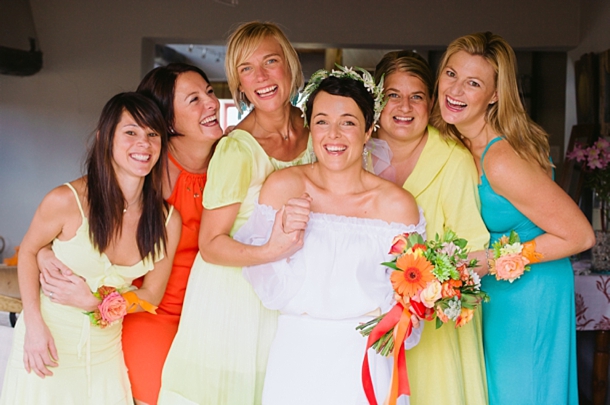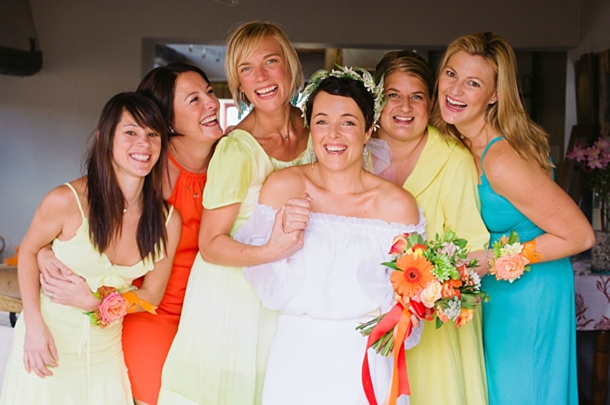 From beautiful bride, Mareli:
Grant and I both worked at 5 Flies Restaurant in Cape Town, but at different times. The first time we met, I'd returned to the restaurant with a group of friends and our waiter Grant, who was new and hadn't yet understood the billing system, messed up the bill, so I helped him. We were later introduced by a mutual friend, and eventually started becoming friends, but only after five years did Grant turn on the charm and woo my socks off! I kept him at an arm's length, because he is seven years younger than I am and I've tried going down that road before and it didn't work out. But Grant would not take no for an answer; he knew what he wanted and eventually at a friend's funeral I decided that life is too short to worry about age, especially when the connection is so magic! Four months after we officially got together, I was diagnosed with breast cancer. This put a spin on things that flipped our world upside down, but Grant was my strength, my hope, my guardian angel. Throughout the whole experience: chemo, radiation, my operation, he was there and after everything we went through our bond was so much stronger. It just confirmed that we were made for each other.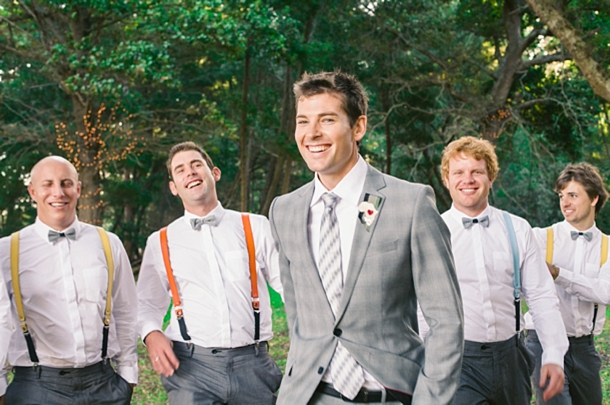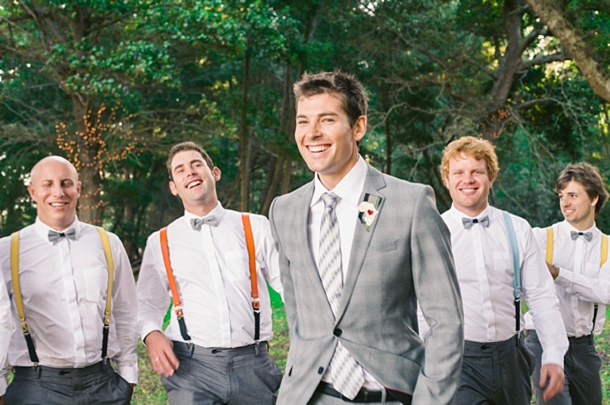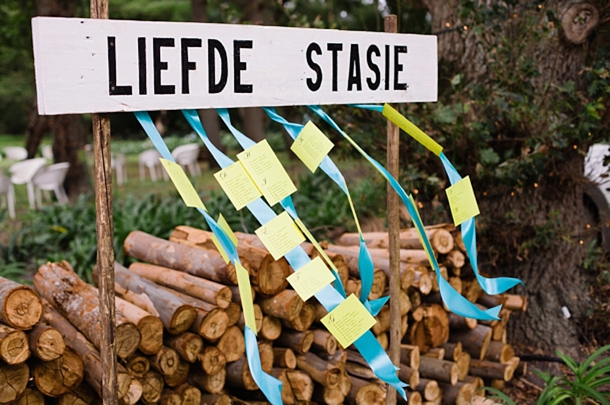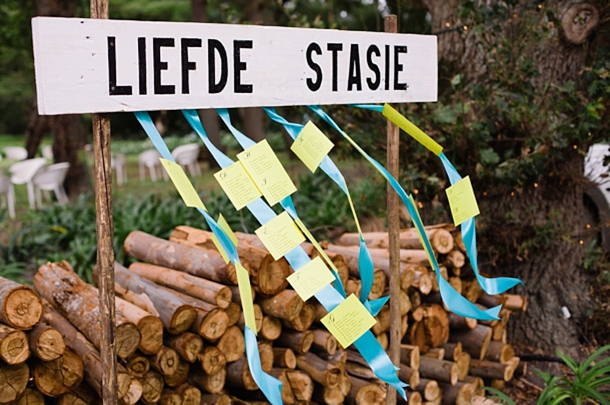 Once I was finished with my chemotherapy we had the opportunity to go on holiday to France – a much-needed getaway indeed – and this where we got engaged. It all happened on a ski slope in a little town called Meribel in the French Alps. The weather had been very cloudy and misty the entire day, but we decided to do one last run. The mist was so thick you could hardly see the person in front of you, but as we slowly made our way down, the mist and clouds suddenly disappeared and a spectacular view of the whole valley opened up. Grant decided this was the perfect moment, but in trying to get my attention managed to fall head-first down the slope. I skied over in concern and asked if he was okay and if there was anything I could do, to which he replied, ring in hand (once he'd managed to get on one knee) "Yes, you can do me the honour of spending the rest of your life with me."
So in the end, we were engaged in less than a year and married in less than two, but we knew each other for five years before we got together. Grant is a pilot and about a year ago, was offered a job in Malawi. I was ready for a change after everything I had been through, so we packed up our life in Cape Town and relocated. I now live on Likoma Island, Lake Malawi, doing massages for a lodge called Kaya Mawa. Grant flies in and around Malawi and spends about three or four nights a week with me on Likoma. As a pilot's wife, I'll take what I can get!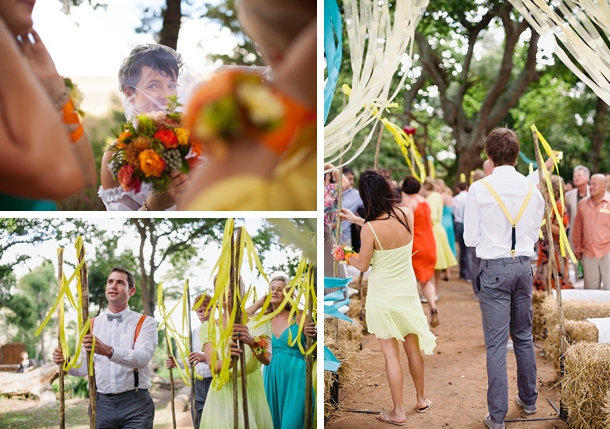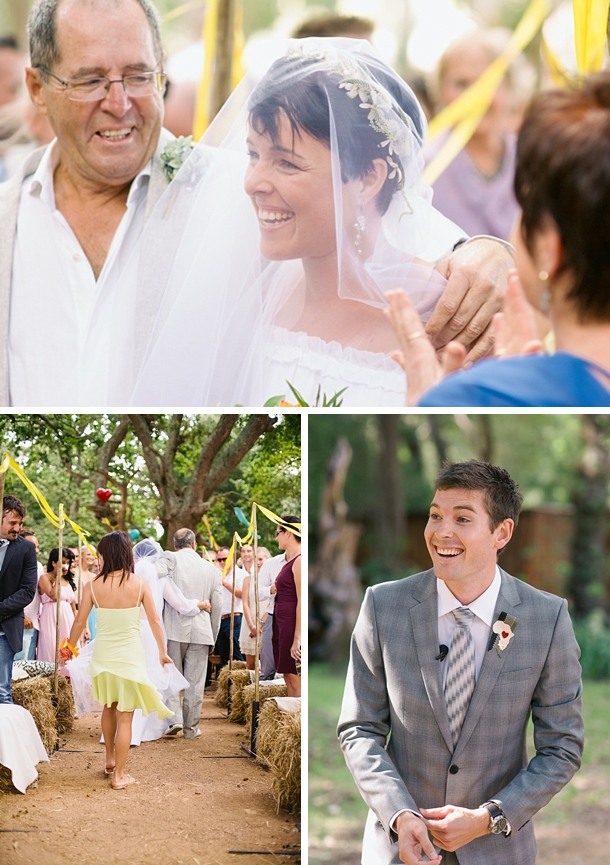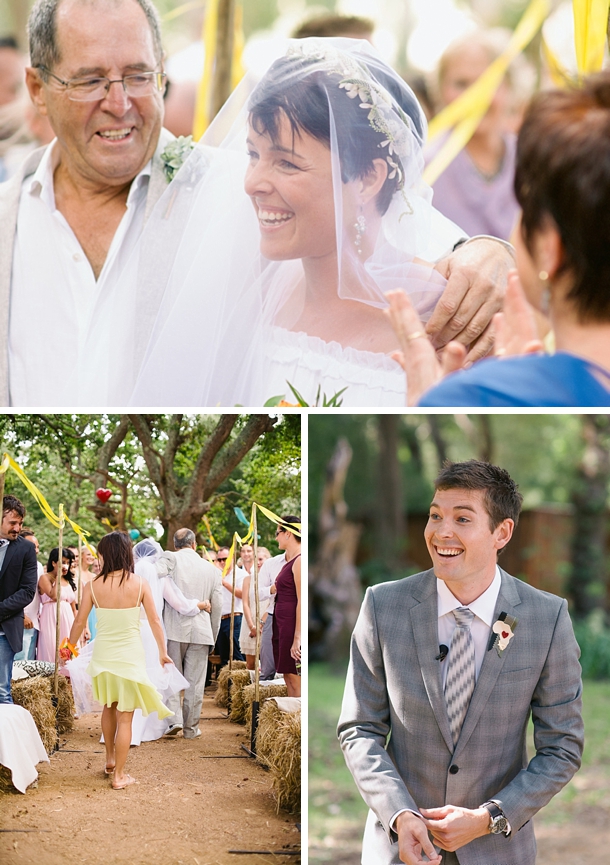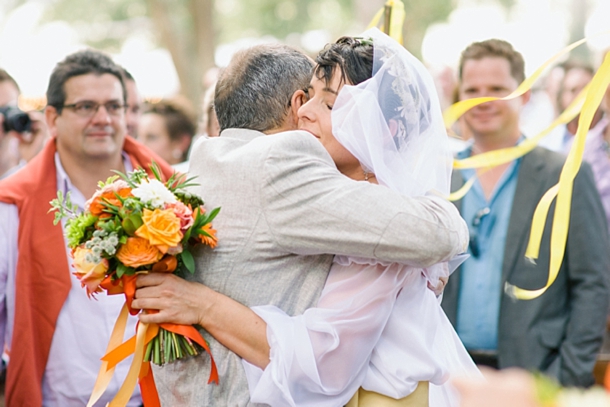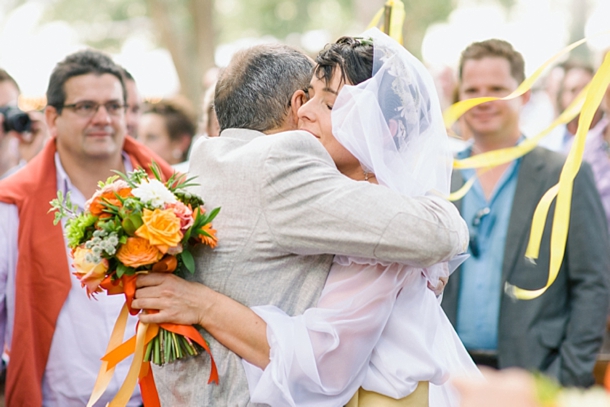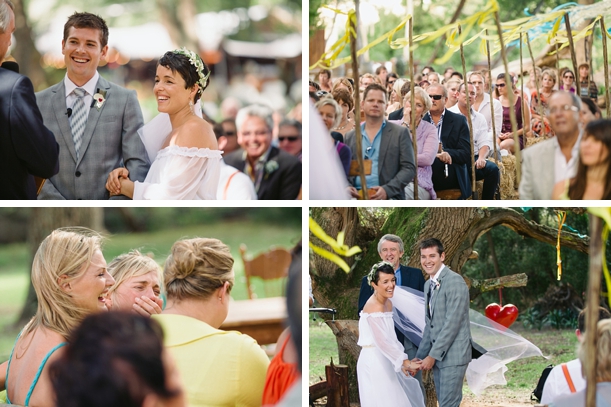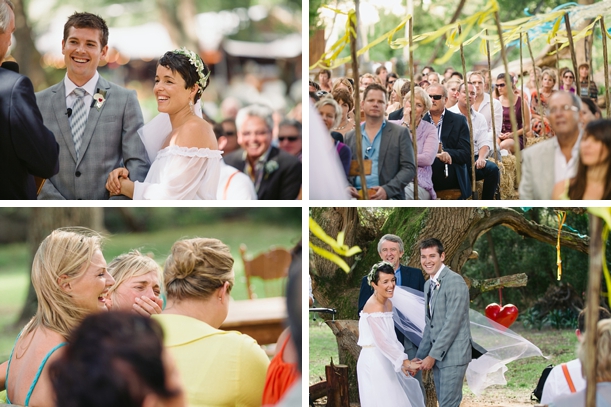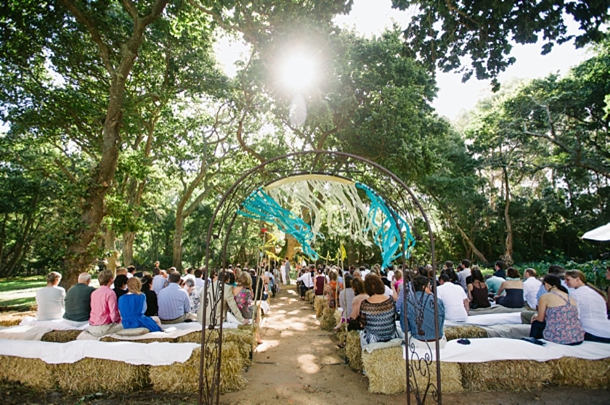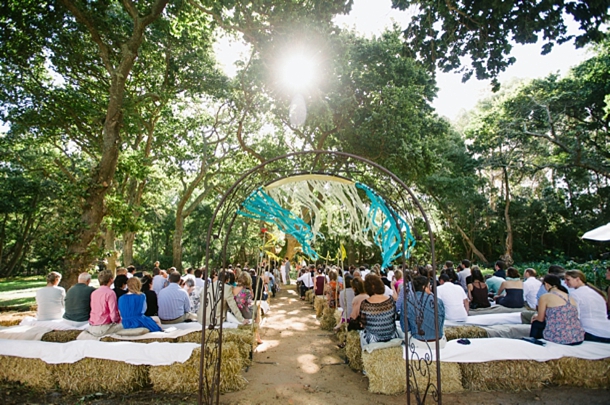 We stumbled across our venue, Beloftebos, on a venue-finding trip, and when I saw this magical place, I knew this was where I would like to get married. After flipping a coin with our other top-choice venue, it landed on Beloftebos – I was over the moon! My colour inspiration started with Grant's amazing blue eyes. He had been the MC at his sister's wedding and wore a baby blue linen suit, with an orange tie and yellow rose on his lapel. The combination was just perfect: blue, orange and yellow.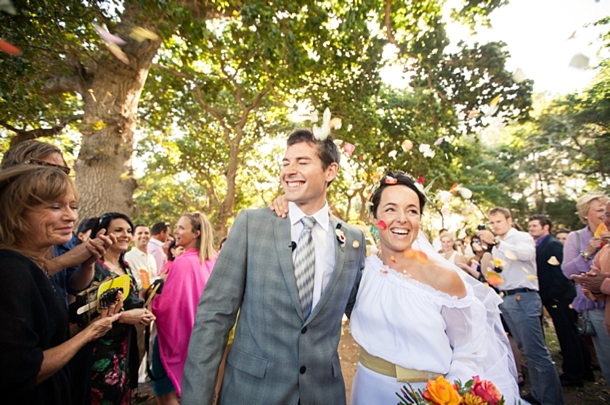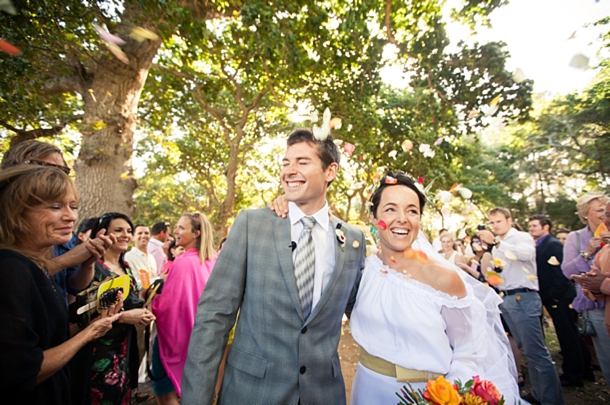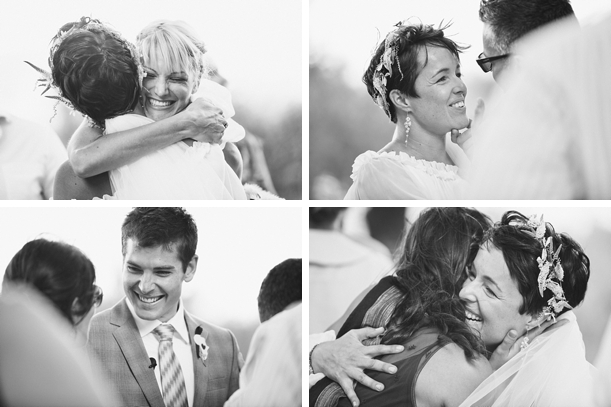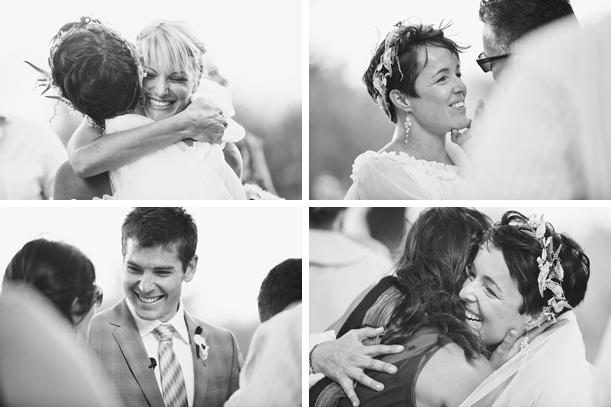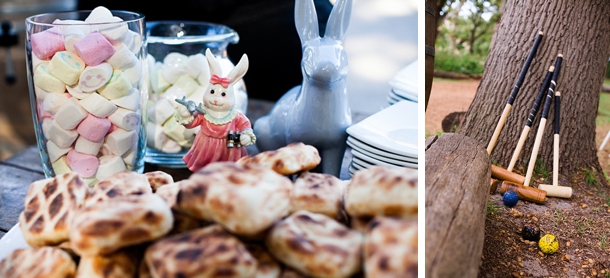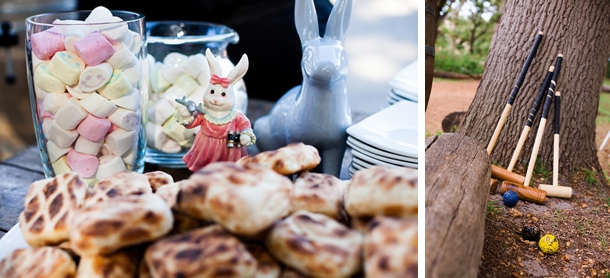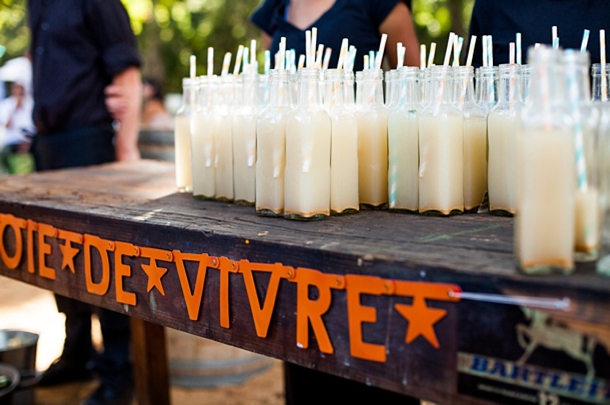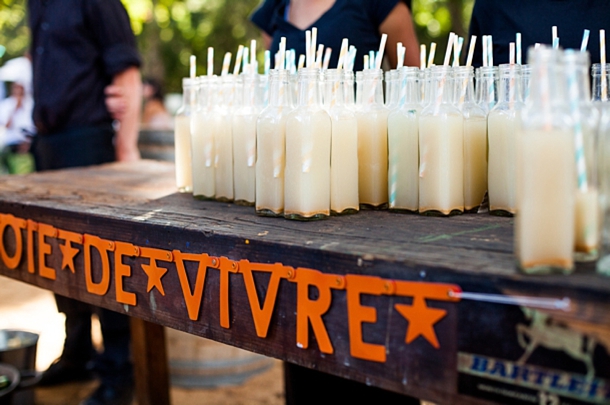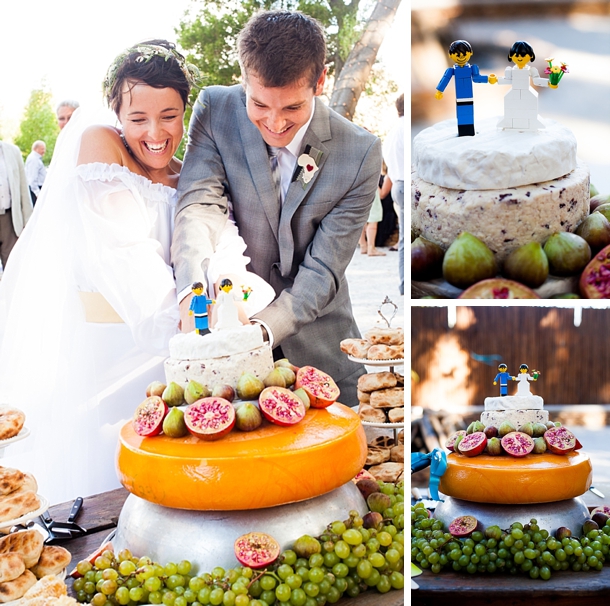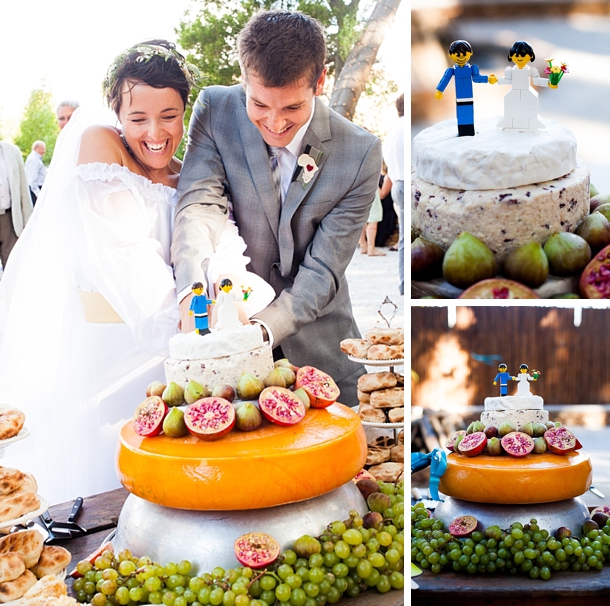 I wanted to feel like a fairy, rather than a princess. My brother said when I came down the aisle, he felt like it was something out of a Lord of The Rings movie. Mission accomplished! The venue added so much to that feel, it being outside, the massive oak trees, the wind and sunshine… When it got to exchanging rings, the moment I slipped Grant's ring onto his finger, an acorn dropped right onto the back of his hand, exactly on the bone that leads to his ring finger, actually breaking the skin and leaving a little red mark. This was super special, almost like a blessing from nature.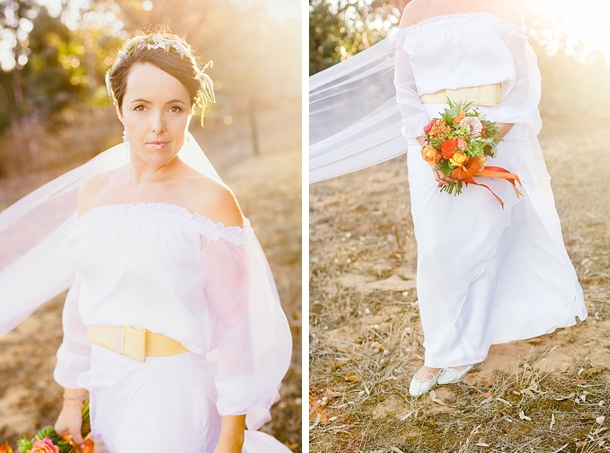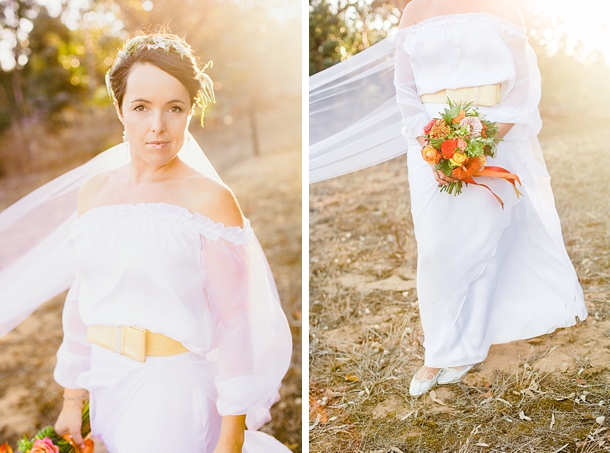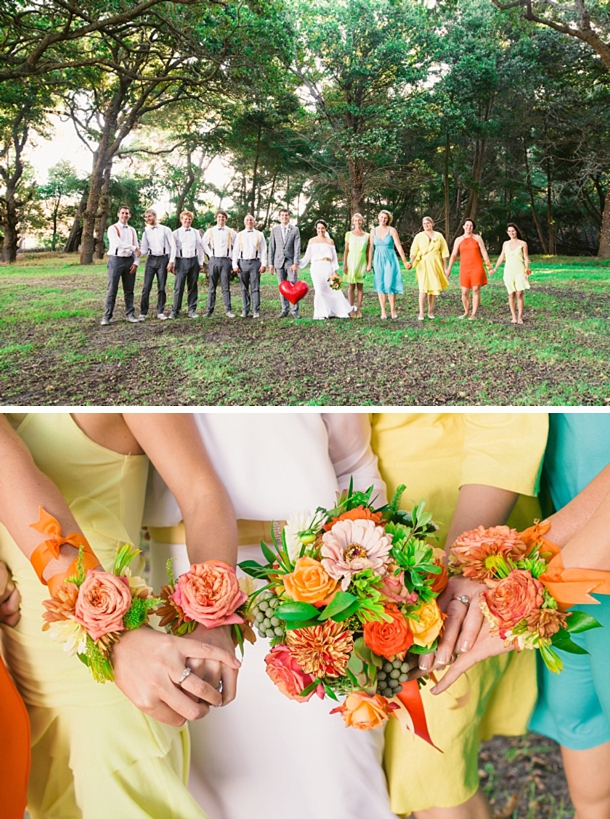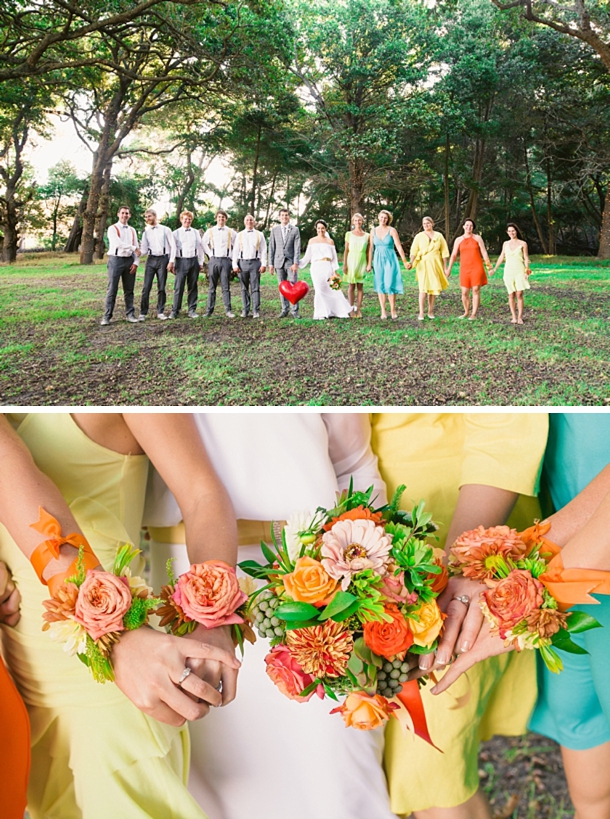 We made a lot of the decorations ourselves. For example, our candles were made out of recycled champagne bottles (we're big on recycling), the origami horses on the tables (very appropriate to Grant's family as they breed their own horses and are very much into horseracing), and the big polystyrene aeroplane above the bar, painted in orange (Grant's favourite colour) with our names under the wings. The table names were names of ski slopes in the valley where we got engaged – we also had French music playing while we had our photos taken. We collected all the flower vases/little blue bottles over a period of six months from the most random antique shops. This is also where we found the girly ceramic rabbit with an aeroplane and binoculars in her paws, which was on the post-ceremony snack table (I have a thing for rabbits and of course Grant flies planes). Our cake was made out of different layers of cheese (we are big cheese lovers) and the bride and groom cake toppers were a Lego boy and girl from my childhood Lego-playing days. Grant and I made the chandelier out of ribbons in our chosen colours. The table settings had paper place mats in light blue with our initials on them.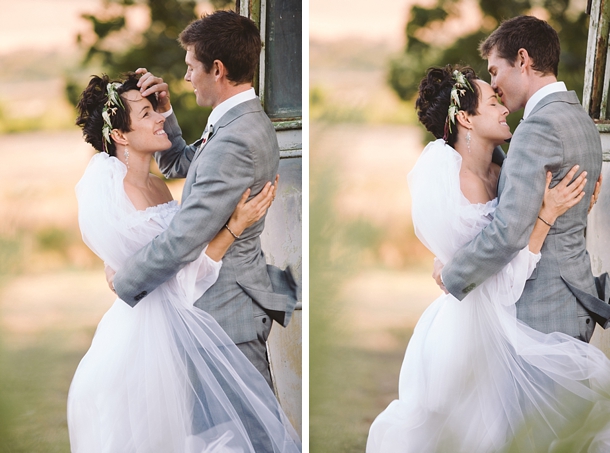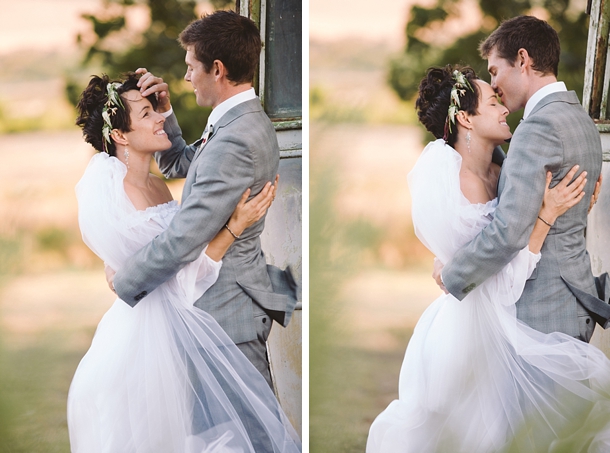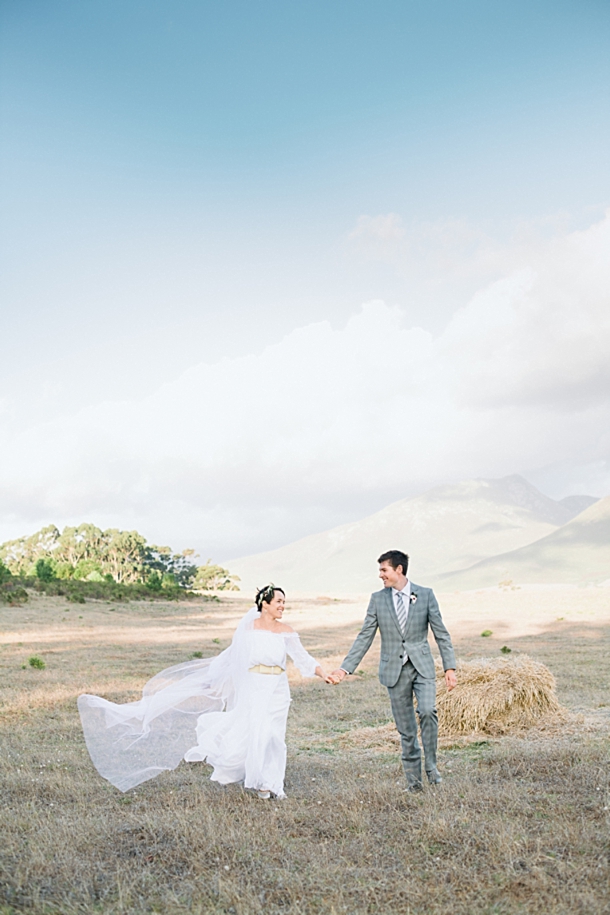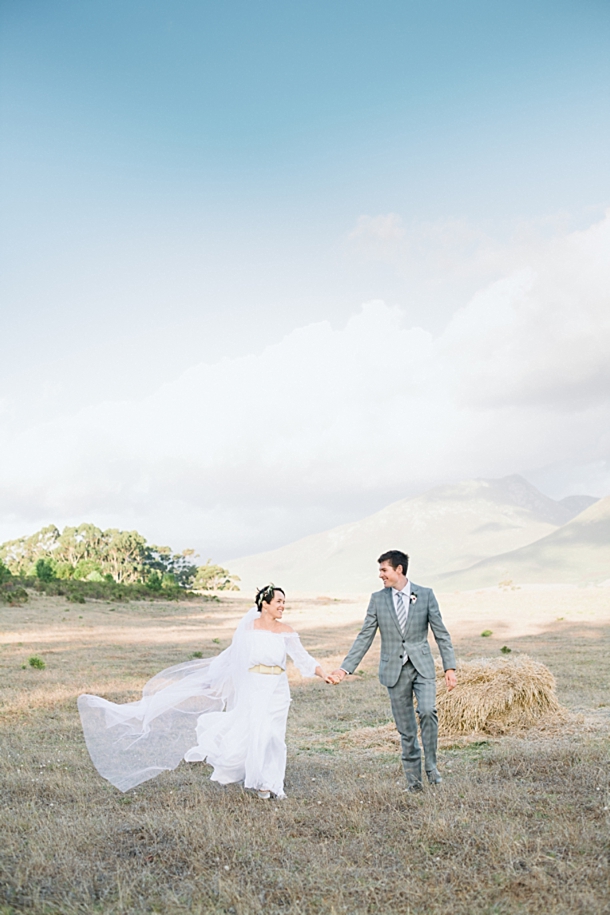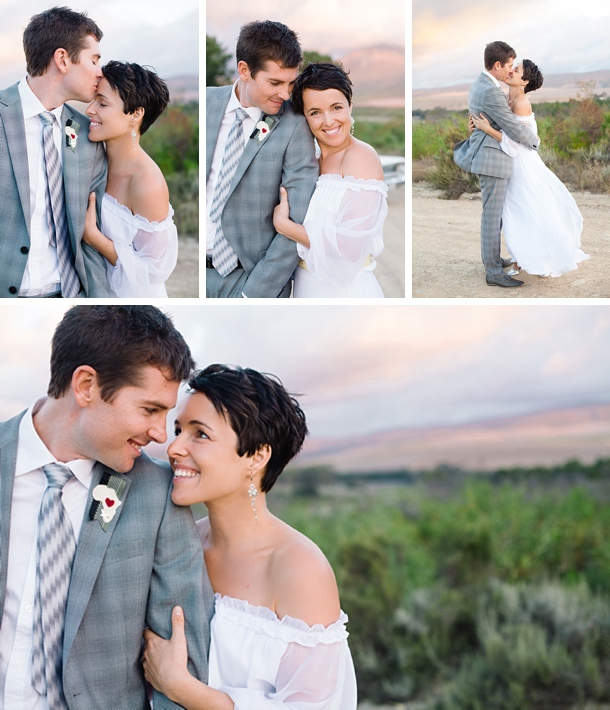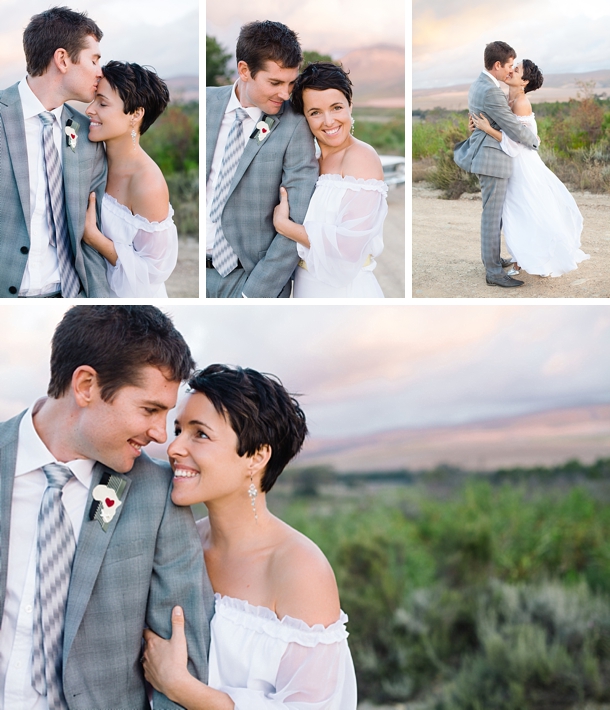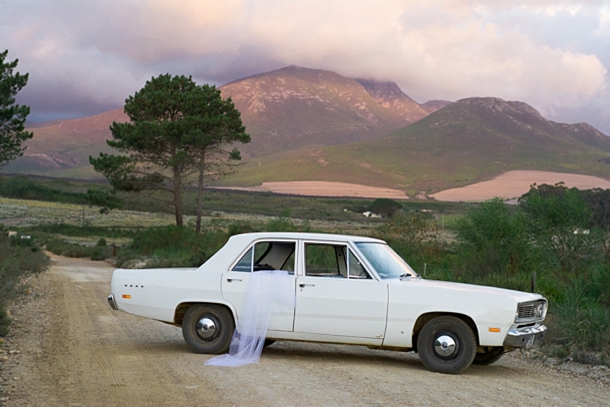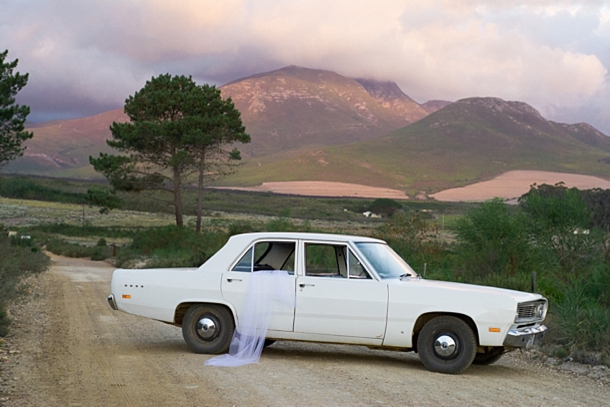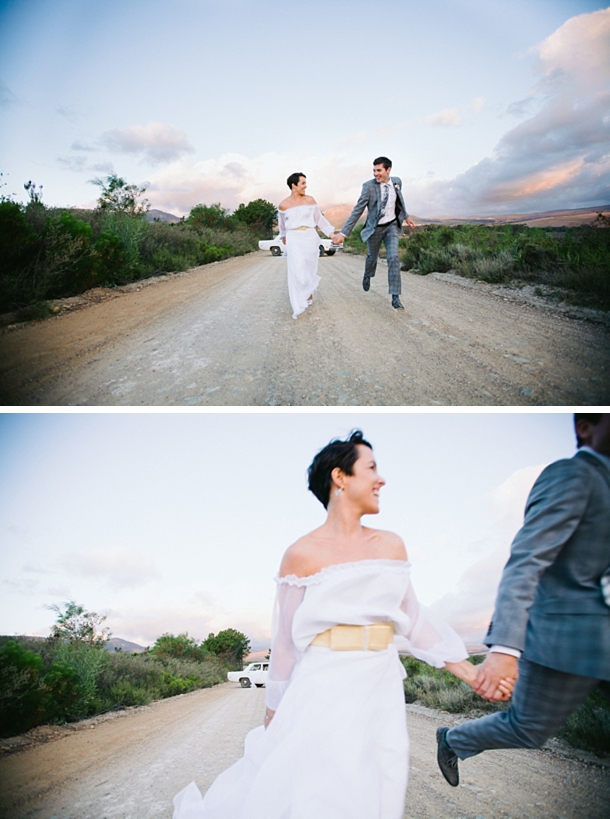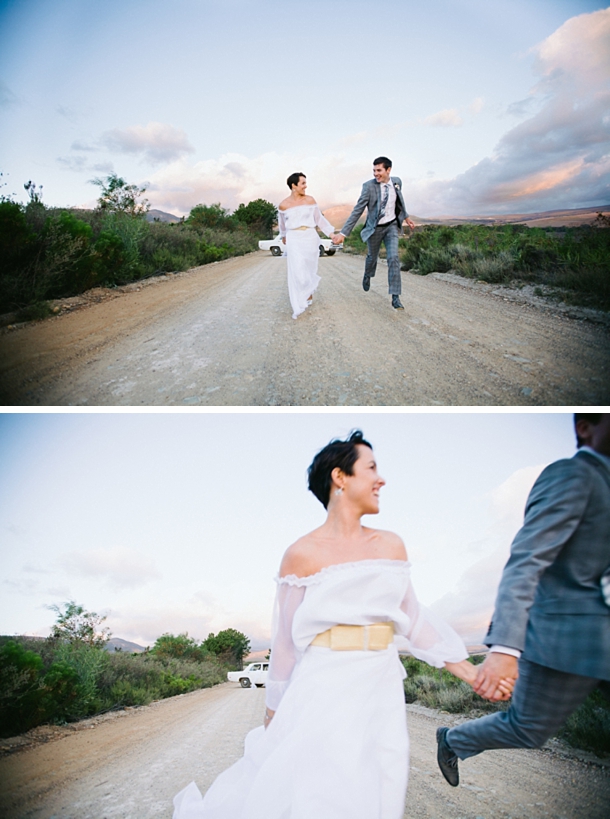 In the evening we had fires burning outside in cast iron free-standing fireplaces as well as a big bonfire. We supplied a whole bunch of long thin sticks with ribbons on the ends and big glass containers with marshmallows. Fire has always played a very big part in our lives, we love making it, chilling next to it and of course slow roasting marshmallows!
I've known our band since I was about five years old. I performed with them for many years whilst at school, but the last time was about 16 years ago, so as a surprise we all reunited and put on a performance. I sang a song to Grant called 'Lucky to Be Me' by Amel Larrieux that Grant says was one of the highlights of the day for him.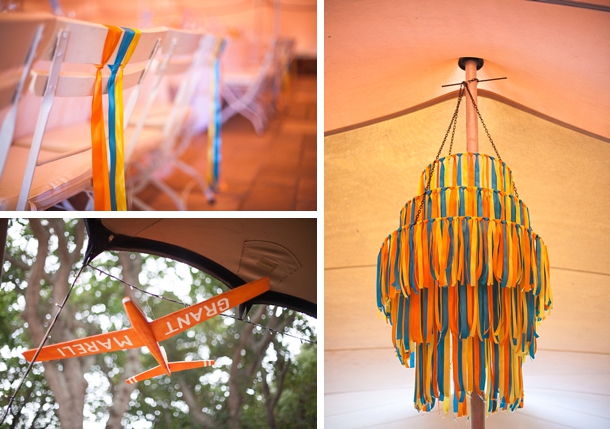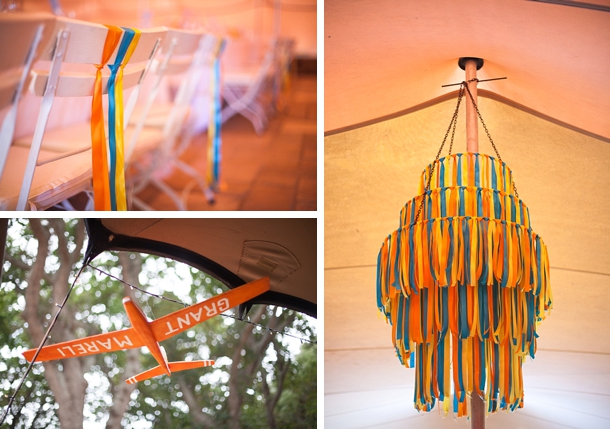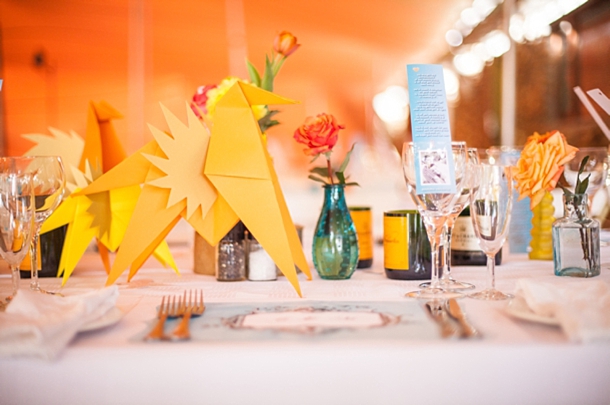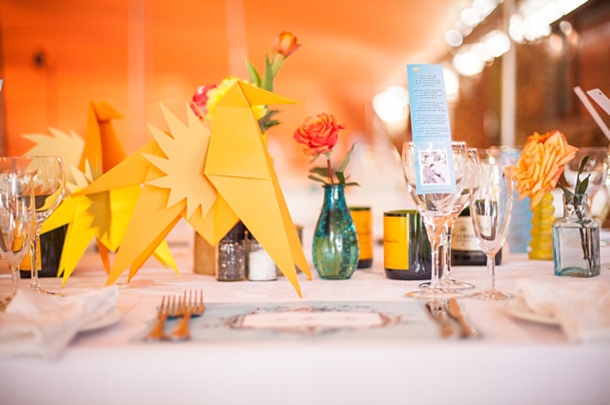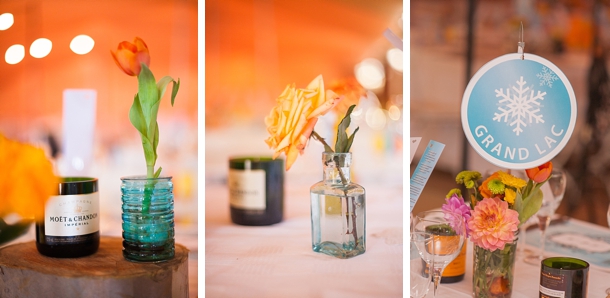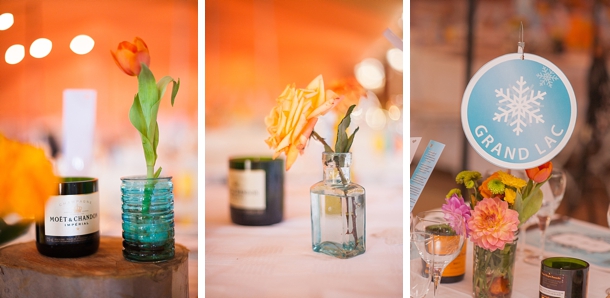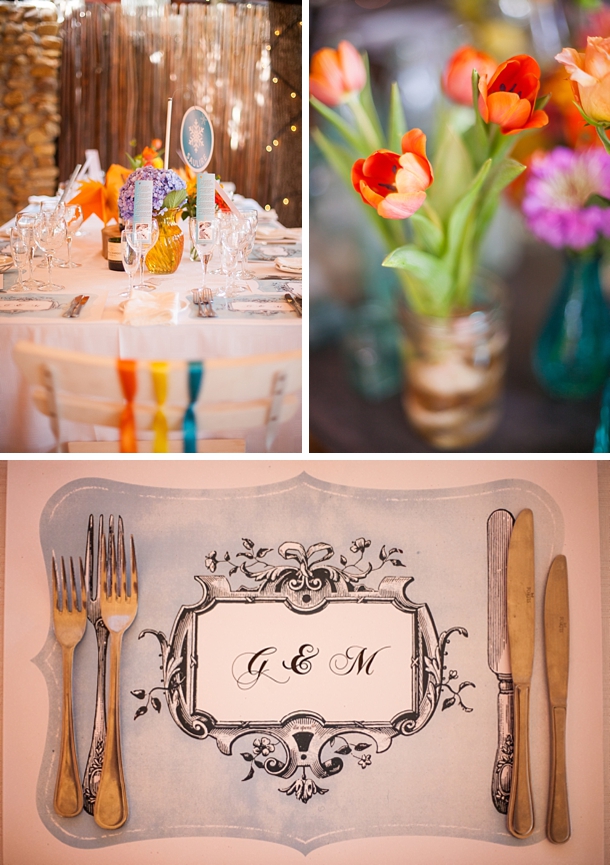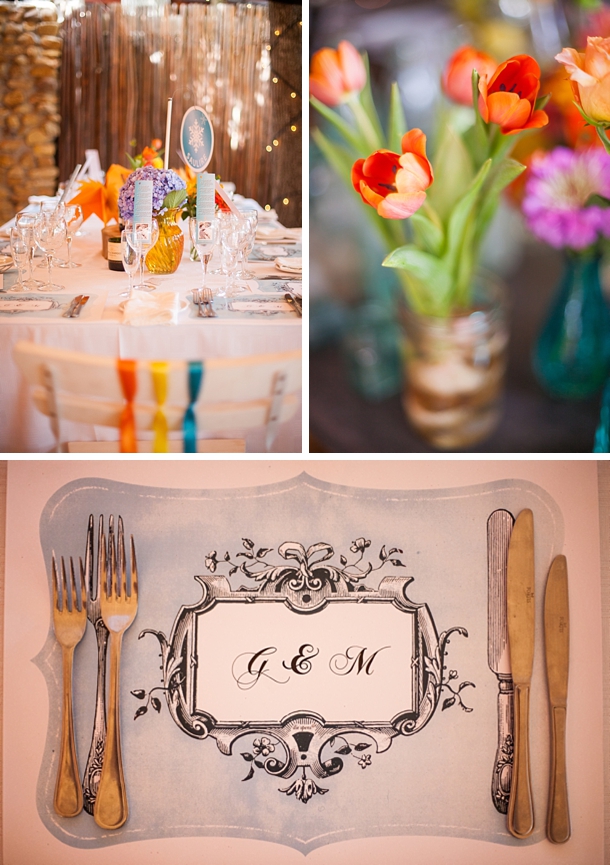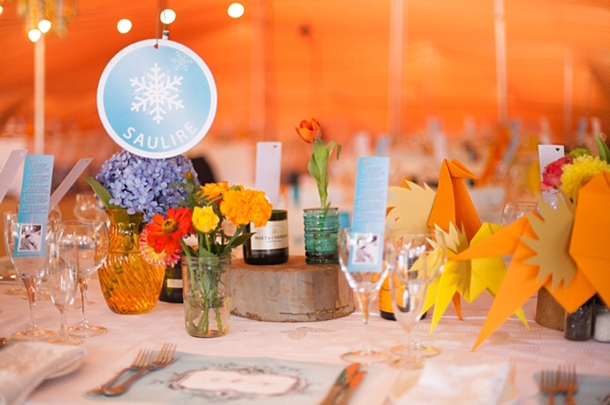 My advice to future brides is to research as much as possible and collect ideas. Websites like Pinterest, Green Wedding Shoes, wedding magazines, etc. Once you decide on your colours, flowers, dress, etc. STOP YOUR RESEARCH! You will drive yourself insane. Delegate… ask for help, especially your bridesmaids… they want to help! I didn't make use of this service enough. Try and enjoy the process through the stressful moments… and keep your sense of humour. Pay as many of your service providers before the wedding as afterwards you really want to relax and finish up with the final admin ASAP. Go to bed early the night before! And don't drink too much alcohol!
After your make-up and hair has been done, you've gotten into your dress and you are about to get into the car to be driven to the church, just take two minutes to yourself. Go into a room, alone, close the door, look at yourself in the mirror, pull and fidget at whatever needs to be pulled at, take a deep breath and off you go…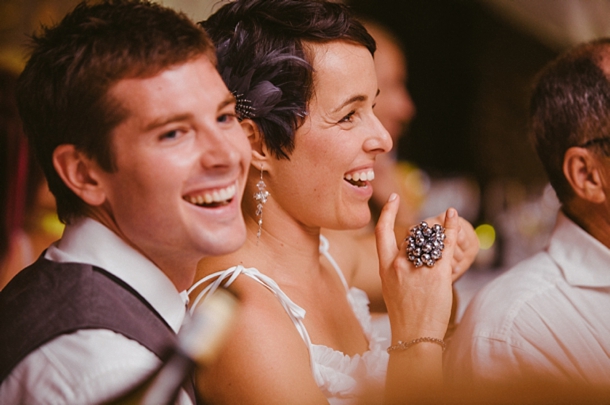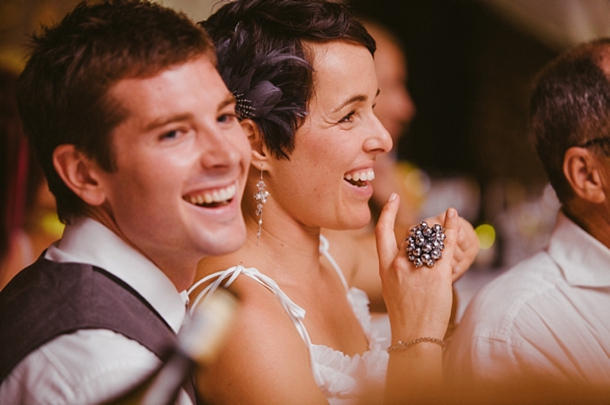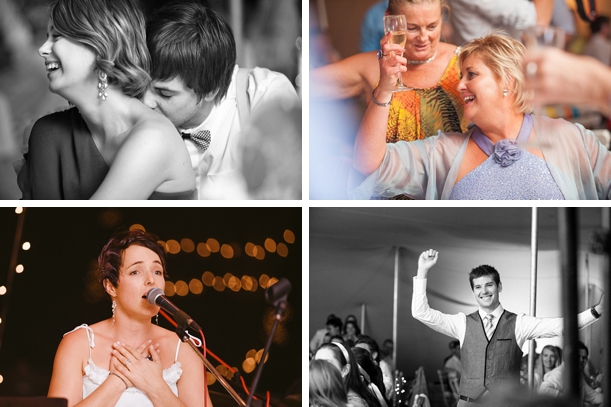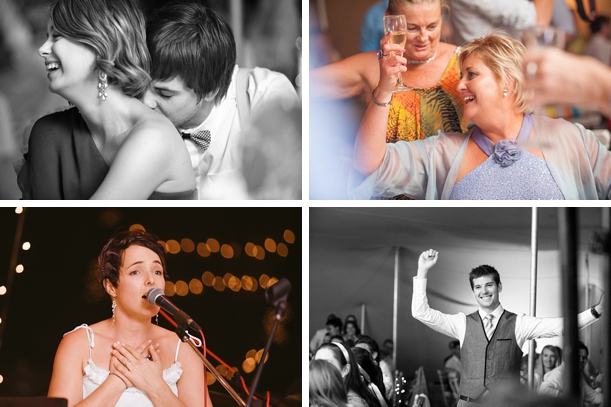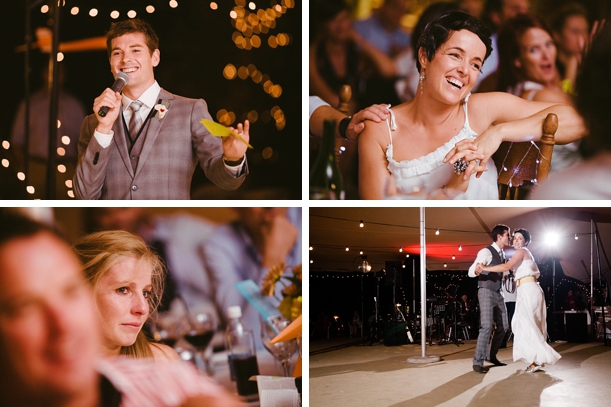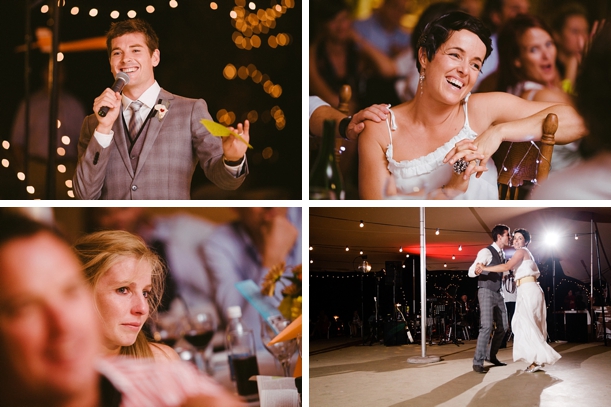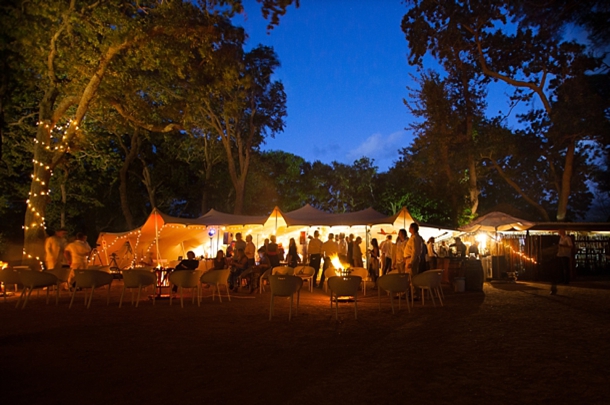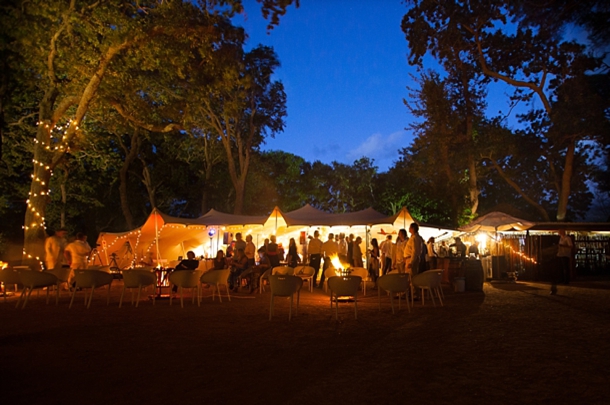 Thank you SO much, Mareli and Grant, for sharing your amazing day with us – wishing you a lifetime of happiness together. And thanks to Charlene, who I am so happy to have here on SBB! You can as always catch more from the wedding over on her blog. Pssst! And come back later, when I may just have a video surprise for you too!
SERVICE PROVIDERS
Venue & catering: Beloftebos | Photography: Charlene Schreuder | Video: Vision on Fire | Flowers: Okasie | Online invitation and thank-yous: Practical Point | Bride's dress: Lineke Vermaak (0829009076) | Hair: Annemie Milne | Hiring, including Valiant: Beloftebos | DJ: DJ Piet de Beer | Band: BraWou | Officiant: Rev. James Gray | Photobooth: Fun Photo Booth
Charlene Schreuder is a member of the SBB Directory