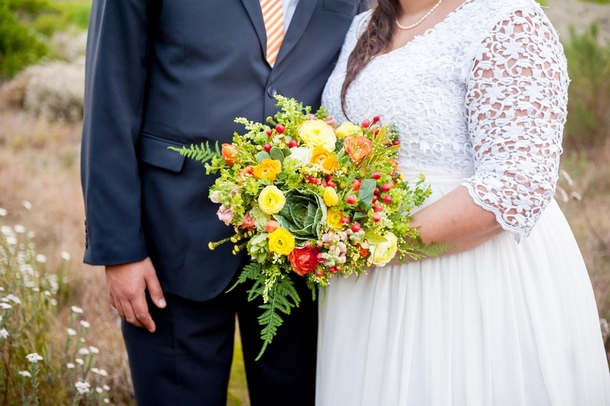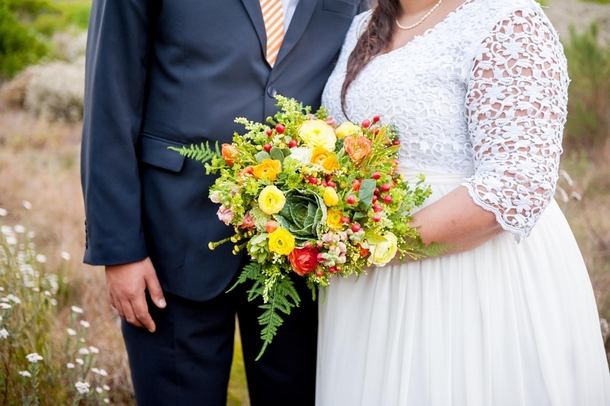 Two reasons I knew from the start that this wedding would be gorgeous. One, the bride's called Gabi so OBVIOUSLY that immediately makes her awesome (and I'm not biased about my namesake at all). And secondly, this clementine, lemon & lime coloured celebration was put together by some of my absolute favourite suppliers, including photographer Cheryl McEwan, fabulous flowers, Bright & Beautiful and Seven Swans (by the way, do read Gabi & Gary's ceremony programs, because they are adorable!). I just love all the citrus elements in the bouquets and on the tables, adding a bright punch of colour to a rainy Cape winter day, right down to sweet lemon meringue tarts baked specially by the groom's mom. Even the food is fun – who doesn't love burgers served on custom wooden boards? It was the perfect way to send off these high school sweethearts into married life, and here's wishing them one as sweet as a bag of oranges.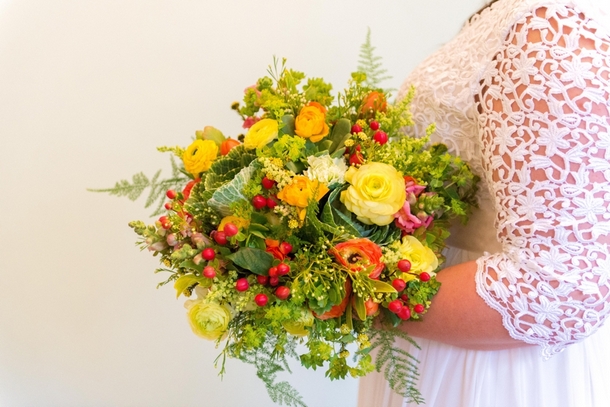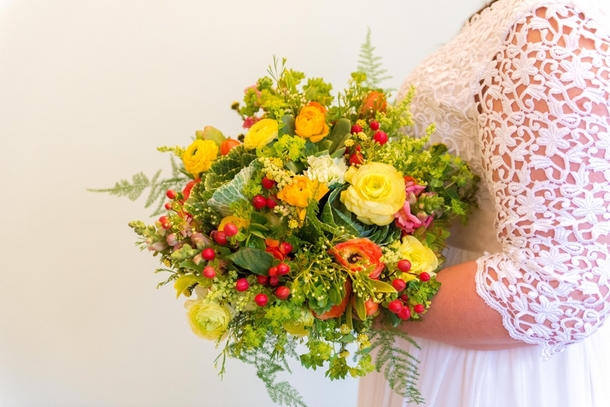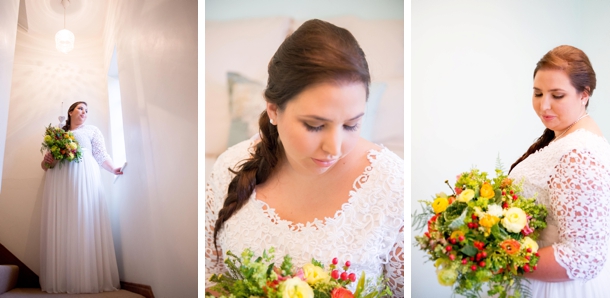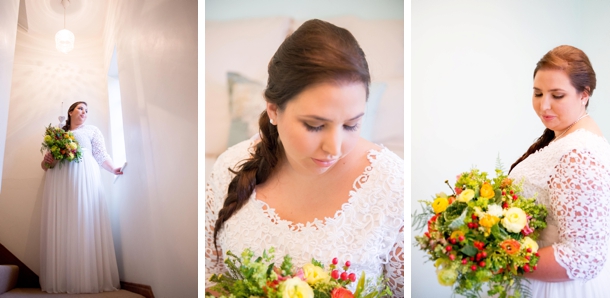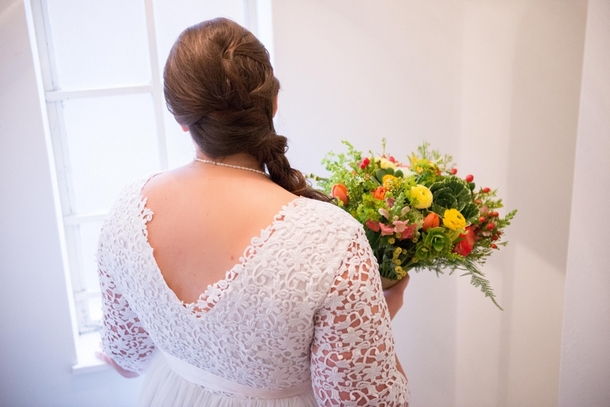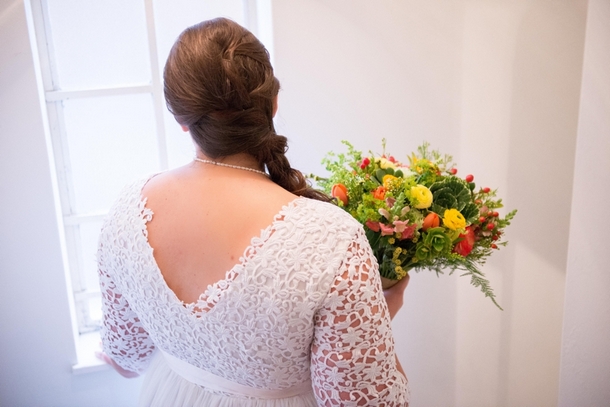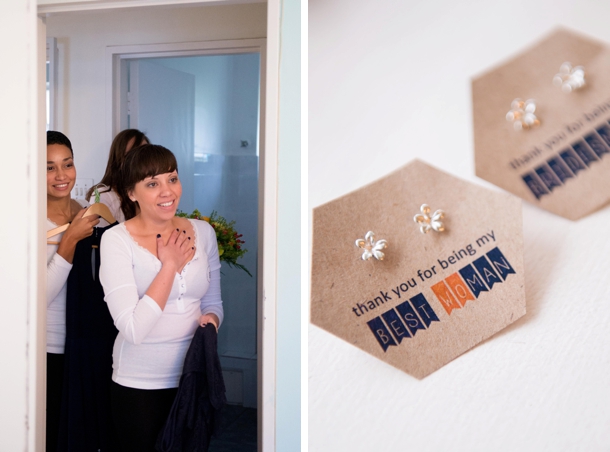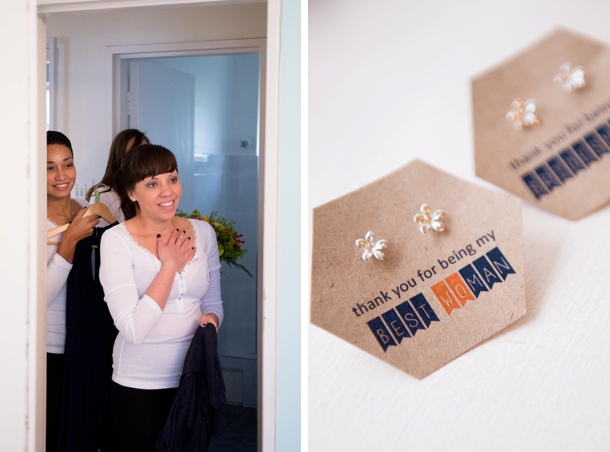 Love Story
Gary and I met when we were at high school and became really good friends, but we never dated while we were at school. One day in June the year after we'd graduated, Gary arrived at my front door with a bunch of orange roses and a small note asking me to be his girlfriend to which I said YES! 
The Proposal
Seven and a half years after we started dating, he drove me back to the front of our school (thankfully it was during the school holidays so there weren't hundreds of children around) and he got down on one knee and asked me to marry him to which I also answered YES! We set a wedding date and decided not to wait too long as we had already been dating for so long. Our love story has only just begun and it has been magical so far…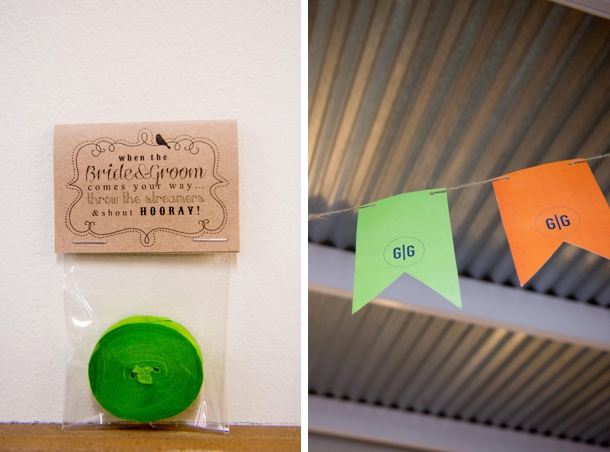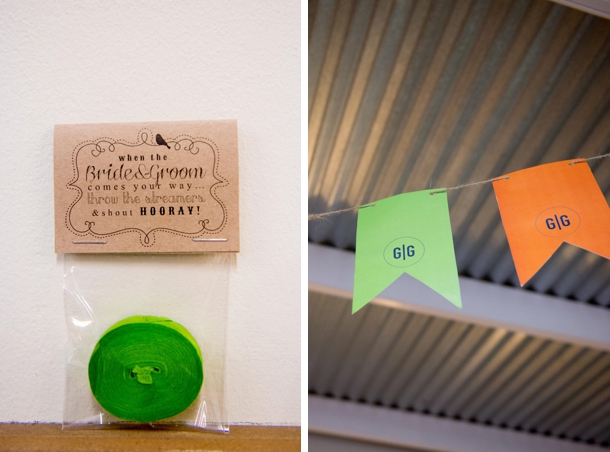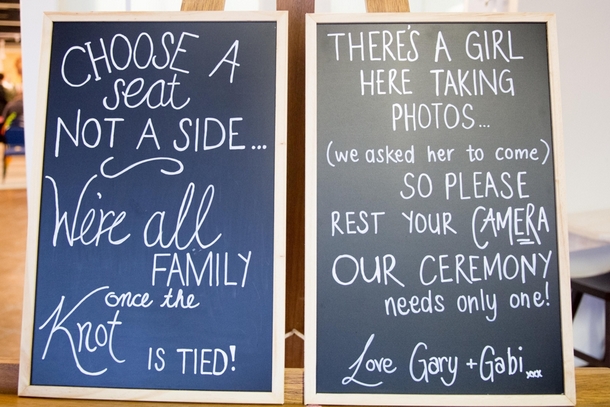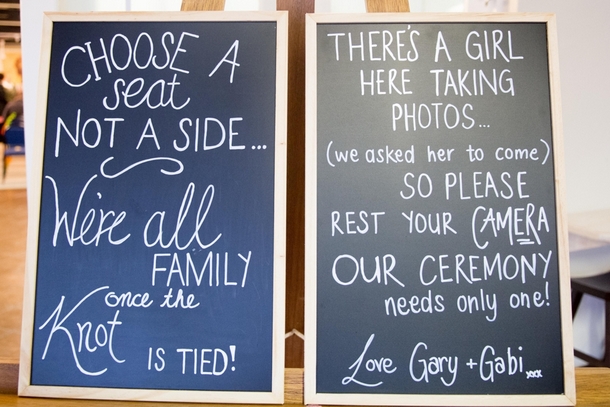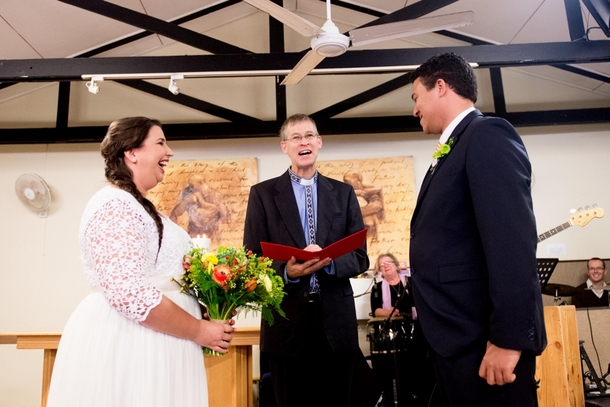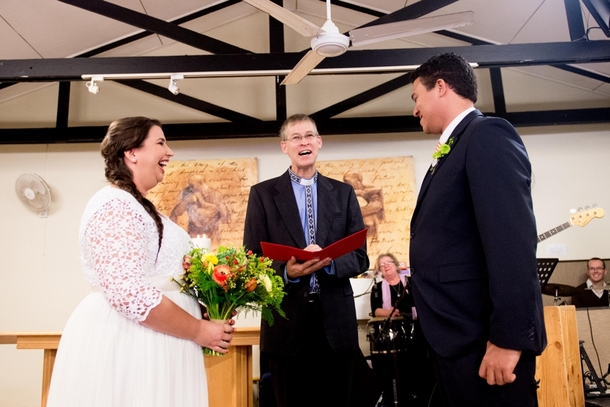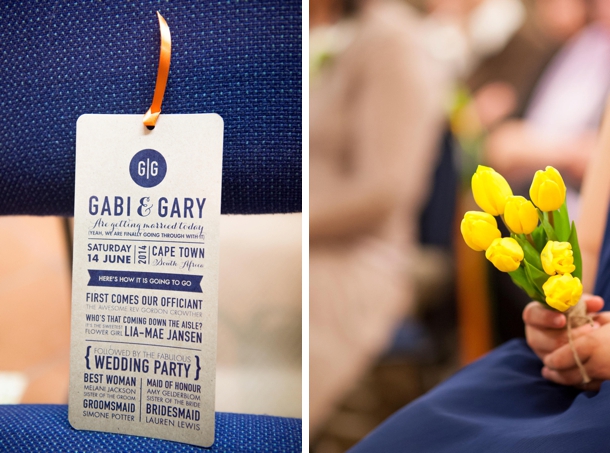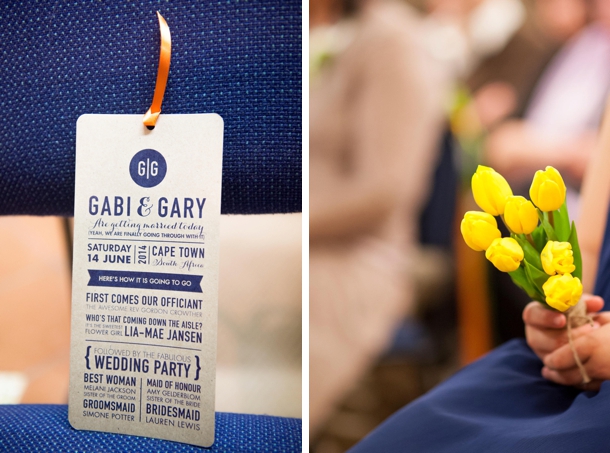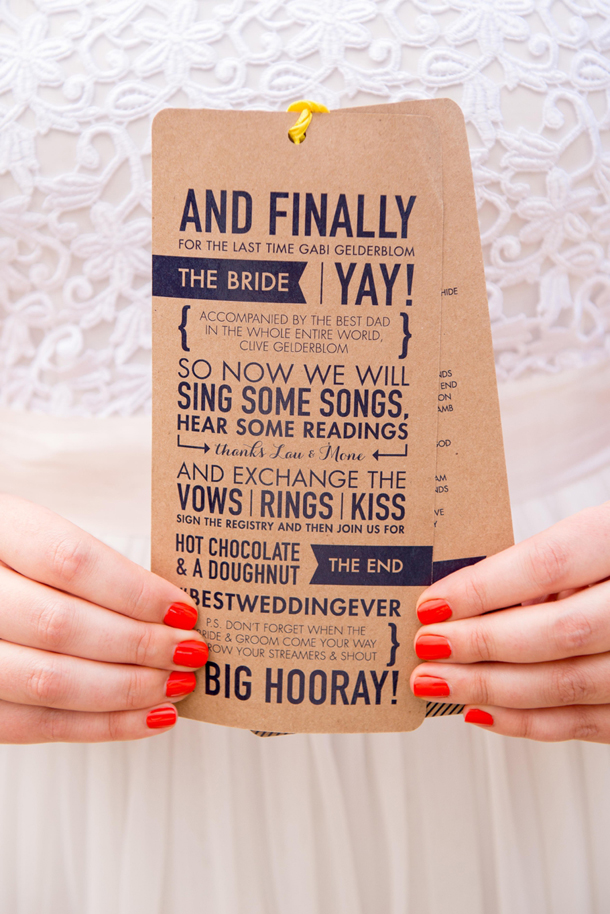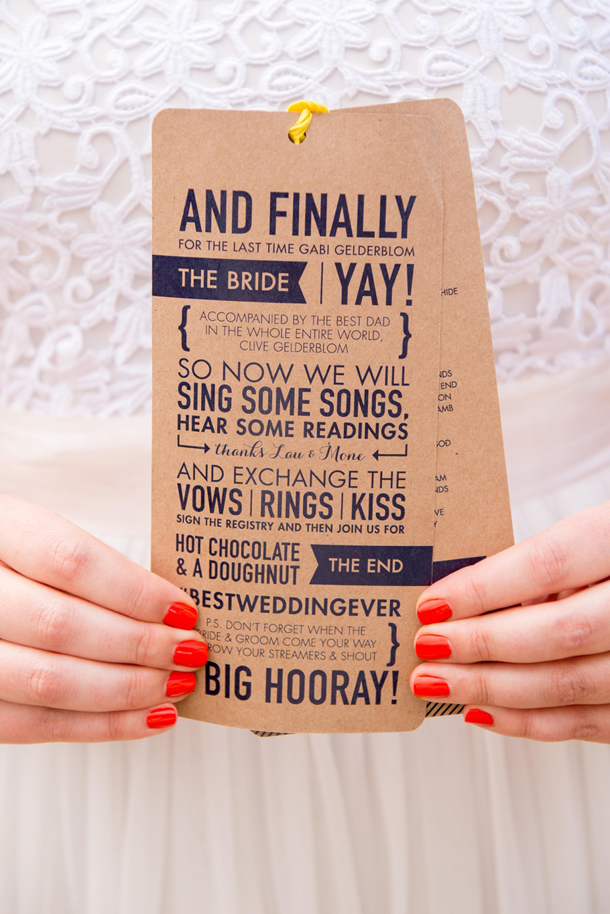 The Venue
I have worked with Erin and her team many times at Steenberg Golf Estate on other weddings and they are always phenomenal – it's the best venue with the best team! From the very first meeting we had with Chef Rob and Erin I knew we had made the right decision. We arrived with a very different menu to what they are used to making and yet they were happy to accommodate all the quirks and extra bits and pieces we wanted to include – using boards instead of plates, putting burger tags in each burger, having soups served in mini bowls. They were great and made the day run so smoothly and their staff always have a friendly smile even after working long, hard hours. 
Wedding Style
In terms of look and feel, because we chose to have a winter wedding we wanted to create a cheerful, casual and warm environment for our guests which is why we chose such vibrant colours (Green, Orange & Yellow).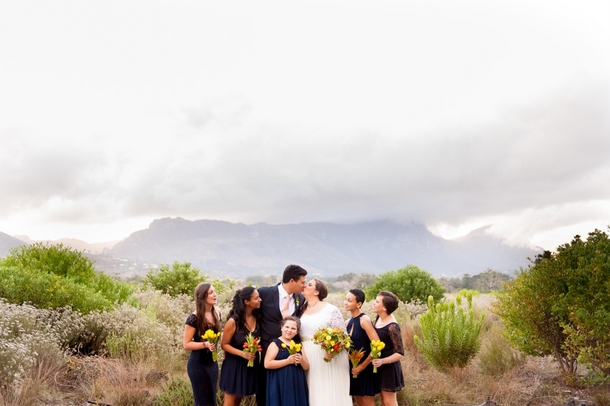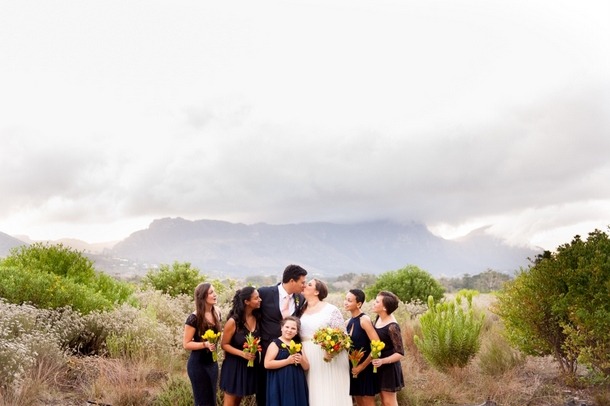 Wedding Details
Gary & I are both not centre of attention type of people so the idea of a wedding and being the main focus was incredibly scary. I am so used to being behind the scenes and putting other brides and grooms' special days together and making sure everything runs smoothly that being in front of the camera and having all eyes on me was very scary… We decided on a relaxed lunch with the most gorgeous flower arrangements I have seen in a long, long time (I might be slightly biased), delicious casual sliders, chips and a milkshake (I mean really who doesn't enjoy a good burger) and chatter were the order for the day. We included a few quirky elements such as hot chocolate and cinnamon ring doughnuts at the church after the service to give us time to chat to the guests that would not be joining us for the reception, my cousin's gorgeous red vintage combi, streamers instead of confetti and our guests' gifts were engraved wooden boards that the sliders were served on as well as the cake forks that were served with the lemon meringues which my wonderful mother-in-law made.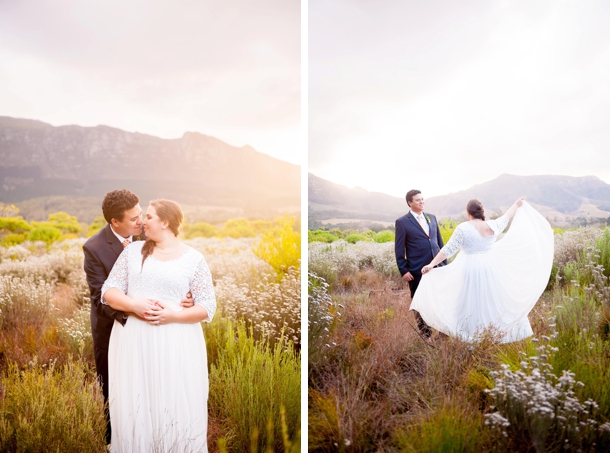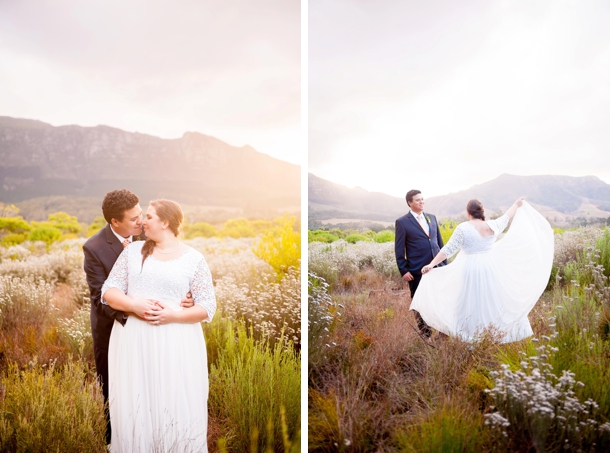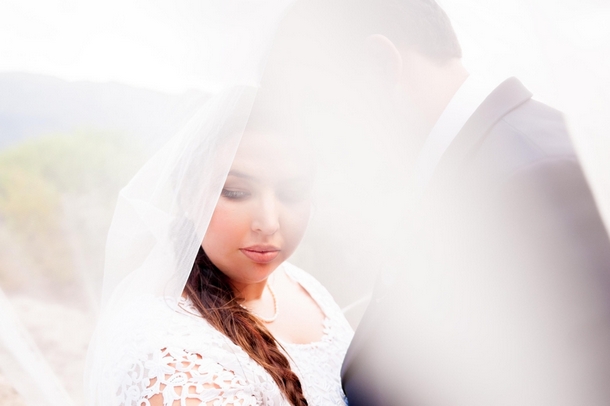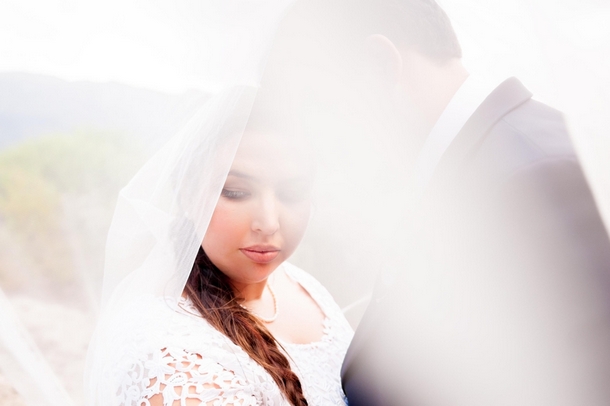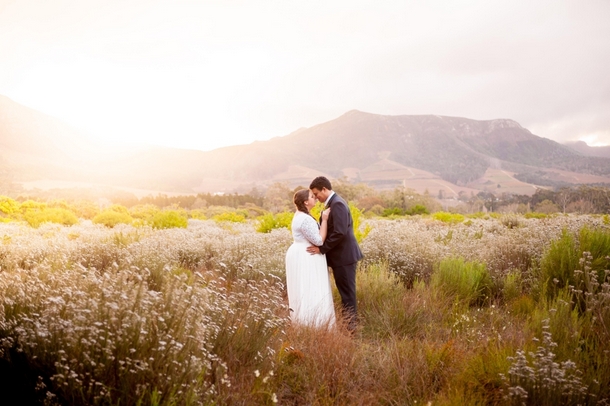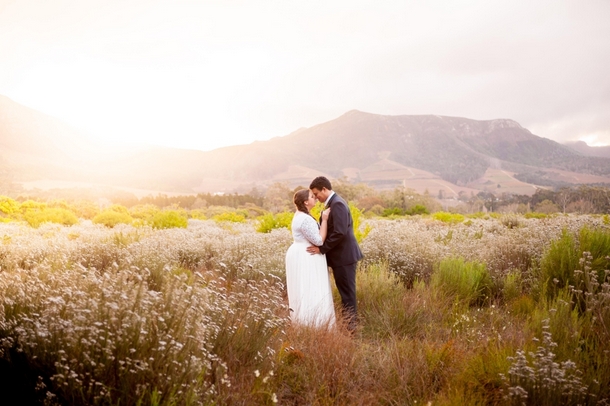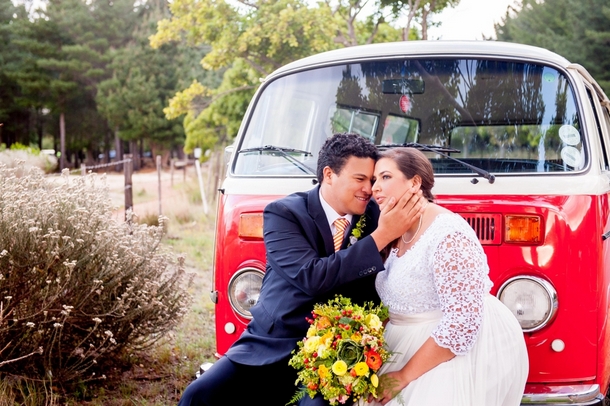 DIY Elements
I love DIY projects but luckily I know my limits so I didn't take on too many but I did rope people in… The projects that were part of our wedding were: Bunting (I designed the bunting but my wonderful sister-in-law cut , stuck and punched all of it), cake forks for dessert (Gary's mom made all the forks – they were a major hit as a guest gift), chalkboards (I wrote quirky chalkboard notices to eliminate unnecessary printing), groom's shirt (Gary's mom sewed a bright orange ribbon into the collar of his shirt and changed the cotton of his buttons to orange instead of the ordinary white), burger tags for each slider burger letting people know what was on them (hand cut and pasted by myself and my dad), personalised hangers for the bridesmaids' dresses.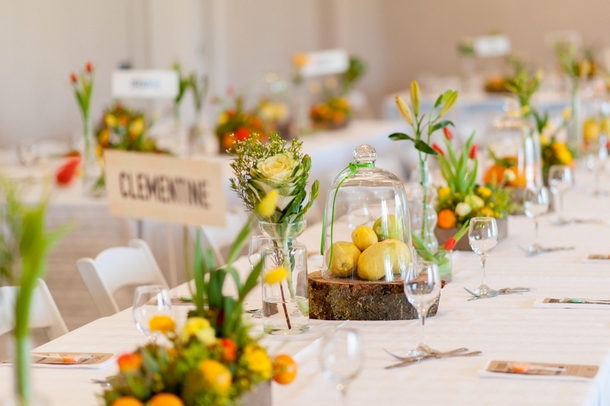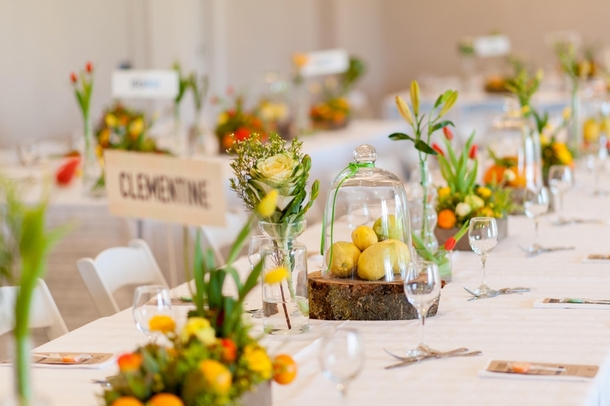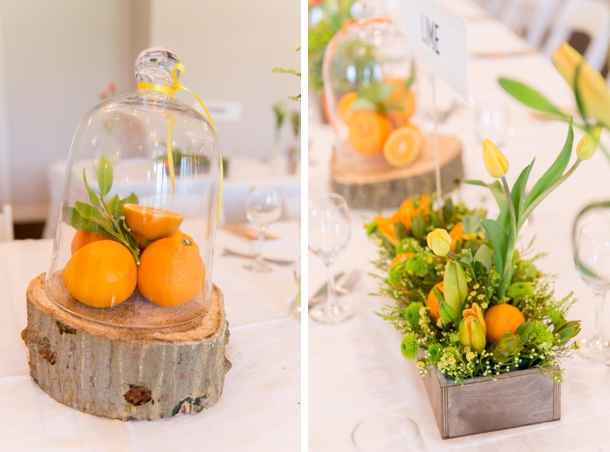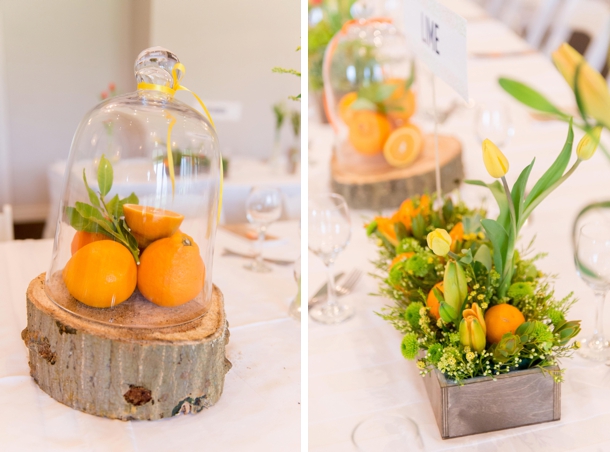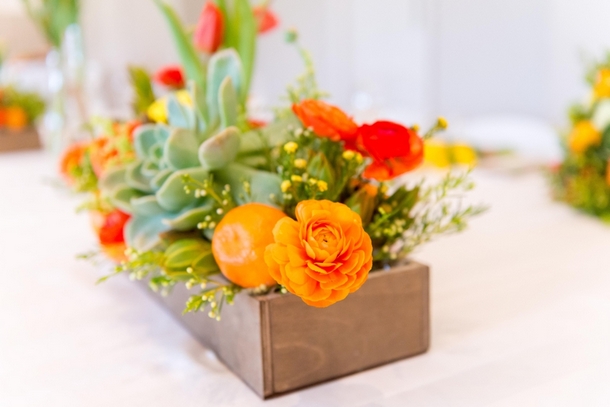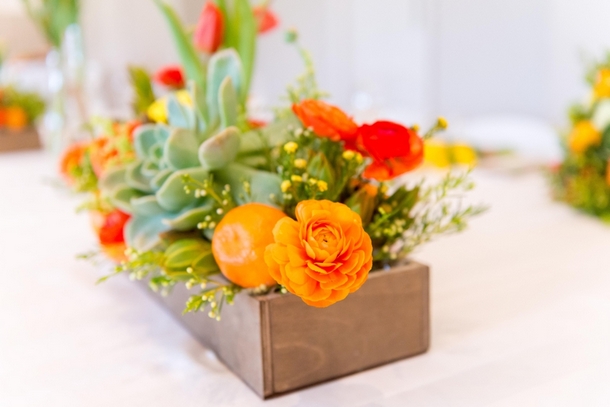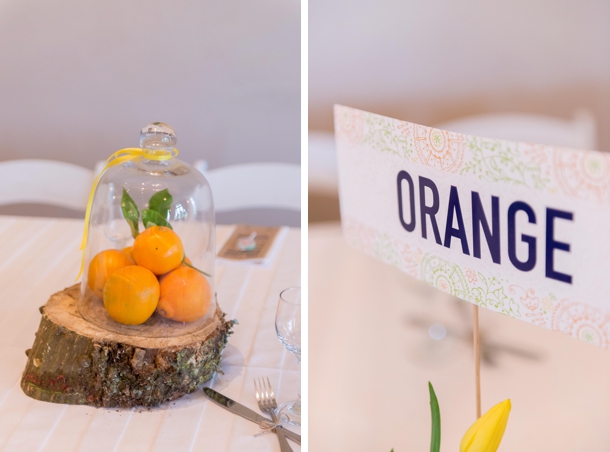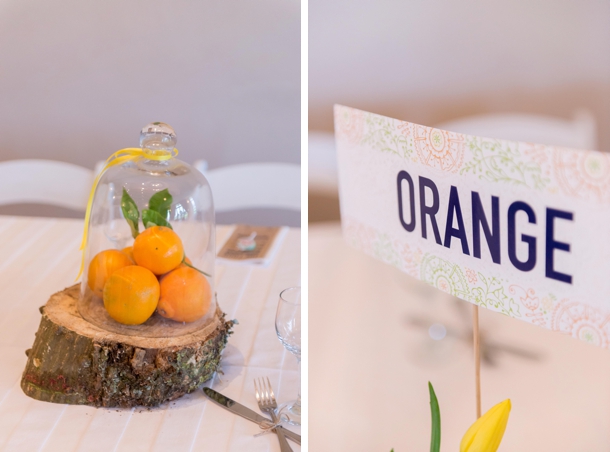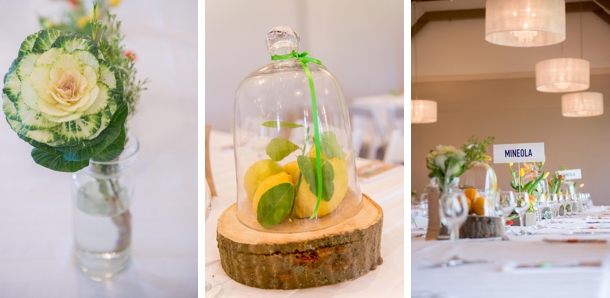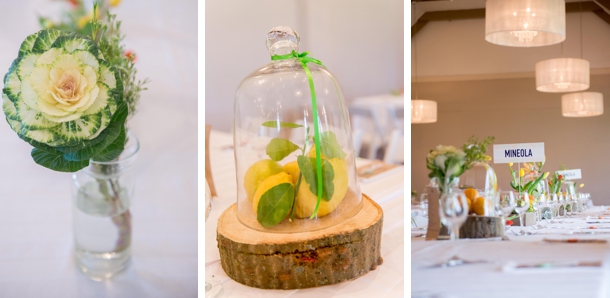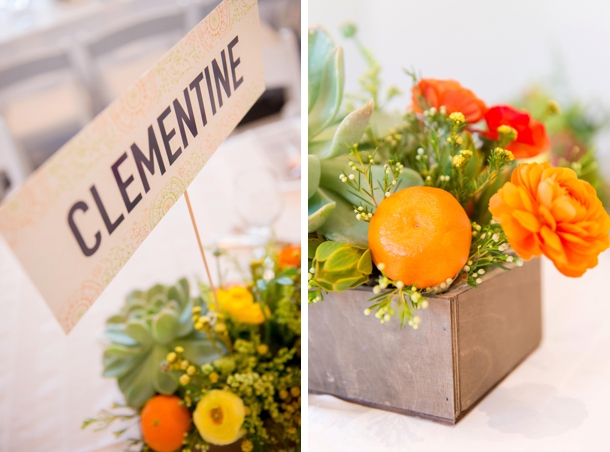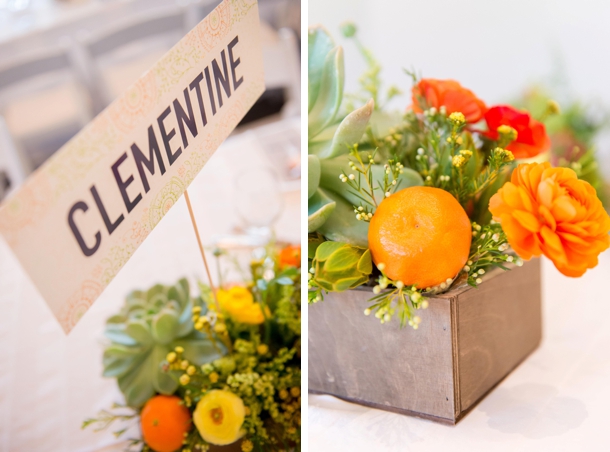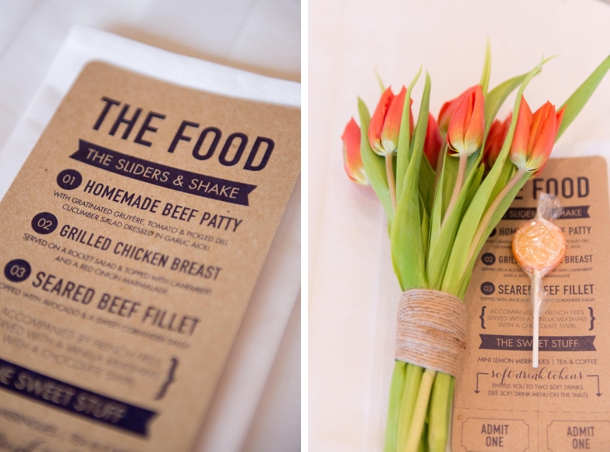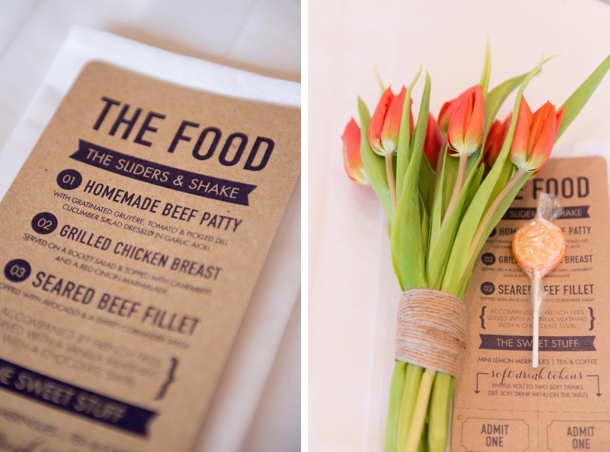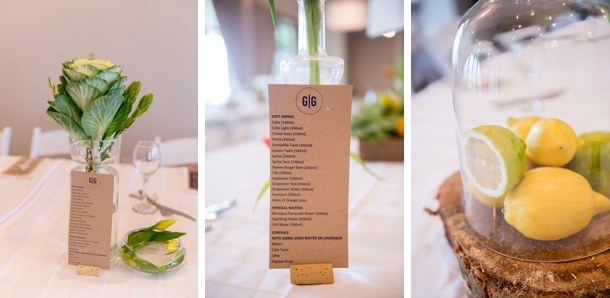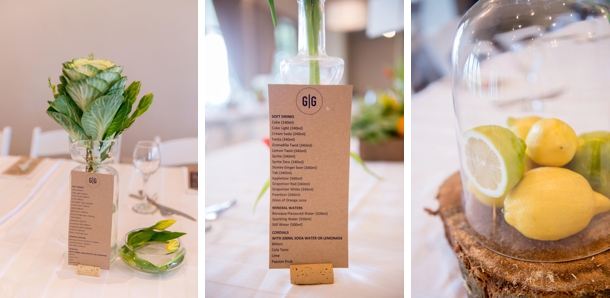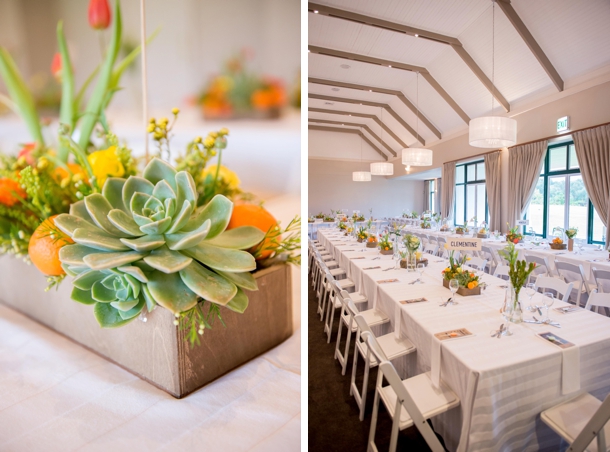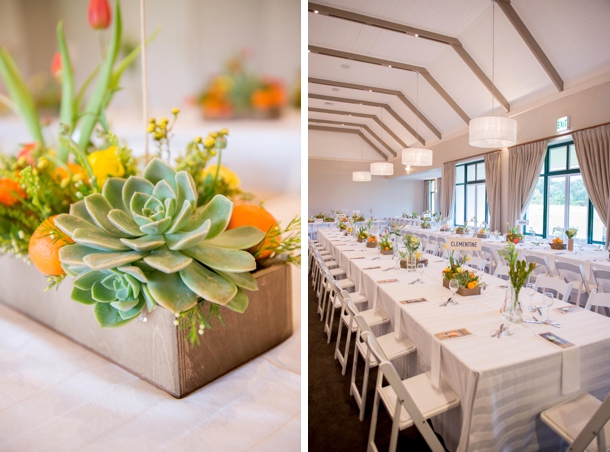 The Flowers
Our wedding flowers were extraordinary and exactly how I had imagined. We wanted to create little gardens within boxes and that is exactly what we got. We also wanted to include fruit elements in the boxes as well as under glass domes which were placed on large discs which we had cut from an old tree. The vision for my bouquet was to look like someone had run through a forest and collected various flowers and bundled them together, and that is exactly what I got. My worst part of any wedding is when all the guests leave and all the flowers get left behind SO we decided to put a little note under the chairs at the various tables and anyone who got a 'lucky seat' could take the wooden box of flowers home with them and enjoy them a little longer.
The Dress
I'm a bit of a Pinterest junkie and I have looked at hundreds of dresses… Being a plus size bride it is not so easy to go into any bridal shop and simply choose a dress off the rack. My dress was a combination of three dresses I loved and I took the best elements from each of the dresses and combined them. It really helps having an awesome dressmaker who you really trust and is super talented.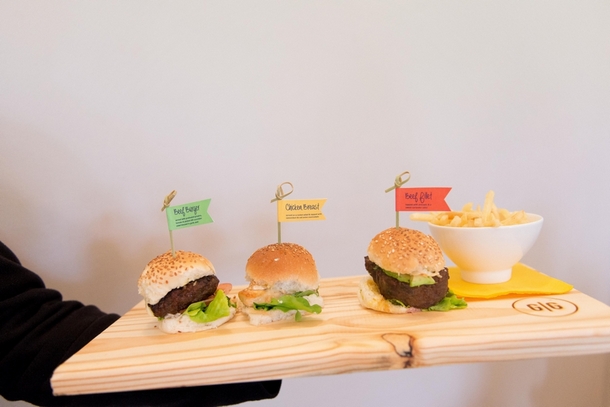 Favourite Detail
The red vintage combi was definitely one of my favourite details of our wedding and it was so much more special as it belongs to my cousin, so she drove me to the church.
Memorable Moment
I guess choosing a winter wedding we should have expected rain, which we did – I even sourced matching umbrellas – but we didn't expect it to be the rainiest day we had had all winter… On the way to the church we had numerous touch and go situations with the vintage combi which does not have a de-mister because it is that old, so my sister (my maid of honour) was wiping the windscreen with a jacket to clear the window so my cousin could see where she was going. It was a fun-filled trip with many screeches and laughs and we were most relieved when we made it to the church on time.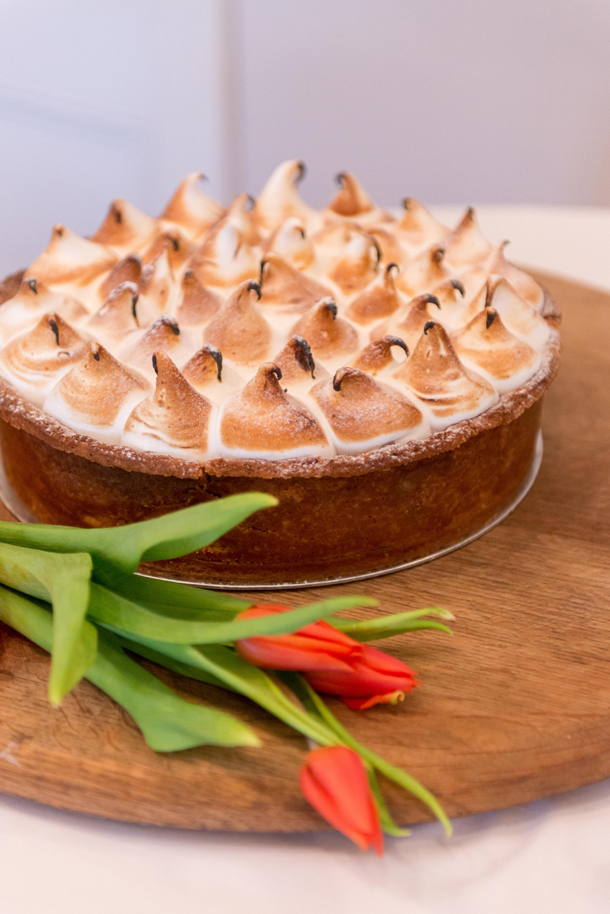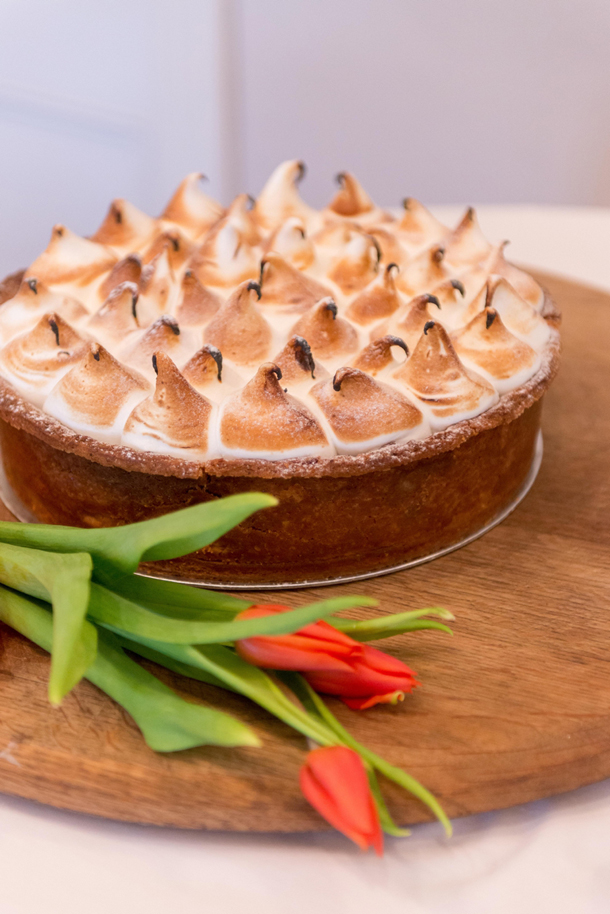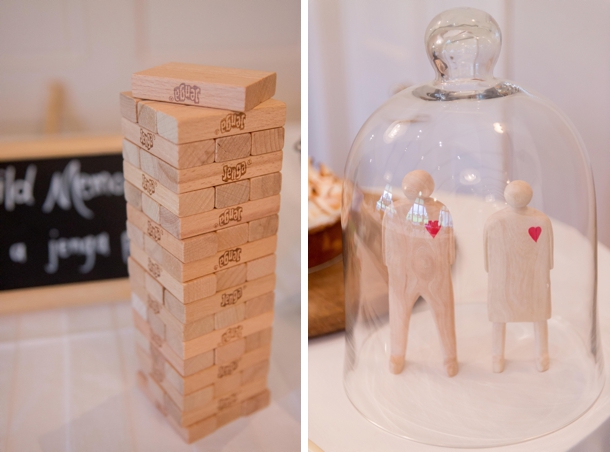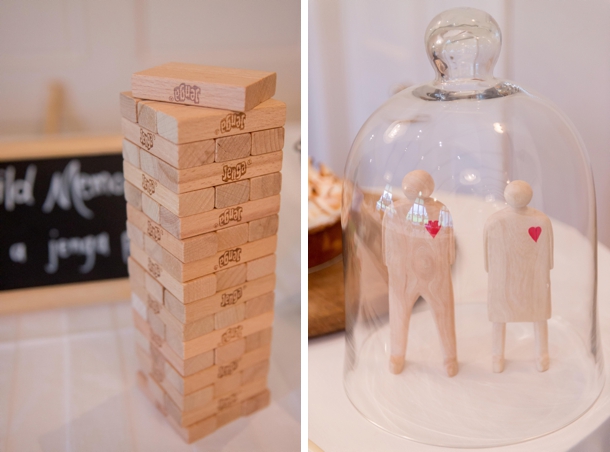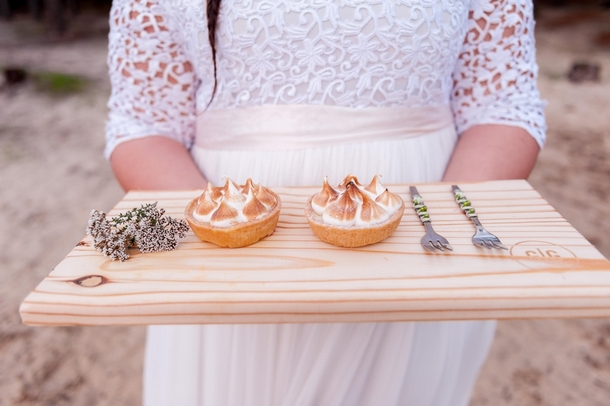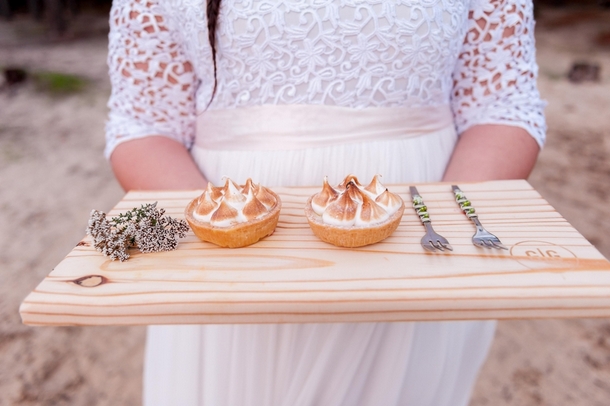 The Honeymoon
The first two nights we spent in Hout Bay and then we spent the most amazing week in Tulbagh where we explored the gorgeous quaint town, visited various wine farms and just enjoyed spending our first week as husband and wife. 
Advice for Future Brides & Grooms
I have three bits of advice. The first is a cliché but my best advice to any bride I ever deal with is to be in the moment and enjoy every moment of your wedding… I was so conscious of that the whole day and I can really say I enjoyed every moment of our special day. The second thing is to have someone you trust in control of the venue if your venue doesn't have a coordinator because you can only be in one place at a time and that place on your wedding day is enjoying the current moment, not stressing about what is coming and what it will look like. The third bit of advice is have a 'runner' and by that I mean someone who you trust but is not in the bridal party (we had Gary's sister's husband) – if you need anything done you can give them the instruction and you know it will be handled with precision.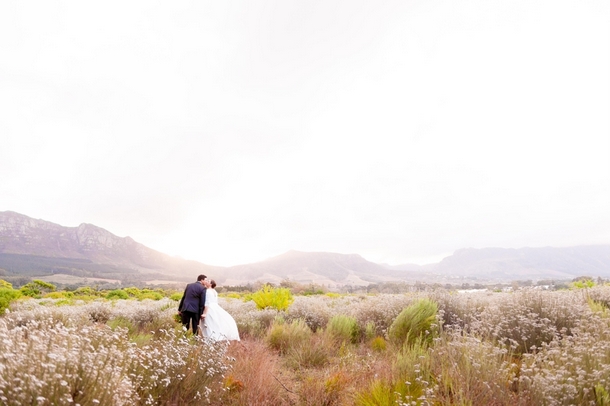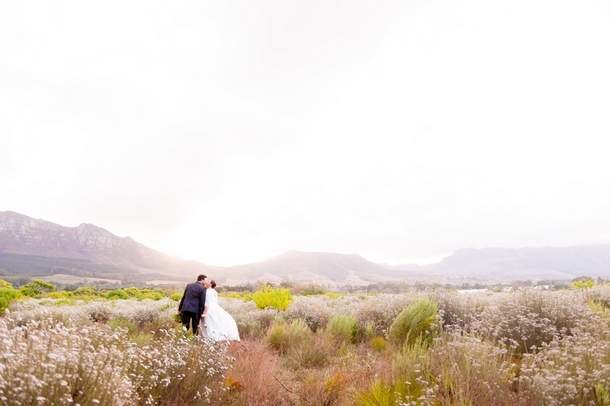 You can see more from this wedding on Cheryl McEwan's blog.
SERVICE PROVIDERS
Venue & catering: Steenberg Golf Estate | Photography: Cheryl McEwan Photography | Co-ordination: Erin Slingers from Steenberg Golf Estate | Flowers & décor: Bright & Beautiful | Bride's bouquet: fabulous flowers | Stationery: Seven Swans | Ceremony venue: Church of the Holy Spirit Kirstenhof | Bride's dress & bridesmaids' dresses: Hein Smit Designs | Bride's accessories: Heirloom jewellery & Mr Price (shoes) | Hair: Vogue Hair Design | Makeup: Claire Corin (bride's friend) | Groom's attire: Edgars (suit), The Tie Shop (tie & socks), Woolworths (shirt), Call it Spring (shoes) | Hiring: Style Hire | Wooden boards with engraving: PrintStamp & Engraving
SBB ♥ Cheryl McEwan Photography, a featured member of our Directory