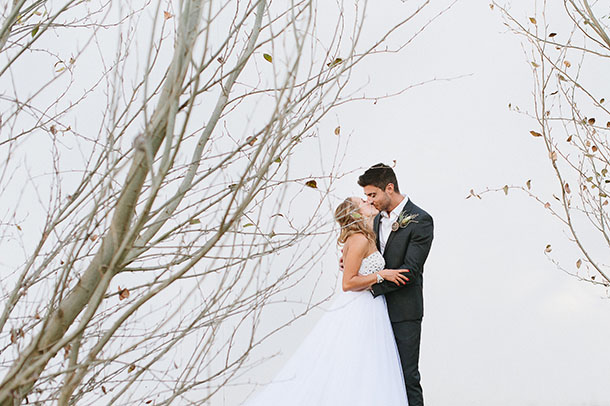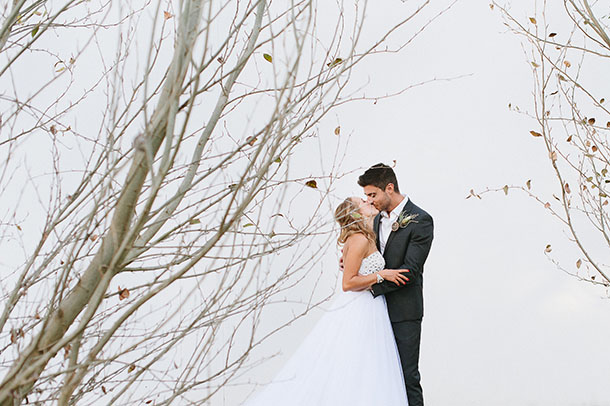 What do you get when an interior and textile designer falls in love with a landscape/urban designer? Well, besides a whole lot of love, joy and happy smiles, you get a gorgeous, natural, modern wedding with geometric-inspired fabric detailing and a soft yellow and grey palette that blows my little wedding loving mind. Christél and Warno's wedding was a labour of love where almost everything was DIY, and the result is loads of sweet, clever, whimsical details, from a windmill-adorned dancefloor to little triangle Tillandsia 'houses' as favours. Add to that a bride in glittering Maggie Sottero, a Franschhoek mountain backdrop and fantastic pictures by Danieka Erasmus (aka the Picturist), and this is one for the loveliness record books.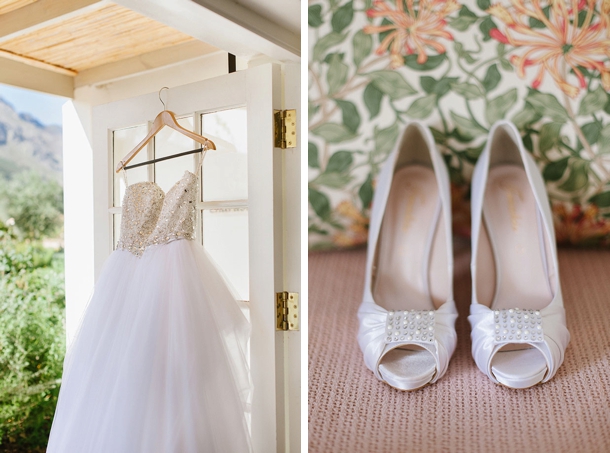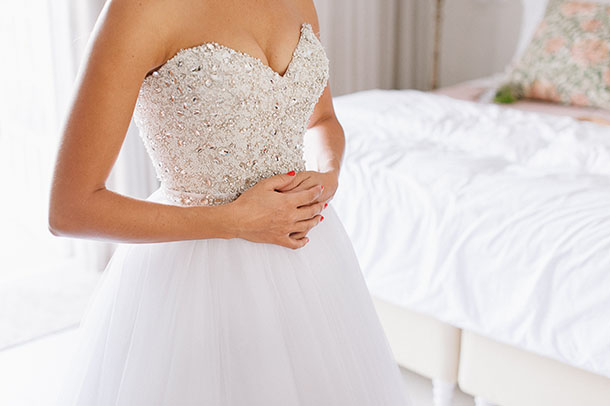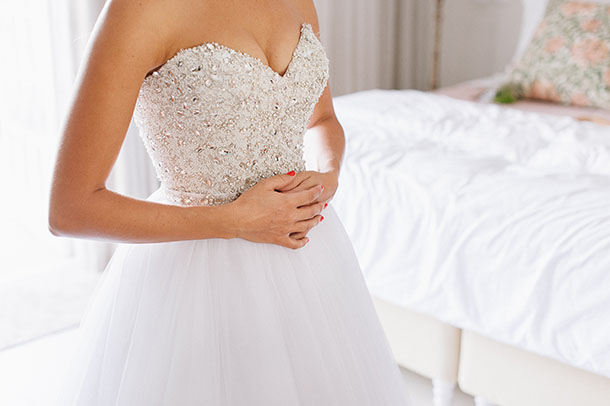 Love Story
We met on a blind date, arranged by both our sisters that work for the same company. We had a casual dinner at Tashas Restaurant in Brooklyn Design Square. We had an immediate connection and attraction to each other. A bottle of Shiraz and hours of non-stop conversation later, the waiter told us to please order now, since the kitchen would be closing in a minute or so… From there on the relationship and our love for each other grew exponentially. We just couldn't get enough of each other! After two weeks we already knew that we were going to get married one day and didn't want a day to go by without seeing each other.
The Proposal
I was supposed to open the house for his gardener on a Friday morning – very early and not very keen, however anything for the love of your life :) When I arrived at his house, his car was still in the garage and when I entered the kitchen he was standing there with a carved out wooden board. On the board was a cup of coffee with a heart shaped in the foam and a massive ring holder made out of lindt chocolate and red velvet cake. There were three options carved out of the board 1. yes (big letters) 2. maybe (smaller letters) 3. no (with a line through it and in very small letters). He then kneeled and asked me to marry him! I said yes and he then told to pack my bag, as we were going away for the weekend.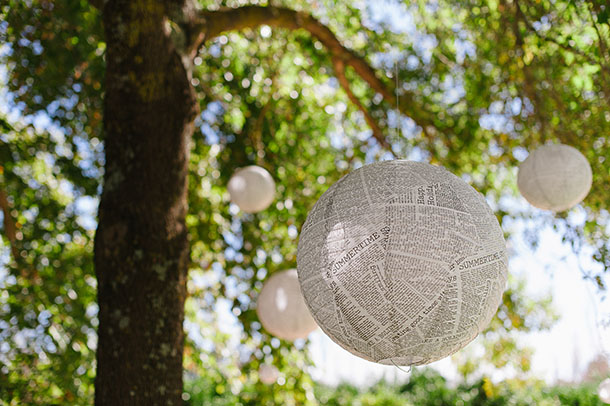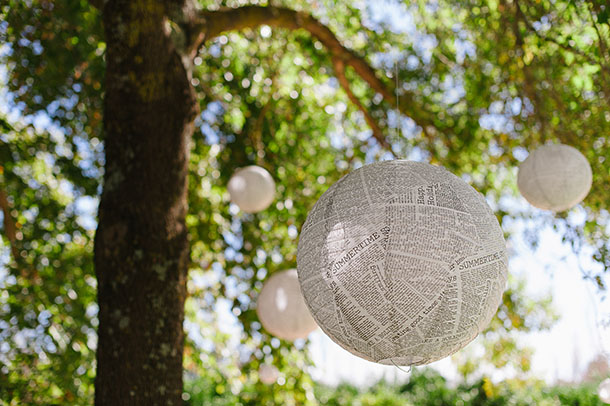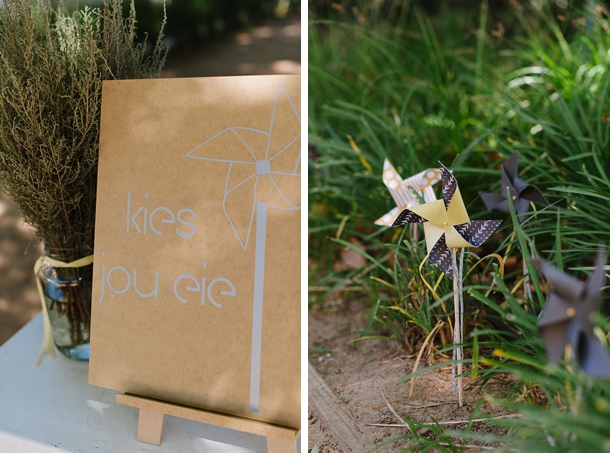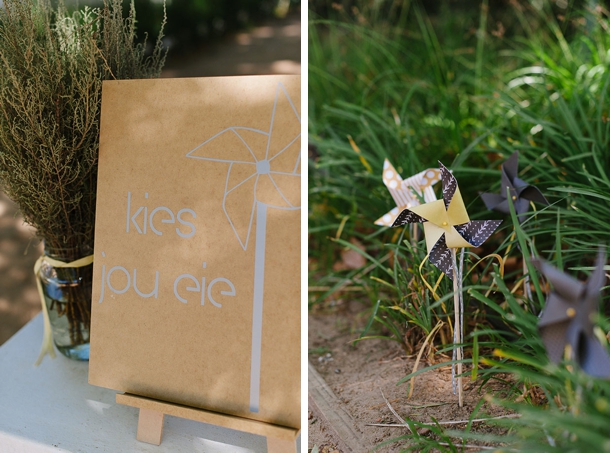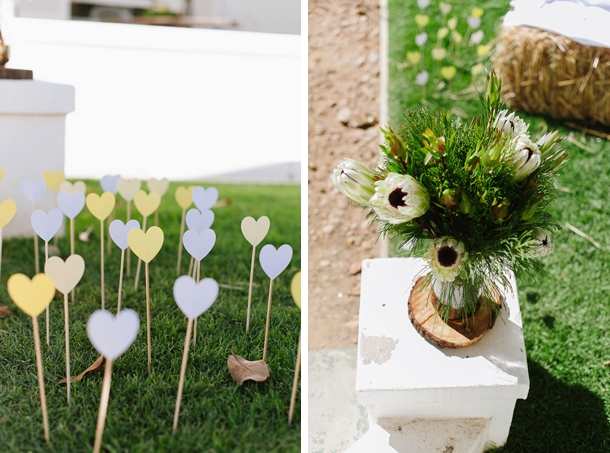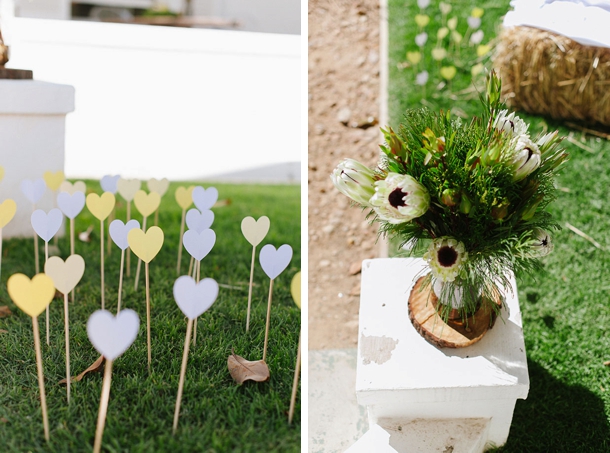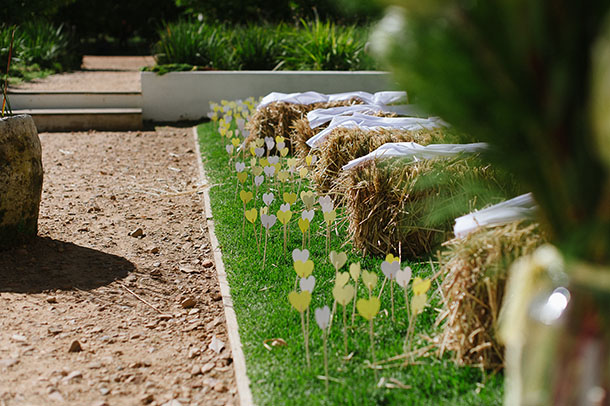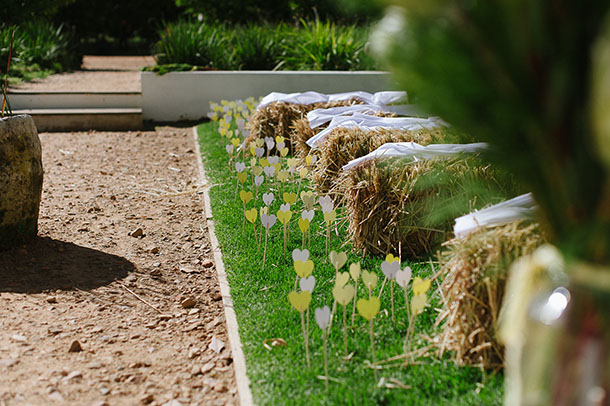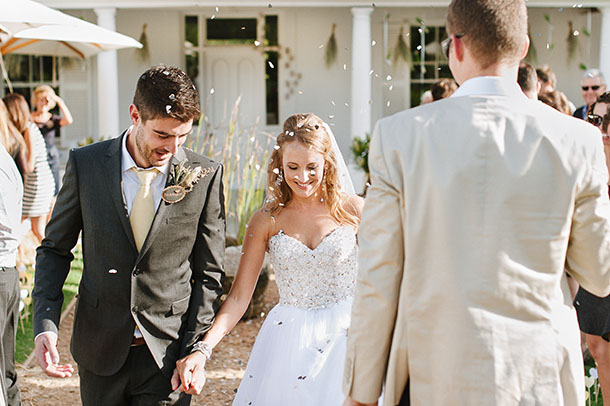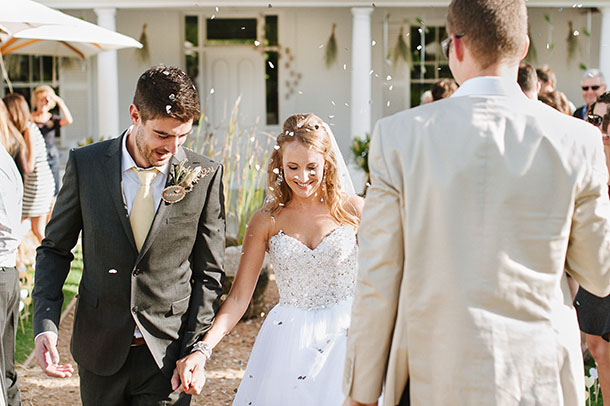 The Venue
There is something special about Franschhoek that you can not explain. Pure beauty and majestic mountains with a relaxed atmosphere, amazing food and a great place to relax. We knew we wanted a small intimate wedding and decided on The Kitchen Maison as the Venue. We decorated and planned the wedding according to the venue, since I am an interior designer, while incorporating our style and personality. We wanted good food, great atmosphere and a lot of love and laughter.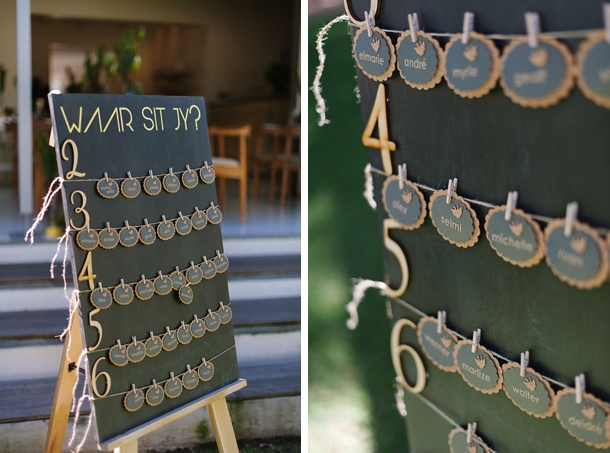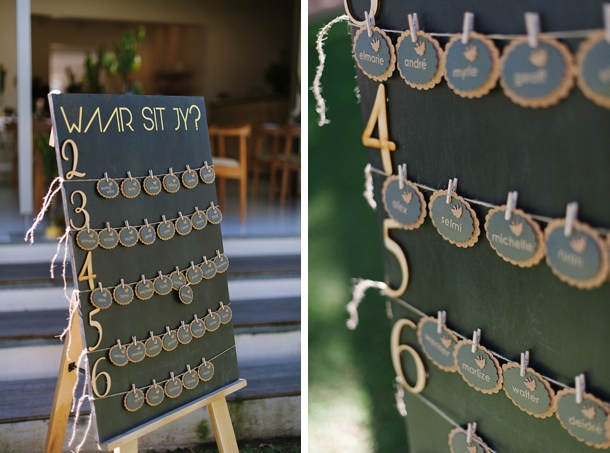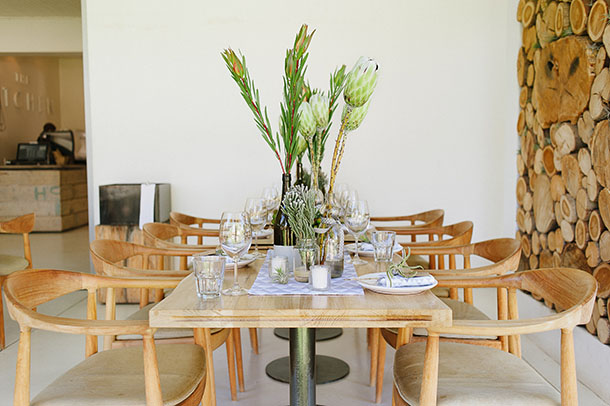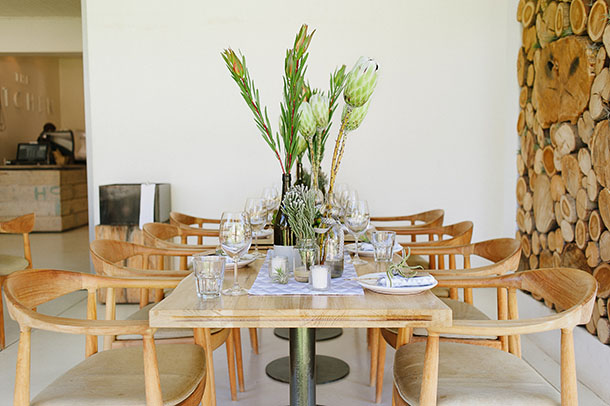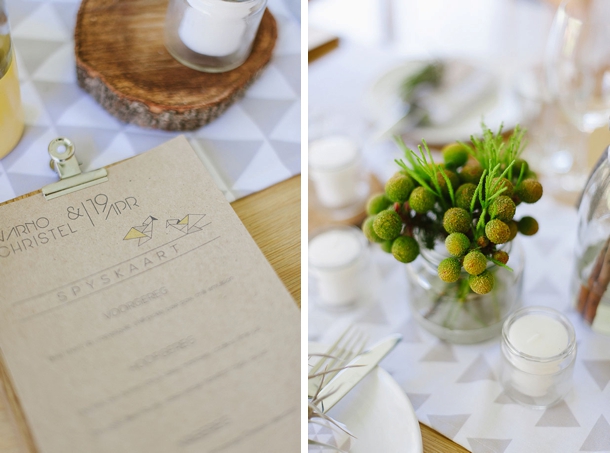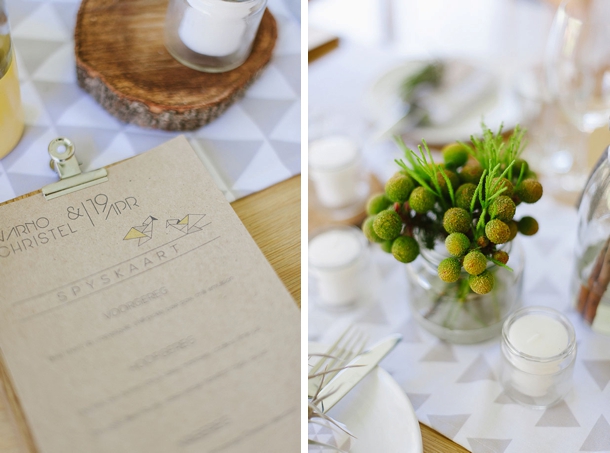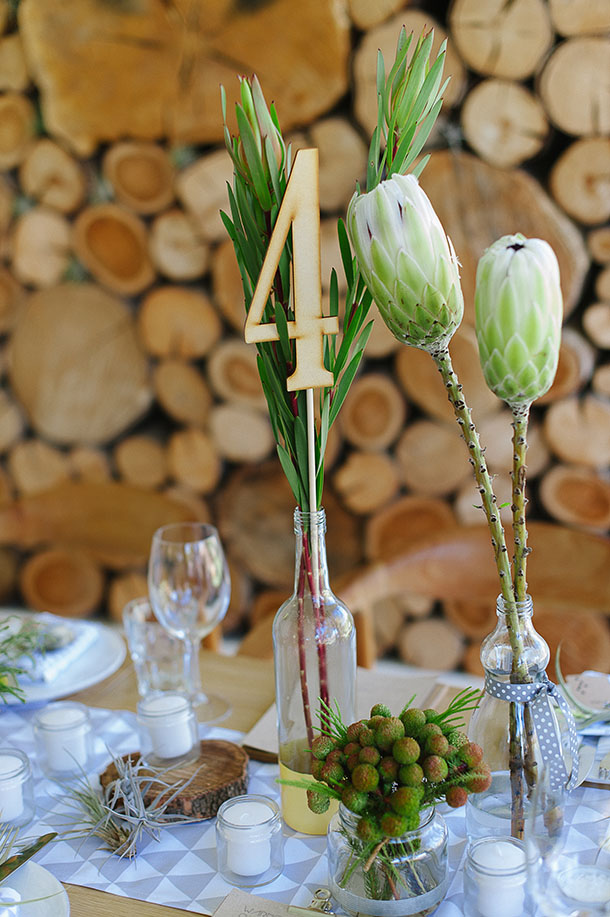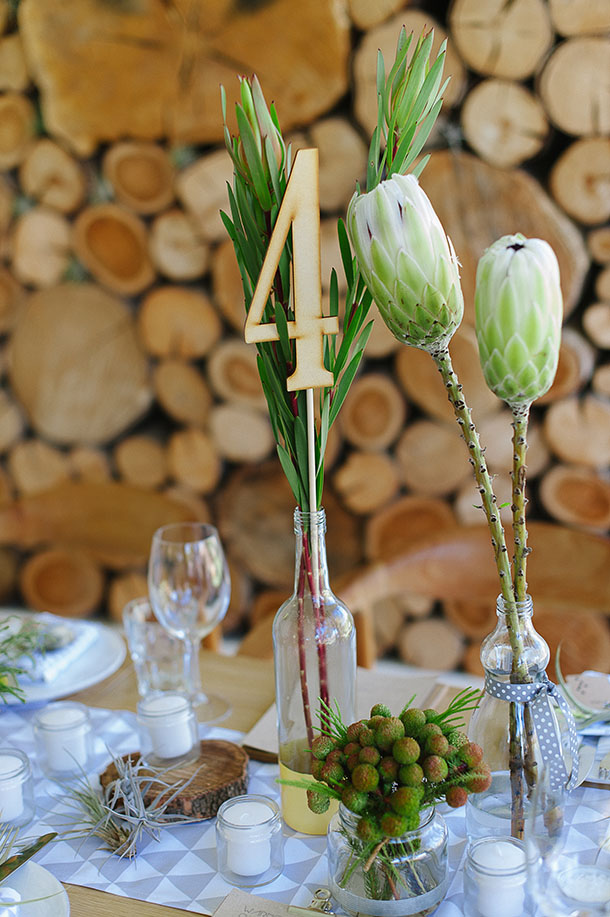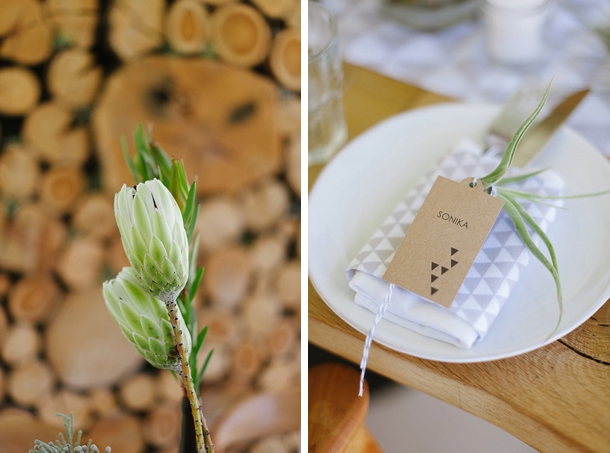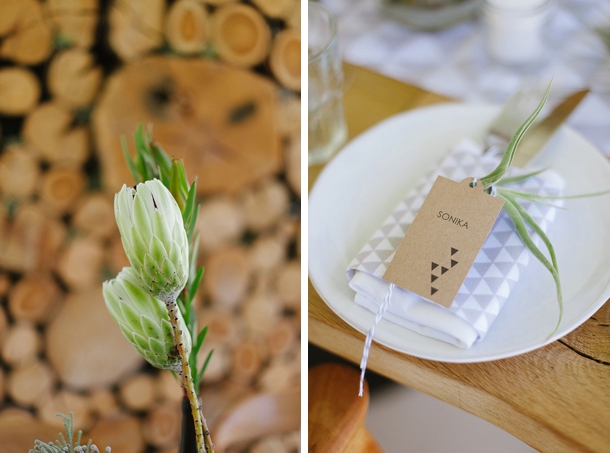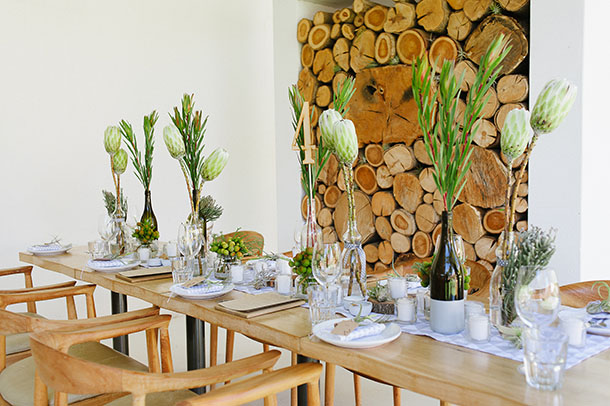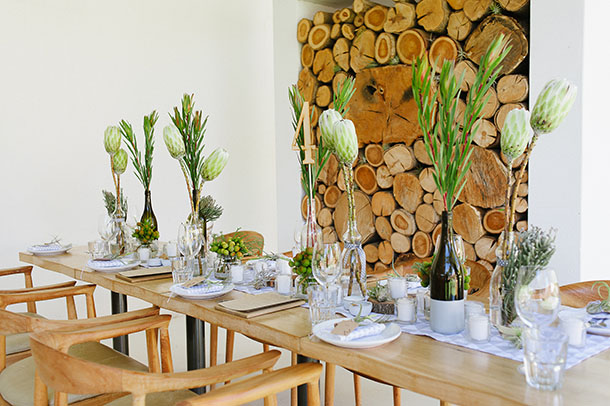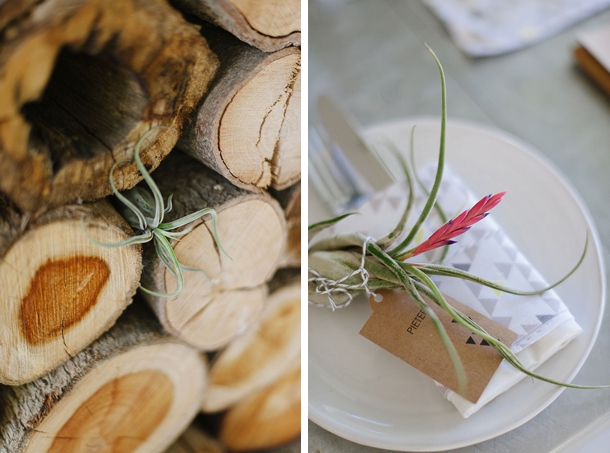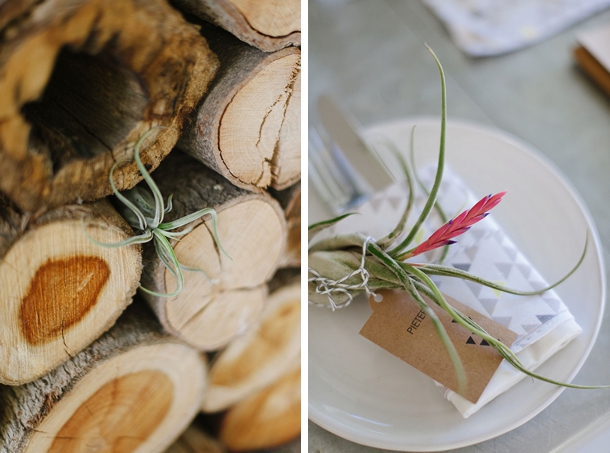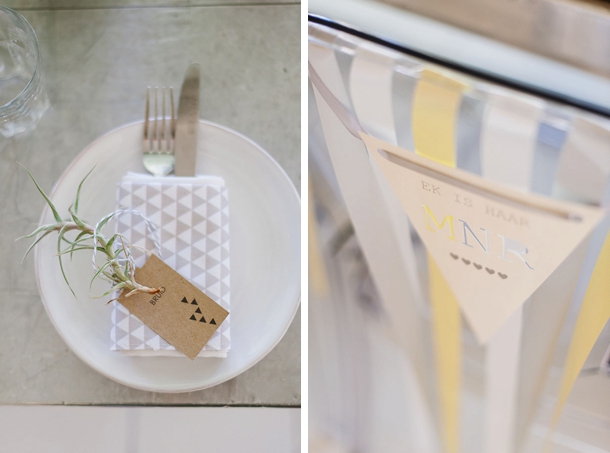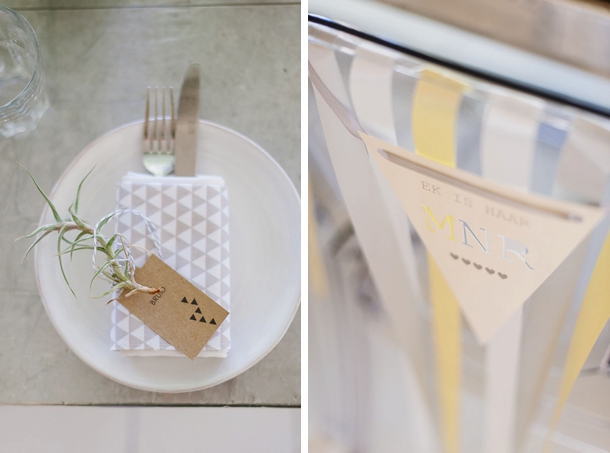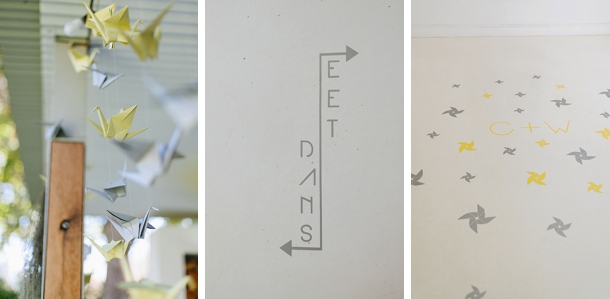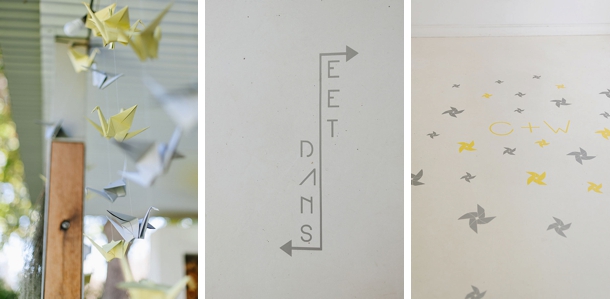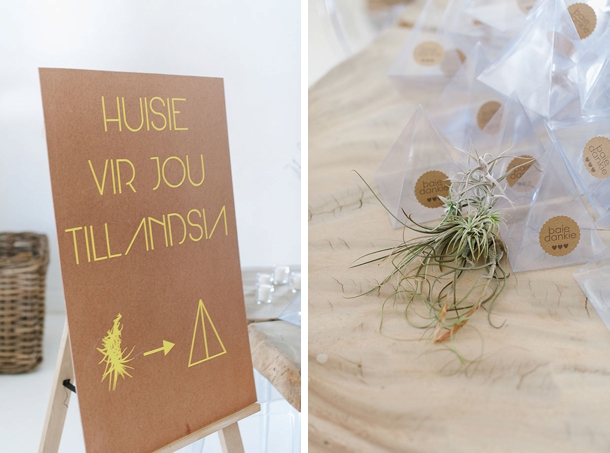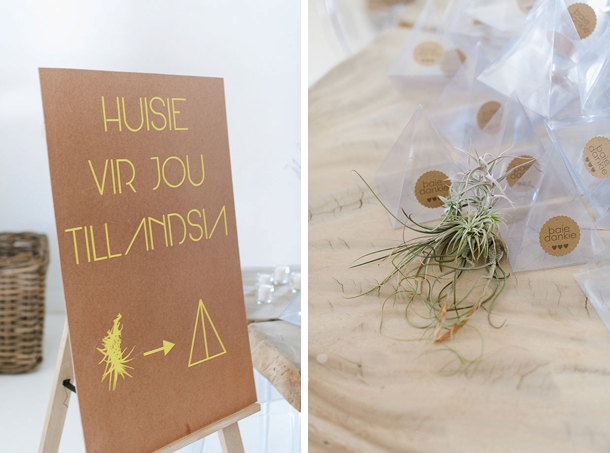 Wedding Style
I do have a very specific style when it comes to interiors. I prefer natural elements and materials and decorations with some movement. For instance the origami birds, the windmills, balls in trees all had movement during the day. The flowers were easy, getting married in Franschhoek, hence fynbos and of course white proteas!
DIY Elements
Only hair and make-up, photos, food and bouquet were not DIY. I enjoyed it so much that I decided to start a wedding design service to brides. I did all the flowers myself, to give a personal touch. The fabrics are all textile designs by steli, a small business that I started in 2013, and I wanted to incorporate these designs into our wedding decorations to once again add a personal touch.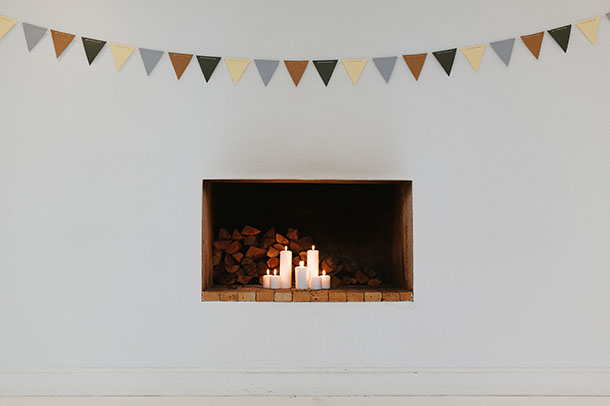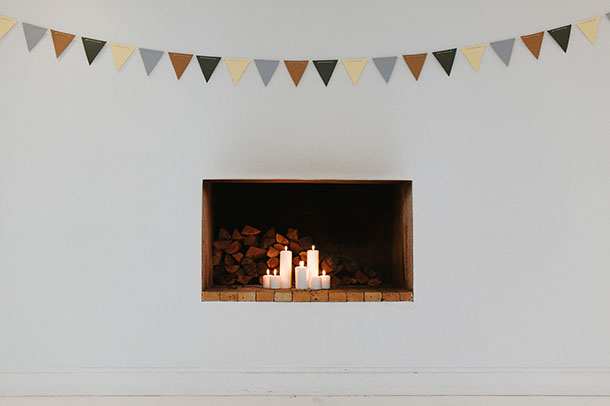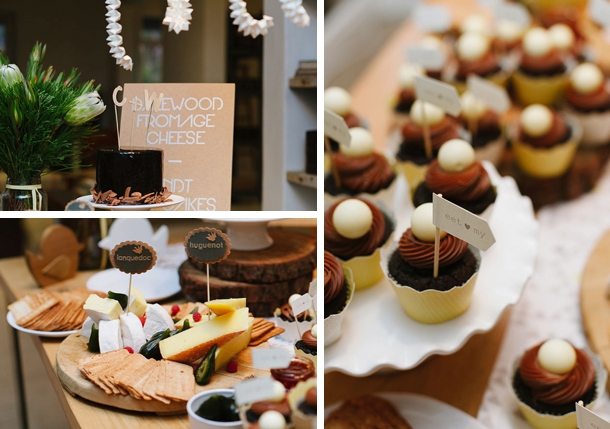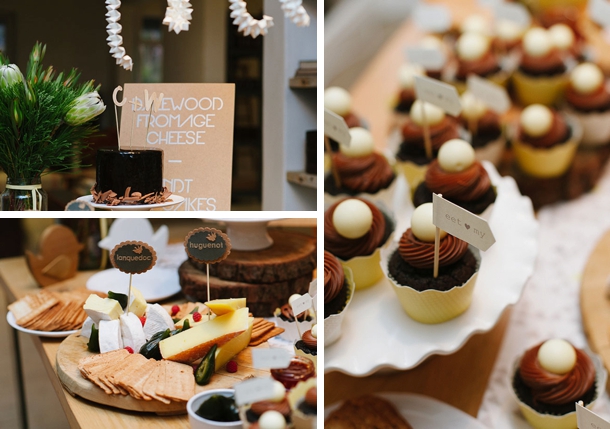 The Dress
My wedding dress was Esme by Maggie Sottero. I saw this dress on the Maggie Sottero website and one day walking the streets of Claremont I saw a bridal shop, Eve's Bridal Wear. Thought I would pop in and see what they have. Ever so surprisingly, they had Esme in the store and I could try her on. It was an immediate attraction and I fell in love with the dress. I ordered the dress in my size the next day…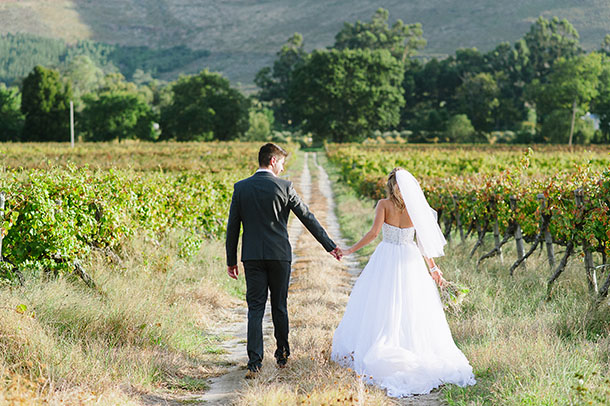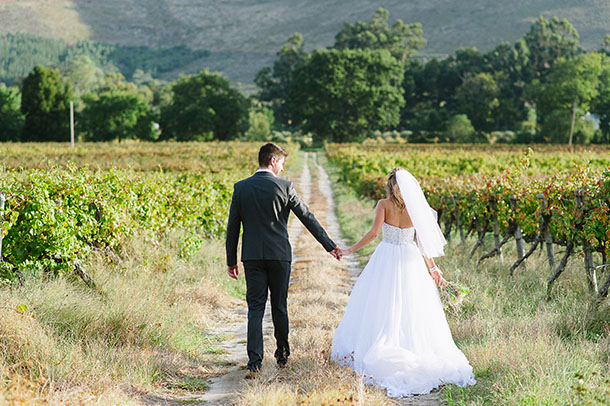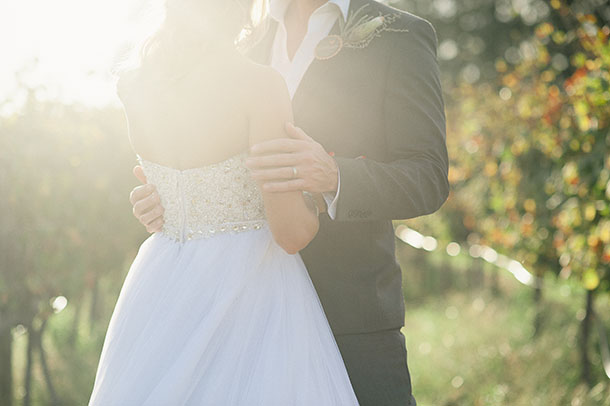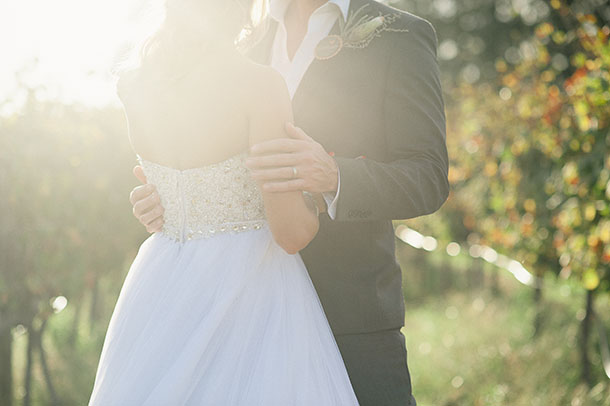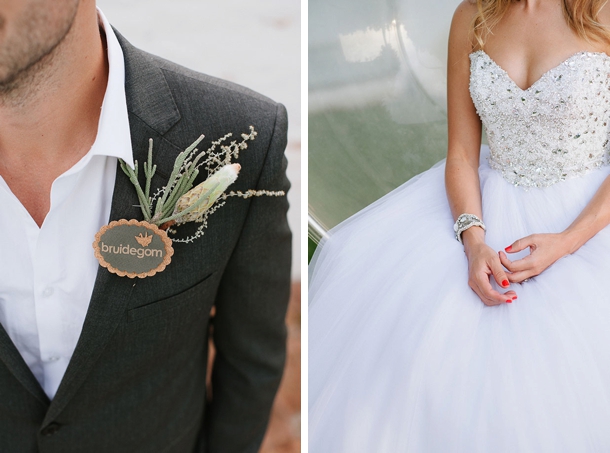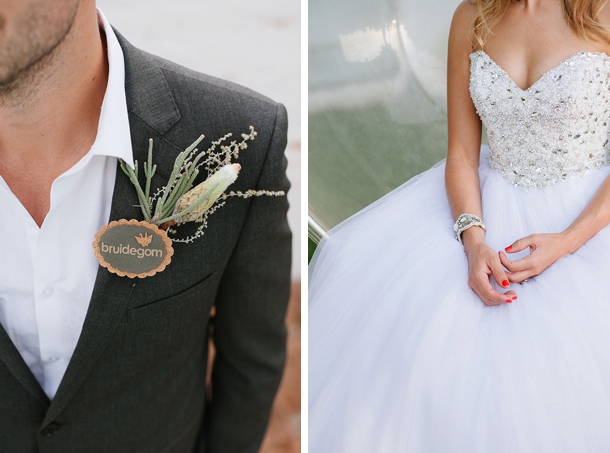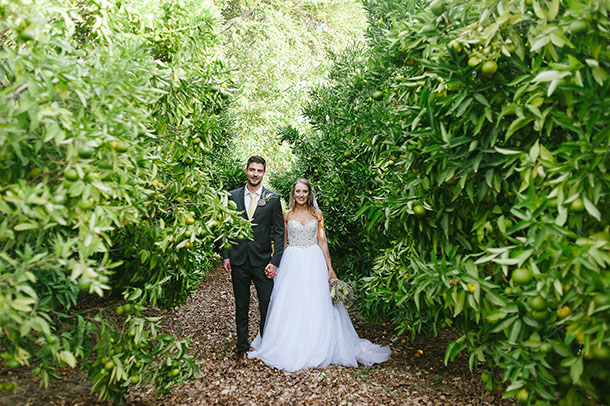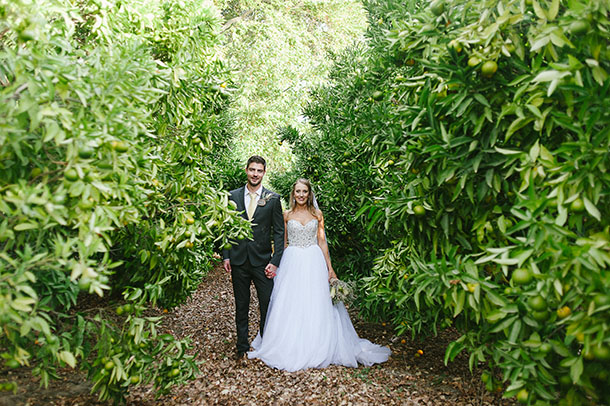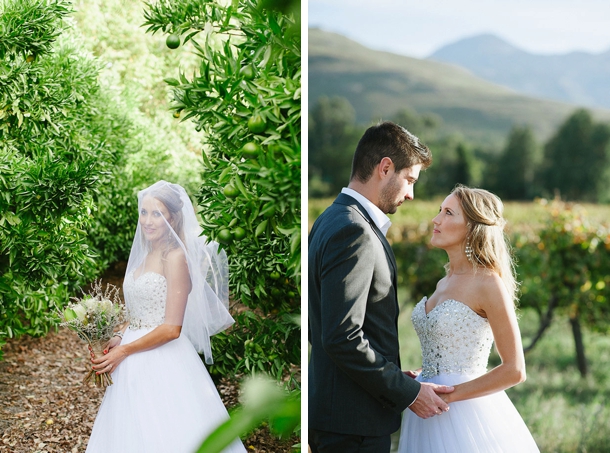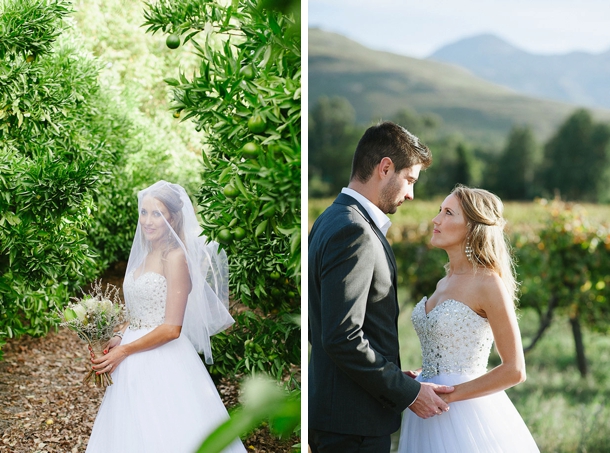 Memorable Moments
The highlight of our wedding day for me was the ceremony. It was everything I always hoped it would be, standing with Warno and promising a life together was a real dream come true. For Warno, it was the moment I walked down the aisle and our ceremony.
Advice for Future Brides & Grooms
Throw the rules out of the window and plan a wedding that will fit you as a couple. Keep it simple and down to earth. Don't worry about the small things.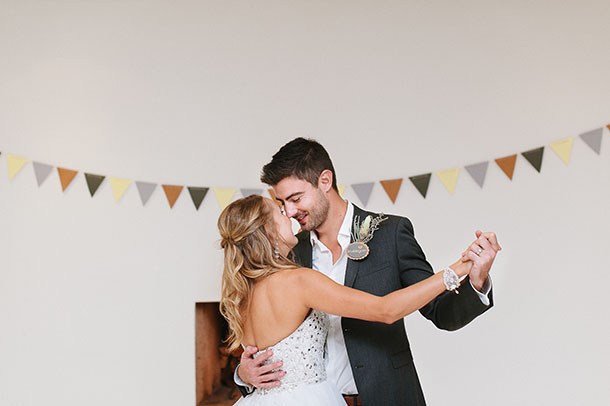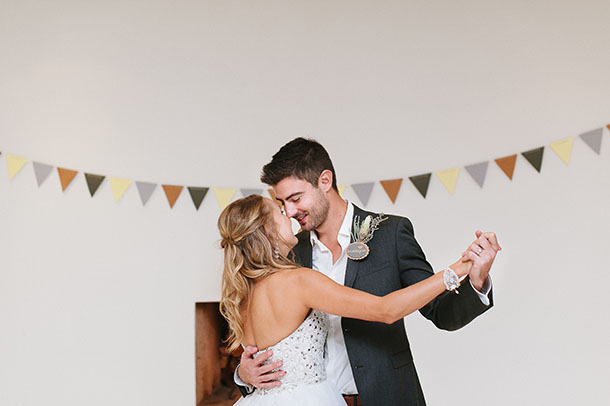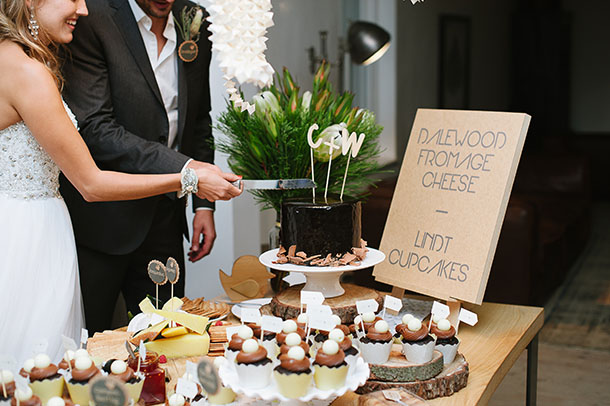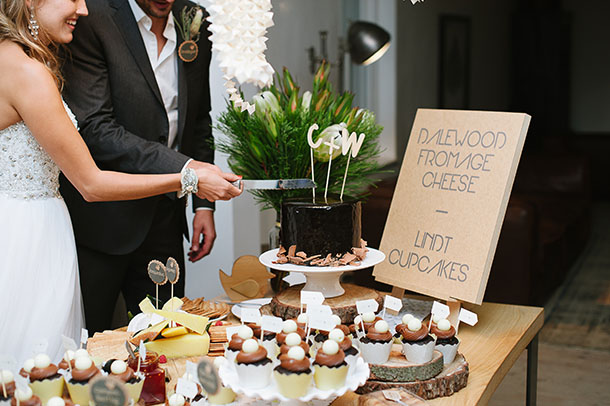 You can see more from this wedding on The Picturist blog.
SERVICE PROVIDERS
Venue & Catering: The Kitchen at Maison Estate, Franschhoek |Photography: The Picturist | Flowers & decor: DIY & Franschhoek Flowers | Hair & makeup: The Refinery | Bride's dress: Eve's Bridal Wear | Photographer's Assistant: Lizette Frank
SBB ♥ The Refinery Creative Co., a featured member of our Directory