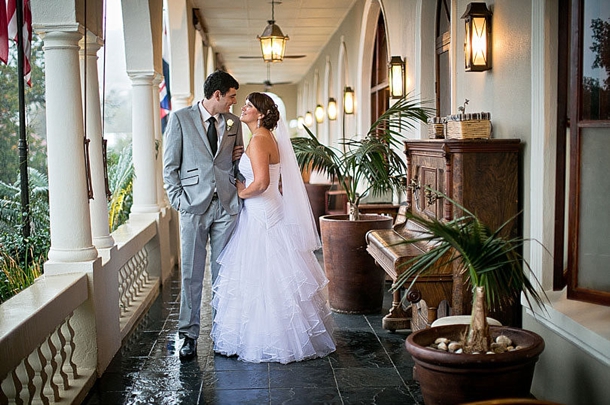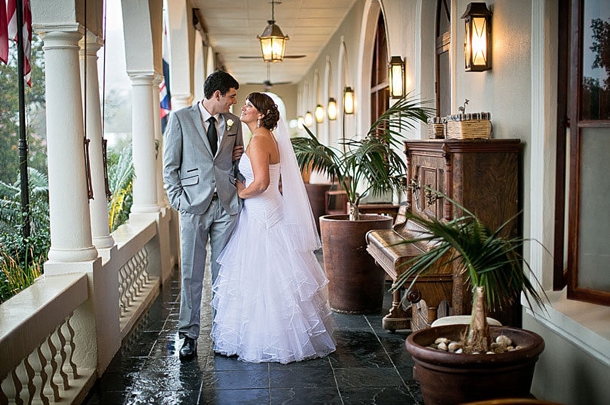 There's nothing sweeter than a girl-meets-boy-next-door-story, is there? Well today's couple are literally the boy and girl next door (or across a park anyway), who first fell in love on the swing set and married fifteen years later. So adorable! I just love their pretty wedding, and the bride's relaxed attitude about it being a rainy day is something anyone could learn from! But I think my favourite thing about their Delsma Farm wedding (or the decor, anyway) is that it's such a fun twist on the shabby chic decor we've seen a lot of this season. It has the main ingredients: mismatched florals, proteas, books tied together with lace, striped tablecloths; but translated into a yellow and grey colour scheme it's completely fresh. It just shows that you can take a style and really make it your own, be playful with colour, and that adopting a style doesn't have to just mean one thing. The beautiful pictures full of light were taken by awesome Adene Photography.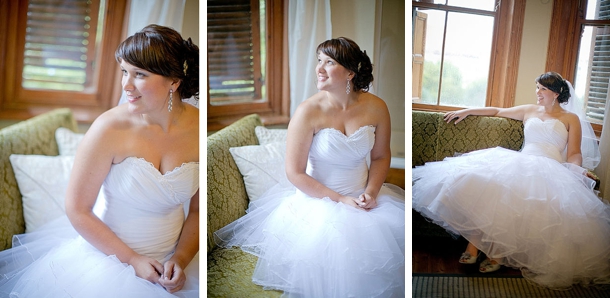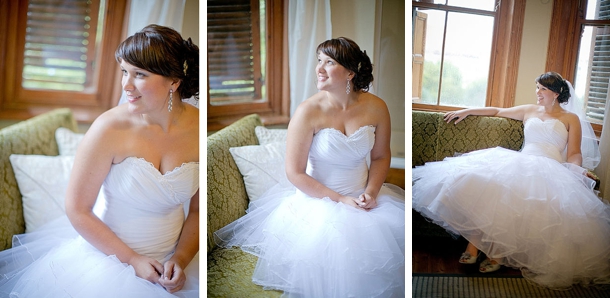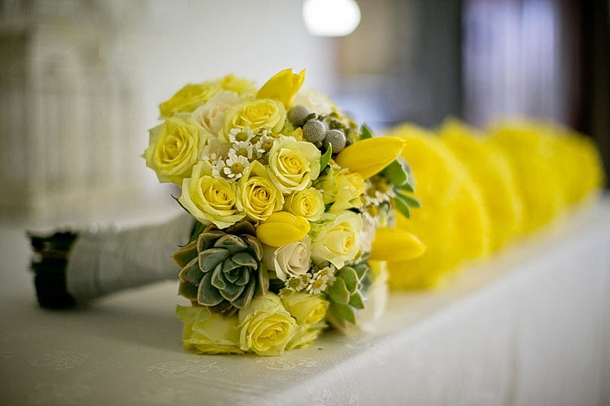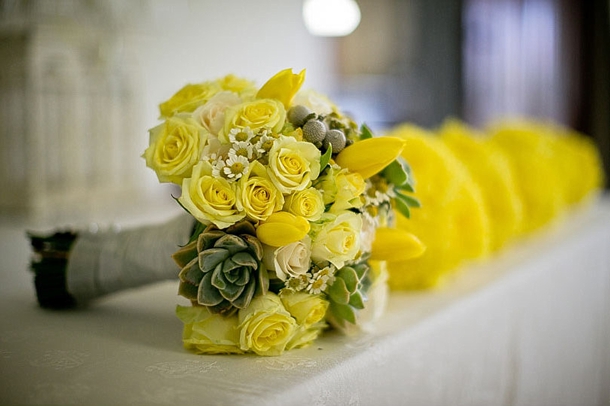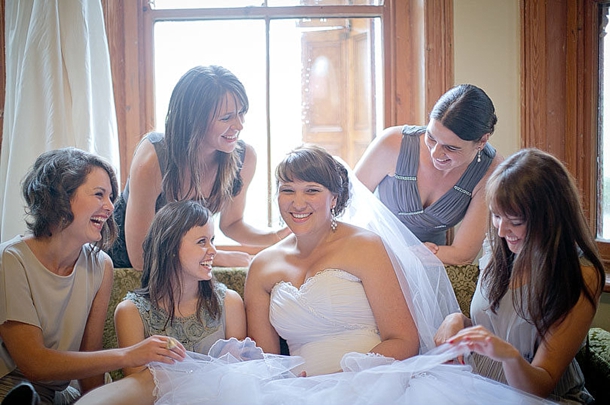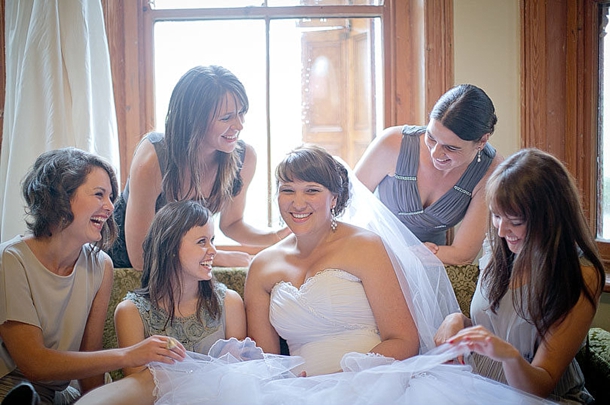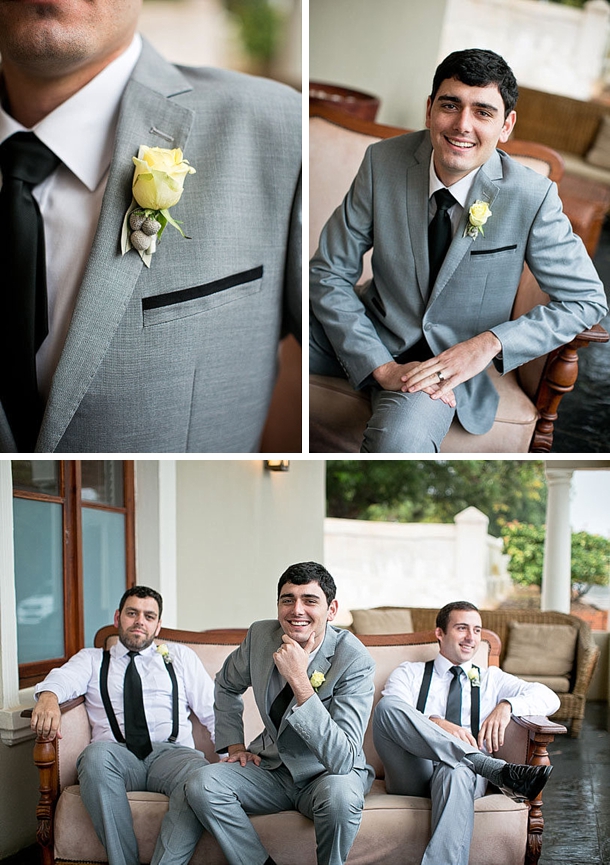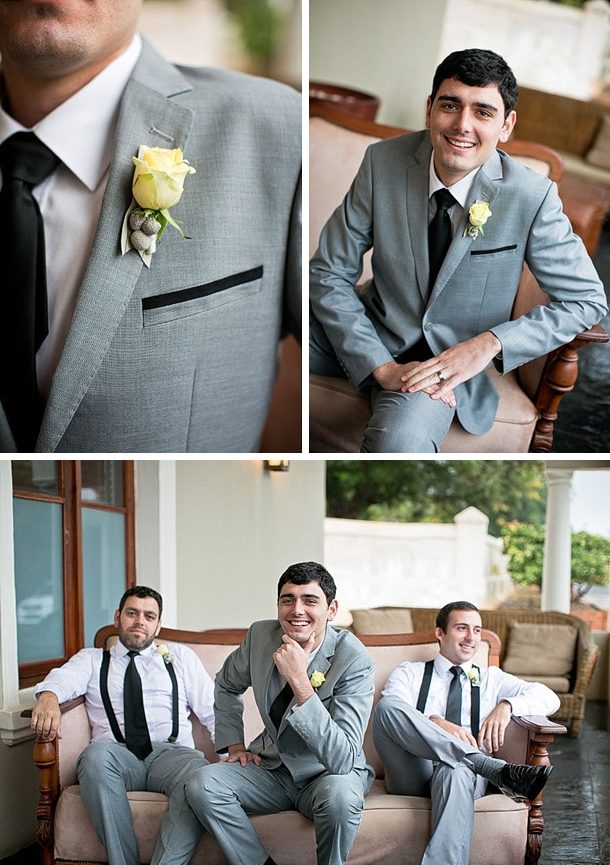 From the lovely Leandri:
Andries and I were friends for about 15 years. When we were 11, his family moved to Malmesbury, across the park in front of our house. We met almost every day on the swings in the park and talked for hours. We went to different high schools and were still friends, but grew closer again in the years after school. We both went to Stellenbosch University, and I'd catch a lift back to university with him on Sundays. Eventually we started dating.
We had been together for five years when Andries proposed, on Christmas Eve. He proposed near the swings at the park between our houses, the same spot where we'd first met 15 years before. It was very special, and the best Christmas gift ever!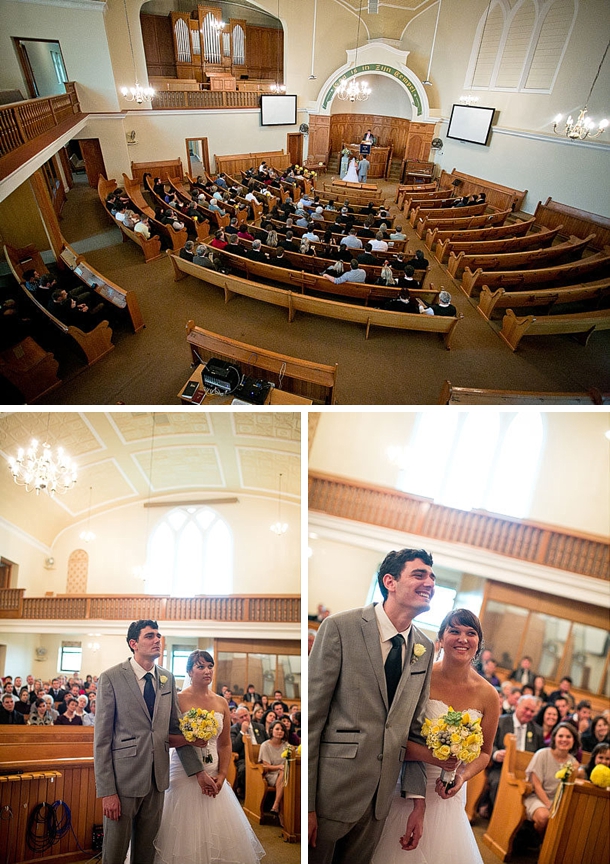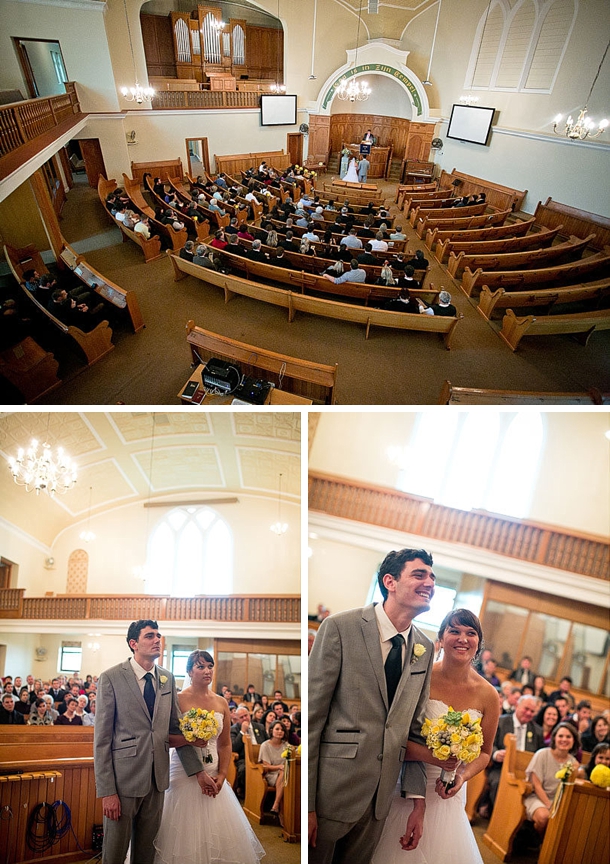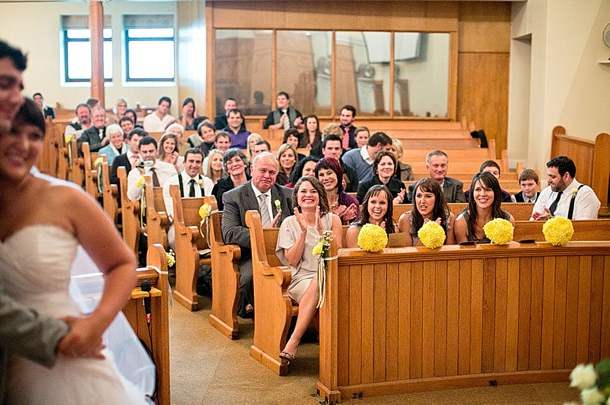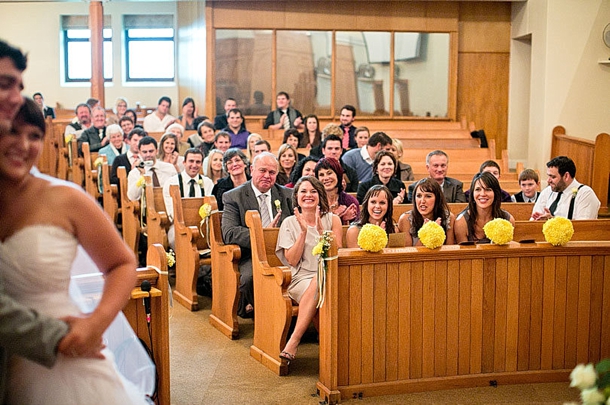 Our concept was shabby chic, grey striped tablecloths – not one of the tables looked exactly the same as each floral decoration was different, lace ribbons and old books. Our colours were grey and yellow with a hint of neutral. We heard about our venue, Delsma Farm, through friends. We saw the venue when it was still being built, and loved the big hall, big foyer and the décor. And of course the fact that they offer plenty of guest accommodation.
I got a lot of the ideas from websites (including The Pretty Blog, Seven Swans and Pinterest), but tried to make them my own. The décor on the tables and on the gift table was very playful. Our wedding favours were Lotto tickets… unfortunately nobody won (that we know of)!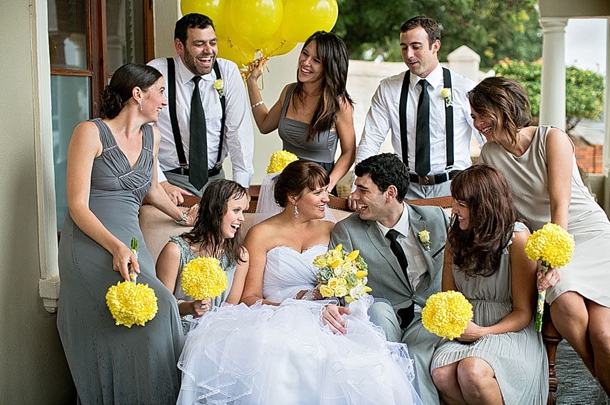 We had a rainy wedding day… isn't it ironic. But even with the rain it was the most beautiful day ever. The rain and the greyness of the sky complemented our theme and colours. It was different from any other wedding and the rain (as well as the playful and relaxed feel of the décor) made it special and unique.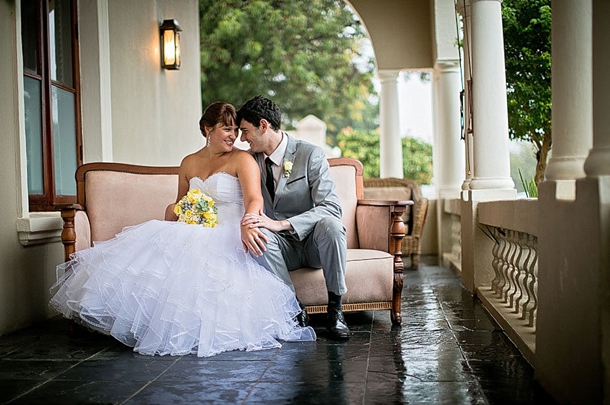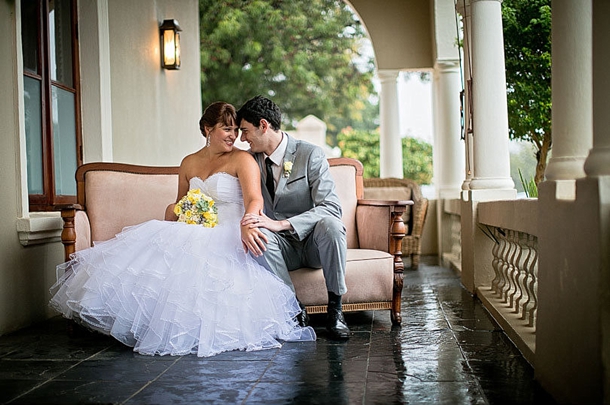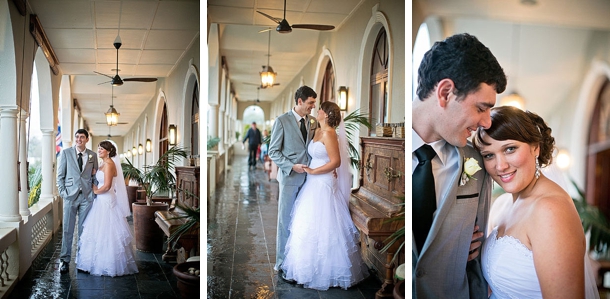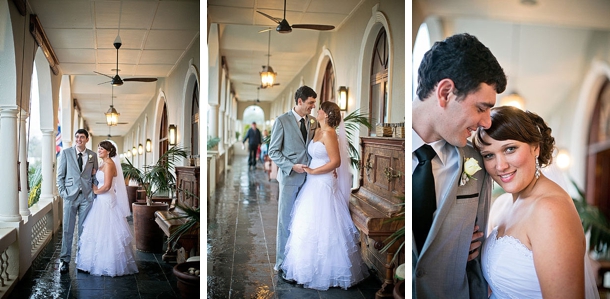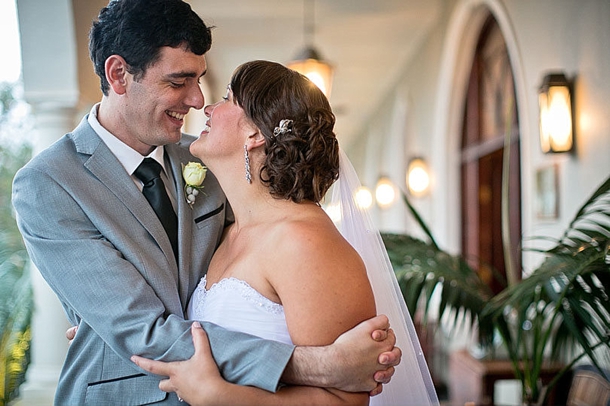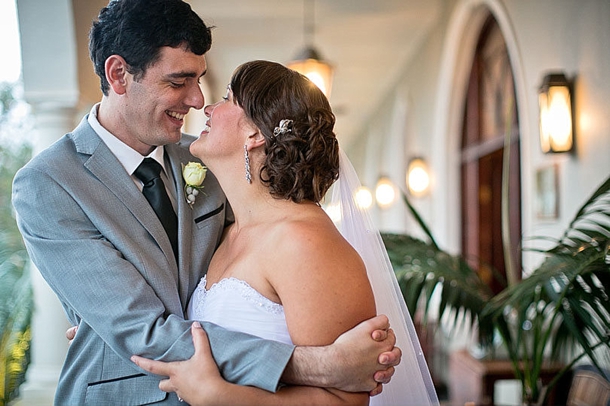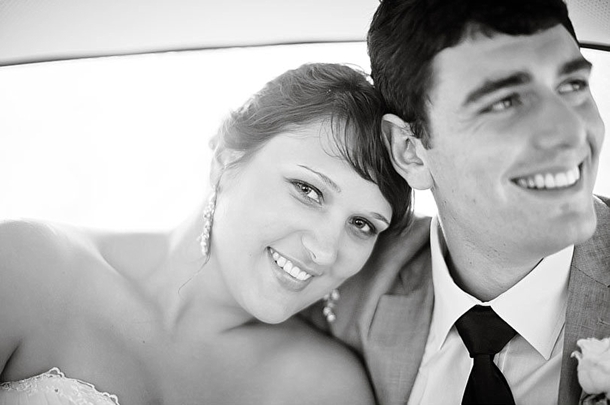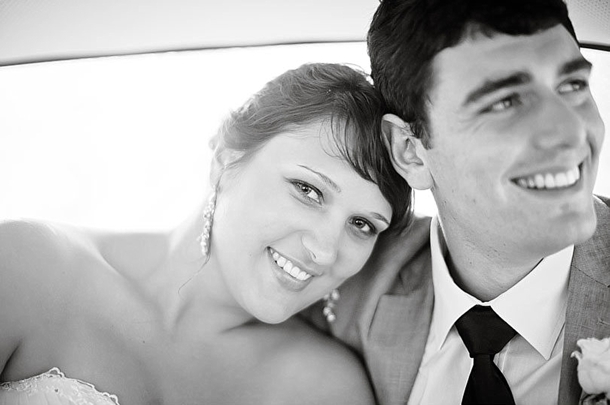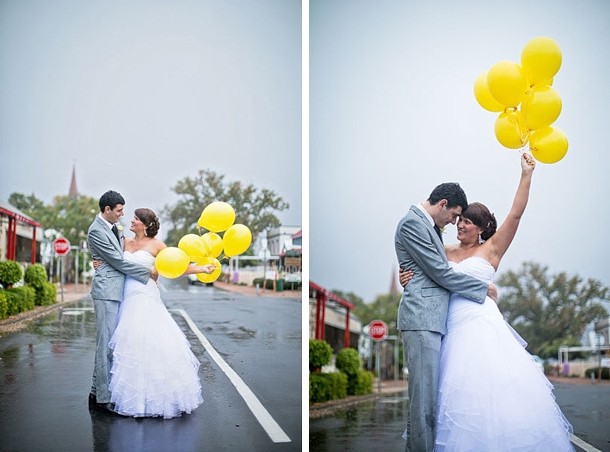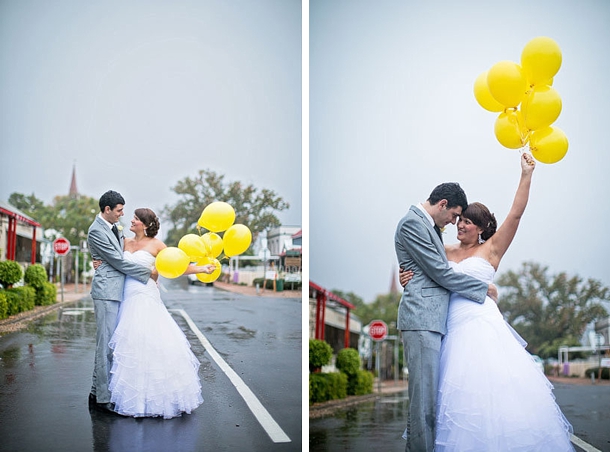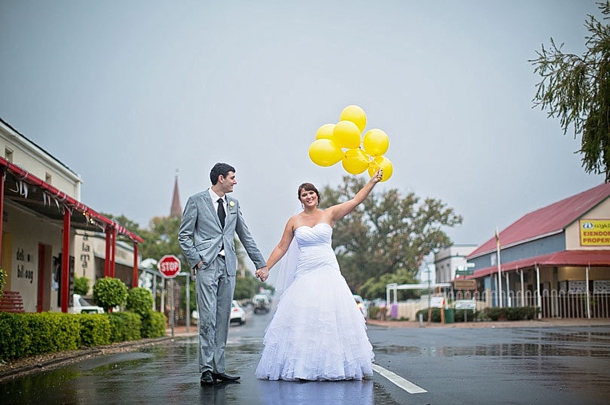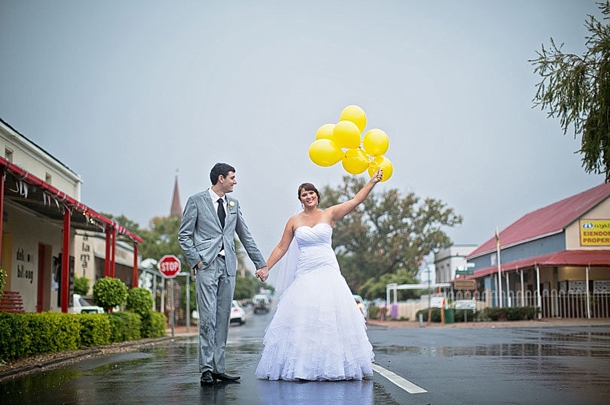 The moment we shared our first kiss as a married couple, everyone burst into applause. It was such a happy moment! I also loved walking into the venue to Miriam Makeba's 'Pata Pata' song, seeing my mother-in-law dancing and clapping along; we saw everything that we'd worked for and planned for in the past months. Everything was just the way it should be. Every flower, every person, every wine glass. Perfect.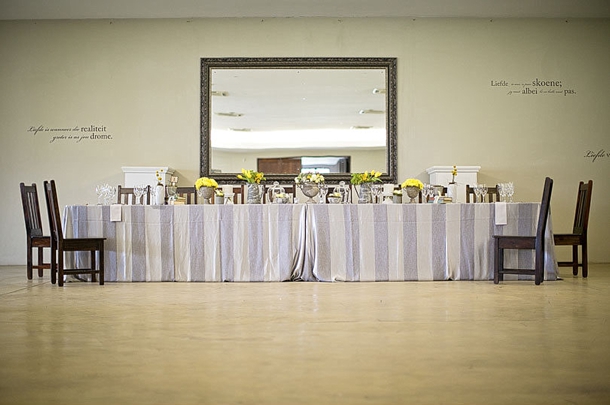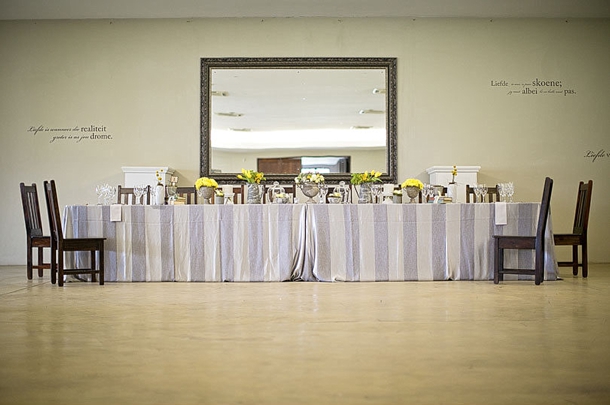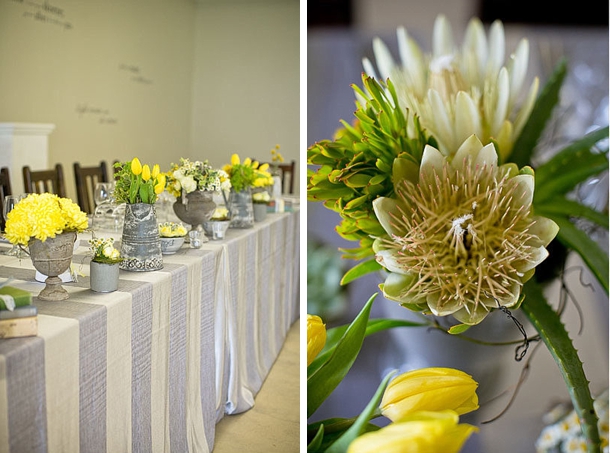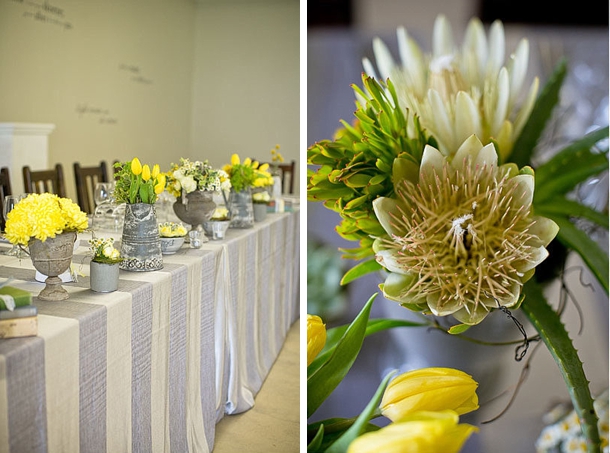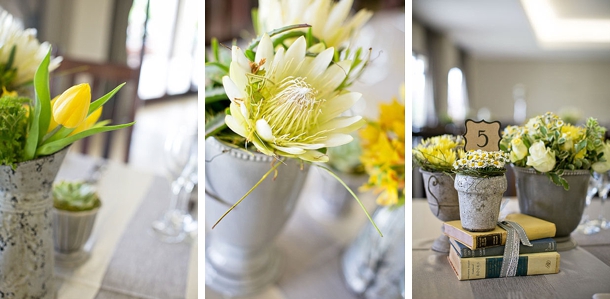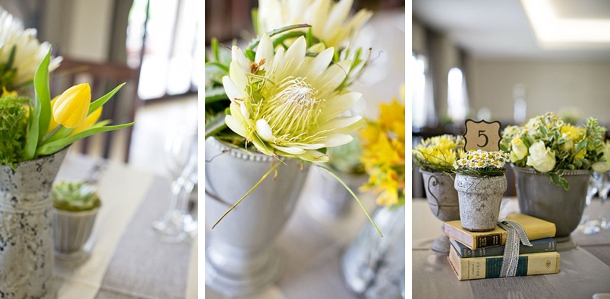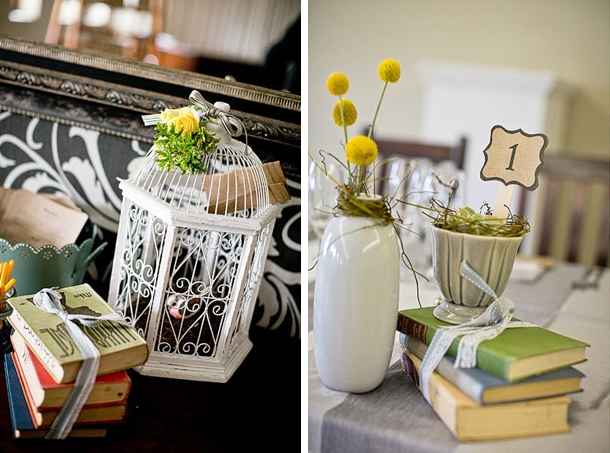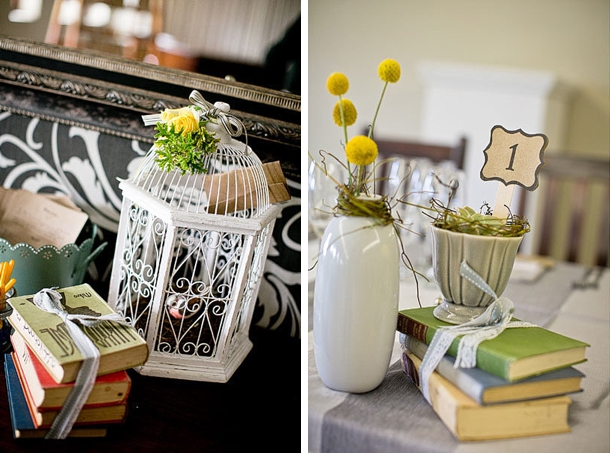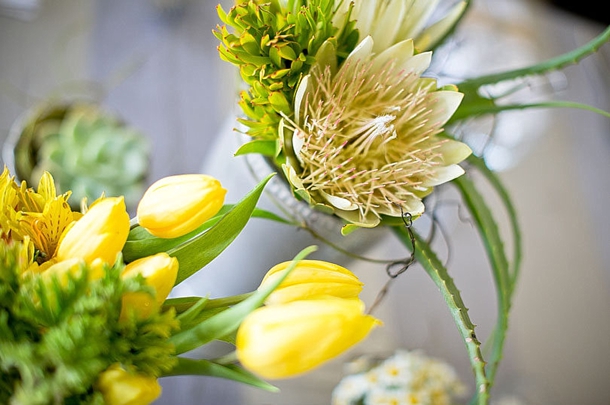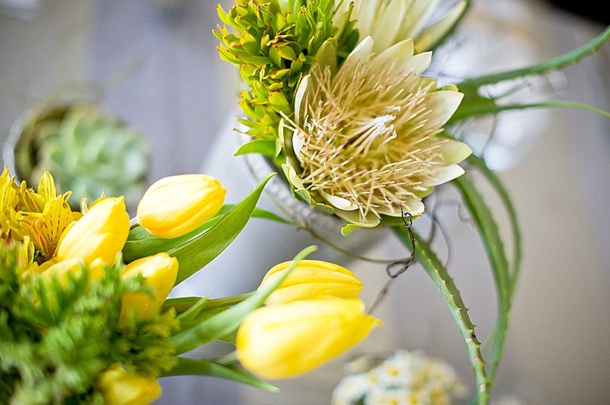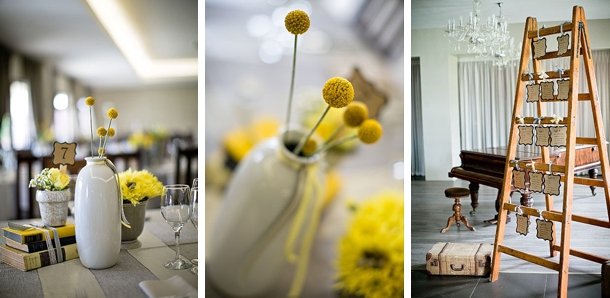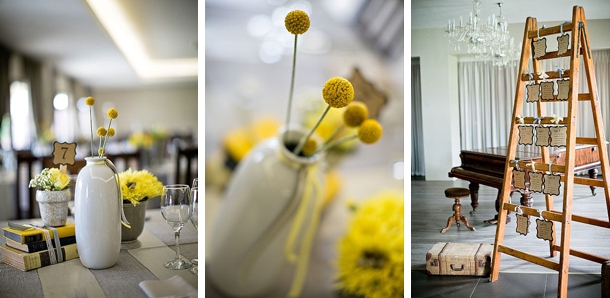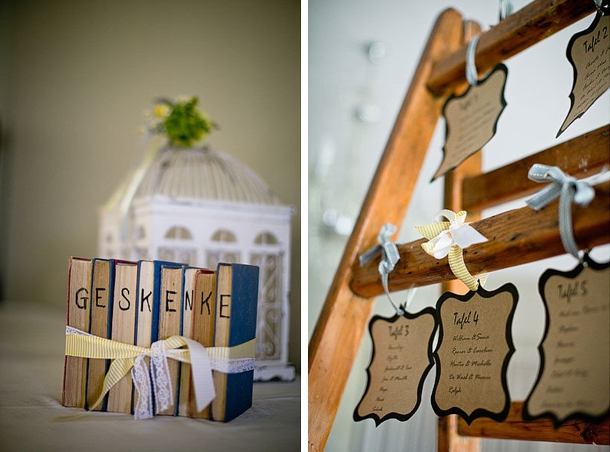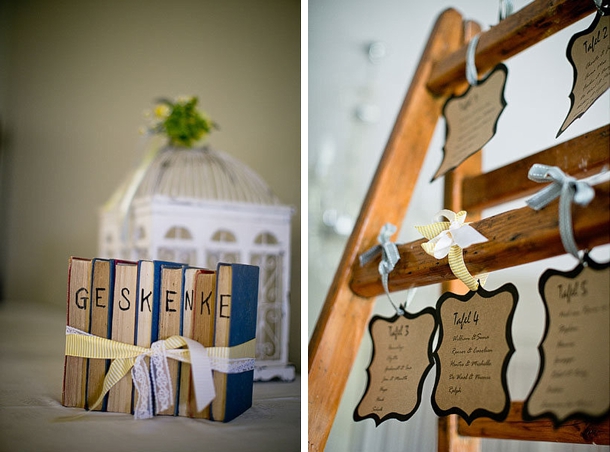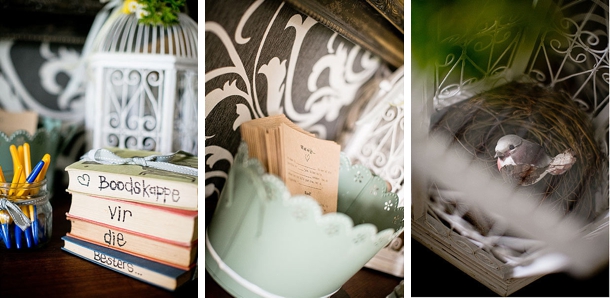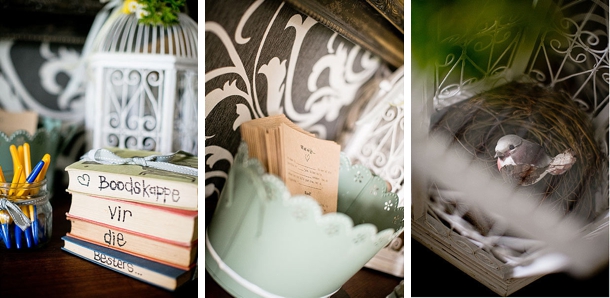 My advice to future brides is don't stress about the weather… there is nothing you can do about it. Make the best of a bad situation. Try to take 2 minutes in the evening to just stand back, take a breath and take it all in! It goes by so fast. Don't stress if some things go wrong… nobody will notice. Enjoy every moment. And laugh! Nothing is sadder than a sad or uncomfortable bride.


Thanks so much for sharing your big day with us, Leandri and Andries! And a big thanks and welcome back to Adene – always a pleasure! As always, you can see more over on her blog.
SERVICE PROVIDERS
Venue & catering: Delsma Farm | Photography: Adene Photography | Flowers & decor: Mint & Magnolia | Cake: Paulette Koch | Bride's dress: Ilse Roux | Hair: Bonnis Hair, Malmesbury | Makeup: Theresa van die Merwe, Malmesbury | Hiring: Hire 4U | DJ: Johan Wiid