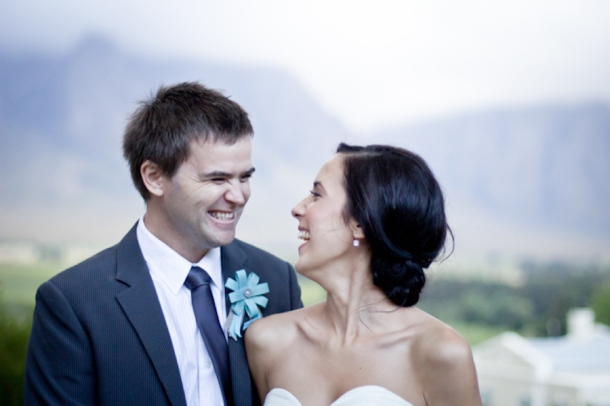 Good morning, SouthBound Brides, did you have a good long weekend? I took a couple of days off for the first time in AGES – although, by "took off" I just mean from the blog, not from work sadly. But sometimes it's good to give yourself some time off, and I'm back refreshed and renewed for a week of sheer loveliness! Yay. Anyway, speaking of sheer loveliness, today's wedding is just full of softness and sweetness and stealable details. For example, one of the first that caught my eye when photographer Nadine Aucamp sent over Ilze & Louren's lovely wedding was the doilies placed delicately under every plate – such a simple way of bringing shabby chic styling to the table, but so effective! I also loved the collection of ceramic vases of all different shapes and sizes that Ilze put together – such a sweet twist on the milk glass and silverware collections we've seen a lot of recently. And I love the bird-on-a-wire table listings! As I said, sheer loveliness.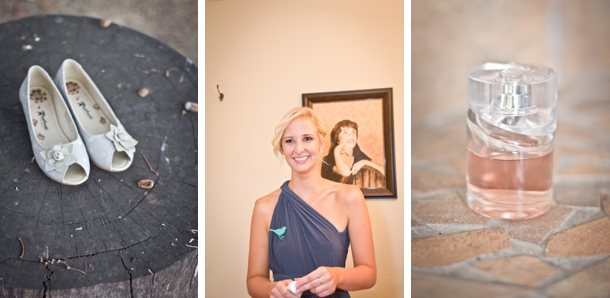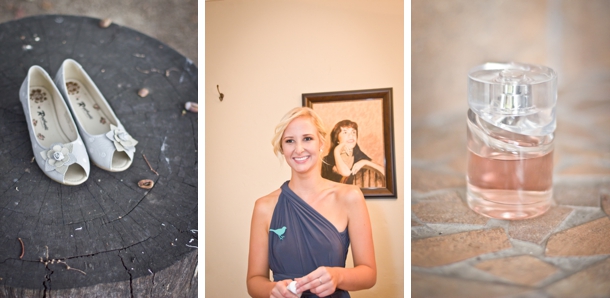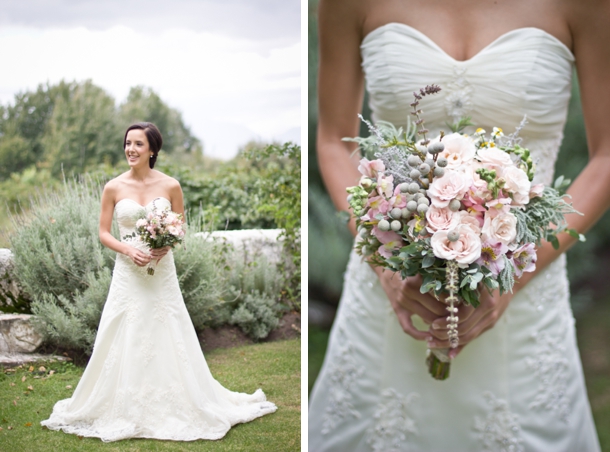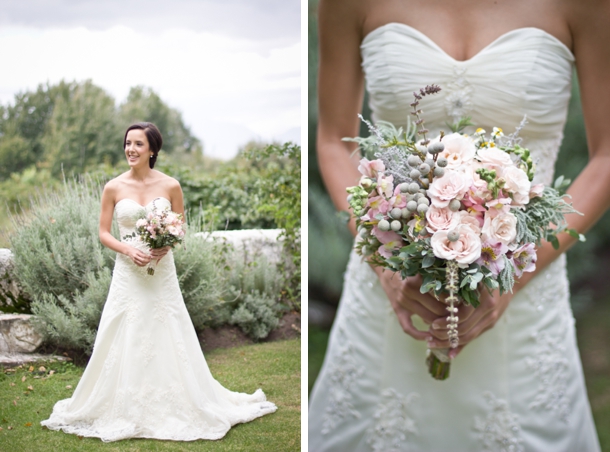 From beautiful bride, Ilze:
Louren and I met at a Wholehearted Worship Weekend our Church organised. Both of us had just recently returned from working in the UK – funnily enough we had mutual friends, but had never met there! For him it was love at first sight, but he had to patiently wait and just be friends for nine months before I fell for him.
He proposed at the Klein Libertas Theatre in Stellenbosch at a Kaleidoskoop show. Jouba and Anique are friends of ours and he asked them if he could be part of one of their songs and then propose on stage. Being a musician himself, he organised with them to come up and sing a part of one of my favourite songs from their album. As soon as I saw him on stage I knew that "this was it." He called me forward while singing and the crowd went crazy. After the song he went down on his knees and asked me to marry him and I said "Yes!", waving my hands in the air when he put the ring on my finger and everyone was cheering. Afterwards we went to a quiet place overlooking Stellenbosch and had a champagne picnic together.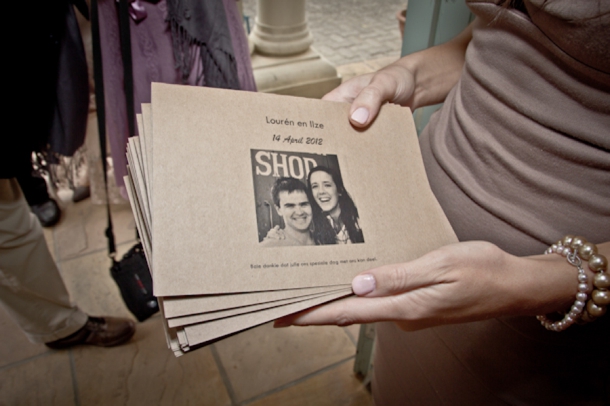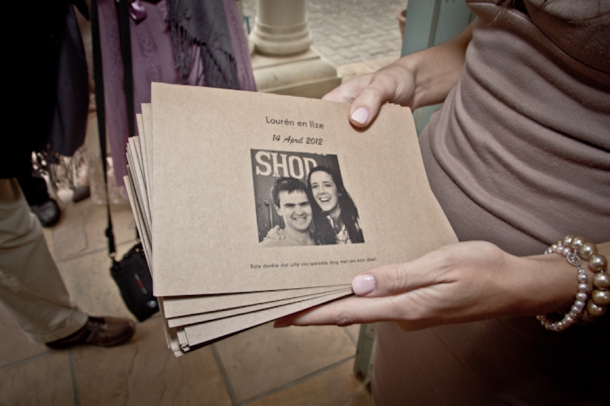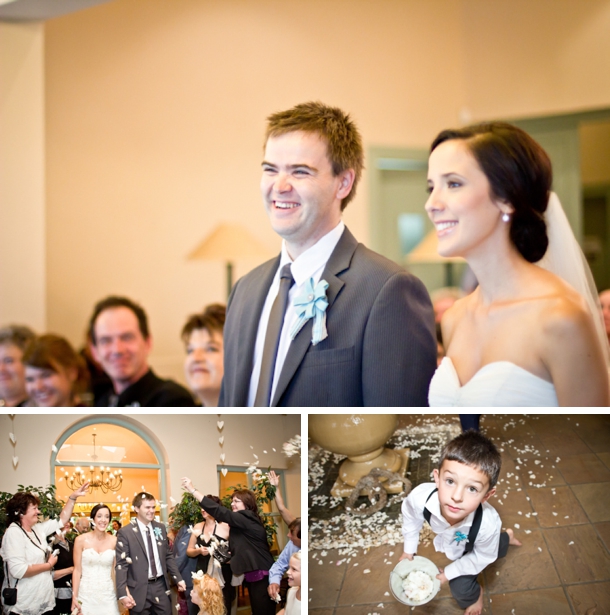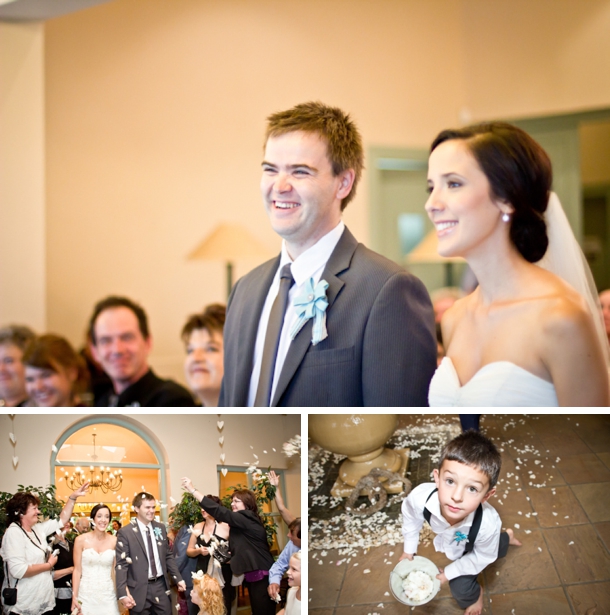 I picked my wedding venue (Die Opstal, Rawsonville) for the lovely outside ceremony setting in the garden, overlooking the beautiful mountains. Unfortunately it rained and we were not able to have the ceremony outside, but the inside had a warm, comfortable feeling, like a normal restaurant where all our friends were gathering and celebrating with us. The colours I chose to work with were cream lace, soft pink flowers and splashes of teal in the colour of the vases, etc. I was looking for a fresh, creative and comfortable atmosphere. The hearts and the birds that were displayed in various ways also helped to create a warm feeling.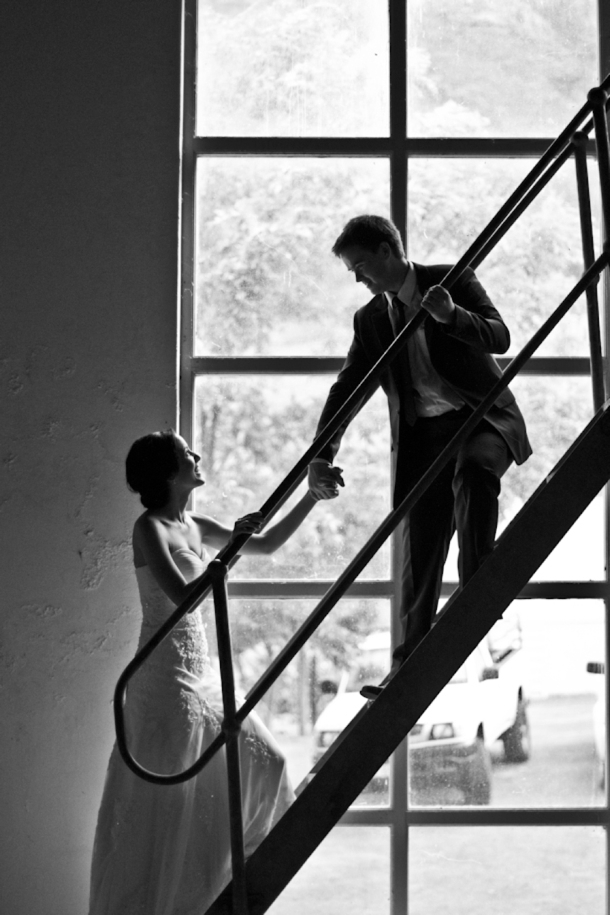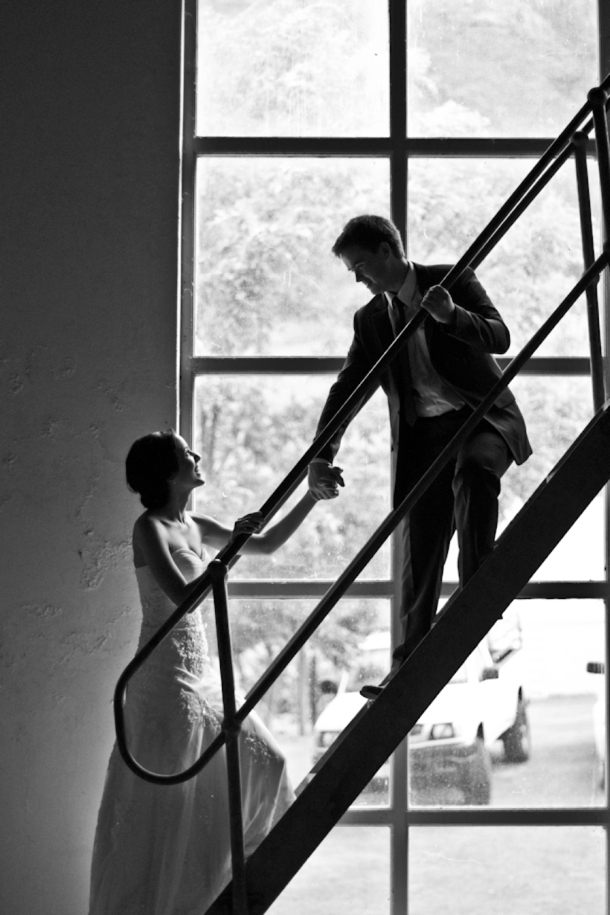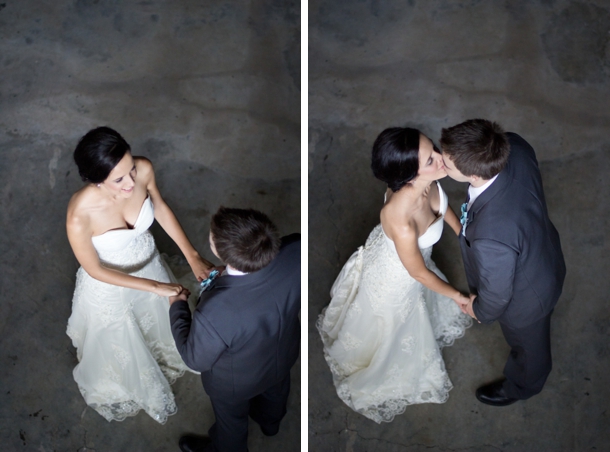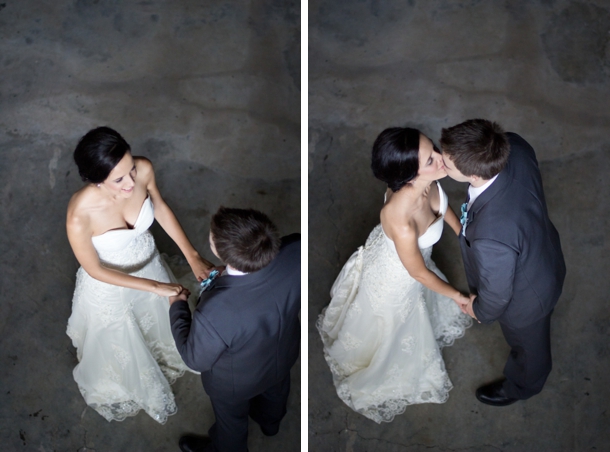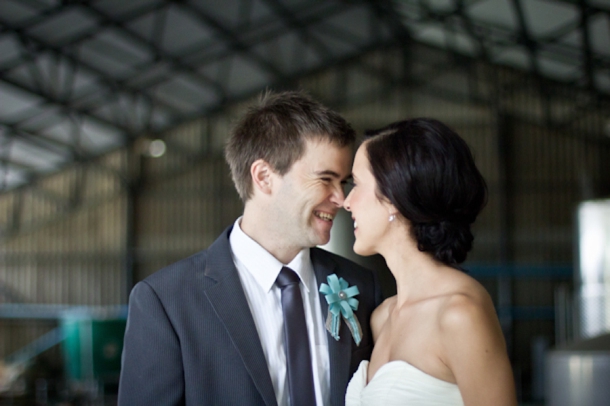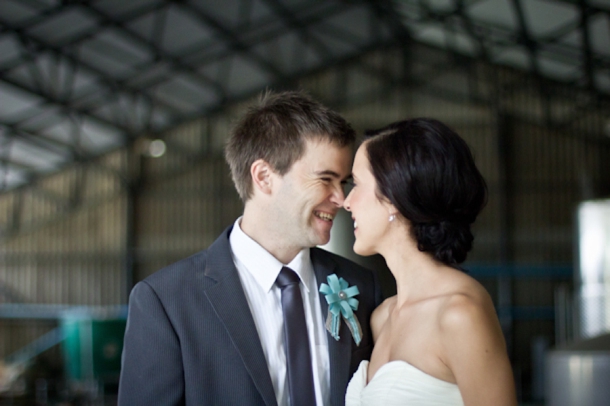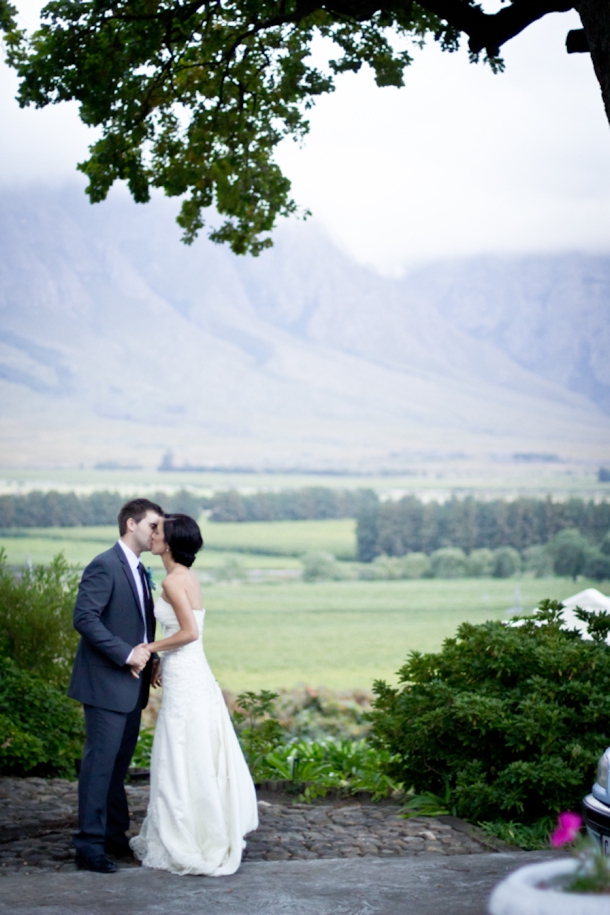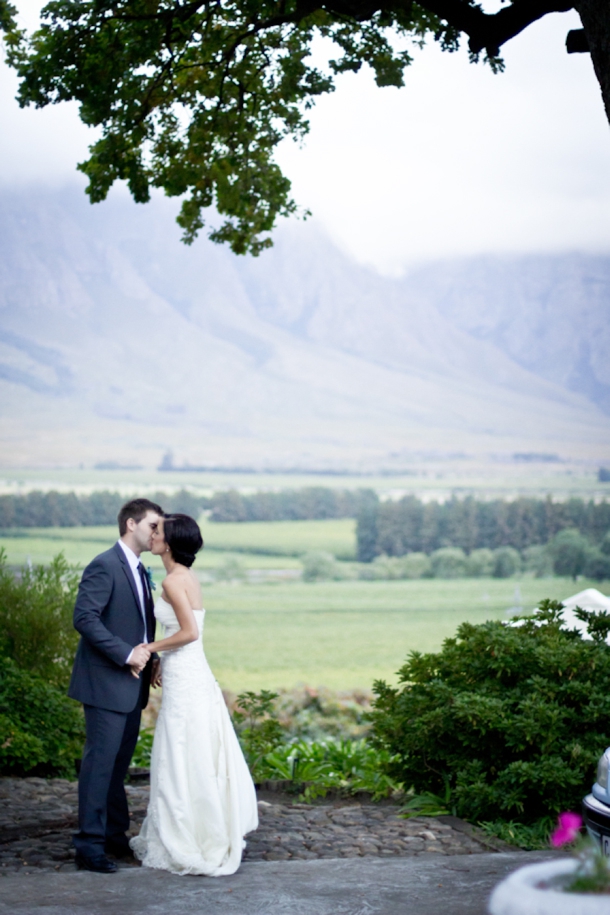 We made all the decor ourselves. I had so many ideas of things that needed to be made – our friends ended up with sore sewing fingers! One of my favourite details was a heart that my bridesmaid made us, with two strings which represented both of us becoming one, and where they connected the rings were attached. One of the flower girls carried it in. I really enjoyed having six children as part of our wedding day – it was so much fun to have them around and see them enjoy everything!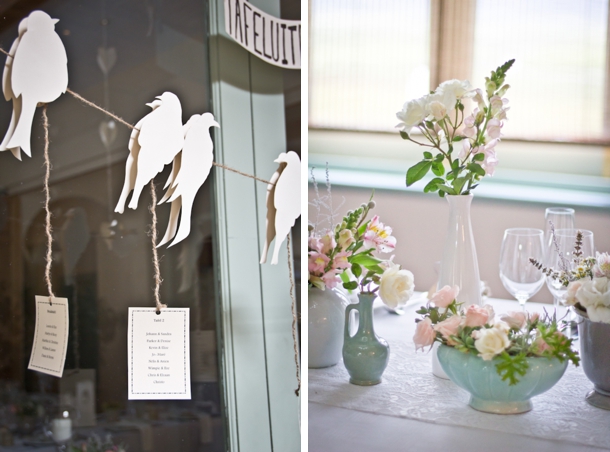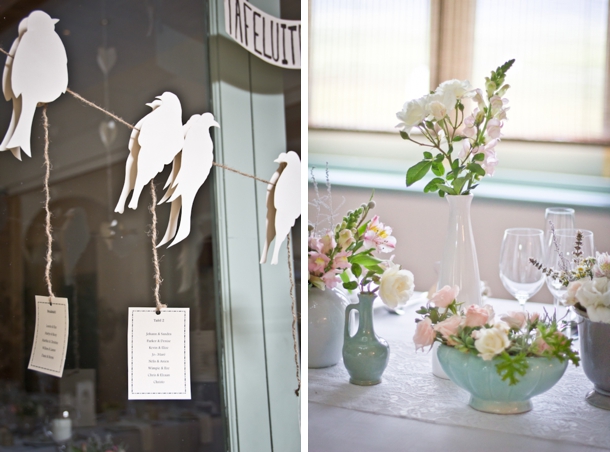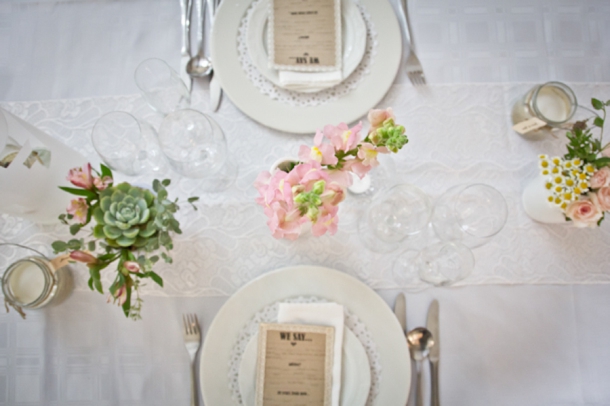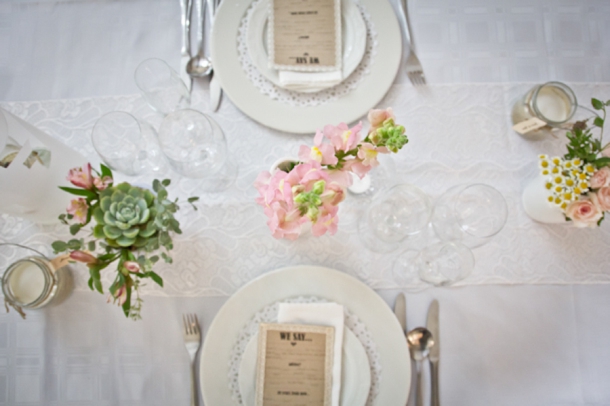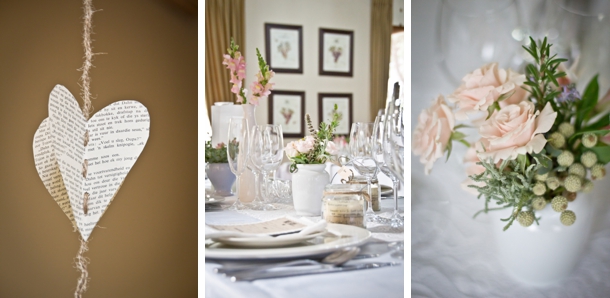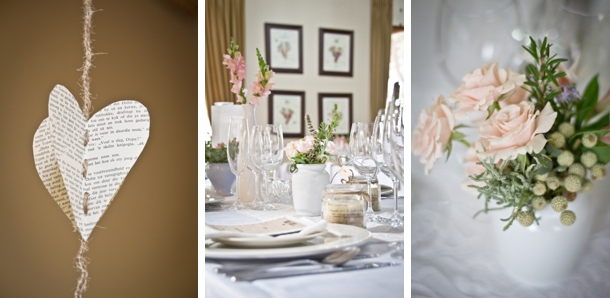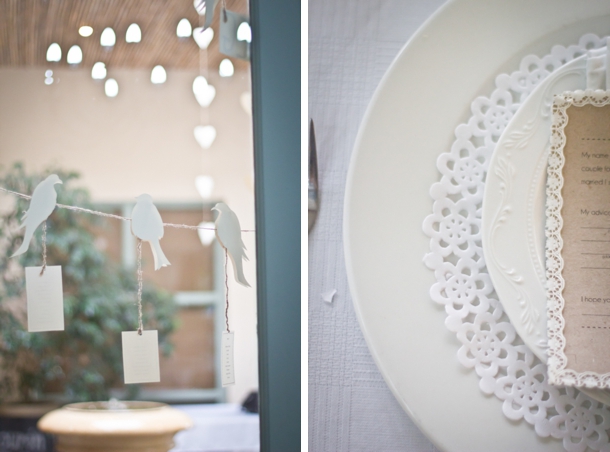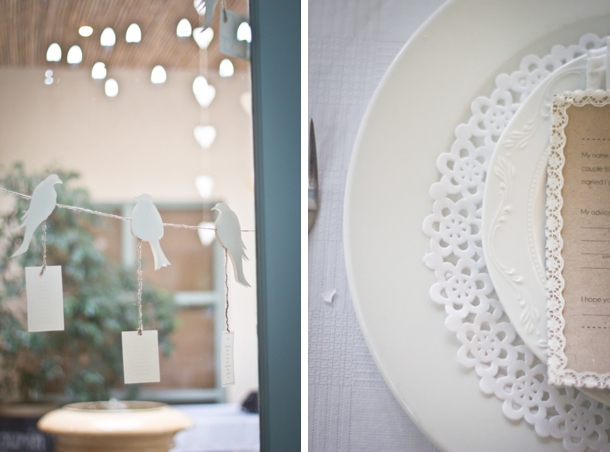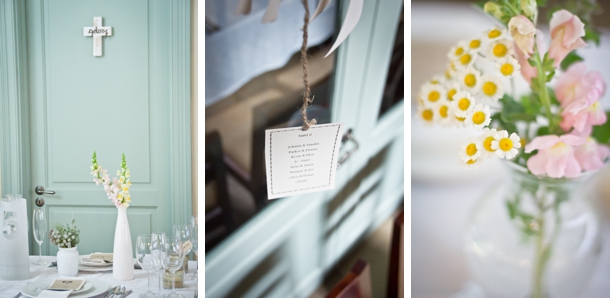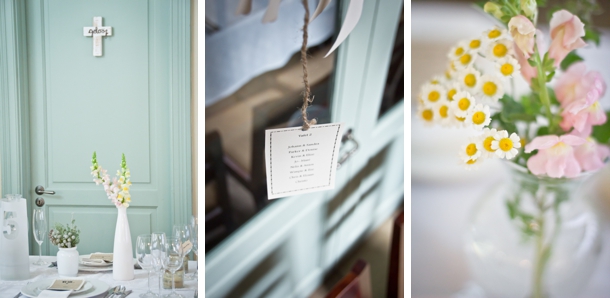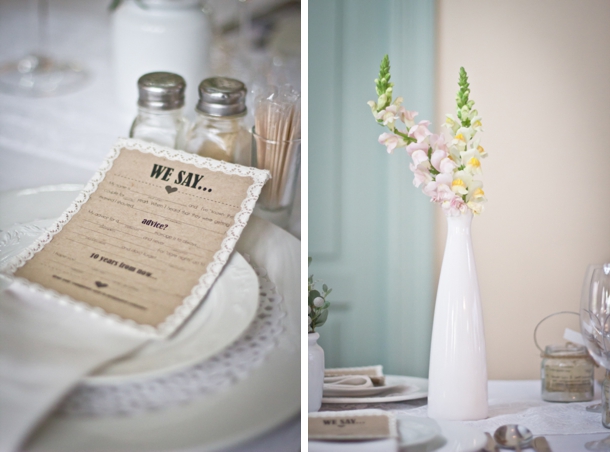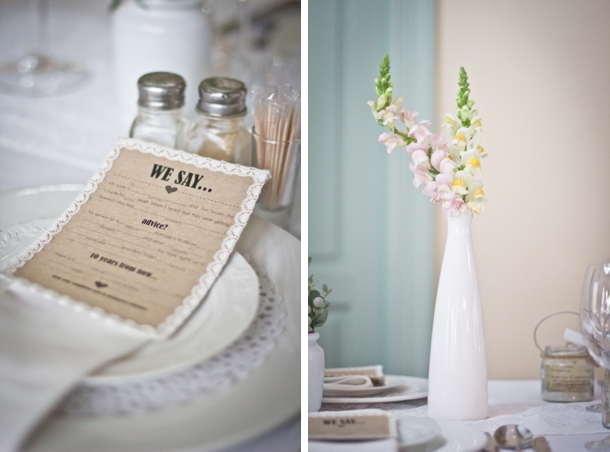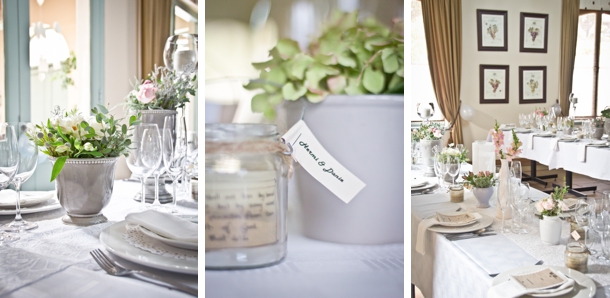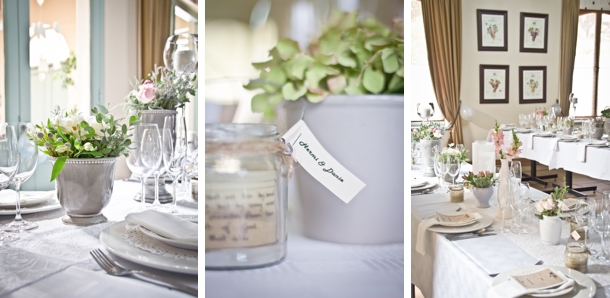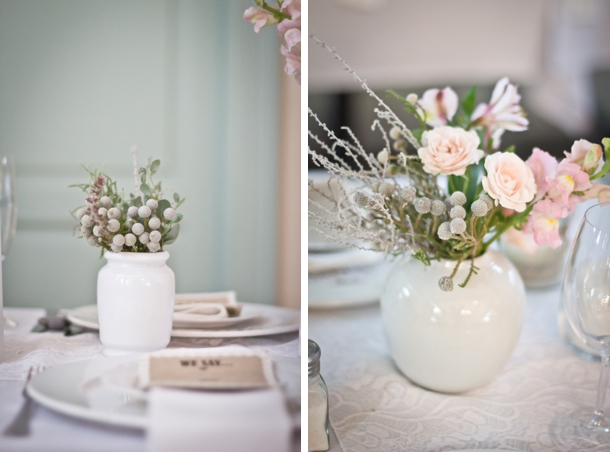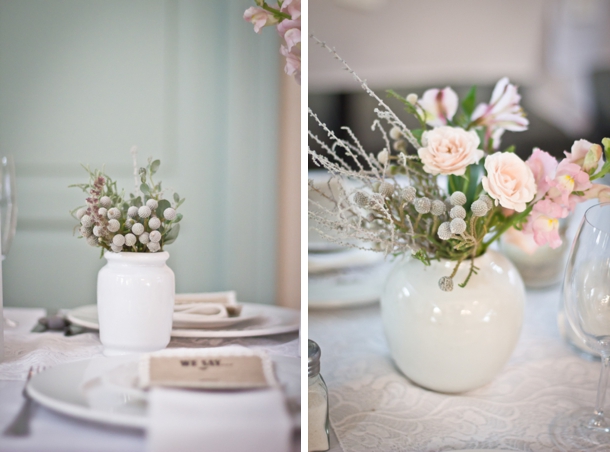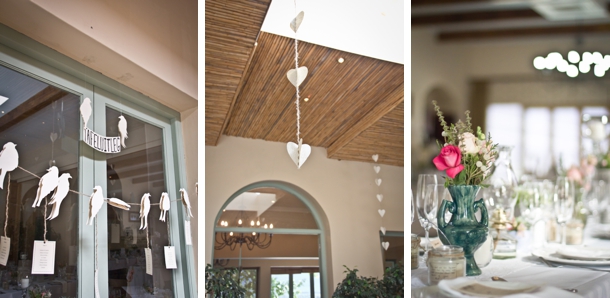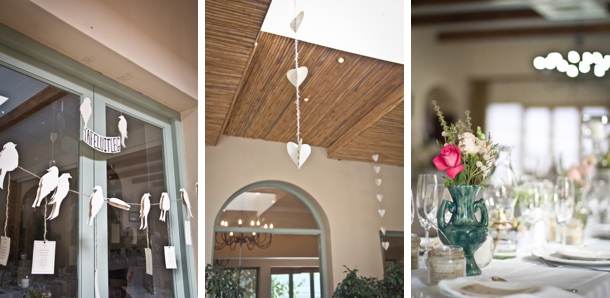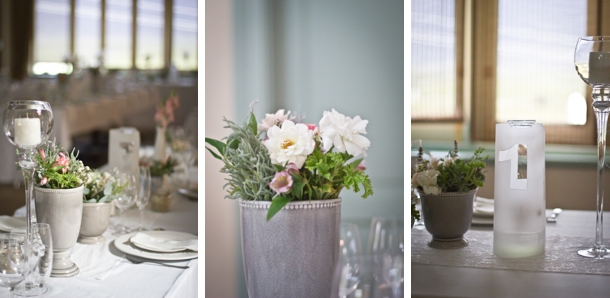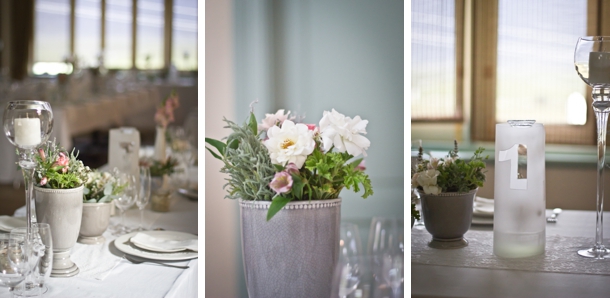 I loved our first dance – Jason Mraz's 'I'm Yours'. It just tells our story so well. During my husband's speech he also sang me a song that he wrote for me and I heard for the first time!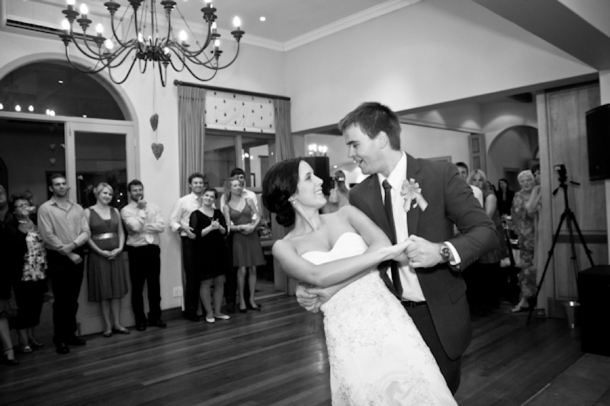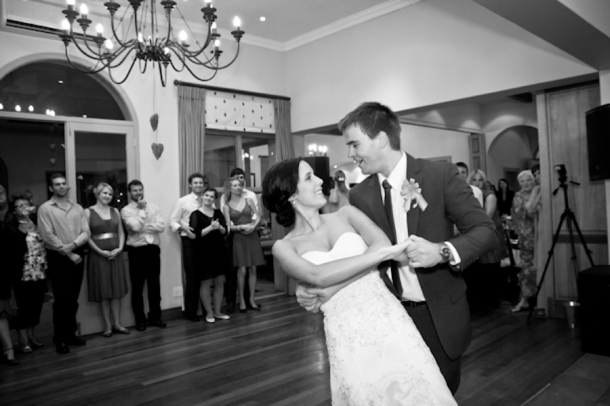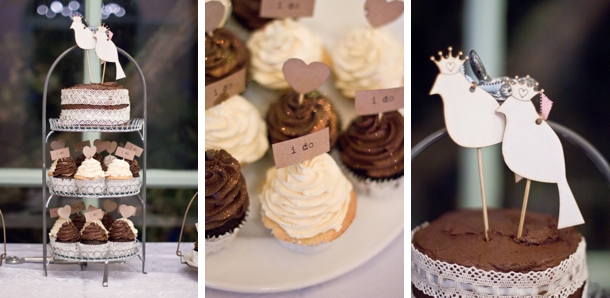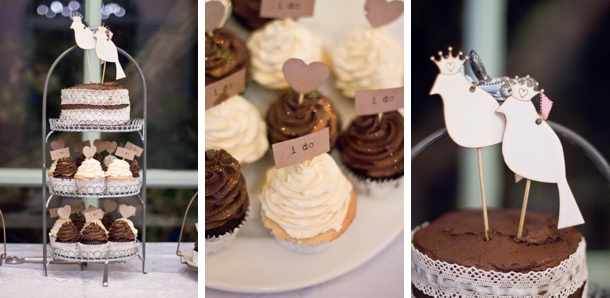 My advice to future brides is to just relax. Focus on who you and your husband-to-be are, and try to bring out your personalities. Do not look around too much, because there are so many beautiful things out there and it just makes one confused. Get an idea or concept you like and run with that. Use the lovely wedding blogs available for guidance – they helped me a lot. It is one day of your life and goes by so quickly, so just focus on the things that are going to last: your marriage. The rest does not really matter that much.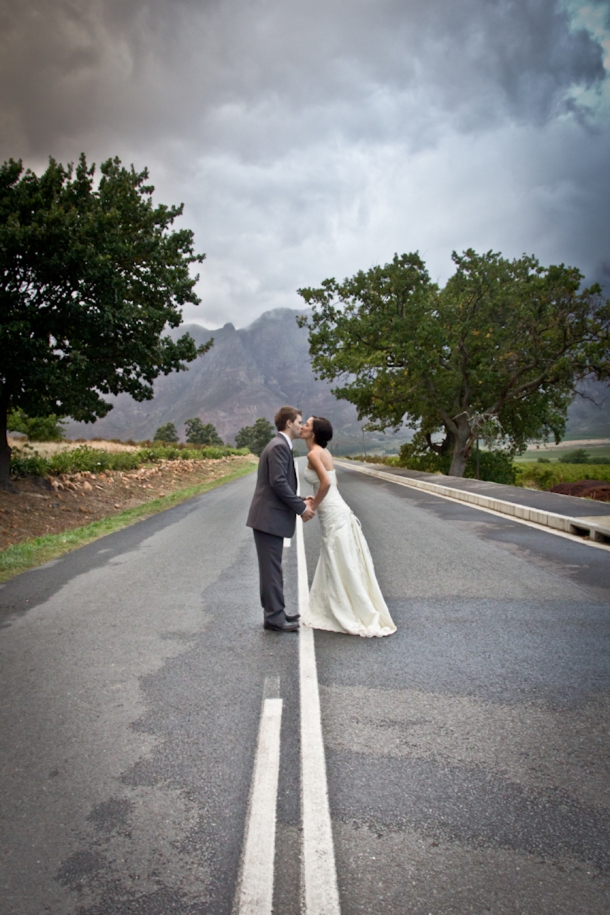 Thanks so much Ilze and Louren – and as always, big thanks and welcome for our photographer of the day, Nadine Aucamp. Check out more from the wedding on her blog.
SERVICE PROVIDERS
Venue & catering: Die Opstal | Photography: Nadine Aucamp | Flowers: Varsliefde | Cake: Die Huisvrou | Bride's dress: Bridal Affair | Hair & makeup: Sanmarie
SBB ♥ Nadine Aucamp Photography, a featured member of our Directory