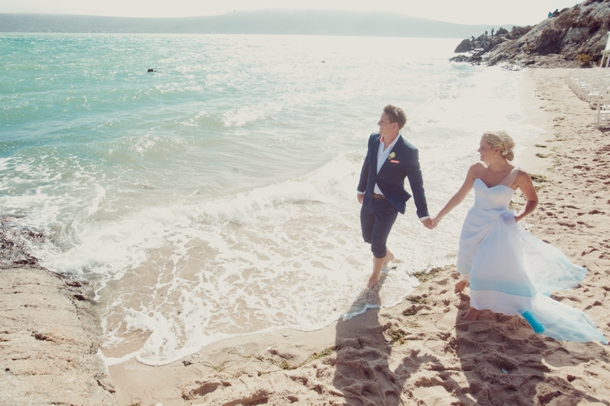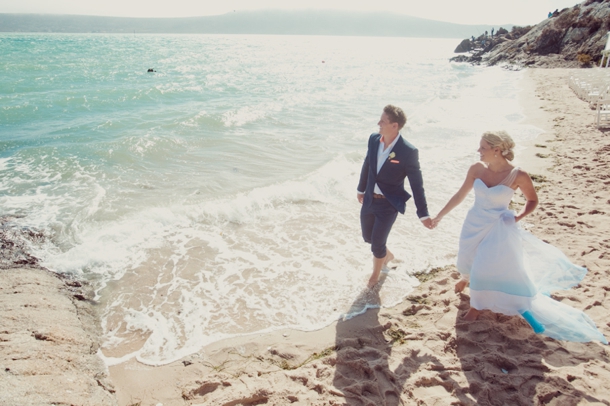 Sometimes weddings are like London buses – I went for ages without a lovely beach wedding to share, and now I have two in a row! Well, no complaints from me, as I absolutely adore a toes-in-the-sand, head-in-the-clouds, chilled out beach do and today's wedding is one of the most chilled I have ever come across. And you guys, an ombre wedding dress. Seriously, I LOVE. Leigh and Andrew are the picture of Cape Town surfey gorgeousness, and their love story had so much to do with Langebaan that they couldn't help but decide to get married in this special seaside town. They chose a super fun palette of turquoise with a pop of colour-of-the-moment neon, which not only worked with their wedding style but reflected their complementary personalities. My dear friend Monica Dart was there as the photographer, to capture all the life and movement and colour, as only she can. What a lovely wedding.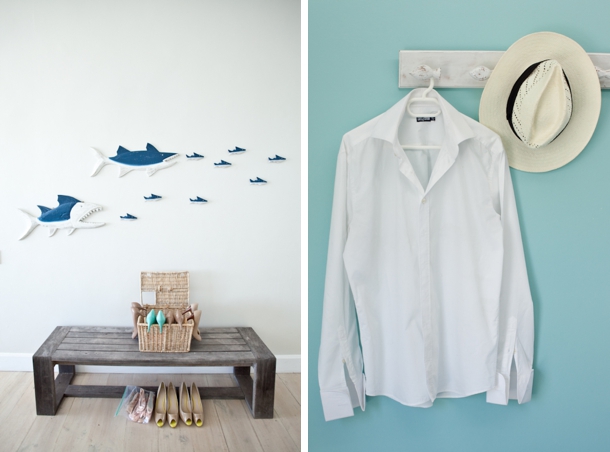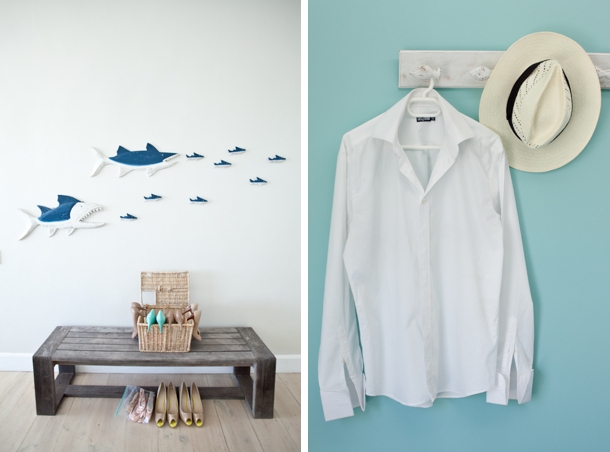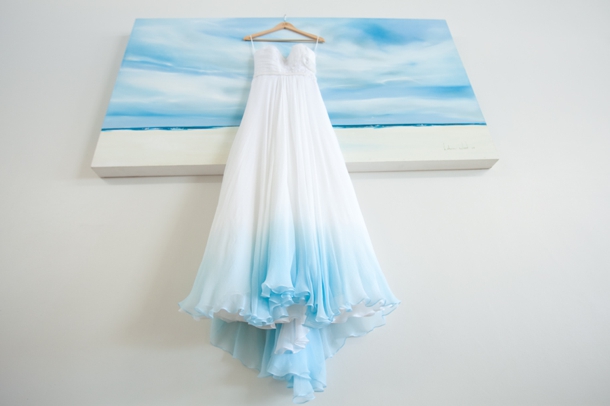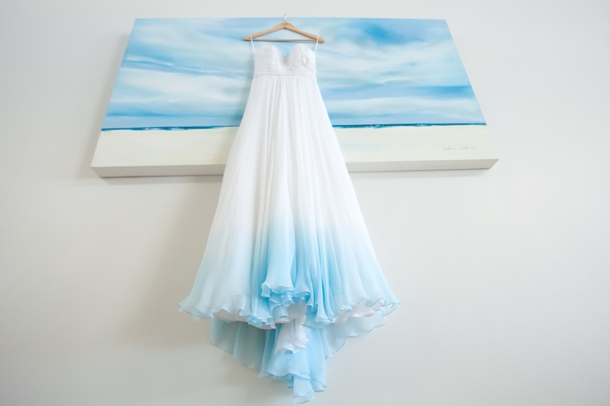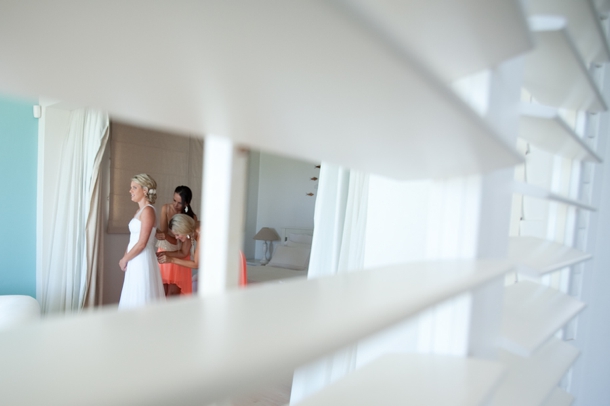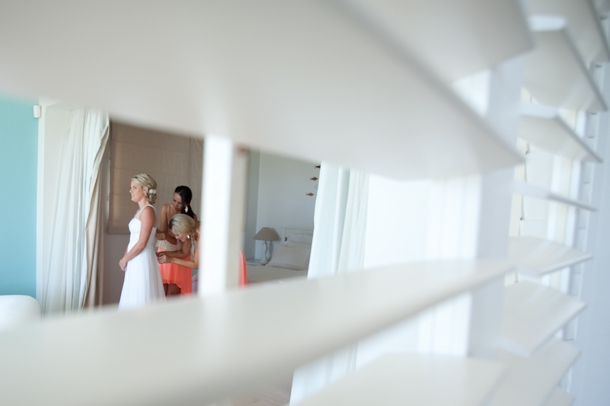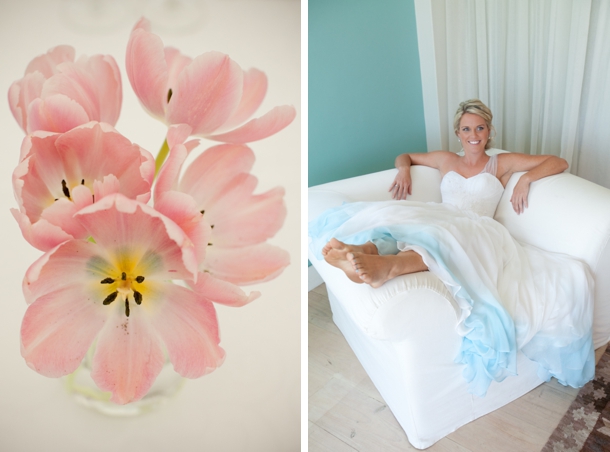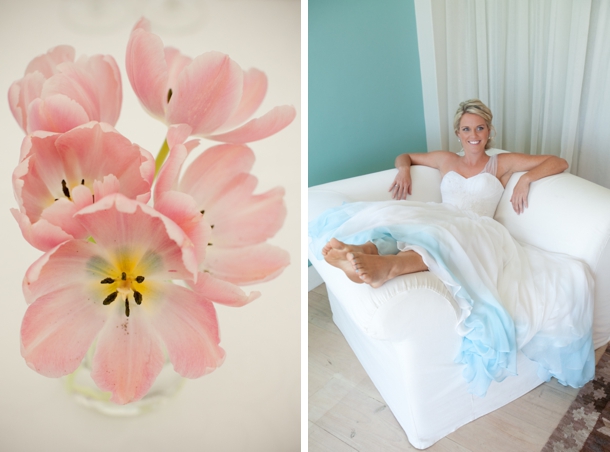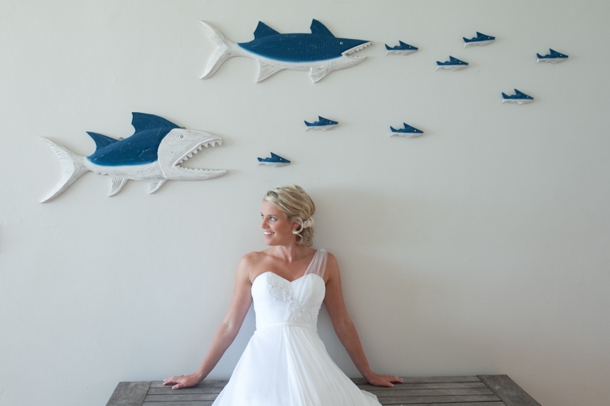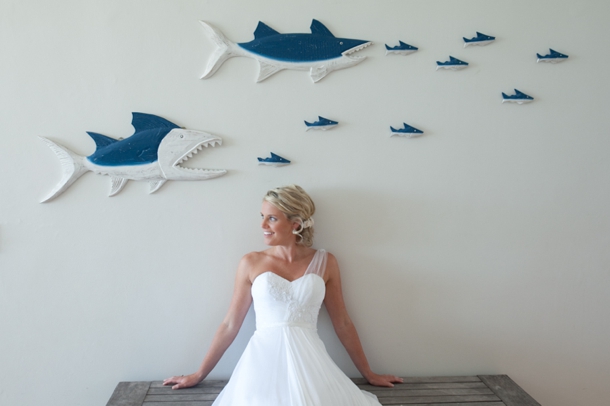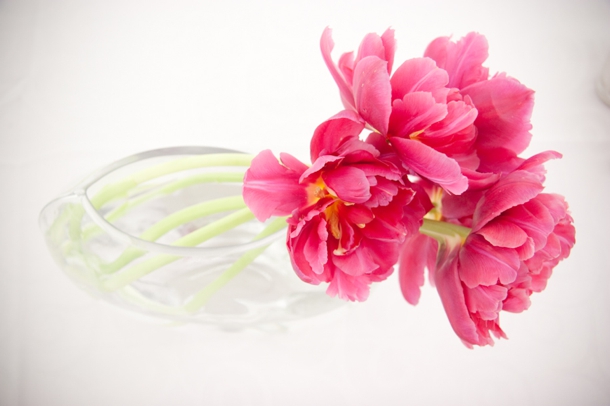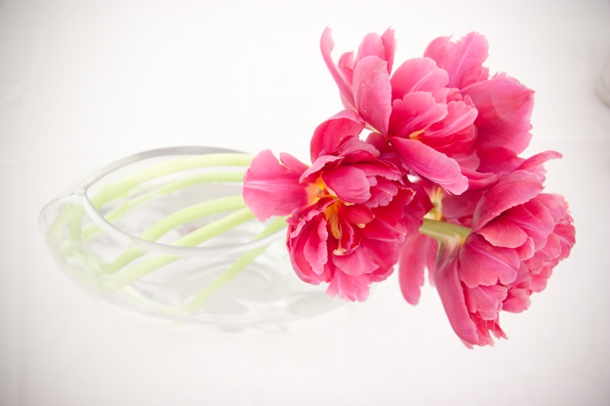 From our bride, Leigh:
Andrew and I met many years ago in our school days, and then again in London in 2005. But we really got to know each other when he returned from London in 2009. It all began in the small west coast town of Langebaan, where we were with our special mutual friends. After much chasing and persistence we became a couple, and there was no turning back. I'm very thankful for his chasing!
Three years later we got engaged on a houseboat in Kraalbaai, Langebaan.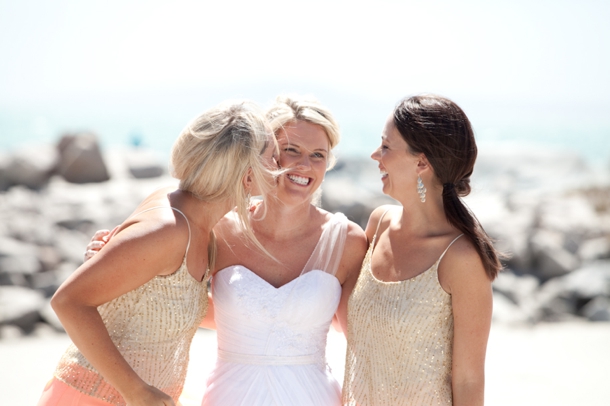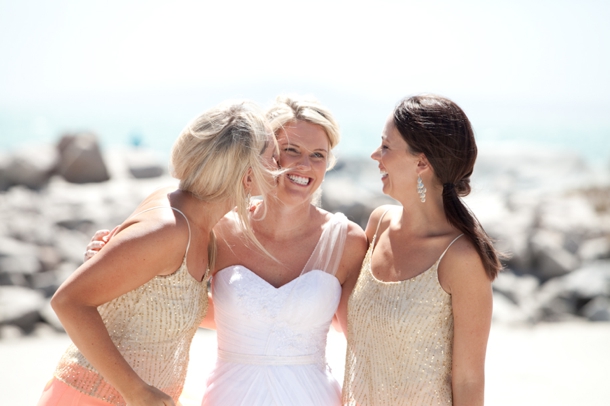 We chose Langebaan for our wedding location as it had become very special to us over the years. We have both been going there since we were young. The Farmhouse, where we had our reception, is an old Cape Dutch hotel with uninterrupted views on the lagoon.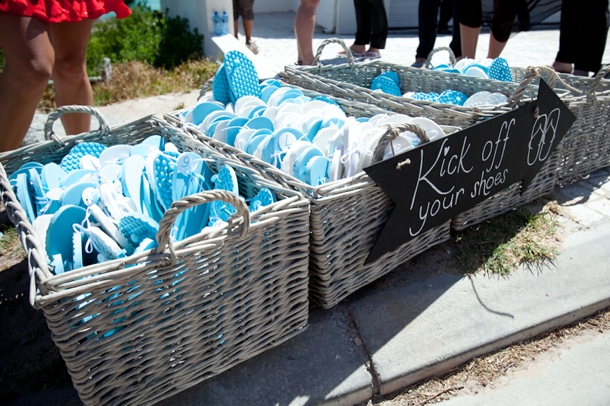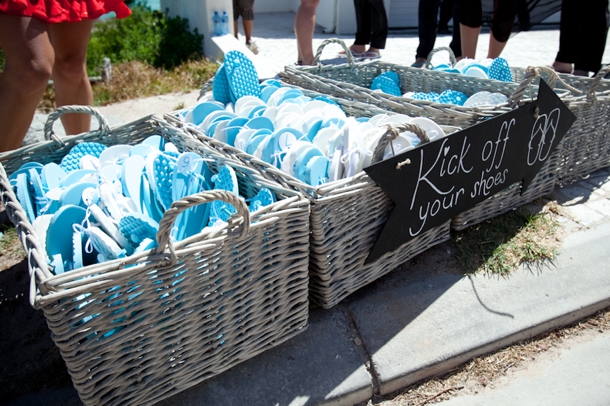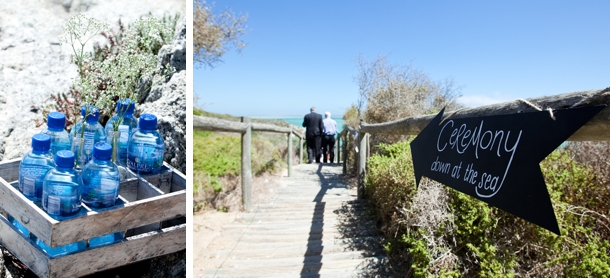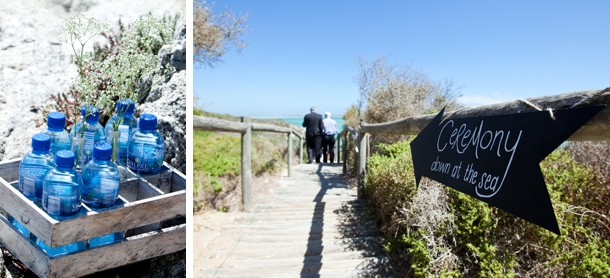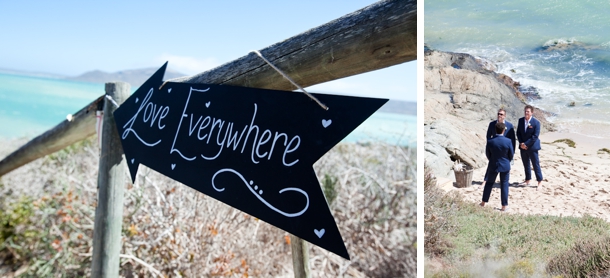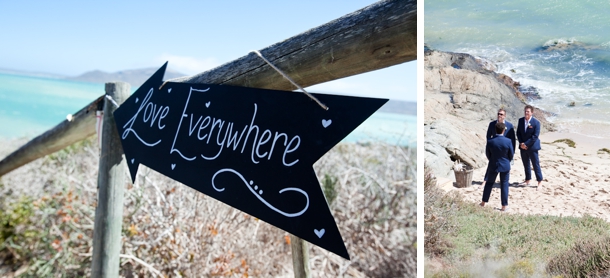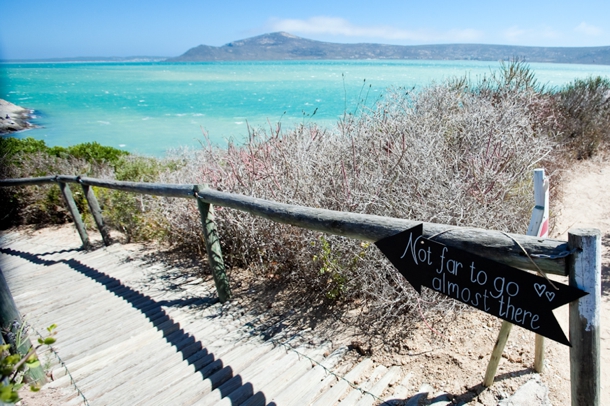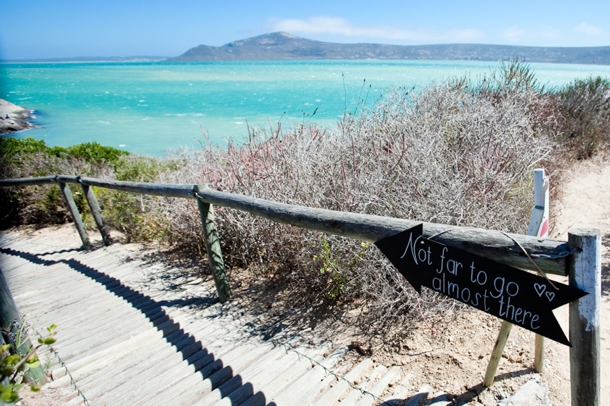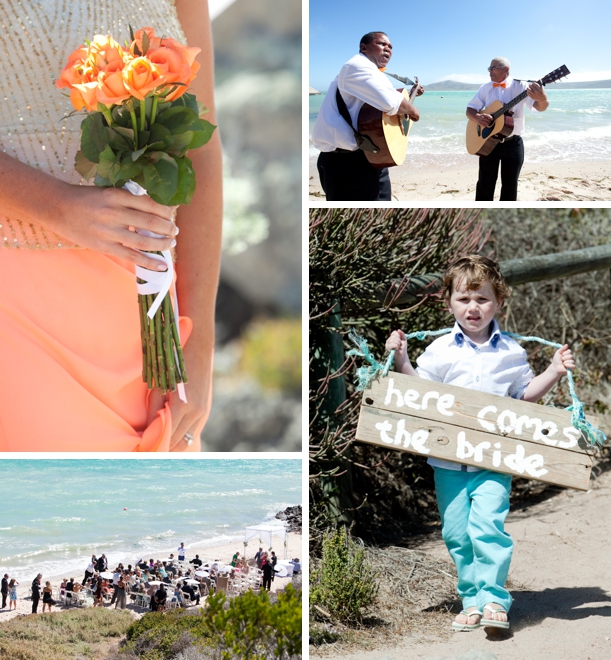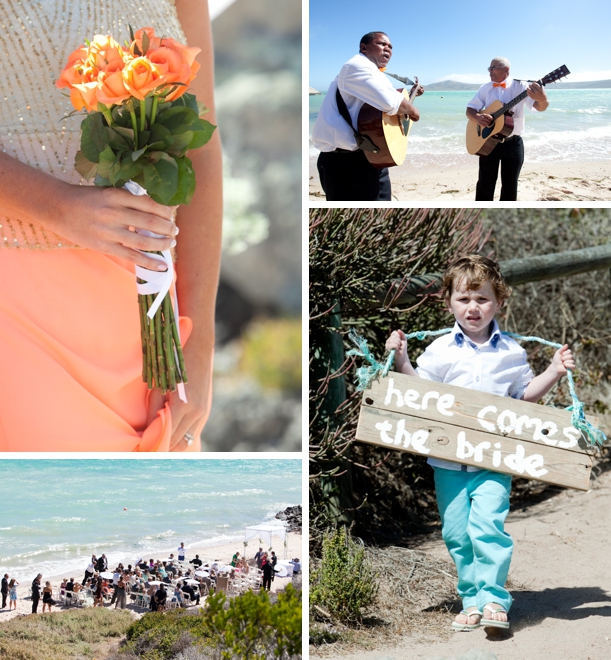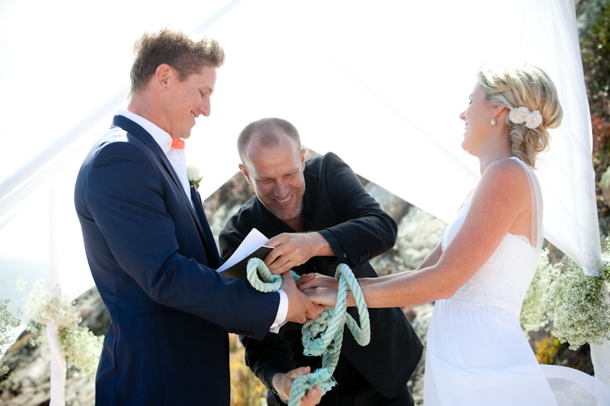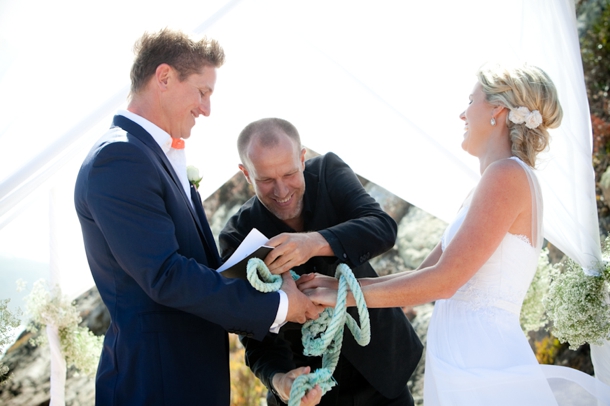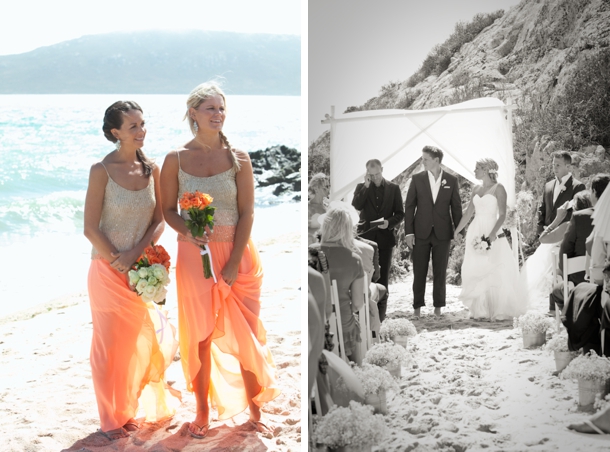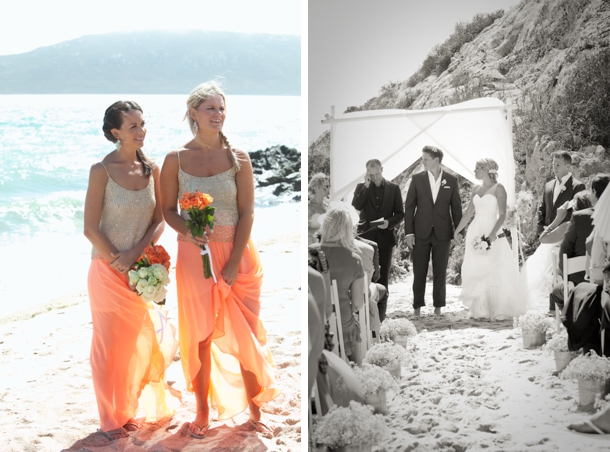 Our theme colours were turquoise with a pop of neon coral/orange. We wanted to keep things simple but at the same time elegant, with just white roses as our flowers. The look really summed us up: the marquee with the entire lagoon on view, the simple decor with quirky touches such as the cheese stack cake and the striped dance floor, as well as giant helium balloons 2m high (a bit tricky in the wind!)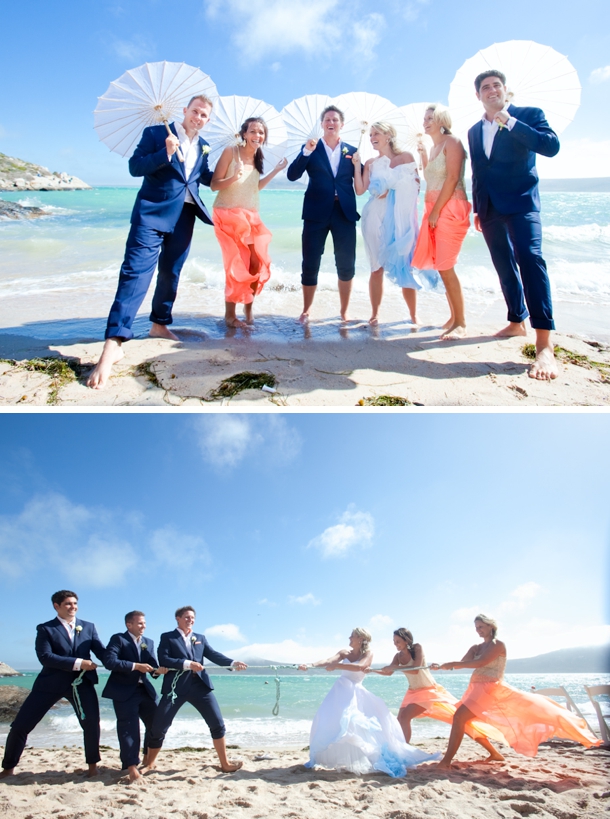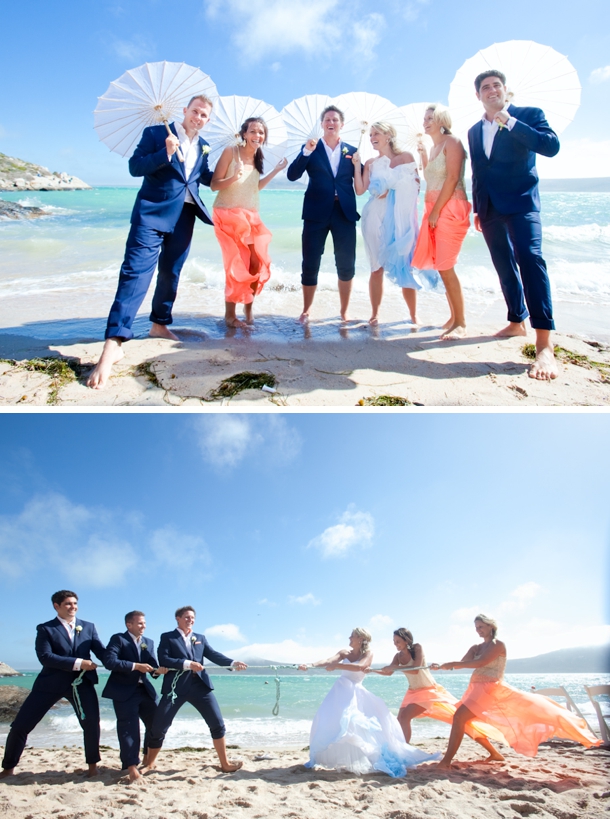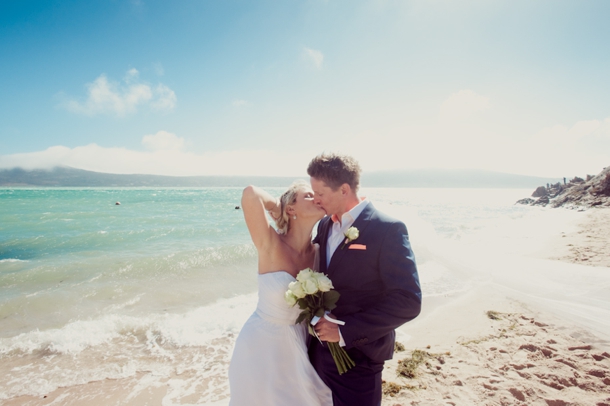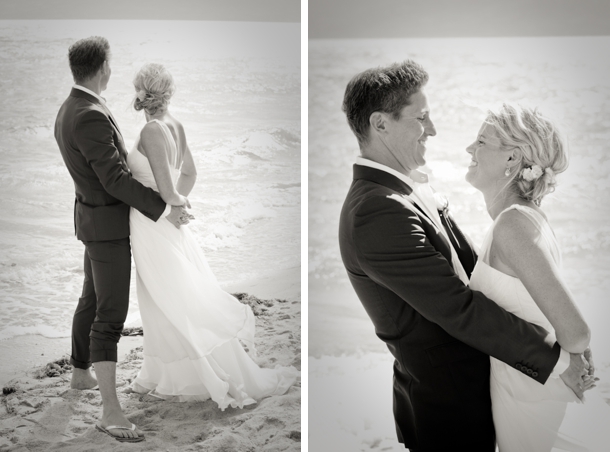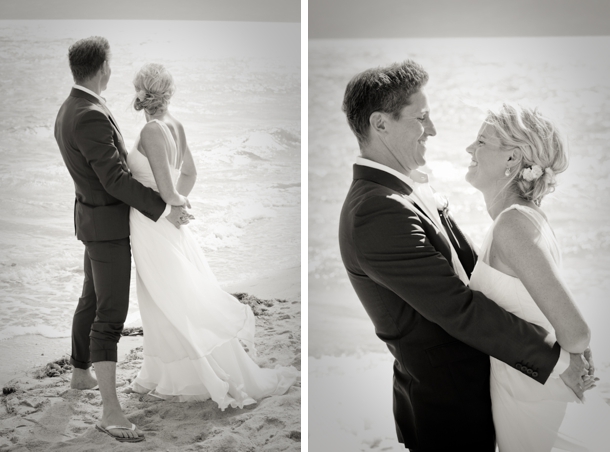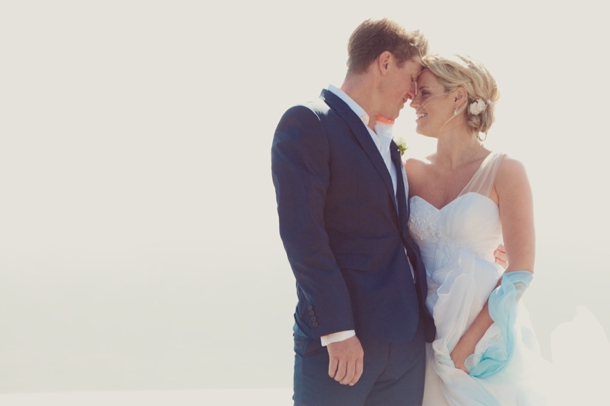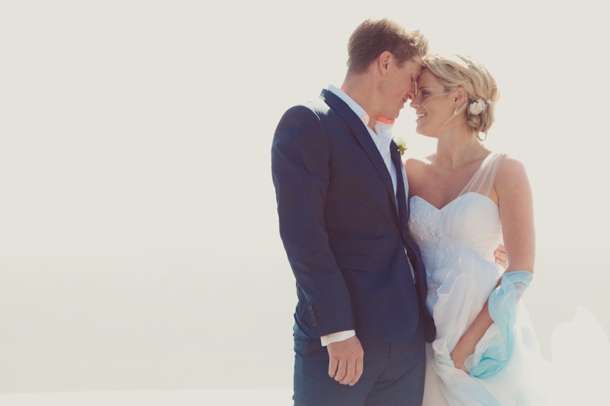 I wore an off-white dress dip dyed in turquoise as my quirky touch, while Andrew had pops of neon on his shirt, shoelaces and handkerchief. The neon colour definitely reflects Andrew as a person, as he is always the life and soul, with so much energy; game for anything, and so much love to give.
I loved our special ceremony on the beach: the emotions, the wild wind, the sea and of course, the expression on Andrew's face throughout the ceremony. Our speeches were also a highlight, as was having our friends and family in one space at the same time.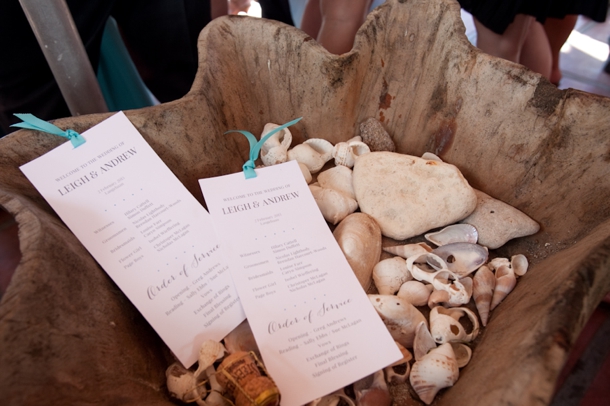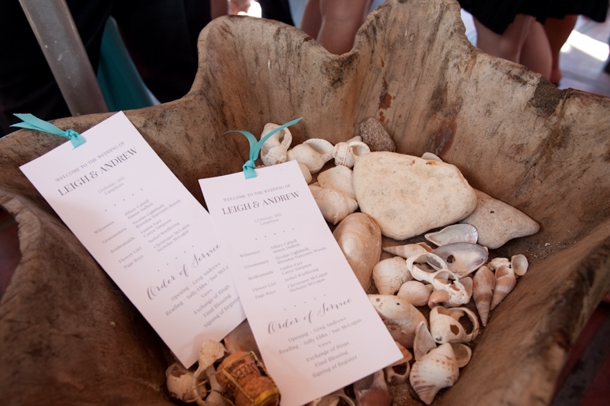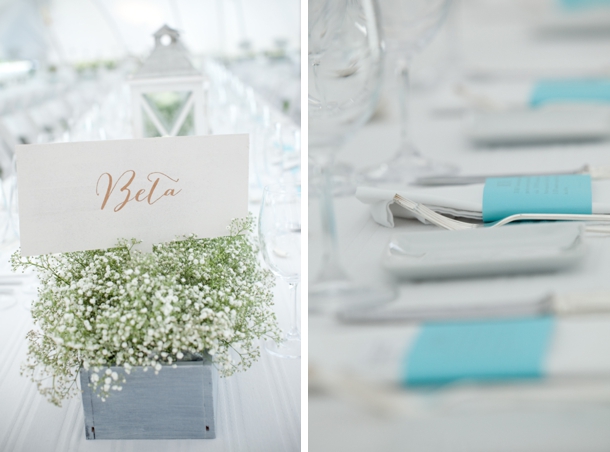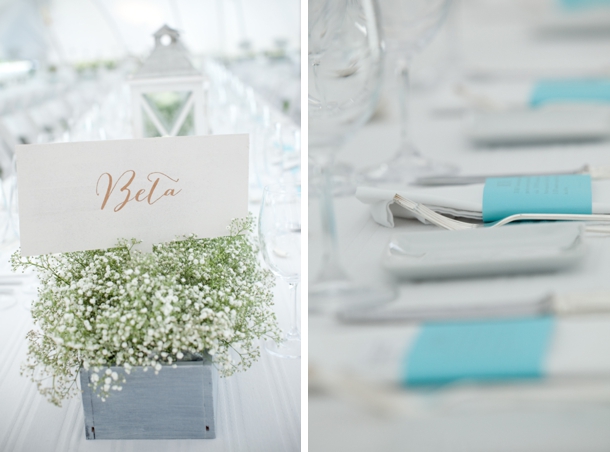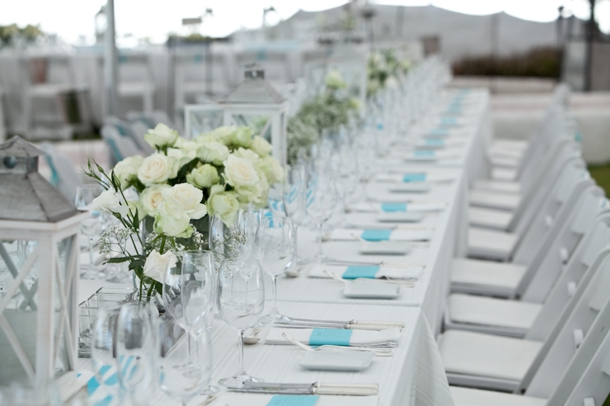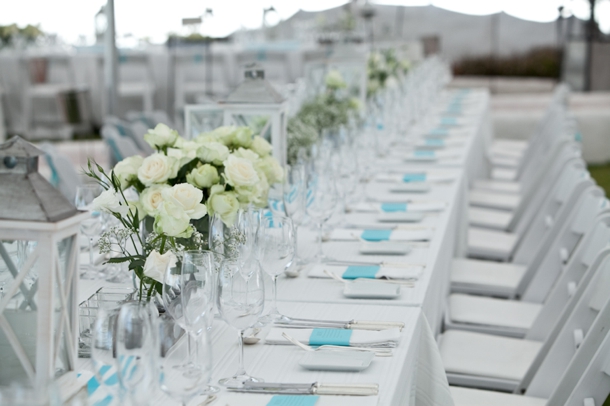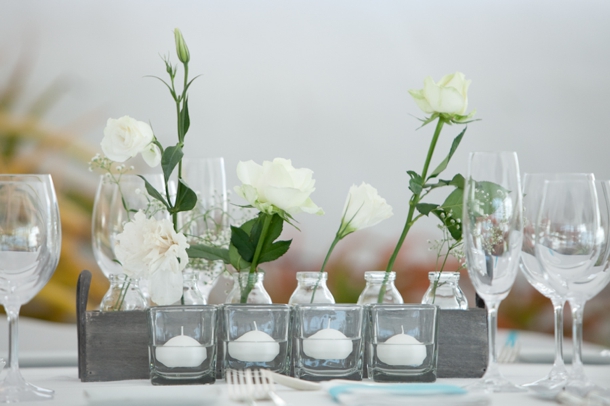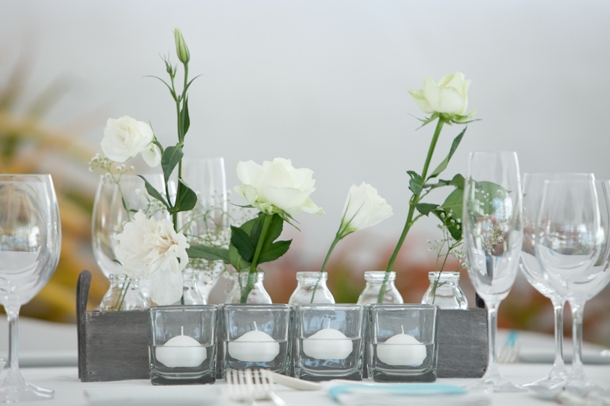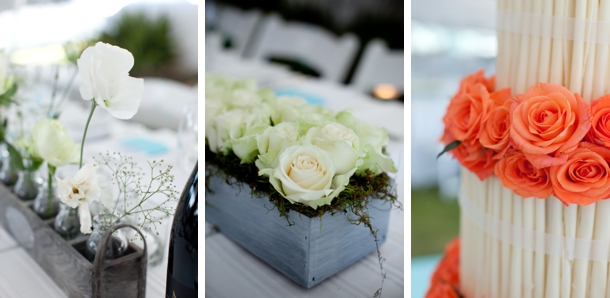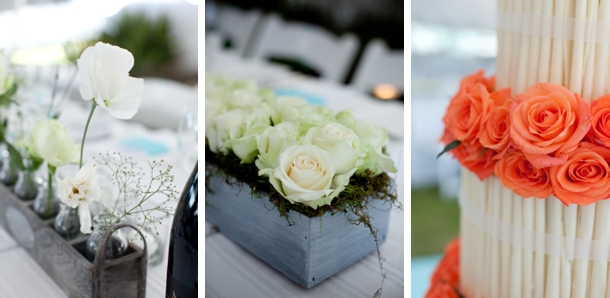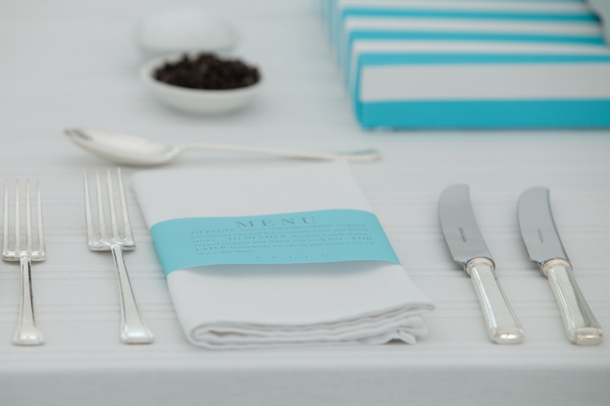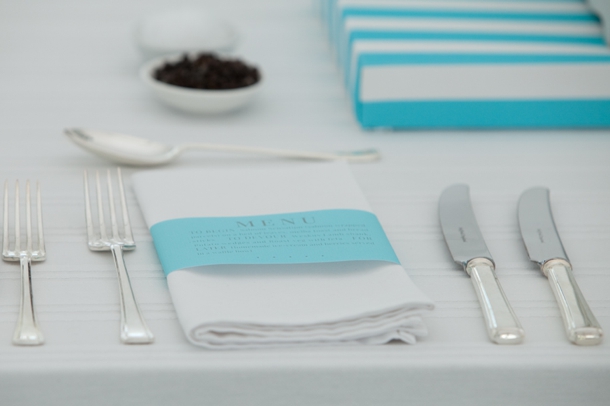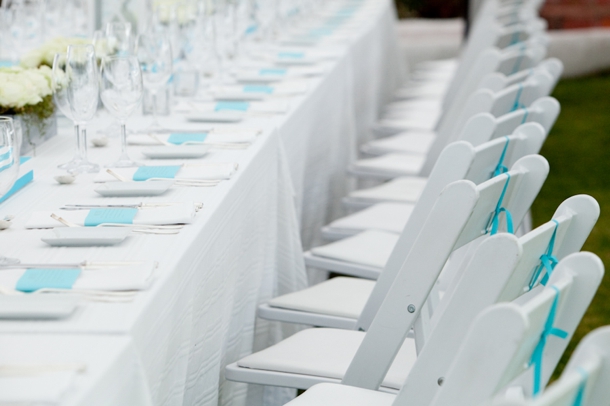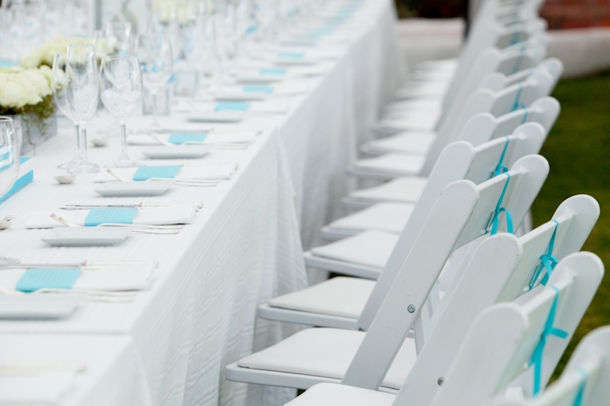 My advice to future brides is not to get too wrapped up in the small stuff, book everything and then chill for three months and don't over-talk or over-complicate wedding stuff. In our household we were chilled, accommodated family and friends' needs and requests so everyone was happy. I can honestly say it was such a stress free six month engagement – Andrew and I enjoyed every moment of it . I carried a flip file with all our suppliers/contacts and details in it…. It was a win! Definitely hire a wedding planner, if not for everything, but definitely for the day so things run smoothly. Timing is so IMPORTANT, so make sure your MC sticks to the schedule and your friends have more than enough time on the dancefloor.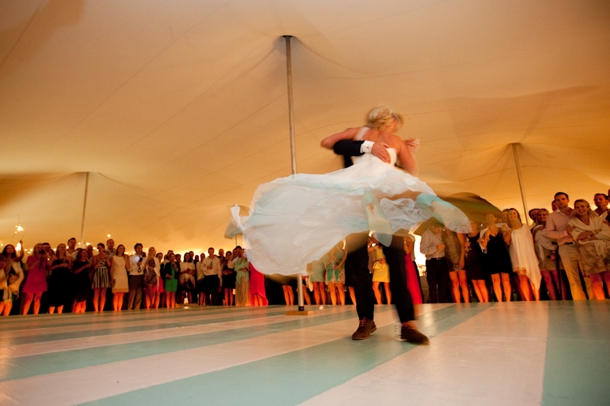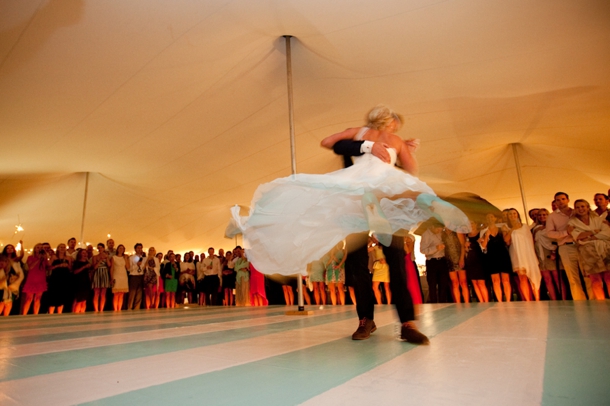 Huge congrats to Leigh and Andrew, and thanks for sharing! And of course, a big shoutout to Miss Monica – thank you lovely! You can (and should) head over to her website for even more.
SERVICE PROVIDERS
Venue & catering: The Farmhouse Hotel | Photography: Monica Dart | Co-ordination, flowers & decor: Bright and Beautiful | Cake: Farriers | Stationery: Lara's Designs | Bride & bridesmaids' dresses: Rosenworth | Hair: Nicole Bester | Makeup: Bridgette @ Vanilla Essence | Hiring: Urban Tonic | Hiring: Chattels | Hiring: Be-dazzled | DJ: Eugene van Eck | Decor: Candelion Designs | Decor: Designbox
SBB ♥ Bright and Beautiful Flowers & Table Decor, a featured member of our Directory