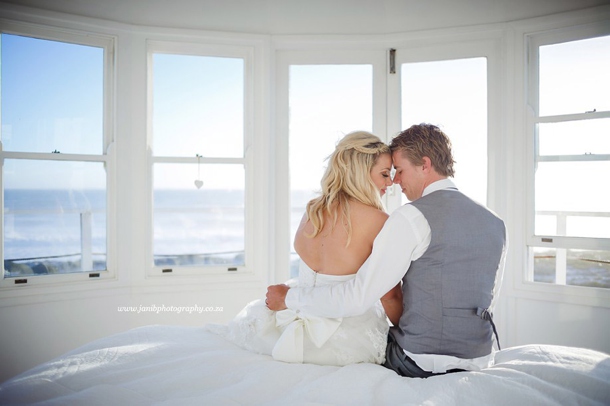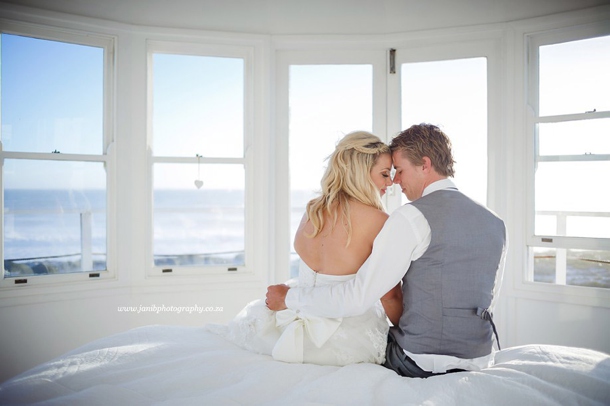 Morning, lovelies! I thought it was about time we had a beach wedding here on SBB – as much as I love the countryside, I do love me a good ol' toes-in-the-sand beach ceremony and reception so much. And I LOVE today's beautiful, personal celebration, which brings together everything we love about the West Coast, including an absolutely stunning beach house venue. I fell in love with The White House (SO my dream house!) when I came across it a few months back (have to stay there at some point!) and I immediately wondered how it could be used for a wedding, bearing in mind that it's a house of course, and not an actual venue. I had assumed that meant tiny intimate weddings only, but our creative couple today utilised not just one but three separate locations and created a sort of open air market to really capture the Yzerfontein vibe. Such a brilliant idea, don't you think? Jani B's pics capture every lovely moment in glorious detail and colour – I especially love the couple pics up in the master bedroom with that glorious view of the sea. It's the perfect way to send us off into the weekend dreaming of summer! Oh, and PS, these two have the most amazing story of how they met and Corey's proposal, so don't miss it!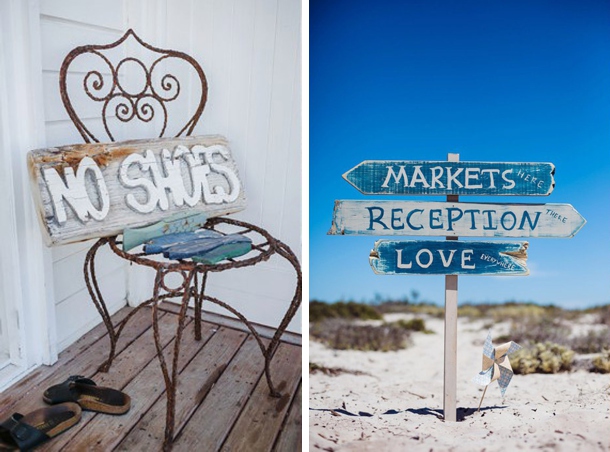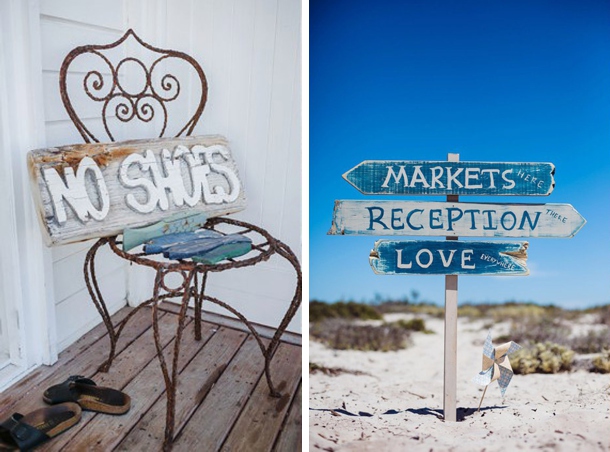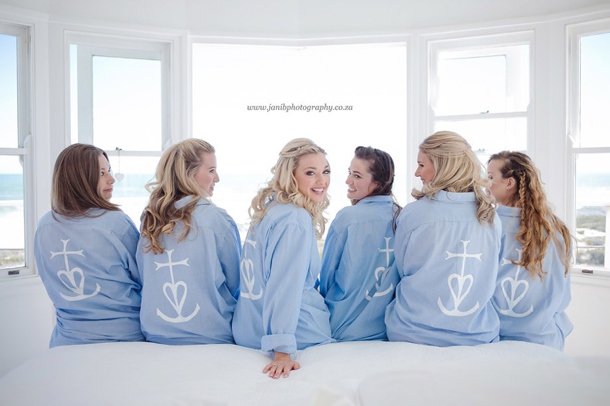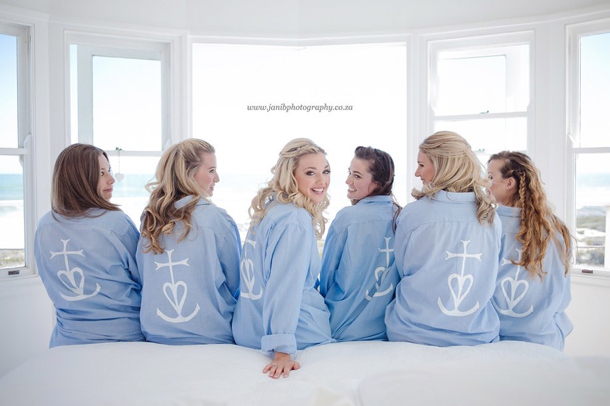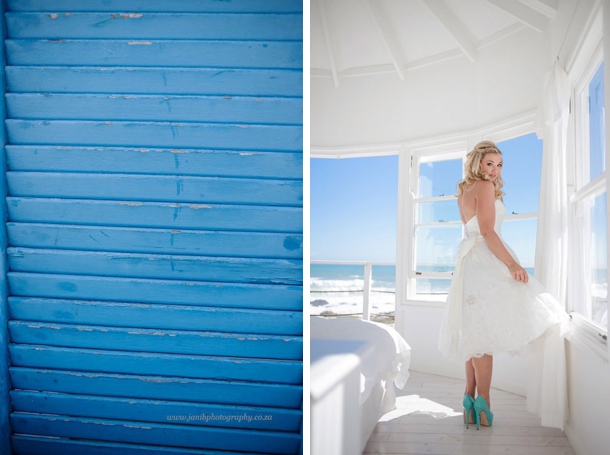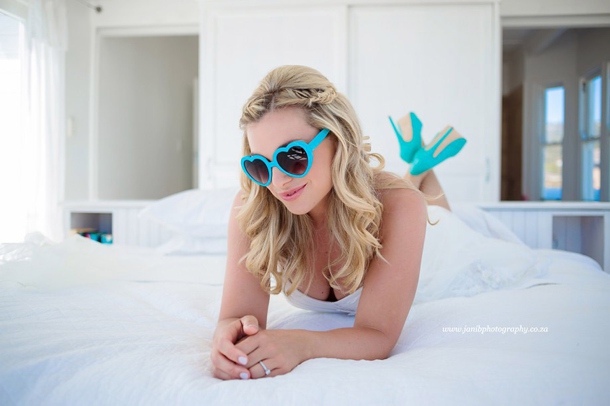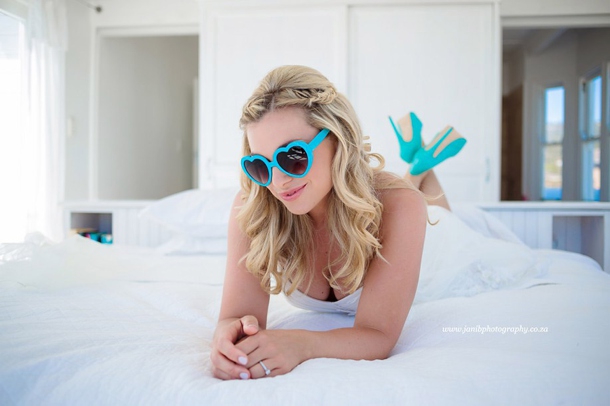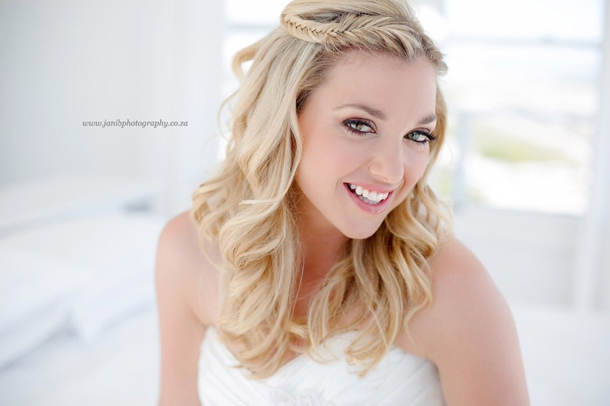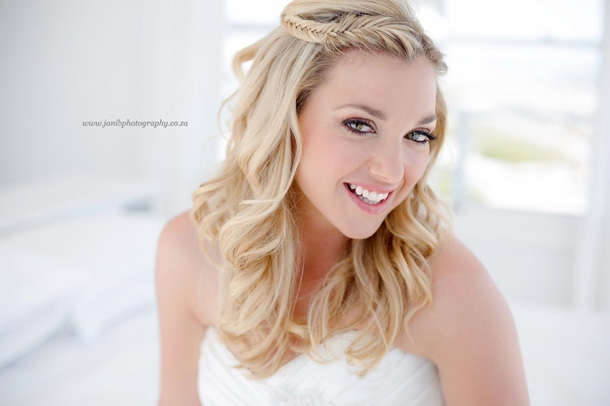 From the lovely Jo:
Corey and I were both working on superyachts when we met just over two years ago. The boats we were working on at the time were having some work done in a shipyard in a little town called La Ciotat in the South of France. Within two weeks of meeting we were smitten and I just knew he was my soul mate but my boat was leaving for Italy so I packed my bags, asked for my passport back and told the captain that I was staying. That was the best decision I ever made. We did eventually have to go our separate ways for the summer when I got a new job but we saw each other every chance we got, even sneaking off the one night when we were both in Sardinia to sleep on the beach and Corey flying to Venice to spend my one night off with me.
At the end of the summer Corey came with me to South Africa so he could do his officer's course and meet my family. We spent a few days at Sun City and I had planned for us to do a hot air balloon safari over the Pilanesberg Game Reserve – little did I know that while I was corresponding with the organisers of the safari, so was Corey! He had me think that I had planned the whole thing but meanwhile he had organised for them to get a mini hot air balloon sent from PE so that it could just be the two of us in it and he had a massive sign made saying "Marry Me Jo?"that the ground staff laid out at just the right moment. There were 2 other balloons in the air at the time and I thought there must be another Jo in one of the other balloons when we flew over it but when I turned around, Corey was on one knee holding the most beautiful ring and asking me to be his wife. It was incredible.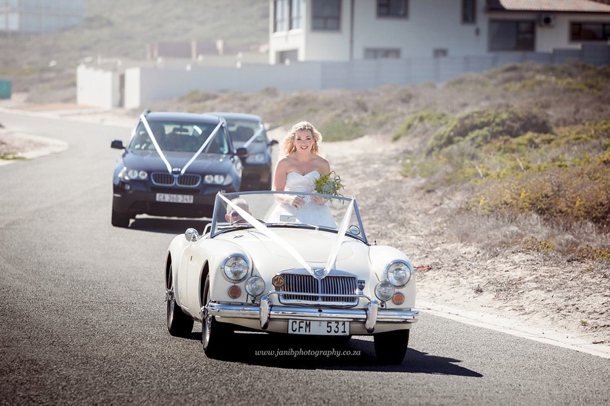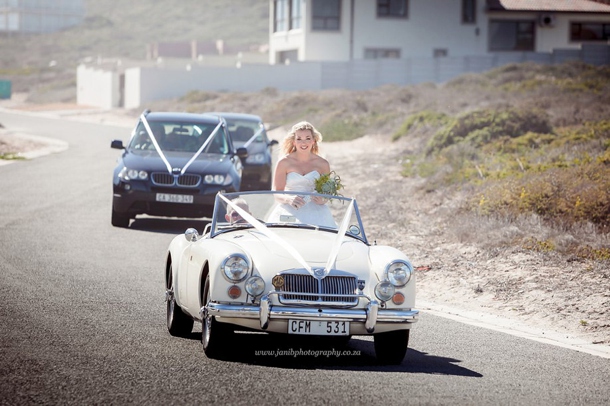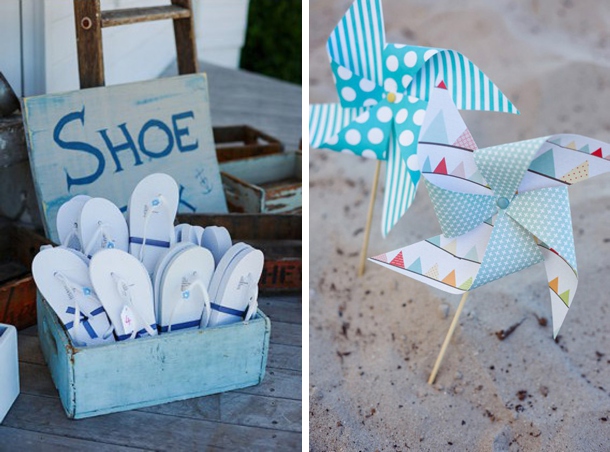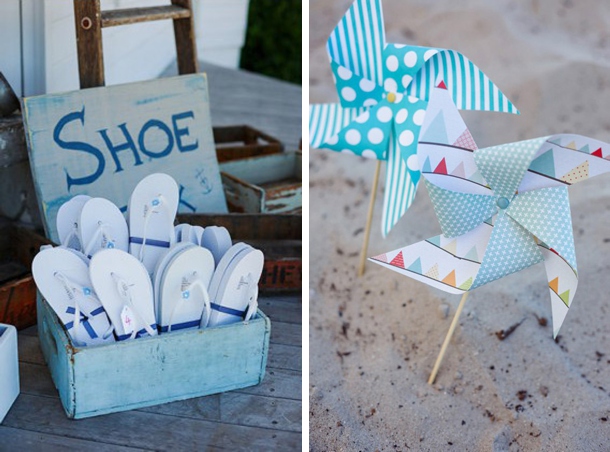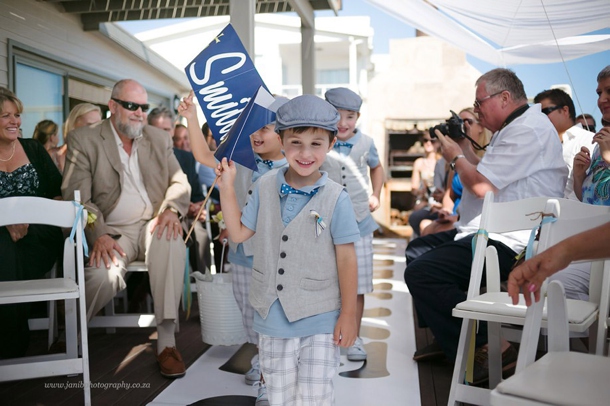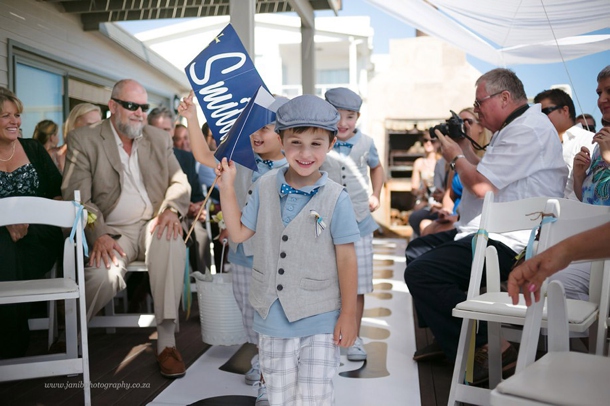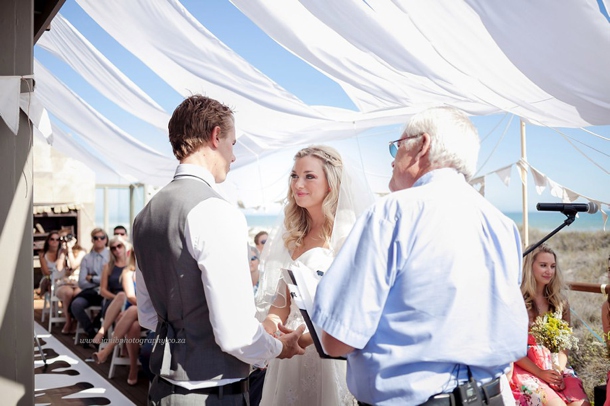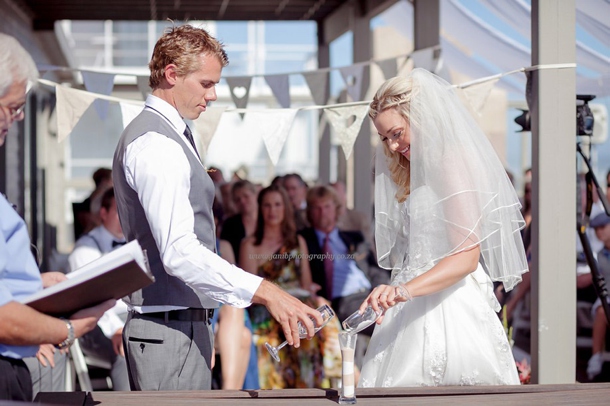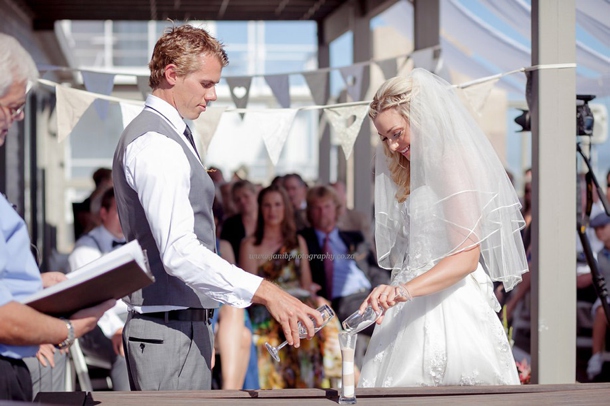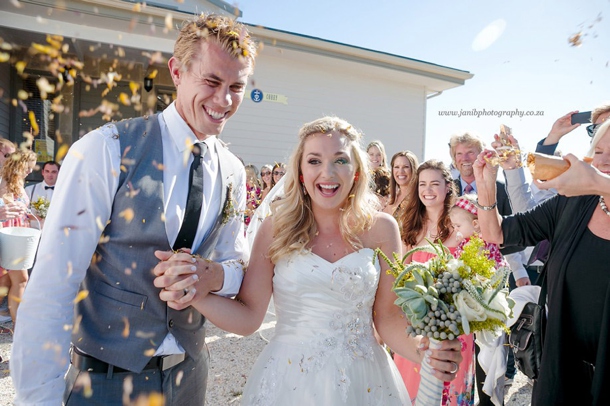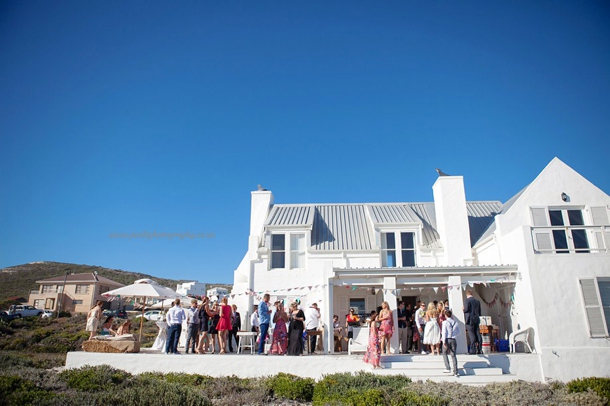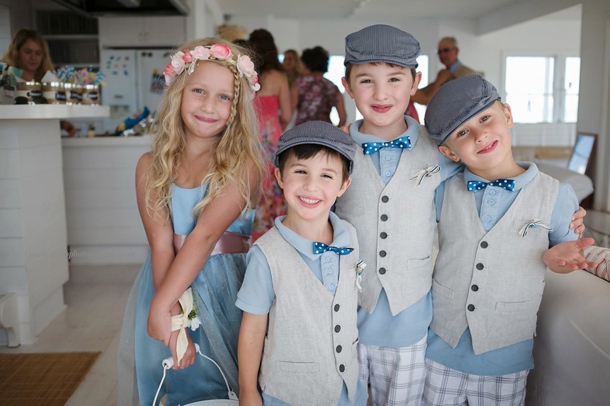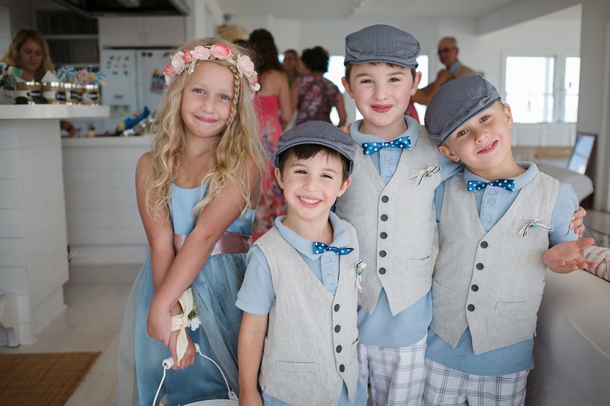 We had dinner at Muisbosskerm on the West Coast just before we got engaged and we both decided there and then that when we got married we were going to have a wedding with exactly that vibe. Beach, West Coast, chilled. Corey surfs and we have both lived on the water for years so it was a no-brainer to get married on the beach. We wanted a relaxed, intimate wedding and to just spoil our guests. Our main priority was for everyone to have an absolute party. I did get a little carried away though and our rustic beach wedding soon took on a life of its own. We ended up using three spectacular beach houses- one for the ceremony, one for drinks and canapes and another for the main reception. We created a mini market for the after ceremony drinks and we had all the food done on outside braais for the main reception, all West Coast style with mussels and crayfish. Our caterers were beyond amazing.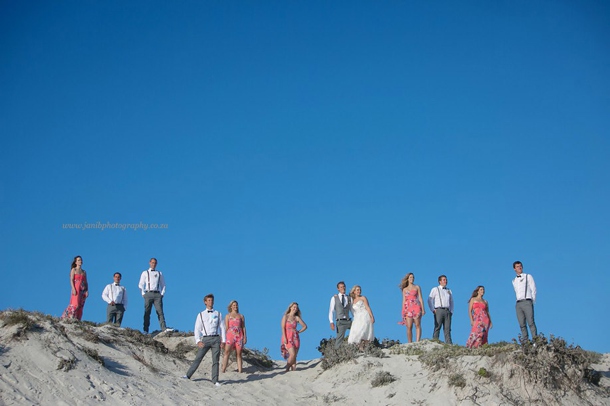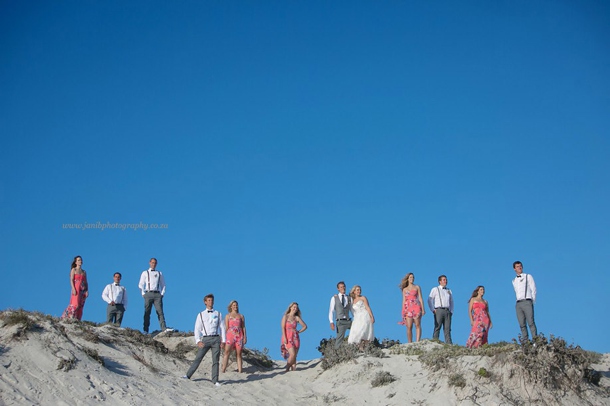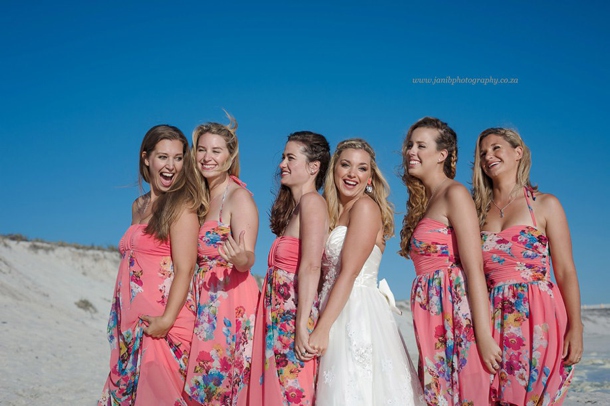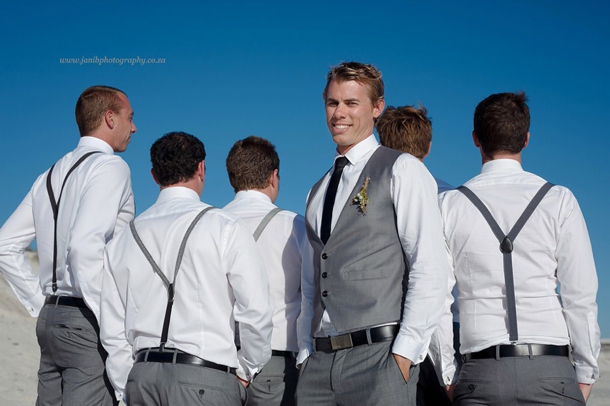 The town where we fell in love in the south of France has an emblem that represents it and it stands for faith, hope and love. This emblem is everywhere there from bumper stickers on cars to a massive neon light sign on a traffic circle. I had read about this place in a book years ago and it sounded like the most magical place ever and it is. We both felt a strong connection there and we have the emblem as matching tattoos so we used it on all our stationery as the emblem of our wedding. I tried to get my craft on and make things for the wedding but I am really not good at it so although I had fun we didn't use anything I made; however I did have fun picking up things throughout the year from whereever we travelled. My sister and my mom also made metres and metres of beautiful bunting for us. Corey made all the wooden signs for the wedding.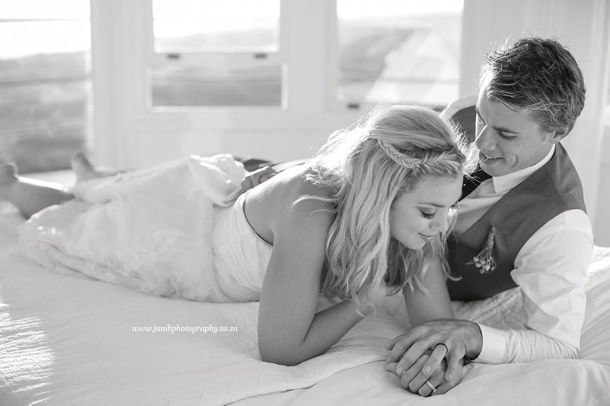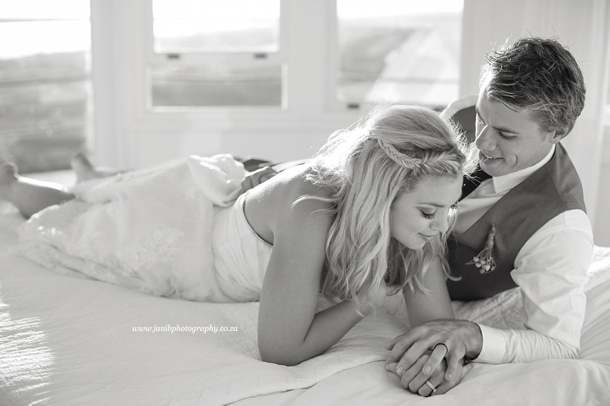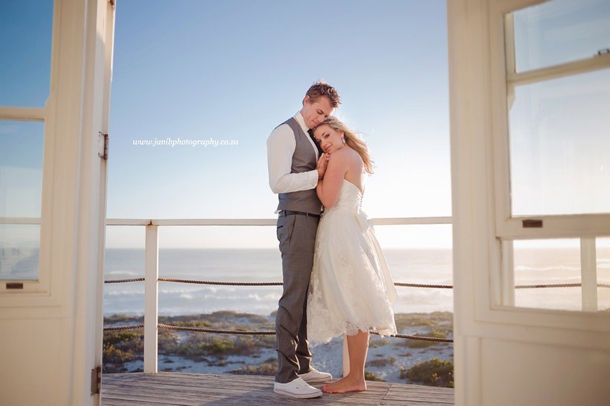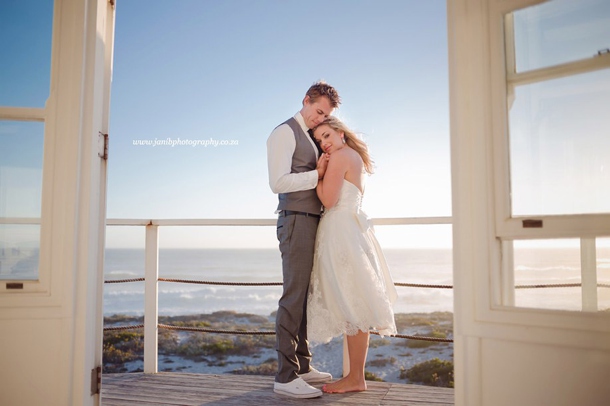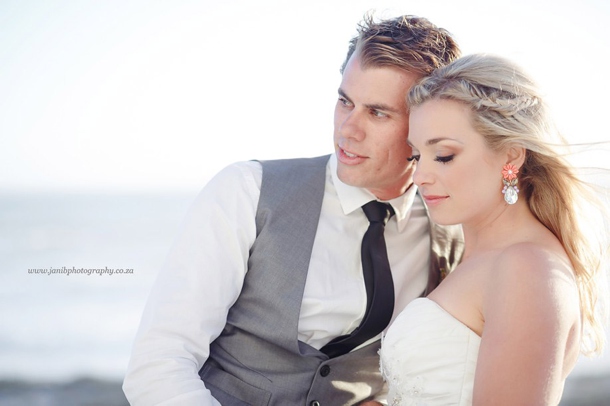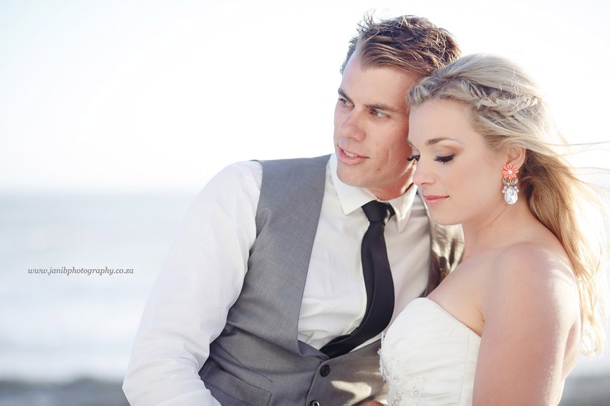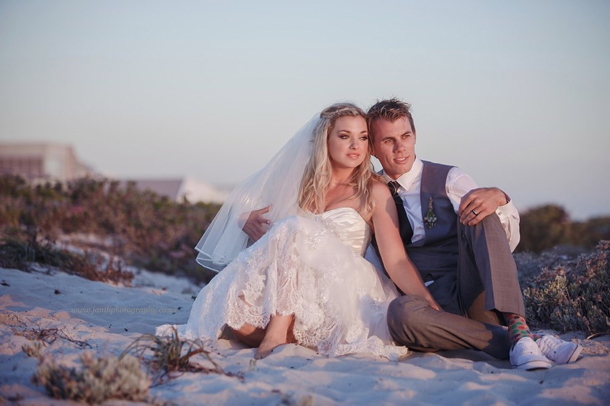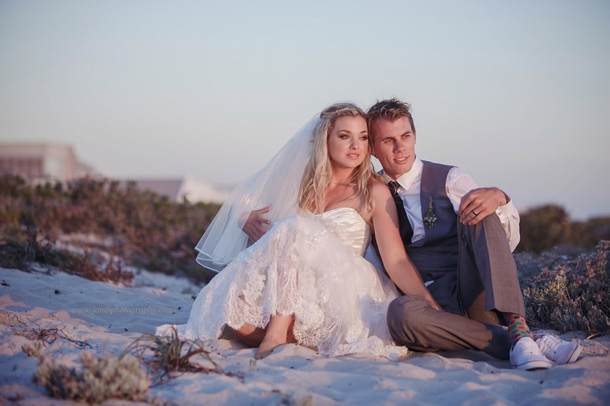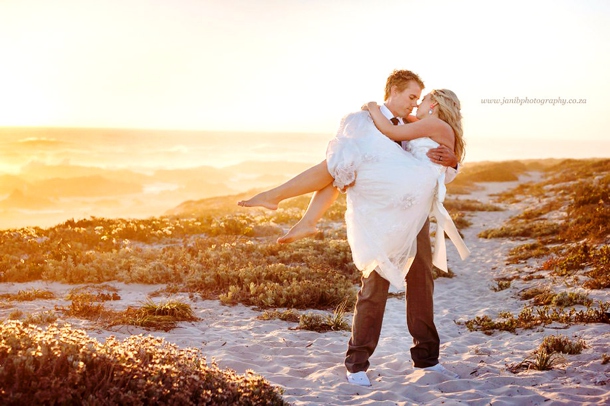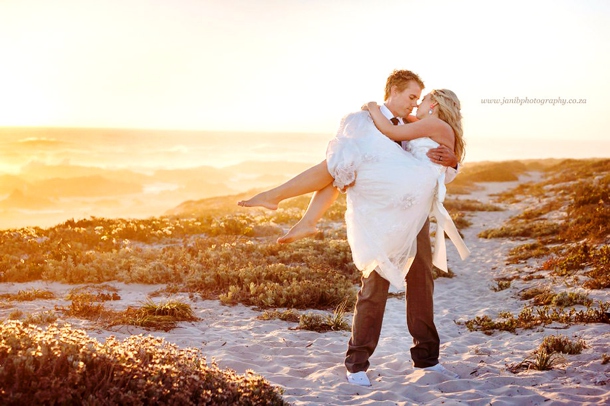 We used the "marry me Jo?" sign from the proposal as the aisle. Dad was especially pleased with himself because he got to drive me therein his 1960s MG, and my mom had sewed the shade for the ceremony herself the day before. I'll never forget walking down the aisle with my dad towards my true love with a feeling of sparkles in my tummy and a deep knowing that I was exactly where I was meant to be.
After that, by far my favourite thing was having everyone that we love from all corners of the globe together in one place for four days and seeing them all having such a good time together, as well as waking up the next day to the sound of the waves crashing, my gorgeous husband next to me, my garter still on and a big smile on my face.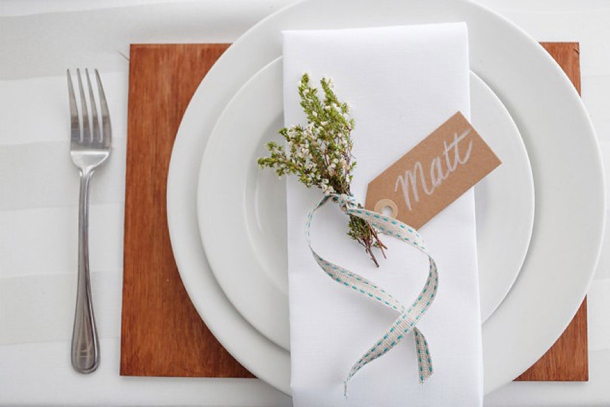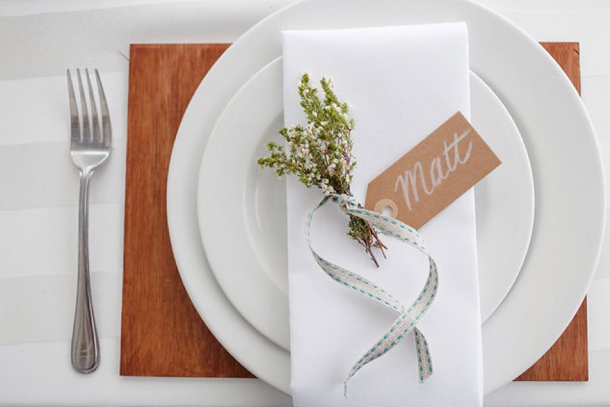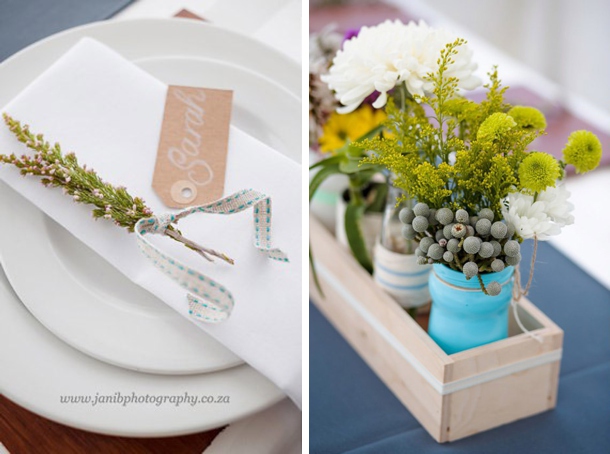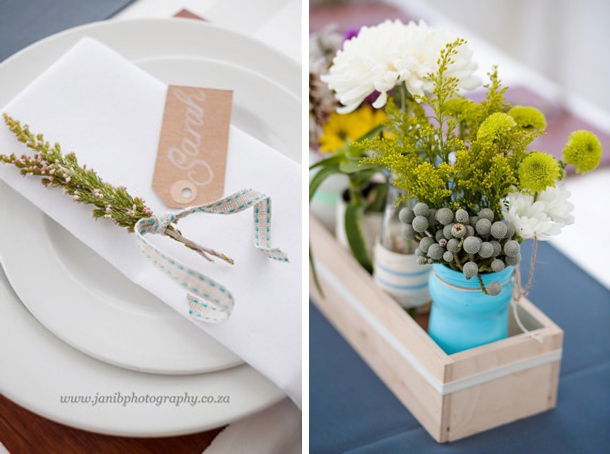 Blogs and Pinterest have been game changers in the wedding industry! I had so much fun checking out other people's weddings on blogs like SBB but remember to stay true to yourself and your fiance. You want your wedding to be a reflection of the two of you. Also don't choose a wedding dress from a picture on the Internet and have it made before you even try on the style :)  – a very expensive mistake. After having a dress made for me in Melbourne I arrived back in Cape town three weeks before the wedding with no dress! Luckily I found the right one but it was definitely an unnecessary stress. Be 100% present and in the moment on the day because it does go by so fast. Hire a videographer and choose a photographer you like not just for their photos but because you spend a lot of time with them on the day. We lucked out with Jani B and Frans and Henroux from FJS – they were a lot of fun to share the day with. Make sure your celebrant has your names right… ours kept calling me Joanne when I my name is Joanna, which made me cringe throughout the ceremony but afterwards it became a joke between me and my hubby!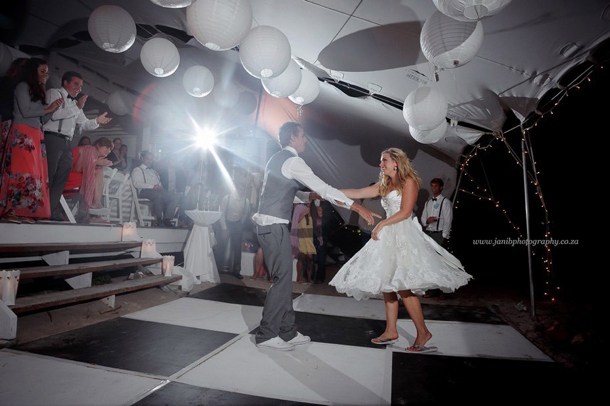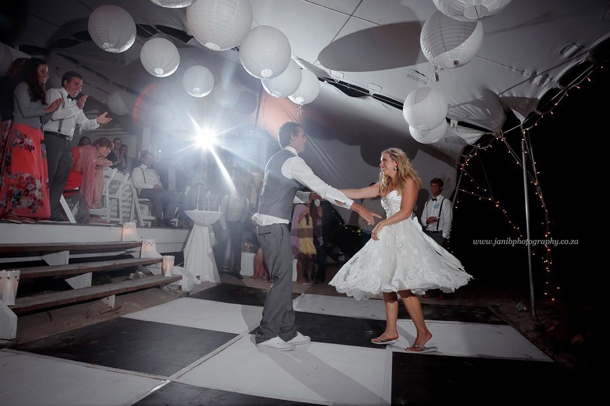 Such good advice, and such awesome inspiration from these two, not to mention some serious aaahing at their love story and sheer happiness, no? Thank you for sharing Corey and Jo! And thank you so much to Jani B – head over to her site for even more (you know you want to!).
SERVICE PROVIDERS
Venue: The White House | Catering: Sunflower Catering | Photography: Jani B. | Co-ordination, flowers & decor: Heloise Sykes | Stationery: Mocholoco | Bride's dress: Maggie Sottero | Bridesmaids' dresses: YDE | Hiring: Tentation | Entertainment: Manouche | Entertainment: The Art of Sound