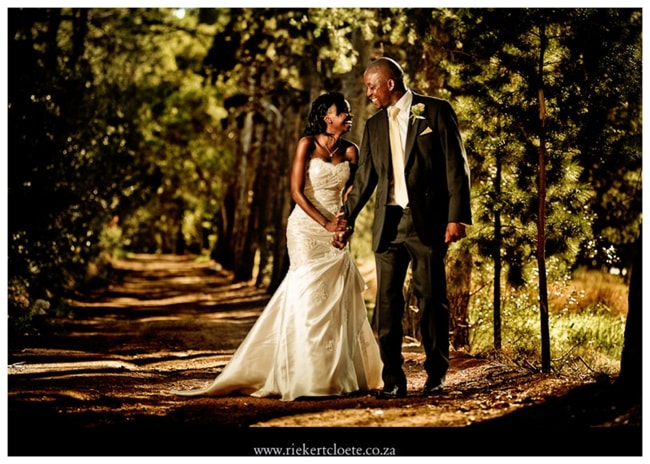 I'm loving how yellow is starting to pop up more regularly in weddings these days – it's a colour that always make me feel so happy! It's not always easy to get right, but today's couple really show how it's done, with little bursts of citrus yellow and orange colour against a neutral background. And somehow, with their sunny personalities, I can't imagine them having chosen anything else. Can I also just say, how insanely gorgeous is the veil Tafadzwa's rocking? And how happy do their friends and family look for them? Riekert Cloete is the man who's managed to capture the spirit of this very gorgeous couple's big day. Congrats, Ticha and Taffy – wishing you a bright and sunny life together!

Ticha told us how they met:
We met through mutual friends. The first couple of times Taffy and I spoke to each other, I got the feeling that: a) I had done something to offend her, or b) she was a rather quiet and shy girl. This was because whenever I tried to make small talk with her I would get one word answers and ended up feeling a bit like a CIA operative at Guantanamo Bay. Being a typical man, I naturally assumed it couldn't possibly be option a) and went with the quiet and shy girl.

From both the bride and groom:
Our aim was to have a summer wedding with bright and vibrant colours that symbolise the weather. We also felt that the summer feeling and the colours capture our individual personalities, as we are bright and bubbly people who enjoy having a good time. We also wanted our day to be very elegant.
A unique touch was that we commissioned a photographer to create a canvas photo of the two of us. This photo was then mounted on an easel and guests were able to sign messages on this instead of a guest book. It makes for an amazing addition to the house that will never be forgotten.
Three of the things we loved most about our day were the amazing colours, the fact we had a fantastic mix of people from all corners of the globe, who all mingled and interacted like they'd known each other forever, and perfect weather!

Our advice is that a wedding planner is essential. It doesn't have to be an external service provider (perhaps a relative), but it enables the bridal couple to relax and truly enjoy the day completely. We were both very happy with the decision we made to hire an external service provider because it meant that our day was a real party.
Another thing we noted was that if you have international or out-of-town guests attending, try to advise them to arrive a week or a few days before the event. We had a couple of group activities planned (e.g. a picnic, an afternoon at Moyo) and this was a great way for our guests to meet and mingle prior to the wedding day. We think this made the day more enjoyable for the guests.

SERVICE PROVIDERS
Venue & catering: Diemersfontein | Co-ordinator: Piece of Cake | Photographer: Riekert Cloete | Videographer: Mandelbrot Weddings | Flowers: Flower Floral Design | Dress: De La Vida Bridal Couture | Hair & makeup: Lori Mauerberger Hair and Makeup Artistry | DJ: Palm Entertainment