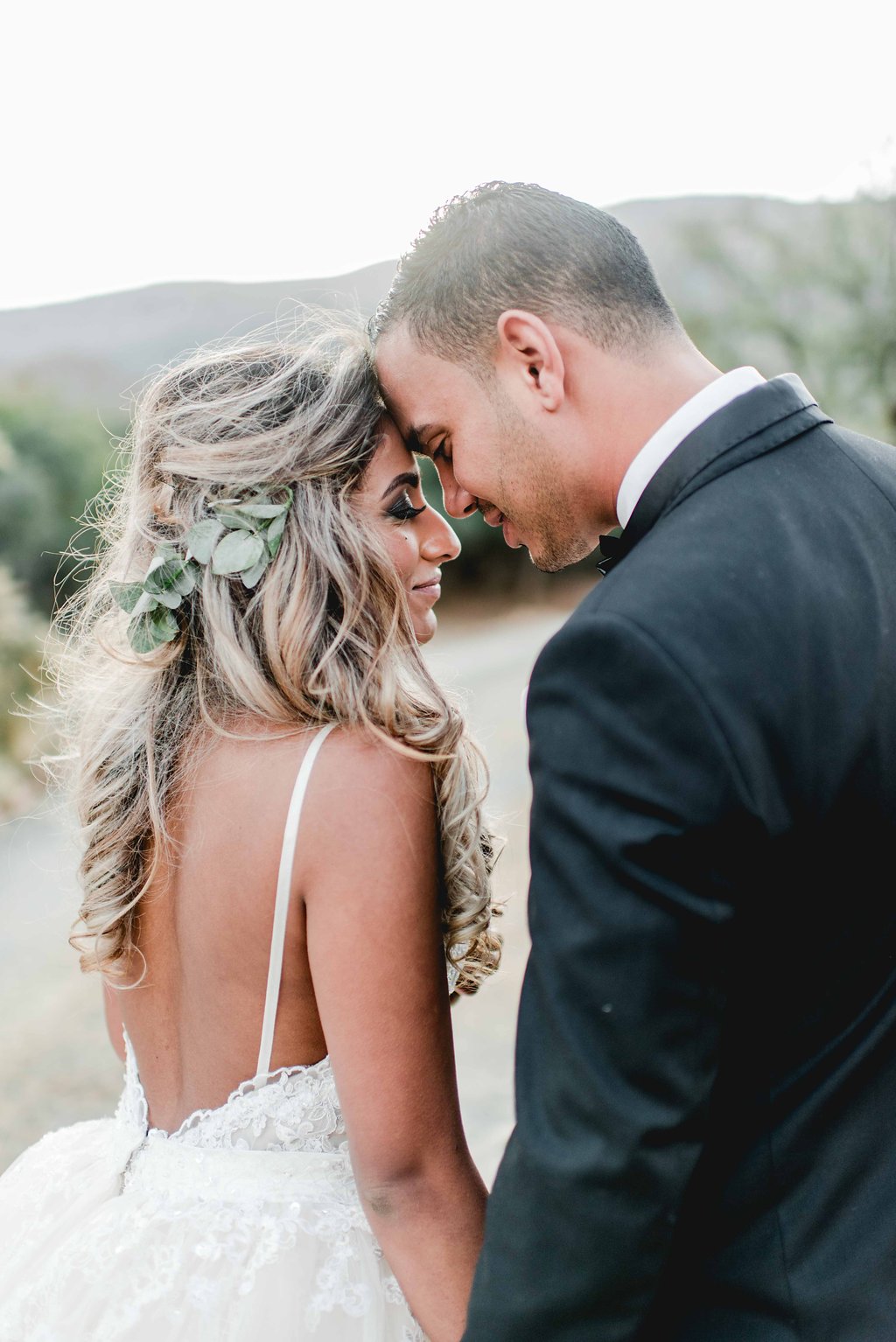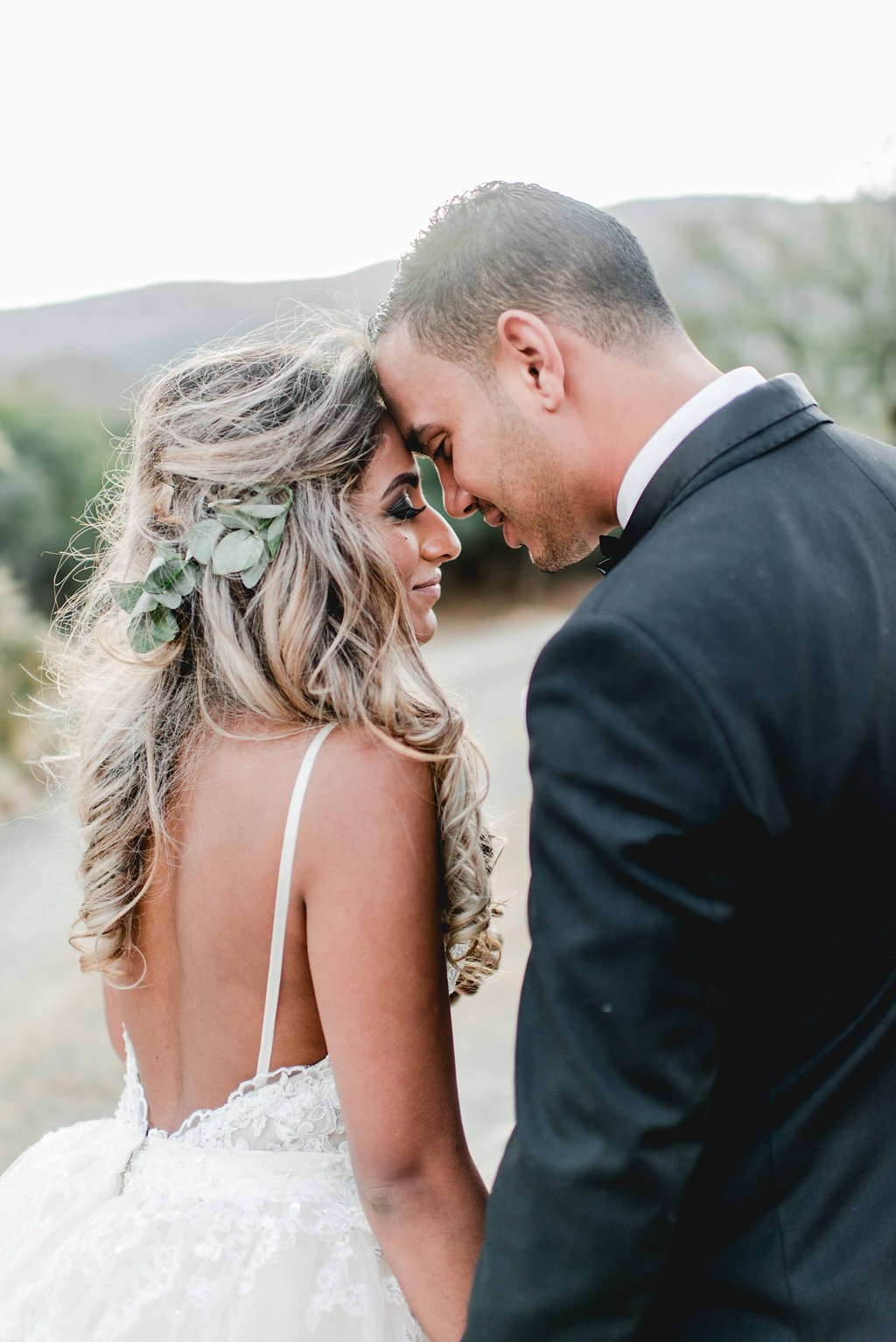 Over the past few weeks I've seen some big differences in opinion when it comes to this year's Pantone Colour of the Year. Some love it, some hate it. It's Marmite. But I'm definitely in the 'love it' camp, because while it's a powerful green to be used sparingly and organically, it's also a trend beyond the colour itself. Greenery has really been having its moment as a statement floral (or not-floral, more accurately!) and I've loved seeing it transform from a very simple, rustic choice to one that can look just as elegant as a sea of blooms. Today's wedding is proof, because Jesse and Teri's big day is overflowing with gorgeous greenery (and some well chosen white blooms, for good measure!), but it's also black tie glamorous, from Teri's goooorgeous dress to the tables, where each menu is tied with a simple black ribbon. Tres chic! Carla Adel captured these lovely images.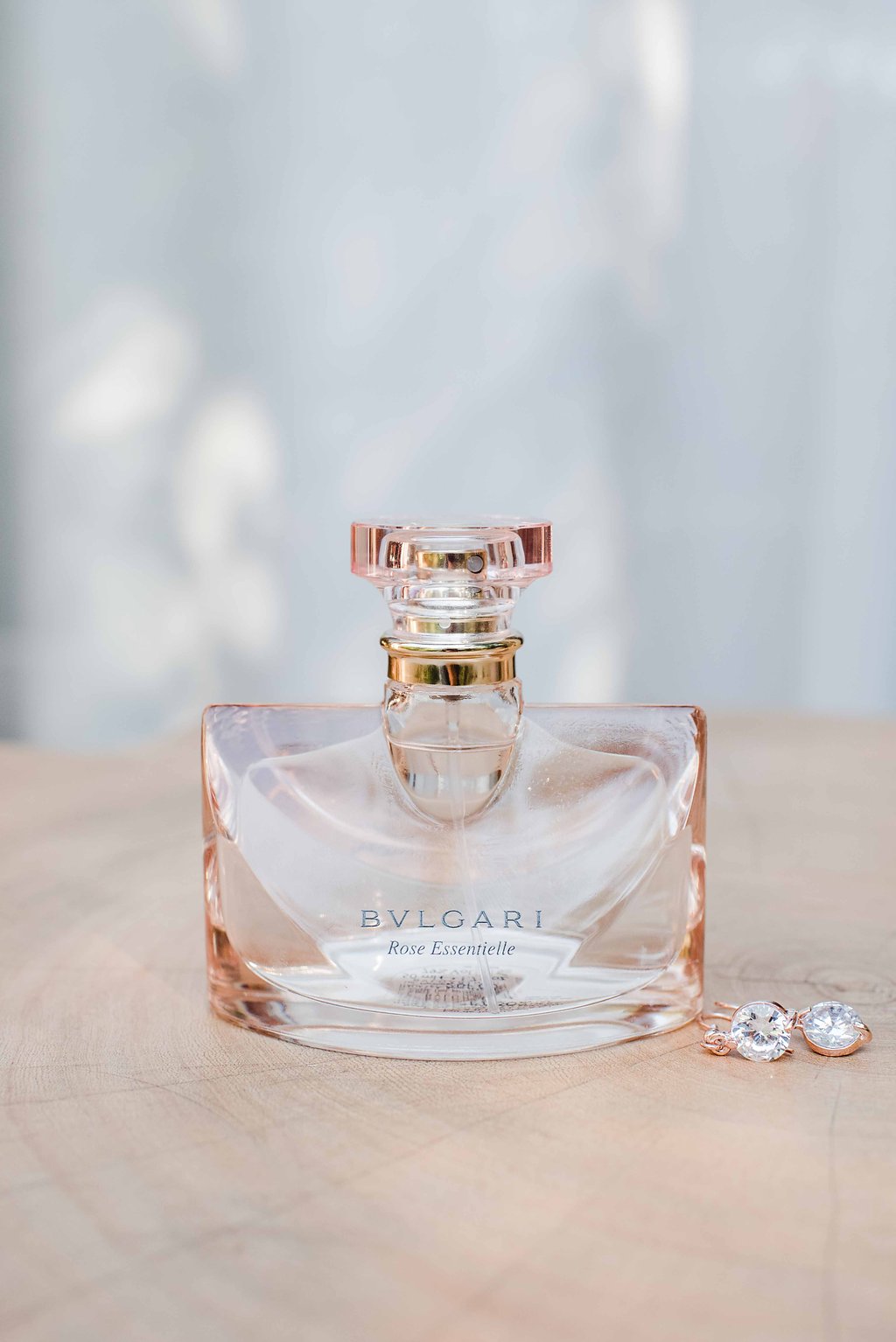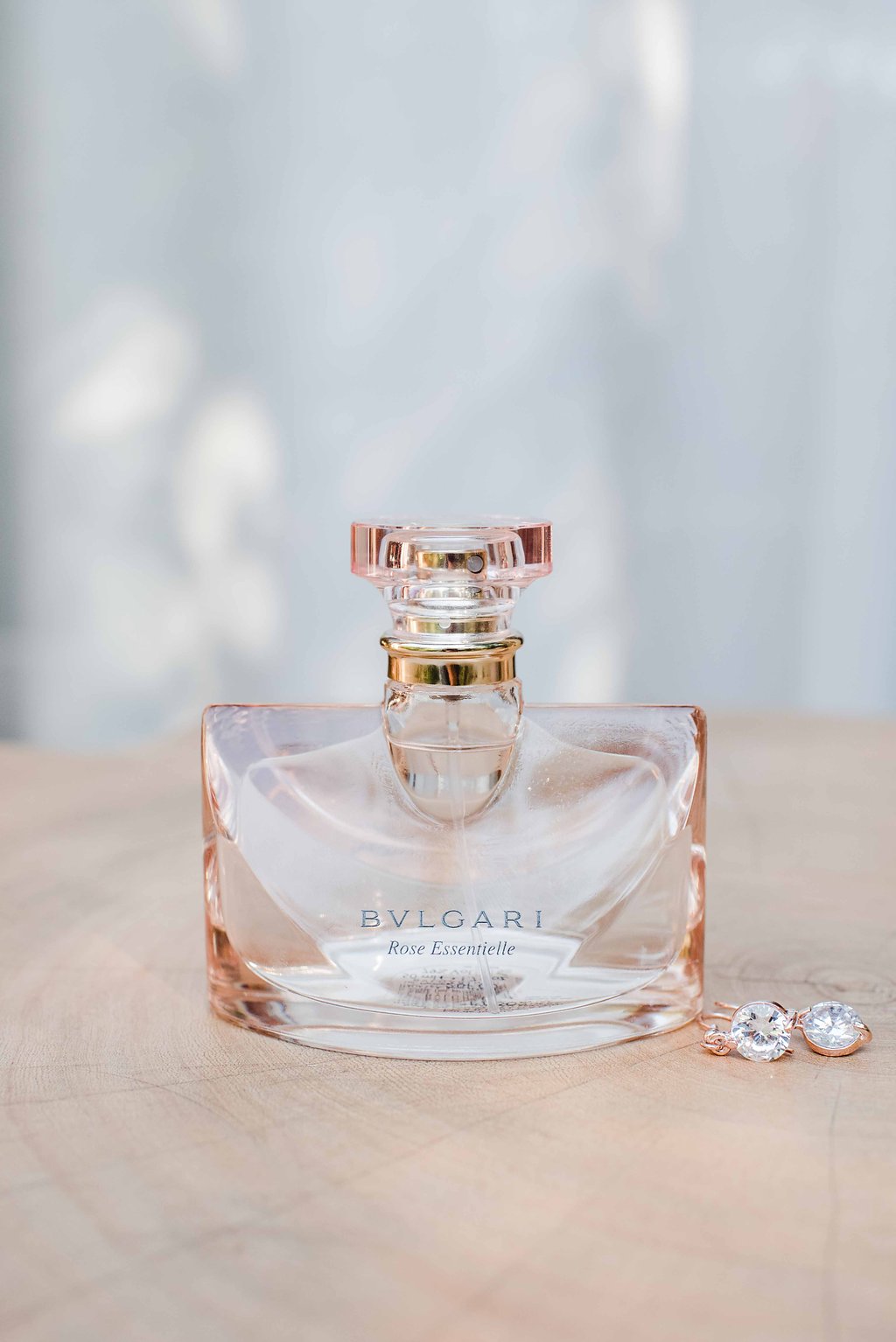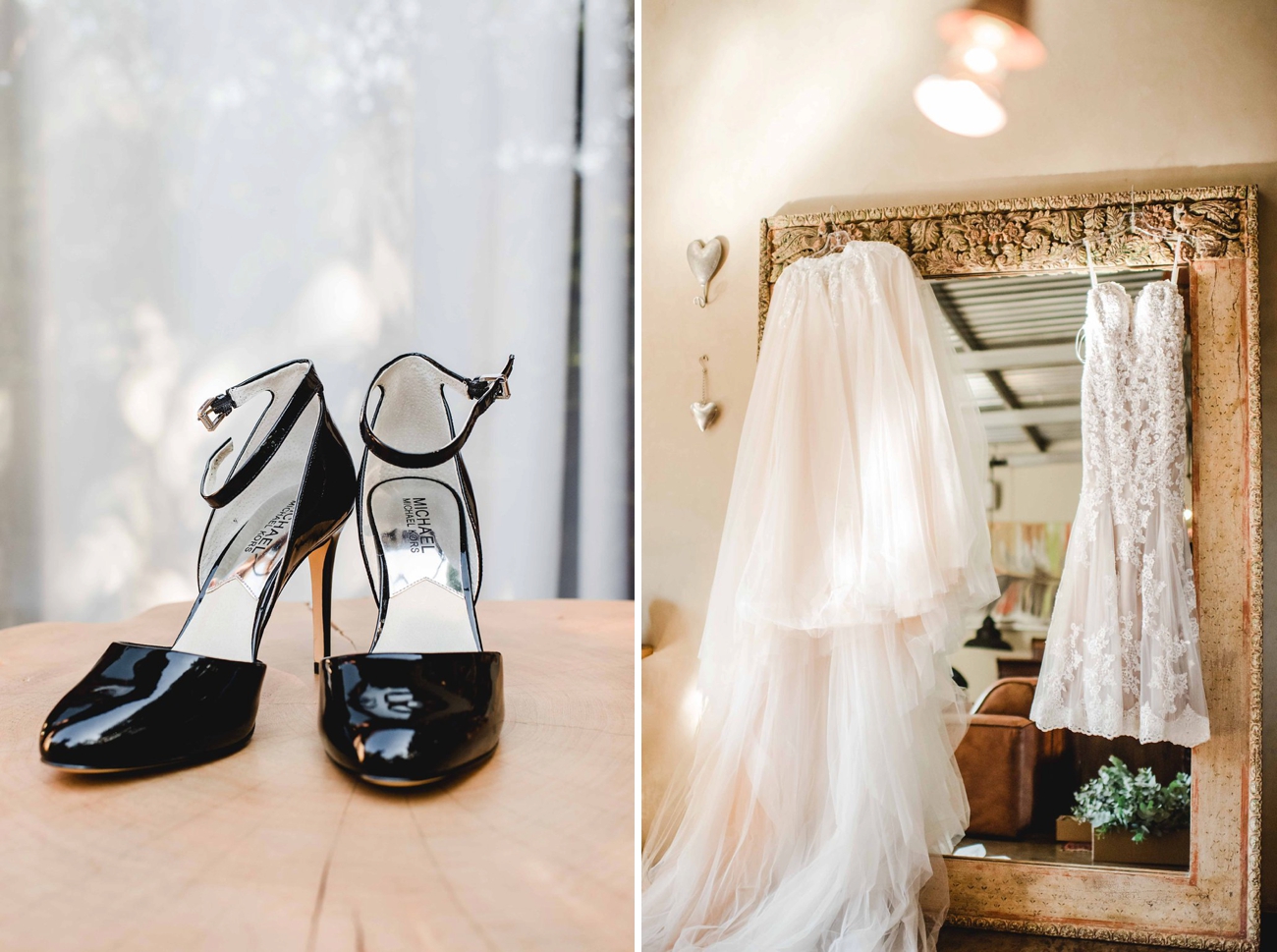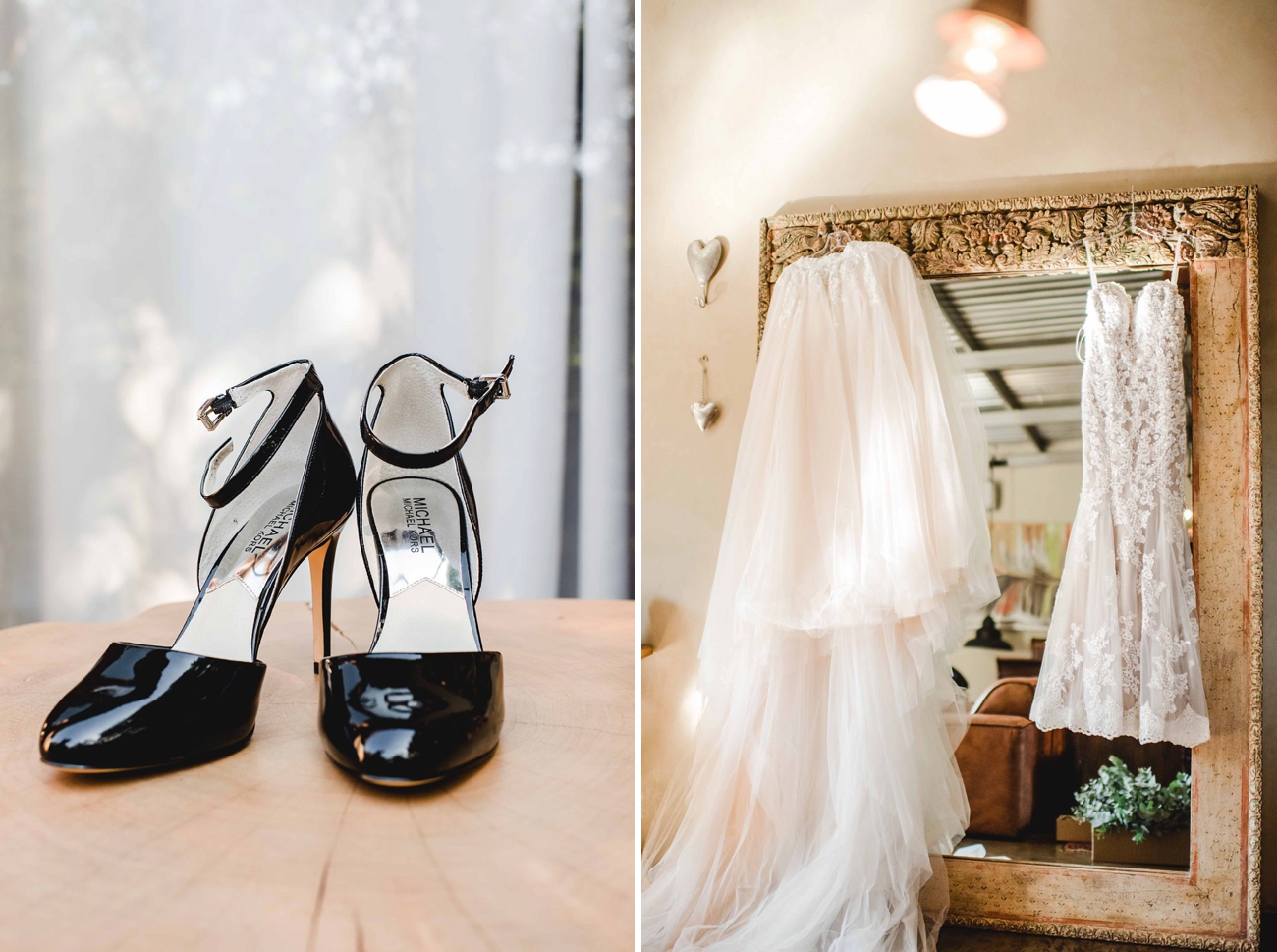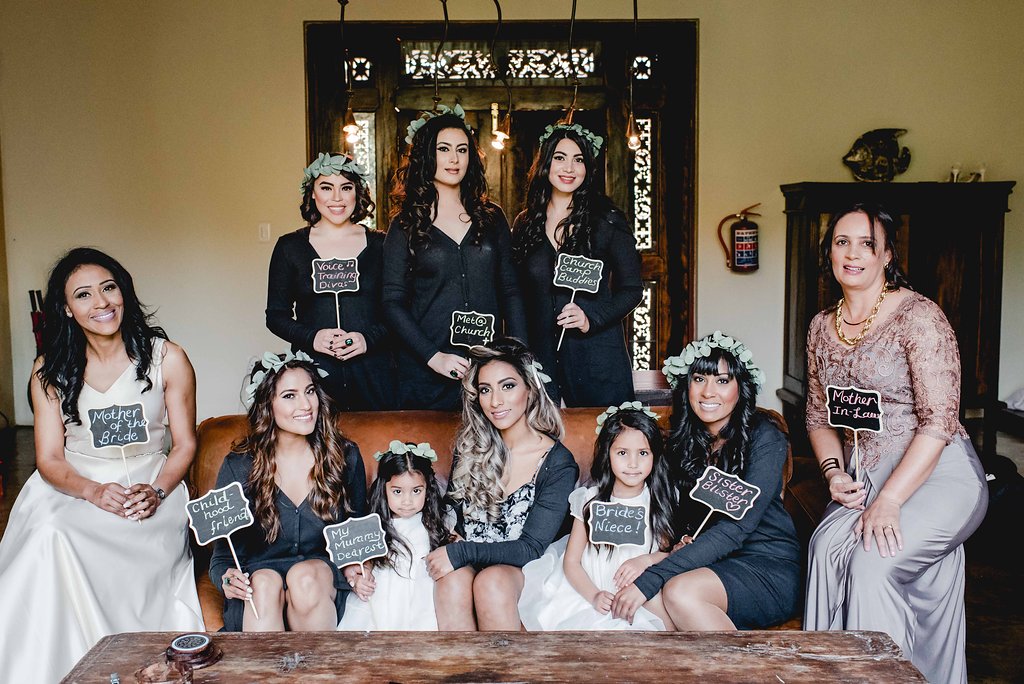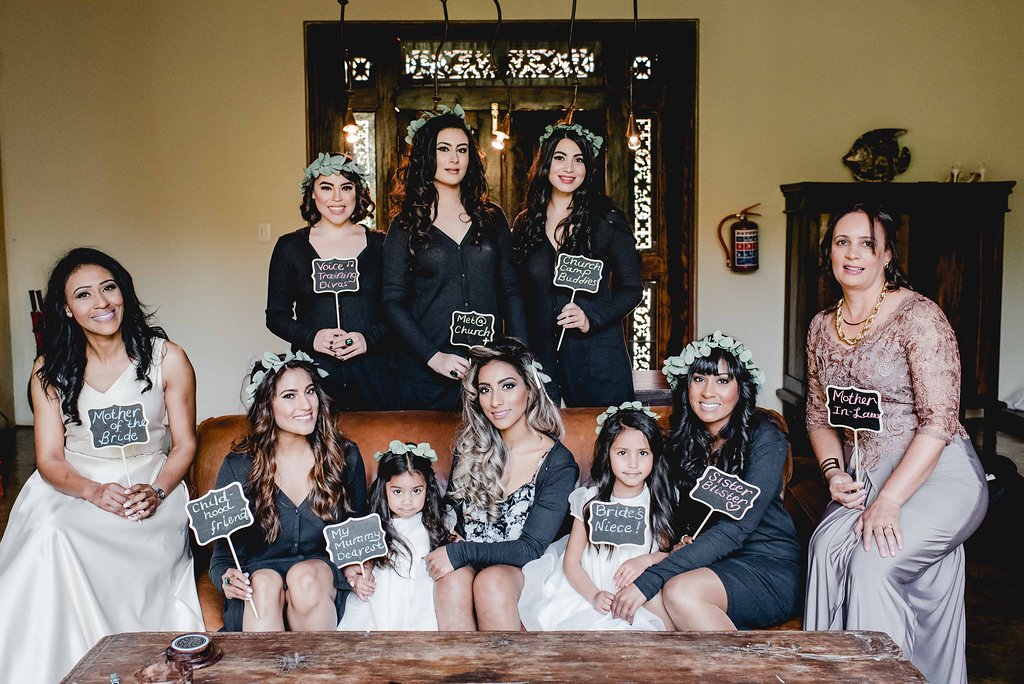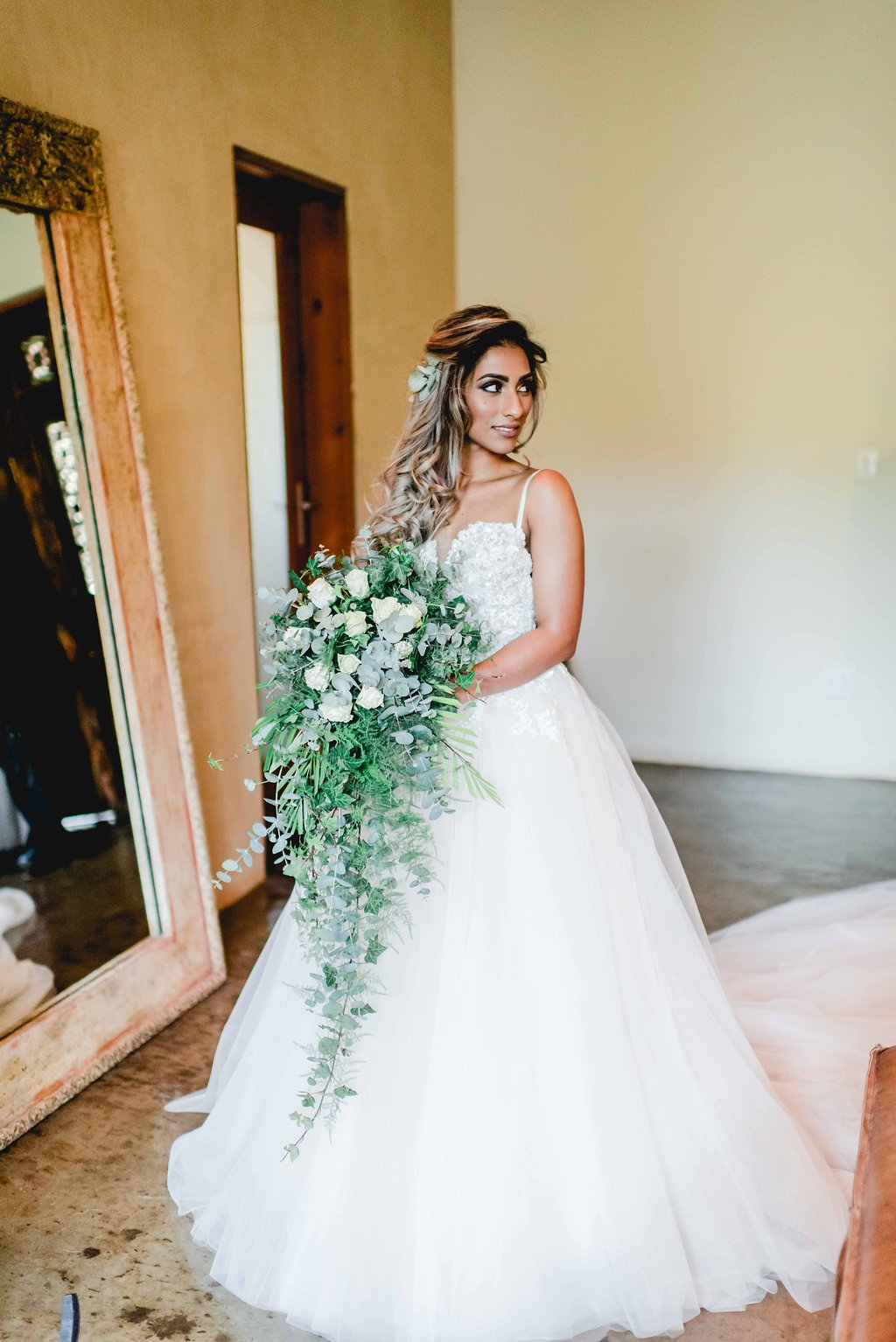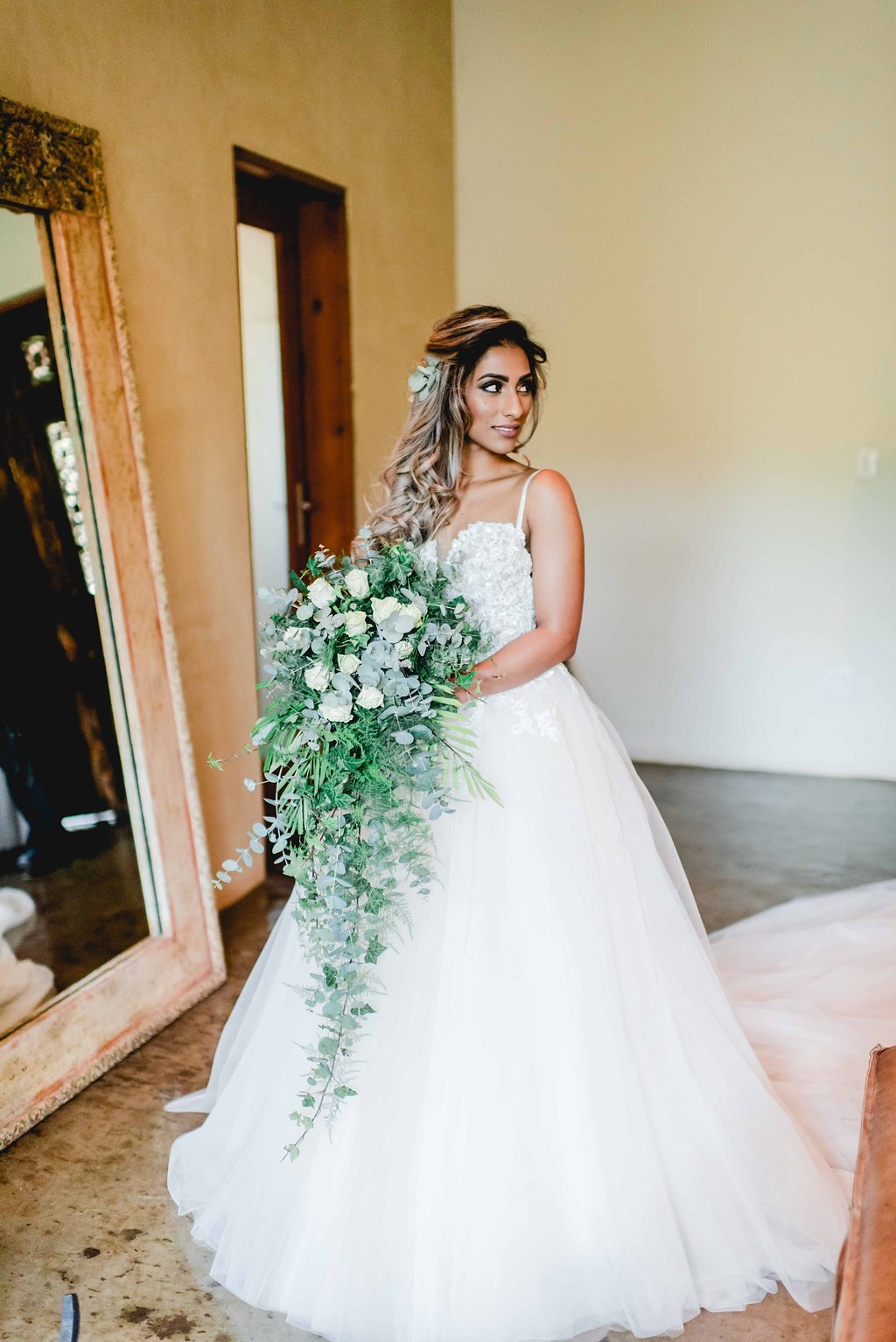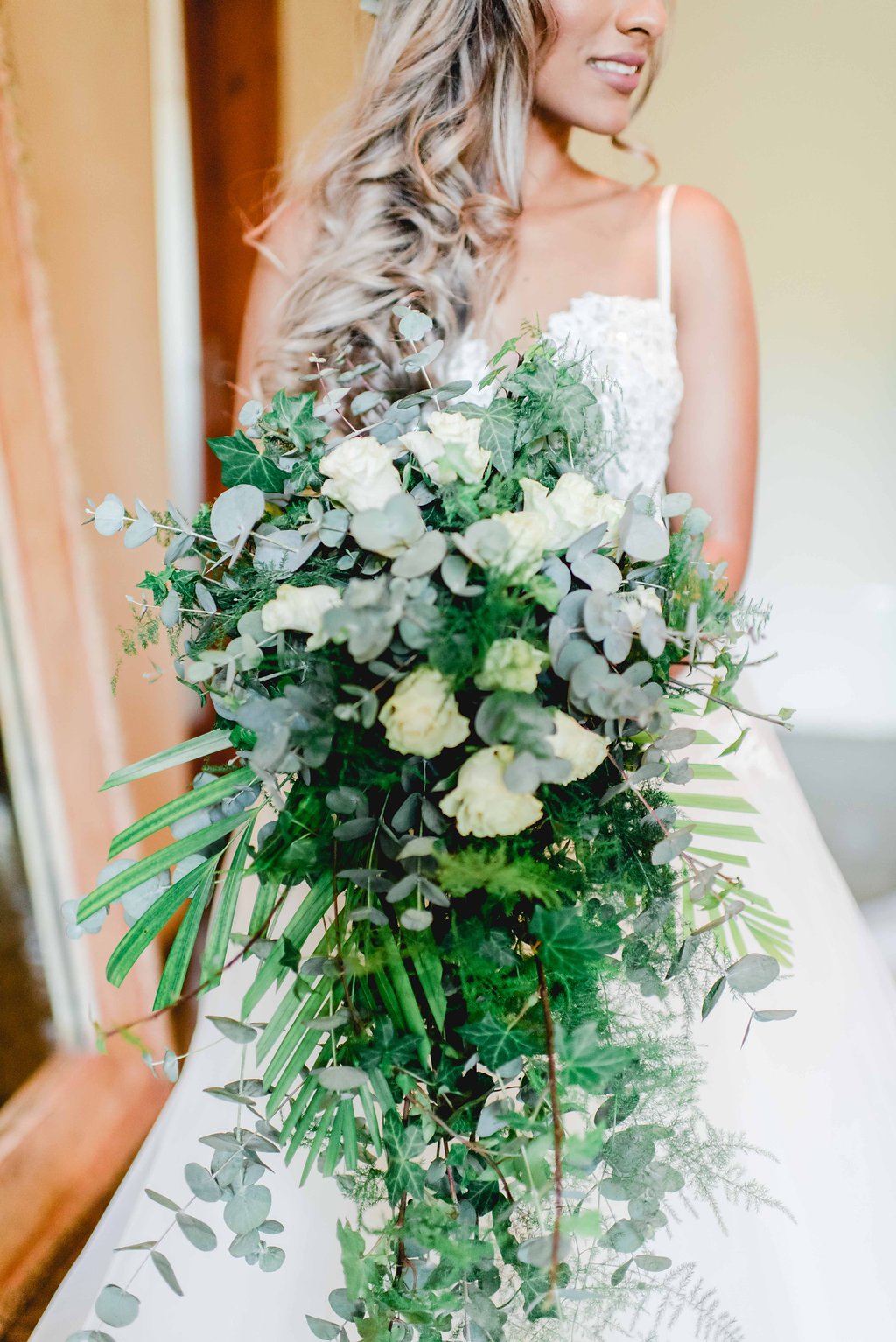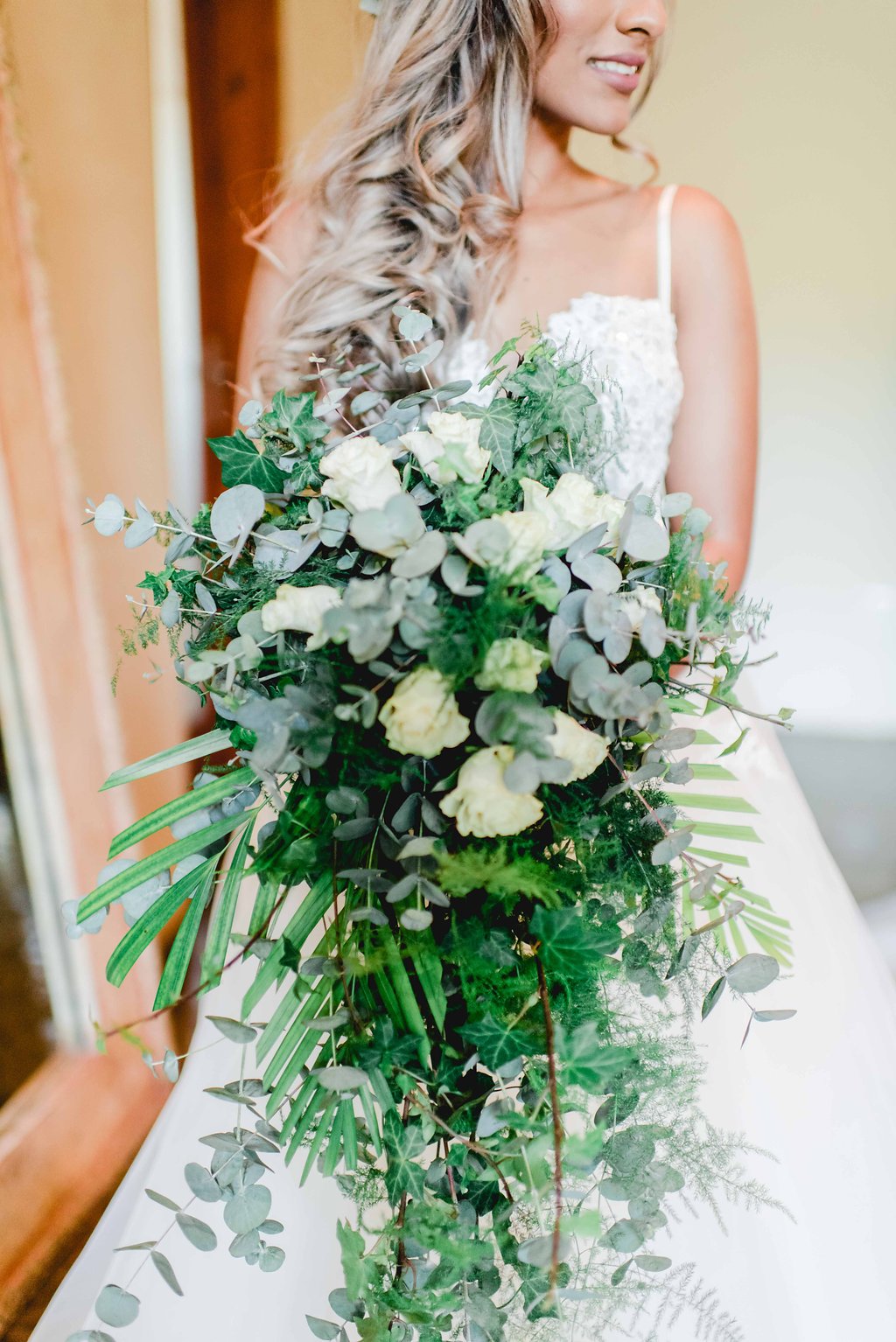 Love Story
We met eight years ago through my brother. It's so funny to think that I didn't even like him, I just said yes to being his girlfriend because I felt sorry for him! But boy oh boy, did he work his charm on me. We fell in love at a very vulnerable time in our lives and went through many tough times together. The greatest part about our relationship is how we both grew in so many ways together. Our wedding day was a huge milestone for us.
The Proposal
In June 2015, whilst on holiday, I fell ill and was hospitalised in KZN for almost two weeks. Unfortunately this was the beginning of a not so great journey of being ill and in and out of hospital for the remainder of that year! It was a difficult time for myself, my family, and my husband, there was lots of uncertainty and moments where I was sure I was not going to make it out alive. I think during that time my husband started thinking of ways he was going to ask me to marry him. It was early November and I had been released from hospital, and because I had missed out on a lot of family events due to being ill, my husband told me he planned a little treat for me at my mum's home. He got my sister and friends involved! There were little notes and instructions for me to follow as my girls helped me get ready – I thought it was sweet, especially because I hadn't got prettied up in a long time! After a few hours of getting pampered, I was blindfolded – by then I knew something was up, but I didn't want to spoil the fun for everyone! I was led to my parents' backyard, and as I entered the blindfold was taken off and I was surrounded by all my family and closest friends! The set-up was truly magical with a huge heart, shaped out of roses, fairy lights, white lanterns, candles, champagne and chocolates! It was very emotional, and of course I said YES!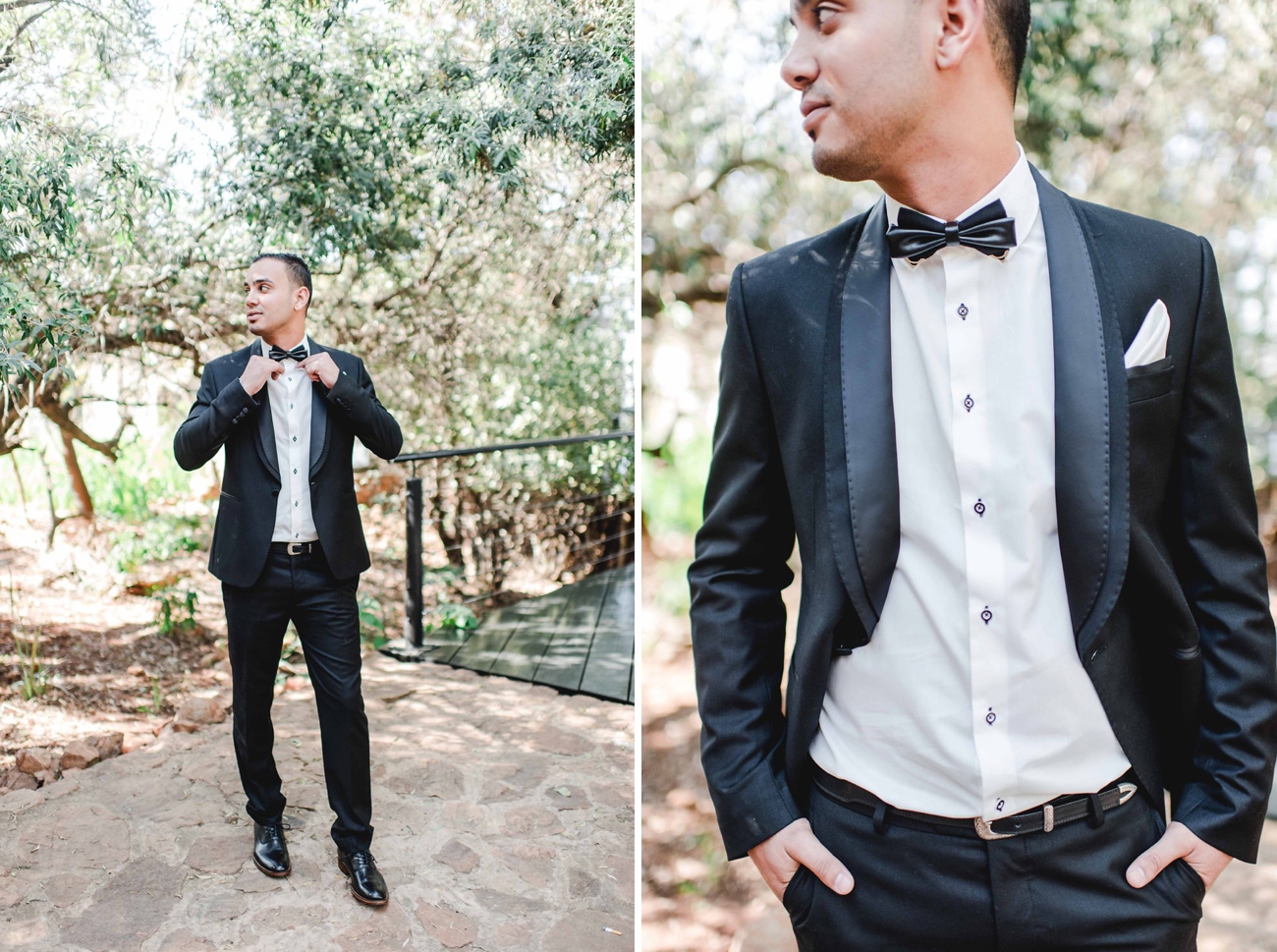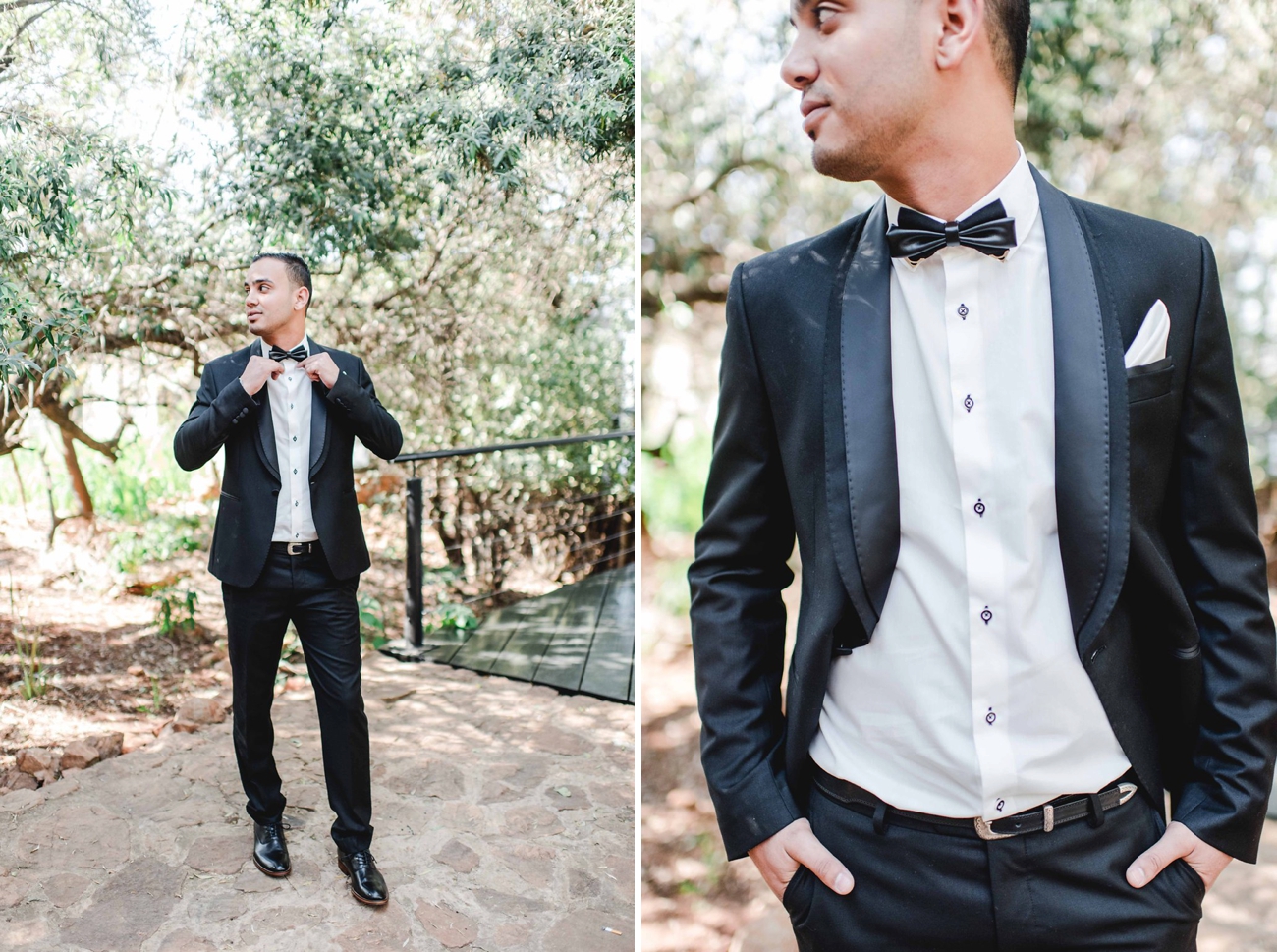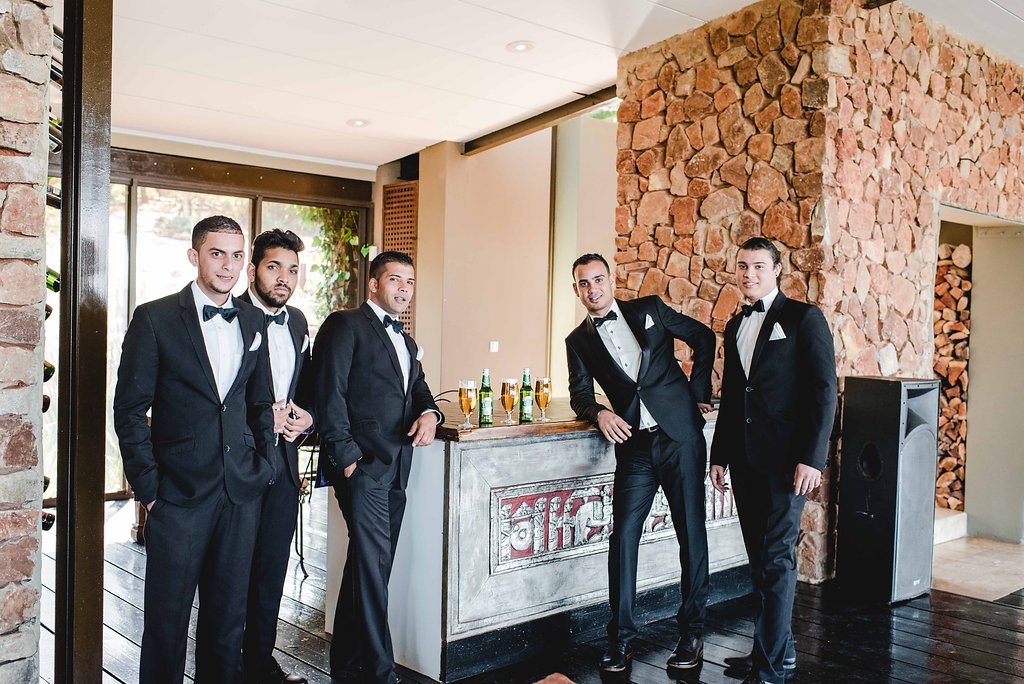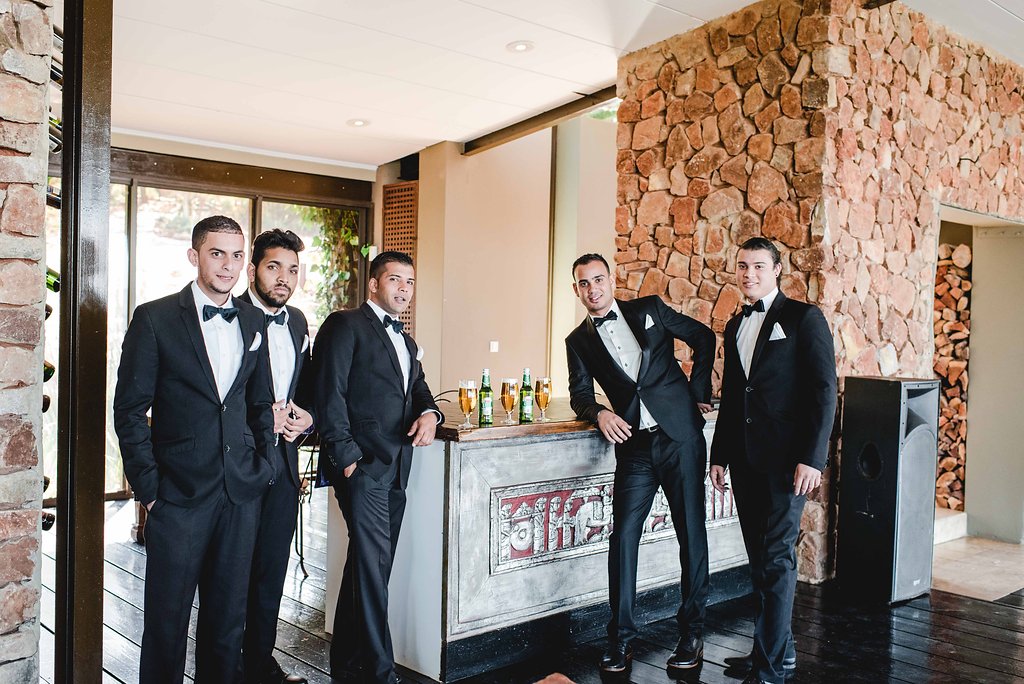 The Venue
I had seen the venue online about two years before even getting engaged. A friend told me about it and I immediately fell in love! I tried looking for other places I could fall in love with, but nothing really spoke to me as much as Red Ivory did.
Wedding Style
I am a simple, elegant kind of individual! I knew I didn't want over the top, but clean, fresh, elegant and romantic! I have always been drawn to neutrals and whites when it comes to decor and my favorite colour is black so i wanted to incorporate both these tones without being too boring, like your regular black and white weddings. I decided to go for ivory and ink with sage green being the pop of colour. I also incorporated rose gold geometric decor where i could and had a rose gold glass terrarium as my ring box. It was easy to translate my ideas into my wedding style because I knew exactly what I wanted, so explaining to my decor stylist was simple and direct! I jotted down my ideas to her and accompanied them with pictures so she had a good visual understanding of what I was looking for!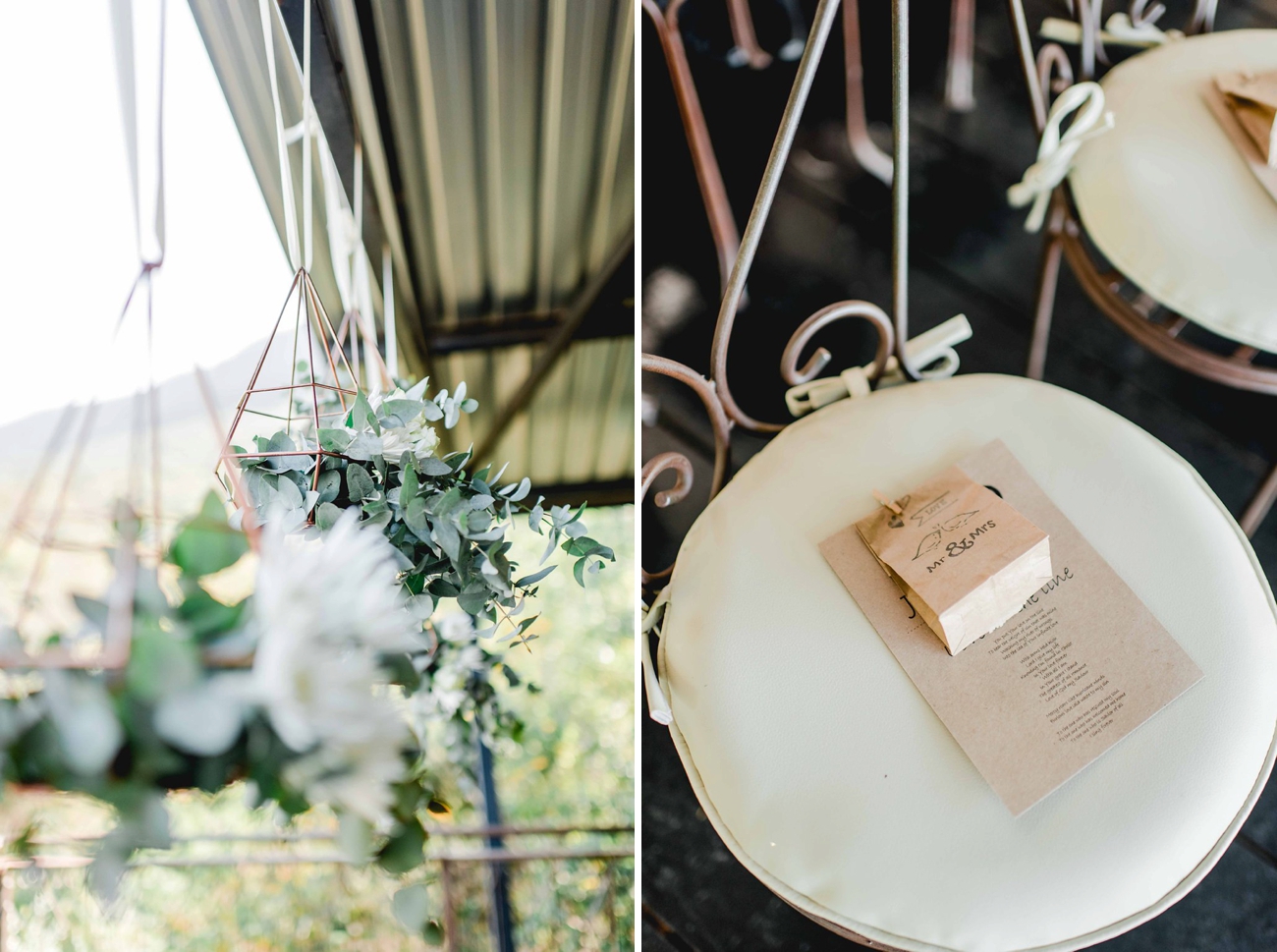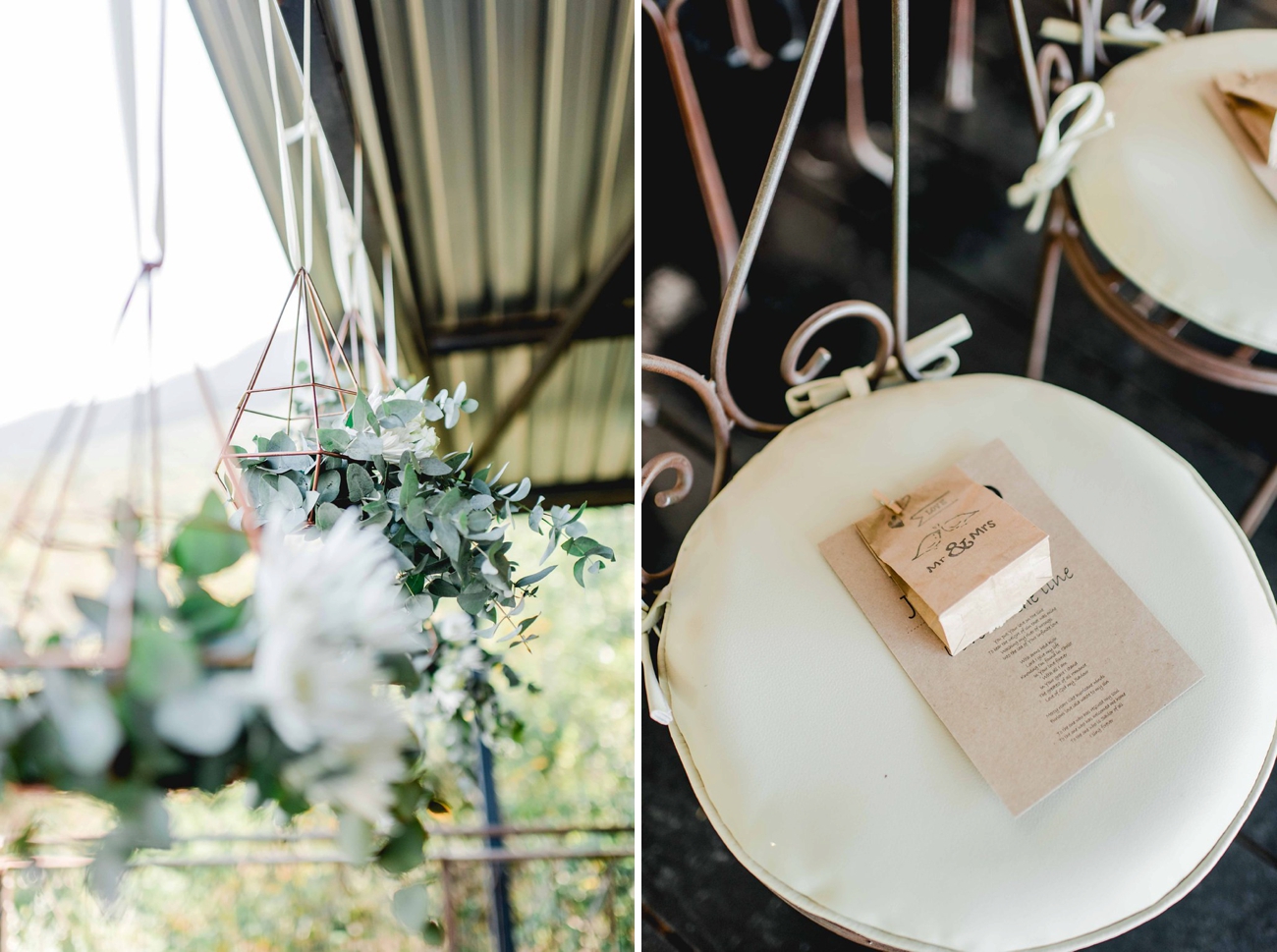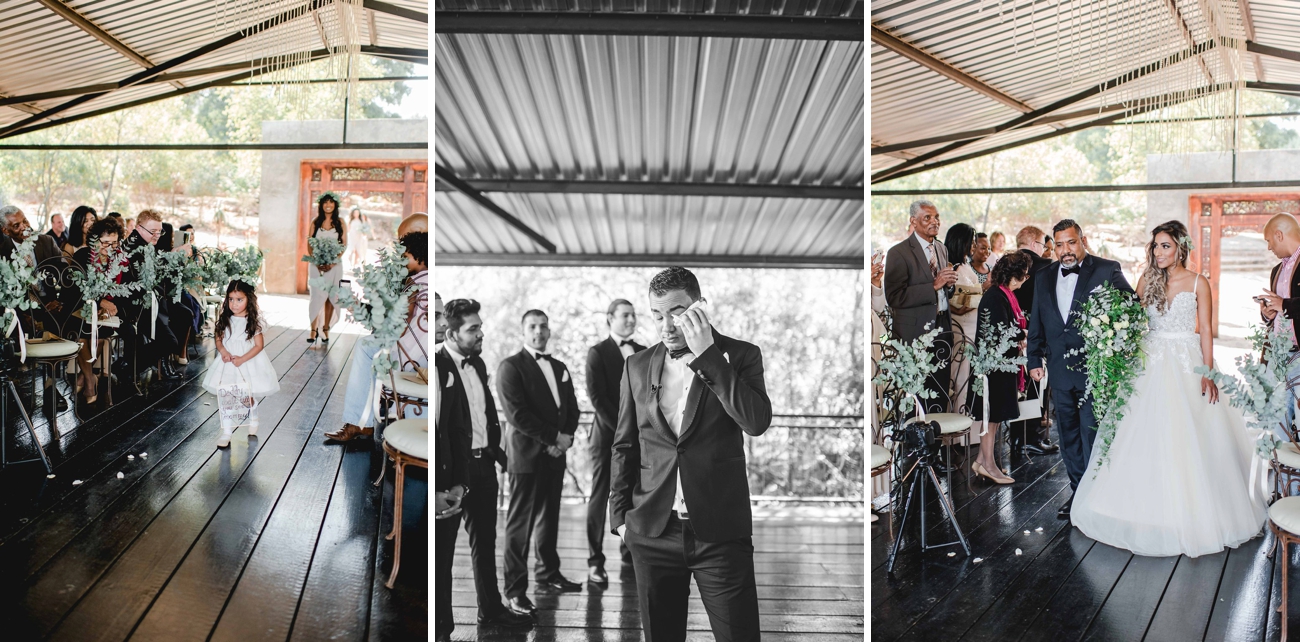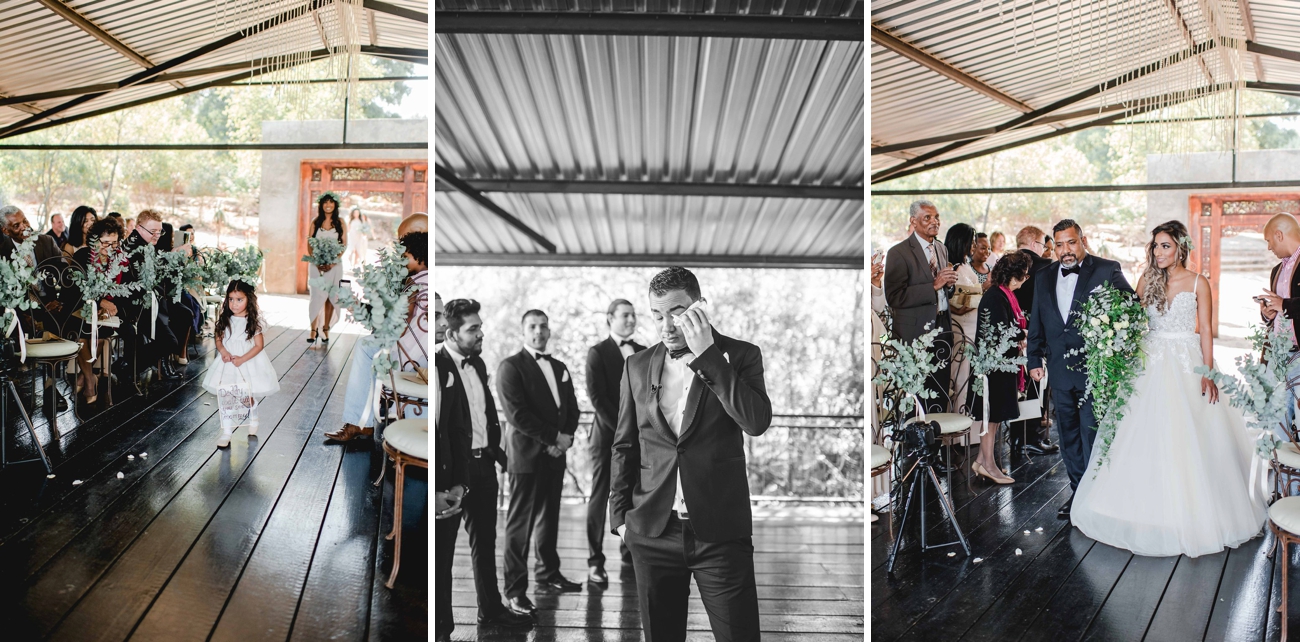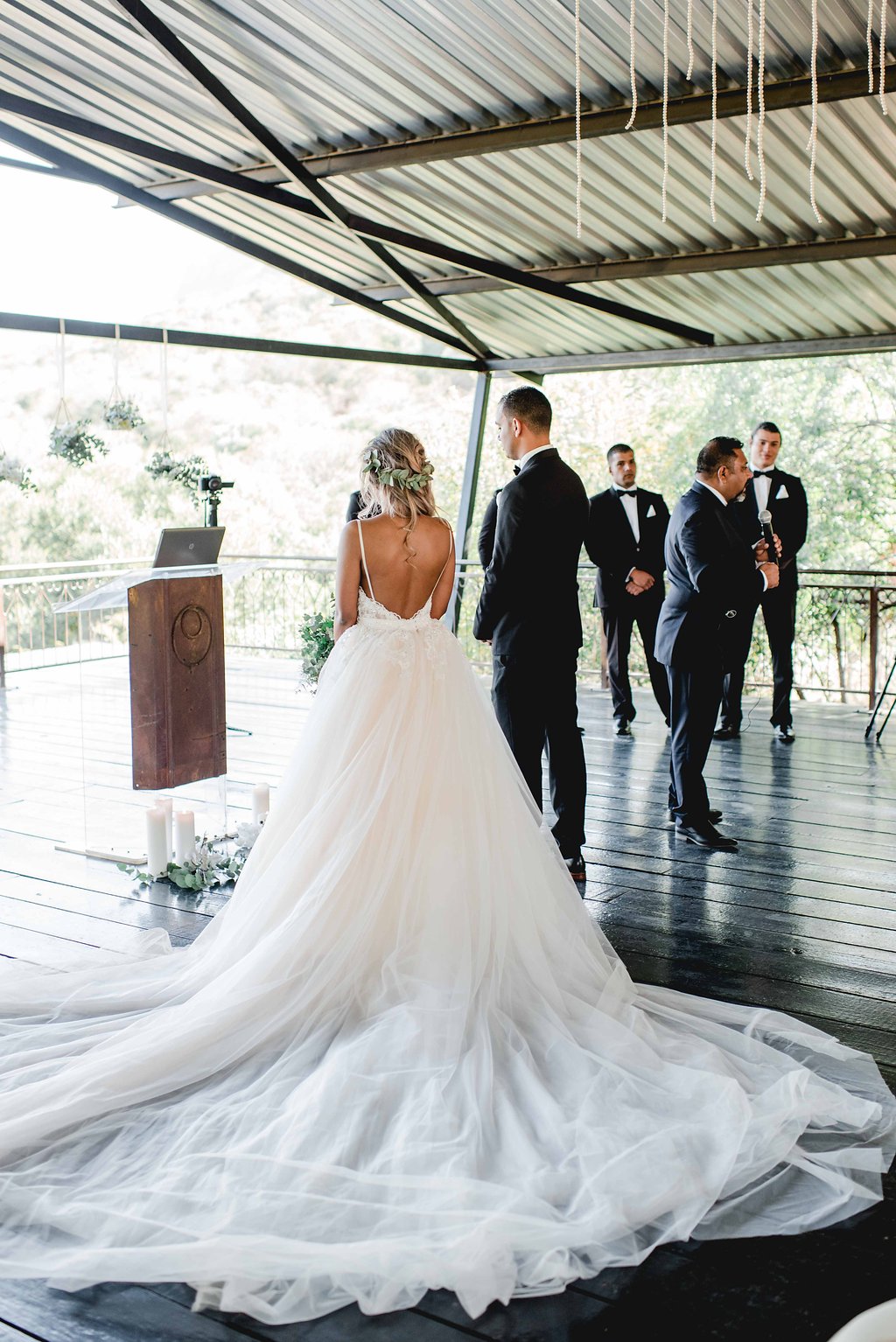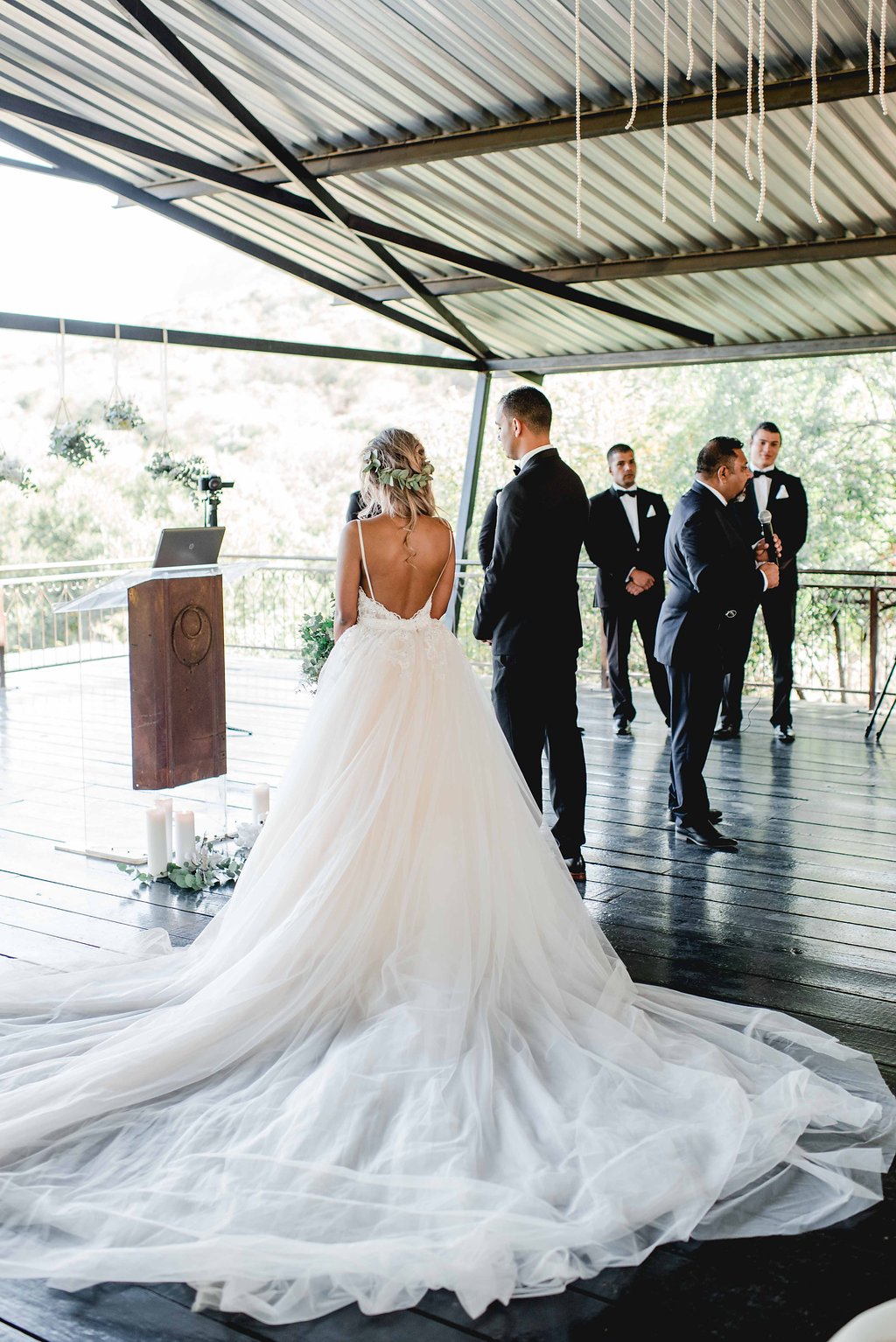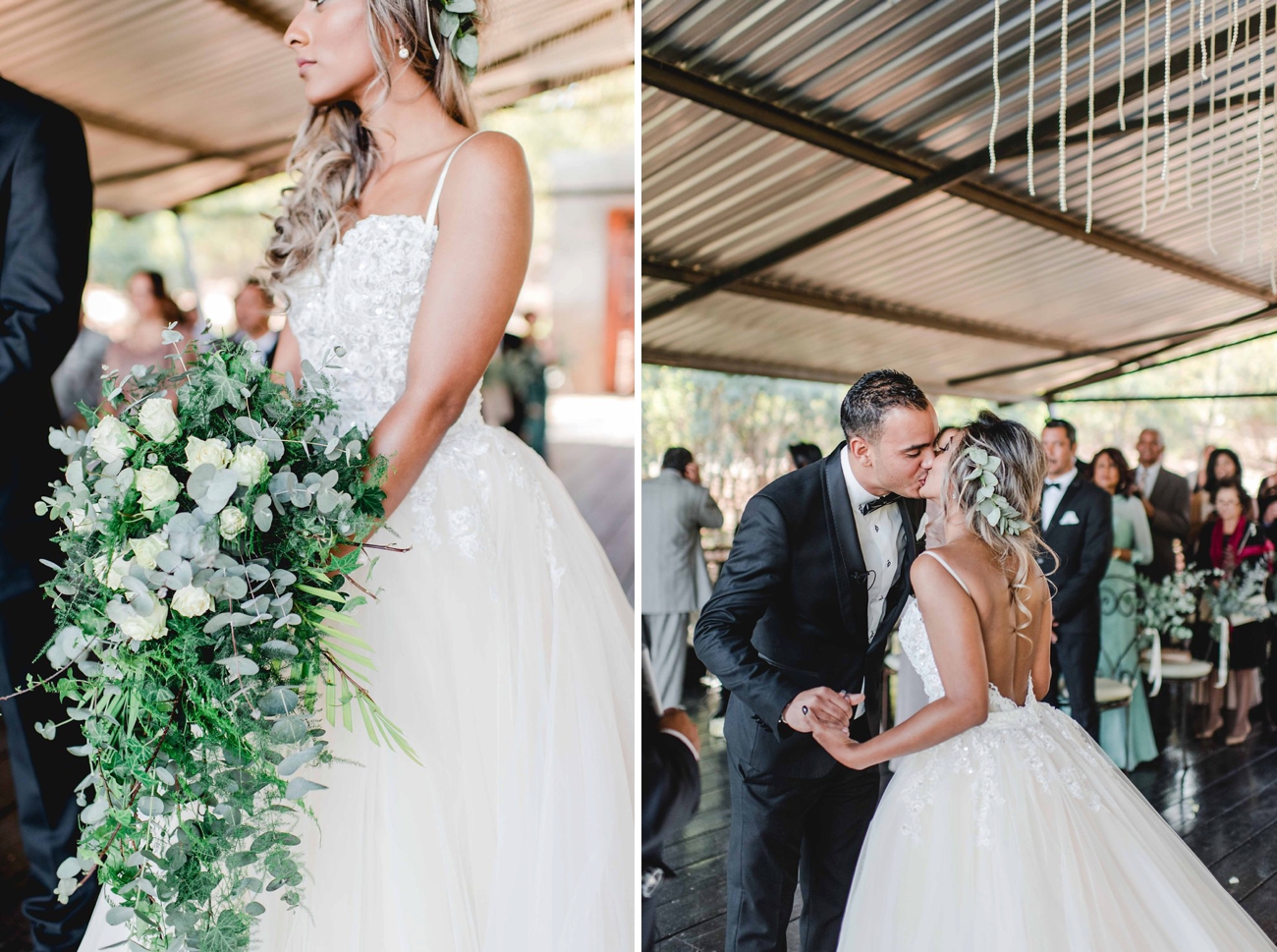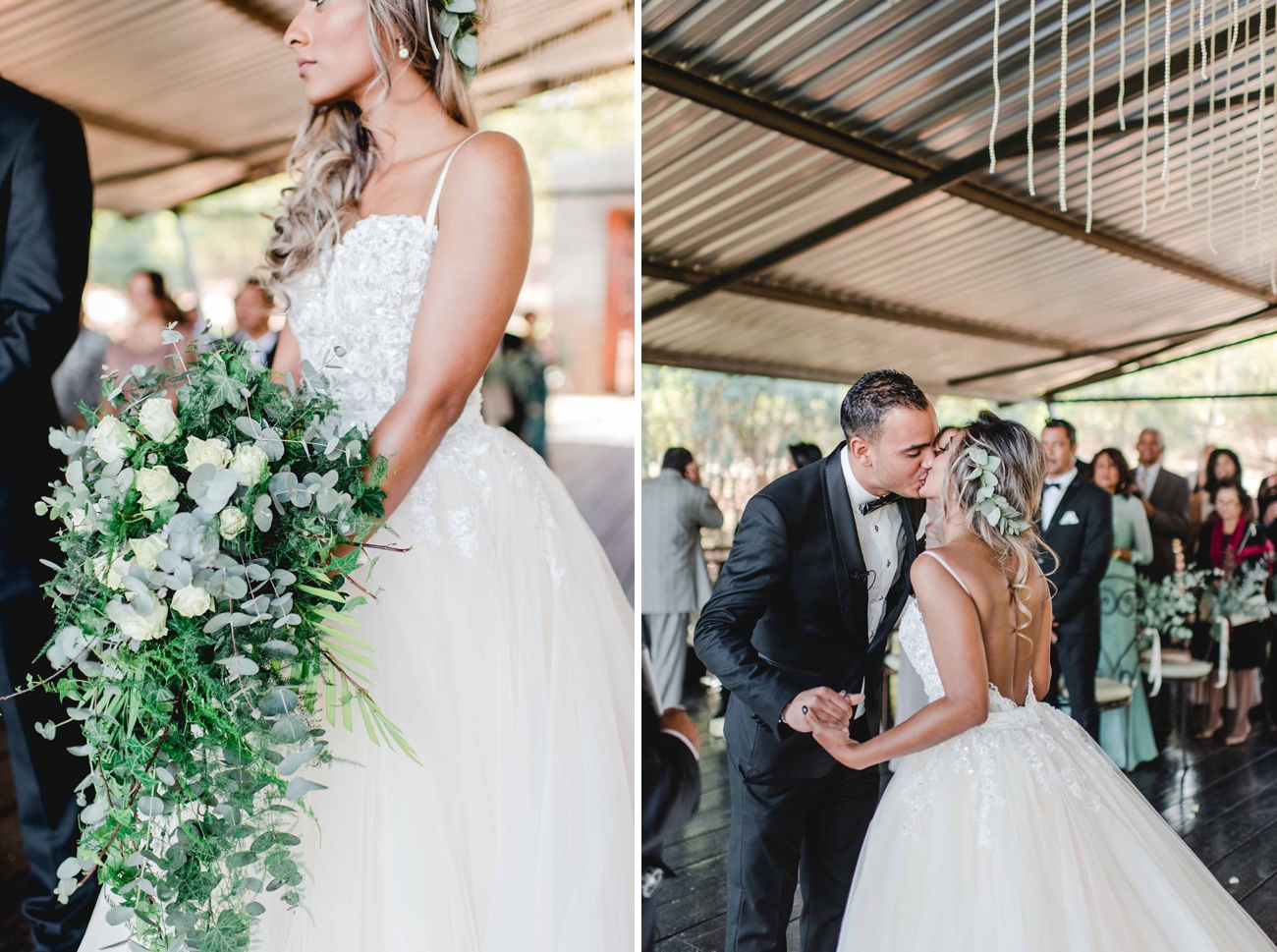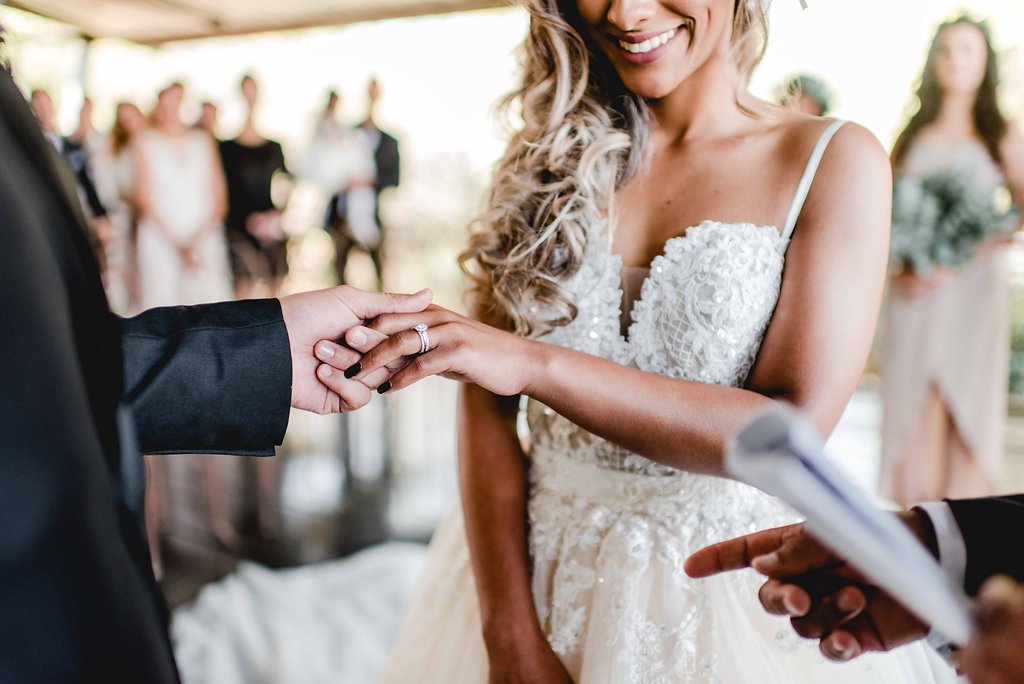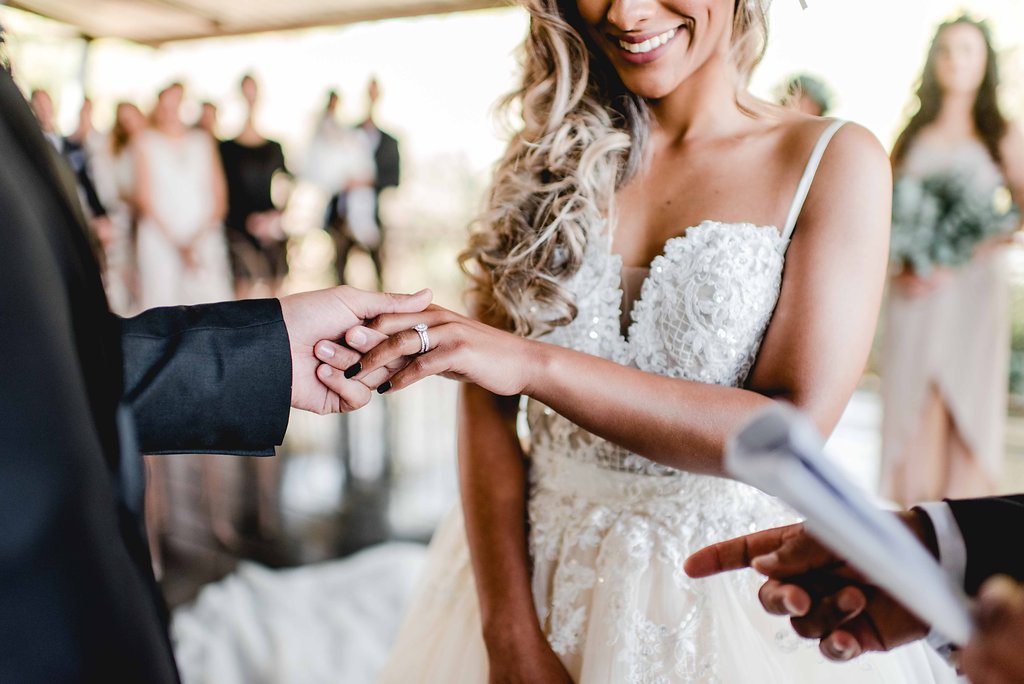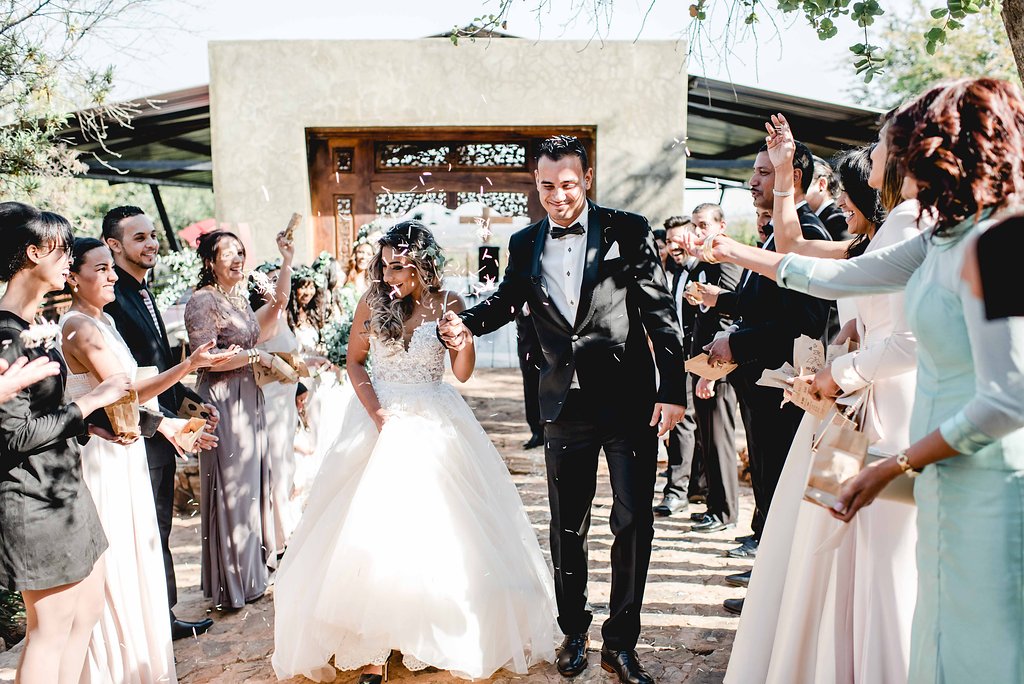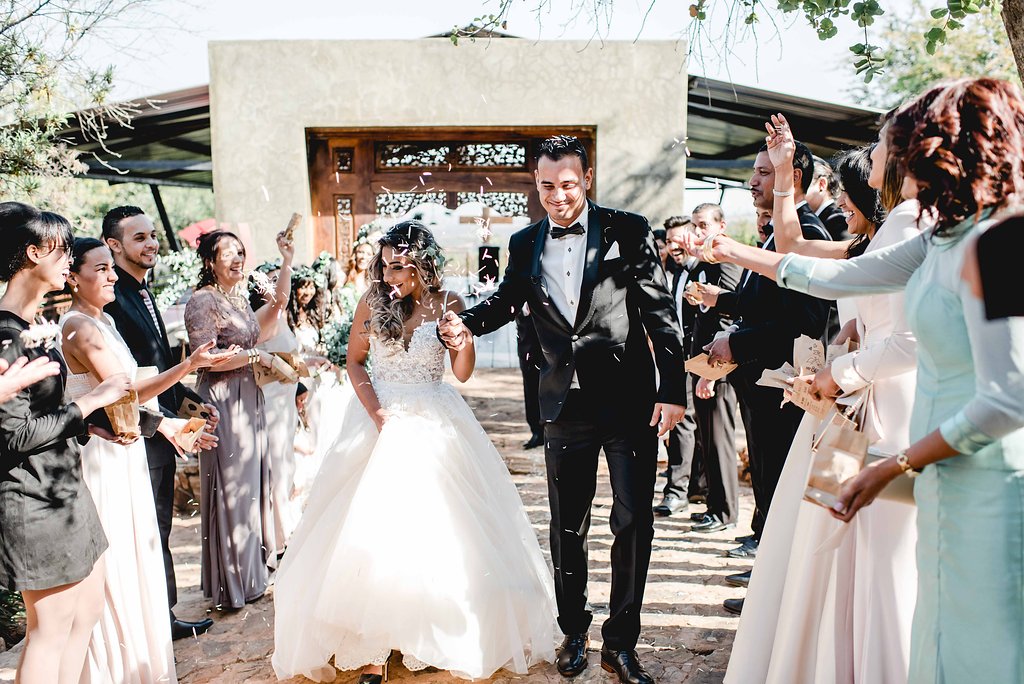 Wedding Details
Oh wow, I had so many favourites when it came to the details! Our wedding favours were one of my favourite details because they were homemade chili sauce made by my dad! We bottled them and marked them together, and it was a wonderful bonding time and meant a lot to me on the day! Also we had a stunning cookie and hot chocolate bar! All the cookies and tarts were homemade by mums, aunties, sisters and friends! My guests simply loved it! And the special people in my life got to feel very much a part of my day. I decided to have two MCs, one to represent me and one to represent Jesse – BEST DECISION ever! It felt so special and was really cute how they shared the stage together. I gave my mum and Jesse's mum a bottle of my favorite perfume and a note, as well as personalised gifts to my bridesmaids on the day. I enjoyed the cellos and saxophonist as well – it really set such a beautiful ambiance.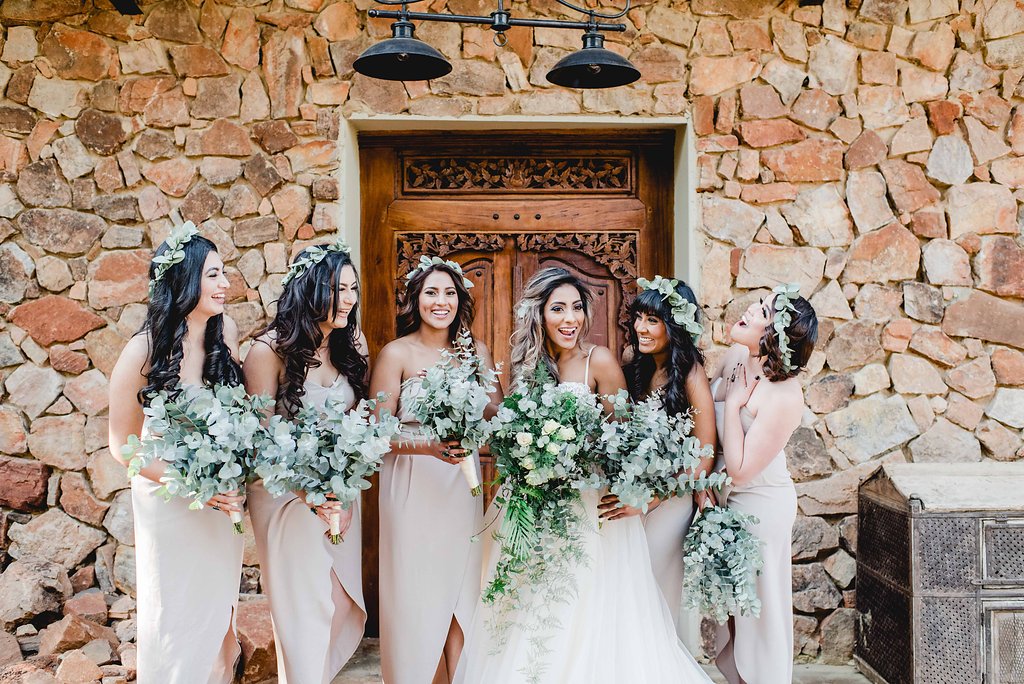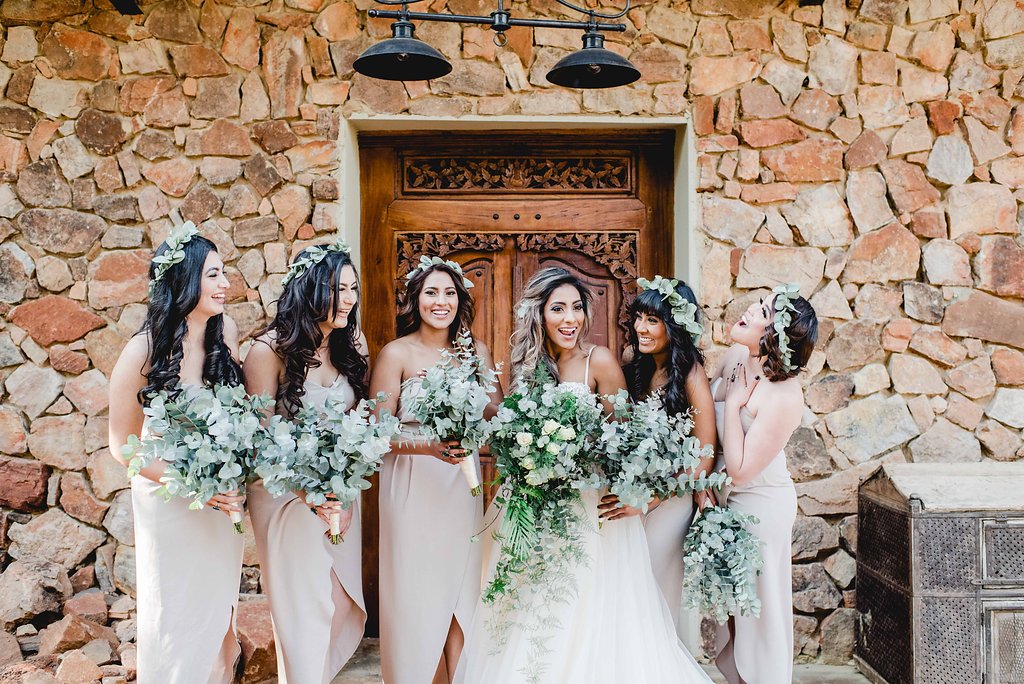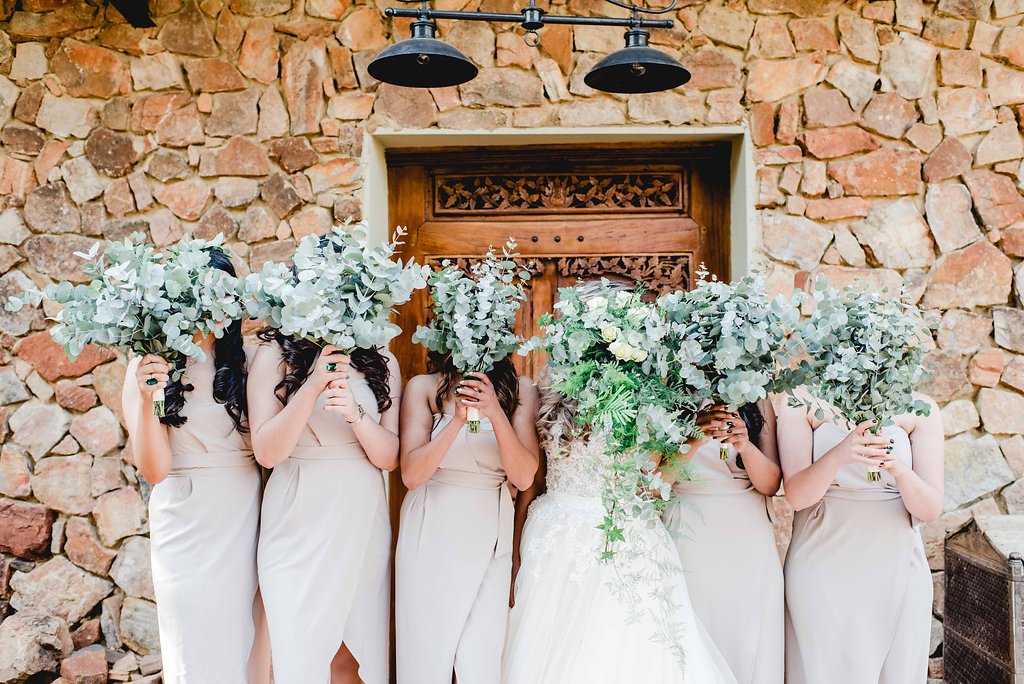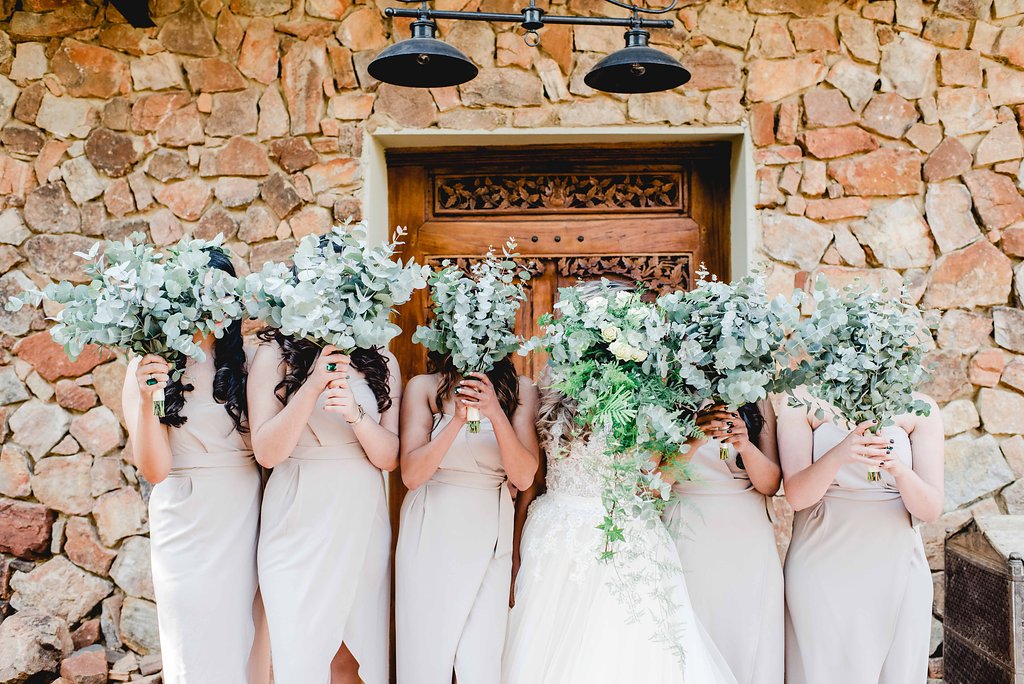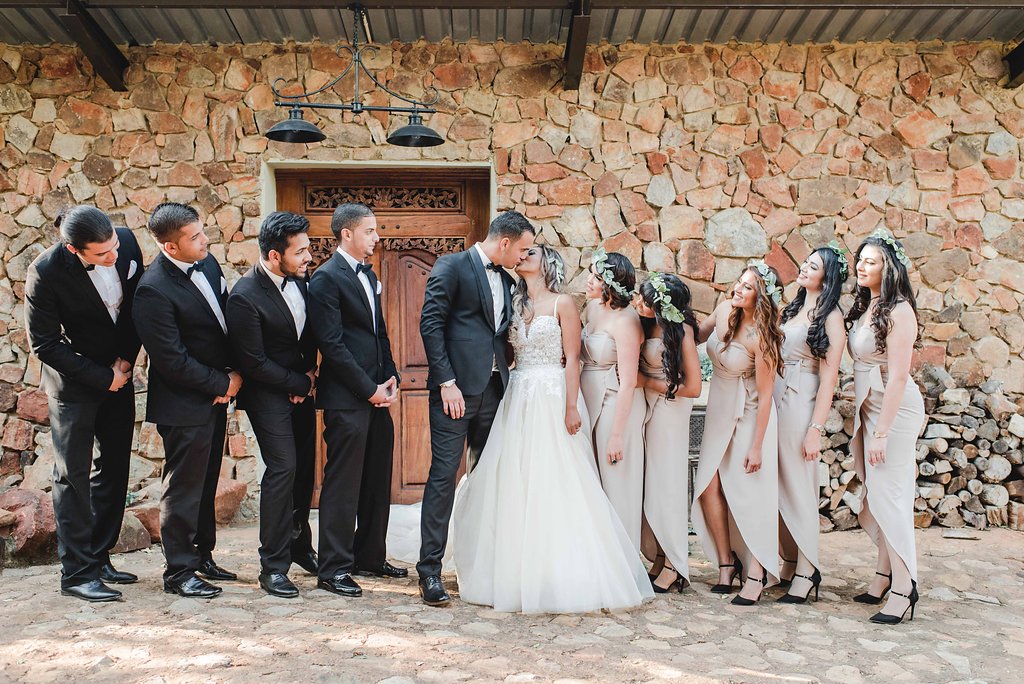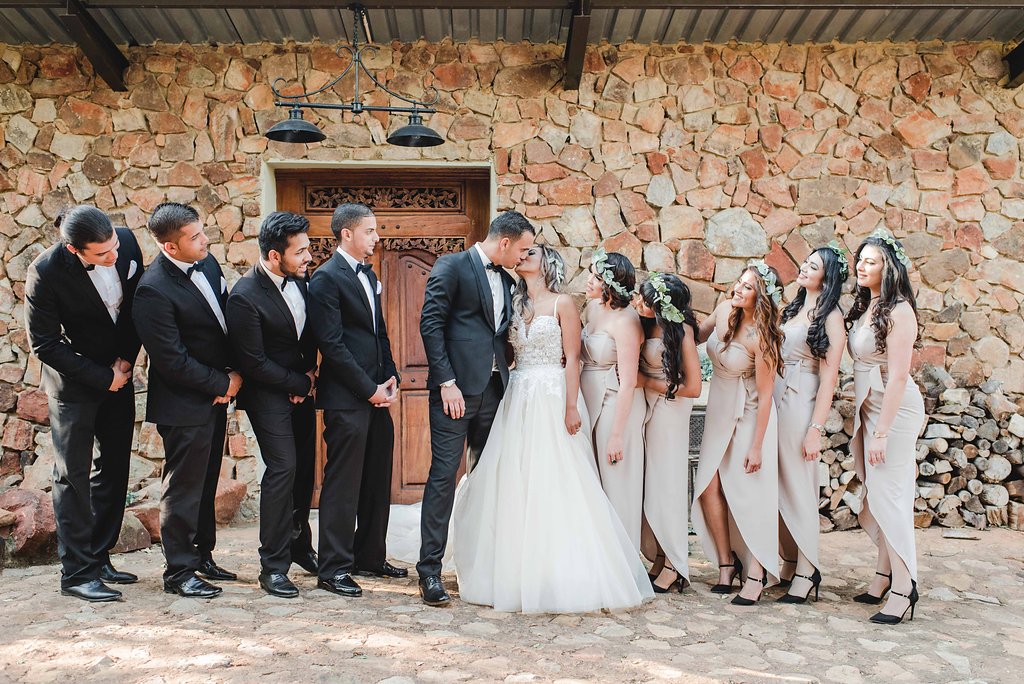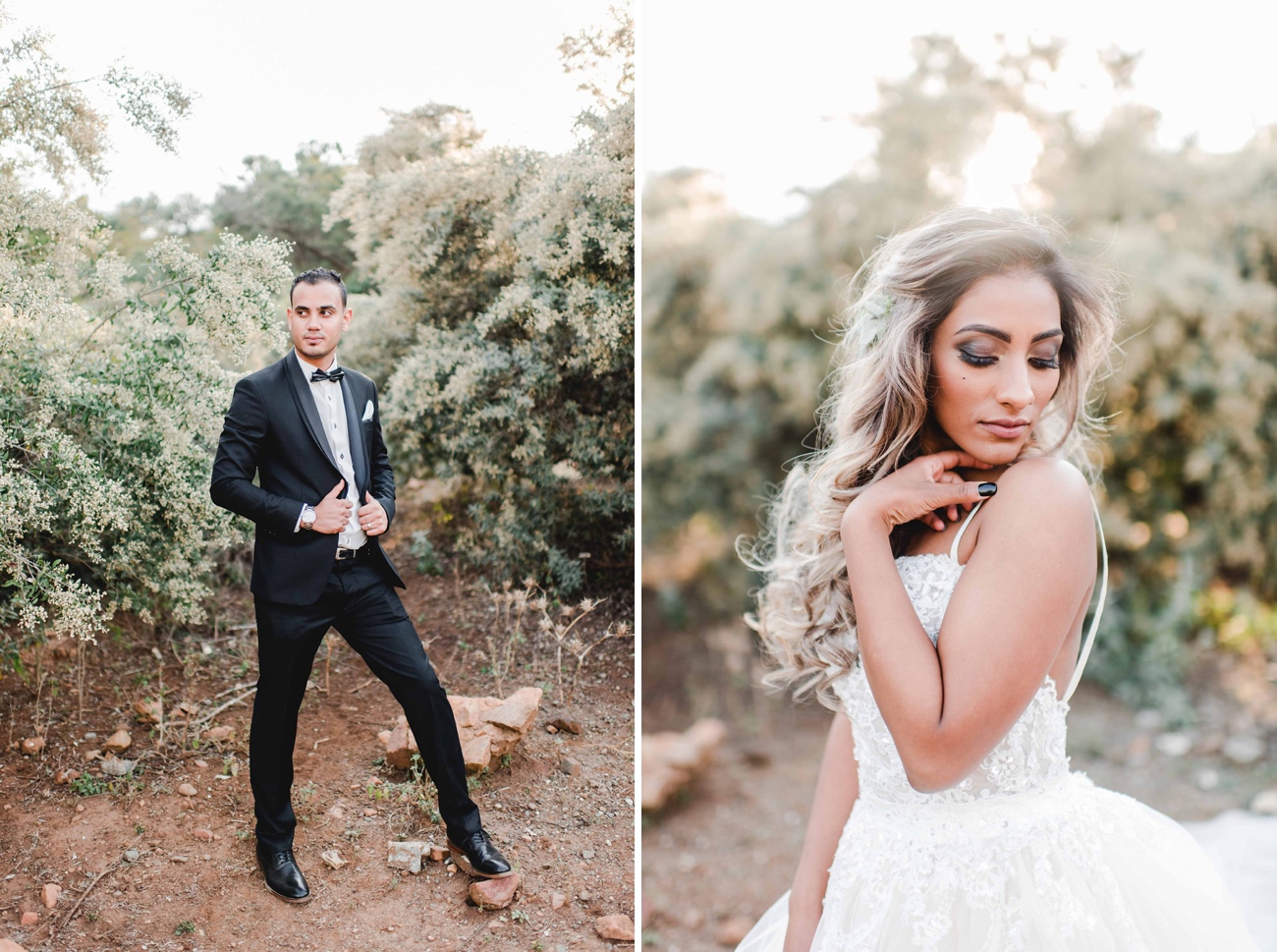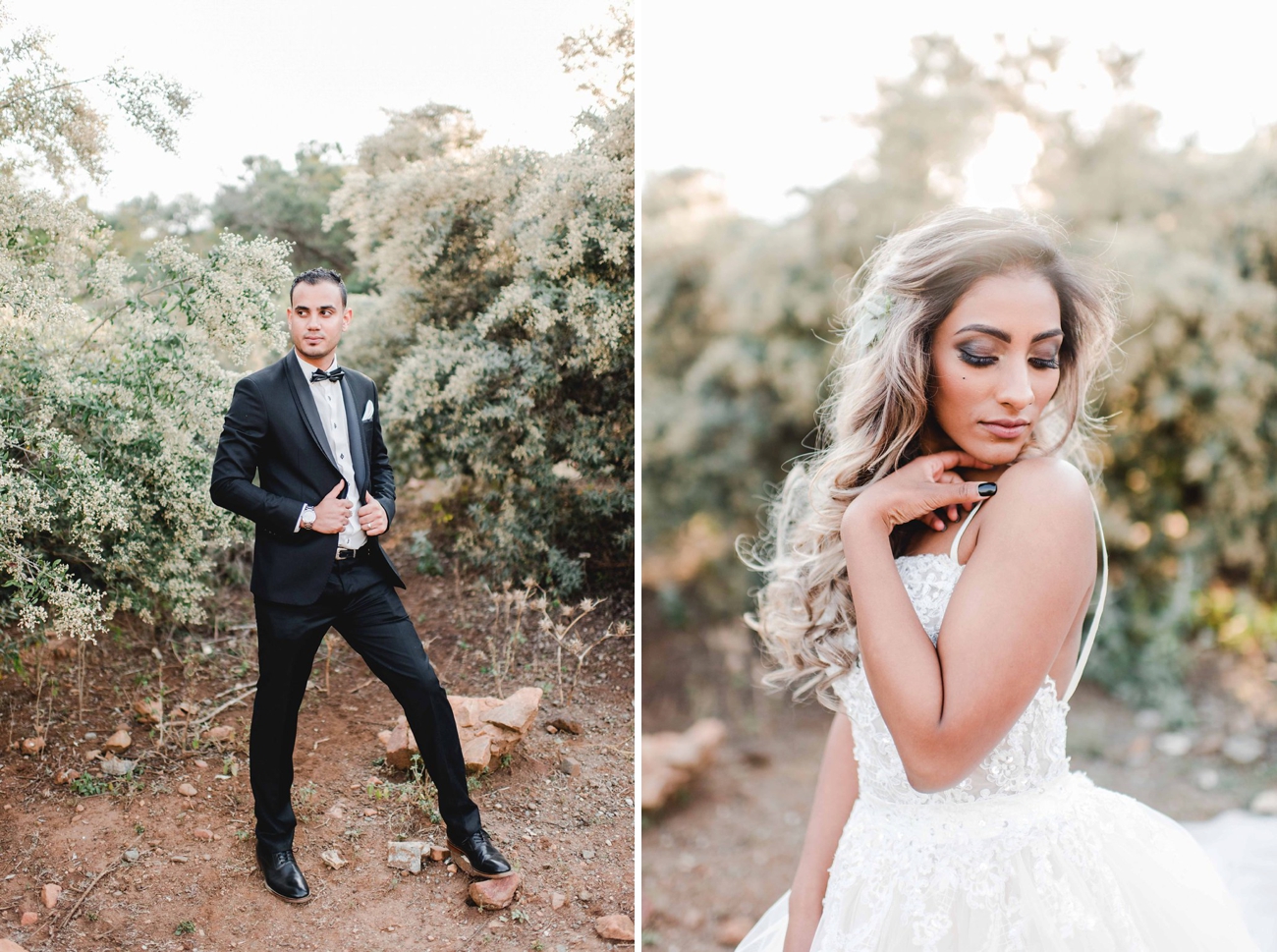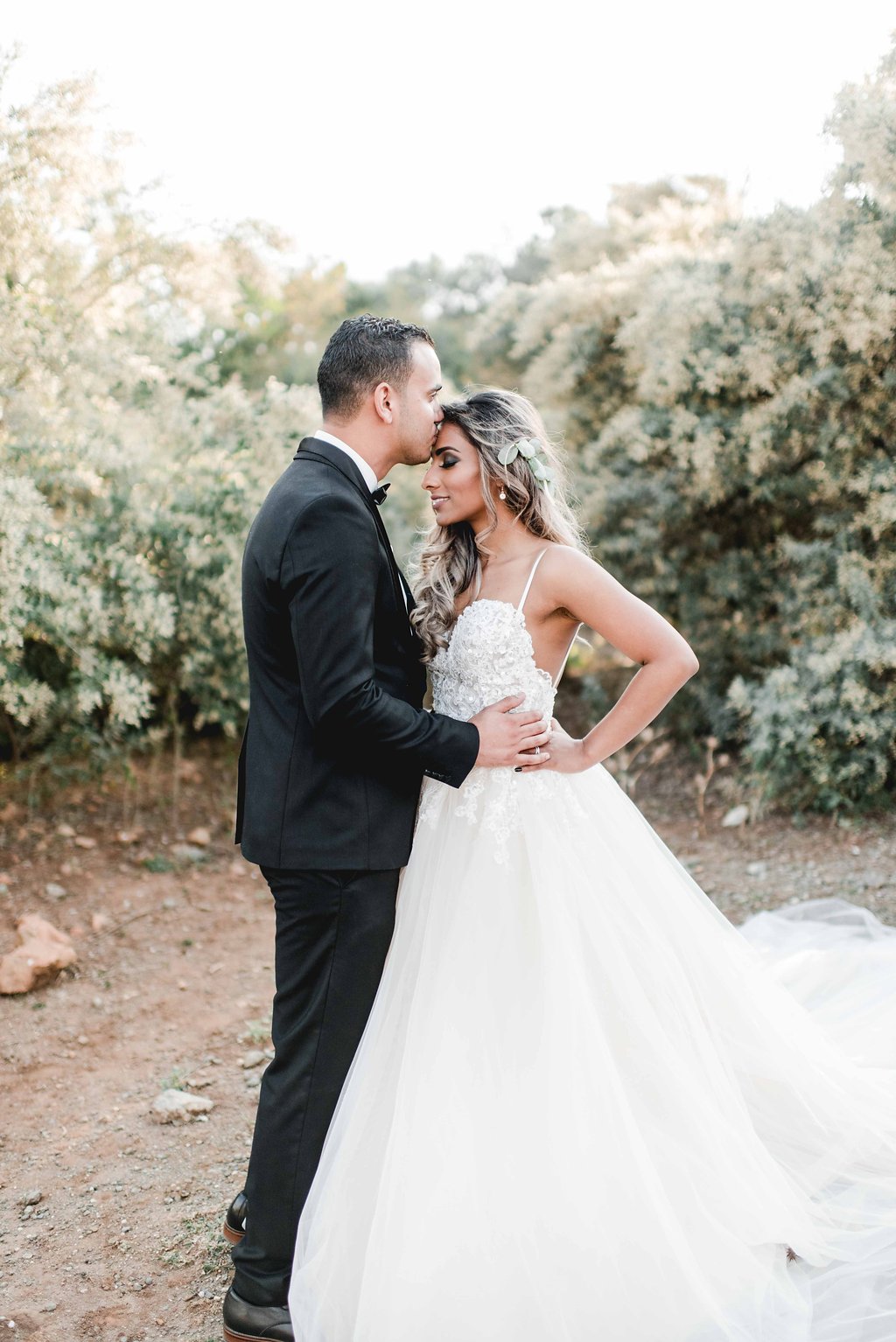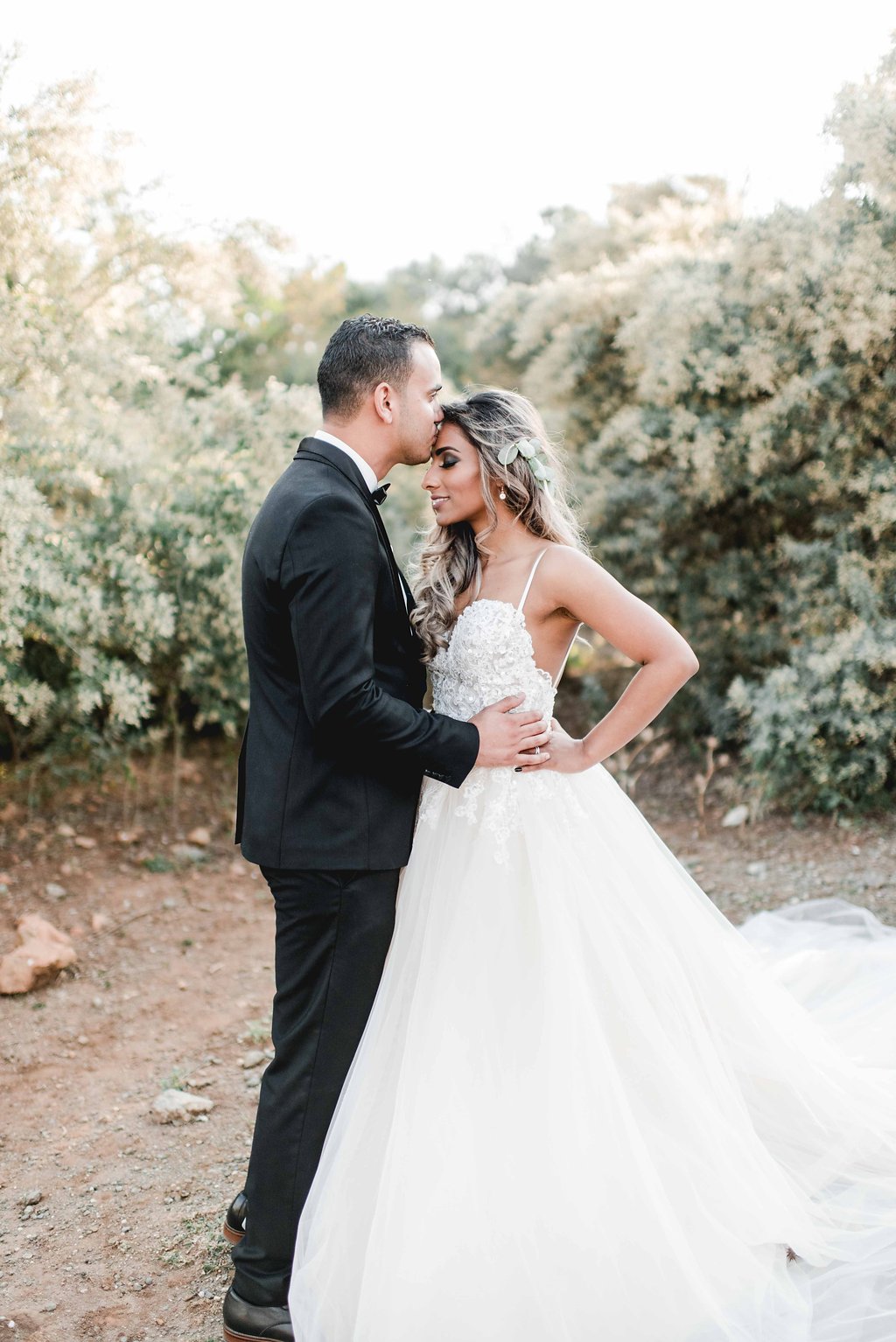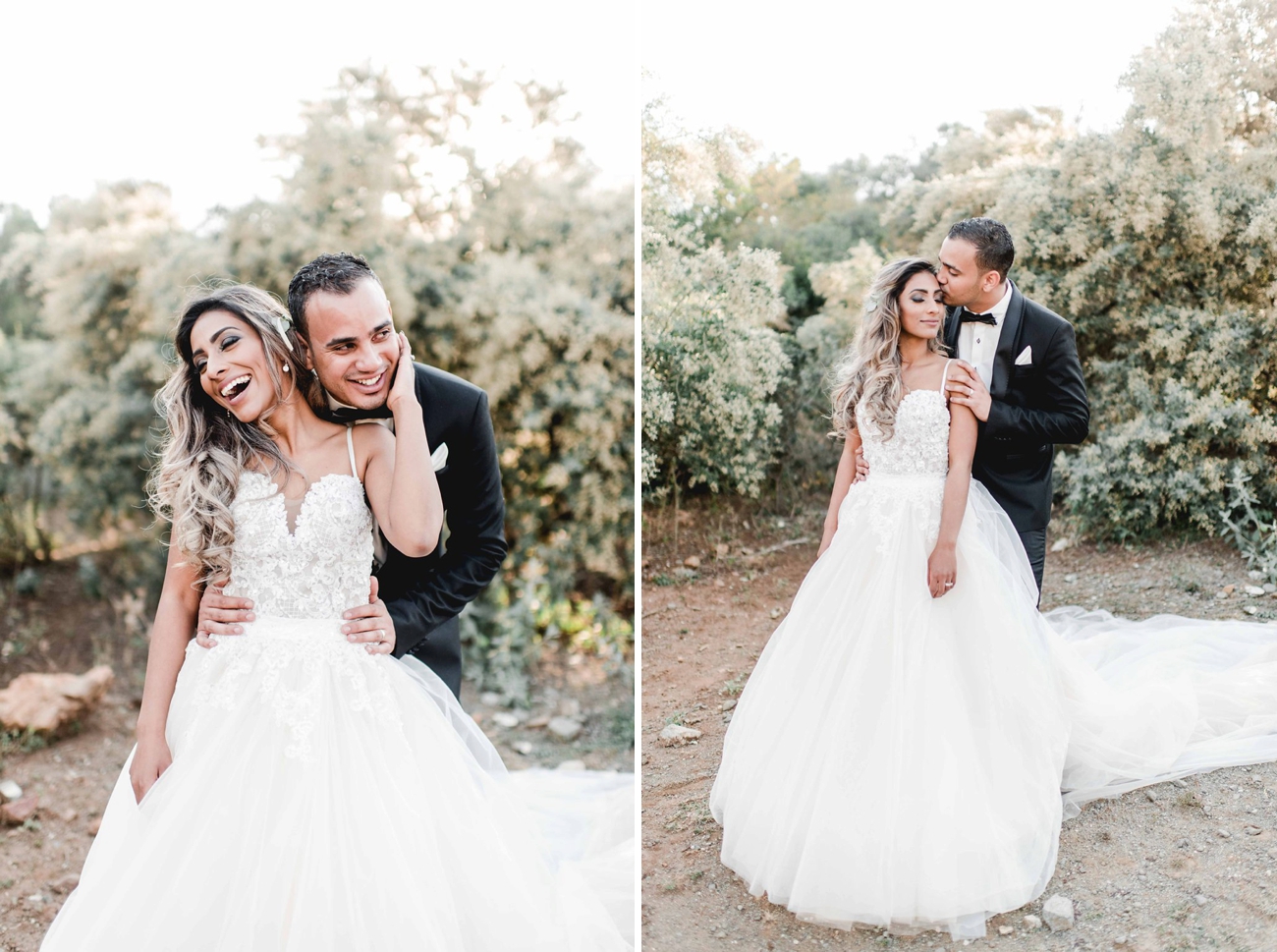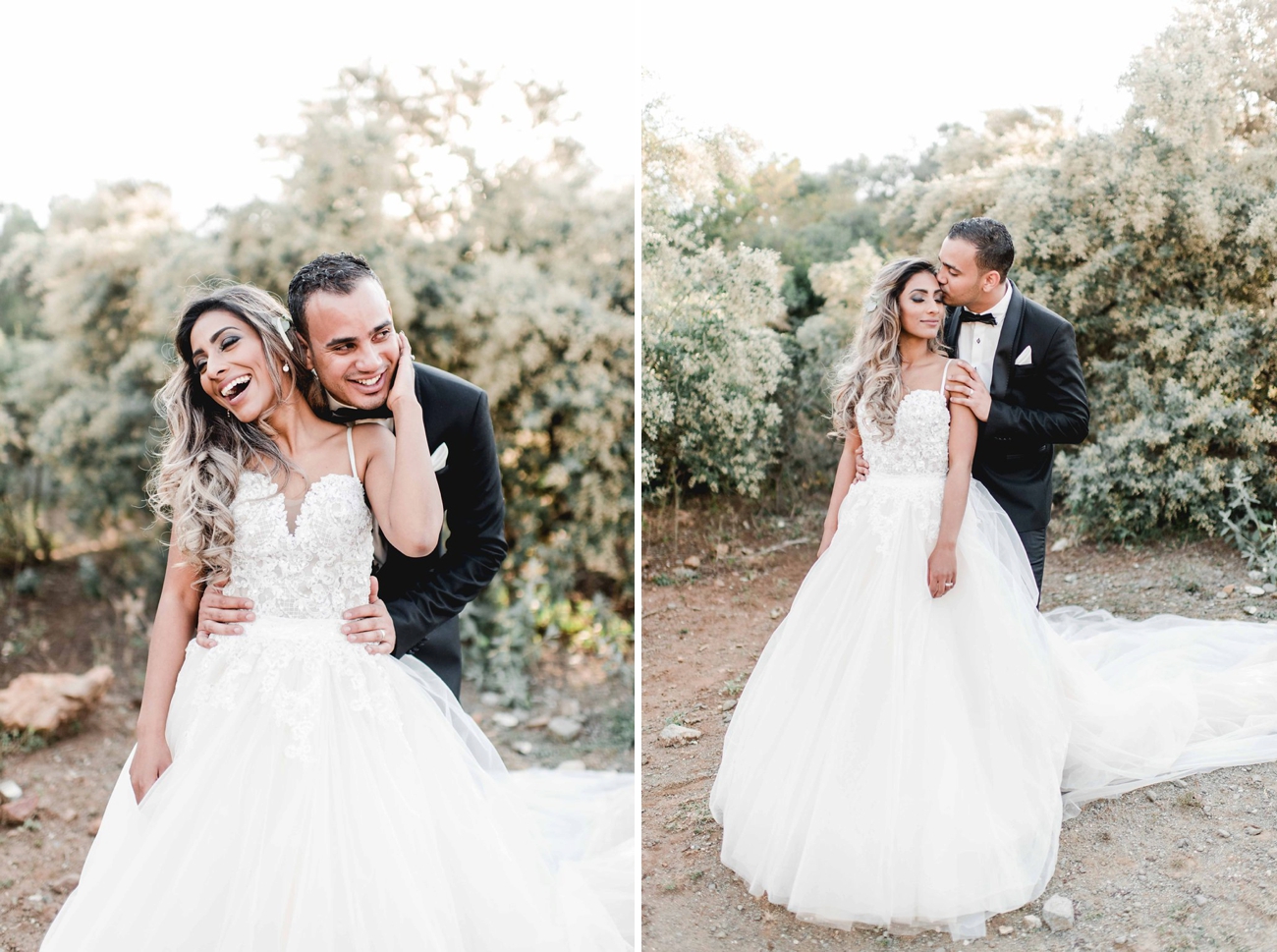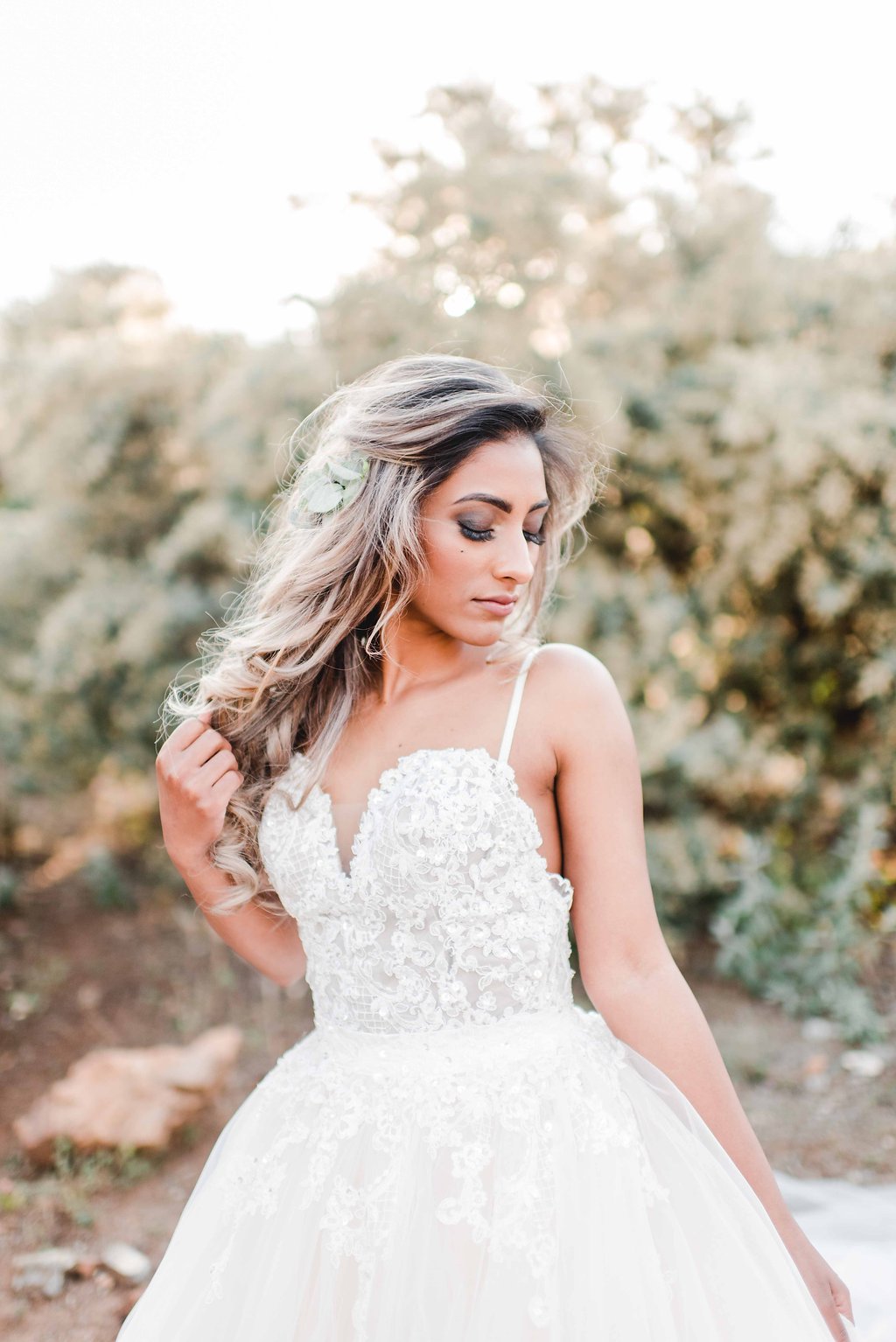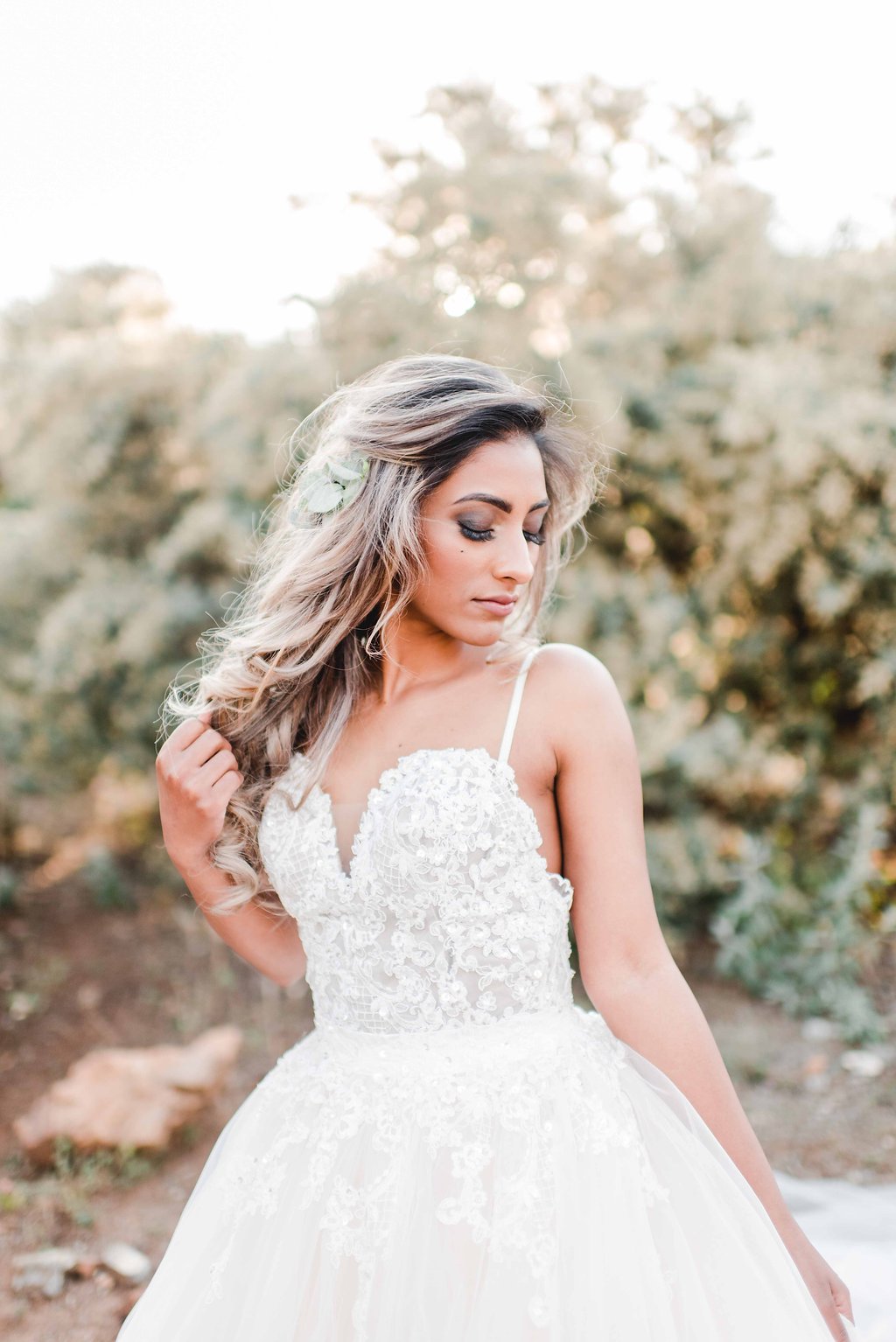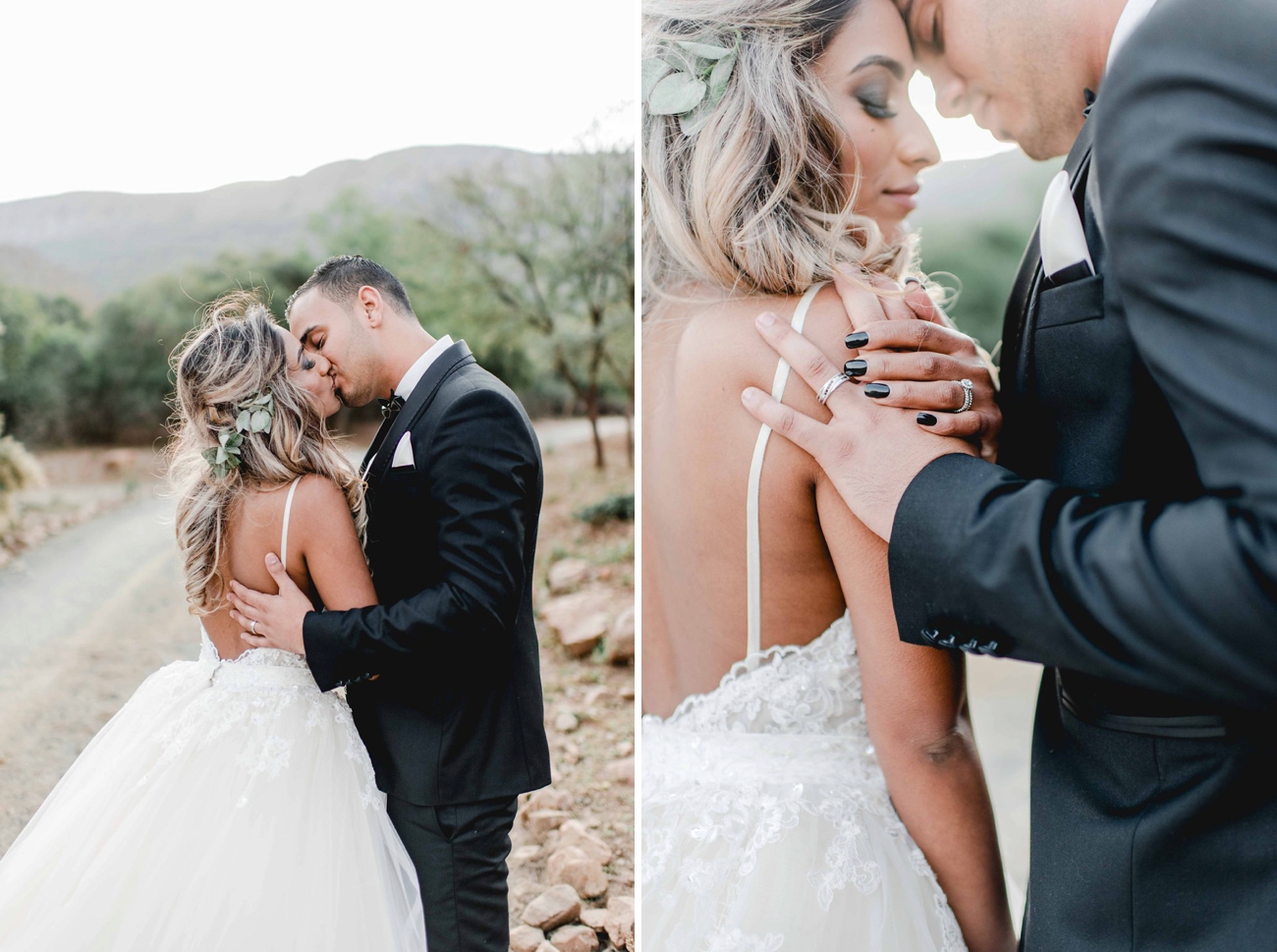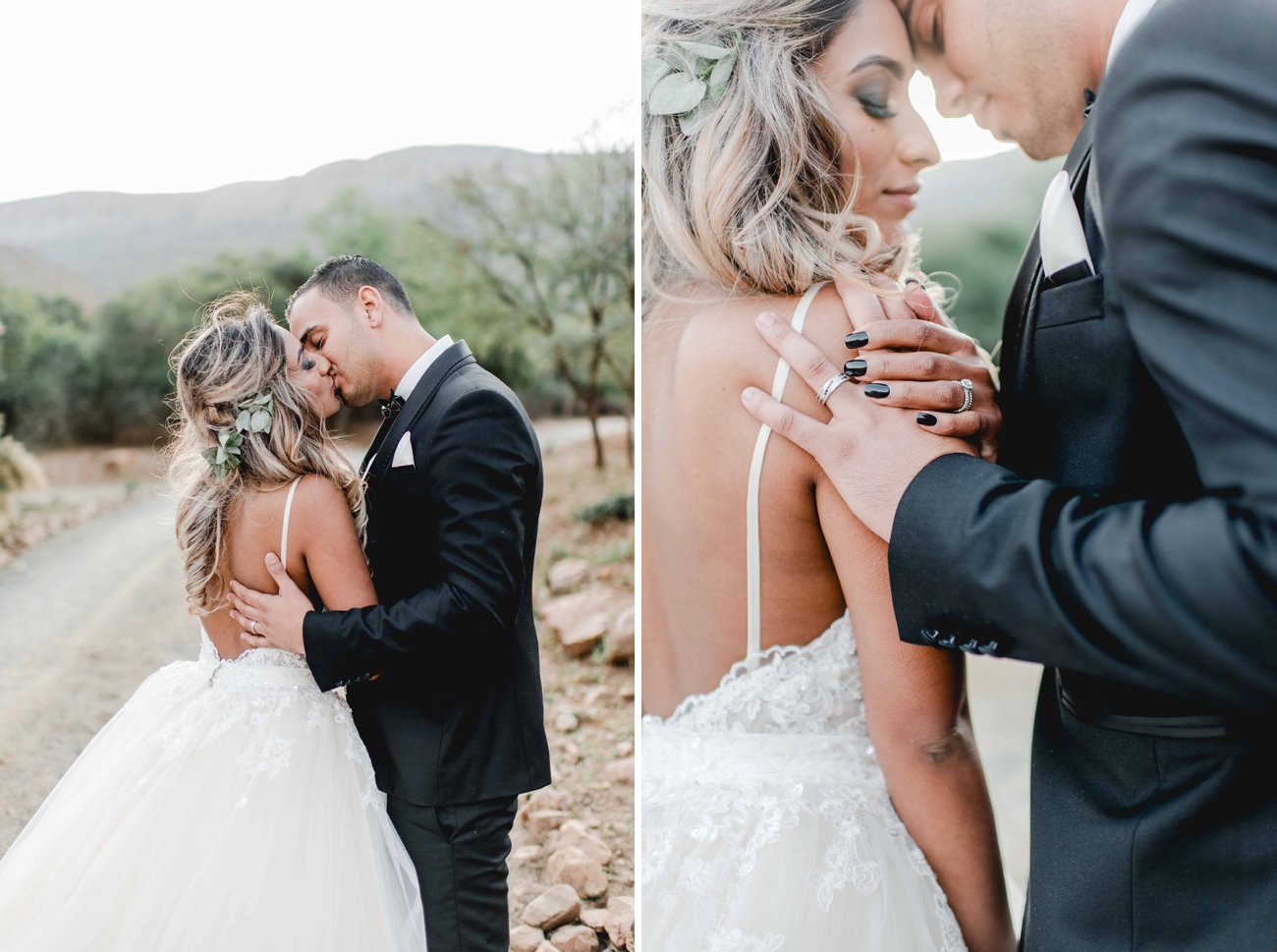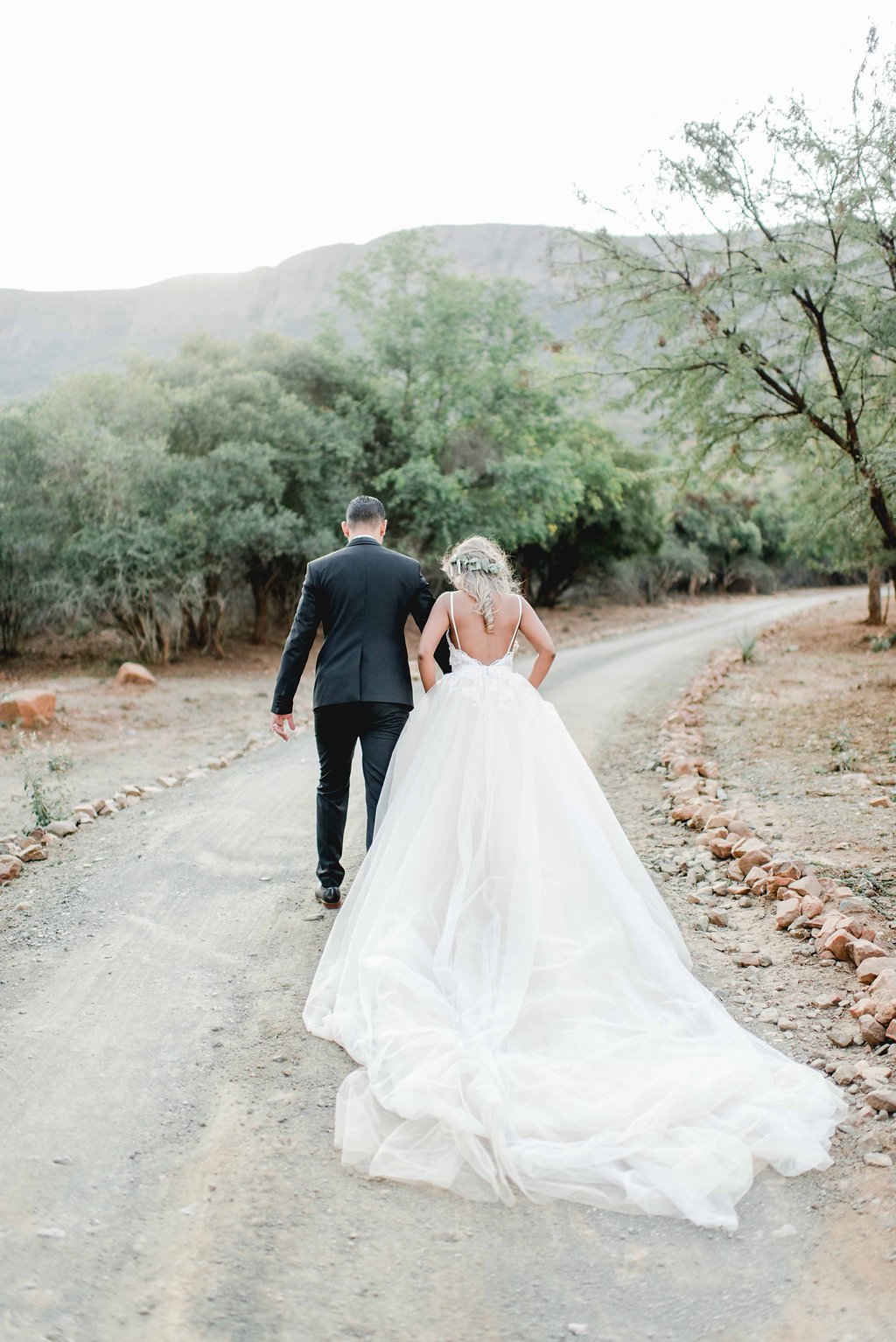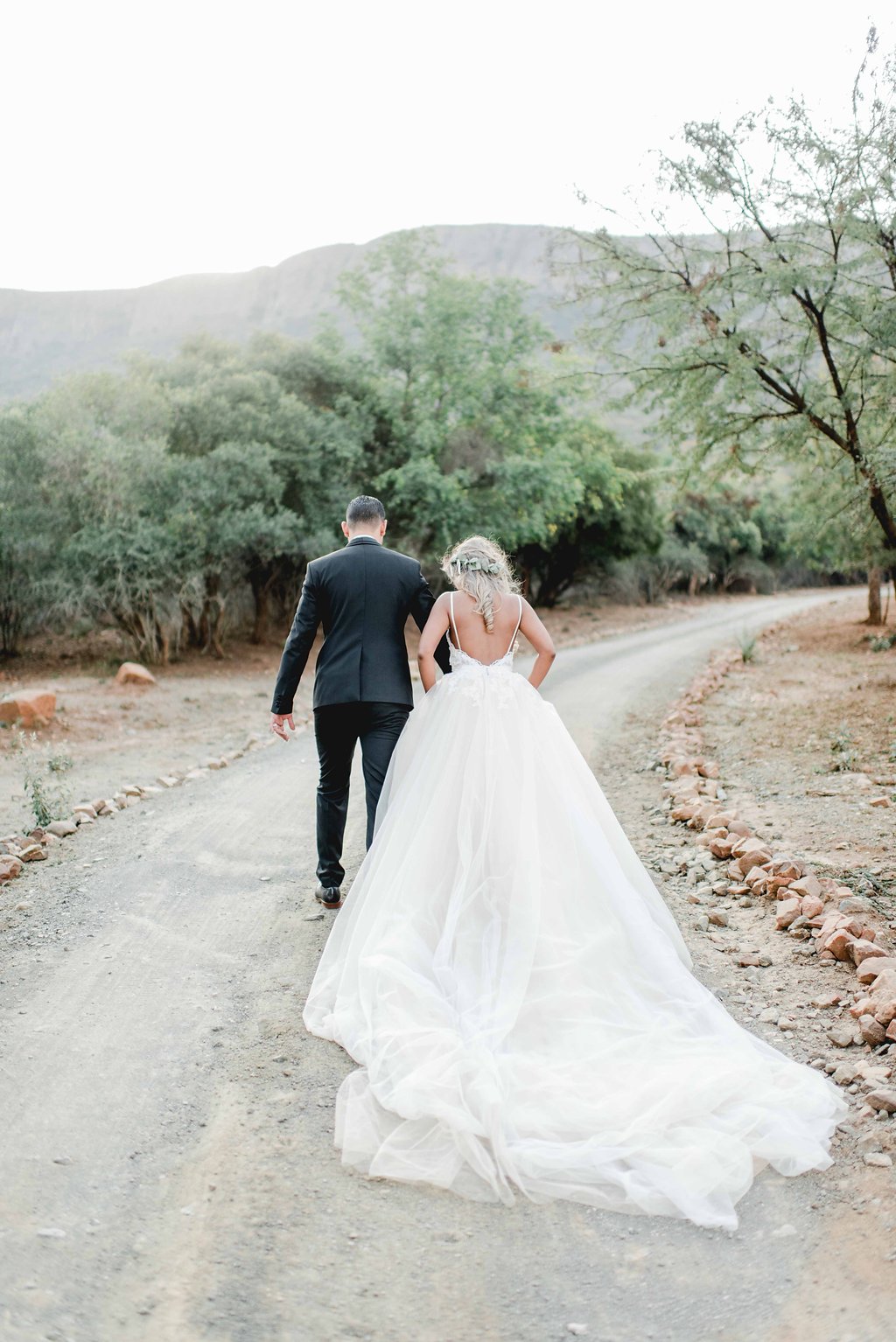 The Dress
I initially wanted to buy a wedding gown because I felt nervous about getting something sewn! I have seen so many horror stories about designers messing up dresses or dresses made with nasty nappy material! But when I went looking at many bridal boutiques, I wasn't impressed with what I found! I guess it's because I knew exactly what I wanted and I kept comparing it to what the boutiques had! I decided to give sewing a shot and found a wedding designer in Brakenhurst. She was so sweet and made me feel incredibly comfortable! I saw her work and was confident in trusting her – so glad I did! I had two parts to my dress. I had always loved a 'poofie' dress with a long elaborate train but I was torn between something slimline and sexy! I saw the idea of wearing an over-skirt some time ago and decided to go with that! The evening dress had a deep gold satin underneath and a french lace over so the dress colour was a modern ivory! The tulle had layers of yellows and golds to match the dress. I have kept my dress and will wear my tulle for a one year anniversary shoot! The evening dress I am saving to wear at another milestone anniversary.
The Bridesmaids
I had four bridesmaids and one maid of honour. I chose a simple nude boobtube dress, and they wore a green leaf crown and carried the same bunch of leaves as a bouquet. They wore matching black shoes and an emerald rose gold ring on their finger. Because our wedding was in July, I asked the girls to wear black leather jackets if they get cold! I also carried my black leather jacket! I loved the look!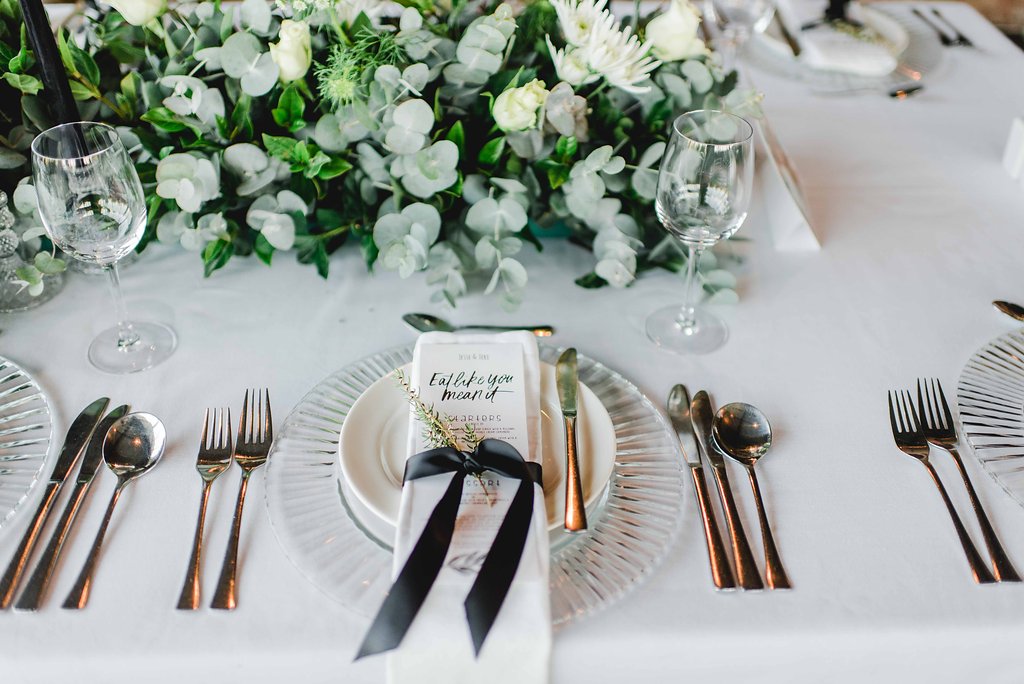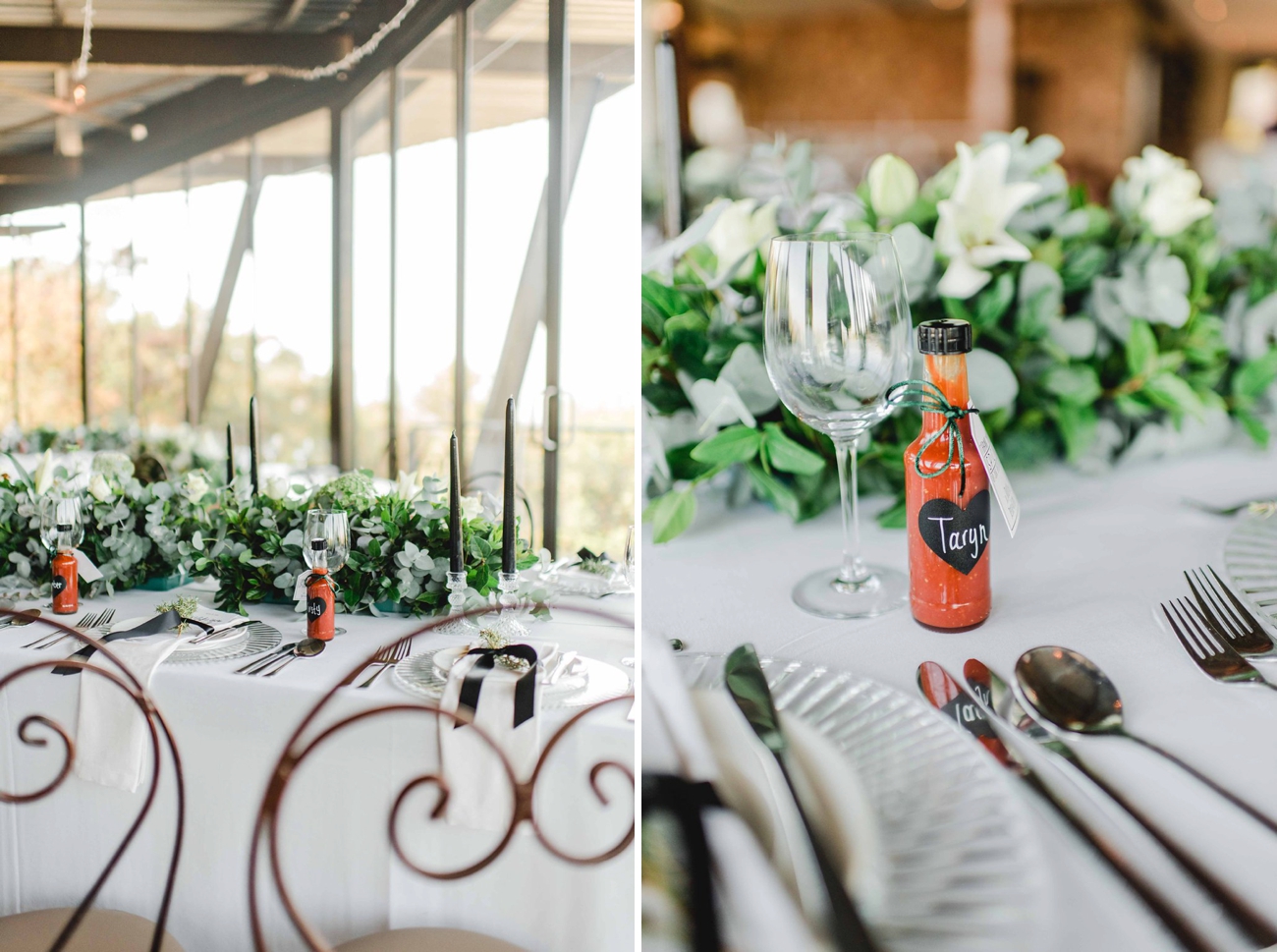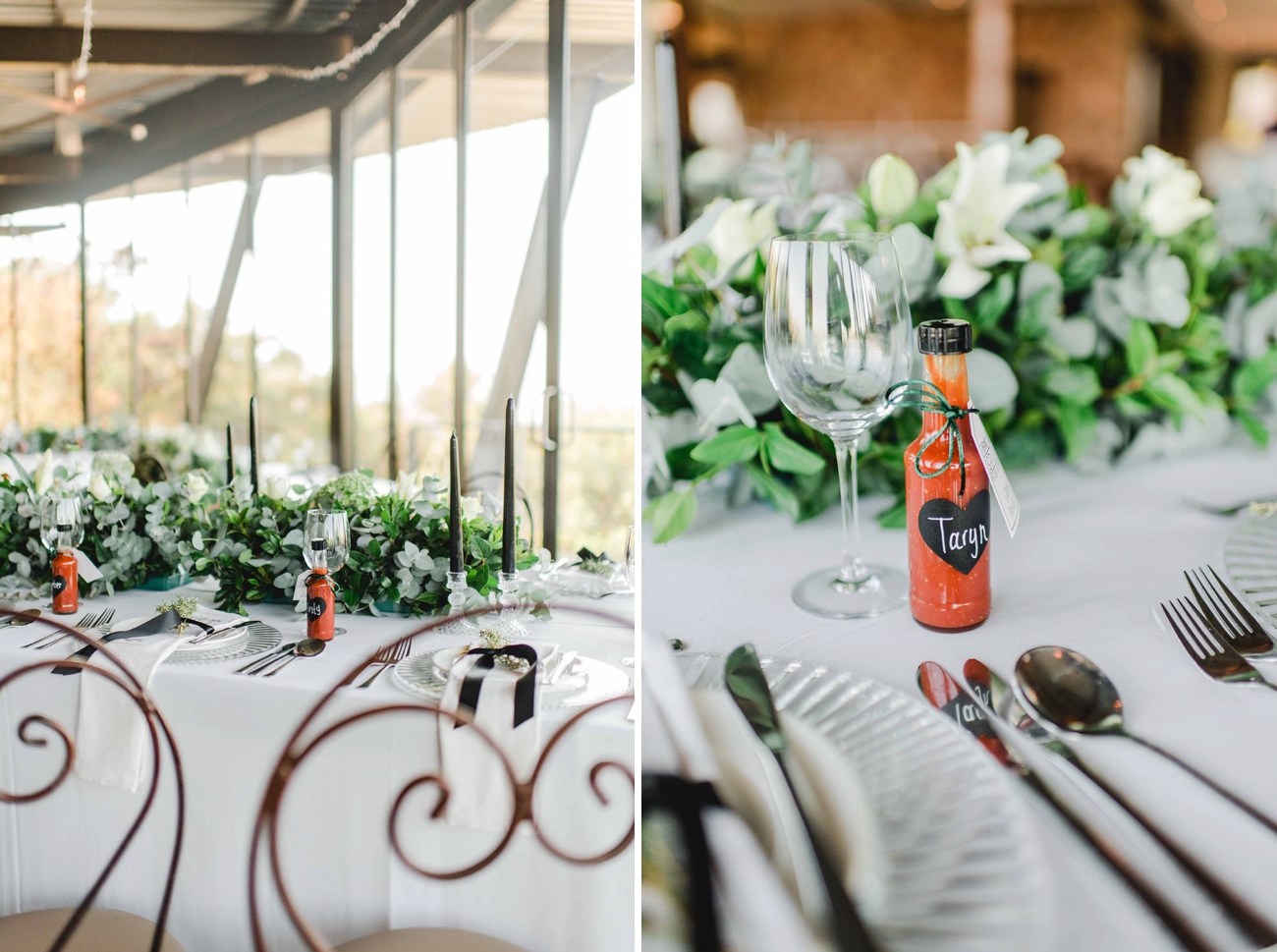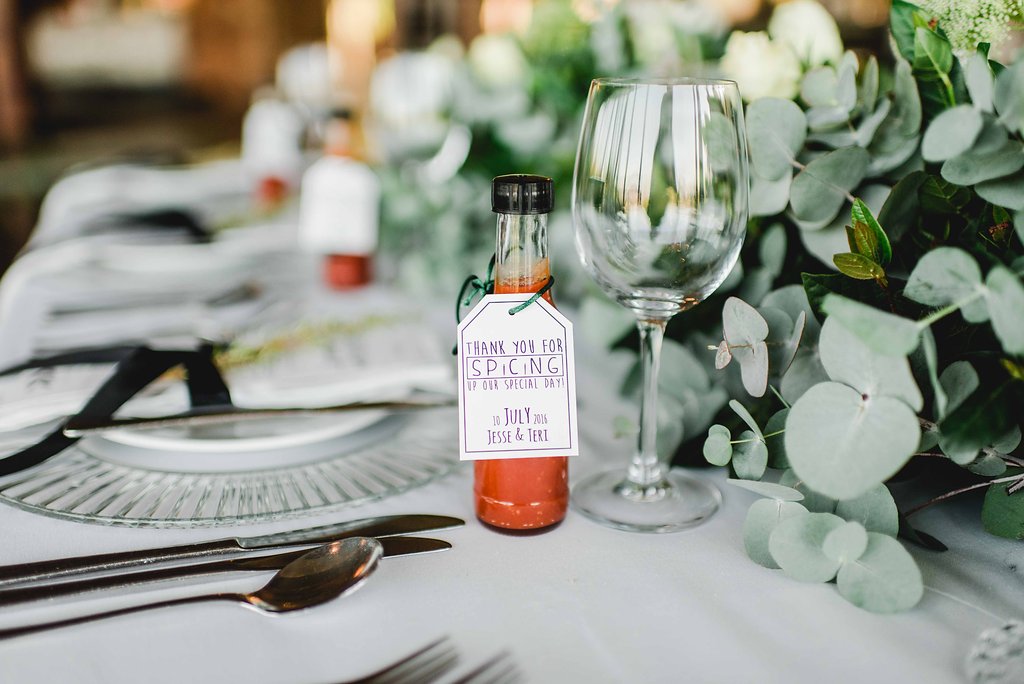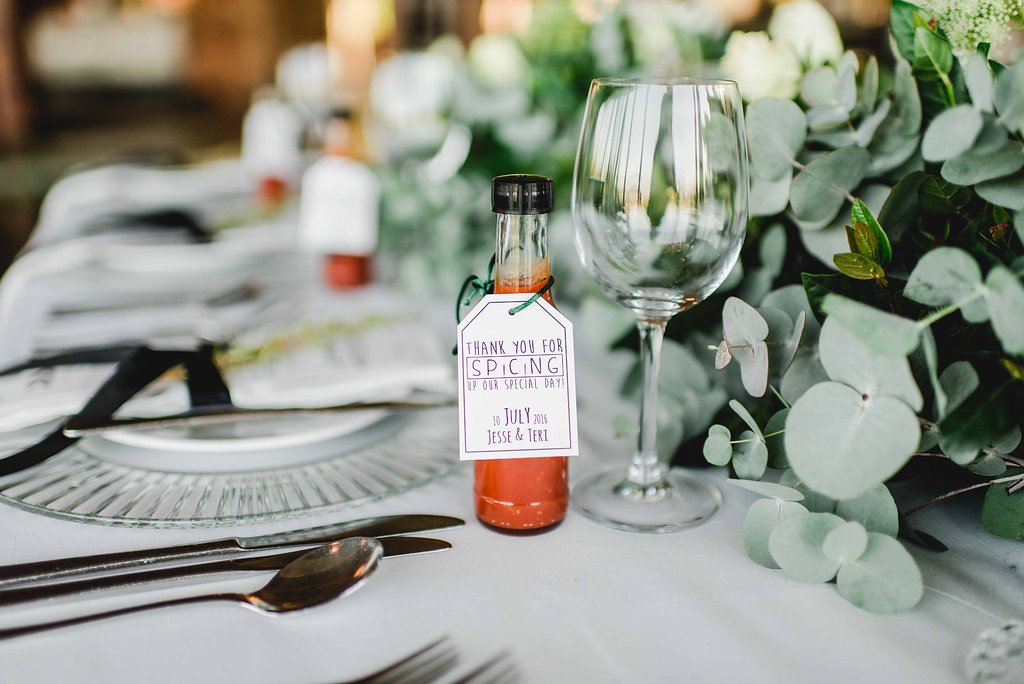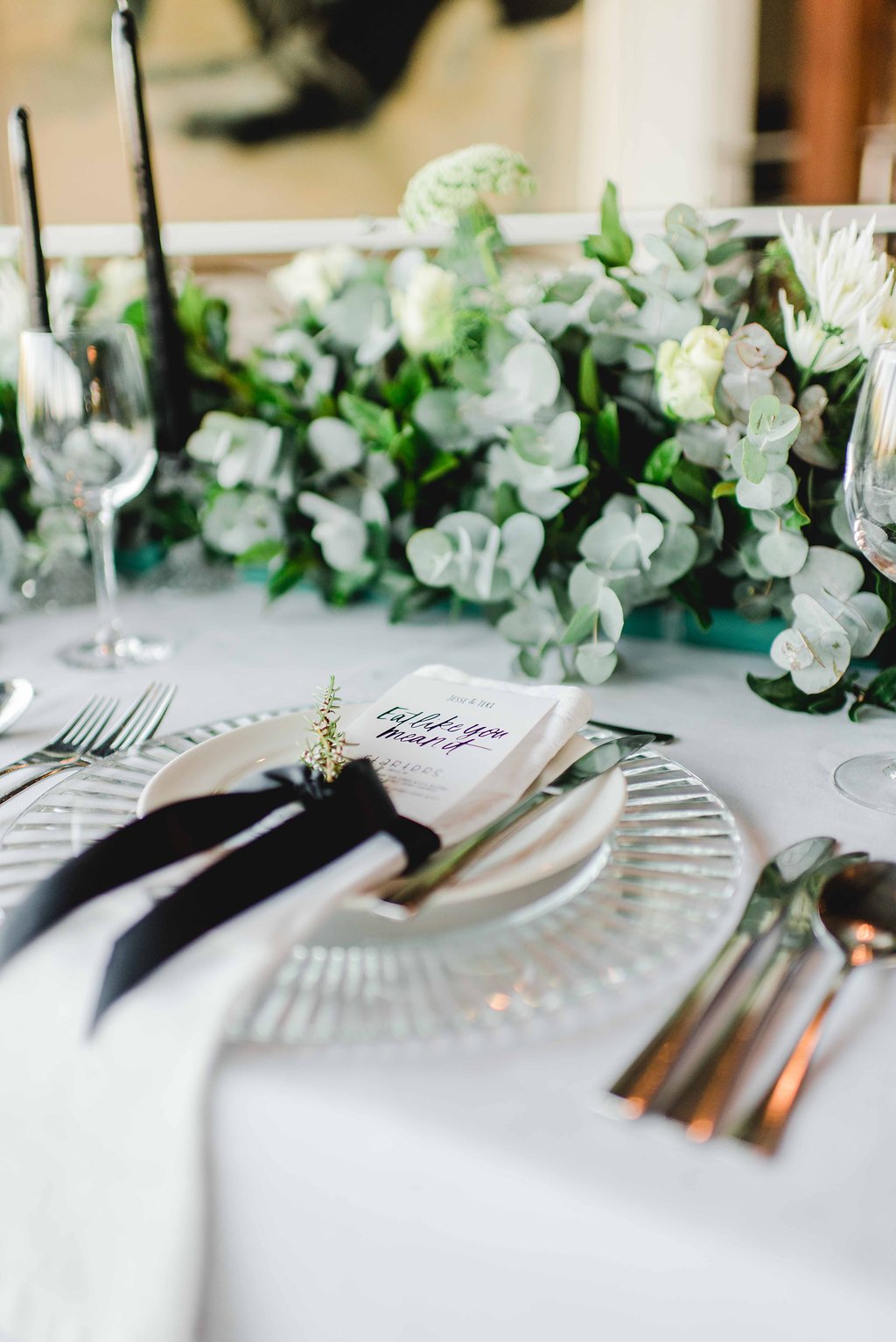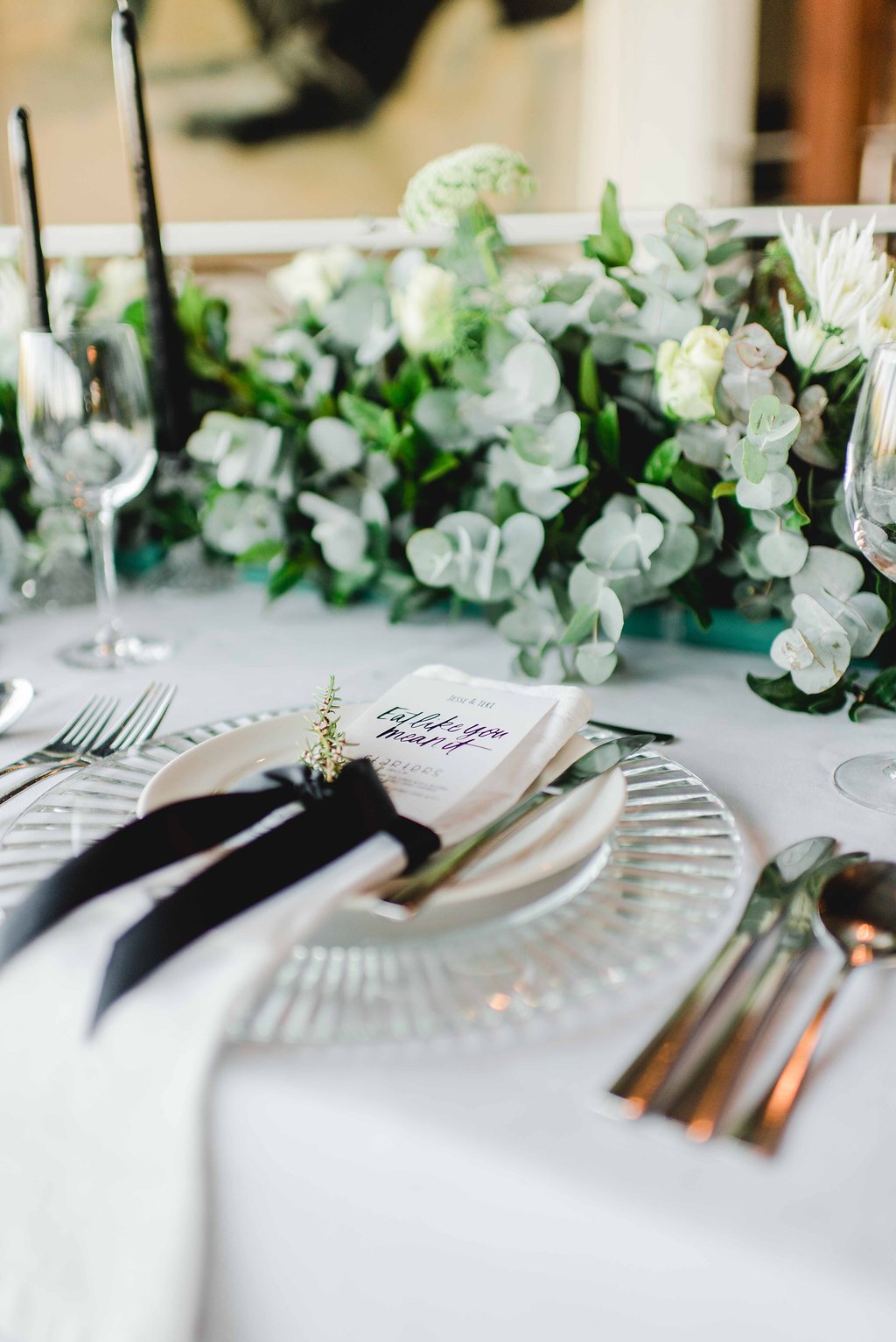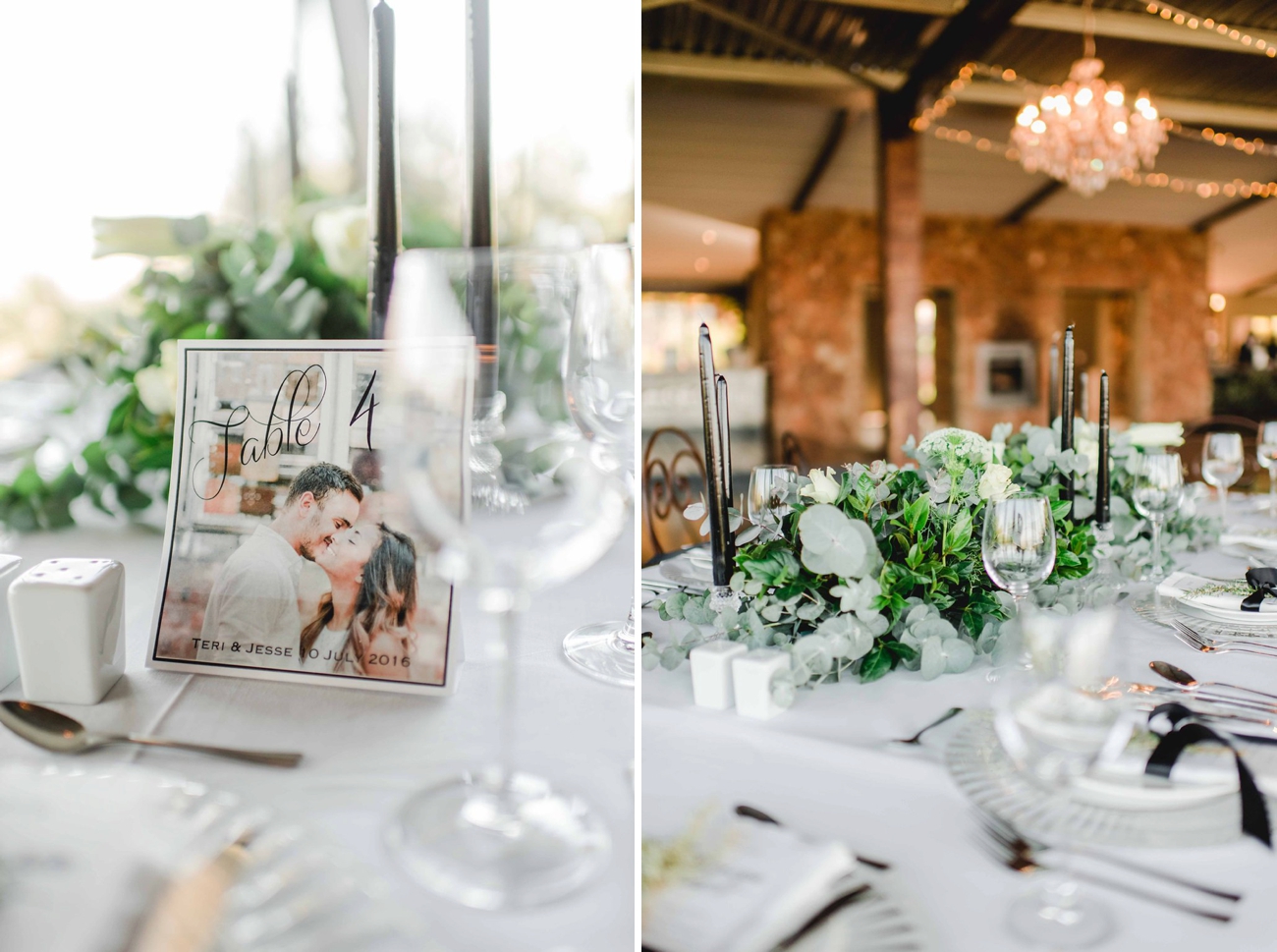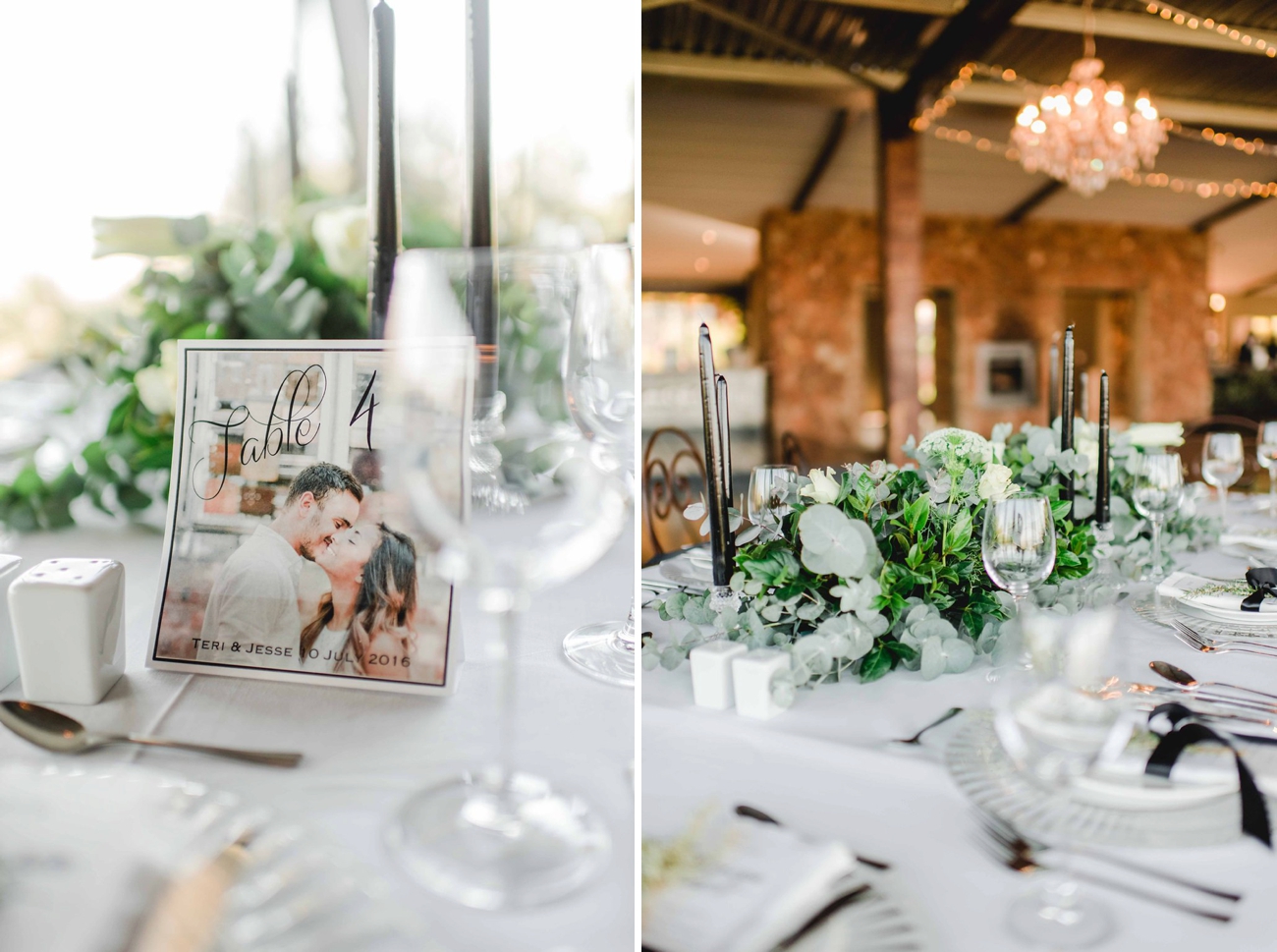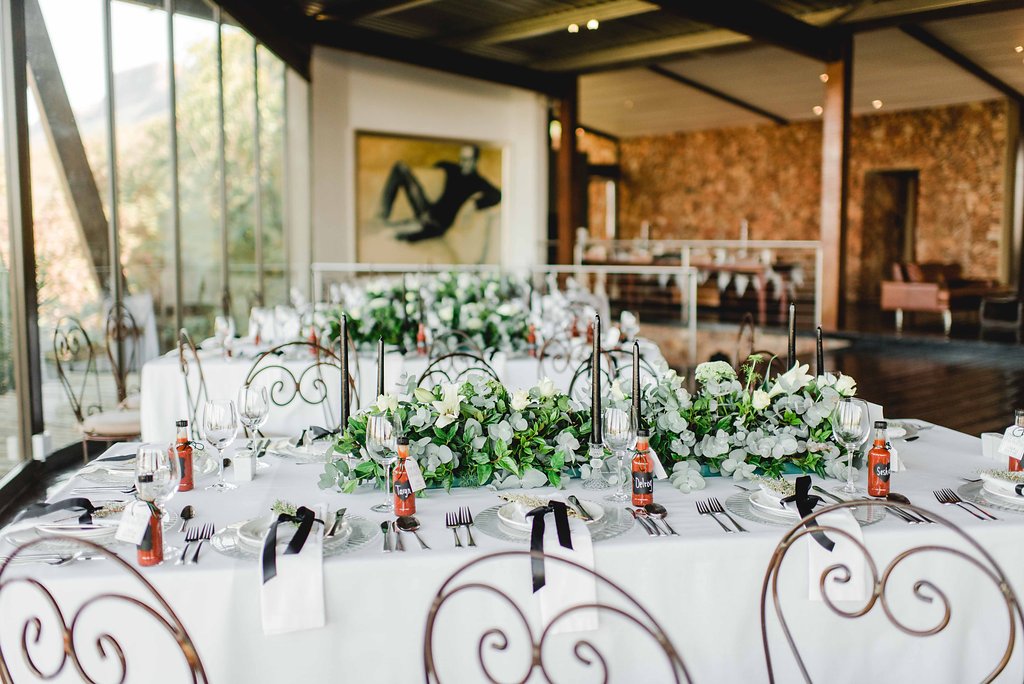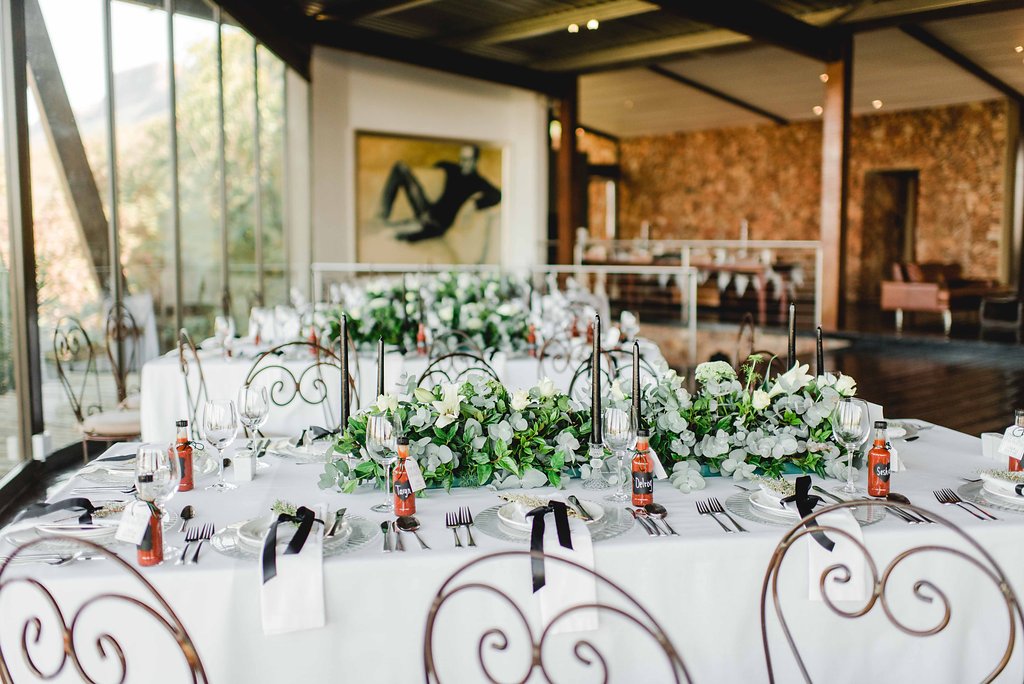 The Flowers
My wedding flowers were an array of greenery and white roses, with lots of eucalyptus and ivy. I'm not very good with flowers, so I left the choice of what kinds of flowers to my decor stylist! She did a demo for me and I loved what she created so we went with that.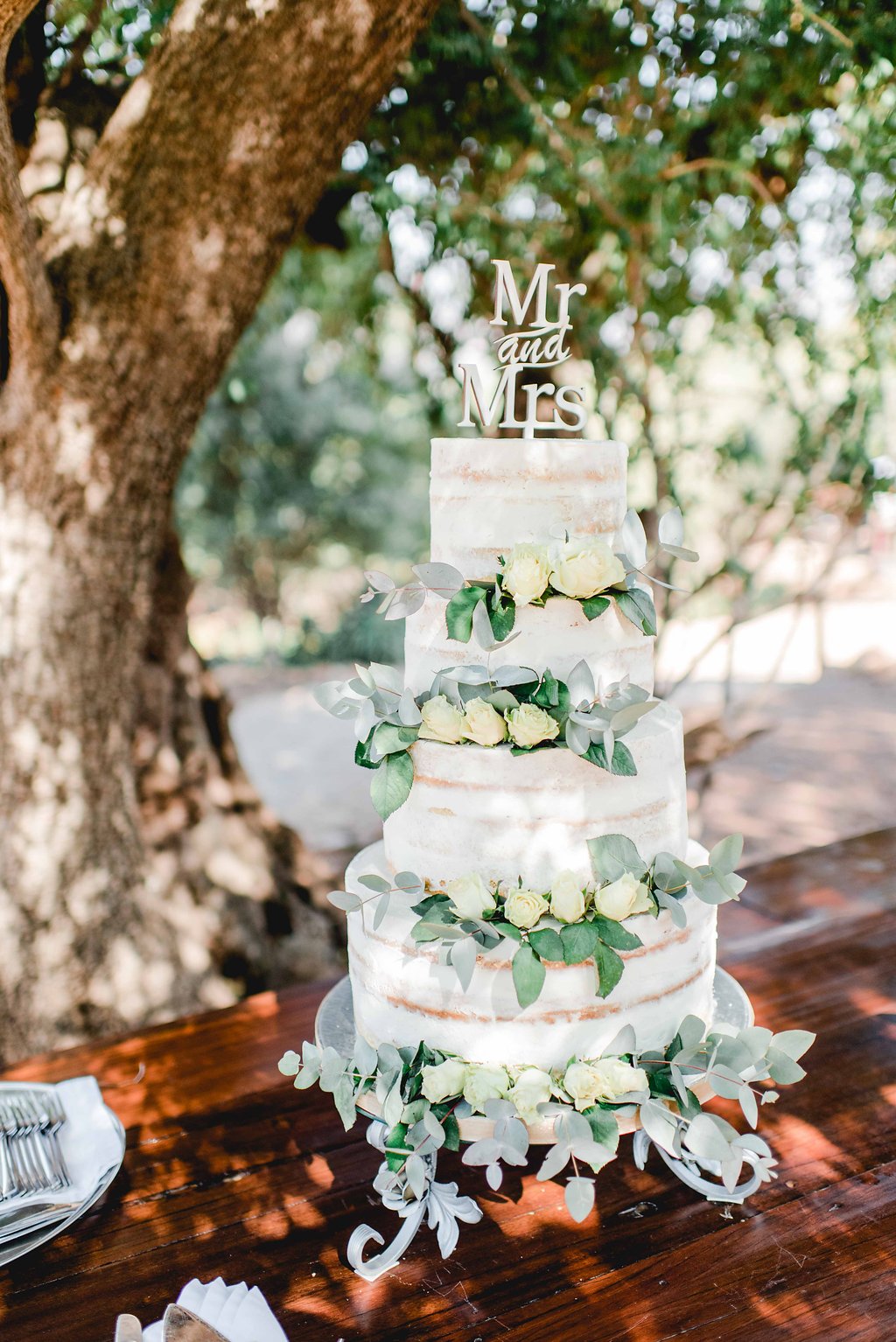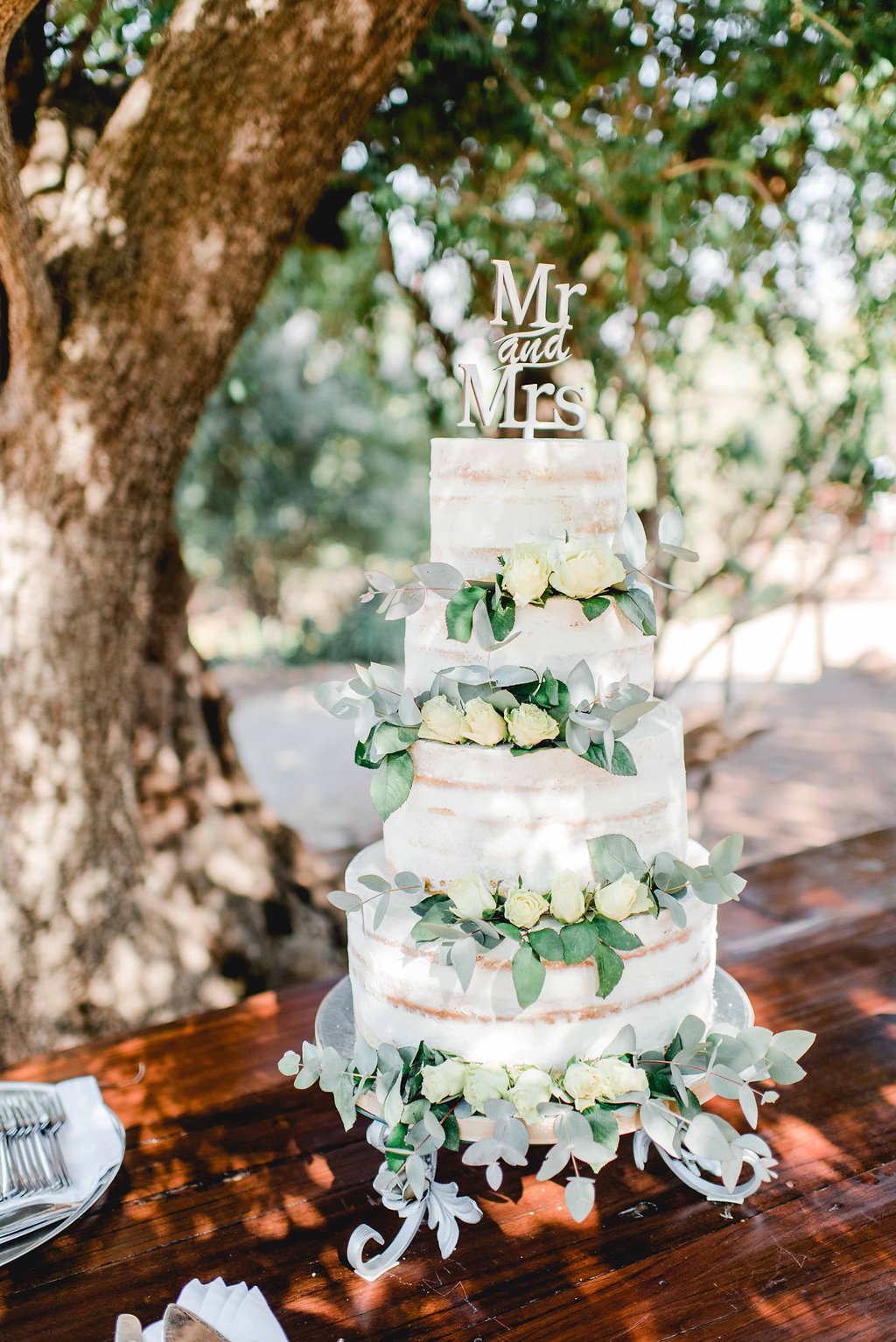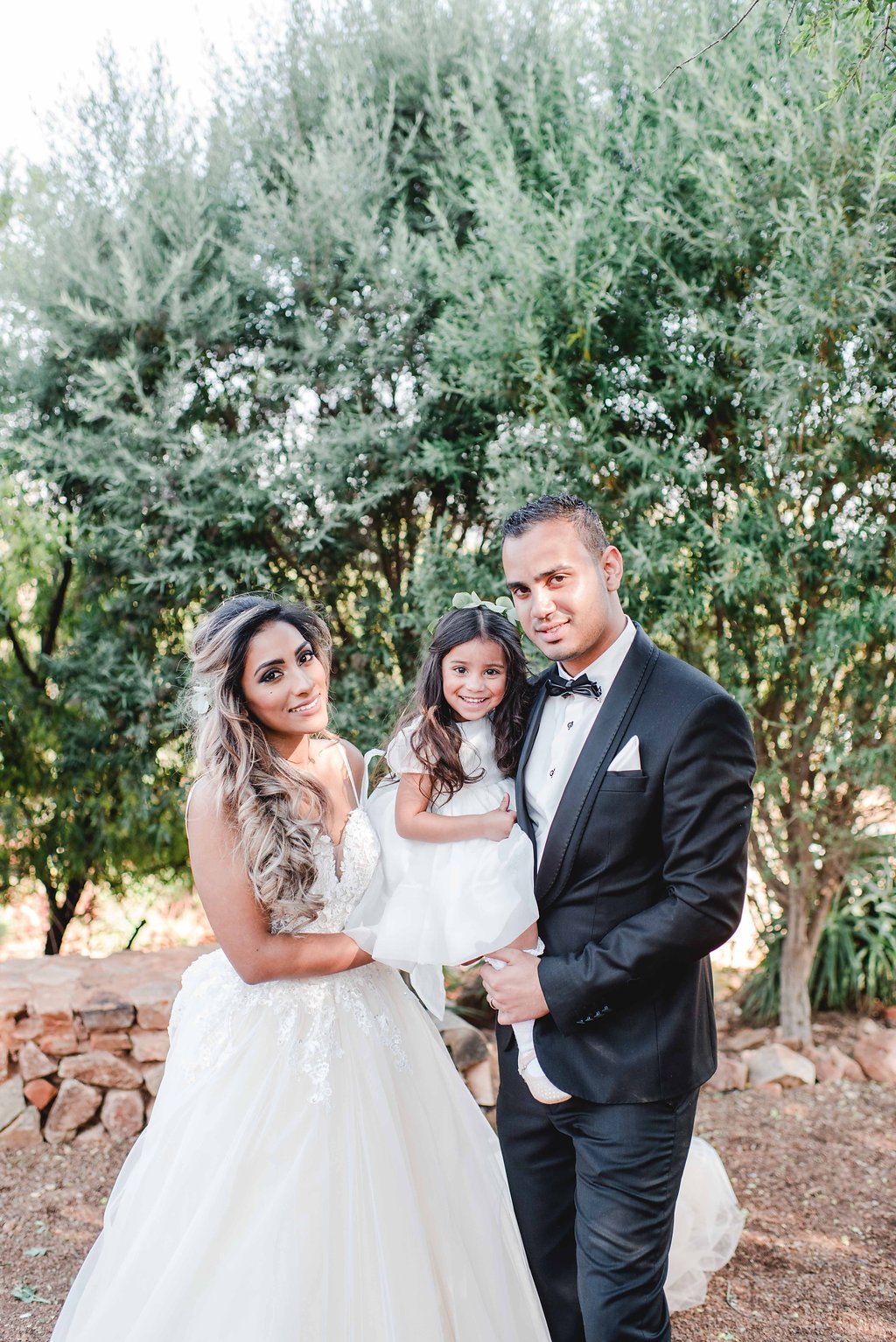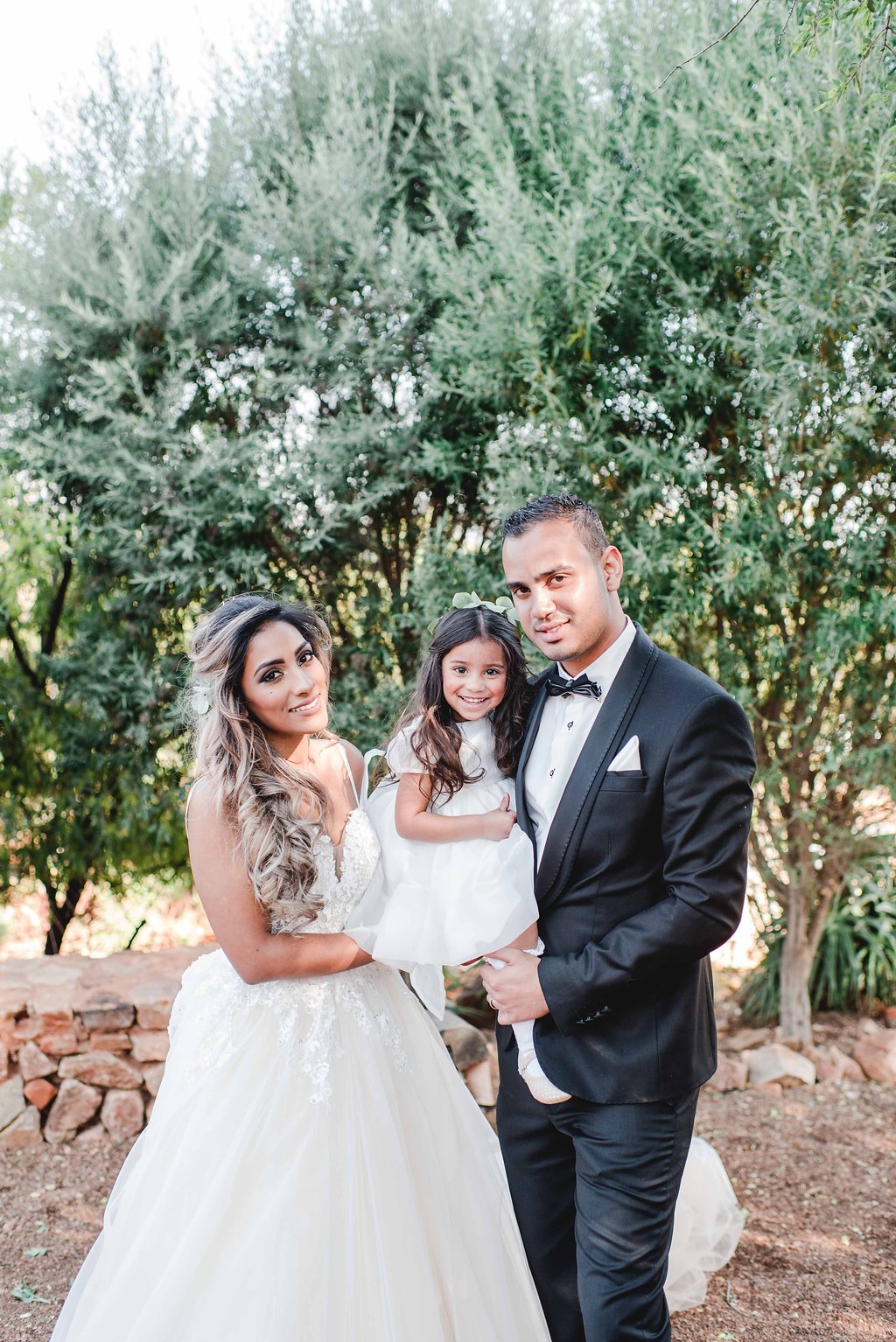 Memorable Moment
When I saw the look on my husband's face as I got down the aisle. I could tell he was crying, and after the ceremony everyone came running to me and told me how he cried so hard when he saw me from a distance while the retinue walked in.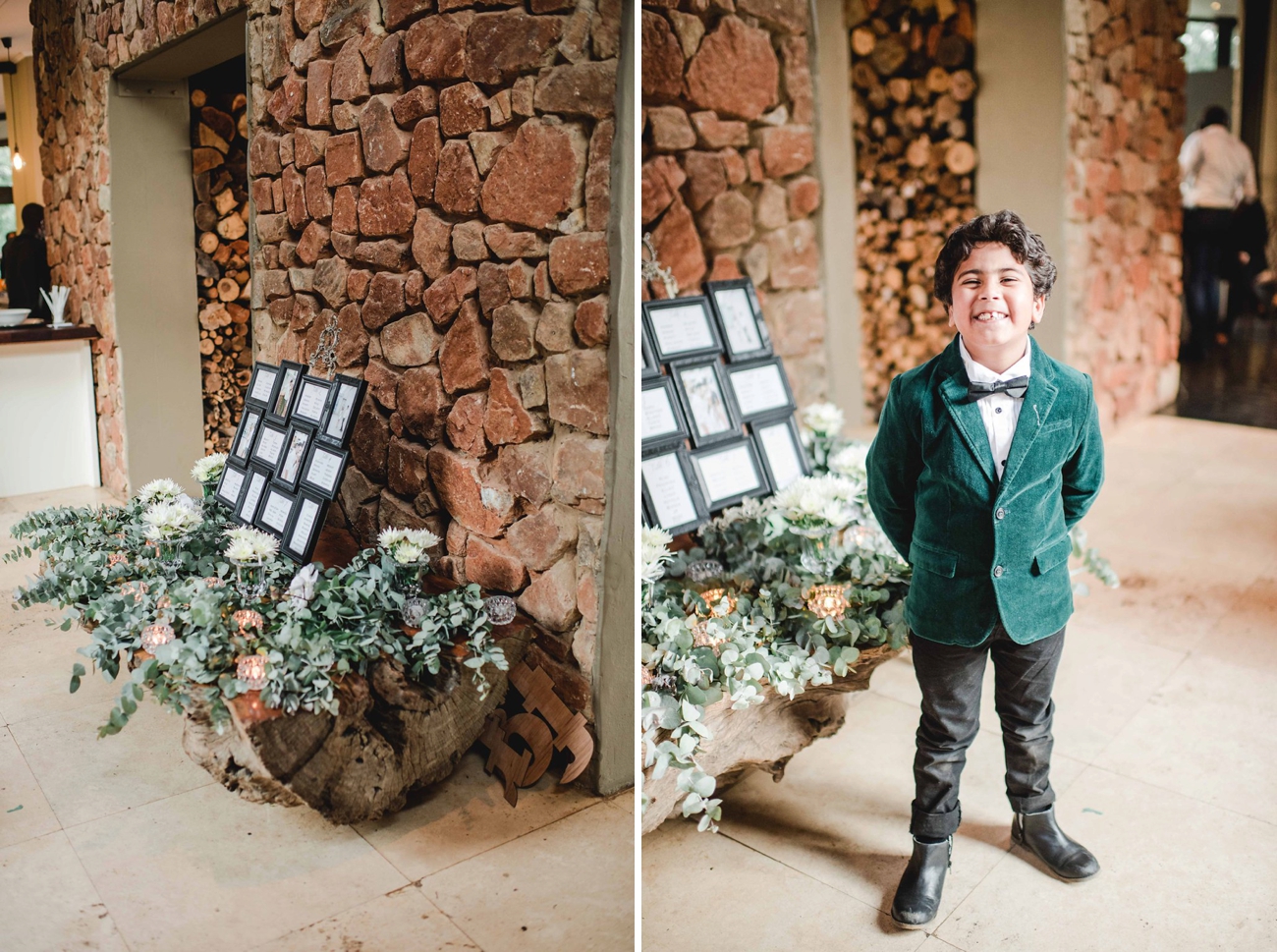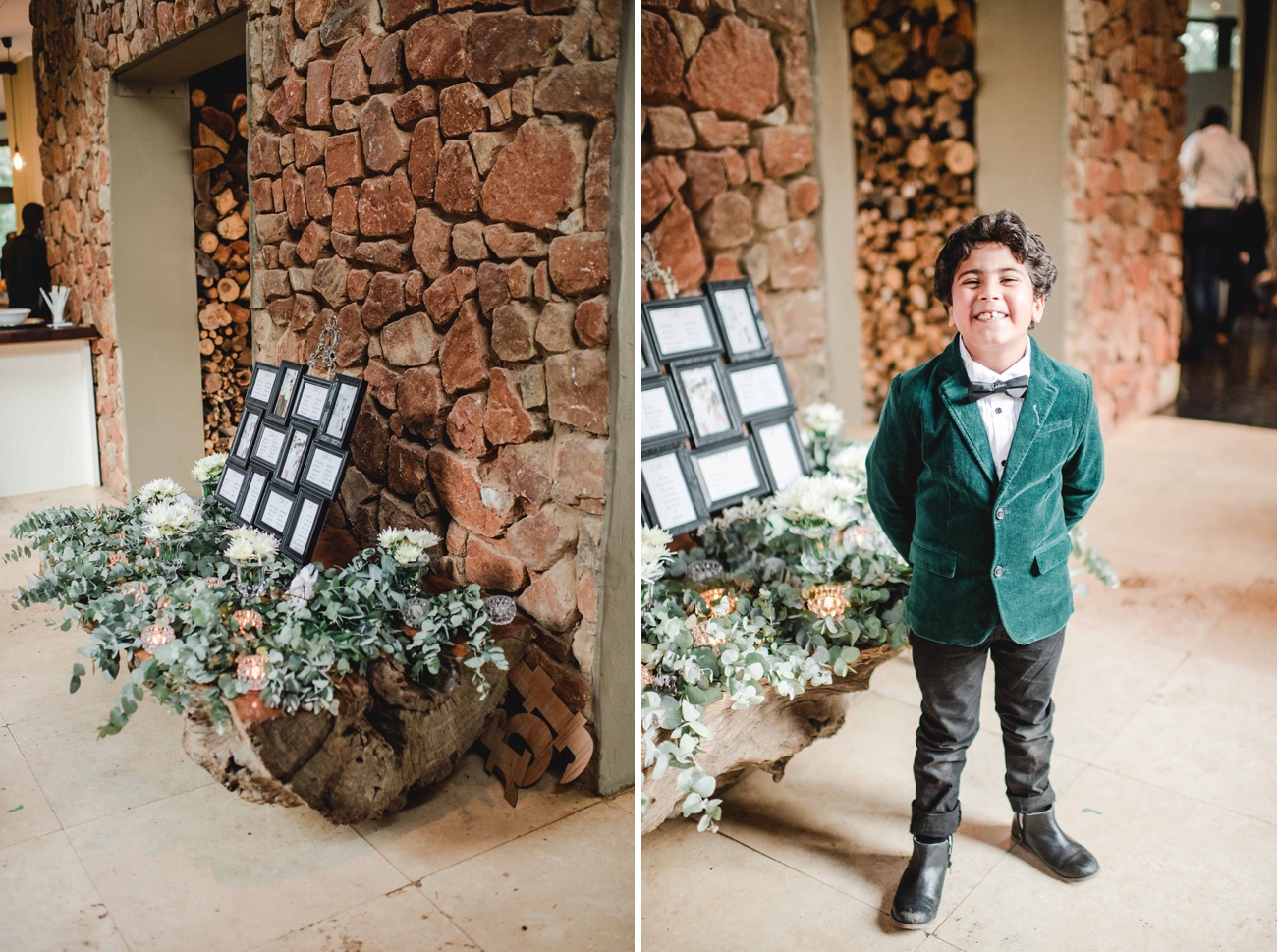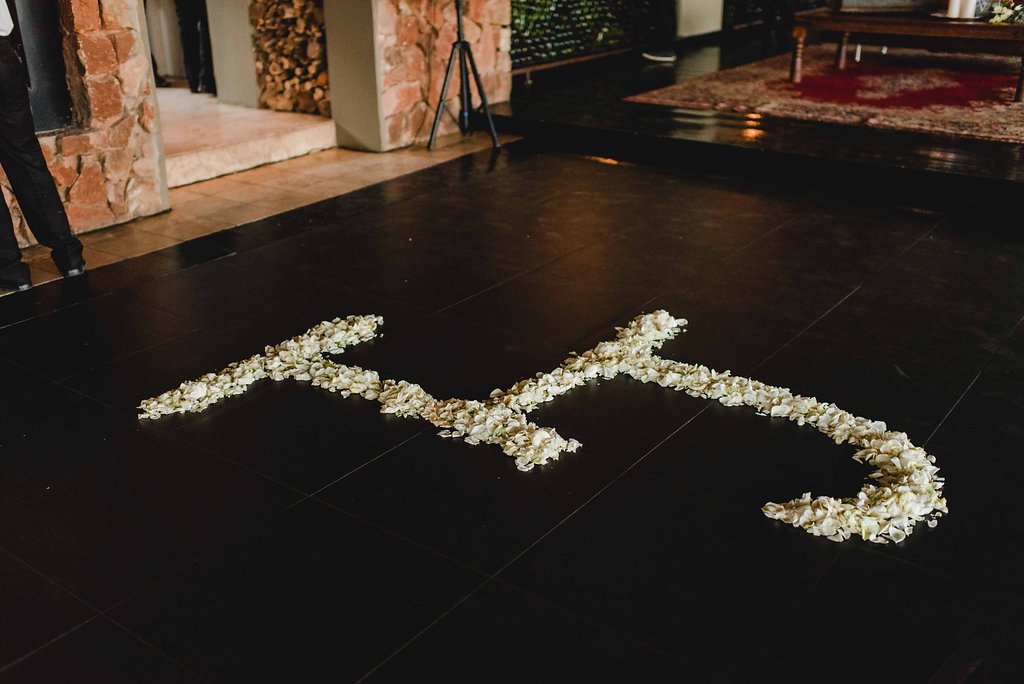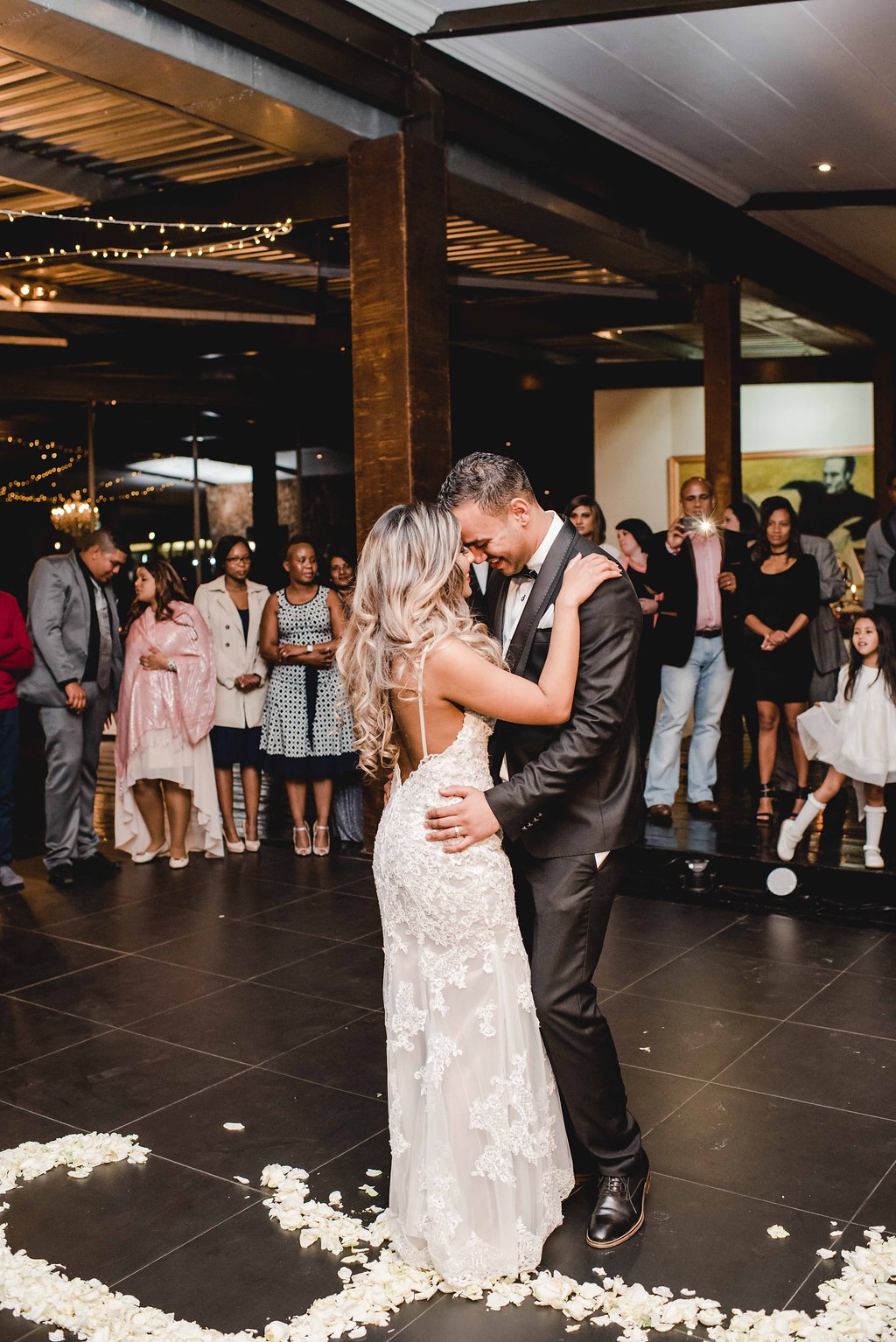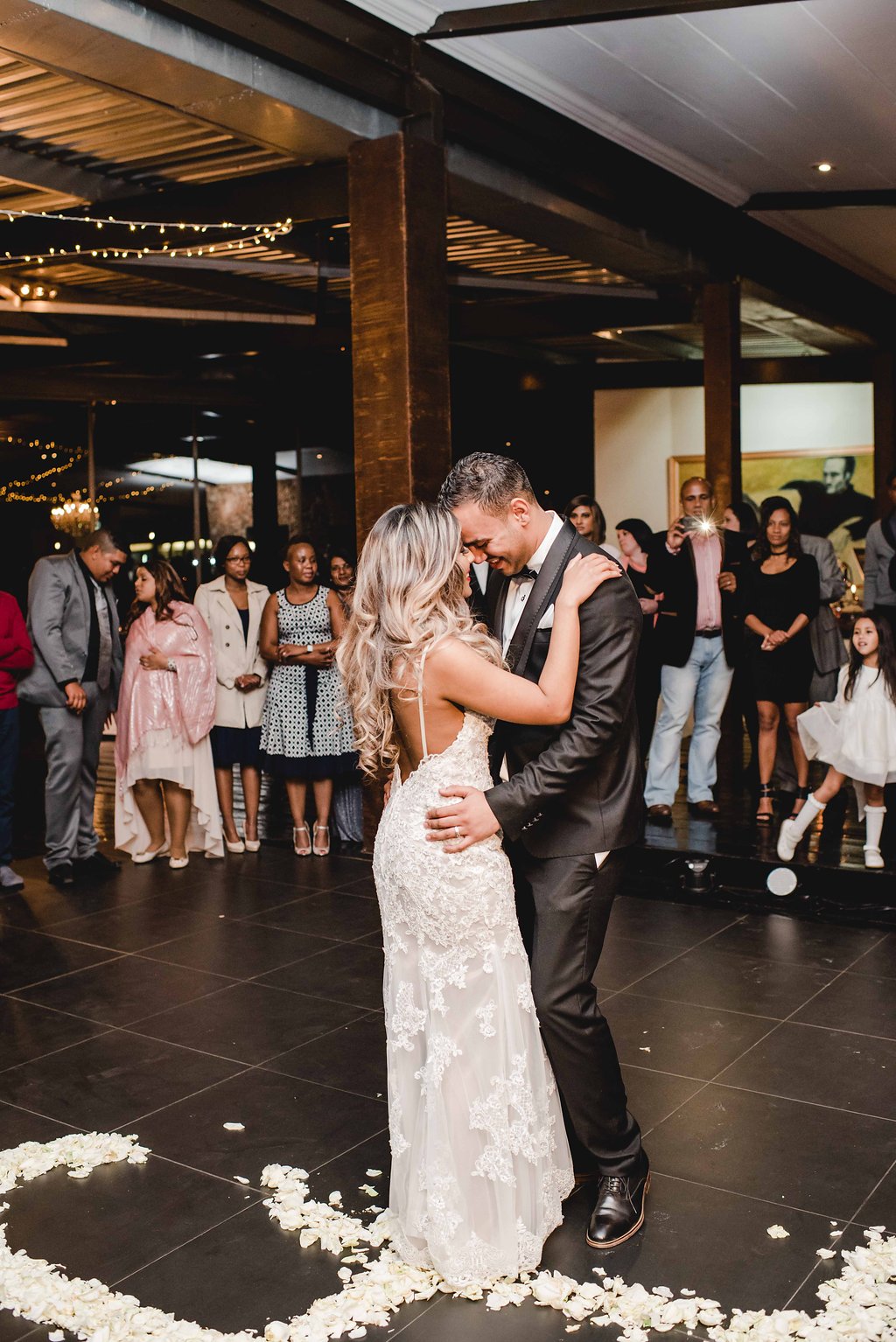 Best Decision
Having an intimate wedding and sticking to the decision! I chose to invite people who meant something to me and who had impacted my life in some way, as well as people who had journeyed through Jesse's and my relationship! I'm glad I got to to share my day with the most special people I know!
Advice for Future Brides & Grooms
Your wedding is a very important time for not only you, but for your family and friends who have been a part of your life through your ups and downs. Don't feel intimidated to include people just because they are family or you feel obligated to, however if you choose to have an intimate wedding to save costs, then think twice because it really doesn't save you much if you look at everything on the whole! Don't stress about the minor things – my wedding did not go according to the way I planned it but it ended up being just as beautiful, and I was the only one who knew the mistakes! As a couple, pray throughout your planning and allow God to be a part of the process! Allow your family to be a part of your day in some way or the other. Delegate! It's so easy to get overwhelmed and indecisive but just go with your heart and trust your style! Your wedding should be a reflection of you and your husband, not a competition to outshine others! If you plan it and be true to yourselves it will be amazing! Choose vendors who you are confident that will deliver on the day of your wedding!
SERVICE PROVIDERS
Venue & catering: Red Ivory Lodge (Treetop Chapel) | Photography: Carla Adel | Flowers, décor & stationery: Sparkle Planners | Video: First Kiss | Bride's dress: Lisa from Missteeq | Hair: Teri Cole Hair and Makeup (bride) | Makeup: Makeup by Kaylz | Bridesmaids' dresses: YDE | Groom's attire: Eurosuit + Burberry + Aldo + Polo | Ceremony music: String Things | DJ: Shane Short
Save