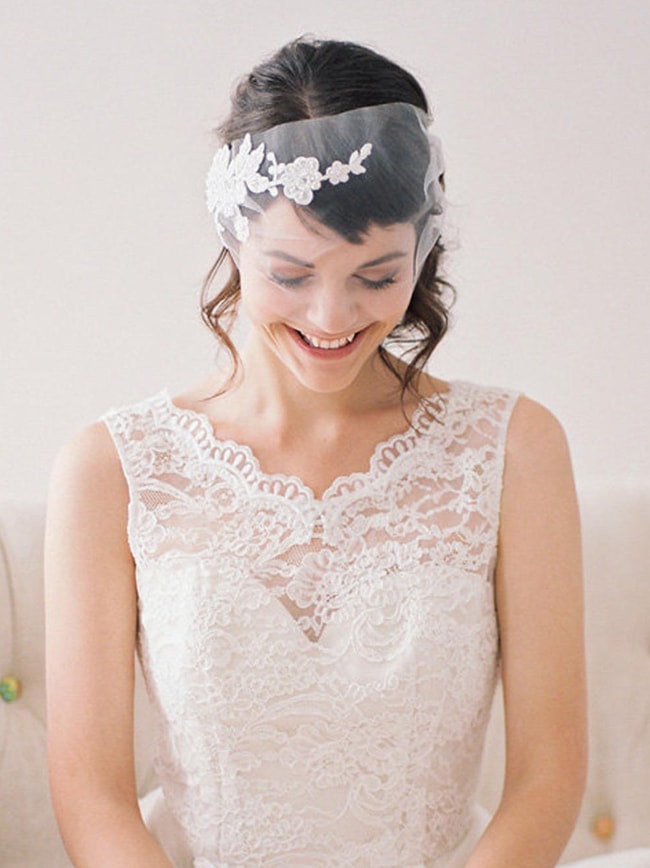 Tulle Birdcage Veil with Lace by January Rose Boutique
It only takes a quick look at my webstats to know that brides love birdcage veils! But did you know that there's more than one kind? Or maybe you're wondering how to style one with long hair down, or with a chic updo? We've rounded up some of the best birdcage veils from Etsy, and added top tips for how to rock 'em!
*Links in bold denote affiliate links. The cost to you remains the same, but SBB may receive a commission for any sales made.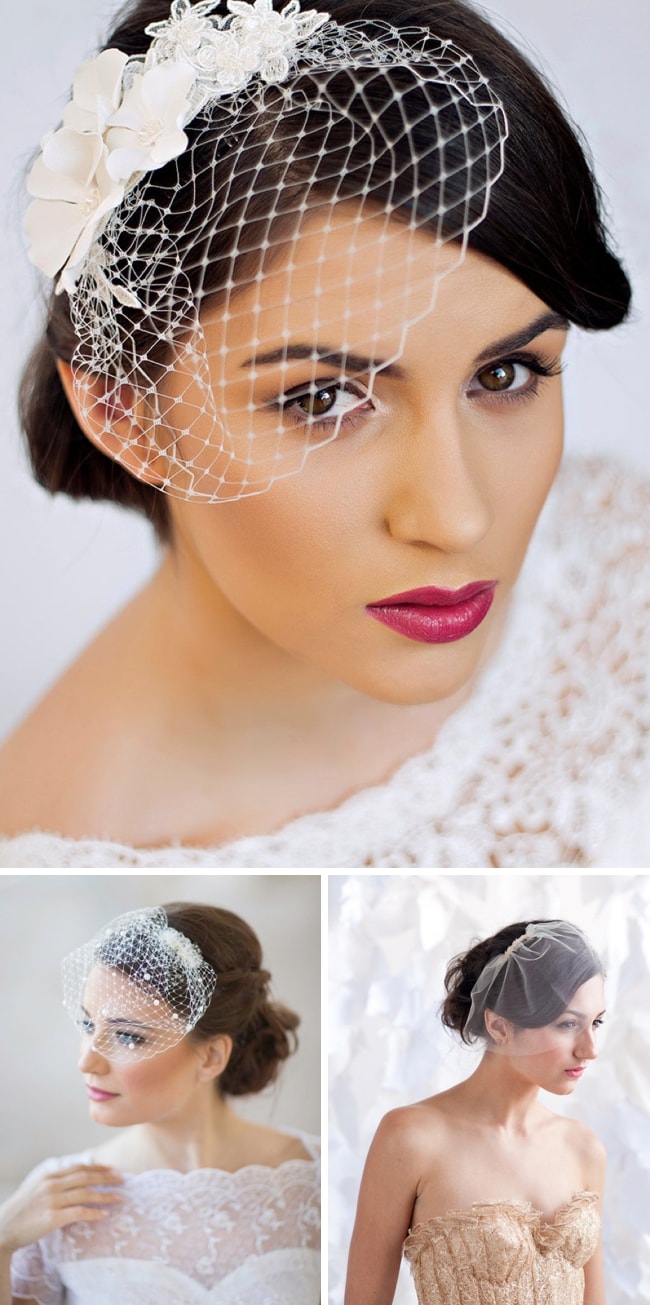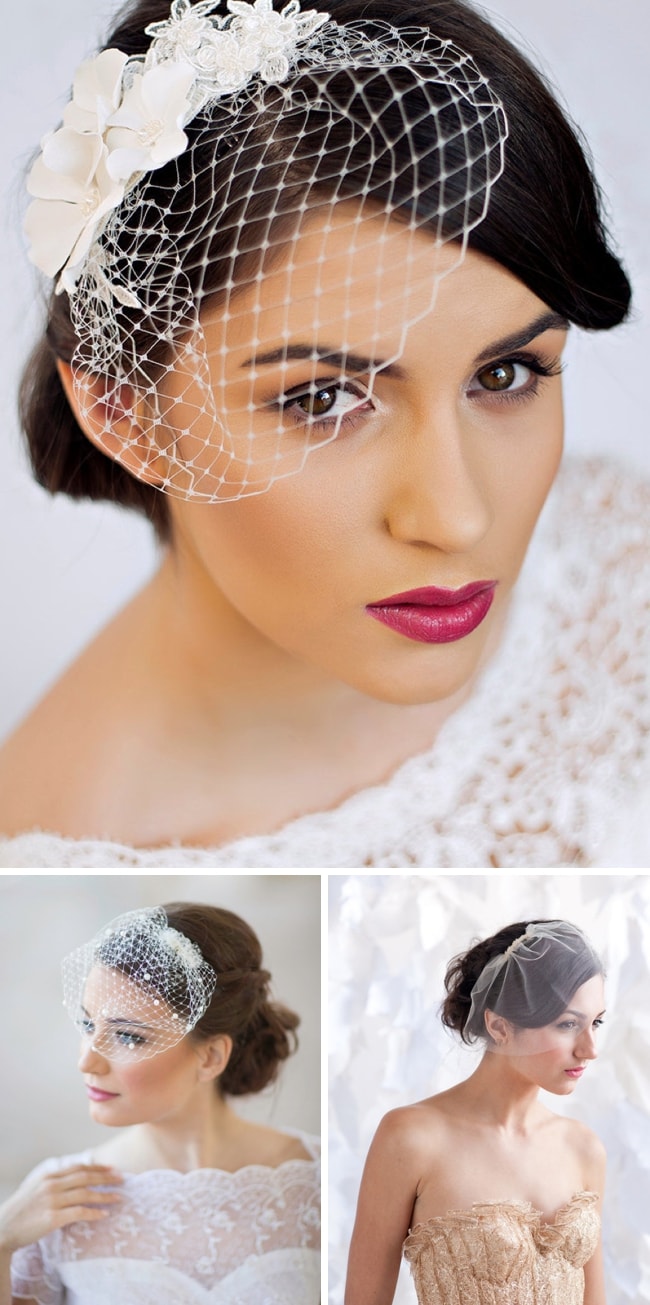 Top: Small Birdcage Veil with Cherry Blossom by Florentes | Bottom left: Mini Birdcage Veil with Pearl by Joy & Felicity (Image: Elizabeth Ngundue Photography) | Bottom right: Mini Tulle Birdcage Veil by Tessa Kim

Birdcage veils come in three main sizes/styles. The smallest go up to a maximum of 9 inches, and don't cover much of your face. They are often called blusher birdcage veils or mini birdcage veils, and also wedge veils or angle veils (because they are often worn at an angle, giving the look of a wedge over one eye). They can be placed covering your hair, or attached to a band or clip, a little like a fascinator. Super cute!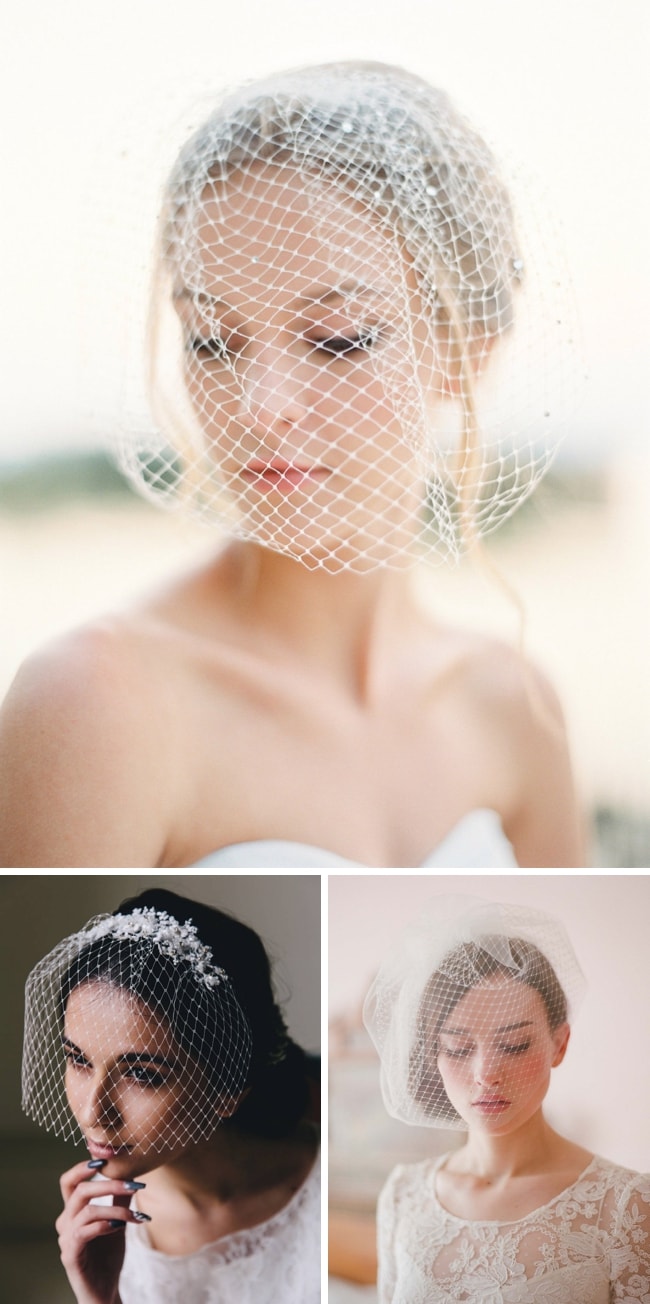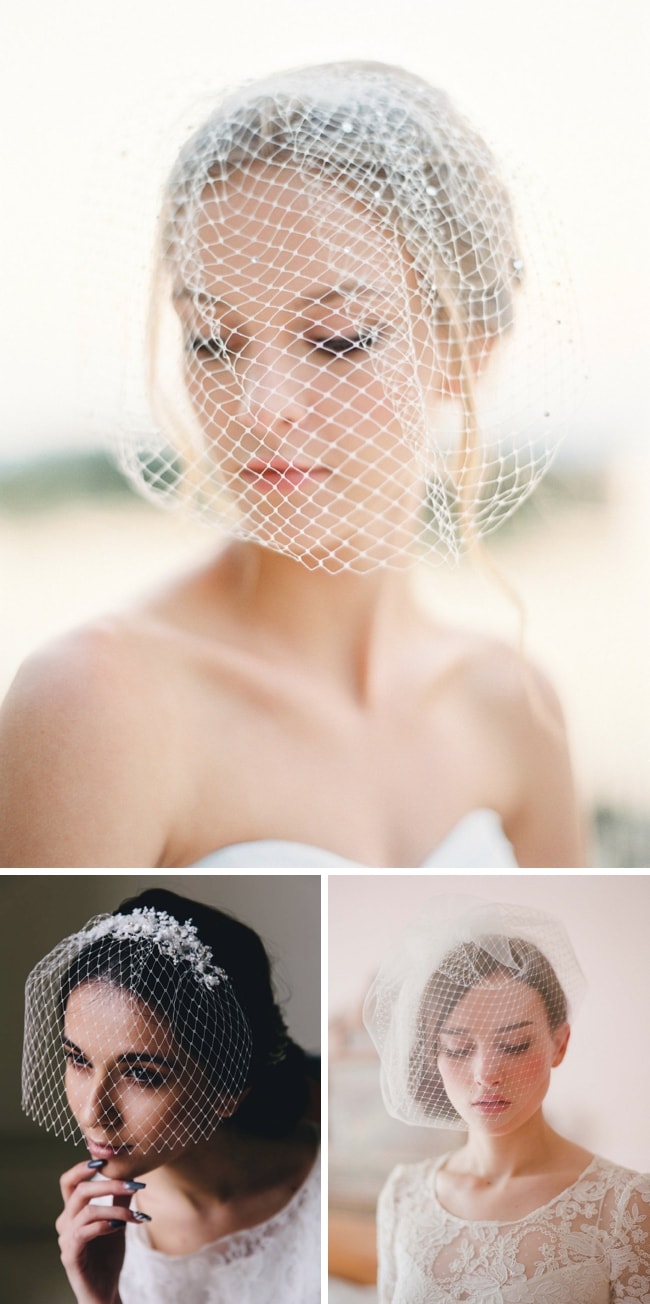 Top: Rhinestone Russian Netting Birdcage Wedding Veil by Honey Pie Bridal | Bottom left: Ivory Birdcage Veil by Agnes Hart | Bottom right: Double Layer Full Birdcage Veil by Twigs & Honey (Image: Elizabeth Messina)

The longer birdcage veils, which can reach anywhere from the tip of the nose to covering the whole face, are usually either 12 inches or 18 inches long. These can be super flattering as they frame your eyes and cheekbones. The veils can be worn in a variety of positions, but usually either to one side with the veil angled over your eye, or straight back. However, as you'll see from the pics here, there are so many variations! You can choose to accessorise your veil however you'd like. Fascinators and flowers are popular choices, as are pretty vintage brooches or hairclips. You can also get birdcage veils that have been blinged up with Swarovski crystals, pearls, or polka dots. Of course, it depends on the style of your dress and your wedding, but the flexibility of the birdcage look is one reason why they have become so popular. Play around until you find something you like!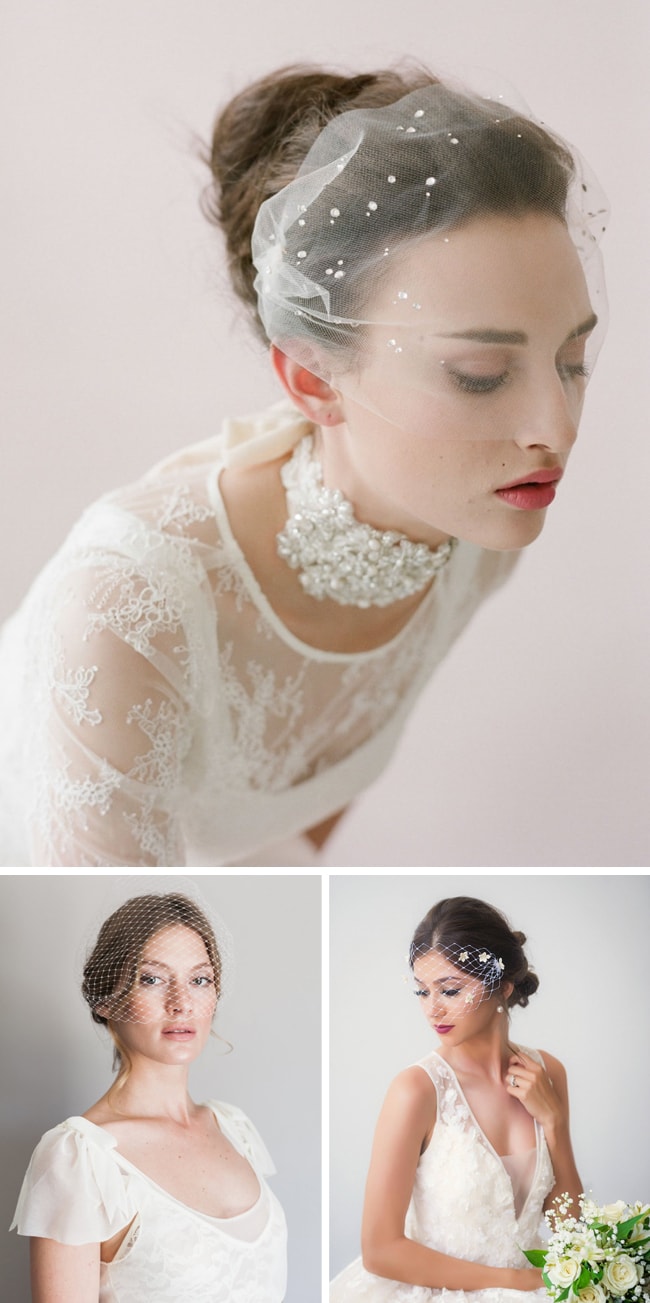 Top: Rhinestone Adorned Tulle Bandeau Veil by Twigs & Honey (Image: Elizabeth Messina) | Bottom left: 9 inch French Netting Bandeau Style Veil by Mignonne Handmade | Bottom right: BELLE Bandeau Birdcage Veil by Sparrowstation

Another variation of the birdcage veil which is very popular is the bandeau or Venetian veil. This features a band of netting, often attached with pins or combs behind each ear. Again, there are many options – place it covering just your forehead, or even just your hair!), or across your eyes (my personal fave). Bear in mind that while very close fitted veils are what you'll mostly see in magazines, they can make it difficult to blink (especially with false lashes!)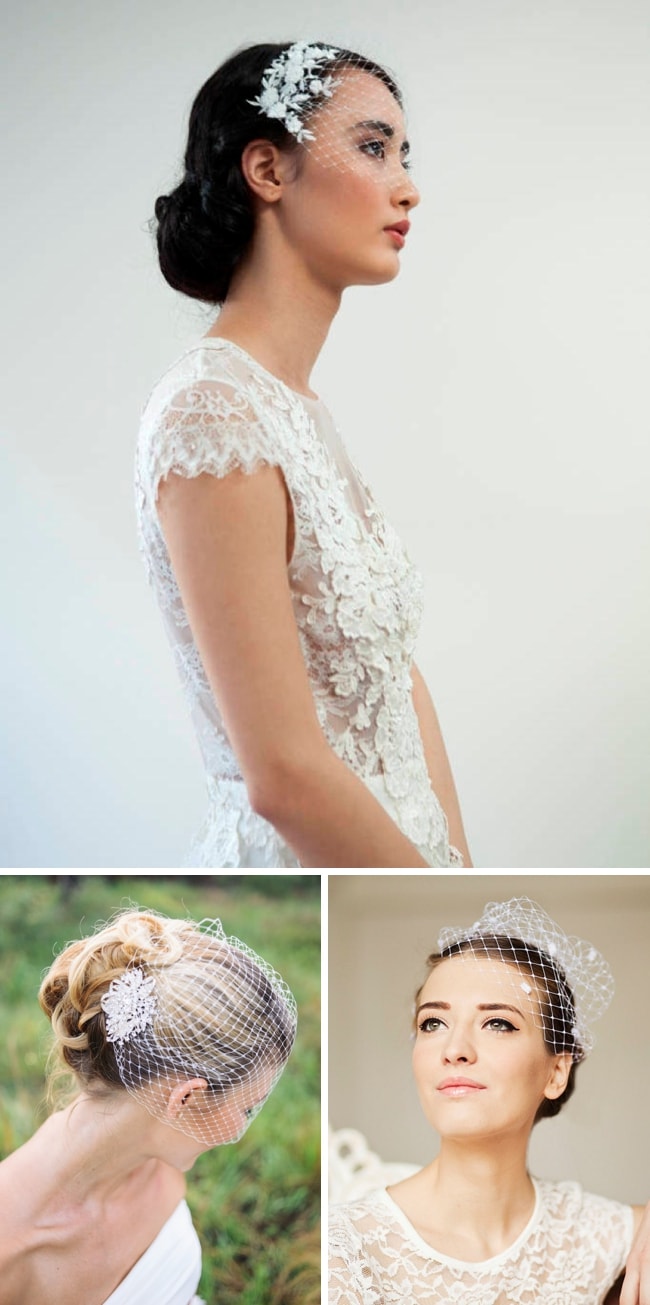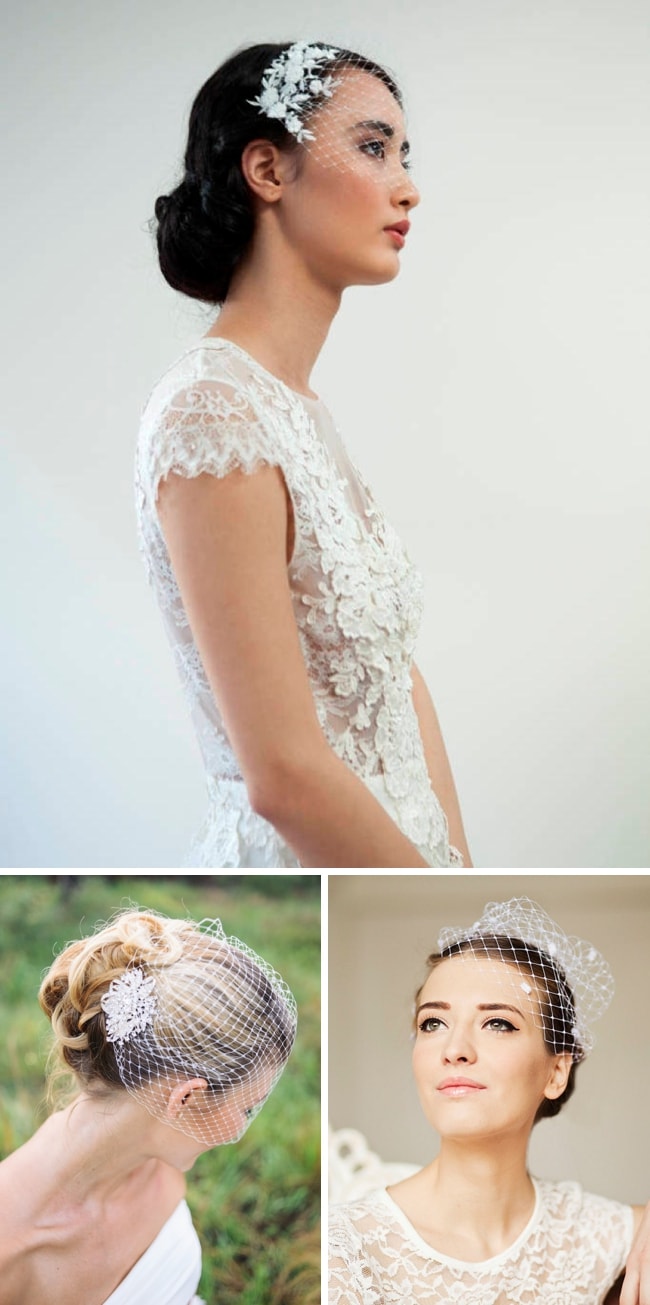 Top: Ivory Birdcage Veil with Floral Lace by Agnes Hart | Bottom left: Plain Birdcage Veil by NestinaBridesboutiQ (Image: Hannah Mayo Photography) | Bottom right: Birdcage Veil with Dot Blusher by Ann Leslie

You can wear birdcages with just about any hairstyle, although they are often worn with updos. Most veils only need securing from their main clip, but you can use hair pins if your hair is short or very fine, if you're wearing it down, or if you want a particular shape.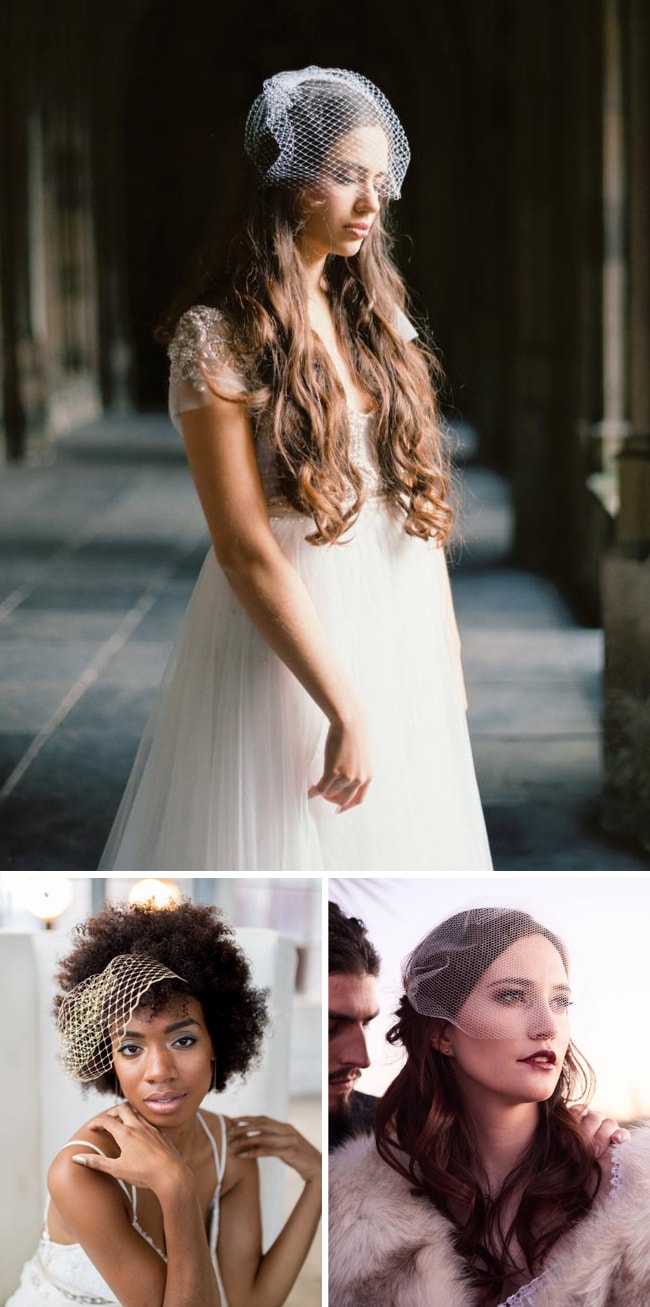 Top: Russian Netting Birdcage Veil by Honey Pie Bridal | Bottom left: Bridal Birdcage Veil by Bina Bonnet | Bottom right: Daisy Birdcage Veil by Bespoke Bridal Shop

The web's full of fabulous retailers and many good dressmakers and bridal shops will also make a lovely veil for you but you can also DIY your own if you're feeling crafty! Here are some of my favourite DIY tutorials:
Over to you – are you planning to rock a birdcage on your big day?
More info on bridal veils:
See more beautiful birdcage veils on our Pinterest board!