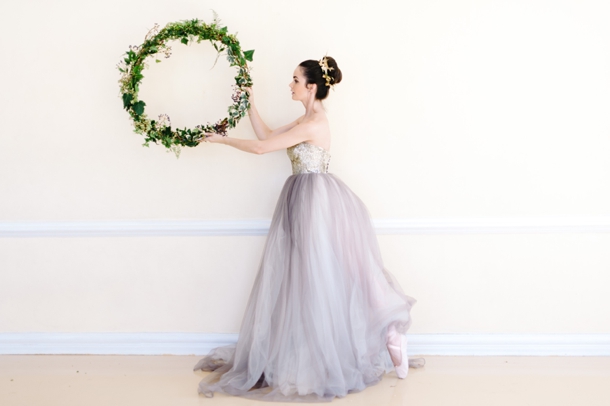 Fun fact: I was so bad at ballet, they held me back a year. Yup, I failed ballet. Which is obviously a HUGE surprise if you know me, since I am totally graceful and never walk into doors or trip up on my own feet or ANYTHING. Fortunately, I'm not holding it against ballet as a whole, which I still love, and which I still think is incredibly beautiful as an art… and as a wedding inspiration. In fact, there was a big trend toward ballet a couple of years ago, but that was all about frothy pinks. Today's styled shoot is a little different – it's perfect for the winter bride, with rich berry hues, and just a tiny touch of Christmas (fitting for the ultimate Christmas ballet). But even though it's seasonal, it's never themey. Instead, it's full of beautiful new twists on old themes, and a touch of shimmery gold. I am completely and utterly blown away by every frame shot by Debbie Lourens, and especially by the incredible florals done by SBB directory member Green Goddess flower studio. And red ballet shoes? Yup, I love it ALL. I may have failed at ballet, but this shoot wins on every level.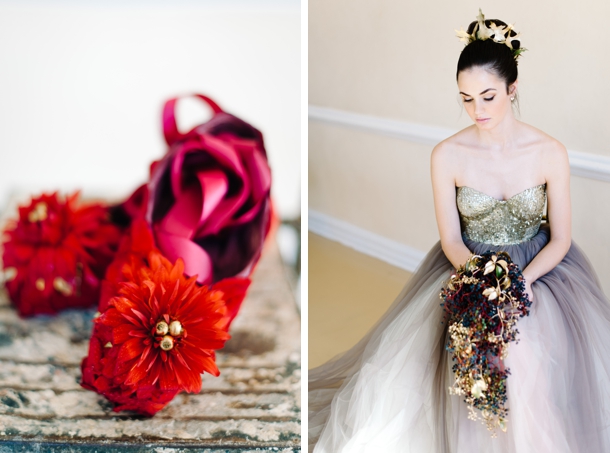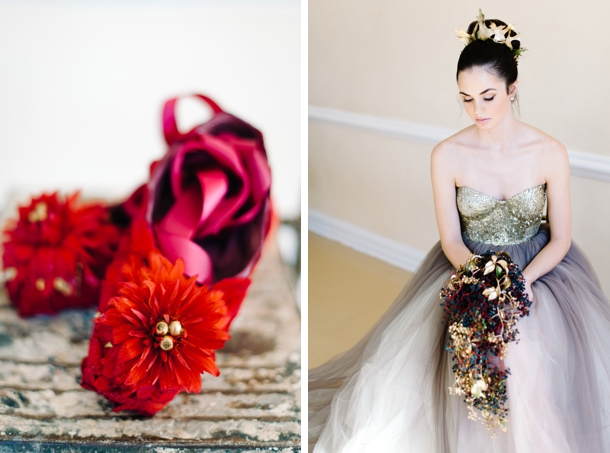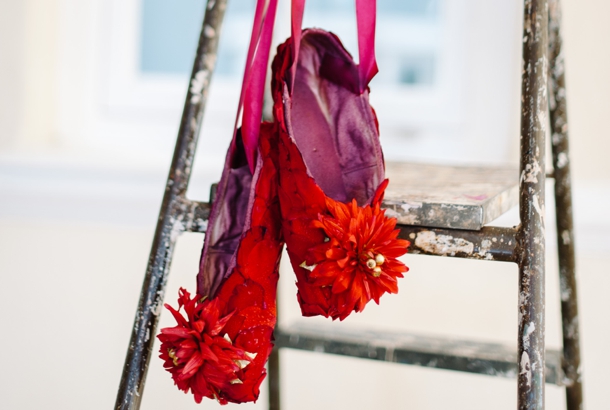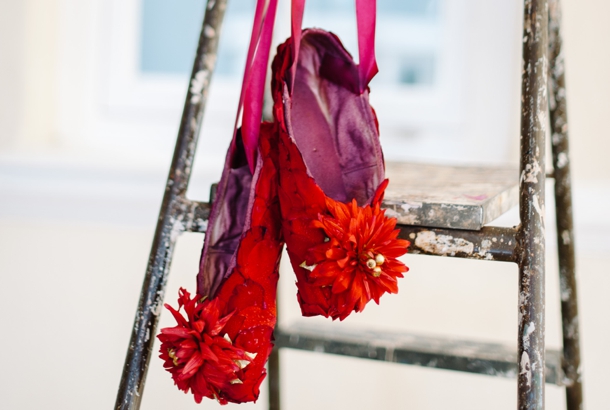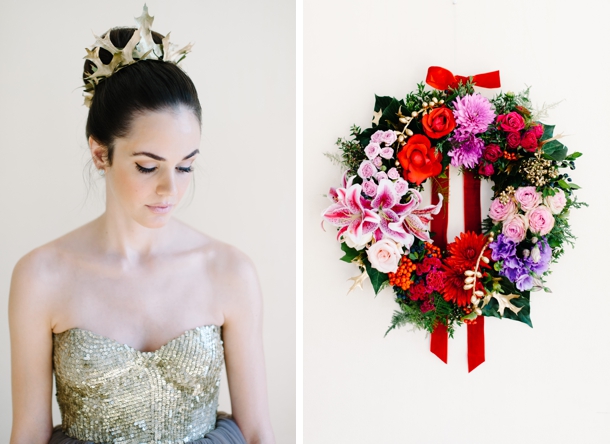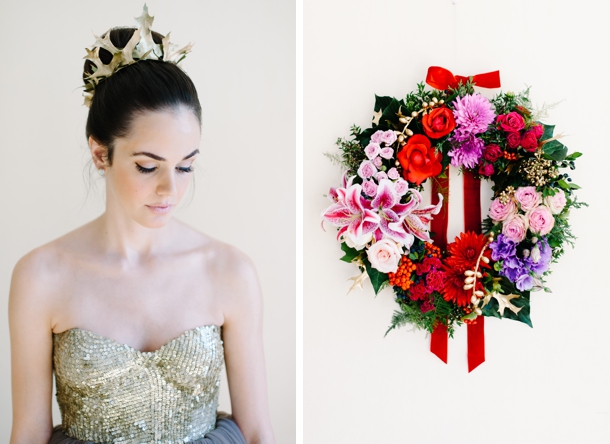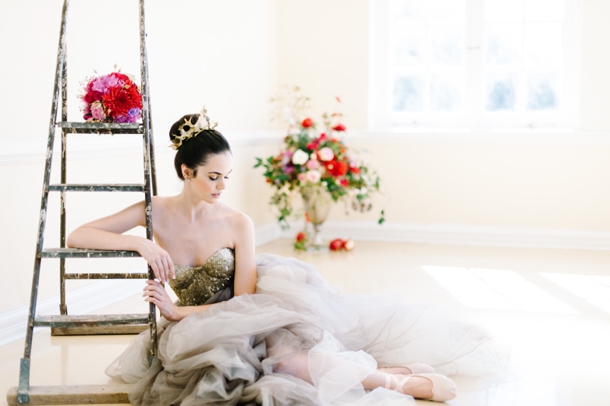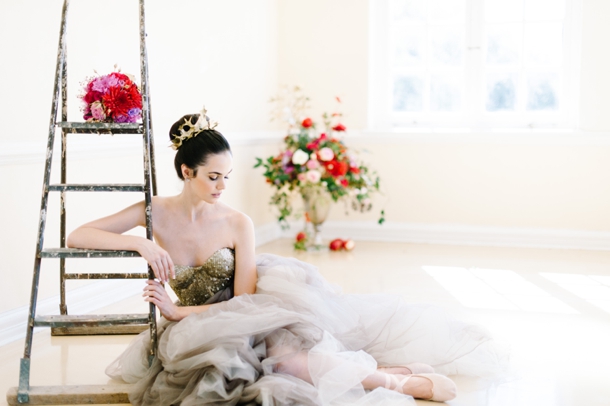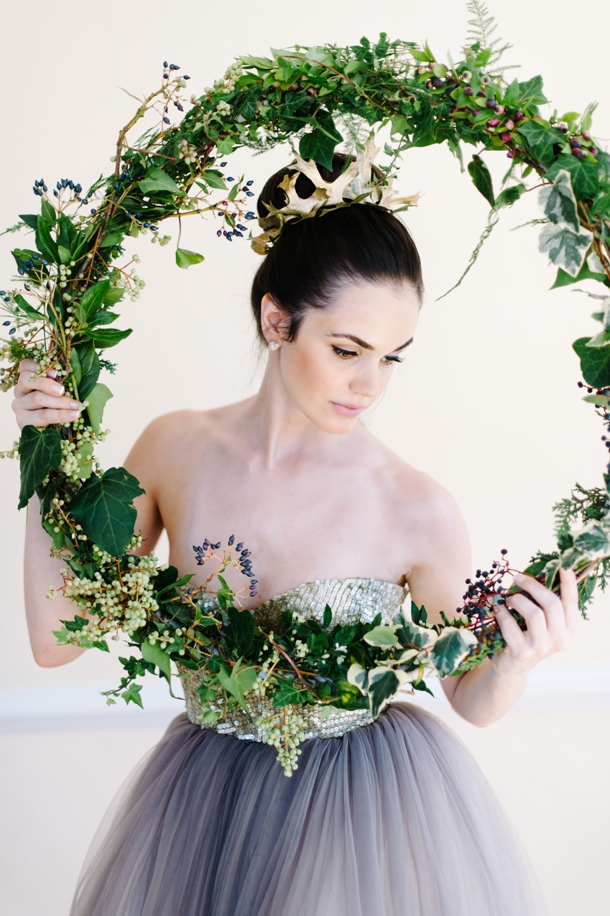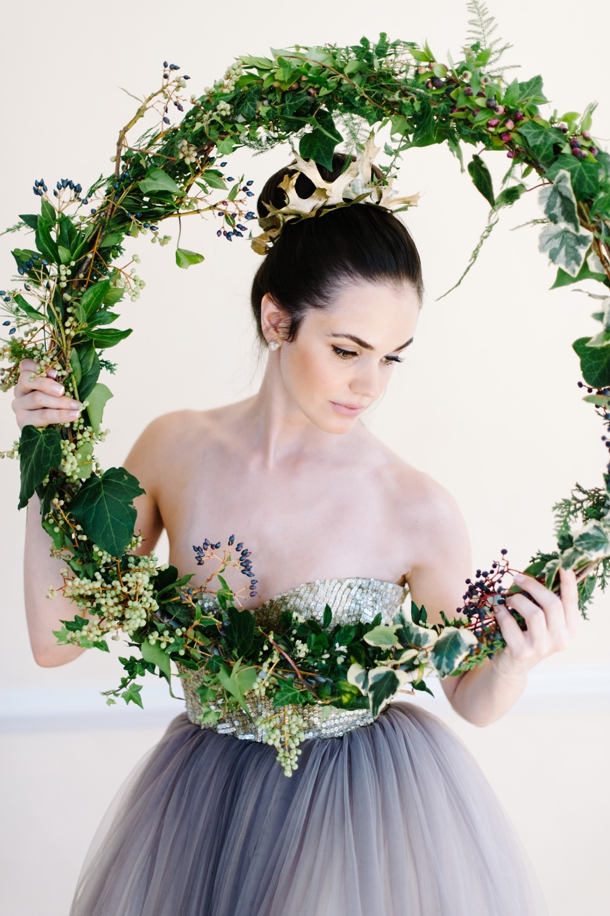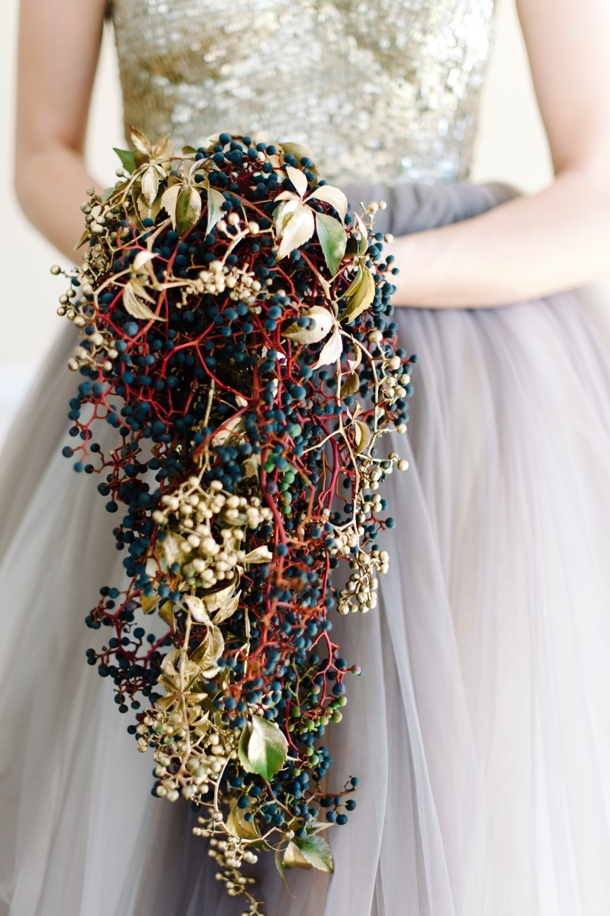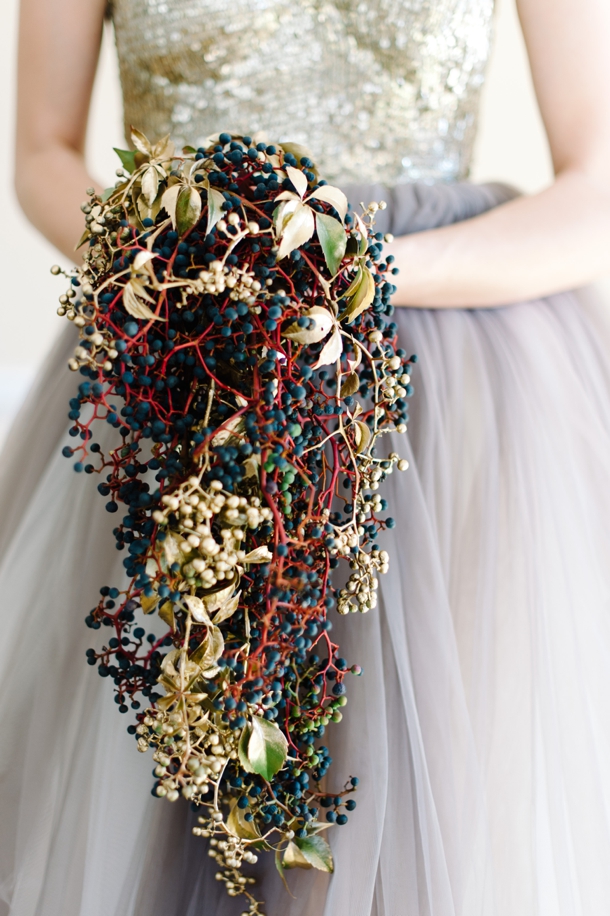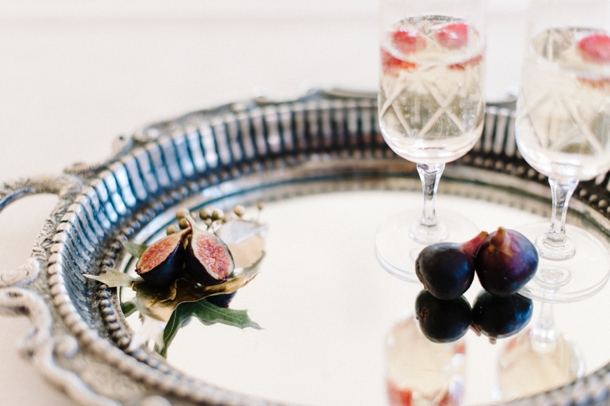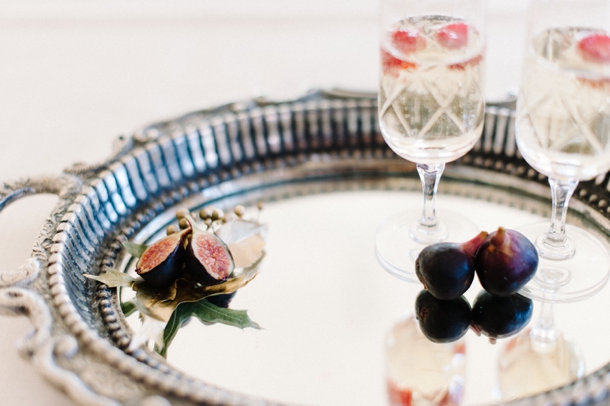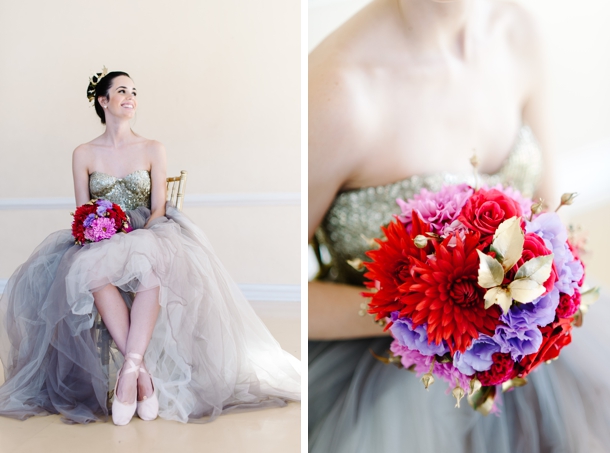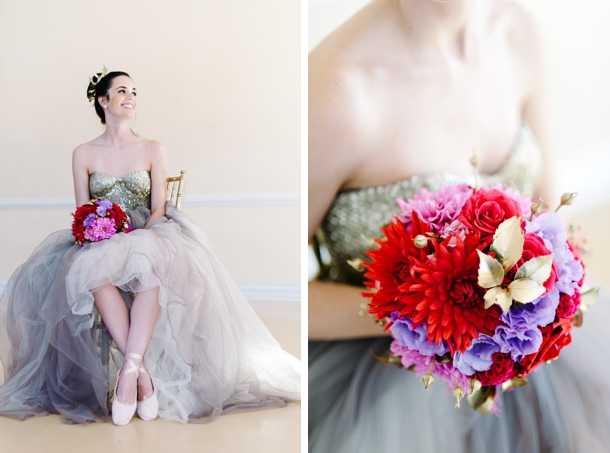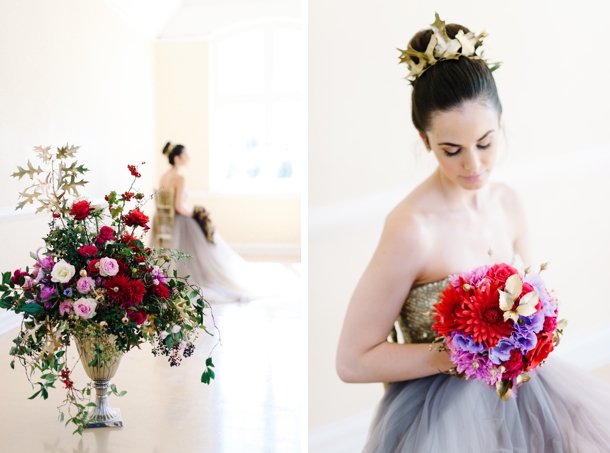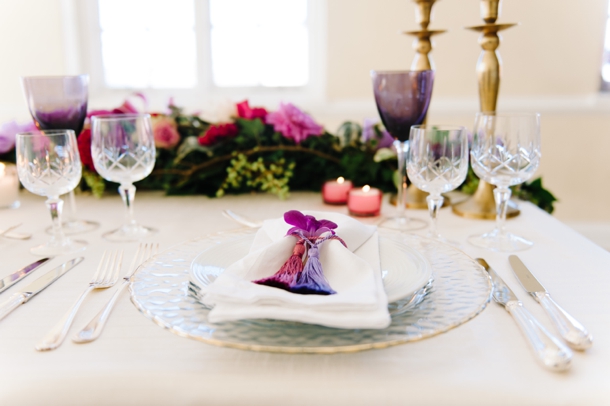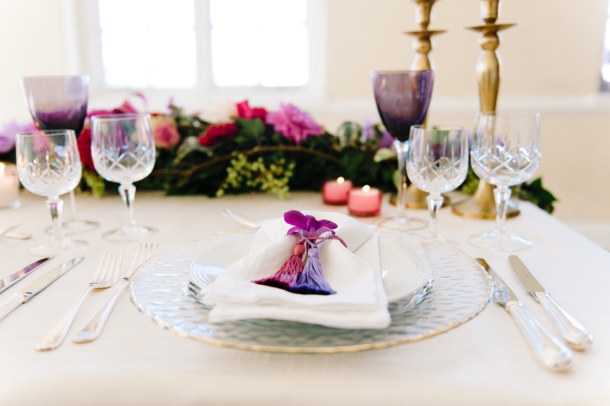 Here's a little bit of background from Coral, one of the lovely Green Goddesses:
The 'ballet' invokes sentiments of romance, stunning costumes and sets and dreamy, classical movement – similarly weddings invoke sentiments of romance, feature beautiful dresses and décor and with a great photographer, dreamy classical movement is captured in the memories/photographs. We wanted to capture the essence of the ballet in a wedding styled shoot as well as dreaming up some inspiration for winter weddings. Winter usually calls for rich deep colours, that we featured in the flowers and décor as well as some of the wedding accessories. We added rich gold for some opulence and shine and to add warmth needed for a cold winters day.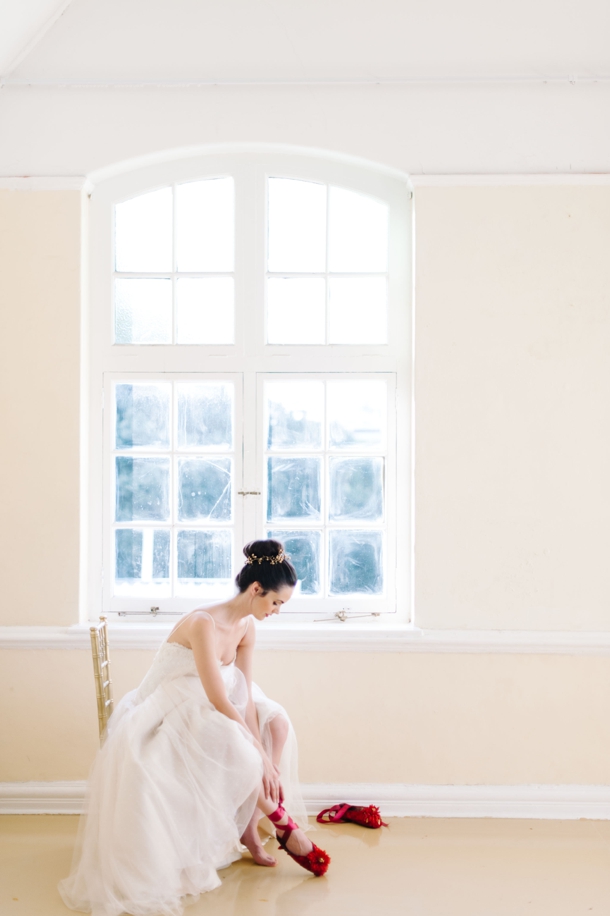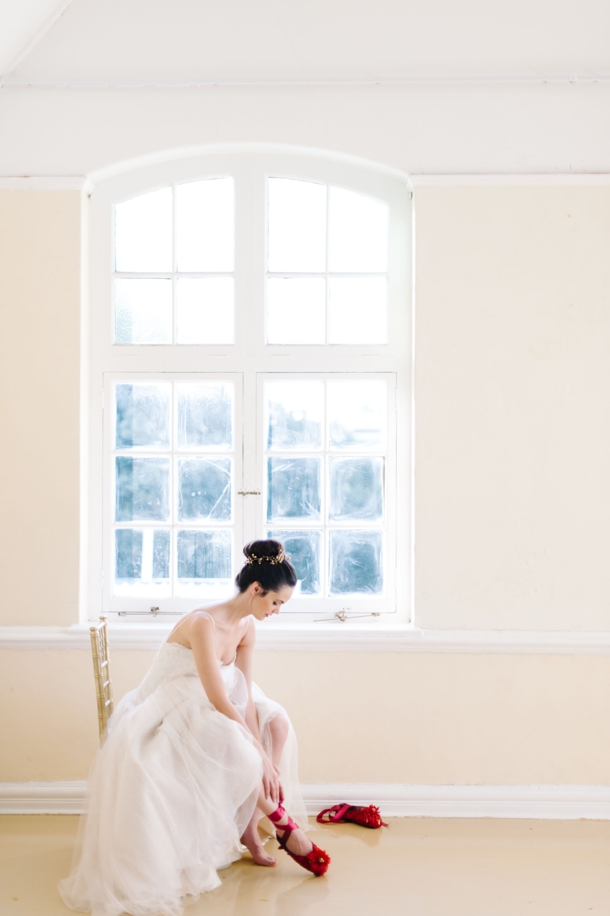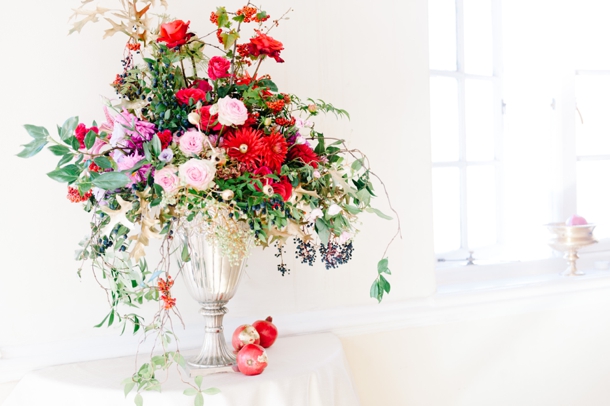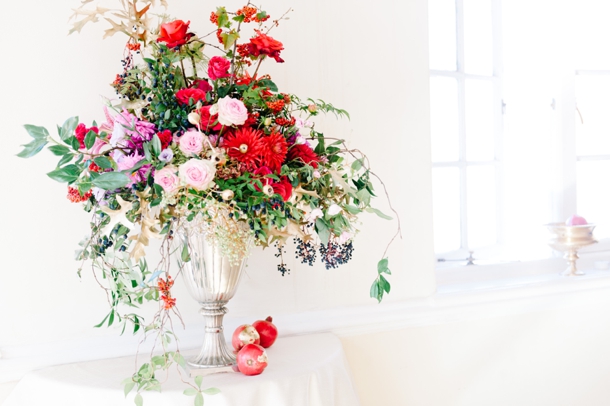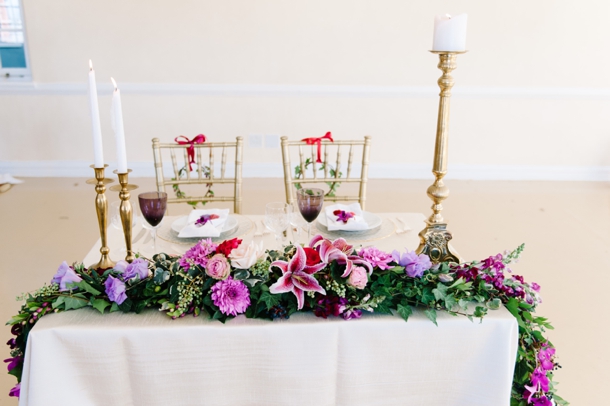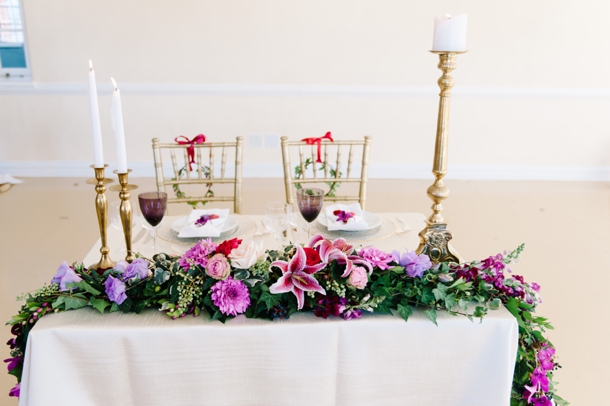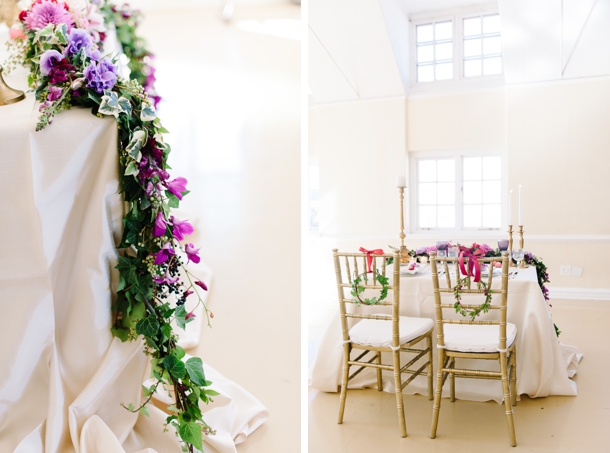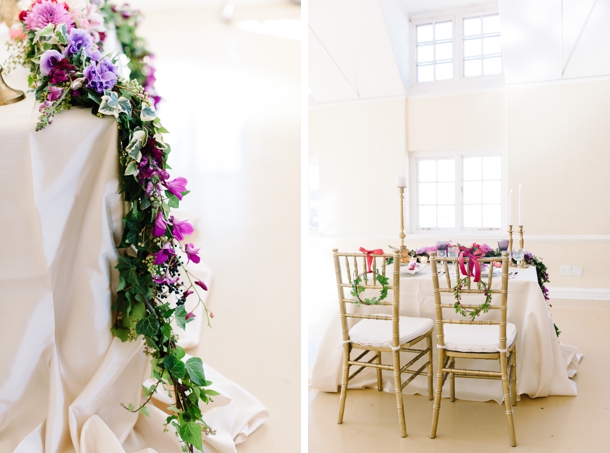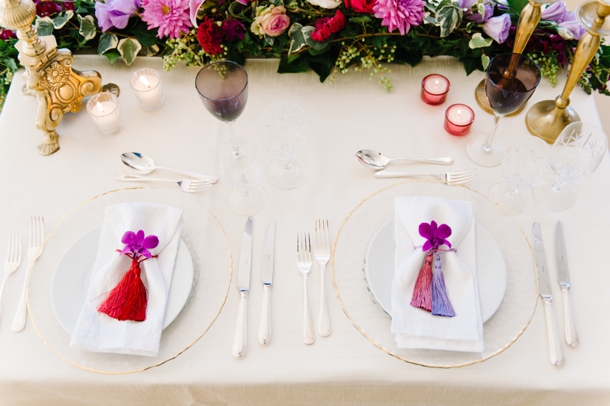 We looked for dresses that had a ballet feel to them with full tulle skirts. We chose two different dresses with the ivory dress aimed at the more demure bride, but which pairs well with pops of red like the red knitted shawl and gloves and deep red lips. But we also selected a dusty purple and gold dress for a more daring bride – particularly when combined with an unusual purple and gold all-berry bouquet. We knitted a chunky red woollen shawl to inspire brides to consider something bold with their more traditional colour dresses, that will not only look great in the photos, but will actually keep them warm on a cold winters day. We wanted to inspire local brides to consider combining their dresses with some deep red gloves, and even a red coat – both attractive and practical. We also added a deep purple tulle 'veil' worn more as a shawl to again inspire brides to try pops of colour in their accessories without needing to have a coloured dress per se.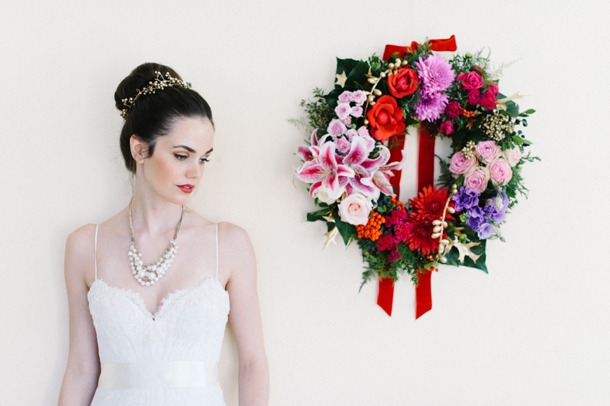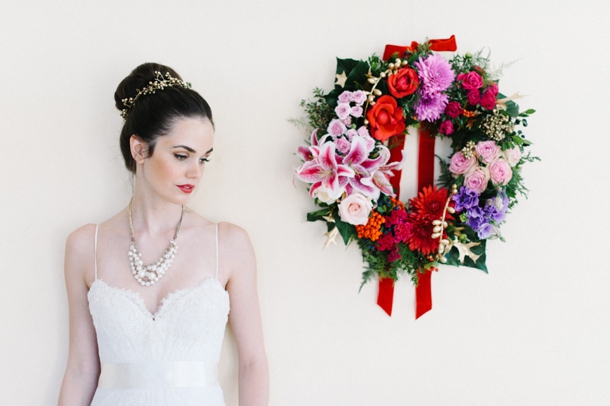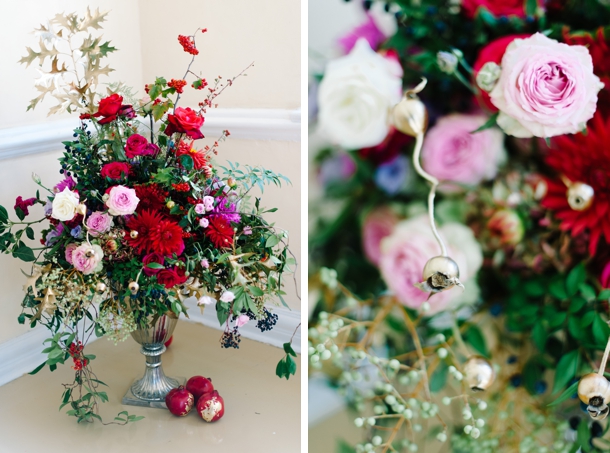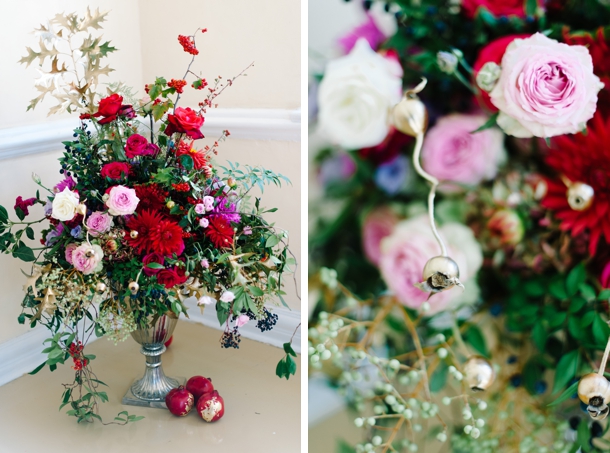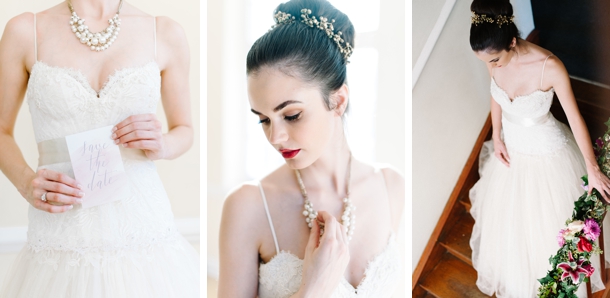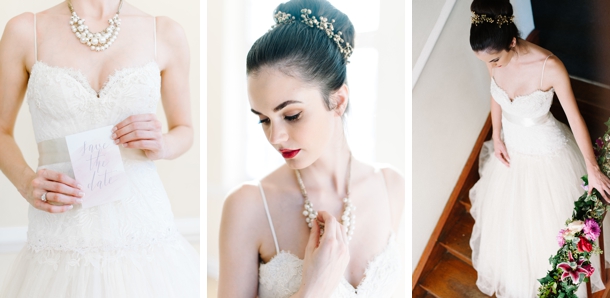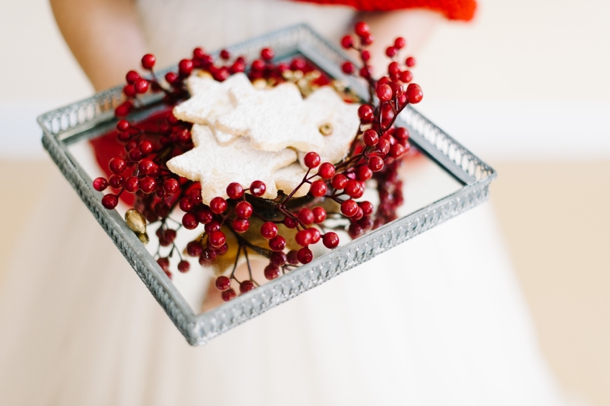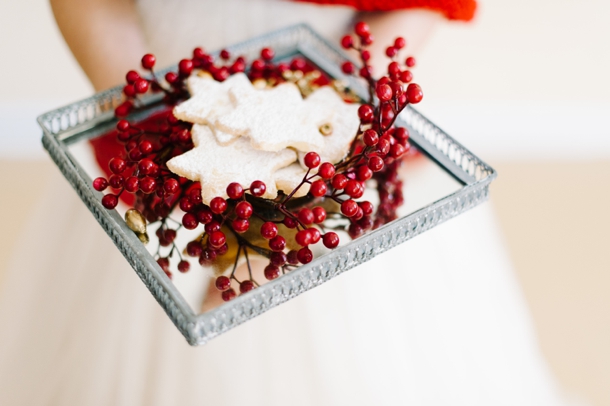 The makeup was paired with the dresses – with the bright red lips going with the ivory dress and the red accessories. But keeping a more pale and interesting look with the bolder purple and gold dress. A ballet bun was essential for the hair. We looked to natural leaves and berries that we painted gold to create a 'crown' without it looking like a beauty-queen tiara.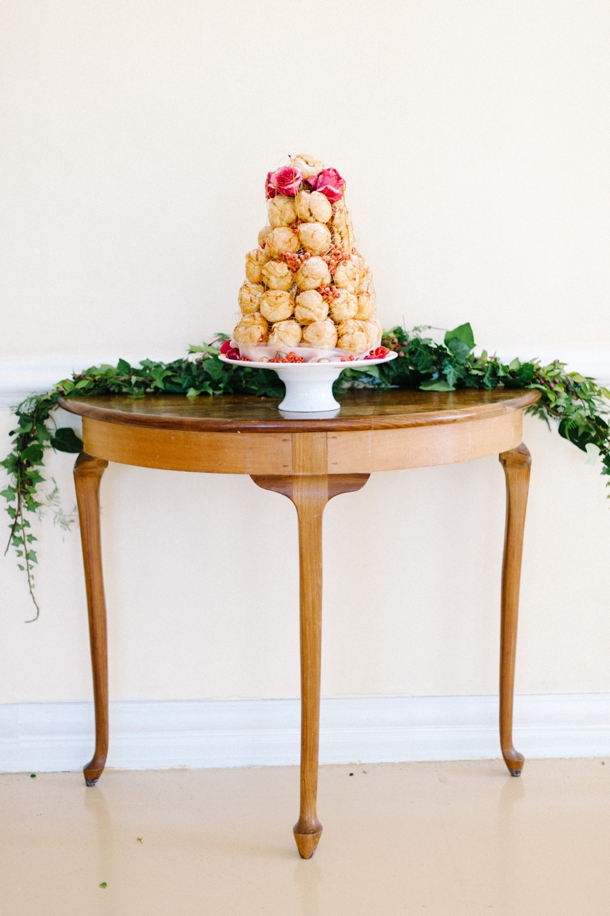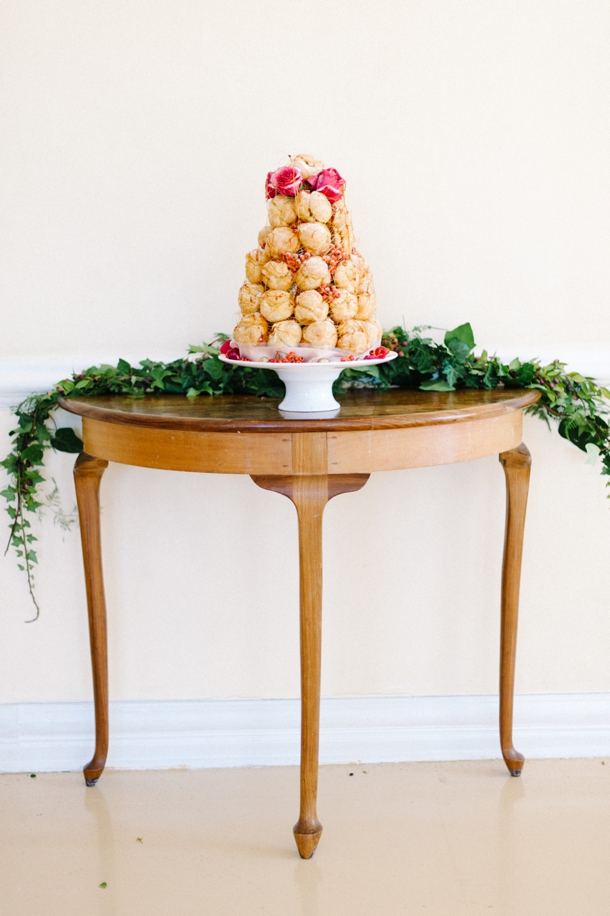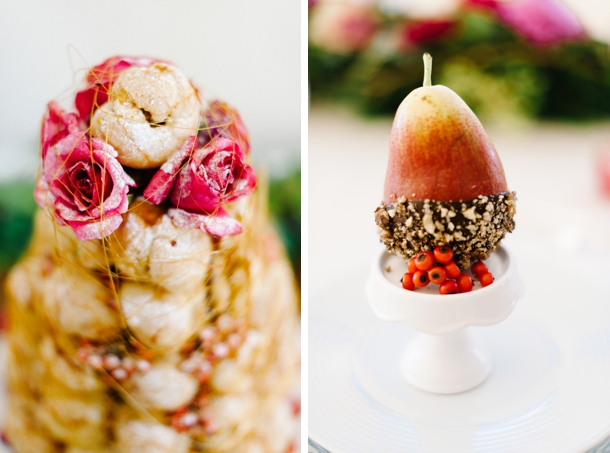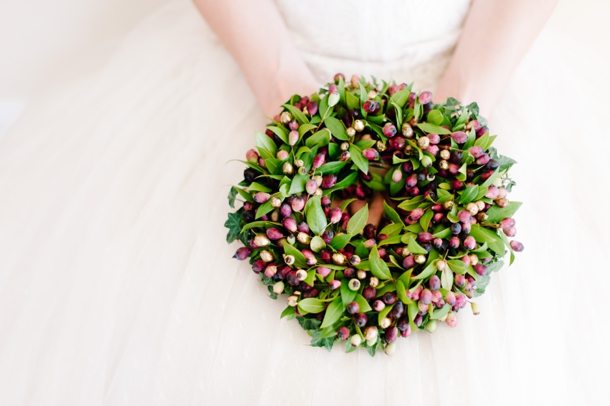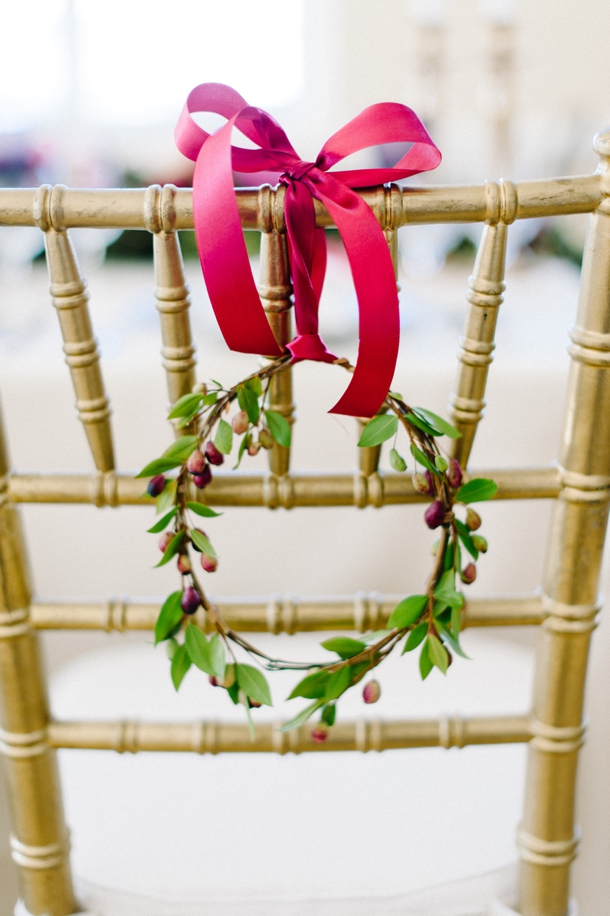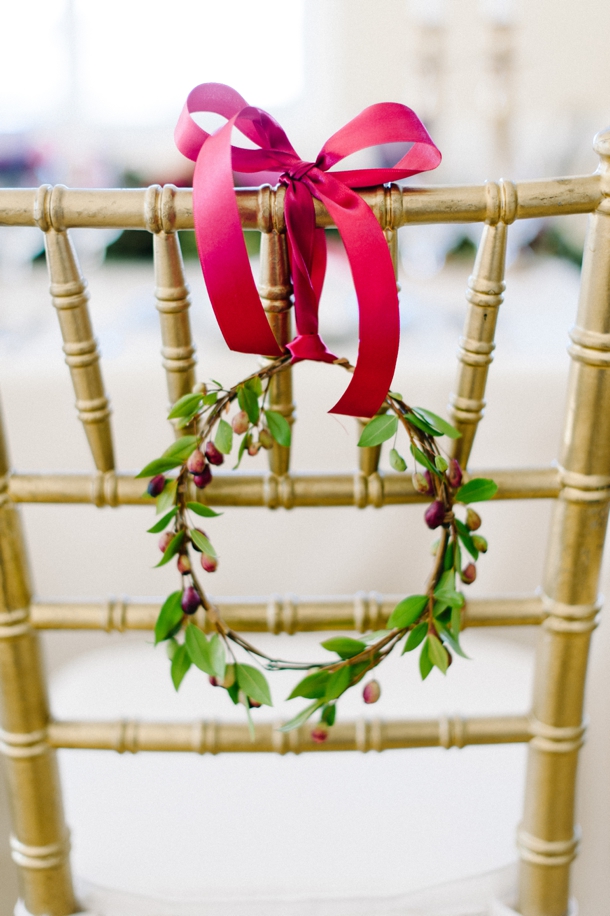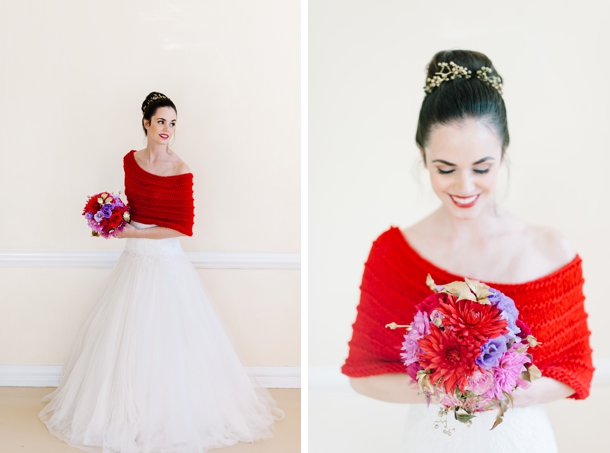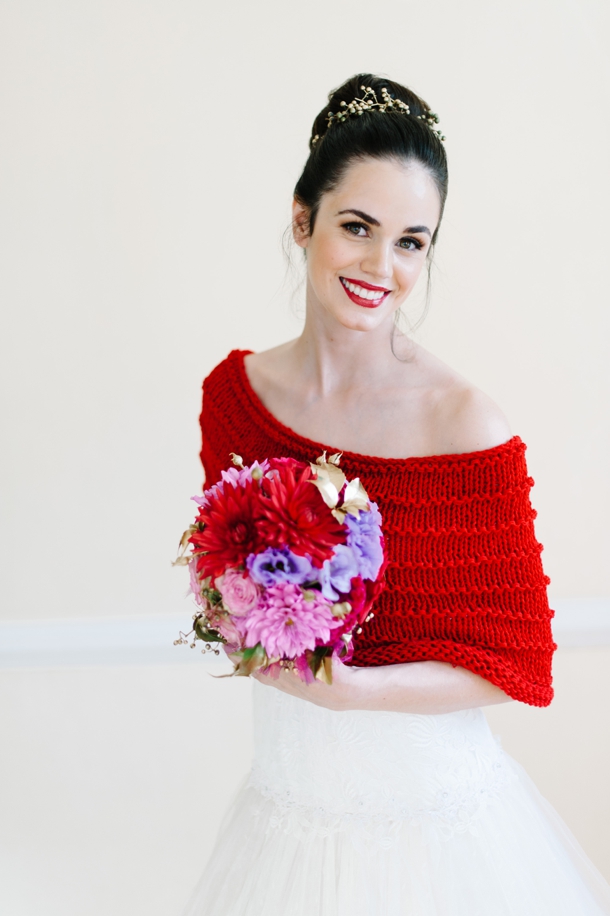 Winter is often a time of limited flowers, but there are often plenty of berries, fruit & nuts and gorgeous foliage that will complement a winter wedding – the upside for flowers in winter, is that there is little danger of them wilting and your guests will be able to enjoy them for ages after the wedding is over. We used lots of round shapes and wreaths in the flowers which is a shape often associated with romantic ballets such as the Nutcracker, and echoes the full round tulle skirts of the ballerinas. The posy bouquet had a collar of different coloured tulle to yet again link into the ballet theme. We also opted to have a non-traditional table decoration of a 'swag' of flowers draped across the table – this can be echoed on staircase banisters, over chapel entrances, across dance floors, around lighting chandeliers – it is quite a versatile option and could be reused at a wedding, by moving it from a ceremony site into the reception later. We also wanted to remind brides that they can have beautiful opulent flowers at their ceremony and have these moved into the reception later for dual-purpose flowers – styled shoots seldom feature ceremony flowers, so we made two items – a large mass arrangement as well as a wreath that could be hung on the door of the ceremony locale, or from a pulpit or on a wall and then moved into the reception area later, or even placed on a table as a centrepiece with some candles inside.

We looked to something unusual as a wedding cake and asked Nicolette to make a croquembouche rather than something traditional – especially given there is a general move to using the wedding cake for dessert – what could be nicer for a winter wedding that a creamy chocolate confection of choux pastry and spun sugar?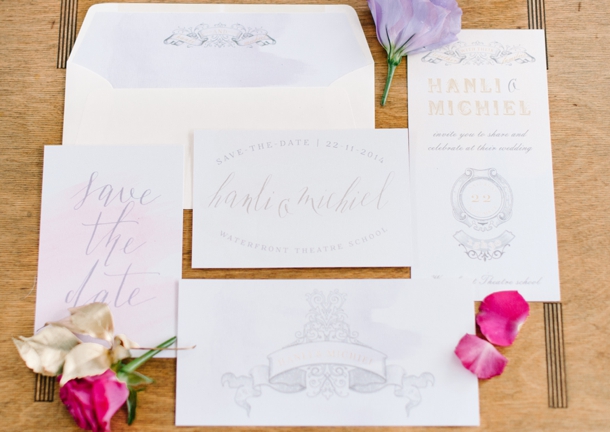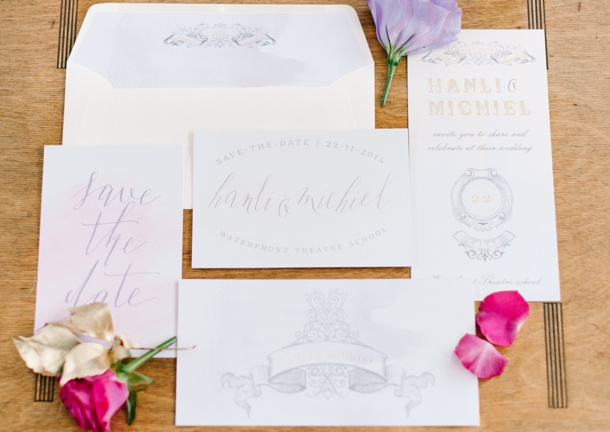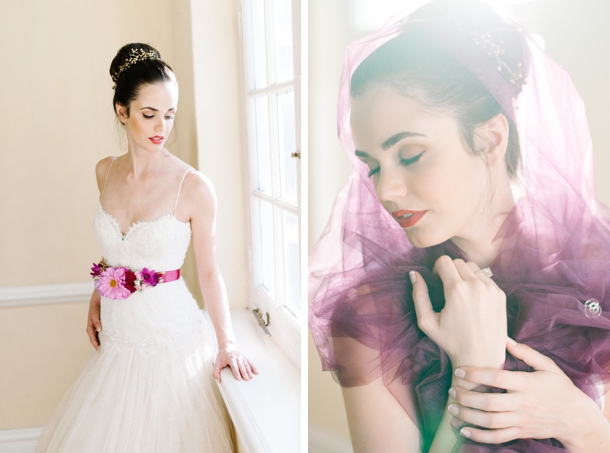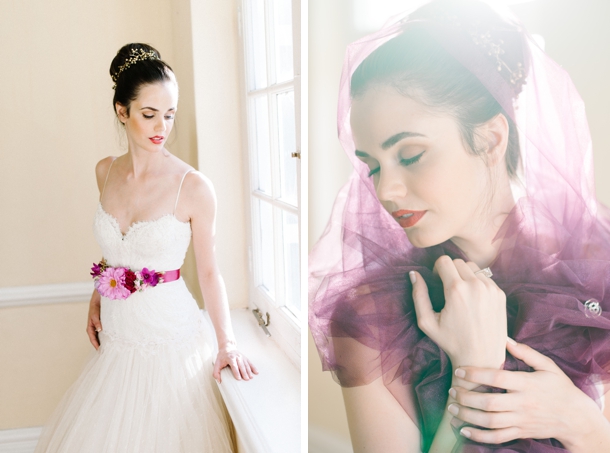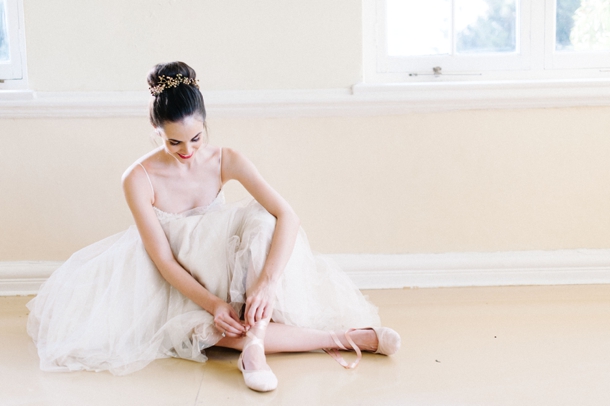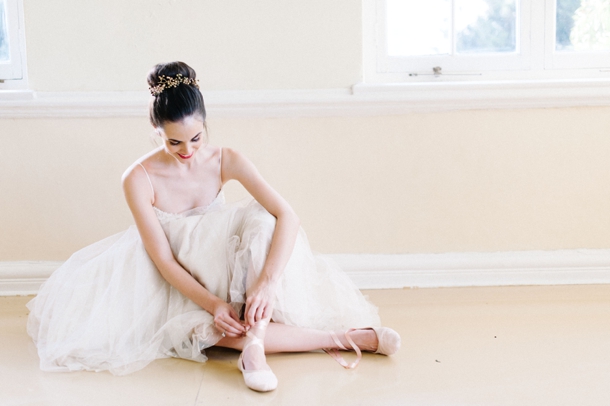 SERVICE PROVIDERS
Photographer: Debbie Lourens Photography | Flowers, Décor & Styling, Floral Ballet Shoes, flower/foliage crowns & Red Shawl: Green Goddess flower studio | Hair and Make-up: Marnel Toerien | Model: Candace Warner | Cake, cookies & favours: La Petite Patisserie | Wedding dresses: Janita Toerien | Stationery: Susan Brand | Tiffany Chairs, base plates & Silver Tray: Exclusive Hire & Events | Linen: The Table Cloth Hiring Company | Location: The Waterfront Theatre School