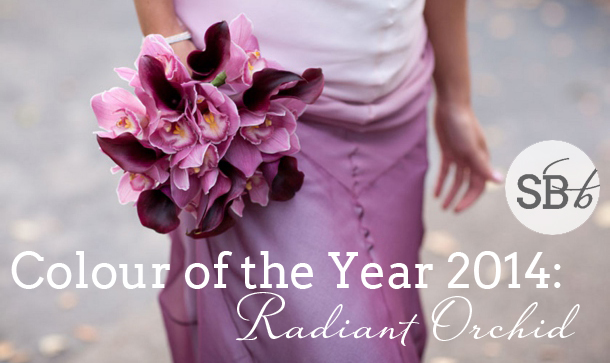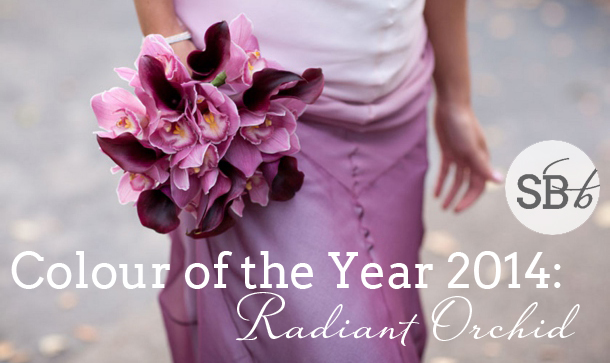 Image source: Kate Triano Photography via Capitol Romance

Hello lovelies (and especially hello new SouthBound brides!). Mondays are when we typically debut a brand new inspiration board, but with this being a new year, we have a bit of a bonus. Every year, we celebrate the newest Pantone colour of the year around this time, and this year it's the gorgeously named "Radiant Orchid". At first I was a little surprised that this one cracked the nod, being that I think blue is going to be huge in 2014, but once I started working with it, I totally understood. The thing about radiant orchid is that it has all the brightening qualities of a fuschia, the deepening qualities of purple or indigo, and the calm romance of lilac. To me, the Business Mirror described it best: "More lush than lilac, more sophisticated than pink and more rapturous than purple… more sedate than mauve and softer than plum". Basically, if pink or purple have featured in your colour scheme dreams, then radiant orchid is the perfect, modern alternative. We've already featured it in combination with a soft green, hemlock, as part of our Pantone Spring 2014 series: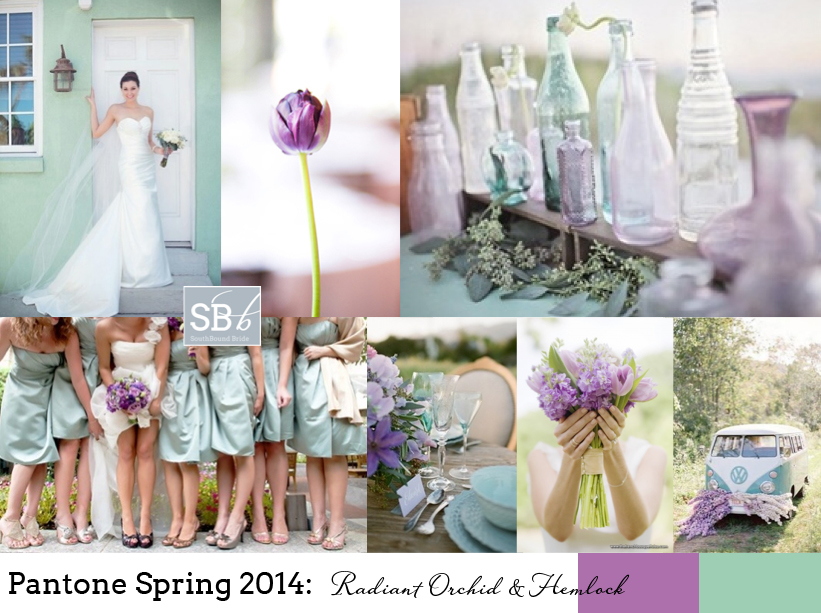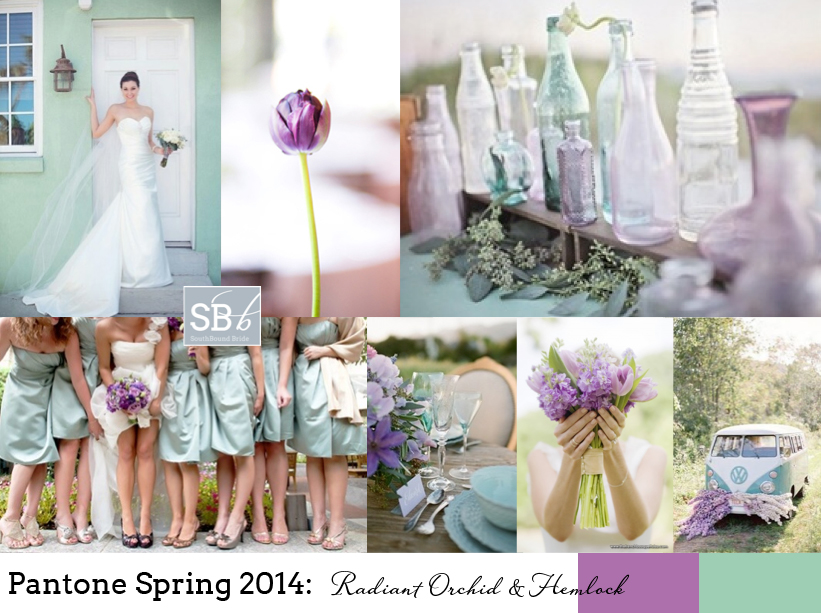 There are so many ways to include this colour in your wedding, from a whimsical boho garden wedding to a rustic fete to something more formal and city chic. It goes well with so many other colours, and I especially like it with other colours in the same range – blues, purples and pinks. But I'm looking forward to playing with it some more – I'm sure you'll be seeing lots more of this colour in the SBB inspiration boards! For now, here are a few pretty ideas.
Rustic Orchid (combine Radiant Orchid with green and the softest blues and lilacs):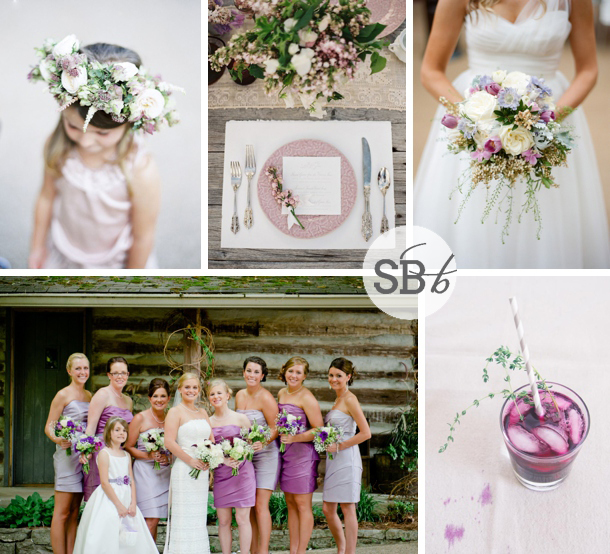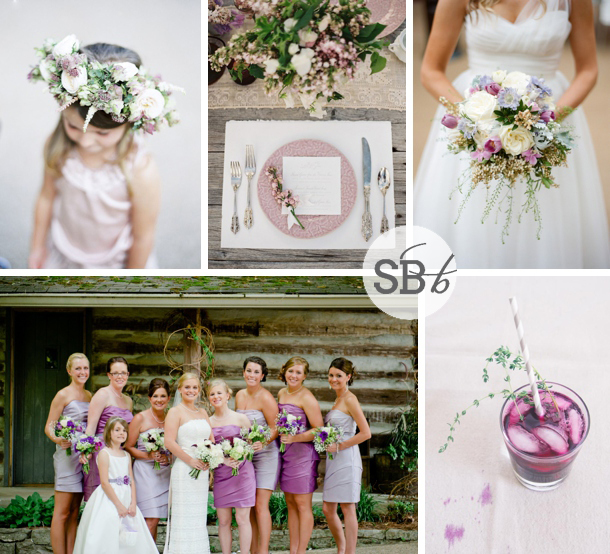 Credits (clockwise from top left): 1- Polly Alexandre via Style Me Pretty; 2- via Pinterest; 3- ; 4- via Nothing But Delicious; 5- Bethany Ann Photography on Every Last Detail
Champagne & Orchid (a little touch of peachy champagne really brings Radiant Orchid to life):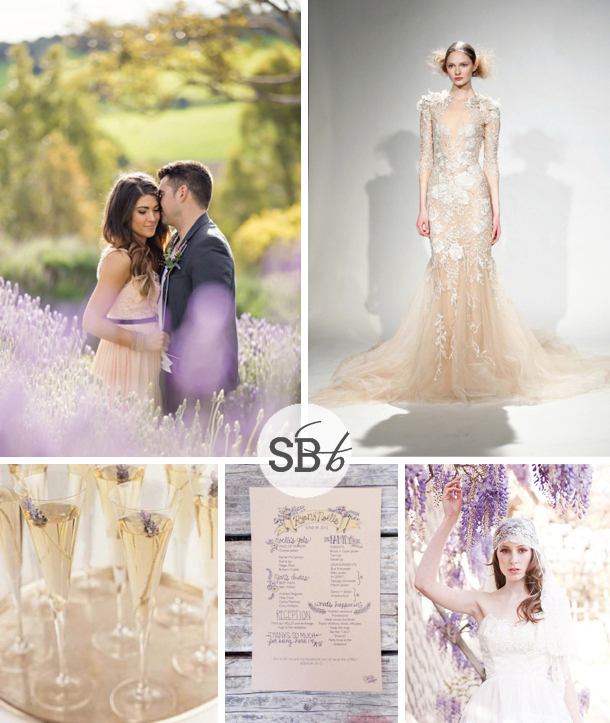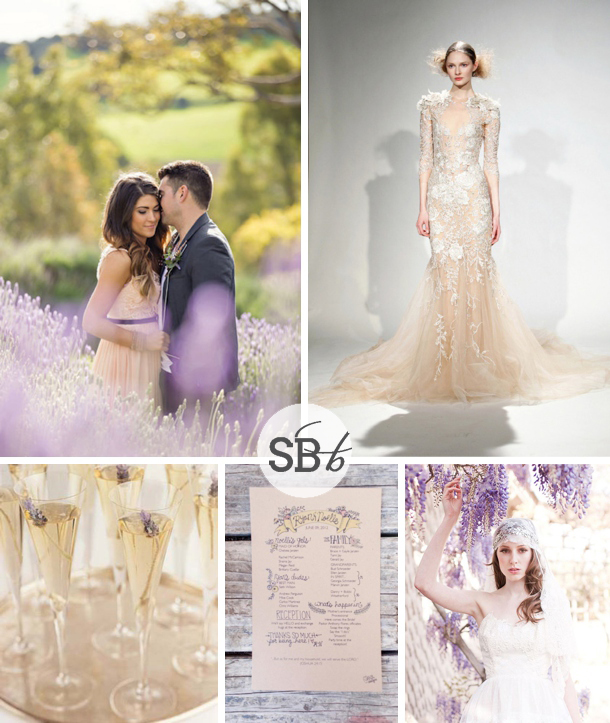 Credits (clockwise from top left): 1- Life in Still Photography via Two Little Owls; 2- Marchesa via Vogue; 3- Enchanted Atelier via Swooned; 4-  We Heart Photography via Style Me Pretty; 5- Debra McClinton via Real Simple
Orchid Ombre (Still so in love with ombre, and this series of tones is just the prettiest, plus a great update to pink ombre!):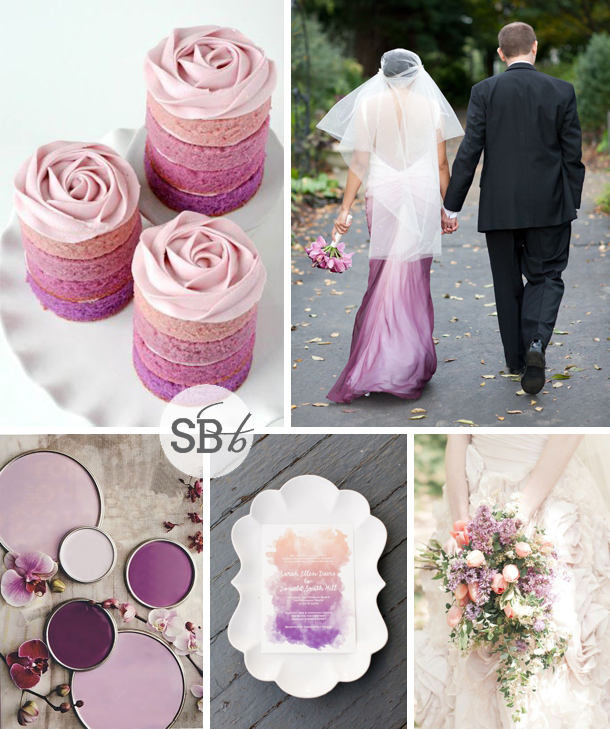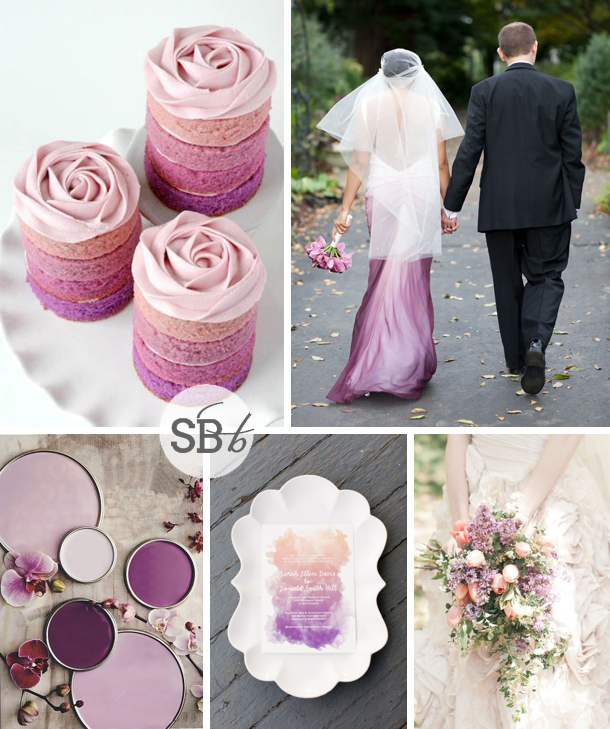 Credits (clockwise from top left): 1- via Glorious Treats; 2- Kate Triano Photography via Capitol Romance; 3- Emme Wynn Photography via Mod Wedding; 4- Paperfreckles on Etsy; 5- Better Homes & Gardens

Orchid Formal (Glam up Radiant Orchid by combining it with formal blocks of black and sparkling gold):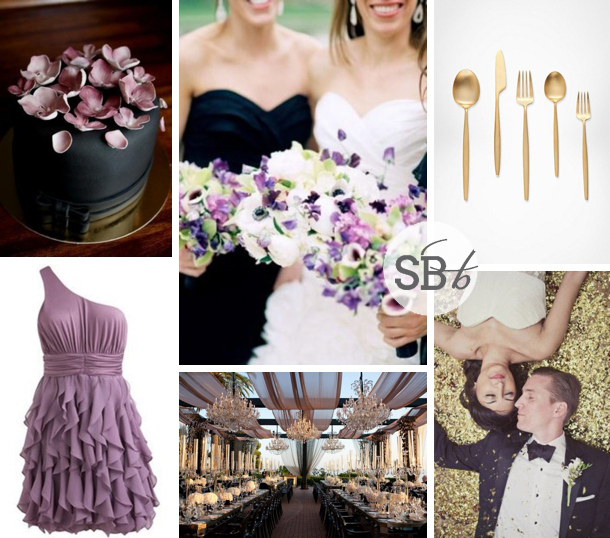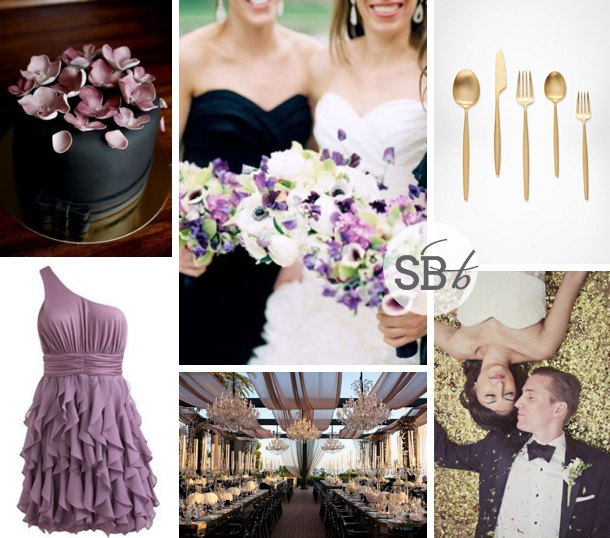 Credits (clockwise from top left): 1- via CC Chic; 2- Lisa Dolan via Grey Likes Weddings; 3- via Elle; 4- Our Labor of Love via Ruffled; 5- via Belle Magazine; 6- AnaBeth

Orchid Blues (I love the mix of pale blue, navy and pink combined with Radiant Orchid here):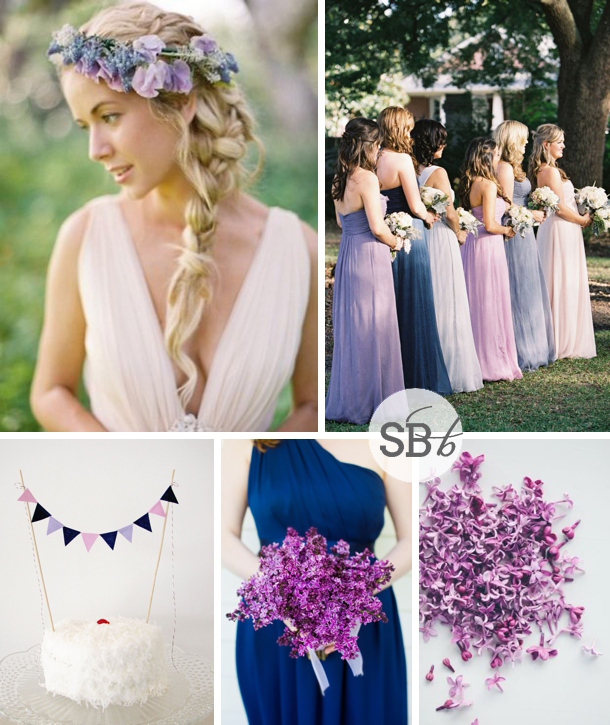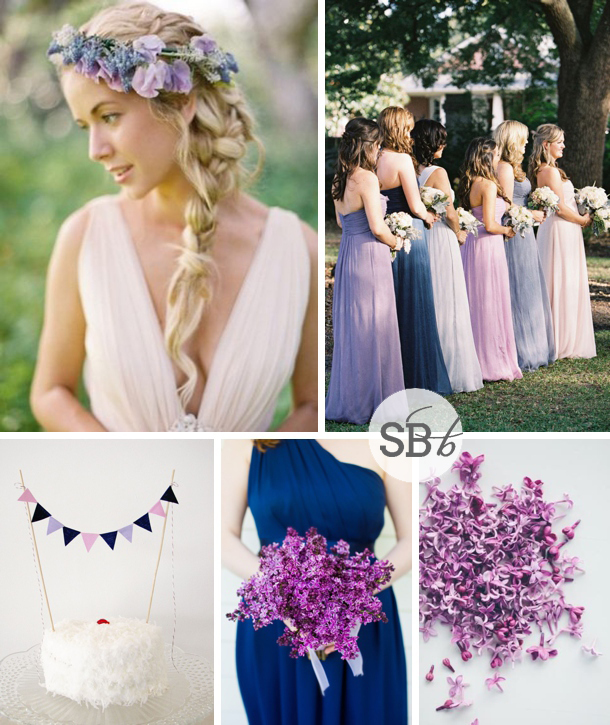 Credits (clockwise from top left): 1- Jose Villa via Style Me Pretty; 2- Virgil Bunao via Wedding Chicks; 3- via Lifelola; 4- Watson-Studios via Bridal Guide; 5- Athena and Eugenia on Etsy
What do you think? Will Radiant Orchid be making an appearance on your wedding colour palette?