I love new year, don't you? It's a time for renewal and perspective, and it's also a chance to dream about the year ahead. Here on the blog, that means our annual rundown of the hottest trends in weddings. I love doing this yearly post, and seeing all the trends unfold and be reinterpreted and gain surprising new twists throughout the year. And as I looked back at last year's post today, it was fab to see that not only had this happened in 2013, but that there was so much mileage still in the trends I called – I still think 2014 will have loads of lovely coloured wedding dresses, portrait lace backs, mixed prints, copper and brass details, and lasercut, for example. So if you've just got engaged, be sure to check out the 2013 roundup for even more ideas to add to these ones. But for now, it's in with the new!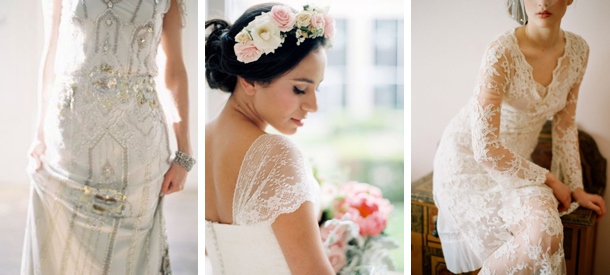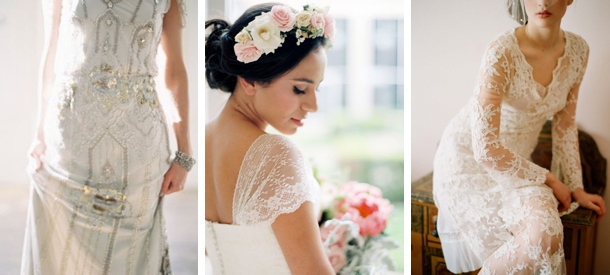 Bryce Covey via Once Wed (left); Julie Cate Photography via 100 Layer Cake (centre); Elizabeth Messina/Claire Pettibone via Wedding Chicks (right)
1. Wedding dresses: beading, cap sleeves, long sleeves
Is it just me, or do wedding dresses seem to be getting prettier every single year? The last couple of years we fell in love with lace all over again, and illusion/portrait back dresses had brides and bloggers in a Pinterest frenzy. This year's big trends are a continuation of those looks. Beading is a gorgeous alternative or addition to lace, whether in art deco detailing or portrait back dresses, and I think we'll be seeing more and more of it. Long lace sleeves are amazing for winter or autumn brides (or as a coverup for church – we're seeing more and more beautiful options from design houses now), and for summer girls, think cap sleeves – an incredibly sweet and flattering option.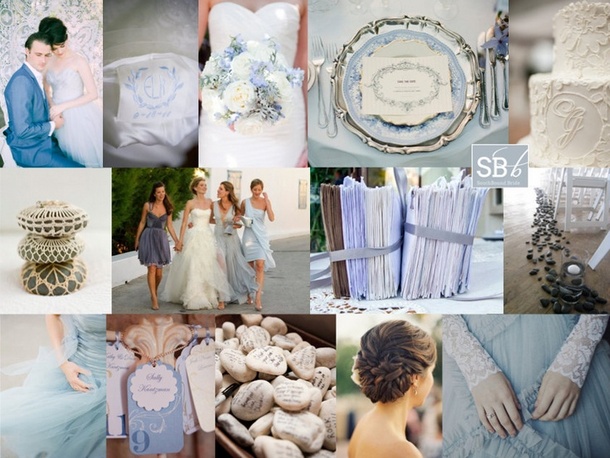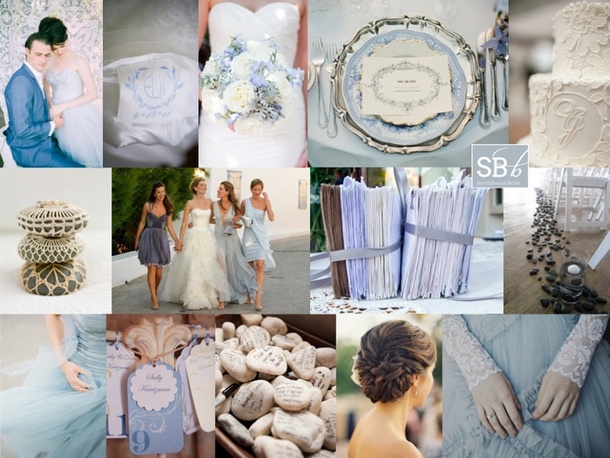 2. Something blue
The Colour of the Year may be Radiant Orchid (look out for a special on this Pantone shade next week) but in my book, blue is where it's really at in weddings this year. From soft shades of blue to bold Greek-style hues, from navy to teal, blue is this season's coolest and most versatile shade. Layer it with an ombre effect from grey through to midnight (a subtle alternative to the pink and peach ombres that have been so popular already), or pick your favourite blue and combine it with a pretty metallic or a bright summer pop of colour. You could even consider a blue wedding dress – such a gorgeous, flattering idea! See all our blue inspiration boards here.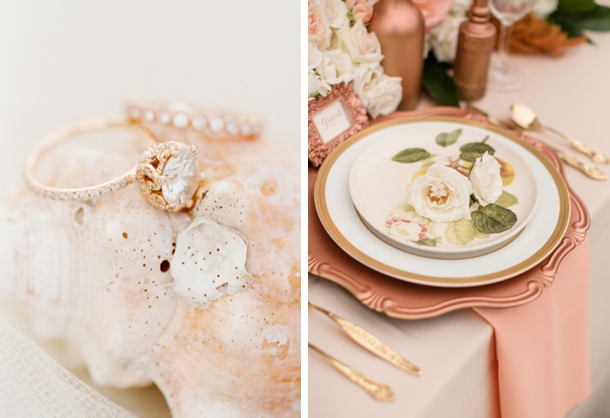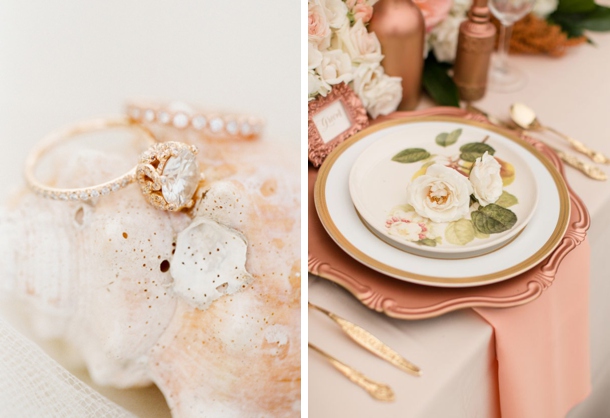 KT Merry Photography via Elizabeth Anne Designs (left); Katelyn James Photography via Ruffled (right)
3. Rose gold
Metallics just get better and better. In 2013 we saw an explosion of glitzy gold and sparkling silver, and subtle shades of difference in copper, brass and pewter. But 2014 is all about the emergence of rose gold, and not just as an accent colour, but for wedding jewellery too. I'm already a huge fan of rose gold jewellery, and this year more brides will be choosing this pretty (and flattering) shade for their wedding and engagement rings, as something a little bit different.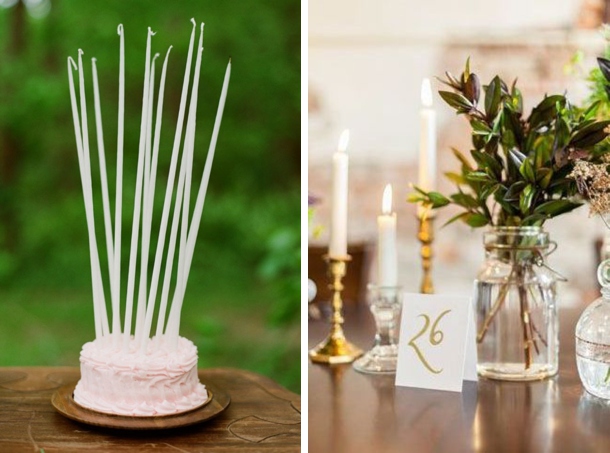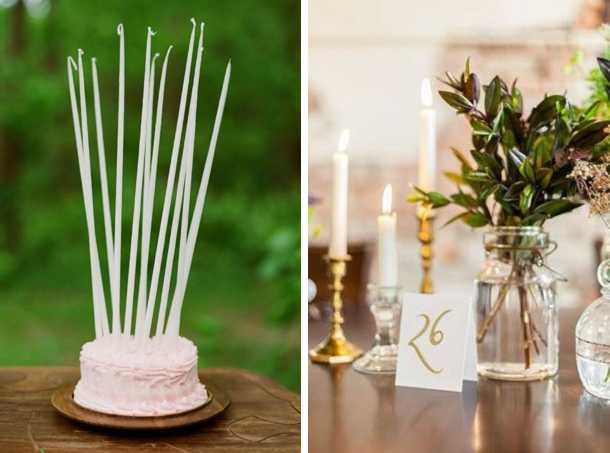 Alea Lovely Fine Art Photographer via Storyboard Wedding (left); Svetlana HillKovich/The Lady Jane/Amelia Marie Design via Green Wedding Shoes (right)
4. Candles
As much as I adore flowers on tables, I'm loving the way that candles are becoming more of a focal point in wedding decor at the moment. While votives and pillars always make a gorgeous impact, my favourite is high tapers lined up in pretty bottles or candle holders. Play with colour and size, and consider including candles as a cake topper – a unique throwback to birthday wishes! You can see SBB's recent roundup on candles here.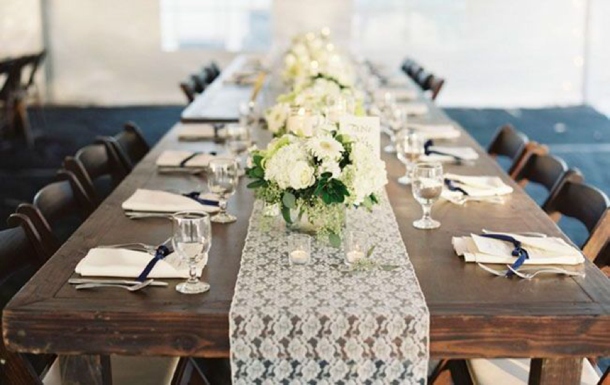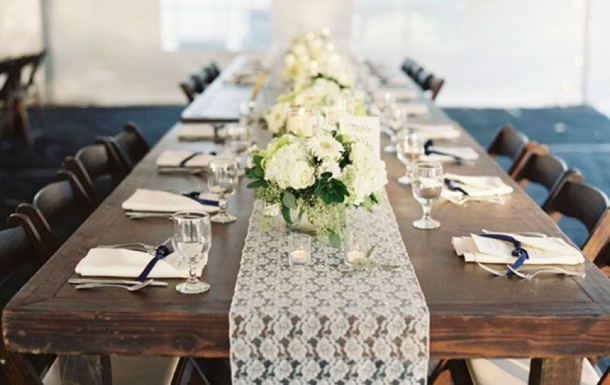 Caroline Tran/Peony Events via Green Wedding Shoes
5. Pretty runners
Lace runners have been a developing trend in styled shoots and weddings in 2013, and in 2014 I think we'll be seeing a lot more of them in South African weddings, especially at rustic receptions. For brides who love a bit of a vintage look, but perhaps are over the antique book piles or birdcages, it's a perfect way to give a nod to the look without going whole hog. Runners in general will continue to be a staple of decor this year, whether using sequins and glitter, or different prints (shweshwe is my current fave – more on that soon!).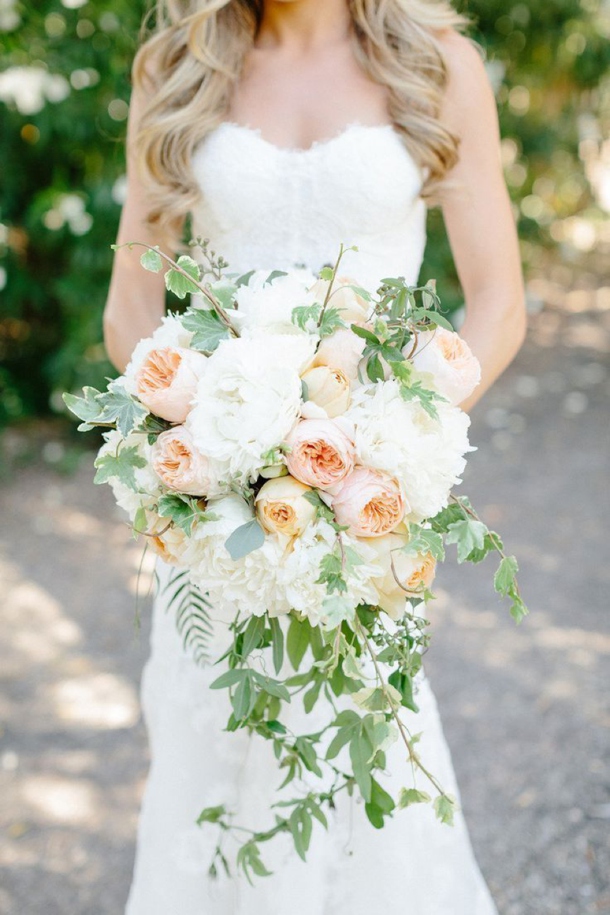 Erin Hearts Court via Elizabeth Anne Designs
6. Cascade bouquets
My favourite floral trend of the moment is cascade bouquets, which have made a triumphant reappearance in weddings after a short period being associated with the 1980s and '90s. This new wave of bouquets is all about texture and tendrils – it's the ultimate in romance for modern brideys. I predict we'll be sighing over many more of these beauties in 2014. See our full roundup on this trend here.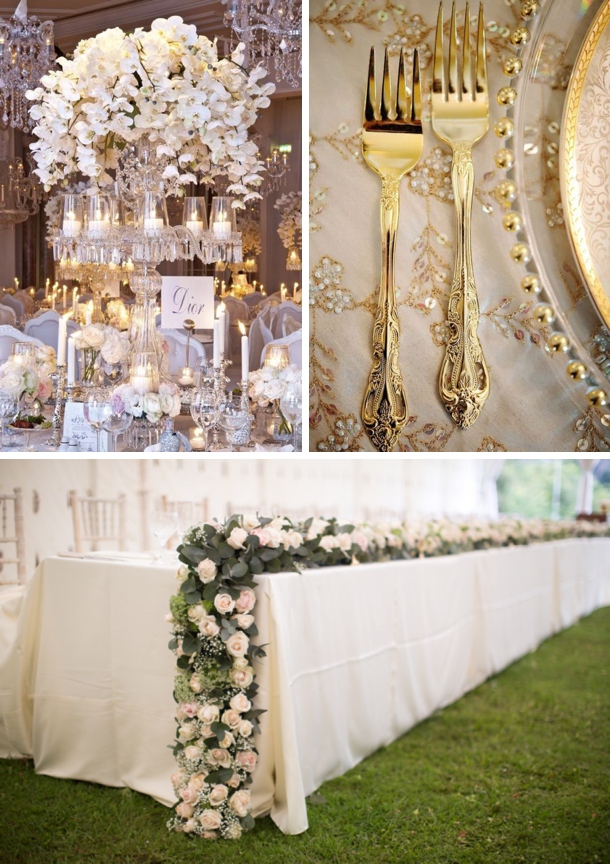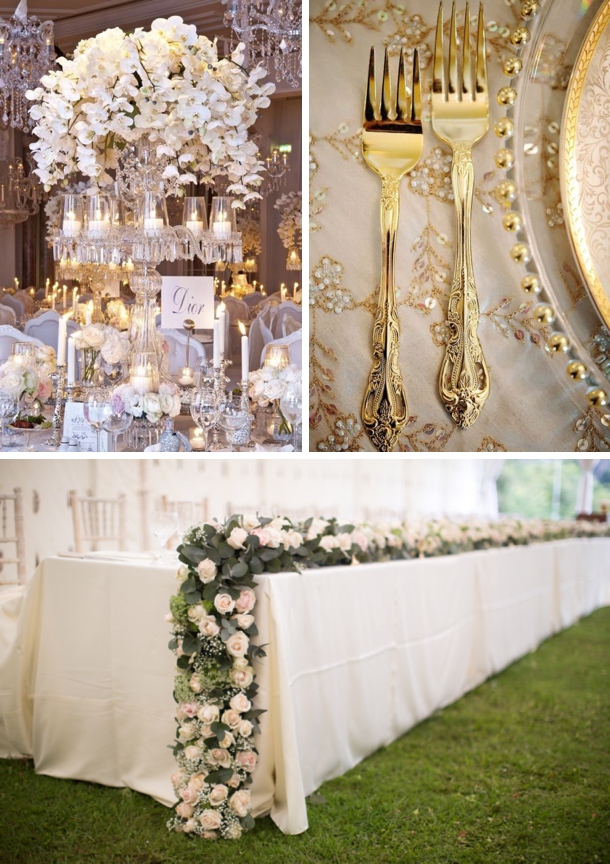 Candan Kiramer via Belle the Magazine (top left); via Pinterest (top right); Alicia Swedenborg on SBB (bottom)
7. Opulence
This is a word you'll see in a lot of trend predictions this year, and that's because it's a neat way of describing a general movement away from spare minimalism towards extravagance. These are the details that your accountant will tell you to do without – the more instead of the less. The lush floral runner instead of the simple centrepieces. The gold cutlery instead of the venue-provided plain silver flatware. The orchids instead of the baby's breath. Of course, not every couple can afford to push out the boat on EVERY detail, but pick one or two that you love most and present it as a feature. For example, in our Real Life Bride Candice's wedding, she had the stunning garland above draped across the main table – a real focus point for her decor, magical when combined with a star-studded marquee.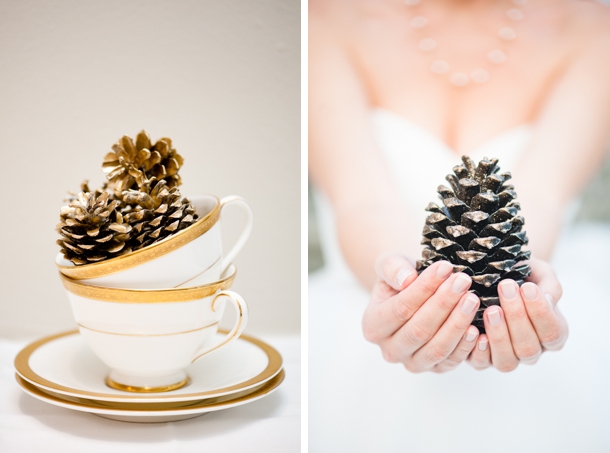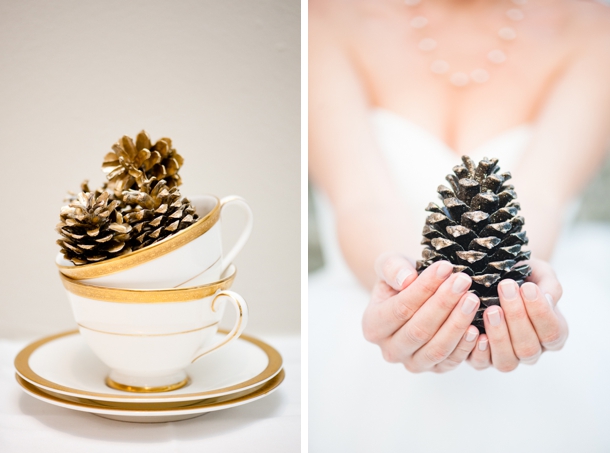 b.loved/Liesl Cheney Photography on SBB
8. Cold weather weddings
This isn't so much an international trend as a local one – with our incredible weather and world-class views, it's easy to understand why most couples used to insist on a spring or summer wedding day. But in the last couple of years, I'm seeing more and more autumn and winter weddings, and you guys, they are so lovely. One of the best ways to throw a wintery wedding is to embrace all the goodness of the chilly seasons – serve hot chocolate, spicy cider or mulled wine during cocktail hour; have comfort food canapes like pie or bangers and mash; give your guests blankets or pashminas for favours; throw dry leaves instead of confetti, and decorate your venue with the beautiful fynbos that's in season off-season. You'll find lots of ideas on our Autumn/Winter weddings Pinterest board!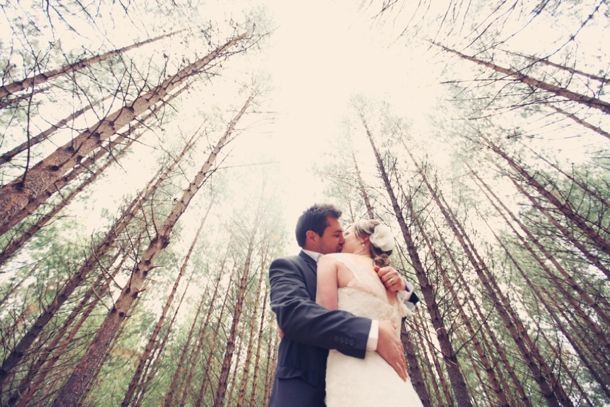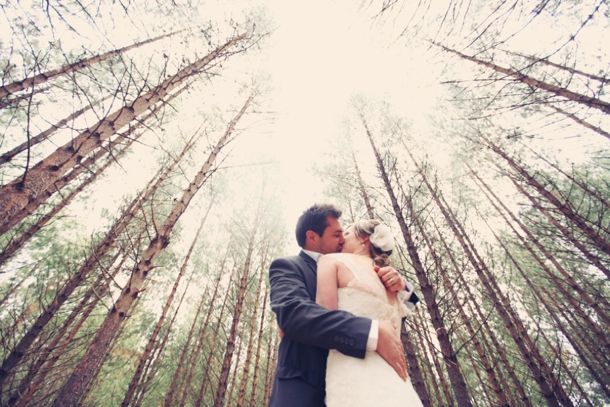 9. Forest/Woodland weddings
A couple of years ago we fell madly in love with barn and farm weddings, full of burlap details and rustic loveliness. Now forest venues are muscling in on the action, providing beautiful natural cathedrals for ceremonies among the trees, and the opportunity to have some fun with woodland-themed decor. Forest animals have been first to the party, especially deer, and you'll find the antler motif going strong in 2014, along with other woodsy accents like birch bark, pinecones, berries, ferns and of course trees themselves.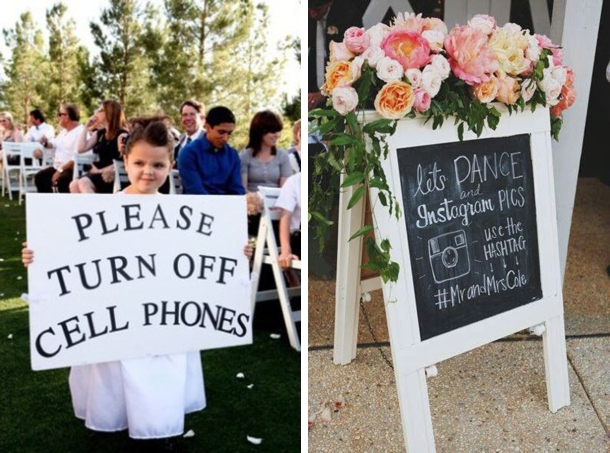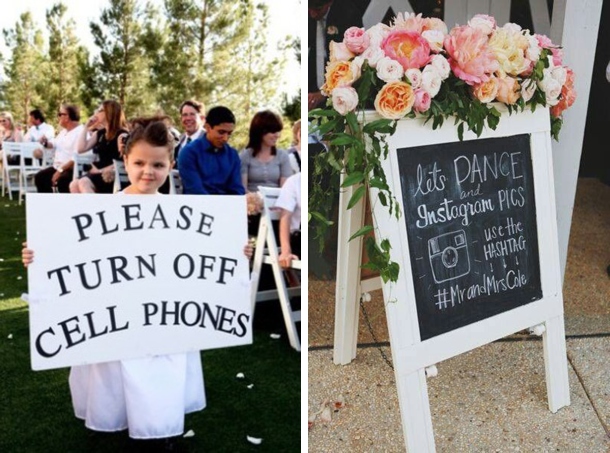 Kaitlin Noel Photography (left); W+E Photographie via Southern Weddings (right)
10. Unplugged vs social media weddings
This is unusual, because it's sort of two conflicting trends in one. In the last year we've seen more and more brides and grooms embrace social media as part of their weddings – so much more than wedding websites and Pinterest boards, we're talking custom apps, Twitter hashtags, Google hangouts, Instagram photobooths. But as our relationship with social media continues to develop, another whole group of people are having the opposite reaction – calling for a technology-free wedding experience and inviting their guests to be present in the moment at 'unplugged' weddings. Which camp will you fall into?
So, those are my predictions – which will you be including in your wedding? Are there any other trends you're seeing on the horizon for 2014?