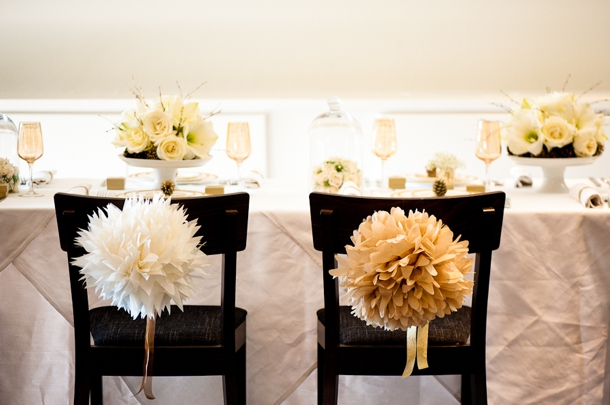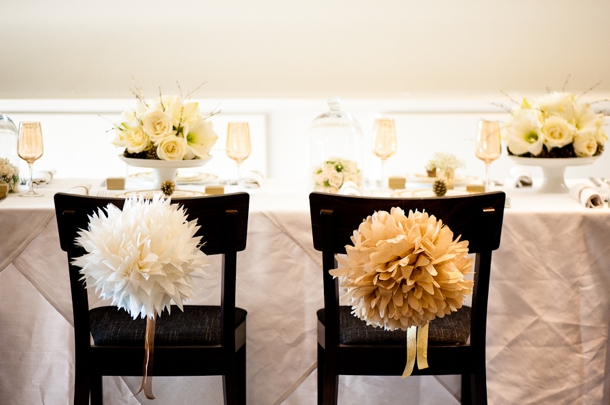 You guys, I am doing such a happy dance as I post this feature today! It has been a long while coming, and I am thrilled to finally be able to share it with you. See, this isn't just a beautiful shoot that someone sent me, I was actually there for this one. I saw it put together from scratch. I even helped make it happen a little. Not that it's my shoot – 'assisted' is the key term here. All of this shimmery, wintery loveliness comes straight from the imagination of styling queen Louise Beukes of b.loved (how pretty must it be inside her mind?) as well as the lens of Liesl Cheney. It's all about making your guests feel cozy while at the same time sweeping them up Narnia-style into a world of snowflakes and pinecones and sophisticated elegance. And now's a good time for me to say how proud I am of everything Louise has achieved. A couple of years ago, she approached me as a SouthBound Bride herself, and told me she wanted to start a blog. I thought it was a great idea. Then she told me she wanted to be a stylist, and I thought that was an even better one. The result is not only daily eye candy on her fabulous blog, but a portfolio that is just busting at the seams with loveliness. This was one of her first shoots, so you can see she hit the ground running. Oh, and the reason we didn't show it to you earlier? Only because it was too busy being featured in UK magazine You & Your Wedding.
AND THAT'S NOT ALL. Not only do I get to wow you with some loveliness, but Louise has sent along some awesome DIY tips so you can recreate this look for yourselves. AND, she has been kind enough to put on a special offer JUST for you SBB ladies. For just R500, she will provide you with either an in-person styling consultation (if in London) or an email one, as well as a concept board if you make an enquiry before 28 February. Seriously, you will not regret it – Louise knows her stuff.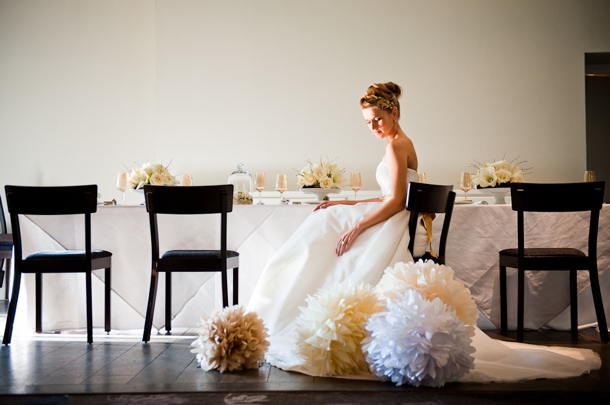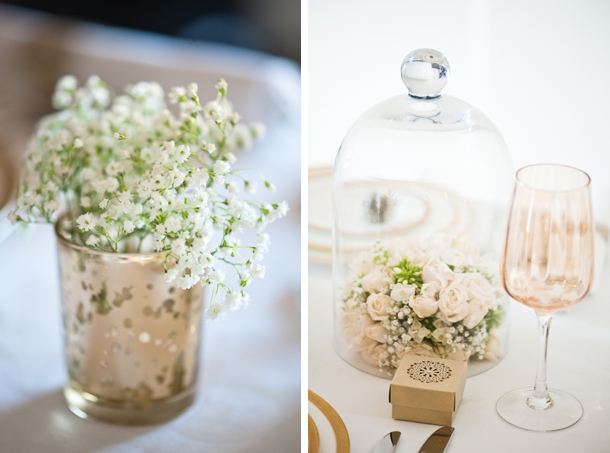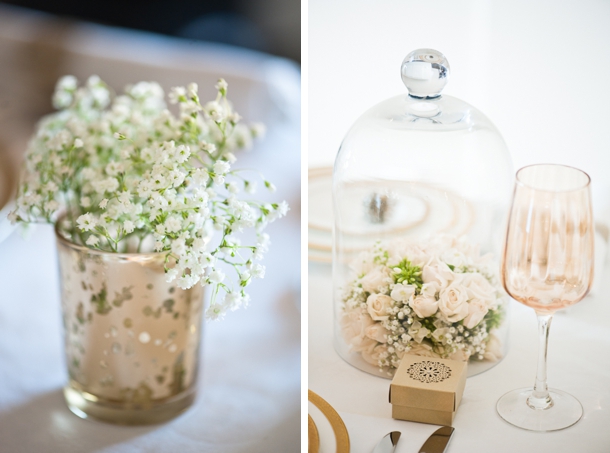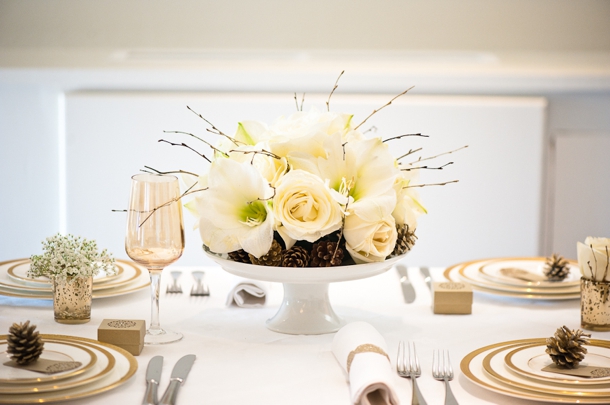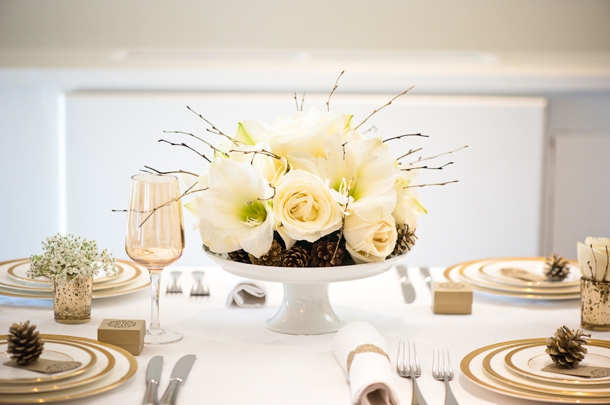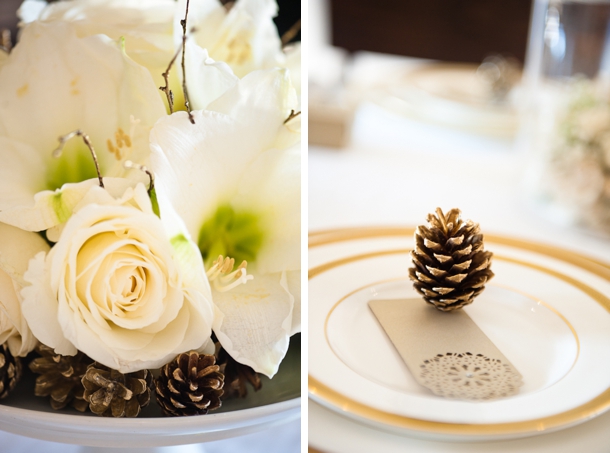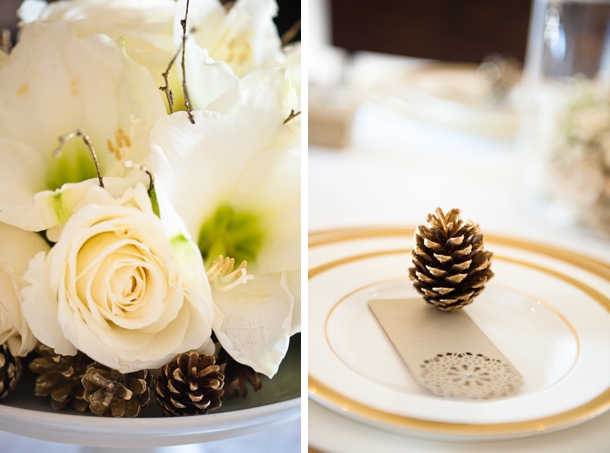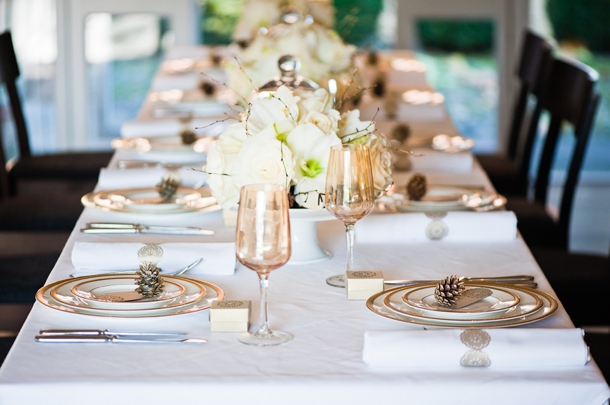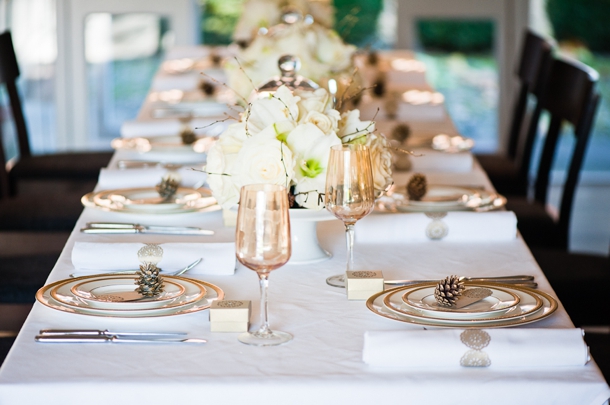 Read on for the DIY details exclusively from Louise…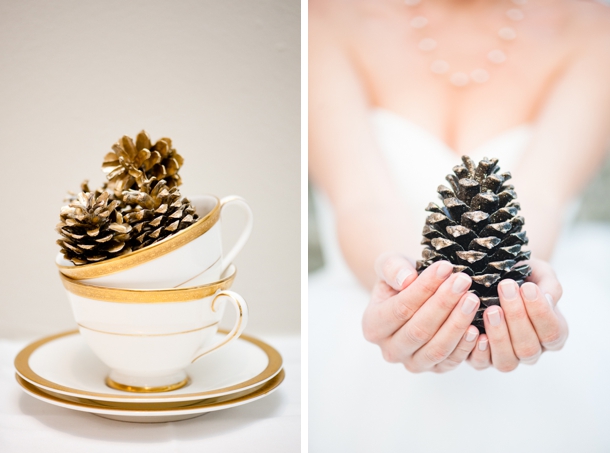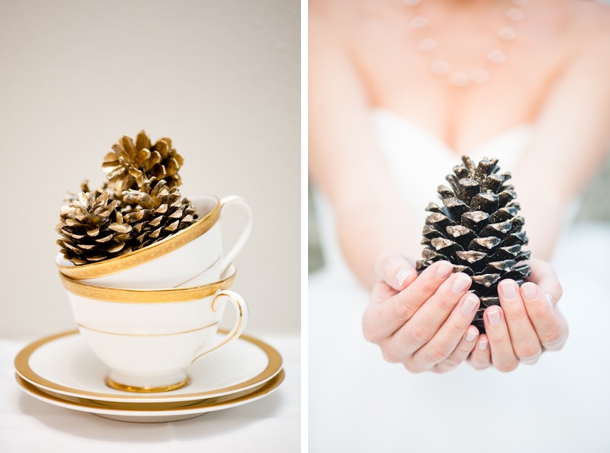 Gold pinecones
For a festive detail, spraypaint pinecones with gold spraypaint.  We used matte metallic for a modern-luxe look.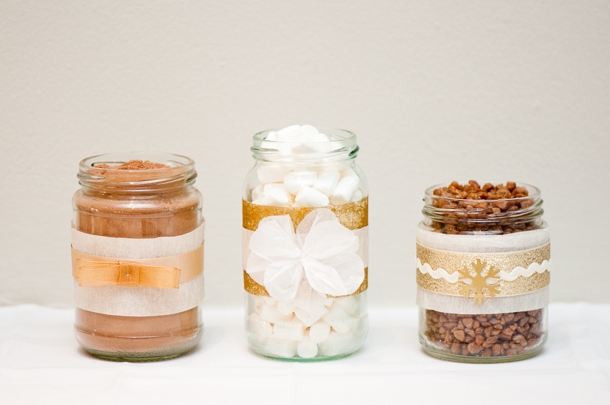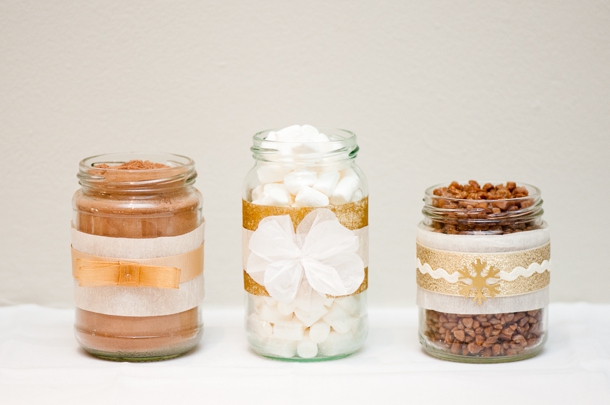 Hot chocolate bar (see more details here)
A hot chocolate bar is the perfect addition to a cosy winter wedding, a festive meal or celebration. To create your own, decorate a collection of mason or jam jars with ribbons, paper and bows. For the first jar, take a length of crepe streamer and attach to the jar using double-sided tape, then repeat with a contrasting ribbon. To finish, take a length of ribbon and double over itself to create a double bow, tape and secure to the jar. For the second jar, create a tissue paper flower by creating individual petals before gathering together and securing with a twist before adding to the jar. For the last jar use a layer of crepe paper, ribbon and ric-rac, finished with a gold snowflake (bought in a packet from any good art and craft shop). Once your jars are decorated, fill with a selection of your favourite treats, chocolate sprinkles, mini marshmallows and caramel chips.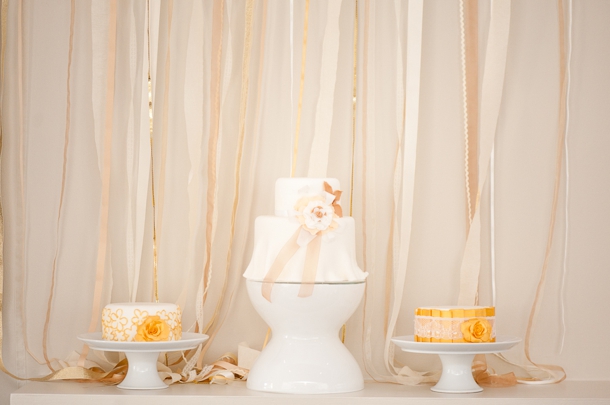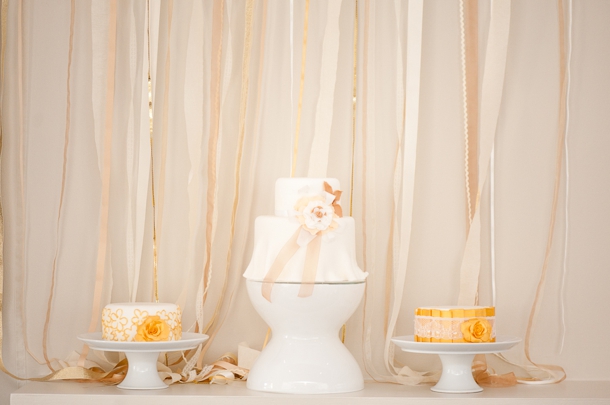 Ribbon backdrop
To create a similar backdrop for your cake table, take a selection of different ribbons in your wedding colours and tape to a wooden dowel.  I used a selection of satin, organza and ric-rac ribbons to create a shimmering effect.  This would also make a beautiful ceremony or photo-booth backdrop!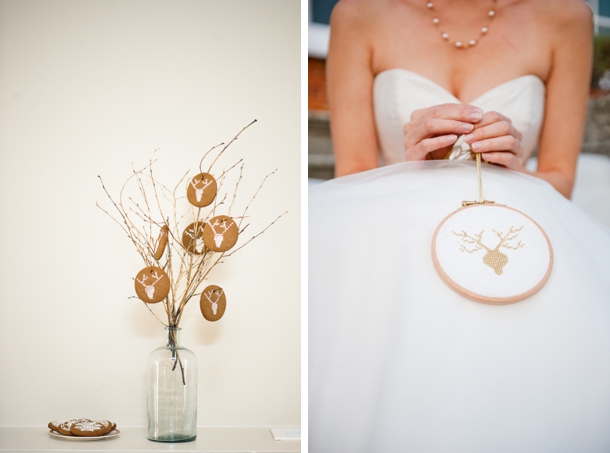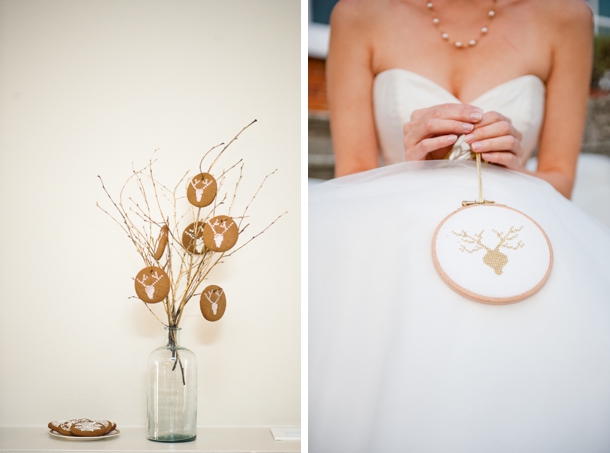 Cookie wishing tree
As the centre-piece to your dessert table or a tempting treat next to your guestbook, hang cookies from willow branches for a wintery look.  Simply ask your baker to make a hole in the top of each one so they can be easily secured to the branches, or add a piece of ribbon and hang for a more festive touch. 
Thanks so much, Louise! Oh, and here's a bit of SBB trivia. I totally made that embroidered decoration myself. I confess. Like a proper spinster, I cross stitch. Sometimes I sell what I make too. If you want the pattern, drop me a mail, or check out my Etsy shop in the links below.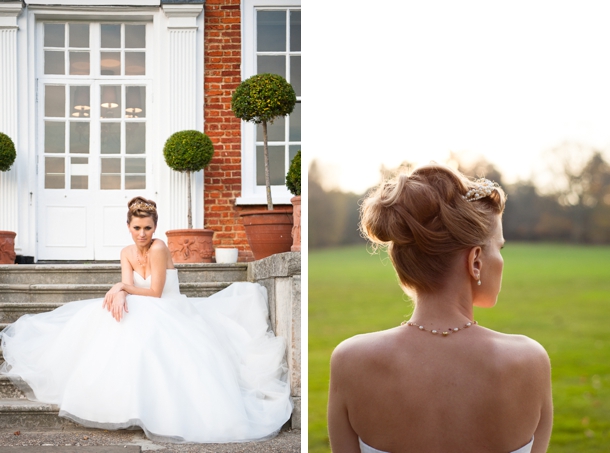 SERVICE PROVIDERS
Photography: Liesl Cheney Photography | Styling: b.loved | Venue: Stoke Place | Flowers: Senses Floral | Dress: Madeleine Isaac James | Hair & makeup: Gemma Sutton | Stationery: Intricate Creations | Cakes & biscuits: Tempting Cake | Accessories: Victoria Millésime | Accessories: Trudie Arnold | Model: Bea Piekarska | Embroidery Hoop: House of Lindiwe