They say the Devil's in the details. I love love love the details. If one looks carefully, it is precisely the little things that make a wedding unique. We all have a version of the usual formula: a dress, a ceremony, a reception and then dancing till the lights go out. A wedding wouldn't really be a wedding without these things. But it's the little bits of prettiness captured in the DIYs and personal touches that make people go WOW!
To me, the stationery is a very important detail. It is an element which can be used to capture the style of your wedding from beginning to end. Starting with the invite, right through to your place cards and table numbers, the stationery is like a subtle undertone which binds everything together.
The invitation is the very first visual element that your guests receive, setting the tone for the rest of the process. It gives them a glimpse into the style and colours you have chosen, as well as the type of mood you are setting and how formal your wedding is going to be.


Sources: Chrystalace via The Pretty Blog (left); In the Treehouse (right)
A quite modern development in this respect is the story invitation. It contains all the usual information, like the date, venue, dress code, etc. but also tells a story of the bride and groom, often with quirky details and illustrations. Here, you don't only get to have a personalised design, but can also tell your individual story about how you met and how it finally came to be that you are now getting married. Whether it takes a humorous tone, a more traditional approach or a playful illustrative style, it tells a romantic tale which makes your guests feel that much more involved and touched.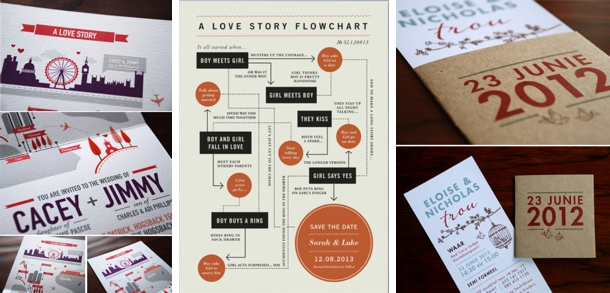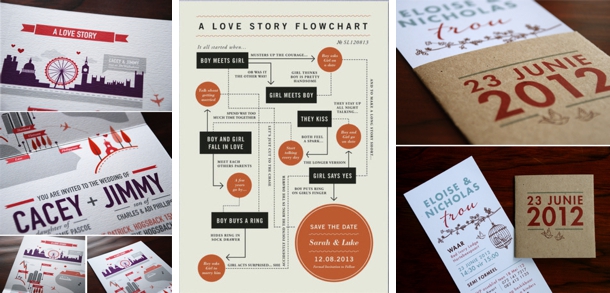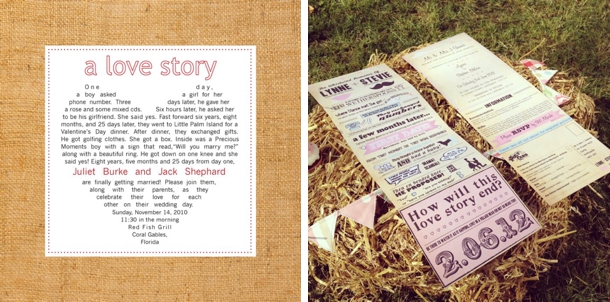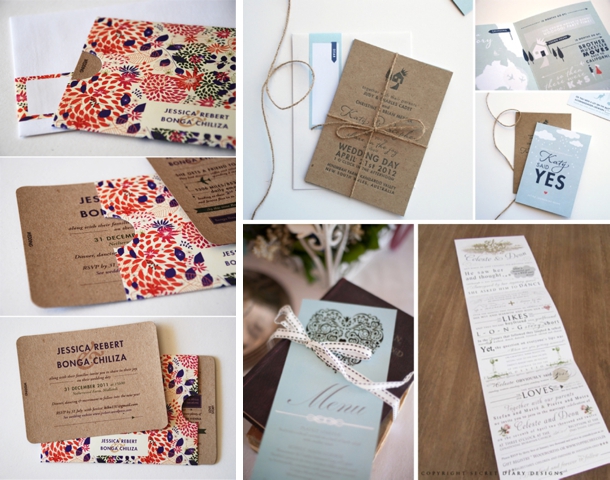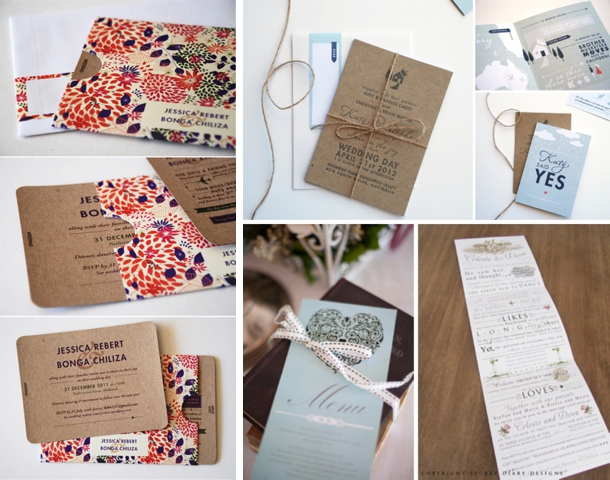 Sources: Row 1 – Seven Swans (left); Minted (centre); Seven Swans (right); Row 2 – Etsy (left); Something Kinda Cute (right); Row 3 – Seven Swans (left); Seven Swans (top right); Secret Diary Designs (bottom right)
When I started looking at ideas for our invitation, I immediately liked this concept. I then turned to my awesome designer friend Sam in Cape Town to help me with the design. He did a fantastic job!
BRIDE ABROAD TIP: As many a bride has mentioned before, doing the stationery yourself is not necessarily going to save you any expense. If you want to go the DIY route and would like to be more involved in the actual design, this is something you can also do as a bride abroad. You learn a lot by trial and error, so leave yourself enough time to go through all these little lessons. And make sure you work with a very good printing company (this has been one of our biggest challenges).
What we've found works really well is starting the designing process with a few simple instructions of what we want and then letting Sam do a few different versions for us. We then choose the one we liked best and discuss the smaller details we want to have adjusted. Once we are satisfied with the design, we have a sample printed to see what it will come out like (this is a very important step as the printers often produce a product different to what you had in mind). After a few more finishing touches and another sample print, place the final order.
The biggest challenge in this process was the printing. It takes up a lot of time and requires quite some effort as someone has to pick up all the samples and show them to you if you aren't doing it yourself. Lucky for me I have an awesome sister in Cape Town who handled that schlep for me. After every printing round, we would organise a Skype date and she would show the printed product to me. She also scouted around for beautiful ribbon and found the most amazing things at Ebony and Ivory in Cape Town (definitely a place worth visiting). Despite the little hiccups here and there, the process has been a lot of fun. If you're keen for the extra effort I would definitely recommend taking a more involved approach like we did. Holding the final product in your hands after the countless emails, adjustments and trial runs is a HUGE REWARD.
I've been fortunate enough to have some amazing people help me through this process, from Sam's beautiful design work, to my sisters and bridesmaids helping with handing out the invites. Here's what the final product looks like: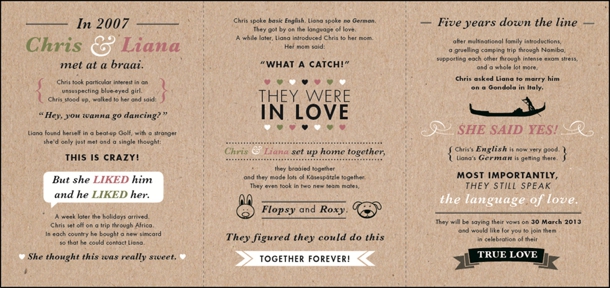 Liana's invitation: Pictures taken by Karin Coetsee (bridesmaid) and design by Sam Van Straaten ([email protected]) 
Next time: We get an insight into Liana's decor!
The series so far: The Proposal | The Inspiration | The Venue