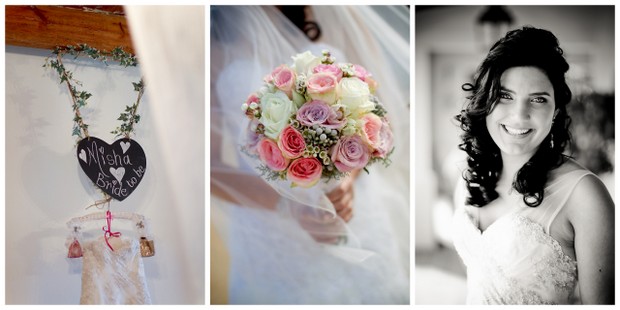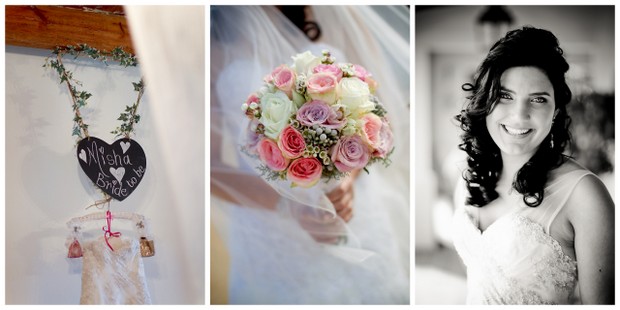 You know, a lot of people, when they find out what I do, comment that organising a wedding these days is such an over-the-top thing. In the same way as I think my mother believes you can only be either a teetotal or a budding alcoholic (guess which side of that line I fall on?), I think many of them believe a wedding can either be a three day zillion Rand extravaganza with ice sculptures, chocolate fountains and swans in the swimming pool, or a pared down civil ceremony with zero decoration and lunch at a nearby restaurant. Well, you and I both know that's rubbish. There's a spectrum of weddings, and that's what makes them so interesting and exciting. But one thing I do know is that adding just a few key details will raise your wedding's game. Take today's Sea Trader wedding (photographed by the lovely Bernard Bravenboer), for example. It isn't over the top, but it is beautiful. Clever Misha and her wedding planning team knew exactly where to add those special details. Coloured glass on the tables. A beautiful rose bridesmaid dress and a flower girl in a baby's breath crown. A picturesque beach ceremony. Interesting boutonnieres. Wedding newspapers. Pretty cocktails. No swans in the pool. No ice sculpures. Just the gorgeous pink fairytale wedding that Misha and Henri dreamed of. Simples.
From Misha:
We met at a mutual friend's house, but it wasn't love at first sight! I am fun and outgoing and spontaneous, while he is more of an introvert and very romantic. We got to know one another and started to like each other, and then he asked me out.
The proposal took place in Switzerland. We went up the Junfrau Joch on a train – the highest point in the world reachable by transport. At the top it was crystal clear skies and snow everywhere I looked. It was knee deep and so as Henri went down on one knee I thought he had fallen, but he drew a heart in the snow saying H+M and I looked at him, not knowing what was coming, until his voice went all funny and he said "My love, would you be my wife, would you marry me?"
We wanted a romantic, fairytale wedding with a touch of pink, since pink is my favourite colour. We approached the lovely team at Mint and Magnolia – what amazing people to work with! They put together ideas and concepts that could work with my theme, and my mum and Lorraine helped me decide what would work the best.
I loved my whole wedding day, but some of my favourite moments were during the ceremony – when I was walking down the aisle with my father and Werner Denner was playing the wedding march on his saxophone, and when Henri placed my wedding ring on my finger and we kissed. We also had another great moment when we were taking photos with Bernard down on the beach – I was standing on a rock and the sea came in quickly. Henri held me up in the air and protected me from getting wet, and ended up dripping wet from his knees to his toes! [Ed: what a gentleman!]
One of the special details we had was that wherever Henri and I go, we pick up a stone as a memory of the place or occasion. My father made us a heart with bird wire that guests could place their special stones into. The heart symbolized us, and the stones blessings, so it was like filling our heart with love and blessings.
For my wedding shoes, I took my most comfortable high heels and gave them to Lily Blue – she coloured them and decorated them and they were beautiful and comfortable.
My advice to future brides…
Book your wedding venue a year in advance!
People remember three things about a wedding: the food must be fantastic, there must be enough wine, and the music will make or break your party.
Go to a dressmaker who (like Elizabeth) can just look at you and tell what works for your figure – and try on lots of dresses!
Cut your wedding cake when you enter the reception, otherwise nobody will see your beautiful cake!
I'd recommend so many of my suppliers – Mint and Magnolia, Bernard (such a nice guy to work with), Werner Denner and Christine, who makes the best cakes.
Big thank yous to both Misha & Henri and to Bernard, the man behind these dreamy pics. You can, as always, see more on his blog.
SERVICE PROVIDERS
Venue & catering: Sea Trader | Photography: Bernard Bravenboer | Co-ordinator, flowers & decor, hiring: Mint and Magnolia | Cake: Christine Capendale | Stationery: Lezanne Bester | Bride's dress: Elizabeth Stokenström | Bridesmaid's dress: Bride and Co. | Hair: Dorette Fassen of Cutting Gallery | Makeup: Genevieve von During | DJ: Werner Denner | Video: Beautiful Noise Productions