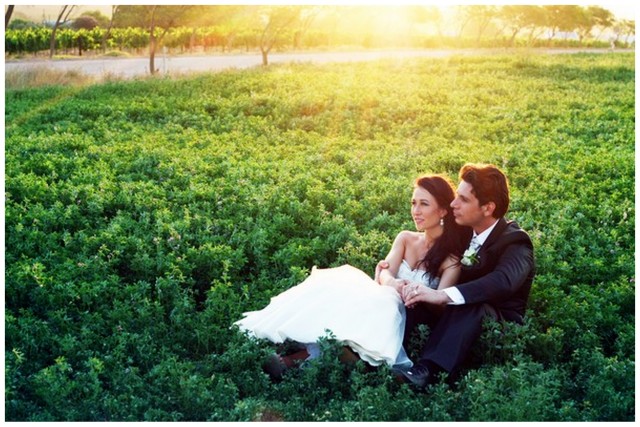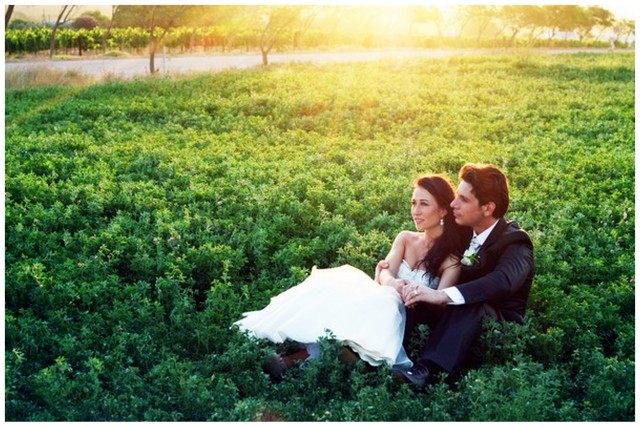 You know how sometimes in life there's a theme tune for a particular moment? Well, the theme from Love Boat is totally playing for me right now… "Loooove, exciting and new…" (didn't you just LOVE Love Boat? My housemates and I used to watch reruns at lunchtime when we were at varsity. Shutup, I said REruns. I'm not that old.) Anyway, today's adorable couple met on board a cruise ship they were both working on. How romantic is that? She's an Afrikaans girl, he's an Italian boy – and there they are meeting in the middle of the ocean. Not to mention that when I read their proposal story, I was so picturing the staircase scene in Titanic. Sigh. And romantic is exactly what their wedding was – Marelize decided to use black and white as her colours and black lace as her accent (I know some of you are planning to do the same, so you will love what she's done here). And get this, her mom MADE her dress. How special is that? All the pictures were taken by Andre & Selma of Expressions Photography, and I think they've done a great job capturing the couple's exuberance at joining their lives together, across two continents and three languages. Oh, and PS, I love that Marelize and her girls got ready at the Worcester Art Gallery – what an unusual backdrop!
From Marelize, the bride:
Valerio and I met working together on a cruise ship sailing the Caribbean, Bahamas and Virgin Islands. I was working as a beauty therapist and he was a Ship's Officer, looking very hot in his white uniform! We met through friends at a 'wet and wild' crew party held at the 'supertube' water sports – everyone was soaking wet by the end of the night after going down the slide fully clothed. Valerio accompanied me to my cabin and I thought he'd try to kiss me, but all I got was a handshake and Italian cheek kisses… what was up with that? Luckily he asked me out on a date three days later, where a proper kiss sealed the deal! Turns out he somehow knew he would blow his chances with me if he had tried kissing me that night… old romantic. ;)
Three years later, he was waiting for me at the bottom of the staircase, down on one knee, as I came down all dressed up for a friend's wedding. We kept our little secret to ourselves all day, but were all sparkly-eyed knowing that it would be us going through the whole wedding ceremony soon.
We wanted a venue with vineyards and were on our way to look at another place in the Robertson area when we saw a sign for Bon Cap. I recognised it from the internet but wasn't particularly interested in checking it out. We decided to have a look anyway, and instantly realized that it was going to be perfect!
We had a black and white theme, with black lace giving a romantic soft feel. My mom did all the decorations, and made my wedding dress – it looked fabulous and was one of my favourite parts of the day.
What made our wedding special was having everything in three languages, as I am from an Afrikaans background, Valerio is Italian (and had his non-English-speaking family and friends there) and also English (which we are both fluent in). Everyone had a great time together – they were all on the dancefloor – regardless of whether they understood each other or not! I think that might be due to the language of wine!
To future brides, make sure you look fabulous and have a good photographer, as the pictures will be all that remain at the end.
Thank you so much, Marelize and Valerio, and auguri, veels geluk and congrats! Big thanks also to Andre and Selma, and you can check out more from this wedding over on their blog.
SERVICE PROVIDERS
Venue & catering, flowers: Bon Cap | Photography: Expressions Photography | Stationery: Compro, Worcester | Hair & Makeup: Janel van Graan | DJ: Jan Strachen