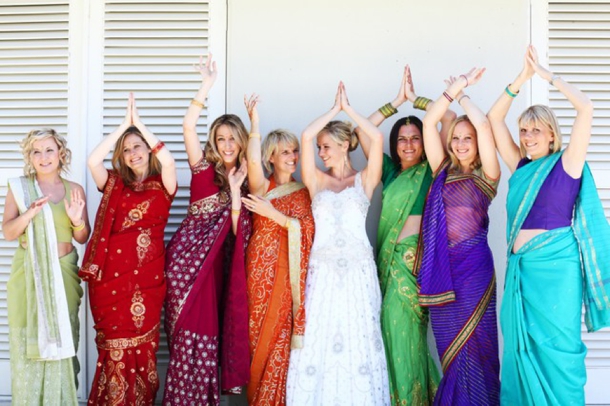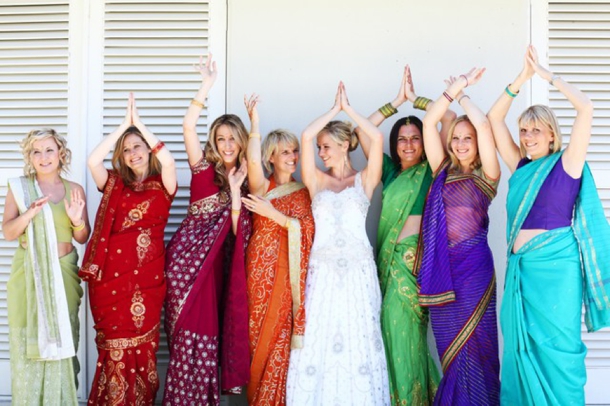 Well, here's a wedding unlike any I've seen before! From the moment Andre and Selma of Expressions Photography sent over a pic of Nicola and her bridesmaids, I was hooked. Nicola and Andre – varsity sweethearts – got engaged in India. So even though neither has Indian heritage, they decided to have an Indian-themed wedding. In the Cape winelands. With a rabbi (even though neither is Jewish either). It's slightly barmy, but you know what, I love it. It's so full of colour and light and fun. You look at their friends – dressed in saris or playing croquet or dancing Bollywood style – and it's clear everyone's having the best time and that this is one wedding that's gone down in the record books. And you look at Nicola and Andre's faces as they promise to spend their lives together, and it's obvious that they are meant for each other. And that, my friends, is what a wedding's all about.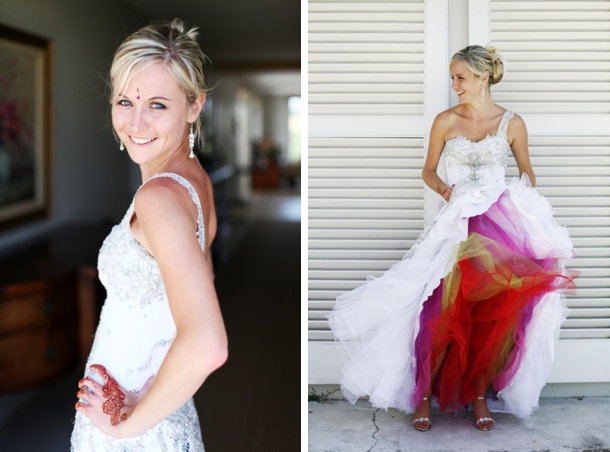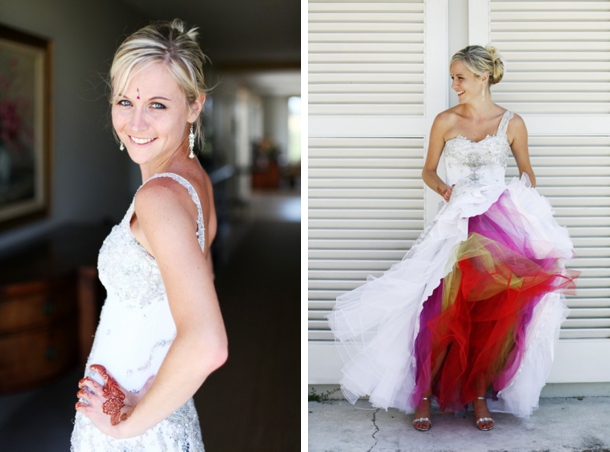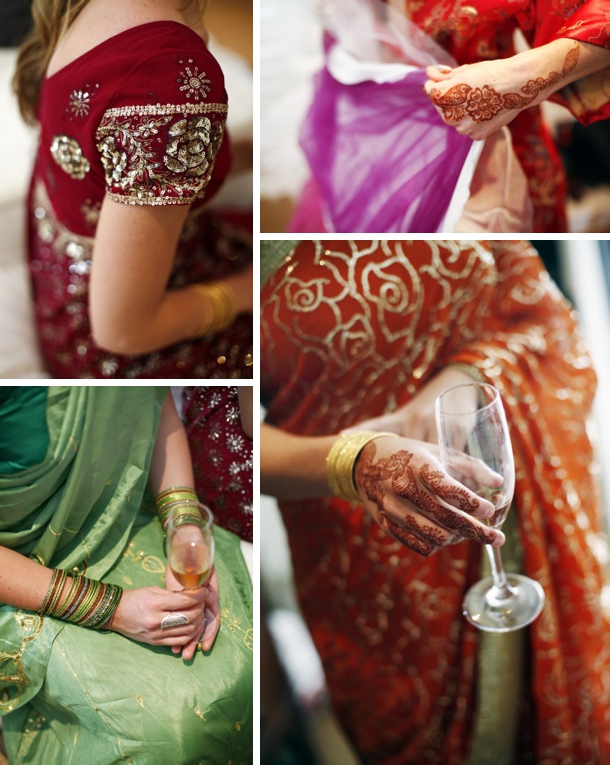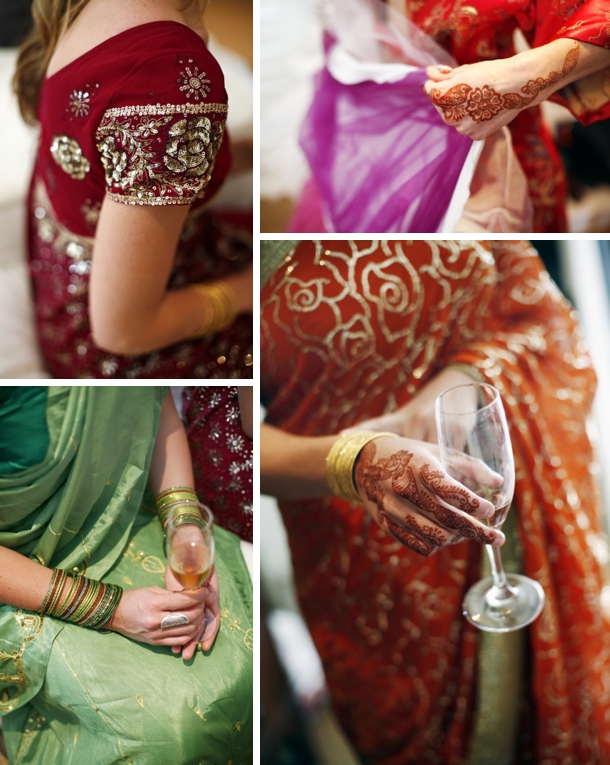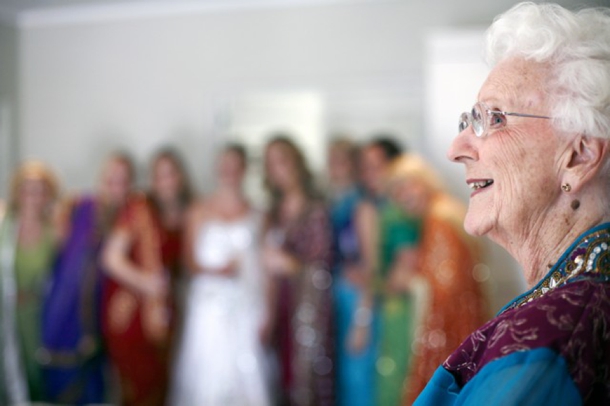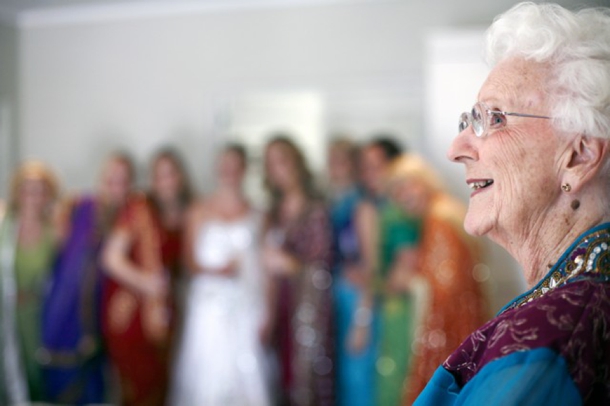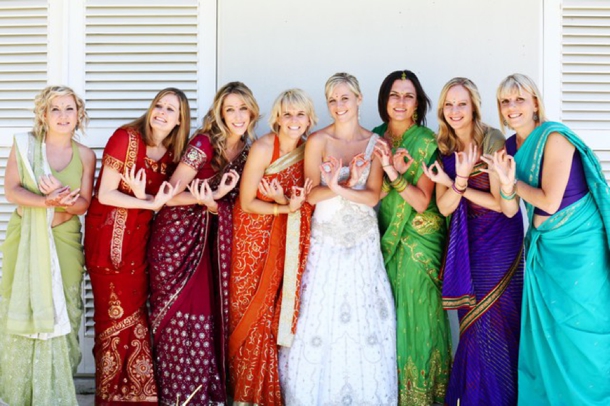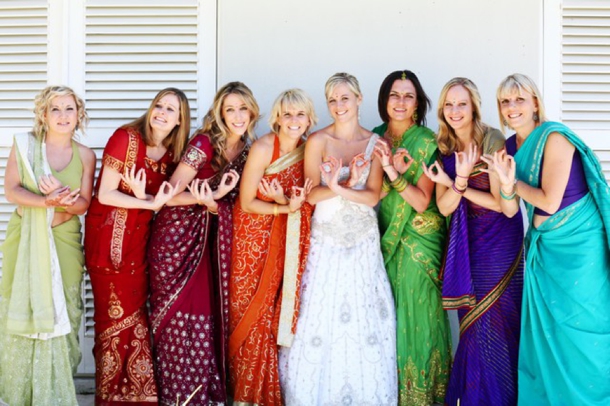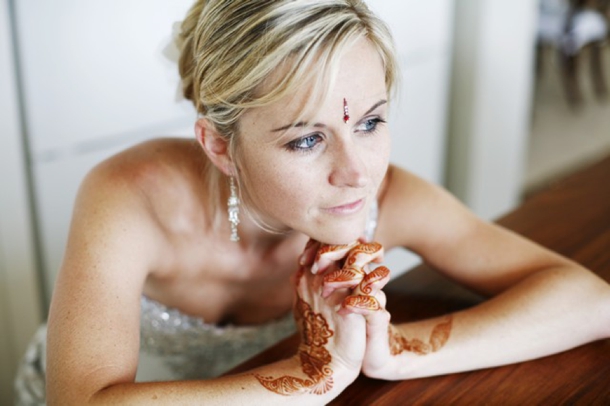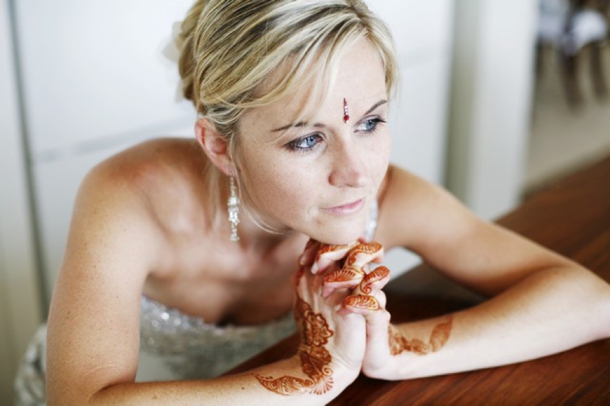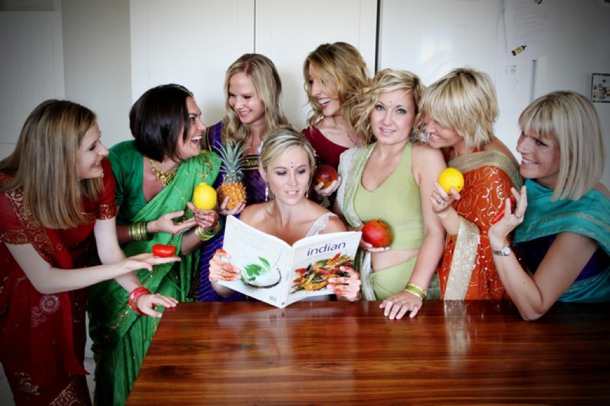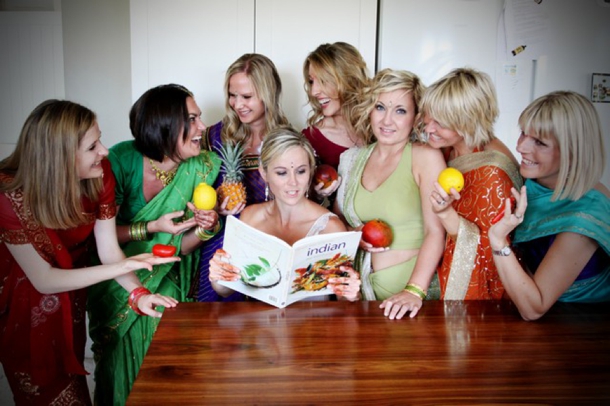 From Nicola:
Andre and I met at university – he was studying accounting and I was studying medicine. We met through mutual friends and dated each other's friends before finally getting together in our third years. We then dated on and off for many years as our careers took us to different parts of the world. We finally decided to head to Australia together so we could both work in the same city for once. We lived there for two years and then did a three month backpacking trip through South East Asia, en route back home to settle in South Africa.
Andre proposed in India – the first leg of our three month trip. I had been to India before and just loved it. It was his first time there. As you probably know, it is not for the faint hearted and we both got pretty ill at times. Andre had organised a camel safari through the desert in a place called Osian, near Jodphur. He kept it all under wraps, which is quite something as I am usually the organiser in our relationship! Then I contracted severe conjunctivitis the week before his planned proposal and he had to delay it all by a few days. It gave him time to phone my folks though, which he did from a dusty payphone in the middle of a crazy Indian city in 40 degree heat! When we finally got going, the camel safari was fantastic. I did not expect a proposal at all, but when I saw the huge luxury tented camp that had been set up just for the two of us in the middle of the desert, I realised what was about to happen. Andre proposed while we were sipping on (ice cold) champagne watching the sun set from the top of a huge sand dune. He played out of his boots!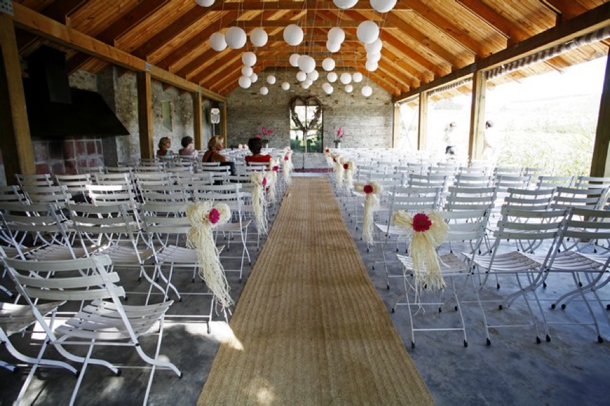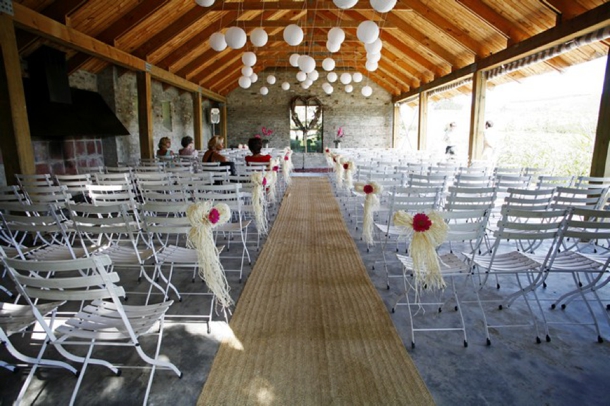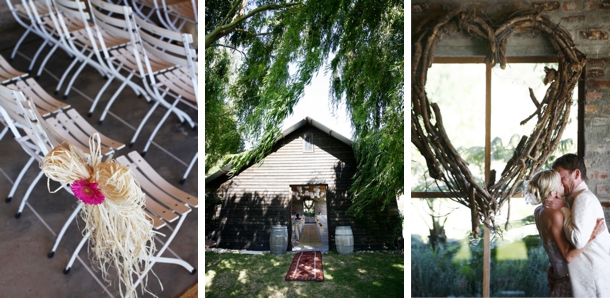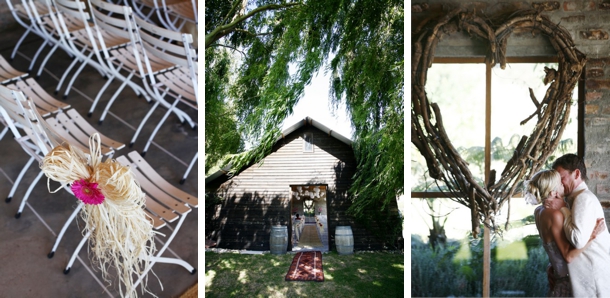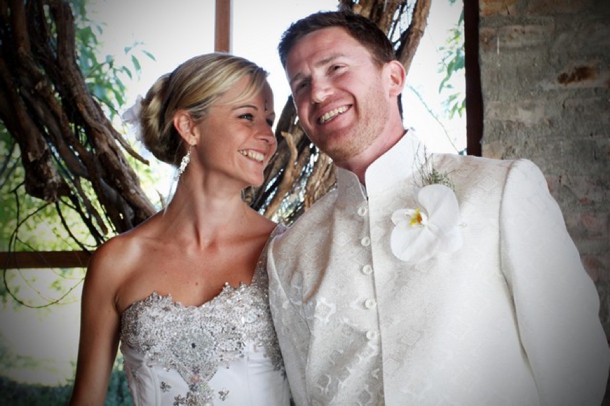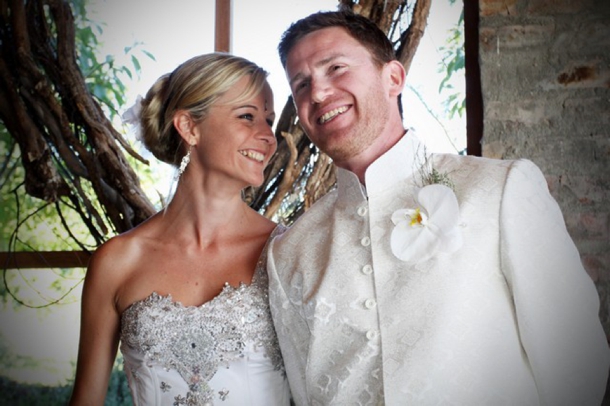 We wanted a summer wedding in December, as a lot of family and friends live abroad and most of them tend to come back to SA for Christmas holidays. We also wanted to get married near Cape Town, since that's where we live, where I am from, and pretty much where we got to know each other all those years ago. Rockhaven was the only venue that ticked all the boxes: it caters for 120 people, it has no end time so the party can continue until dawn and the boathouse where you get married is set on the most stunning dam with views of the winelands. It was booked out for all the weekends in December, but we picked a mid-week date as most people are on leave then anyway (and it's a little cheaper).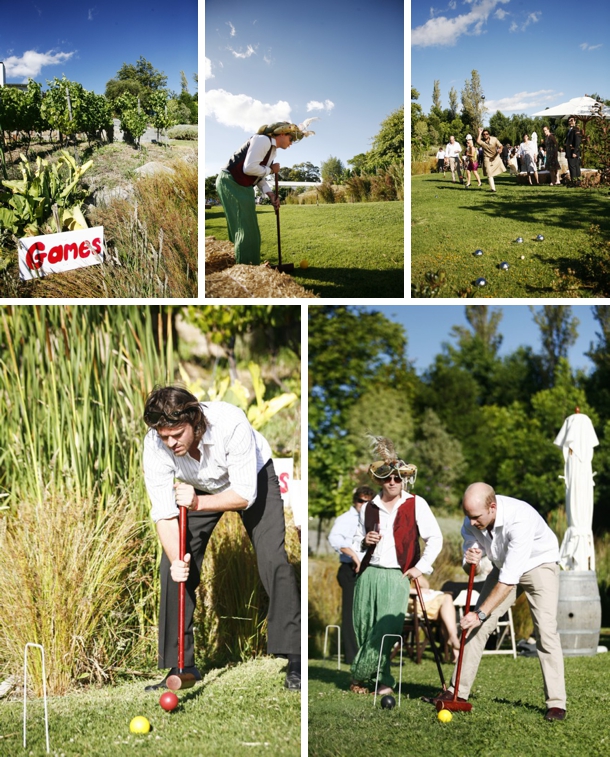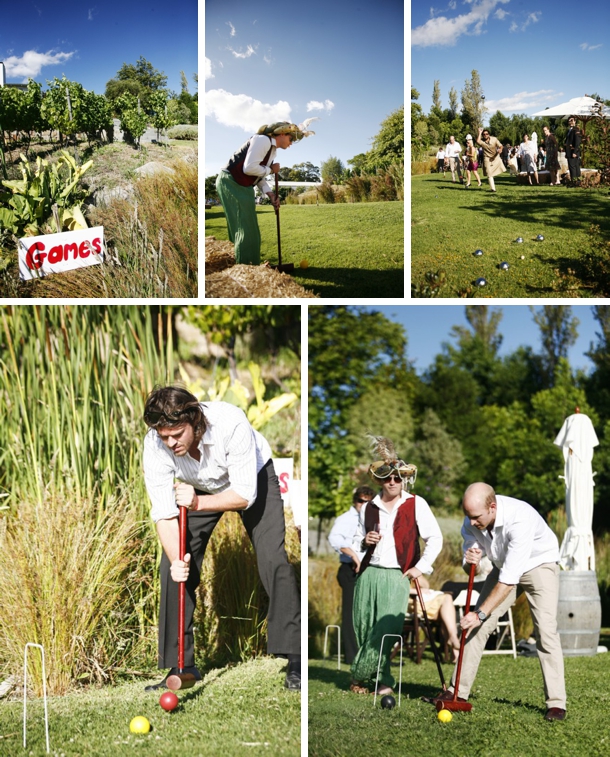 The theme for the wedding was much debated. I wanted a relatively unconventional wedding as I don't do fuss and frills. We eventually decided on an Indian theme… I felt this fitted as we both love Indian food, we got engaged in India, and I love the colours and culture. The design was simple… lots of bright colours, with cerise pink, purple and red dominating.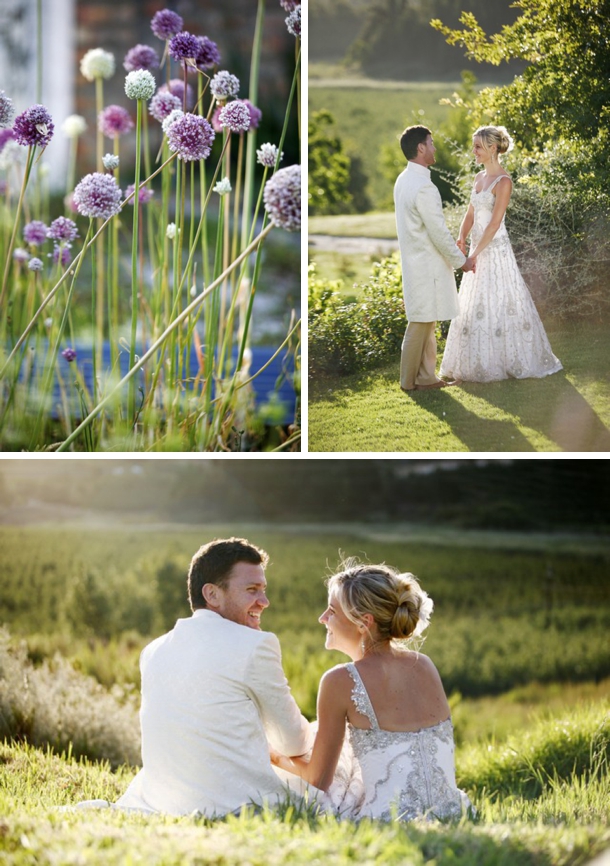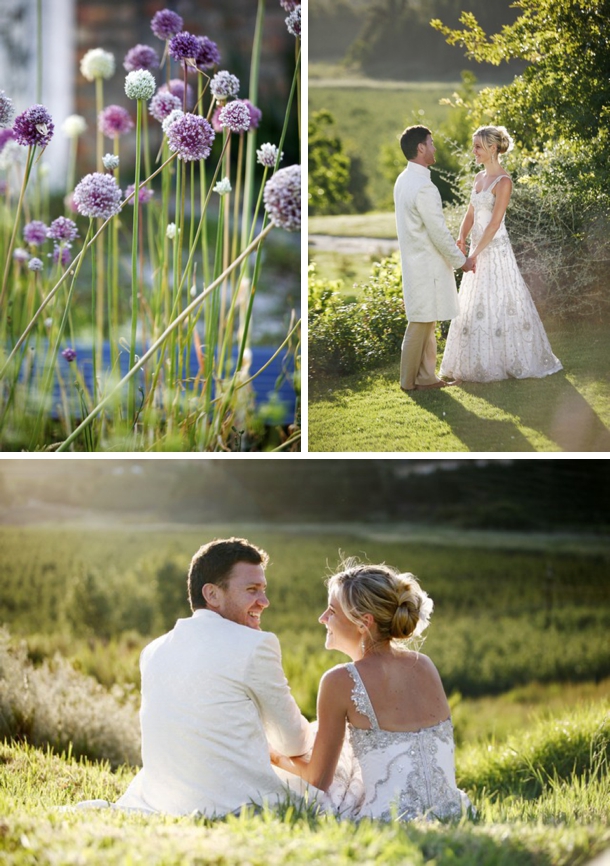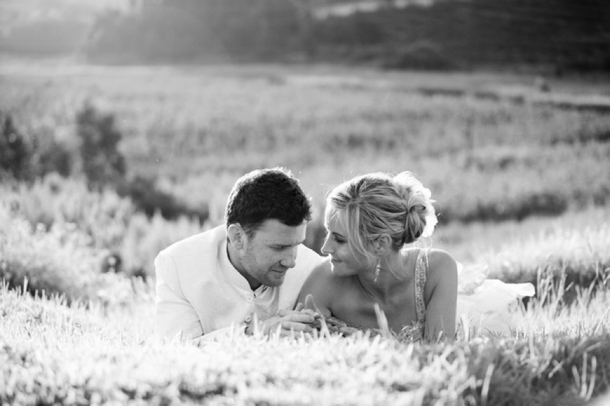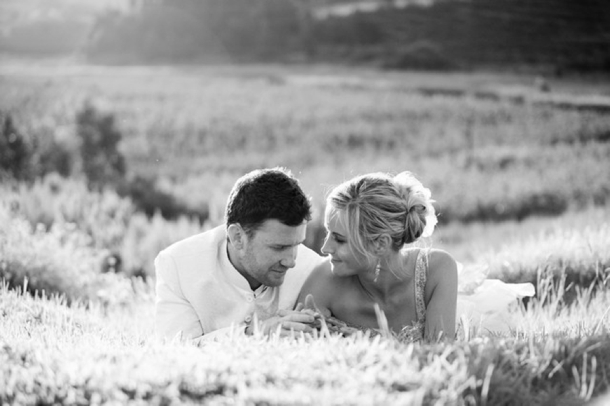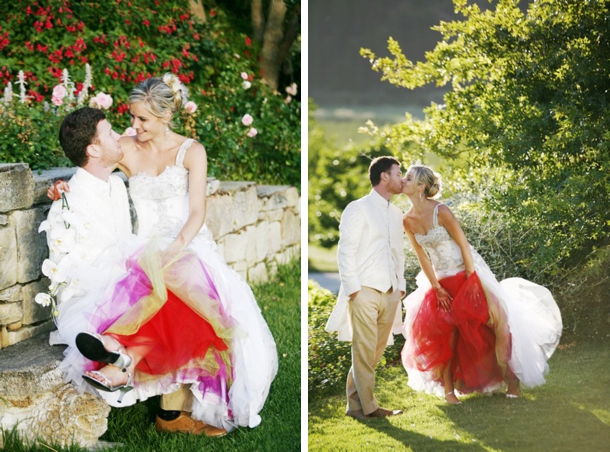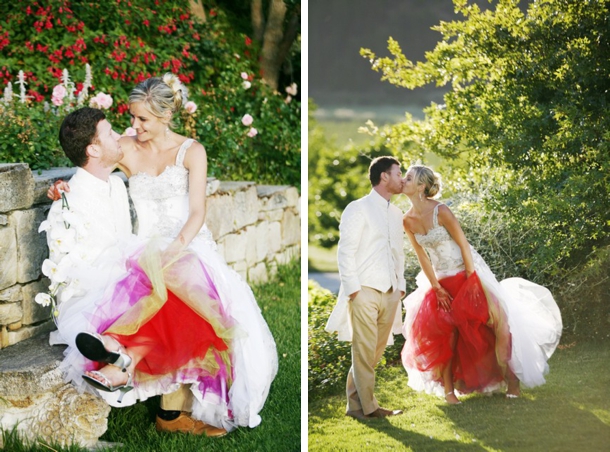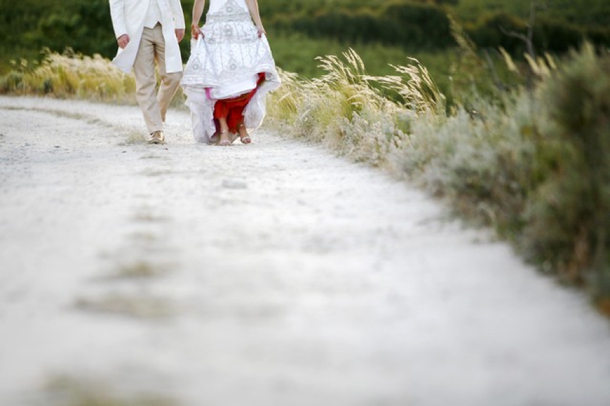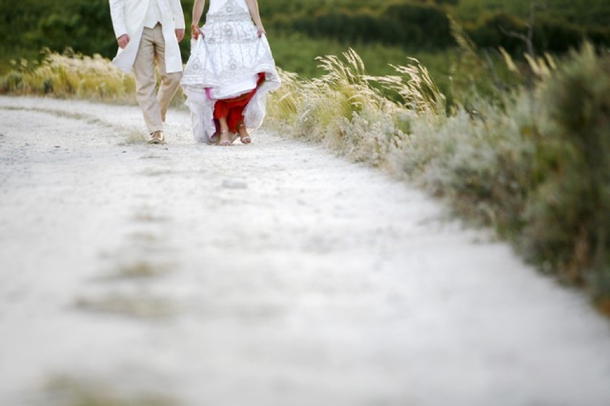 I chose to have seven bridesmaids because I wanted all of them present and intimately involved – why not? All of them wore saris – I told them I didn't mind what they looked like or where they got them from, as I know saris are generally very colourful. It turned out so well! We didn't have to spend any money on their outfits either as they either had a sari or were able to borrow one. Andre had five groomsmen (we didn't see why there had to be equal numbers) – we bought kurtas for them and funky Indian shoes from a local shop in Cape Town. They looked fantastic!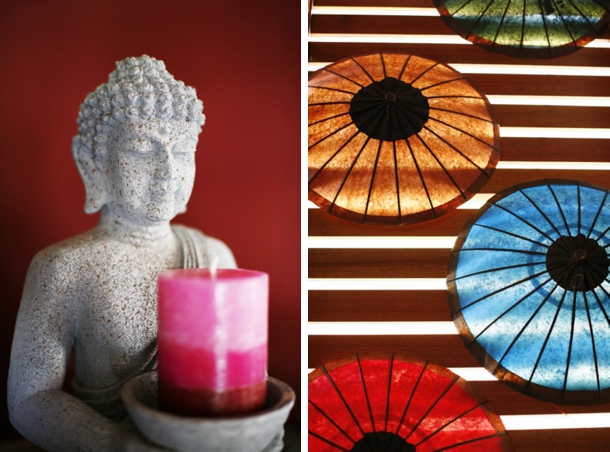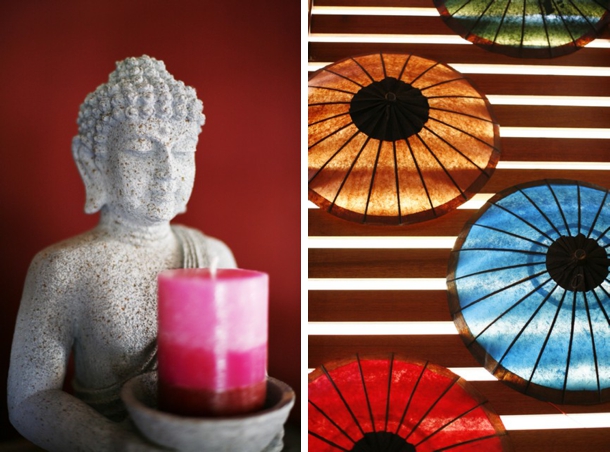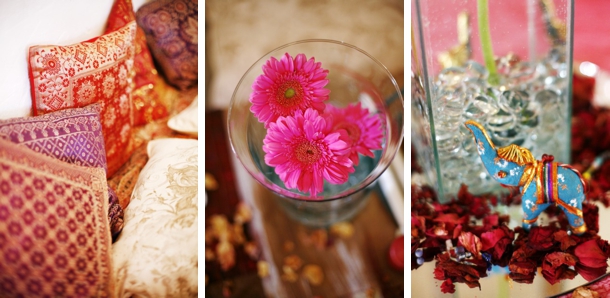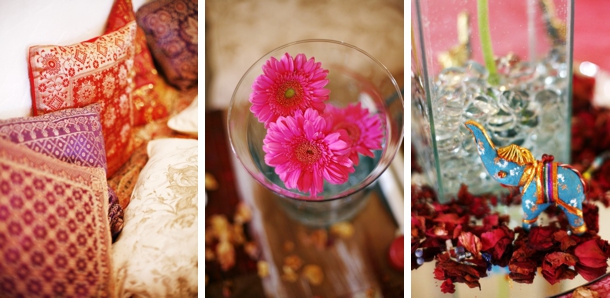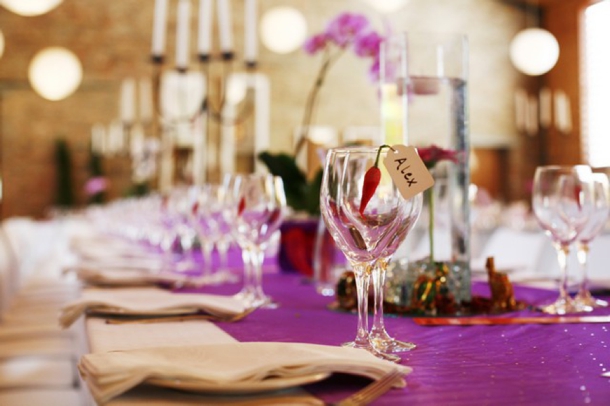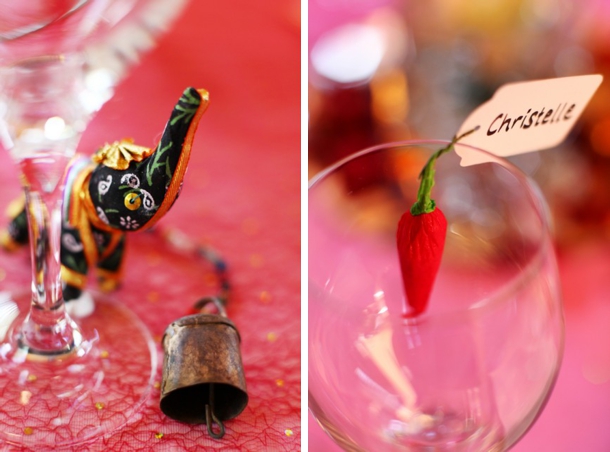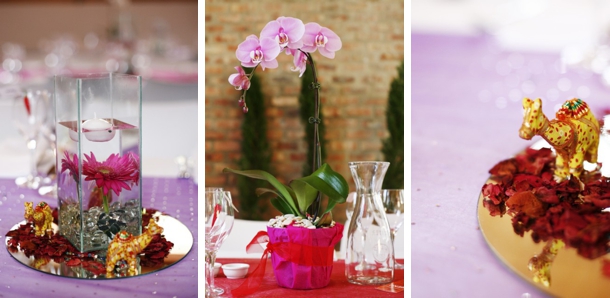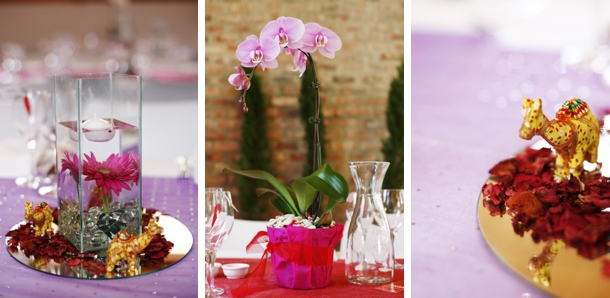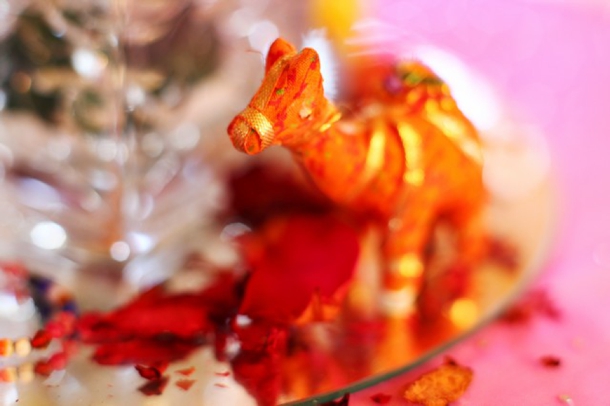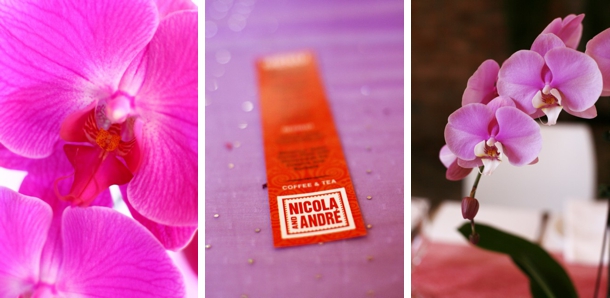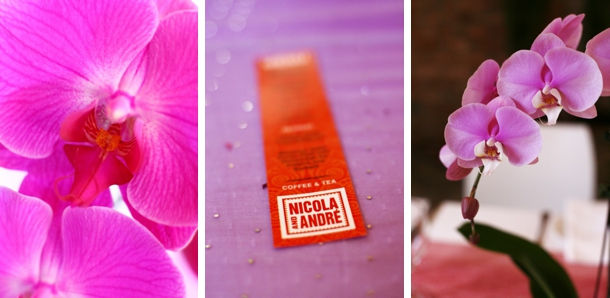 Of course, we had Indian food for the wedding… lots of different curries and raitas. For pudding we did a cheese stack instead of cake (we are more savoury than sweet people), as well as chai flavoured ice cream in sugar cones.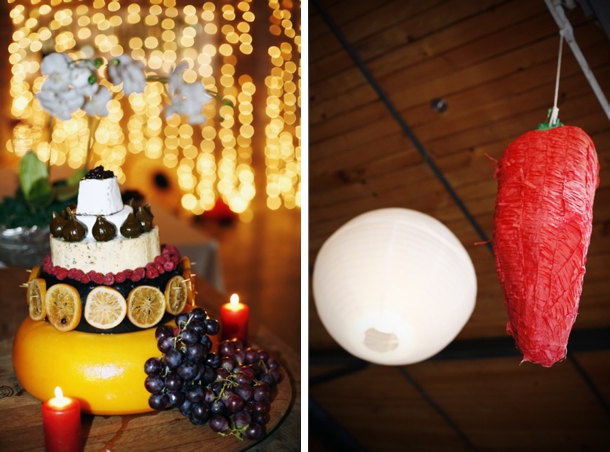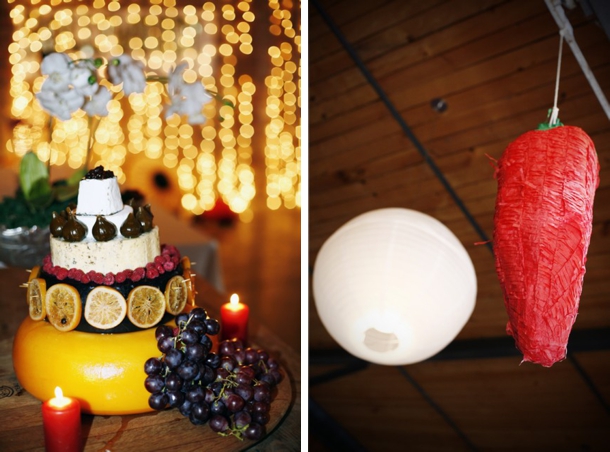 We had a few surprises on the day, not least of all the coloured netting under my dress – I was showing it off all night! Our ceremony was unusual in that even though neither of us are Indian or Jewish, we were married by a female rabbi in a boathouse at an Indian-themed wedding! It was very personal, and our marriage officer did a very special thing. She brought red coloured ties with her and handed them to all the guests, asking them to each tie one on to their neighbour's wrist. She told us it was an Indian blessing and that everyone should think of us whenever they noticed the thread on their wrists. Up to two months later, we were receiving text messages from friends and family when the bands finally fell off.
One final surprise was that we got our wedding party, including parents, to learn a choreographed dance to perform at the wedding. It was an absolute hit and we ended up performing it twice!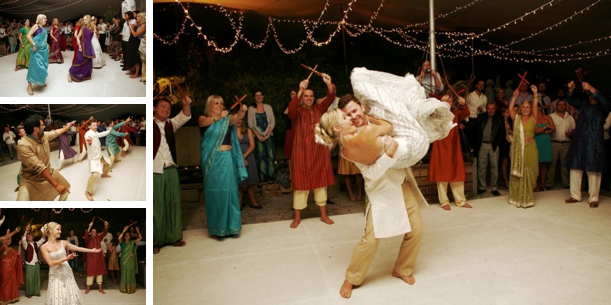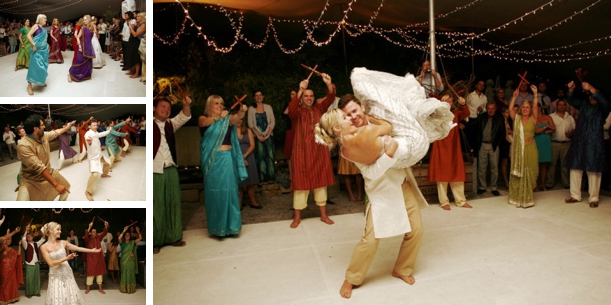 My advice to future brides is to think out of the box; nothing has to be conventional. It's probably the ony time you will be able to call the shots for such a big event, so make it something personal, and not something expected.
Thank you so much Nicola and Andre, for sharing your lovely wedding with us. And as always, a big thanks and welcome to Expressions – you can see more of their lovely pics from this wedding over on their blog.
SERVICE PROVIDERS
Venue: Rockhaven Farm | Catering: Salt & Pepper | Photography: Expressions Photography | Bride's dress: Fatima | DJ: Preston Roman, On Cue | Wine: Zandvliet | 4 Every Event: Decor