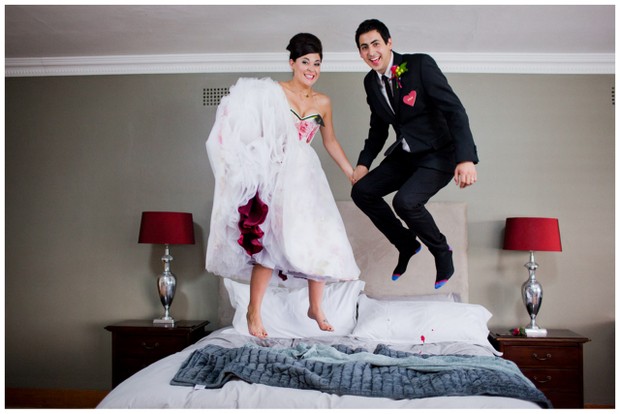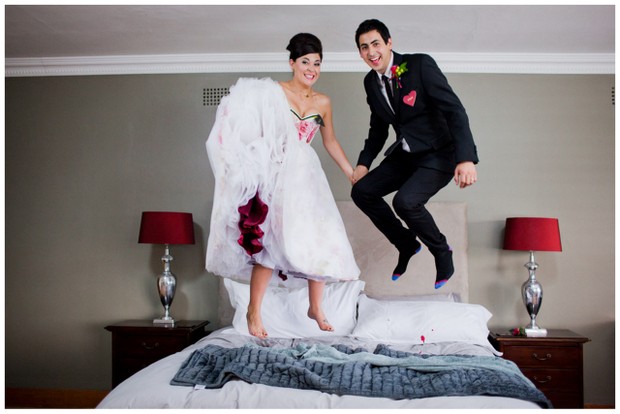 Hello, lovelies. We had some minor technical gremlins today, but I have fought them off just for you and can't wait to share this incredible Johannesburg wedding which I know will get your evening wedsite browsing off to an amazing start! It begins with a film-worthy romantic meeting, through a phenomenal, original, beautiful dress and a gaggle of elegant green-clad bridesmaids and dashing groomsmen, on to a sweet ceremony and a bright and breezy carnival-tastic reception, and ends on a packed dance floor. (As all the best weddings do.) And you guys, these photos by Rensche Mari will have you gasping. Seriously. This is the kind of wedding that makes me love what I do, so without further ado…
From the gorgeous bride, Manilla:
Mark saw my picture from a mutual friend and after finding out everything there was to know about me, he decided that he simply had to meet me. He got on the next plane to Cape Town where he swept me off my feet! Eight months later we were engaged!
I felt that the ceremony should be the serious part of the day but I wanted the rest to be a very relaxed and festive – a carnival-style celebration. Our venue, The View Hotel, is a beautiful new boutique hotel that belongs to Mark and his family and looks out over Johannesburg, so it really was ideal! The theme and colour scheme we chose were complimented by all the wedding details, including bunting handmade by my sister-in-law and some ladies in an retirement home, the balloons, flowers, table decorations and the chairs. We designed and handmade almost everything we possibly could as we had about a year to prepare for the wedding and actually had a lot of fun with it. The day before the wedding, all the bridesmaids, groomsmen and family gathered from Cape Town, London, Australia and all over to help set up everything, which was a highlight for me.
The bridesmaids all dressed in different shades of green and each outfit was unique. I wanted them to express their own personalities and styles through their dresses and therefore did not want to confine them with a specific style or shade of green that didn't necessarily suit their bodies.
My dress was made by Arwen Corsetry. I didn't want an all white dress as I never thought white was the most complimentary colour on me. I therefore decided to bring in a touch of colour here and there instead.
My advice to future brides is that you shouldn't have to feel bound down or held back by traditions. You only get one opportunity to orchestrate an entire day based on your likes and tastes, so do it the way that you want!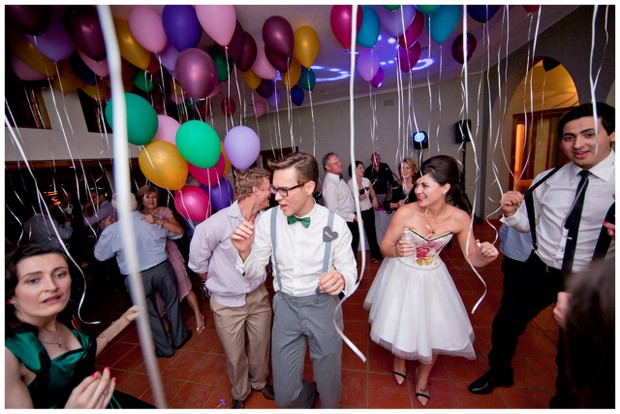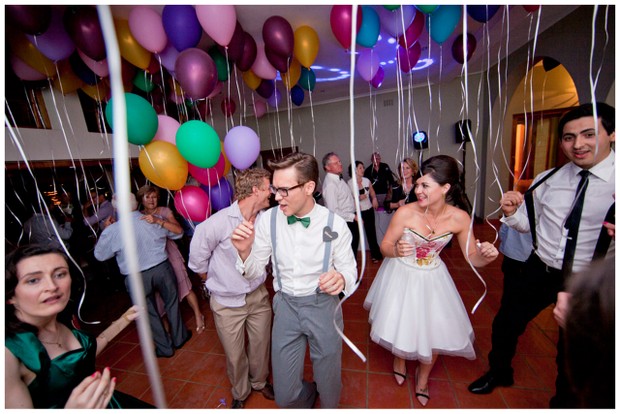 Thanks so much, Manilla and Mark! I hope your lives together will be as colourful and joyful as your wedding. And a big thank you (and welcome to SBB) to Rensche Mari, whose work I am super excited to feature! You'll see more of her soon, but in the meantime, check out the rest of this wedding on her blog.
SERVICE PROVIDERS
Venue: The View Boutique Hotel | Catering: Gourmet Food Services | Photography: Rensche Mari | Flowers & decor: Botticelli Blooming Business (Tel: 084 777 6068) | Bride's dress: Arwen Corsetry | Hair: Summerlands Parkhurst (011) 788-0951 | Bride's shoes: Errol Arendz | Makeup: Dandily Studio | Marquee: Avante Marquees | DJ: Roger Harris ([email protected])