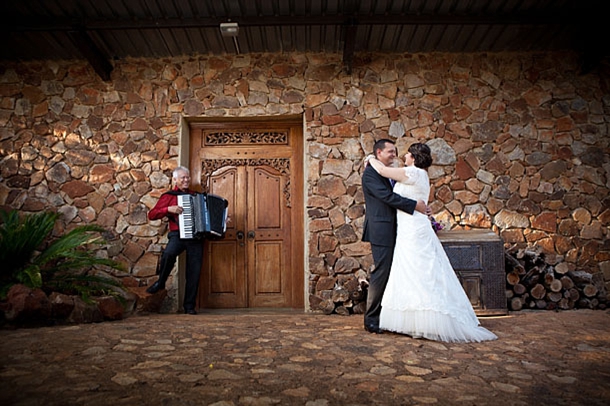 Good morning, SouthBound Brides! We're ending our run of real weddings for the week with a super fun vintagey circus-inspired affair in regal shades of purple. How fun is that? The couple – whose motto is to have fun – went all out with an elephant motif, custom stationery combining their family crests and oodles of cute details. I'll bet their guests had the biggest smiles on their faces all night – as did the bride and groom, as you can clearly see in the beautiful pics by fab Joburg photographer Quentin Mills.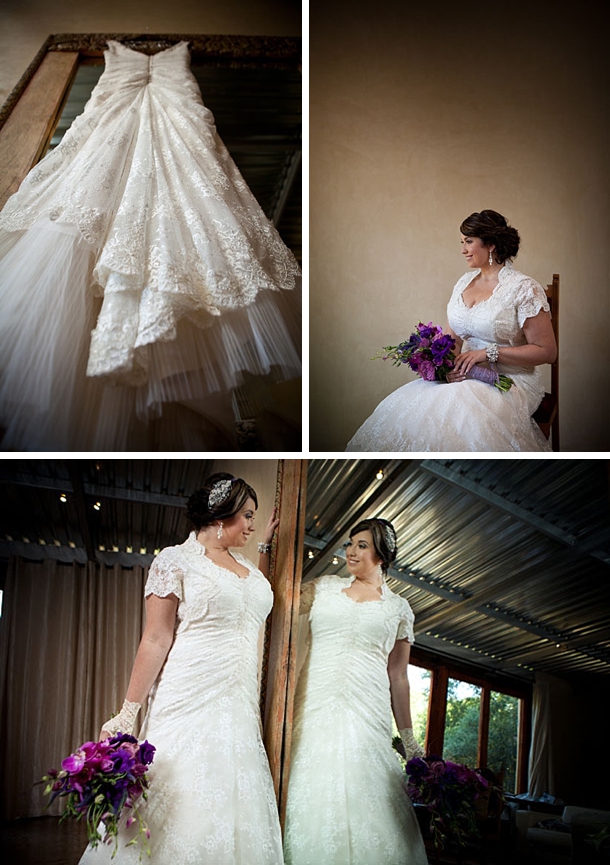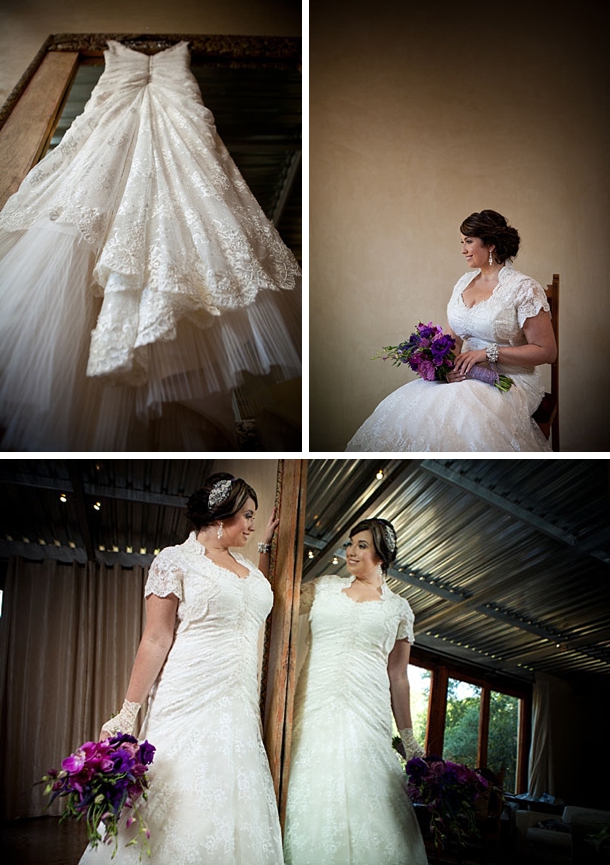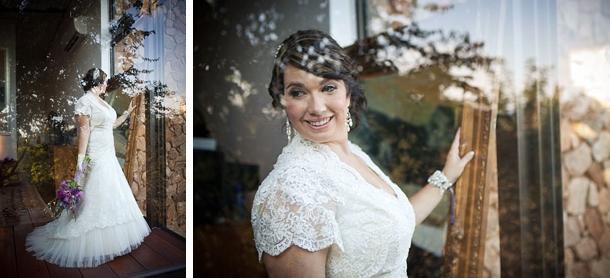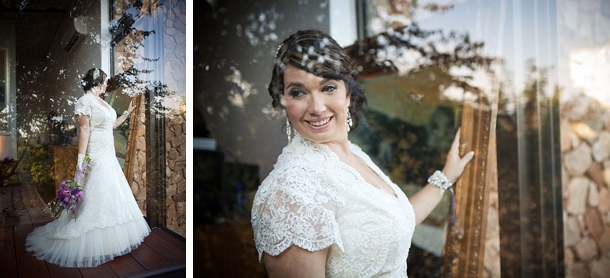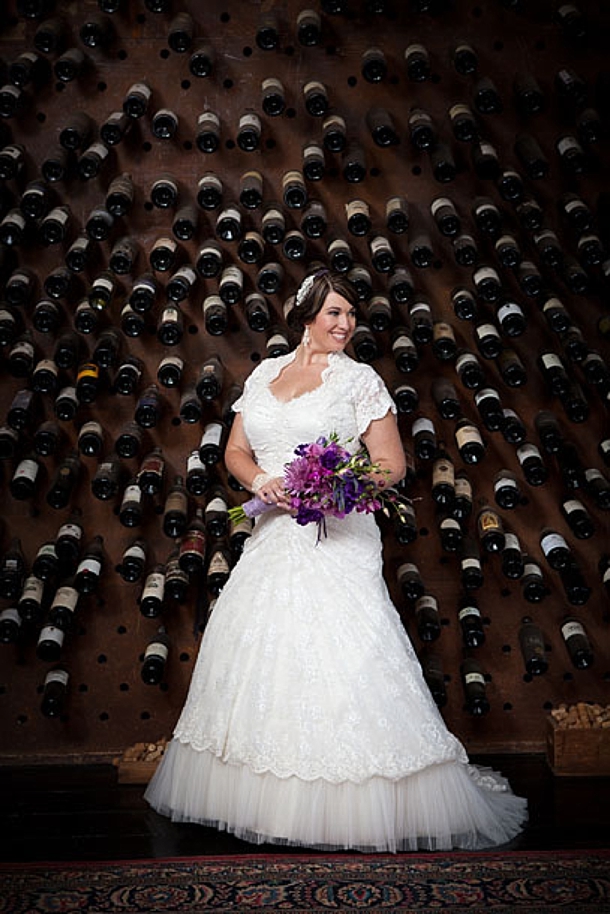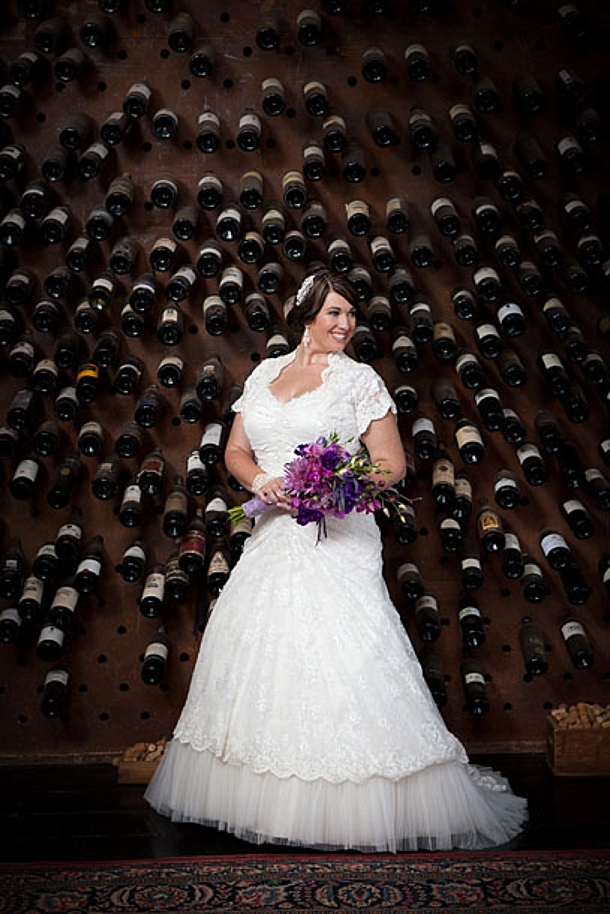 From the bride, Franita:
Peter and I met while working for the same company in Johannesburg. After I resigned, we kept in touch and started dating – he likes to claim he fired me (he was my supervisor) so that he could date me, as he believed you shouldn't be romantically involved with a colleage!
At the end of 2010 we went to Austria on a skiing holiday. One evening we took a sleigh ride to a nearby restaurant in the Austrian woods outside Westendorf. The sleigh suddenly came to a halt, and Peter proposed right there with the full moon glistening on the snow in the woods. It was perfect and so magical!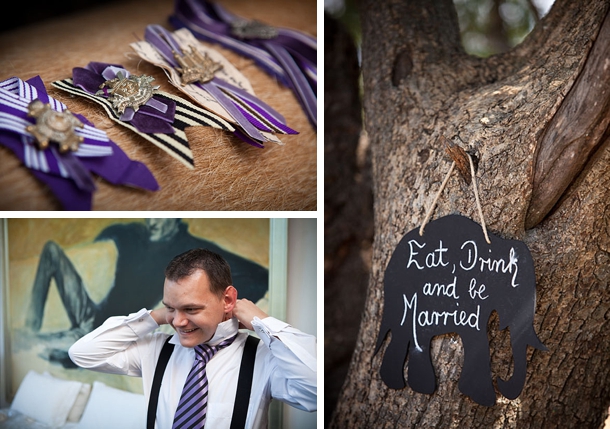 We picked a vintage circus theme for our wedding because our motto in life is 'have fun'! Our colour scheme was shades of purple, which suited the theme perfectly, adding romance and nostalgia. We wanted a venue that was a bit out of tow but also modern and different, and we fell in love with Red Ivory Lodge the moment we saw it – the tree top chapel, the pond in the middle of the reception hall, the Moroccan doors and the VIEW! It was definitely different and rustic and we knew that this was the perfect place to entertain our guests.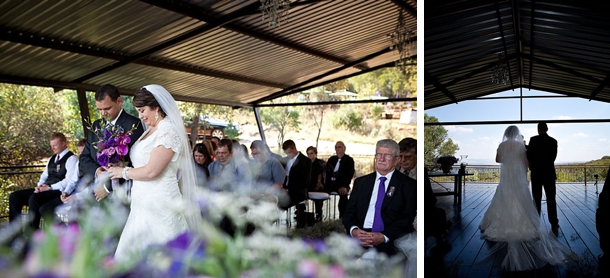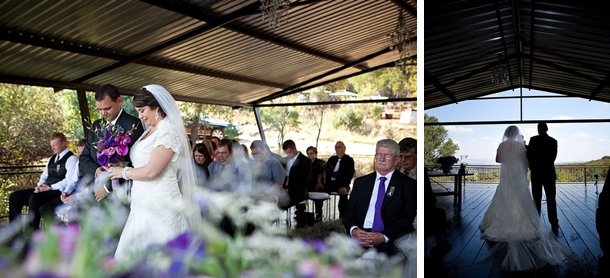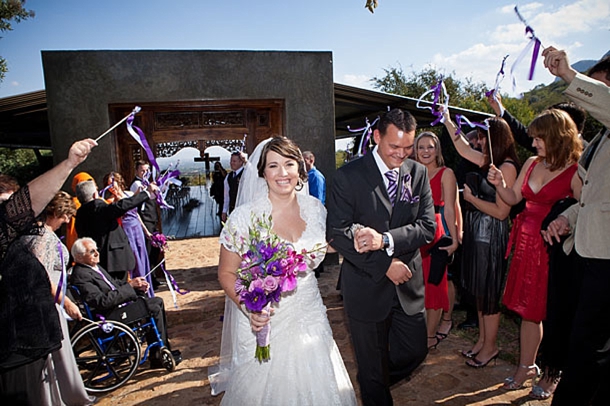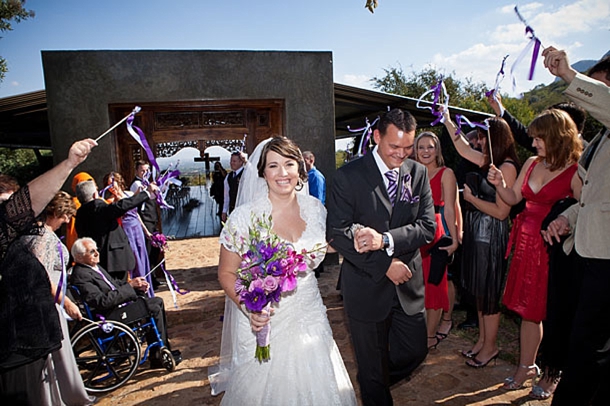 We did our engagement session at Boswell Wilkie circus, and hung one of the photographs in the entrance hall of the venue in a frame that was my grandmother's and used to contain a mirror. We also used my grandmother's hat case among the old suitcases that formed part of our gift table. My mother made all the bunting in the reception hall – it took her hours and I appreciate it so much! My brother and sister-in-law helped with photobooth props, and Peter, myself and our family made the lawn games we used. I also made the boutonnieres myself using different types of purple ribbon and old army badges.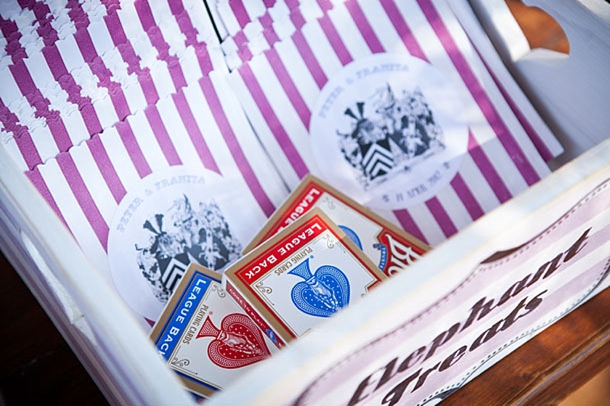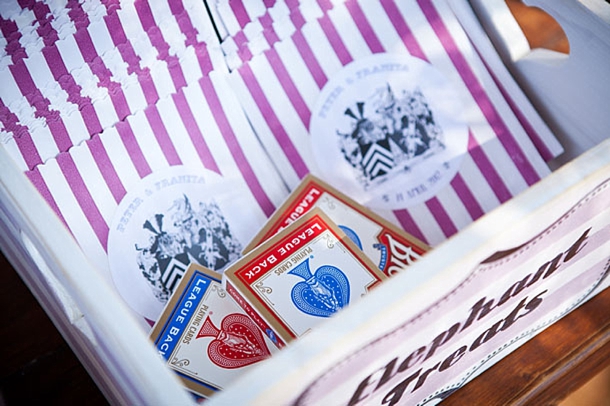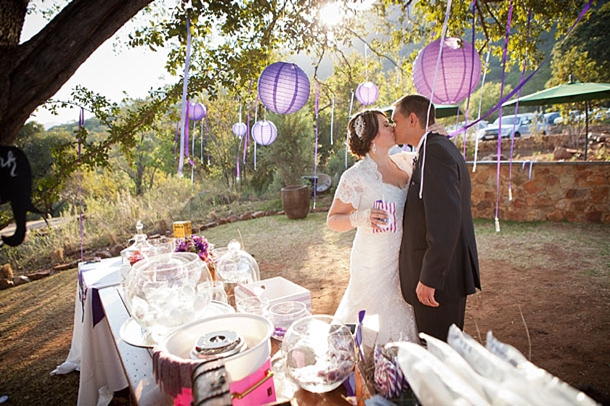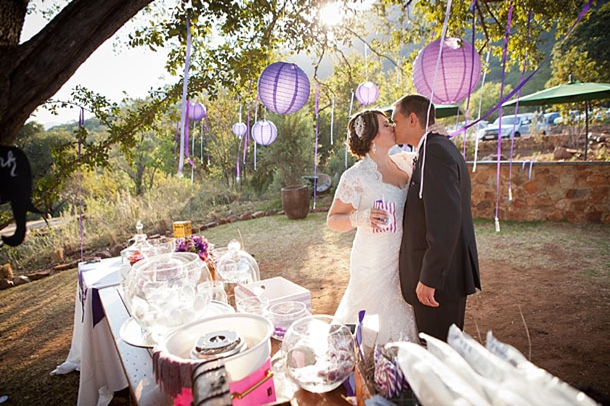 Our stationery was designed by Secret Diary, including a wedding newspaper that had a picture of me dressed as a tiger and Peter as a ringmaster to fit in with the circus theme! We also had button badges with our names, wedding date, 'Have fun', a circus tent and an elephant randomly printed on them. We used custom elephant blackboards as decorations, an elephant cake topper… I even had elephants on my shoes!
Our seating chart had a key for each person, tied to a card that folded open to reveal their table name. On the front of the card was a circus tent and the ribbon was printed with our names. The table names were pictures of animals that mate for life like a wolf, etc.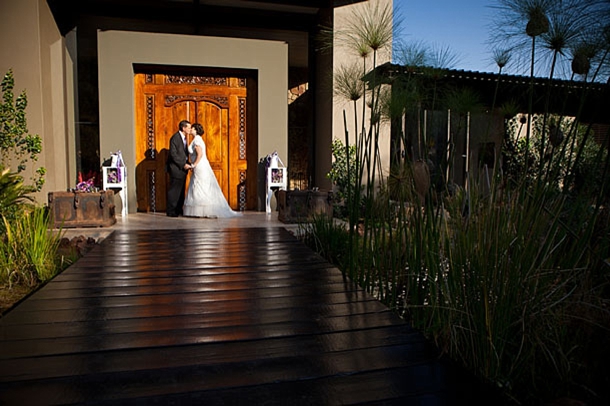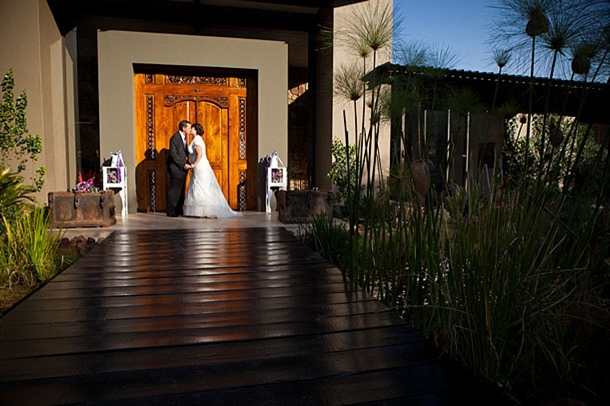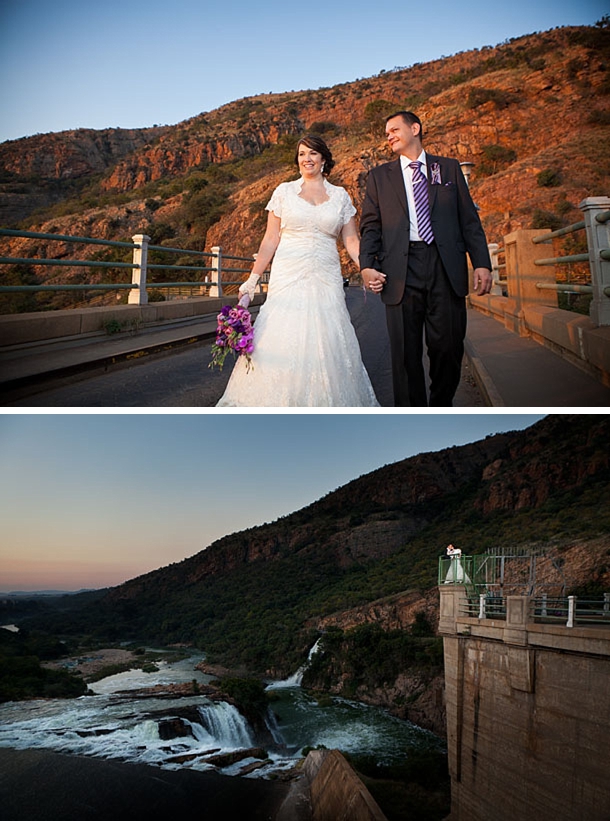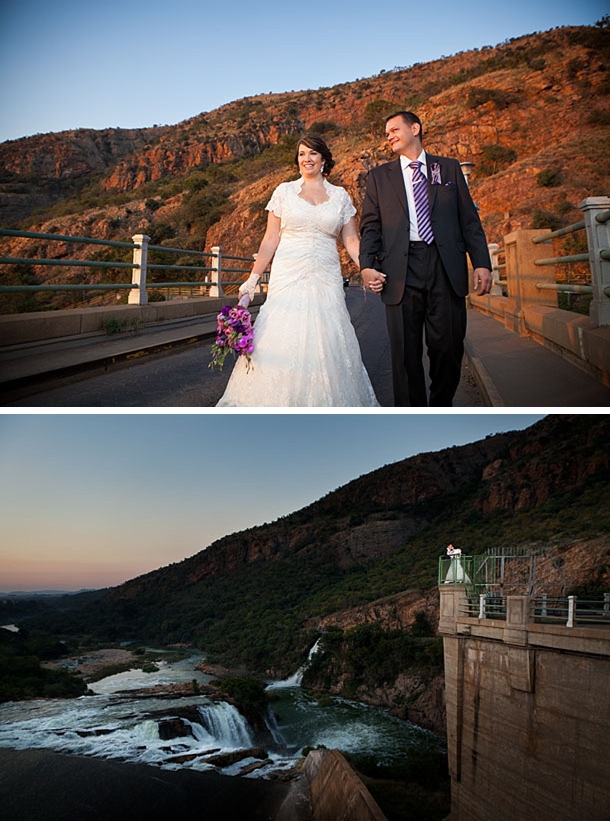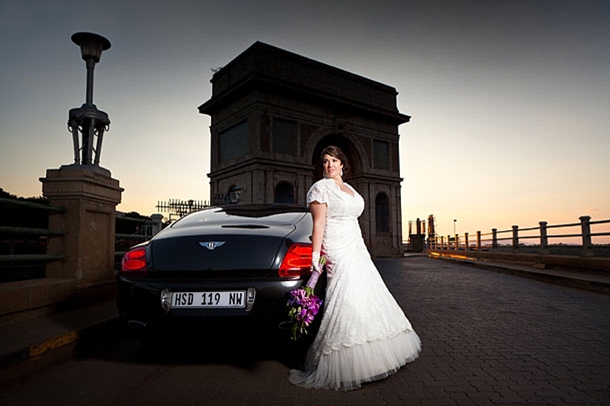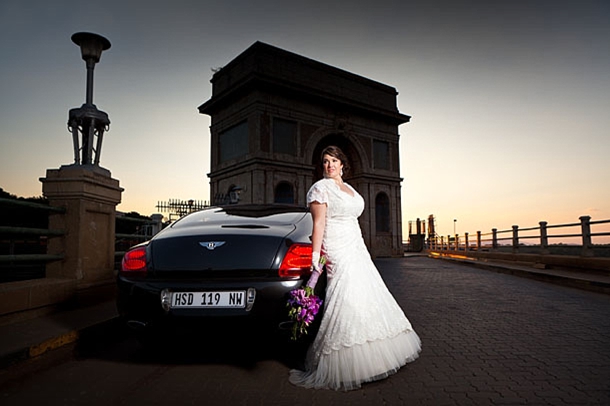 Our sweet table and crates were specially designed for us by The Food Fox. We used different sized crates to display big candy lollies, a mini cotton candy machine, sweet bags with our combined family coat of arms on them, and our wedding newspaper. We also used the coats of arms in the photo frames for our photobooth. Each guest received two strips – one to keep and put in their frame, and the other for them to paste into our photobooth book to save all the fun memories. Other fun details were ribbon wands instead of confetti, flip flop gifts for the ladies tired feet, cigars for the men and the Monkey Music Box which contained our rings.
Seeing a year's planning and hard work all come together and turn out to be a spectacular success was so special, as was celebrating and enjoying the best day of our lives with family and friends. But the biggest highlight was getting married to my best friend!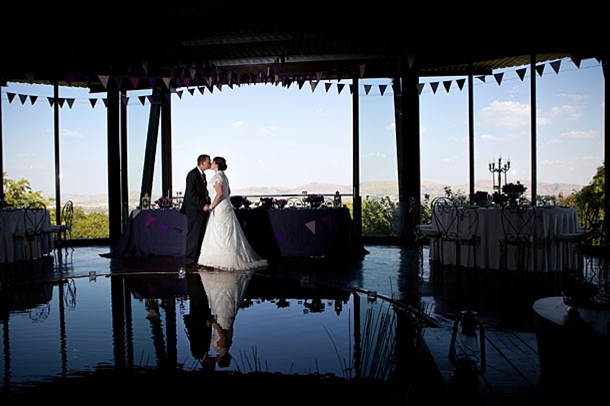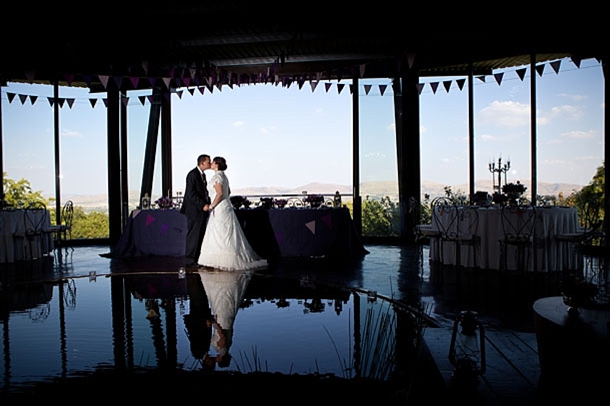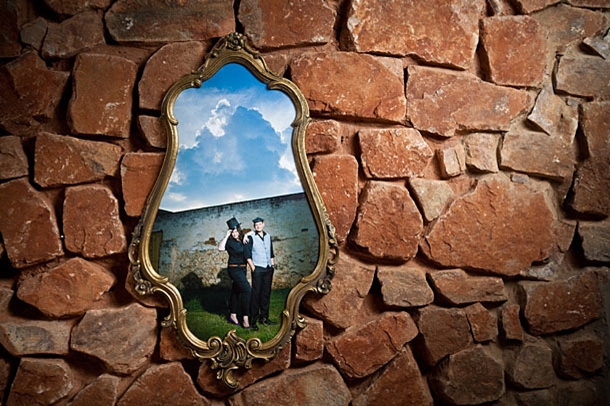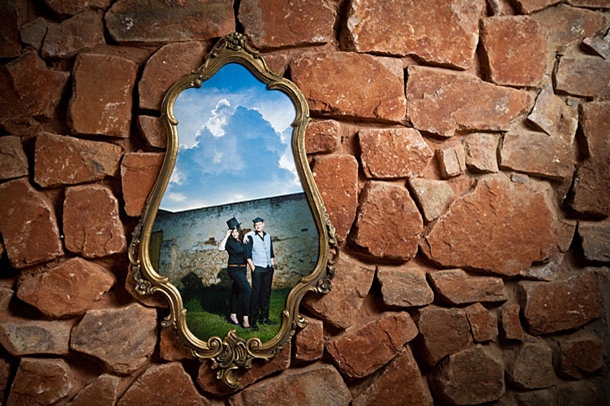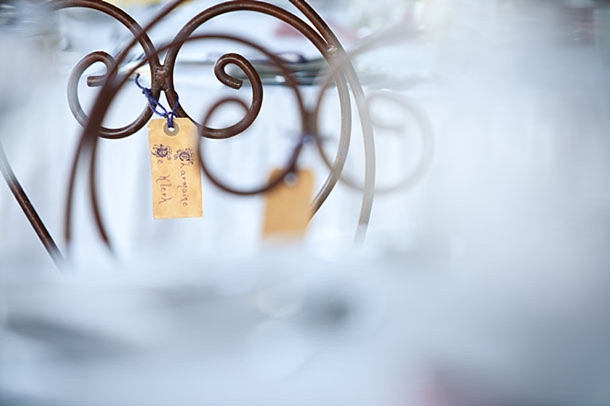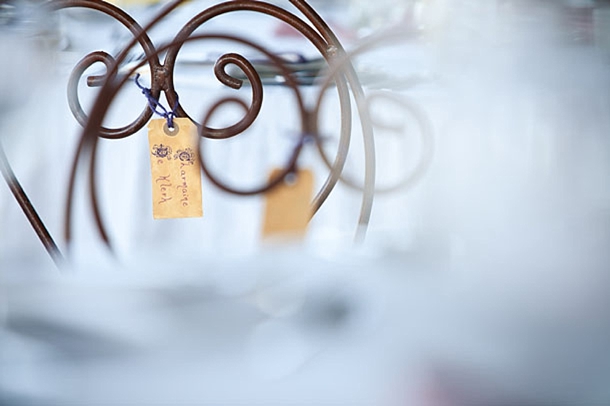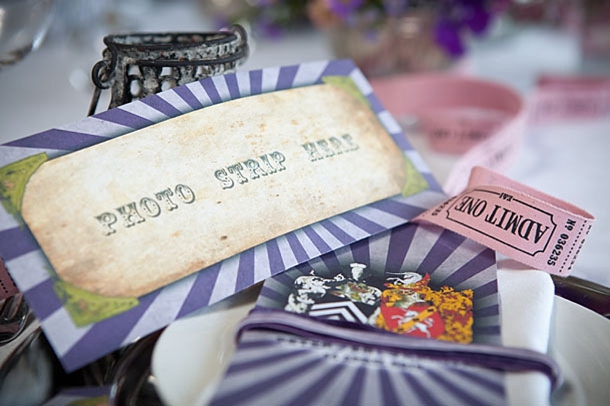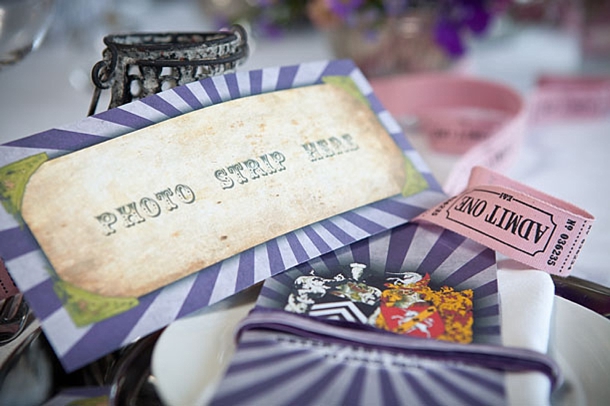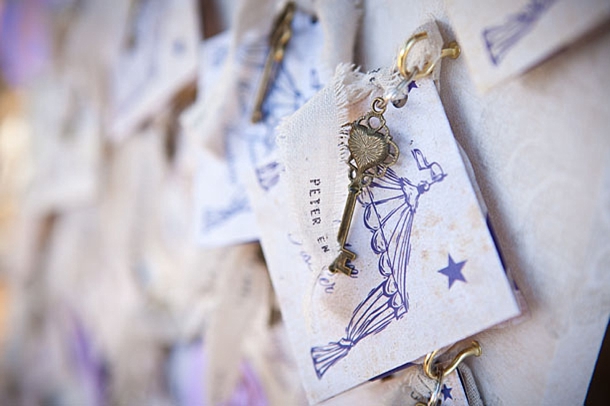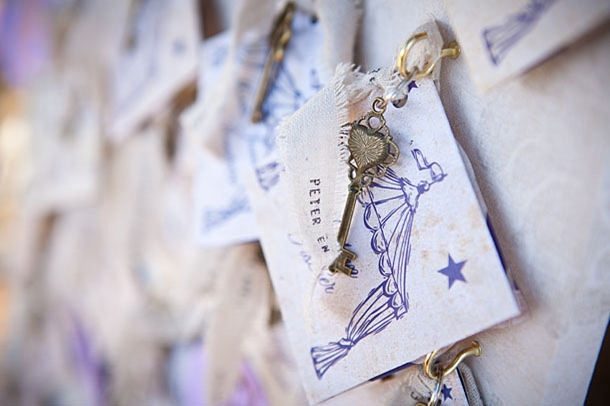 My advice to future brides is to give yourself enough time to plan your wedding. Work out a budget and stick to it. Don't let anyone impose their ideas on your wedding – it's your day! You can do whatever you want. And have fun and enjoy – it is the best time of your life! The internet was my best resource – I ordered everything I couldn't get in SA online. And most of the other elements were arranged via email between Johannesburg and Cape Town.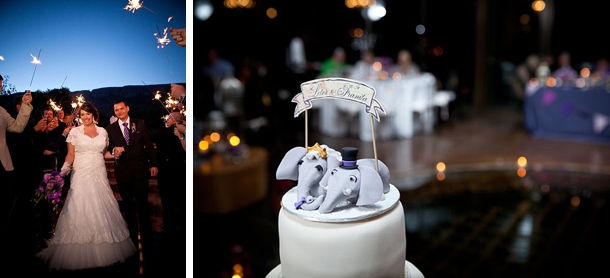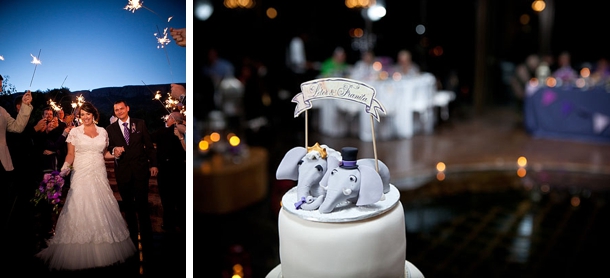 Thanks so much Franita and Peter, for sharing this very cool wedding with us, and a big SBB welcome to Quentin – thank you! You can see more of the wedding over on his blog.
SERVICE PROVIDERS
Venue & catering: Red Ivory Lodge | Photography: Quintin Mills | Decor: Ruby Rain | Cake: Cakes by Cleo | Stationery: Secret Diary | Bride's dress: Catherine's Collection | Hair: Danielle Kaplan (072 889 9680) | Makeup: Cicilia Kauffman | Photobooth: Photobooth Inc. | DJ: Cream Cheese | Accessories: Lily Blue | Video: Pink Flower Productions