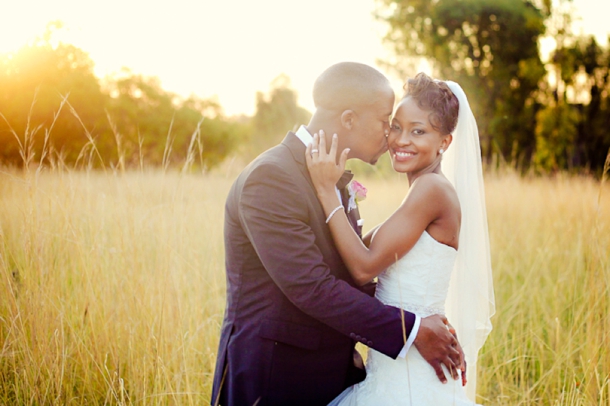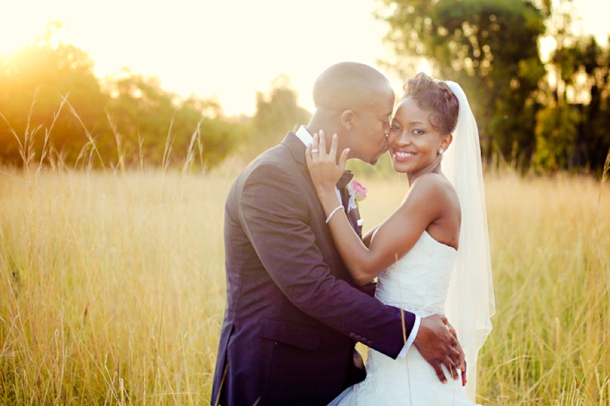 I do love me a good theme wedding, and as South African wedding themes go, today's might be the coolest. For our overseas readers who don't know, Sophiatown was an area of Johannesburg that was ultimately destroyed under apartheid, but that in the 1940s and 1950s was a cultural hub for musicians, writers and artists, full of of jazz and blues and politics and colour. Something like 1920s Harlem. Mankoana and Nzuzo wanted to bring that same colour and energy to their wedding (while still maintaining an elegant, sophisticated overall look), so they included punches of bright pinks and purples as well as music and dancing. It must have been SO FUN! As with all my best weddings, it's all about a couple who finds a way to express who they are and have a great time with their guests. Love it. Andrea Carlyle was there to capture every lovely moment (and an extremely gorgeous bride and groom) with her camera.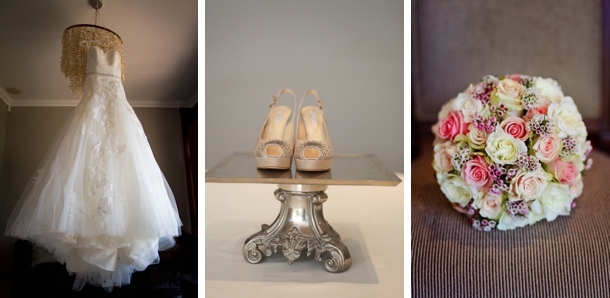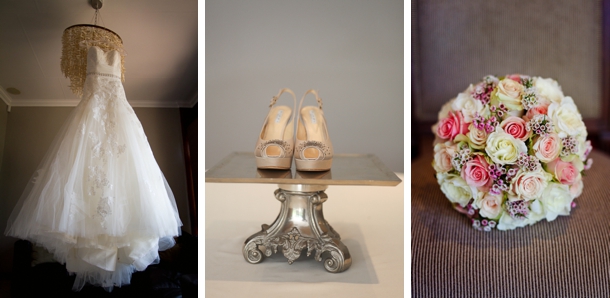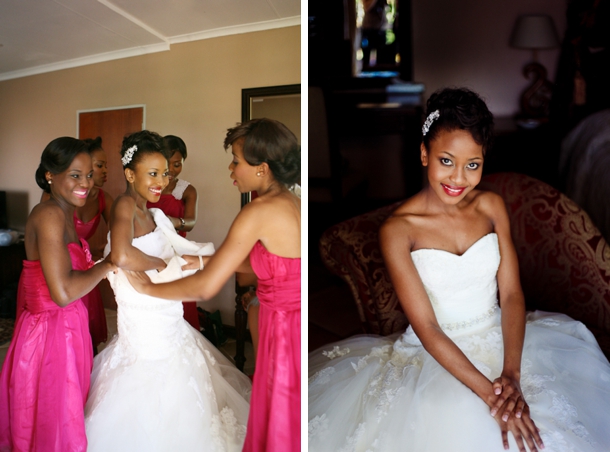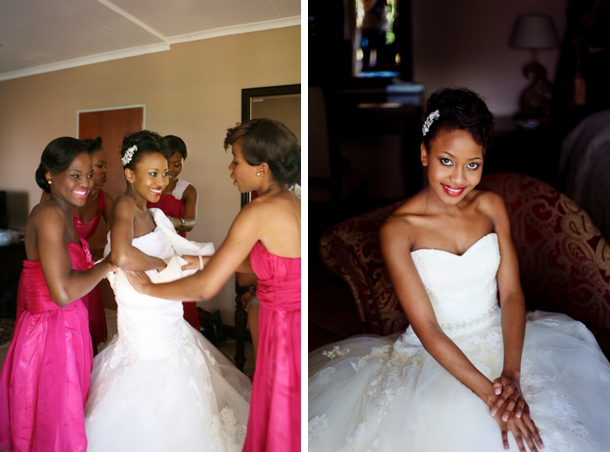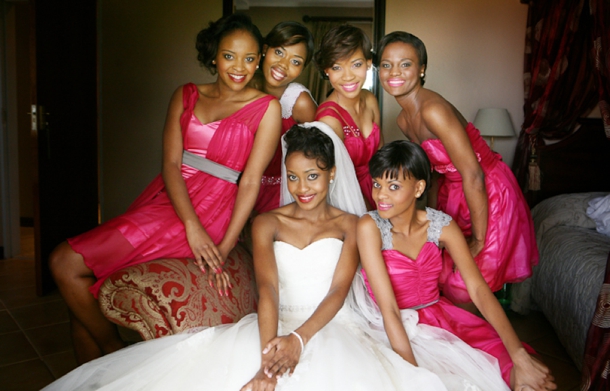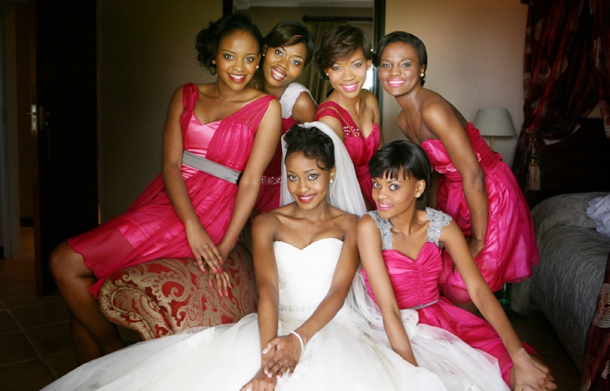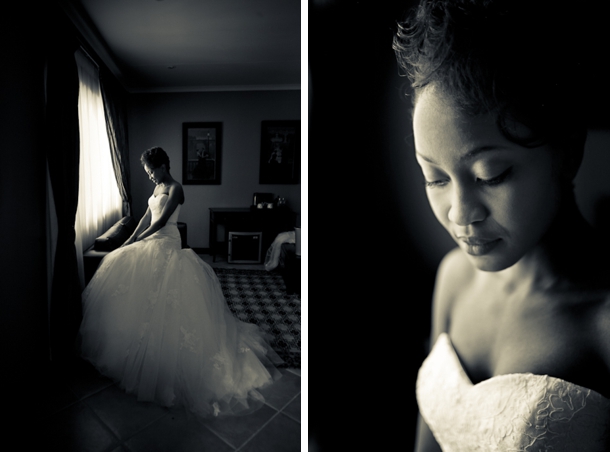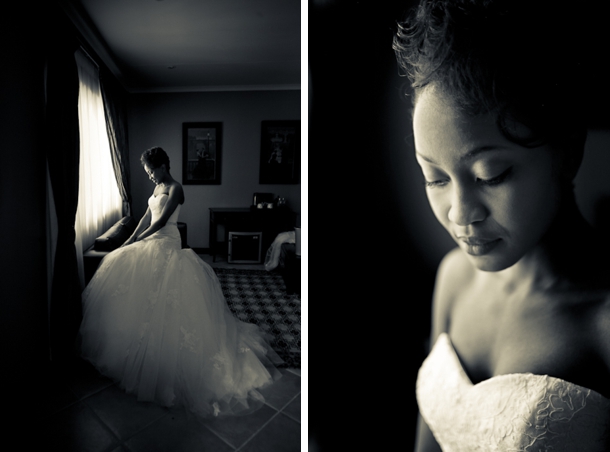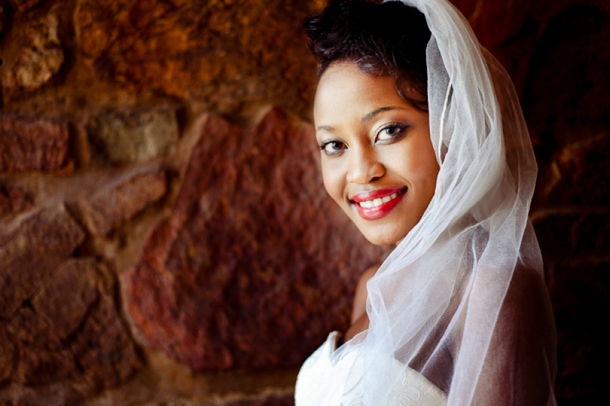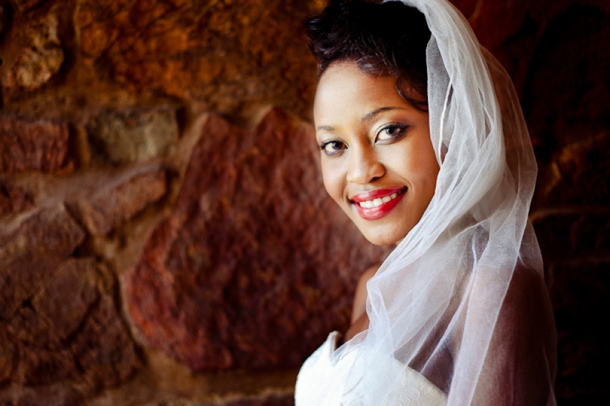 From bride, Mankoana:
He's the calm, down-to-earth, let's do it type of guy and I'm the expressive, let's think about it first type of girl. So we are quite extreme opposites but we have somehow managed to bring a beautiful balance to our relationship. We met through my friend Lebo (who also became my maid of honour) and his niece Nombulelo, who were friends, and thought we should meet after realising we were both single. I was very hesitant at first as I've never really been one for arranged things, especially regarding matters of the heart, but once Lebo showed me his picture I thought it wouldn't hurt to hear him out! On our first date, he decided to cook for me and had me very impressed. After that he pursued me persistently; he definitely knew what he wanted and he got it!
We had a Mediterranean cruise planned and since he had hinted that he definitely knew I was the woman he wanted to marry, my friends and I thought he would no doubt propose on the cruise. Unbeknownst to me, he was a step ahead and knew that would have been too obvious. Two weeks before our cruise I planned his 30th birthday dinner for a few close friends and he suggested I invite a few of my friends and my mom, who would be in town. I had found that to be rather thoughtful and accommodating of him, but definitely no surprise as Nzuzo always selflessly puts others first. We were the first to arrive at the restaurant and somehow I overlooked some of the changes that had been made to the booking. Suddenly there was a set menu which I clearly knew I hadn't asked for, but the waiter reassured me that they had decided it would be a better option since we were a fairly large group. Close to the end of the night, Nzuzo's older sister asked him to give his vote of thanks but before doing so she asked that I stand next to him so that she could take a photo of us. As I stood there, about to strike a pose, he did the unexpected… went down on one knee and popped the question, leaving me in an emotional but amazing daze.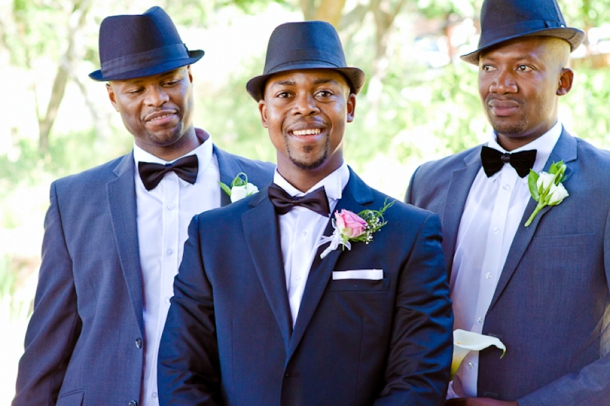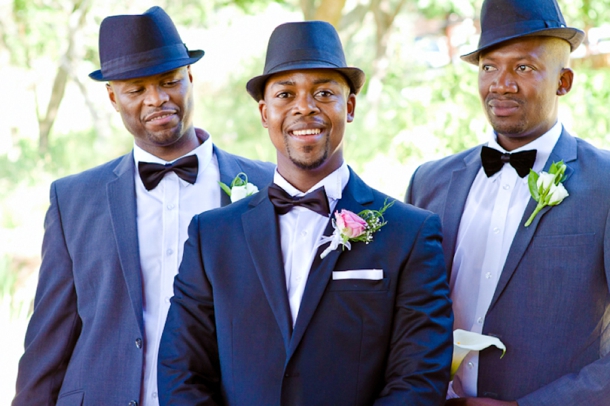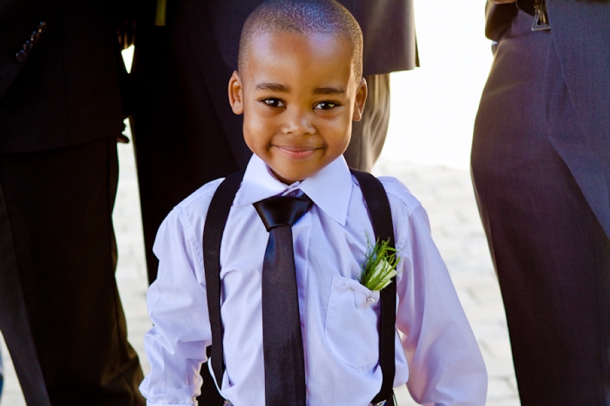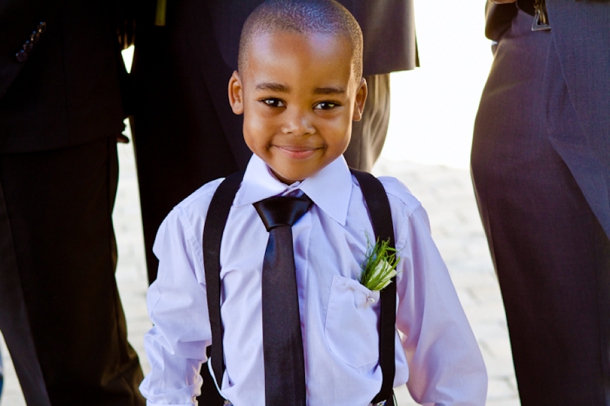 I wanted a fresh, elegant and sophisticated feel with a touch of fun, so I chose silver and white (incorporated in the decor) with touches of pink and purple in the centrepieces. We both love and appreciate beautiful things, but are simple people, so the decor was very simple but made an impact. If the groom had it his way, everything would have been blue, so rather than involve him in the decor we chose the theme and the venue together. We both love music so we settled on 'Sophiatown' as our theme – an era of celebration, which we felt was befitting to how we imagined our day. Our guest table names were words relating to the Sophiatown era (which took some research!), we also had a jazz band for the reception and the bridal entourage reception entrance consisted of Sophiatown dance routines, so that definitely brought the fun aspect to the day! It took weeks and weeks of practice, as did the Michael Jackson dance rendition that was performed by the groomsmen. Our love of dance and music really shone through.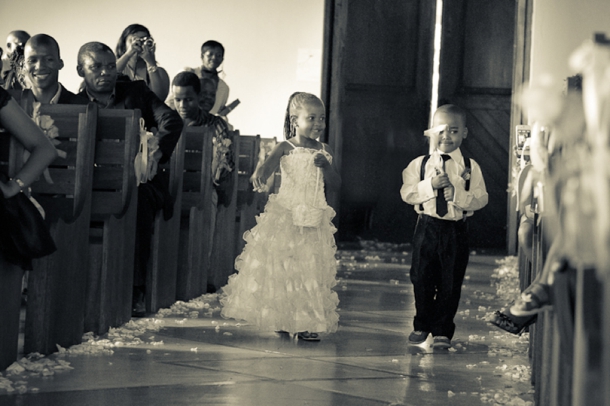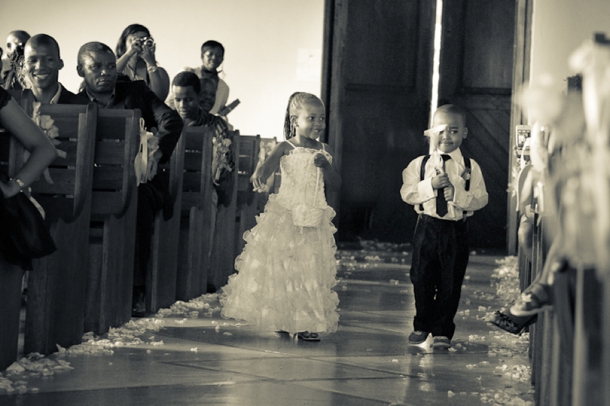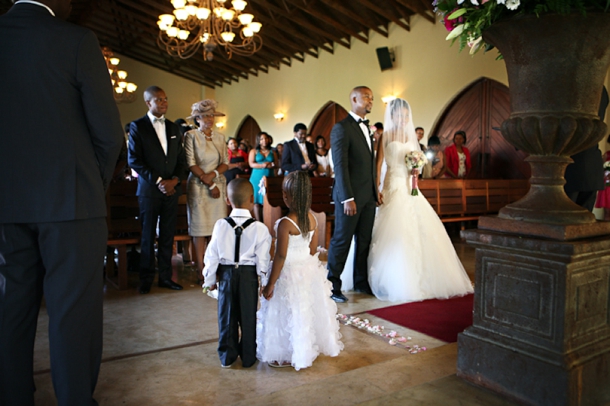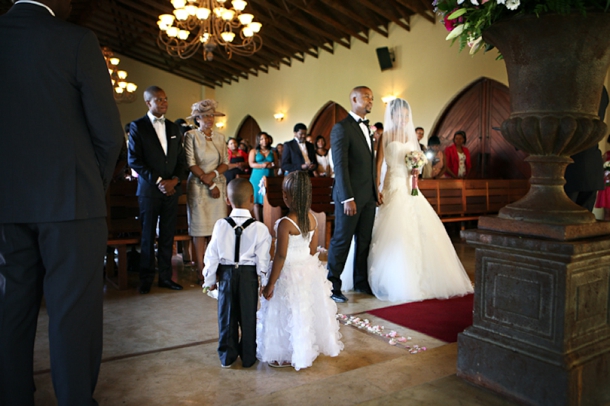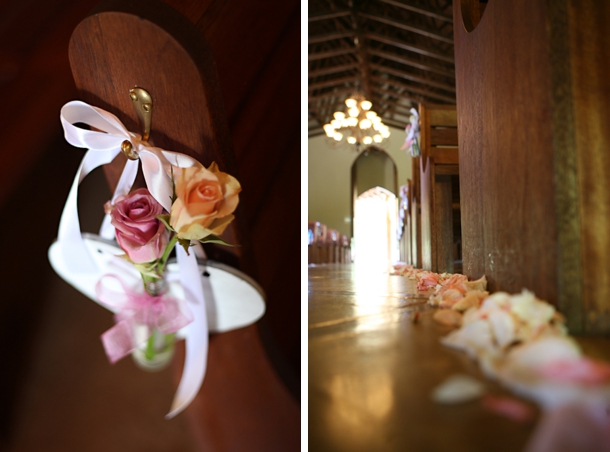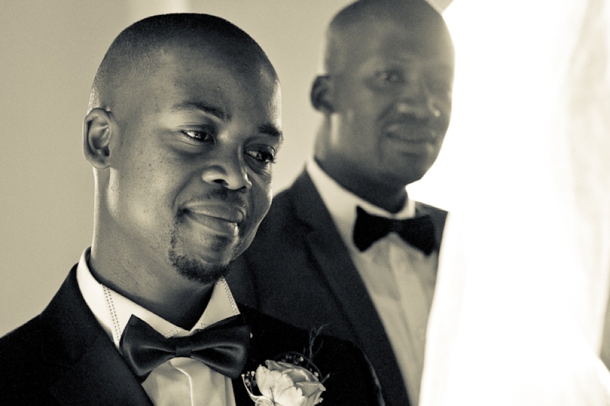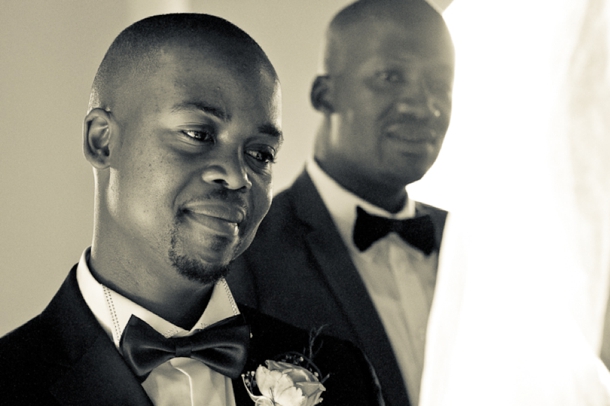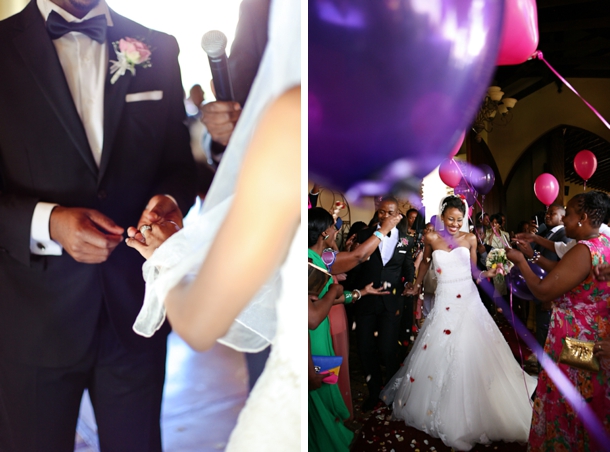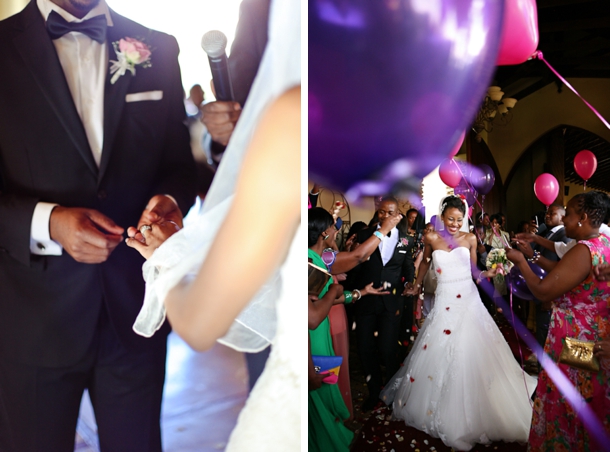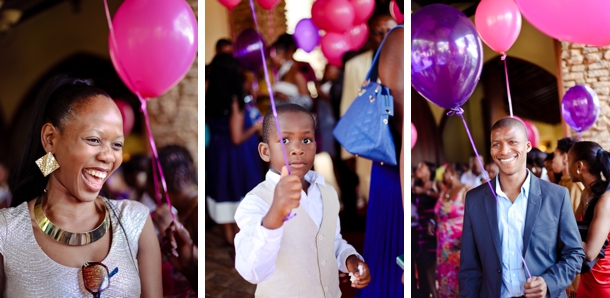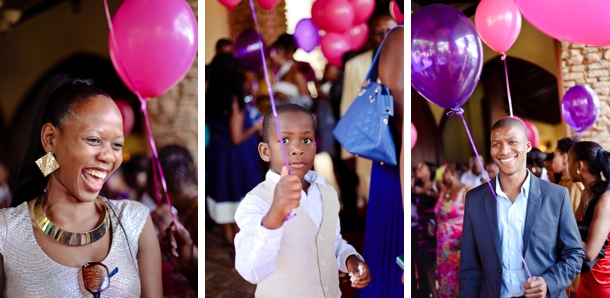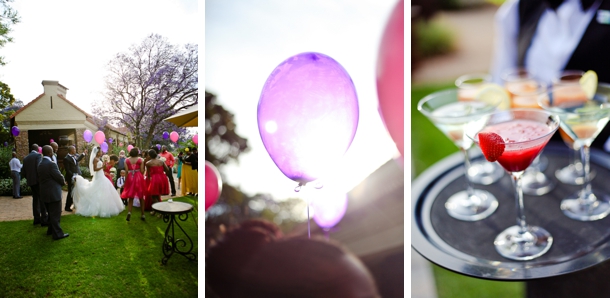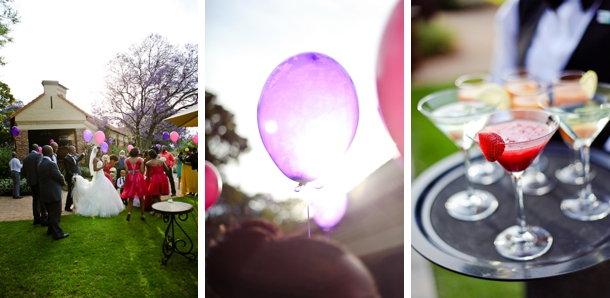 We initially picked a venue in Muldersdrift, but after paying the deposit realised it wasn't my dream venue. I fell into Bride Trap #101: choosing the first venue you visit. I then started searching online for venues outside of Muldersdrift, and came across Isiphiwo, situated in Pretoria. We went for a viewing and totally fell in love with it immediately; it had an amazingly fresh ambience, the right amount of elegance and amazing staff.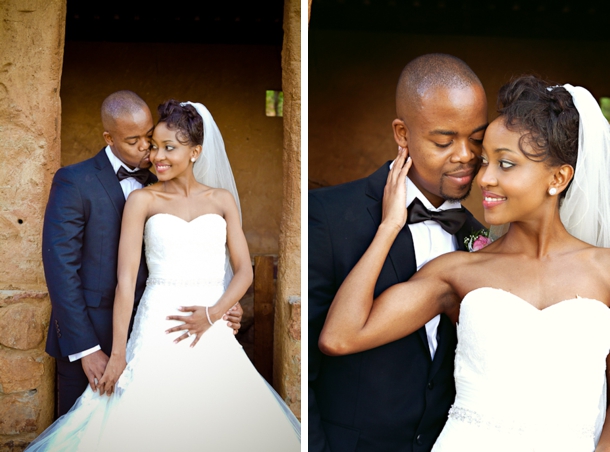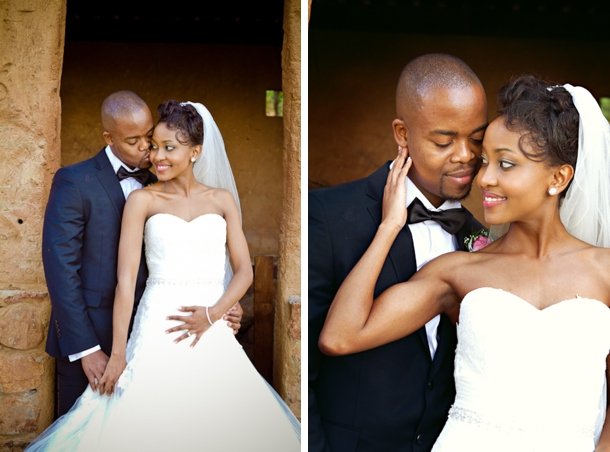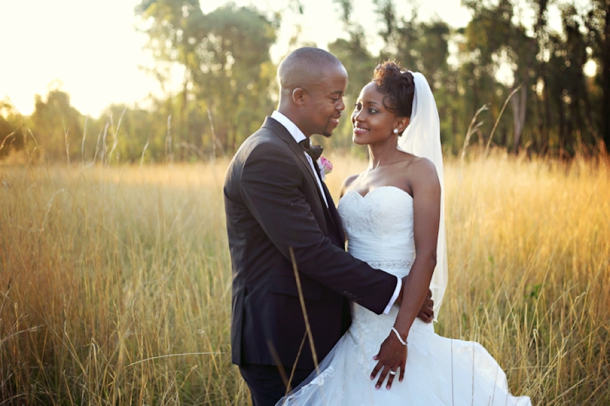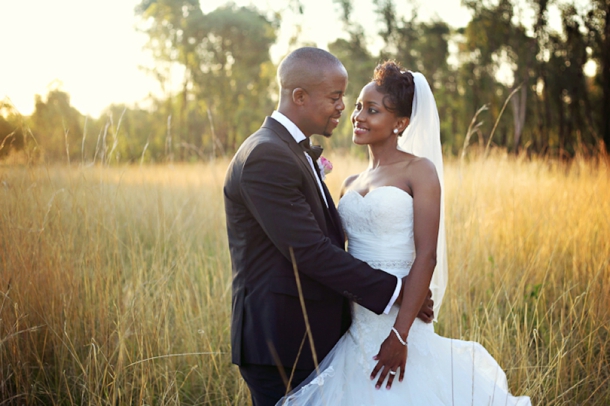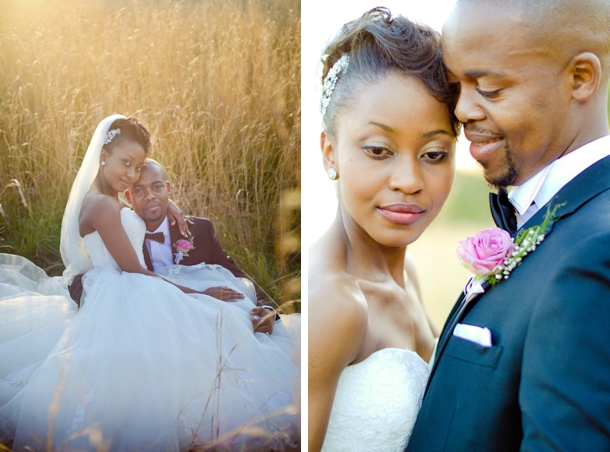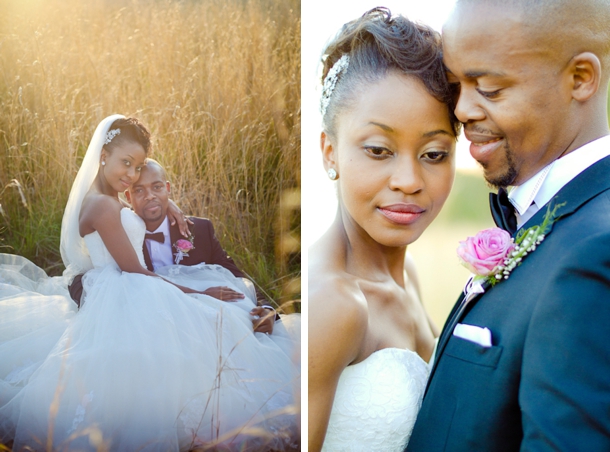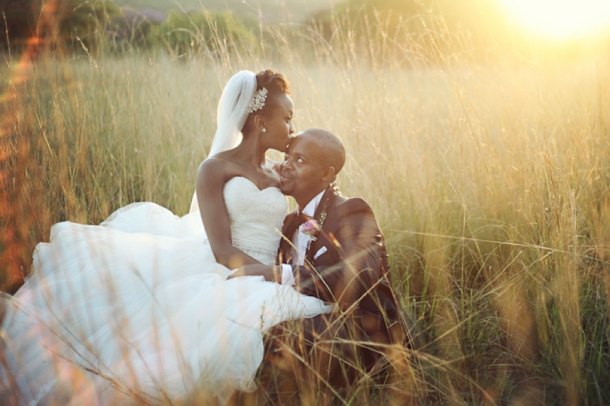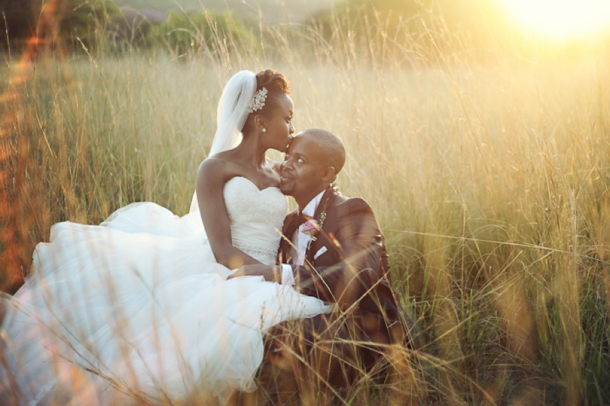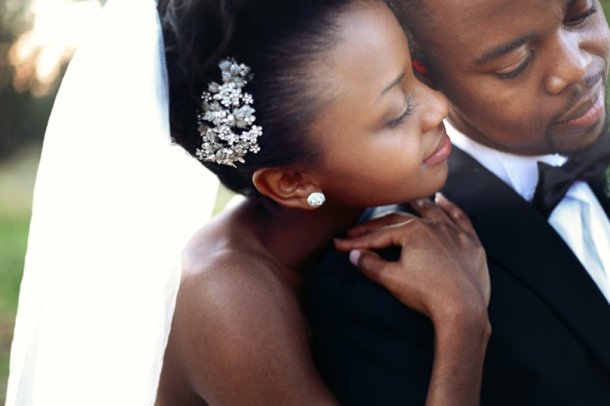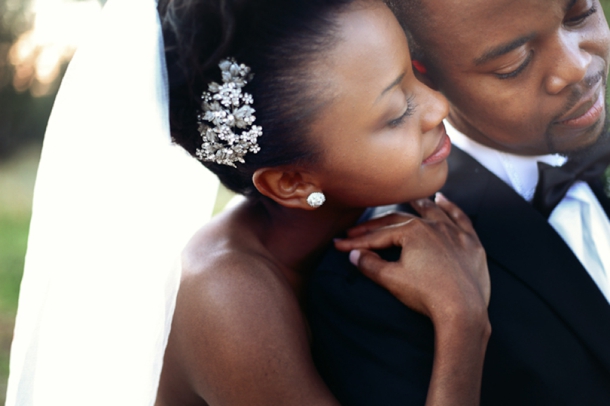 We both had so much fun and really made the day our own. Declaring our love in front of our friends and family was priceless, and we also loved our couple shoot while our guests enjoyed refreshments and a photobooth we had set up for them. There was so much laughter throughout the day, it felt like one big party with our close family and friends.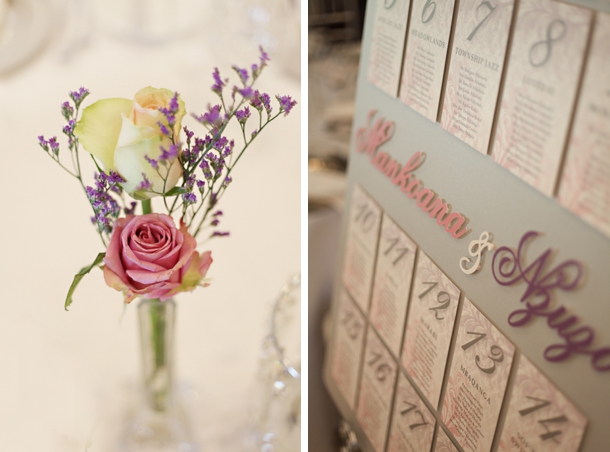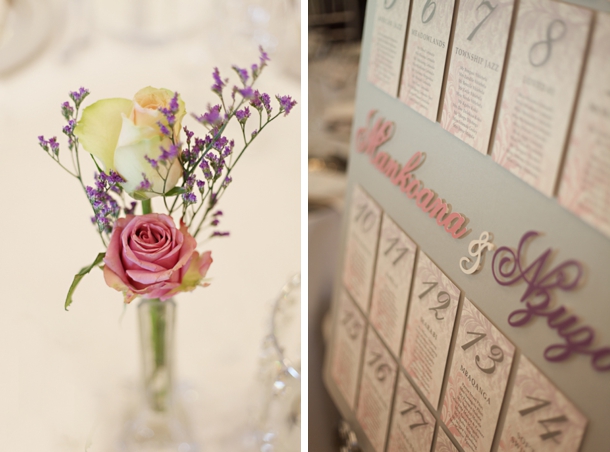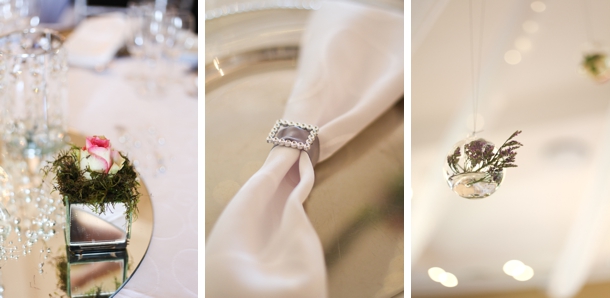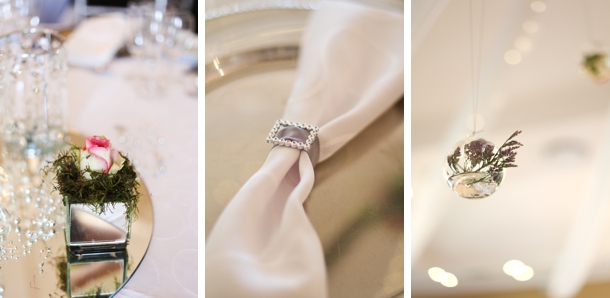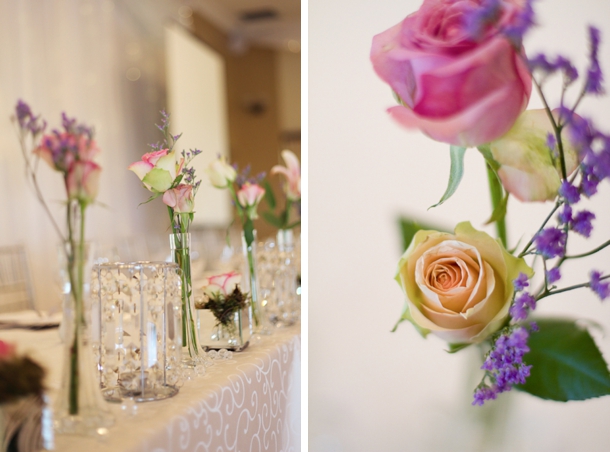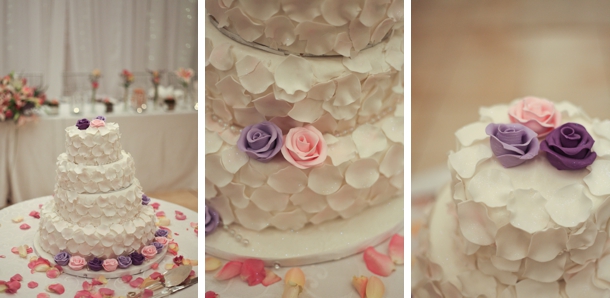 My advice to future brides, is don't waste time stressing about things that may not be as perfect as you planned them to be. This day happens only once in your life so you don't want to be sweating the small detail instead of taking in every moment of it. The fact is, not everything will go according to plan, so accept that before the day even starts and enjoy the day you've been waiting for and for most, dreamt of. There's so much information that you can obtain from Google, but make sure that you go see the venue, décor items, etc. in person. Referrals from friends who had already gotten married also helped quite a lot as it gave me options to work with. Finally, I found Admired in Africa very useful (a directory for the best wedding photographers).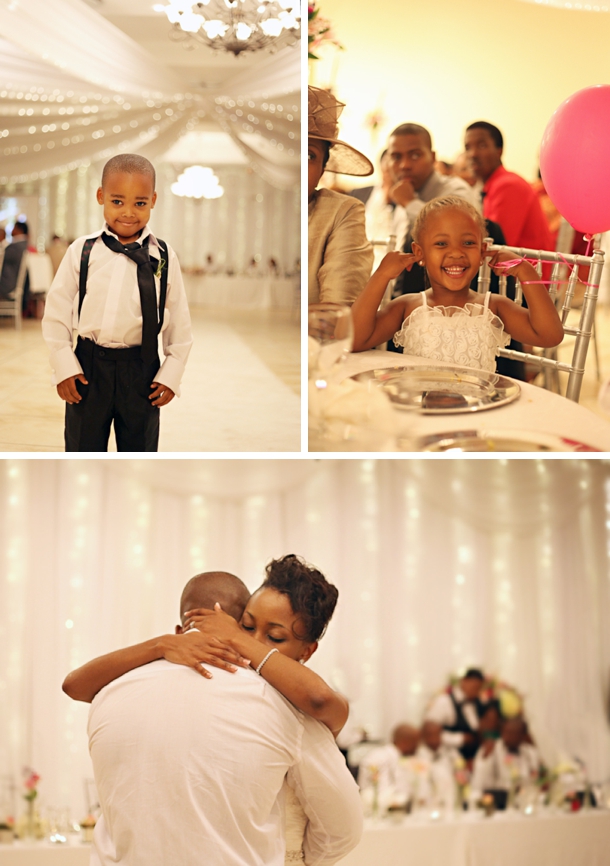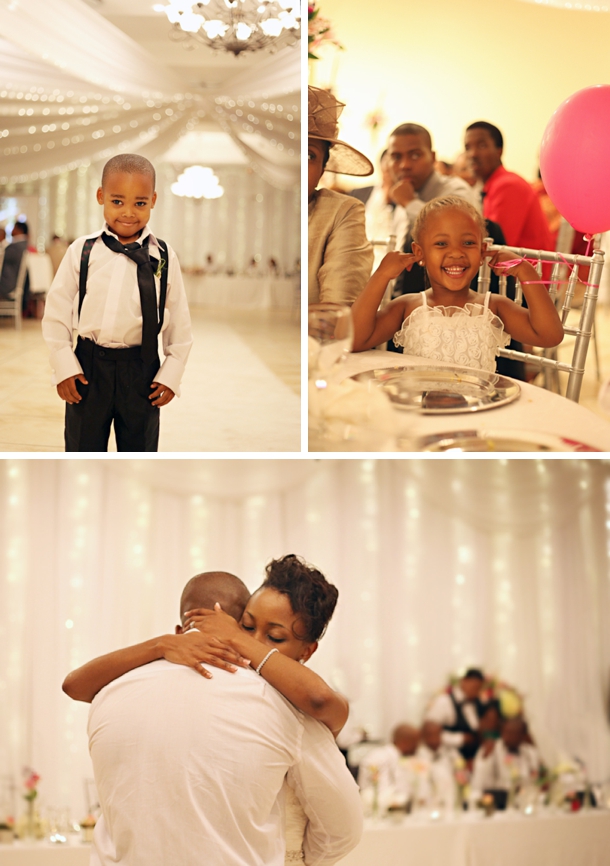 Thanks so much, Mankoana and Nzuzo, for sharing your lovely day with us! Thanks also to Andrea, who the bride says really captured the essence of who there are as a couple – see more from the couple shoot and the rest of the wedding over on Andrea's blog.
SERVICE PROVIDERS
Venue & co-ordination: Isiphiwo | Photography: Andrea Carlyle | Flowers, decor & hiring: Pretty Bunches | Cake: Cakes by Cleo | Stationery: A Woman's Touch | Bride's dress: Levana Brides | Bridesmaids' dresses: Stitch and Steel | Hair: Lulu | Makeup: Michelle Faber | DJ: DJ Stewart | Entertainment: After 5 Band | Photobooth: Photobooth SA | Video: Warren Anderson Video Productions