Back when I moved into my current home and set up my office, I painted one wall in chalkboard and wrote a list in one corner. It was called milestones, and it was a list of ten things I wanted for my blog. On that list, was turning one of my inspiration boards into a styled shoot (what they used to call 'inspiration to reality' on Style Me Pretty). It seems like such a long time ago now, but I can still remember the first tentative posts on what was then Cap Classique, the first attempts at inspiration boards. Today (having been featured in magazines and on Wedding Chicks already) that milestone comes full circle, and I want to celebrate that, but more importantly I wanted to share what I learned about wedding design along the way. So before I share the full Sparkle & Blush post this afternoon, I thought I would take you through the whole journey, and hopefully inspire you along the way. :) (Remember, a styled shoot isn't there to suggest you replicate it exactly the way we designed it. Rather, it's big on ideas – just pinch one or two that fit your theme and budget.)
It started with an inspiration board…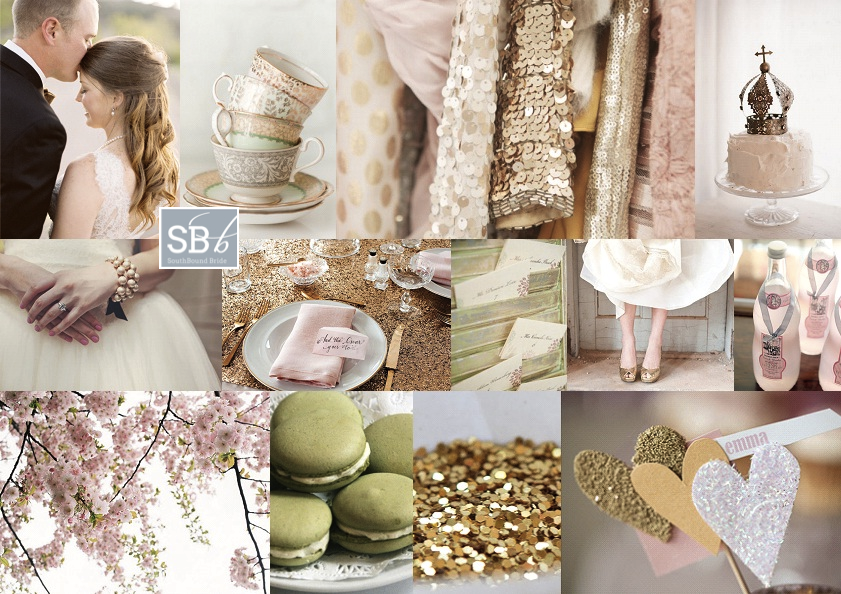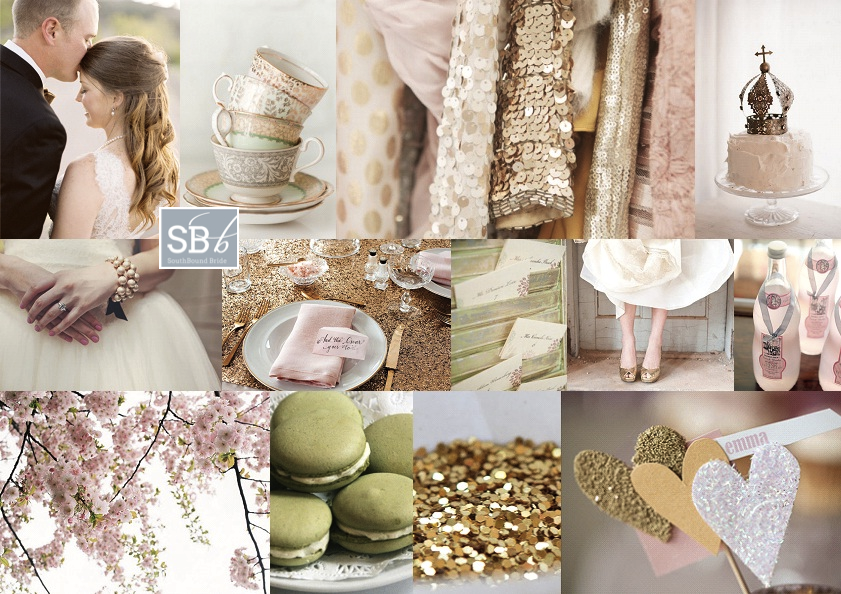 Top row (l-r): Bride and groom (Jose Villa); teacups (AveryHouse); glittery dresses (Edyta Szyszlo); cake with crown topper
Row 2: Bride with gold bracelet (Our Labor of Love); glitzy table setting; escort cards (AveryHouse); bride with sparkly shoes (Kellie Kano); pink lemonade (Alice Hu Photography)
Row 3: Cherry blossoms; macaroons; glitter; hearts (Joielala Photographie)
Many of the inspiration boards here on SBB come from yourselves, the lovely readers, through your requests. But S&B seemed to put itself together one weekend – a combination of the sparkly metallics that had just started to make their way into weddings, the softest, most romantic blush pink and a fresh pistachio green to pep it up and pull it all together. I loved it immediately, and so did you – for a long time, it was one of the most popular inspiration boards on the site. I even created a buying and DIYing guide for Bonafide Bride, showing how to recreate the look for a real wedding.
Later that year, I had the idea to work with the brand new Invitation Gallery on a very special project: a range of stationery inspired by my inspiration boards and created by their talented designers – the SBB Collection. (If you haven't checked them out yet, do – Invitation Gallery are an awesome way of getting fantastic design at a very reasonable price, and their printing quality is beautiful!) I opened up my archive to them and waited with much excitement to see which boards each designer would choose – and I have to admit, I really hoped someone would pick S&B because it was one of my faves. I was thrilled when not only did S&B get picked, but by my friend (and the designer of SBB's own brand) Anelle of Seven Swans – I knew she would do an amazing job! I didn't give the designers any brief on their work – the inspiration board was a starting point, but where they went to with it was up to them. Which brings me to Lesson 1: trust your suppliers. Bring talented people on board and share your wedding vision with them – but then allow them to get creative and make their own suggestions! You'll be amazed at how much more awesomeness this collaboration will result in.
As I knew she would, Anelle created an absolutely BEAUTIFUL set, combining the soft colours of the board with a calligraphy font and some simple, but very elegant flourishes. I can honestly say it's a suite I would use myself, as it has that lovely combination of elegant and simple that really appeals to me. It's sometimes difficult to tell from the digital file, but when I received the printed items they really popped, and I could just imagine them in a real wedding! Here's it is (see the full suite & order over on the Invitation Gallery)…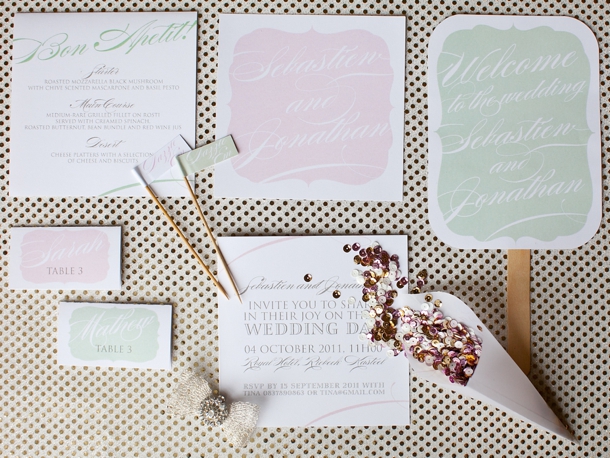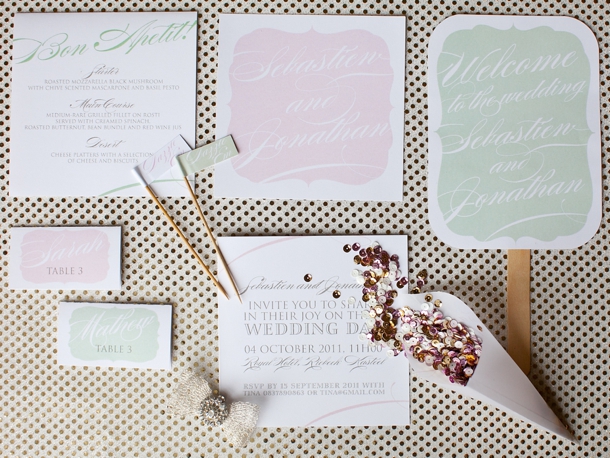 Image: Chanelle Segerius Bruce
Around the same time, I got a tweet from a photographer whose work I had been following for some time. Chanelle Segerius Bruce, originally from SA but then based in London, had really wowed me, so when she asked me to do a styled shoot with her it was an immediate YES! I decided to call on talented friend Louise of b.loved who was just getting started as a wedding stylist at the time, we chose S&B as our theme, and the three of us started brainstorming!
How did we do that? Well, Pinterest of course! Lesson 2: use Pinterest to gather ideas (read more about how to use Pinterest in planning your wedding here). We started a board and all three of us started pinning, everything from a venue to details to model style and posing. Pinterest was a great place to start our planning, and for us to gather our ideas.Here are just some of the images we pinned, but you can find the full Pinterest board right here.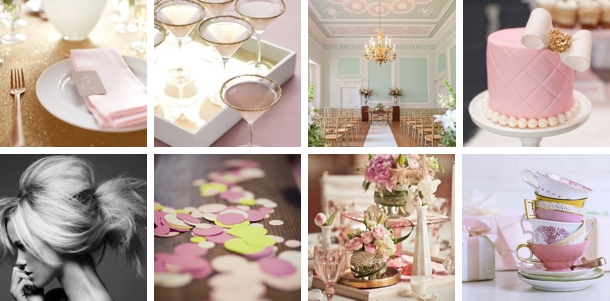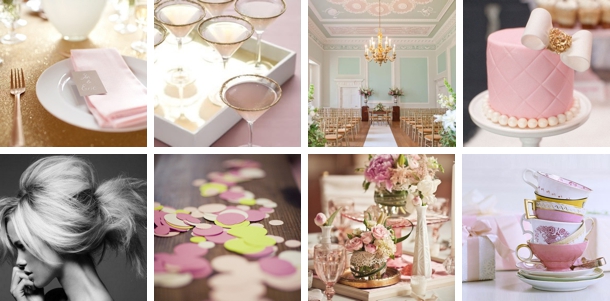 Once we narrowed our ideas down, Louise created concept boards which were shared with our dream team of awesome suppliers. In a real wedding, this is the same function as an inspiration board, and I always encourage brides to create one. Lesson 3: share your inspiration board with your suppliers – it gets everyone on the same page. You may not think that all of them will need to see it – your photographer, for example, who doesn't need to create anything before the day – but a good photographer tries to capture the spirit of each wedding and the board will give them a good idea of what you've tried to create. It also means they'll have an eye out for your colours and details.
And suddenly, the day was here! We headed off to Botleys Mansion in Surrey and put it all together. Here are just some of the details we included:
A sweetheart table as well as our main table – this was such a lovely touch, and while some couples will want to sit with their guests, it can be nice to have some time for just the two of you to let the emotions of the day sink in as you share your first meal as husband and wife. Plus, if you have family politics (divorced parents in particular, who don't get on), this can be a way of avoiding any drama about seating arrangements.
We used sparkle liberally in the shoot, everything from sequinned runners to glitter board as place cards. Remember, a little goes a long way when it comes to sparkle, but you don't have to spend extravagantly to get the same effect (for example, glitterboard is very reasonably priced at all good stationery shops and glam material can often be found at a discount). My favourite idea? Sequins as confetti!
Cakes were a huge highlight of the shoot for me. We had the cutest individual cakes (a great alternative to cupcakes, and so elegant, especially on their tiny stand) but our main cake by Janet Mohapi-Banks was the ultimate – we challenged her to create a glittery cake, and she came up with a special surprise in the middle of a normal cake: a cascade of shimmery, glittery sugar crystals! SO FUN.
Dessert bars are awesome, but we decided to put together a fun drinks table instead, including cocktail glasses dipped in edible gold stars, champagne glasses with custom stirrers (download them free here) and even champagne with real gold leaf flecks in it! This kind of detail can be great for a couple of pics if you have a glittery theme – you don't need to serve it to everyone.
The whole shoot will be coming up after lunch, and this afternoon Louise will be sharing her styling secrets over on her blog which you won't want to miss, but for now, here's a little video from The Dreamcatchers to whet your appetite.
Full credits: Photography: Chanelle Segerius Bruce | Videographer: The Dreamcatchers | Styling:b.loved Weddings and Southbound Bride | Venue: Botleys Mansion | Stationery: Invitation Gallery | Flowers: Wildabout | Dresses: Mira Zwillinger | Makeup Artist: Kaz Fernando | Hair: Severin Hubert at The Hepburn Collection | Cakes: Janet Mohapi-Banks | Hair Accessories: Debbie Carlisle | Jewellery: Olivier Laudus | Model: Chloe-Jasmine