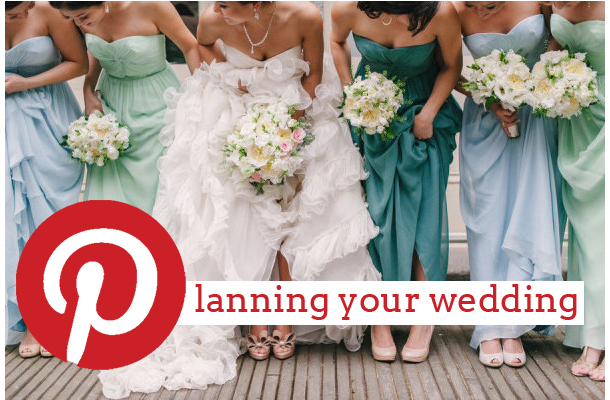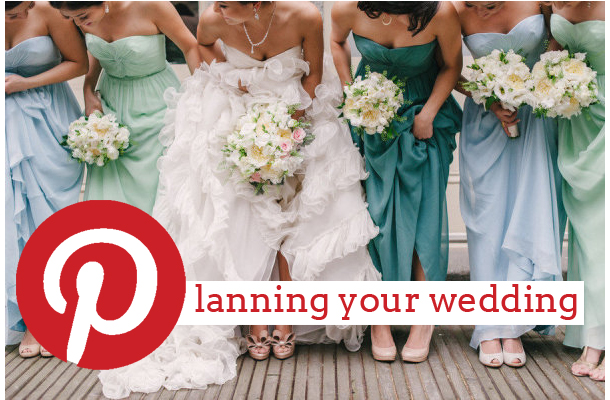 Image: Judy Pak Photography via Style Me Pretty (from the Bridesmaids board on SBB's Pinterest)
Happy Friday, friends! I'm writing to you from my sick bed, all struck down in the pribe of libe (as they'd say in Friends), so you'll forgive me if today's post is a little late! But I wanted to share with all of you (especially those with your newly minted Valentine proposals) how Pinterest can be a great little tool to use in your wedding planning, and give you a little tour of the SBB Pinterest page. Let's go!
The truth is, you've probably already heard of Pinterest. You may have been using it already, to pin food or interiors – hell, you may even have been pinning wedding stuff long before the proposal. In just a couple of years, Pinterest has become part of our daily web lives, and the good news is that it really comes into its own when it comes to weddings. So you'll definitely want to use it to its full capacity.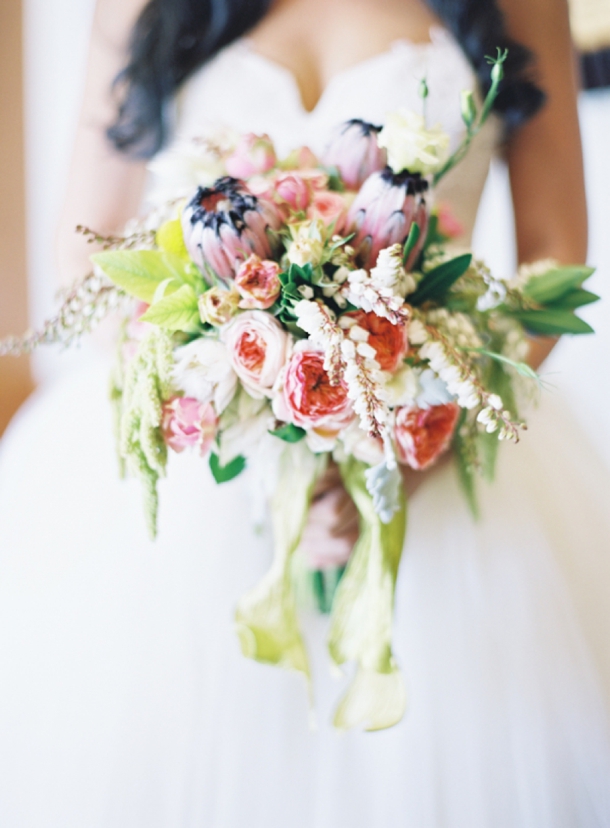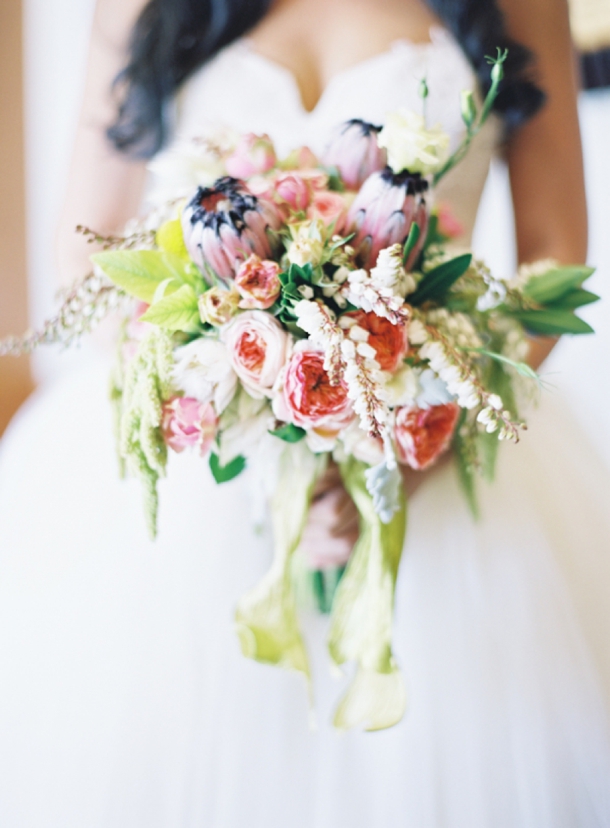 Image: Jen Huang Photography/Dream a Little Dream Events via Ruffled (from the SBB ♥ Proteas board on SBB's Pinterest)
Step 1: Be Inspired
In the first days and weeks after a proposal, as well as walking around in a haze of happy, most brides also get to grips with the fact that it's time to plan the biggest party/production of their lives. Maybe you've been dreaming about this since you were a little girl, and maybe you're an anti-bride, but once you start realising how much is out there – how much detail and personalisation and colour and style you can bring to a wedding – it's very exciting. Every idea seems like the BEST, until another comes along (in fact, it can be pretty overwhelming). How are you going to remember it all? This is where I think Pinterest immediately becomes an essential tool. Like something you see? Pin it. You don't have to keep meticulous files and notes (because Pinterest automatically links to source, so you can always go back to where you found it, and you can make notes on each image), you don't have to save hundreds of pictures on to your desktop, and you don't have to buy anything before you've got a handle on the look and feel you're going for. In this stage, I would say, when in doubt, pin it. Go crazy. Like five different colour schemes? Pin 'em all and make that decision later. Don't worry about how much you pin – this is the visual equivalent of brainstorming.
Of course, Pinterest isn't just for images you find when you're browsing around the web in general. You can also find a wealth of beautiful material by following the boards of your favourite bloggers, planners and creatives, many of whom organise content so it's easy to find and a joy to browse and repin. Click back on the links for your favourite images to see full posts and galleries, where you'll often find even more inspiration and ideas.
TOP TIPS:
You'll save yourself a LOT of time and effort if you get organised from the word go. Create boards according to different elements. I'd suggest: dresses, bouquets, decor & tables, accessories, bridesmaids, groom, stationery, hair, cakes, colours, ideas/details and general. That way, you won't lose track of what you've pinned or have to go back and organise it later.
Most blogs now have Pinterest facilities either at the end of posts or on every image, but I'd still recommend getting the pin bookmarklet for your browser. That way, wherever you are, you can quickly pin down something you want to remember and it'll link to source.
Don't upload images yourself – it's the fastest way to lose track of where something is from (and who deserves credit for it).
Don't synch Facebook and Pinterest – fastest way not only to show your guests what you're planning, but to clog the hell out of their newsfeeds.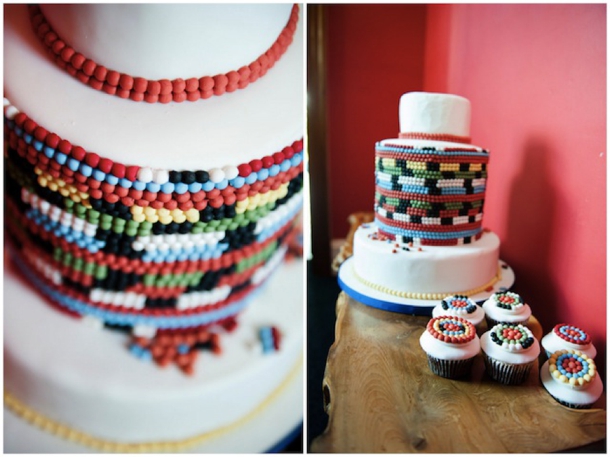 Image: FO Photography/Elizabeth's Cake Emporium via Bridal Musings (from the Homegrown Wedding Style board on SBB's Pinterest)
Step 2: Focus
Once you've spent a few weeks in wedding world and made key decisions about venue, season and style, it's time to start narrowing things down a bit. Create a single board for your absolute favourite pictures and choices, so you can start to get a better idea of how it will all 'hang' together (this is also a great way of deciding between two or three looks, especially if you have to try and explain them to your partner). Lots of brides worry about their guests catching wind of all the cool stuff they find and spoiling the surprise, but Pinterest now has you covered, with up to three 'secret' boards, where you can pin to your heart's content in privacy. LOVE this feature, personally!
At this stage, another of Pinterest's strengths comes to the fore, and that's collaboration – this is especially relevant to our brides planning their wedding from afar! If you have a wedding planner or stylist, a dress designer, or even an involved mom or bridesmaid, Pinterest is the best way to work together to narrow down and translate your vision. Of course, you can invite them to view your boards, but you can also give them access to pin themselves. I'd definitely encourage this – you never know what fantastic ideas your talented suppliers will bring to the table!
During this stage, you may start looking for specific things. Say, for example, you have decided to have a cheese cake instead of a traditional wedding cake. You're not just going to see one image, but dozens, so you can put together the look you like yourself, with something of one, something of another, etc. This is where Pinterest acts as a fantastic search engine – make sure to search a few combinations of keywords (like Google in the early days).
TOP TIPS:
Clean up your boards now and again, deleting images that no longer resonate with your wedding vision and colour schemes that have fallen by the wayside. This will make it much easier to get a sense of the evolution of your wedding design at a glance (and communicate that to your suppliers).
Get the Pinterest app on your mobile device, so that you can share images and boards with suppliers on the run. Sometimes it's just that much easier to communicate what you like with pictures instead of words (and let's be honest, most new brides won't know the floral terminology, for example).
Watch out for images that have the buying option, as you can now link to buy directly. Easy peasy!
Sometimes you'll fall in love with something you see, and you may be tempted to reproduce it exactly. Some images also blow up all over Pinterest for a while, and you may find that these start to look tired after you've seen them pop up hundreds of times. Try to figure out what you liked about the image in the first place, and then add your own spin.
Step 3: Step Away from the Pinboard
Every bride gets to a stage where they're overwhelmed with ideas, images and inspiration. You may start to doubt the choices you made, or to keep wanting the 'something new' that pops up on the internet. You'll know when this day comes (and if you don't, your fiance will tell you!). This is the time to step back from Pinterest (and yes, wedding blogs). Not forever, just for a while. Forget about planning for a few weeks. Get on with your life. Enjoy being engaged. And when it's time to come back, everything will be waiting for you on your pinboards, right where you left 'em.
Feeling fired up? Well, here at SBB HQ I've been revamping our Pinterest over the last couple of months (and continue to do so). I want to make sure that the boards are a reflection of the content we have here on the site: beautiful, inspiring and truly South African. So let's have a little tour, shall we?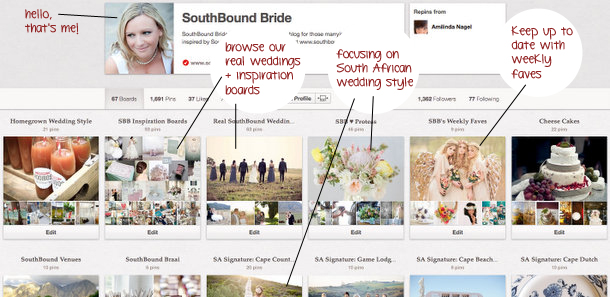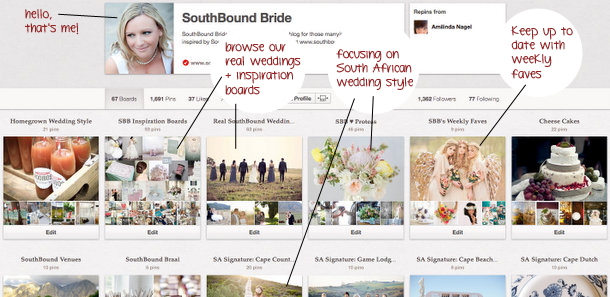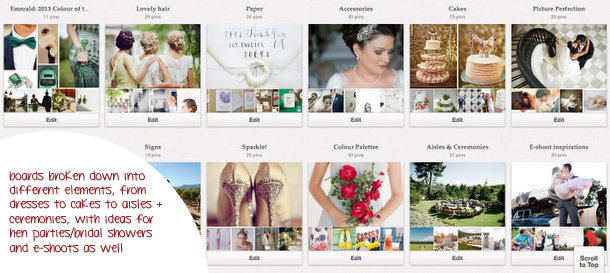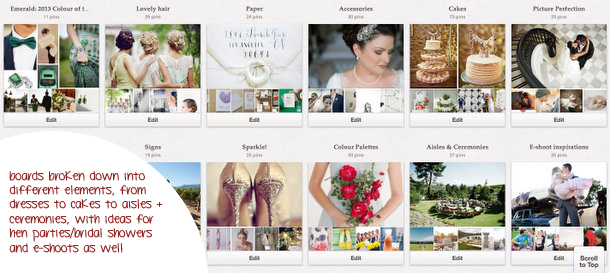 Got any of your own top tips? Leave them in the comments below. And remember to sign up and follow SouthBound Bride on Pinterest here.