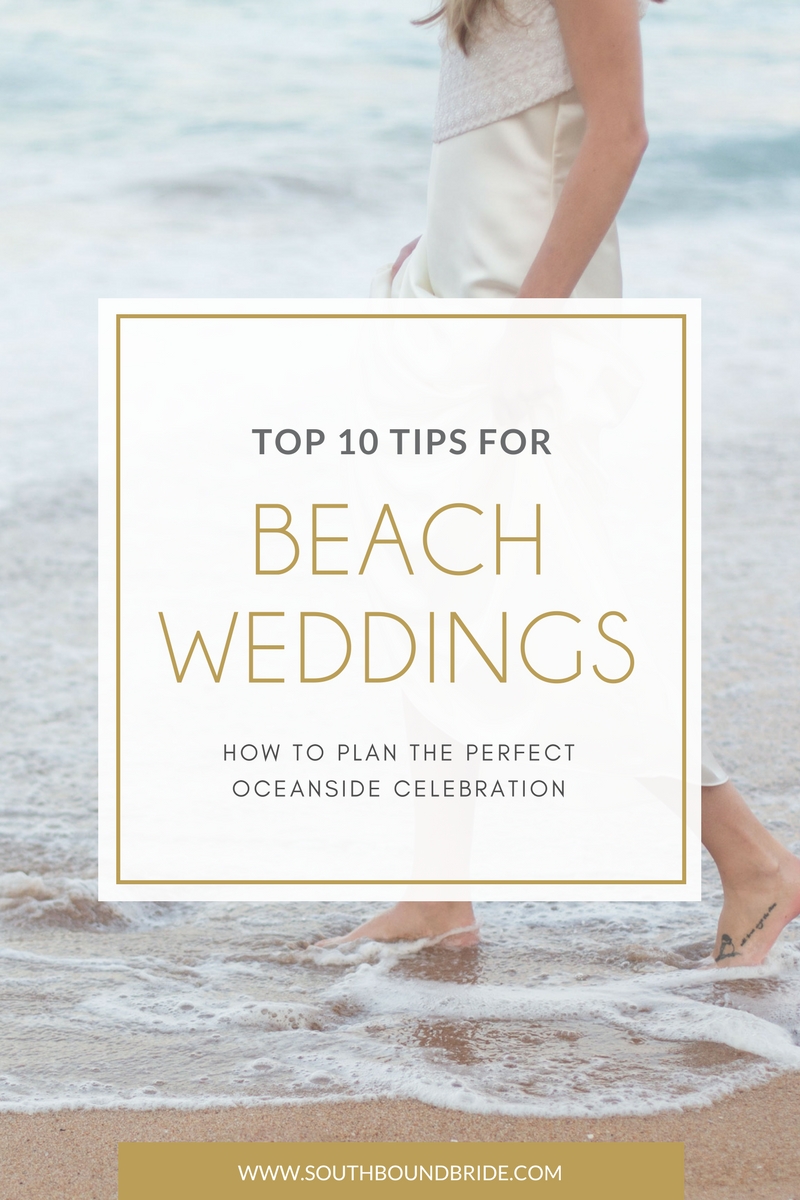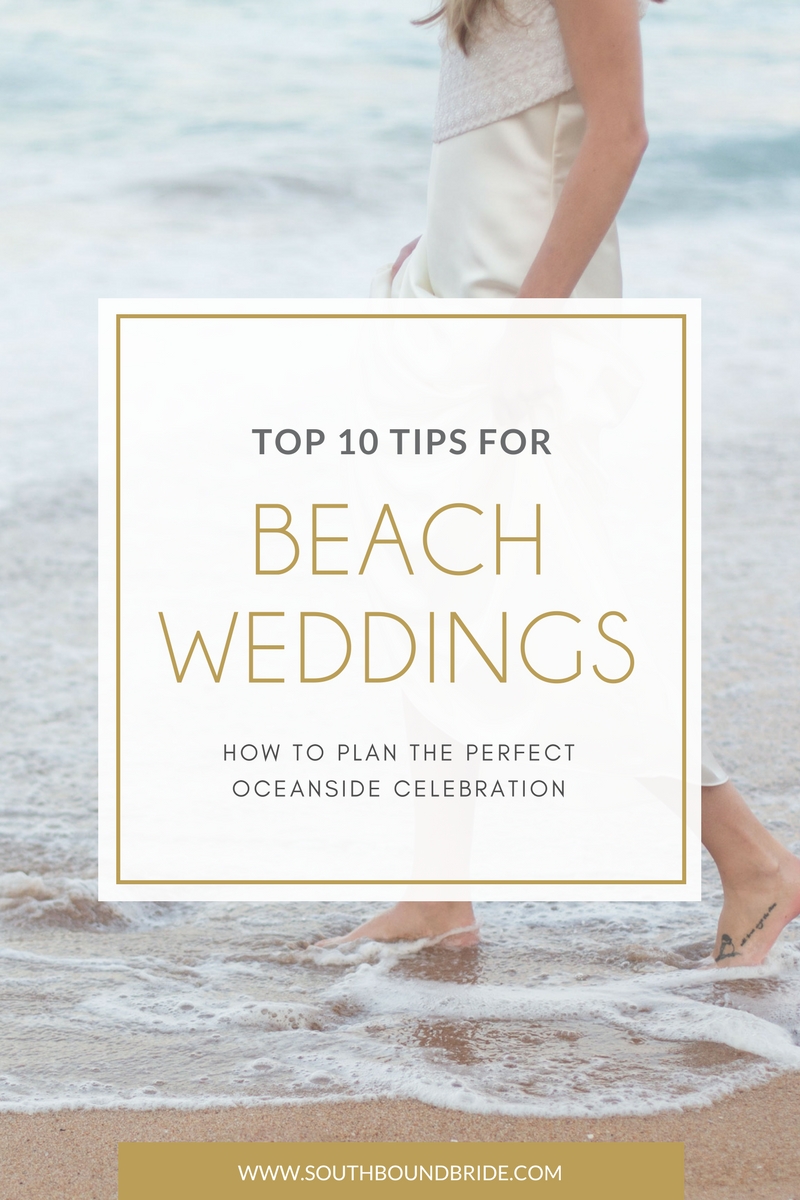 Image: Deborah-Ann Photography/Wildeflower on SouthBound Bride
Hello friends! It's been a crazy couple of weeks, so my apologies for being so scarce on SBB. I've been working on a Kickstarter campaign for Aisle Society that is just seven days away from deadline and wow – what an experience! I'd love it if you all would check it out and consider supporting us (even $1 is very much appreciated!). But meanwhile, I've been dying to bring you the beachy inspiration I have lined up, especially since I'm heading for the Caribbean tomorrow for the Aisle Society retreat! So beach is very much on my mind ;) Beach weddings, I have to tell you, are a huge favourite of mine – although I've yet to actually attend one in person, *sad face*. I just adore the whole feet in the sand, relaxed but elegant vibe. But while planning a beach wedding IS fun, it does have challenges that other weddings do not. There's a lot to think about to ensure everything goes off smoothly, so here are SBB's top tips for the perfect beach wedding.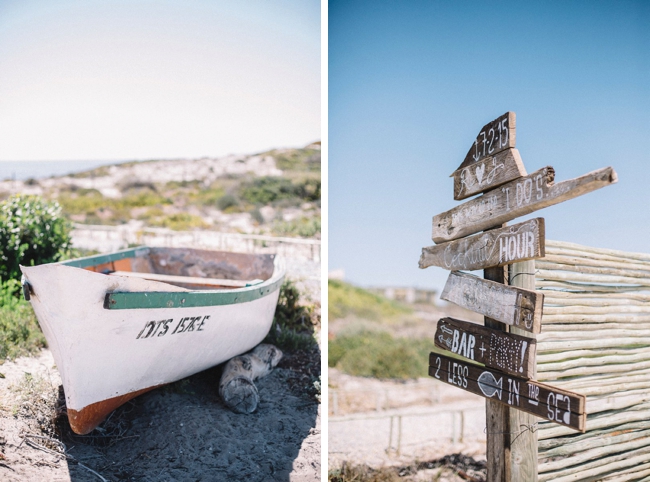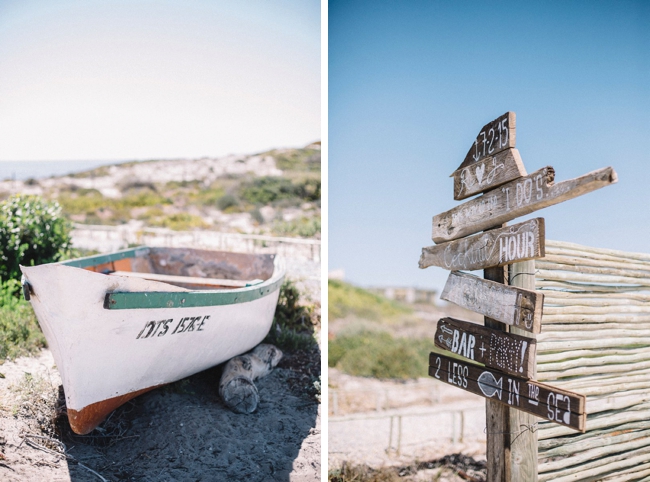 Image: Ronel Kruger on SouthBound Bride

1. Visit the beach at different times to see how busy it gets
If you're planning to take your vows on a public beach (especially if it's a weekend or public holiday), make sure you don't make the mistake of scouting it out late one afternoon or early morning off-season without finding out how busy it may be on your big day. Nothing worse than ceremony photos full of curious bystanders! Find the most intimate spot you can, or consider getting married on a week day.
2. Have a Plan B
Yes, we all hope the day dawns with a cloudless sky, but just in case, you should always have a Plan B (or C, if necessary). Arrange an alternative indoor ceremony and reception venue, and be sure to find out exactly how much time will be needed to set up so that if you have to make the call on the morning of, you don't leave it too late. Put your alternative venue on the invitation, so that guests know where to go, and to avoid spending the morning of your wedding making frantic phonecalls.
3. Get the appropriate permissions
Depending on where you're planning your ceremony, you may need to buy a licence or organise permission with the local council or municipality. Do your research and complete paperwork well ahead of time to avoid any last minute complications. If you're planning a wedding in another country, consider enlisting the help of a local wedding planner to help you navigate any bureaucratic nightmares.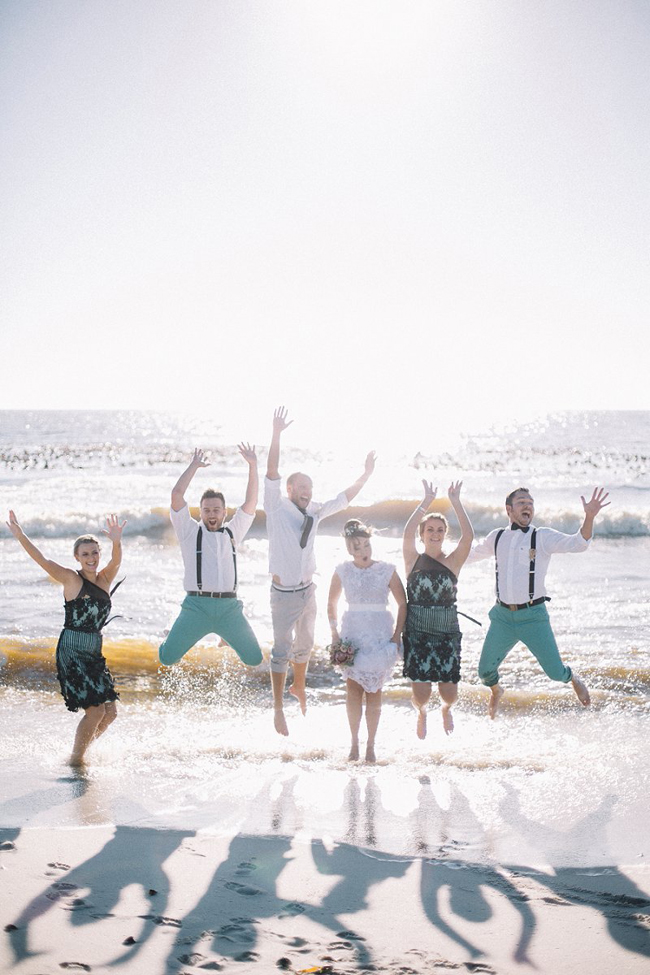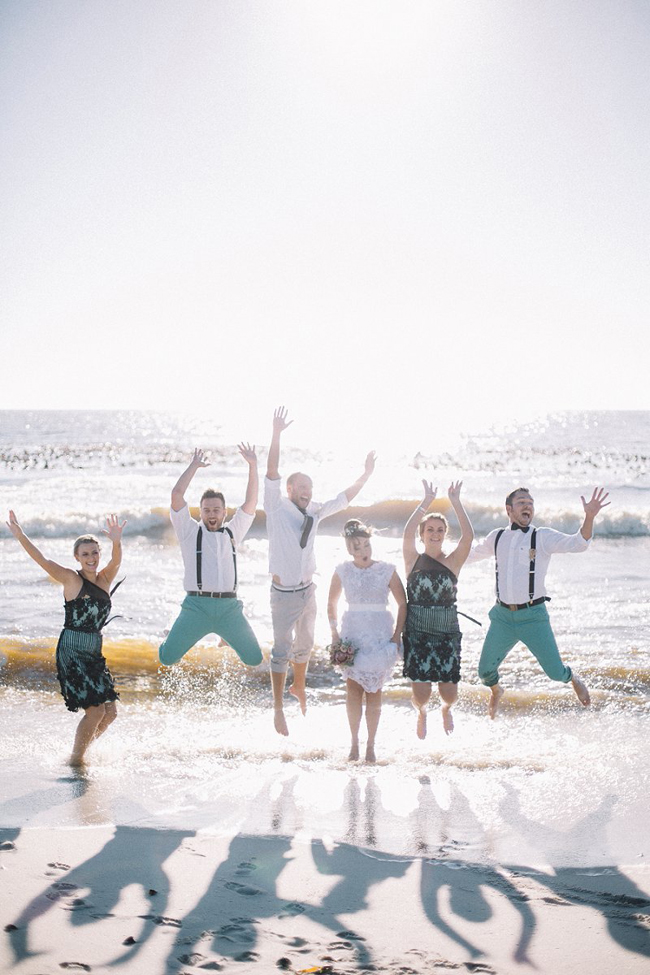 Image: Ronel Kruger on SouthBound Bride

4. Sand + high heels = disaster
Walking on sand in high heels is almost impossible, so you'll want to make sure that you have beach-ready footwear for your walk along the sandy aisle. Don't forget to warn your guests to do the same – or why not provide baskets of flip flops for them to wear or basins where they can wash their feet? If any of your guests have disabilities, you may want to consider temporary decking.
5. Time and tide wait for no man
Check tides as early as possible and schedule your ceremony with a bit of time to spare so that you don't end up floating out to sea even if you're running a little late. Choose the time of your ceremony carefully, taking tide, heat and how busy the beach is into account.
6. Beat the heat
Keep your cool by providing parasols, beach umbrellas, or some other shade for your guests. Keep the ceremony short and make sure everyone has water to sip on. Wind is another potential problem – be sure to seat guests with the breeze at their backs.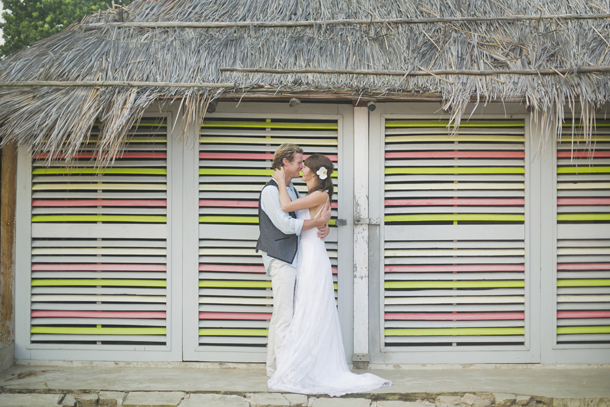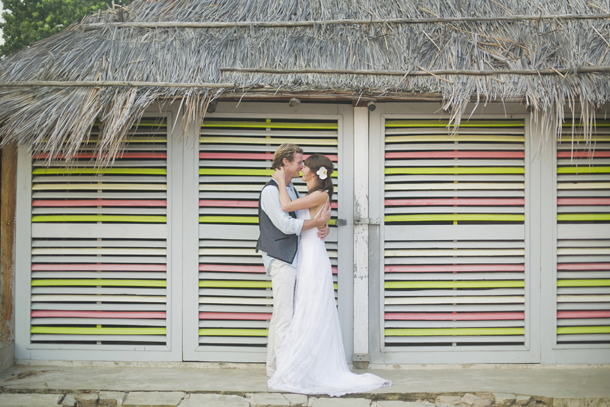 Image: Alexis Diack/The Love Bucket on SouthBound Bride
7. Have a relaxed dresscode
Most beach brides dream of a chilled out, toes-in-the-sand, boho bash, and your guests will love you for it! Think cool summer dresses for the ladies, no jacket and tie required for the men – do include this information on your invites. The boys of the wedding party will likely be especially pleased to be able to wear their shorts and flip flops – be sure to get them matching pairs for some fun photos!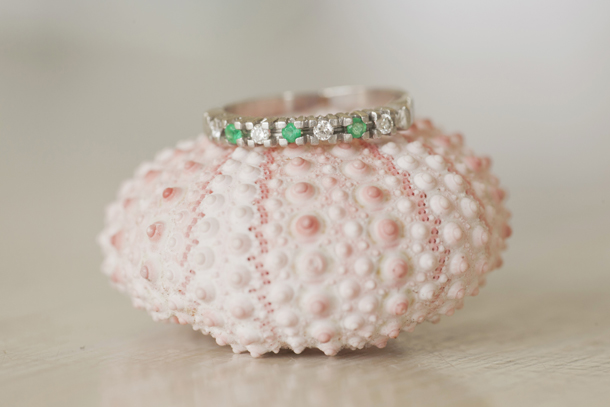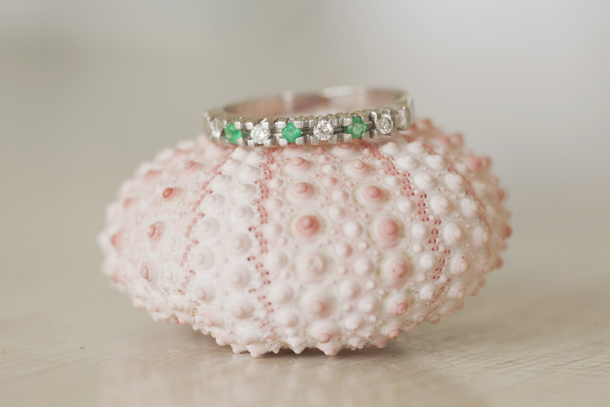 Image: Alexis Diack/The Love Bucket on SouthBound Bride
8. Be heard
It can be difficult to hear the sound of music or voices over crashing waves, so a PA system is a necessary investment. Your venue and co-ordinator can recommend the best way to make this work for your ceremony.
9. Dress the aisle
Because a beach is quite a wide open space, it's useful to create a focal point for your ceremony, including an aisle and some kind of altar or chuppah. There are some really gorgeous (and natural) ways to do this (look out for some inspiration on SBB tomorrow!), and your photographer will thank you for it! Not that you have to have a straight aisle setup – consider a circular or spiral aisle for a more intimate ceremony (do take sand level into account however). On a similar note, make sure your ceremony area is clearly signposted, or transport guests in a group from a central location.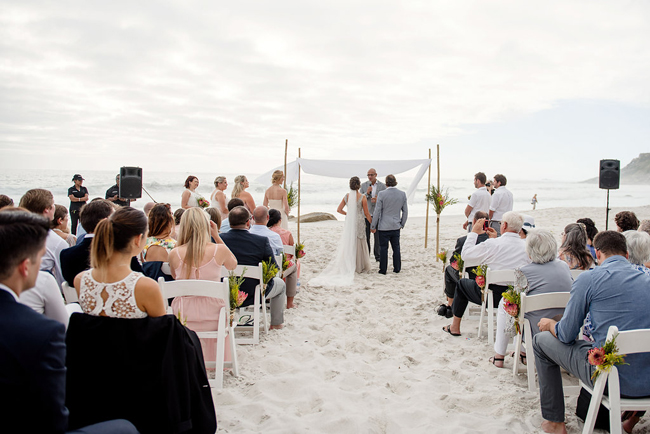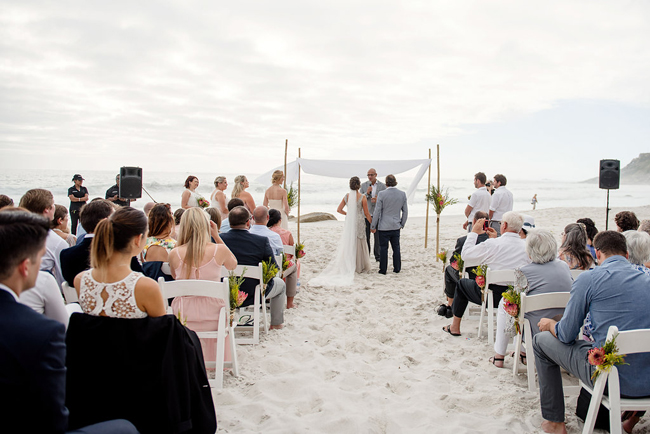 Image: Samantha Clifton Photography on SouthBound Bride
10. Hit the dancefloor
If you're planning to party Lionel Richie style (all night long) then remember that the temperature often drops on or near the beach, and be sure to give your guests snuggly blankets or pashminas to wrap up in. And, of course, you'll want comfortable footwear for the dancefloor, even if you've been wearing smart heels for the reception – keep a pair of flip flops at the ready, or give a pair to each of your guests as a useful favour!