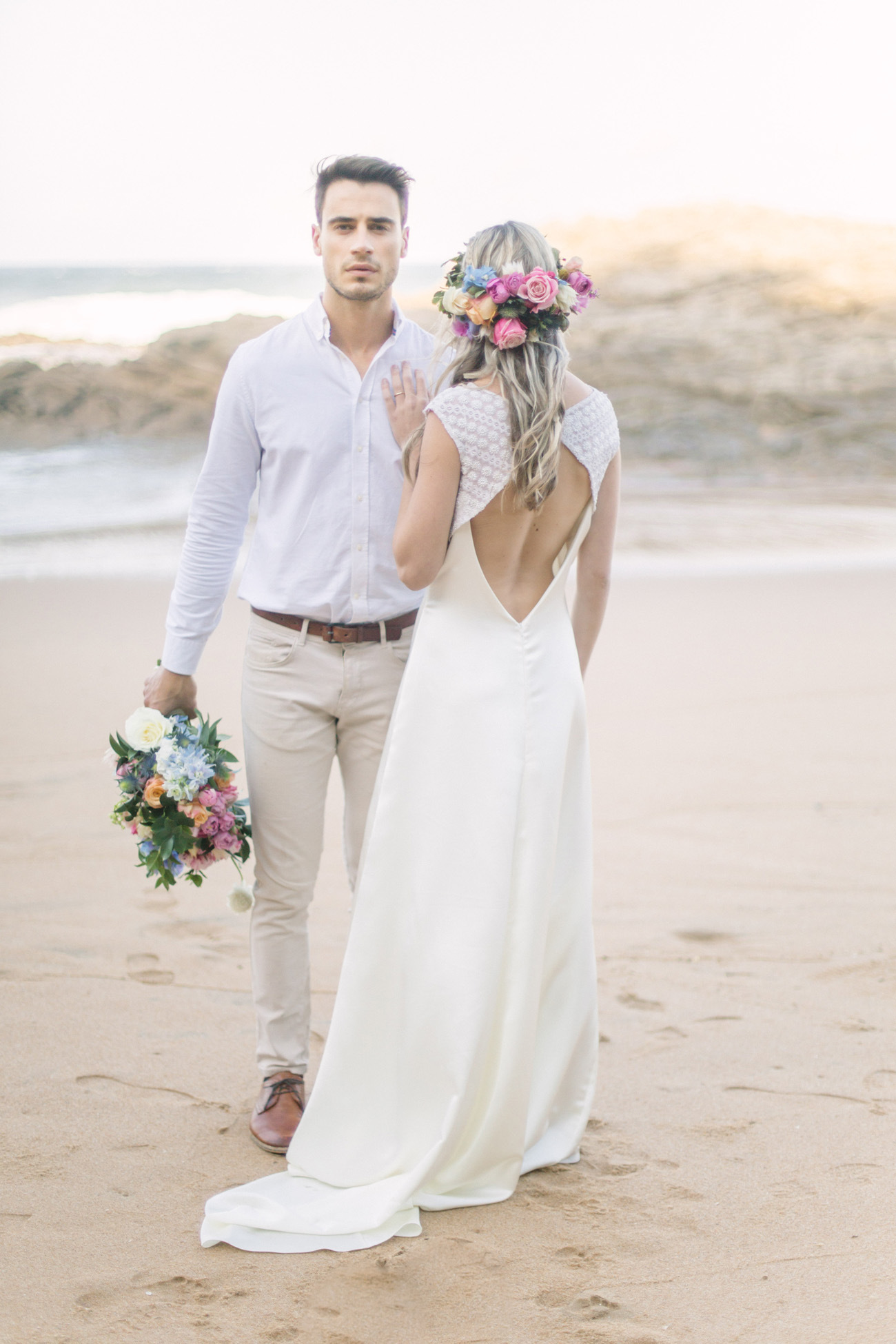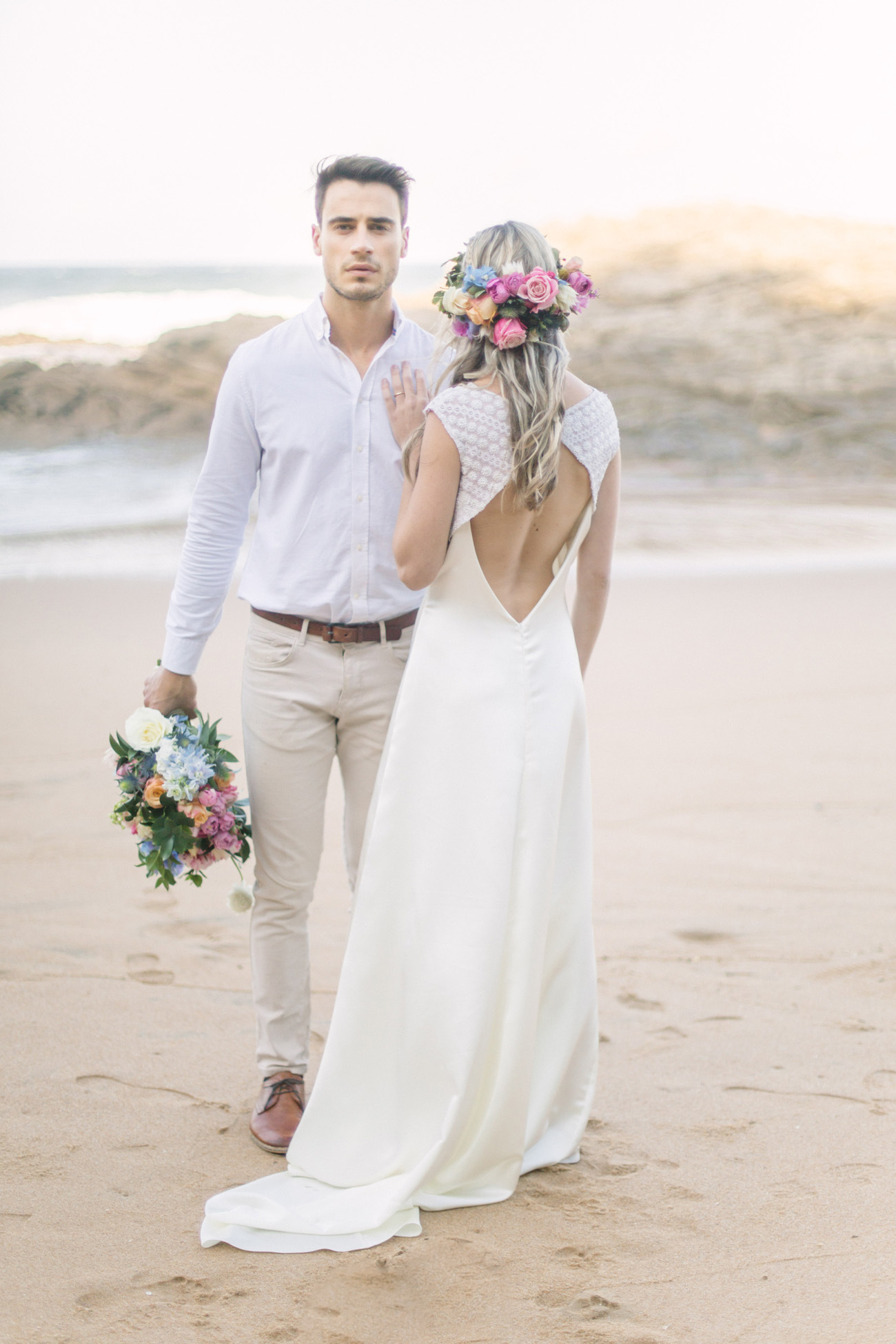 When we think boho, we often think of a neutral palette, or an organic one – the colours of field and desert and stone. But today's pretty little styled shoot turns that on its head, and harnesses a bit of boho style combined with a beach location and soft spring pastels to create the sweetest little picnic e-sesh ever. This is perfect inspiration not just for a couple shoot or elopement, but would make for the basis of a gorgeous wedding design too. We especially love the floral teepee, the dreamy dress, and OMG the flower crowns! One combines soft florals with urchin shells, and has given us all the heart eyes at SBB HQ! This gorgeous shoot was created by Deborah-Ann Photography, Wildeflower and their team of talented creatives, and I'm super excited to share it with you today!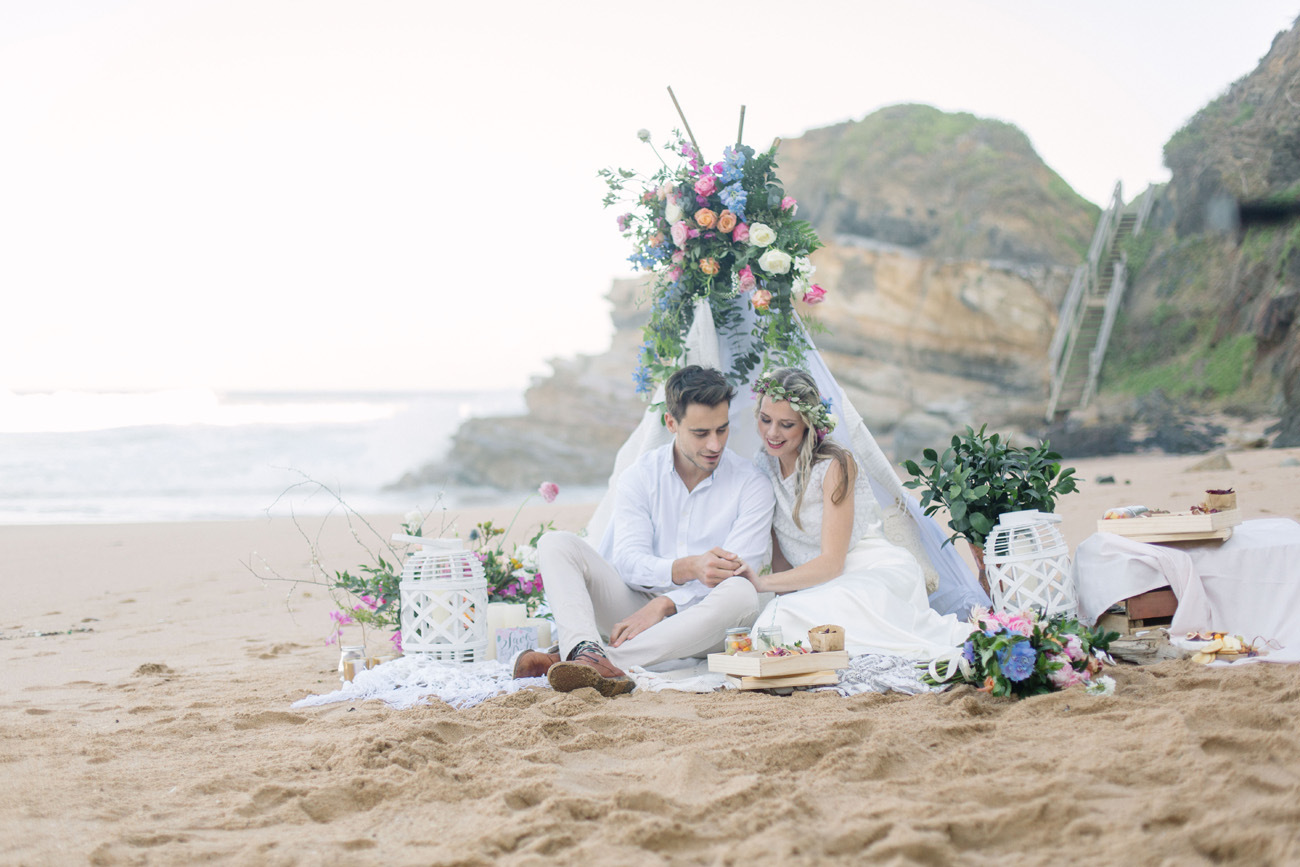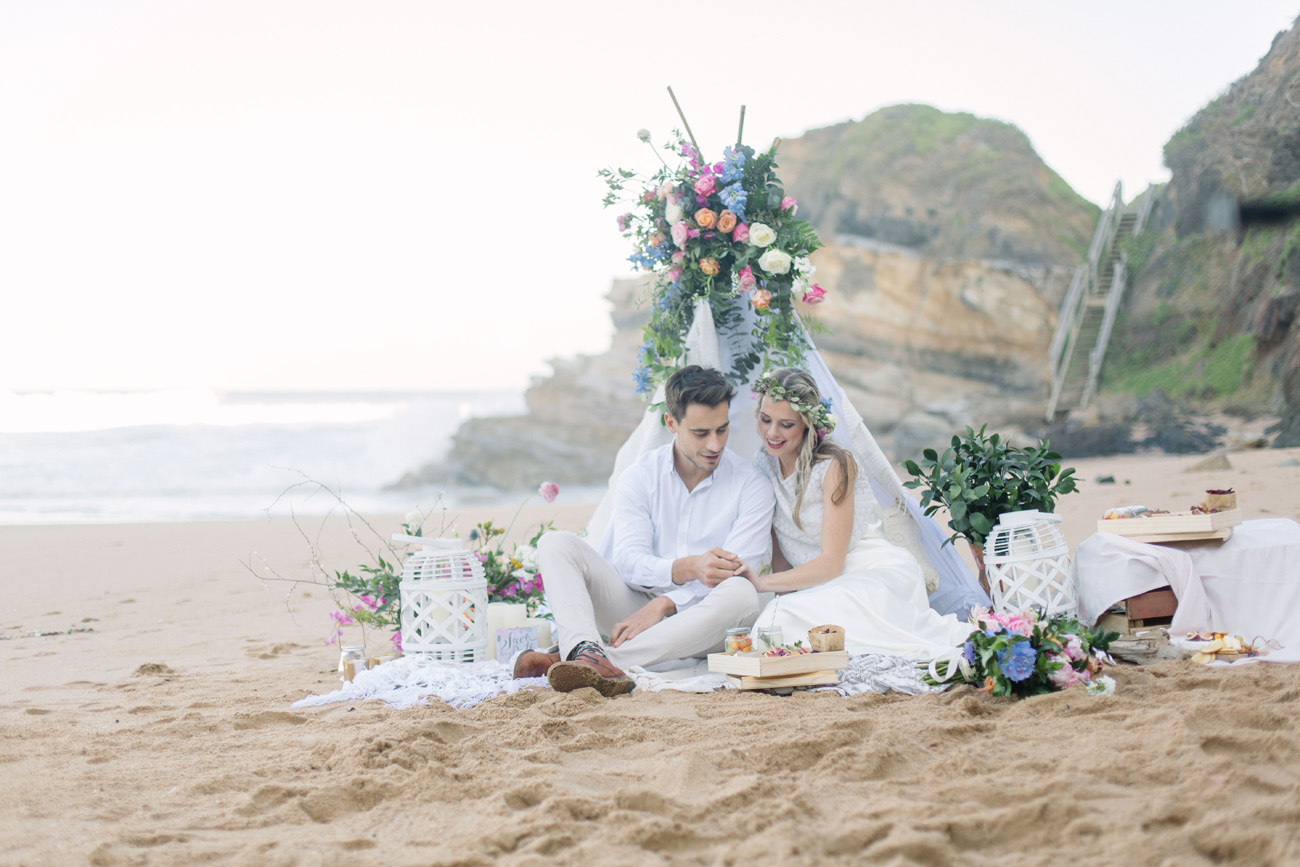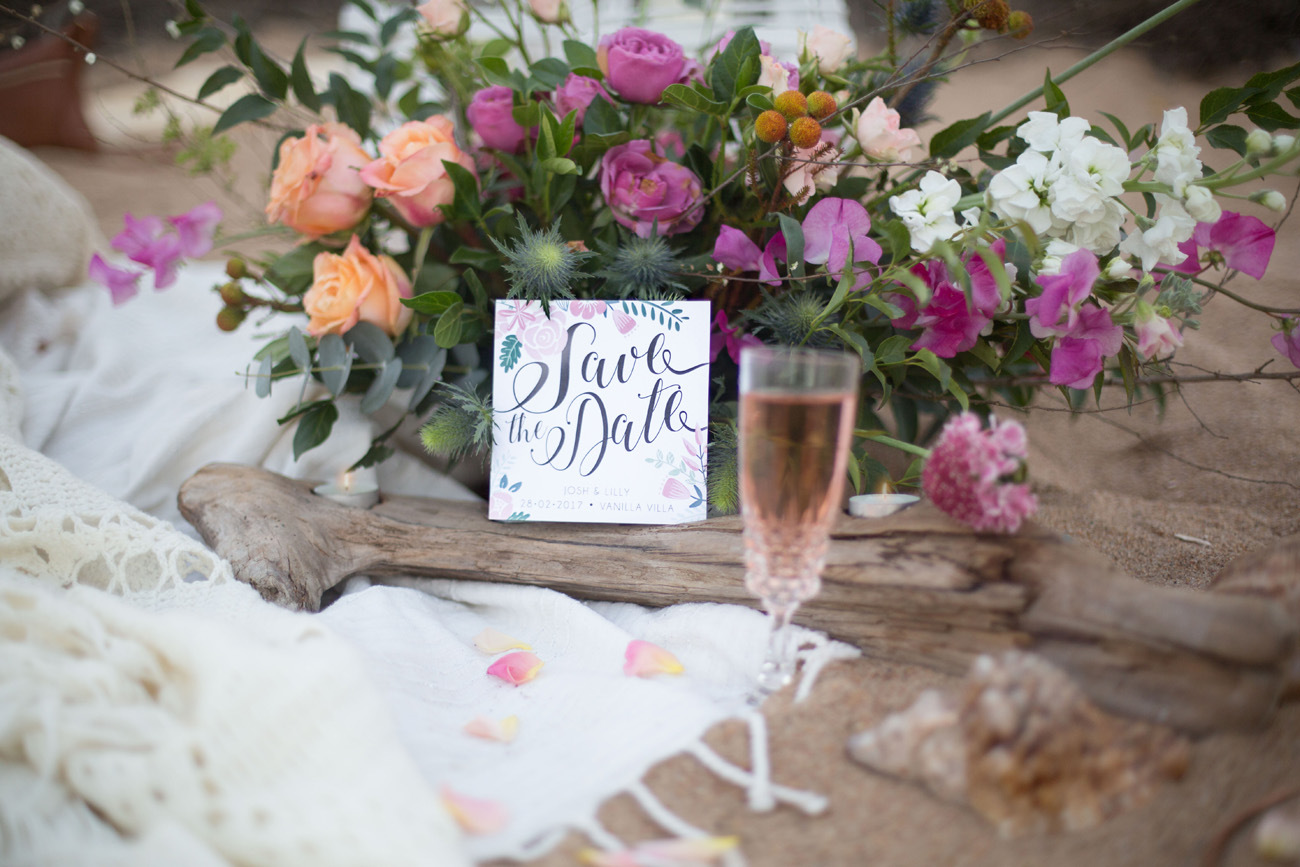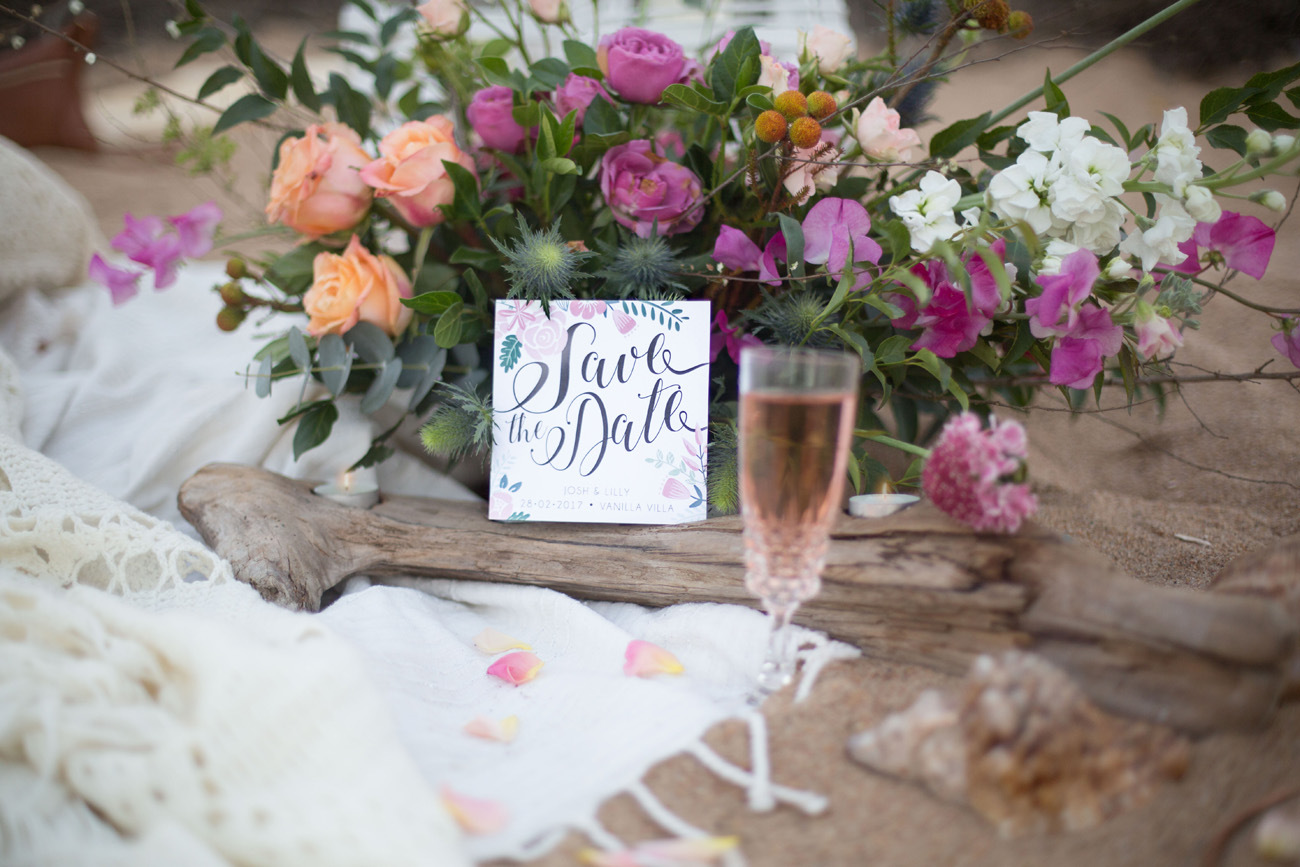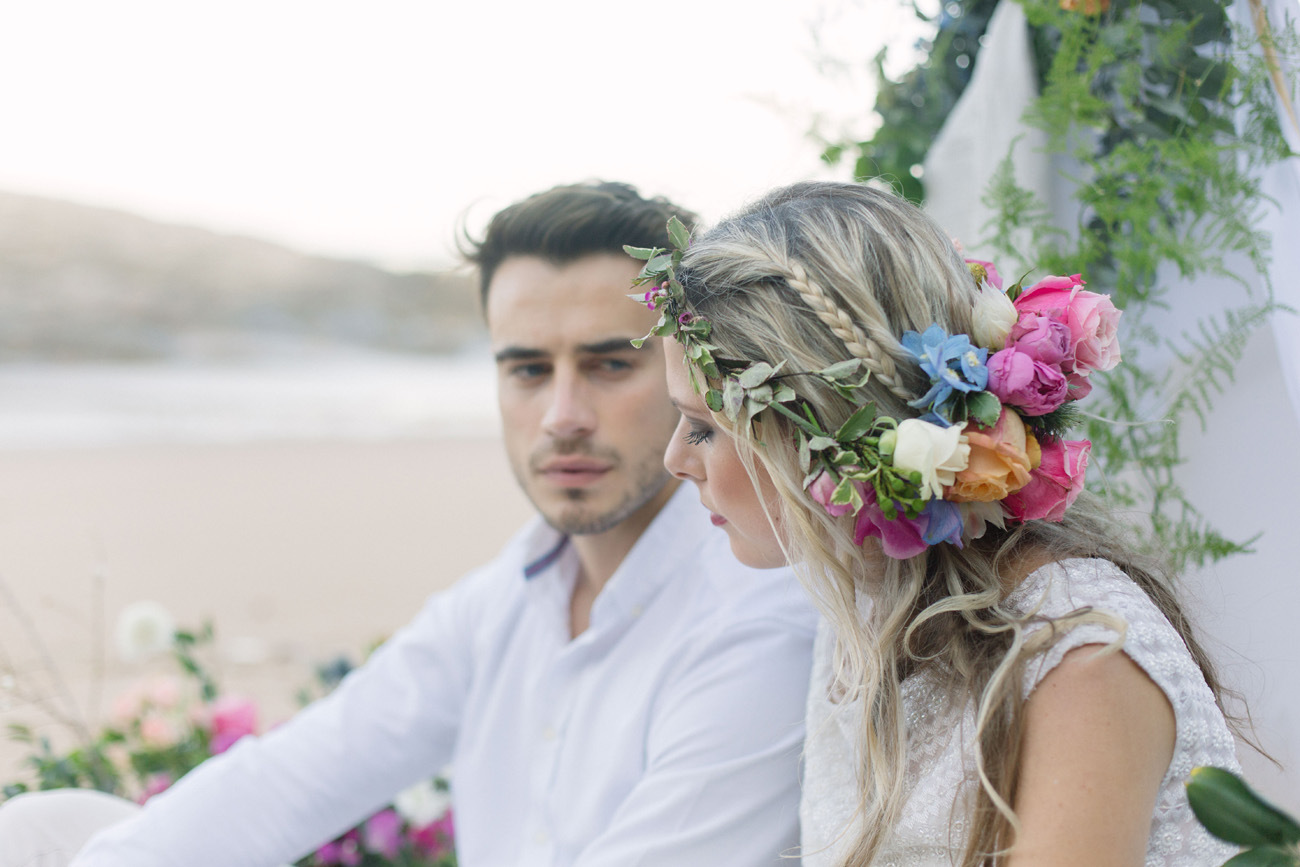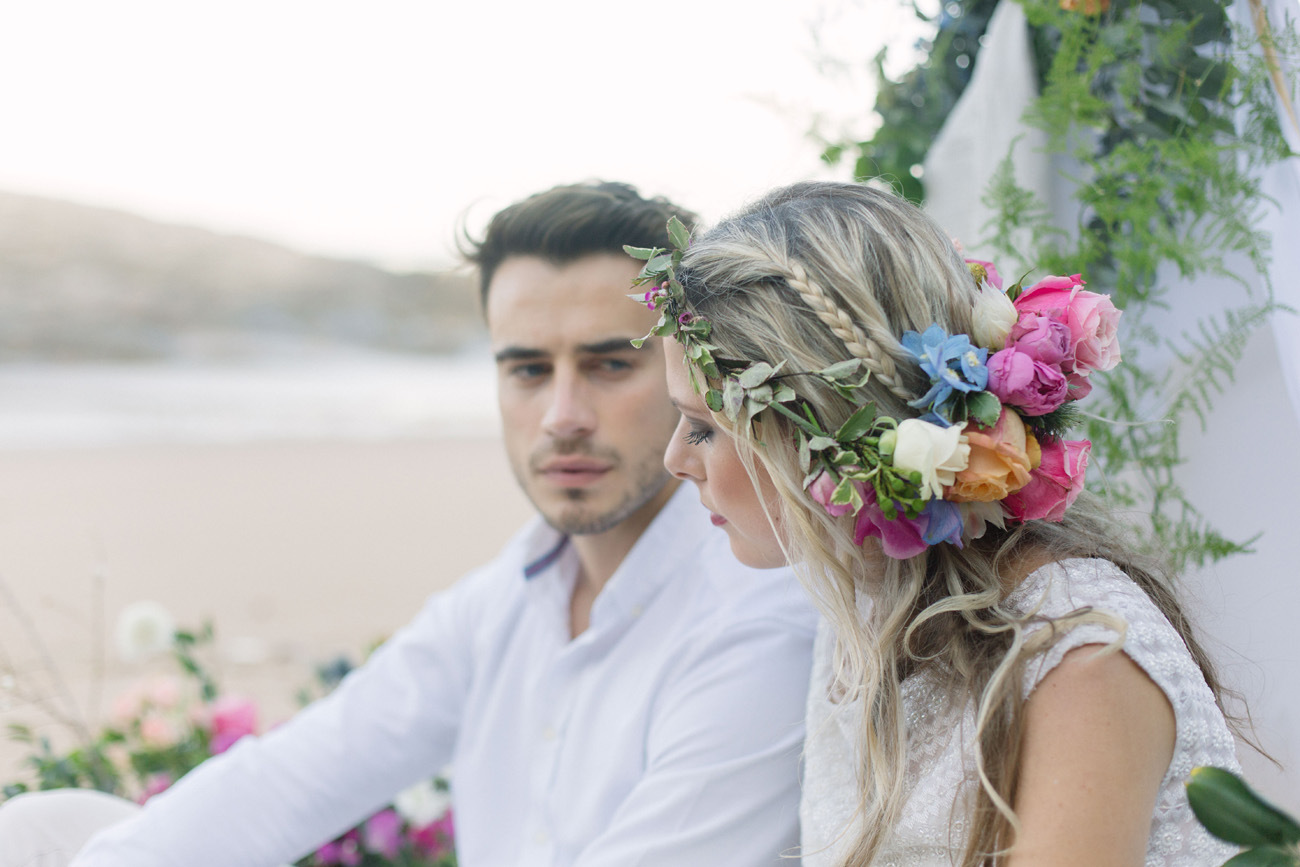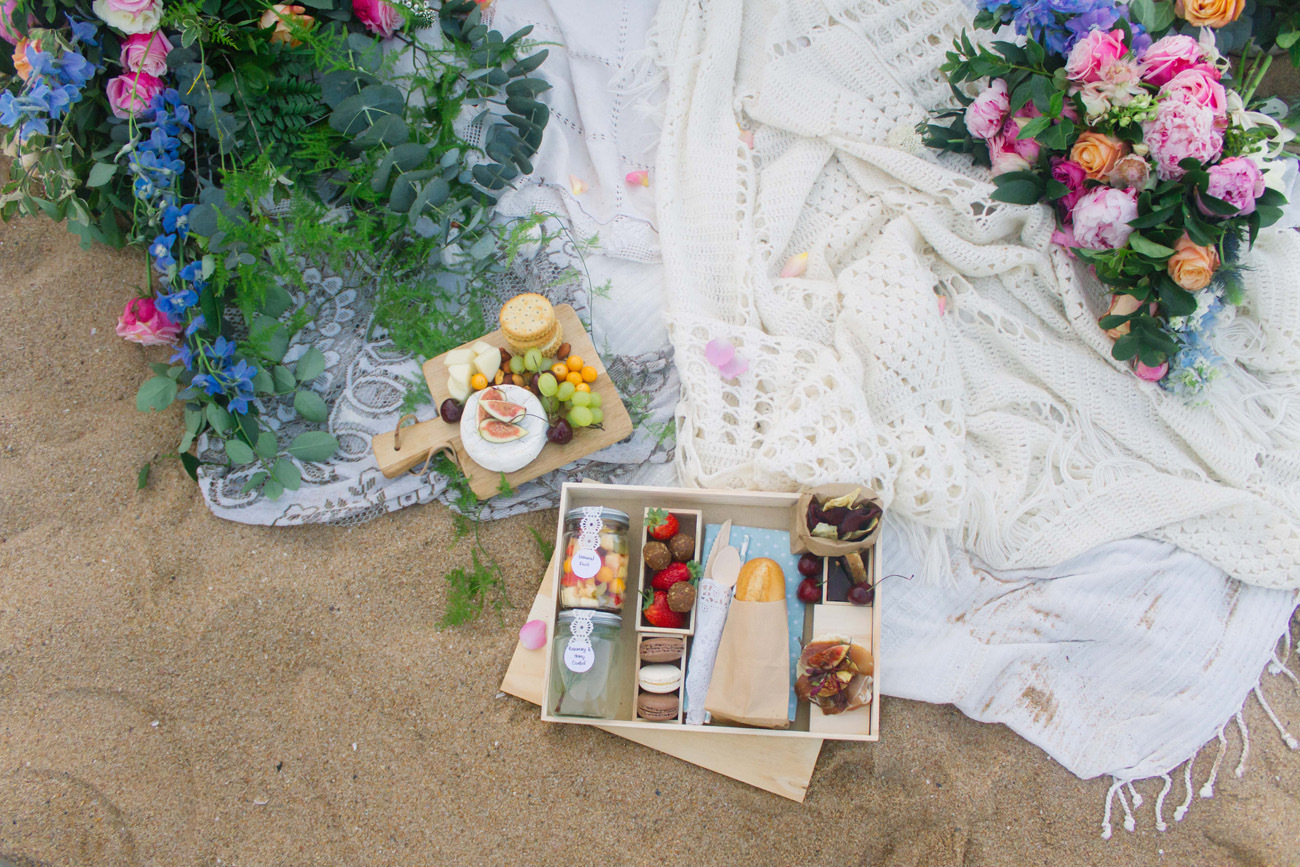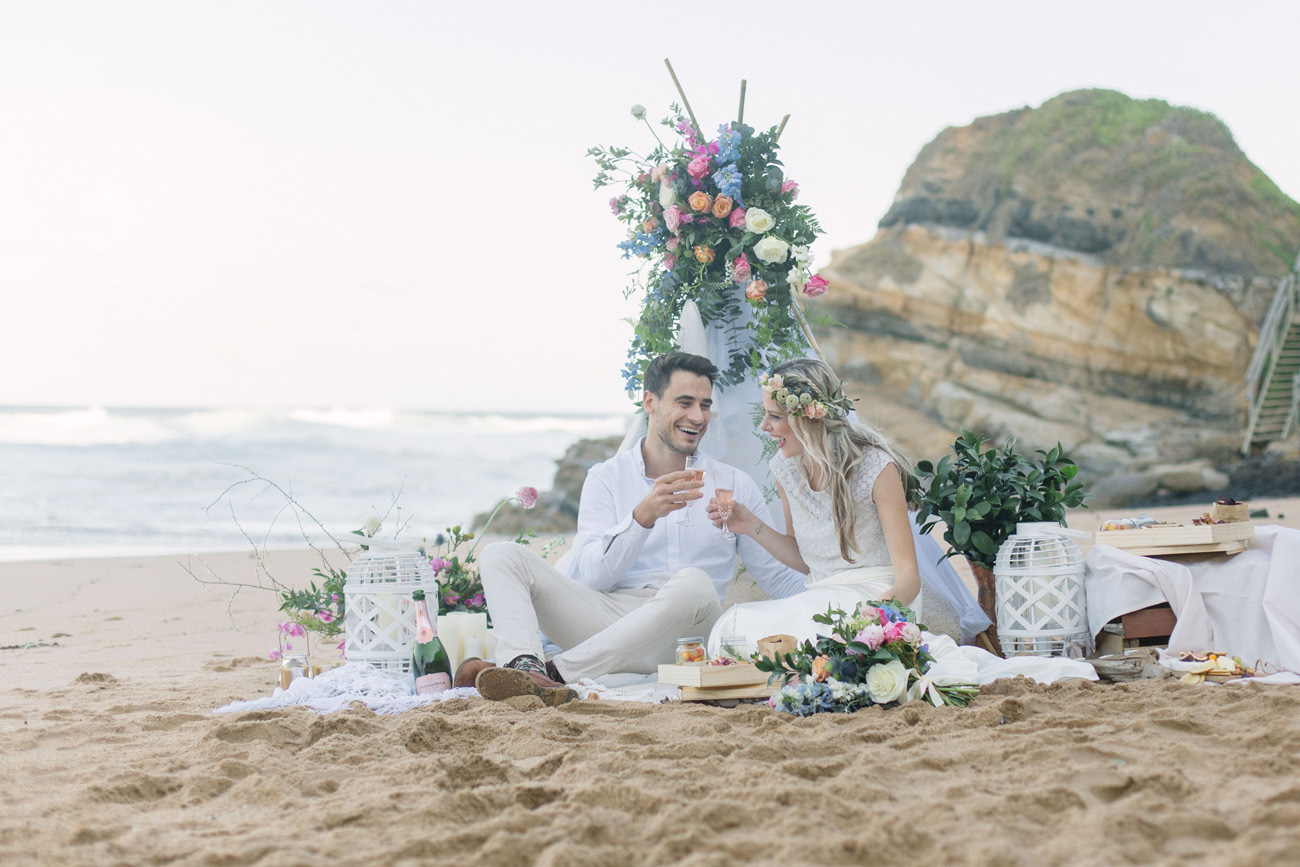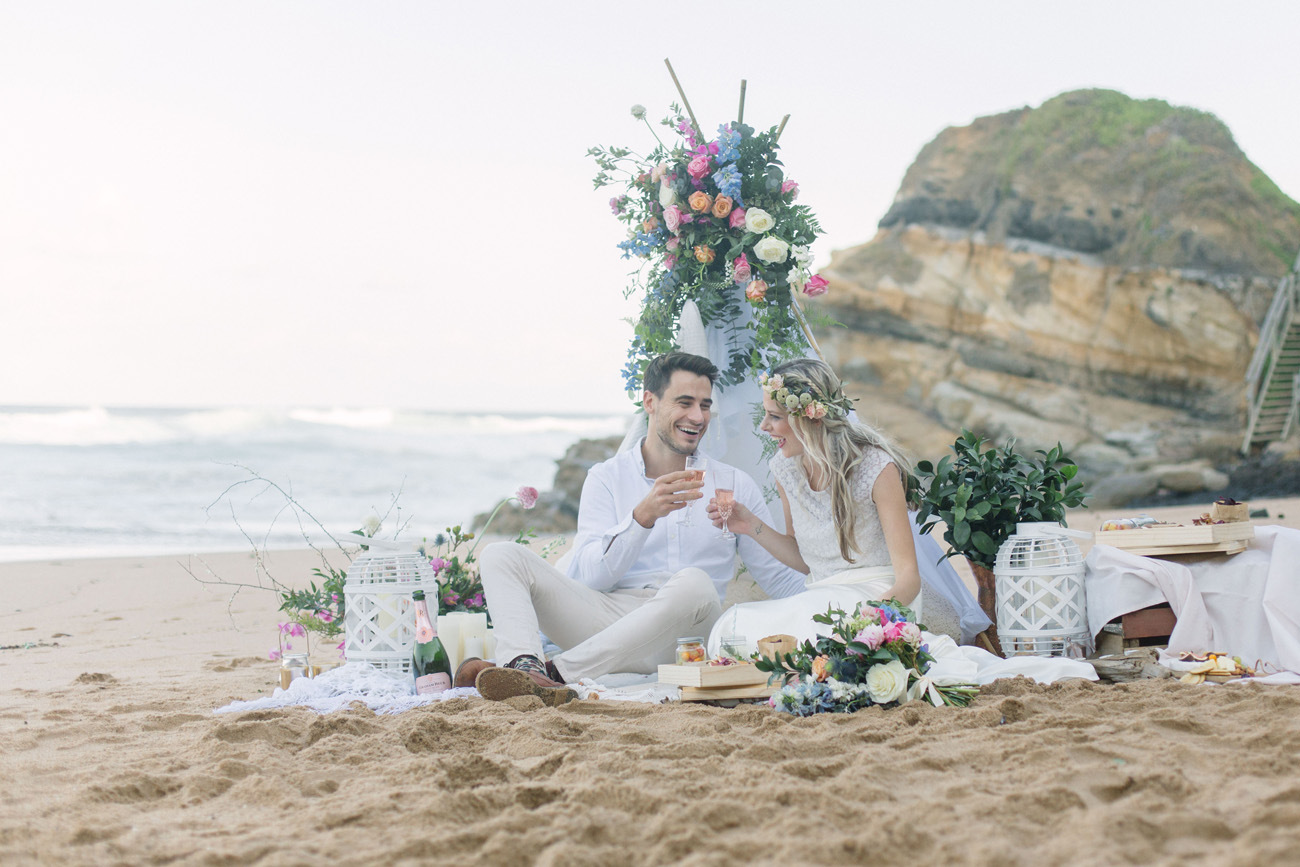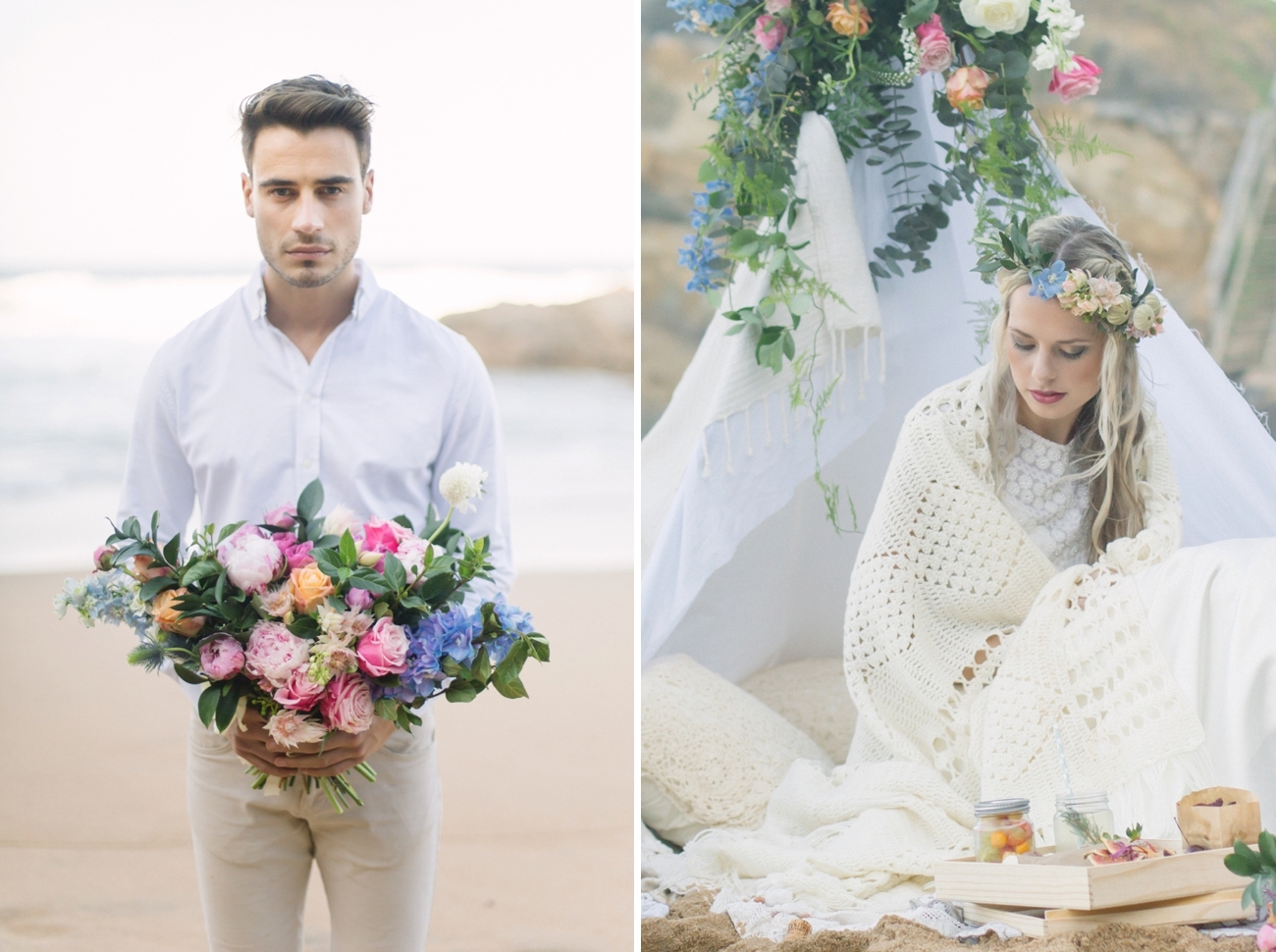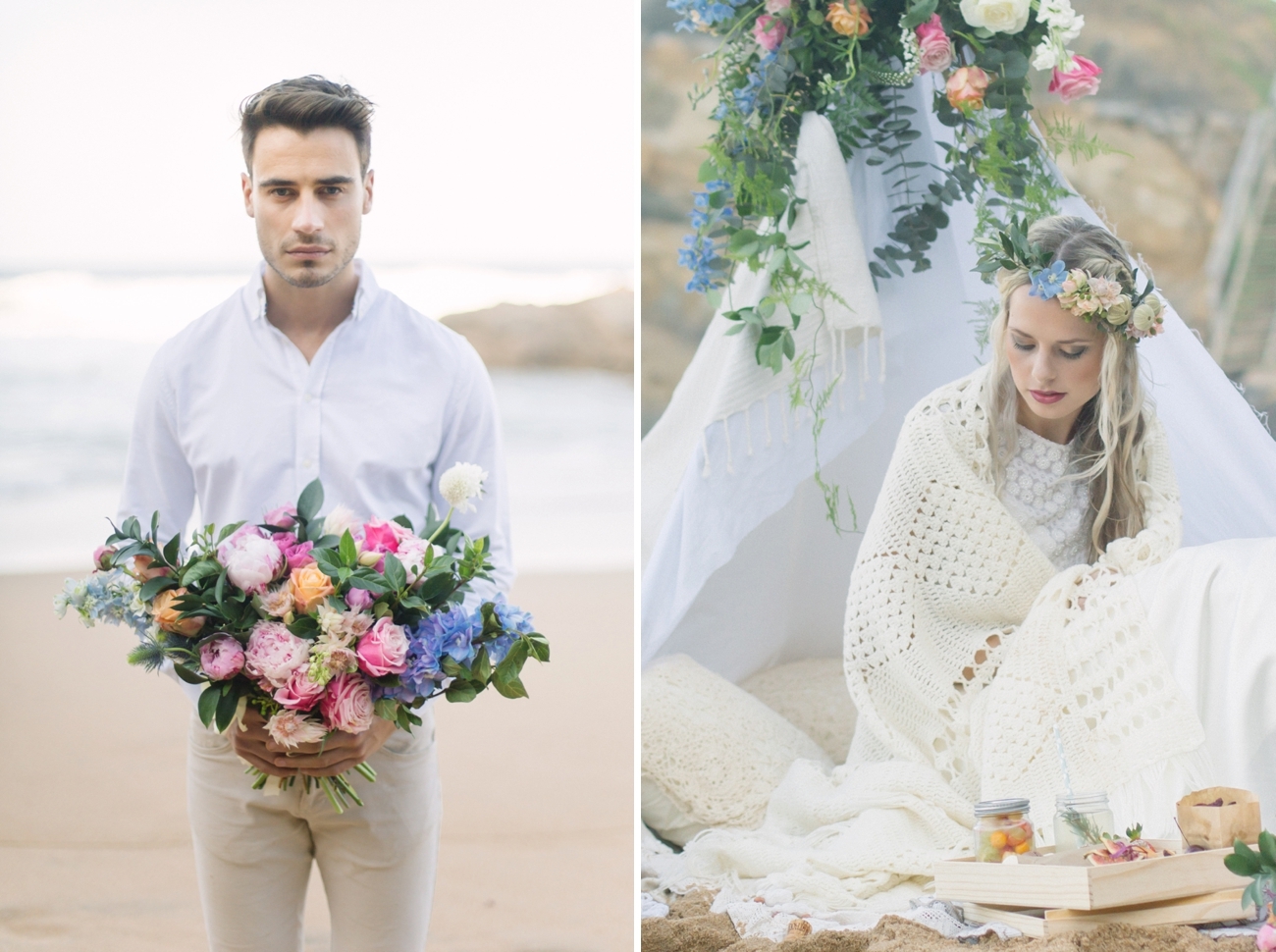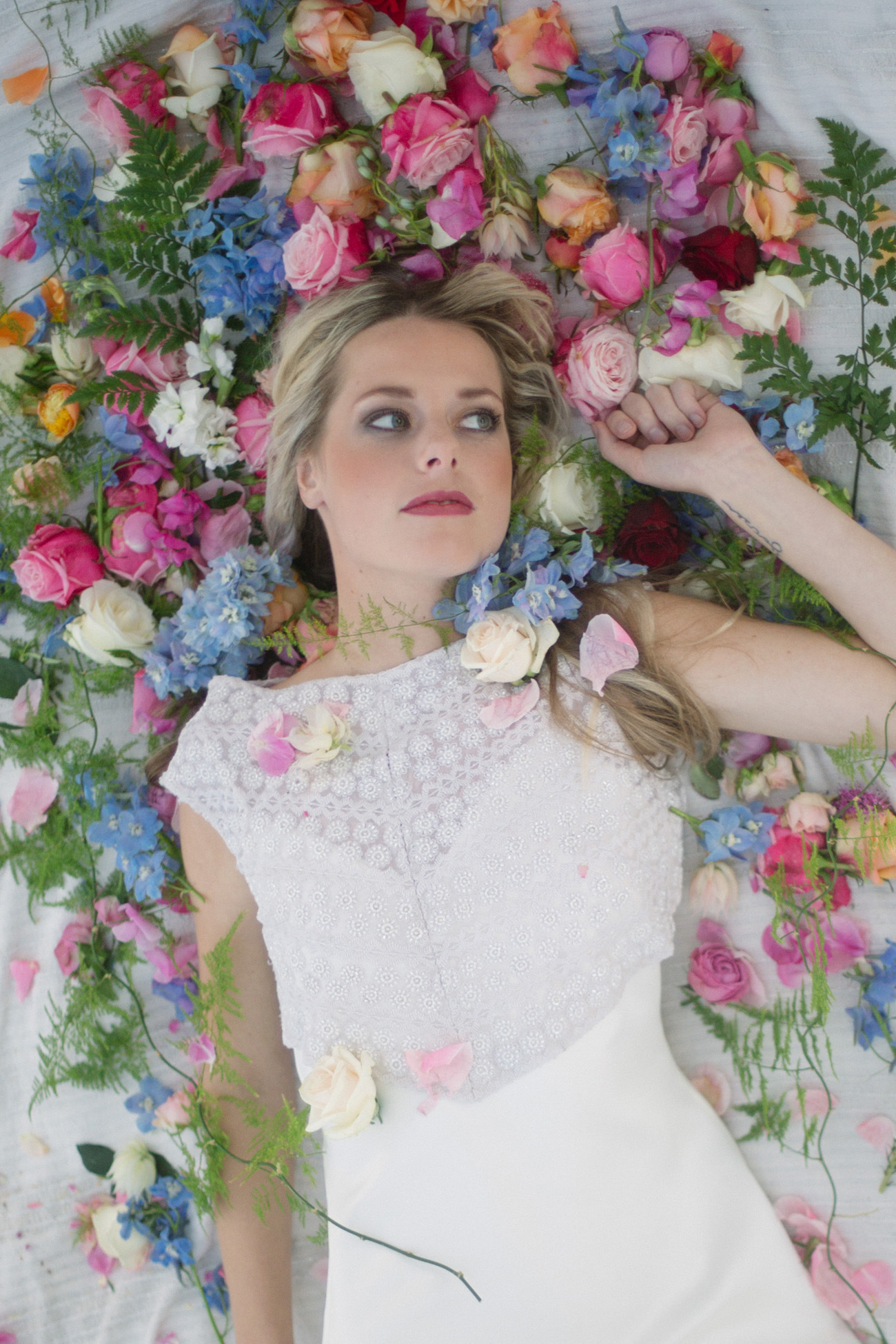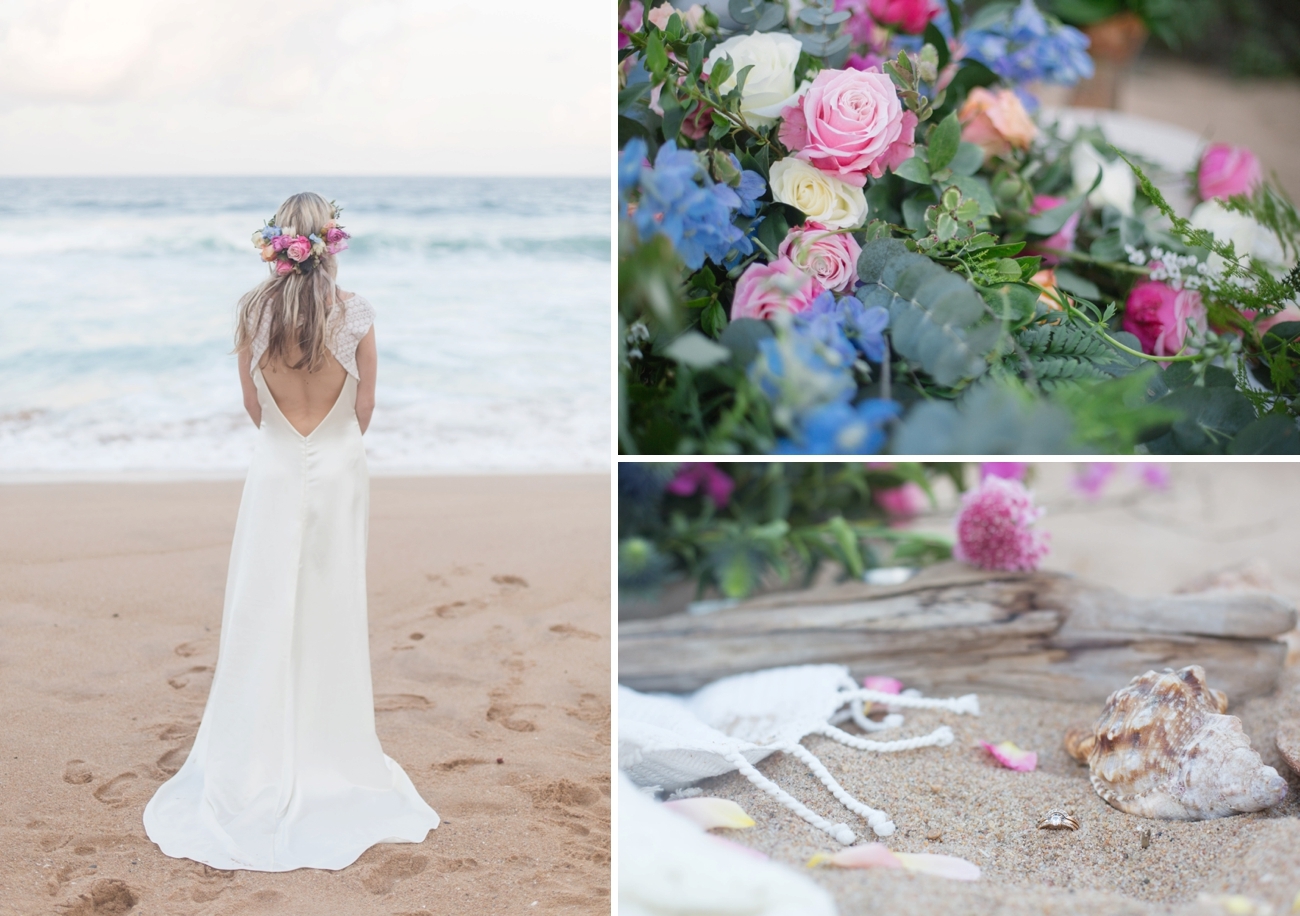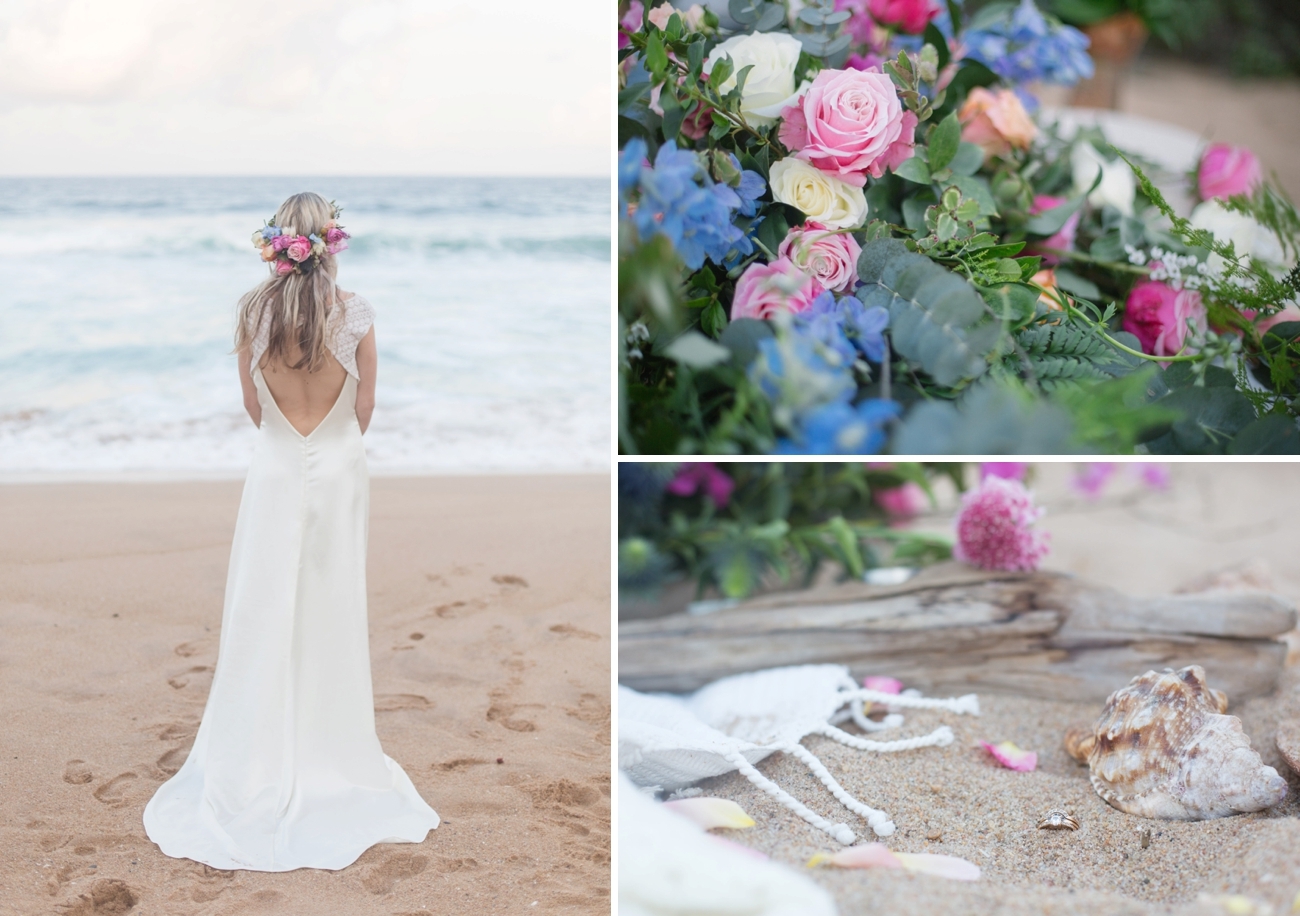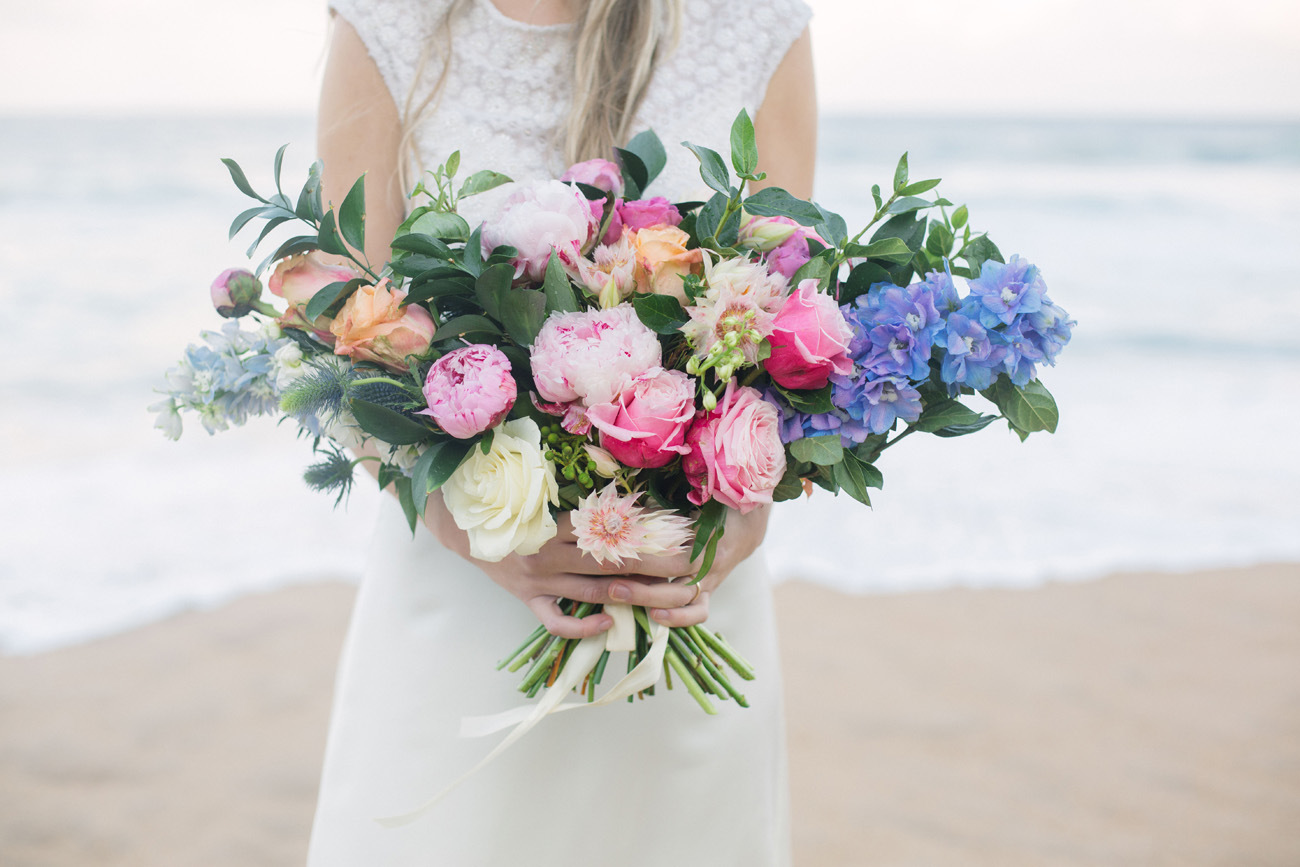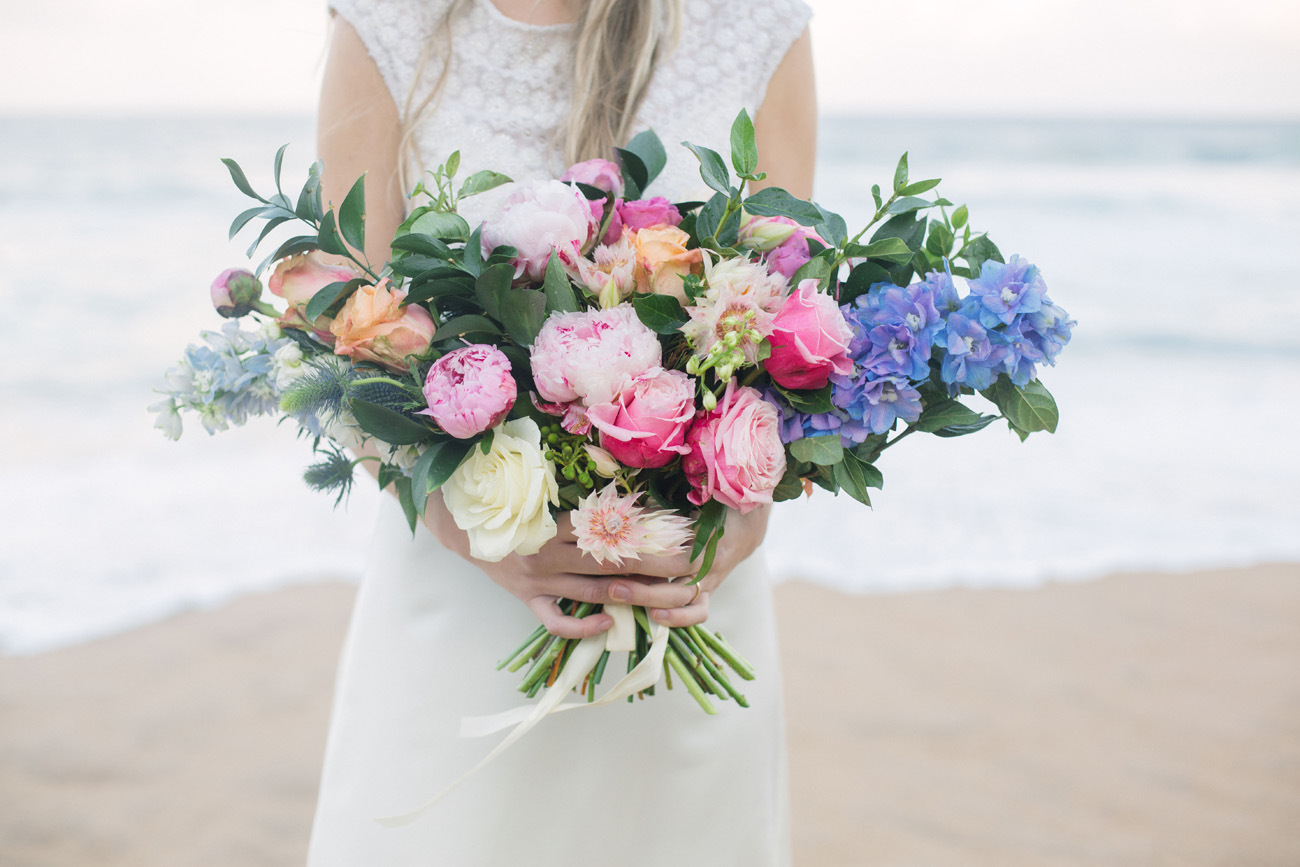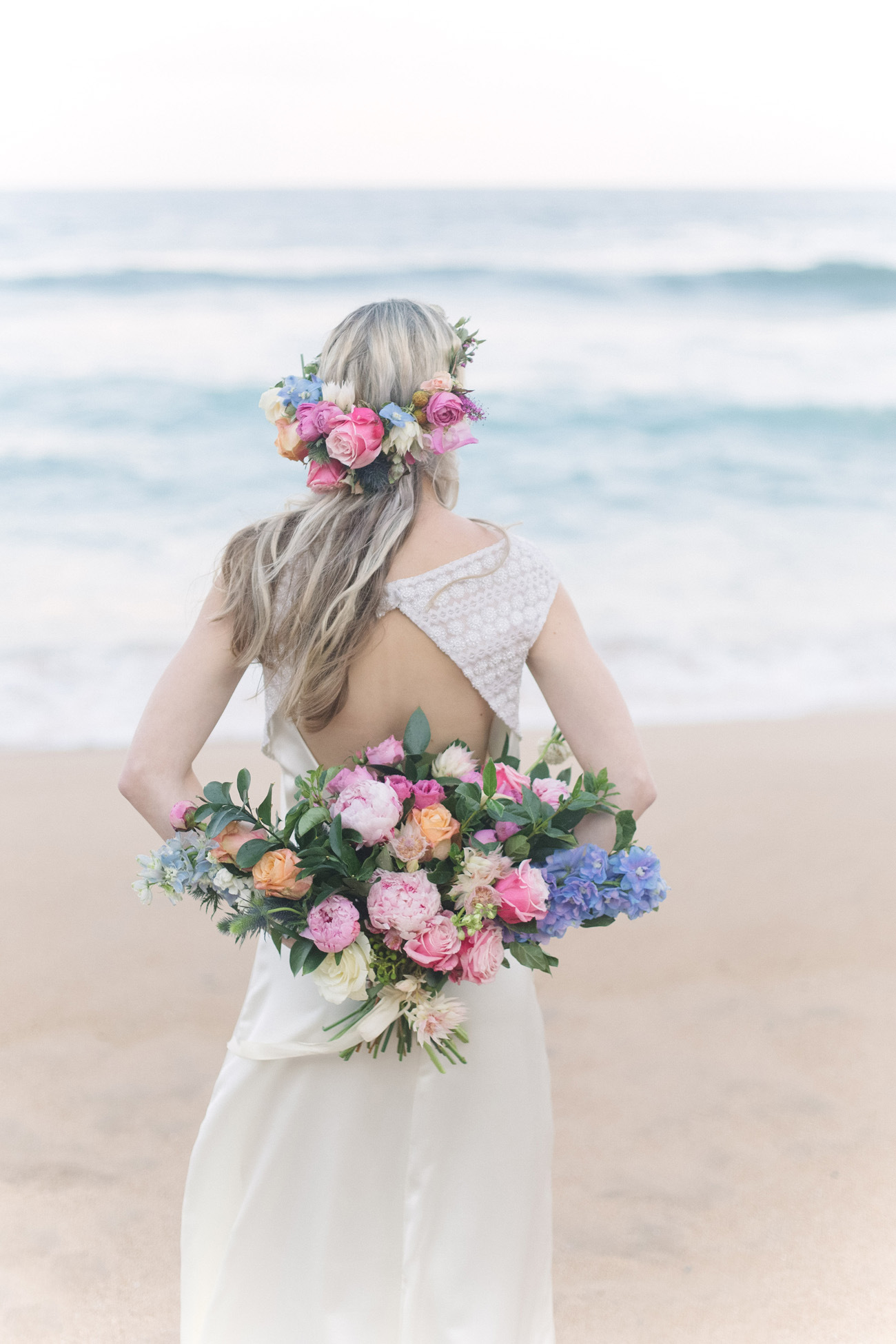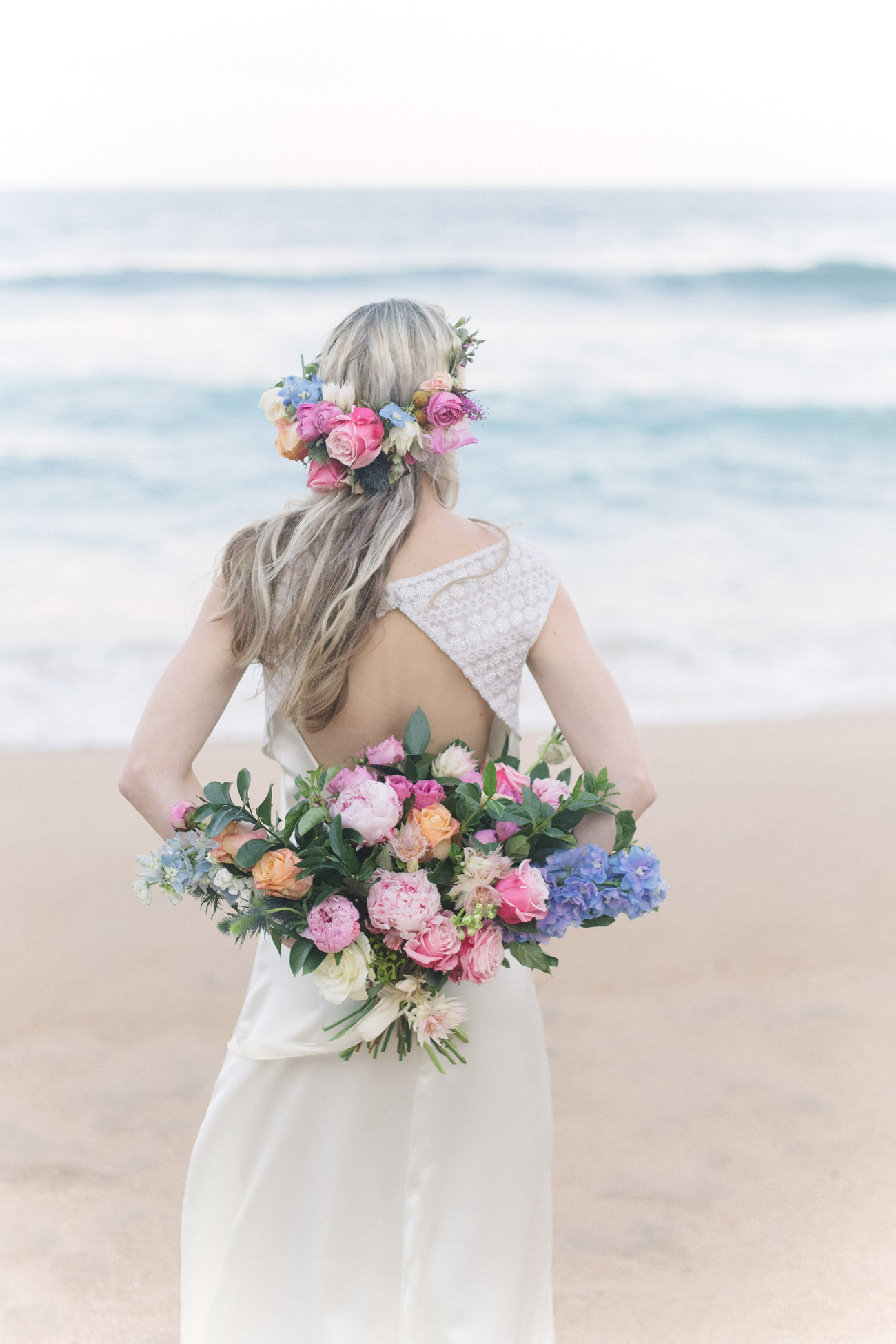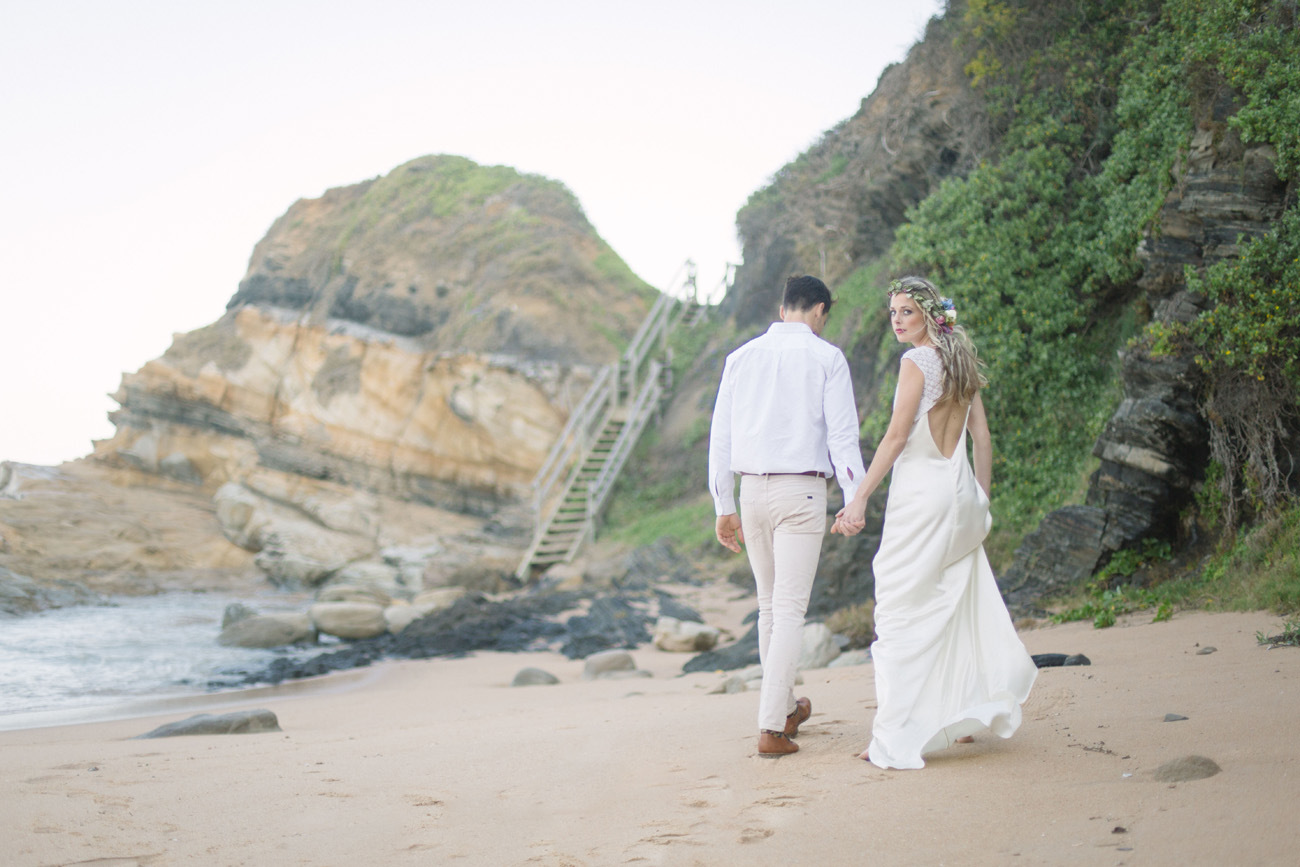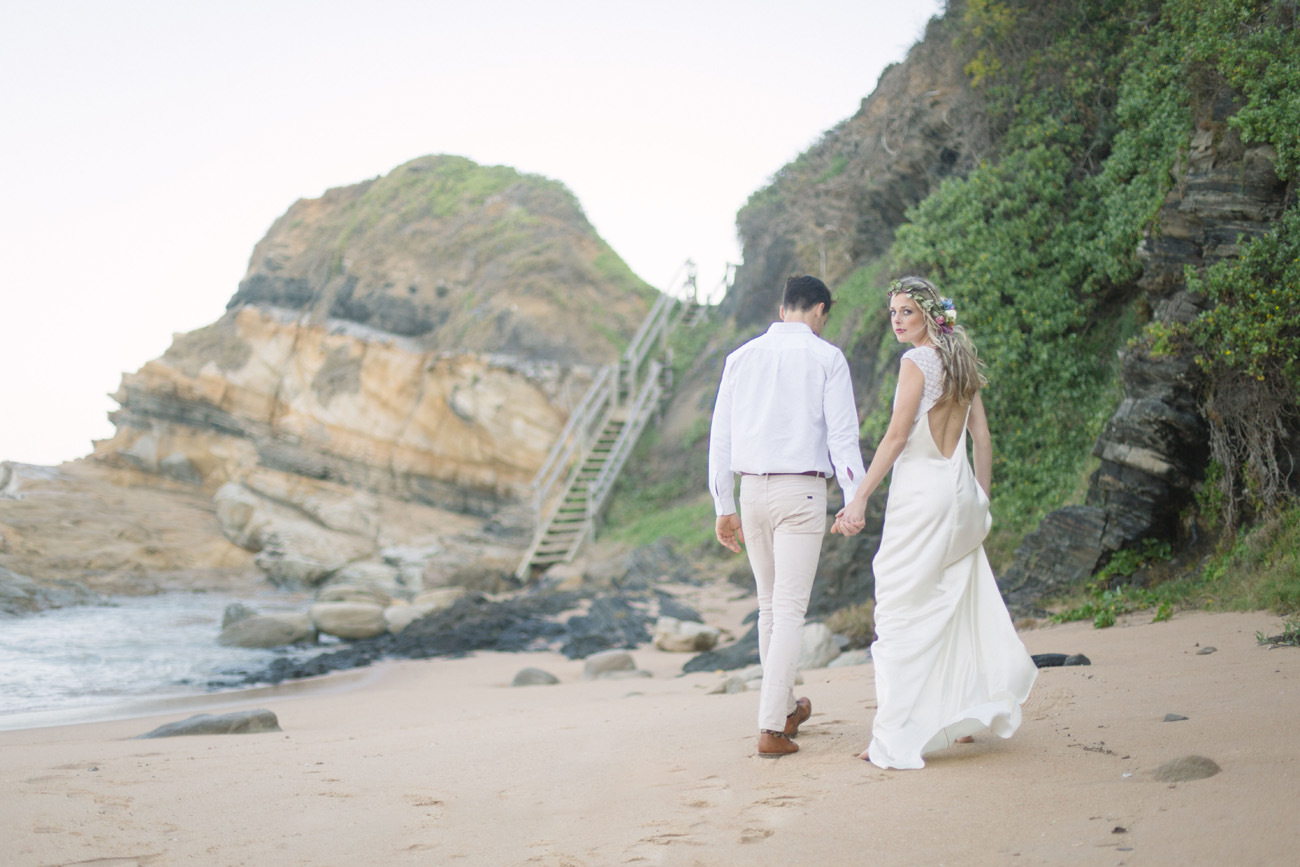 Here's some insight from the shoot team:
Boho as a trend lends itself to having creative freedom, lots of textures, tassels and sometimes teepees. We love this! We wanted to create a shoot that gave fresh ideas for engagement shoots, so we created a boho shoot on the beach which was casual and fun with pops of colour. The food details were gorgeous! The couple each had a box of snacks and drinks; each food item was designed to be different, tasty and full of unique ingredients. Katheryn Stone from To Your Taste crafted the most delicious combination of snacks, including fig & parma ham pizza, beetroot and sweet potato crisps, macarons, pecan nut puffs and fresh fruit for something sweet. A Rosemary and honey cordial in a jar complemented the feast. A cheese board and champagne made for an elegant post meal celebration. We created the setting with a tepee, lots of textured crochet cushions and crochet throws with lanterns. All the decor was light to give a clean and classy look with lots of interest, including a themed Save the Date by the talented Laurie Lee Design. The dress was designed by Brit & Bride to have a soft flow, and the beaded camisole was designed for the shoot to be a beautiful warm option for the evening. The bride modeled two different flower crowns, the first one being lush with bright blooms at the back of the crown, giving a whimsical, bohemian feel. The second crown, inspired by the ocean, was laced with blushing bride and urchin shells, perfectly embodying this beach look. The gorgeous bright blooms were designed by Pippa Sharp of Wildeflower, giving a happy and celebratory feel to the shoot. She achieved this vibrant look using delphiniums, pomponella roses, sea holly, blushing bride, sweet peas and beautiful pink peonies to name a few. These beautiful blooms romantically cascaded from the teepee and made up a striking sideways bouquet for the bride. Jeanne's hair and makeup, done by Katie Clo, was perfect for this beach, bohemian style. A soft and natural plait with a down hair style, smoky eyes and her bare feet, Jeanne looked liked she belonged on the beach
The shoot turned out to be an epic adventure! We chose a beautiful secluded little beach beyond Thompson's Bay in Ballito because of its rare beauty. However, we had a few adventures along the way in order to capture these gorgeous images and scenes, walking through a stone tunnel and along a rocky cliff pathway to get there. It was heading into high tide as we started to shoot, so after an incredibly quick setup, we had only a few moments before the waves started coming in, and our team rushed to save our gorgeous decor and food items. Getting back was twice the challenge – half our team got drenched from head to toe!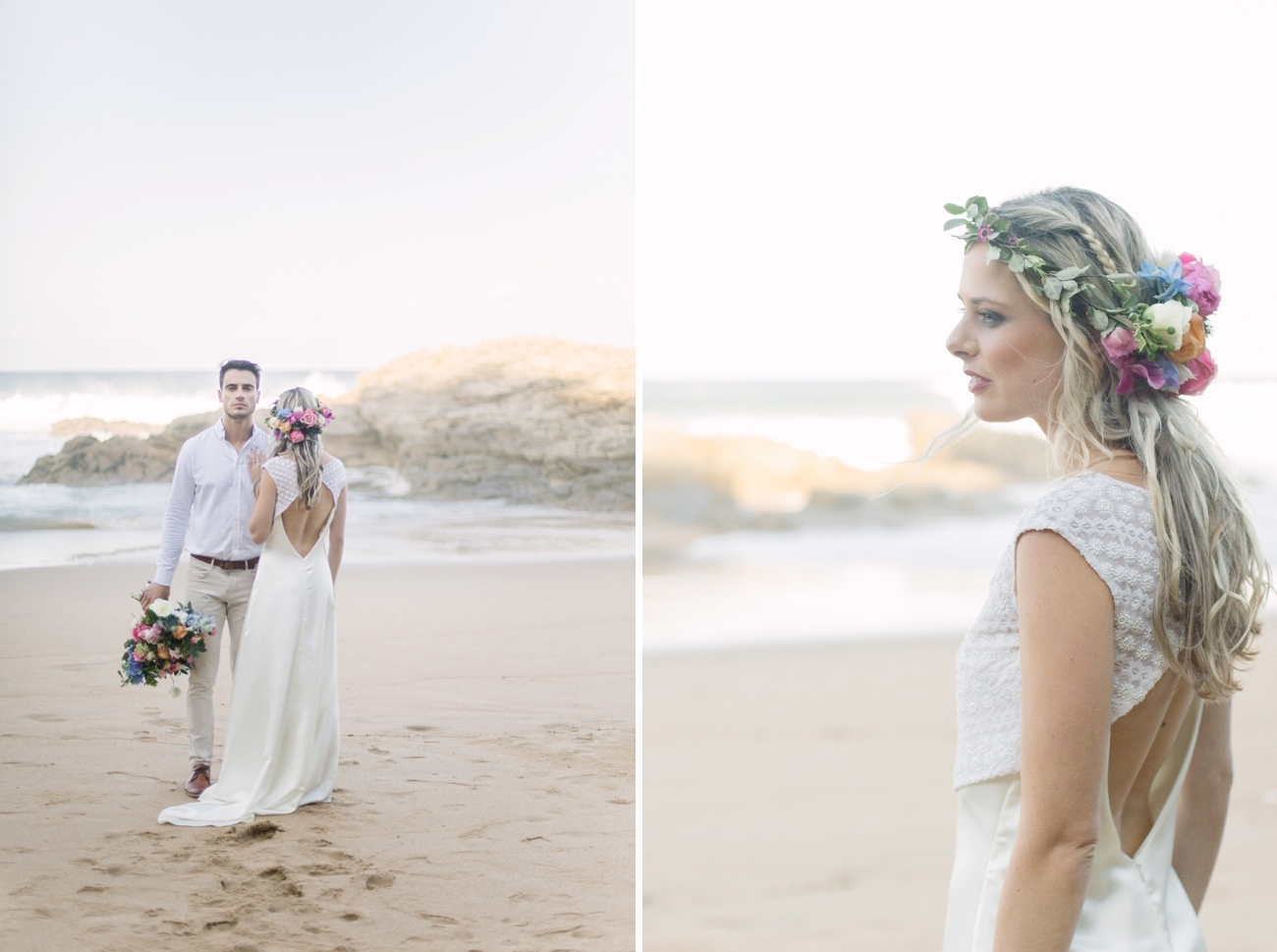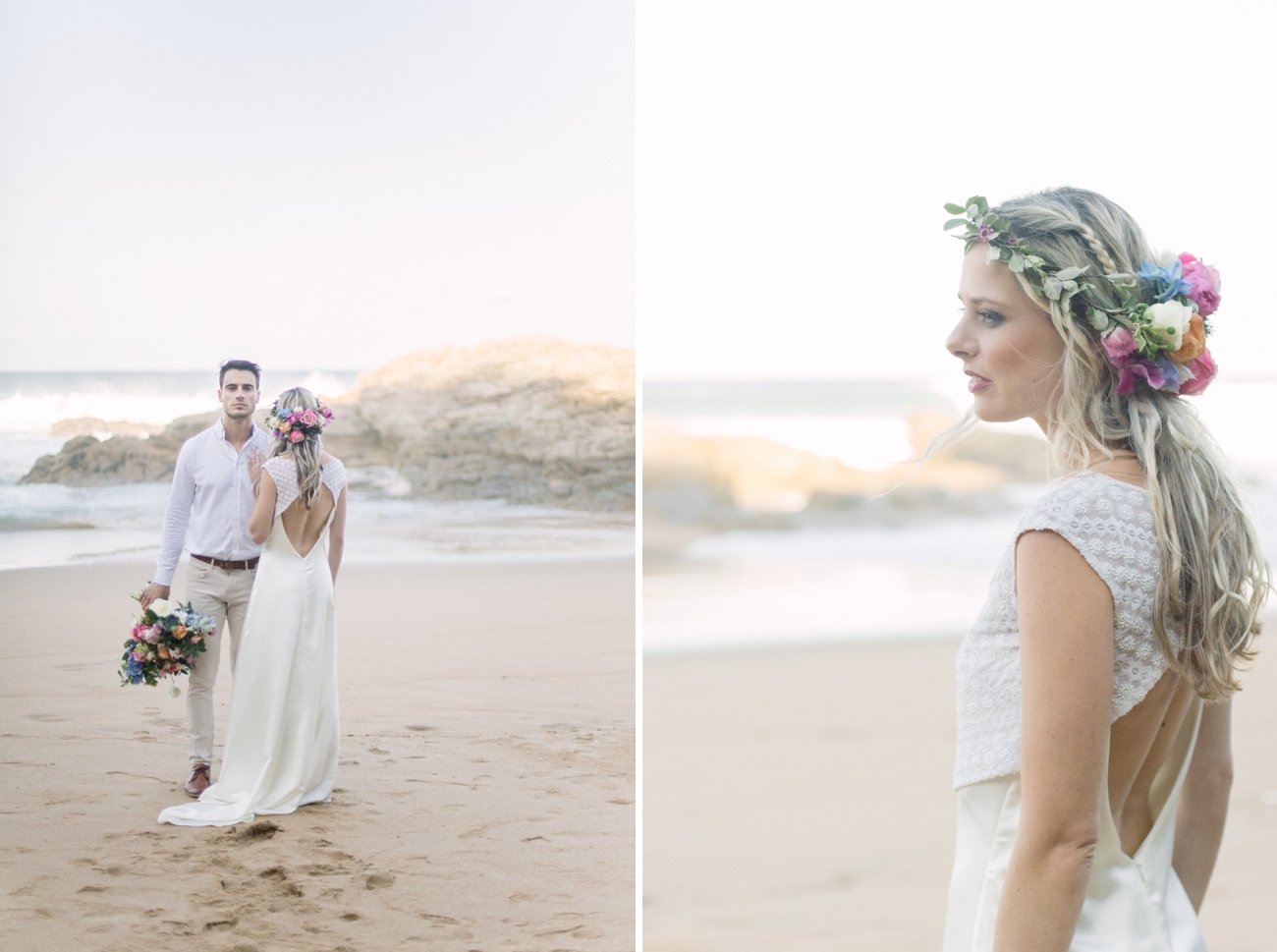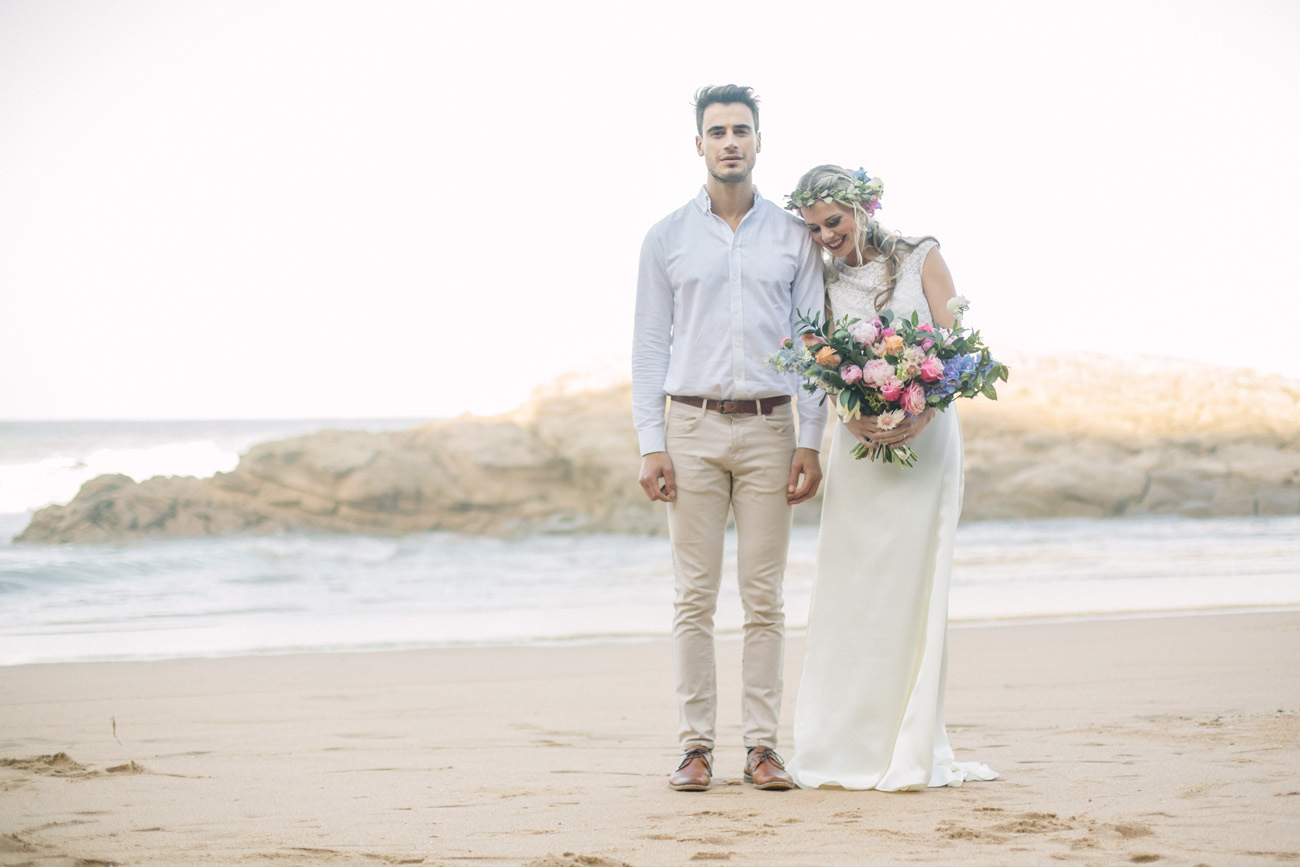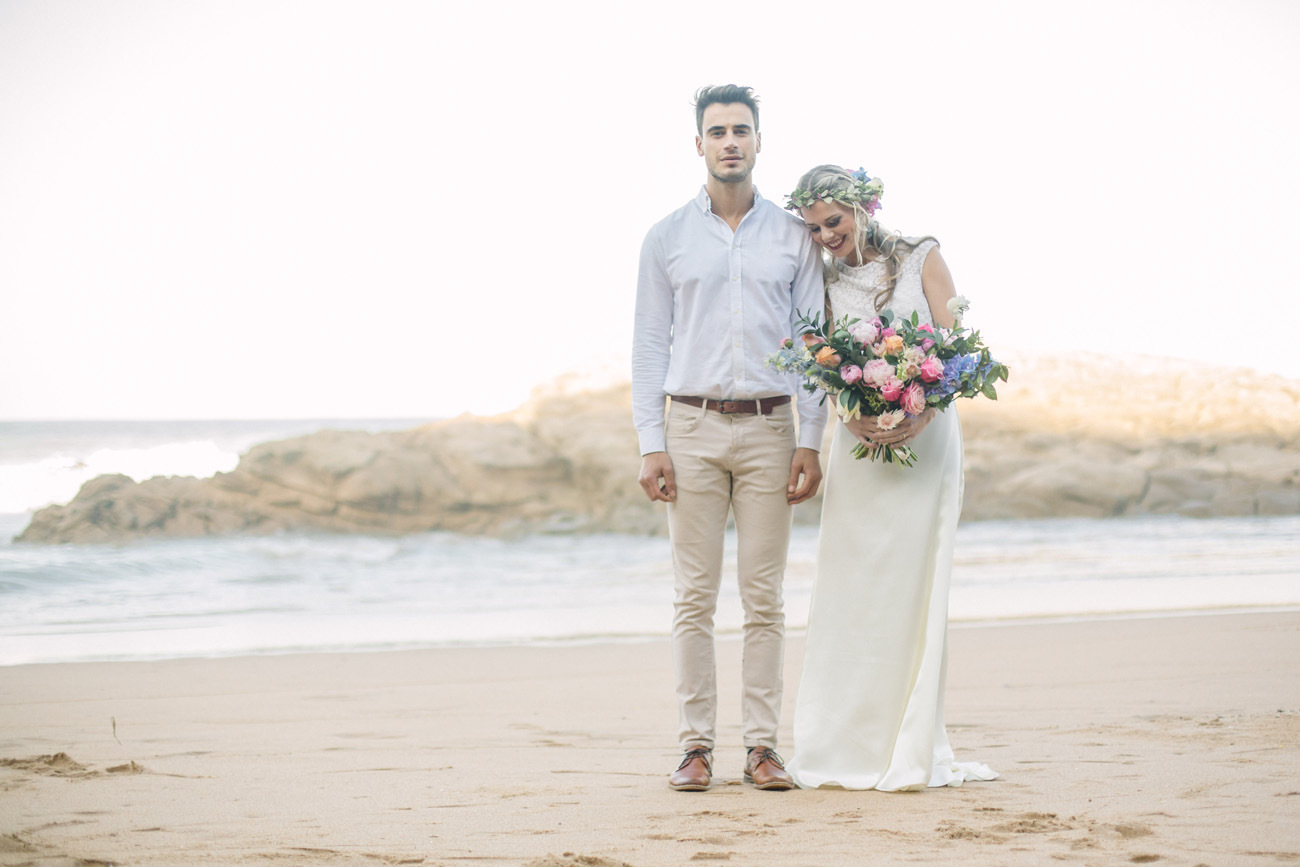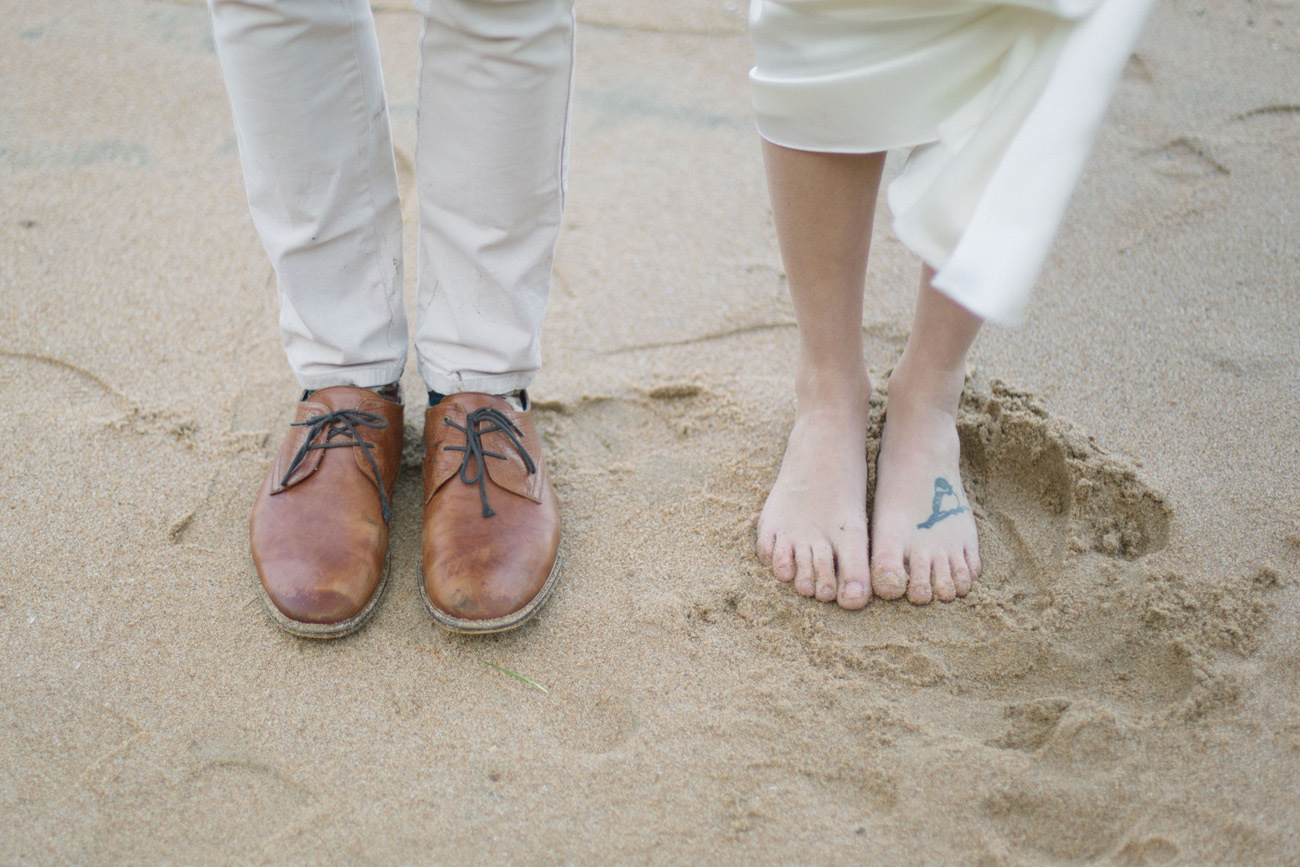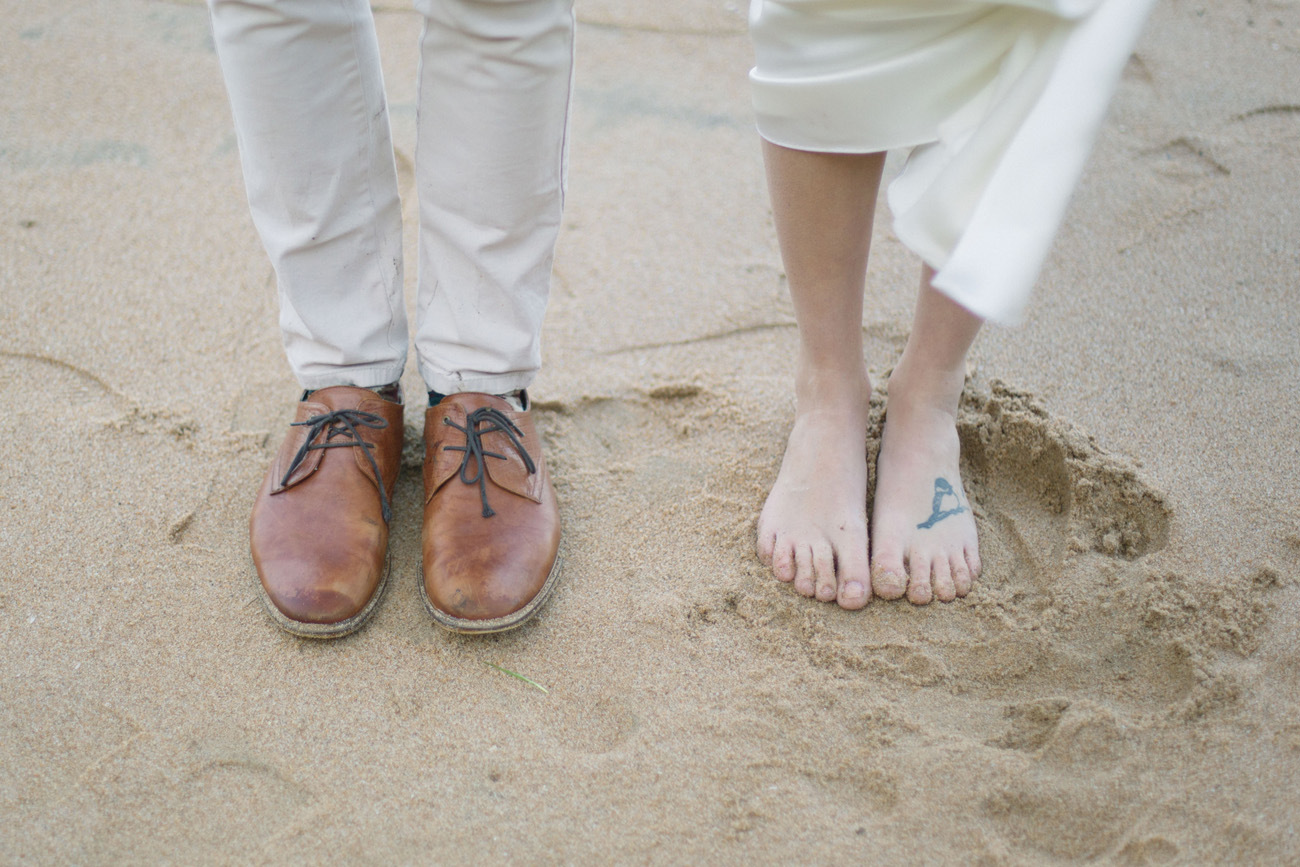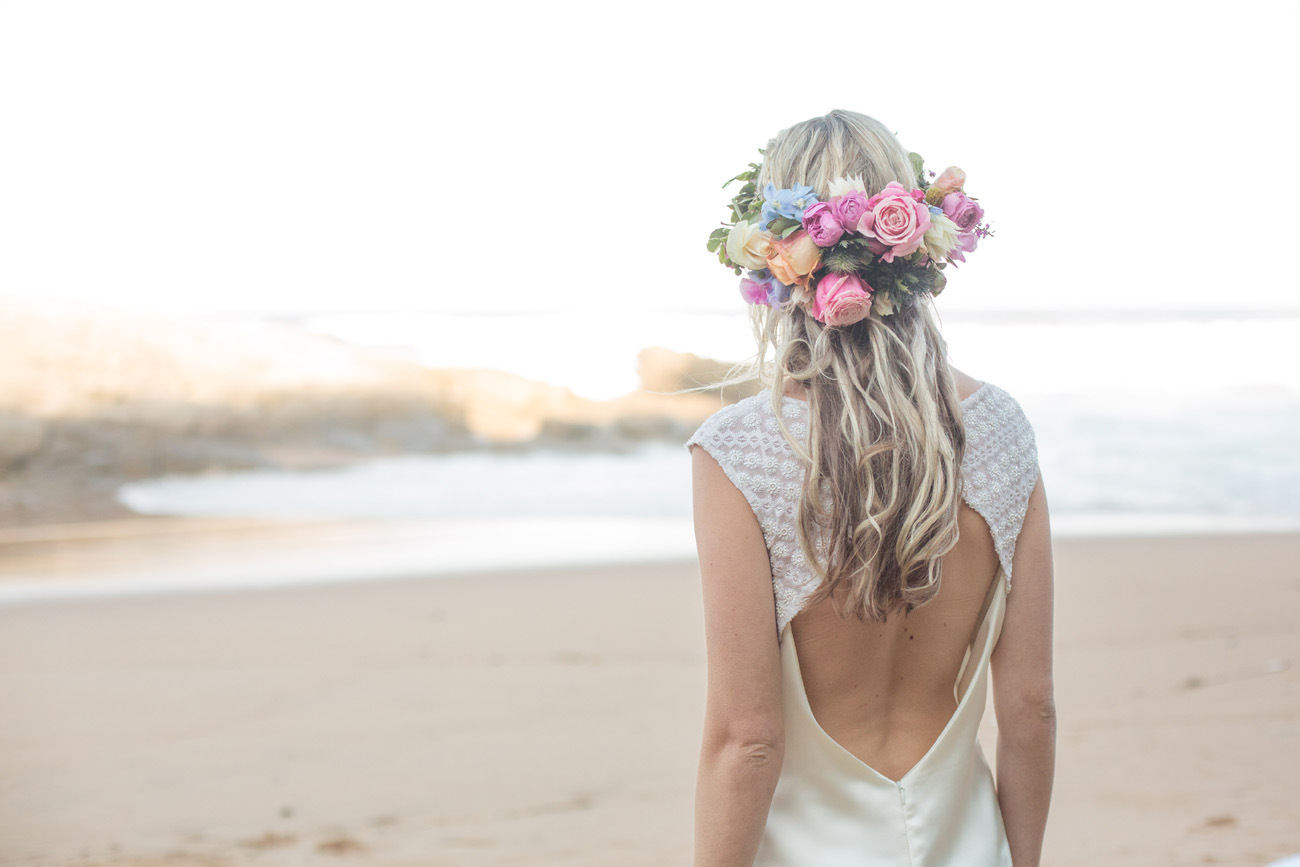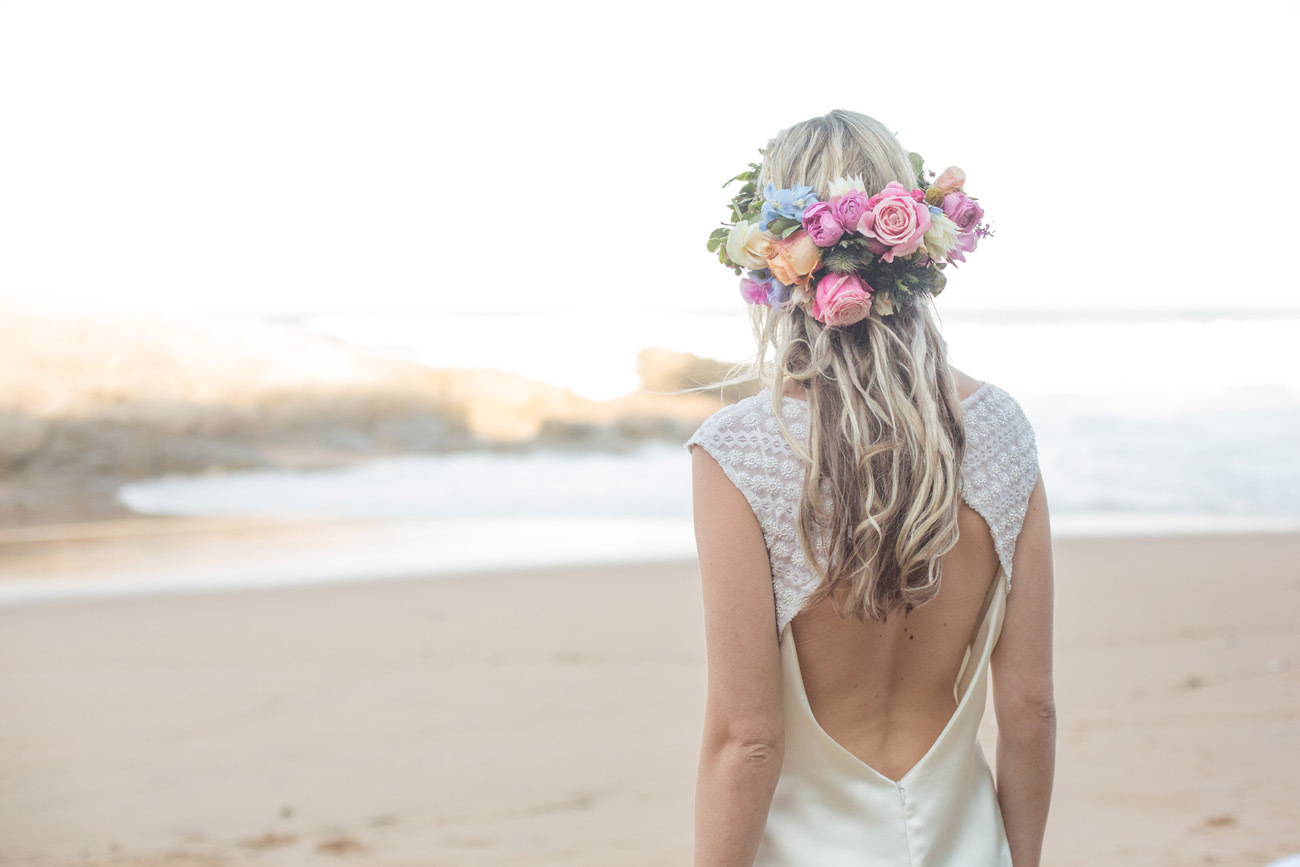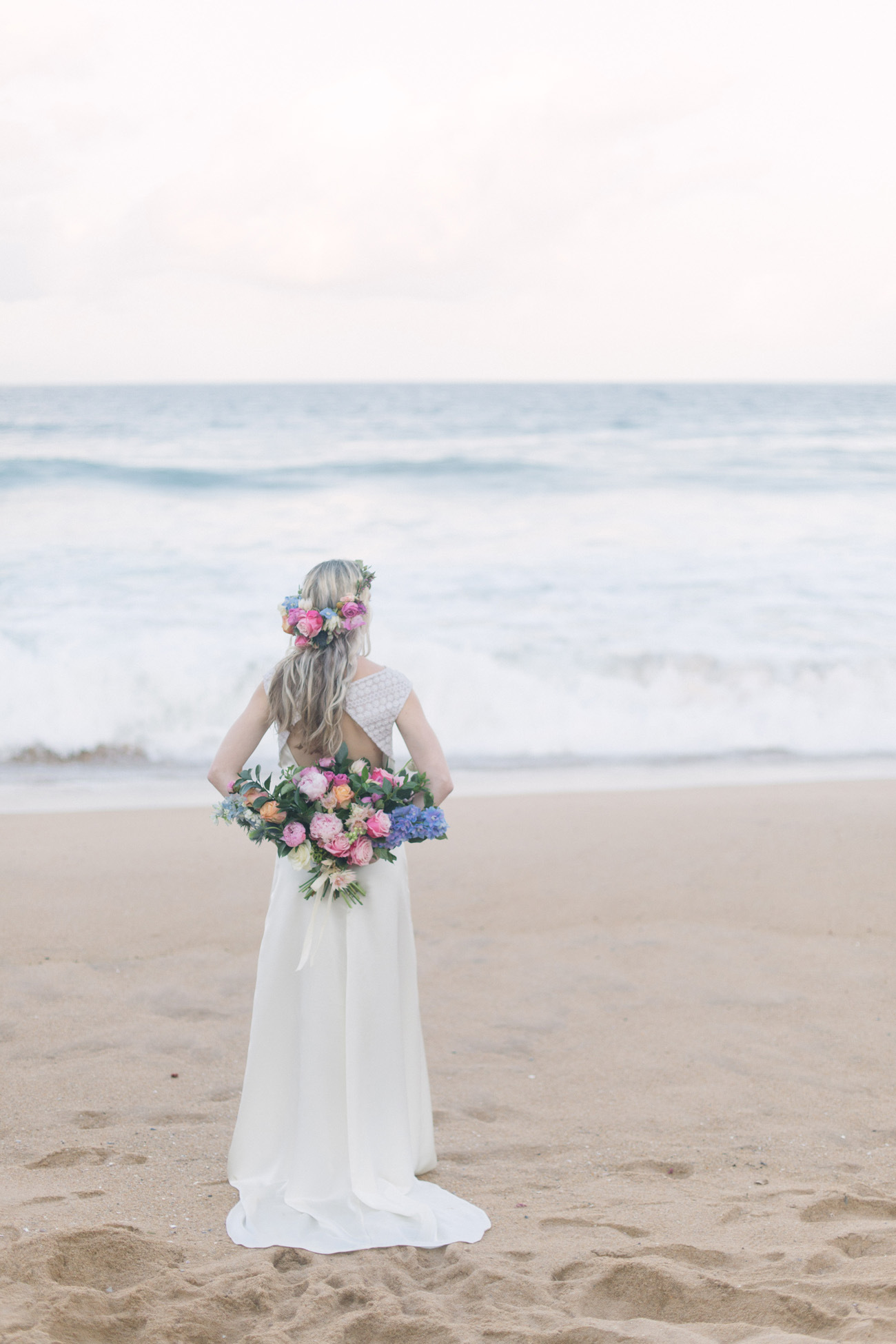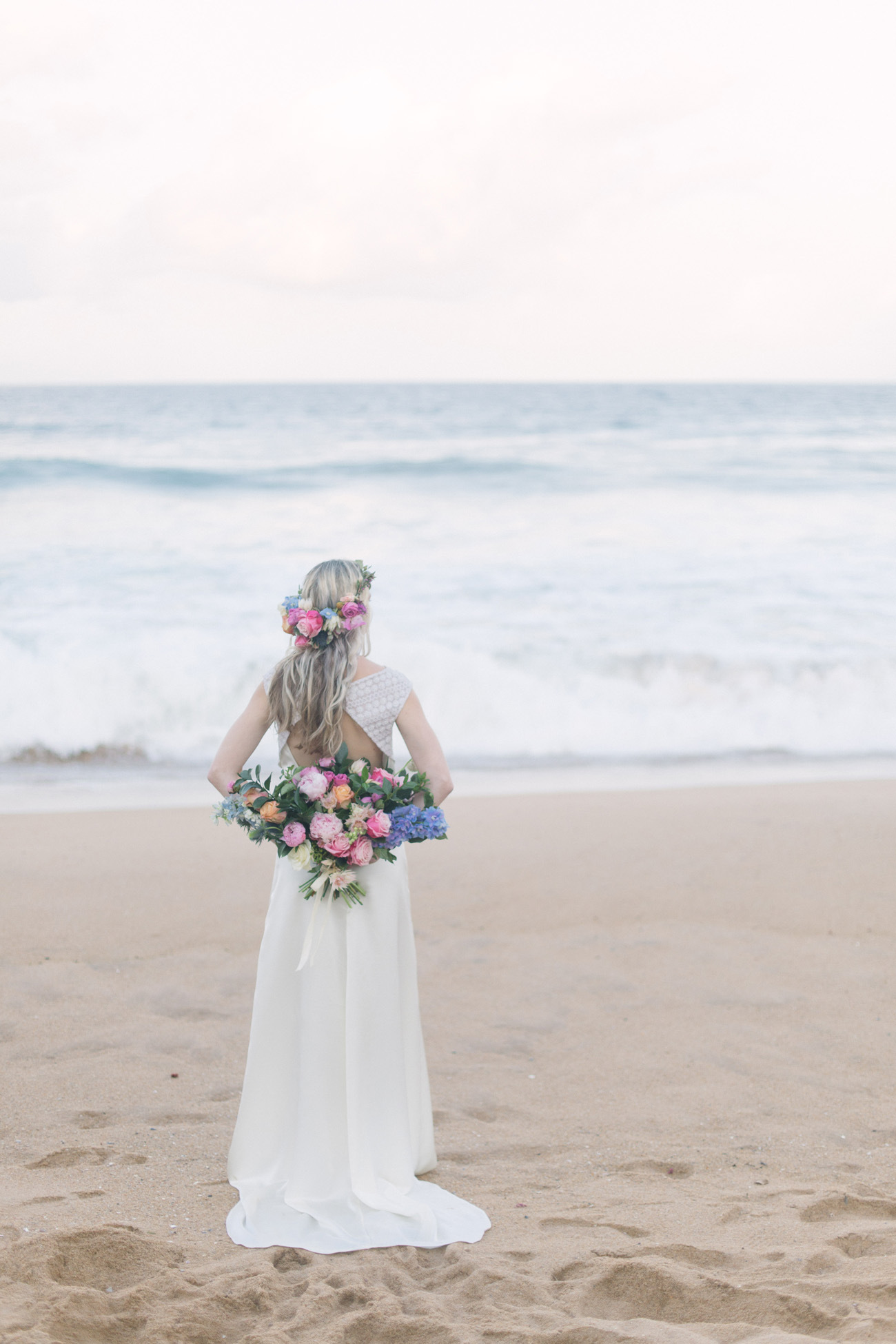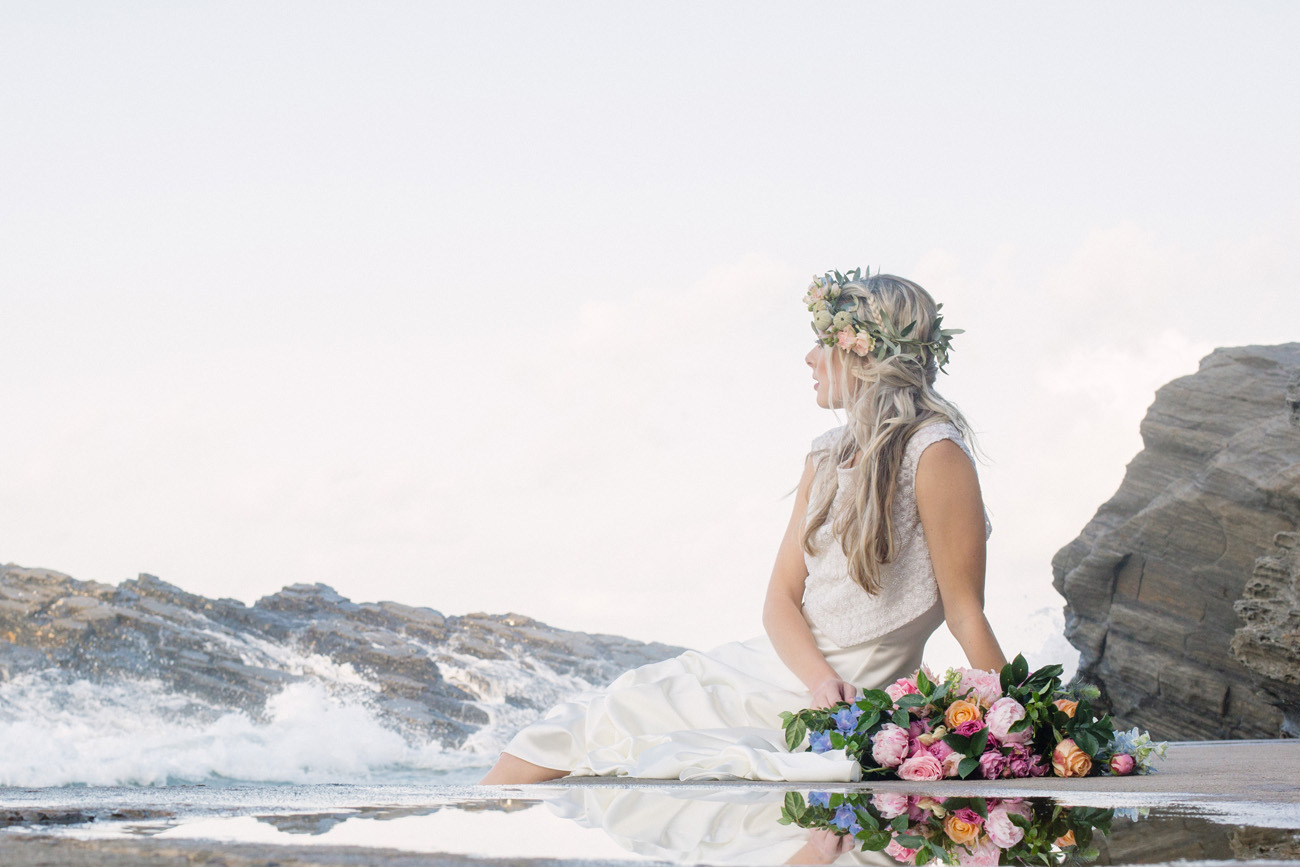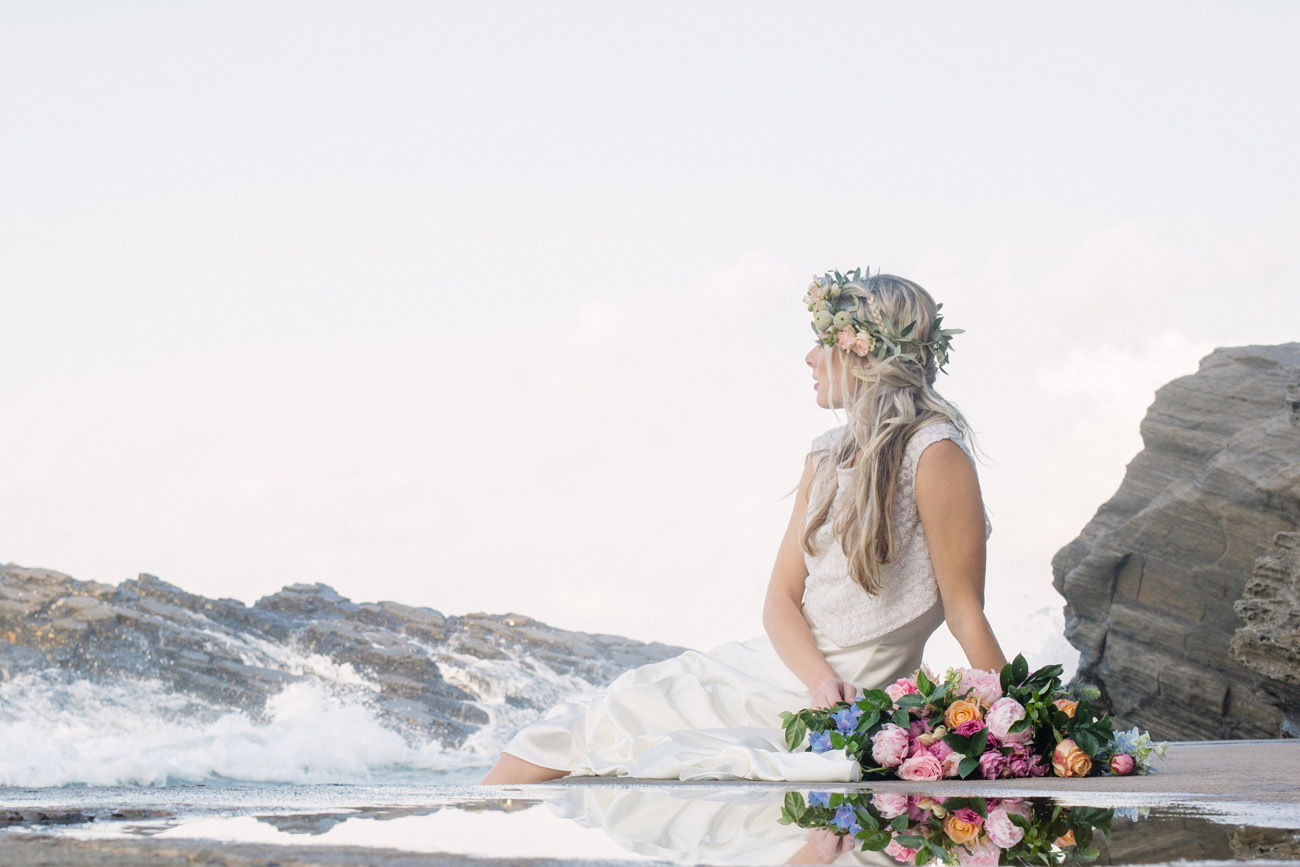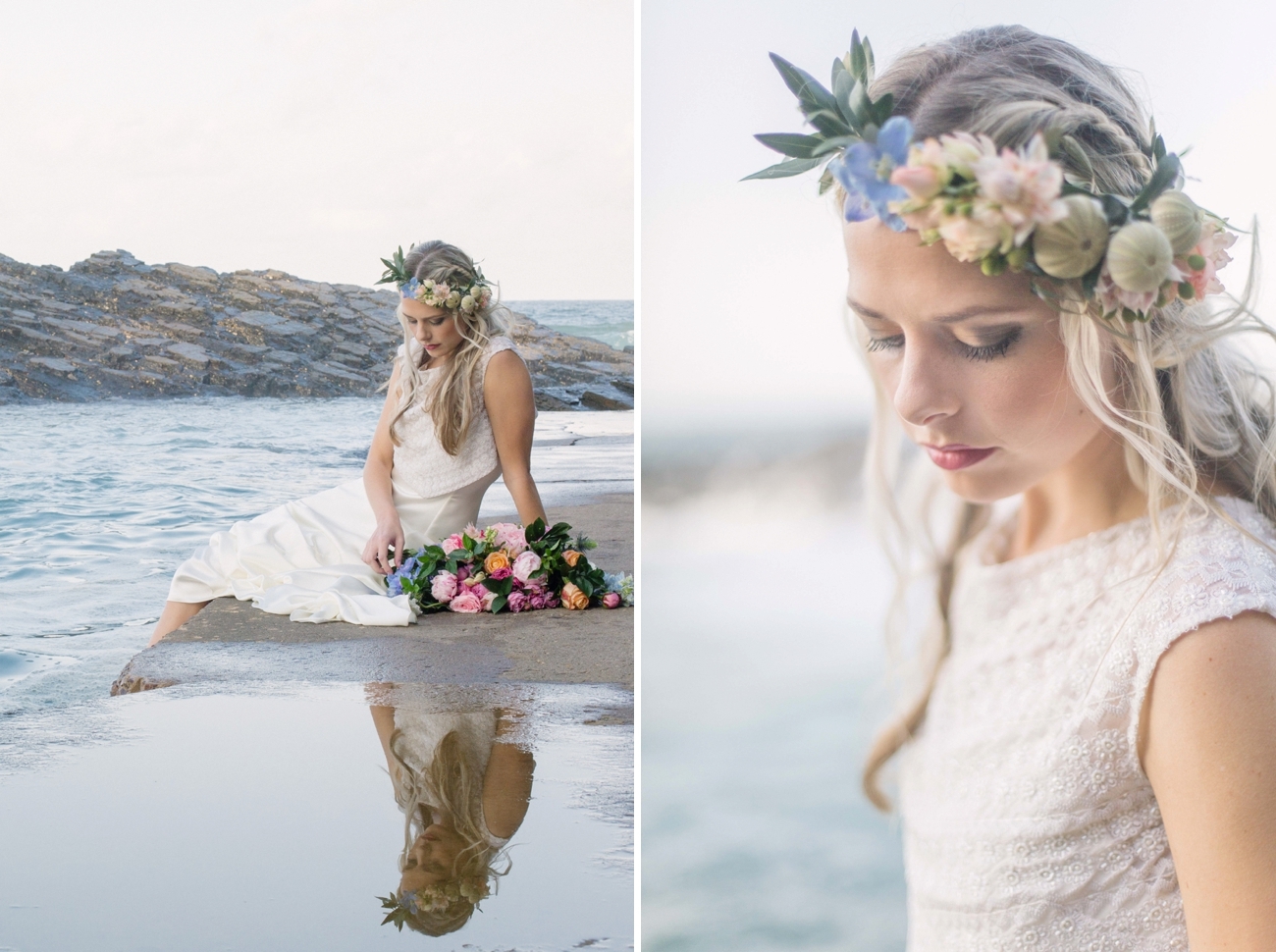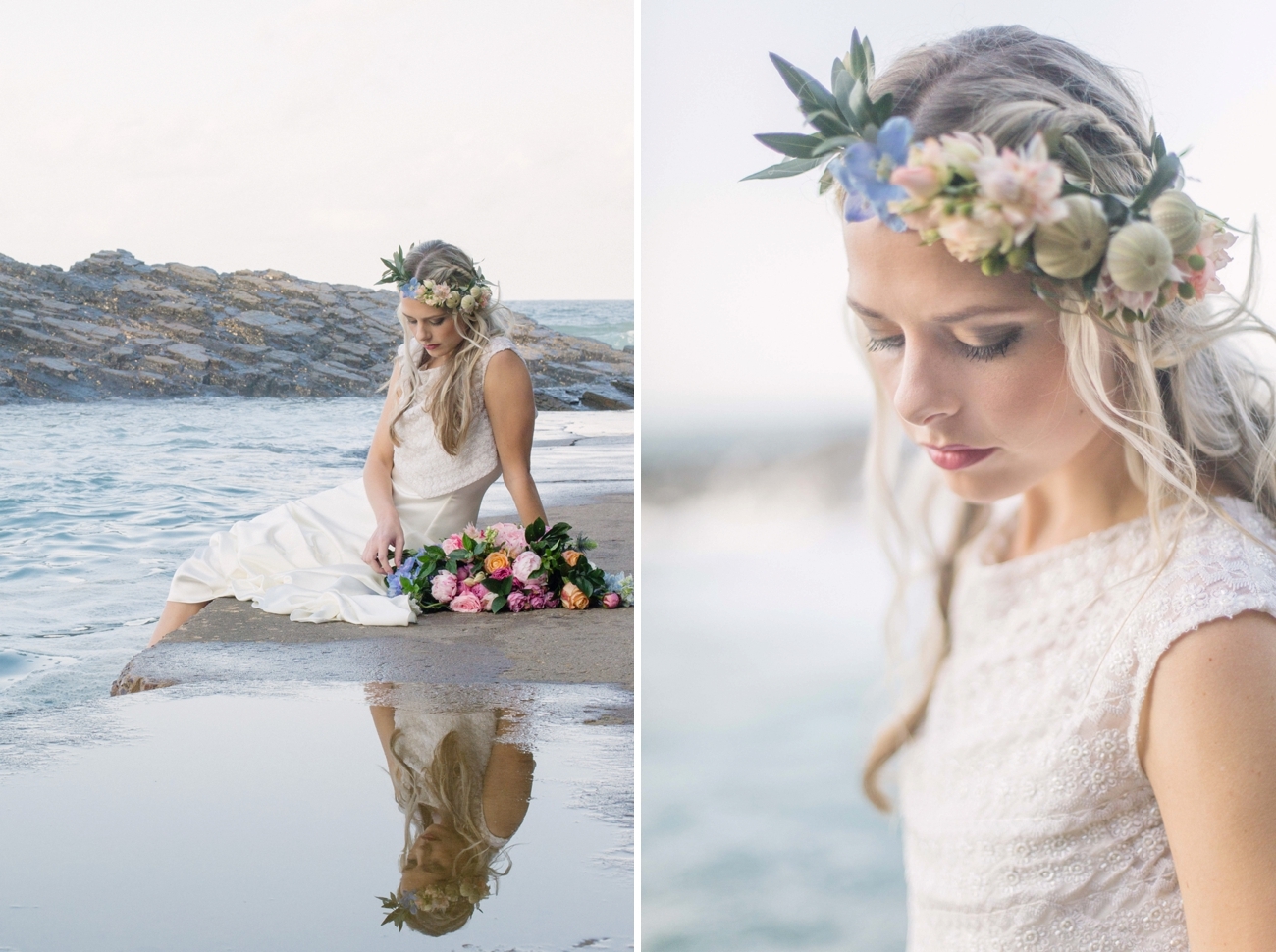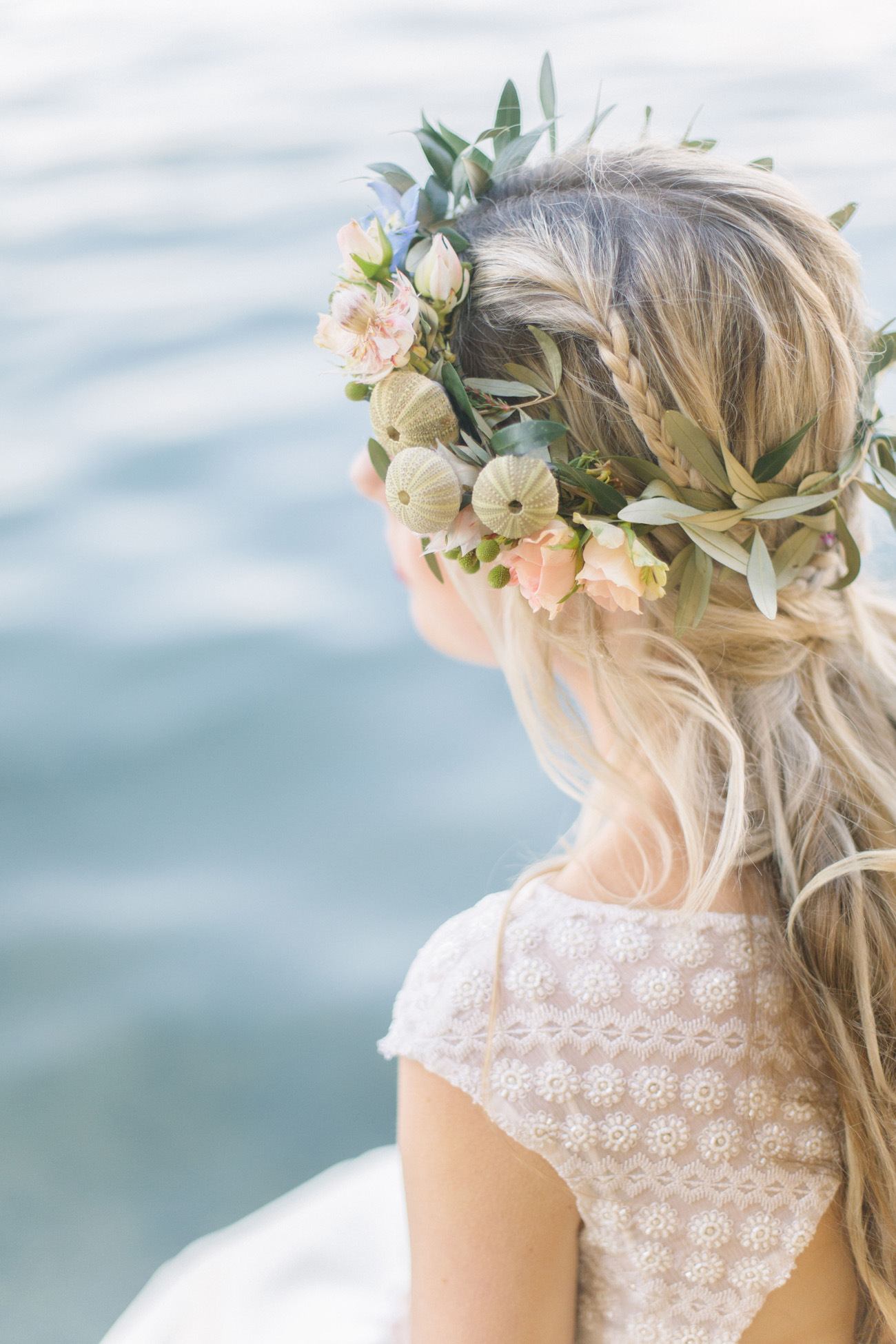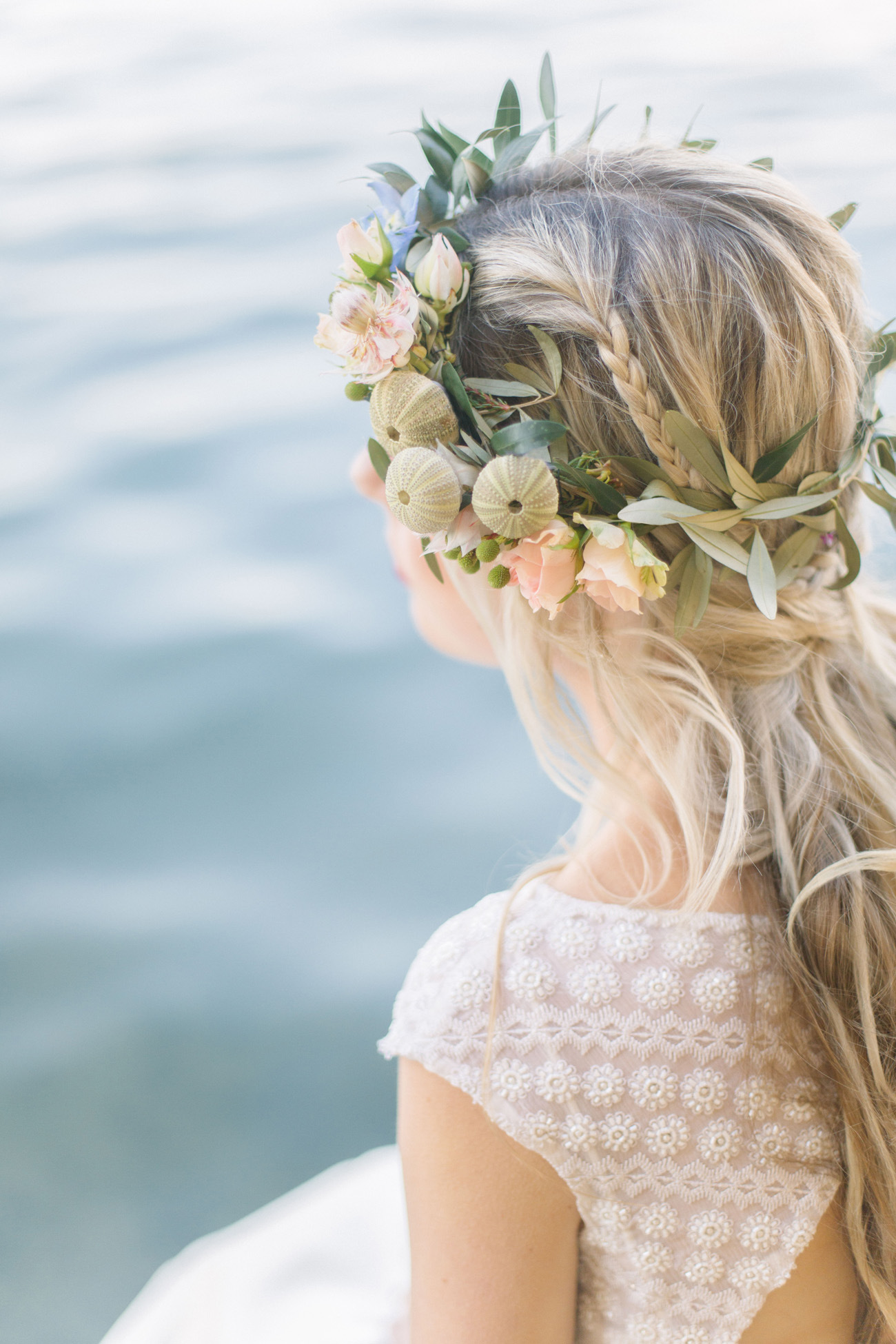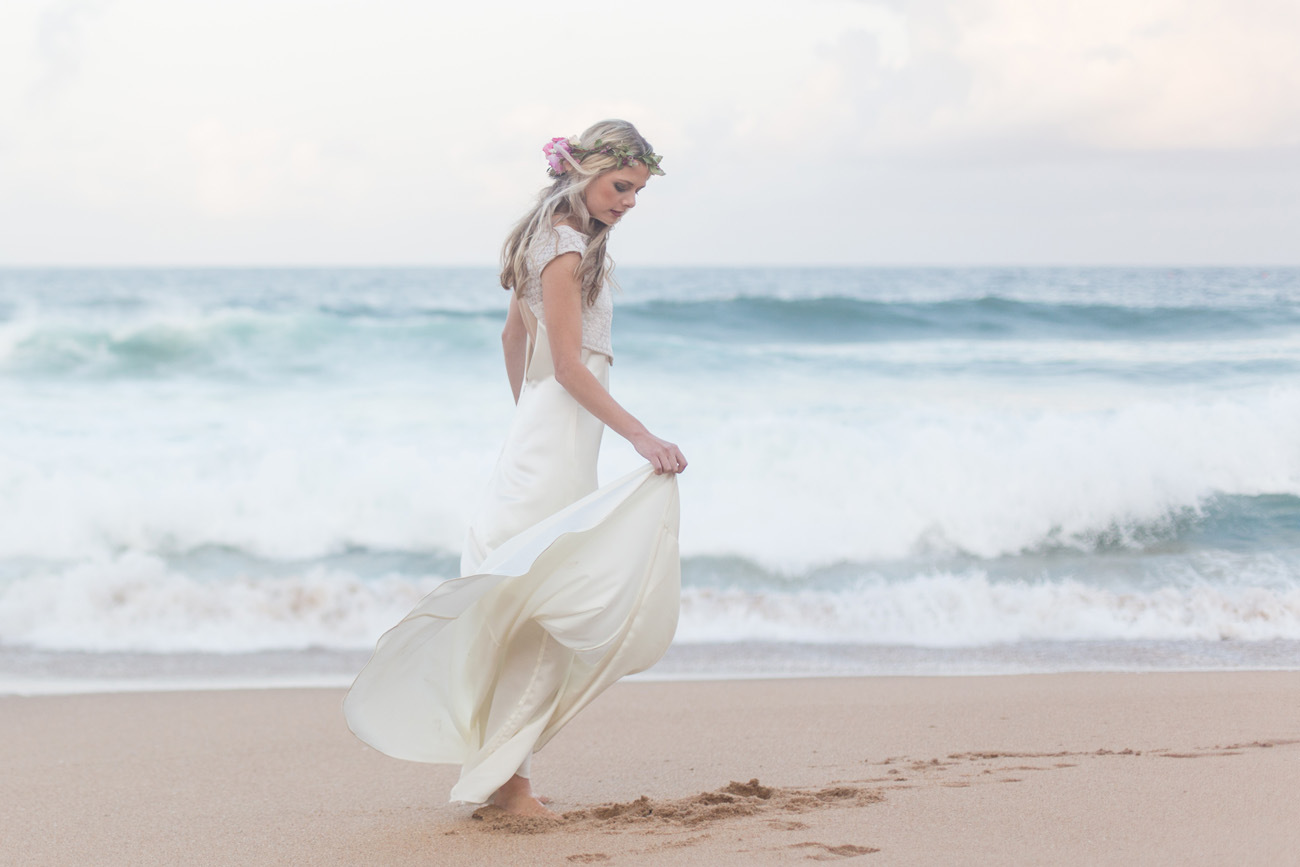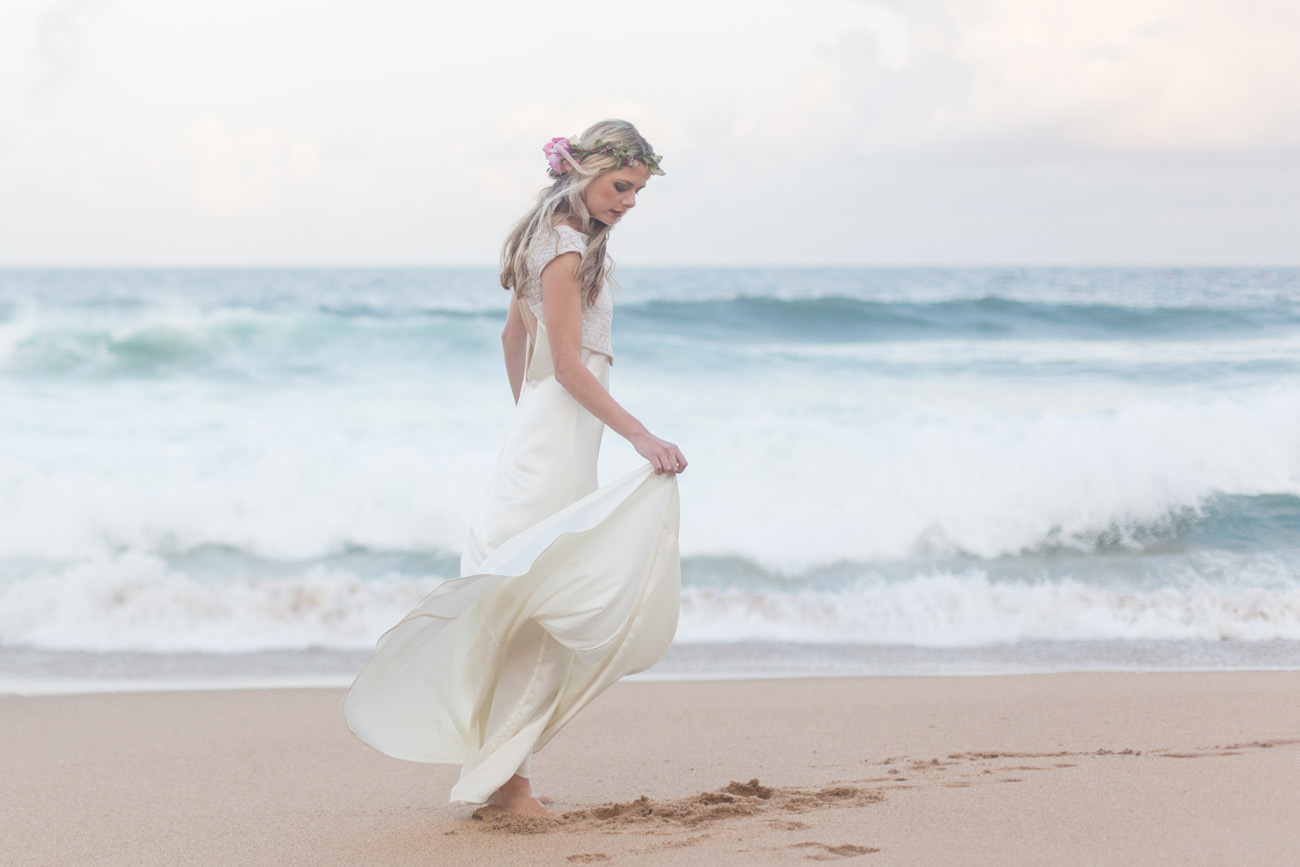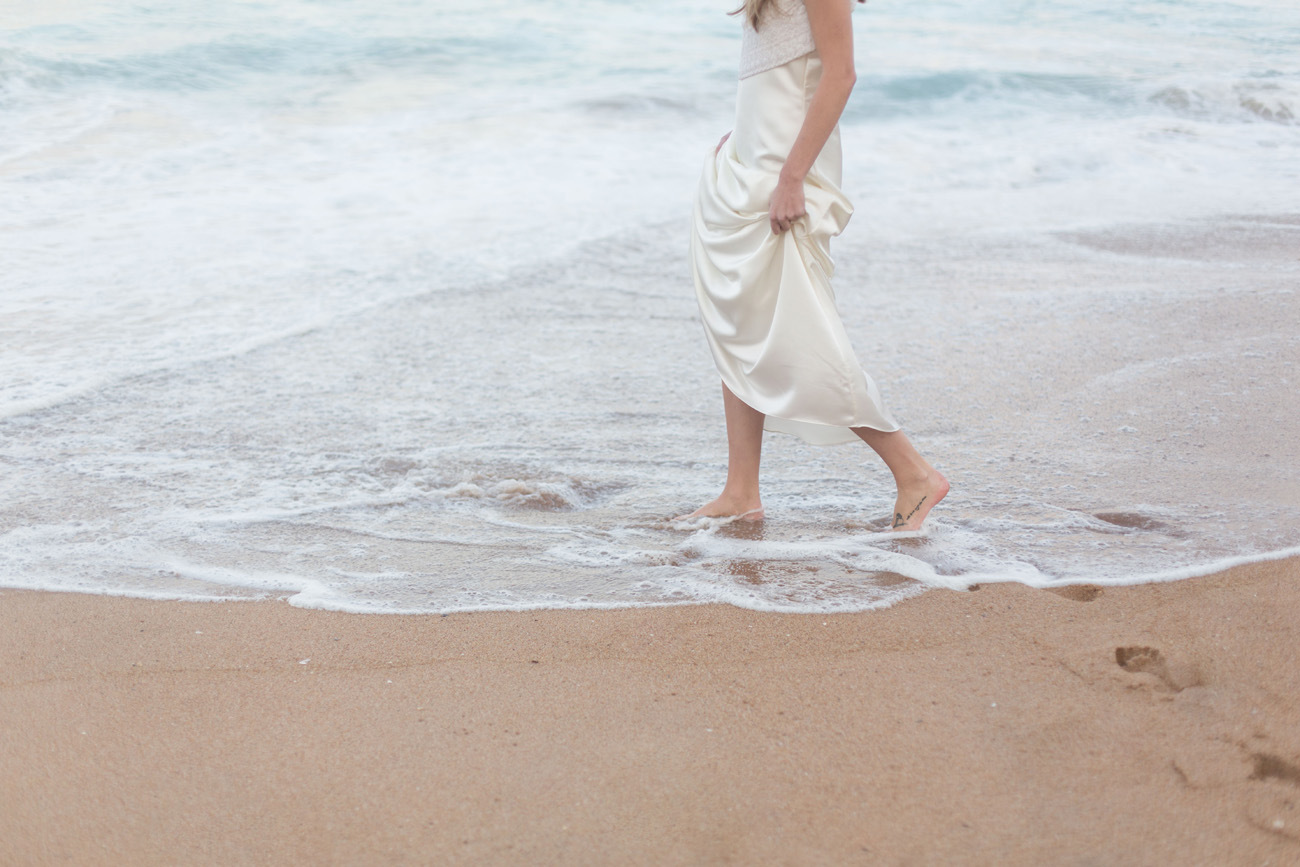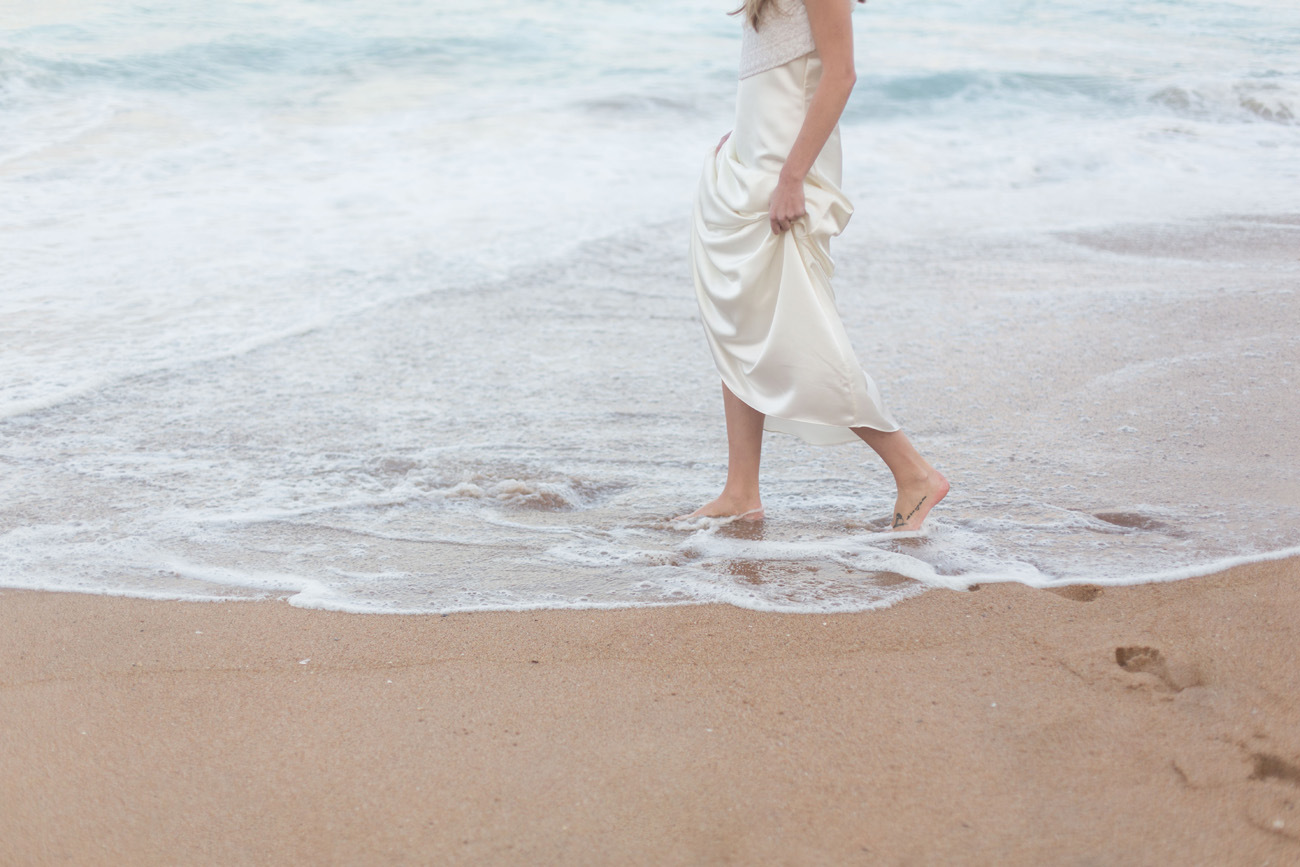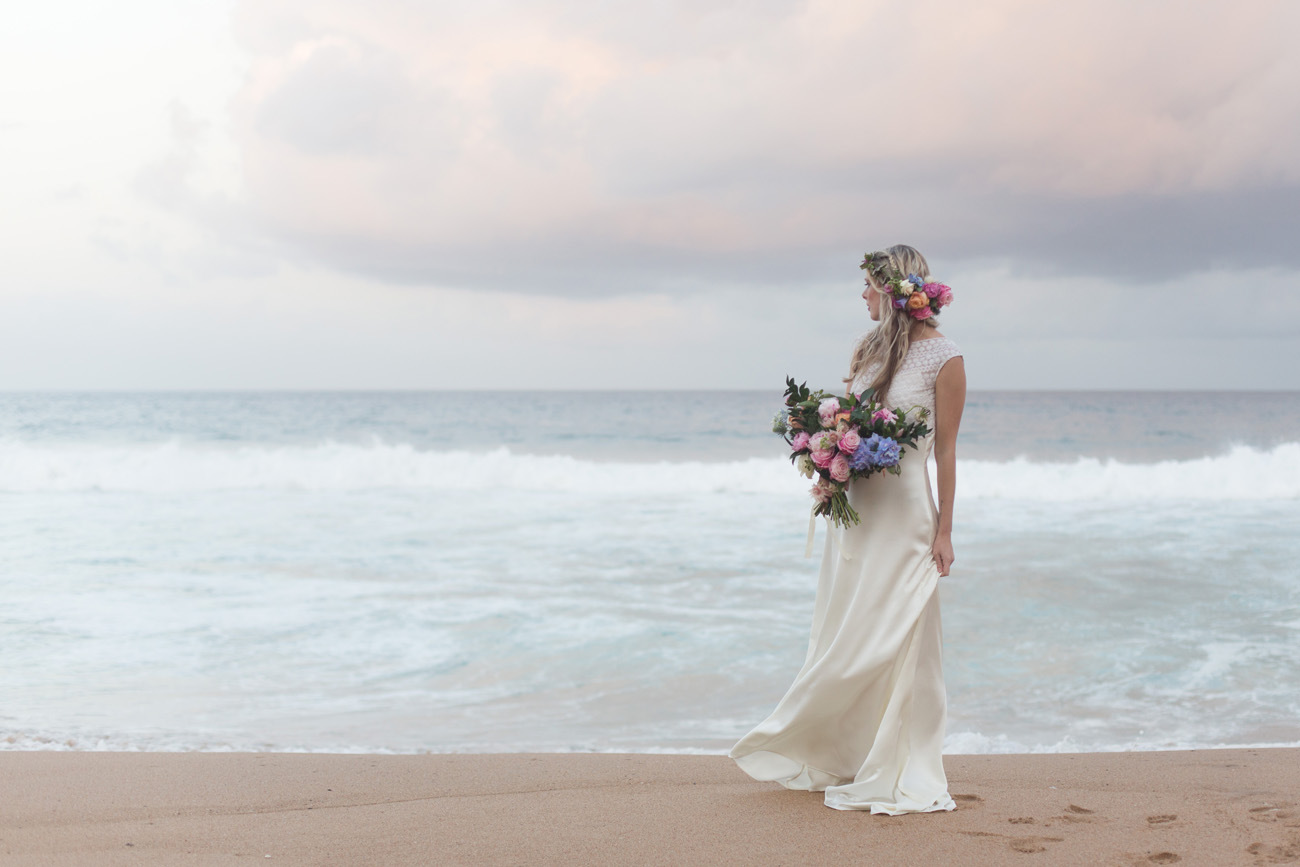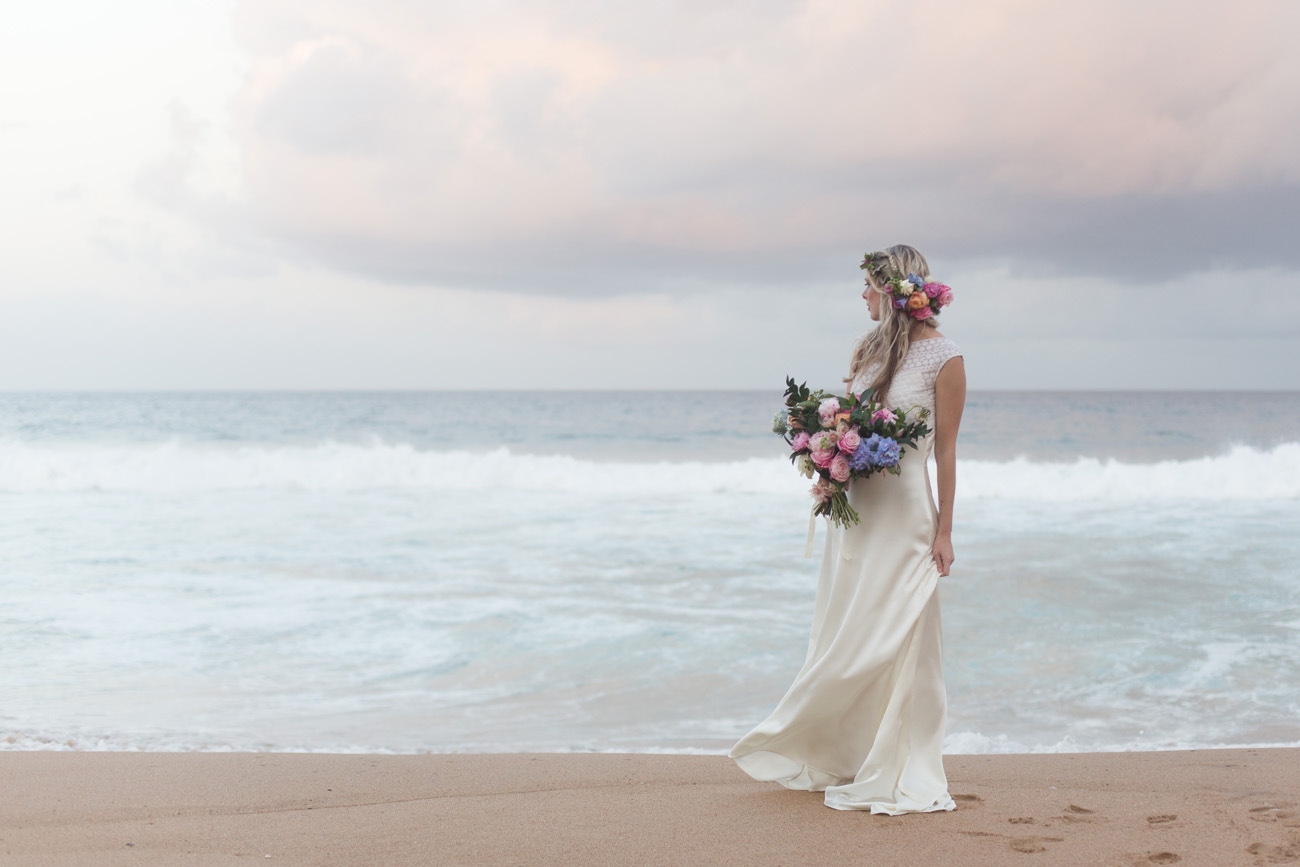 Be sure to have a look at this adorable video by All I See Videography:
SERVICE PROVIDERS
Photography: Deborah-Ann Photography | Styling, co-ordination, flowers & decor: Wildeflower | Stationery: Laurie Lee Design | Video: All I See Videography | Picnic: To Your Taste | Bride's dress: Brit & Bride | Hair & makeup: Makeup by Katie Clo | Venue: Waterberry Cafe Forest, Ballito | Models: Jeanne Goosen & Christian Van Rooyen
Save