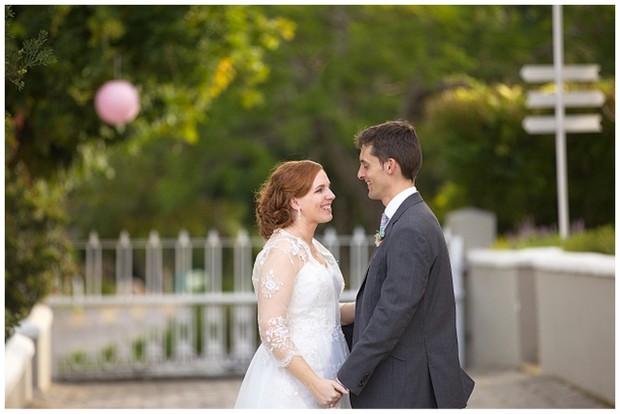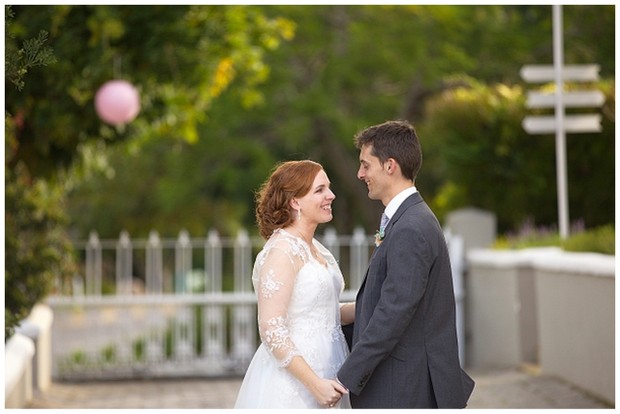 Needless to say, I love every wedding I feature here on SBB. You brides are so full of creativity and general awesomeness. But there are some where as I go through the pics I am just blown away by the level of detail, and today's lovely intimate high tea wedding at Schoone Oordt is one of those. I mean, even the ice cubes are pretty. I love all the paper decorations, love the cupcake menu placecards, love the picnic blanket 'guest book', love the vintagey paper pinwheels, love the gift bags, love the individual cakes, love love love. I could go on, but I'd just be wasting time that you could be feasting your eye holes on the English country tea party goodness, photographed so beautifully by our friends at Real Simple Photography (who, PS, will be in London for a visit in August – drop Jacques an email if you'd like to book a consultation).
From Harriet, the clever bride:
Craig and I met through mutual friends and then worked together at FNB – I really got to know him when he sat next to me at work. We soon became best friends and one day it clicked that the man of my dreams was my best friend. I have never been one for shyness or beating around the bush, so it was no surprise to my friends…but may have been one for Craig when I invited him over for dinner and asked him out.
Three years later – after renovating and selling our first house together and traveling to Australia together – the opportunity came along to move to Cape Town. We spent two years soaking up the ocean vibe and enjoying frequent road trips and outings, so it didn't come as a surprise when Craig wanted to visit the mountains to see snow up close and personal for the first time and I didn't begrudge getting up at the crack of dawn on a Saturday morning to drive up to Ceres. Unfortunately there was no snow to be seen, and when it got to past 11am and we were heading further north, still with no snow on the horizon. I started getting very irritable and grumpy as we were due to visit friends for lunch. After some heated discussion, Craig finally agreed to turn around. I still didn't know why he was so upset – I remember thinking: 'Boy, did this guy really want to see snow or what!'. The next morning we packed a picnic and headed to Noordhoek beach – the weather couldn't have been more perfect if it tried. So after a few false starts, it was there on a long, white, sandy beach, surrounded by dogs frolicking in the sea and a glorious winter day, that Craig in only Craig fashion popped the question. I don't remember much beyond a shiny big sparkly diamond, Craig down on one knee and an overwhelming sense of happiness and joy.
Most of my friends know that I have never really been into the whole wedding thing, and for a long time I had tried to convince Craig to elope to an exotic location with me. In the end we agreed on a small destination wedding that allowed us to spend quality time with friends and family. I wanted the wedding to be more of a party or weekend away celebration than a traditional event. I had always wanted to do a high-tea wedding (something to do with being British and having memories of Sunday afternoon high tea with my parents at home). Our theme was vintage English country, and I came across Schoone Oordt online in the same week as we decided to have a small wedding (I also found my dress and photographer that same week – it must have been fate!). We could not have asked for a better venue – Sonnette and Wander went above and beyond to create the most magical day for us.
Our wedding went from high tea to lawn games and cocktails, to dinner and dancing and then to breakfast the next morning – it felt like a long weekend celebration rather than just being over in a single afternoon or evening. Weddings do fly by so quickly, so it was really nice to have the extended time to spend with our friends and family.
One of my favourite parts of the wedding was all the planning and creativity that went into the event. I am so lucky to have such an incredible husband, who unlike most men was completely involved and engaged right through the entire planning of the wedding. Craig and I did pretty much everything ourselves, we are both perfectionists and I am a little bit of a control freak so I did not want to put my wedding in someone else's hands. It all started with our save the dates which we decided to make as fridge magnet tea bags in keeping with our theme…which meant that we then needed to do something a little more exciting with the invite. I still think our tea box invite is one of my favourite parts of our wedding. We probably went a little overboard with the DIY but we had a lot of fun doing it and being so creative and crafty that we couldn't really stop – in the end we hired a bigger SUV to transport all the goods including home baked and individually iced wedding cakes in their own tins as well as our three-tier wedding cake, which we iced ourselves. We made what felt like hundreds of handcut paper pinwheels and hanging origami birds and paper hearts for decorations… although we soon discovered that hanging up the hearts and birds took longer to hang up than they did making them. We did a lot of sewing, including our handmade and personalised welcome bags for each guest which included some nibbles in case they got hungry as well as some exotic teas and tea strainers in keeping with the theme. We also made individual sweetie bags for each guest at the sweetie station as well as tea cosies for each couple, so that they could go home, enjoy a good cup of hot tea and eat their wedding cake. In the evening we had bow ties for the men and fans for the ladies at dinner, during cocktails we set up a photobooth with props that Craig had made as well as our wedding reception and ceremony signs, and for breakfast we gave our guests homemade jams and a homemade set of felt animal egg cosies.
Everyone tells you that a wedding goes by so fast and it really does – even with a small guest list and a full two days with everyone, I still did not get to spend as much time as I would have liked with everyone. It really is personal preference but I loved our small and intimate wedding, being able to indulge our guests and put a lot of ourselves into our wedding. It is really the most rewarding thing to look back and see what we accomplished together and was such a great way to really bond as couple by doing all the DIY things together. Our small guest list meant we could get quite extravagant and bold with our ideas and that we were able to do a look more things as we had fewer guests. The internet really is the best resource for planning a wedding. I probably lost a few days of my life surfing the internet, reading wedding blogs and trawling through hundreds of pictures to get ideas and inspiration. Ultimately though, I believe a wedding should be a reflection of the couple and a time to show your family and friends how much they mean to you as a couple.
Congratulations, Harriet & Craig – thank you for sharing your story! Many thanks to Jacques at Real Simple Photography for sending us this lovely wedding – you can see even more on his blog.
SERVICE PROVIDERS
Venue & catering: Schoone Oordt | Photography: Real Simple Photography | Bride's dress: Stephen for Andre Brand Couture | Bridesmaids' dresses: Forever New | Makeup: Lorraine for Skin Deep | Hair: Michelle for Get the Look | Hiring: A Vintage Affair