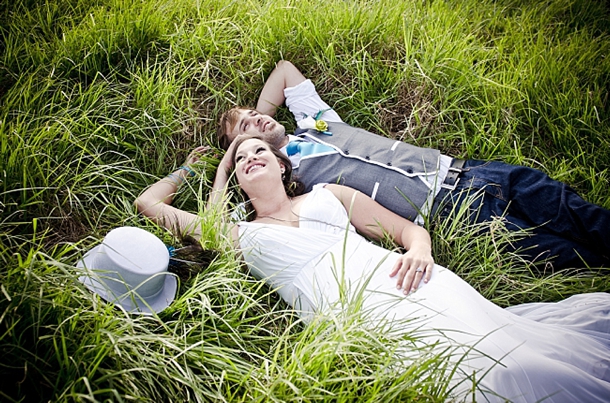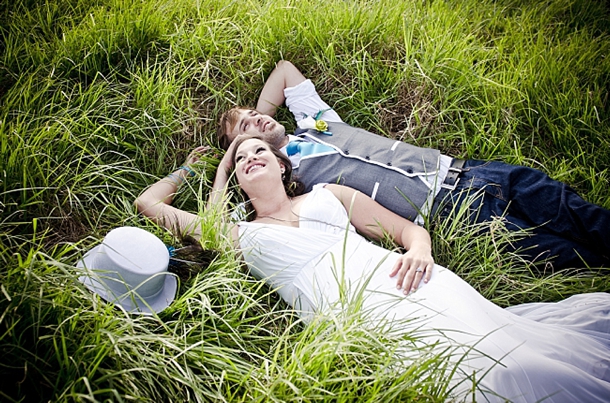 Some days do not go the way you planned. Yesterday was definitely one of those days, not least because I spent a good portion of it hiding from a mouse that the cats brought in, while simultaneously trying to make sure they didn't torture it to death. Because I'm an animal lover, even with animals that I have a massive phobia for. It's complicated. Anyway, so our second wedding of the week happens today, and we'll have the third on Friday, for a change. Because a change is as good as a holiday, right? And boy do I need a holiday… Fortunately, today's wedding is sure to brighten up anyone's morning. It has a vintage travelling circus vibe, with top hats and peacock feathers, and feathers and ribbons. I probably don't even need to say much more than that for you to know it's ace. But as well as checking out Taryn Rahl's beautiful pics, you'll want to give the story a read because we have a his and hers version going on – so cute. Claire and Ryan are clearly one very fun couple, and I'm super excited to share their big day with you!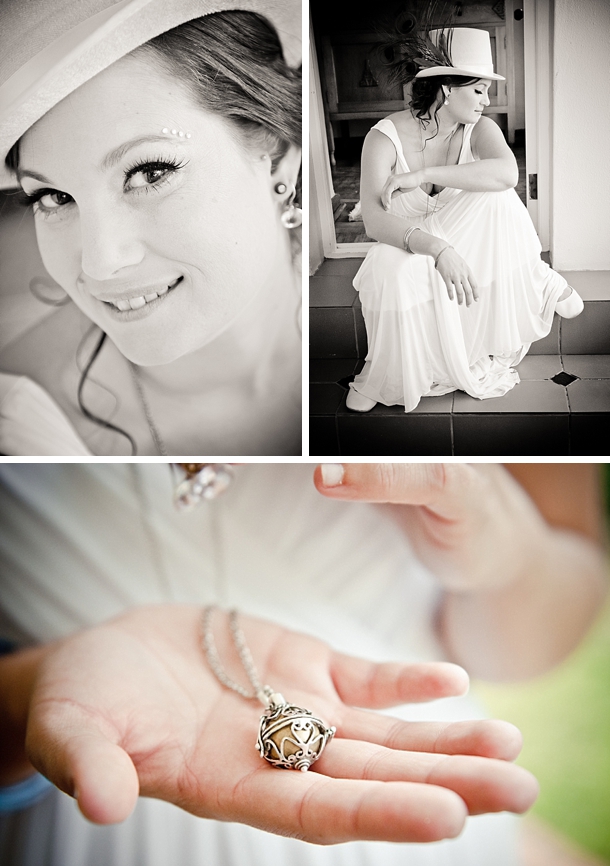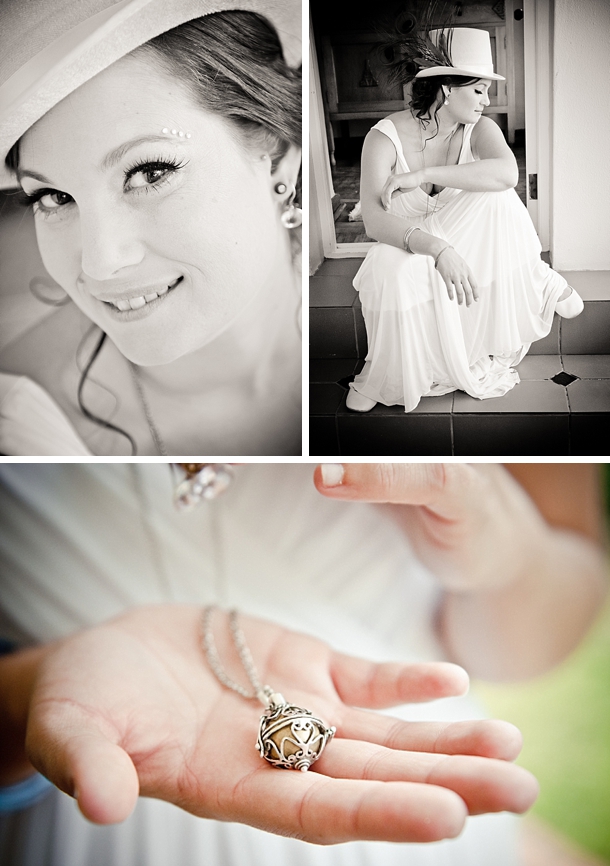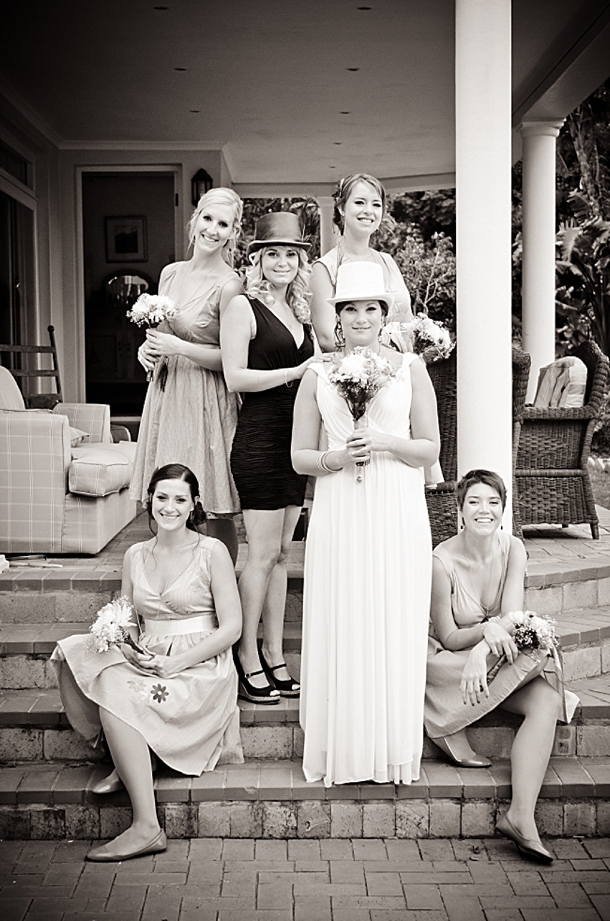 Claire: Ryan and I met in 2001 while working at a bar called The Crazy Zebra in Port Elizabeth. We moved into a little flat on the beachfront as friends, and kinda just fell in love I guess. In 2010 we went to Zanzibar with twelve friends. We were at a small island called Kwale where we spent the day snorkelling and eating the most amazing seafood… and that's where he popped the question.
Ryan: What Claire doesn't say is that I was the boss! Seriously though, it was a great build up to what is now my perfect relationship and my true friend. I must admit, Claire was always an awesome friend but what came after that with our relationship was beyond words for me. My partner and perfect one at that.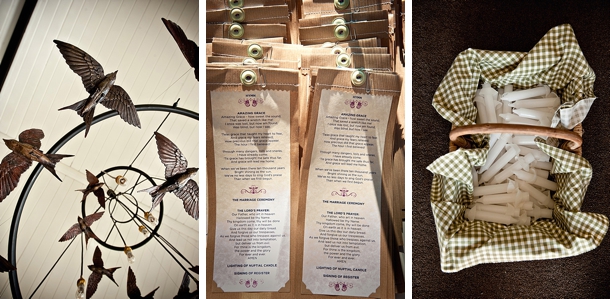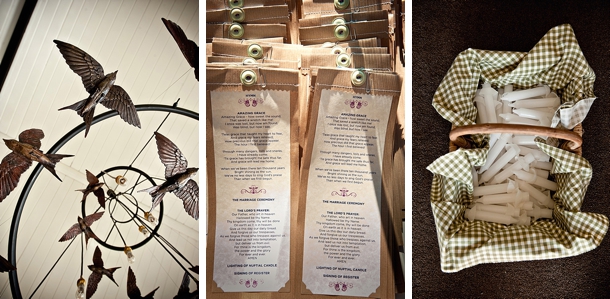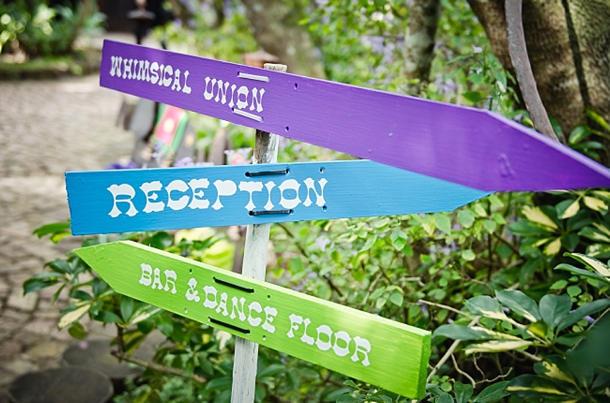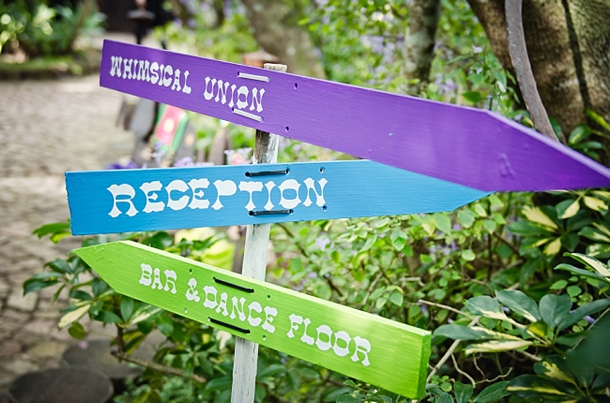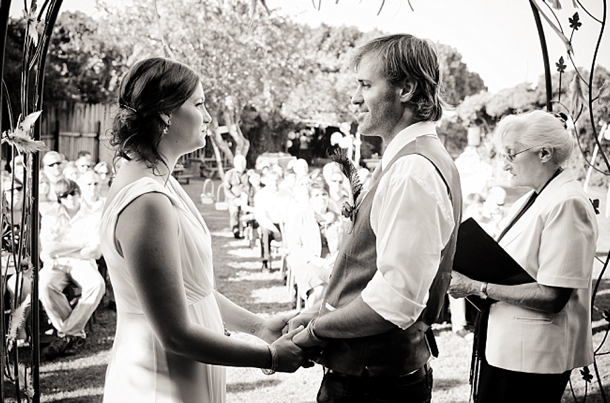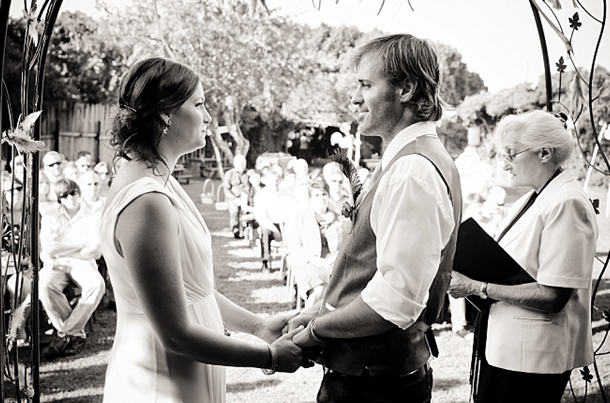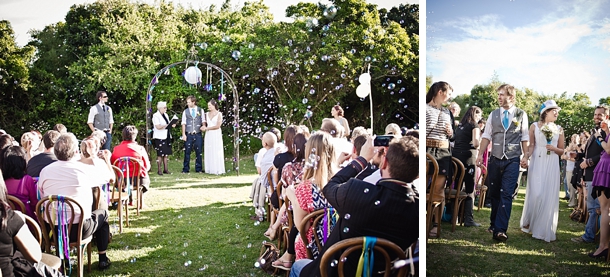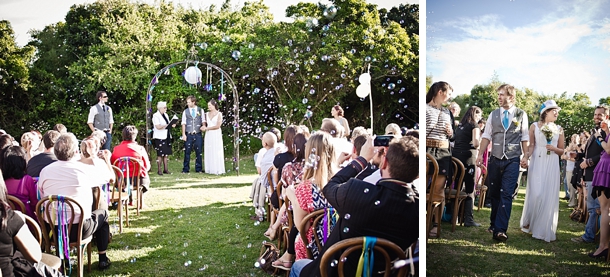 Claire: I wanted the wedding to be a reflection of us. We are both fun-loving souls and wanted it to be a fun, casual and relaxed day. My favourite colours are turquoise, green and purple, hence the colour scheme. I also just love peacock feathers and the colours matched perfectly to the theme. We wanted it to feel as though Ryan and I were part of a travelling circus family and the wedding was in our back garden. After the ceremony, we went for photos and guests got to enjoy popcorn, drinks and play hula hoops, etc. The ceremony section turned into a bit of a carnival theme while we were away.
Claire: We initially wanted to have a wedding at the sea or in a forest setting. When I first viewed The Boma, I fell in love with the lush greeness and the open flow. So much better than eating in a small hall or restaurant. You could be sitting around a fire, but still feel part of the dancefloor and dining sections.
Ryan: Formality wasn't an option for us, we wanted things to run as they needed to run. I would recommend getting a live band as that really set a fantastic tone, and with our background and culture of friends and family set the stage for an amazing evening. It practically rock and rolled!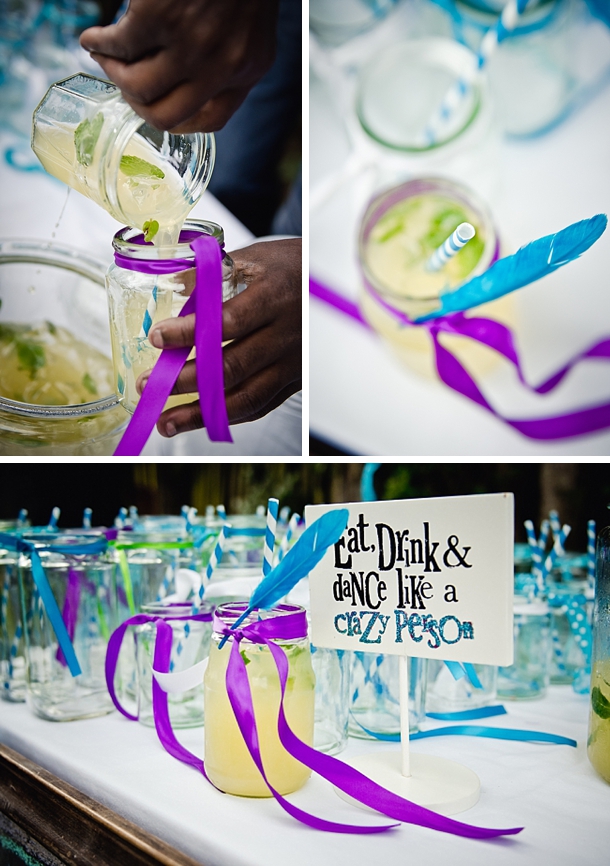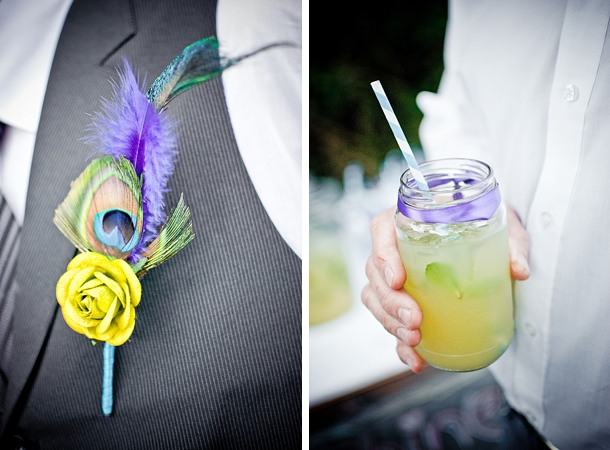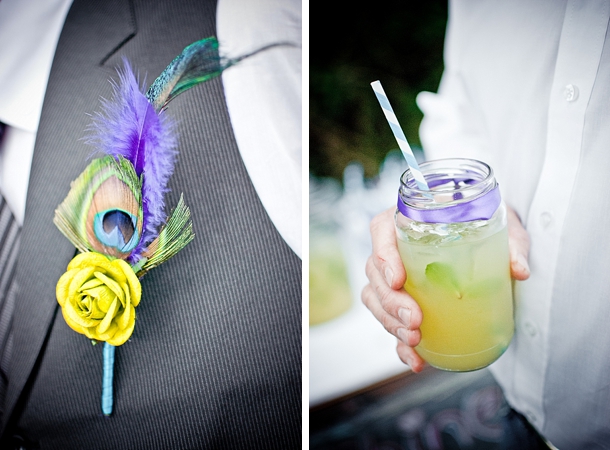 Claire: I wanted the wedding to be an exhibition of everyone's creativity. My mom made all the circus items on cardboard, and was in charge of the decor around the venue. My mom-in-law did the flower arrangements and all the tables. She even made the actual boxes for the popcorn! Ryan's sister made the bountonnieres for the groomsmen and family members, and put feathers on the chalkboards and my wedding hat. A friend made the chalk hearts we used as name tags at the tables. Ryan's aunt made all the candles, using jasmine as it's my favourite smell. A family friend made all the cupcakes, and even the bride and groom on top. One of my bridesmaids helped her dad to make a kissing booth from scratch. Ryan's dad made all the signs and painted them with my brother's help. Another of his aunts made all the jewellery for the bridesmaids as well as our bouquets. We'd collected jars for months as I wanted to bring the recycling theme into the wedding – they were used as vases for the flowers and for welcome drinks.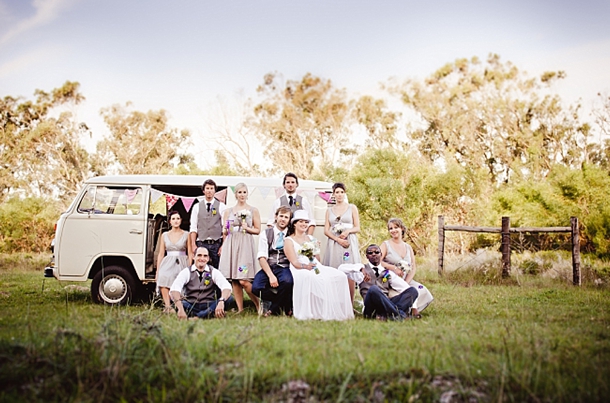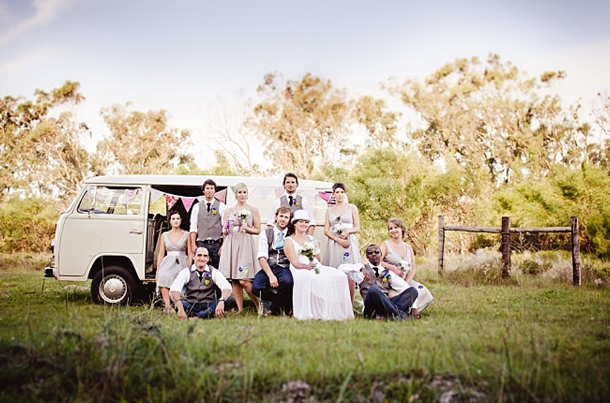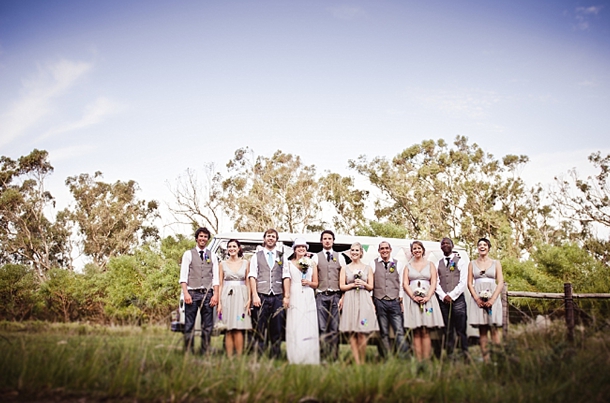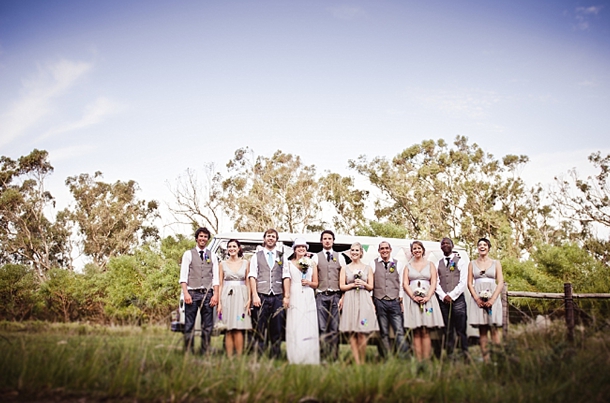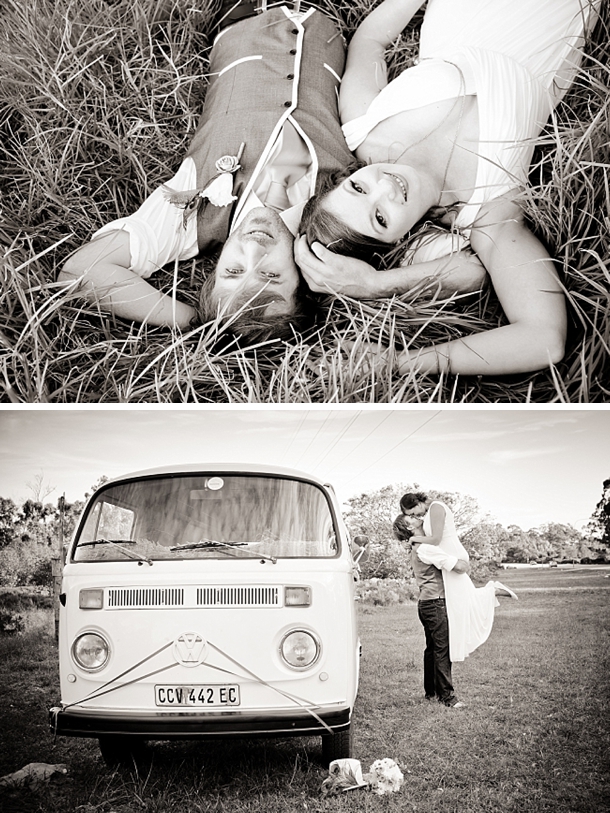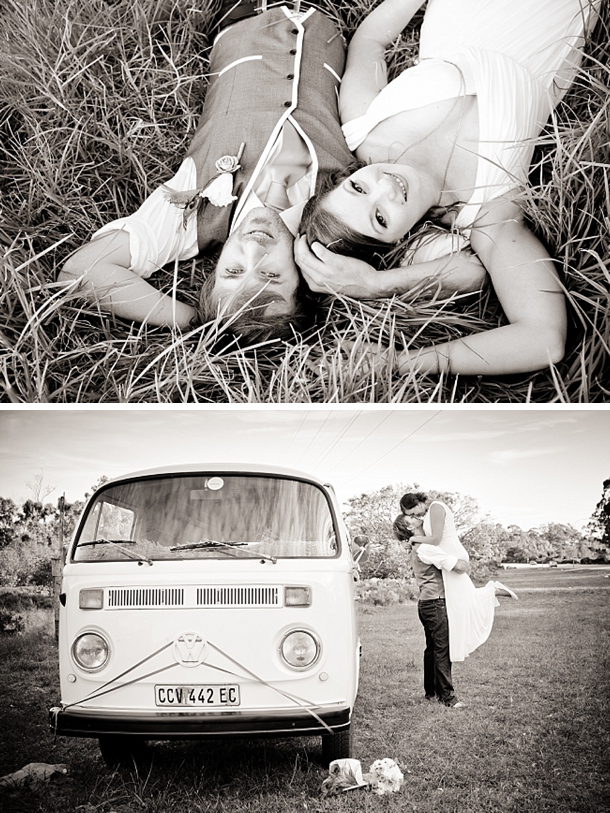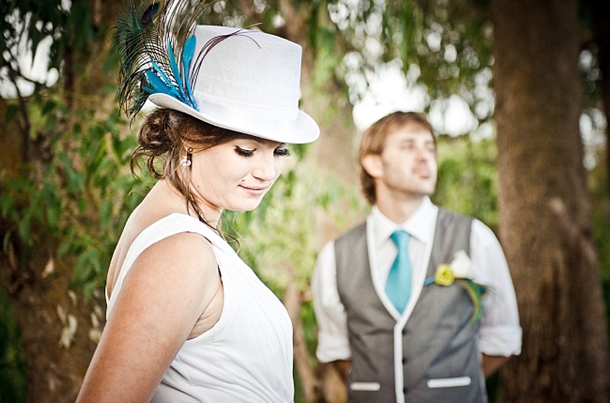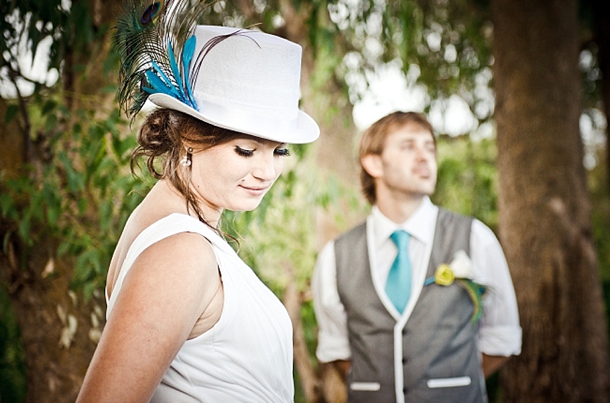 Claire: The ceremony was amazing. It was soo beautiful to have everyone with in the sacred circle. When we sent the wedding rings around – asking everyone to bless them – I could feel the love and blessings.
Ryan: My Dad suggested that we use the bubbles as Claire was approaching me instead of while we were leaving and that was probably one of the best memories for me as it really reflected who she is and it was truly beautiful.
Claire: The highlight for me, it goes without saying, was getting married to the most handsome man!
Ryan: For me it was committing to Claire and showing her that she is truly and honestly the best thing that ever happened to me.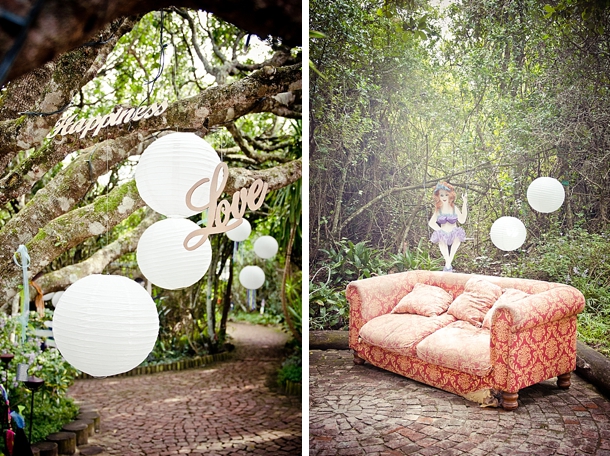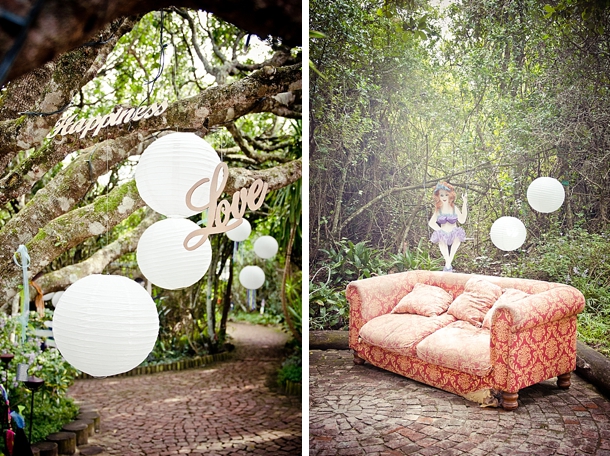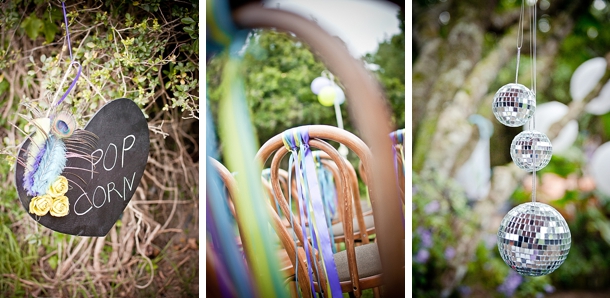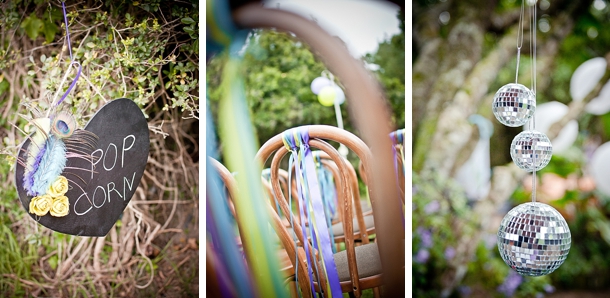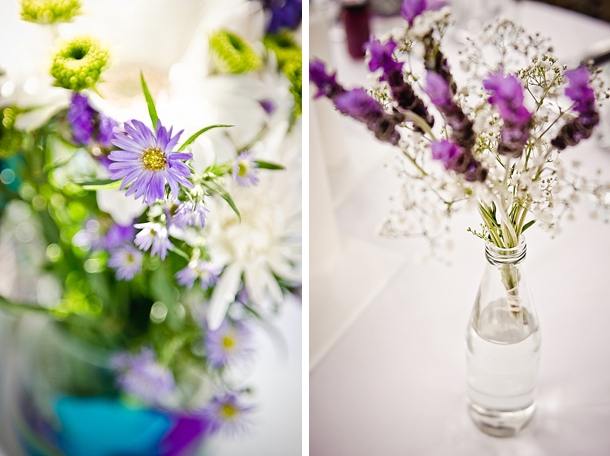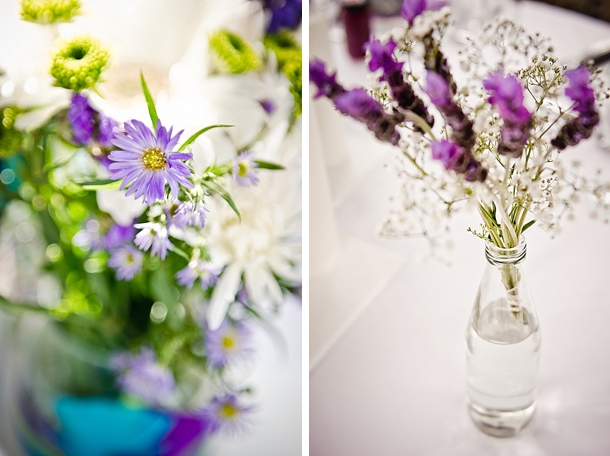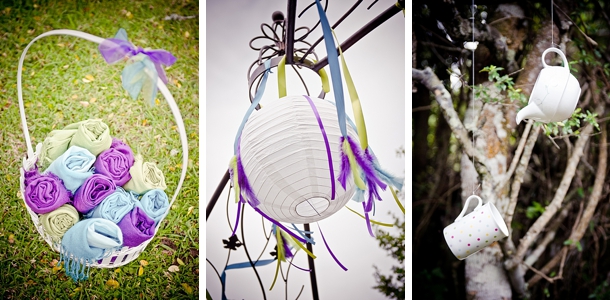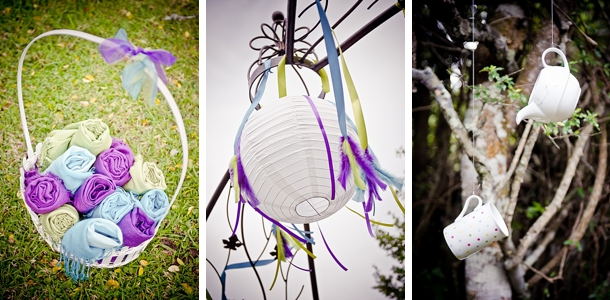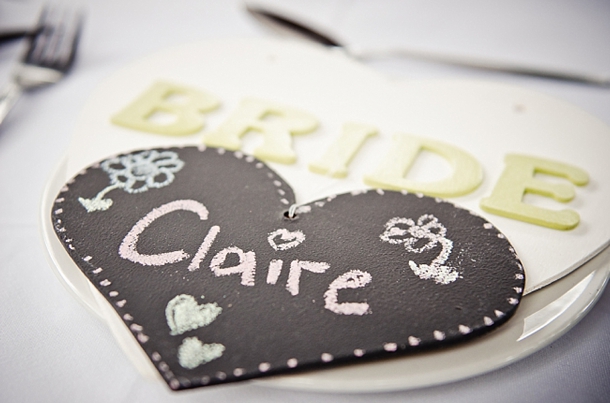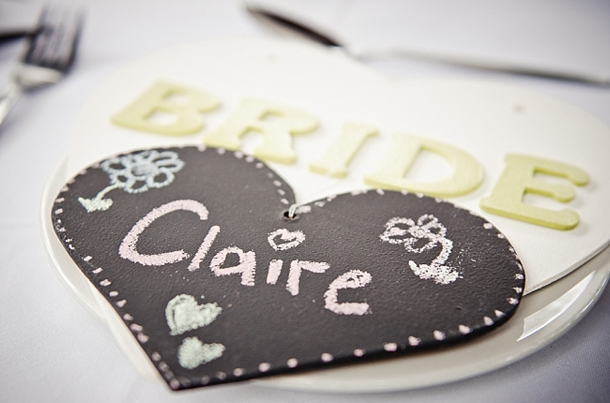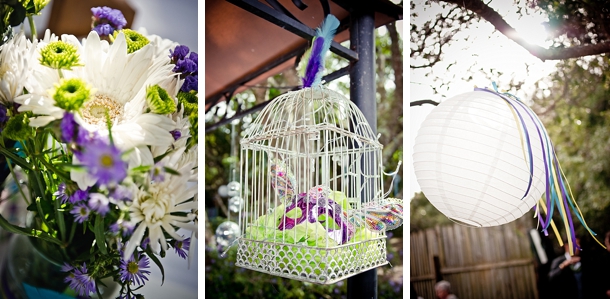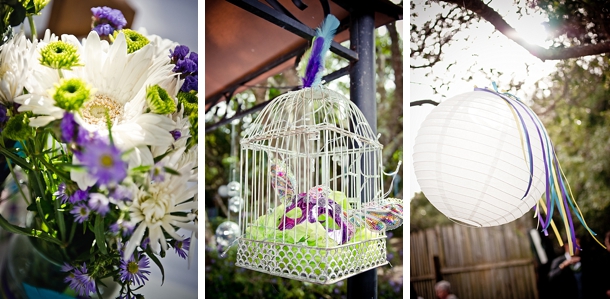 Claire: Ryan's dad, Leon, gave me the best advise ever: KISS – Keep It Simple Stupid. Ask for help and assign tasks to the bridal party as far as possible. Oh and buy rescue remedy, cos it can get stressful!
Ryan: Do what you want to do, CHILL, forget about the concept of WEDDING as one knows it. If you fall into that trap, then it won't be truly your day, the way ours was. I love Claire for that. It's amazing what a group of people that love each other as friends and family can achieve on a day.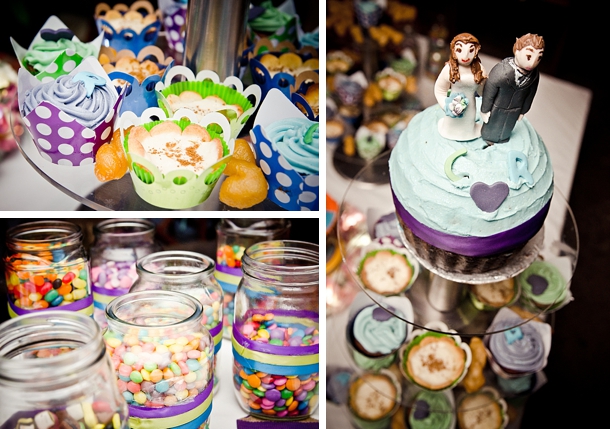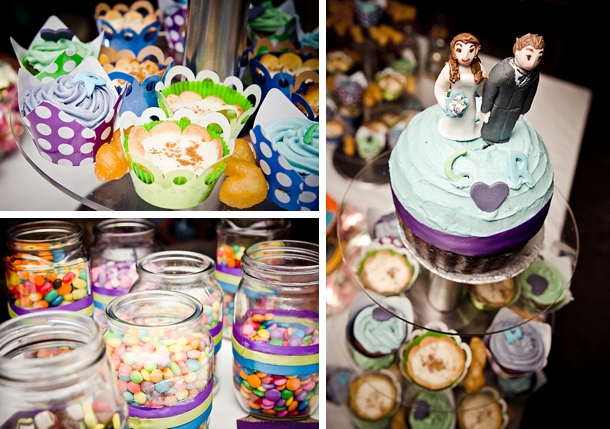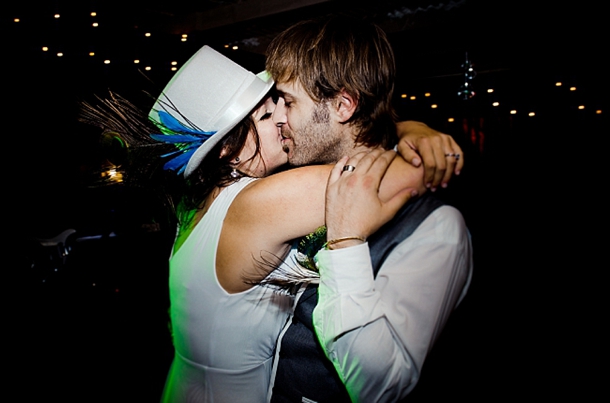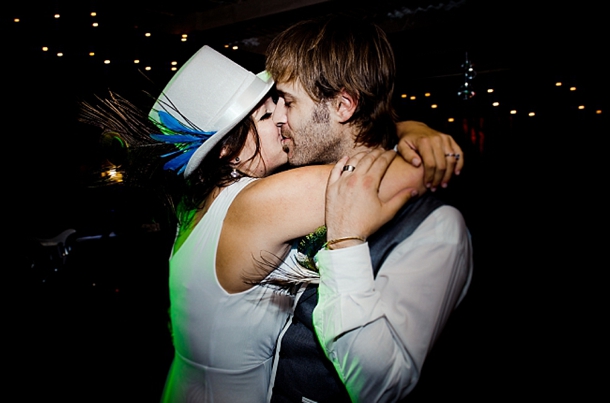 Thank you so much for sharing Claire and Ryan! And a huge welcome to Taryn Rahl – you can of course see more from this wedding over on her blog.
SERVICE PROVIDERS
Venue & catering: The Boma | Photography: Taryn Rahl | Wedding website: Brad Briscoe | Bride's dress: Desiree (Old Biscuit Mill, Woodstock) | Bridesmaids' dresses: Divine (Kloof Street) | Makeup: Stephanie Saskia (0763542402) | Popcorn machine: Popcorn machine | Photobooth: The Photobooth | Band: Howard Briscoe (083 676 0986) | Bellydancers: Rakshada Bellydancers (0728010474)