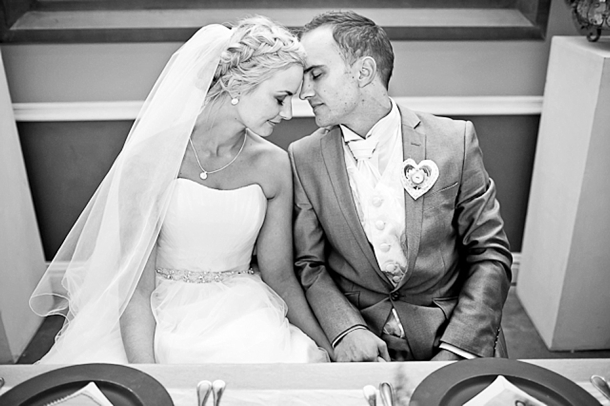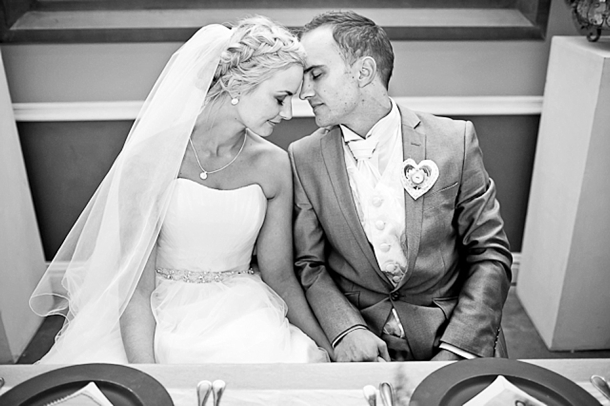 Good morning, lovelies! Today, we're transported to the forests of Tsitsikamma for a really lovely, heartfelt wedding. I wish I could have shared Sharné and Ryan's whole questionnaire, because there were SO many details and special moments and thought put into everything, and the way they write about each other and their day is just so beautiful. It's clear that it was not just the party of a lifetime (no surprise, with Sharné in PR!) but a day that they'd poured their heart and soul into. Everything, from their vows to Ryan's amazing speech, to the videos they prepared for the reception, was meaningful, and that created an atmosphere of love for all their guests. Sharné summed it up best when I asked her favourite thing about the day: "I loved the way I felt in my heart… I was genuinely happy and felt so much love! I was so calm and confident with the man I have chosen. I was so ready for this! And this is what made me get goosebumps the entire day!" Ah! These two are just so adorable, and I'm so excited to share their gorgeous pics, courtesy of PE photographer Niki M.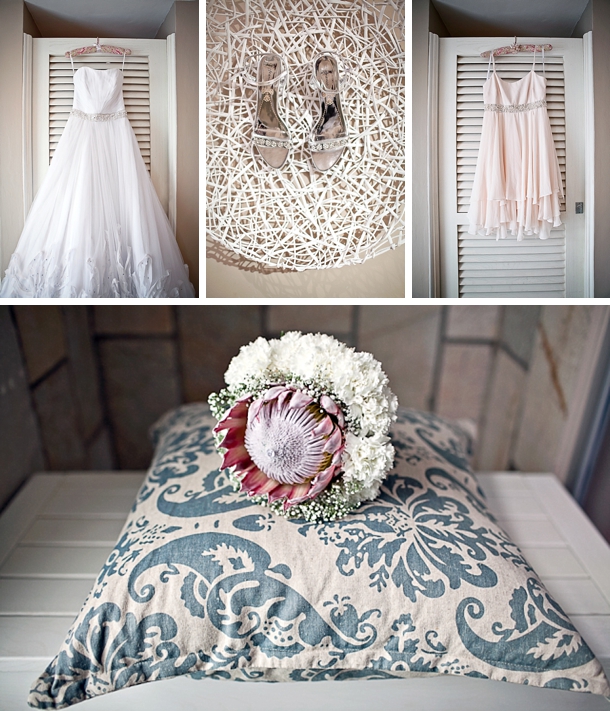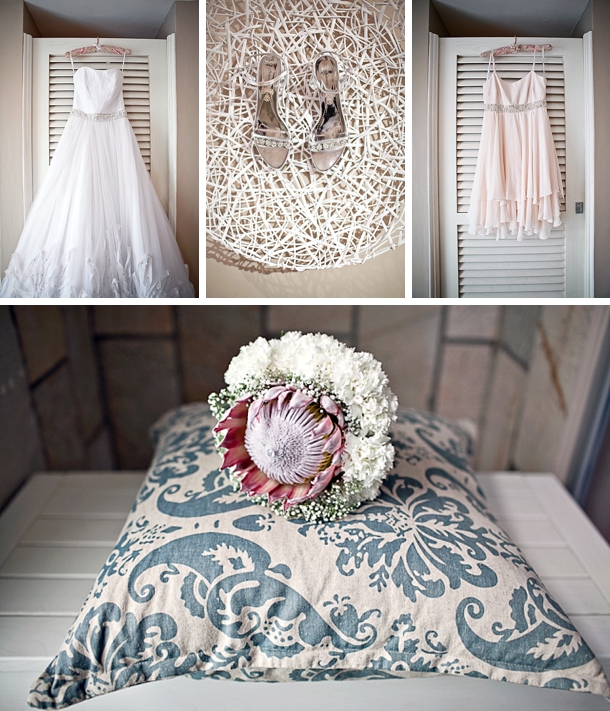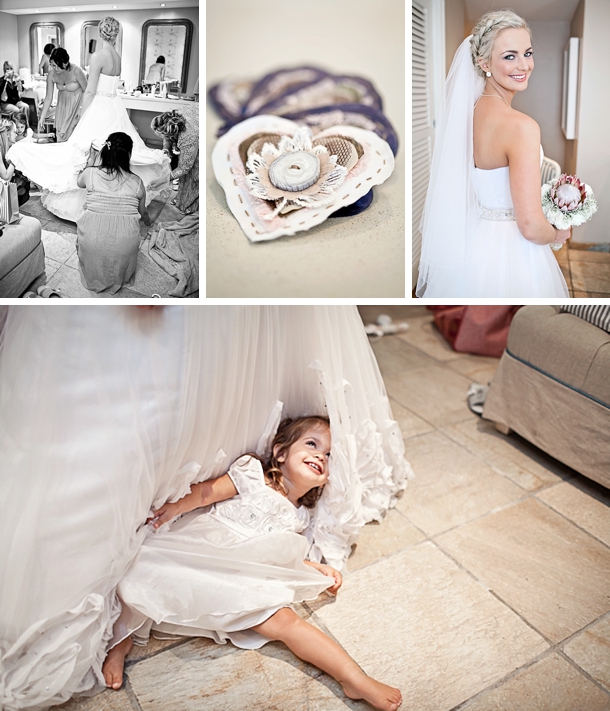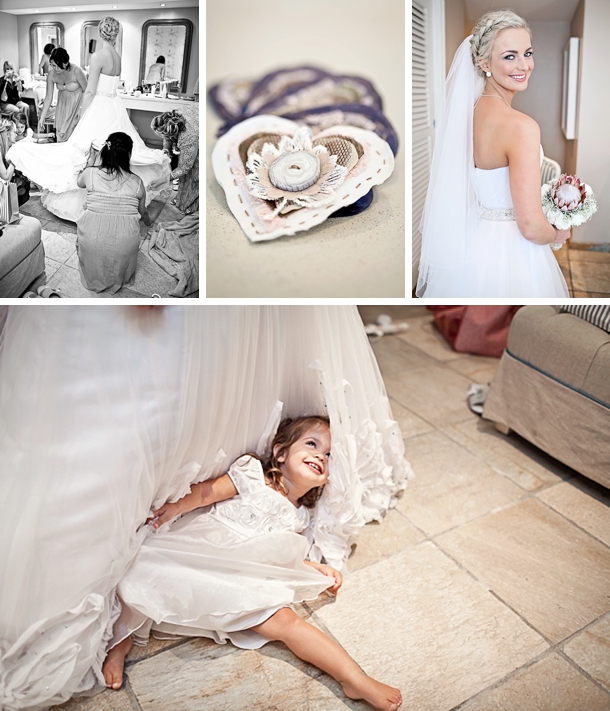 From Sharné:
Ryan is a cool, calm and collected type, the shy guy who knocks everyone off their feet with his humble confidence, while I am a bubbly, smiley kinda gal. He is currently teaching Computer Application Technology at Riebeek College, which is where we officially met (I am a PR consultant specialising in school PR). We became colleagues, then friends for a year… then best friends. During the World Cup we spent the entire time together and finally confessed our feelings for each other… it was so beautiful, so romantic!
Ryan wrote the story of their engagement:
For our one year anniversary, I planned a surprise weekend away to Tsitsikamma Lodge, having already asked Sharné's father for her hand in marriage. We went for a walk in the forest –it was overcast, bordering on a drizzle, with a mist in the air. The forest looked incredible; a real 'Twilight' scene. We walked into the middle of the forest, among soft ferns with tall trees towering above us. This was the place I'd been looking for! I'll never forget how beautiful she looked – I could see it in those amazingly beautiful sparkling eyes that she was the happiest girl in the world walking along this beautifully green scenic place with me. I got down on one knee and asked her to spend forever with me. On the way back, we counted 188 steps into the forest so we can always return to our sanctuary… and we did – the very next day – with a champagne picnic!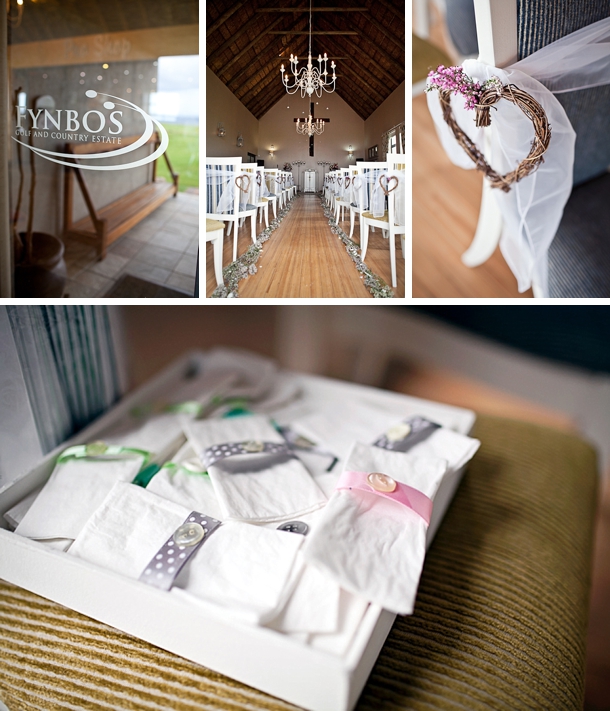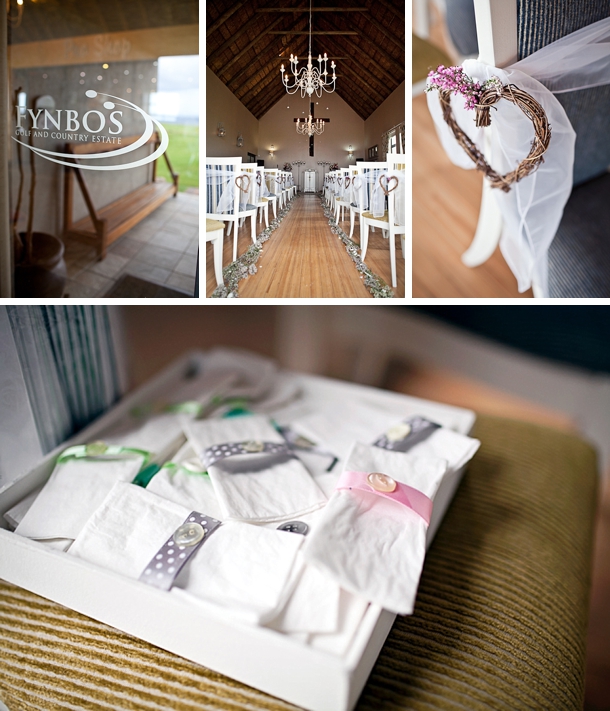 Back to Sharné:
We are in love with the Tsitsikamma area, and since Ryan proposed in the forest, it was just so fitting to get married there too. Our original plan to marry at the proposal spot fell through, so we drove around the whole area and found Fynbos. We were instantly wowed! Every aspect of the venue was beautiful, so classy, and the staff were absolutely remarkable. We had an easy going, vintage 'theme', so explored candyfloss pink and green, combined with natural tones of stone grey, and this fitted perfectly with our theme.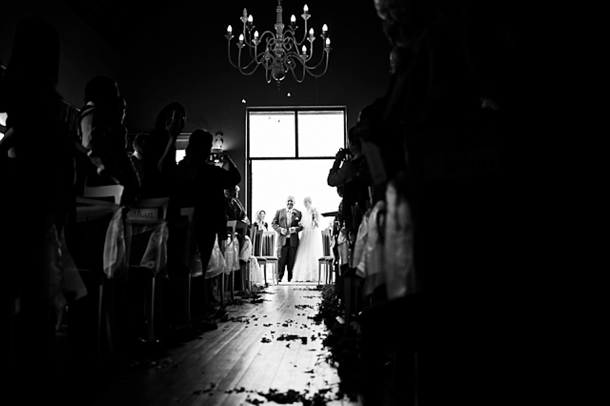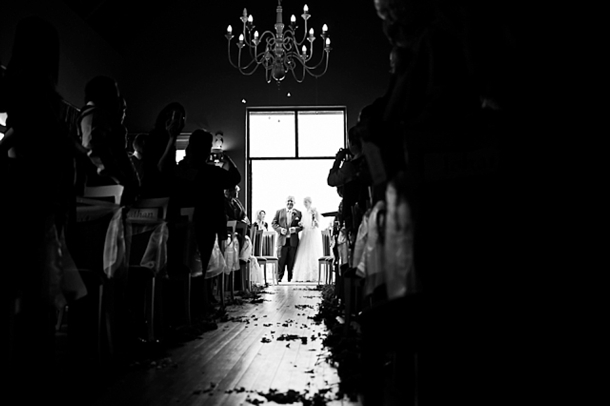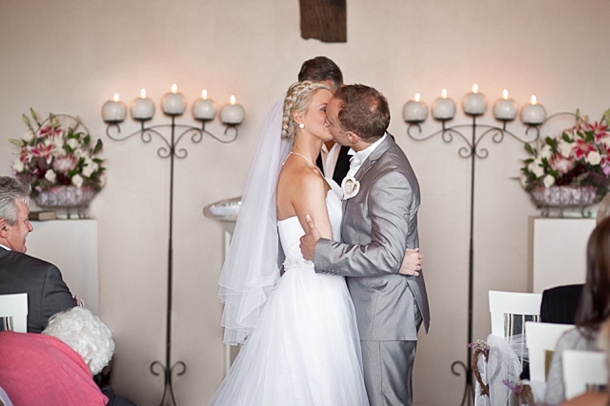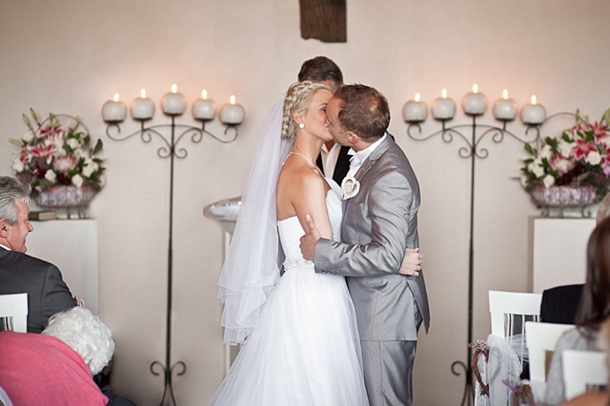 Our wedding was a soulful and spiritual experience of love and light. Ryan and I share such a beautiful love for one another, so I wanted our wedding to portray a story of our love; light is also important to us as we are each other's light, and we had many candles shining during the ceremony. It was so amazing to hear our pastor announce at the end of the evening that he has attended so many weddings but this one was so different, so real and so full of love, and that everyone would leave it rekindled with love and happiness.
Our ceremony was so different, with my little doggie, Belle-Beri as my maid of honour, and my mother as chief bridesmaid! Our parents and grandparents each walked down the aisle and lit a candle, symbolising the light they have shone on our paths. We lit candles from these before our vows and then lit a single candle to symbolise our two lights becoming one. The chapel was so intimate, filled with candles, and you could smell all the flowers. I had a walkway of pink fynbos; it was so beautiful! Our vows and music were also so special and different.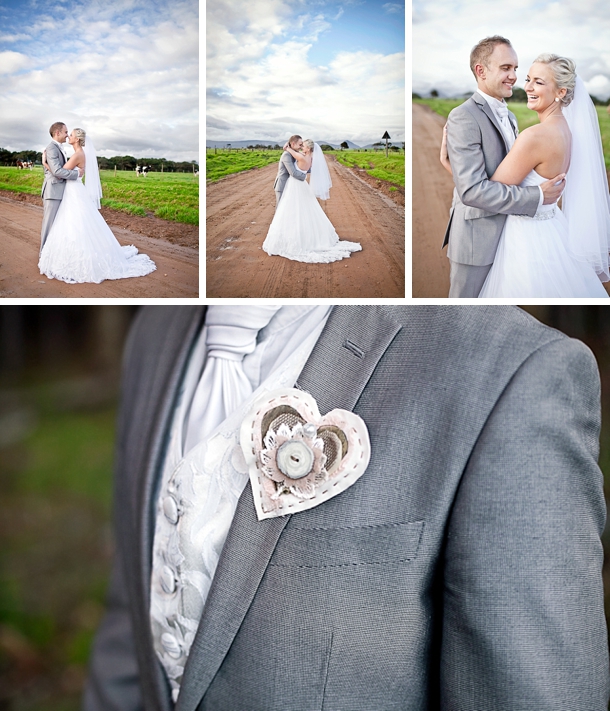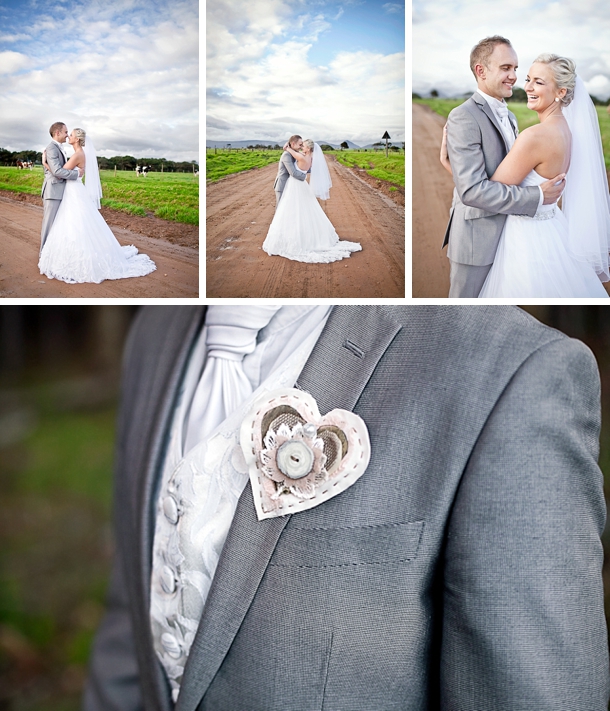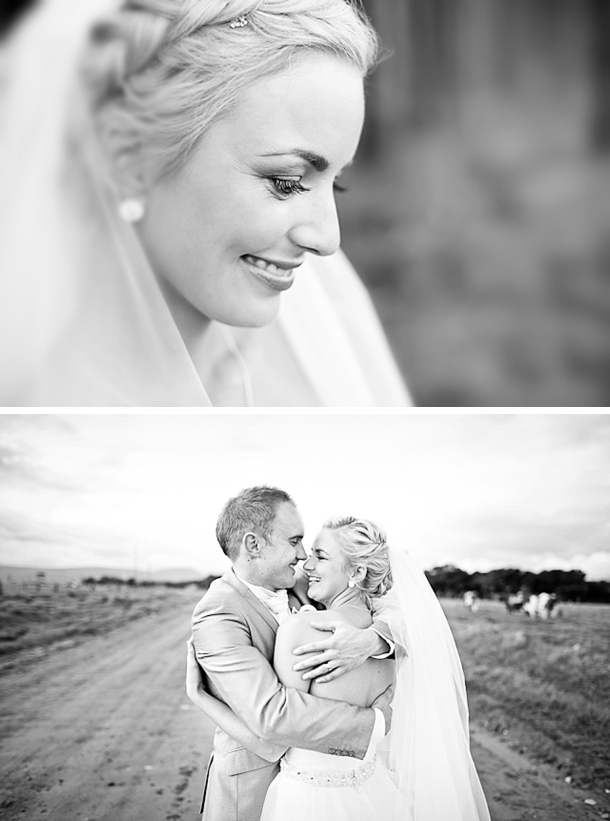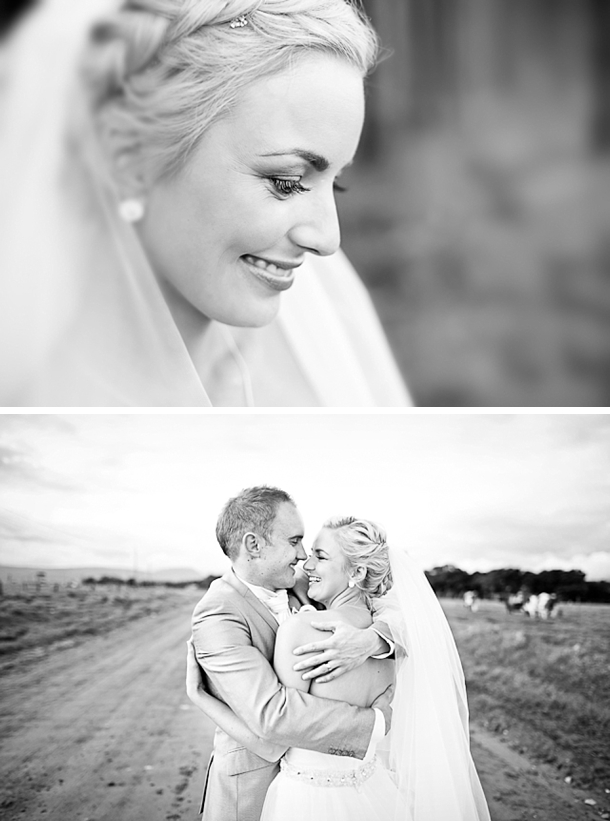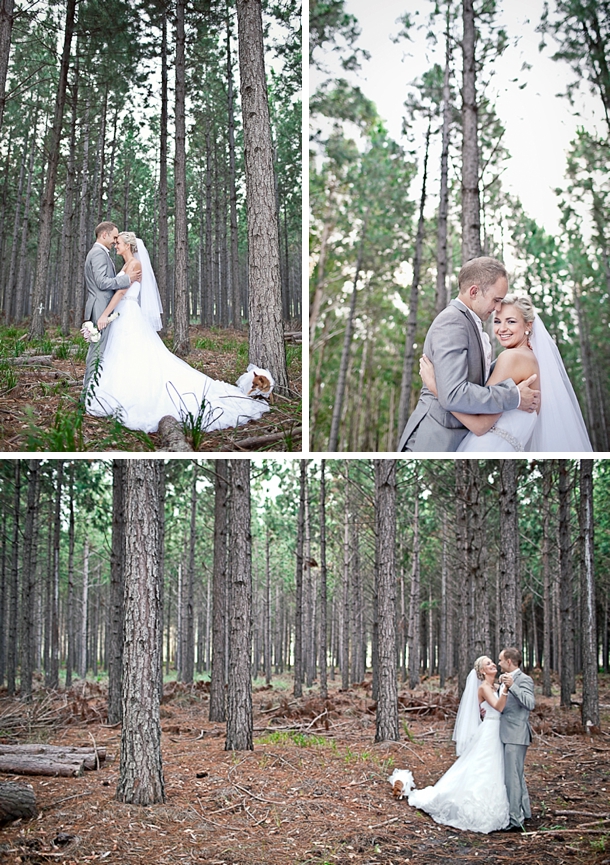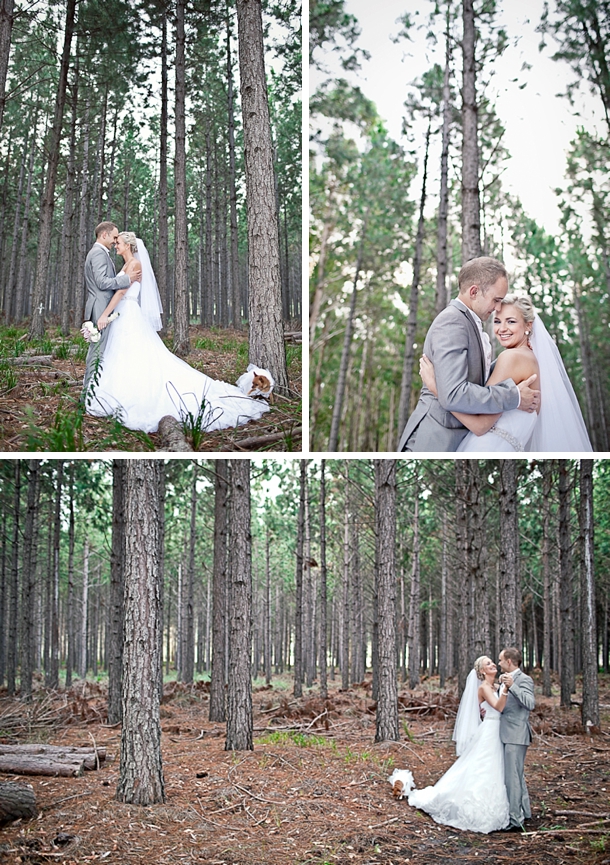 We hand made everything, from the tins to the wooden hearts for the table names to the picture frames for the table seating. It was a lovely bonding time with the family and our bridal party. Everyone who knows me knows I always have my camera to capture moments… And so I wanted to incorporate photos somehow… I came up with the idea of making photo frames with photos of the guests. These served as the table seating 'board'. I painted pegs and put numbers on them for the seating. That way they could remove the peg and use the frame. I also made a gallery of photographs of Ryan and I at the candy corner. It was fun and brought a lot of colour!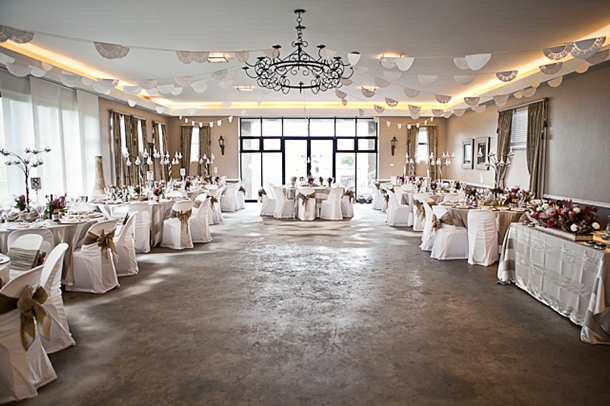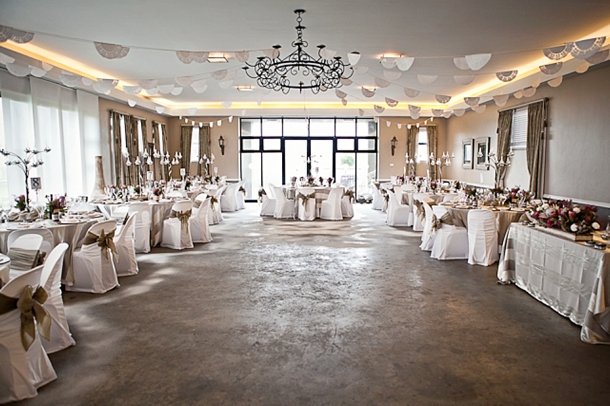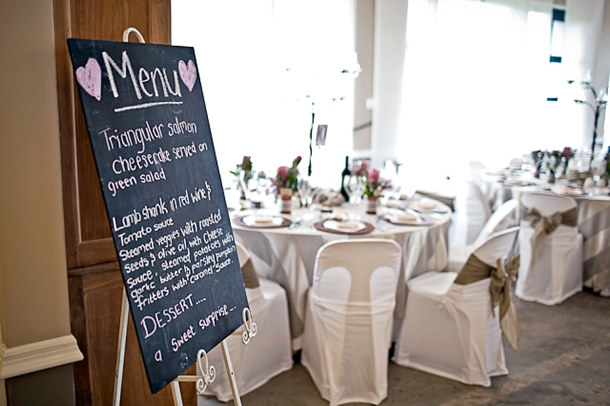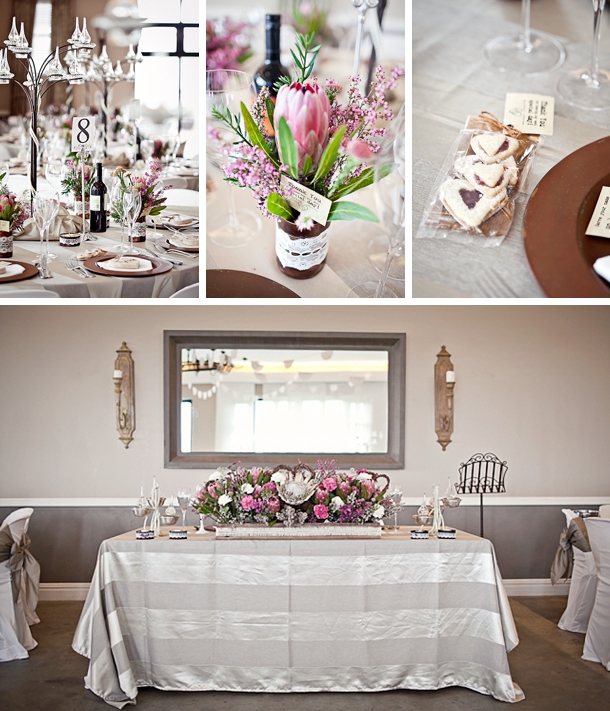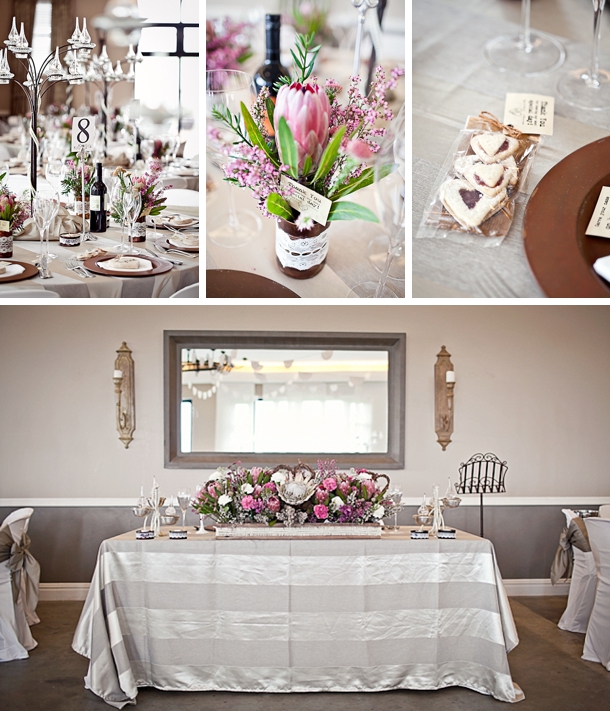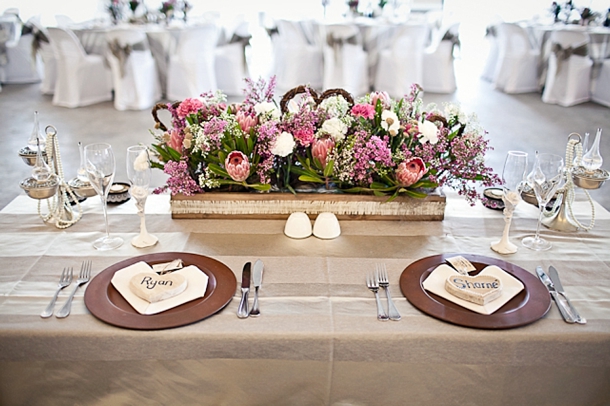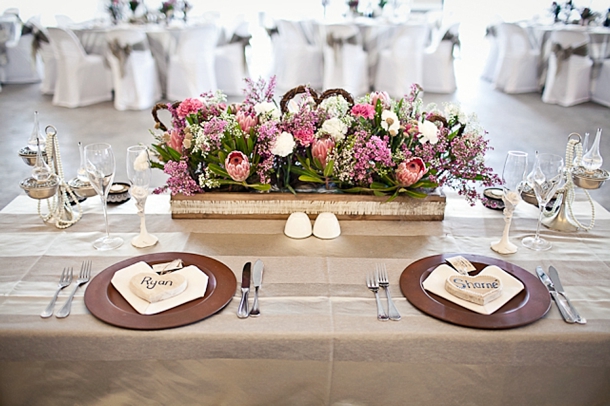 We had three dances in total. We danced the foxtrot to Barbra Streisand and Bryan Adams' 'I've Finally Found Someone' as our main dance as it had so much meaning for us. The second dance was a group Mambo line dance to Olly's 'Dance with Me' with our bridesmaids and best men – so much fun and such a surprise for the guests! Our final dance was a sexy Rhumba to Leona Lewis' 'Crash into Me', while our guests surrounded us in a large circle holding fire sparklers. It was goosebumps stuff!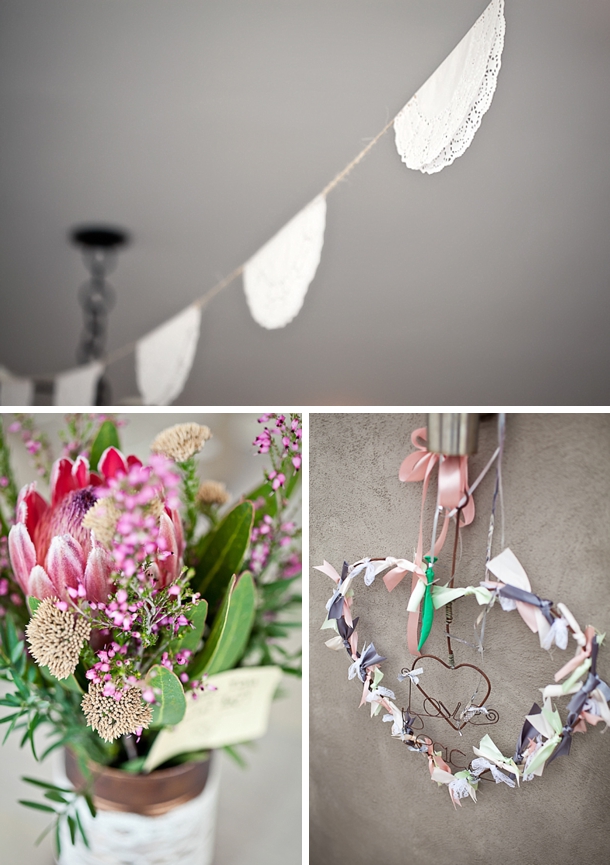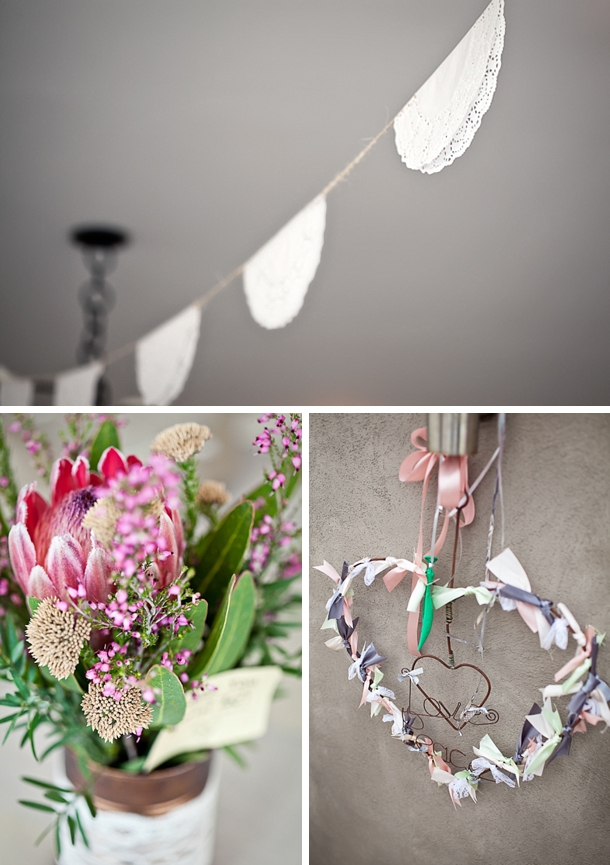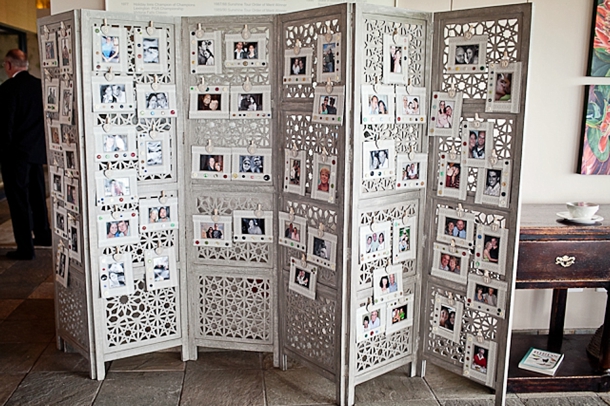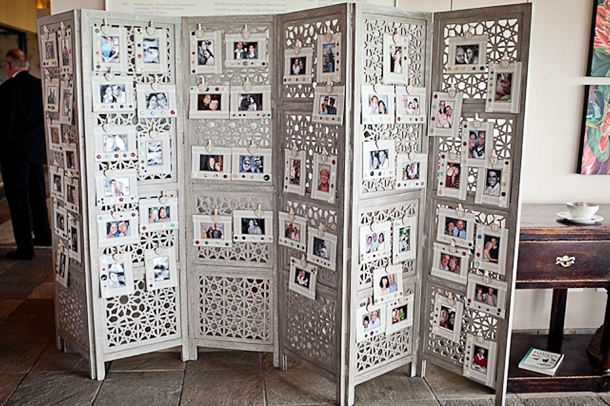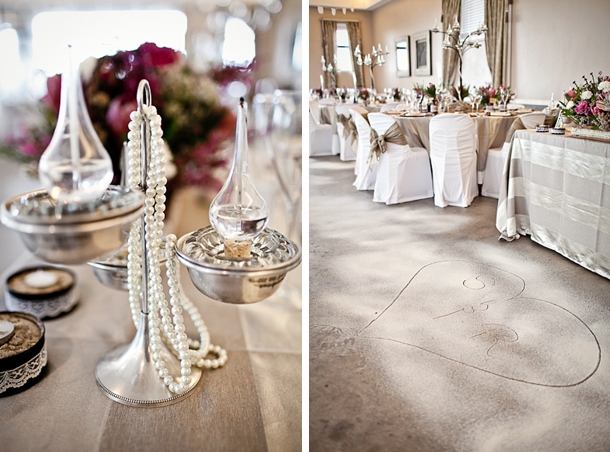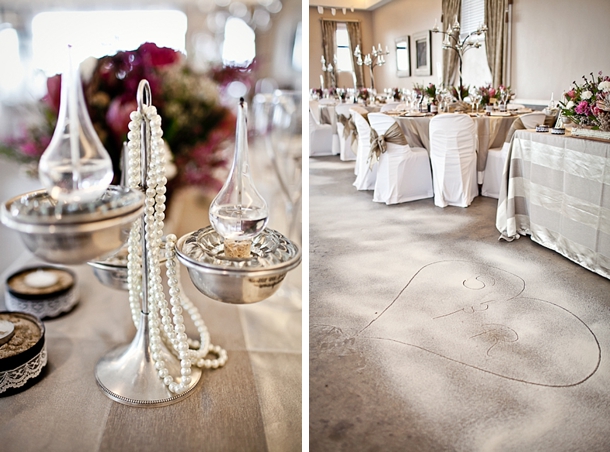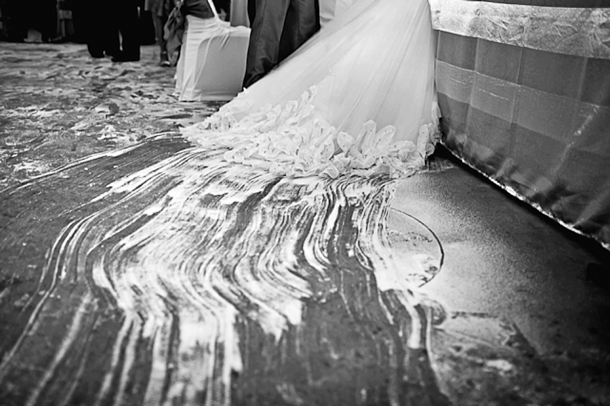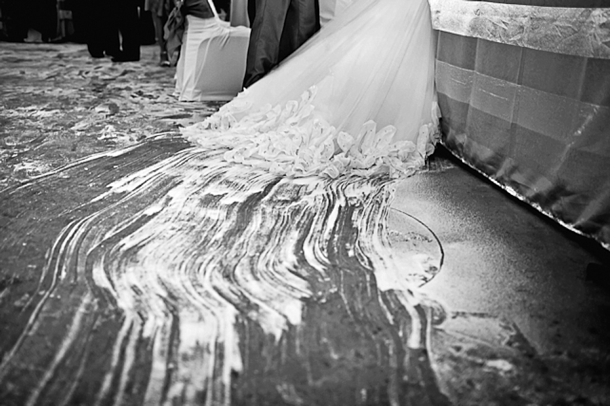 My advice to future brides:
Try and be original. I made a wedding map of all the things Ryan and I liked- food, activities, colours, styles, etc. I looked through magazines to find pictures of these things and my ideas. I kept a folder filled with clippings, sketches, samples, various ribbon colours, buttons, anything I found which I liked. Then I made my wedding map and put it all together. Based on that, I designed my style, my colours, my theme. And then I tried to incorporate it somewhere in the day… For example we do a lot of movie clips and photography is my hobby so we had fun incorporating these elements.
It's truly worth spending quite a bit of your wedding budget on a brilliant photographer and videographer! Do not budget on this at all… You will never have that day over… It's all you have after the day because believe me you will forget quite a few things… There is plenty of time to make up that cash again. Just do it, trust me!
On the day, delegate all the little things to responsible family members so that you don't have to think of anything else but living in the moment. I did this… it was incredible to just enjoy it all. I remember getting goosebumps the entire day…my heart was smiling too!
And while you are getting ready, make sure you have an amazing playlist of music as it truly sets the tone as well as some soothing room fragrances and lots of candles… Ryan surprised me with a beautiful CD, which was on repeat the whole day. It all creates such a beautiful atmosphere and it's so good for the soul!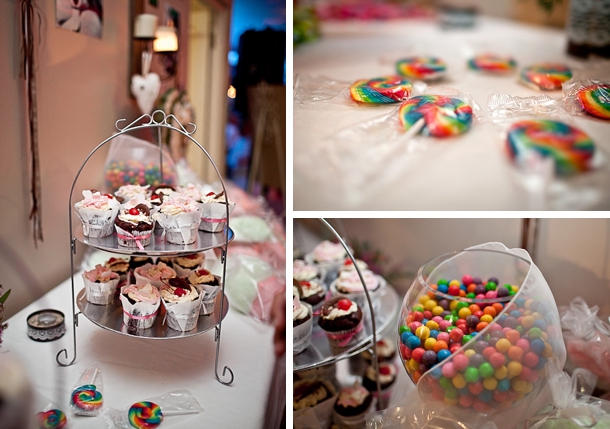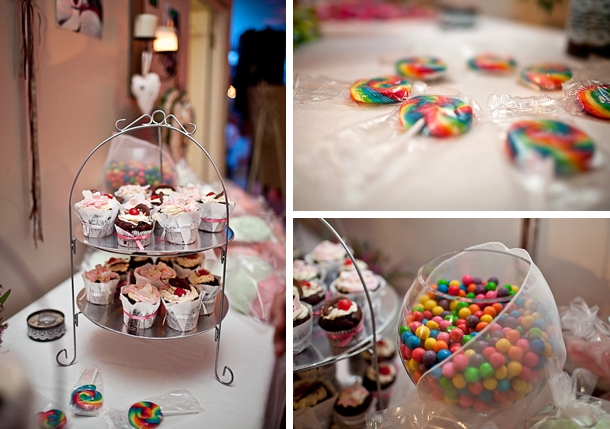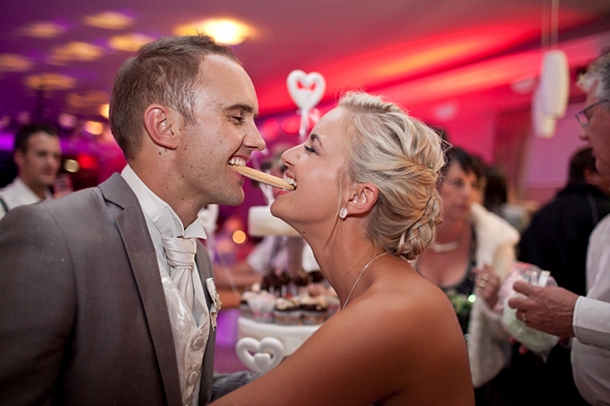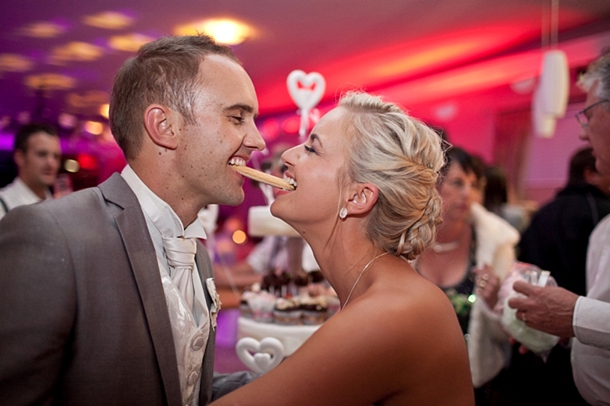 Thank you so much, Sharné and Ryan! And another big thanks and welcome to SBB to Niki! You can see the rest of this celebration of love over on her blog.
SERVICE PROVIDERS
Venue & catering: Fynbos Golf & Country Estate | Photography: Niki M. Photography | Video: Brad Peens | Bride's dress: Lorette Designs | DJ: Green Pepper Productions | Bridesmaids' dresses: Vibes Store