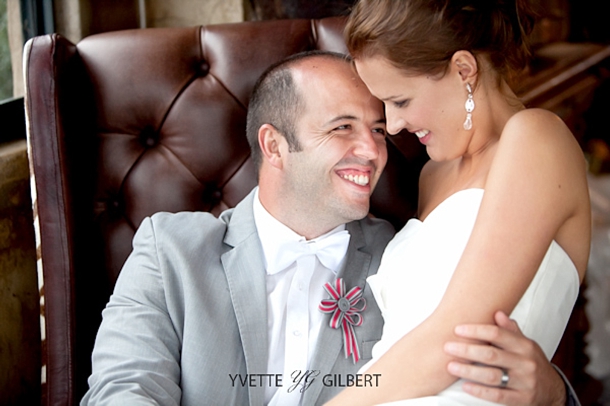 It's ironic that as I wrote this intro it's POURING down with rain outside, since this is the second wedding this week that had to contend with erratic weather (thanks, climate change). But, like our bride and groom yesterday, Jana and Ruan didn't let it spoil anything for them, and as well as enjoying a slightly rainier after ceremony carnival than planned, took advantage of the cosy fireplaces at their venue, Netherwood. It's a great example of how a happy bride and groom will always result in happy guests, which is so much more important than the decor, really. Um, not that the decor takes a back seat here. Oh my goodness, I LOVE the bright colours Jana and Ruan chose for their tables and the way they used clever twists like books (almost like treasured scrapbooks the way they stuffed them with little bookmarks) for table numbers and bright napkins with menu bands that look like Pantone chips along the table. There are so many thoughtful touches here, like the instant camera 'scavenger hunt' they set their guests or the 'love is brewing' coffee favours, and don't get me started on the 'carnival' itself, which included adorable fete food as well as lawn games. Everywhere I look there's a stealable idea, so get ready to pore over the pictures and get your Pinterest on. Oh, but don't skip the text, because Ruan pulled off the most AWESOME proposal, which I think would put any girl on cloud nine (literally!). I'm so excited to share this wedding with you – images are from Cape Town-based photographer Yvette Gilbert.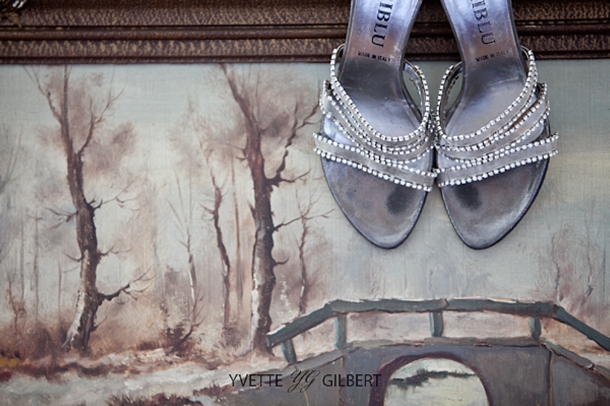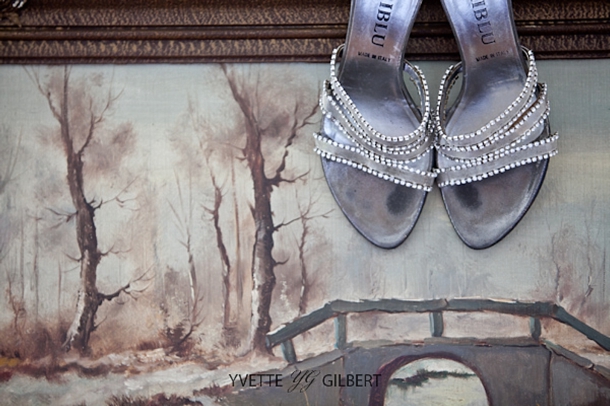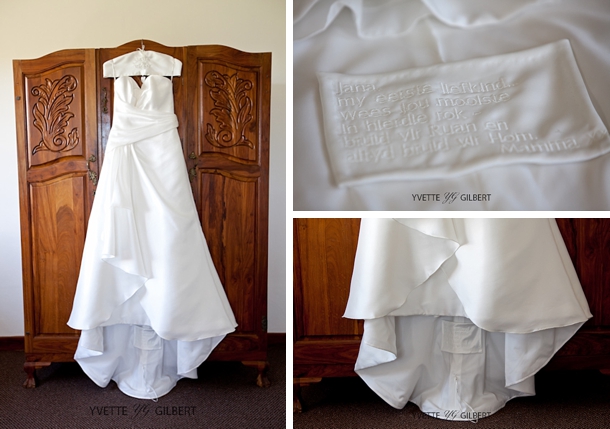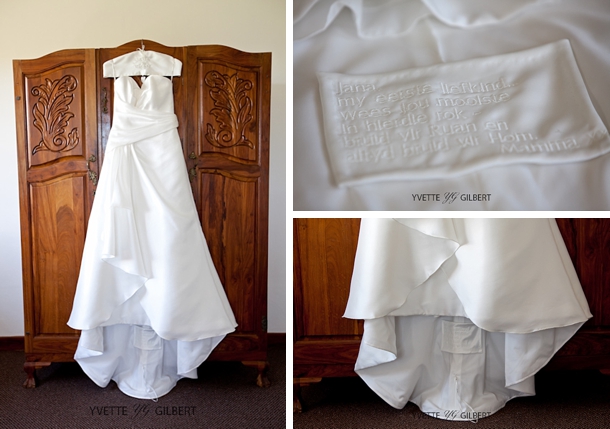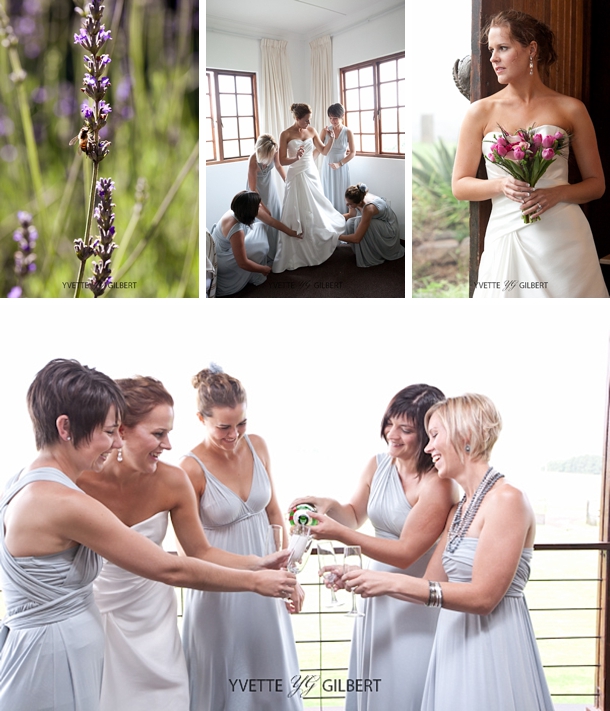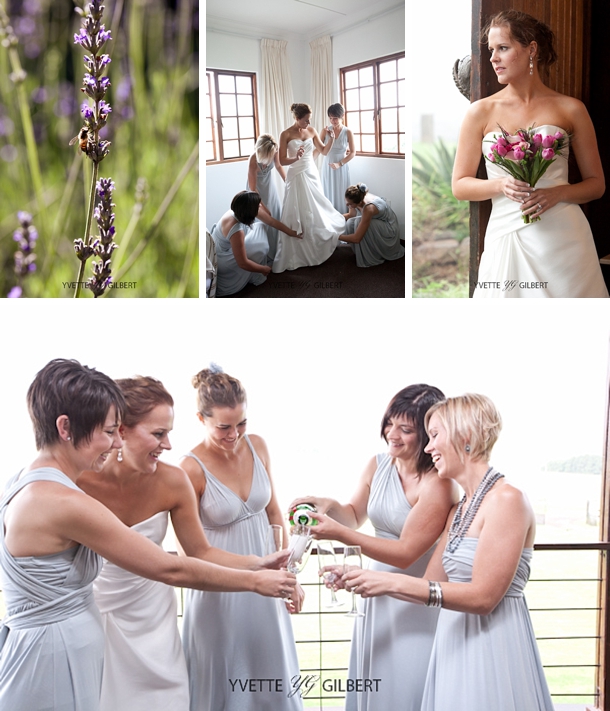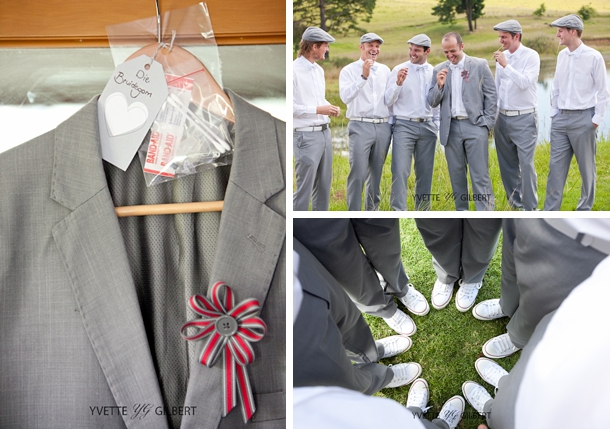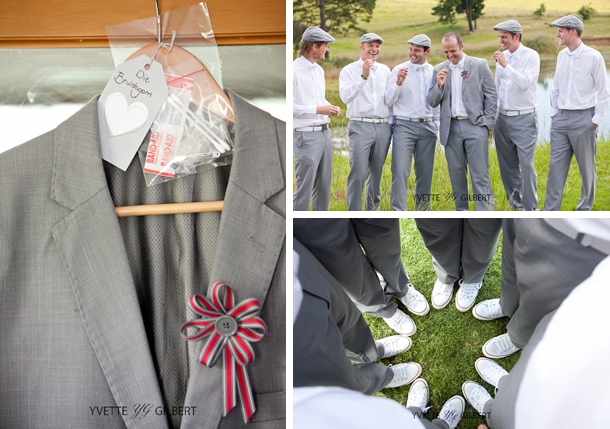 From the bride, Jana:
Ruan and I met at a church home group just after I moved to Durban. He claims to have known at our second meeting that I would be his wife one day. One night all our friends got together for coffee at Ruan's and I noticed a vanilla pod in his sugar tin – on my way home that night I phoned my mom to let her know that I had met my husband! We starting dating soon after.
One Thursday night, a little over a year later, I told Ruan to get his act together and pop the question because the waiting was killing me – little did I know! The very next day, around lunch time, I received a frantic call from one of our friends – he was waiting outside my workplace and I had to hurry out. When I got to him he handed me a backpack and envelope marked 'The Amazing Race'. He said I had to hurry up and get out of there. I opened the envelope, which instructed me to go home, pack for two nights away and drive to the destination marked 'International Gateway' on a GPS, and there I could open my second clue from the backpack. The 'International Gateway' turned out to be the King Shaka Airport and my second clue took me to a Kulula check in counter where I had to hand the friendly lady a reference number and in return I received a boarding pass to Johannesburg. At this point I had absolutely no clue what was going on! Upon arrival in Johannesburg, I opened my next clue which took my to the car hire desk, I got a car and travelled to the next destination on the GPS where I was met by two of my oldest and best friends, where we were treated to a lovely dinner and lots of wine. The next clue instructed me to stay at my friend's place that night and return to the airport early the following morning, where I headed back to Durban and received instructions to drive to a beach coffee shop. I found my best friend waiting to have coffee with me (she was flown in from Johannesburg for the weekend by Ruan), and took me with her to Beach Bums where I met my best guy friend (also flown in from Jhb) for breakfast. At this point I still hadn't spoken to or seen Ruan (he communicated via SMS but refused to answer any of my calls) – I was completely overwhelmed!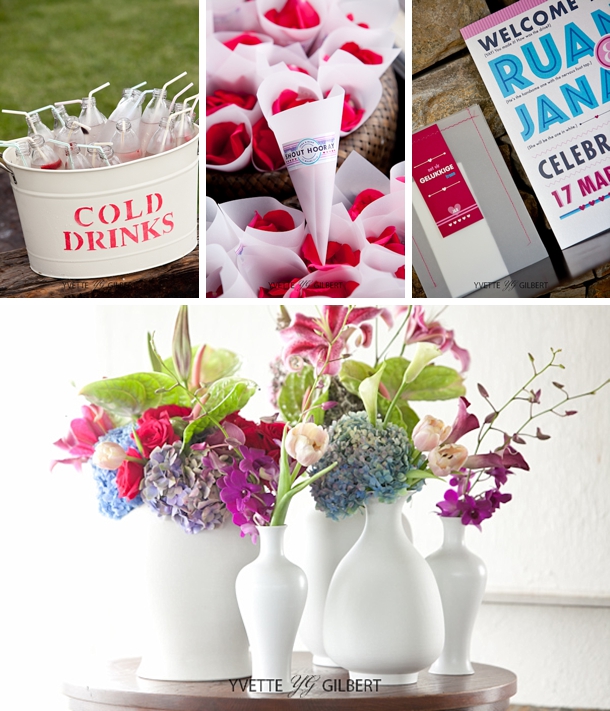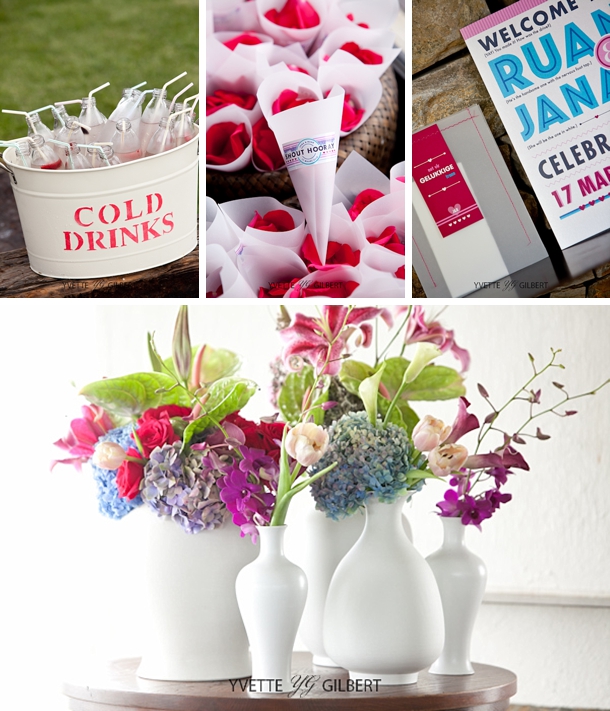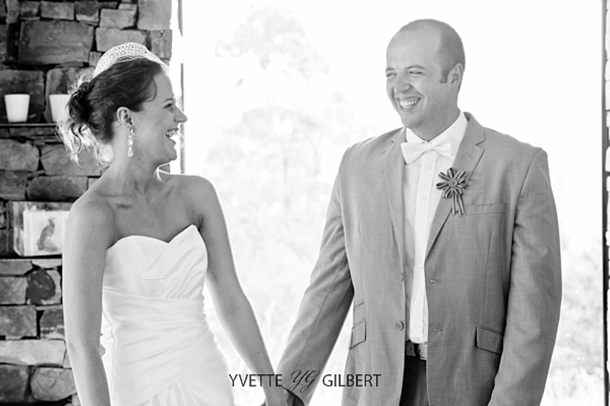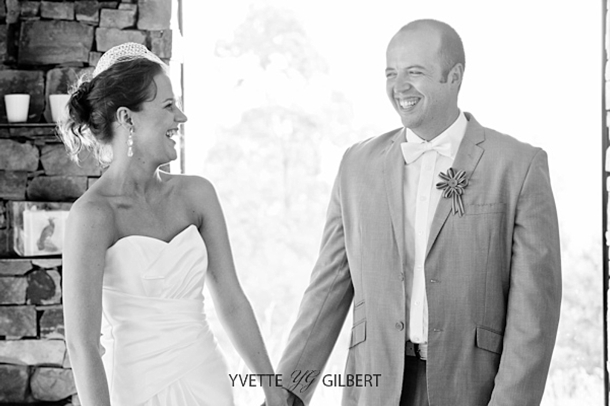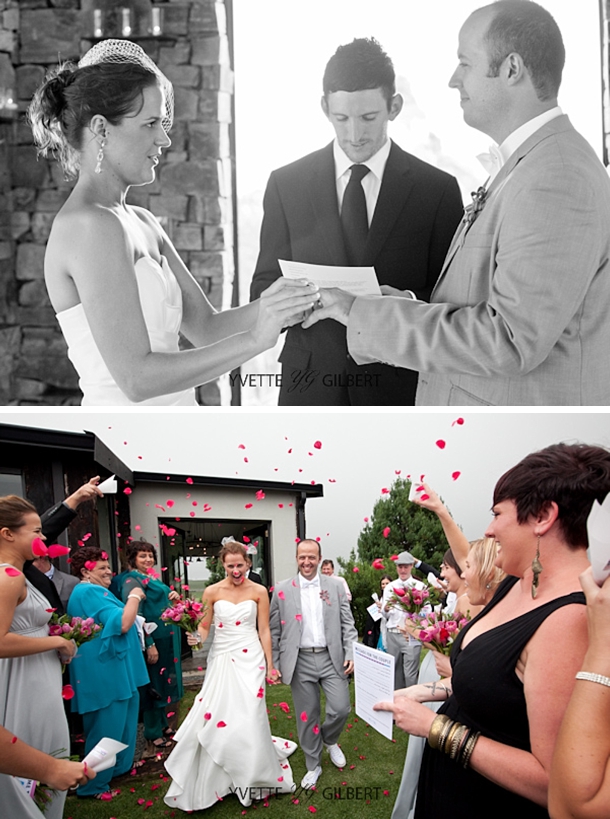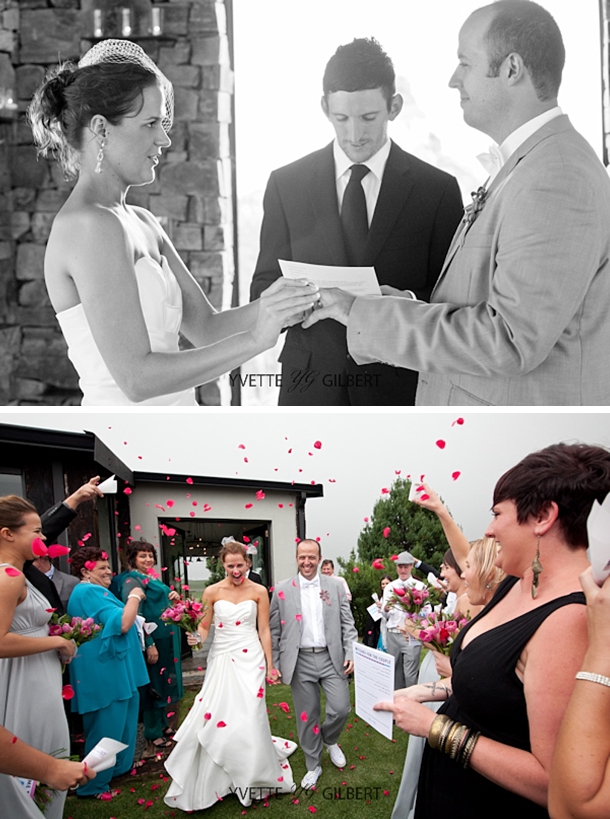 After breakfast my clue took me to a day spa in Durban North where I was treated to a massage. From there the next clue and GPS destination took my to my favourite lunch spot in Durbs where I met my dad (who drove down from Newcastle for the day) for a bite to eat.. After lunch my best friend met me again and took met to a hotel to freshen up! At the hotel I was treated to champagne and a bubble bath…all arranged by the friendly staff who were in on the whole story! Later that afternoon we headed off to The Beverly Hills Hotel in Umhlanga where a bunch of my girlfriends were waiting to have sundowners with me – again I have to mention, still no word or sight from the mastermind behind all of this and at no point did I know what would happen next. I received clues from the participants as I went along… After drinks I headed back to the hotel where my mom waited for me for a rooftop dinner (she also drove down all the way from Newcastle just for the dinner!) Mom and I got to spend the night in the hotel and early the next morning my next clue instructed me to drive to another mystery destination on the GPS – this turned out to be an airstrip where I got treated to my first ever microlight flight. The microlight took me over Tinley Manor Beach where Ruan was on one knee next to a HUGE sign in the sand saying "Jana, trou met my…" (Jana, will you marry me?) Of course I gave him the thumbs up sign! He then raced to the airstrip where he met me with a ring! I absolutely adore him for taking the time and putting in the effort to make all of my favourite people part of our story!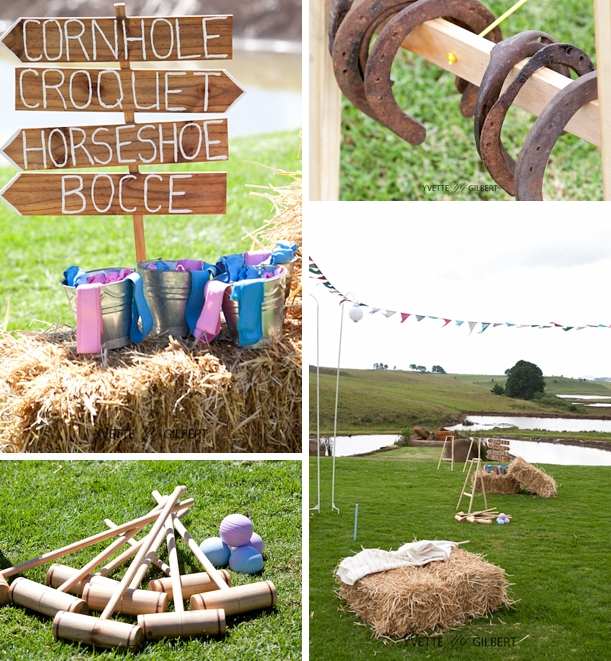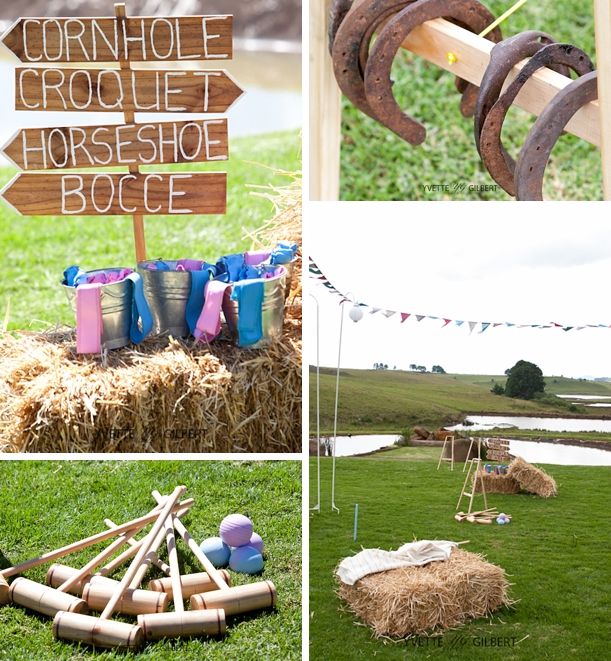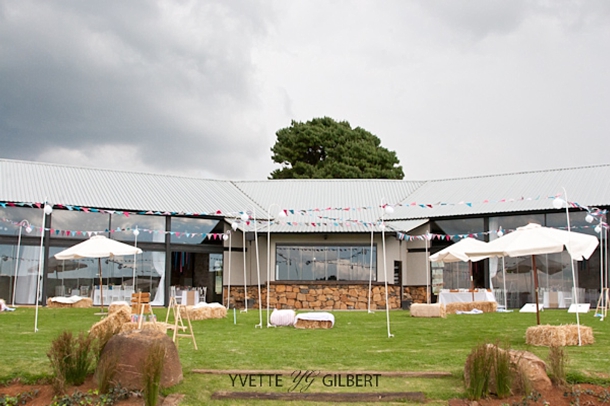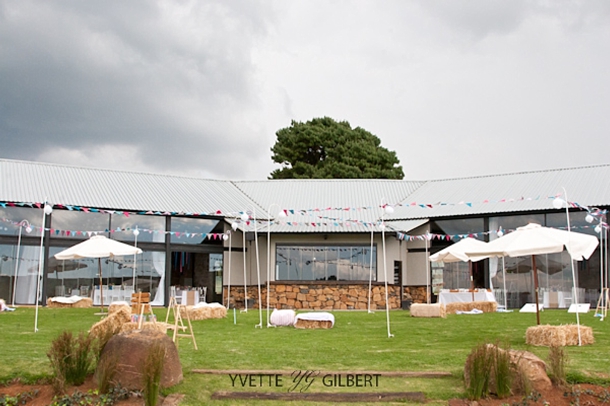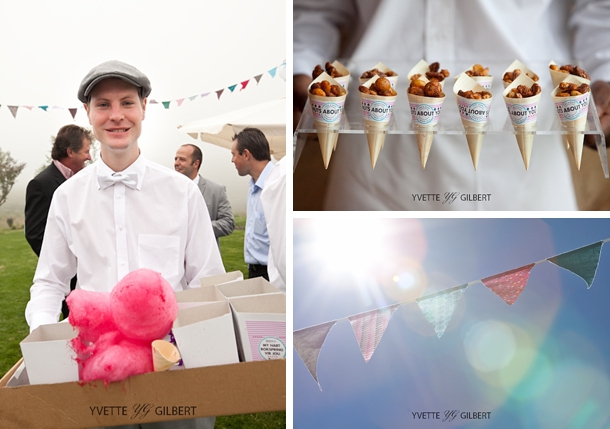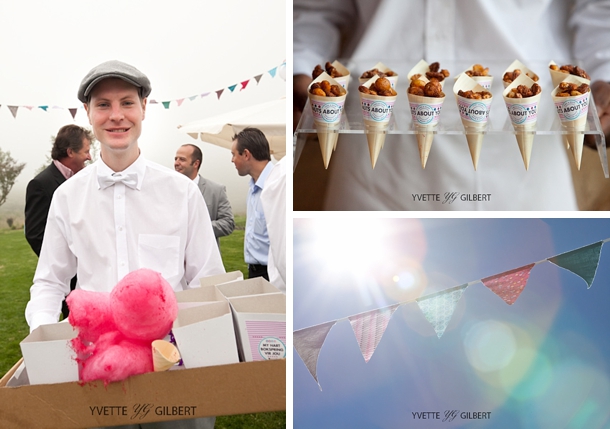 I fell in love with a tulip bouquet on a blog and that's what inspired the rest of our day – we choose a deep pink and peacock feather colours. The peacock then inspired the rest of the design and we started calling it a bohemian-"boere" (farmer) carnival theme! We wanted to find a venue which would allow us to bring in our own look and feel and not limit us by already having a specific feel to it. I discover Netherwood on the net and the moment we set foot on the property we knew we had to get married there! Netherwood is truly a magical place, it made my soul smile!
I loved the excitement of getting all dolled up and ready to walk down the aisle, but the highlight of the wedding day was our church service. It was led by a special friend and pastor, with such an honest and personal ceremony – we had so many laughs that all our nerves disappeared and this set the mood for the rest of the day.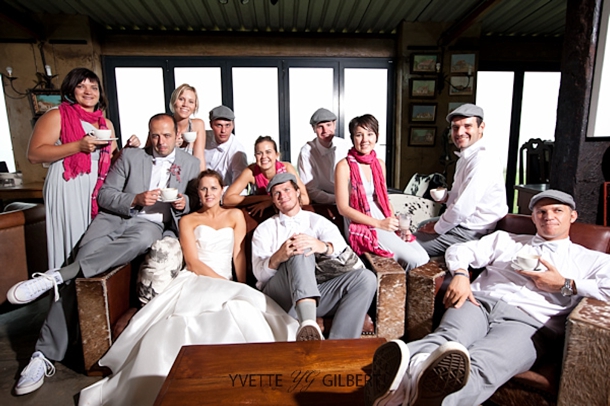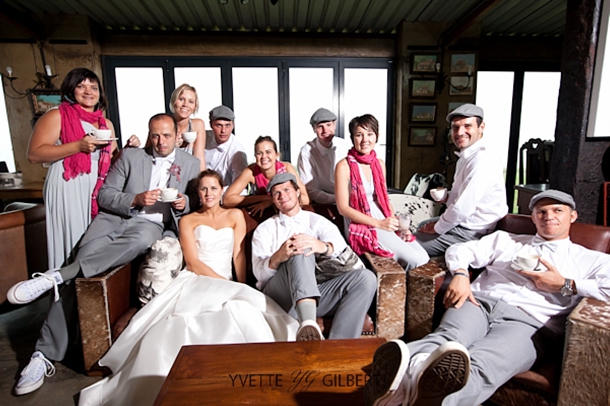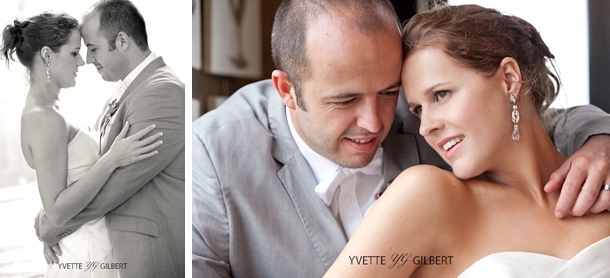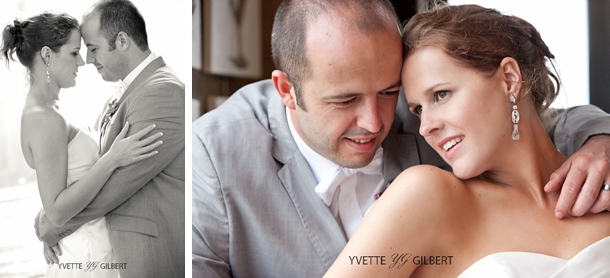 All our wedding day planning had been focused around the pre-drinks part of it – we had an entire carnival set up with 200m of hand sewn bunting (my mom, Ruan and I took three days over our Christmas holiday to cut and sew!), lawn games (all handmade by my father-in-law), and all sorts of carnival treats like popcorn, slush puppies, mixed nuts and candy floss. We had so much fun putting all of this together before the day – unfortunately the weather turned horrid during the ceremony, and the carnival got a little rained out! Luckily the venue had fireplaces and everyone got cosy around the bar.
Our table decor included a lot of fun elements, like disposable cameras and our guests painting messages on a two large canvasses which we are now putting up in our house. It was so exciting seeing all our friends and family and I really, really loved the beautiful decor (my mom's a florist, so we have true appreciation for beautiful floral art!) All in all, we wanted our wedding to be a fun, down to earth celebration and I think we achieved it!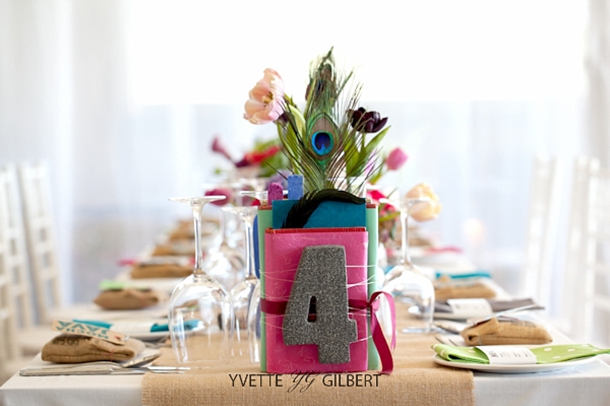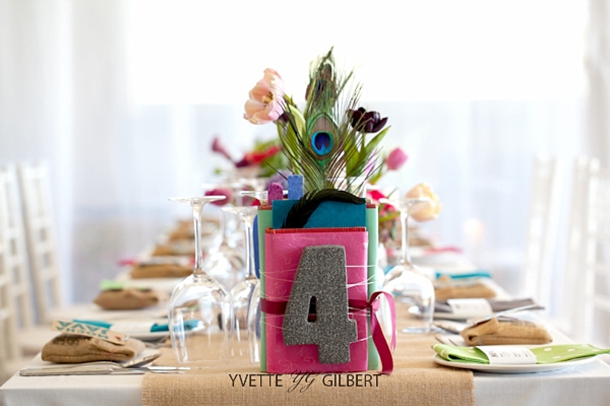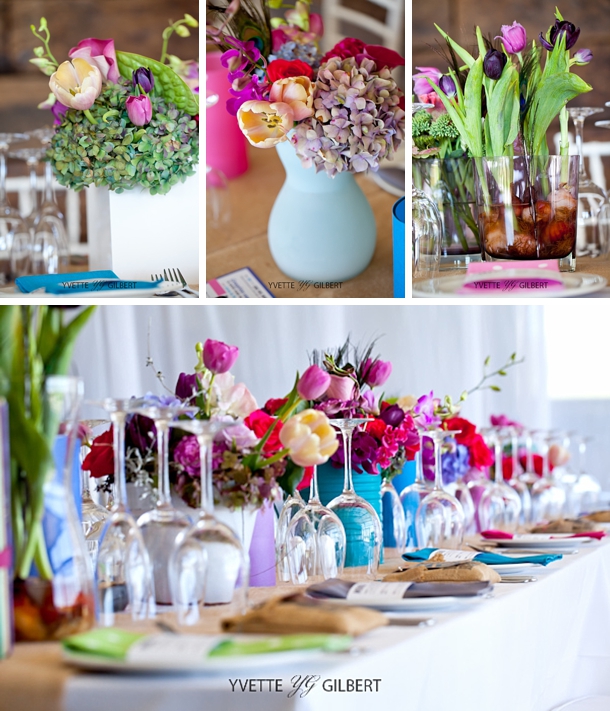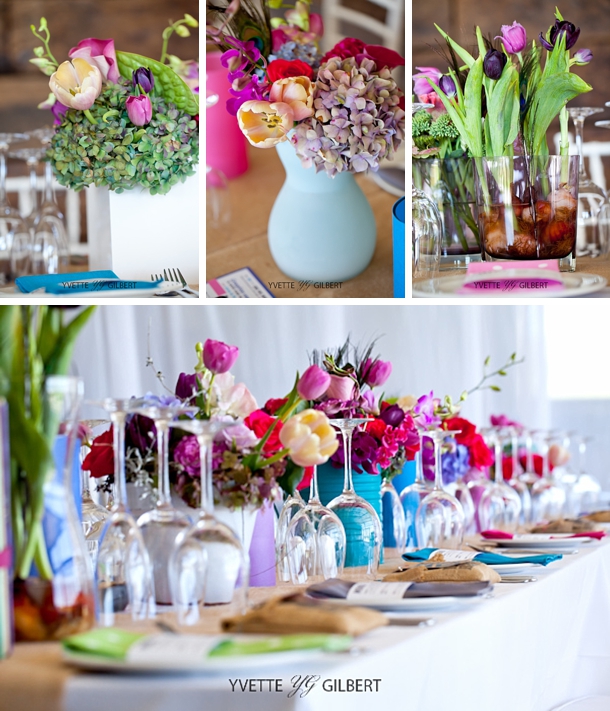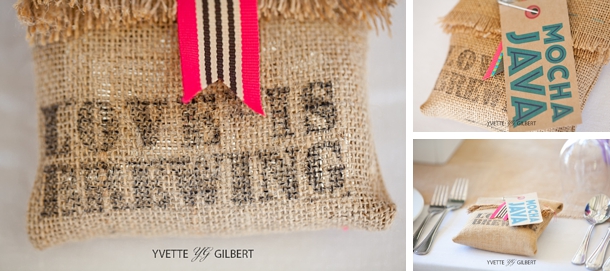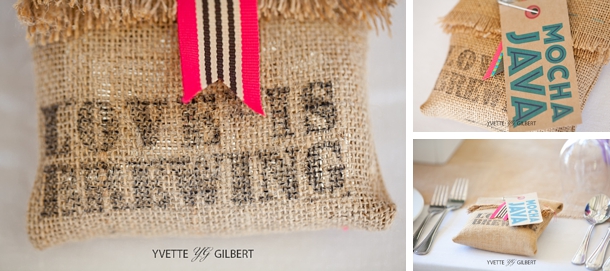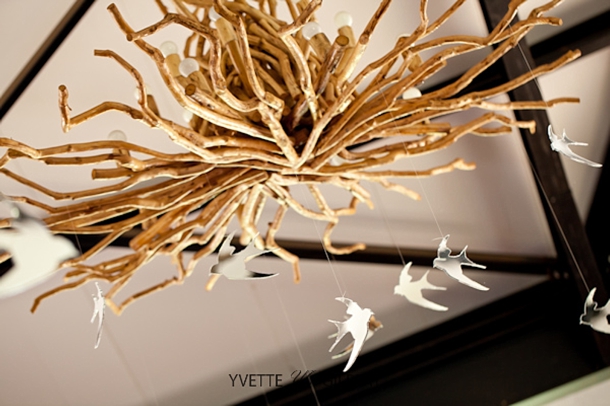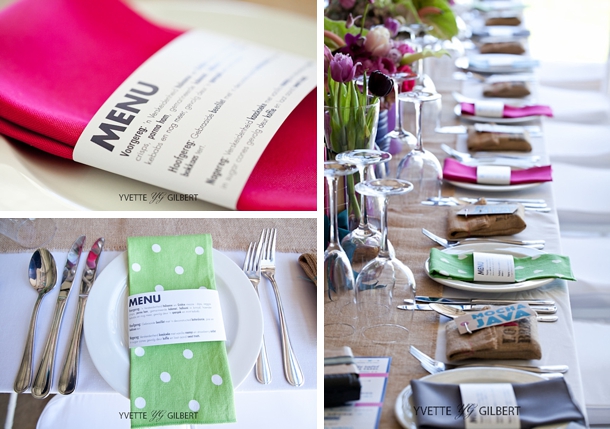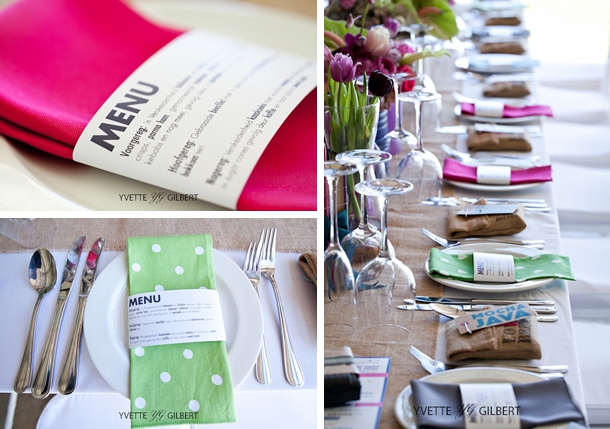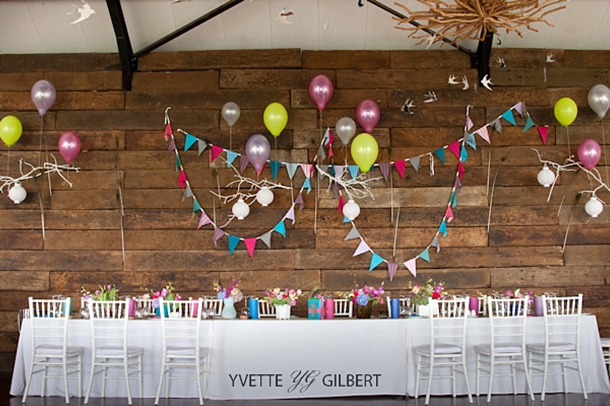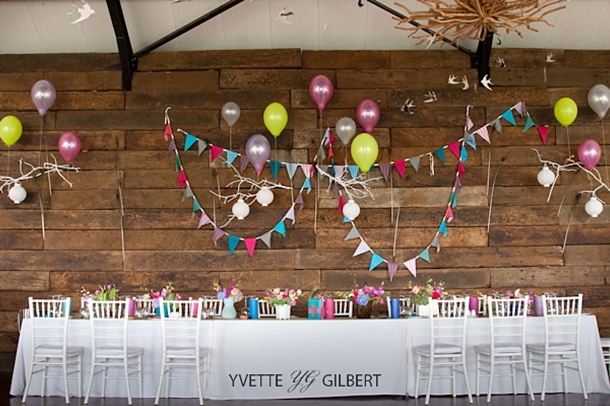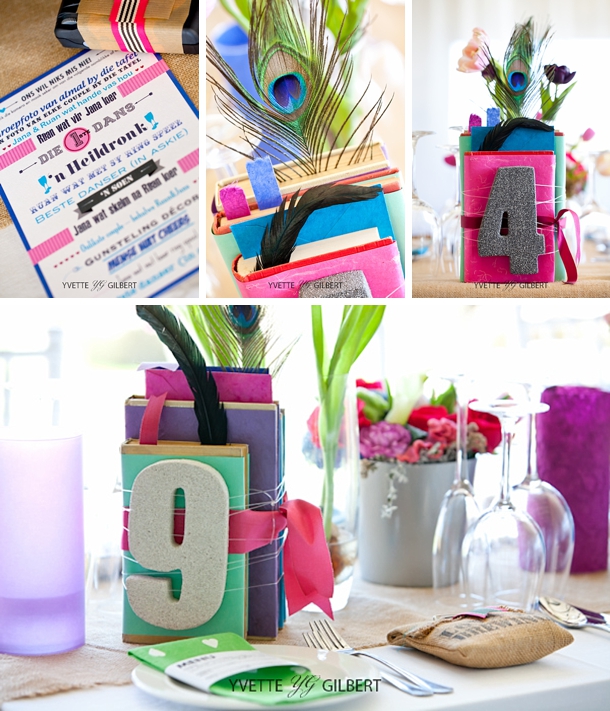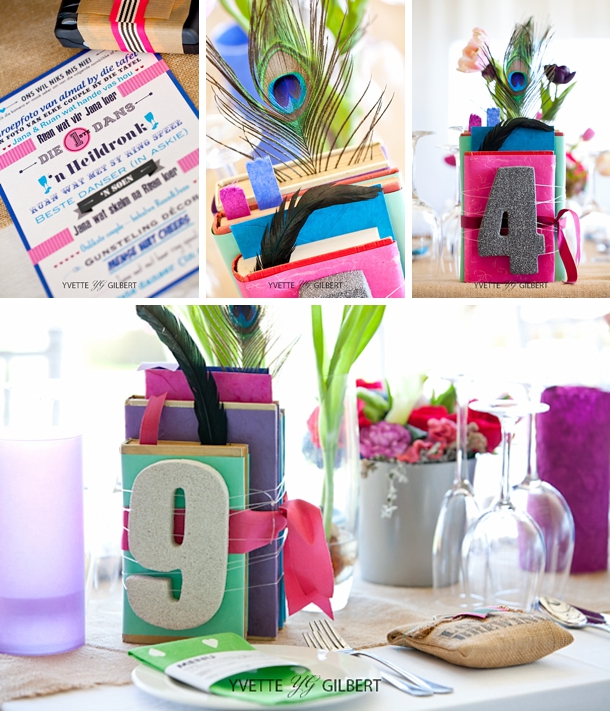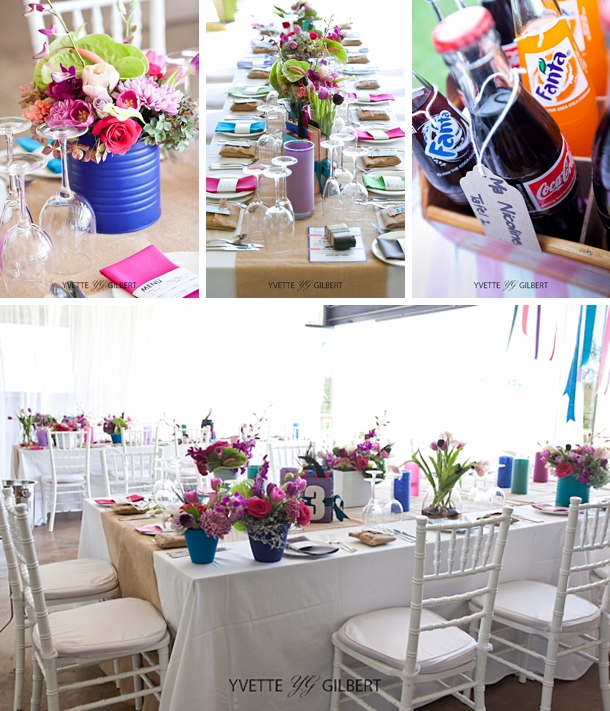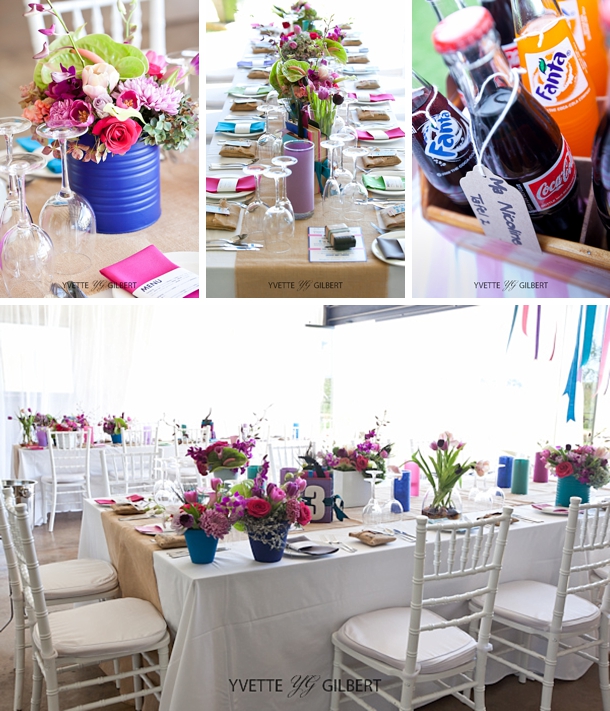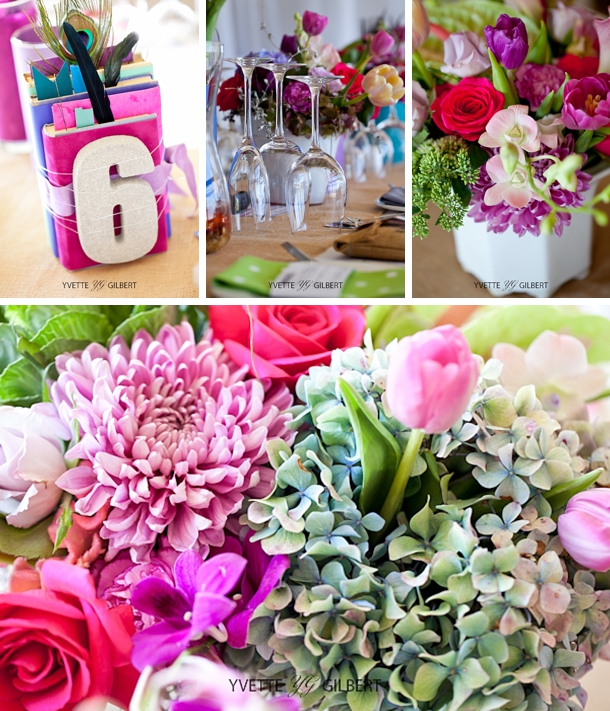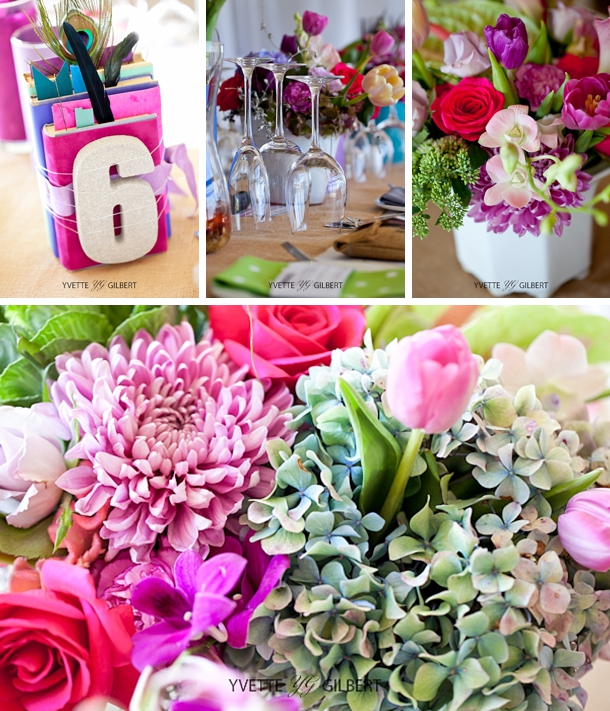 My advice to future brides is to have fun and think outside the box! You get married once – make sure your wedding is a celebration of who you are as a couple and not just a copy of a beautiful wedding you saw online. I got loads of my inspiration from Pinterest and used it to store all my ideas in one place (no idea what we would've done without it!) as well as from the then-Cap Classique blog and The Pretty Blog.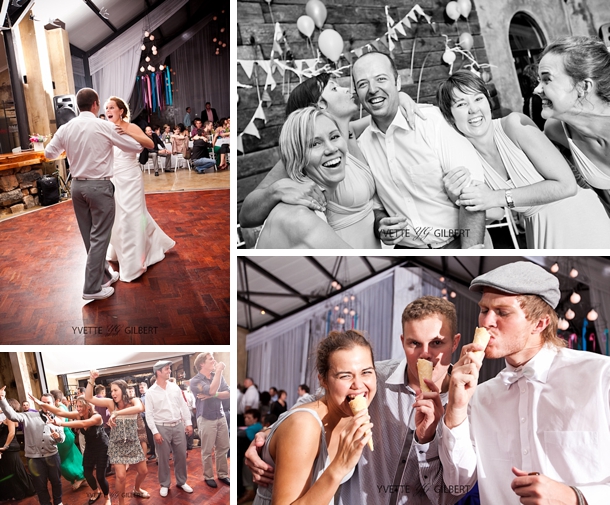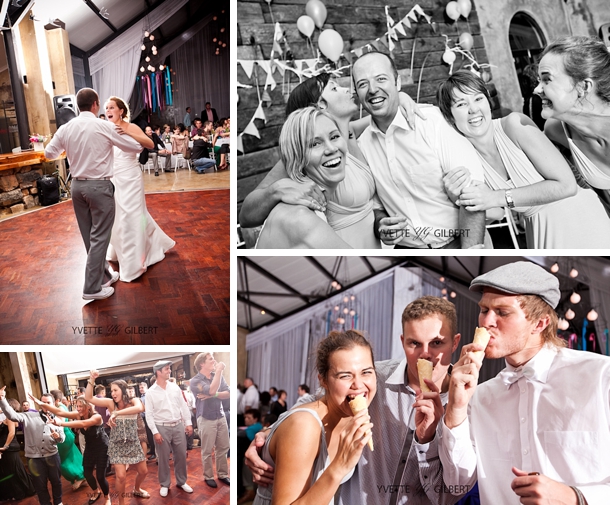 Thank you so much for sharing this awesome wedding with us, Jana and Ruan! May your lives together be just as fun and colourful. Many thanks also to Yvette – you can see more of her work on her website.
SERVICE PROVIDERS
Venue: Netherwood | Catering: Aubergine | Photography: Yvette Gilbert | Flowers & decor: Ecozest | Bouquets: Bride's mother | Chocolate Brownie Cheesecake: Sprigs | Stationery: Susan Brand | Bride's dress: Lady Marmalaide | Bridesmaids' dresses: Josephine Clothing | Hair & makeup: Play Play Creations | DJ: DJ Ross | Entertainment: Rene Tshiakanyi