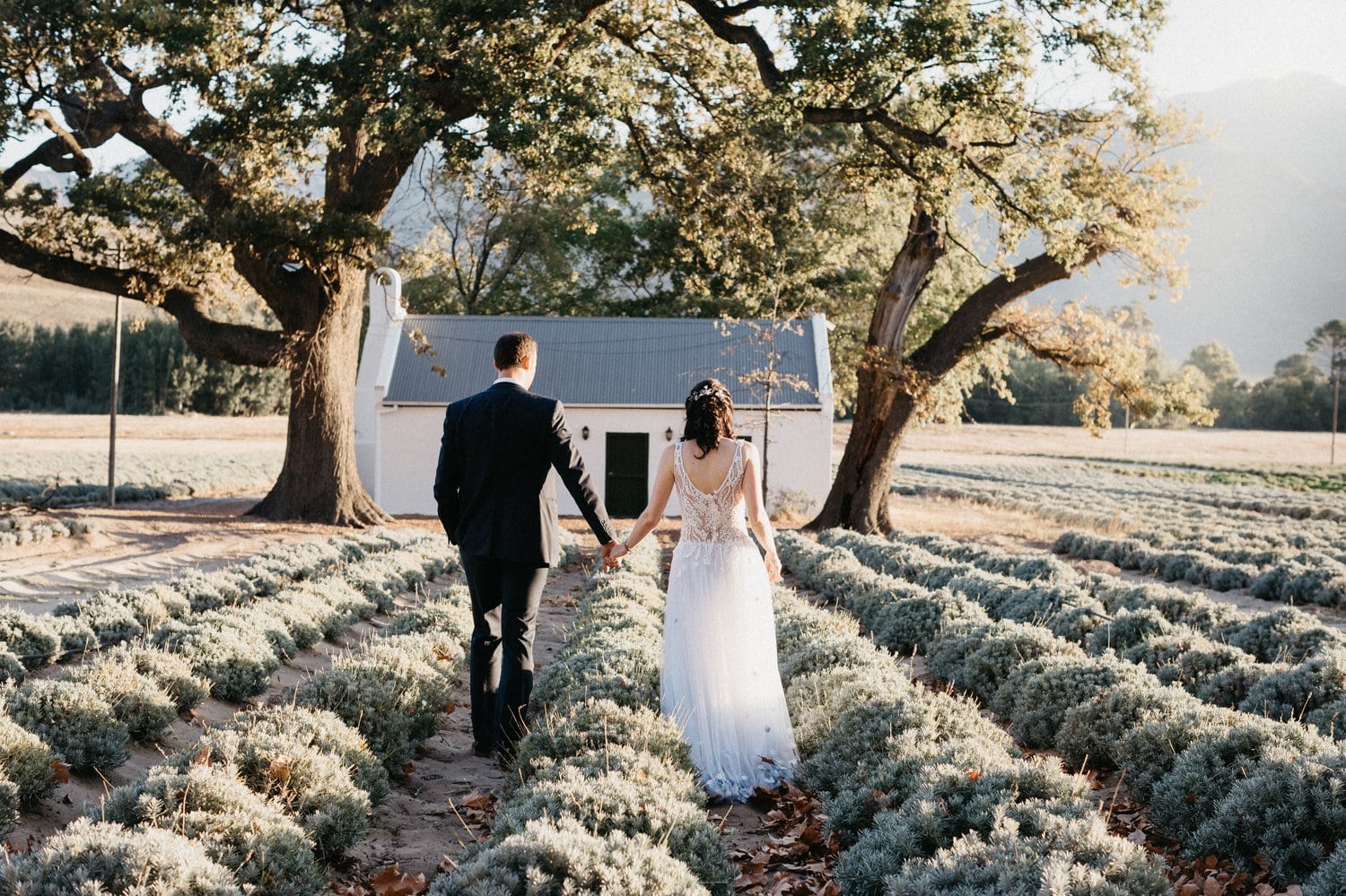 Be still my Delft-loving heart! Because you KNOW that the gorgeous Delft tableware and stationery and palette is what I noticed first about Glenn and Tracey's gorgeous wedding. But the happiness doesn't stop there. This sweet couple, who love the outdoors and wanted to enjoy the beautiful Western Cape summer scenery, chose a venue that allowed them to appreciate Nature in all its glory through the Conservatory's floor to ceiling glass windows, then brought it inside with secret garden-inspired florals that are the perfect amount of both elegant and whimsical. A variety of hanging gardens dripped from the ceiling (LOVE), and the flowers were decked with little terracotta pots and a mix of vases, which worked beautifully with that Delft china print. Tracey's dress and Glenn's suit were nods to the colour scheme too, with the bride donning a beautiful gown with a dreamy dipped blue skirt (perfectly complemented by a romantic updo and natural makeup by SBB fave Ida Webster), and the groom rocking a navy suit and floral print tie. It's all SO LOVELY. And the real cherry on top is the way that the bride and groom chose to really include their littler guests in proceedings, making their reception full of happy kiddie smiles and memorable moments (plus those littlies knew how to squeak tekkie on the dancefloor, and showed the adults how it's done!) The fabulous Jo Stokes was on-scene to capture every pretty detail and happy moment in these pictures.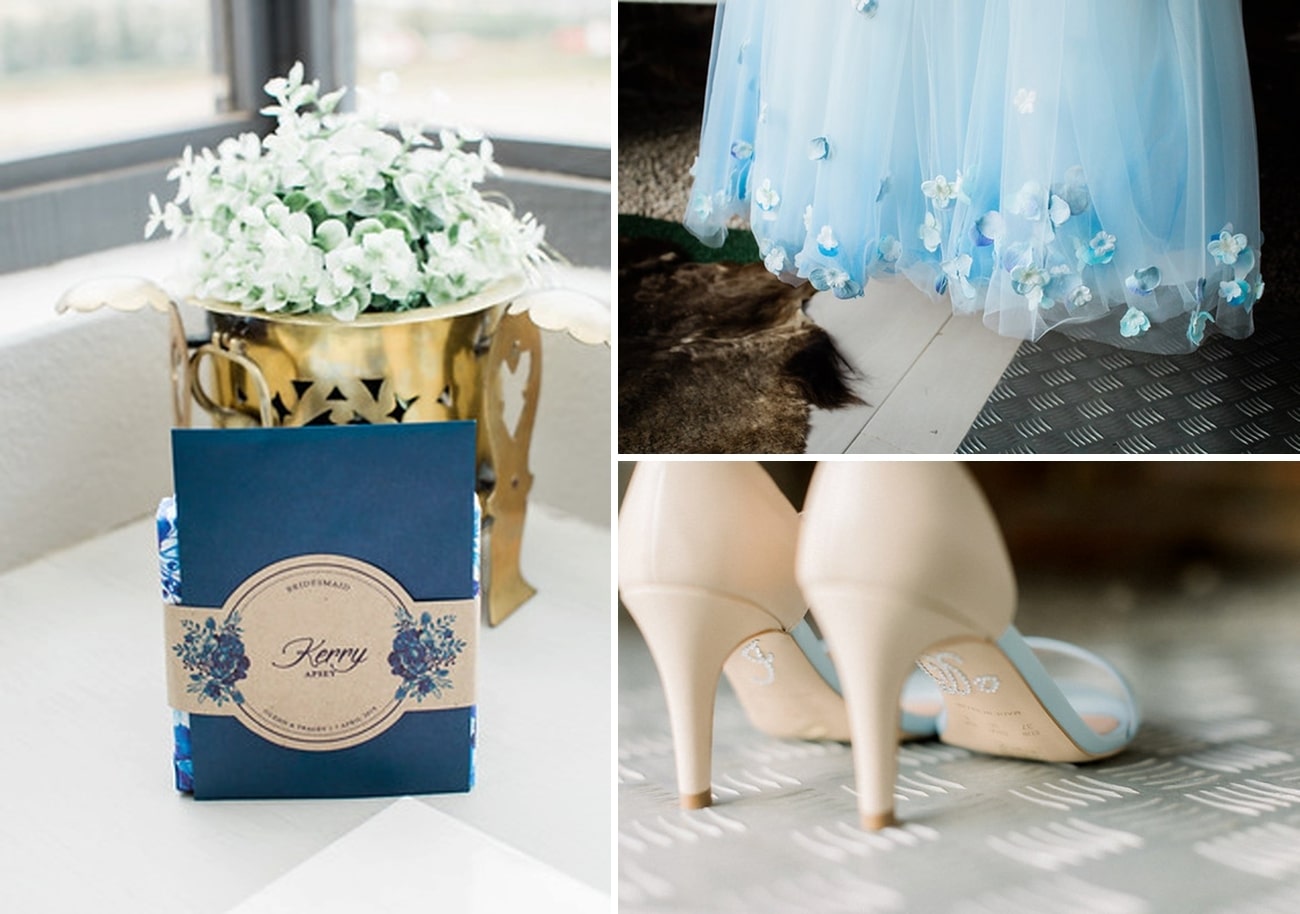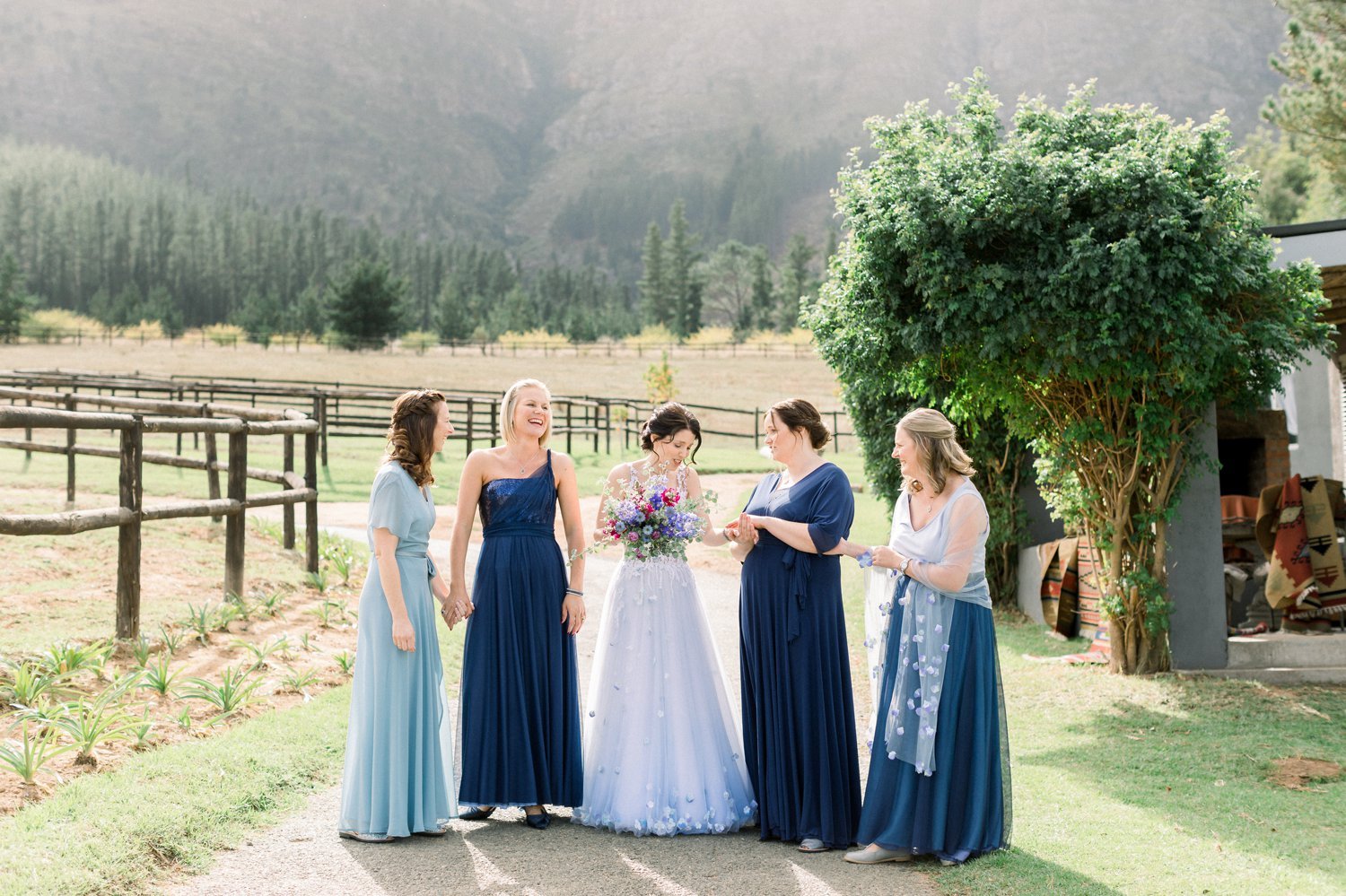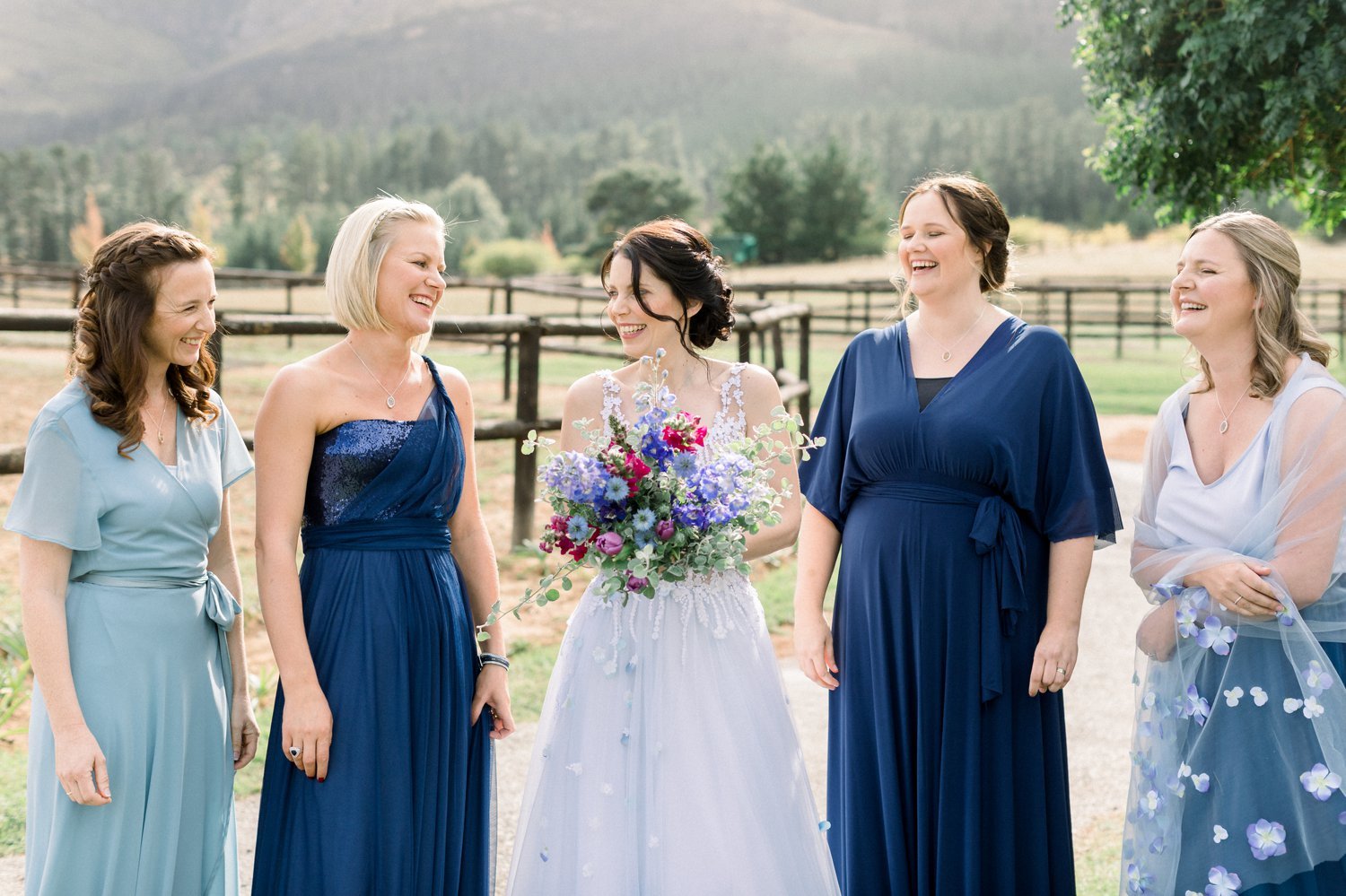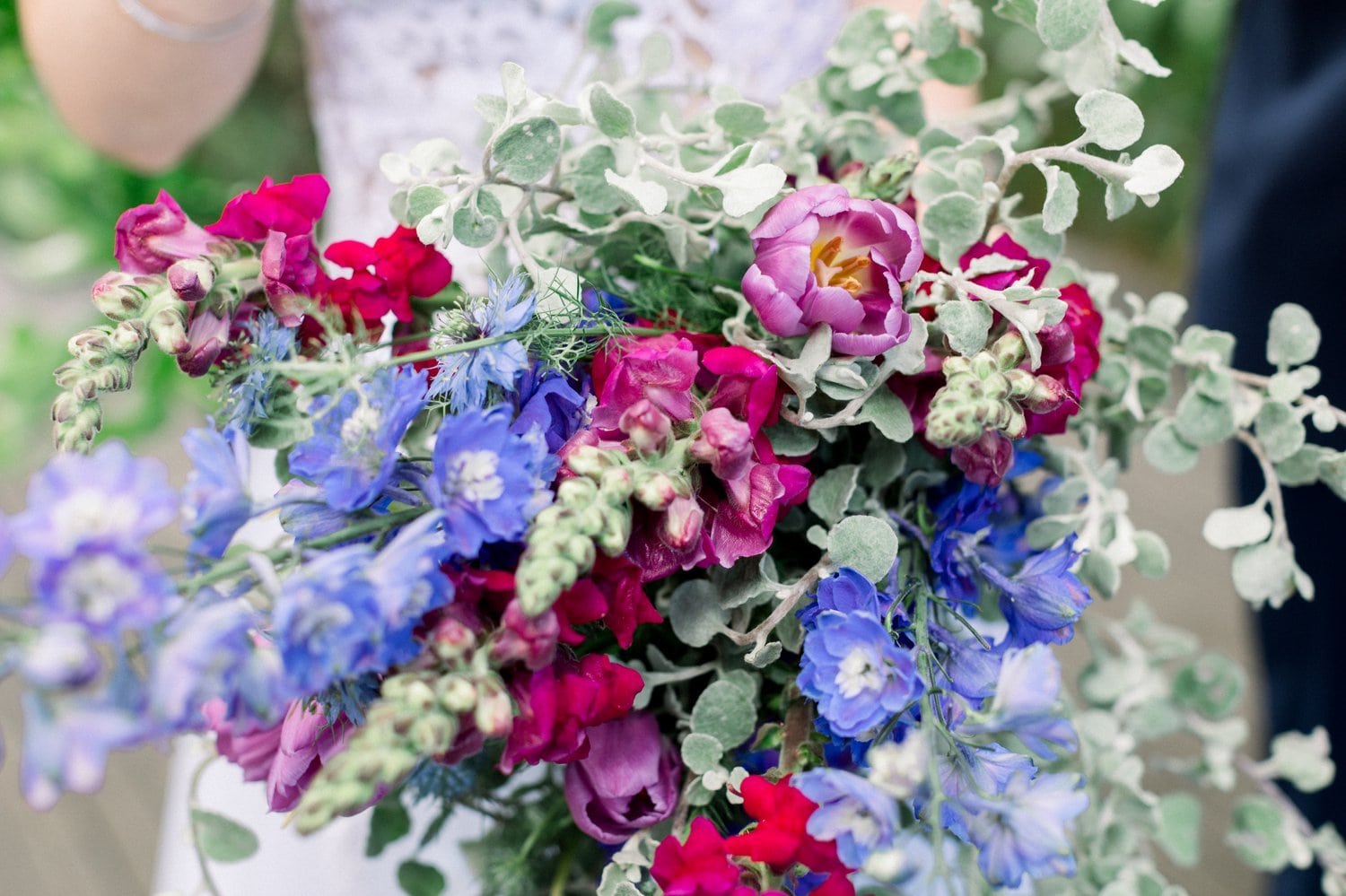 Love Story
We first met at a picnic arranged by mutual friends at the Walter Sisulu Botanical Gardens early in 2016. We noticed each other, but we were both a bit distracted on that day. Glenn was new to Johannesburg and I had my little godson, Simon (then 2 years old), with me. So, nothing followed from that meeting. Almost a year later, we met again at a mutual friend's birthday party and managed to strike up a conversation. The next day, Glenn sent me a Facebook friend request and the rest, as they say, is history!
The Proposal
Picnics and the outdoors have been a bit of a theme in our relationship. Although Glenn and I live in Johannesburg, we're both from the Cape originally and took our first trip down there together in October 2017. The trip was filled with meeting friends and family, but we took one day to ourselves and decided that a picnic at the Kirstenbosch Botanical Gardens would be the perfect way to enjoy "us time". After the picnic, we walked through the gardens and ended up crossing The Boomslang to take in the view. It was at the end of the bridge that Glenn got down on one knee with the most stunning sparkly ring in his hands and popped the question.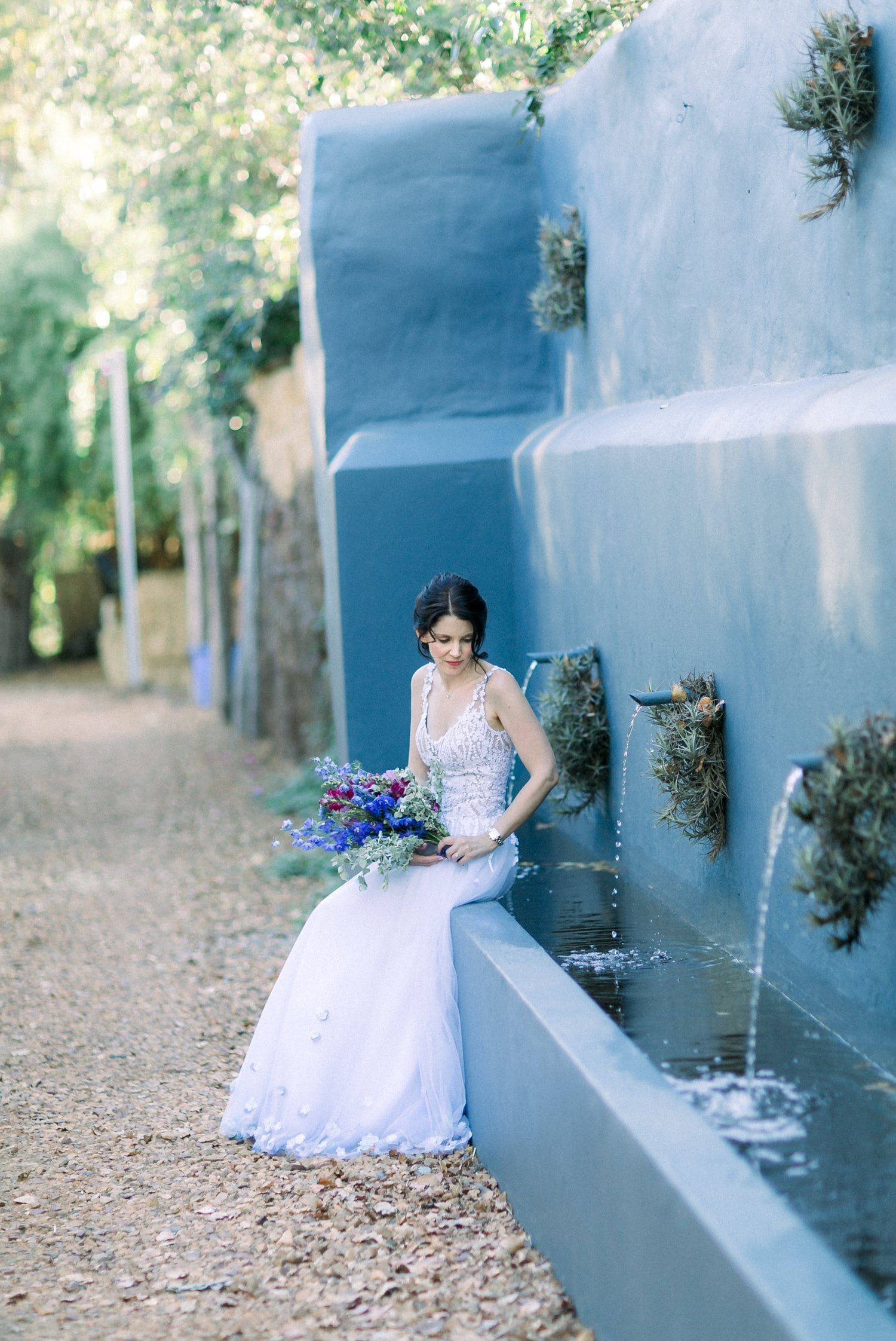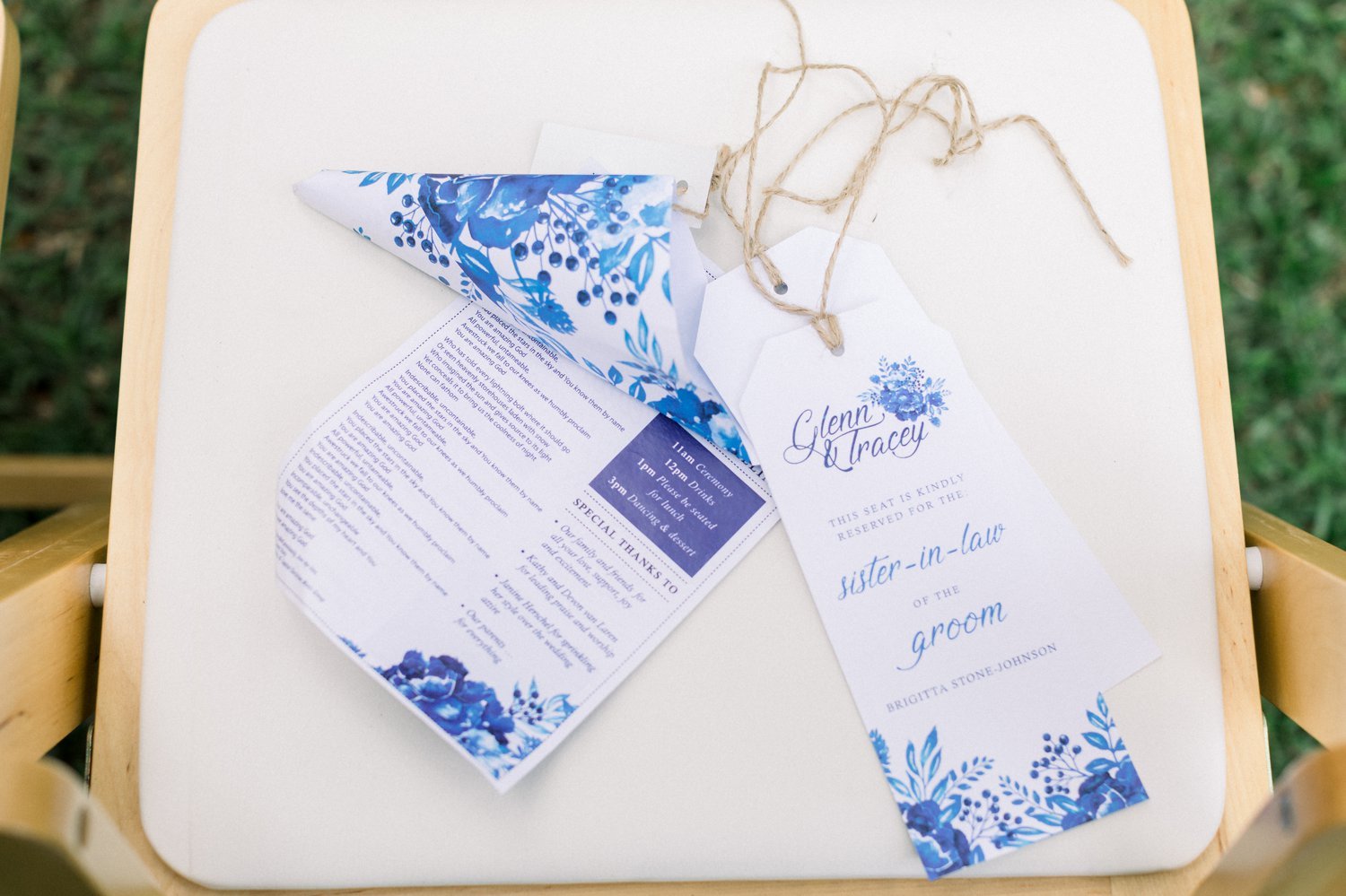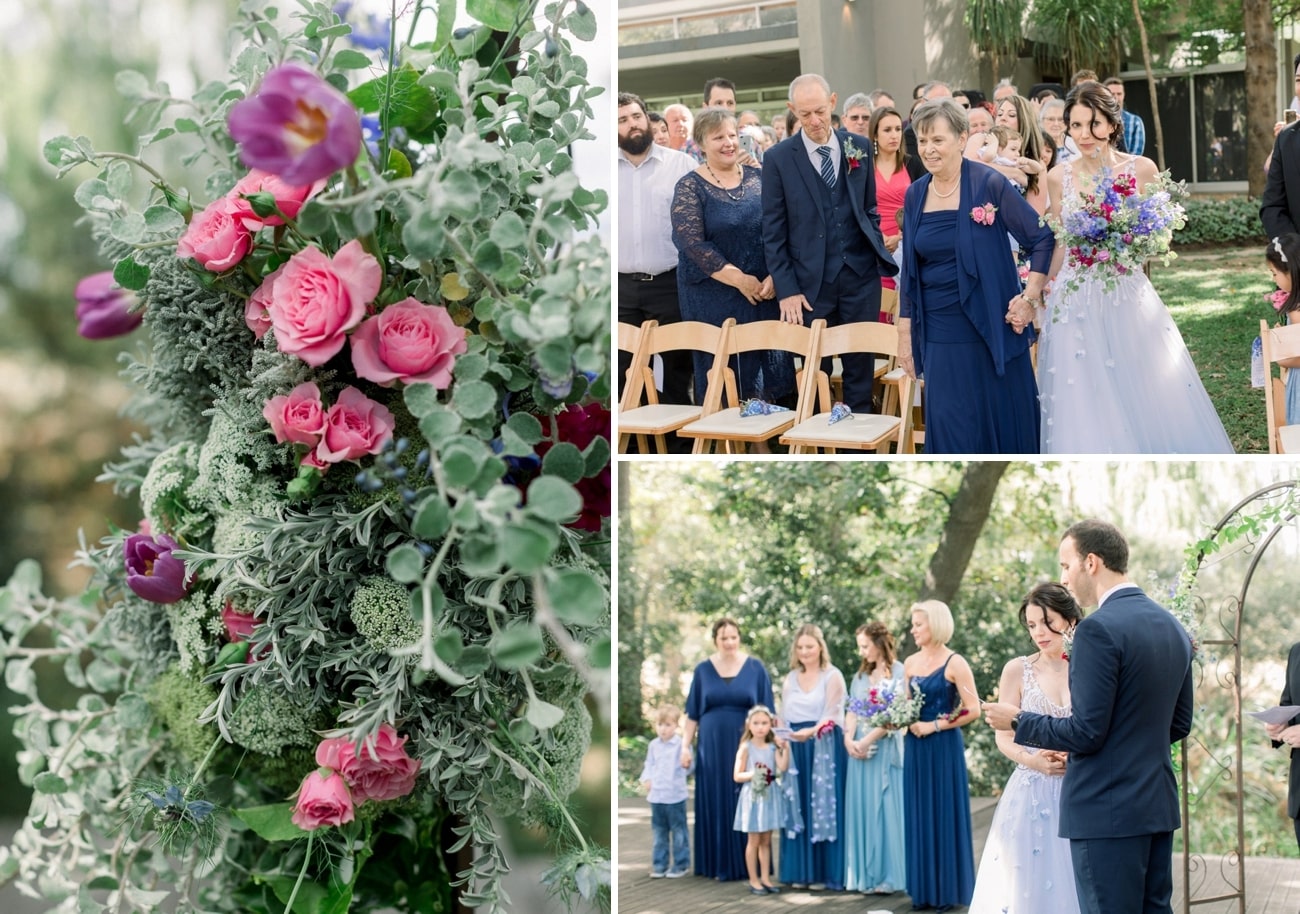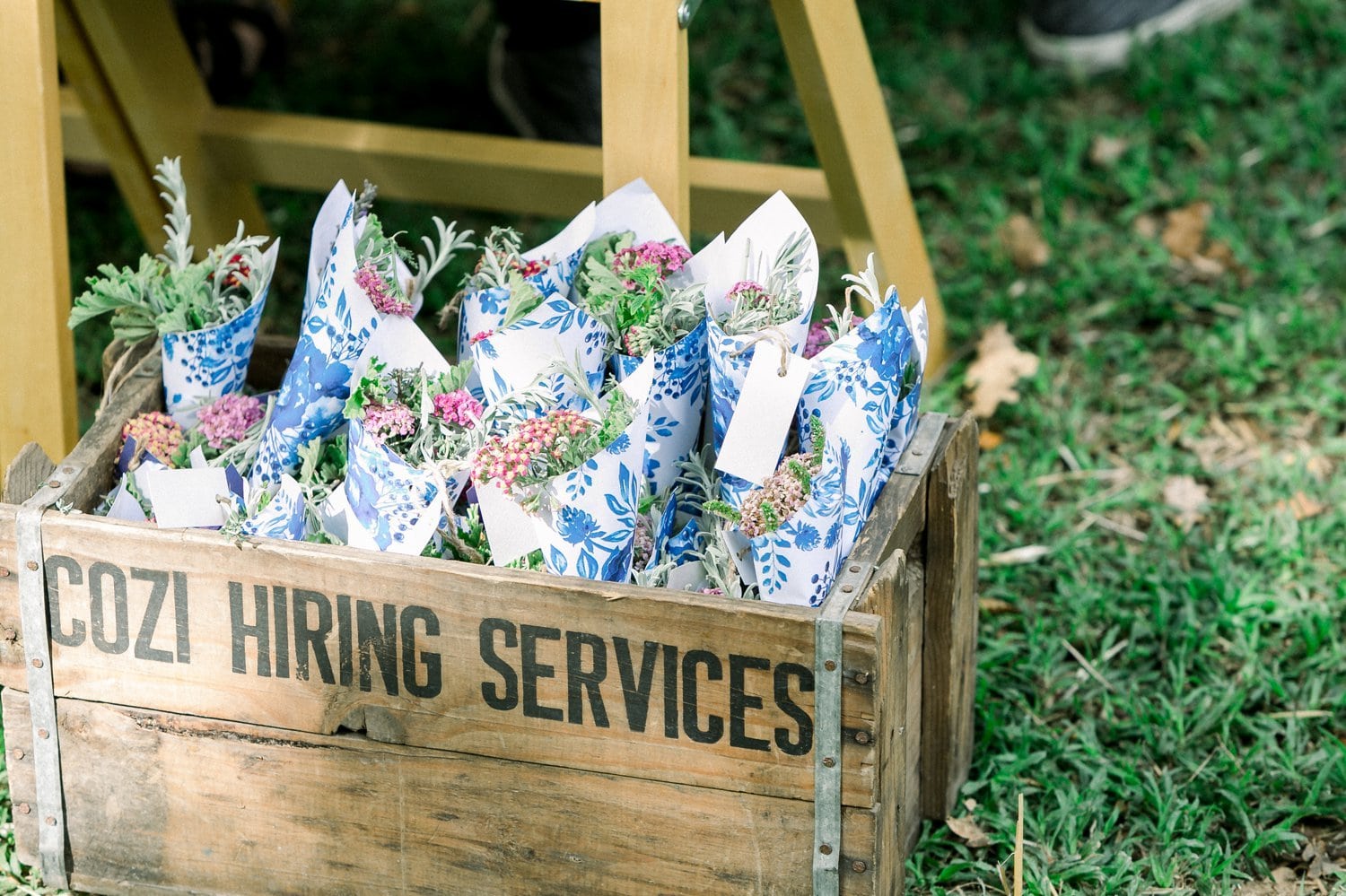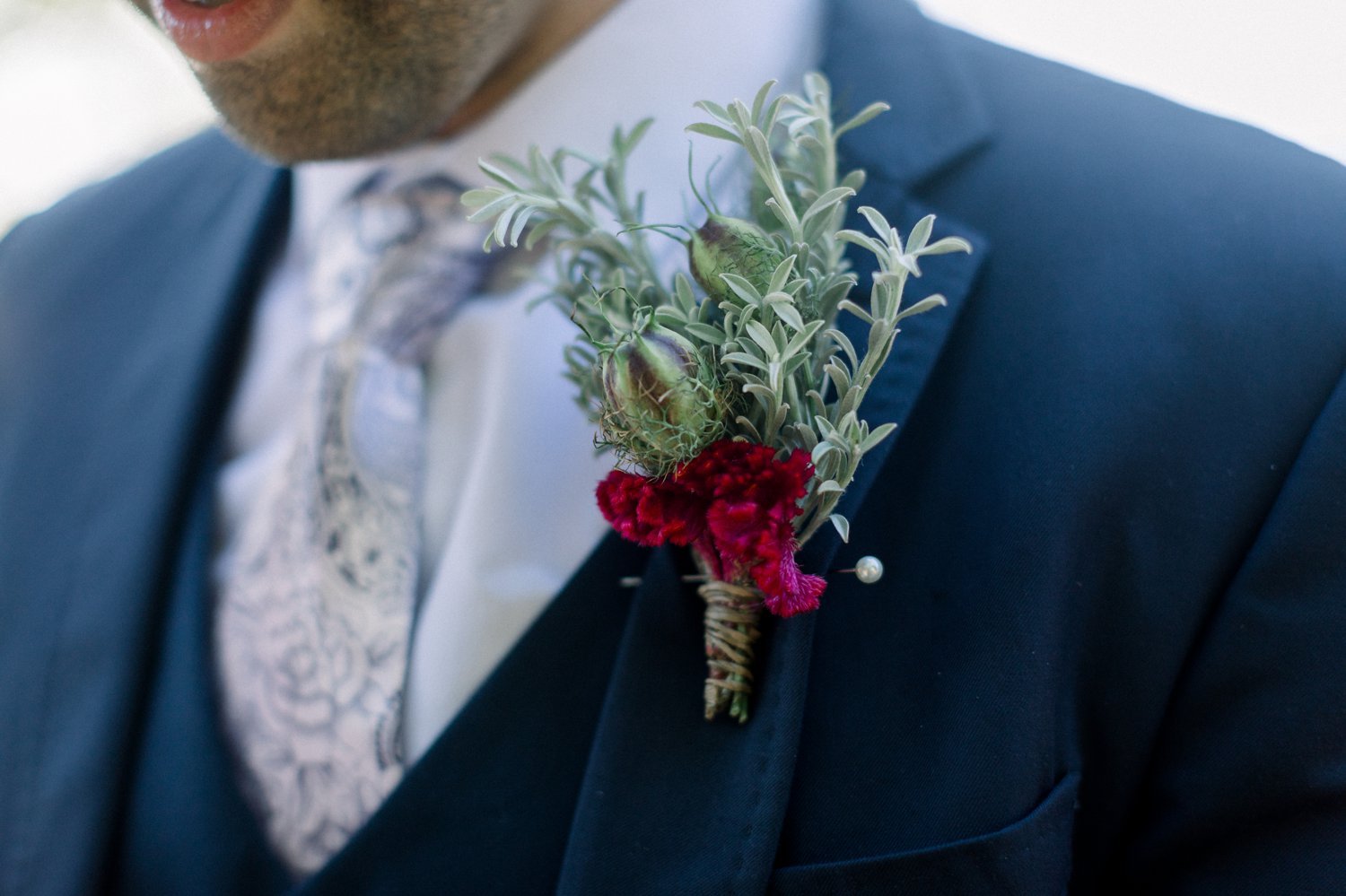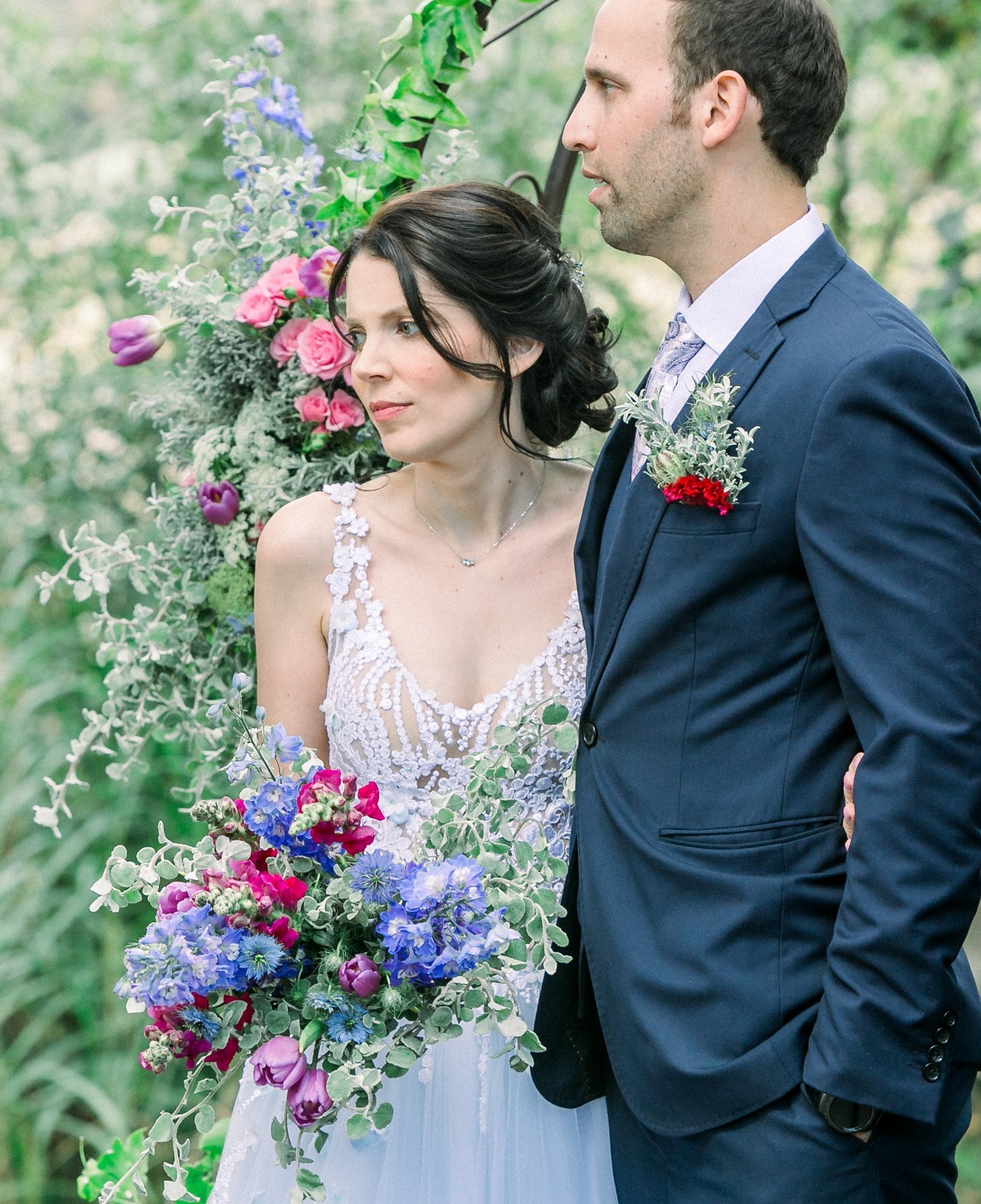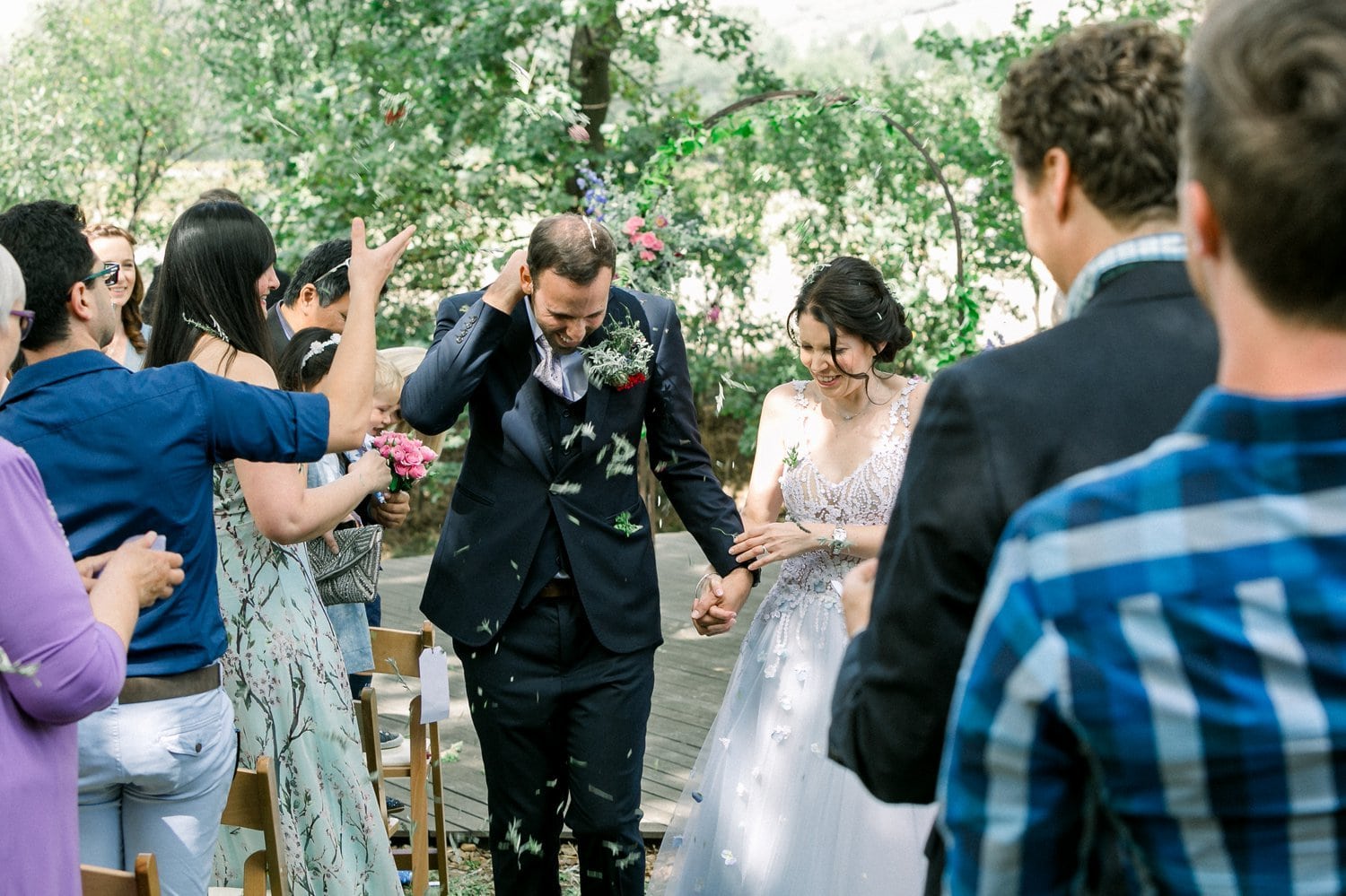 The Venue
Both of us didn't want a long engagement and I was determined not to be a winter bride (as I'm miserable in the cold). Given our Cape Town roots, we also wanted to get married in the Western Cape. As a result, our venue choice was largely driven by what we could find available on a suitable date. I was quite set on there being an outdoorsy element to our wedding and, having grown up in Wellington, I love the Boland mountains. We visited quite a few venues and it did take us some time to make our choice. In the end, the beautiful natural light and stunning views from The Conservatory (together with its suitable availability!) won us over.
Wedding Style
I wasn't one of those little girls who dreams about her ideal wedding and I've never particularly enjoyed attention or lots of fuss. The only thing that I knew for certain about my wedding was that I wanted children to be welcome and I wanted it to be an occasion for them to enjoy too. Most of my close friends have children who are very dear to me and it felt like a celebration without them would be incomplete. Considering this, we decided that a daytime wedding would work best. Glenn was quite happy for me to oversee the wedding style. He only had one request: he wanted to wear a navy suit. Blue is my favourite colour and it seemed fitting to centre our wedding colours around blue. I loved the Delft colouring that popped up in my initial Pinterest searches and it all seemed to come together quite naturally from there. One of my bridesmaids put me in touch with our florist, who farms wild flowers. A secret garden look seemed to be very fitting to her style of work and the setting offered by The Conservatory.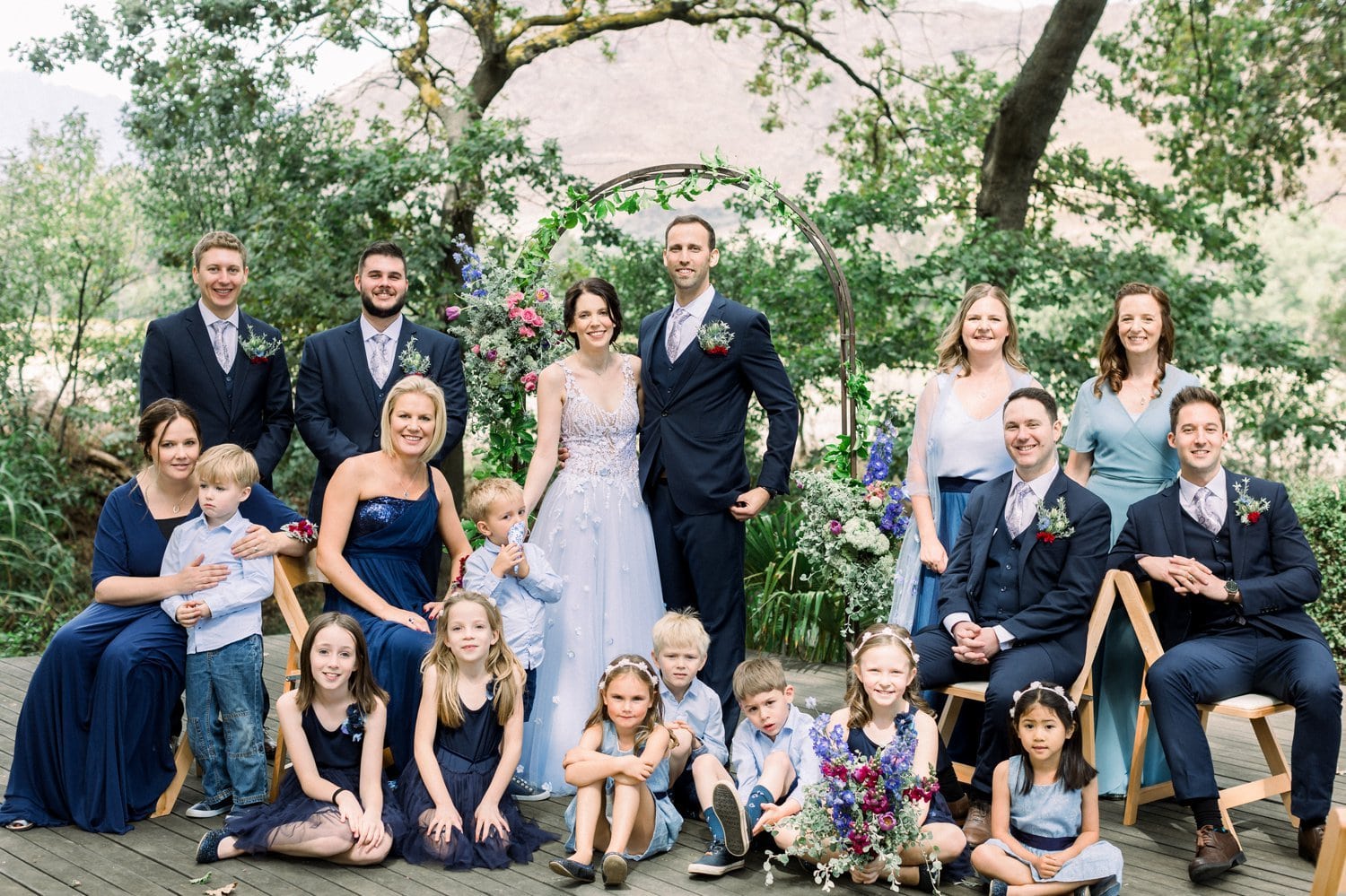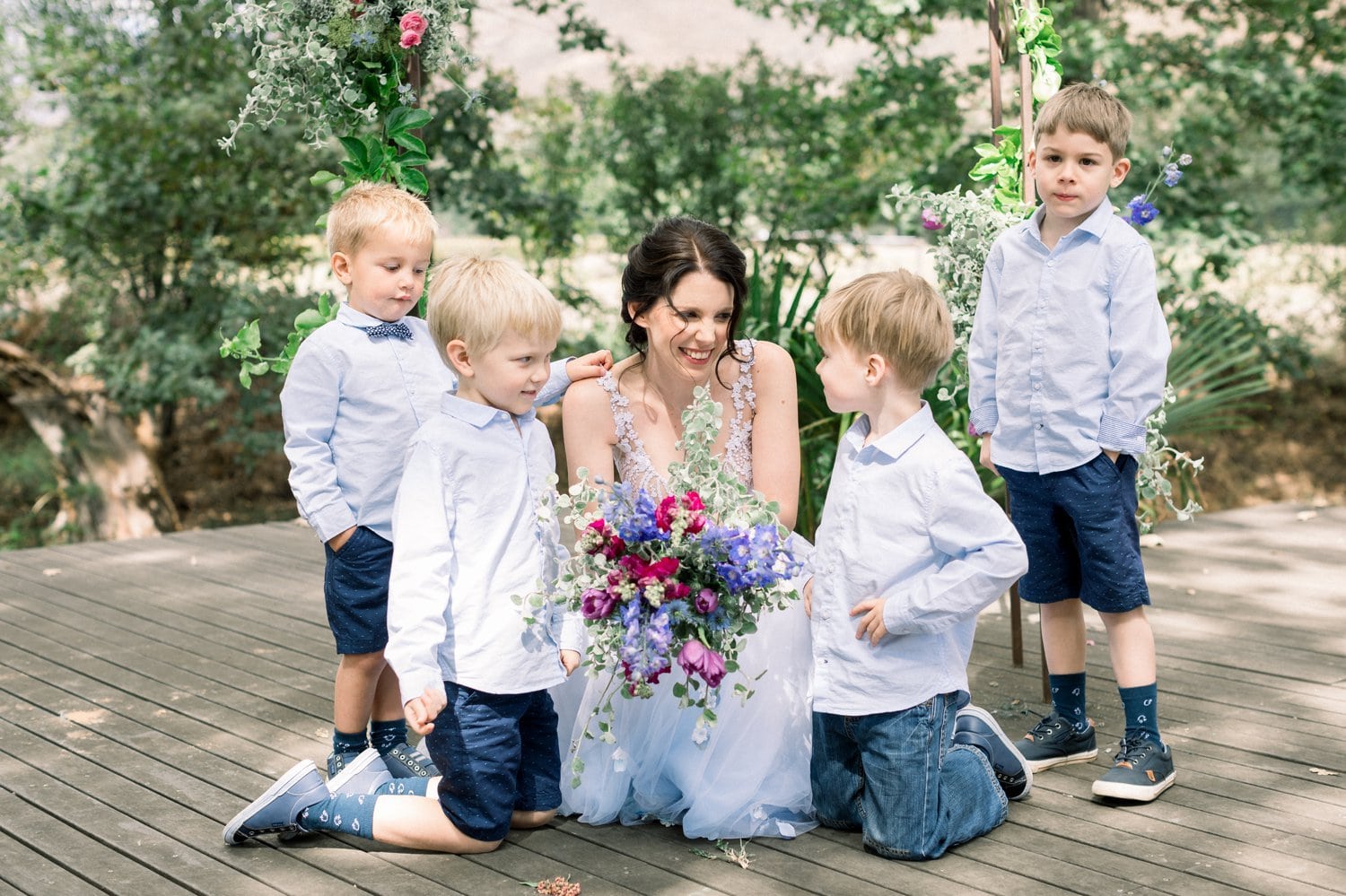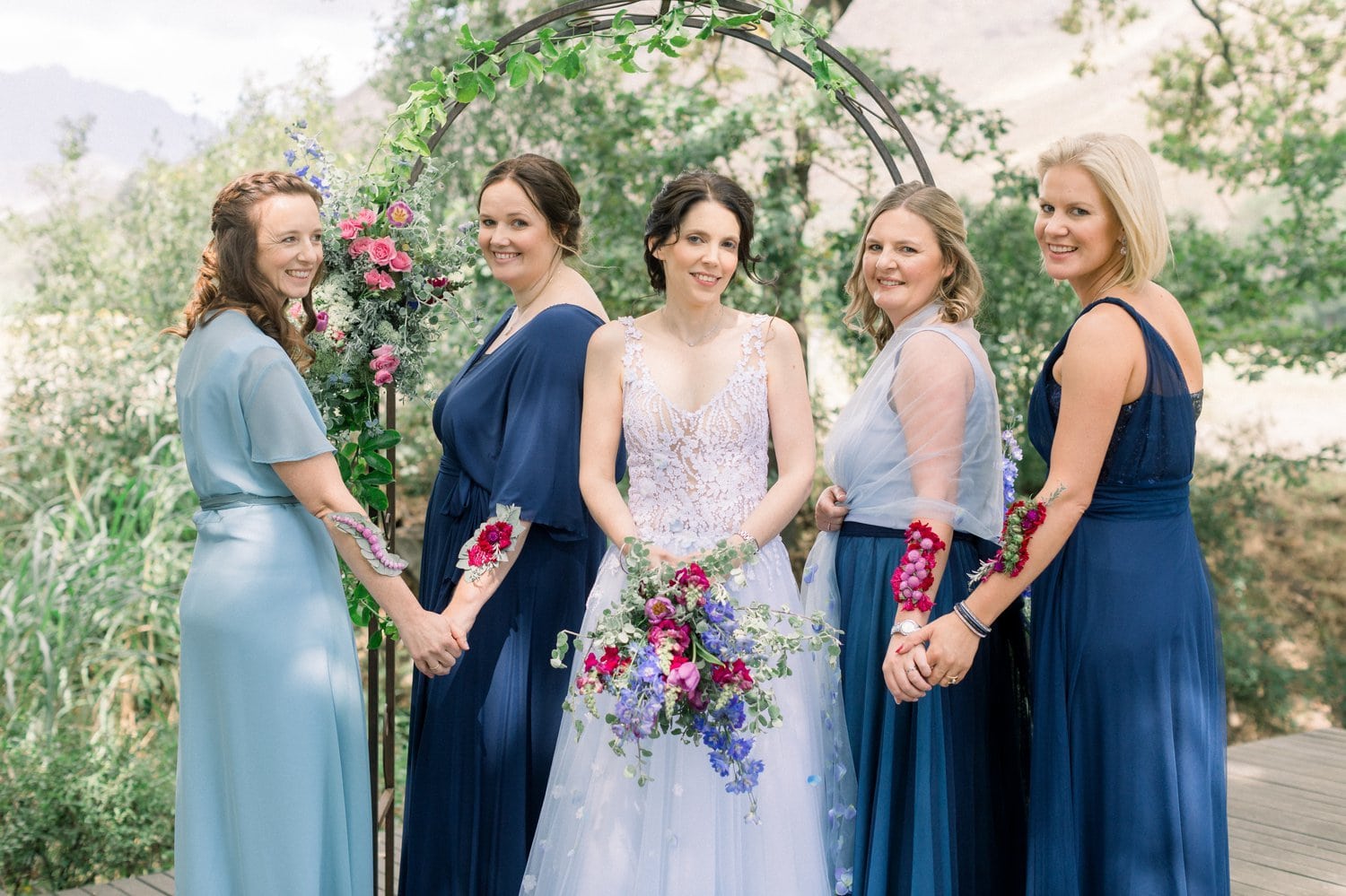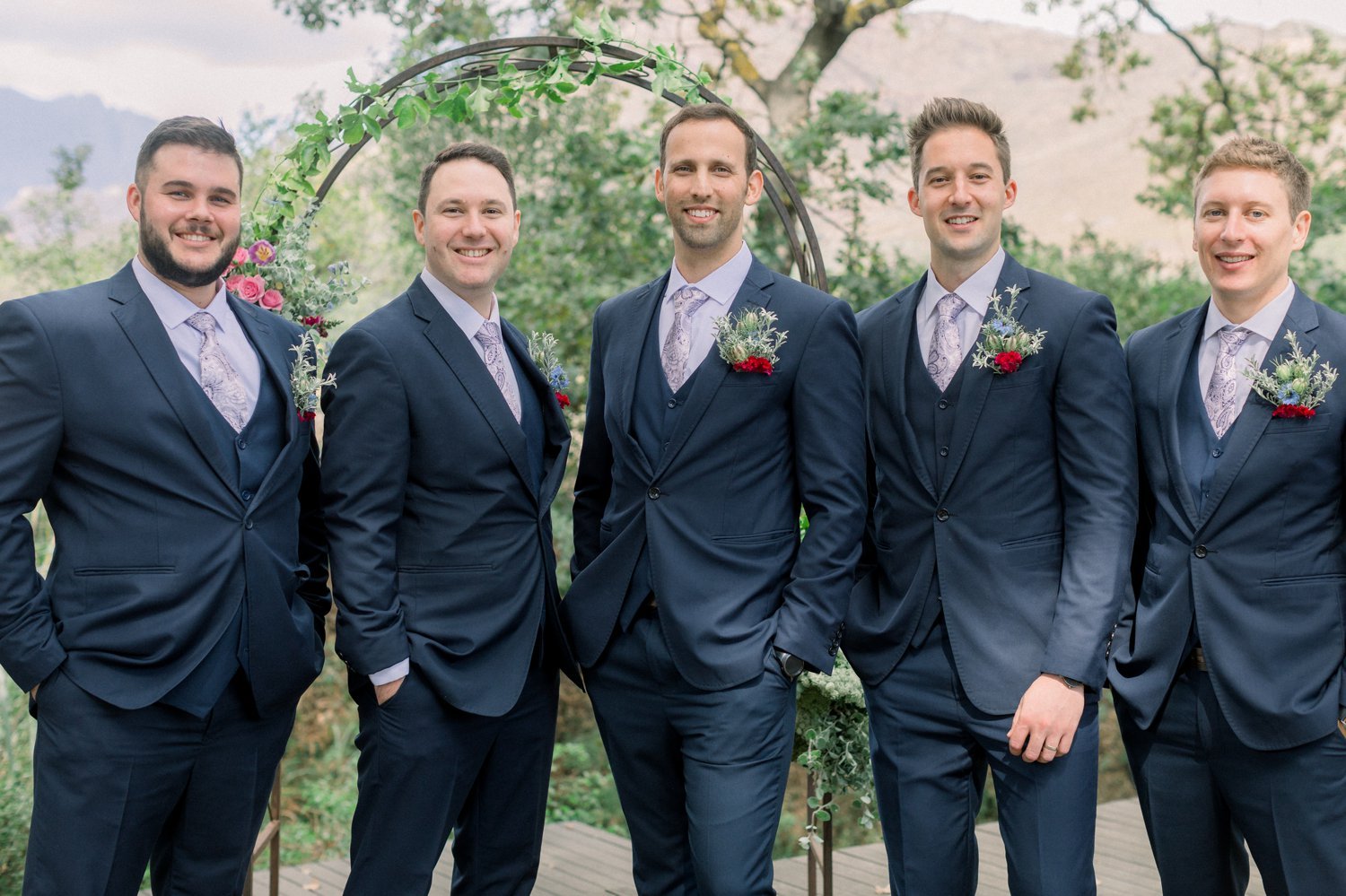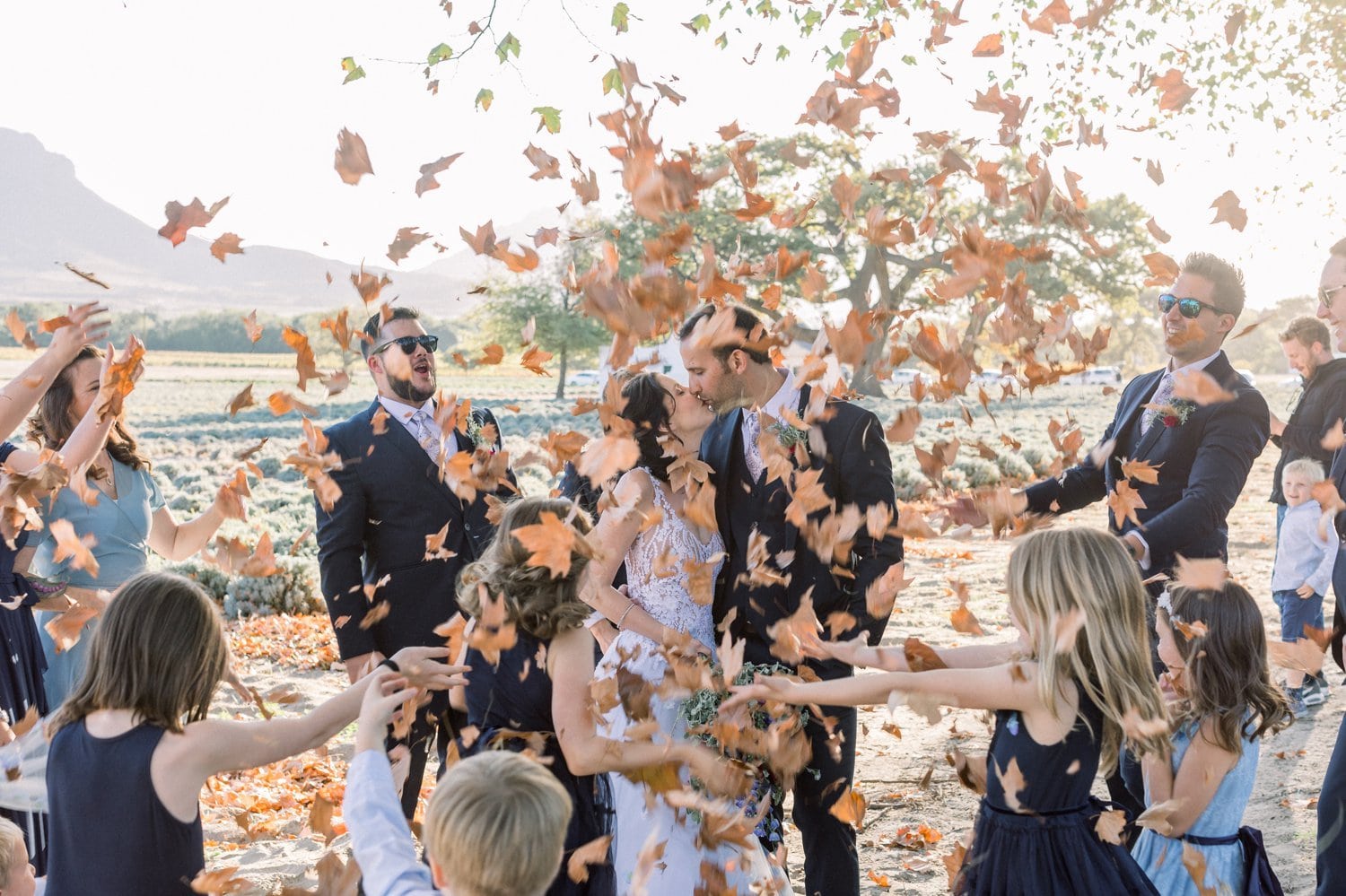 Wedding Details
We gave a lot of thought to the song that would be played when I walked down the aisle ('A Thousand Years' by Christina Perri) as well as the song for our first dance ('Lucky' by Jason Mraz & Colbie Caillat). They're both beautiful songs with lyrics very apt to our relationship. Those songs will always be our soundtrack when we think back on the day. We decided not to do paper invitations, purely for practical reasons. Instead, we set up a wedding website. However, I love stationery – the 'old-school' feel and the beauty of things in print. So I made sure that we had a few paper elements in our wedding that carried our colour theme through. There were ceremony pamphlets, seating signs, confetti cones, menus and name tags designed together with our graphic designer. Also, our wedding favours to guests (which also served as markers on our seating chart) were packets of flower seeds (Love-in-a-Mist). The idea, the design of the packets and the choice of the flower seeds were all a great way to echo the secret garden feel.
The reception lunch was served on family-style platters that were spread across the tables where the guests were seated. We didn't want the formality of plated meals, but we also didn't want people having to queue up at a buffet. The idea was to make the lunch more communal and interactive and it worked perfectly. Our caterer (Dre Johnson Inc.) did an amazing job with the most delicious food.

DIY Elements
One of my bridesmaids (Elske Rightford) made our wedding cake and the accompanying macarons. I don't think we could have gotten anything better even if we'd had it made professionally. We wanted a pretty cake, but, most importantly, we wanted a delicious cake. Our cake consisted of 3 layers: cheesecake (Glenn's favourite), carrot cake, and chocolate brownie cake (my favourite). Elske managed to tier the layers brilliantly through her own design of the structure. It was such a beautiful, appropriately personalised element of our wedding. While Glenn knew that he wanted navy suits for him and his groomsmen, we didn't have a clear idea of the ties that would work best. We tried out a few retail options, but none seemed quite right. In the end, a good friend of mine (who was also involved in making my wedding dress) made the ties and gifted them to us. They were made from a floral blue material that suited our wedding theme.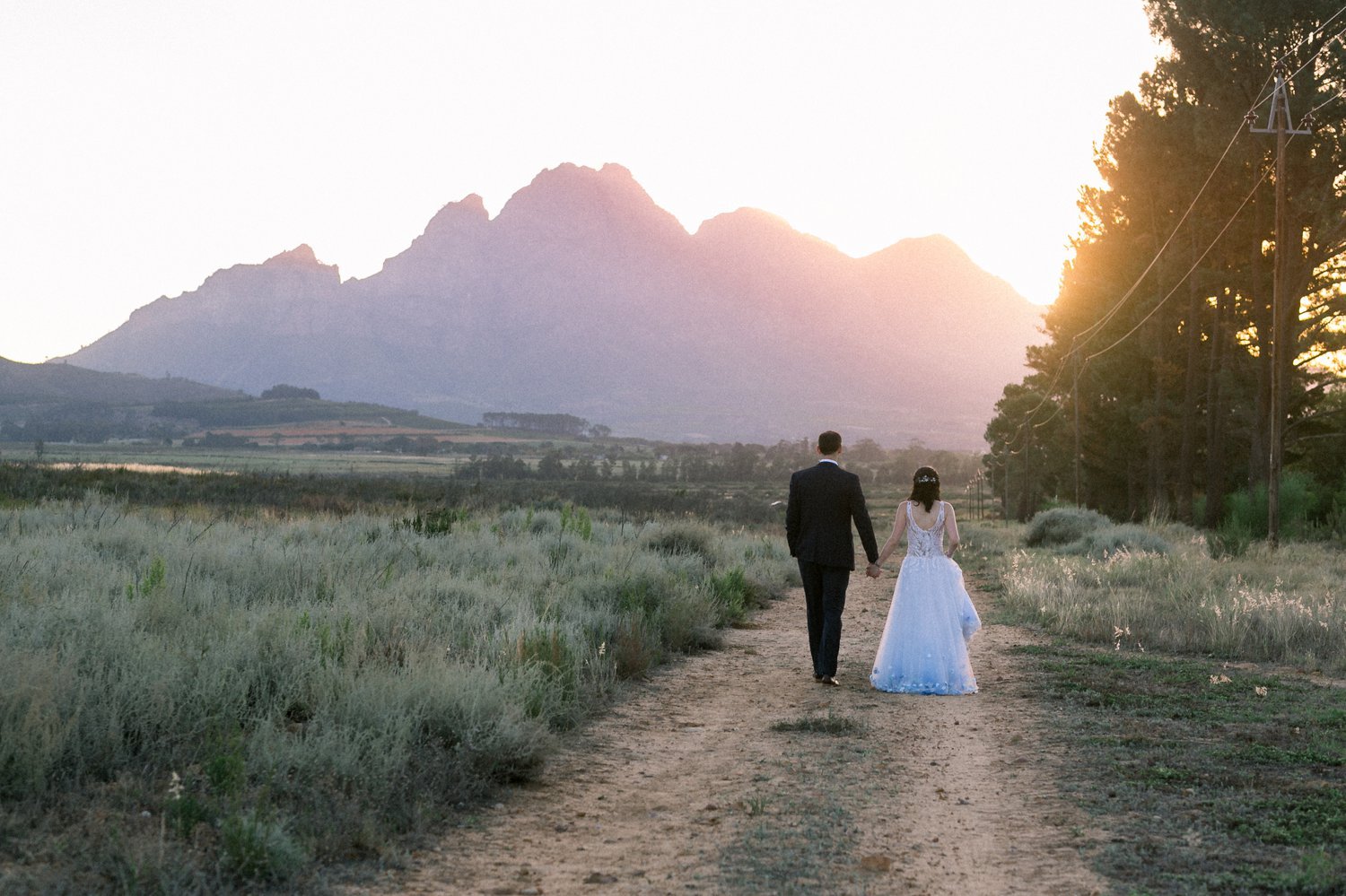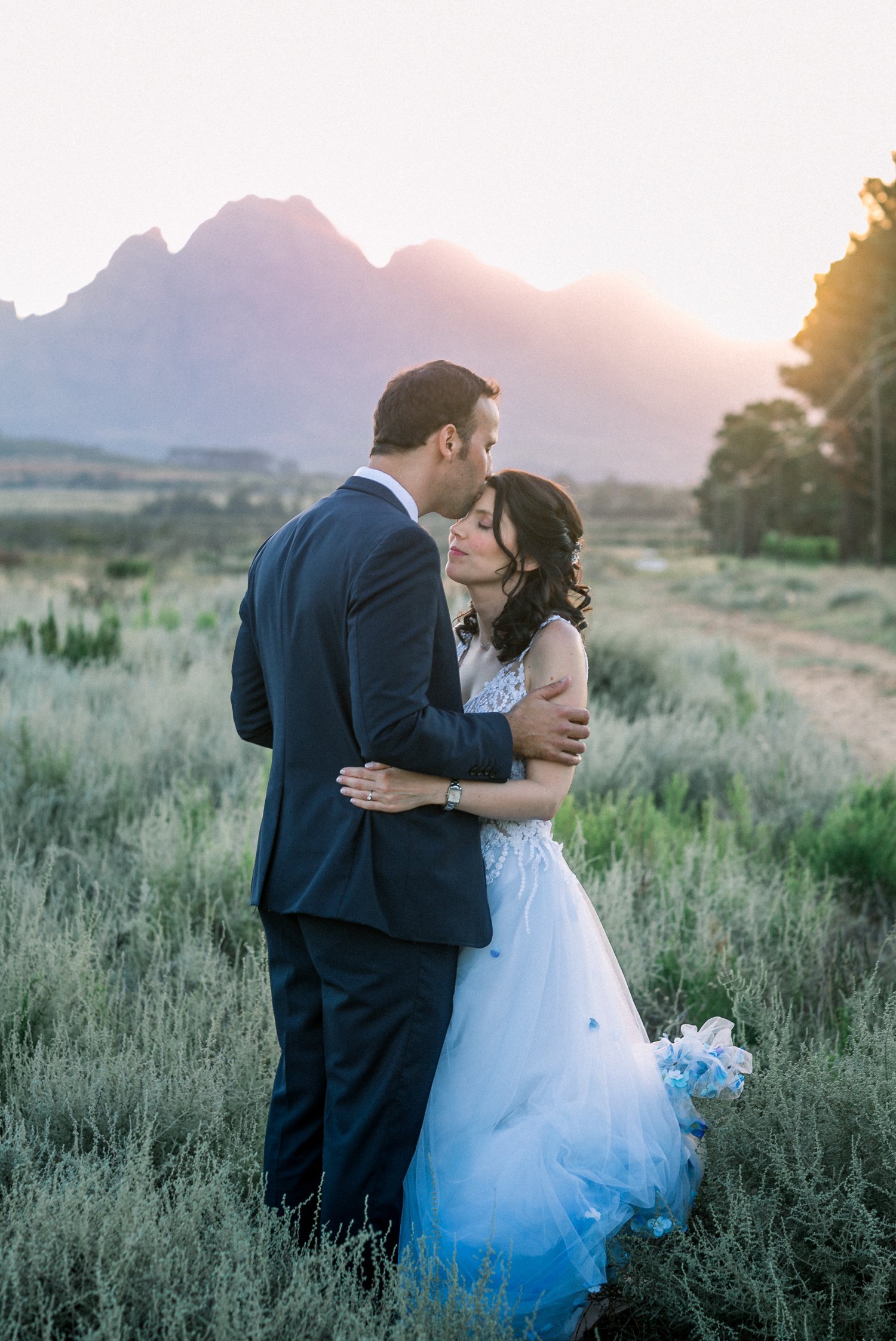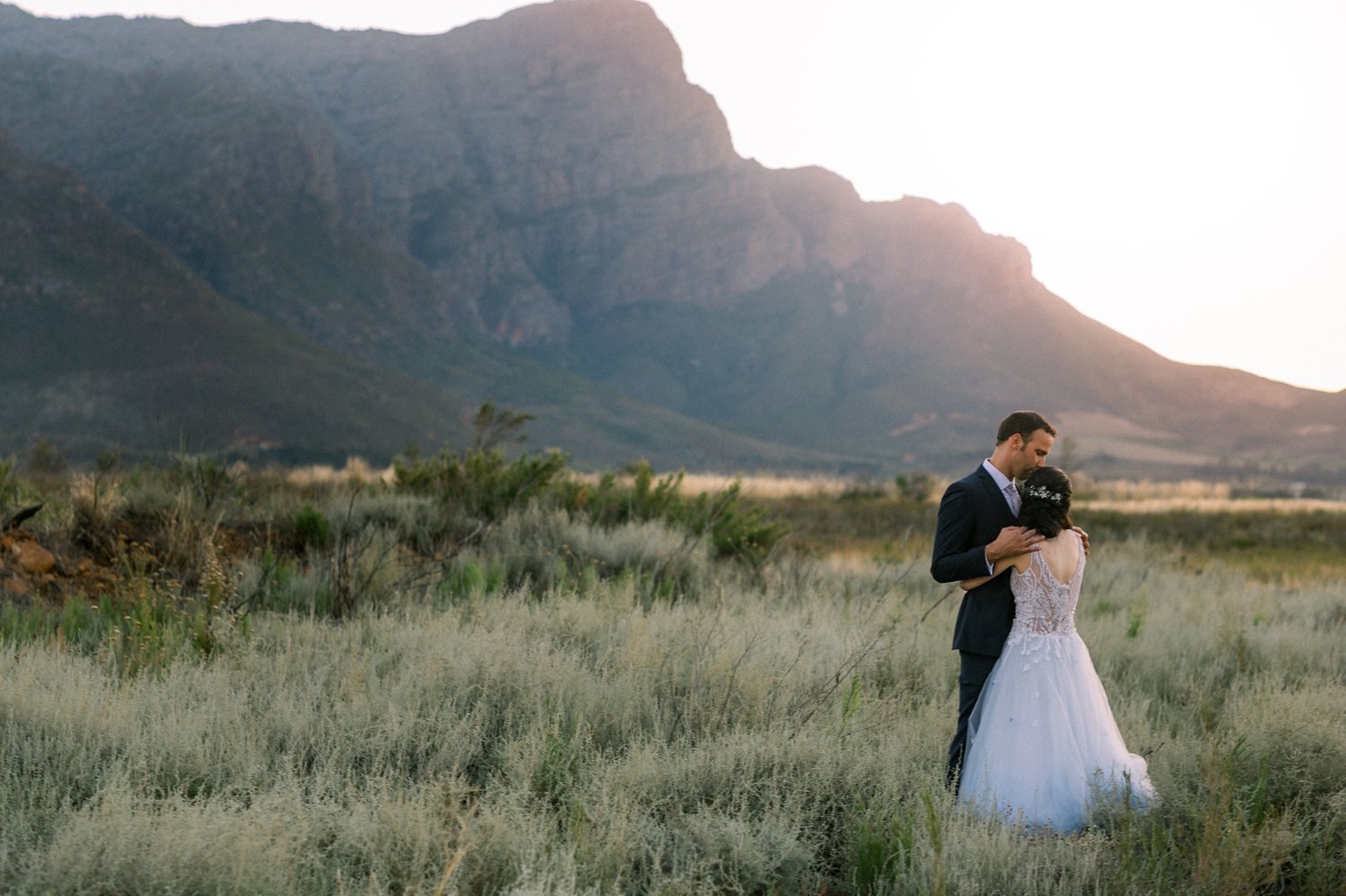 The Dress
A good friend of mine (Janine Herschel) works closely with the owner of Suzy J (the studio that designed and made my wedding gown). She and Suzy J have made customised clothing for me previously and they know my taste extremely well. More importantly, Janine knows me as a friend. She knows my personality, my likes and dislikes, the things that make me smile. I knew that I didn't want a dress that was entirely white/cream/ivory. Given our colour scheme, it seemed appropriate to bring elements of blue into the wedding dress. I tried on a few dresses at retailers to get an idea of dress styles. Janine and Suzy J took these ideas, together with my request for "something pretty and comfortable", and designed a dress that was beyond my dreams.
The Bridesmaids
I had four bridesmaids: two based in Cape Town, one in Johannesburg and one in Kuwait. There was no way that we were going to be able to co-ordinate a uniform dress for everyone and I also didn't want the formality of identical bridesmaids' dresses. I wanted my bridesmaids to be comfortable and really have a dress that could be worn again to another occasion. So each bridesmaid chose her own dress style and Suzy J made the dresses in different shades of blue that blended together beautifully.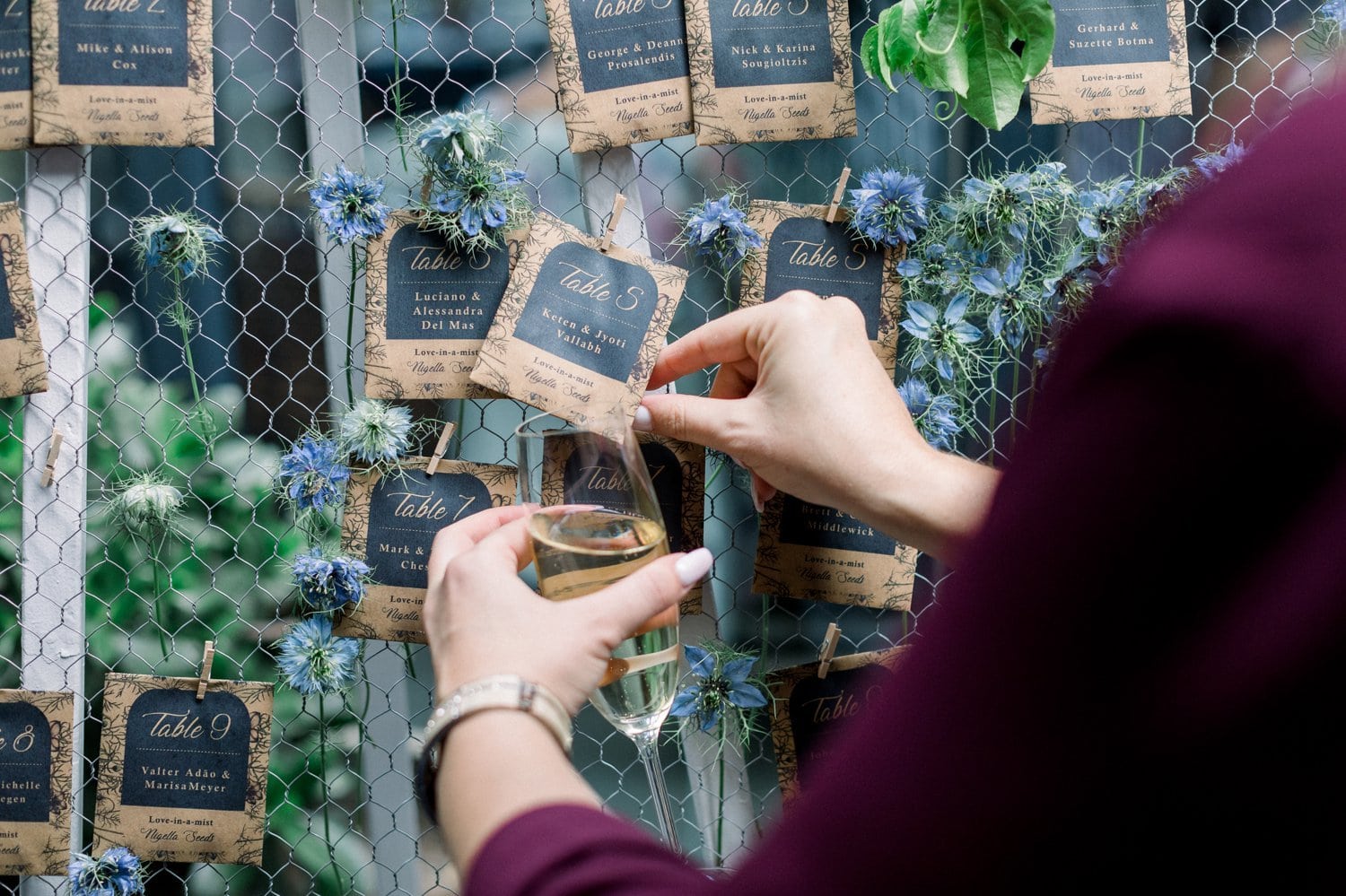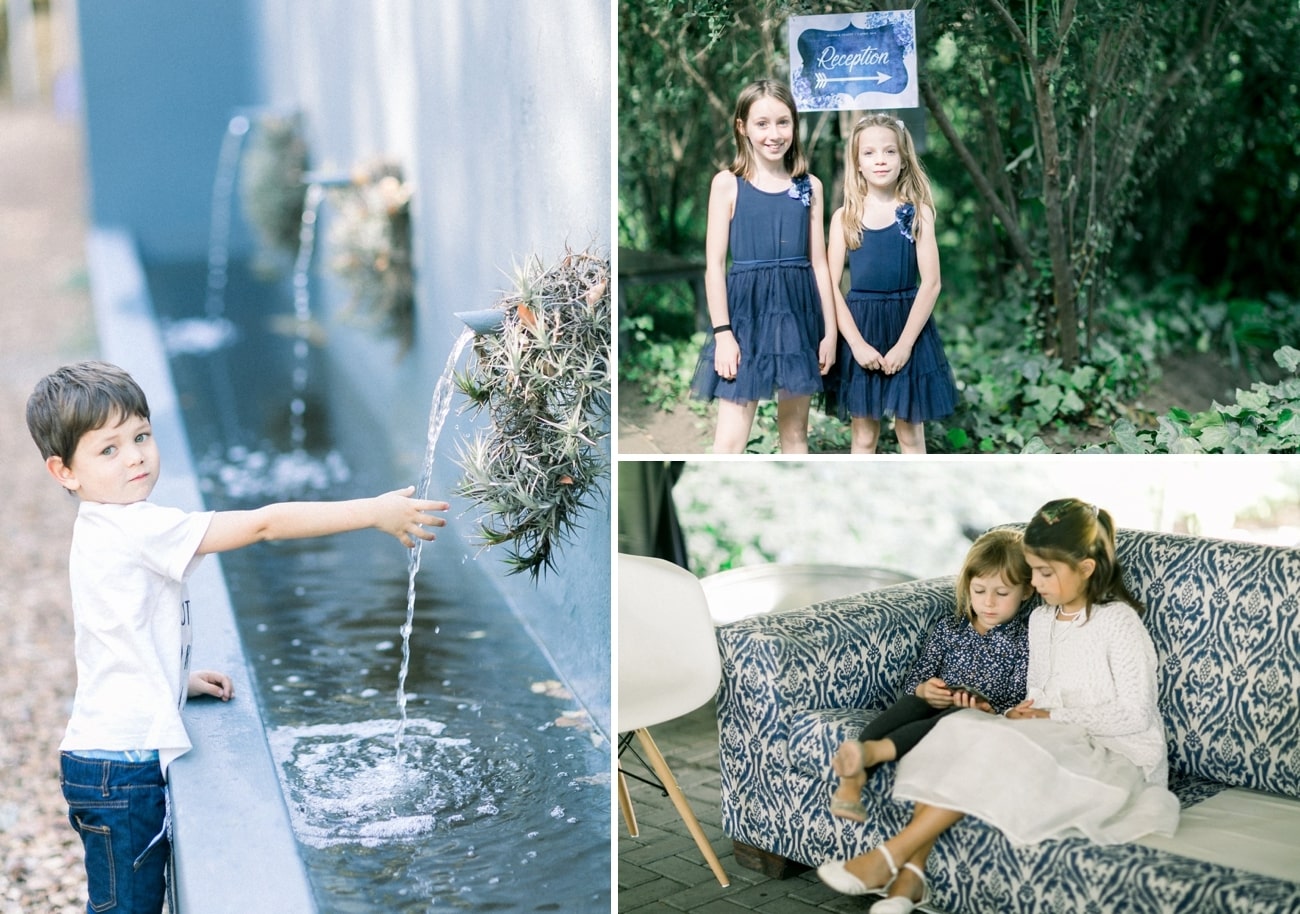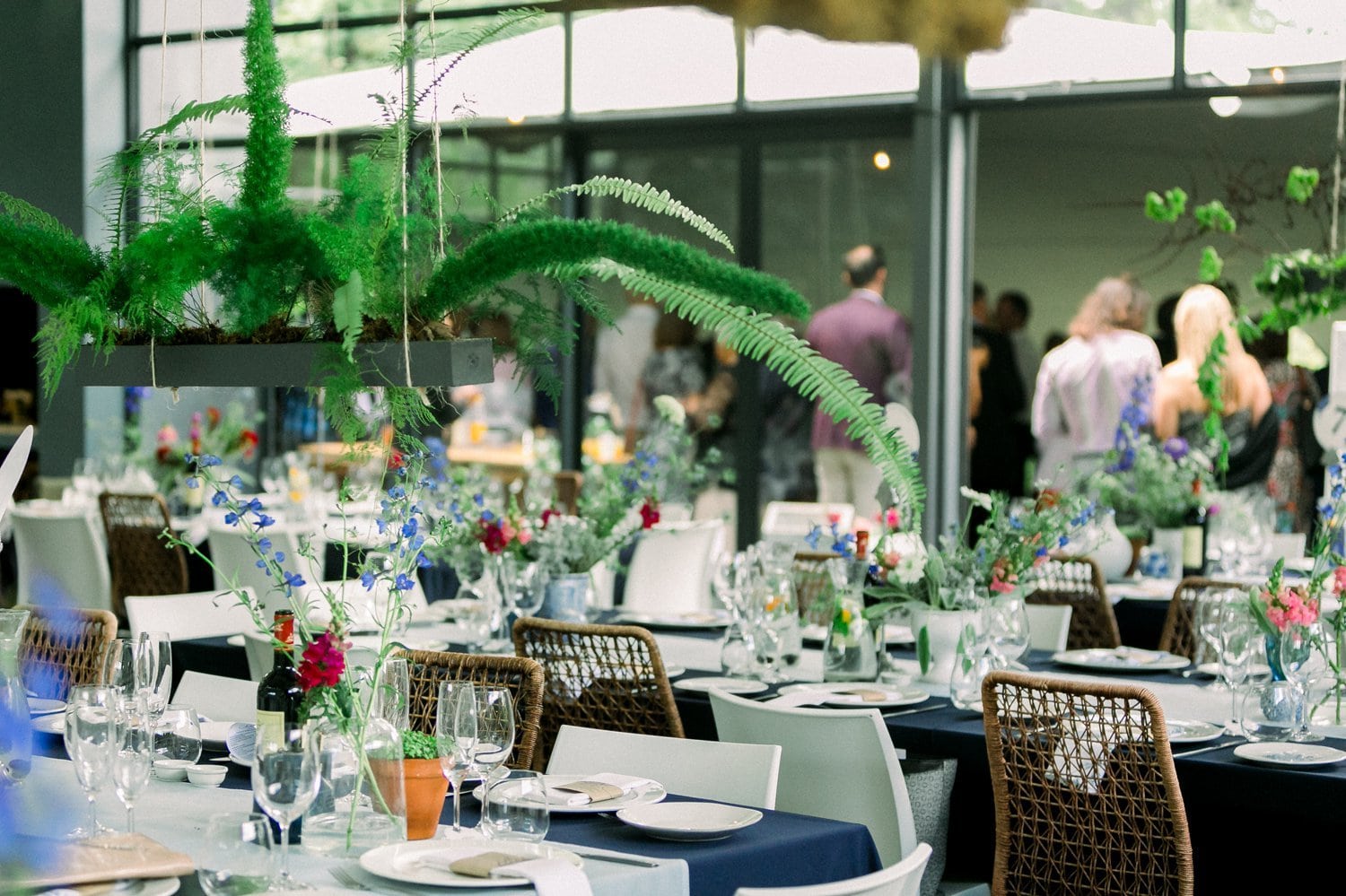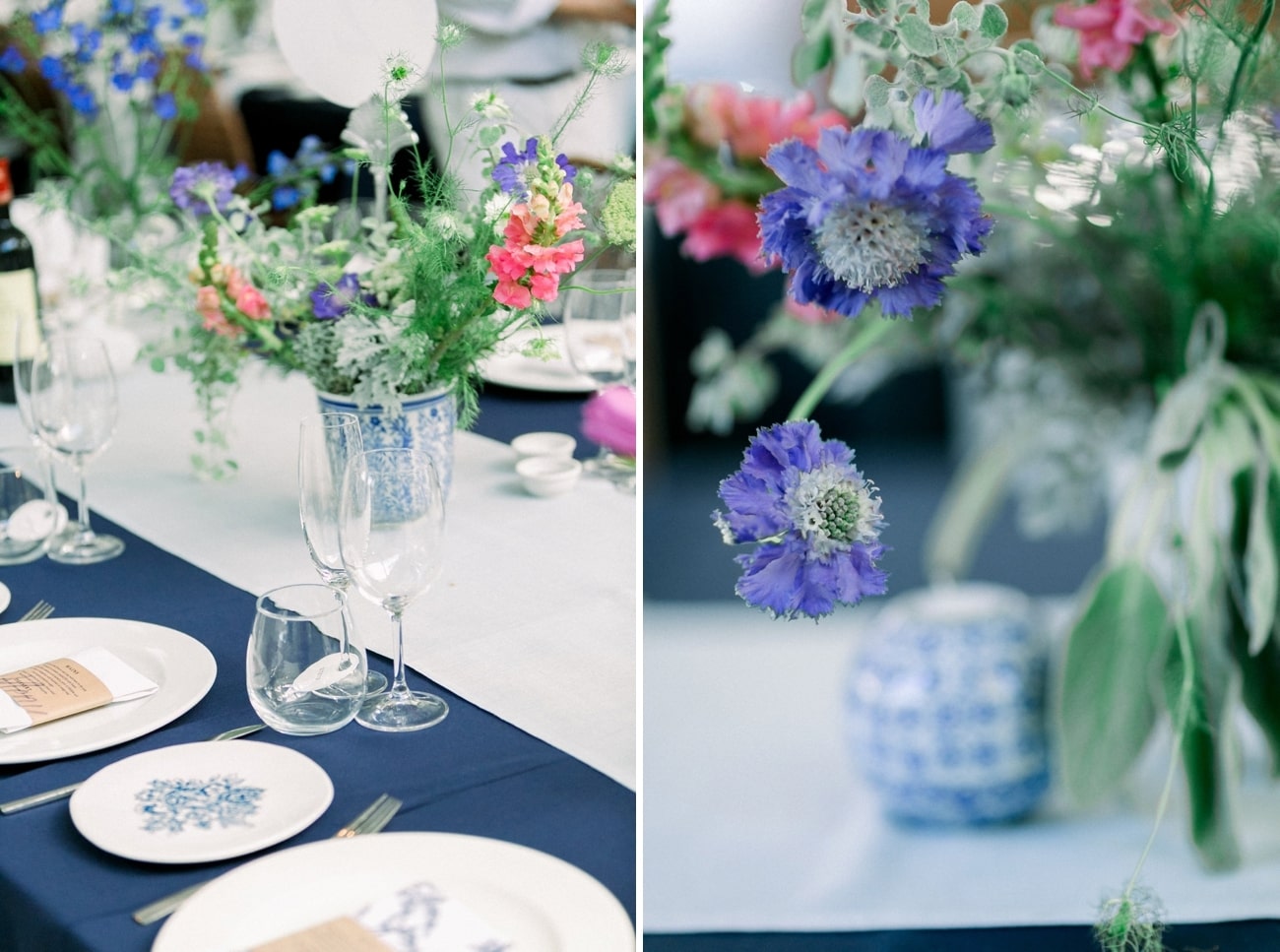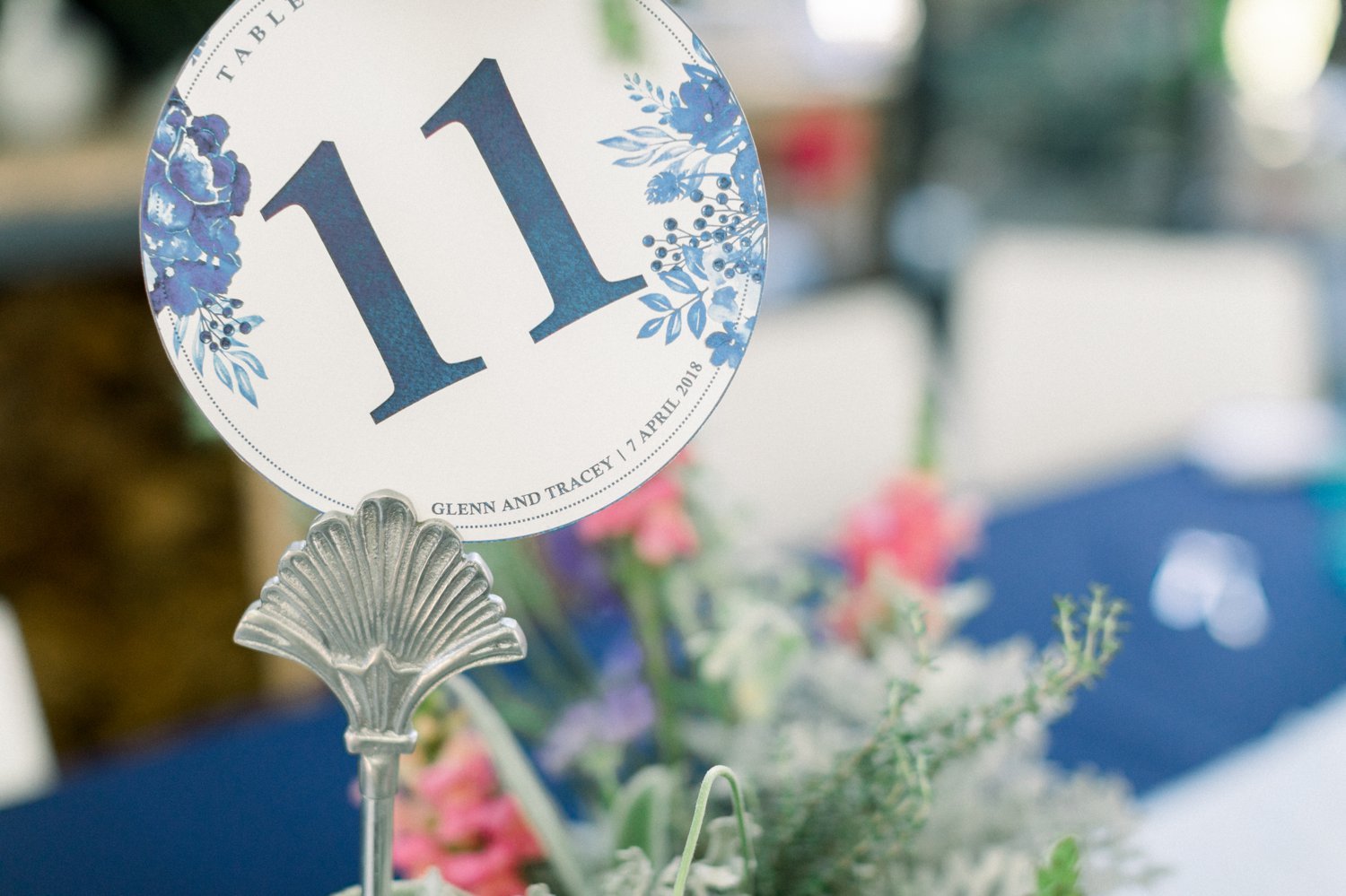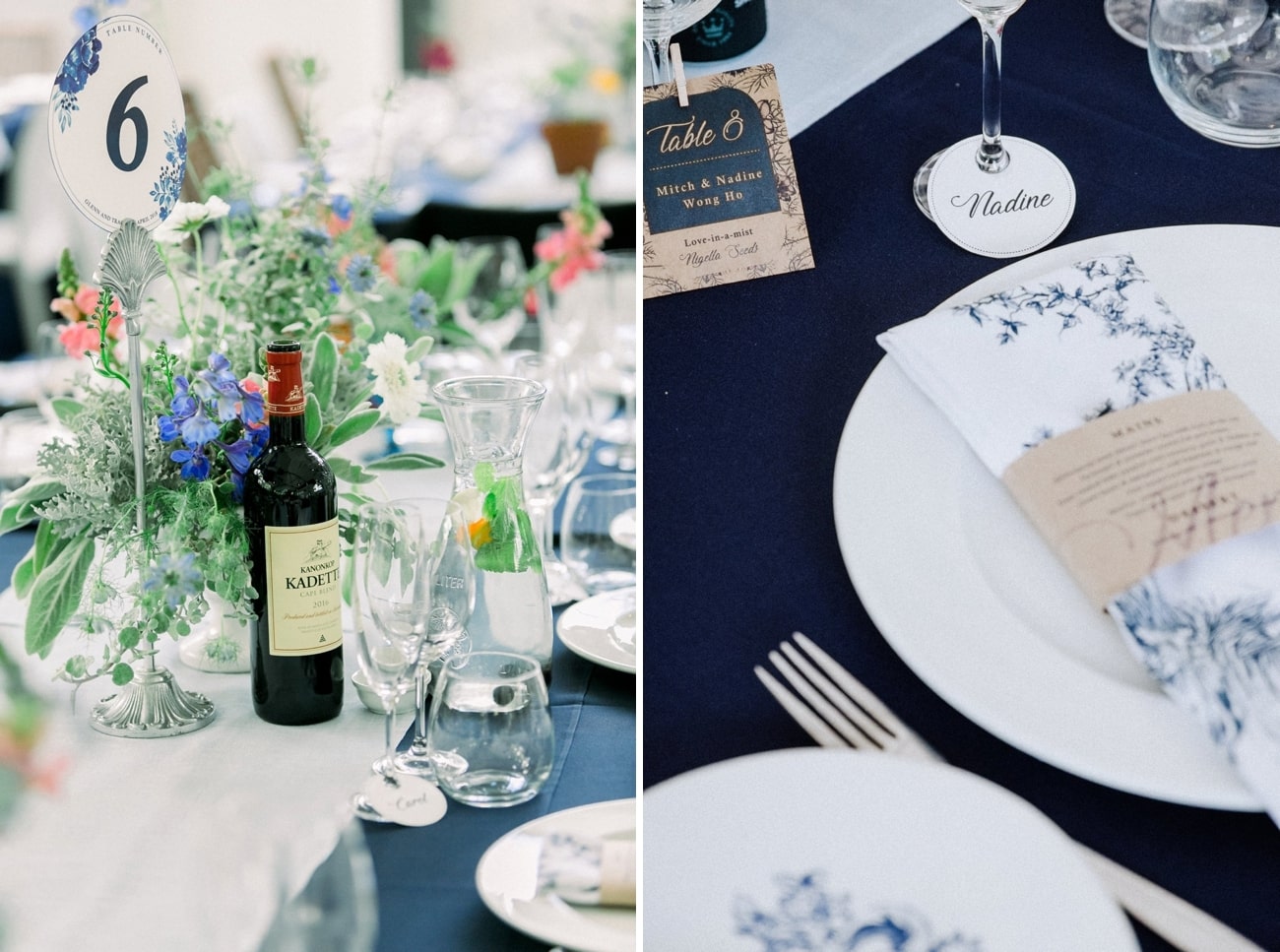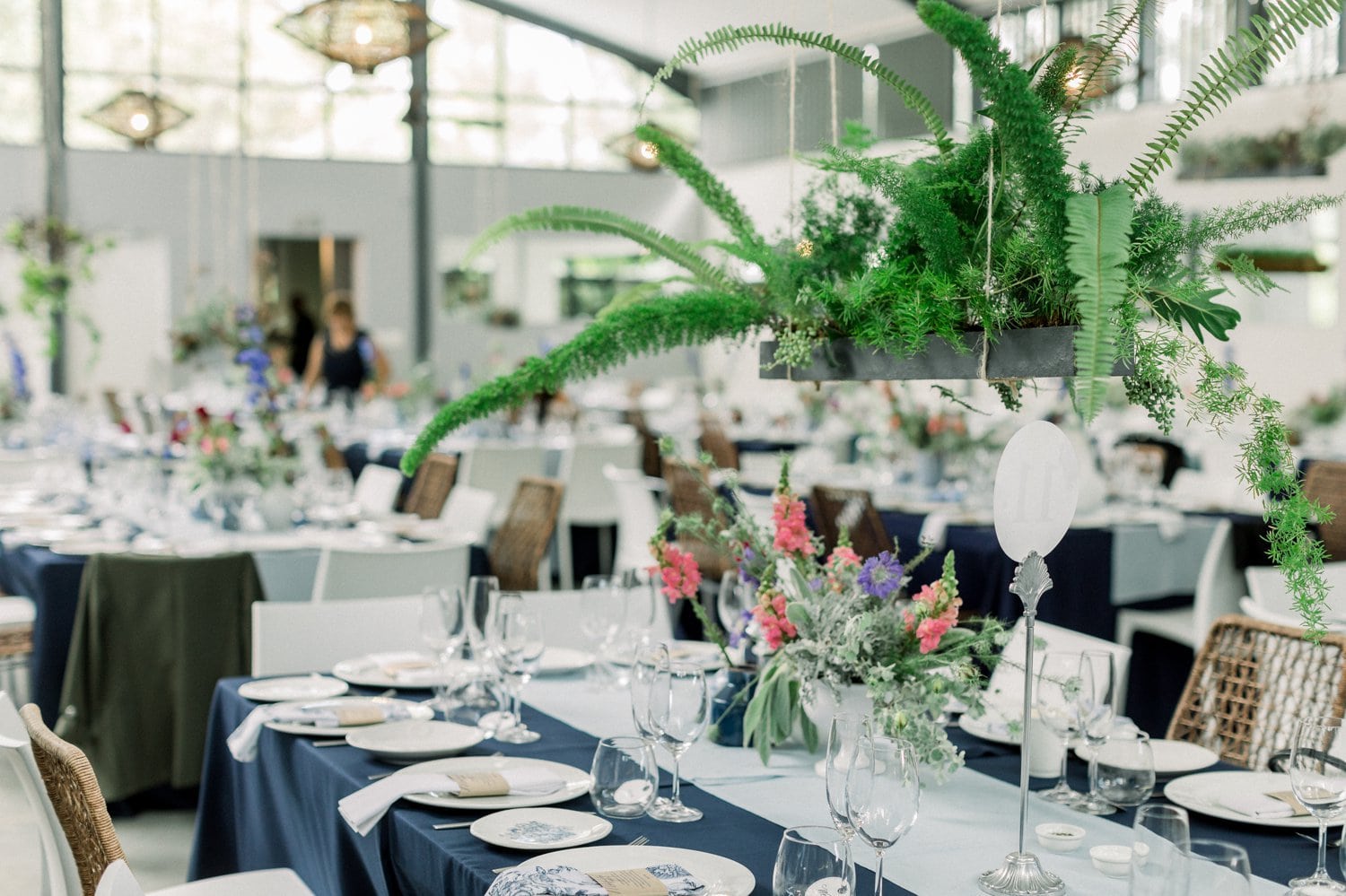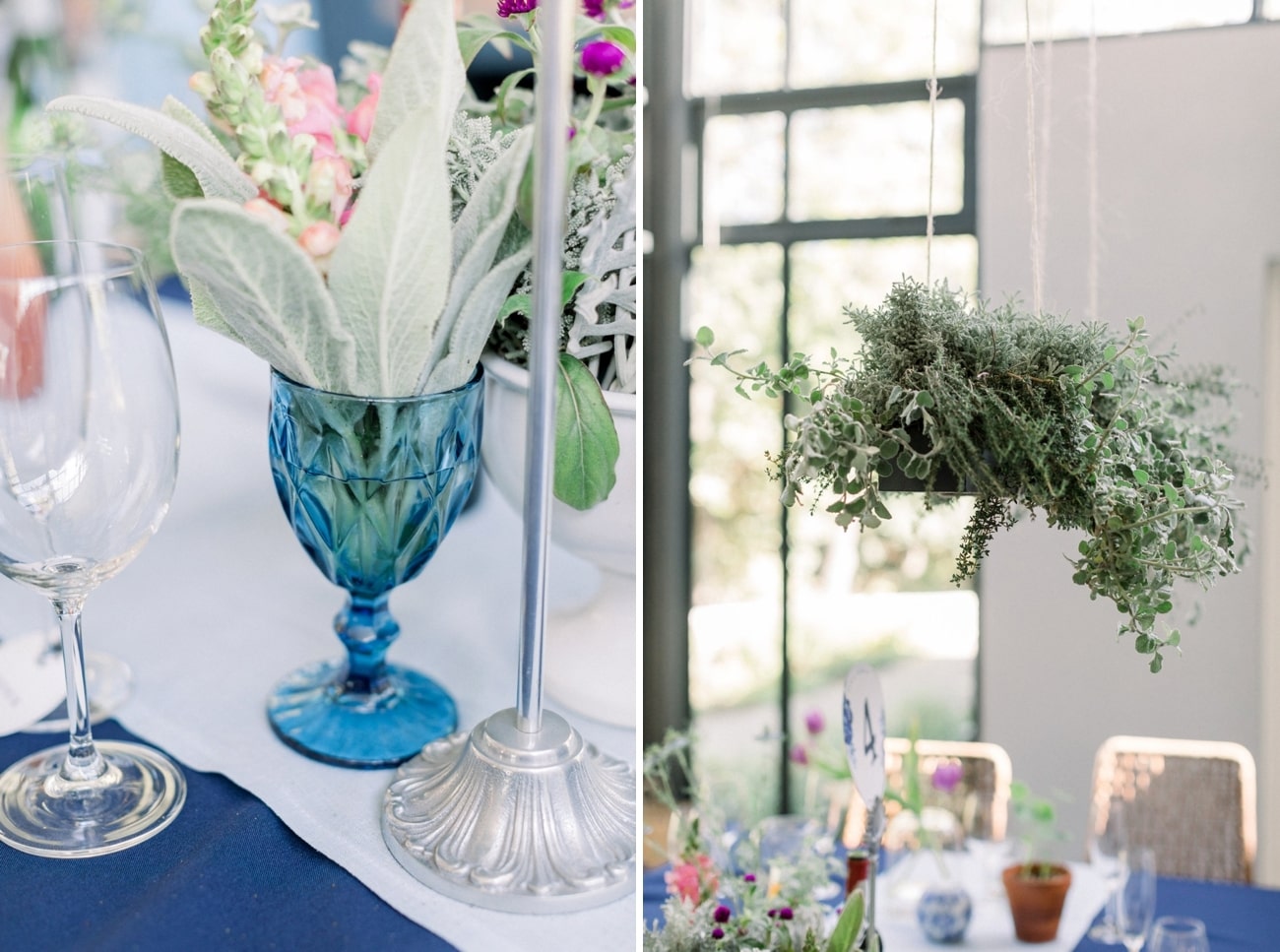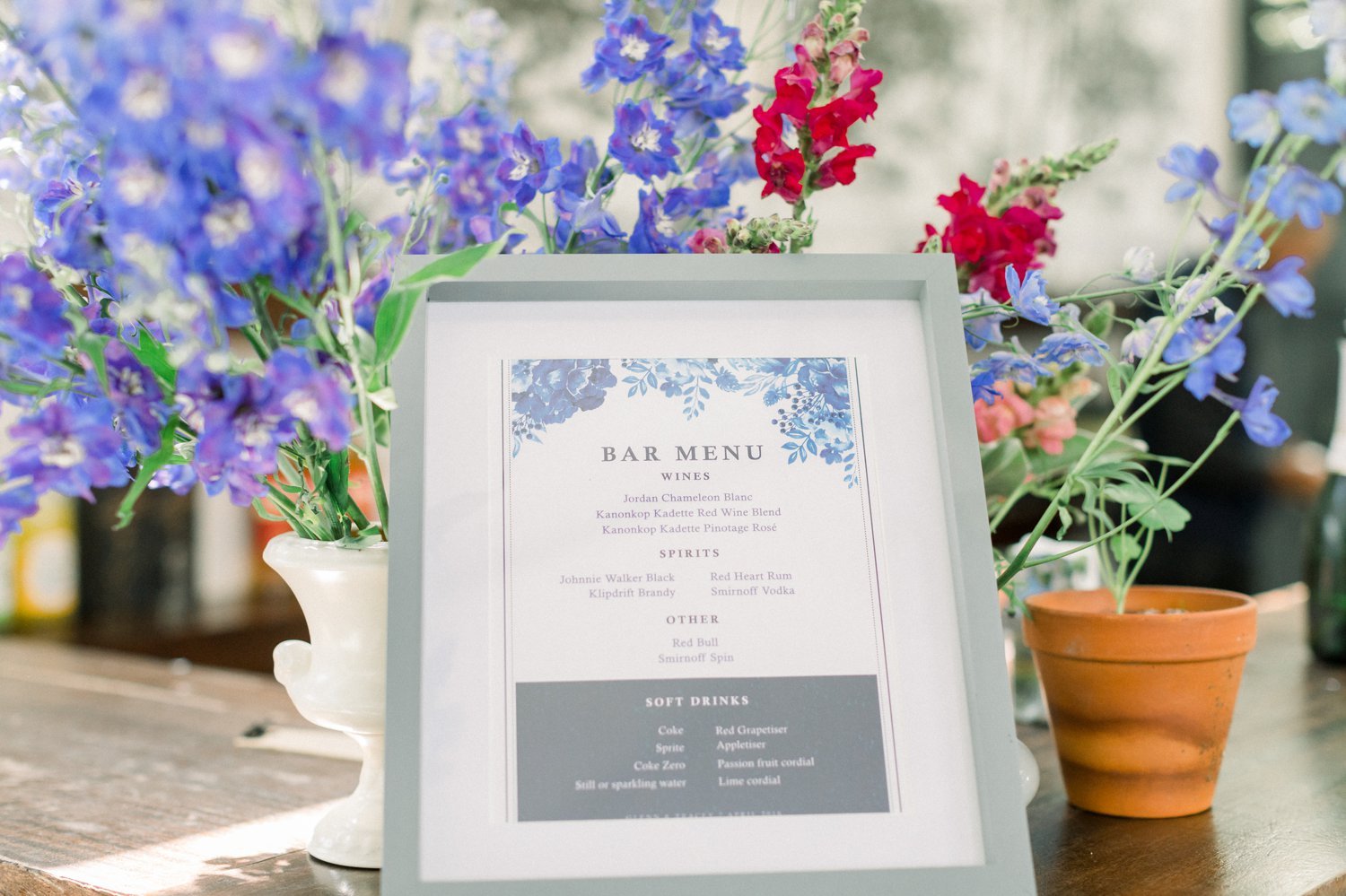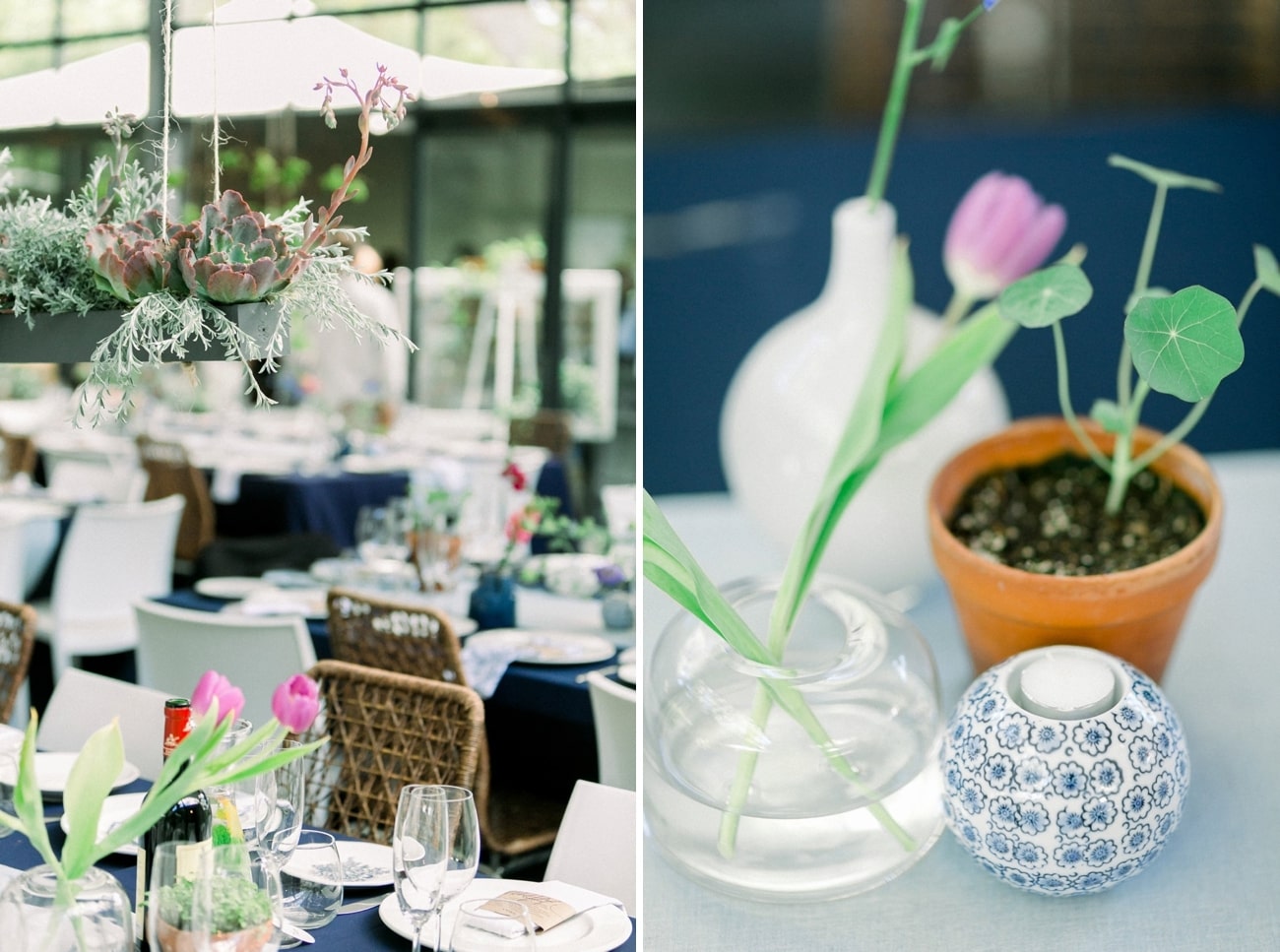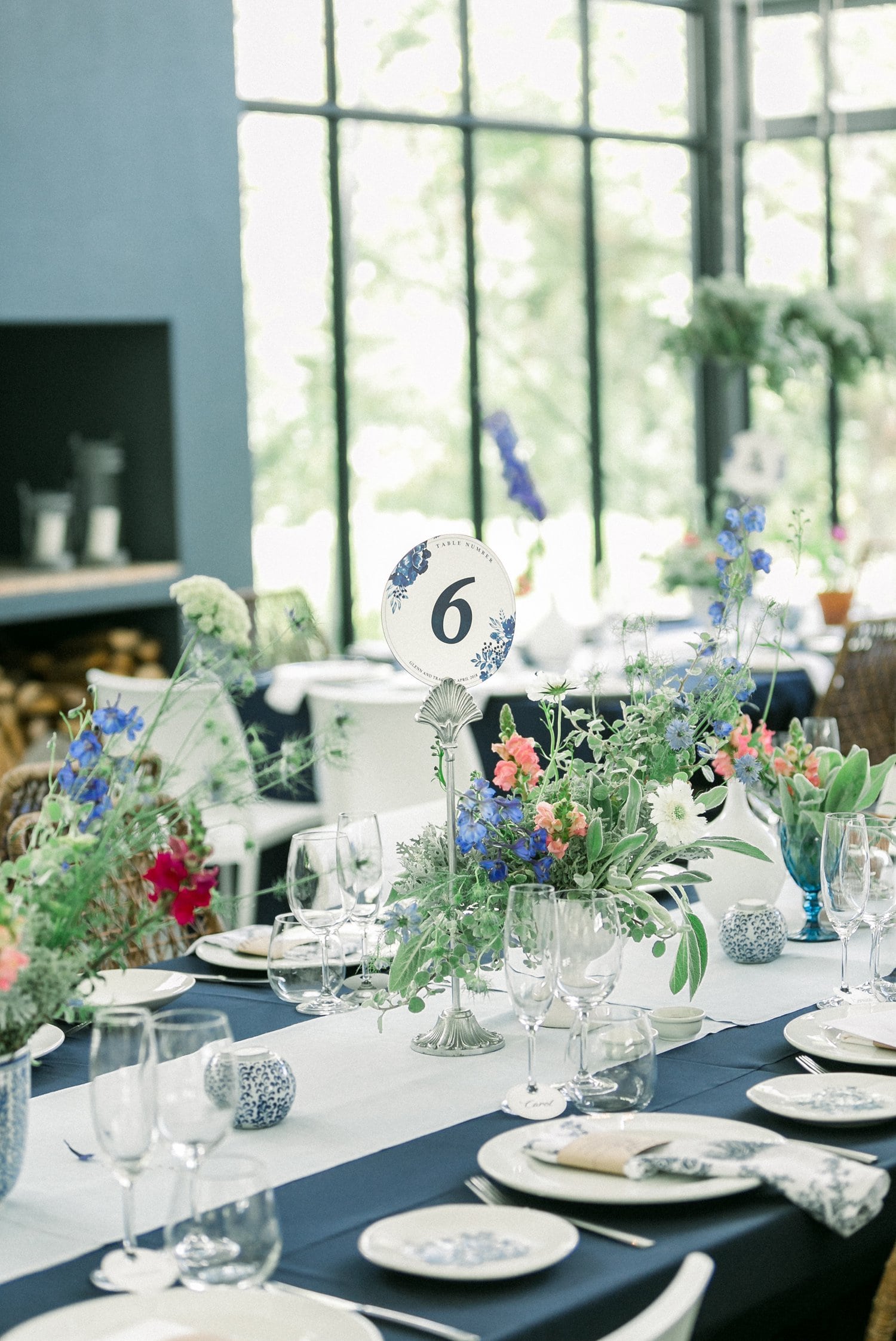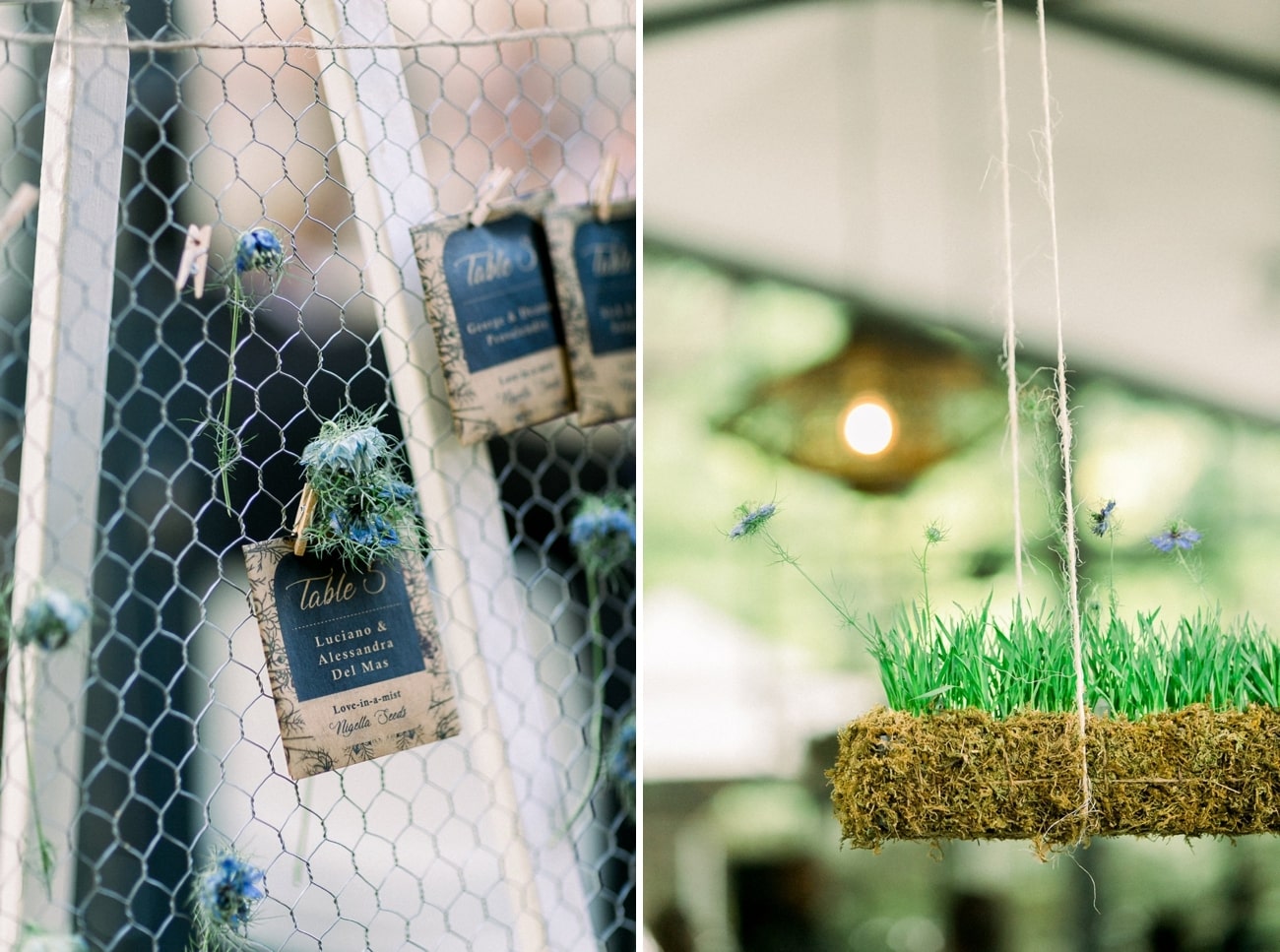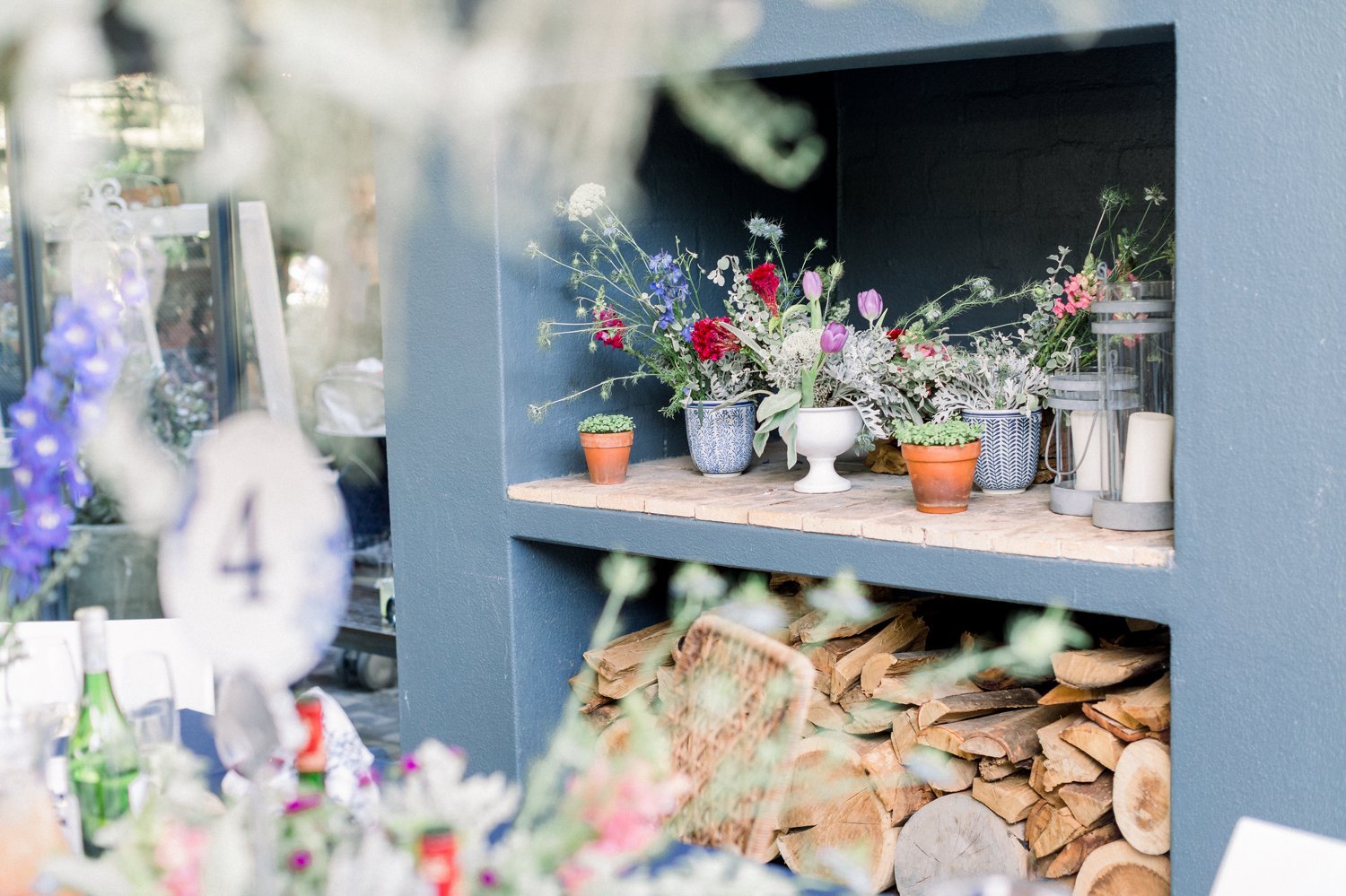 The Flowers
My wedding flowers were amazing and I so wish that we could have boxed up the venue to examine and appreciate properly all of the detail. When contacting Louise (from the Wild Bunch Flower Farm) initially, I described our wedding theme to her. I gave her the basic idea and requested a natural feel. I asked for flower colours that blended into our colour palette with yellow and orange (two of my least favourite colours) being kept to a minimum. My breath was taken away by the florals that Louise produced from these broad instructions. My bouquet was a loosely structured, long stem arrangement of in-season flowers in hues of purple, blue and dark pink. My bridesmaids had floral tattoos (instead of the traditional bouquets), which looked phenomenal. Louise made a variety of mini hanging gardens, with different themes (succulents, ferns, etc.), for the reception venue. These were an exquisite element that tied into our theme and worked extremely well in the venue space.
Memorable Moments
The children! Glenn and I both agree on this. We had 13 children under the age of 10 in our bridal party and another 25 children attending the wedding too. Of course, this came with a fair amount of unpredictability, but in the most charming way. My godson was our ringbearer and he had a little meltdown when I was walking down the aisle. I didn't mind this at all and it just made my walk down the aisle that much more memorable. The children played happily and made new friends during the reception. The little girls gathered around me continuously just to look at my dress up-close. It was so special having them as part of our day, sharing and celebrating so delightfully, as only children can. They were also, by far, the guests who enjoyed our dance floor the most. They danced with a complete lack of inhibition and pulled out many moves that made us smile and laugh out loud!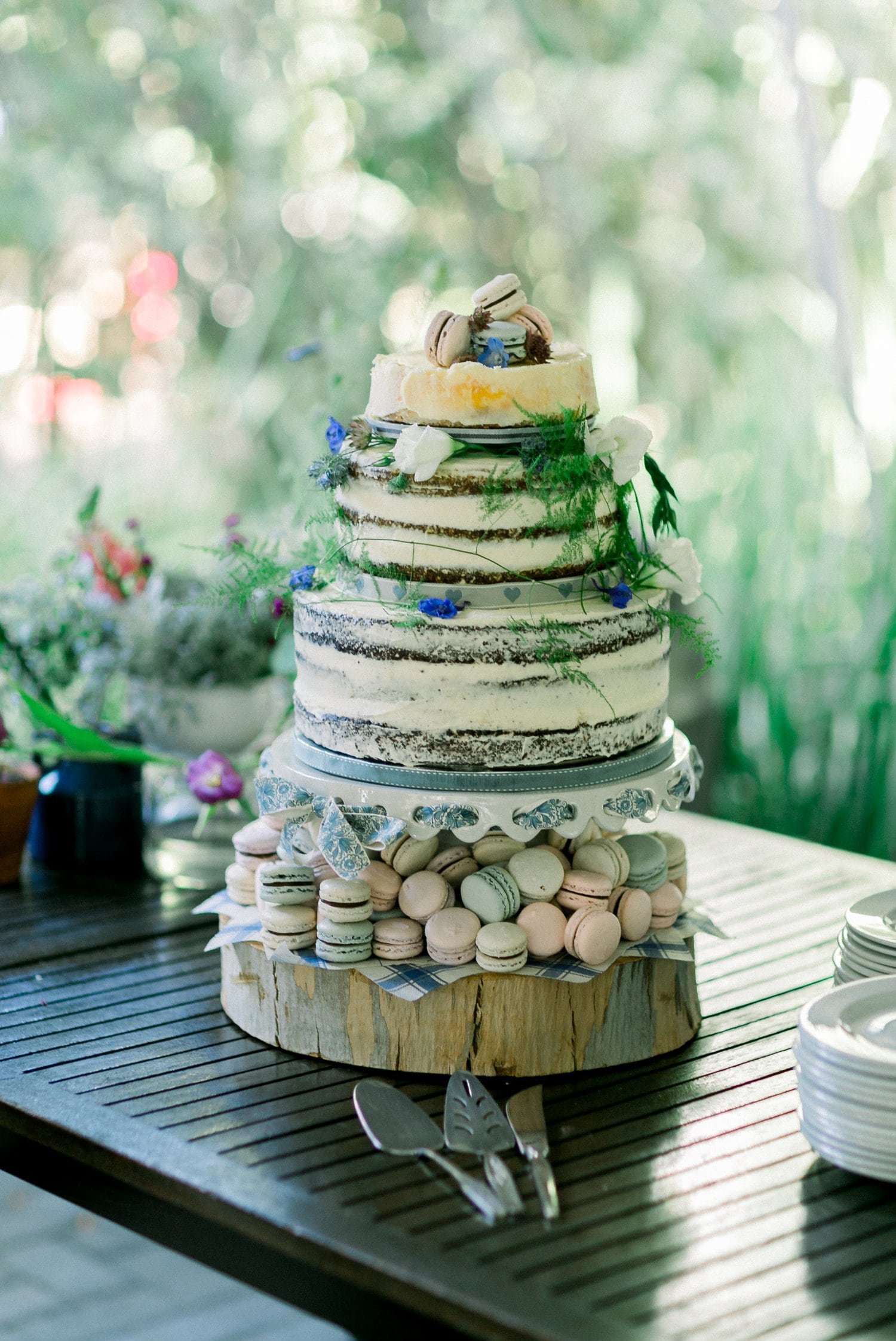 Best Decision
In the end, we were very glad that we had a relatively short engagement period. It forced us to make decisions quickly and then move on to the next thing, without having the time to second guess ourselves. We also feel like we chose the best photographer possible. Jo-Ann captured the day so beautifully with such enthusiasm and passion for her job. She was wonderful with us on the day and we couldn't have been happier with the beautiful photos that she delivered.
Advice for Future Brides & Grooms
I always thought that the idea of an engagement shoot was somewhat cheesy. However, it was included in Jo-Ann's package and we went ahead with it. Not only did we get some amazing photos, but we also got to know Jo-Ann and she got to know us. It made such a difference on our wedding day when things were far more rushed and pressurised. If you have the opportunity for a pre-wedding shoot with your photographer, we would highly recommend that you grab it.
Know that there will be hiccups on the big day, it's inevitable. We decided early in the planning stages that, on the day, our focus would be the people and not the details. This stopped us from getting distracted or upset by the hiccups. At the end of the day, it's about a lifelong commitment that you're making to the person who you will love forever and your guests who make the effort to be there to support you in this commitment and celebrate it with you.
You'll be told this many times, by many different people, but your wedding day really does go by in the blink of an eye. As Glenn likes to say, "make sure that you hit the record button throughout the day". Make a point of stepping back to take a breath and soak in your special day as you move through it.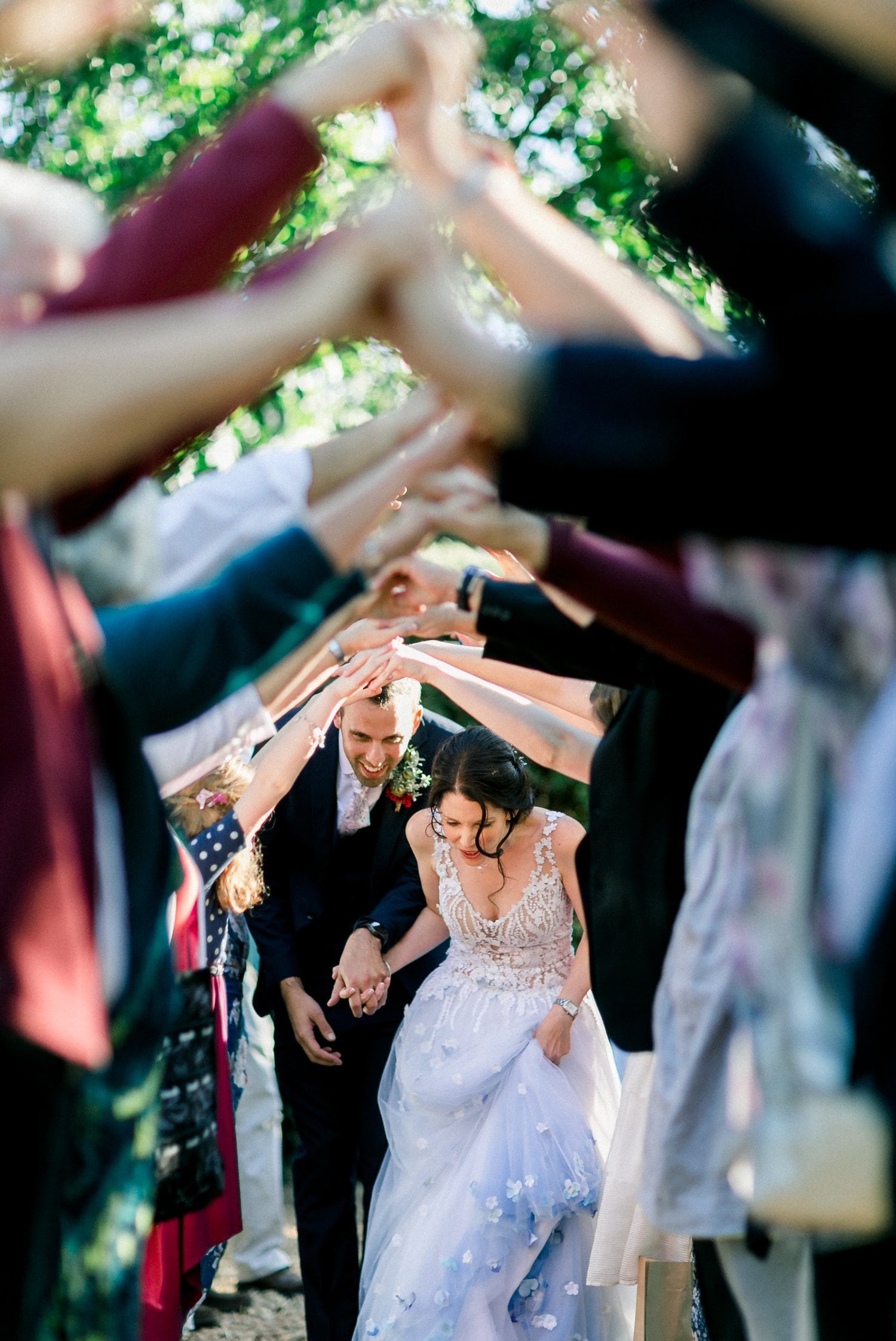 You can see more from this wedding on Jo Stokes' blog.
SERVICE PROVIDERS
Venue: The Conservatory, Franschhoek | Catering: Dre Johnson Incorporated | Photography: Jo Stokes Photography | Co-ordination: San-Marie Jacobs from CreativeNook | Flowers & décor: Louise Steenkamp from The Wild Bunch Flower Farm | Stationery: Lizelle Olivier from MulletfishDesign | Cake: Friend (Elske Rightford) | Bride & bridesmaids' dresses: Suzy J Designs | Bride's accessories: Kathleen Barry + Kinkel Jewellery | Hair: Ida Webster | Makeup: Leandre van Rooyen | Groom's attire: Top Hat Suit Co. + Mantality (Star Wars cufflinks) | Hiring: Downing Event Hire + XL Events + Sitting Pretty Bespoke Event Design + SS Floor Hire + Stretch Inc. + Blooming Wonderful + Goeters + The Table Cloth Hiring Company | DJ: Your DJ | Entertainment: Kai Connor | Beer keg: Tap That SA | Coffee station: Kofi – Gourmet Coffee Station