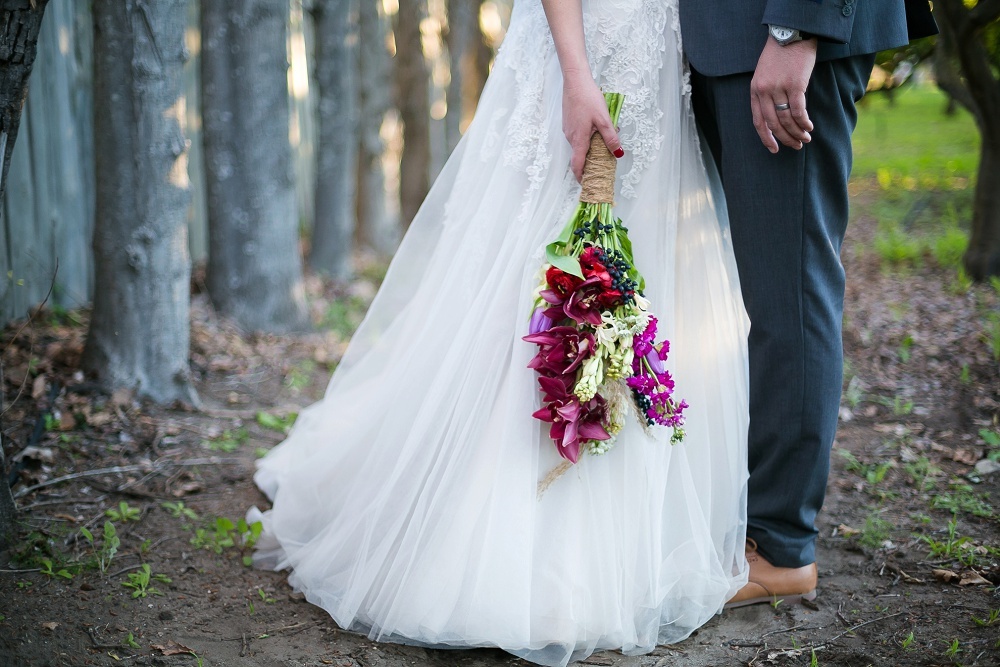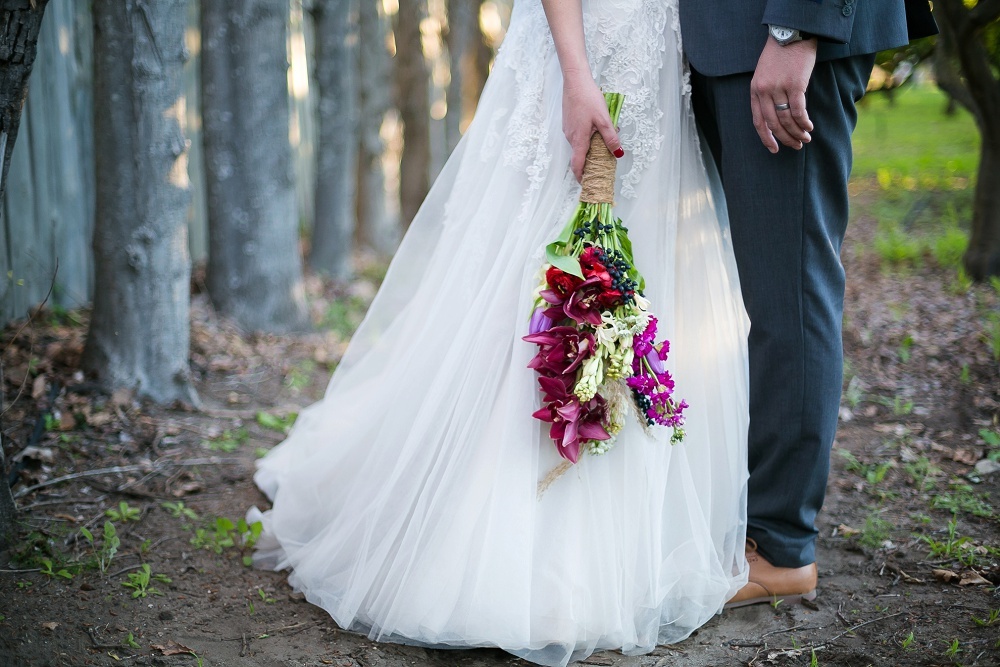 Who doesn't love a long distance love story? We all know how difficult these can be, and how much patience and hard work goes into a union where you have to rely on alternate forms of communication, and limited time in person, to get to know one another. So I think it takes a really special connection to make its way past that, and Janine and Francois clearly have just such a connection. Together at last, they celebrated their wedding with a beautiful, jewel toned, festival atmosphere wedding at the stunning Conservatory in Franschhoek, filling the reception with DIY details (including Japanese moss balls called kokedamas), and mixing rustic style with a touch of opulence in both palette and details (I especially love the cake and the maroon bridesmaids' gowns including a couple by our newest directory members, Jacoba). So pretty, you guys! Karina Conradie took these beautiful pictures.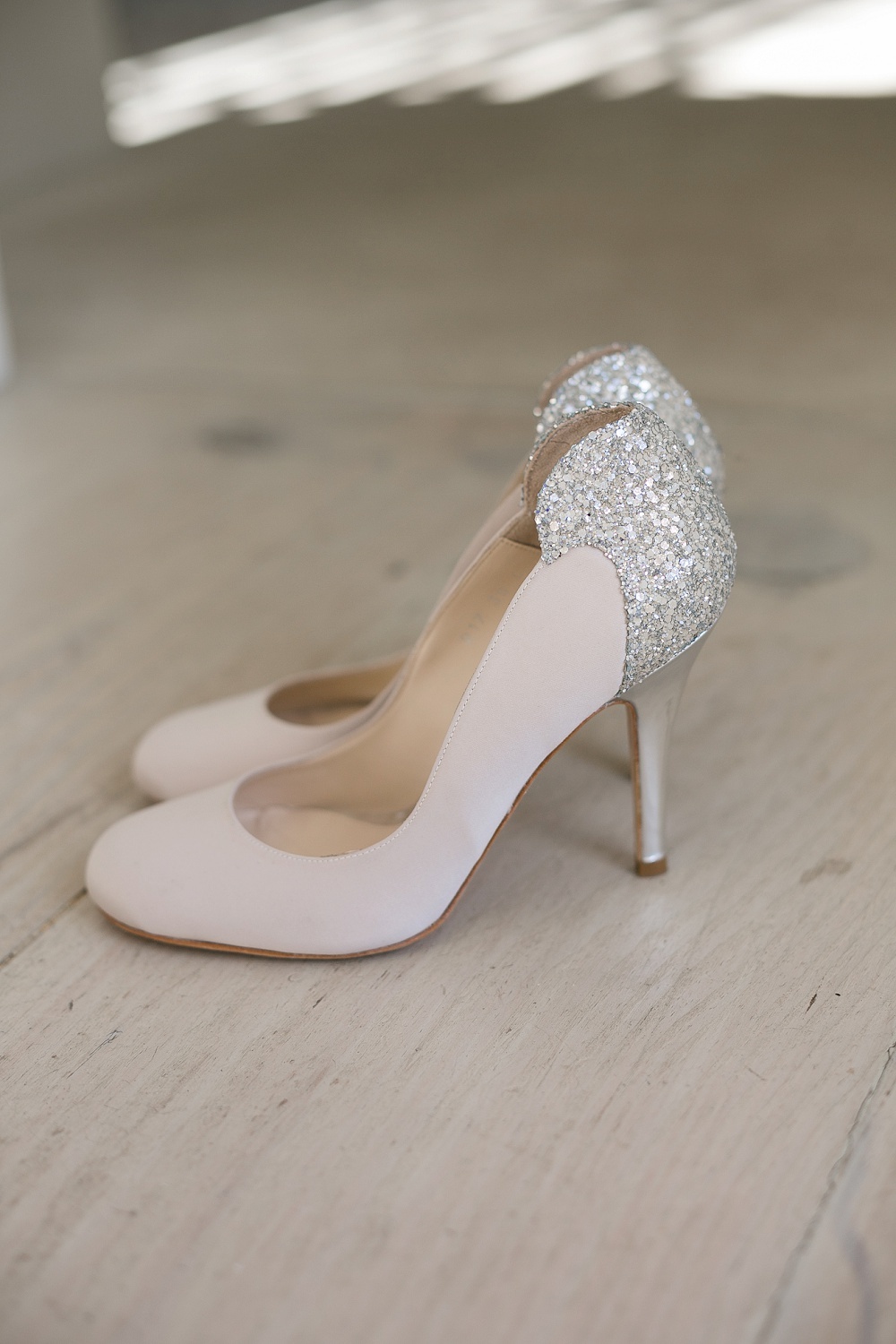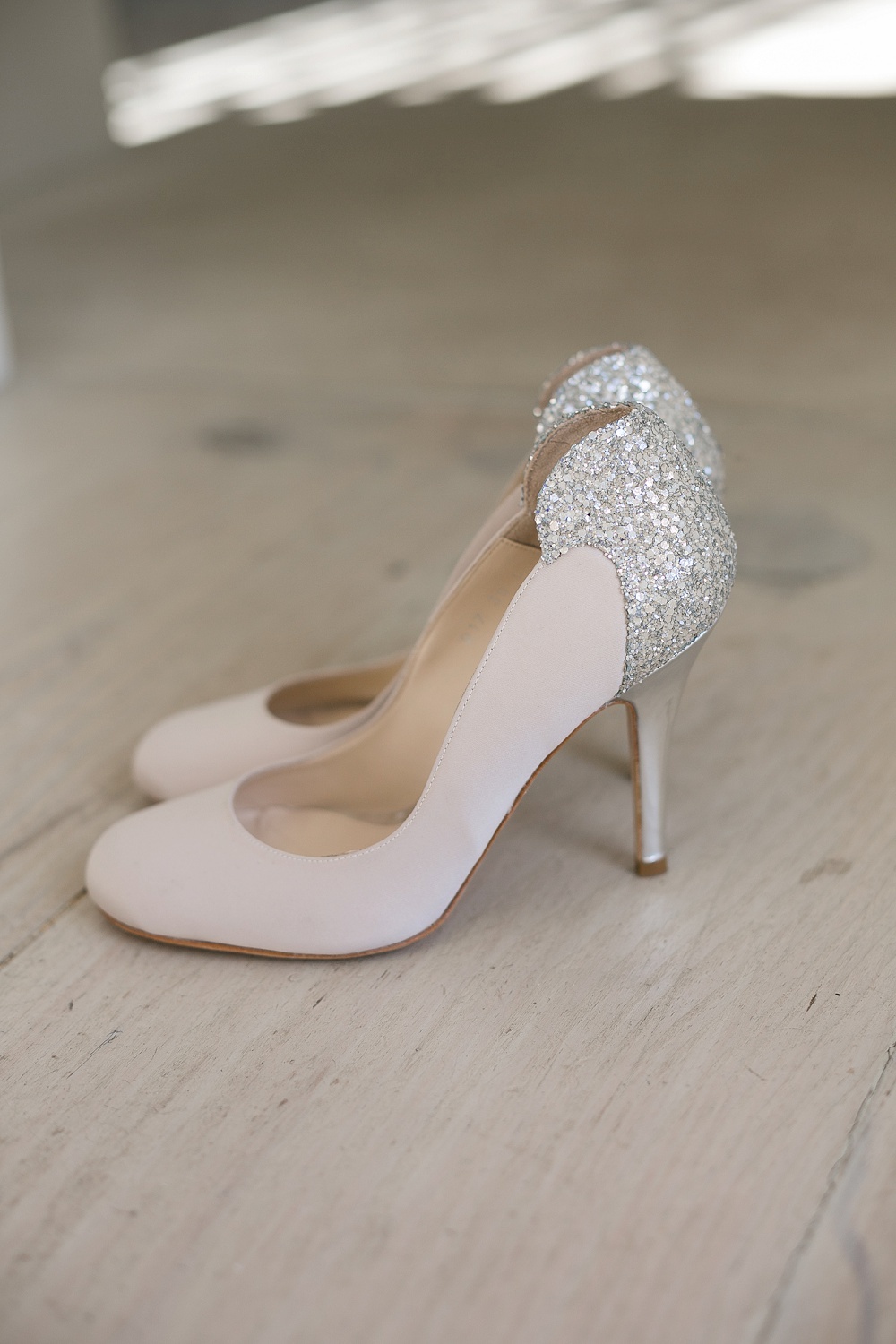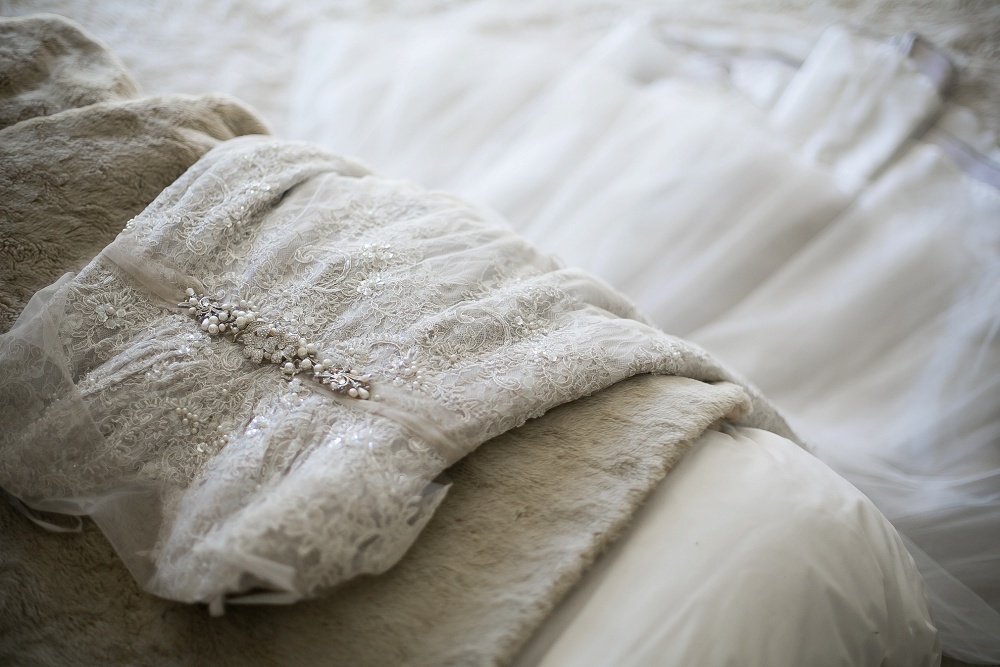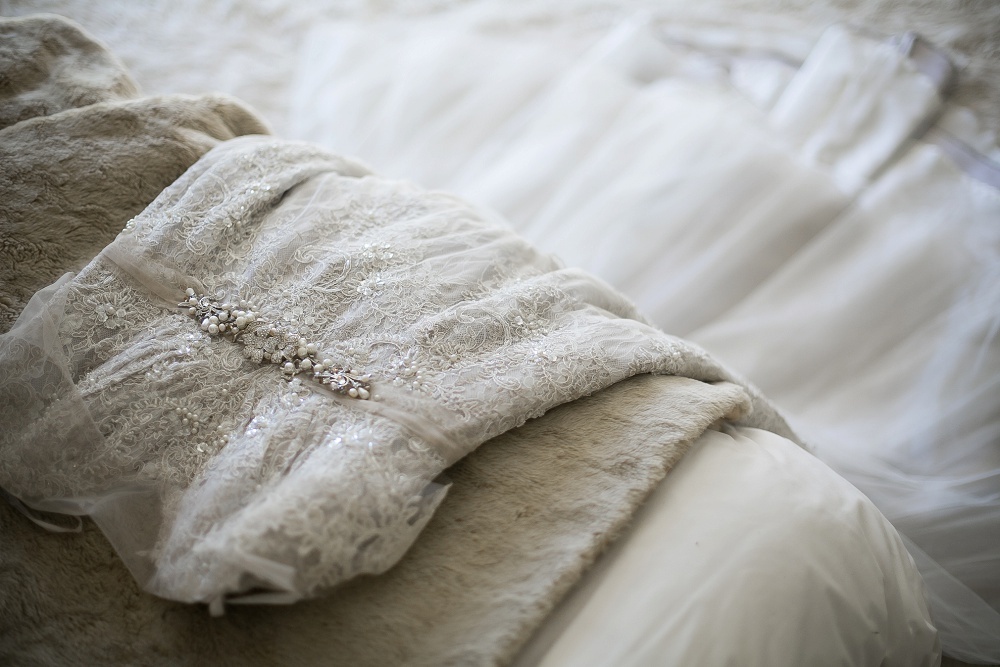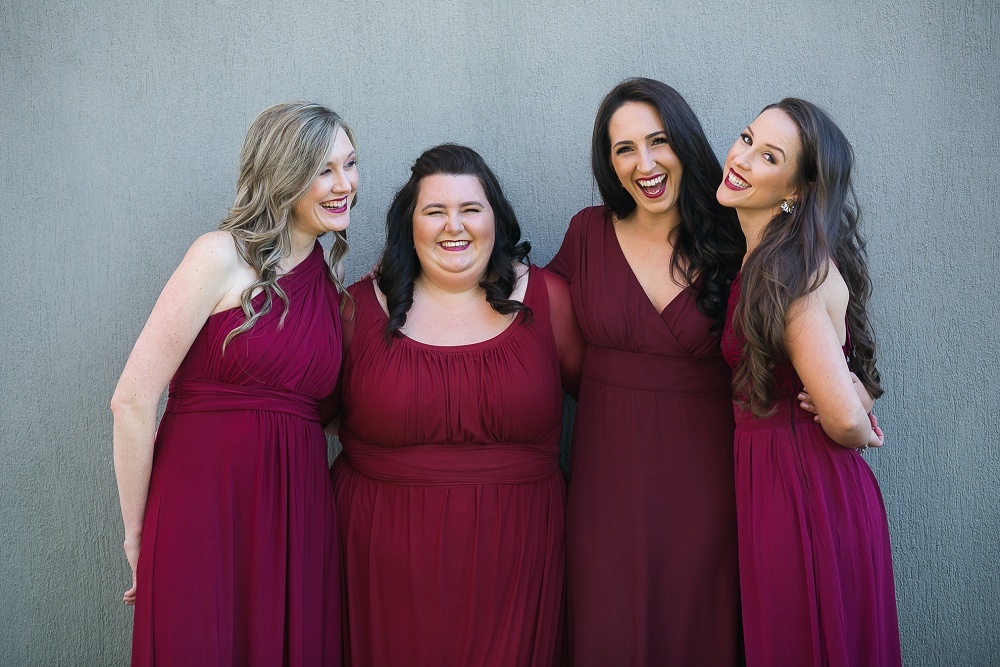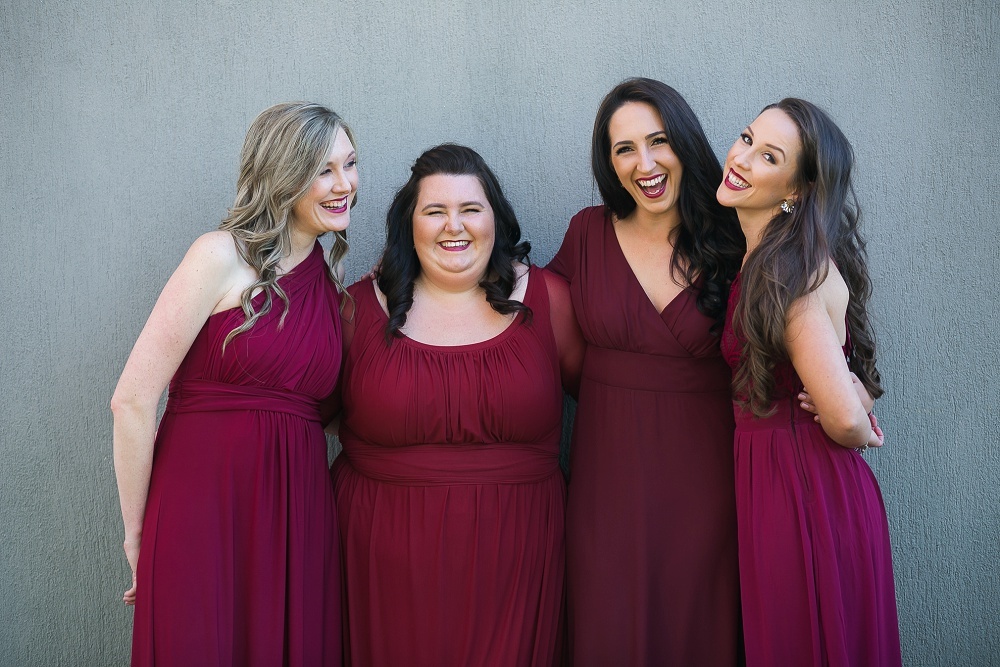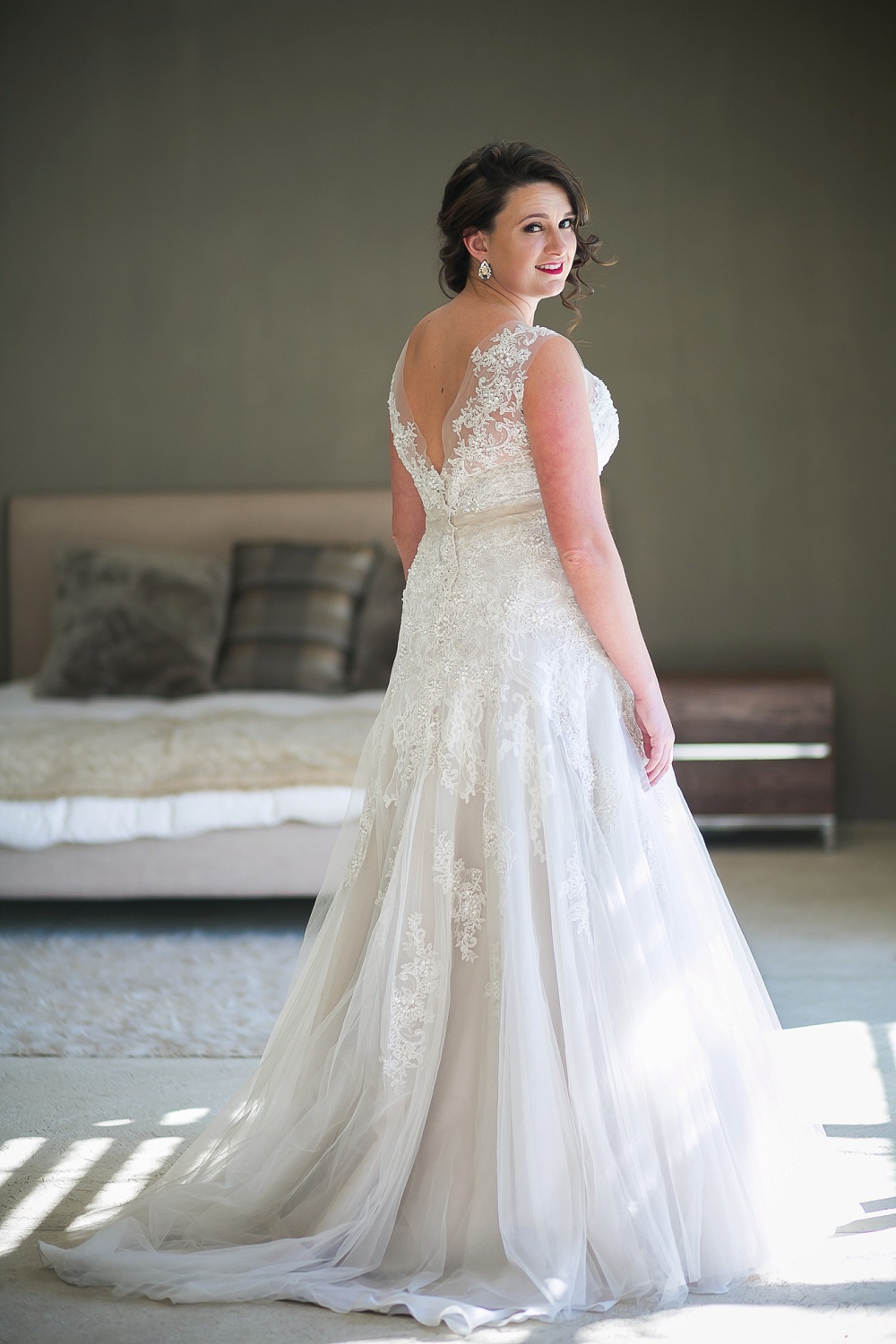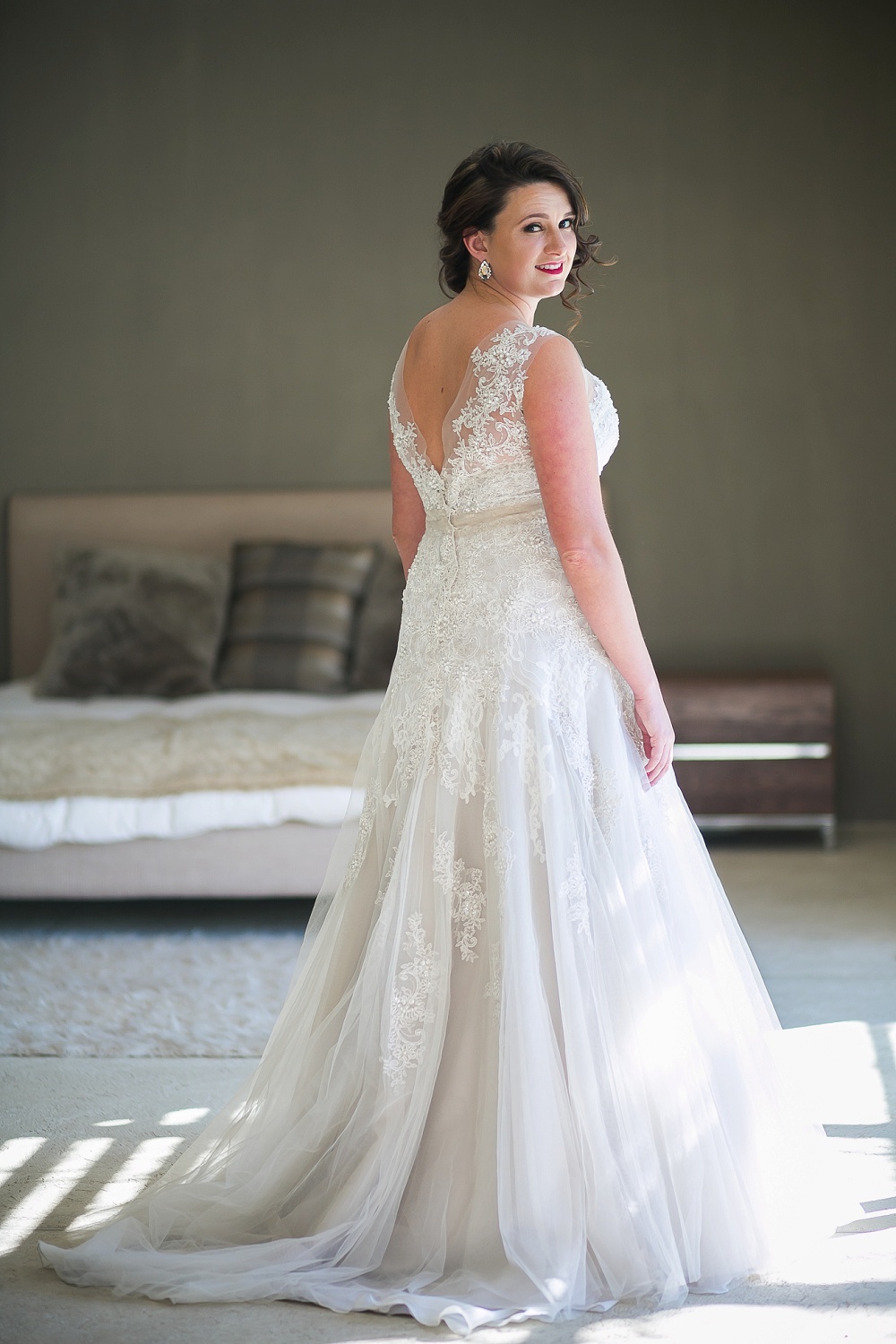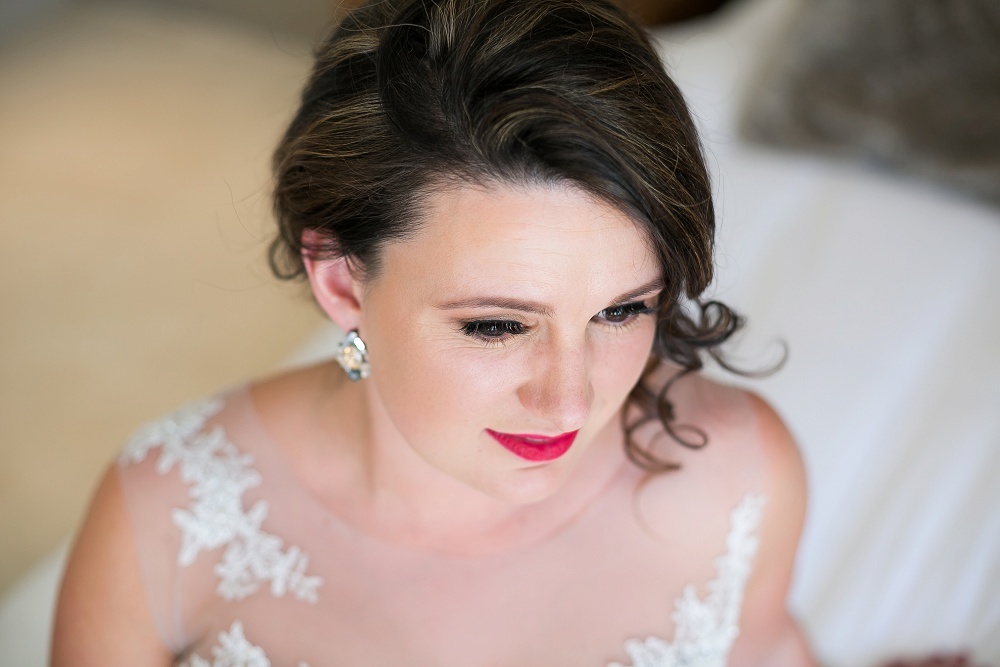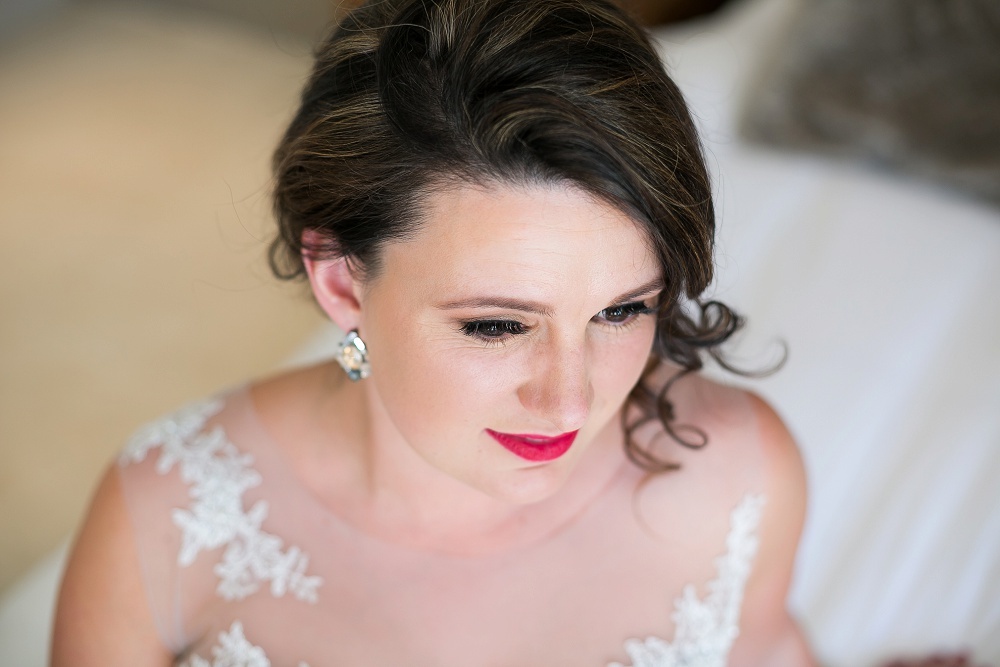 Love Story
Francois and I both work in the fruit industry. He lived in the Northern Cape (Kakamas) for a year and a half before I met him, and over December I always went on business trips to the region for the table grape season. I was one of his clients. After a long telephone working relationship, we finally met one evening at a restaurant. For nine months I didn't want a relationship because of the 800km distance between us, but Francois kept contact and just never went away. On my birthday that year he surprised me with with a bunch of flowers, and I asked myself whether I was pushing something away that might be the best thing that ever happened to me. Two weeks later I went back to Kakamas for my annual business trip, and that was when we really started to get to know each other better. I fell more in love every day, and a year and half later, after a long distance relationship, I got engaged to my best friend.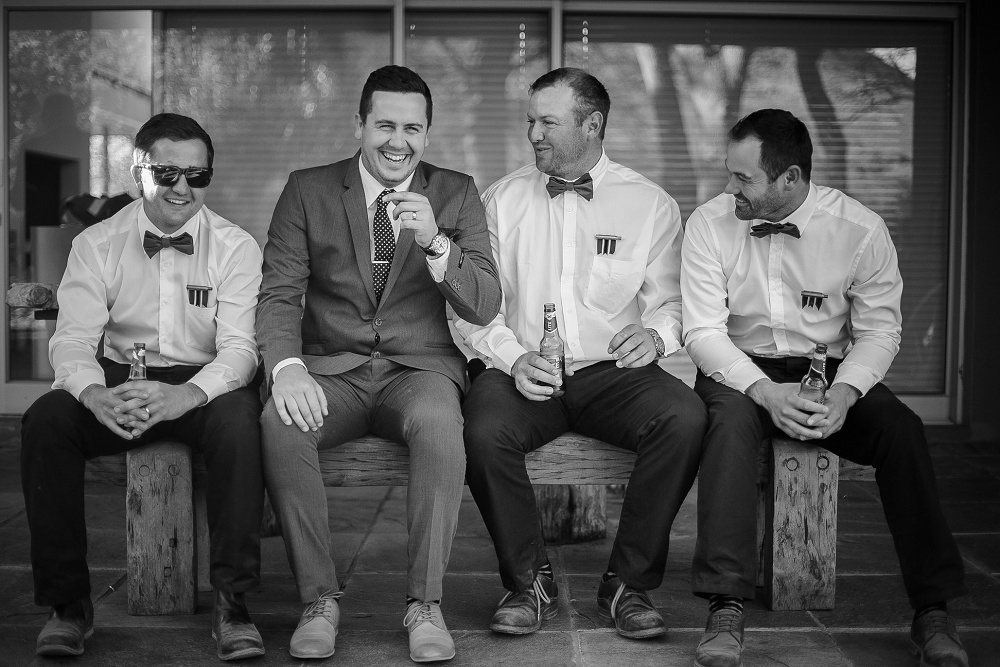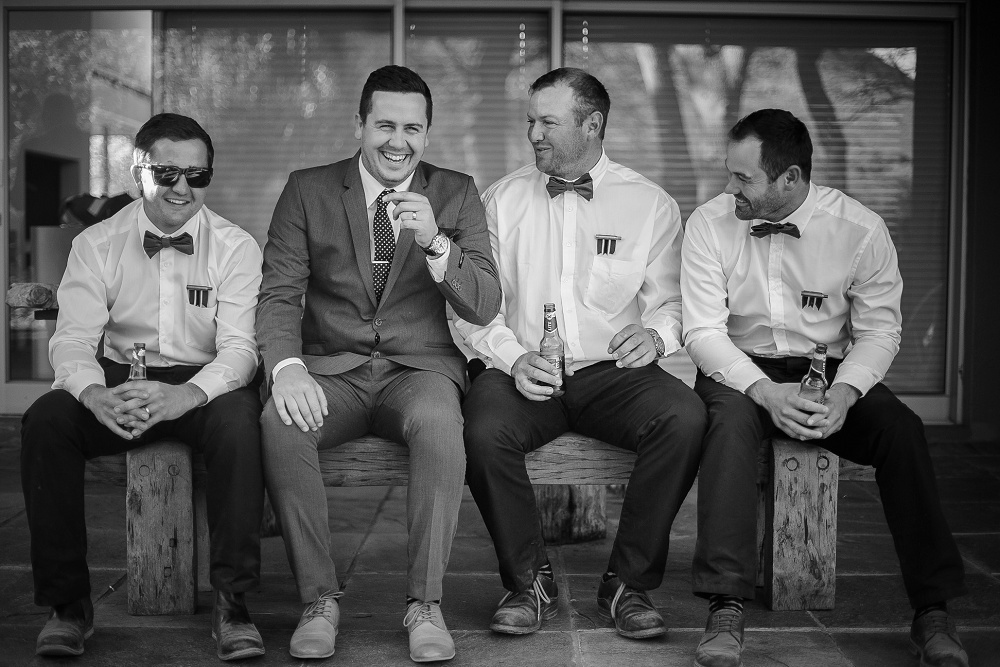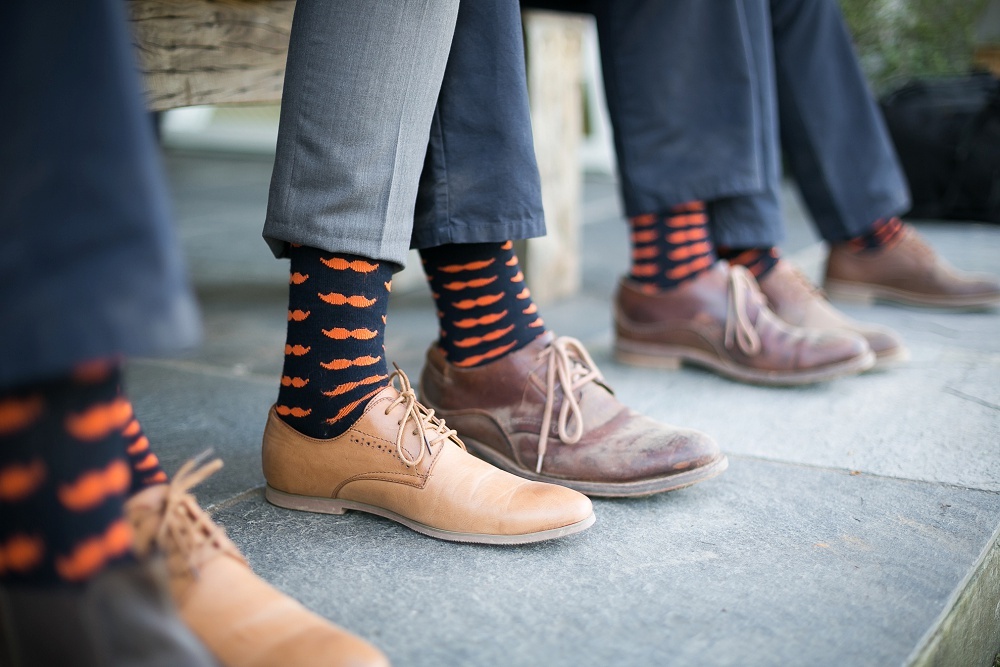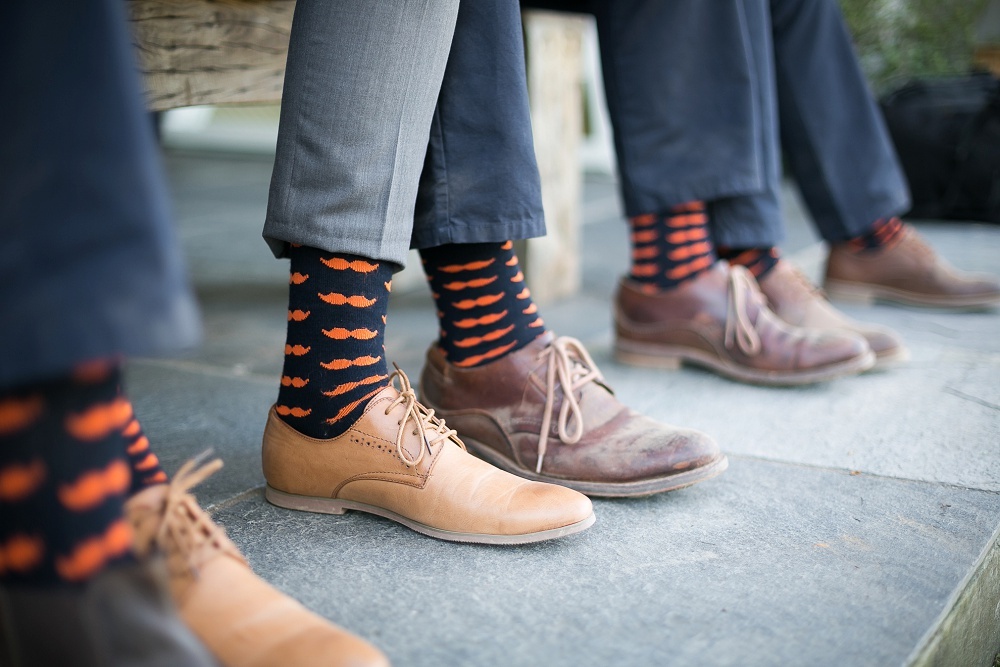 The Venue
The only thing I WANTED badly for my wedding was a transparent tent or glass venue. I always dreamed of just pitching a see-through marquee on a farm somewhere and just working with nature. When we started our wedding venue hunt, The Conservatory was the second venue I visited and I immediately fell in love with the place. I had such peace when I walked out of there. It ticked all the boxes AND it was so close to where I live, in Paarl. It is a peaceful, beautiful piece of nature with glass all around and the venue overlooking the Franschhoek mountains.
Wedding Style
When we first discussed the theme of the wedding we both had one vision in mind: FESTIVAL! We imagined people sitting at long tables having a feast. Food and drinks on the table and people celebrating our special day with us. We therefore wanted an intimate table seating where people could gather together and eat/drink. And that was exactly the vibe of the wedding….so much fun and laughter and A LOT of dancing!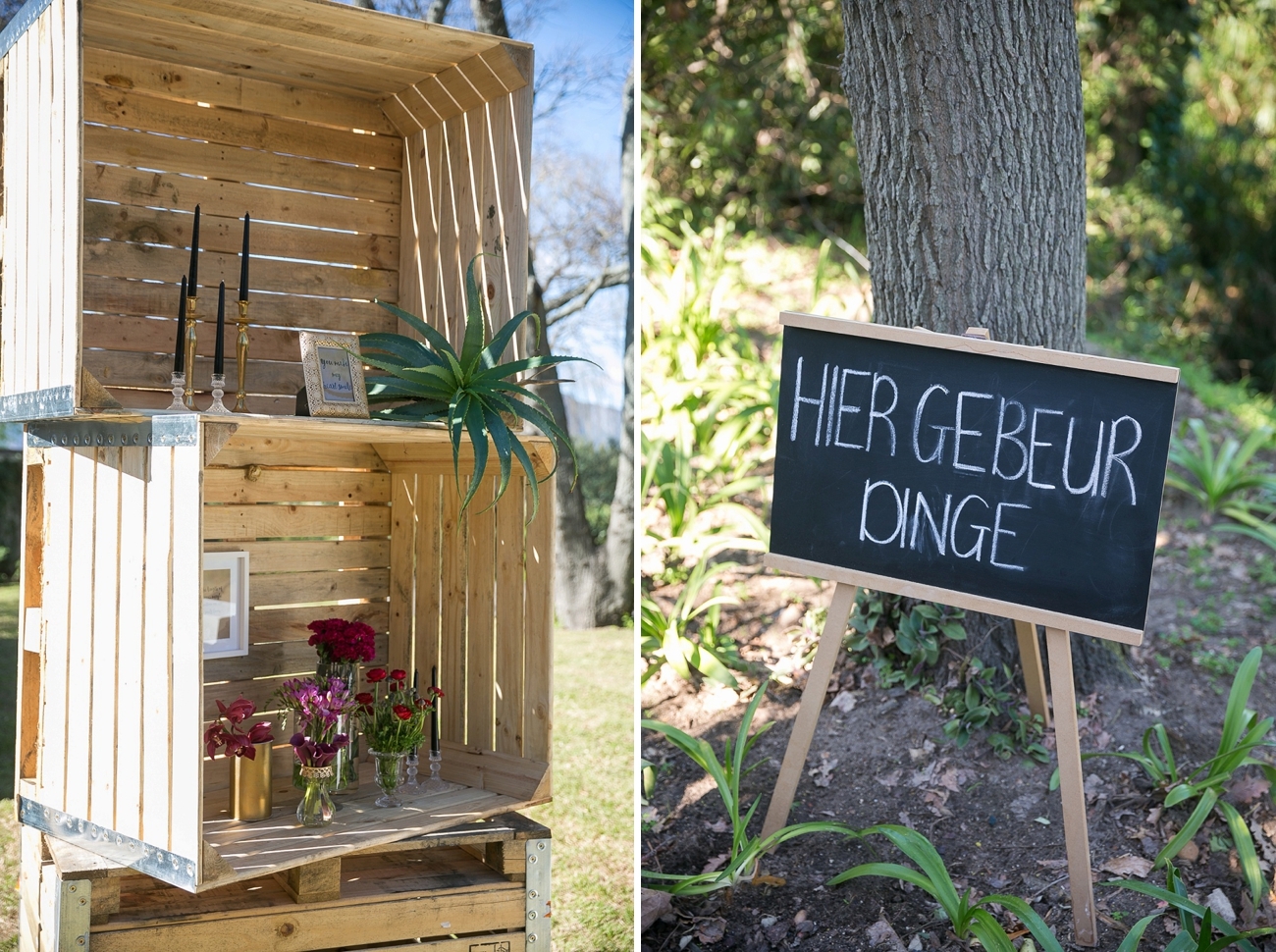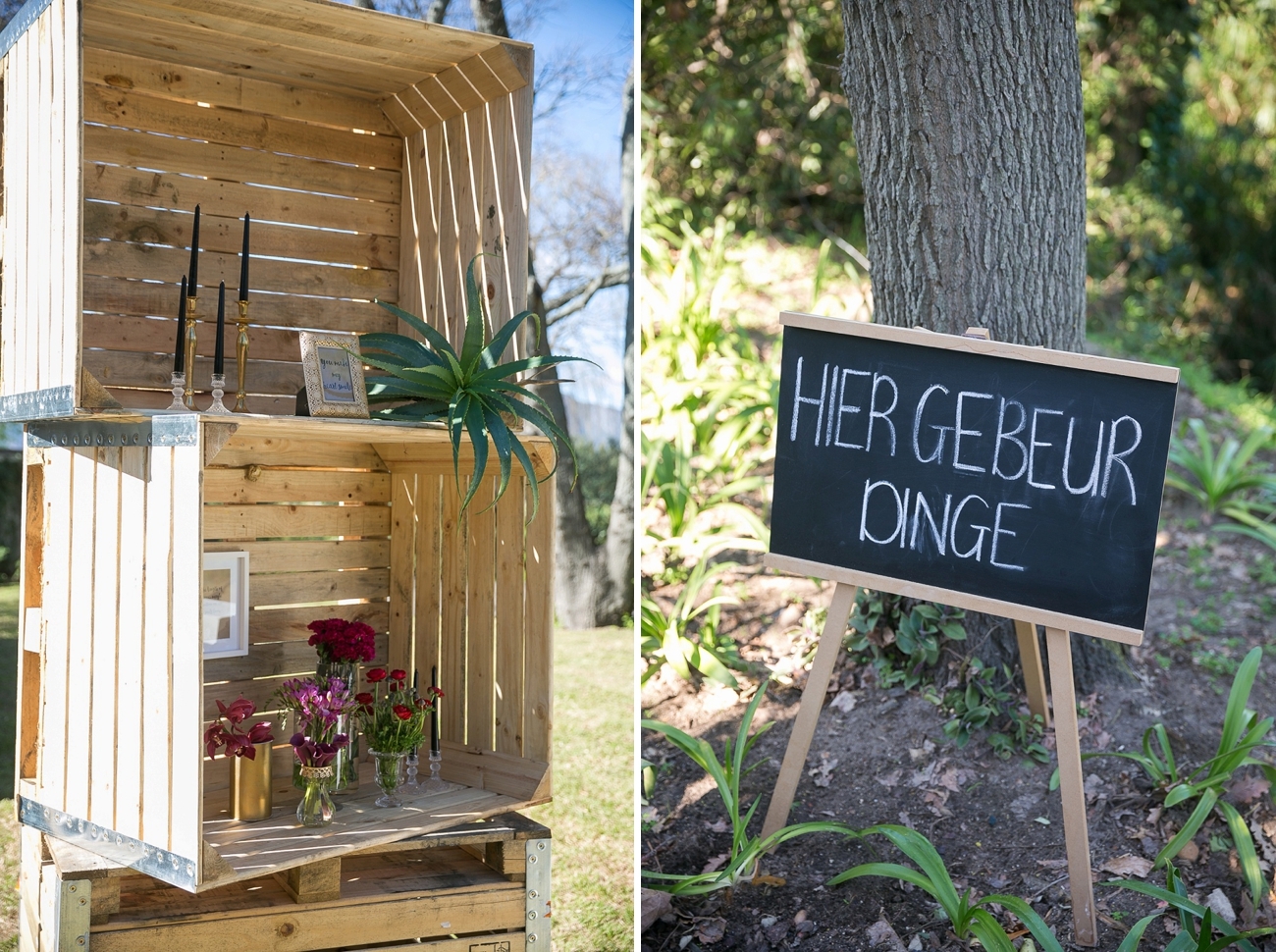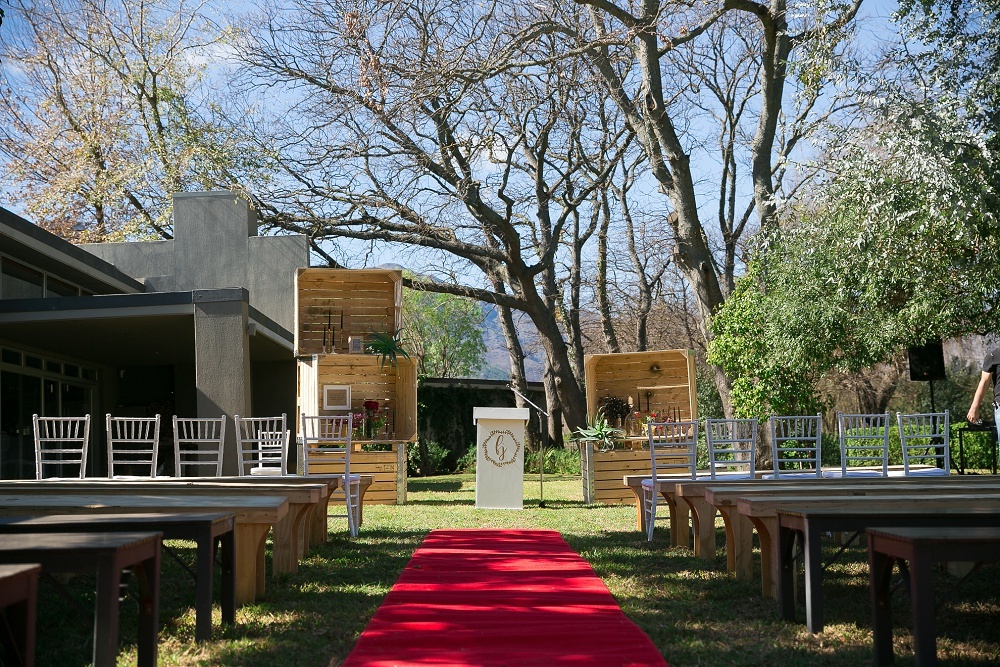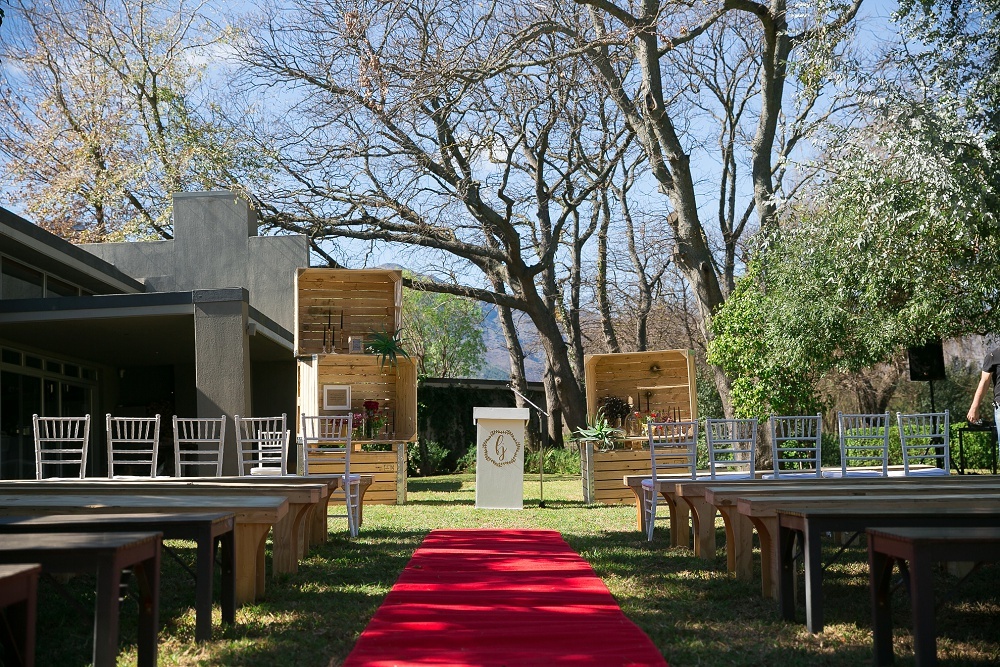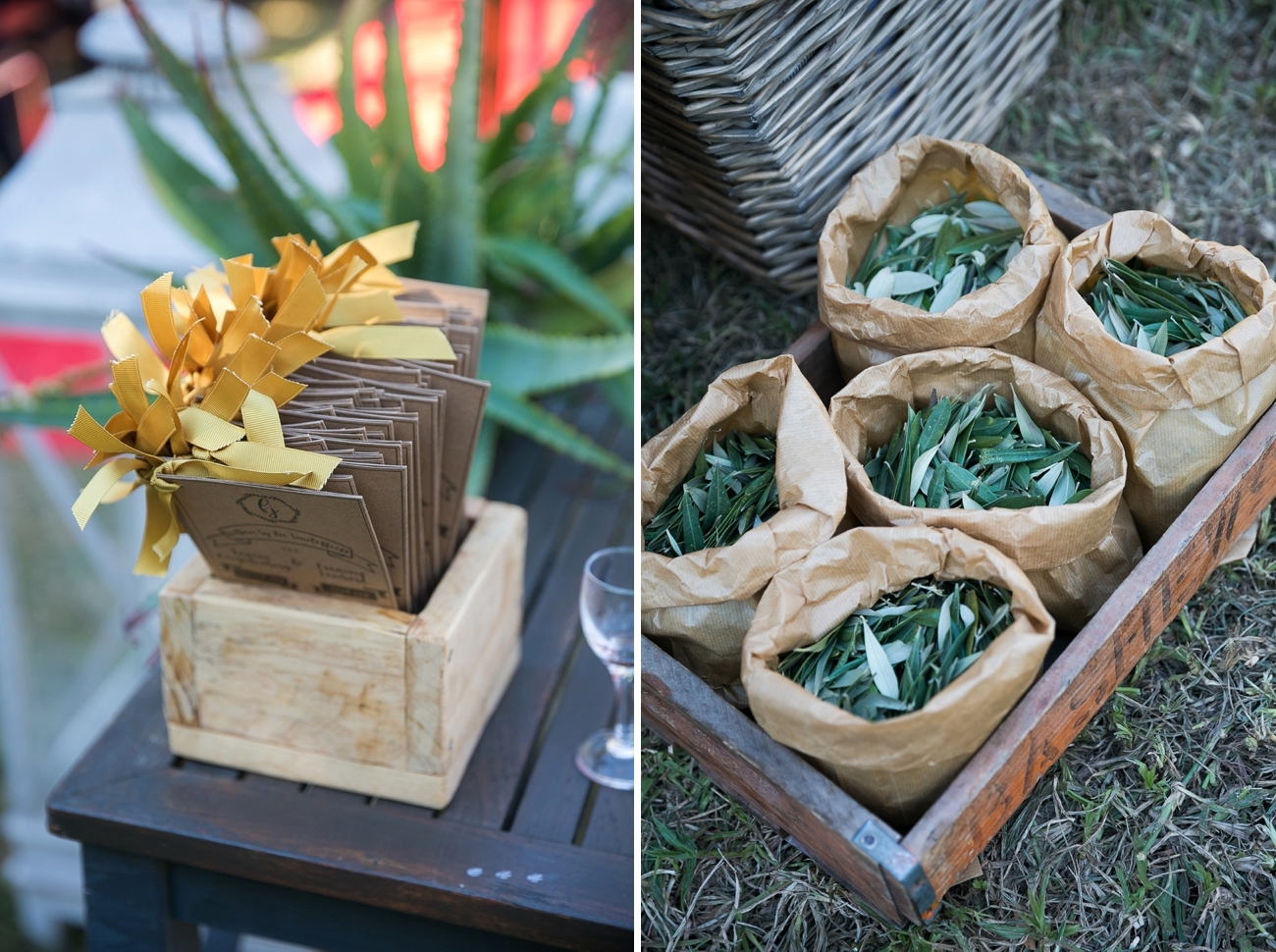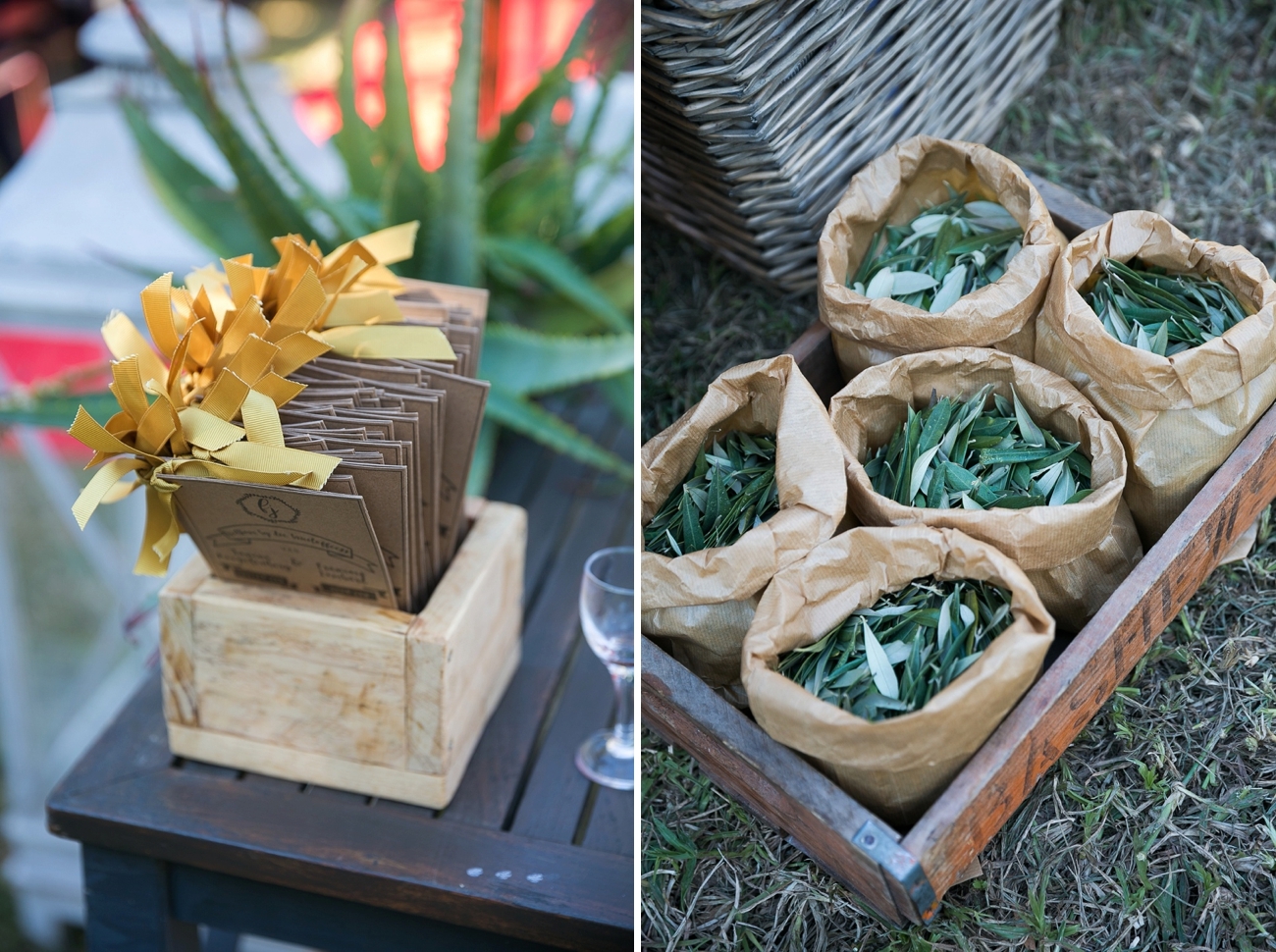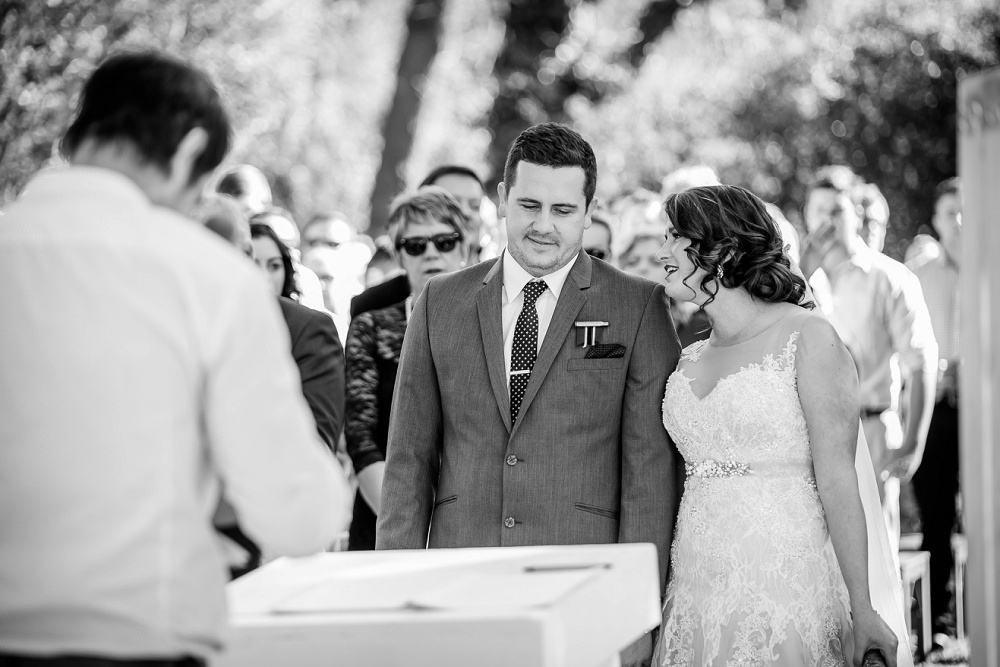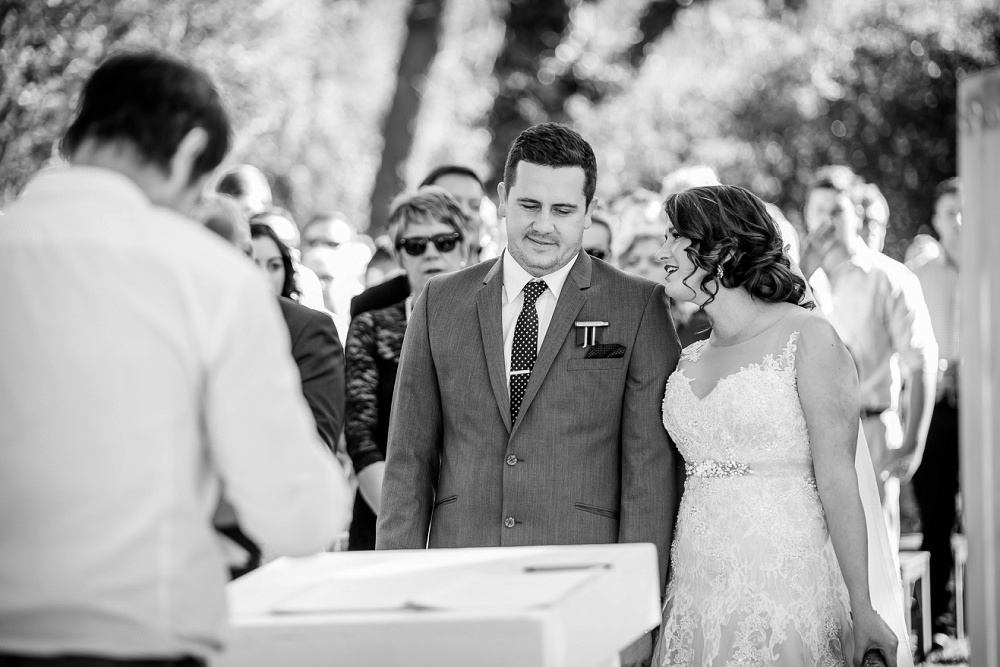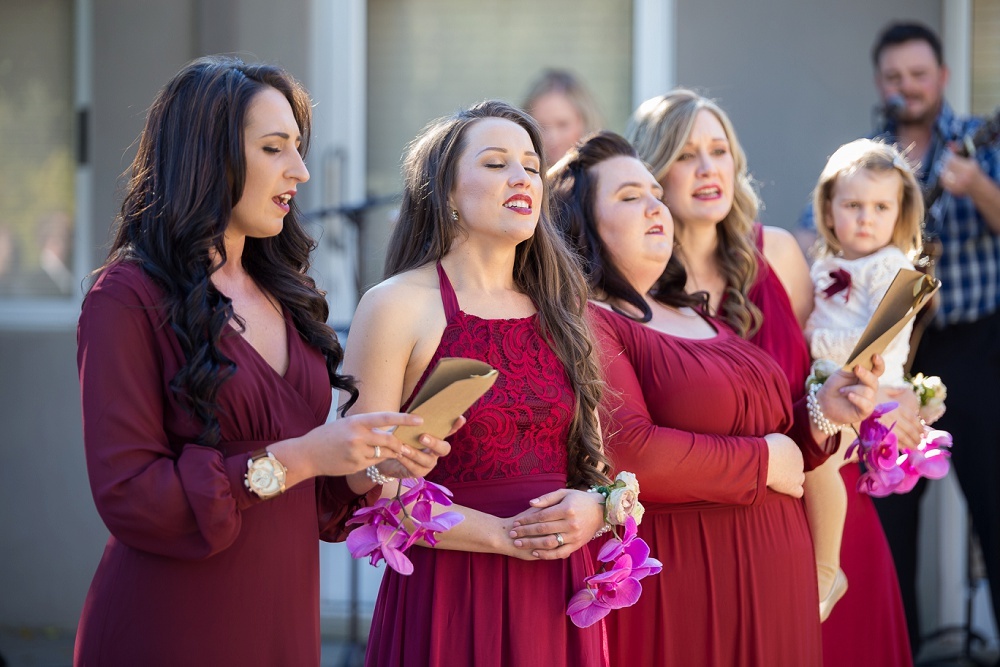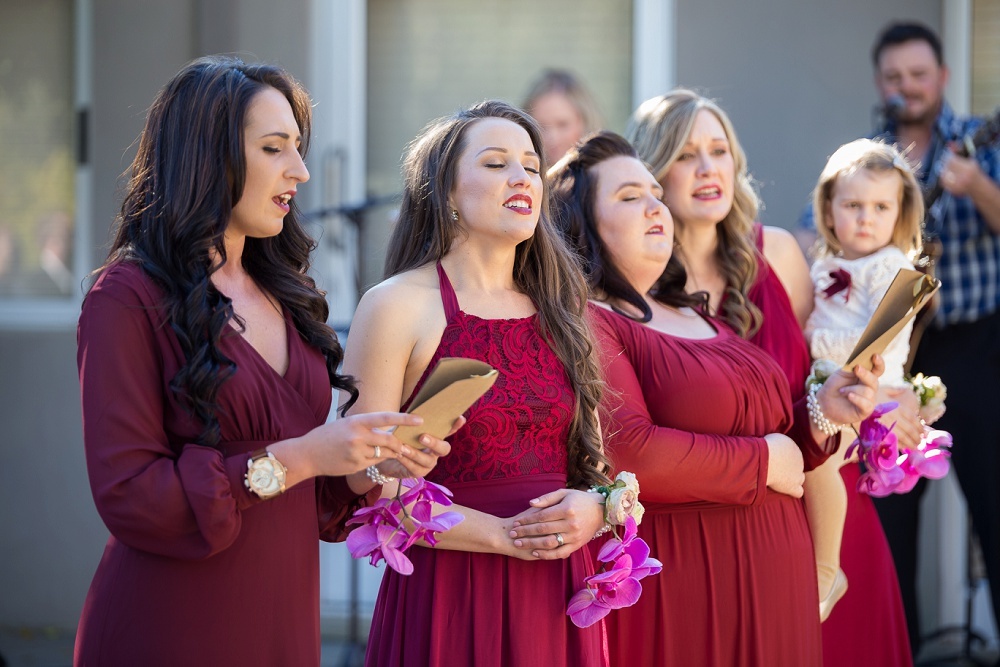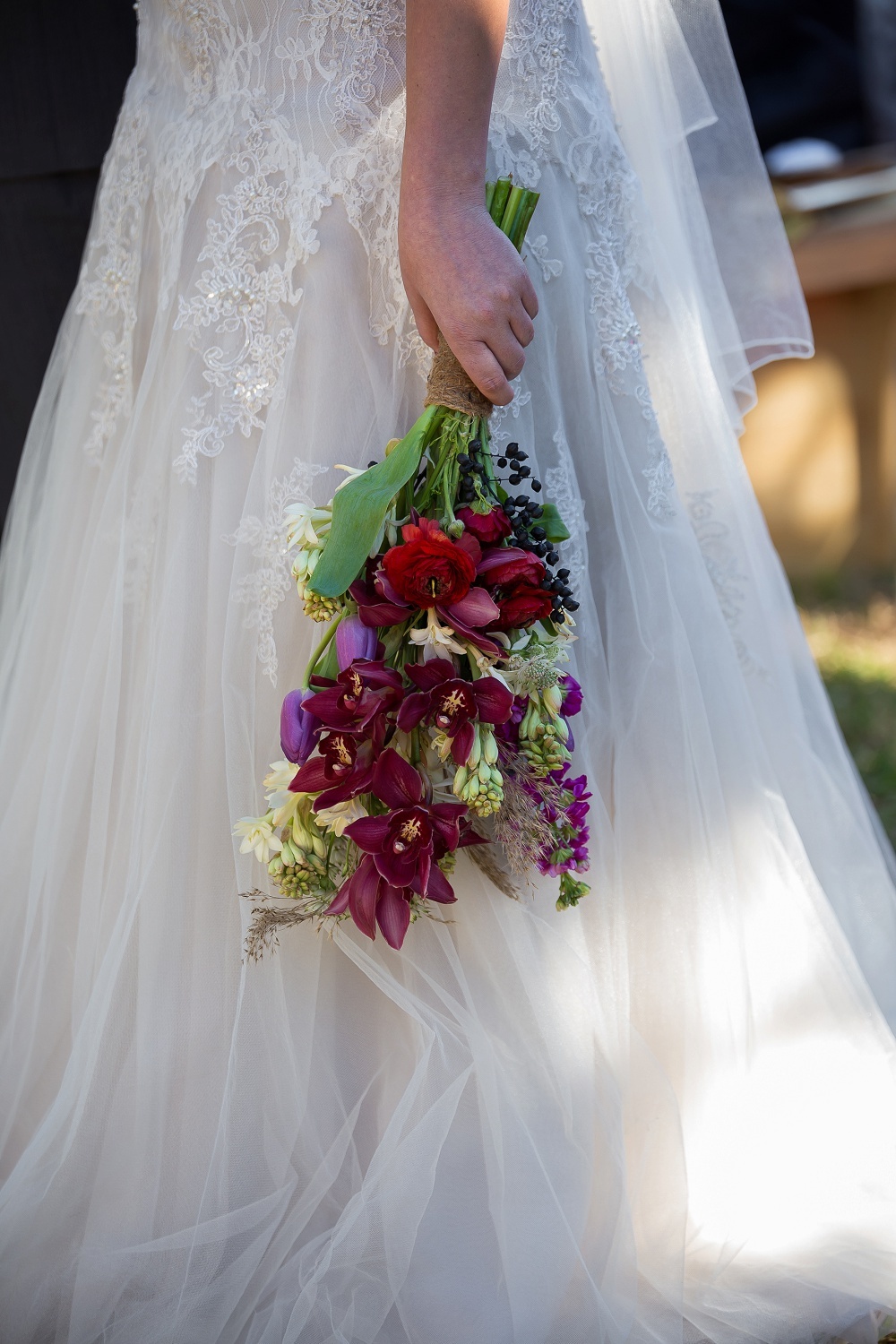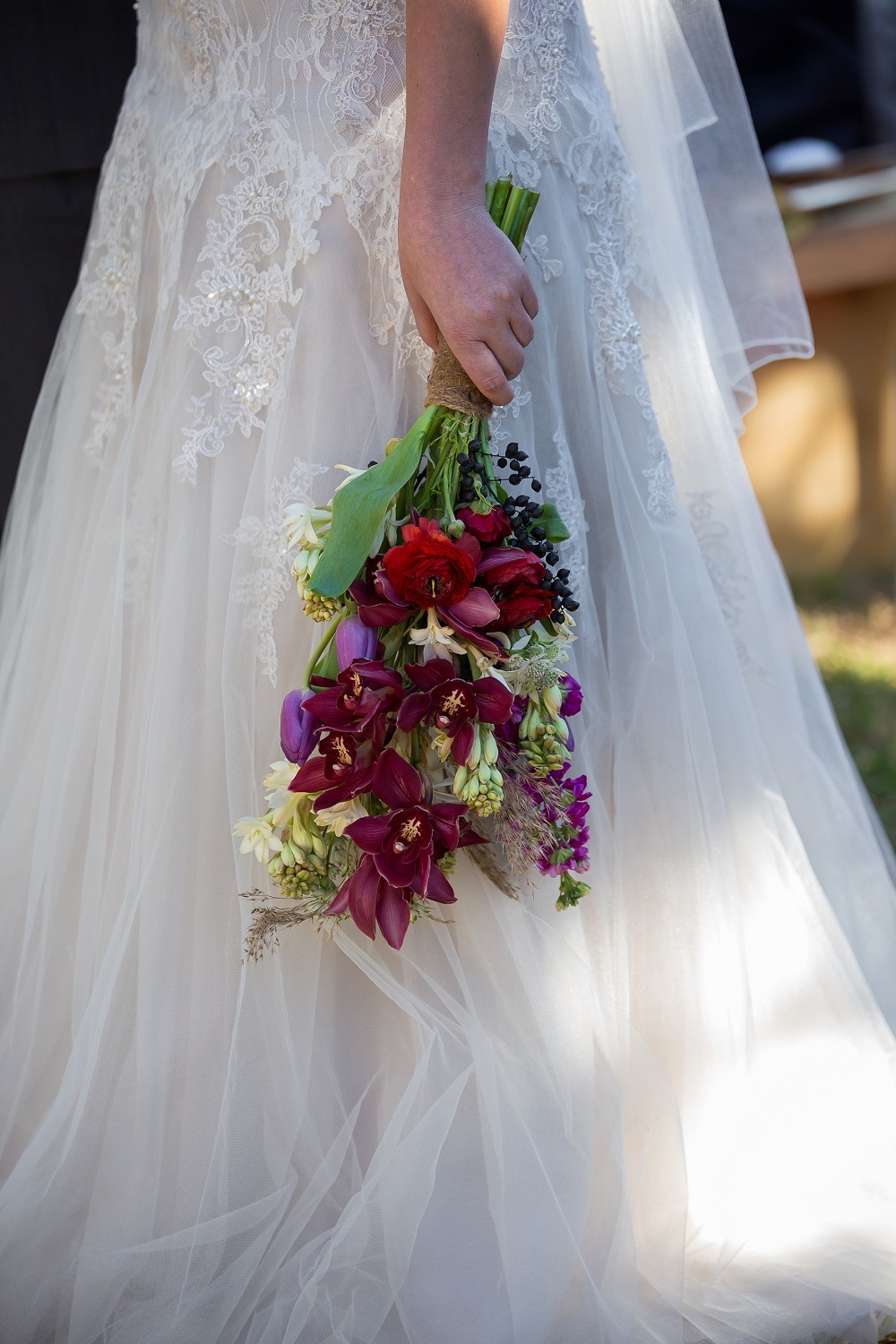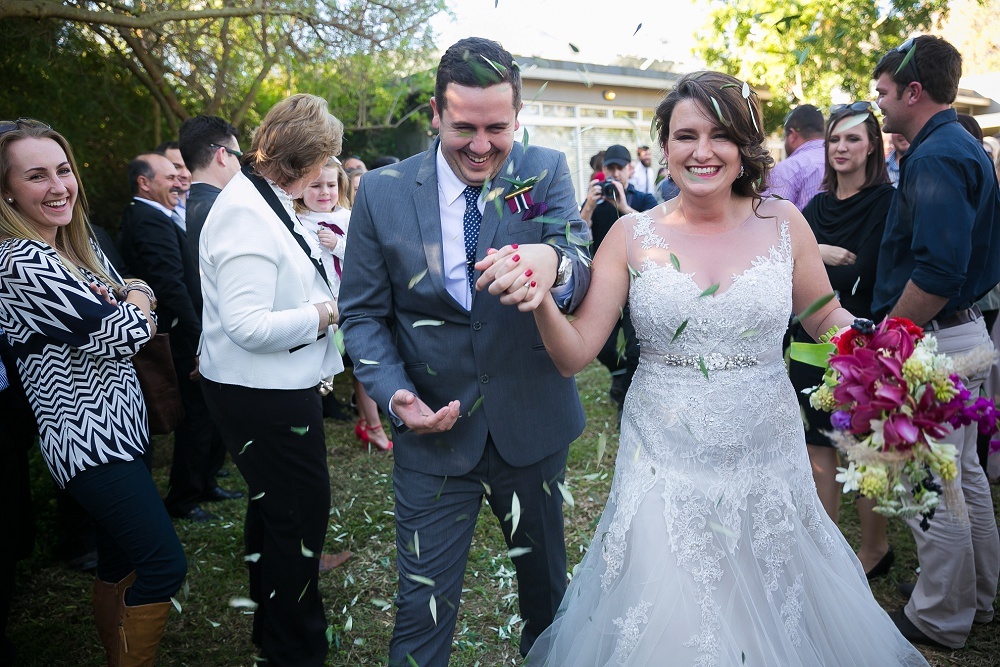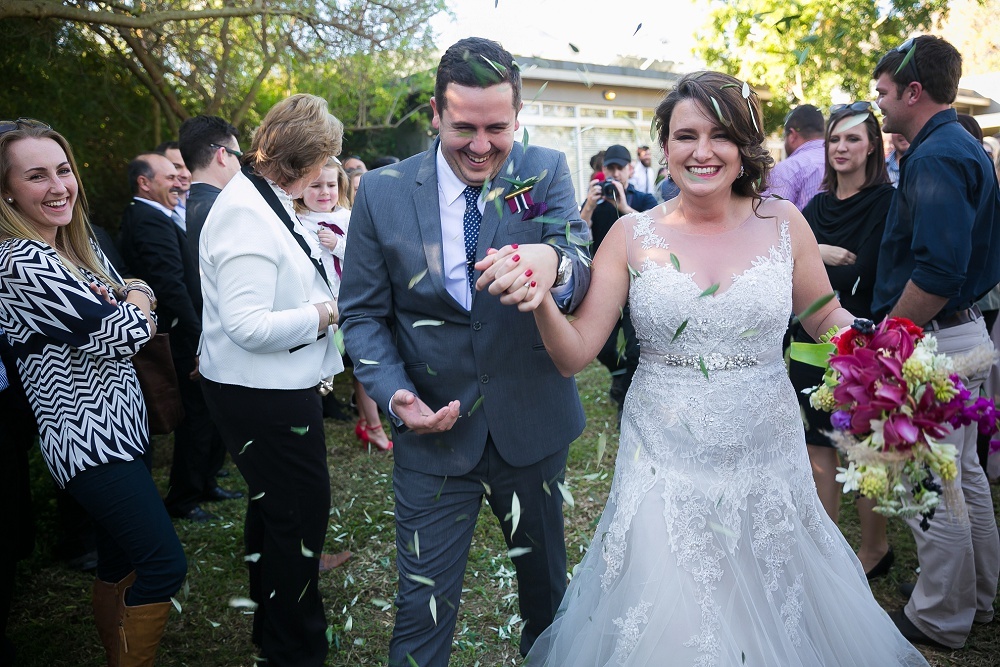 Wedding Details
When my best friend, Alicia from Melted Toffee, and I started to talk about our wedding, I just showed her some pictures of the vibe I wanted to create and then we went all-out with DIY. My favourite I would say were the wood and copper candleholders that we made for the tables as well as the 'hunting element' that we brought in because my husband LOVES hunting (part of the Northern Cape lifestyle). Francois' uncle has a farm in Calitzdorp, which also has a very special place in our hearts. That area is known for the "spekbosse" (succulents), which I love, so we decided to include them in the flowers on the table.  We all went to the farm one weekend and made 80 kokedamas ourselves. Francois works for a packaging material company – they loaned us all the bins and pallets to create a festival atmosphere.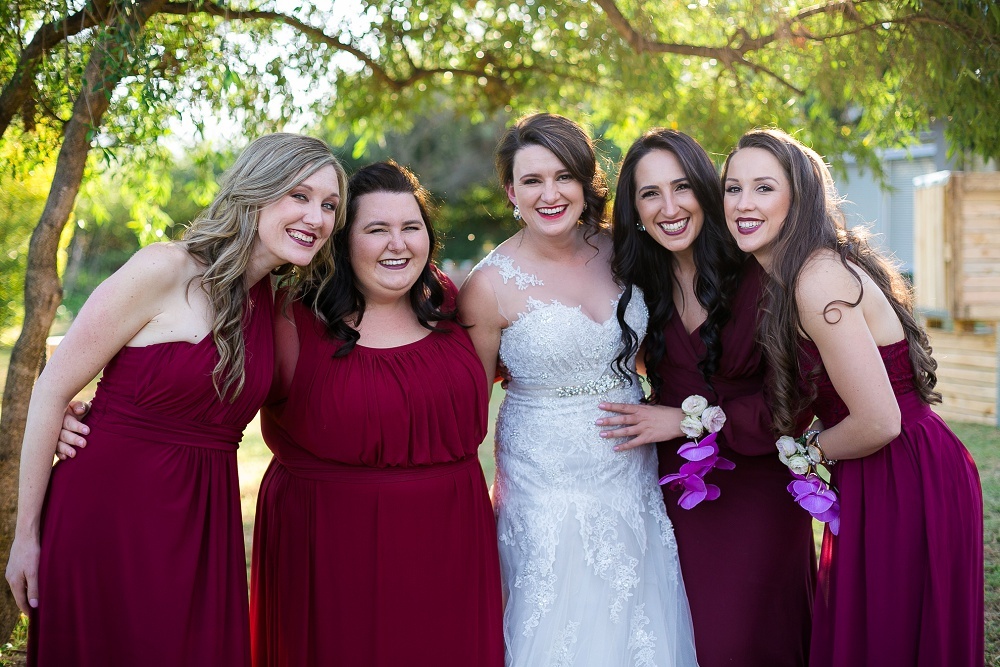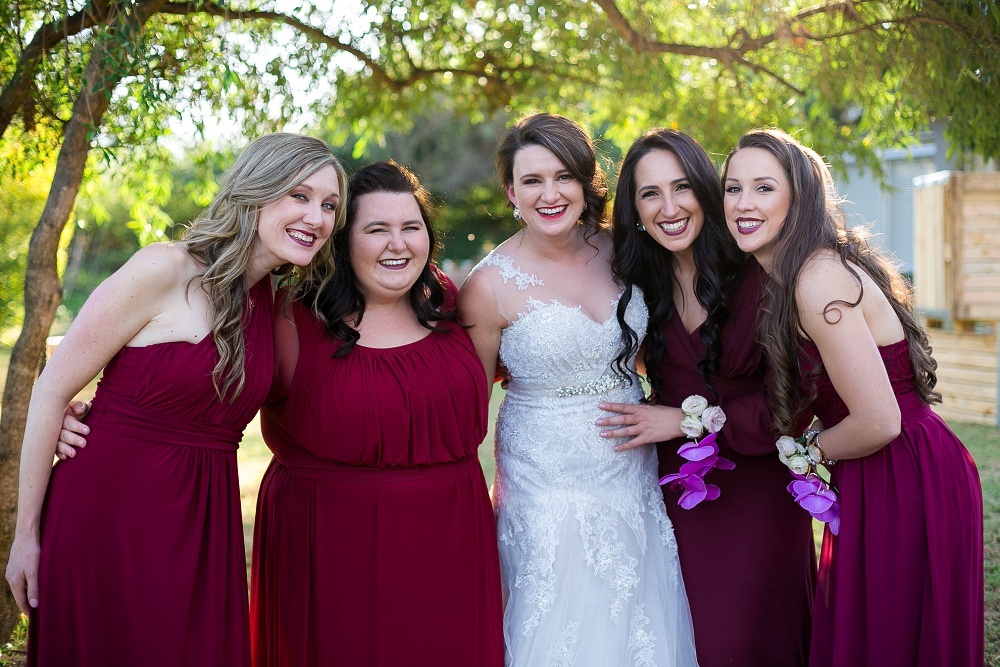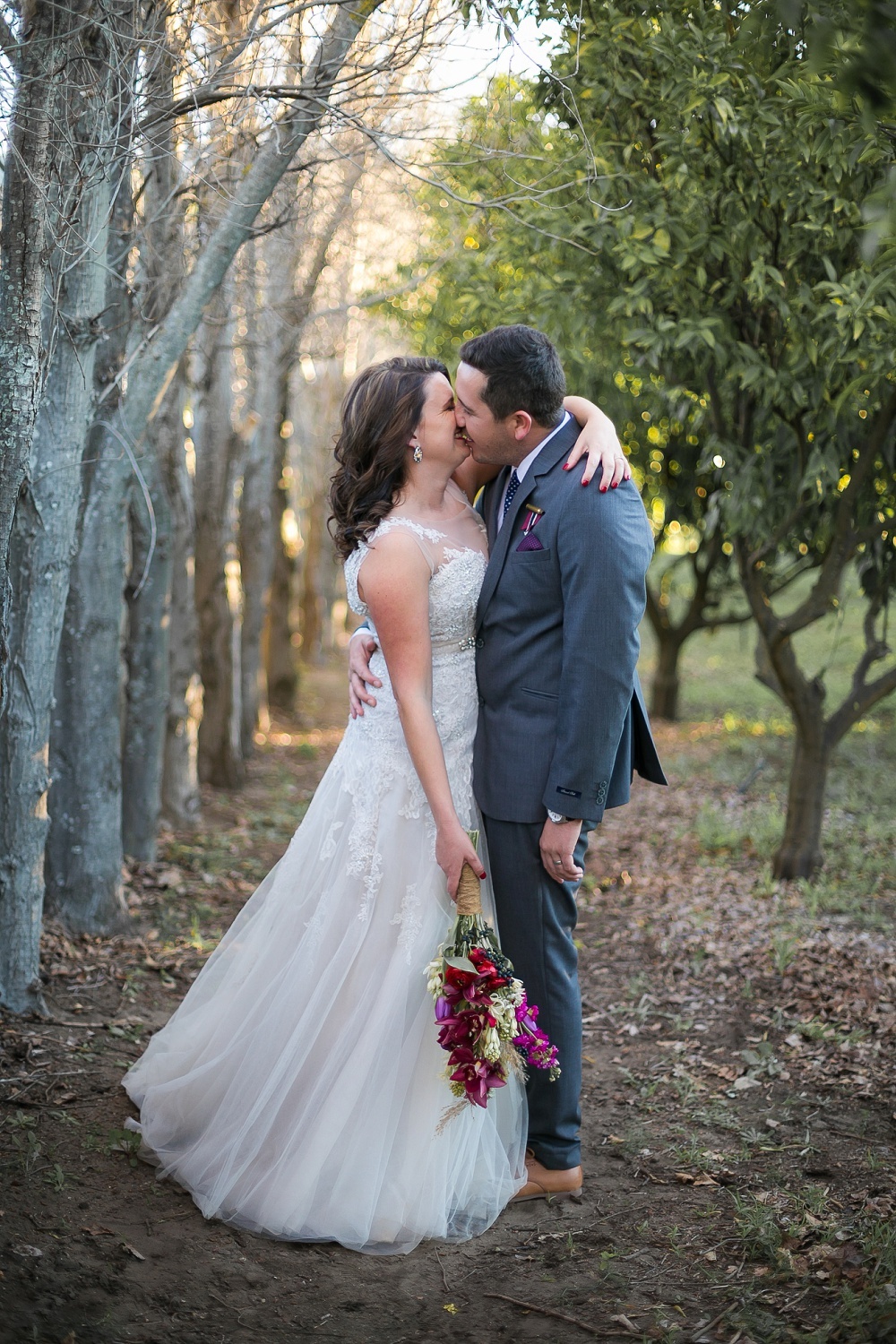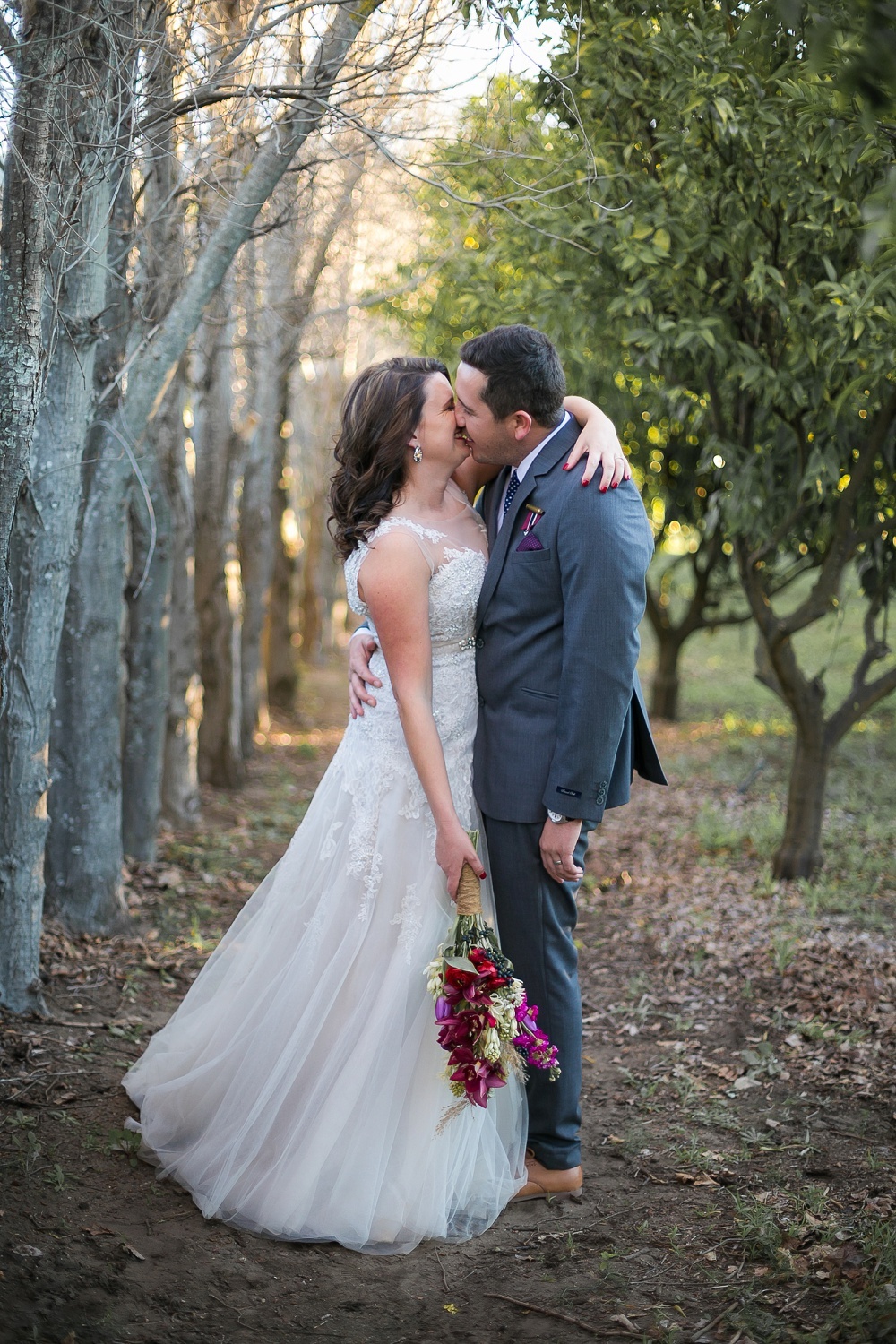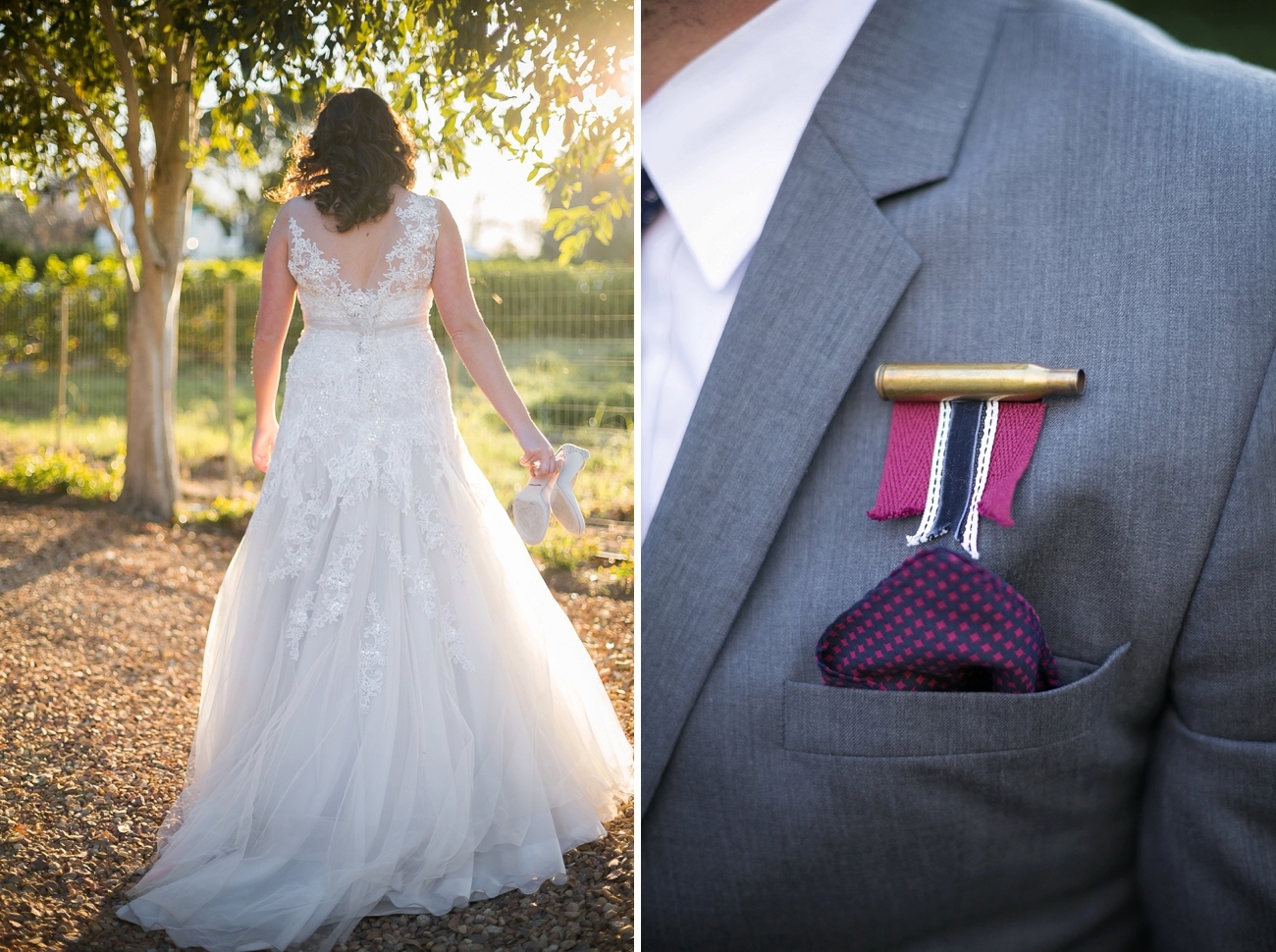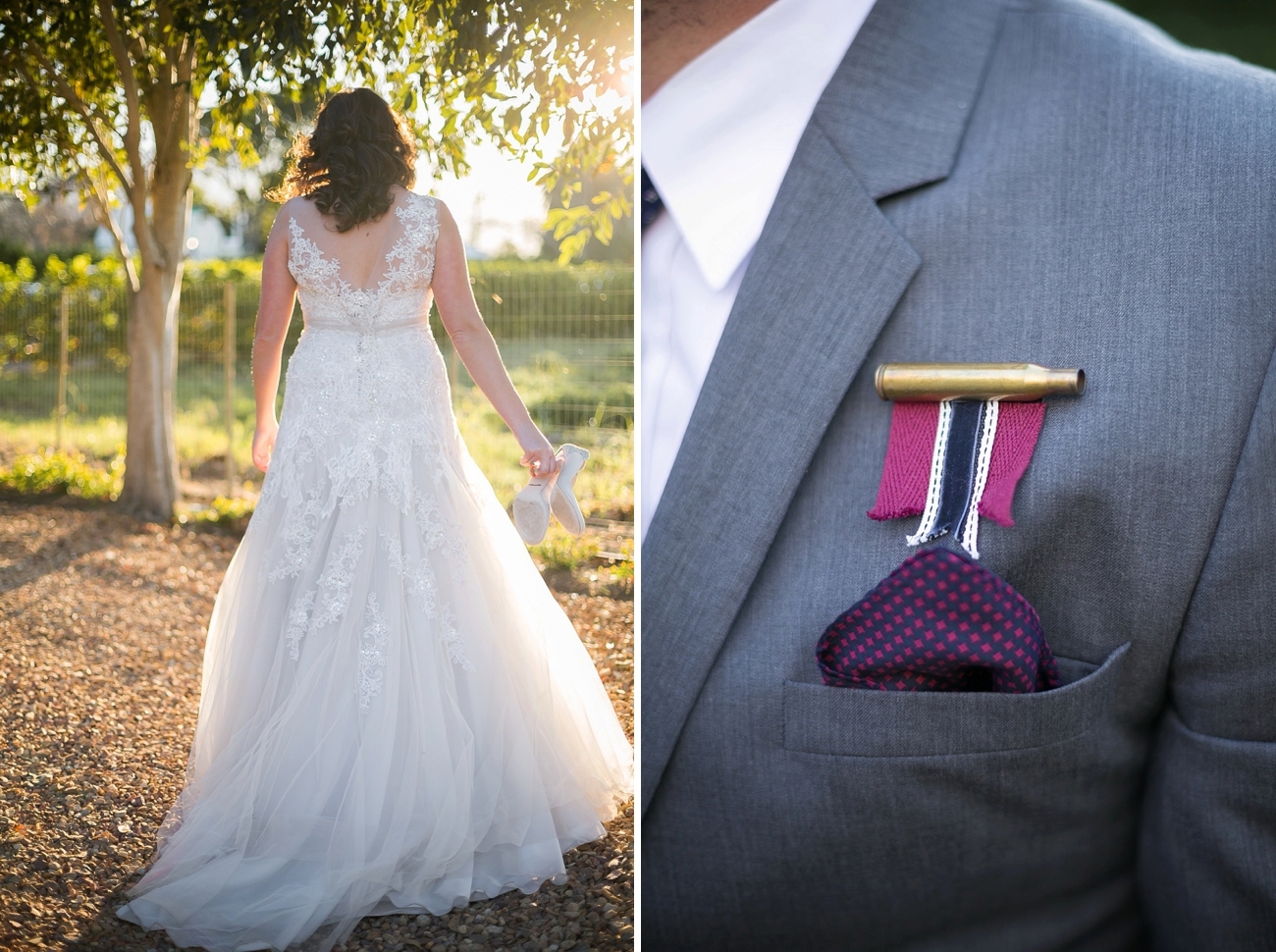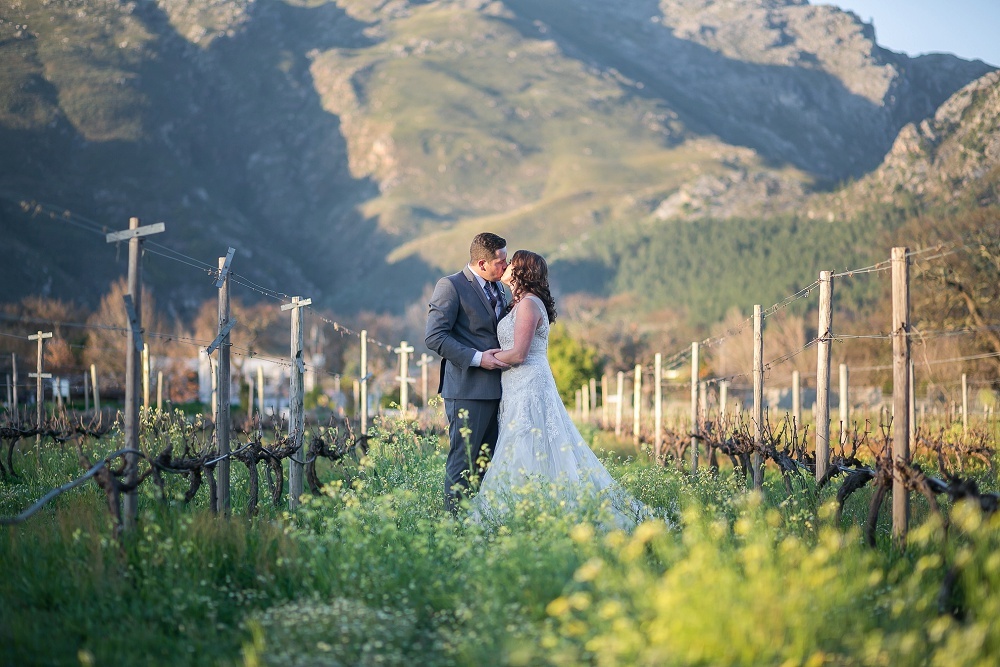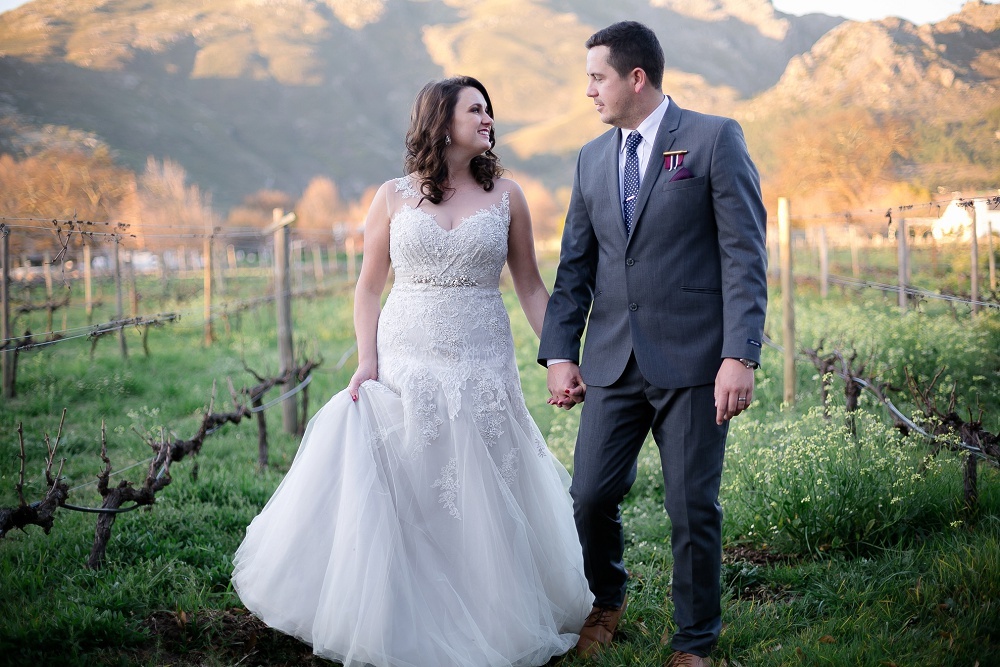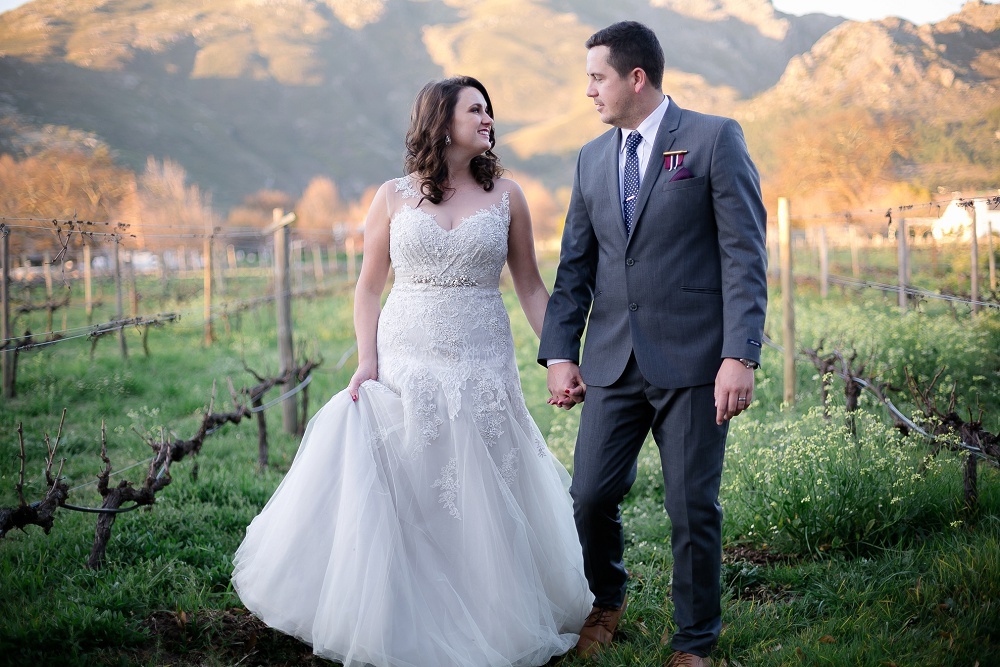 The Dress
After a fun day with the bridesmaids looking for a wedding dress, I decided to visit Elizabeth Stokenstrom, and on my first fitting, I found that stunning dress.
The Bridesmaids
I had five bridesmaids: my two sisters and my three best friends. One of them was expecting her babby boy a week before the wedding, which is why she couldn't act as a bridesmaid on the day. We all had so much fun, and they helped me a lot. I decided I wanted a warm, winter colour for their dresses – t hey were all different but in shades of maroon/red.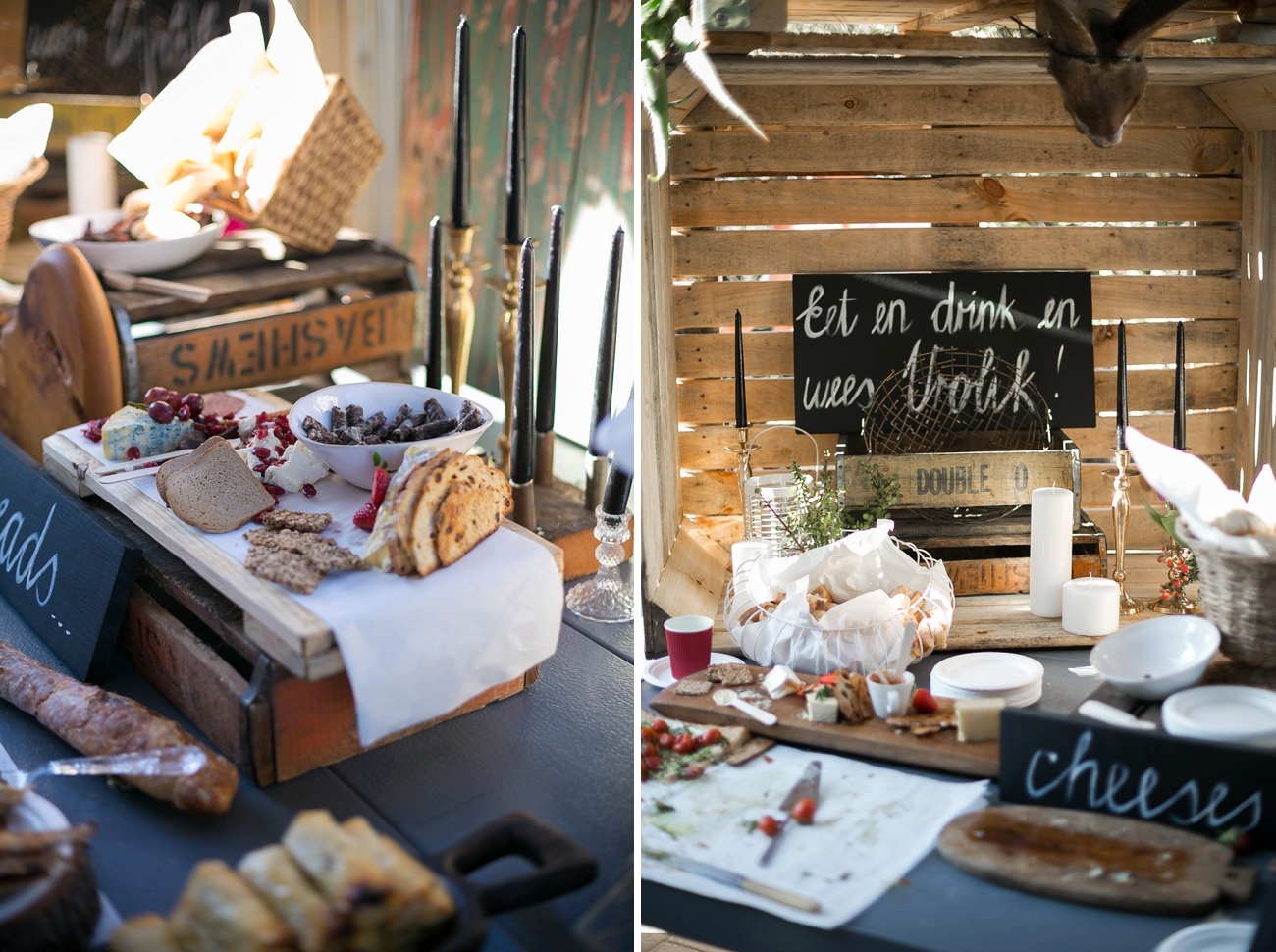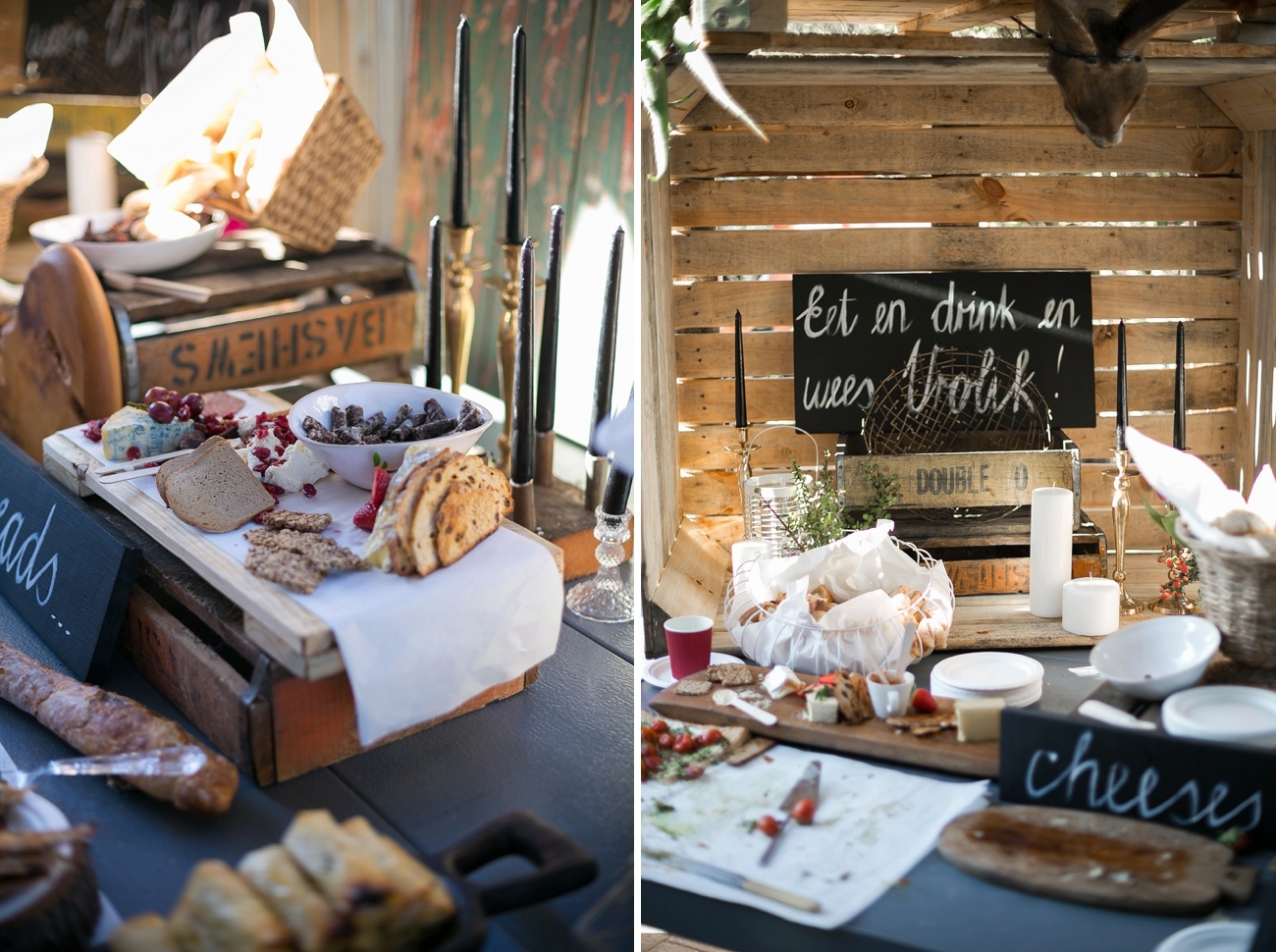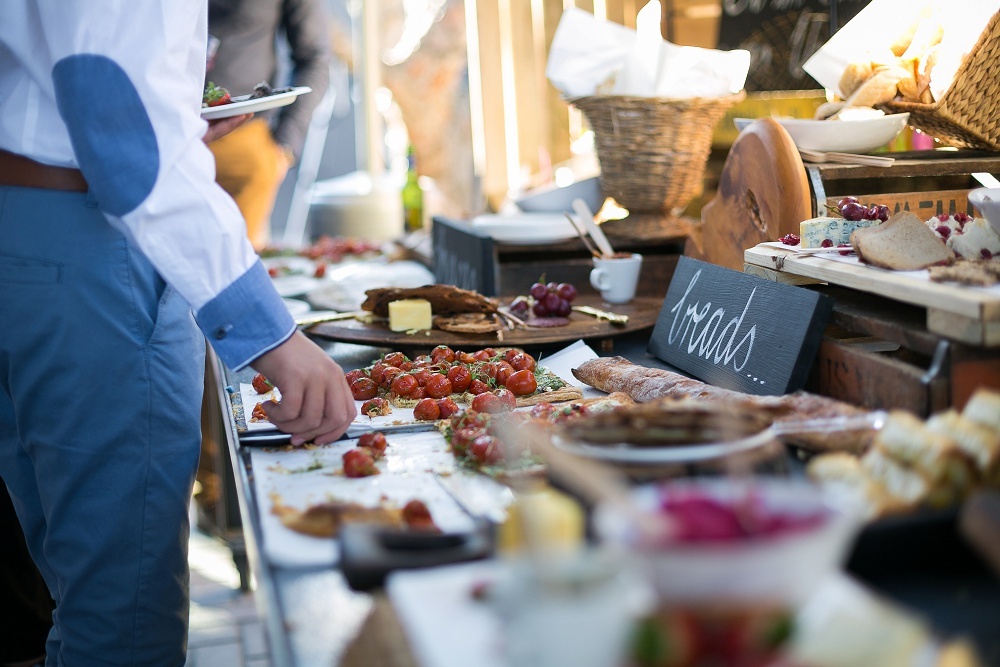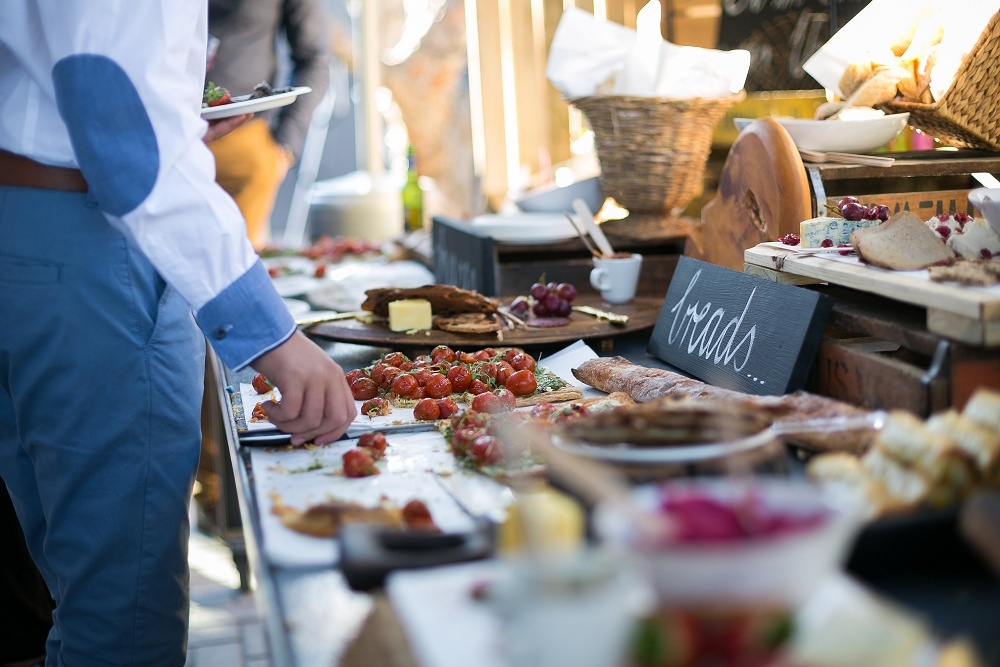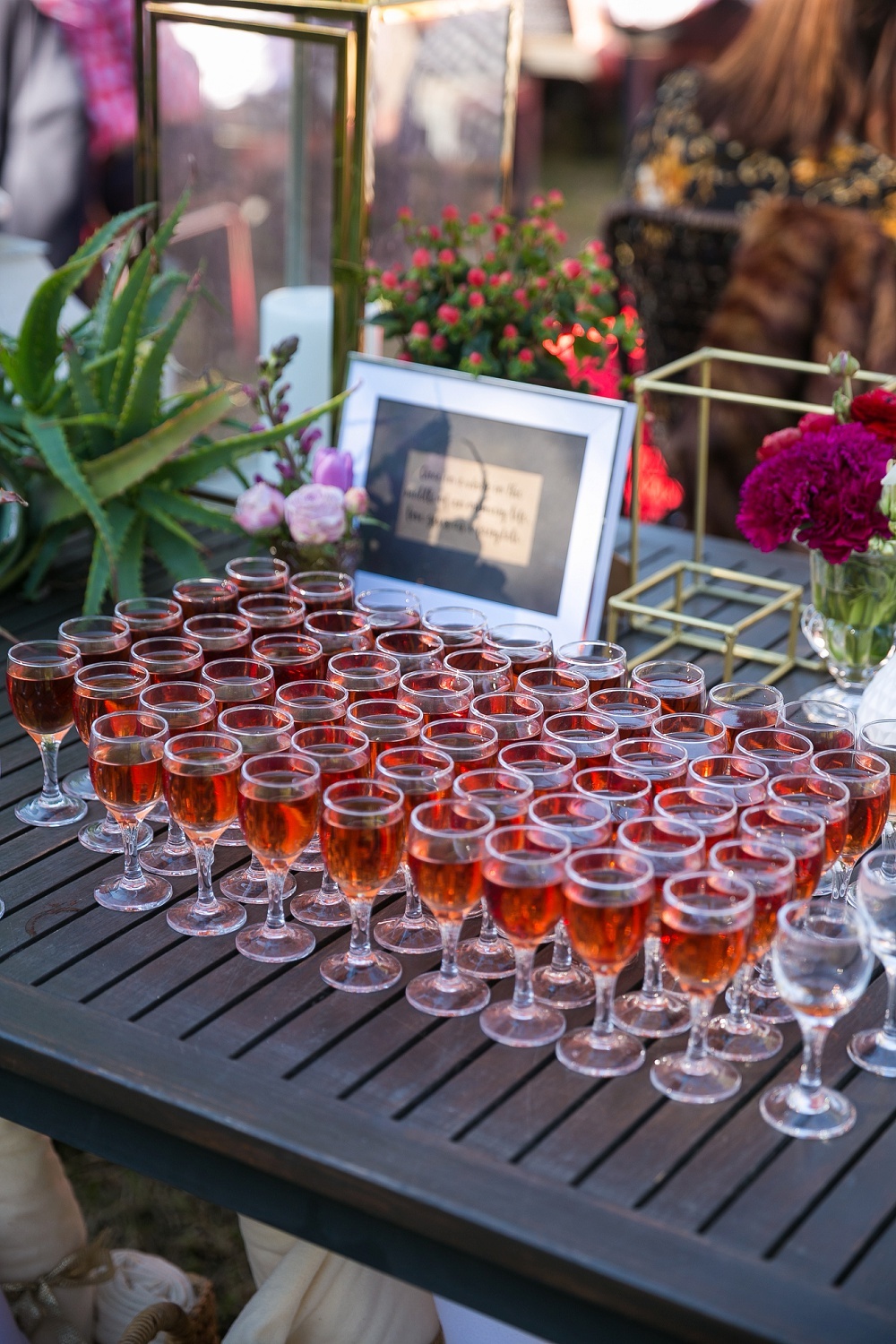 DIY Elements
We are very lucky that we still have a grandma in one of our families. Francois' Grandma made all our favours – homemade marmalade – as only Grandma Rena can! All our family members helped decorate the favours. My dad, Jan, helped us with all the other handmade decor items: the cnaldeholders, gold geometric decor pieces, old wooden doors. My best friend and wedding planner took charge of all the small, funky, beautiful elements at the wedding. We also made all those kokedamas. I really had the best support system and everybody helped, including my sister-in-law and a friend, who made the stunning cake. In the week of the wedding, my mother made all the scatter cushions.
The Flowers
This was one element that I was not SET on. I did not want a lot of flowers at all because I was more set on the candles/view and Festive vibe. I have a very talented friend – Maché Joubert, and just after we got engaged I assigned this heavy task to her. Just sent her a few pictures of my wedding colours and theme. The day before the wedding when she arrived with all the beautiful bouquets the whole picture just came together, and the wedding flowers gave such a nice colour to the wedding. Together with the kokedamas it made a beautiful picture.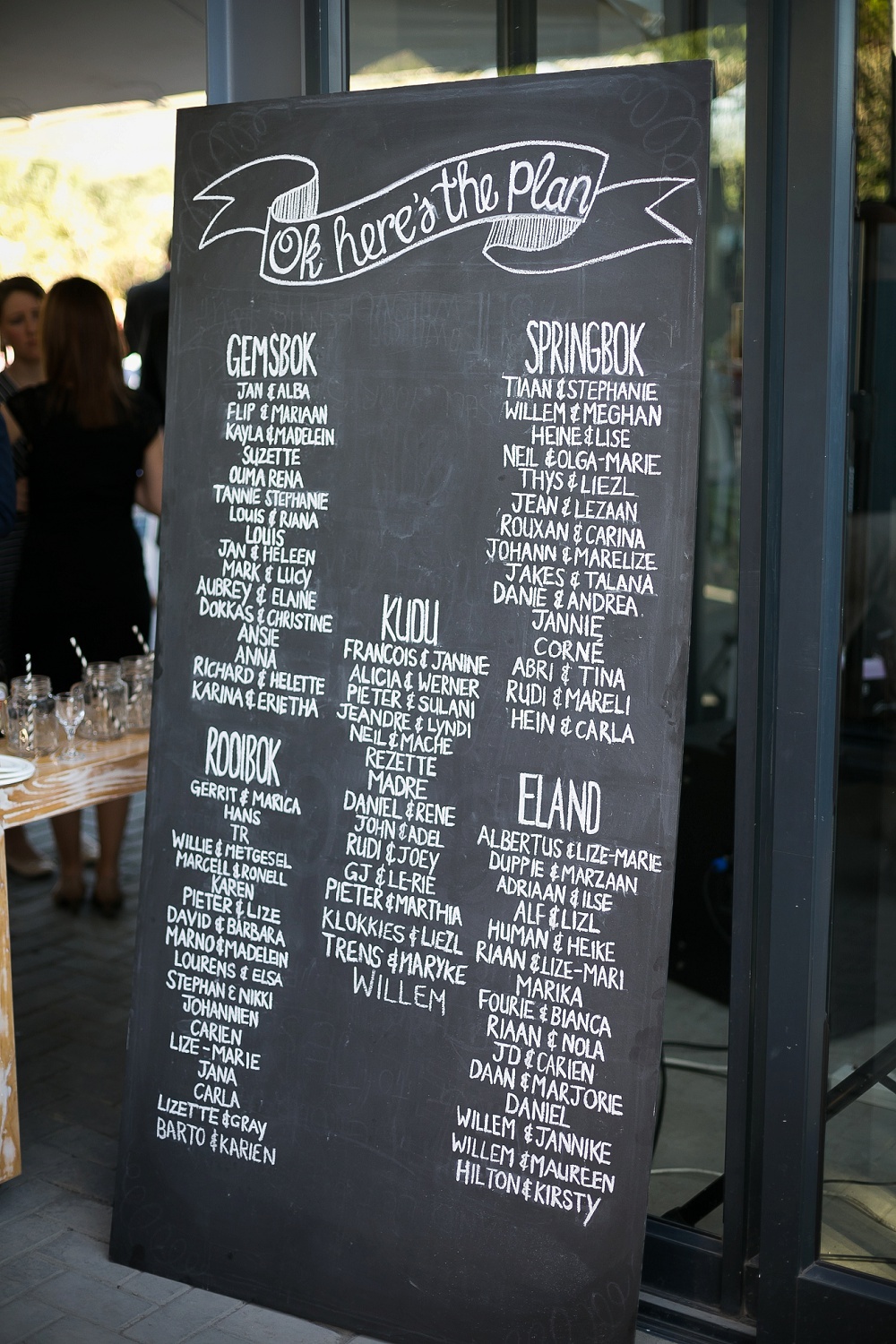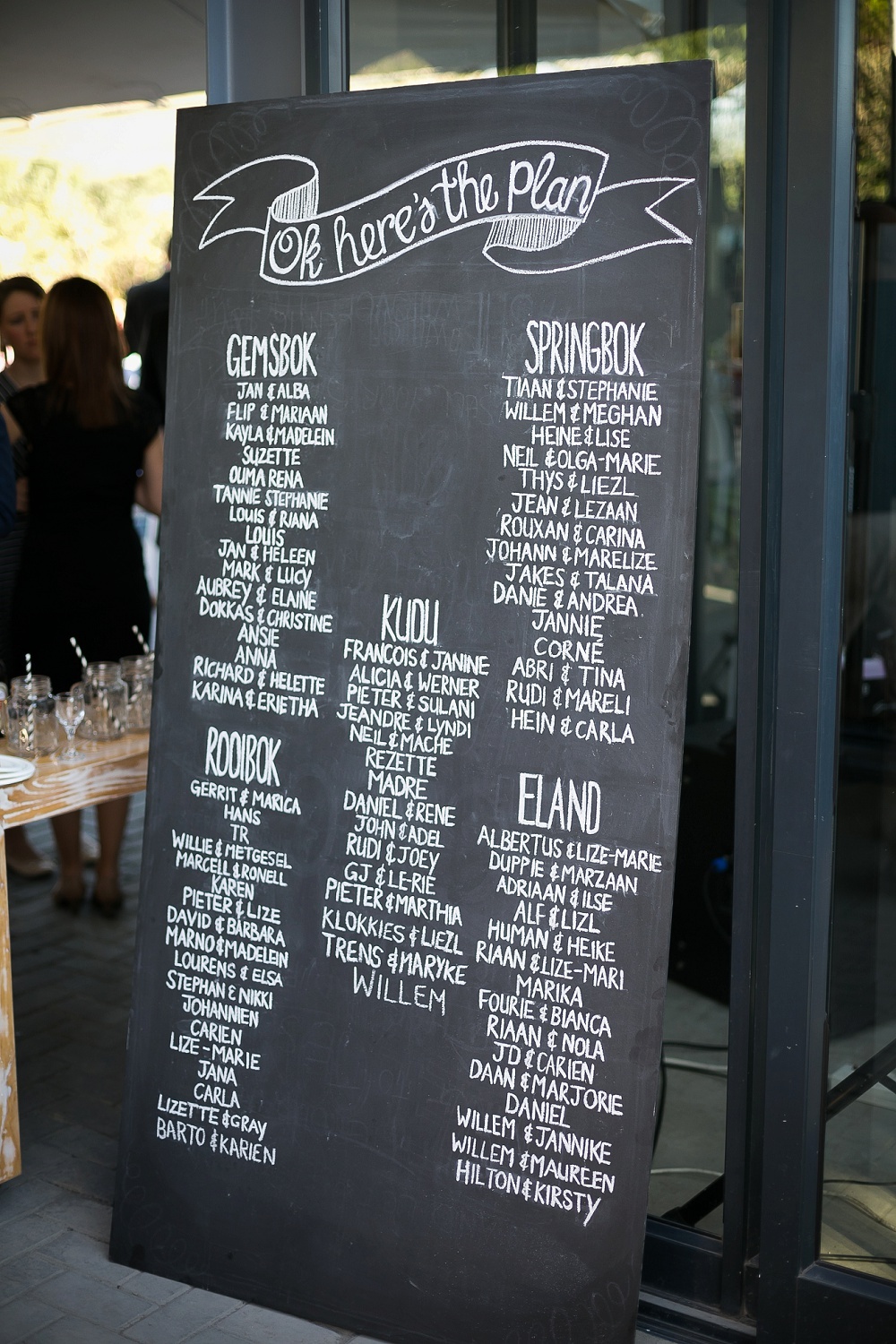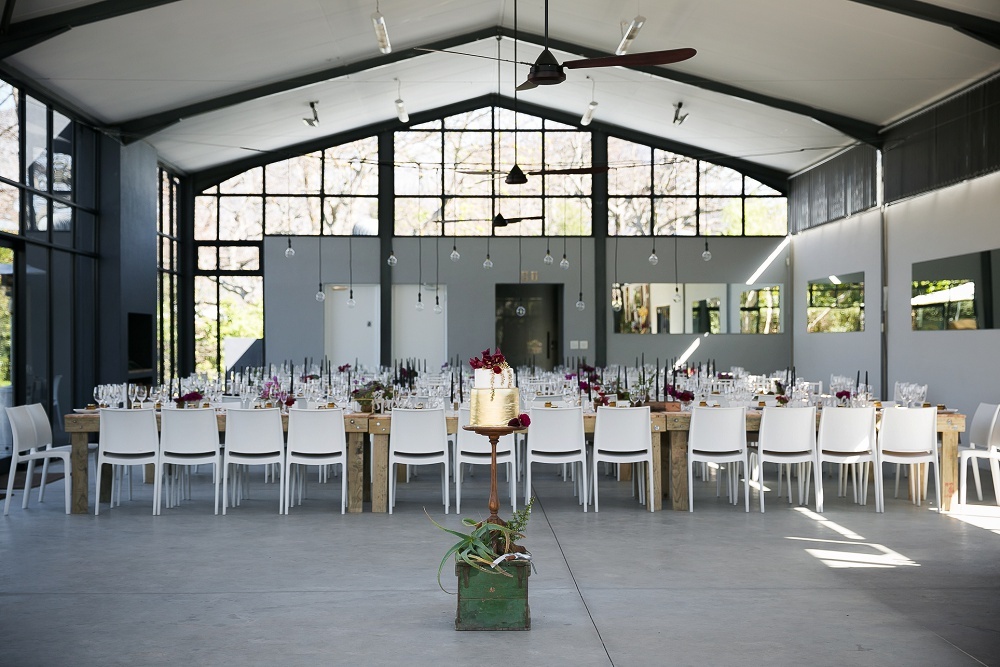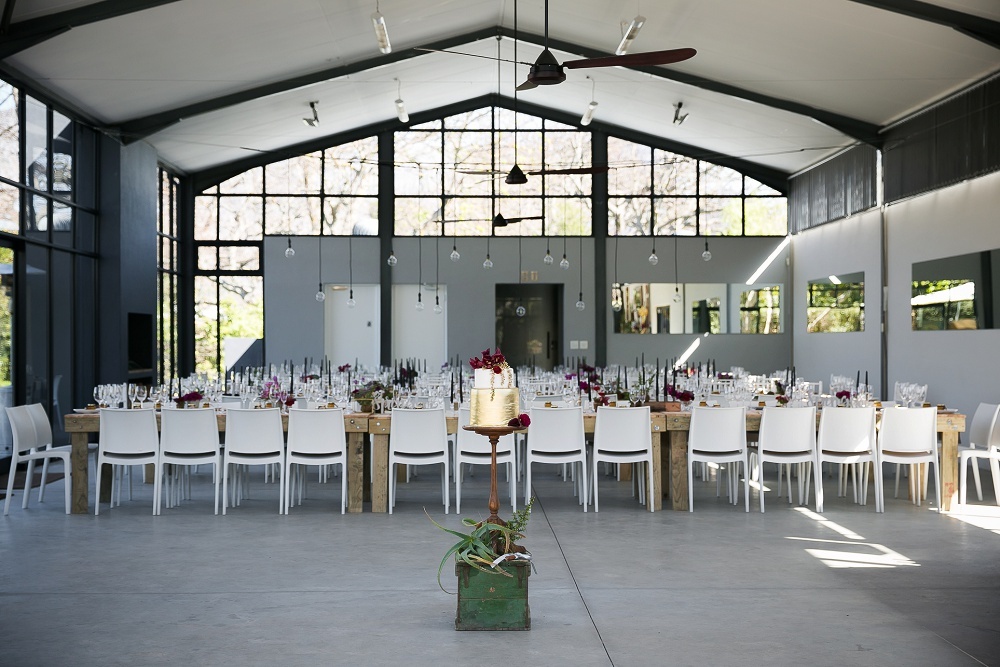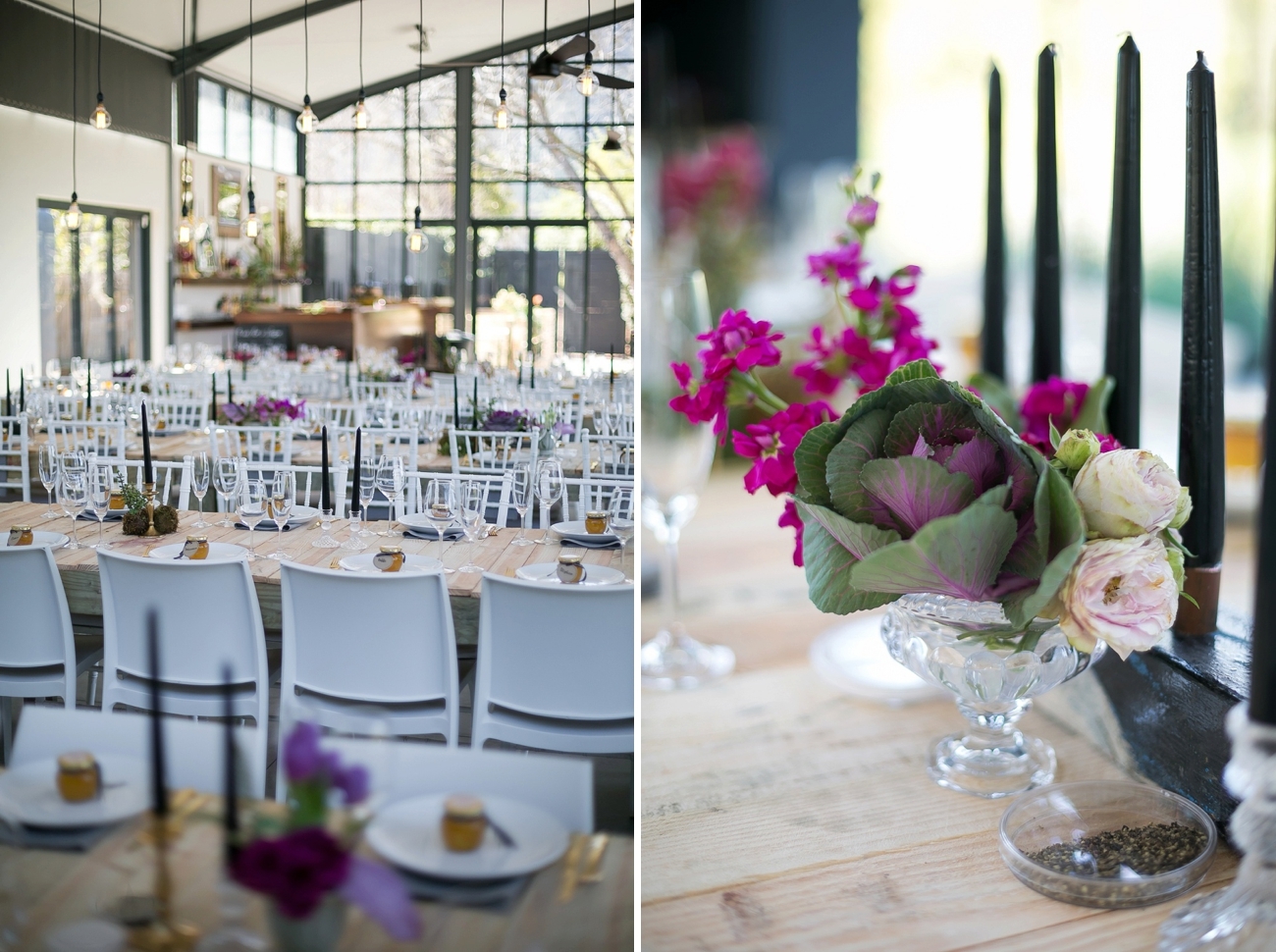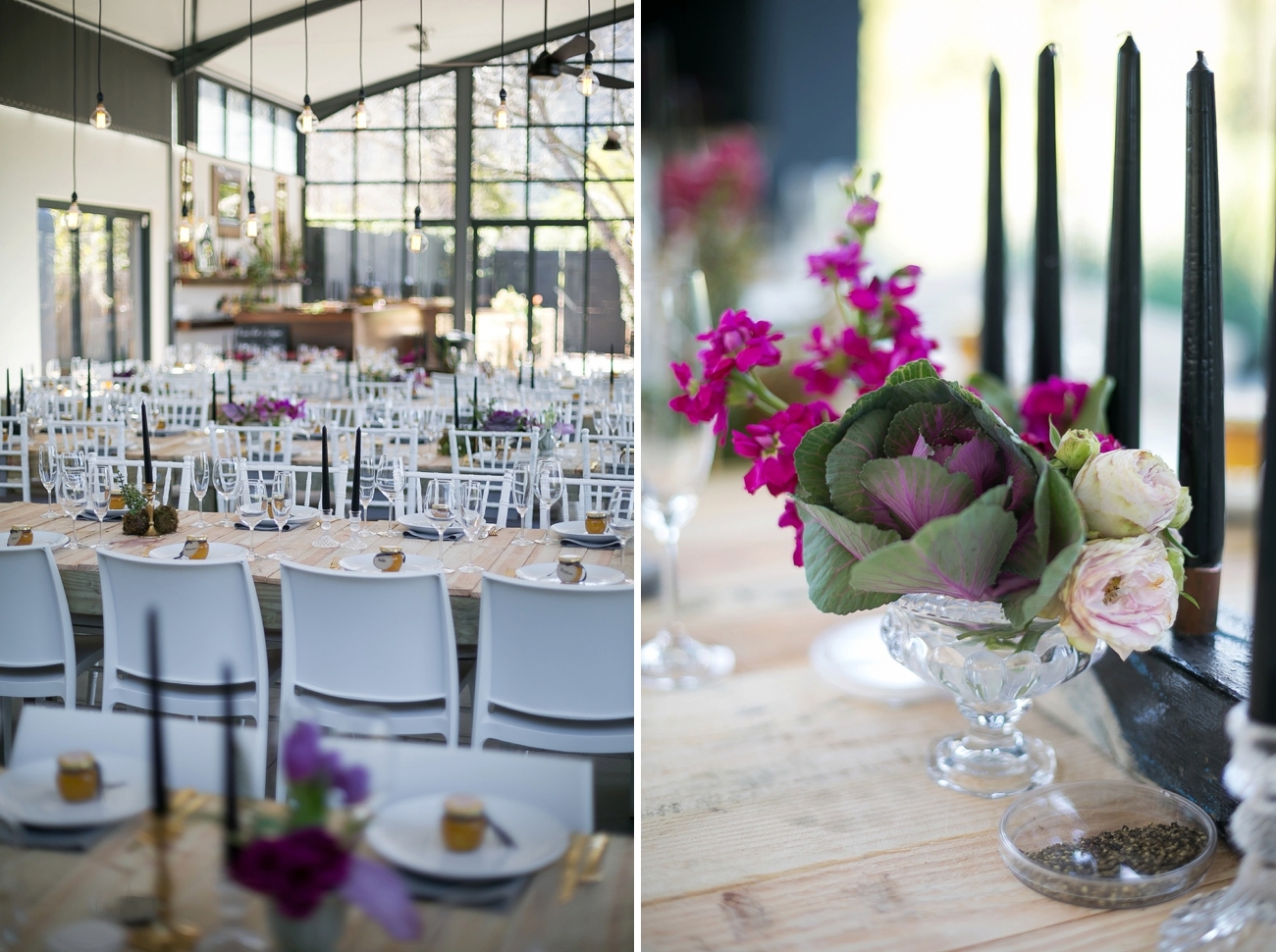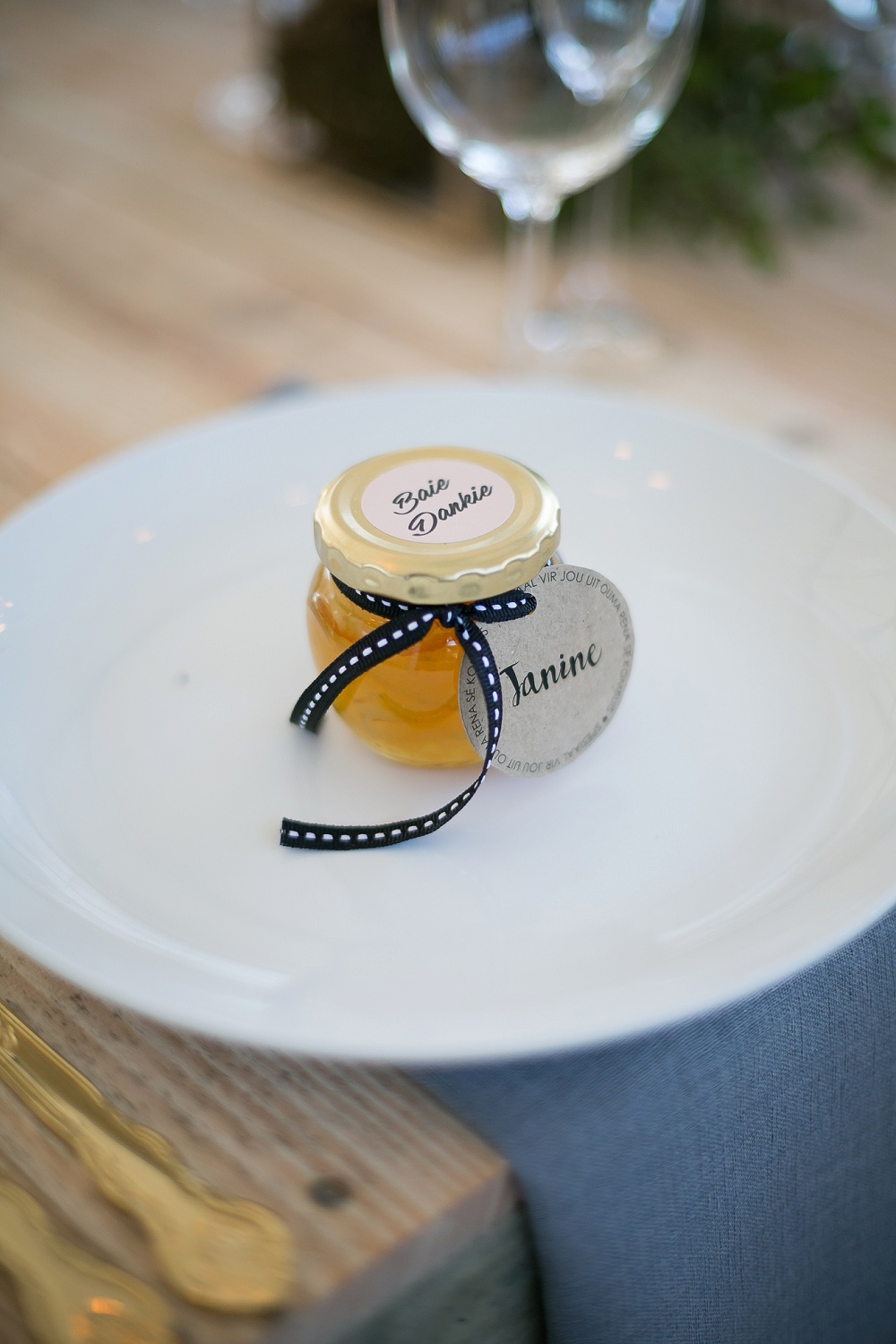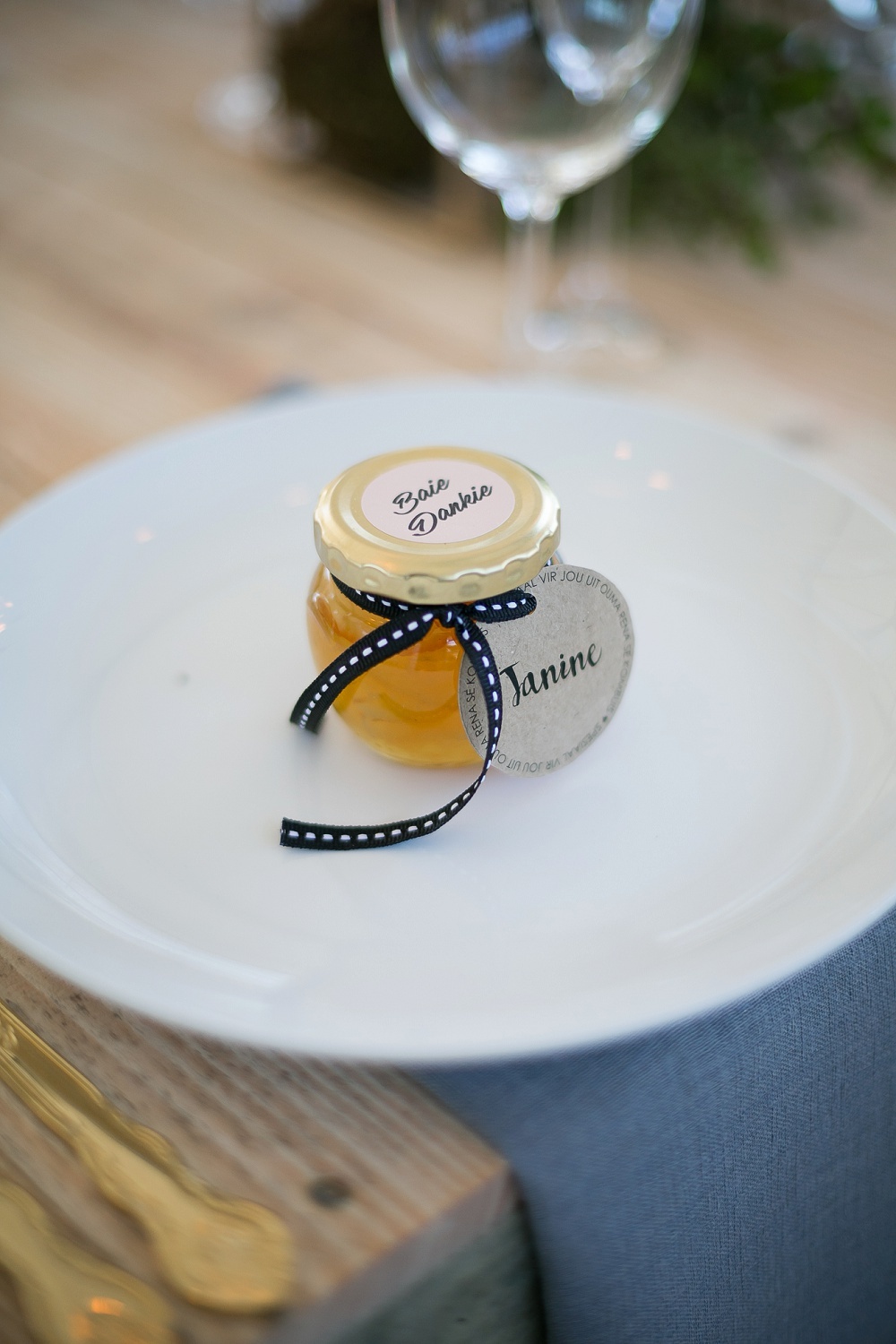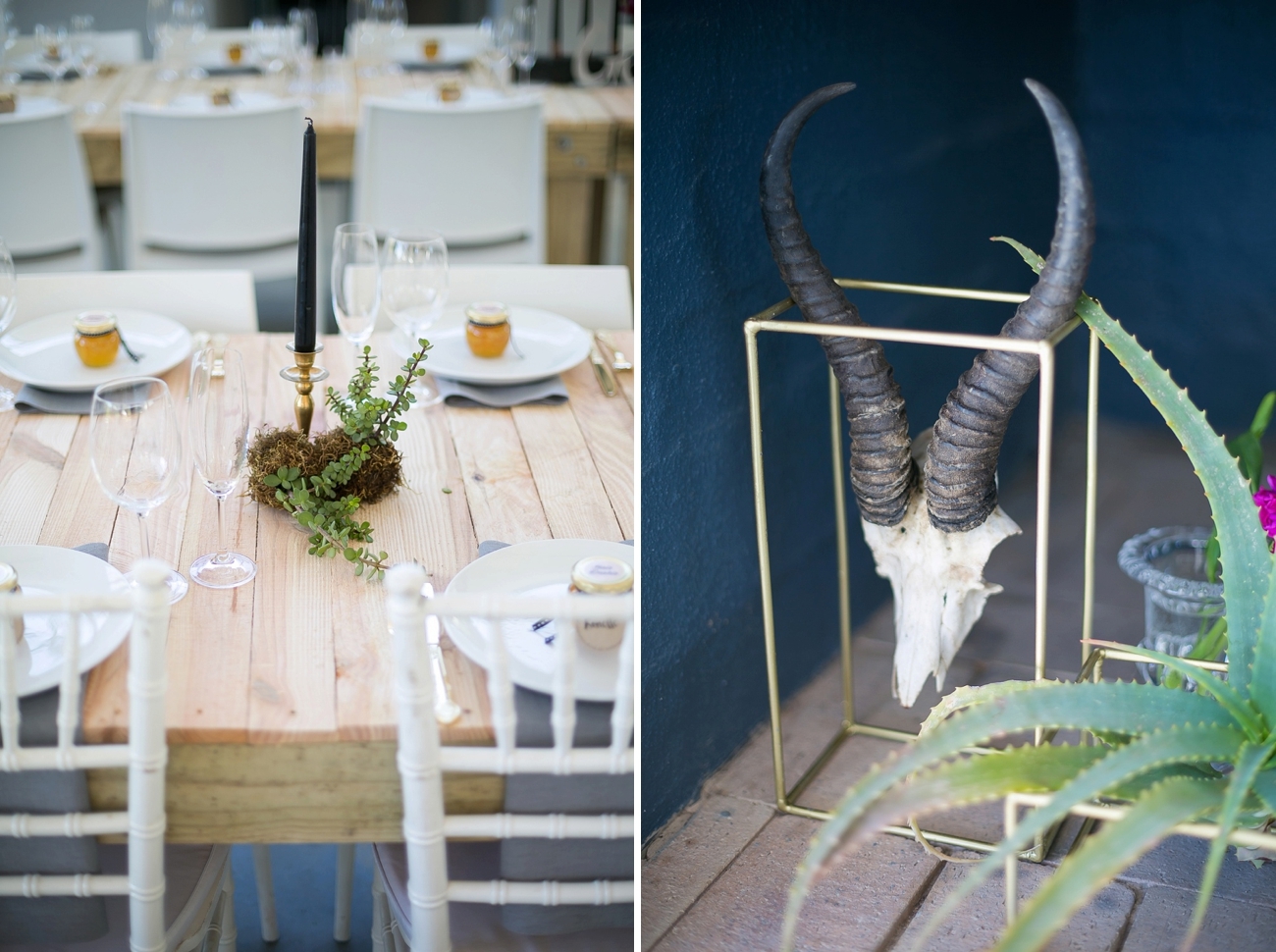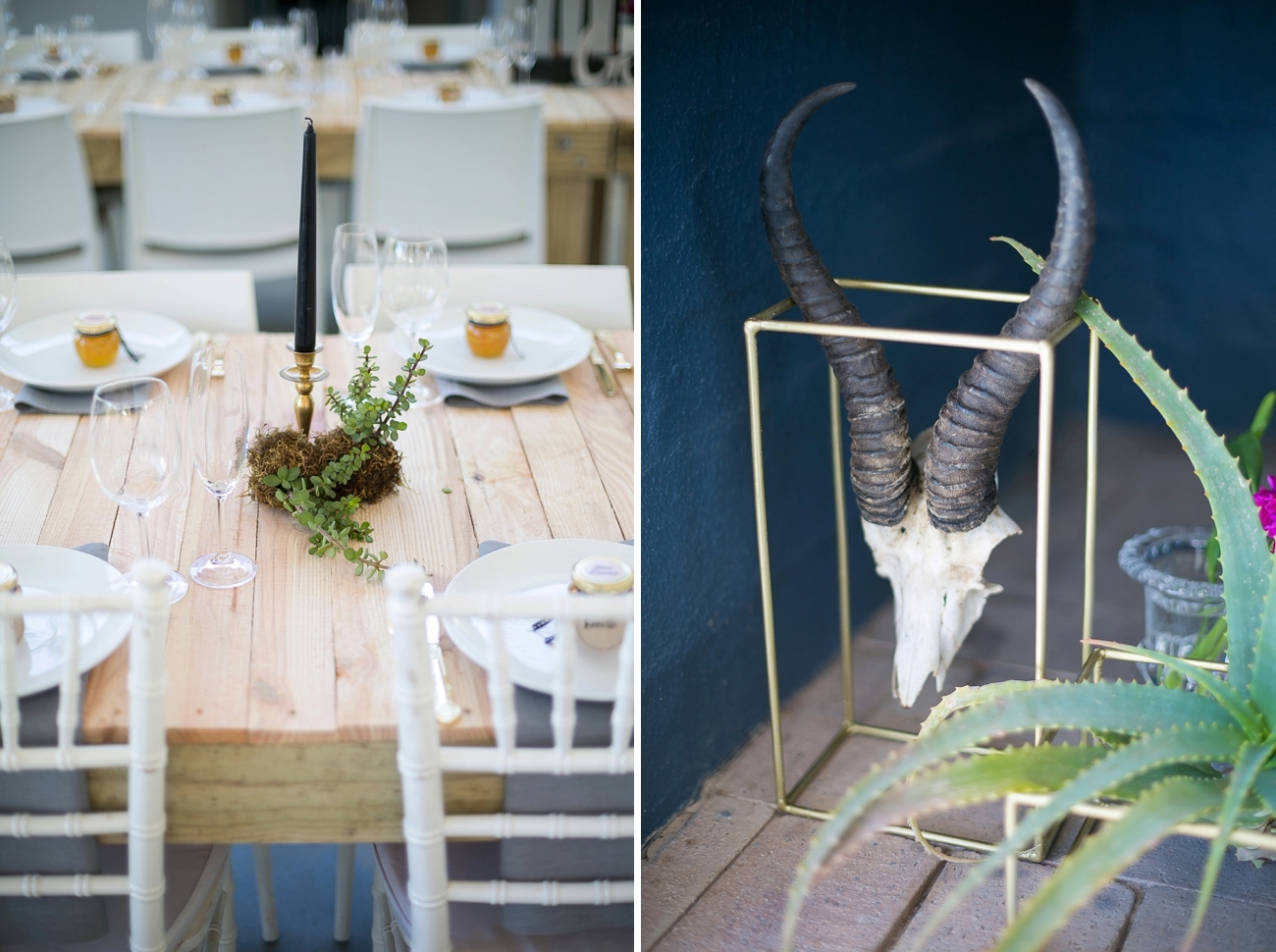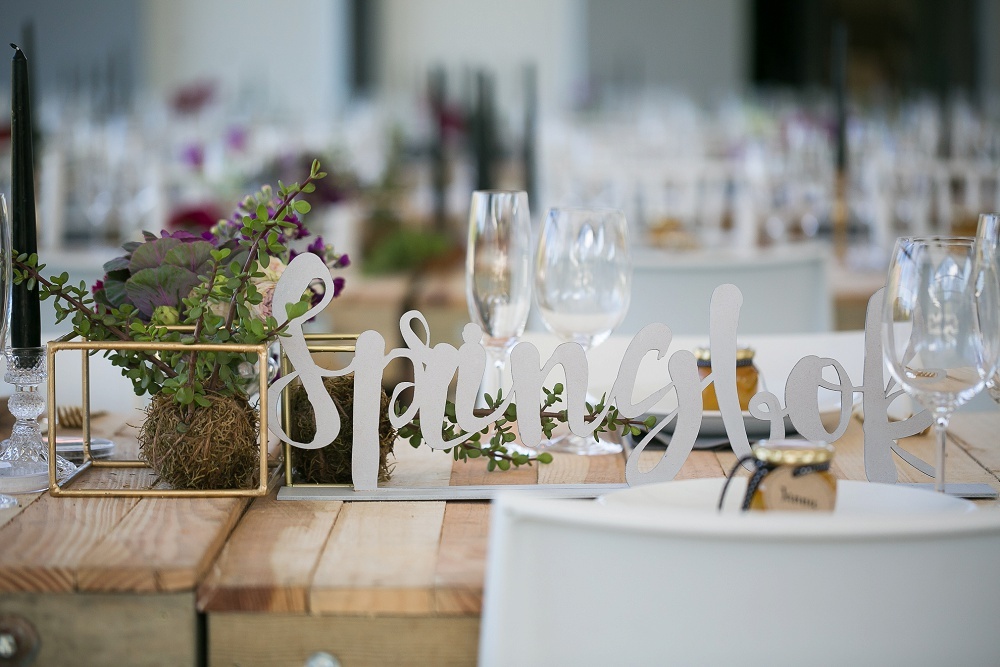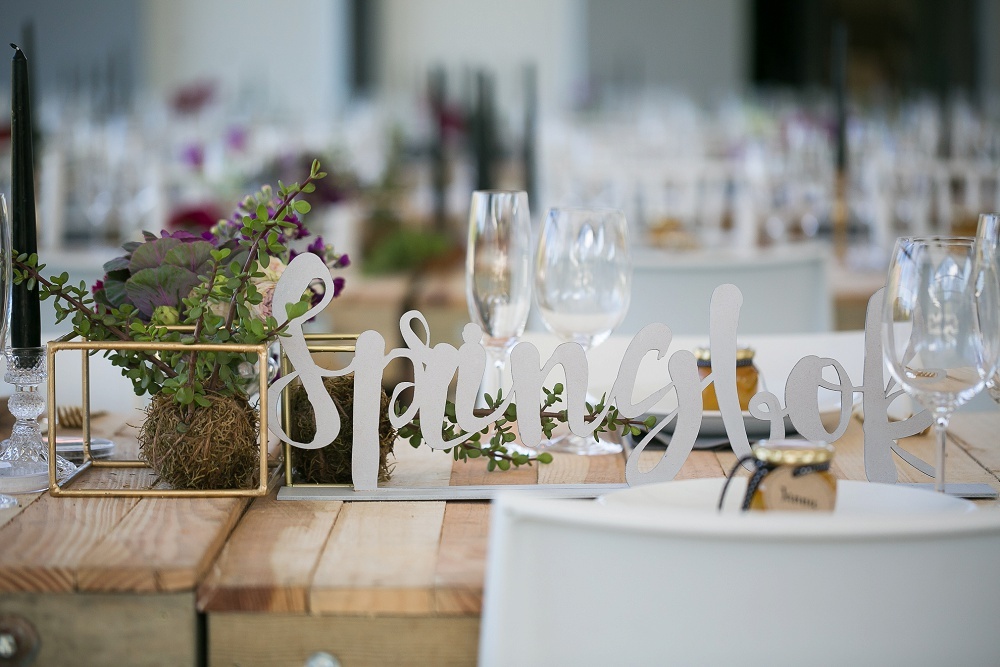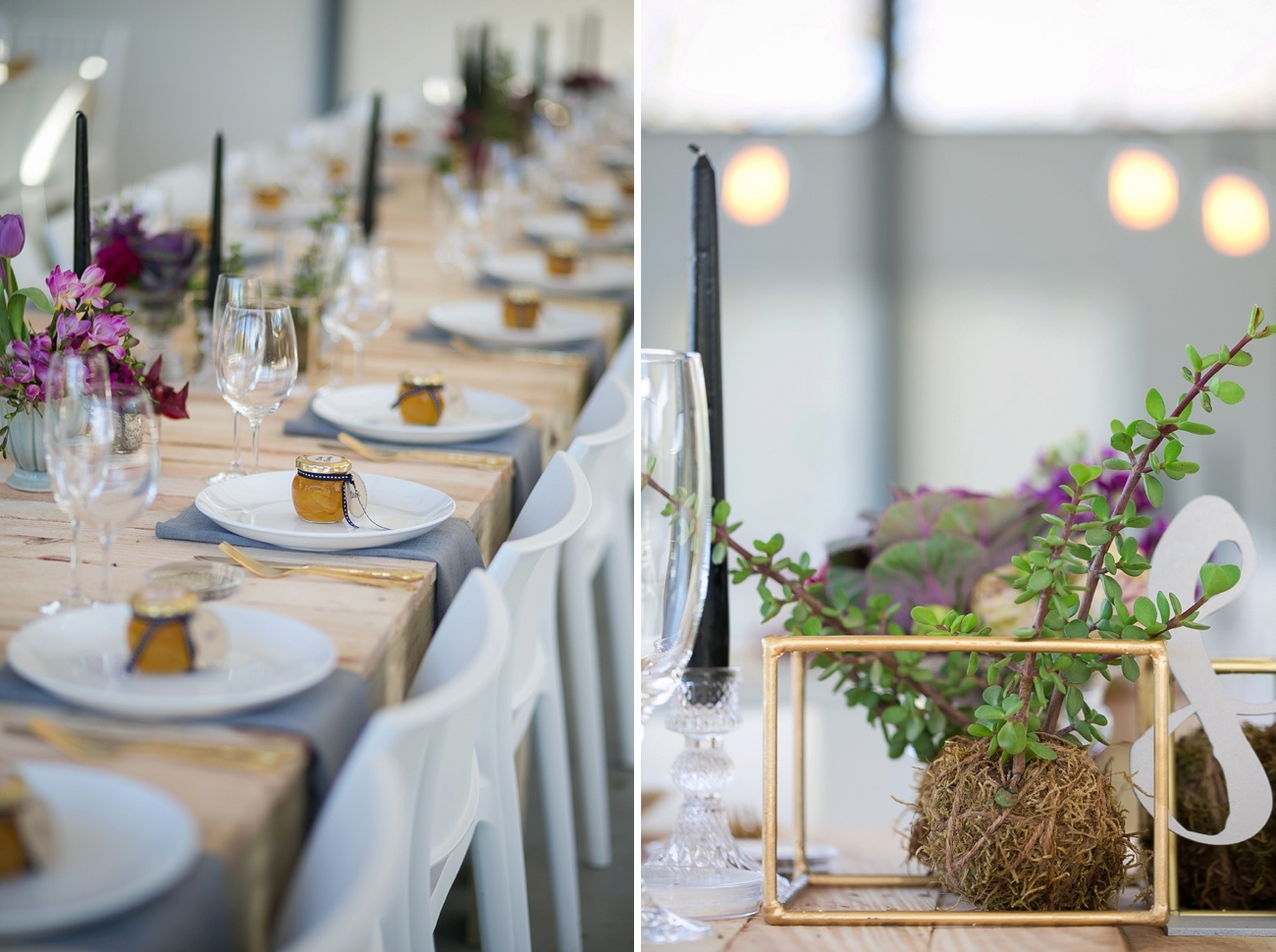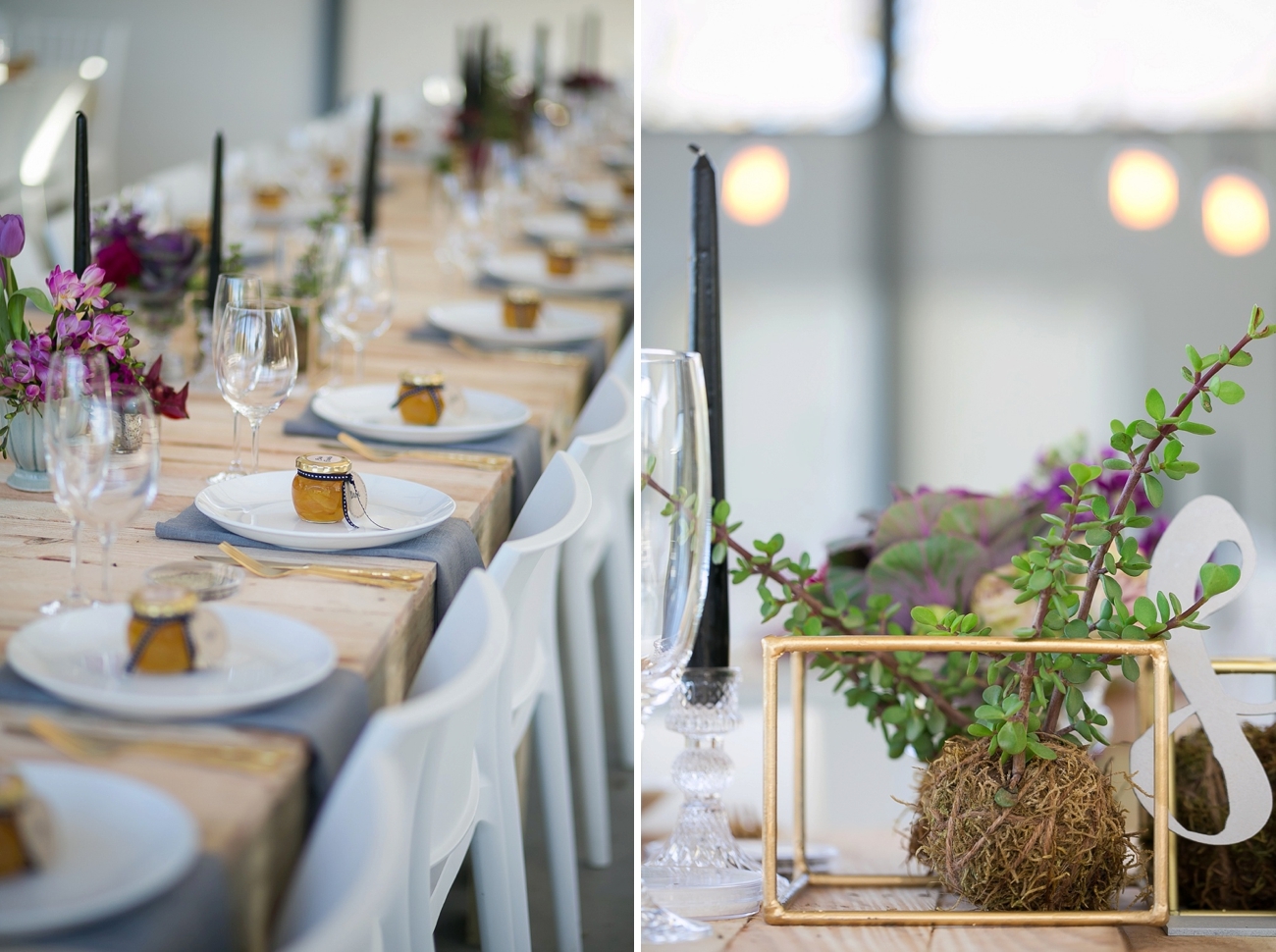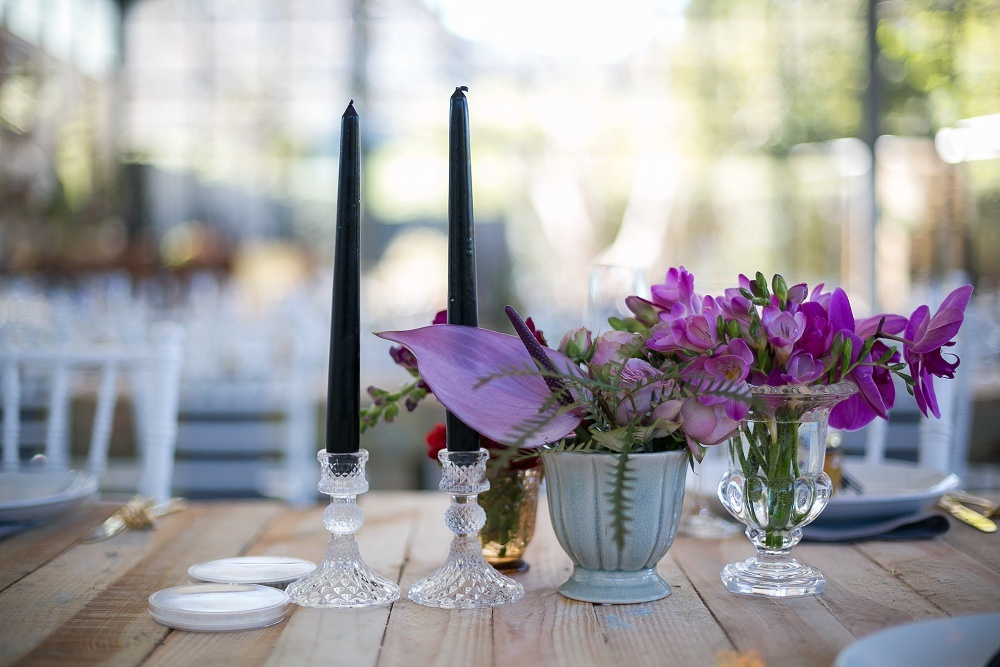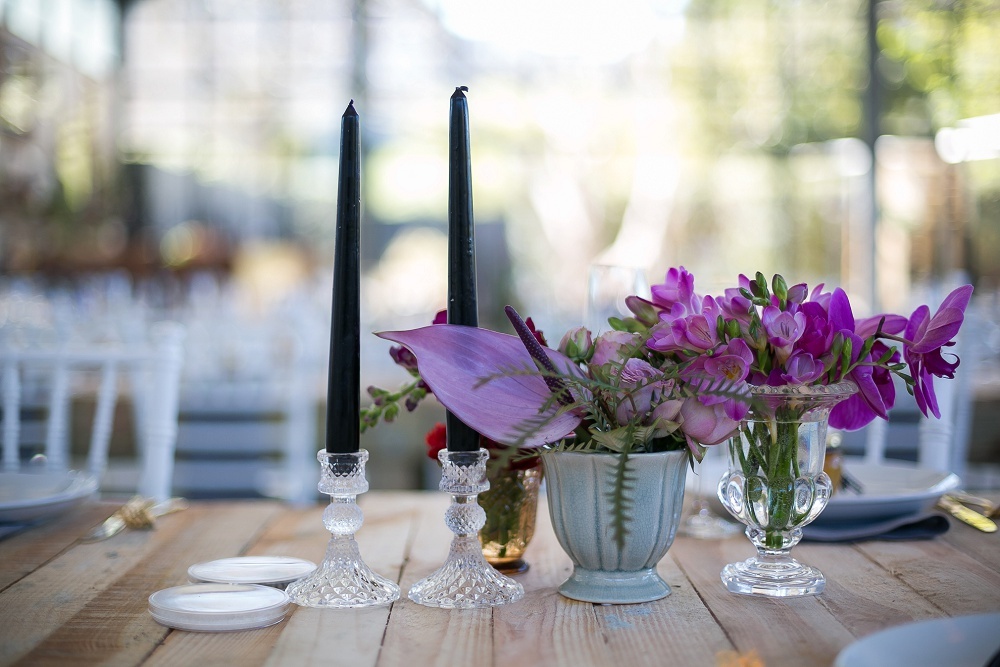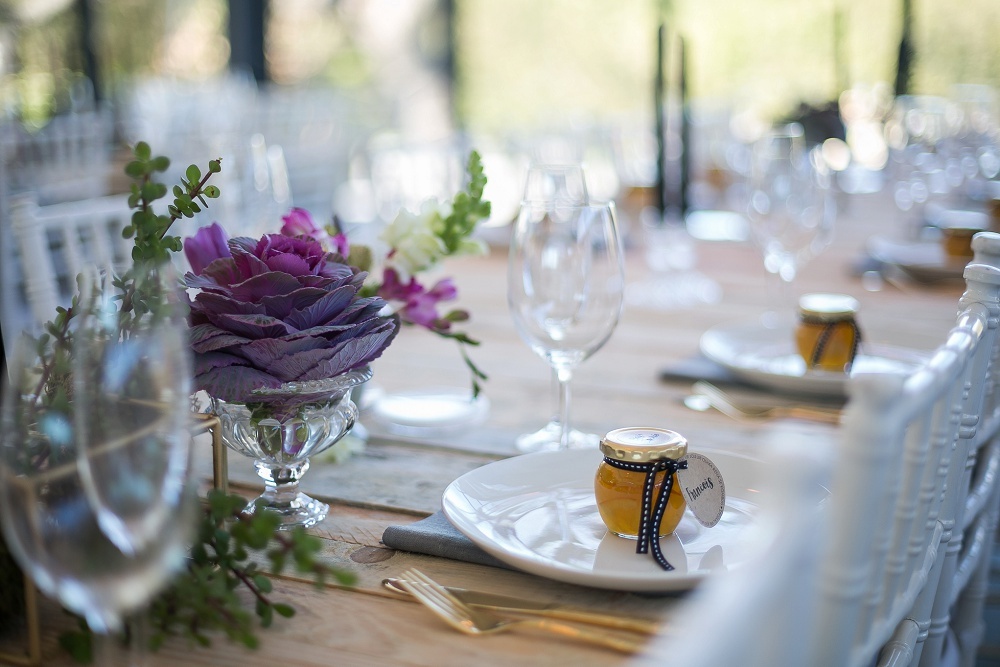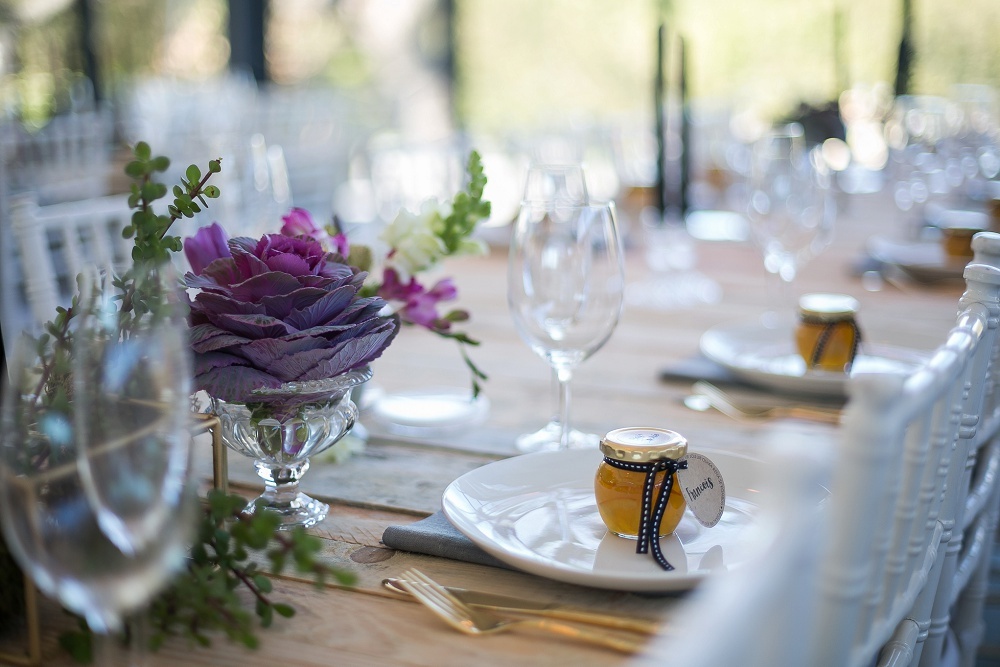 Memorable Moments
I woke up that morning with a very special letter from my husband to be. I was so proud to get married to him that day after I read it. I was so relaxed and happy the whole day and everything was just perfect. It was awesome to spend it with my bridesmaids and mother. To stand at the back of the wedding venue and to see everybody enjoying themselves dancing and laughing.
Proudly South African Details
We had spitbraai meat. Two of our friend sponsored sheep for us – it was divine. We also bought in elements of hunting because my husband loves it so much. The names on the tables were Afrikaans buck names.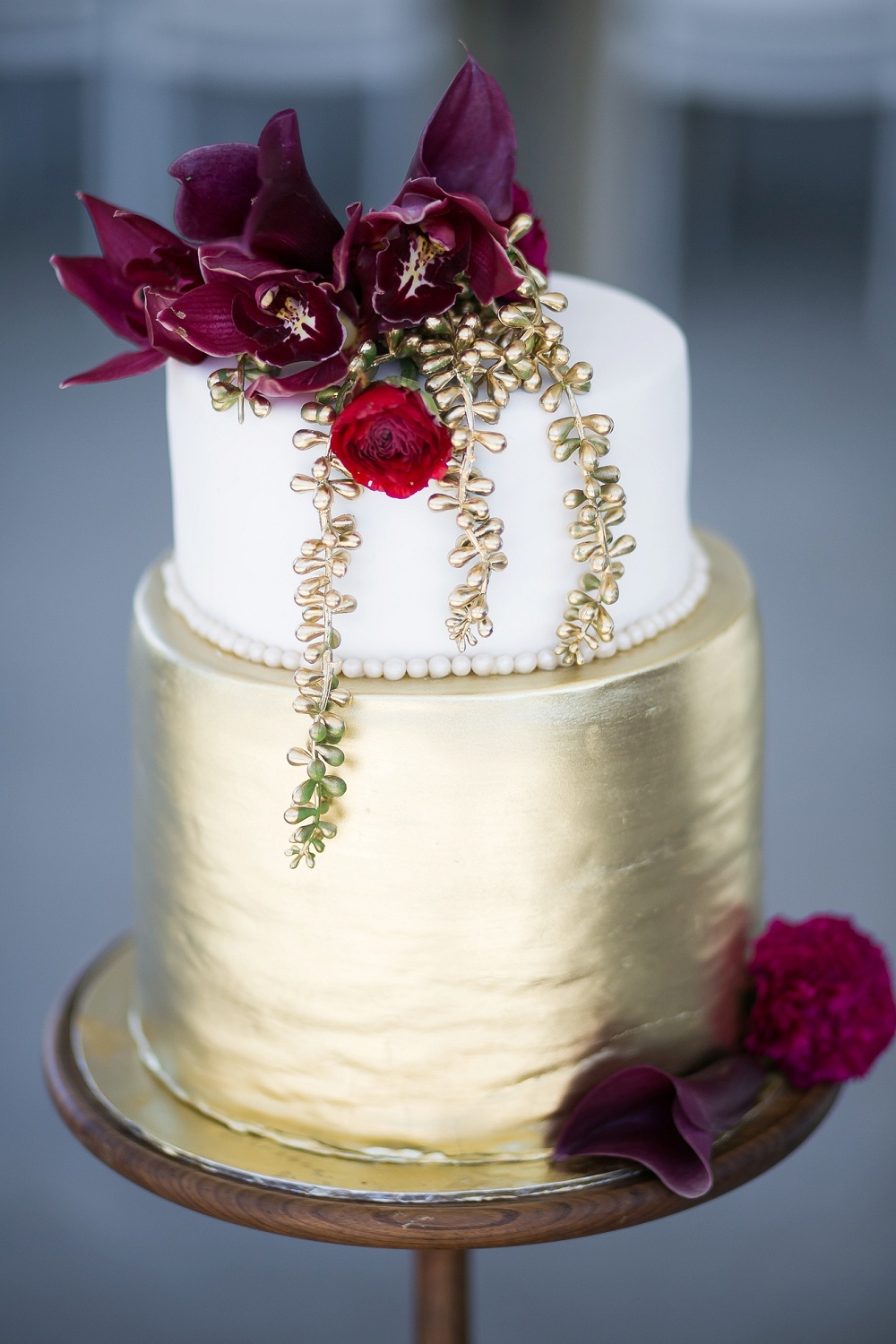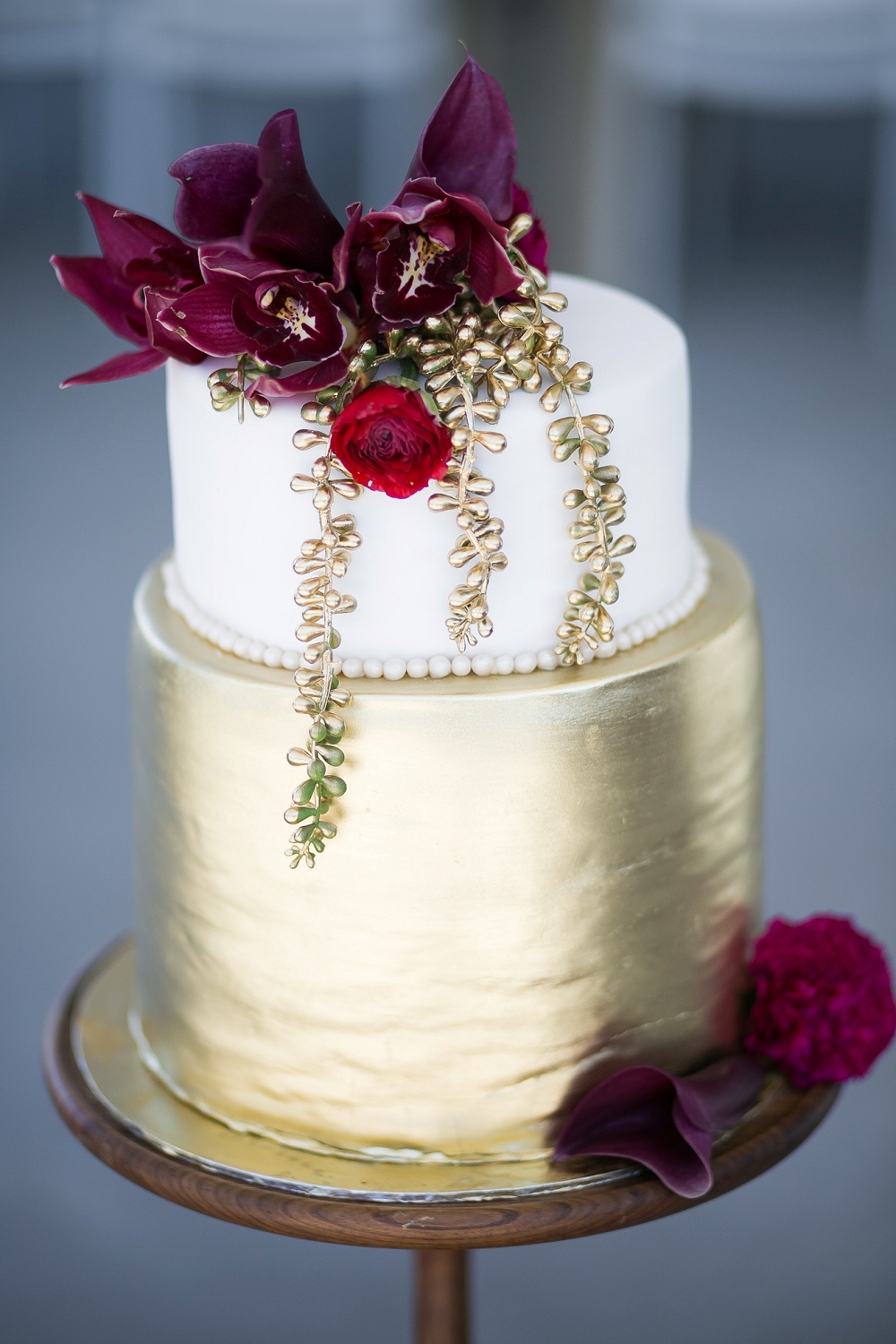 Best Decision
For me the best decision was to do as many DIYs as possible. It is hard work the day before the wedding but you feel so much part of your own special day and then you dance on the dance floor and enjoy all the food and people, and go to bed that evening satisfied with all the hard work you went through as a couple.
Advice for Future Brides & Grooms
It is very important to have someone that understands exactly the vibe that you want and someone that you trust to help you bring everything together. Don't take everything on you as a couple – ask for help from friends and family members. Try your best not to get upset about small things the day before the wedding – nobody will know!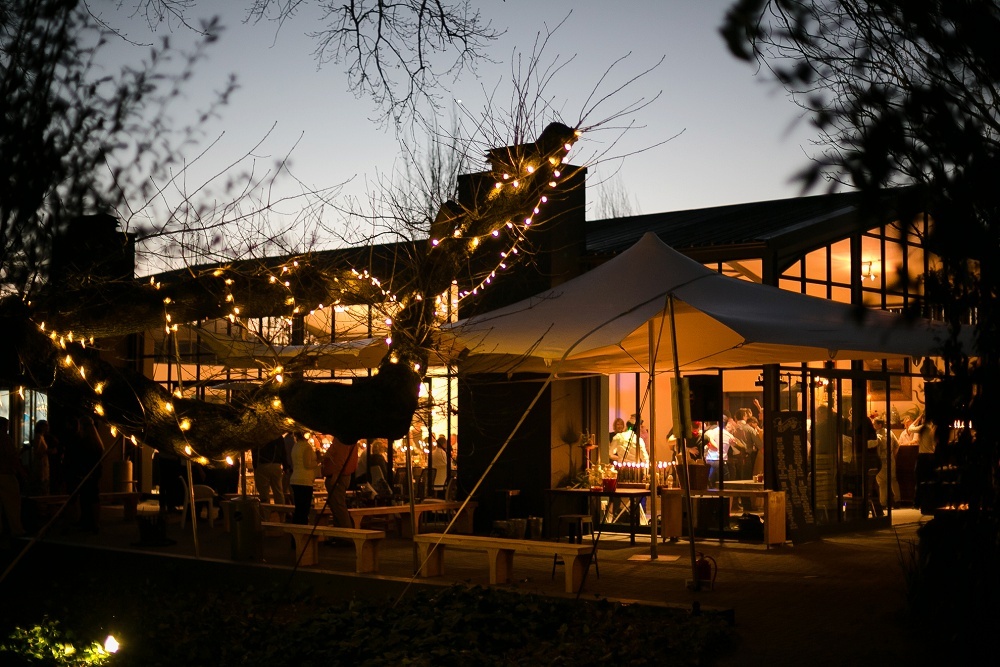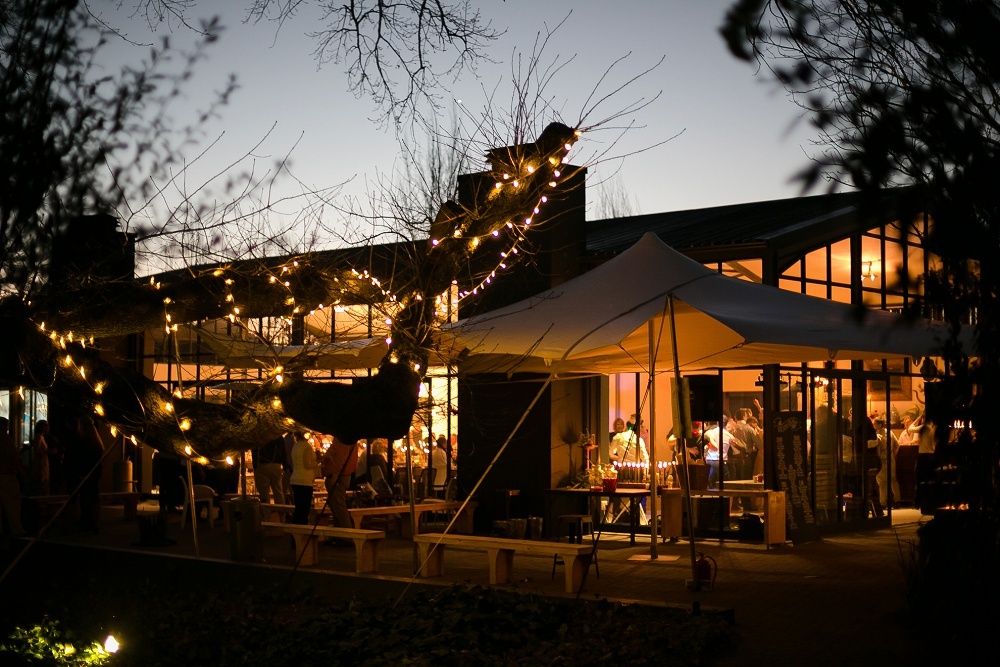 You can see more from this wedding on Karina Conradie's blog.
SERVICE PROVIDERS
Venue: The Conservatory, Franschhoek | Catering: Creative Kwizeen | Photography: Karina Conradie Photography | Decor: Alicia Robinson for Melted Toffee | Flowers: Maché Joubert | Stationery: CHARMAINE JORDAAN photography / design | Bride's dress: Elizabeth Stokenstrom | Bride's shoes: Nicole Le Grange from Love Art Wear Art | Hair & makeup: Alicia Robinson for Melted Toffee | Bridesmaids' dresses: YDE, Spree, Jacoba | Groom's attire: Moi Styling | Groomsmen's attire: Woolworths | DJ: Stephan van Zyl for The Sound Lab (best DJ ever!) | Band: Newton & Co.


Save