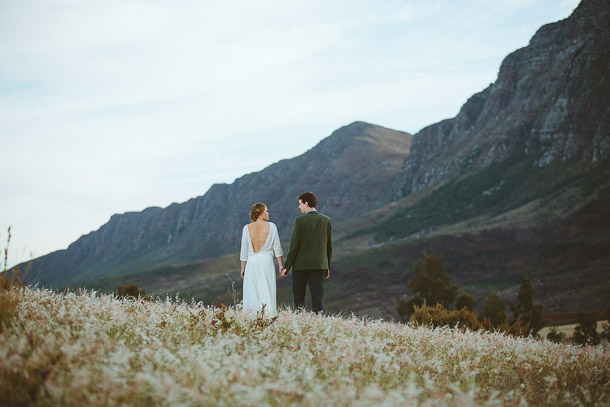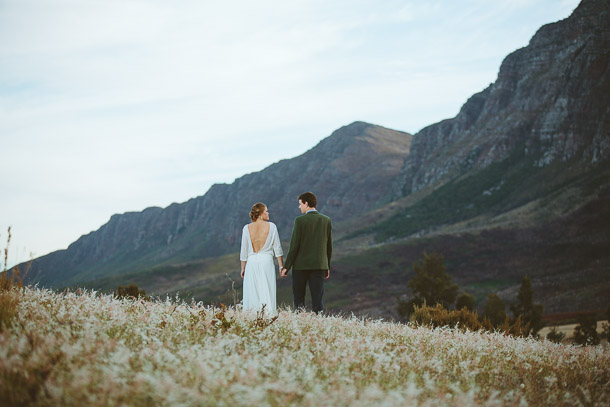 A while back, I created an autumn inspiration board in beautiful jewel tones, and our friends at Green Goddess flower studio got in touch to say that they loved it, and that they just happened to be working on a wedding using a similar palette. Needless to say, I couldn't wait to see it! And when Tina & Kevin's relaxed, rustic, navy, olive and russet autumn celebration popped into my inbox a few months later, it was everything I imagined. Rich, jewel-toned decor, a boho lace wedding dress, amazing florals (of course!) and beautiful pics by Wrensch Lombard. But here's something I only found out when I read Tina's story – this fabulous fete took its style cue from a suit! Which just goes to show, inspiration is everywhere, and when you find an element for your wedding that you love, you can totally build on that element to create a colour scheme and design that you adore.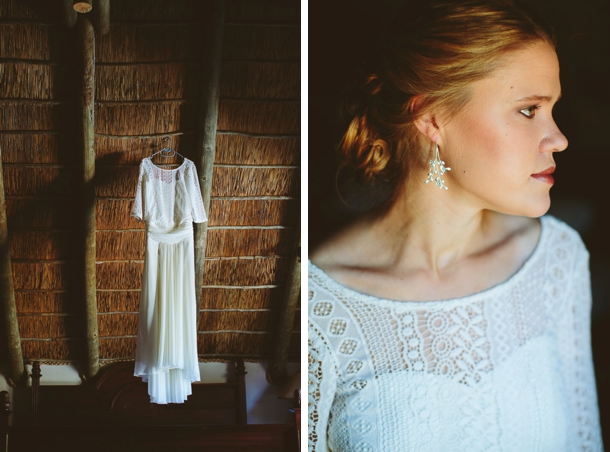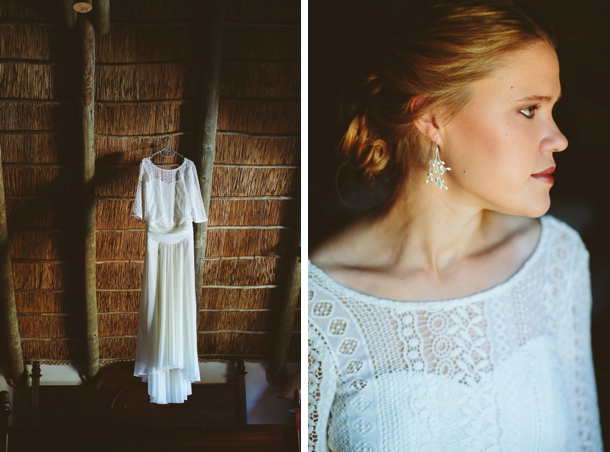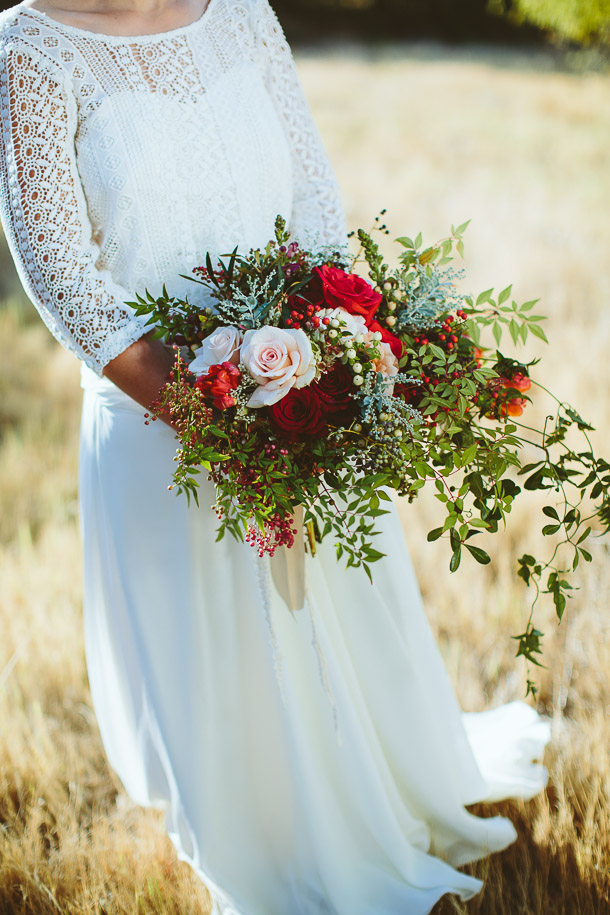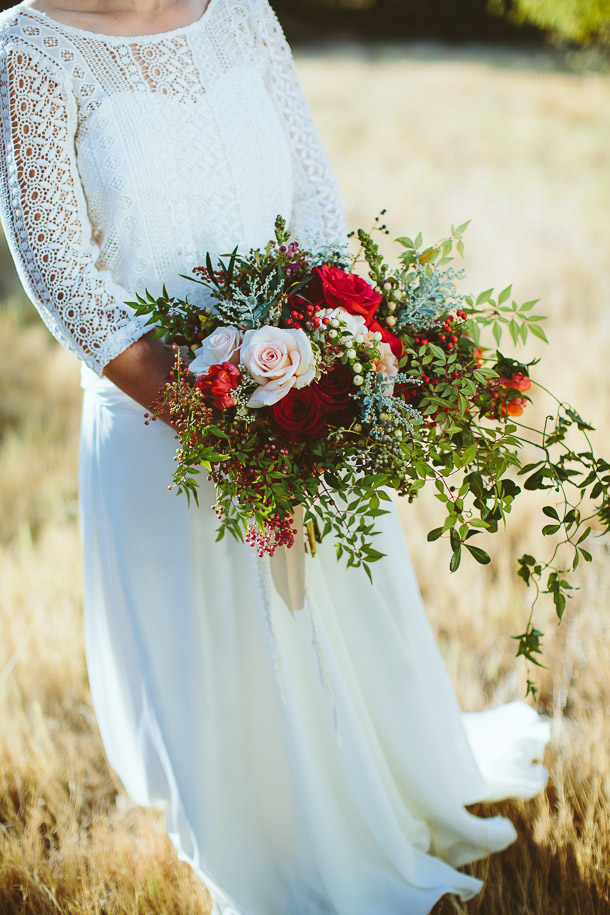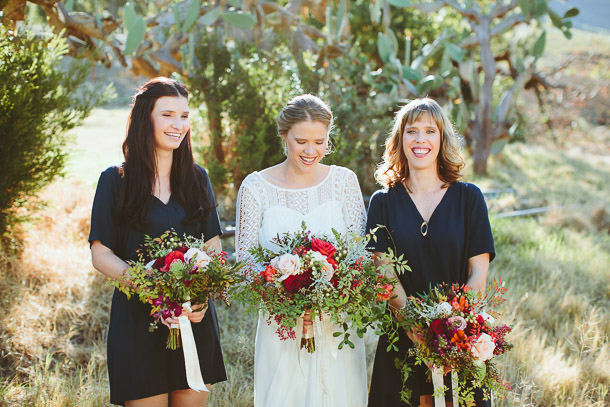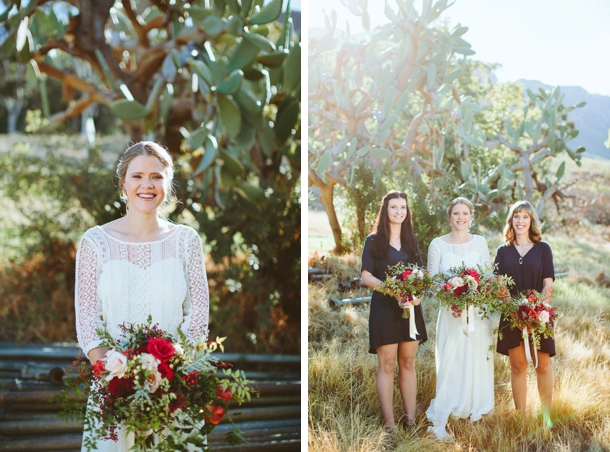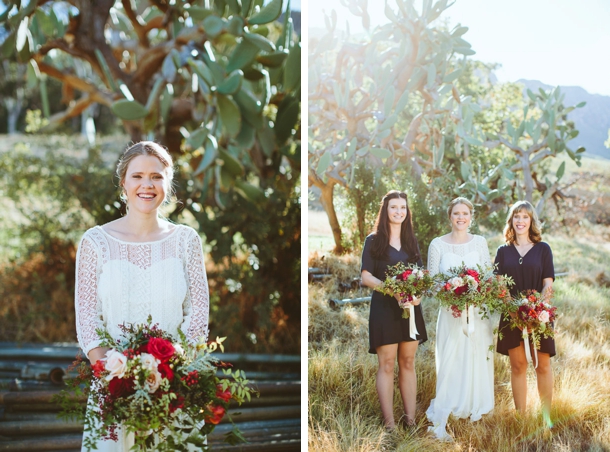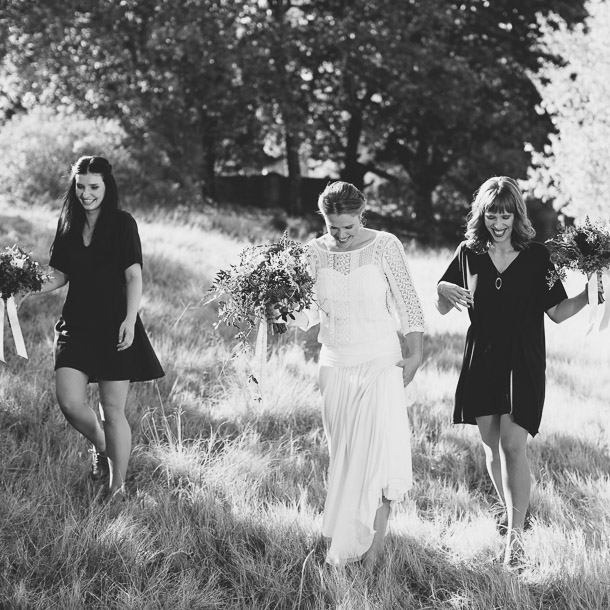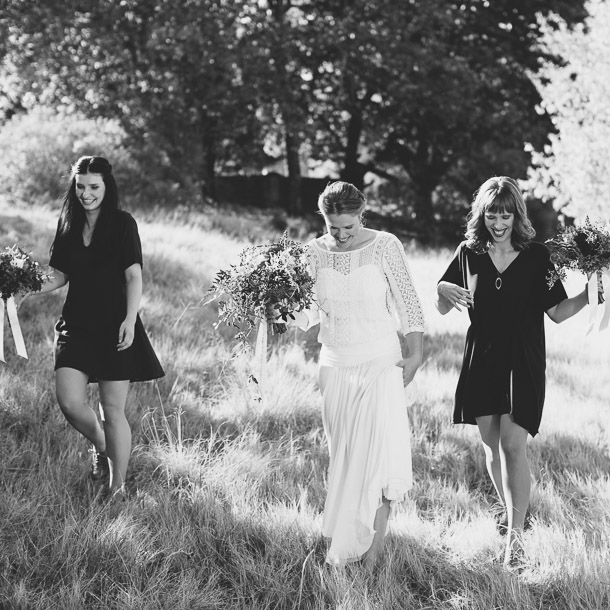 Love Story
We met at a good friend's 21st (it's still under dispute about who asked who to dance), started chatting soon after and haven't stopped since.
The Proposal
Kevin made me an anniversary dinner (Jamie Oliver's roasted meatloaf, wrapped in bacon with a tomato + chickpea sauce – it's a real gem and a family favourite). There was talk of a picnic earlier in the week, but it was pouring outside so we ended up eating dinner on the apartment floor. We popped some bubbly and he popped the question.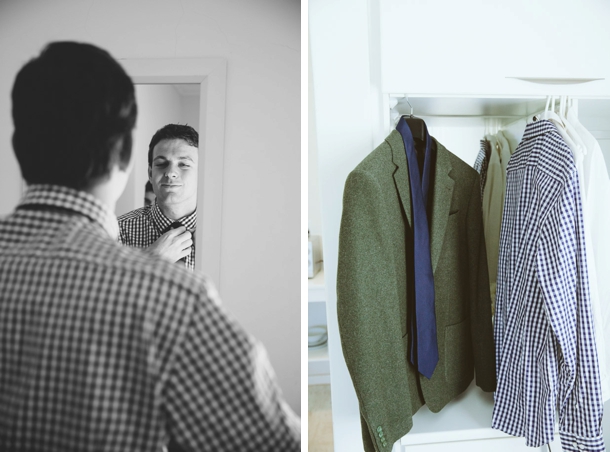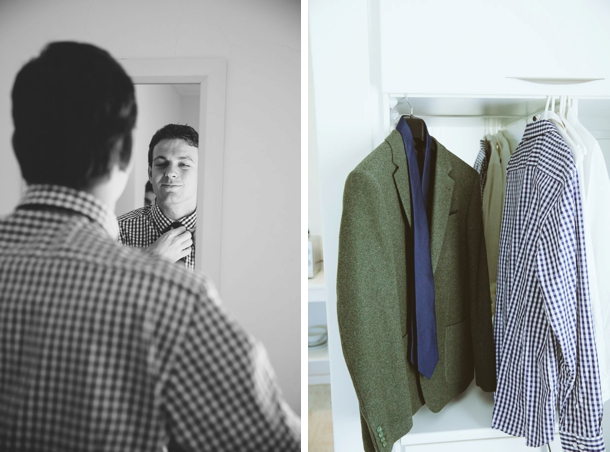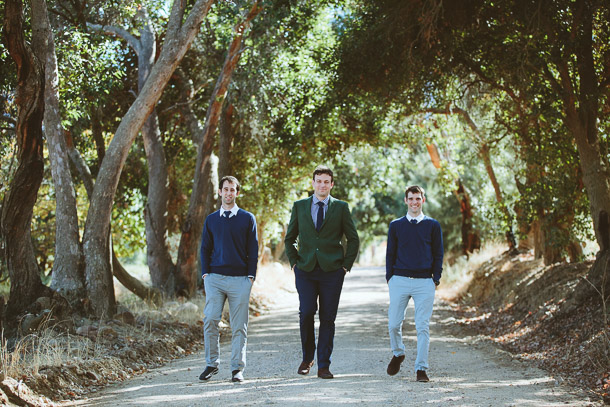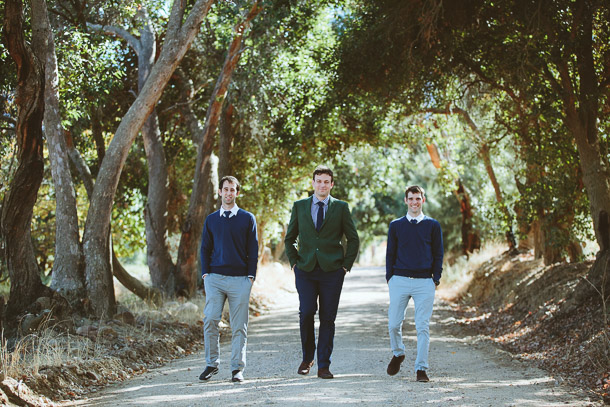 The Venue
The hostess at Roodezand, Karen, is awesome! We liked the idea of a Tulbagh wedding, plus the venue is very relaxed. Exactly what we were looking for. We're both very friend and family focused, extroverted introverts, "mens mense" and I think it showed all weekend. We both spent the Friday evening having dinner with close friends and family – it was great. We did a post-wedding breakfast just to get some extra time with everyone, especially all the folk that came from Joburg – it really helps! After breakfast we had another round of coffee with my parents and a close friend before we headed back to Cape Town. The two of us literally were the last of the wedding party to leave Tulbagh!

Wedding Style
We saw an olive green jacket combination online that we really loved. The colour really suits Kevin well and we didn't have a colour scheme yet, so we decided to go with navy, olive green and grey. After meeting with Coral and Chantell from Green Goddess we added the burgundy (we created the grey and navy canvas and they coloured it in). We then started hunting for a similar green jacket and found one on special at ASOS. I do most of my shopping online, but that was definitely my riskiest purchased to date!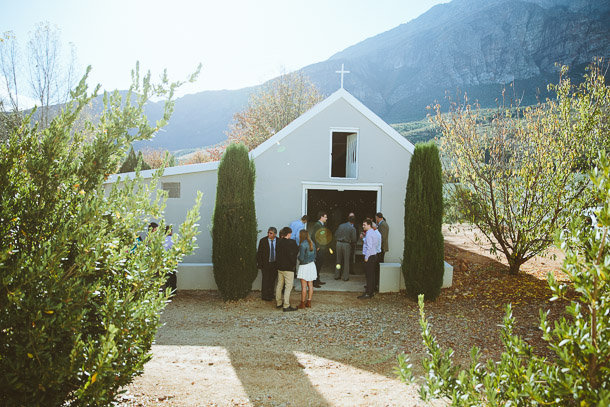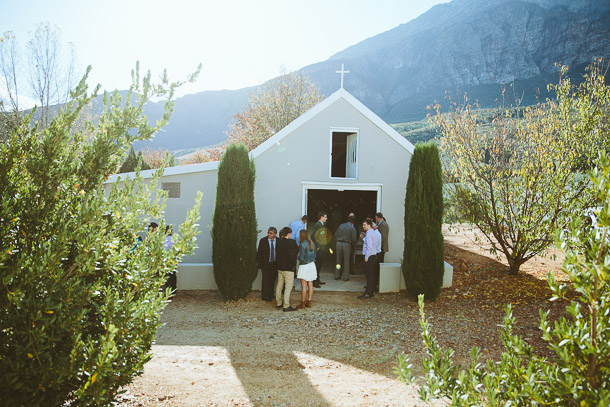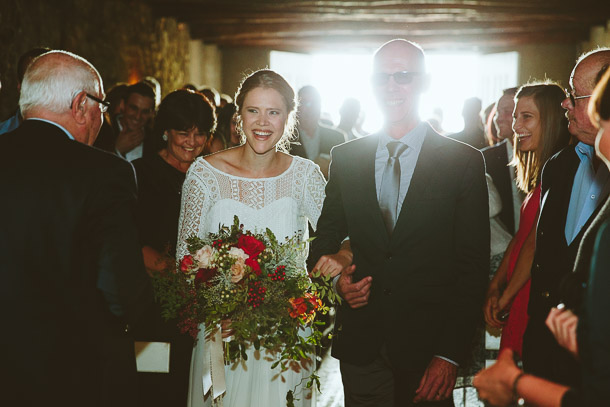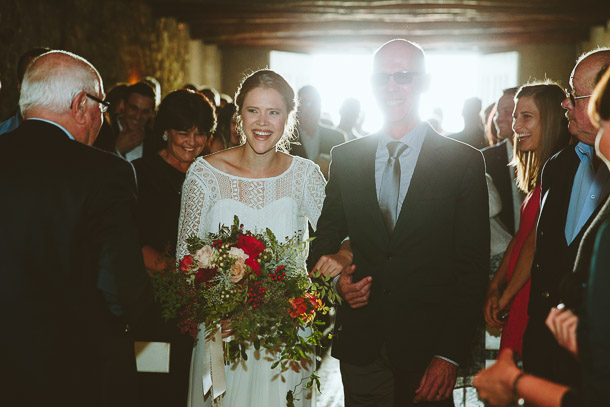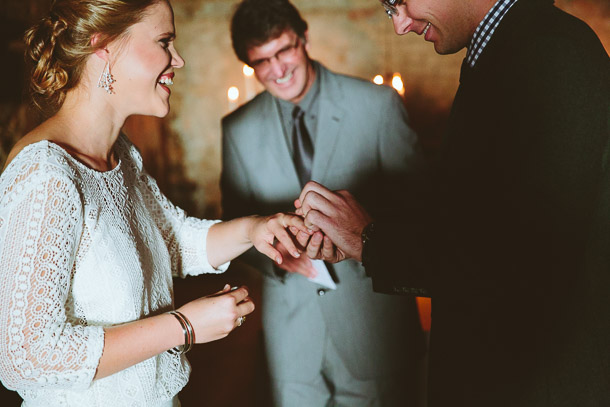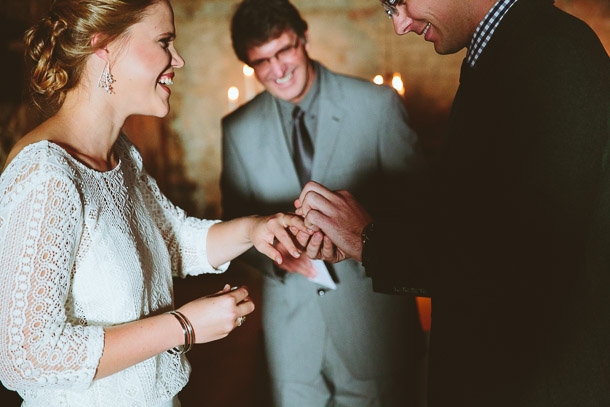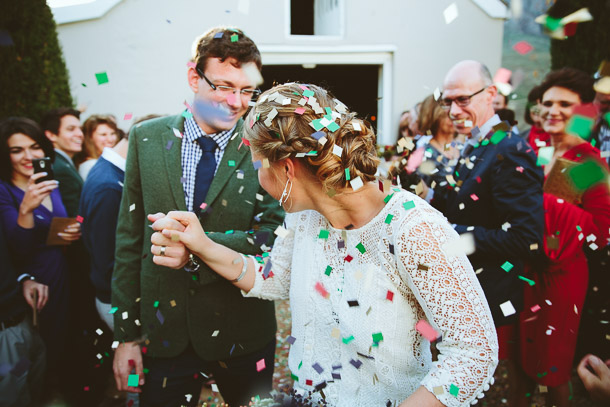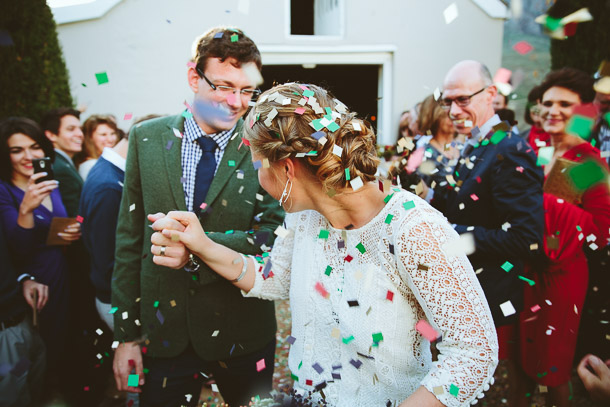 Wedding Details
Half of Kevin's family is Dutch, so we used both Dutch and South African elements in the stationery. Mainly tulips and proteas, but I used elements like windmills, bicycles and wine on the website. Kevin's grandparents bought us back some clog slippers from the Netherlands that we used in the photos (and for dancing when my feet started saying "we're done").
The Ceremony
We're pretty religious and didn't want the ceremony to just be something we quickly ticked off before the party started. Kevin had always said that he wanted to get married inside a church, so it helped that Roodezand has a little chapel on the premises. There was a strong emphasis on worship and the minister that married us has been a family friend for years! He actually baptised me too.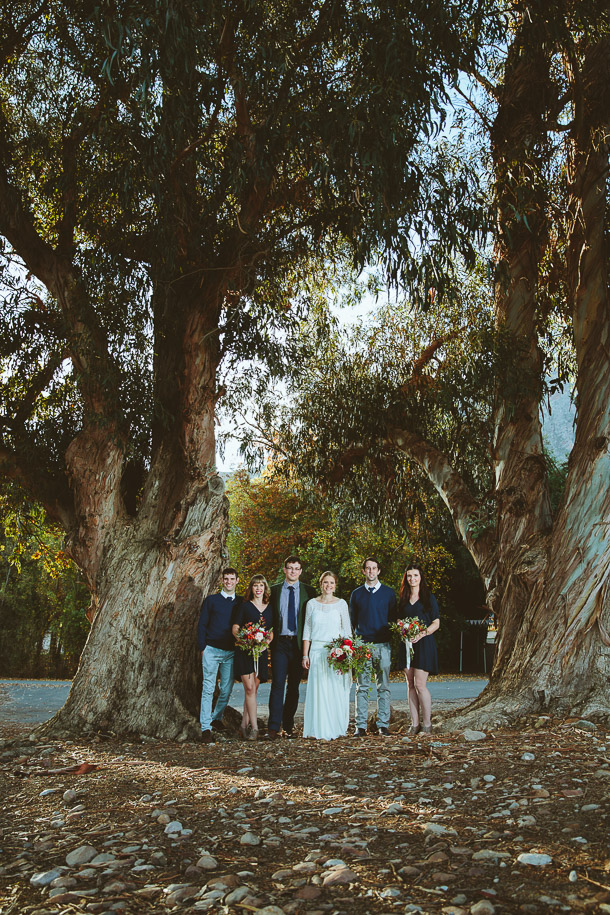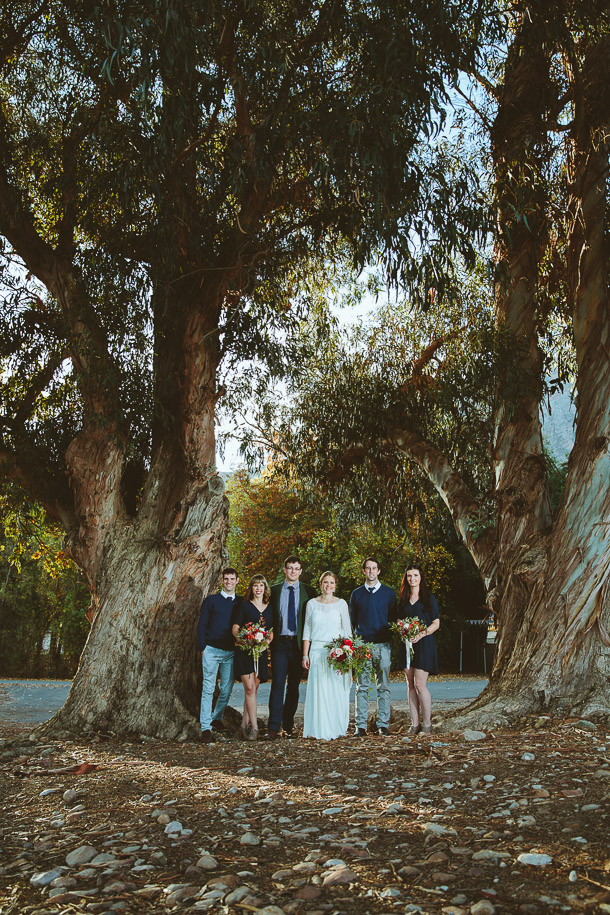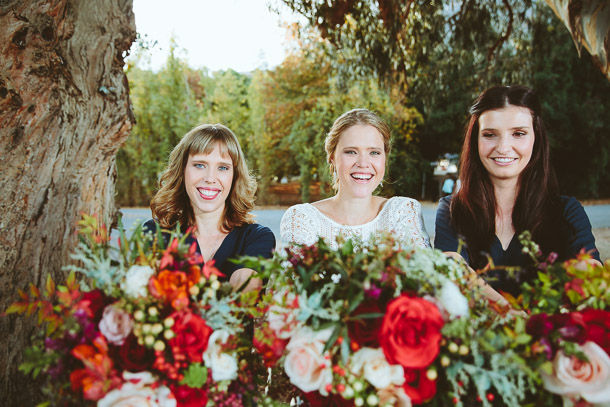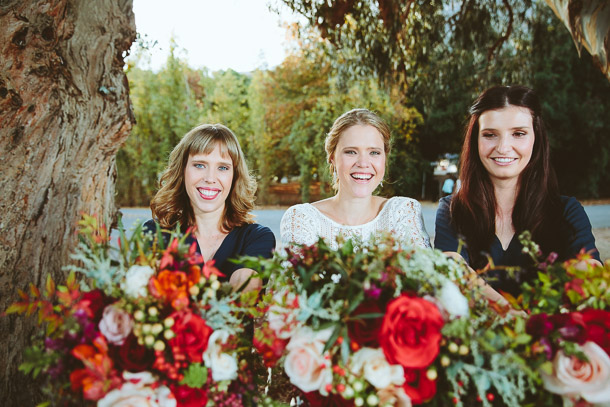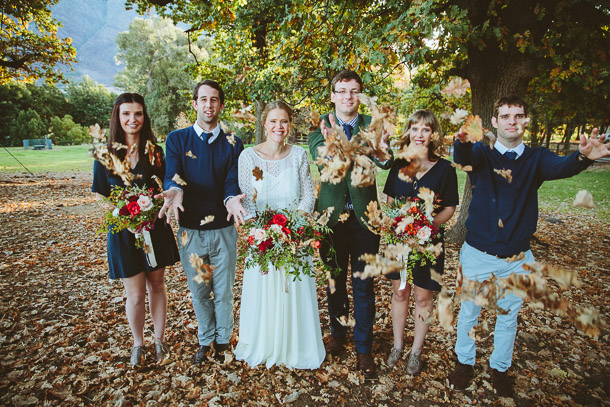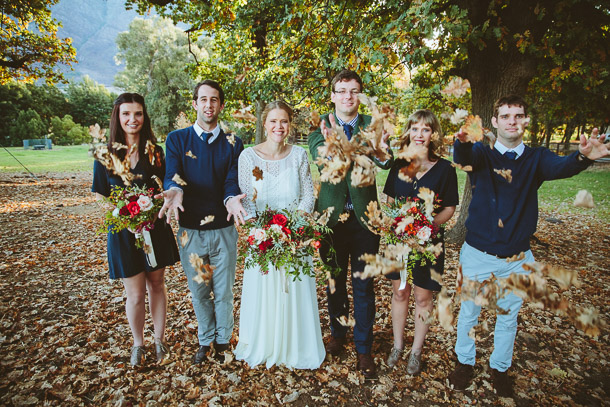 The Menu
As for the food, my sister summed it up pretty well in her speech. I grew up in a kitchen full of exotic flavours and lots of experimenting. My mother makes really great salads and everyone in my family is very enthusiastic about food and wine. Kevin's tastebuds are definitely more traditional. It's changed quite a bit over the last couple of years, he now eats basically everything I throw at him, but only as long as he gets a good shepherd's pie and some form of chocolate on a regular basis. As a result, our menu consisted of a combination of items people could and couldn't pronounce, rounded off with good old double chocolate self-saucing pudding and ice cream.
DIY Elements
I studied Graphic Design & Art Direction, but have always been very passionate about digital products and web development, so we did all our save the dates and invites online. For the confetti, we wanted rough cut paper squares, because they make for great photos. (Kind of like those used at concerts – just without the glitter vibe.) We cut our own and it worked out really well. The confetti was incorporated into the church leaflet. Our seating plan and menu boards were also a DIY project. Kevin cut the boards and painted them with blackboard paint, I then copied the design on to them. It was pretty time consuming, but rewarding.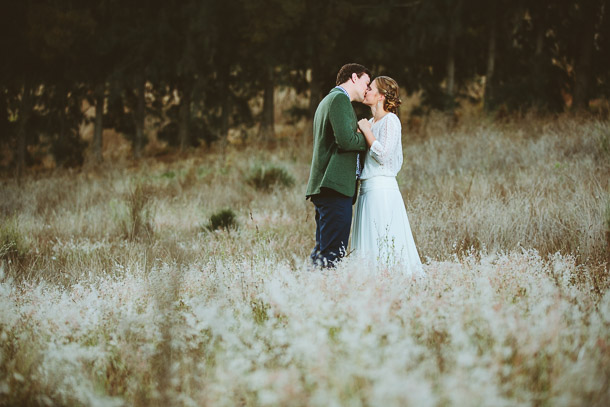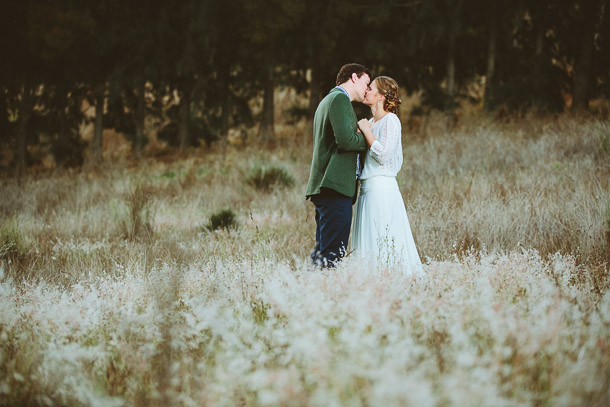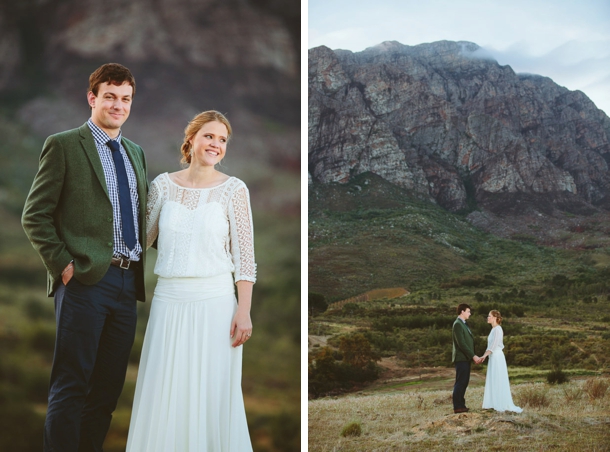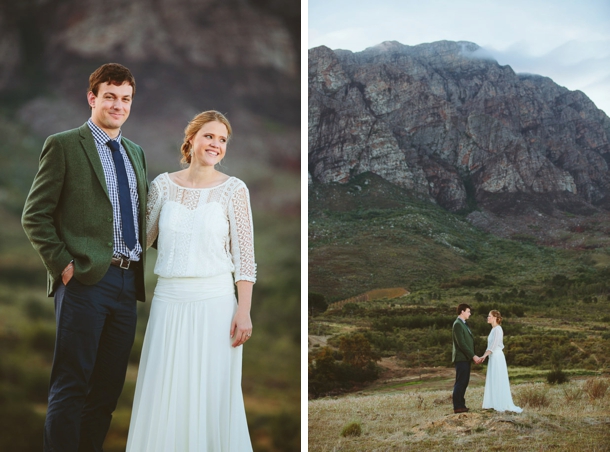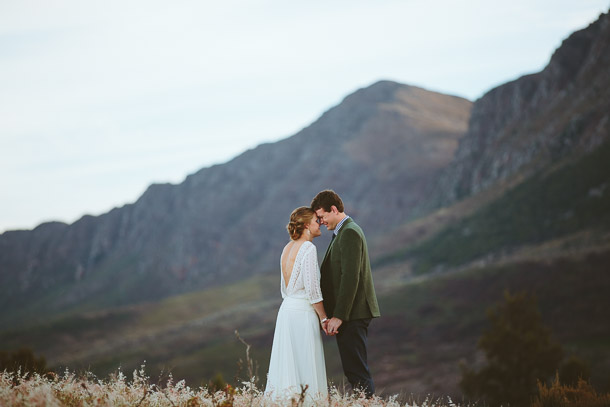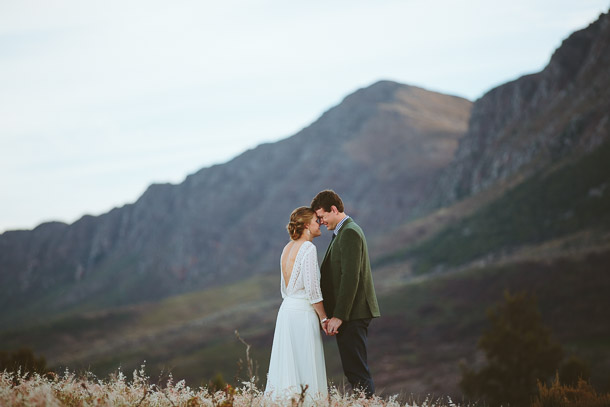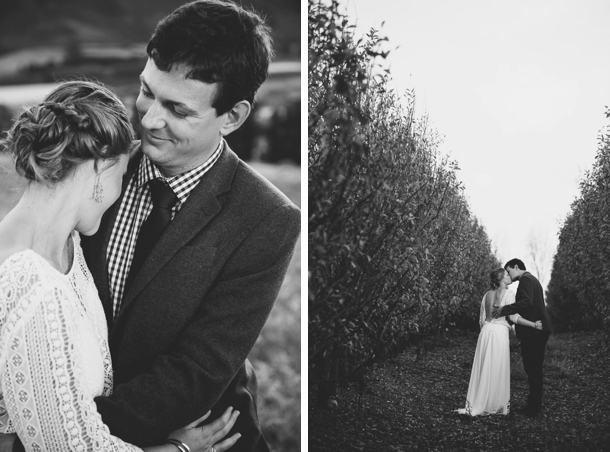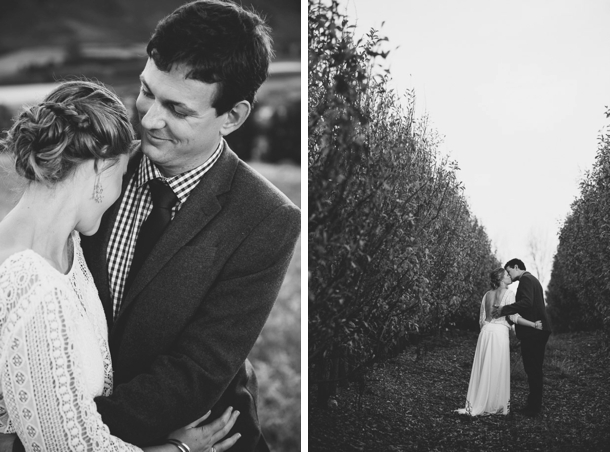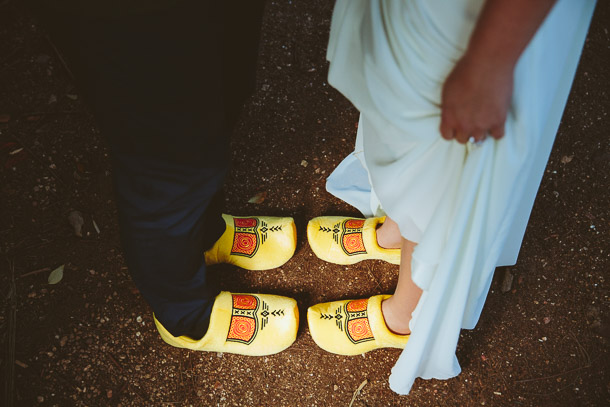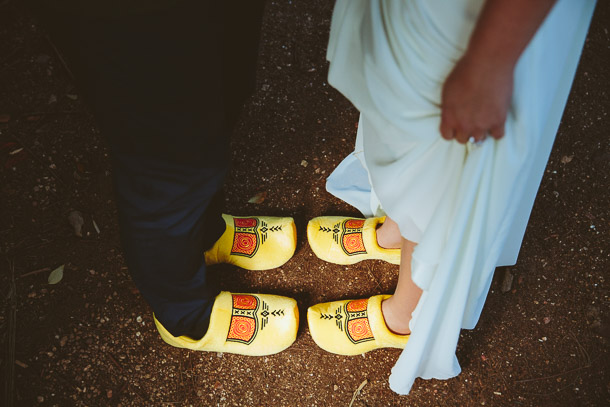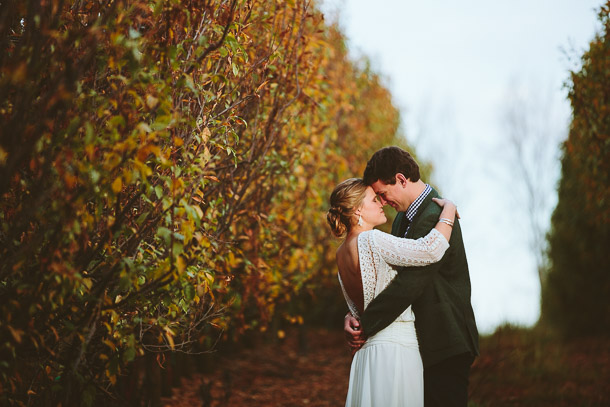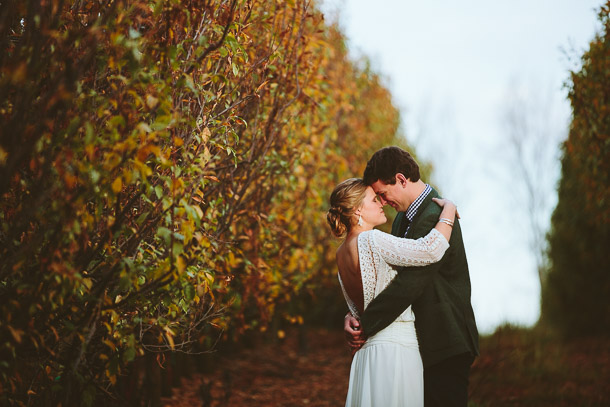 The Dress
We were in the UK last year, just after getting engaged. Whilst waiting for a train I was browsing through a bridal magazine in the shop and saw a shoot by a french designer that I really liked. Back in SA I researched the designer, Laure de Sagazan, more thoroughly and took my favourite styles to my local designer and dress maker (Lana Cilliers, who made both my sister's and my matric dance and wedding dresses; she's a genius). We both really liked the style I ended up going for. I knew that the lace was going to make (or break) the dress so after looking all over Cape Town, I ordered it from a shop in New York. (It was much cheaper than the lace here in SA and it took Fedex just three days to get it here!)
The Flowers
Our flowers can be summed up as eclectic, unstructured and romantic. We didn't want strictly traditional flowers as it didn't really fit with the down-to-earth venue. We really just wanted a comfortable festive gathering of loved ones and the flowers and décor needed to fit with the relaxed atmosphere. We went through a couple of inspiration/reference shots with the ladies from Green Goddess and liked the use of wood containers and rounds together with glass vases and bottles to mix it up a little on the tables. Green Goddess suggested bringing in lighter colours in the flowers to lift the greenery and using some dramatic reds – it worked really well with the colour scheme. They also incorporated lots of seasonal greenery, autumnal berries and other foliages to keep the look as natural as possible.
My dress was very relaxed too, so the bouquet needed to be relaxed and unstructured to compliment the dress. I really loved it! All the flowers actually, they were definitely a highlight.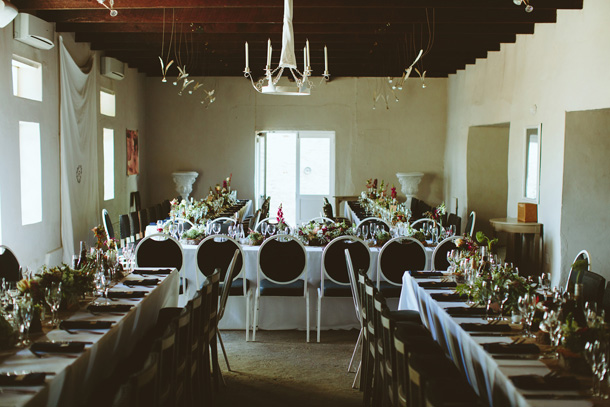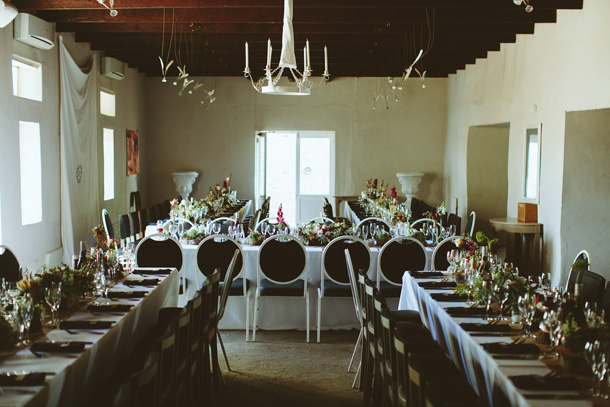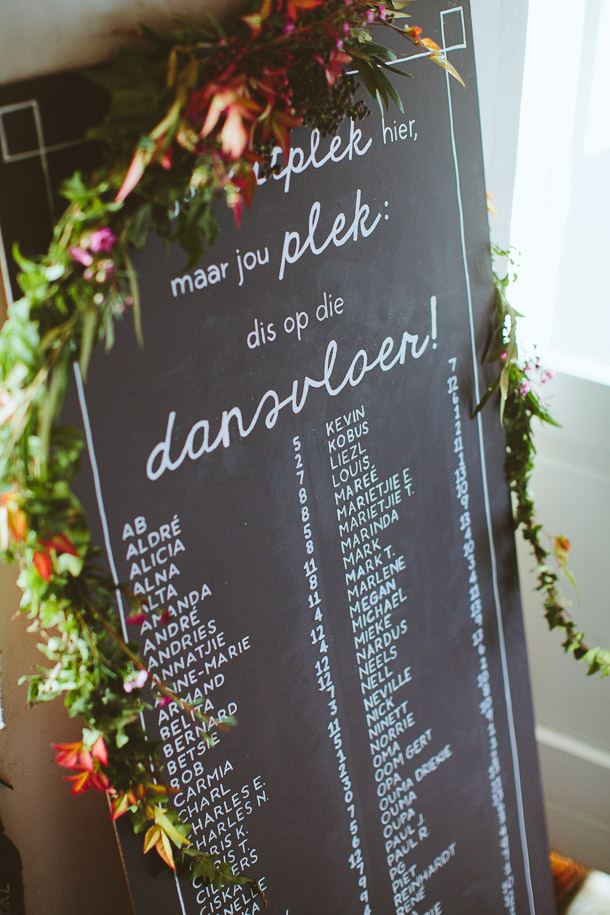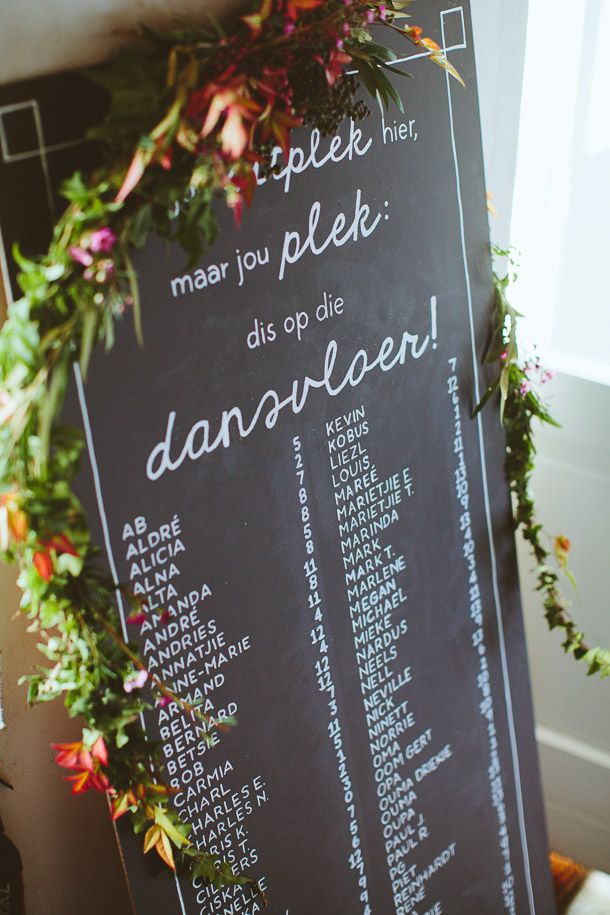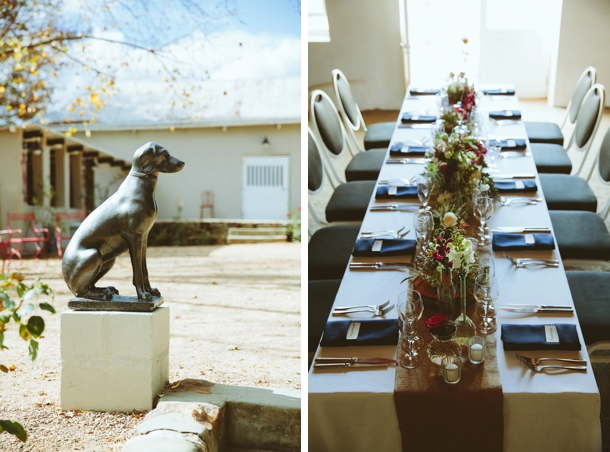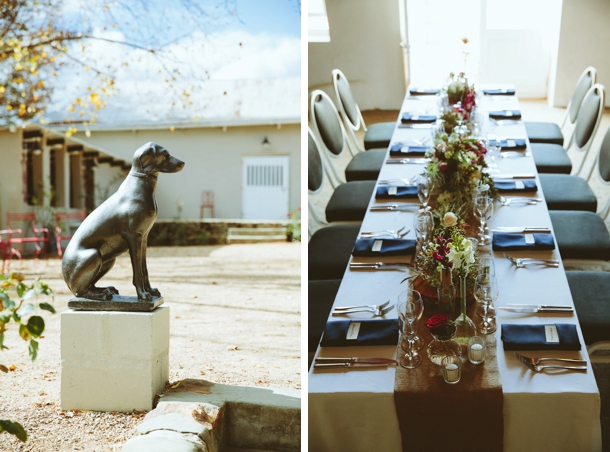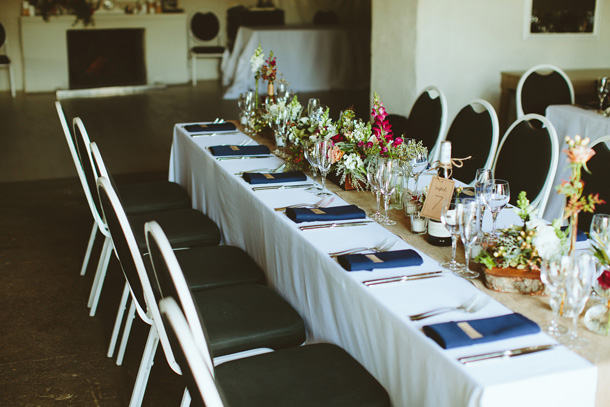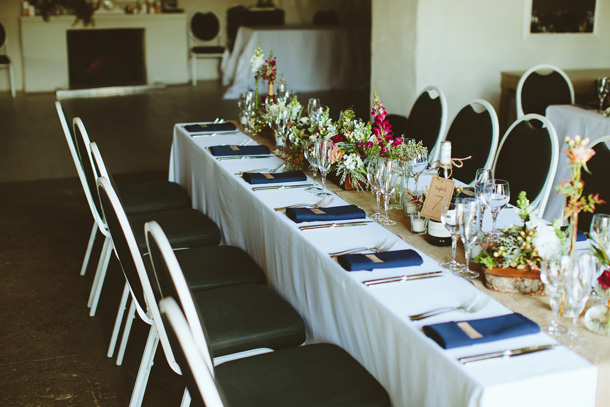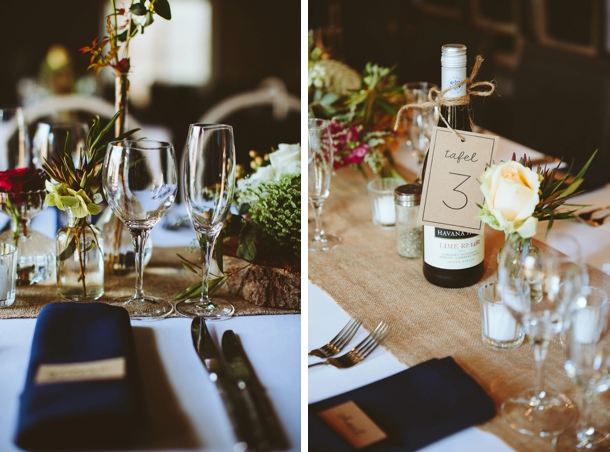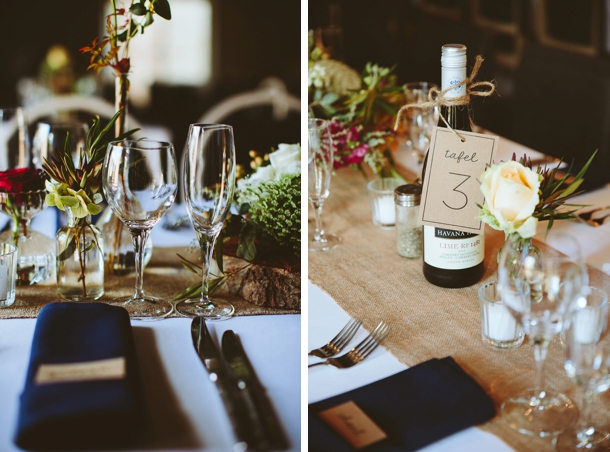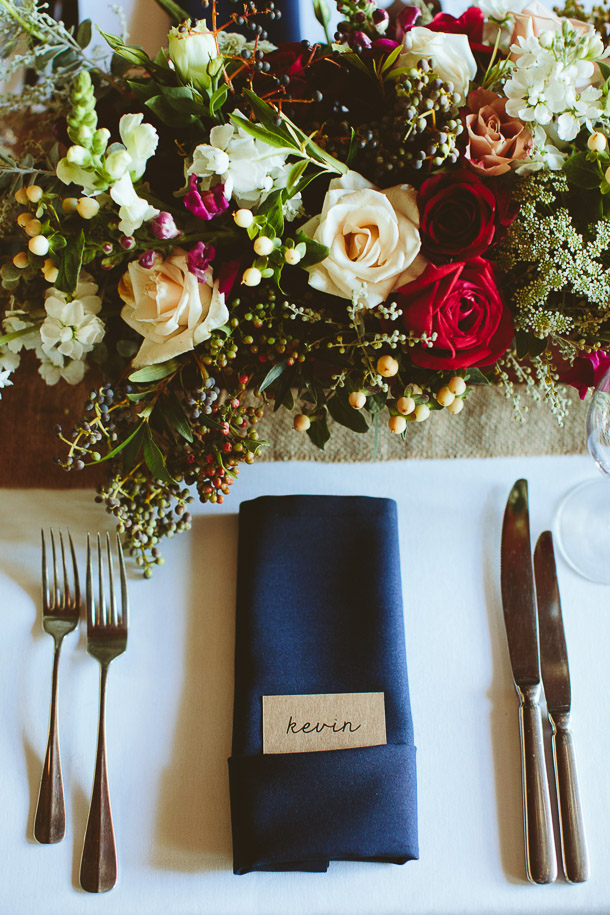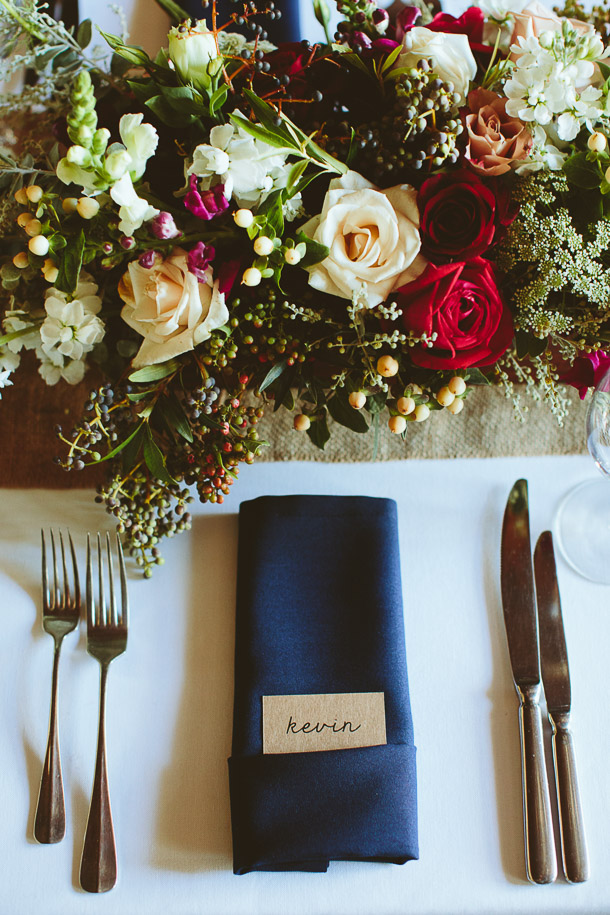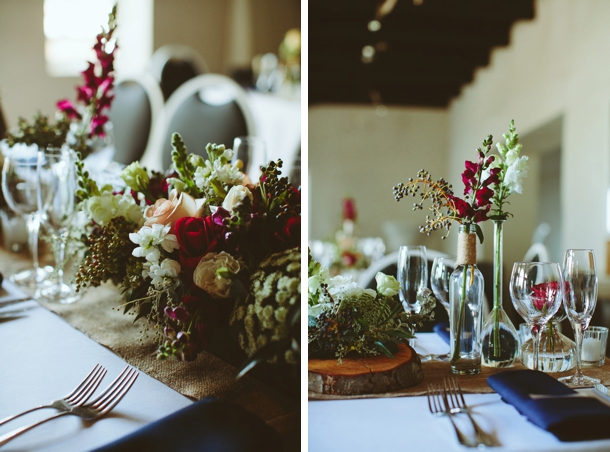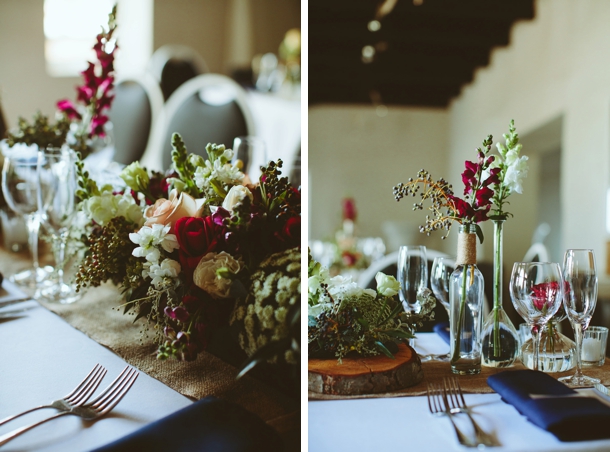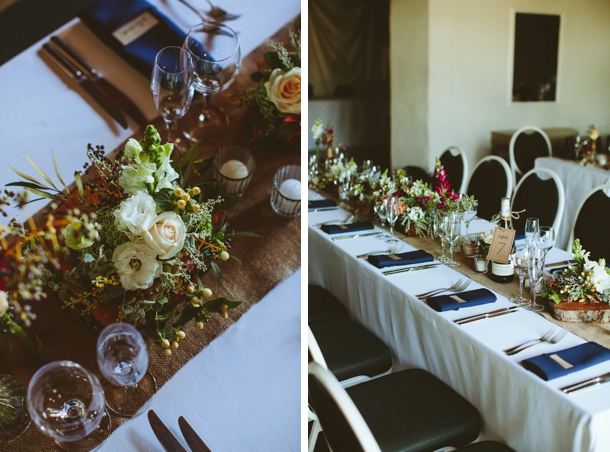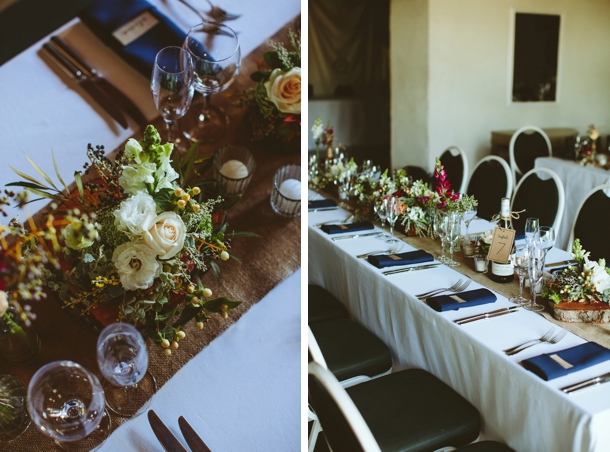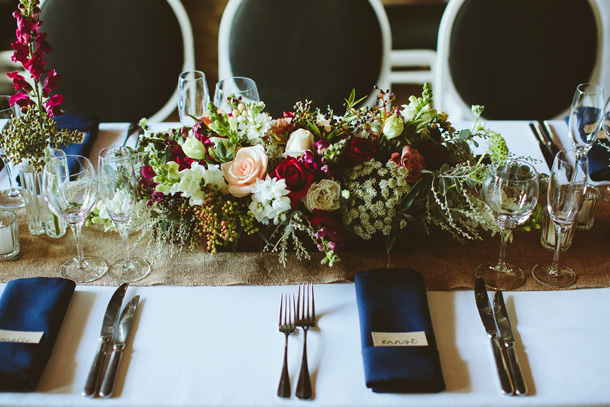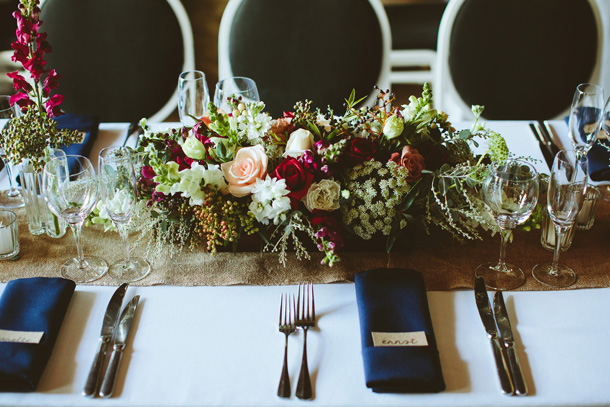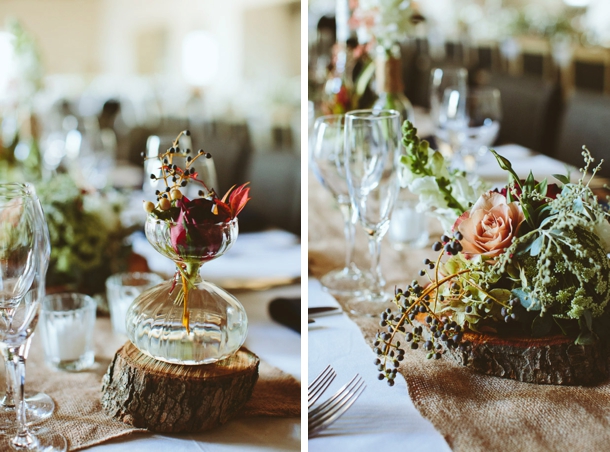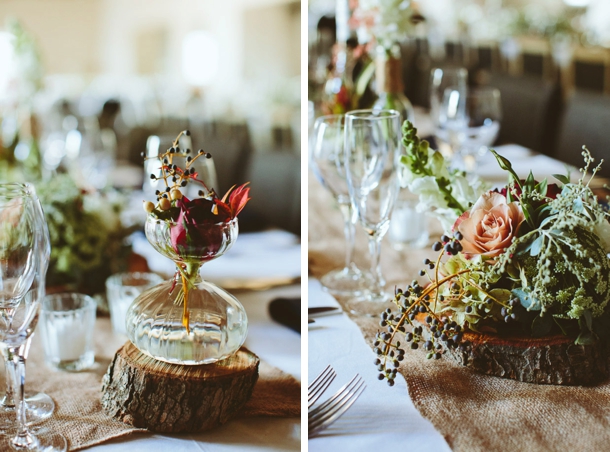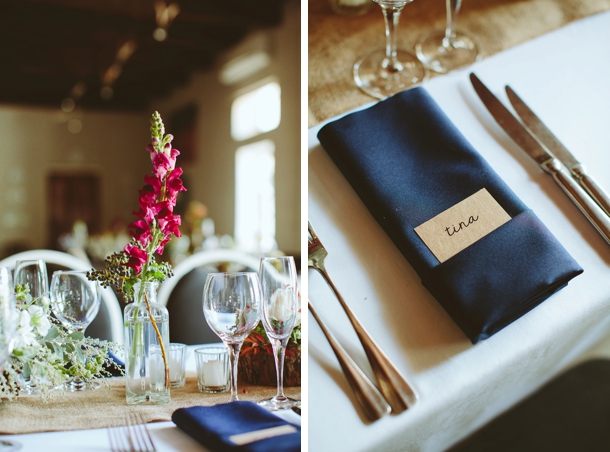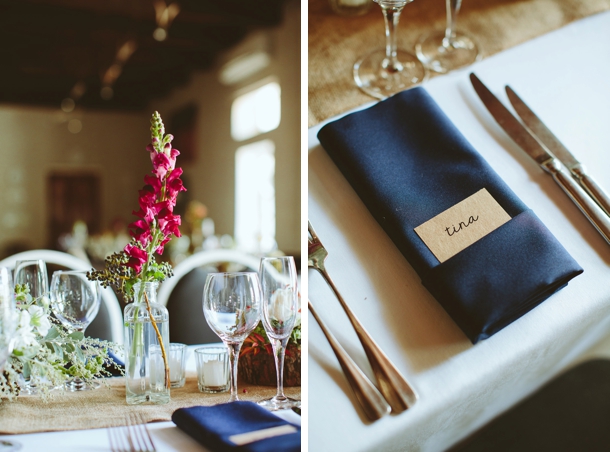 Memorable Moments
Kevin says laughing at me during the ceremony (captured perfectly by our photographer, Wrensch). I couldn't get "vir altyd en in alle omstandighede" out – still can't! It's really hard if you're a fast talker. It's hard for me to decide on my favourite, but I'm going to have to go with my sister's speech, it was really special. She summed up my personality as well as our relationship perfectly and managed to break the whole room in the process. An all round highlight for us and most definitely our guests had to be Kevin's Opa from the Netherlands completely taking over the dance floor! (All night! What a legend.)
Advice for Future Brides & Grooms
When it comes to service providers, do your research, ask around and go with people who have an obvious passion for what they are doing. It makes a big difference when you work with people who you trust and respect.
Decide what's really important to you upfront and focus your energy on that. (This is also helps when it comes to the budget). Don't sweat the small stuff (unless they're on the 'important list') and remember you and your fiancé are on the same team!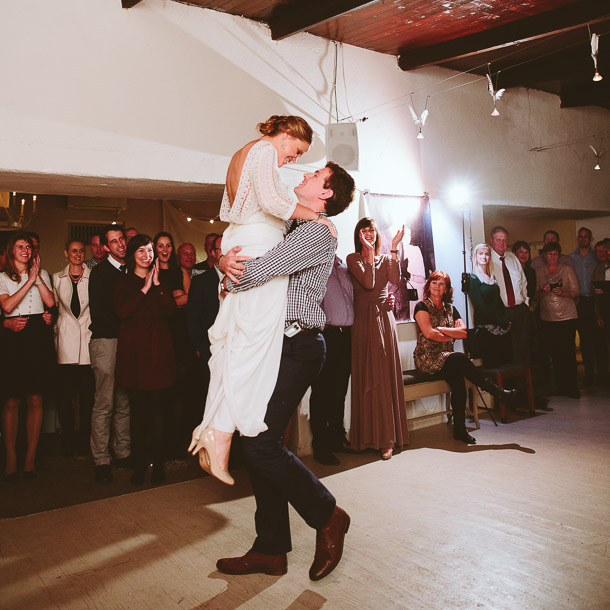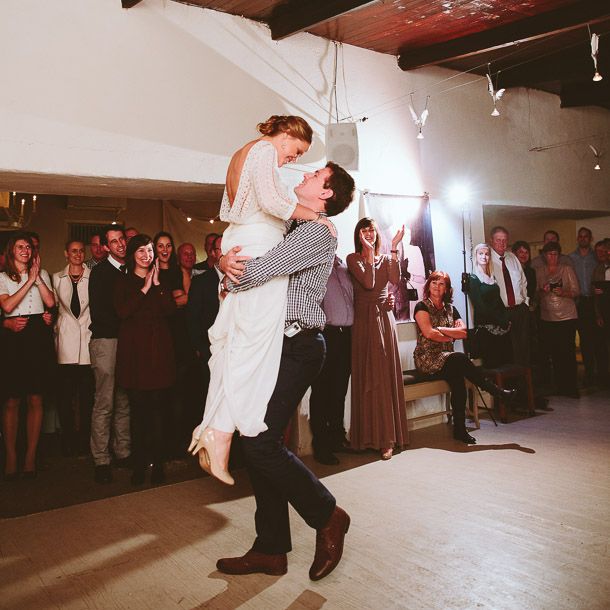 You can see more from this wedding on Wrensch Lombard's blog.
SERVICE PROVIDERS
Venue, catering & coordination: Roodezand | Photography: Wrensch Lombard | Flowers & décor: Green Goddess flower studio | Bride's dress: Lana Design Studio | Bride's accessories: Lady Peculiar (earrings) | Rings: Tracey van Schelt of Moonraker Design (groom's sister) | Hair & makeup: Adele Visser & Veronica of Hair Studio 49 | Bridesmaids' dresses: Hannah Collection & Forever 21 (jackets) | Groom's attire: Old Khaki, Woolworths | Hiring: Table Cloth Hiring Co. | Music: Vickus Horne from Cherry Vinyl & DJ Dean | Photobook: ORMS print room | Honeymoon: African golf safaris | Wine: Havana Hills, Villiera Tradition