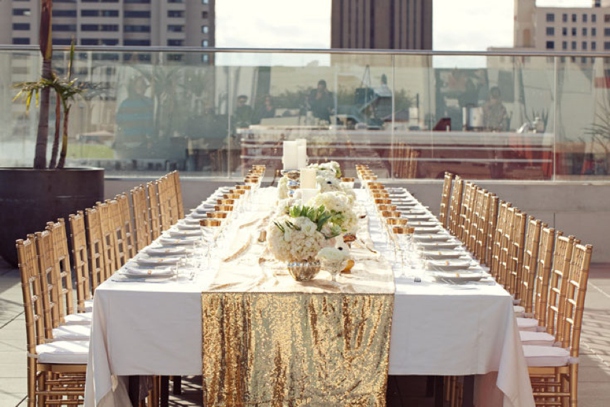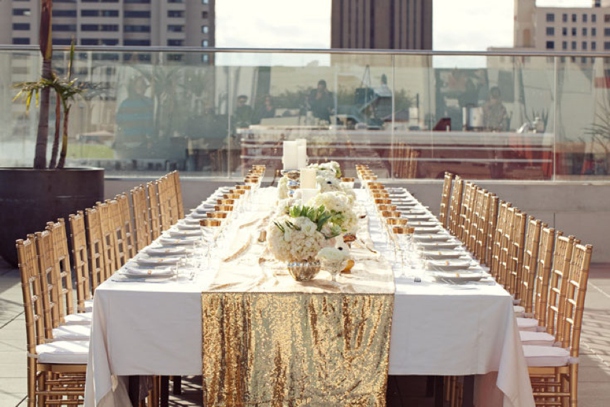 Last month, I identified pretty table runners as a trend we'll be seeing lots of in the coming season. While many of these will be lace for vintage-loving brides, we're also seeing some gorgeous sparkly sequin runners coming through (and not just runners, full sequin tablecloths, in all their glittery glory!). You'd think this would all be a bit much, but I have to say, each time I see one of these tables, it makes my magpie heart do a little hop, skip and a jump. And why not? It's your wedding! Even your tables should get to wear their party dresses, right? So today I've rounded up some of my favourite sequin runners, as well as a few suggestions for bringing a bit of sparkle to the table if you don't want to go the whole hog.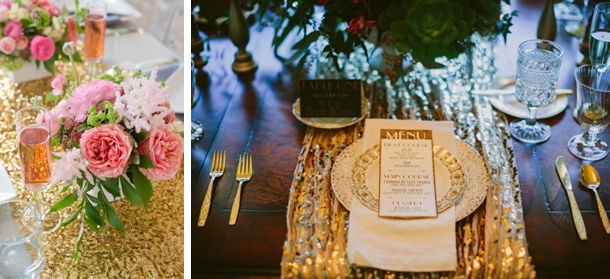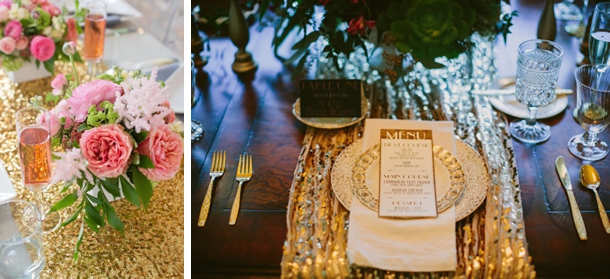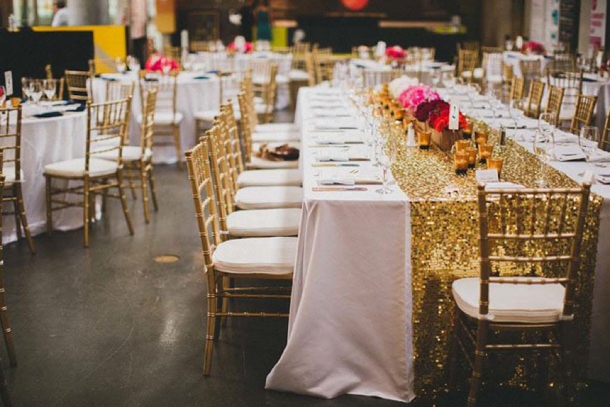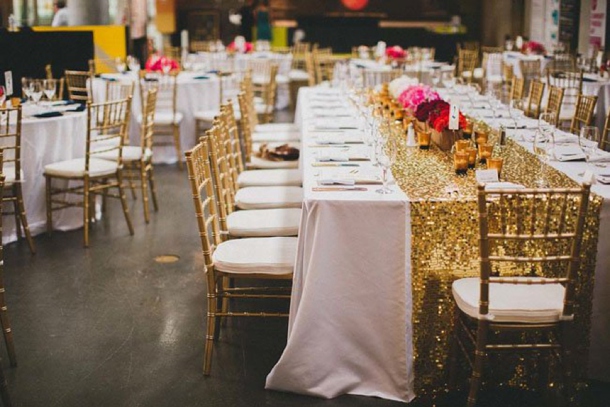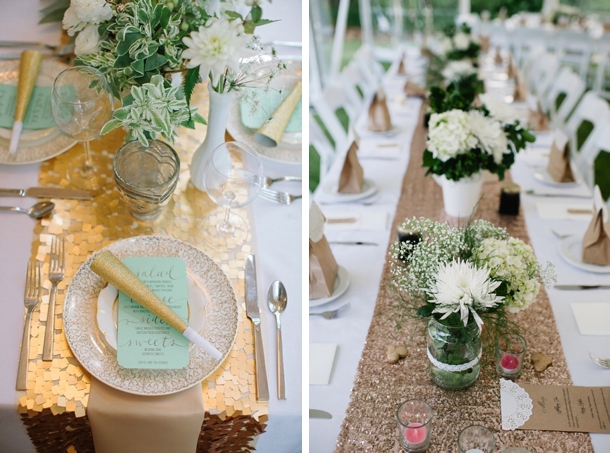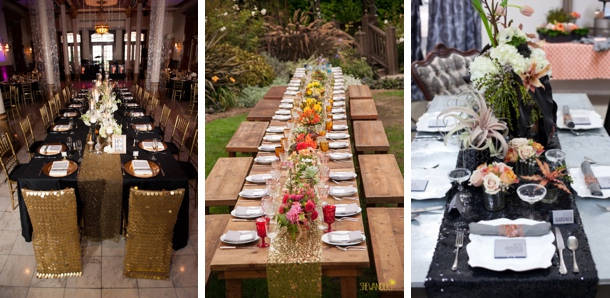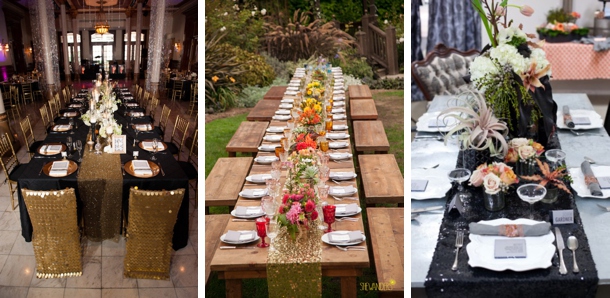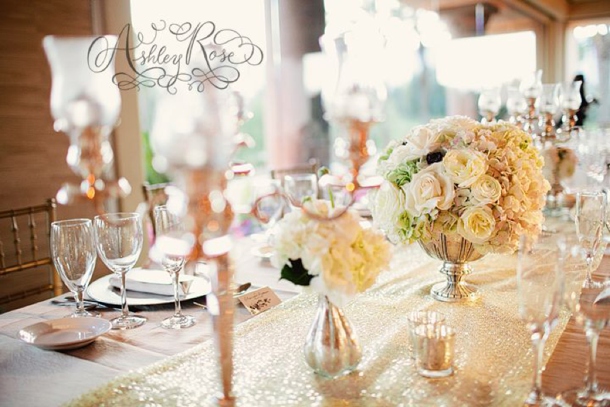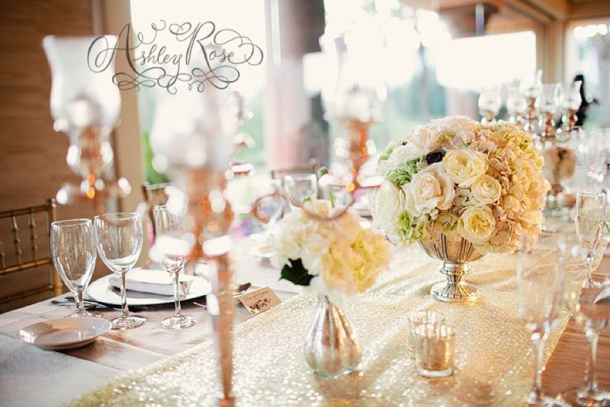 Love me a bit of sparkly chevron!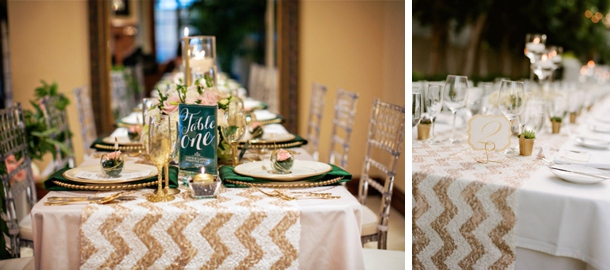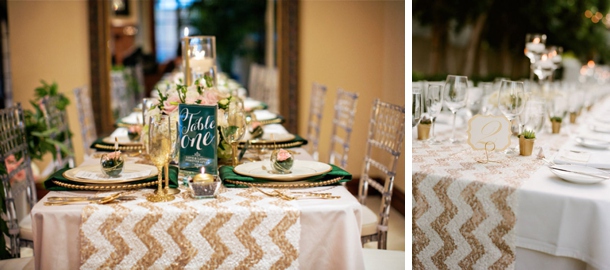 A runner not enough sparkle for you? These brides and grooms have gone all out in the sequin department. Swoonage!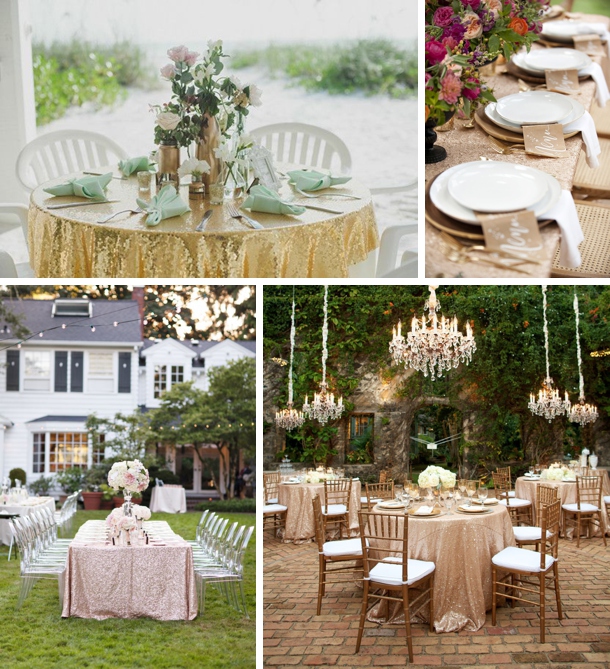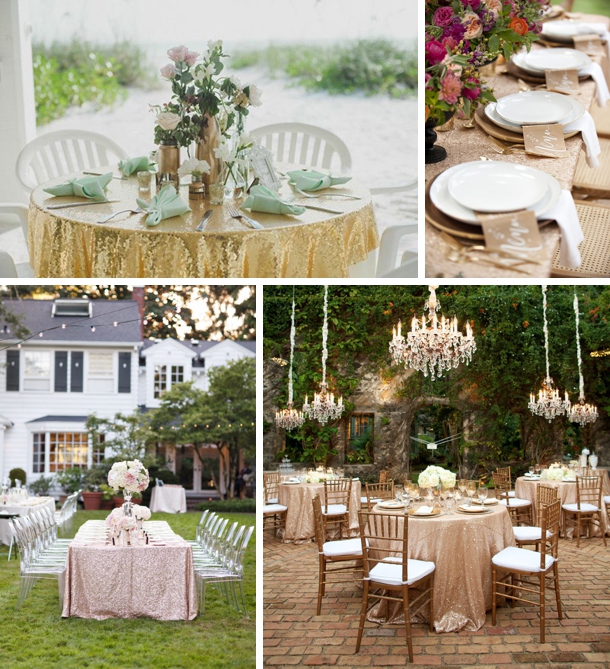 On the other hand, if you'd like to add a bit of glitter but not commit entirely, or if the budget doesn't allow, here are some easy ways to add just a touch of fairy dust. You could choose to accent just one table – your main table perhaps, or the cake or dessert table.Or try a bit of glitter on a runner instead of along the whole thing (love those table numbers!). Sequin napkins also look amazing (although not sure how practical they are for actually wiping your hands!). Or you could try what we did on the Sparkle & Blush shoot a couple of years ago and use glitter board at each place setting instead of fabric – easy and sweet.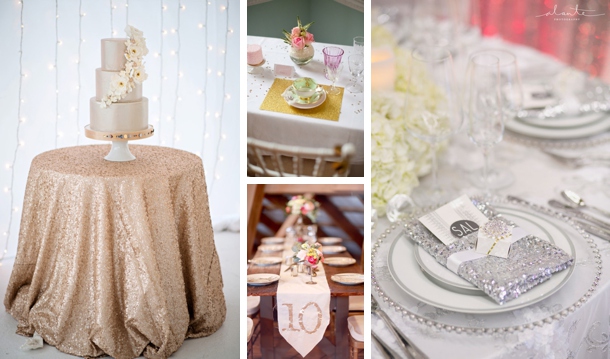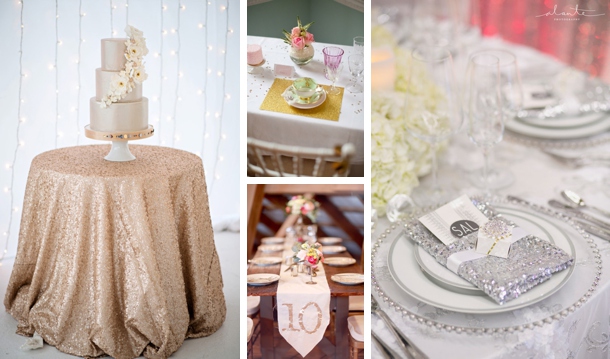 Image sources (left to right, top to bottom): 1- Scott Lawrence Photographs/Alchemy Fine Events & Invitations via Exquisite Wedding Magazine; 2- Amanda Megan Miller Photography/Indie Wed/Jayne Weddings & Events via Green Wedding Shoes; 3- Just Wenderful/Lauren Scotti via 100 Layer Cake; 4- Studio Castillero via Green Wedding Shoes; 5- The Photography of Haley Sheffield/Jessica Interiors via Style Me Pretty; 6- Skipping Stone Photography; 7- Jenny DeMarco Photography via Style Me Pretty; 8- Shewanders Photography via Etsy; 9- Studio28 Photo/The Stylish Soiree via Elizabeth Anne Designs; 10- Ashley Rose via Lover.ly; 11- CHARD Photographer/Sugar Branch Events via Ruffled; 12- via Etsy; 13- ; 14- Justin Marantz/True Event via Style Me Pretty; 15- Amanda K Photography via Ruffled; 16- Signature Maui; 17- Kristen Weaver Photography/An Affair to Remember via Junebug Weddings; 18- Chanelle Segerius Bruce/SouthBound Bride/b.loved on SBB; 19- Simply Bloom Photography/Amy Osaba Event Floral Design via Green Wedding Shoes; 20- Alante Photography/SAL Floral Design.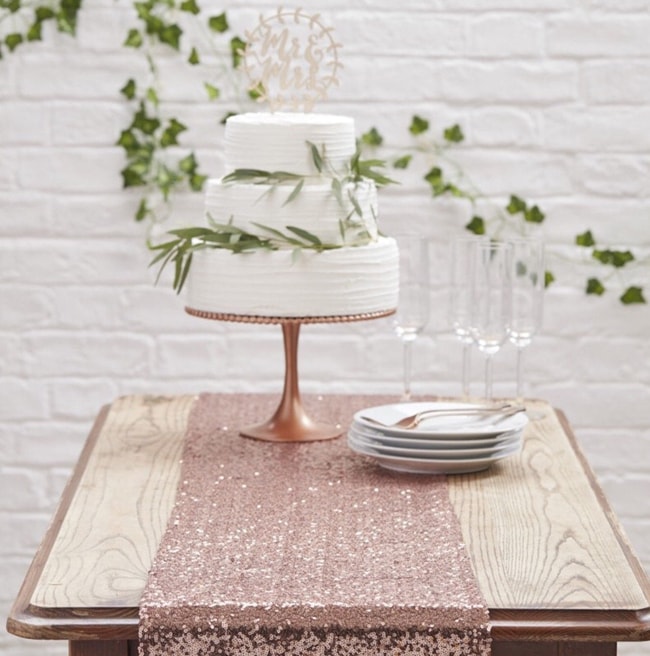 Rose Gold Sequin Table Runner by All Things Bride Kent
Love this look? There are some absolutely GORGEOUS sparkly sequin table linens available via Etsy – tablecloths, runners, and overlays! Rose gold, silver, gold, black, pink… take your pick of sequin runners and sequin tablecloths! *Links in bold denote affiliate links. The cost to you remains the same, but SBB may receive a commission for any sales made.

Clockwise from top: 1- Chevron Sequin Glitter Table Runners by Magpie Linens; 2- Champagne Sequin Tablecloth by Jessmy; 3- Sequin Tablecloth by Magpie Linens; 4- Champagne Sequin Tablecloth by Ultrapom; 5- Gold Table Runner Sequined by Great Galas; 6- Navy Blue Sequin by Jessmy; 7- Pink Sequin Tablecloth by Jessmy ; 8- Rose Gold Sequin Fabric Table Cloth Overlay by Allfabrics4u; 9- Gold Sequin Tablecloths by Jessmy