I'm just going to take a minute this Sunday morning to share something I'm super SUPER excited about. I try not to be all boasty about stuff (after all, I grew up in Port Elizabeth) but sometimes I think you have to celebrate good things and milestones. And for me, this is an SBB milestone. We're in Fairlady Bride, you guys.
Now, if I tell you that I've been reading Fairlady Bride since FOREVER, you might think I'm just saying that. I'm not. And I can prove it.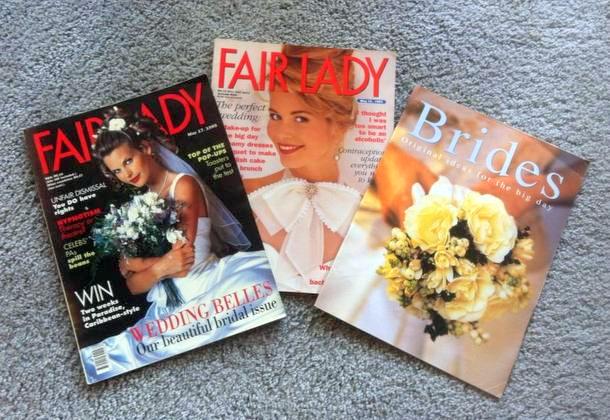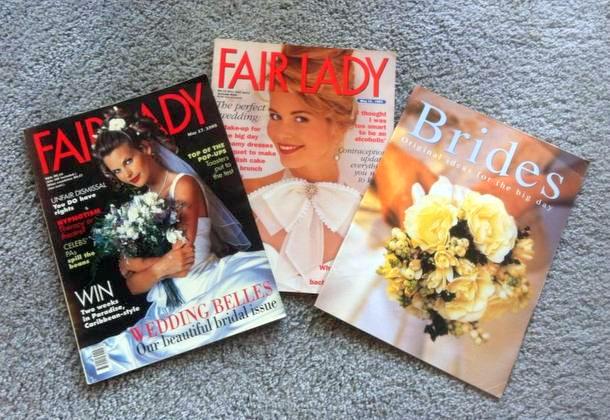 Look at that. I still have issues from before it even WAS Fairlady Bride, when it was still just an annual issue of the main magazine that focused on weddings. When halternecks and giant bows were IN, and Claudia Schiffer and Anne Vine-Morris were the cover girls. Okes, that hairstyle on the left is the very same one I wore to my matric dance – as in, took this issue to the hairdresser and asked him to copy it. (Yep, I'm old. But in 1995 that hairstyle was awesome.) Before wedding magazines were even a thing, let alone blogs. And let me tell you, the wedding issue was a highlight of my year. I was never a girl who fantasized about my own wedding day (thank goodness, or I'd be a little disappointed right now) but I've always been fascinated by all the planning and details and loveliness that surround weddings. It took the internet to figure out that I was by far not the only one. And I never would have imagined then that I'd be doing what I do now, that the industry would explode as it has done, and that I would get to spend every day inspired by all of those details and loveliness.
It makes me happy to look back at that little girl, so in love with magazines, and know that today I'm part of this next generation of women's lifestyle journalism. I've worked hard to make SouthBound Bride a place of quality content – the sort of blog that, if I was a bride, I would love to read. I'm always worrying about how to make it more, make it better. So when the lovely Liesl, editor of FLB (and whose gorgeous own wedding you can actually see in this issue), approached me to do this year's Blogger's Wishlist, I couldn't even pretend to be cool and nonchalant. I was thrilled. I am thrilled. And I had so much fun putting together my list of the trends that are inspiring me right now, that I hope will inspire you too.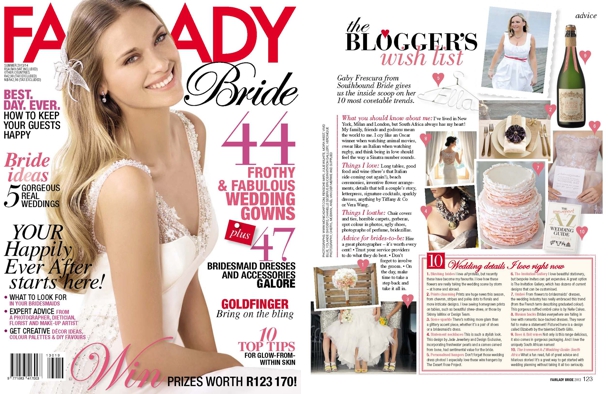 So there it is. Go get your issue (not just to look at me, obvs – there's tons of cool stuff inside). A huge thank you to Liesl and the Fairlady team for including me, and an equally huge thank you to all my wonderful photographer friends who allowed me to include their images in my feature: Monica Dart, Rensche Mari, Julie Wilhite, Moira West, Vivid Blue, Yolande Snyders, Chanelle Segerius Bruce, Veronique Photography and Cheryl McEwan. Here's to the next milestone! ;)