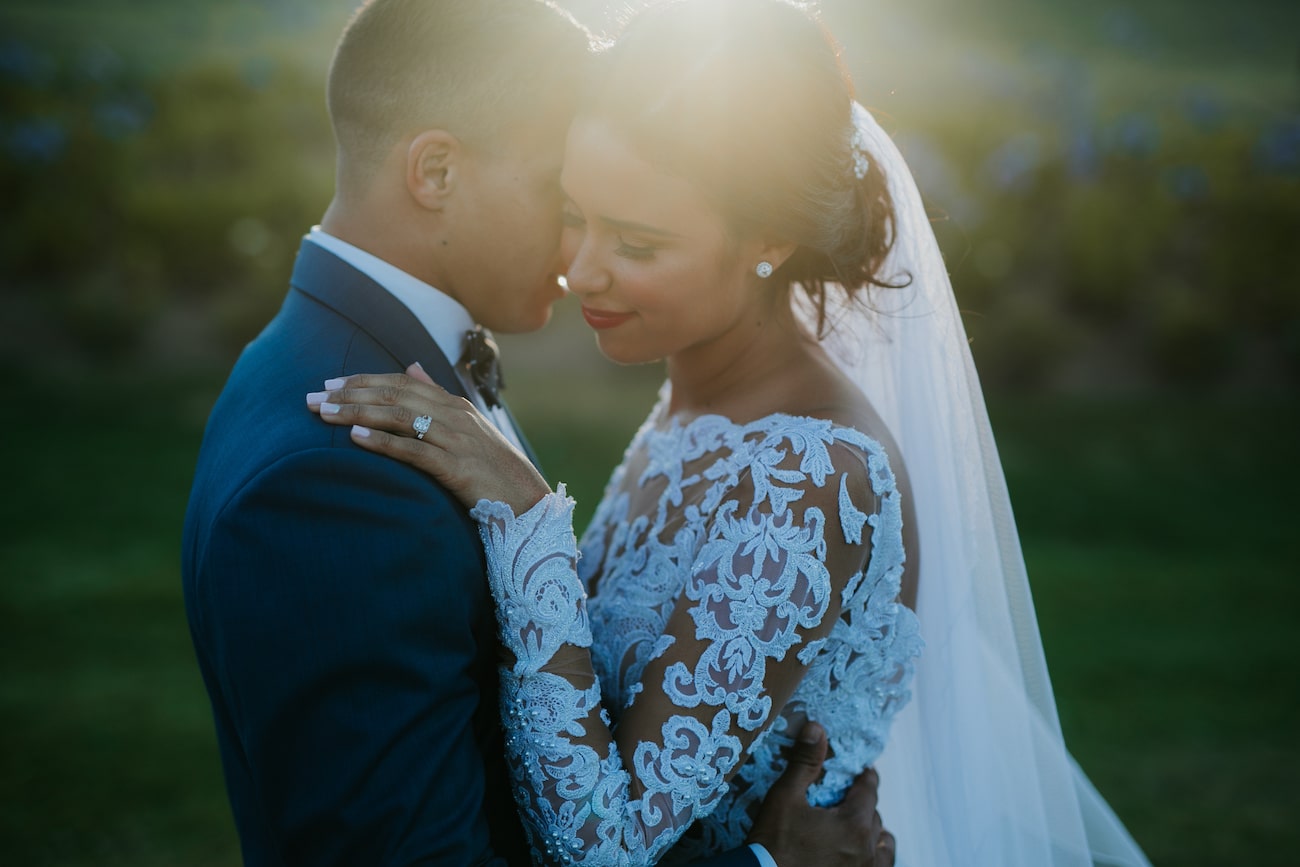 I don't feature a lot of 'celebrity' weddings here on SBB – in general, I prefer to tell the stories of real people on the happiest day of their lives. But of course, celebrities are real people too, with their own real, beautiful love stories, and some of their weddings aren't about the glitz and the glam and the feature on Top Billing, but rather the incredible joy of two people promising their lives to one another. So while you may recognise Cheslin Kolbe from his time at Western Province or as part of our Olympic medal-winning Sevens team, or most recently as a Springbok (yay!), you'll really fall in love with his wedding to beautiful wife, Layla. I've been holding on to this wedding for a while to share with you this week, and I'm so excited to finally let it make its SBB debut! It's classic, it's elegant, and most of all it's heartfelt. I defy anyone to watch the video and not get a little choked up when Cheslin does, as Layla walks down the aisle, or to grin along with them post ceremony – they both look happier than a man raising the William Webb Ellis. Also, I'm not gonna lie, there are some hot groom's party images in here that you do not want to miss, since Cheslin was joined by (among others), our Springbok captain Siya Kolisi (along with his wife, Rachel, as a bridesmaid). What do you call a bunch of fit, shirtless rugby players in a swimming pool? A good day at work for Gaby, that's what. Some of the other details we loved include Layla's incredible Robyn Roberts gown, the timeless winelands setting, the fun cake topper, and of course, Layla and Cheslin's sweet daughter as the most adorable flower girl ever! Huge congrats to the Kolbes, and to Lavender Creations for pulling off such a gorgeous event, perfectly captured by Duane Smith Photography.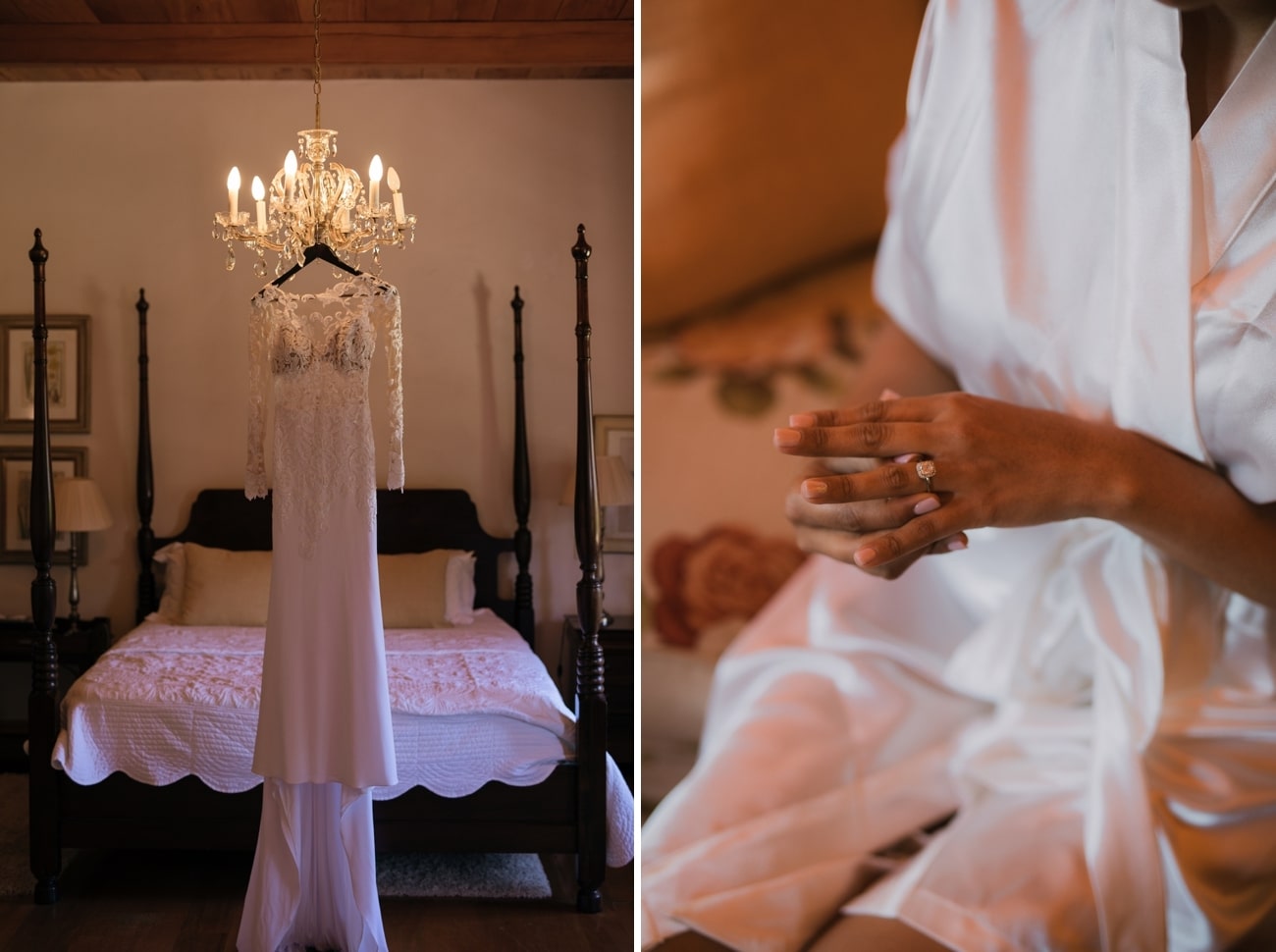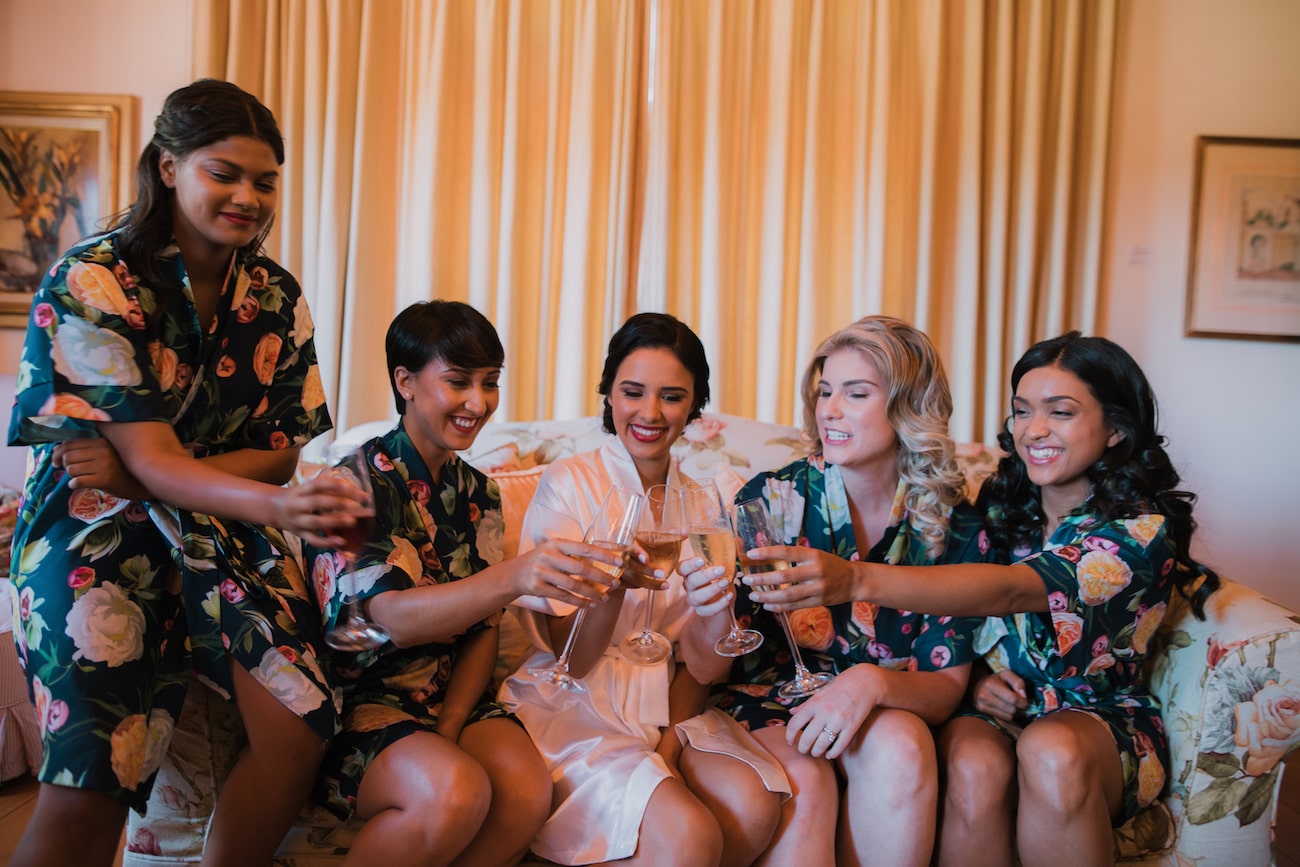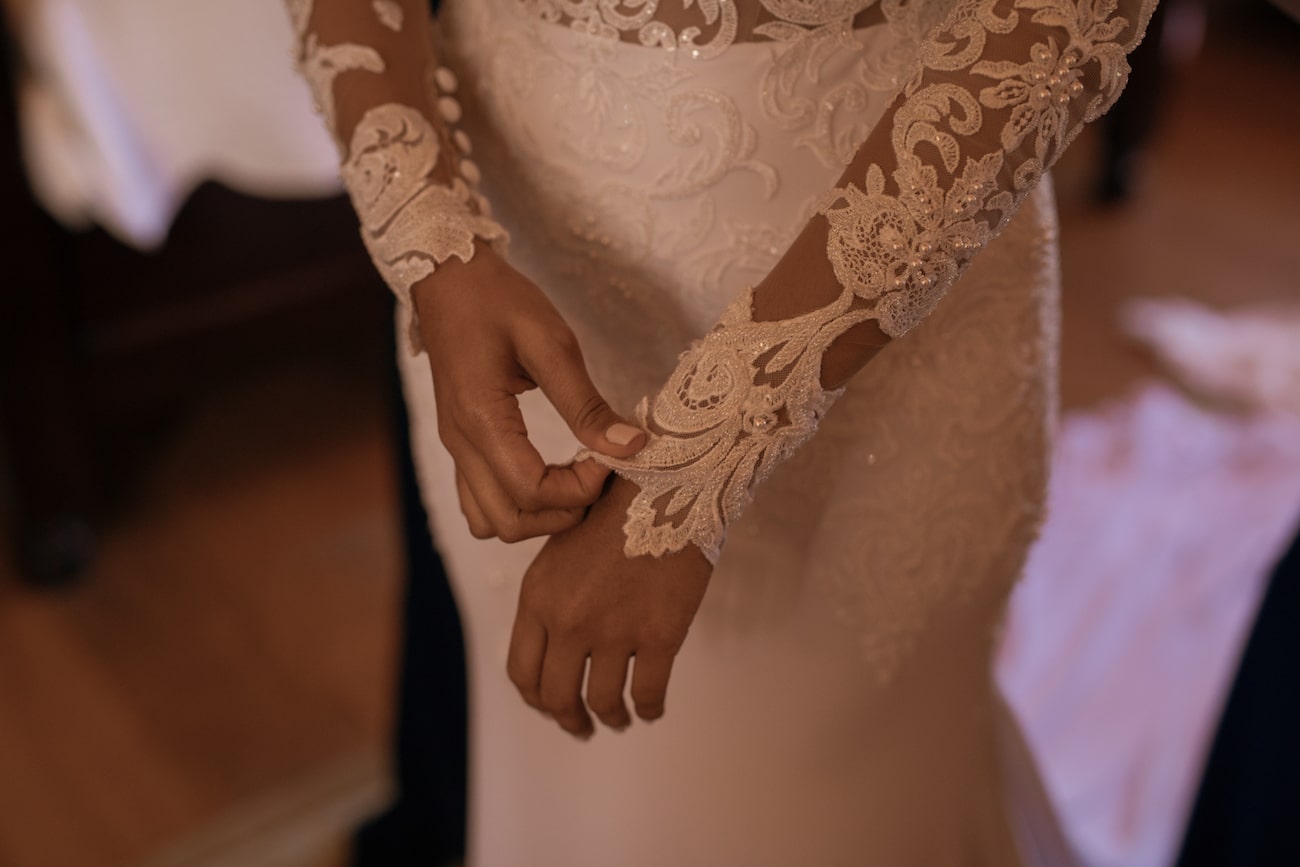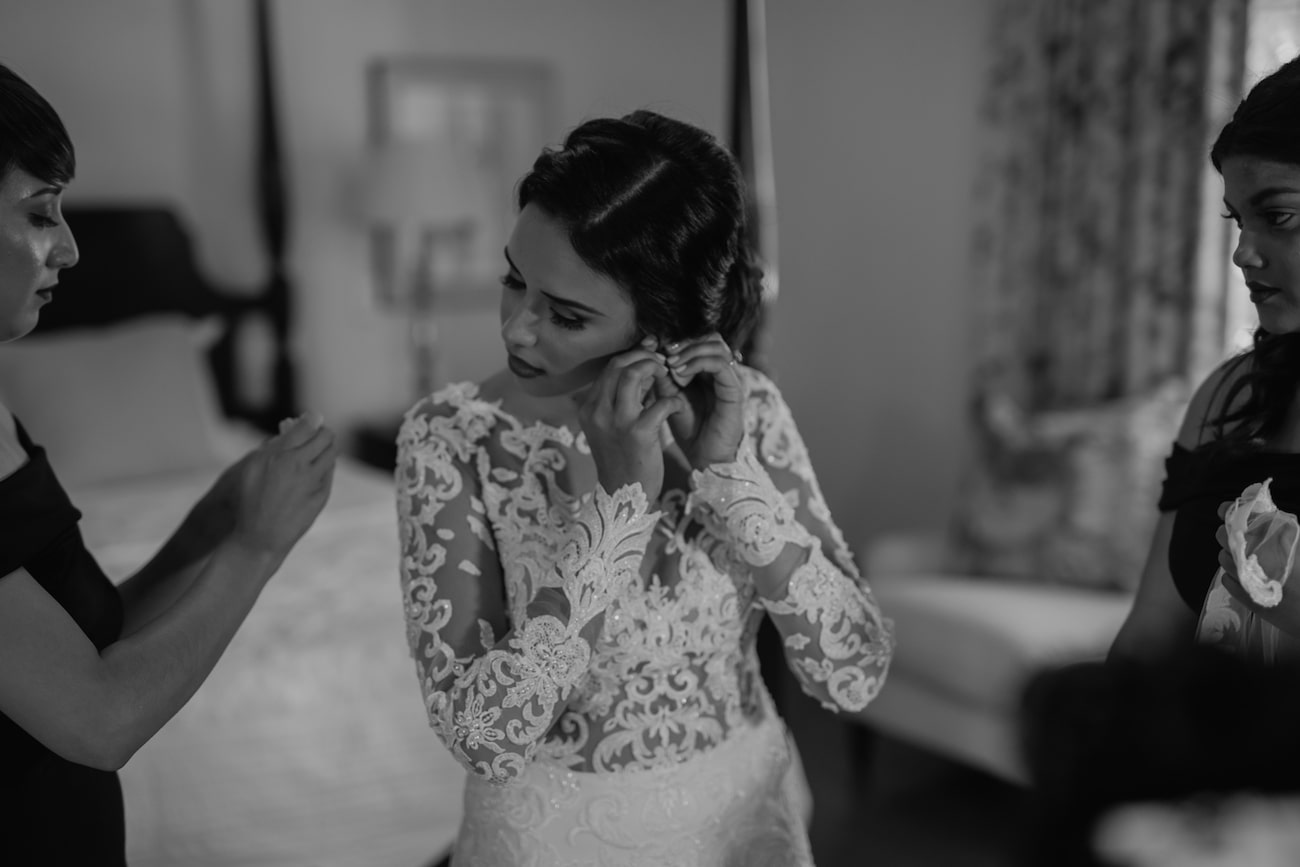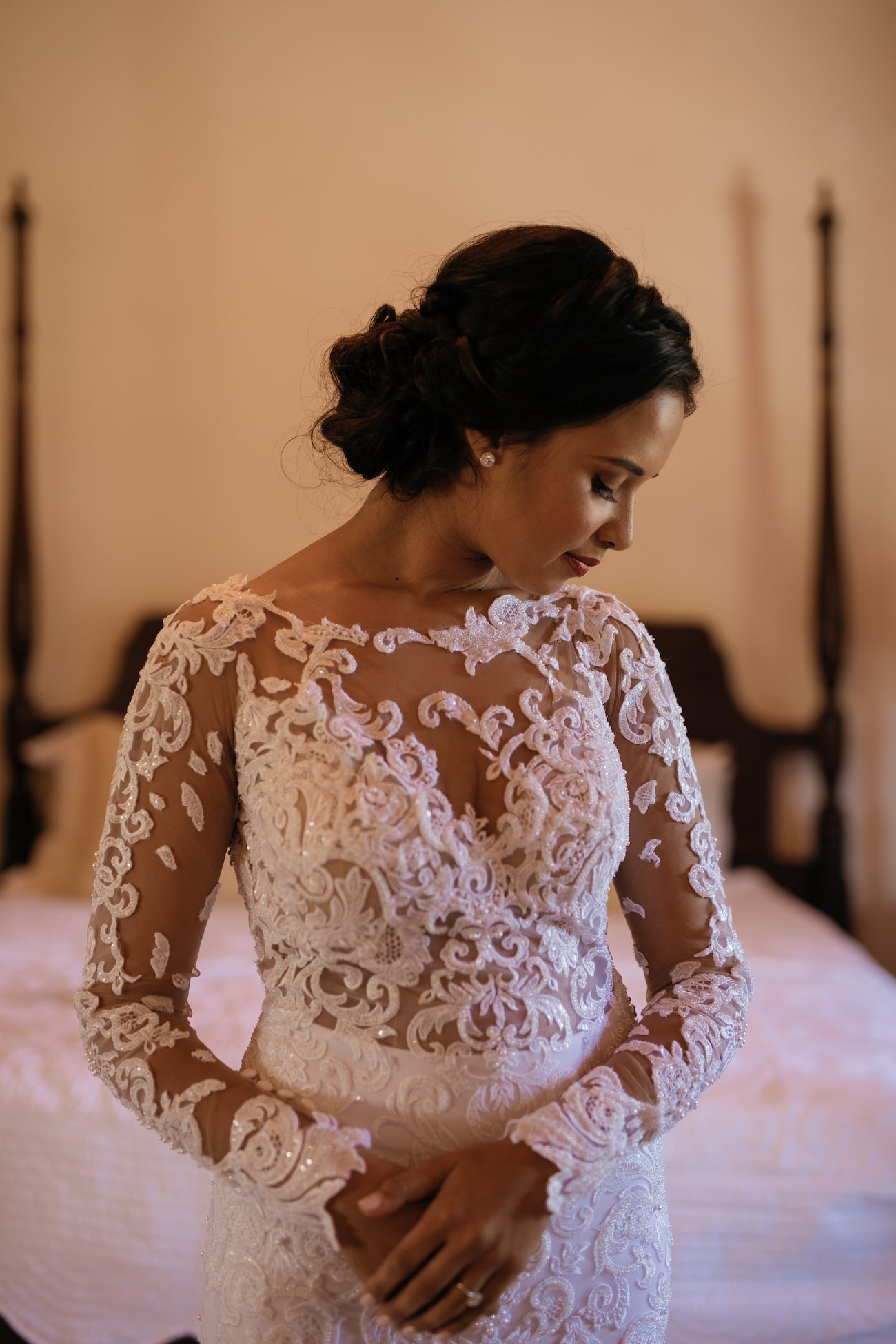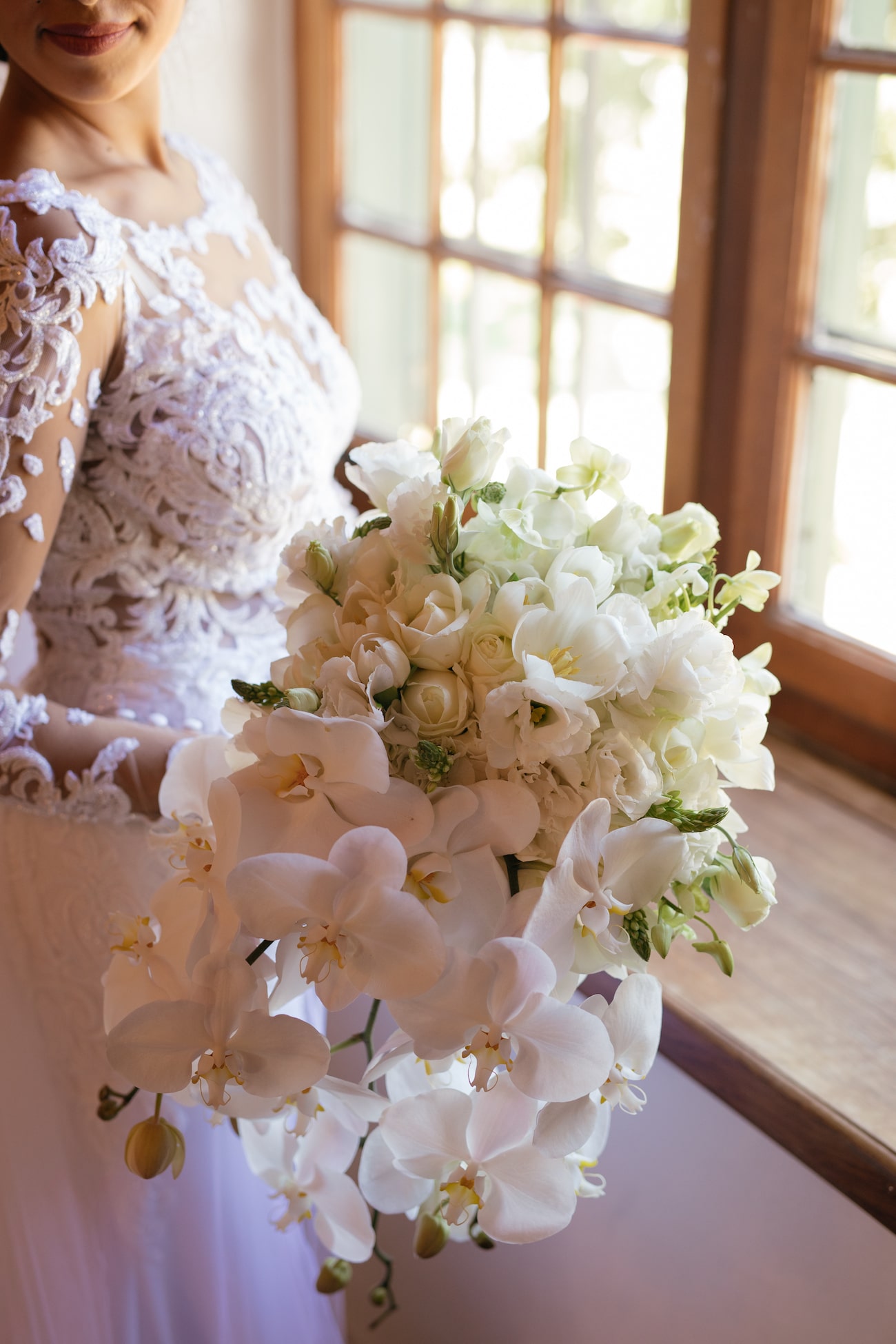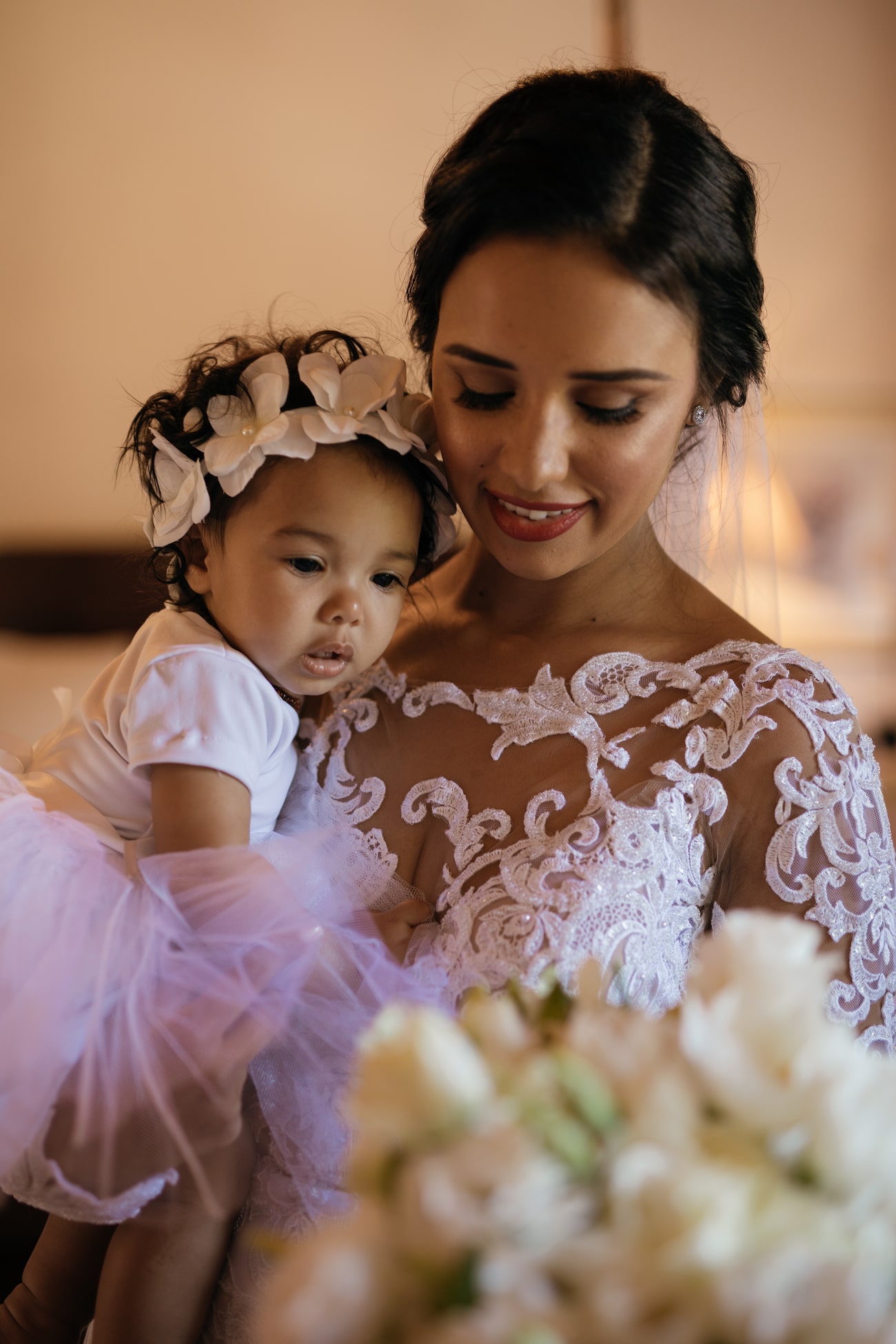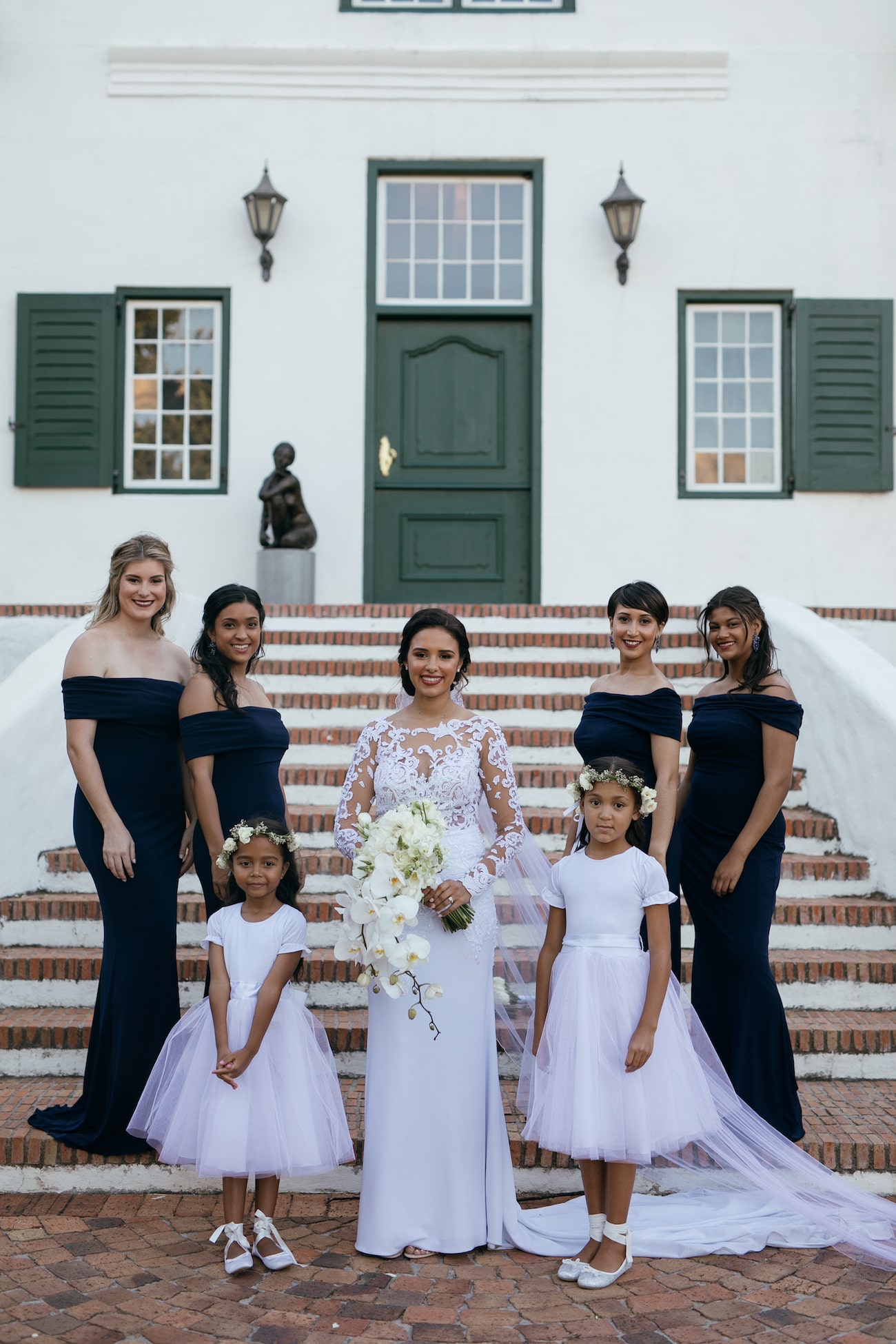 Love Story
Cheslin is a professional rugby player and former DHL Stormers player. It all started when we saw each other for the first time one day in October outside Newlands stadium after his match (a WP vs Griquas game). We took a pic together, after which I added it on Instagram, and that's how Cheslin found out who I was. A week later, the afternoon before the WP vs Sharks match, Cheslin sent me a message on Twitter to find out if I was single and whether we could chat on Whatsapp after his game. After much persistence, I agreed to officially meet him a few days later, when he asked my mom if he could take me out that evening. We then went on our first 'date' – a drive to Seapoint for ice cream and just getting to know each other. That night and every other day since then, he walked me to my front door and thanked my mom for allowing him to take me out. The chivalry was alive (and still is) and that absolutely made me fall for him. The following February, Cheslin asked me to be his girlfriend.
The Proposal
Cheslin proposed at DHL Newlands (the place where we first saw each other) after their last season home game against Boland in September 2016. He had arranged that all my family would watch the game to witness the proposal from the stands. I walked onto the field unaware, into cheering cheerleaders making a path leading me towards Cheslin, with his teammates behind him. I had no idea what was happening until I saw my mom and my girls wearing t-shirts with the words, "say YES". And of course I said yes! The proposal can be viewed on Youtube.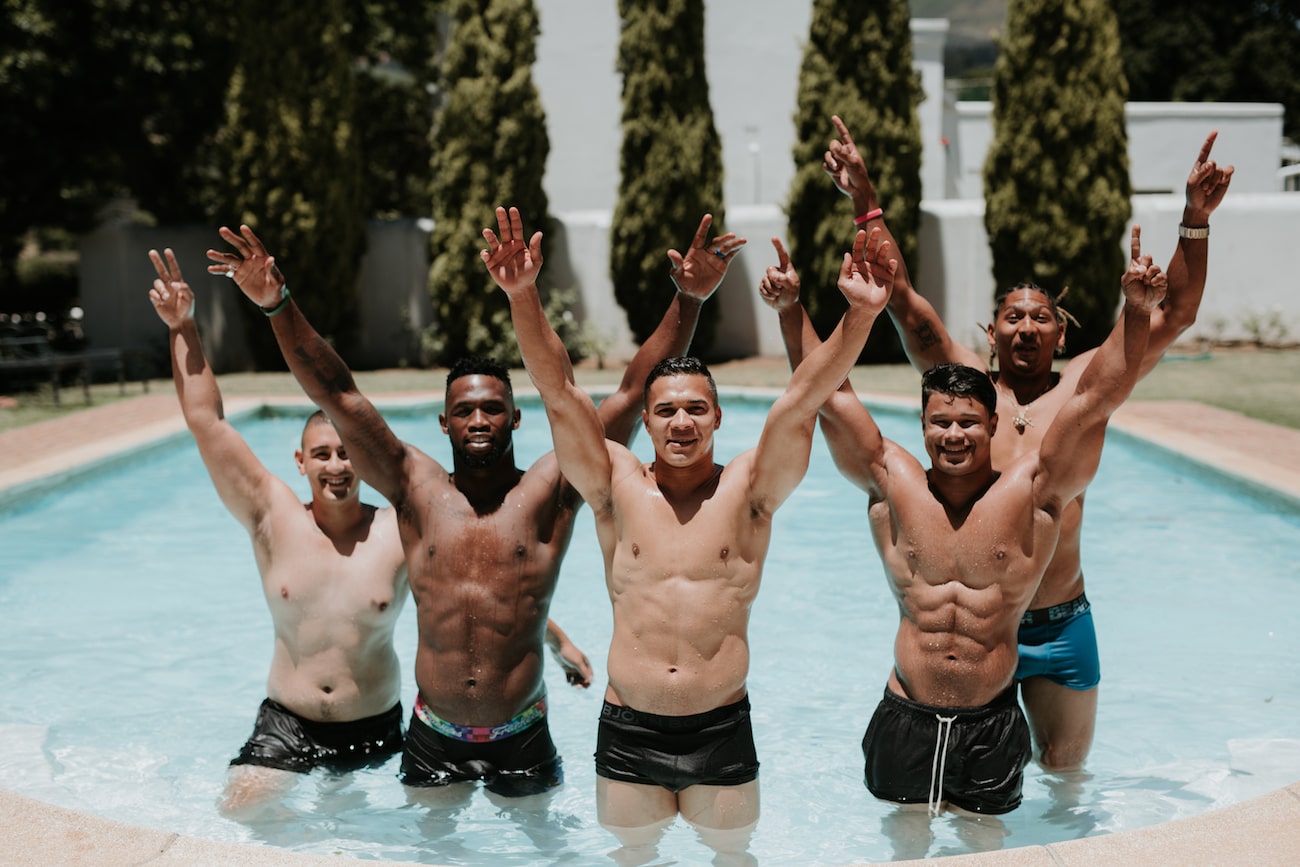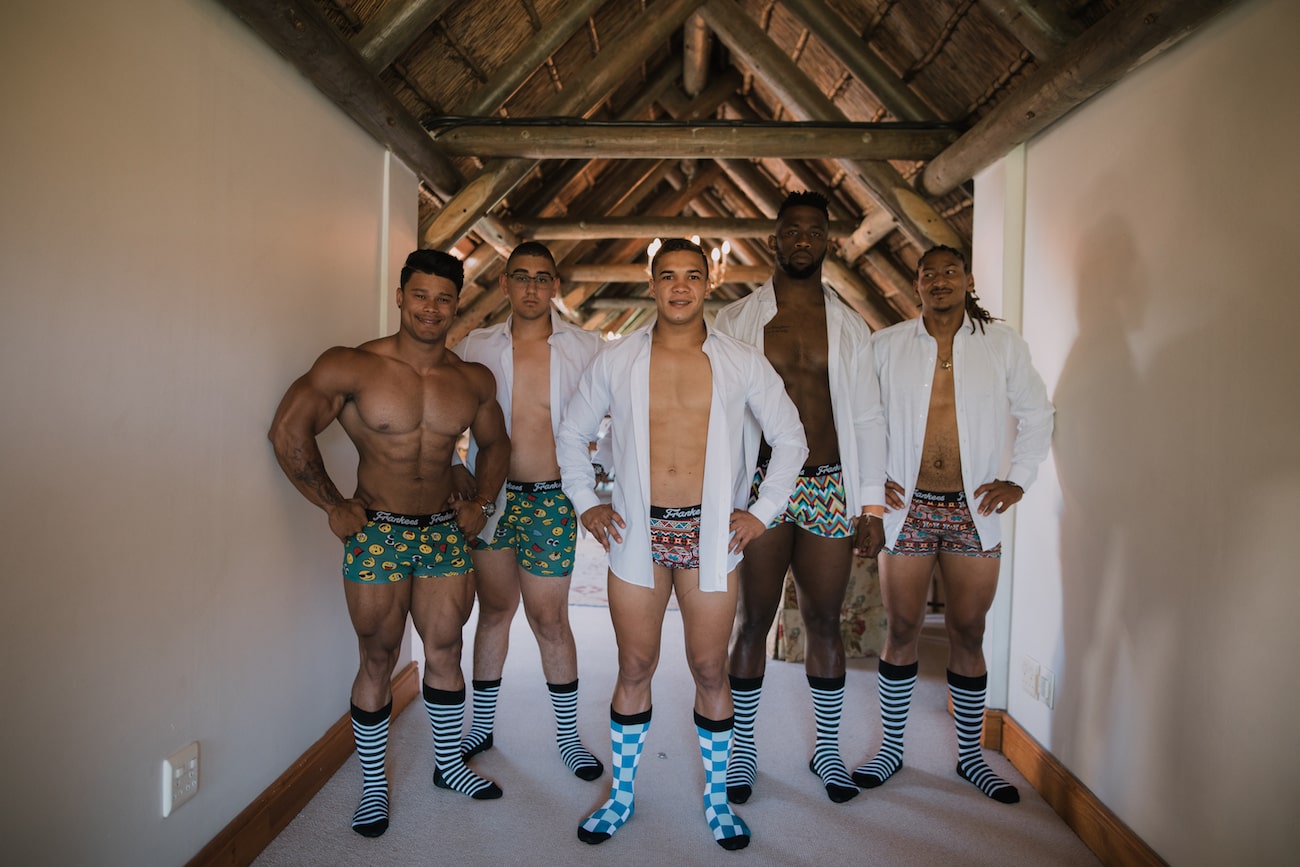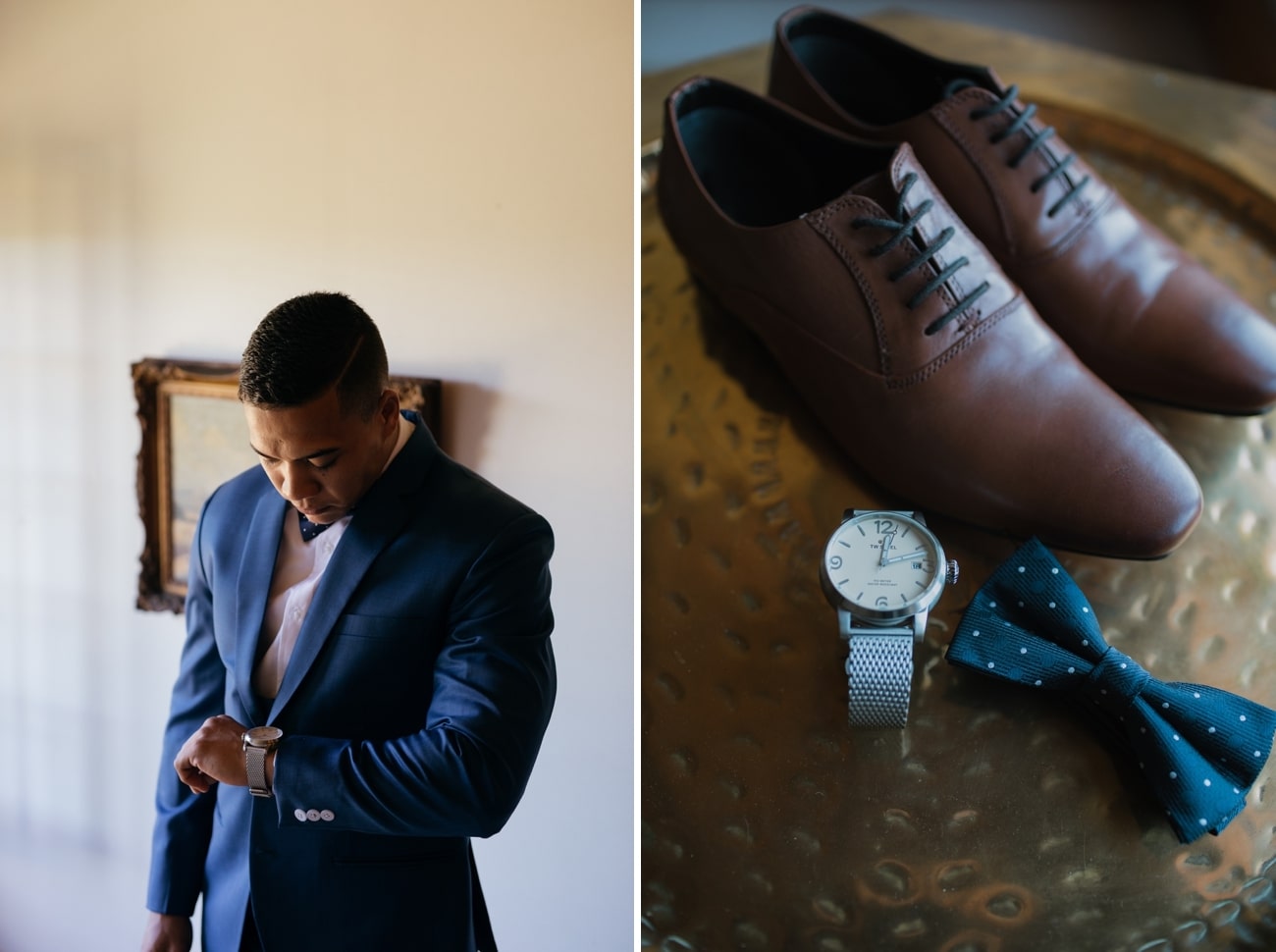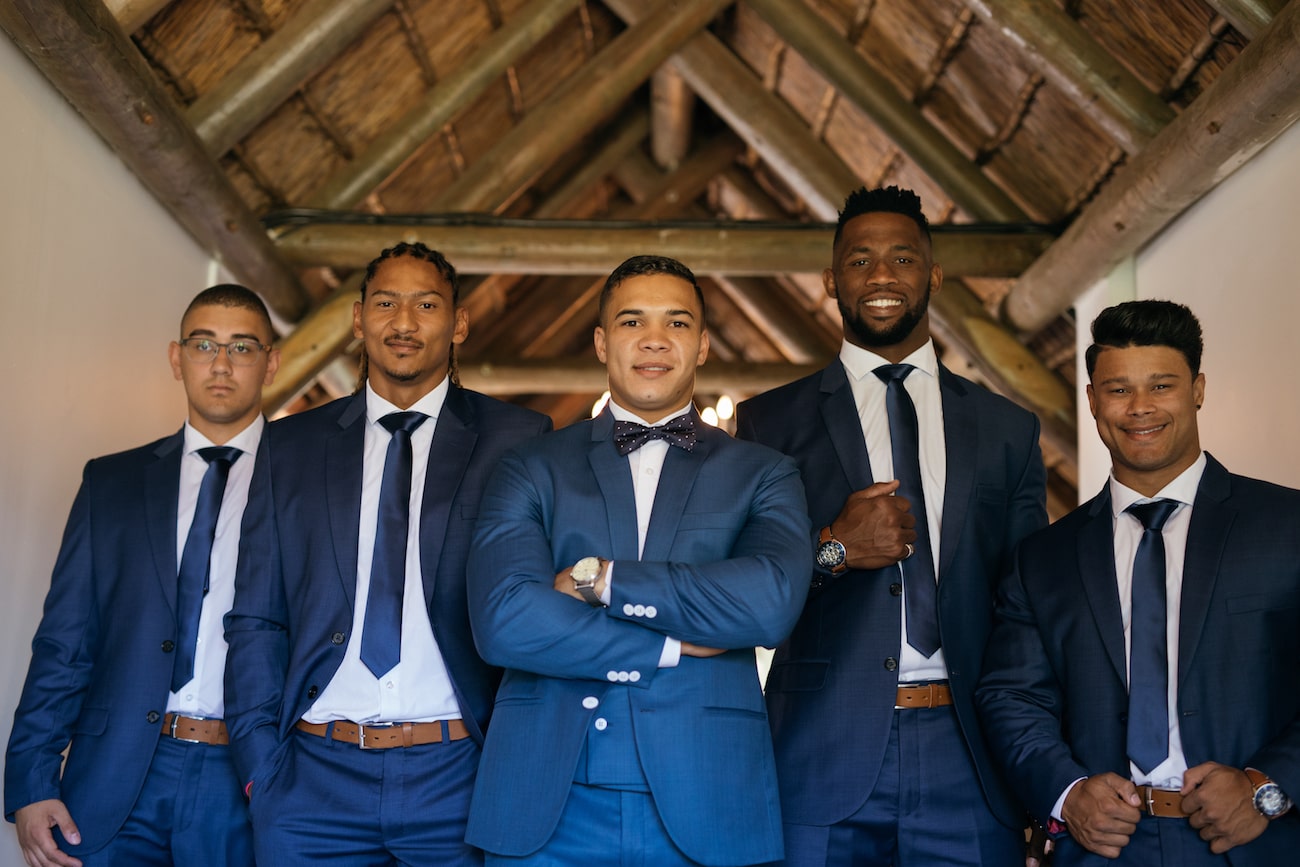 The Venue
Choosing our venue was basically 'love at first sight'. Webersburg boasts spectacular backdrops for a special occasion with its majestic mountain views, vineyards, sculptures on it's beautiful green lawns and its tranquil dam, which just gives off an ambience of serenity. When we visited the estate, shortly after we got engaged, not only did our lunch taste exquisite, the venue ticked all the right boxes.
Wedding Style
We didn't really have a theme, we just kept it classic and elegant. Our colour scheme was all white with a touch of navy and gold. White being my favourite colour and blue being Cheslin's.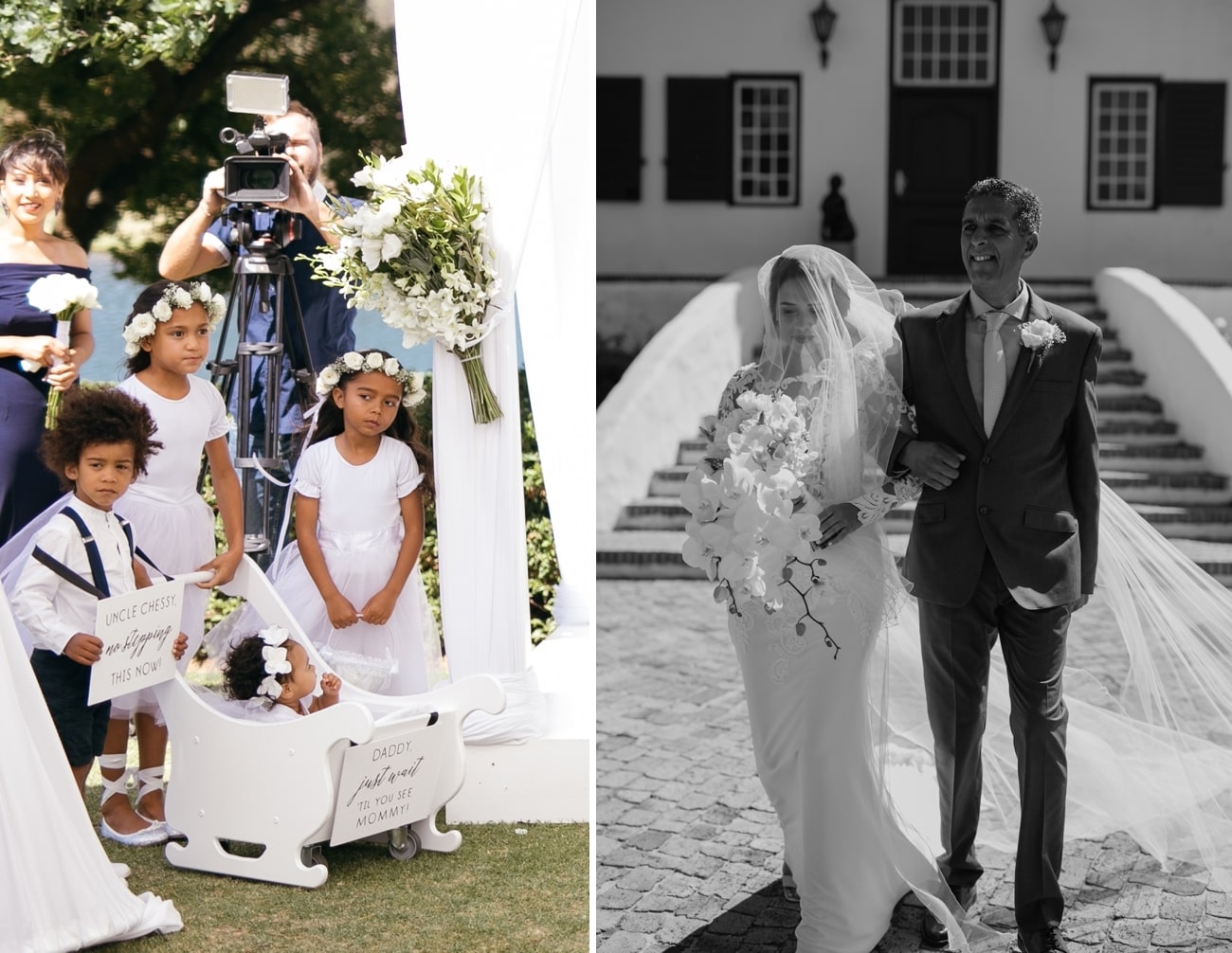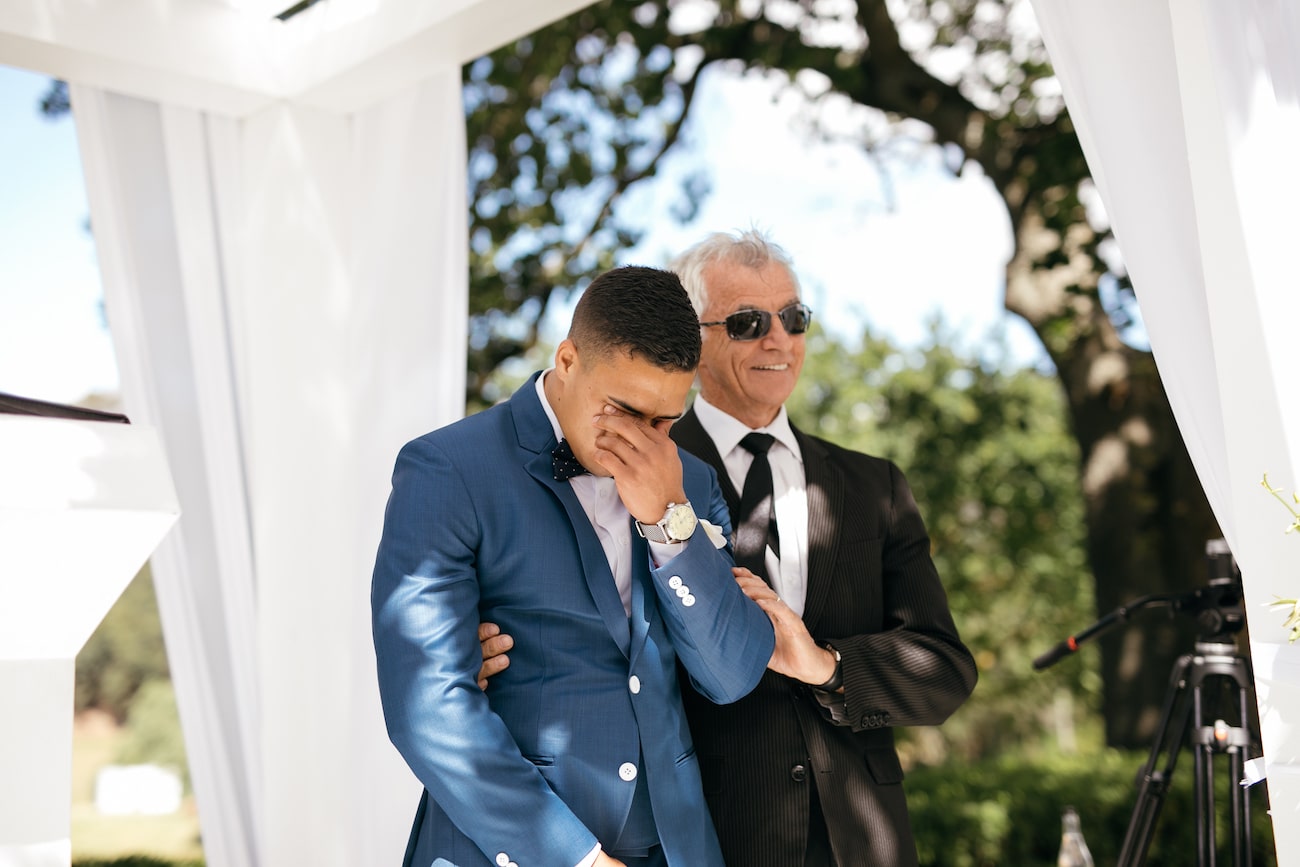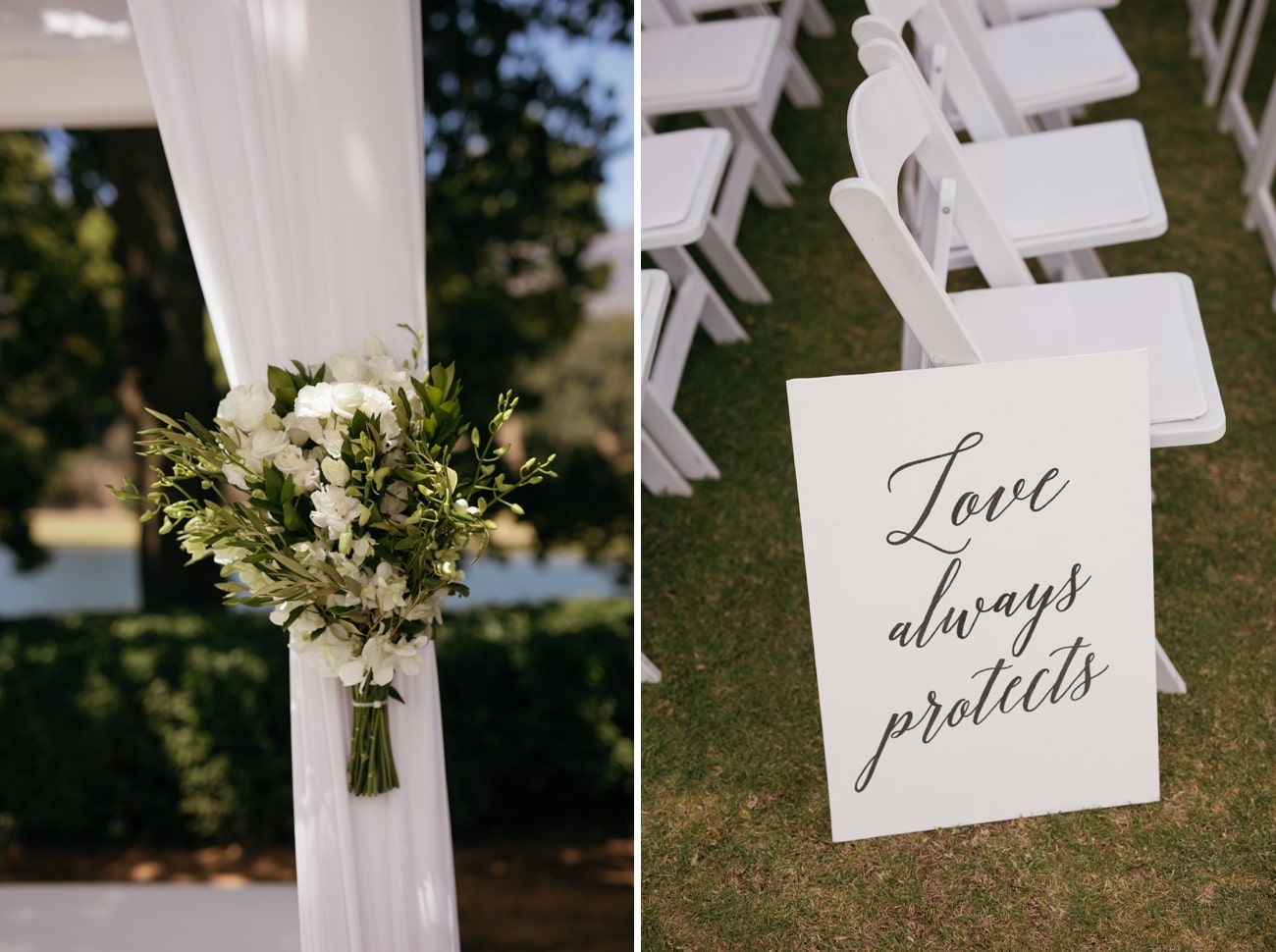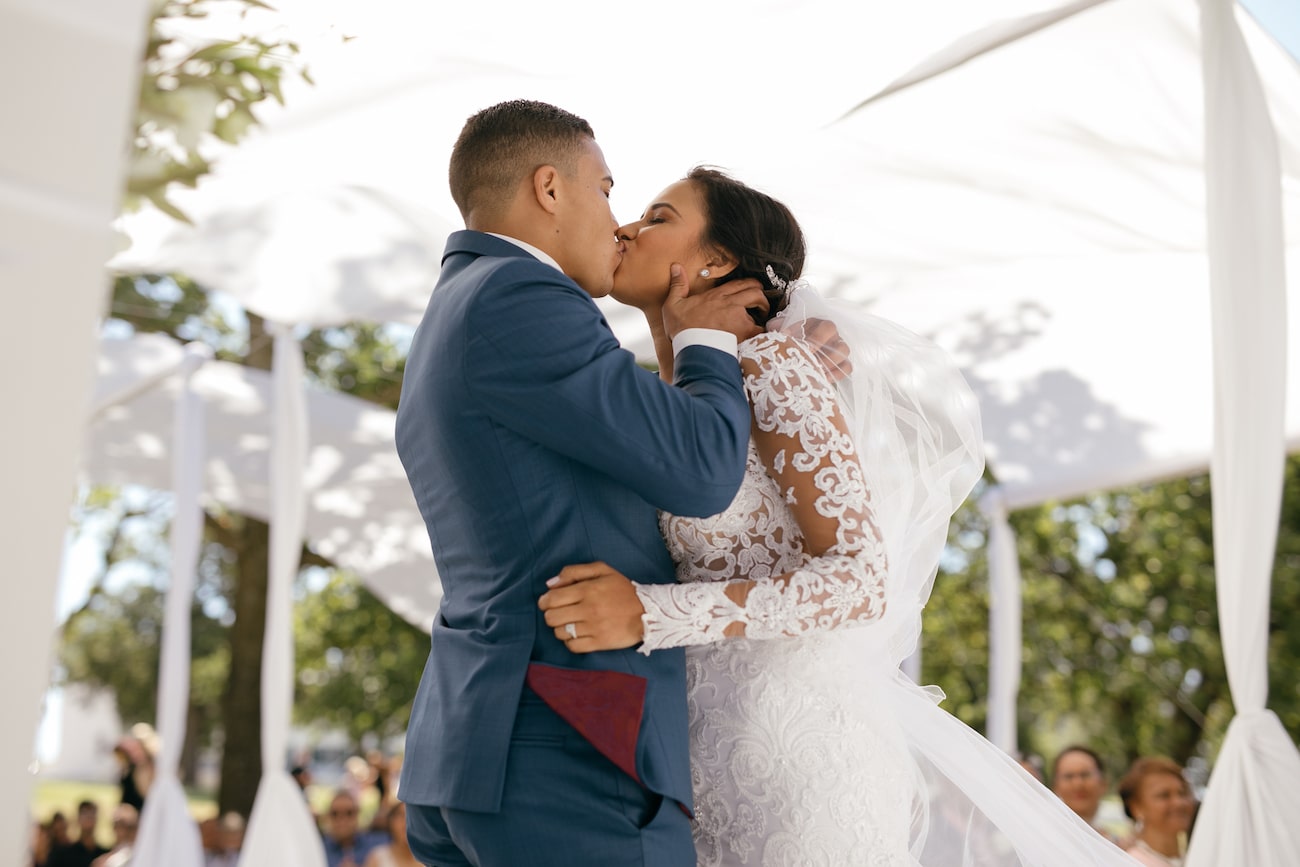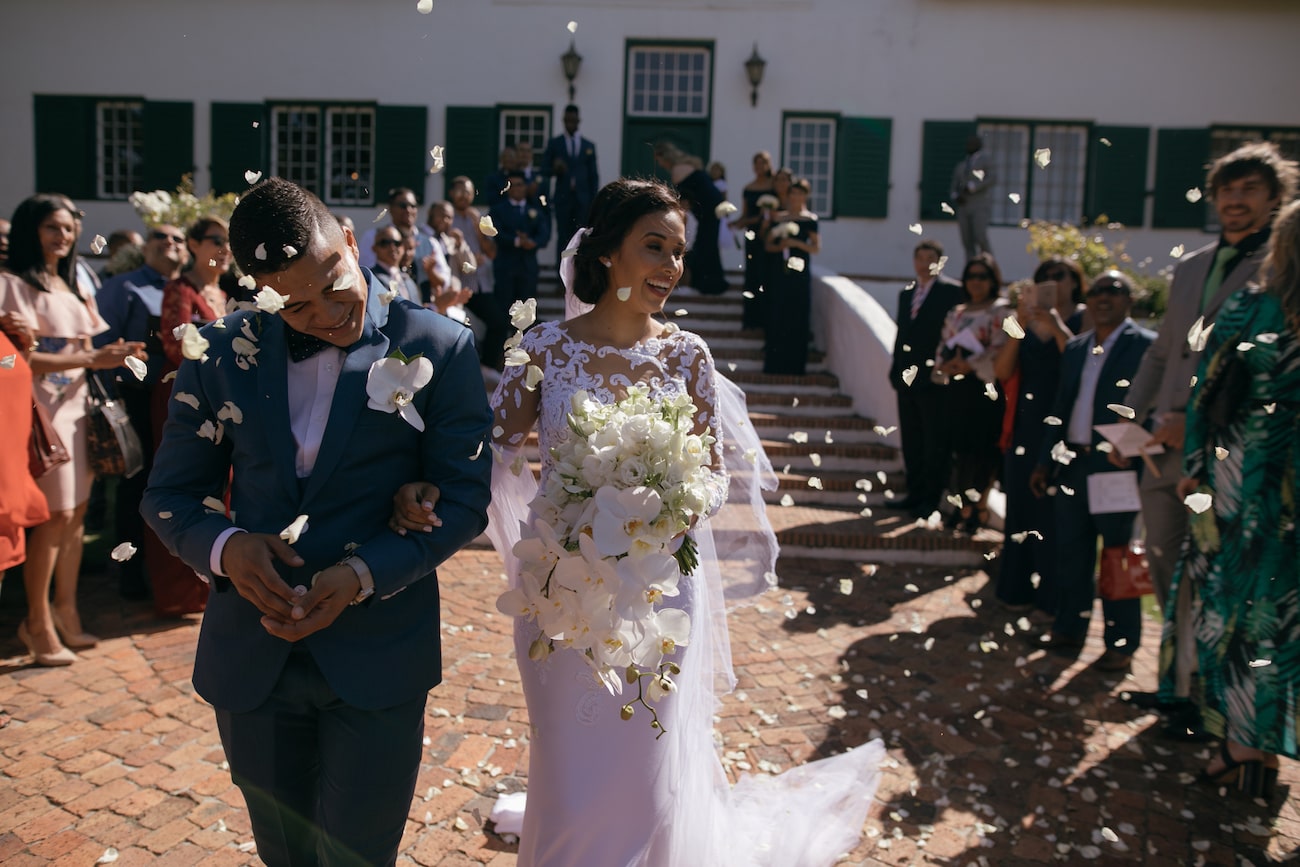 Wedding Details
I walked down the aisle with my dad to the song 'The Prayer' by Celine Dion, a live duet sung by Vernice Platje and Danelle Lewin from our church (Hillsong church in Cape Town). The lyrics of that song are so special to us, as it is a prayer for our marriage. I wanted our wedding cake to stand out amongst the white and that's why we opted for an unconventional navy blue four-tier wedding cake with gold printed leafing and orchids flowing down, and a personalised hand-made topper figurine of Cheslin running with a rugby ball and myself catching him/falling for him- depicting our love story. Later in the evening, we were surprised by fire dancers across the dam, where guests were asked to gather outside as we watched the thrilling yet awesome performance.

Handmade Elements
Kylah, our daughter was nine months old at the time. She came down the aisle in a custom made white cart with a board that said: "Daddy just wait til you see mommy". Our pageboy (my godchild, Nicholas Kolisi) walked down the aisle with a board saying "no stepping this now Uncle Chessy" as Cheslin is famously known to sidestep his opponents on the field. We also had boards along the aisle with one of our favourite bible verses printed on it: 1 Corinthians 13 ("Love is patient, love is kind….").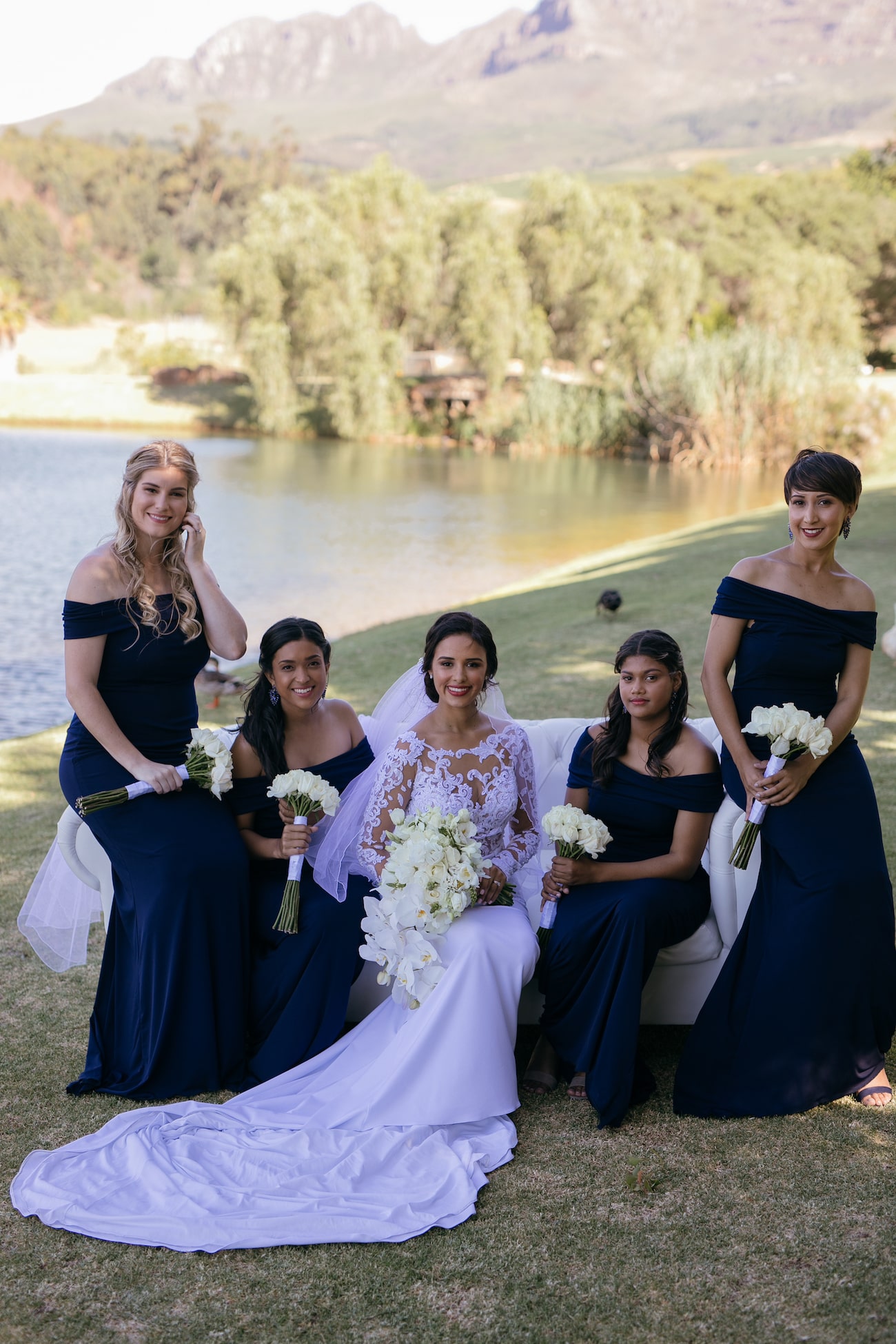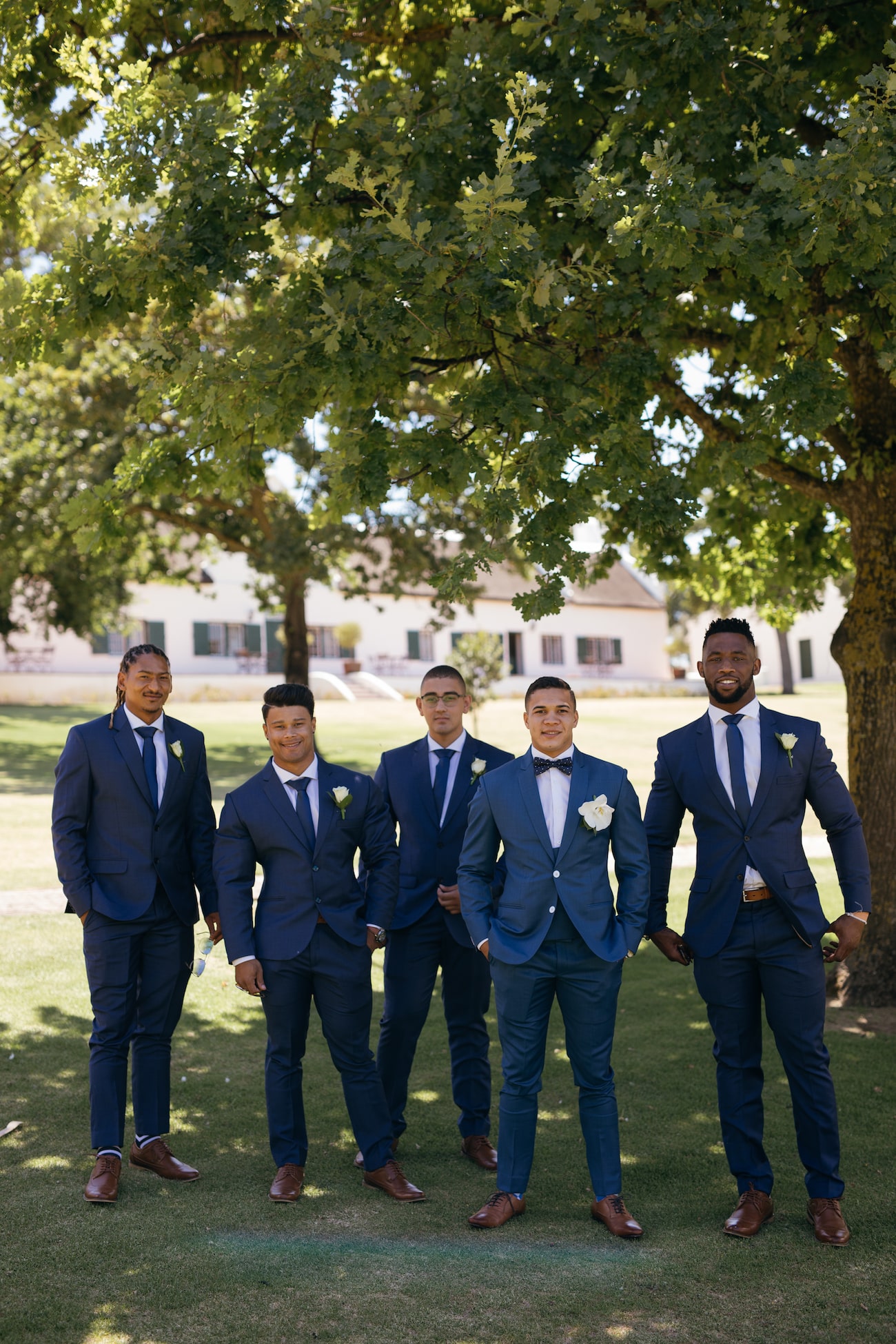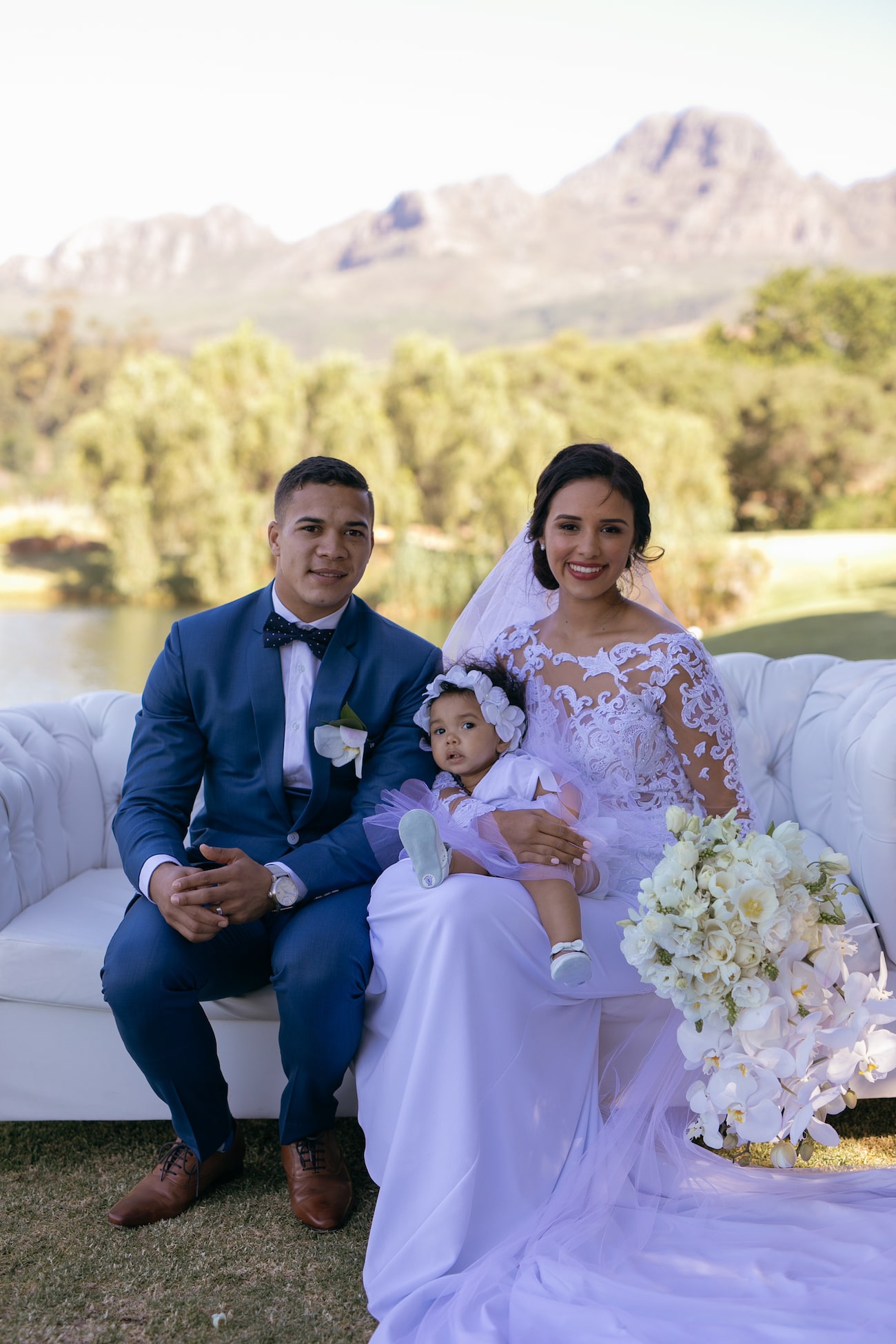 The Dress
I wanted a bit of both worlds, so I chose a fit and flare dress with long sleeves and low open back. However, I wanted to feel like a princess and that's why I had a detachable tulle skirt with a long trail over my dress to exude elegance. The appliqué was done in a bold, imported beaded lace, covering the upper half of my dress. My dress was custom-made by the amazing bridal designer Robyn Roberts.
The Bridesmaids
My four bridesmaids wore dresses that were elegant and simple, off-the-shoulder navy fitted dresses.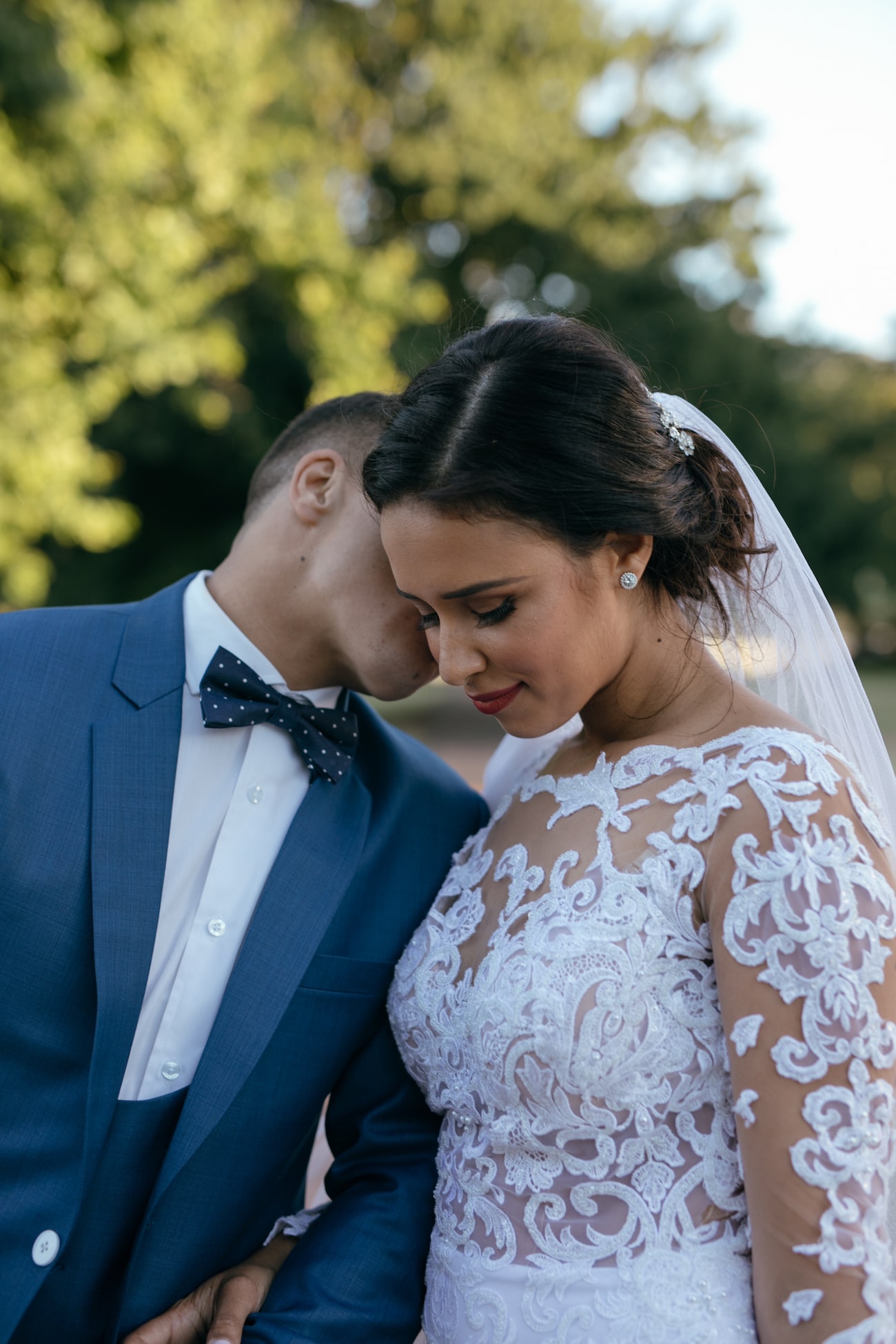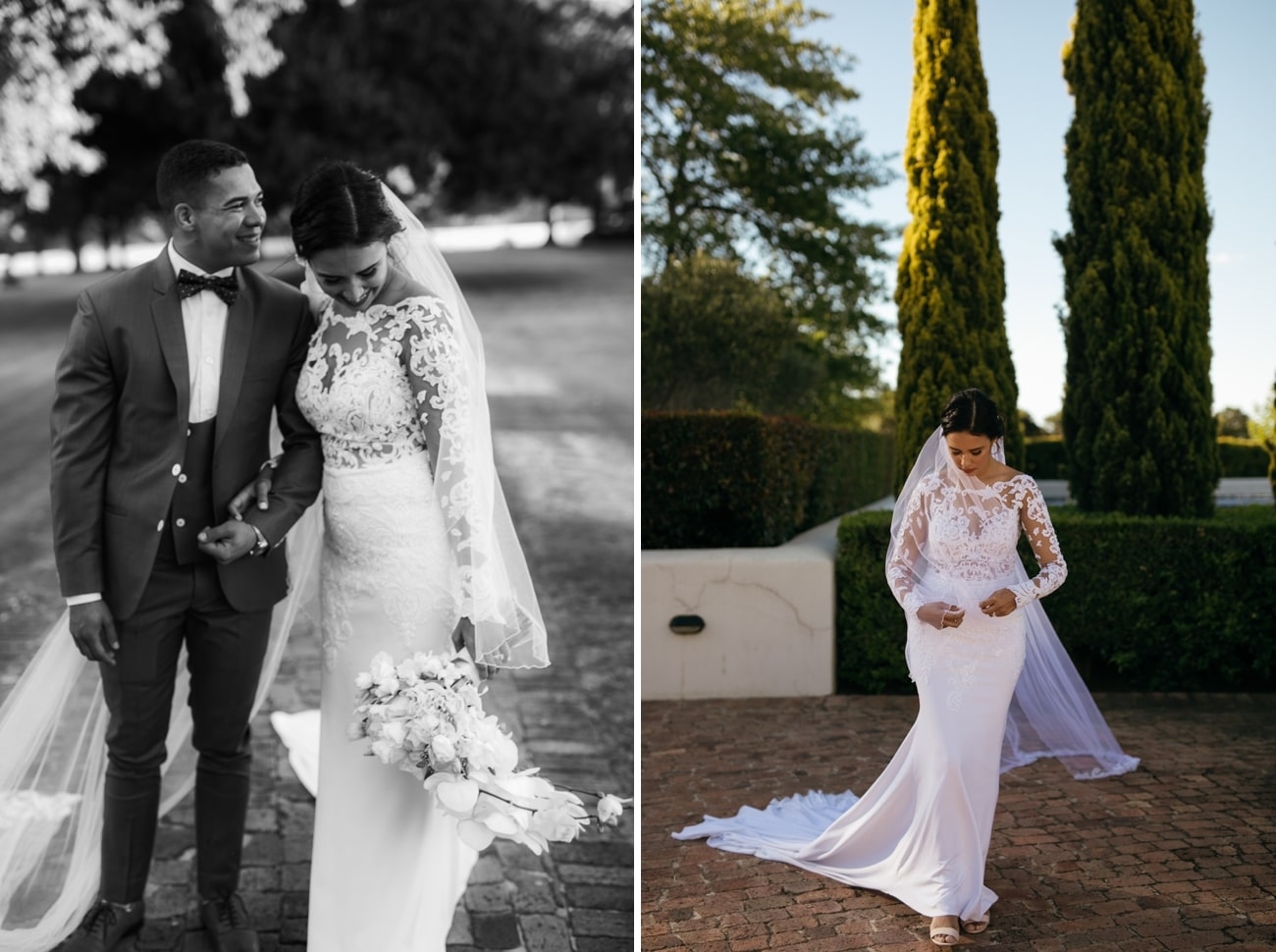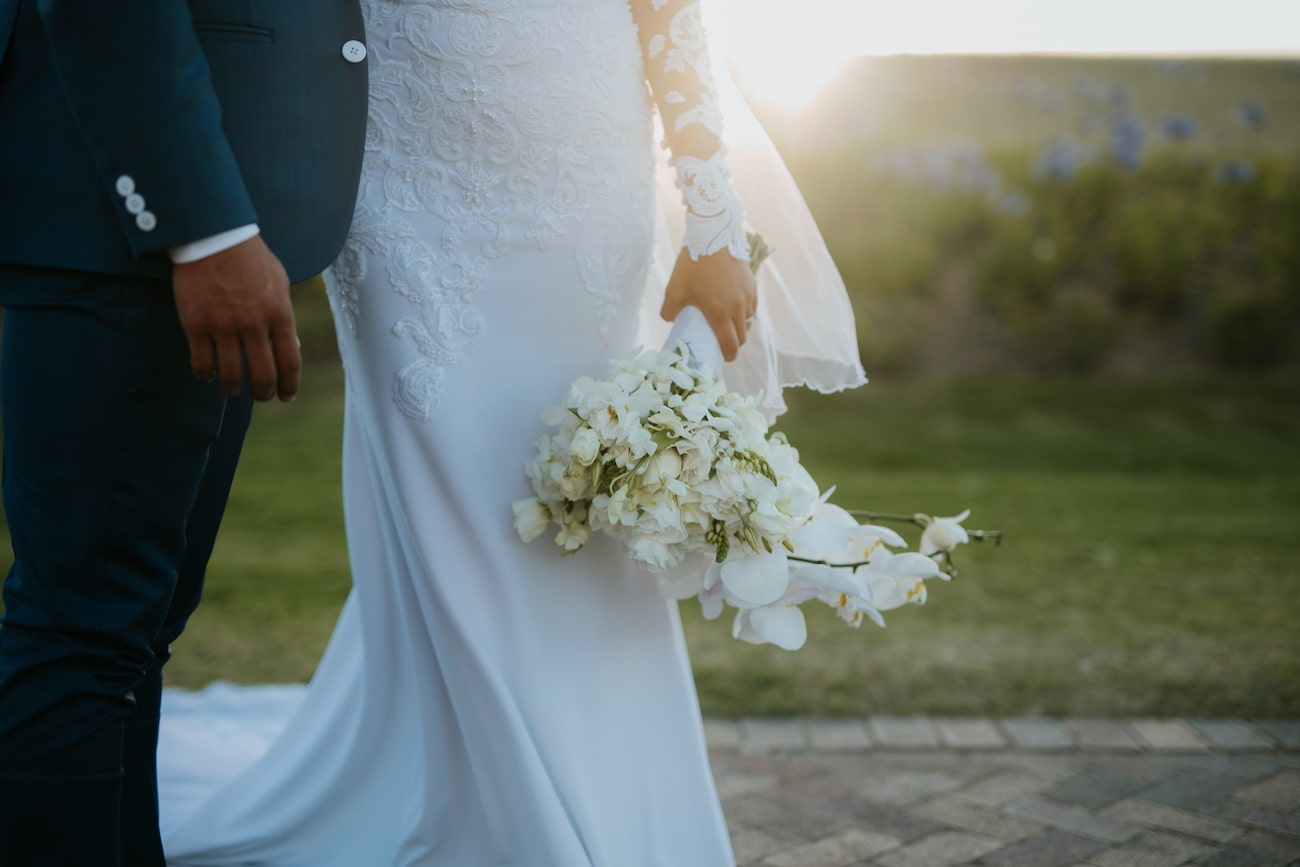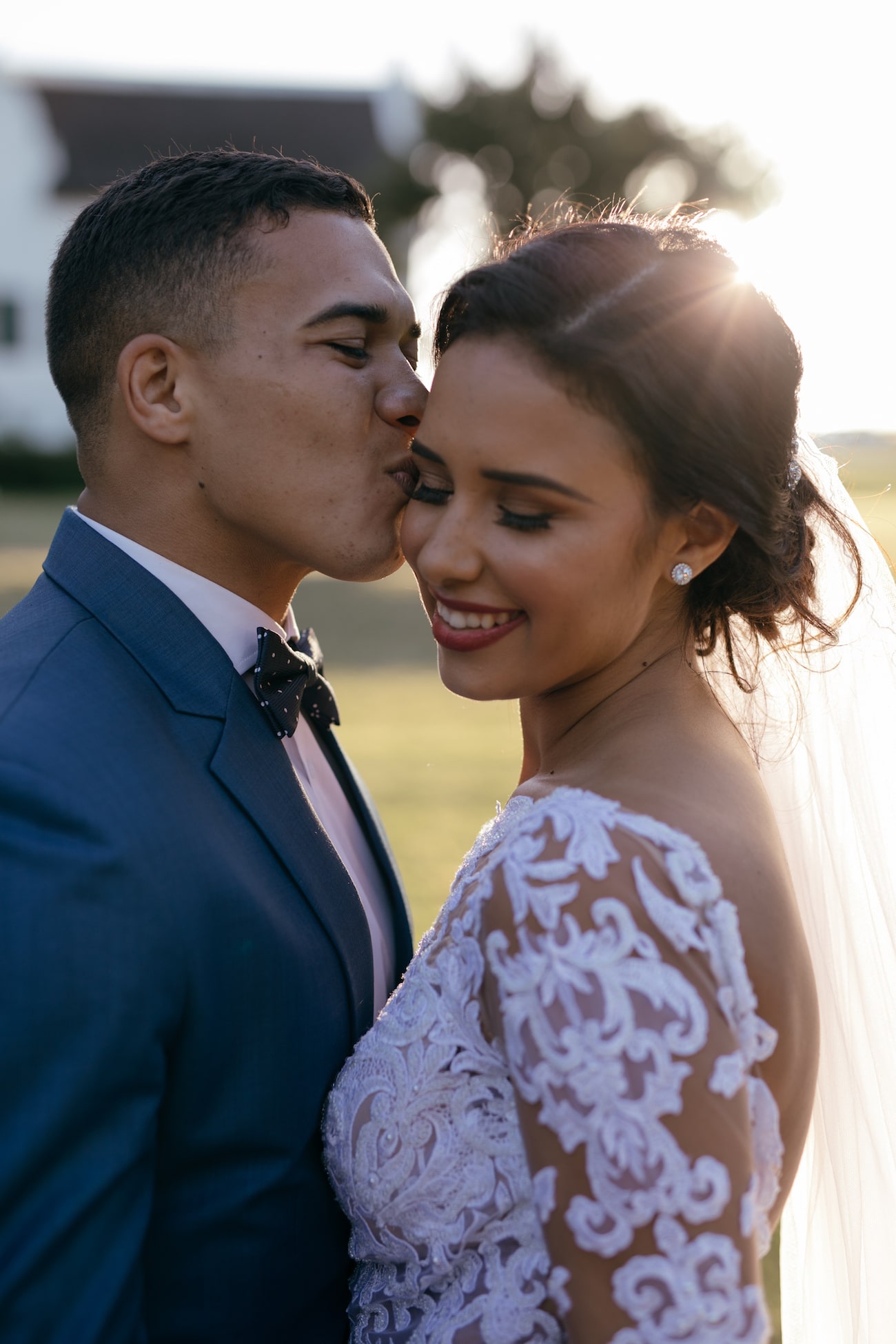 The Flowers
I wanted all white. I wanted orchids and tulips to stand out amongst smaller floral arrangements such as roses and snapdragons.
Proudly South African Details
Our MC Siv Ngesi (SA comedian and TV presenter) included his own special details. He made Cheslin hand over a big piece of raw meat to my father to symbolise his payment for "Lobola" while the Lion King tune "Ah Zabenya" played, which got the guests chuckling.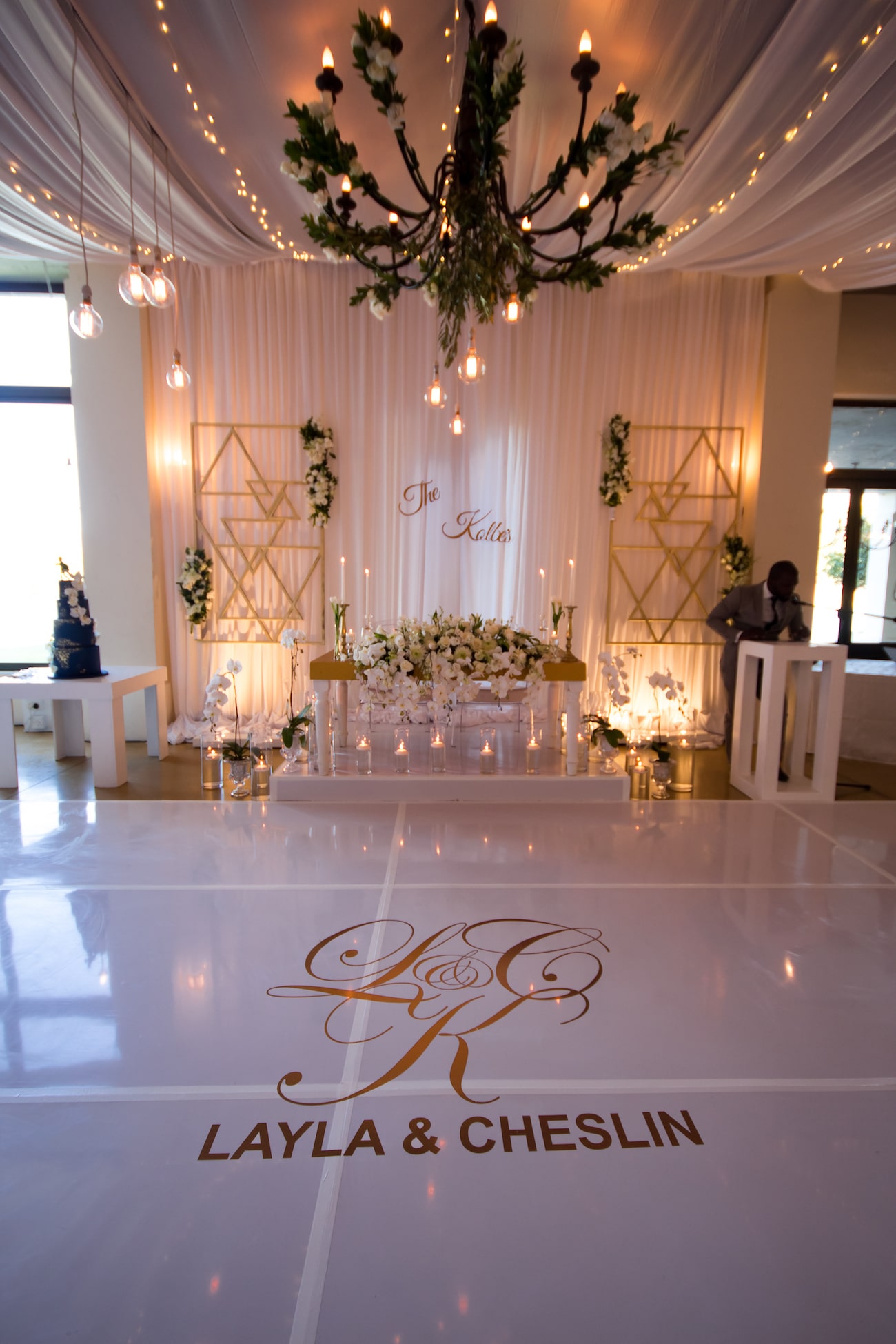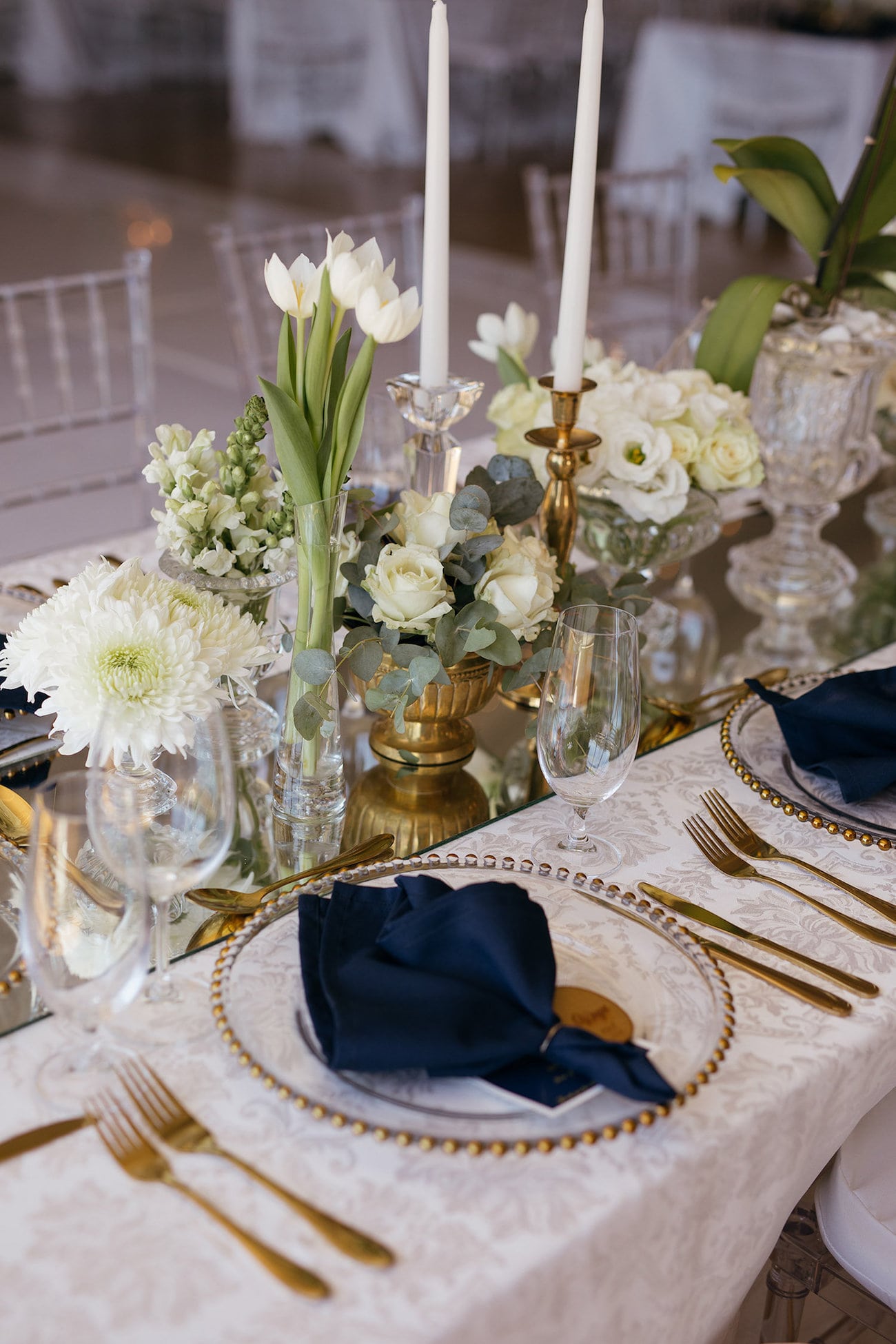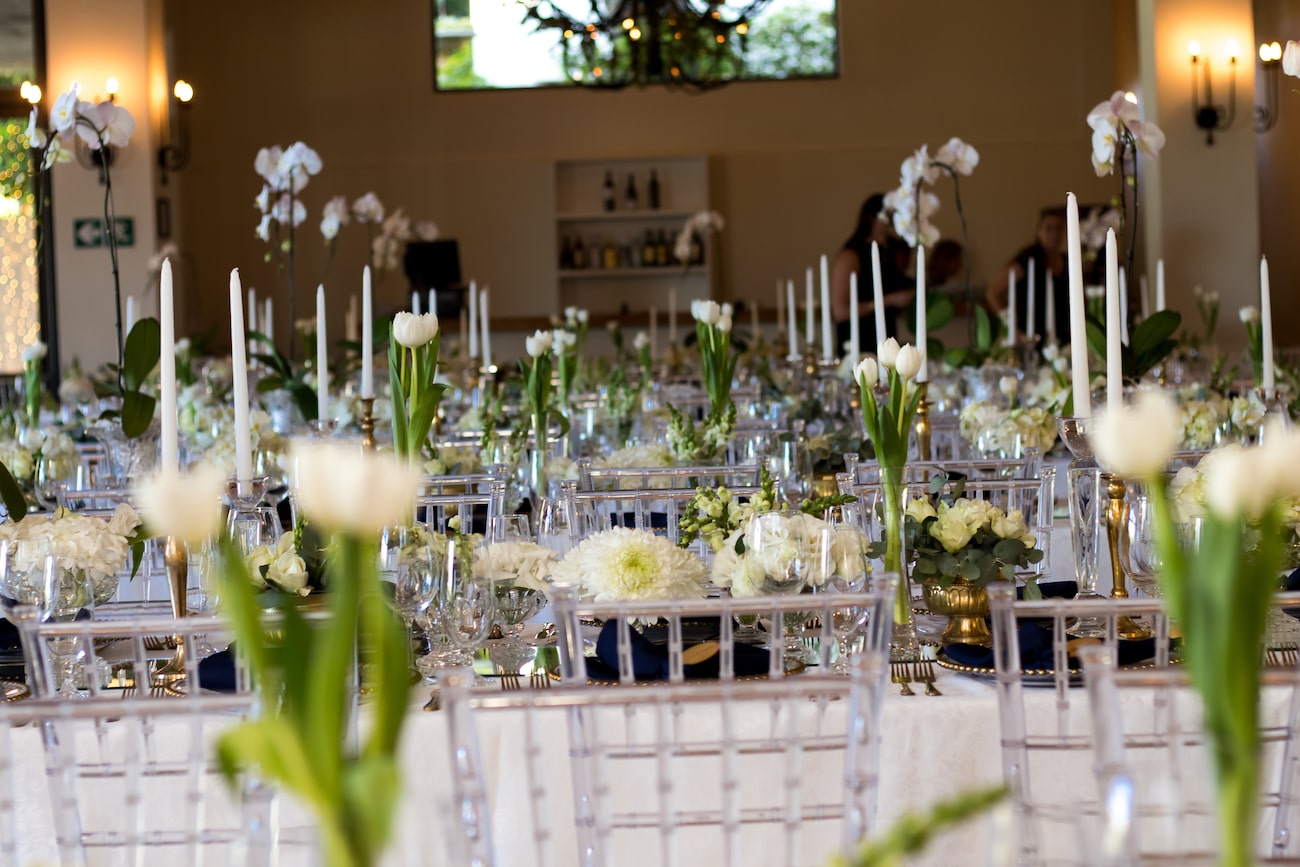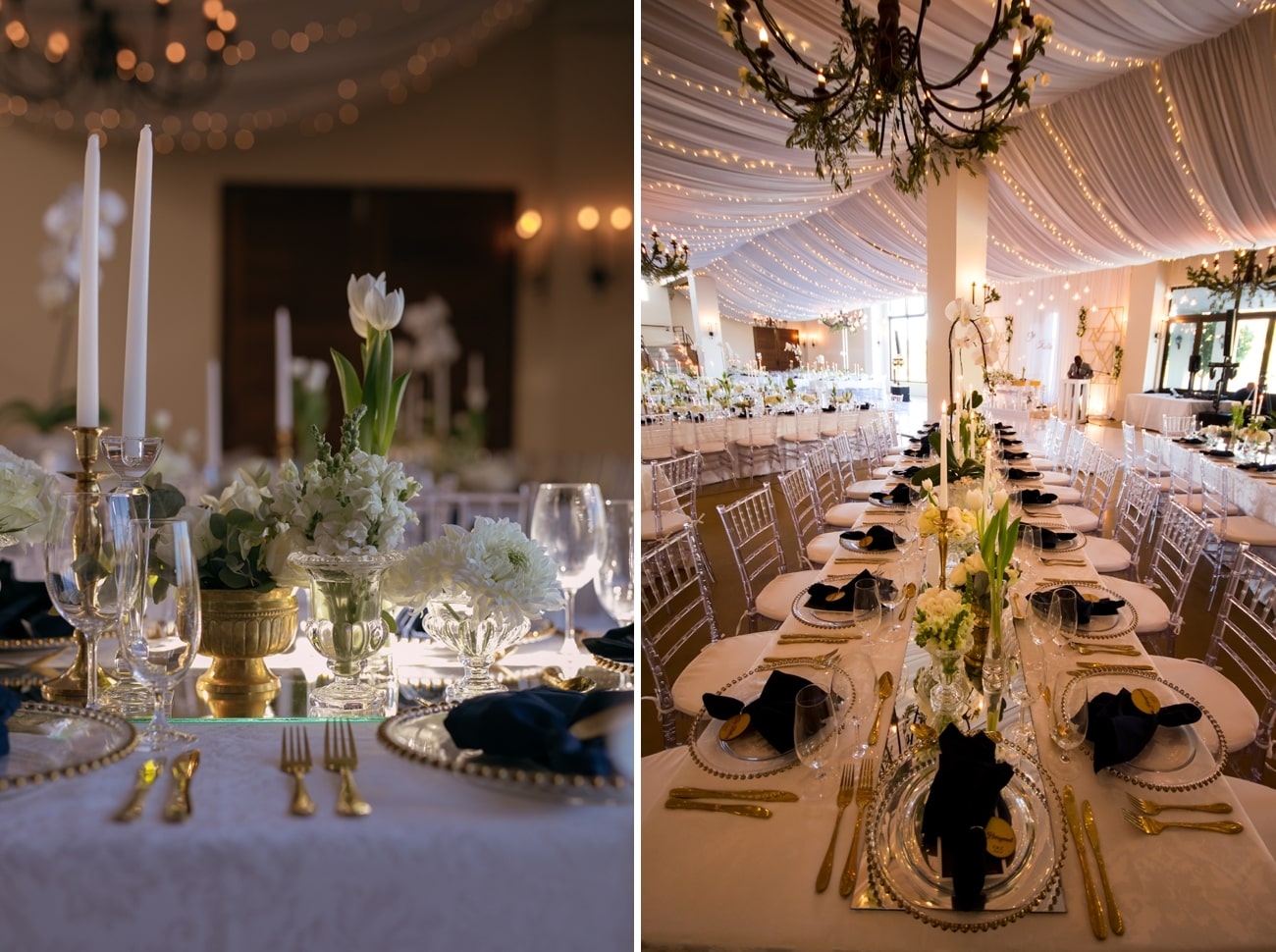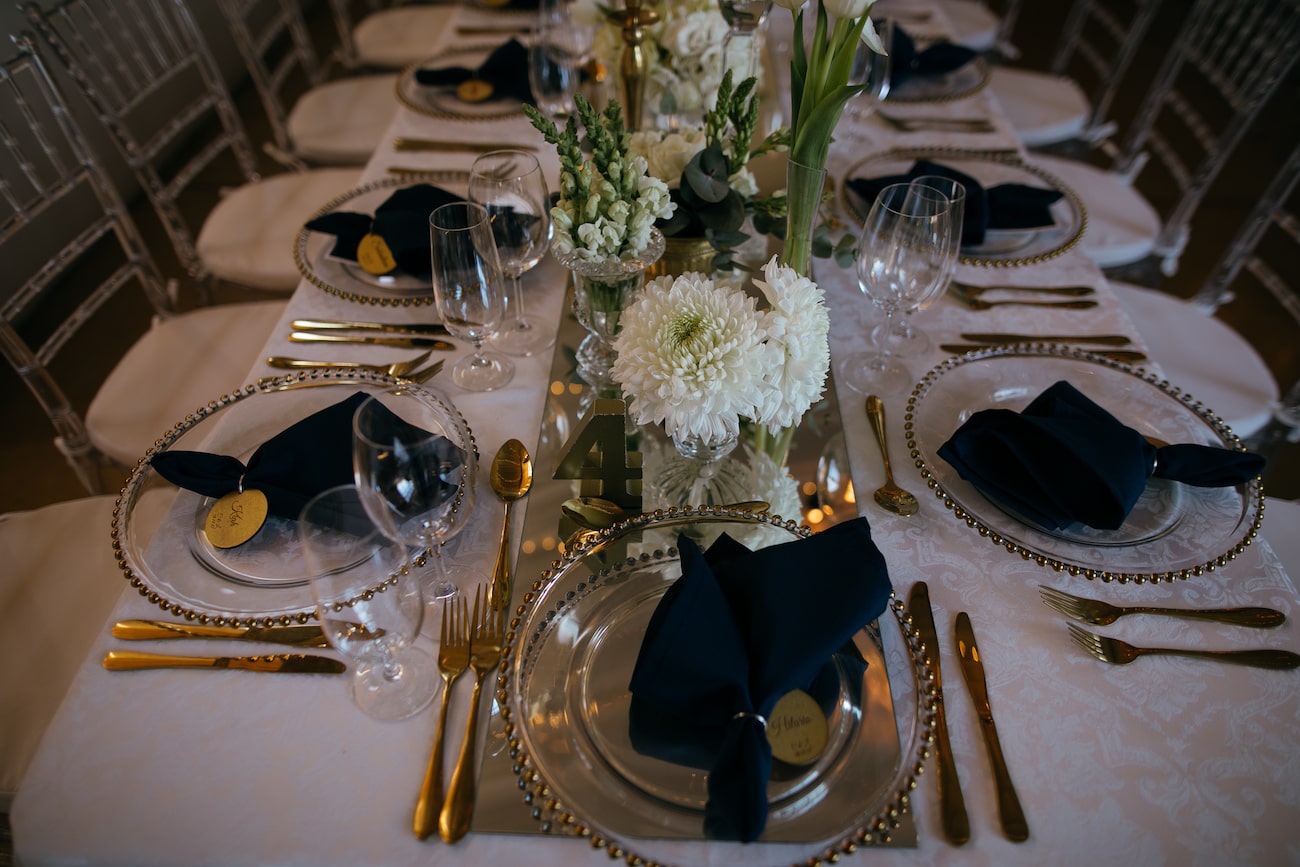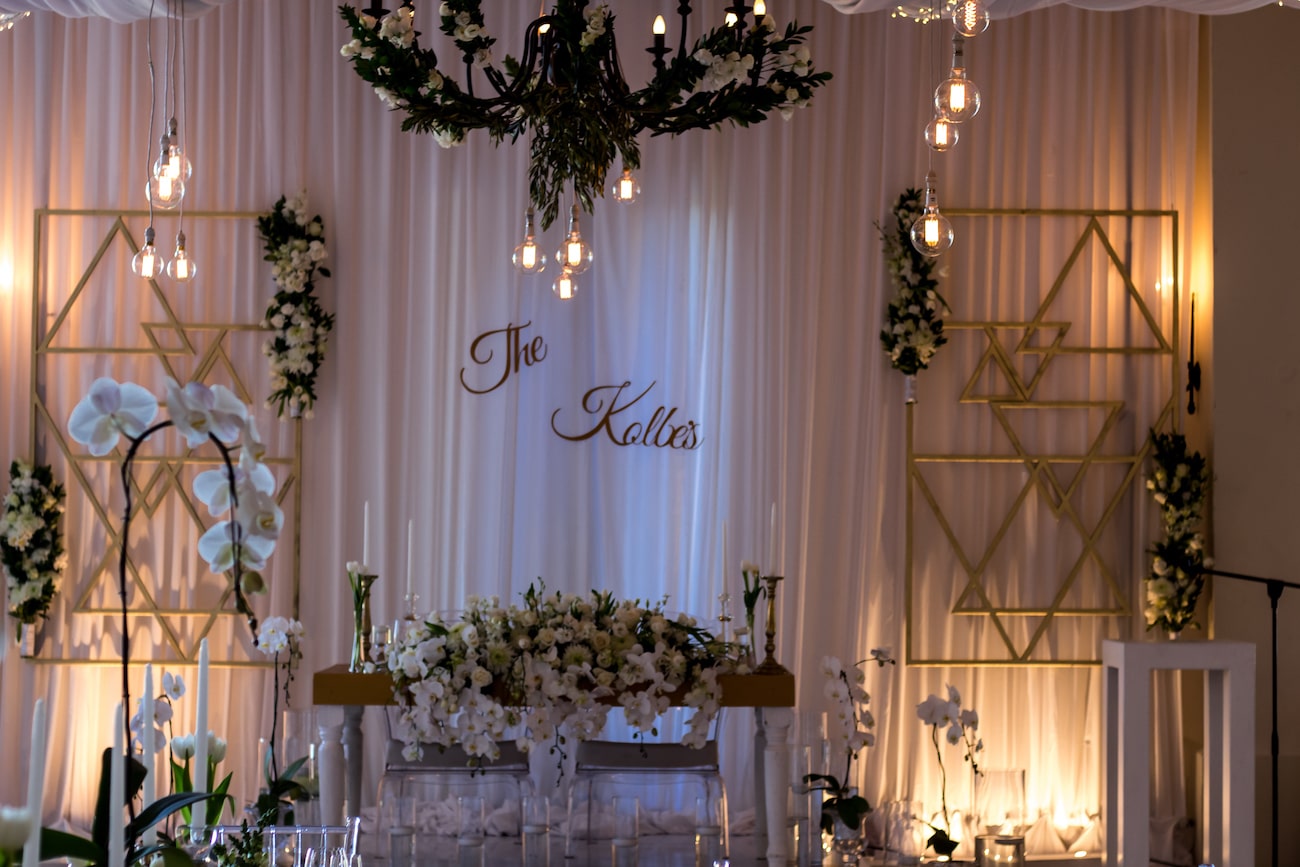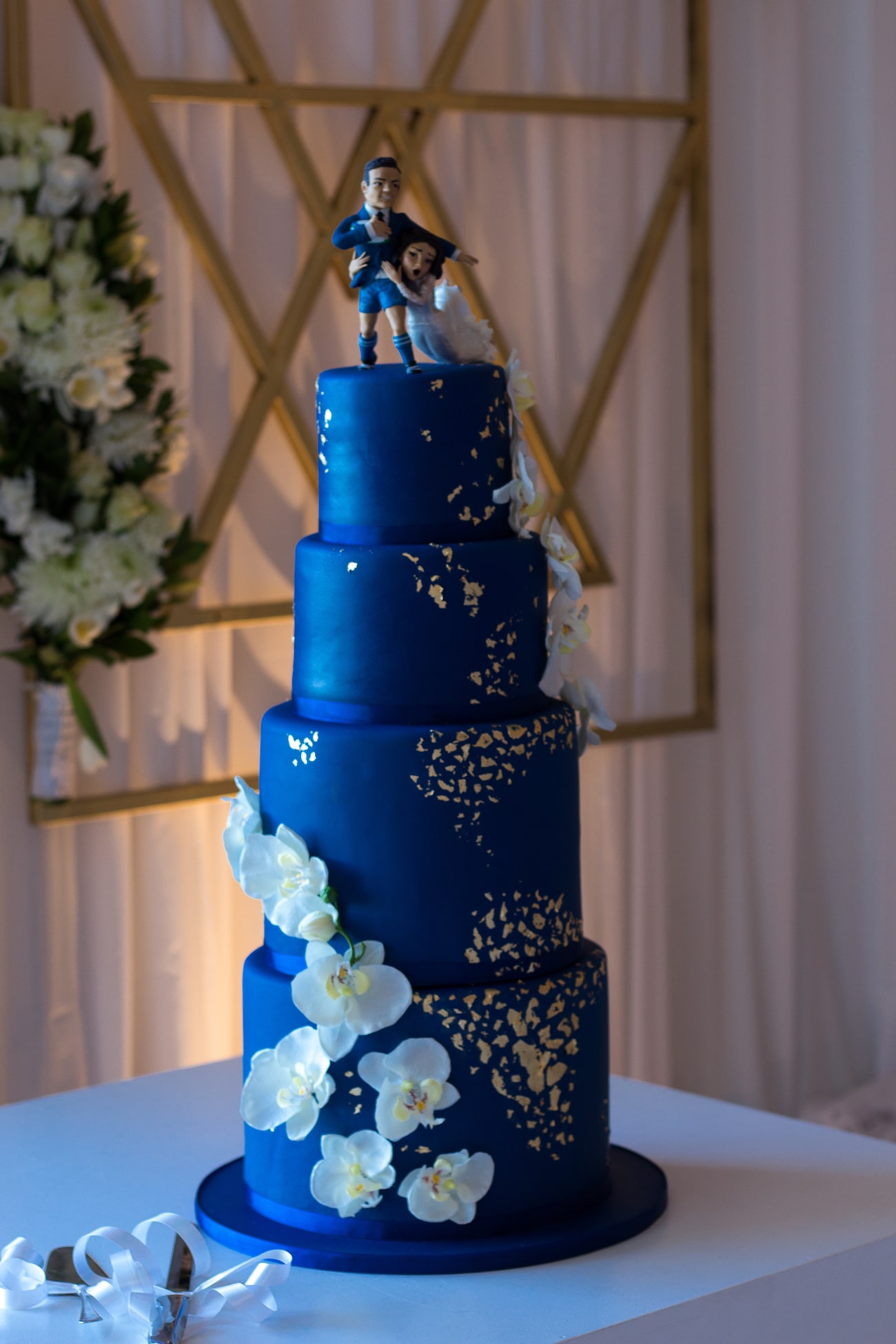 Memorable Moments
Seeing my husband all teary when I walked down the aisle. Also, the first dance – we danced to 'Perfect' by Ed Sheeran and Beyonce. The best part was having our daughter Kylah join us to finish off our dance and it was such a special moment for us.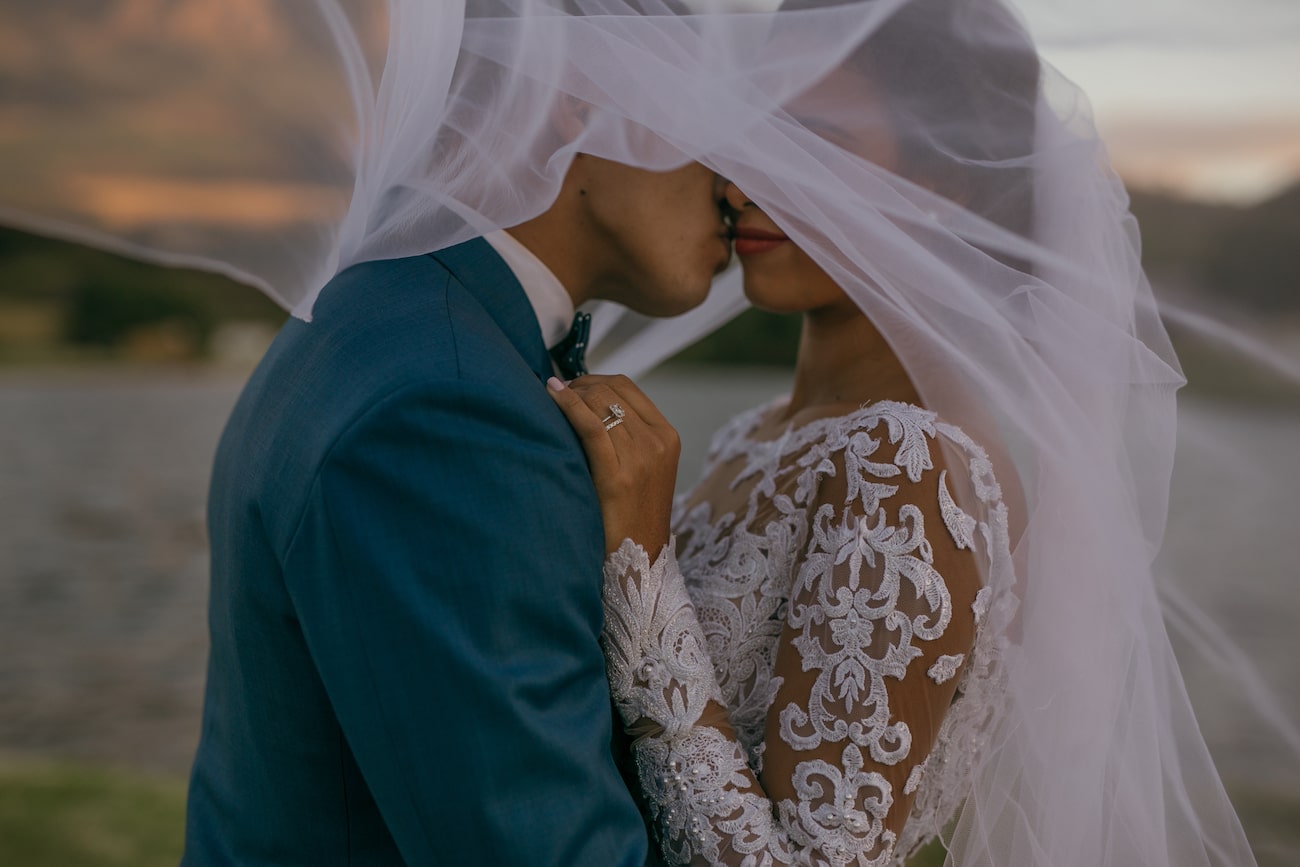 Best Decision
To follow my instincts, and remind myself it is my big day that only happens once. Also, having a wedding co-ordinator takes a lot off your shoulders.
Advice for Future Brides & Grooms
Plan your budget by requesting quotes from different suppliers. Treasure your day, it goes so fast after all the months of planning. Before you plan your wedding, plan your marriage. And make sure you have a great photographer!
SERVICE PROVIDERS
Venue & catering: Webersburg Wine Estate | Photography: Duane Smith Photography and shotbyadiwilson | Co-ordination: Lavender Creations | Flowers & décor: To-netts | Stationery: The Pink Collection | Video: Dawid Botha | Cake: The Mixing Bowl Cake Company | Bride's dress: Robyn Roberts | Getting ready gowns: SEW Couture | Makeup: Areeba Baker | Groom & groomemen's attire: The Tux Tailor (suits) + Fossil (watches) + Sexy Socks (socks) + Frankees (underwear)