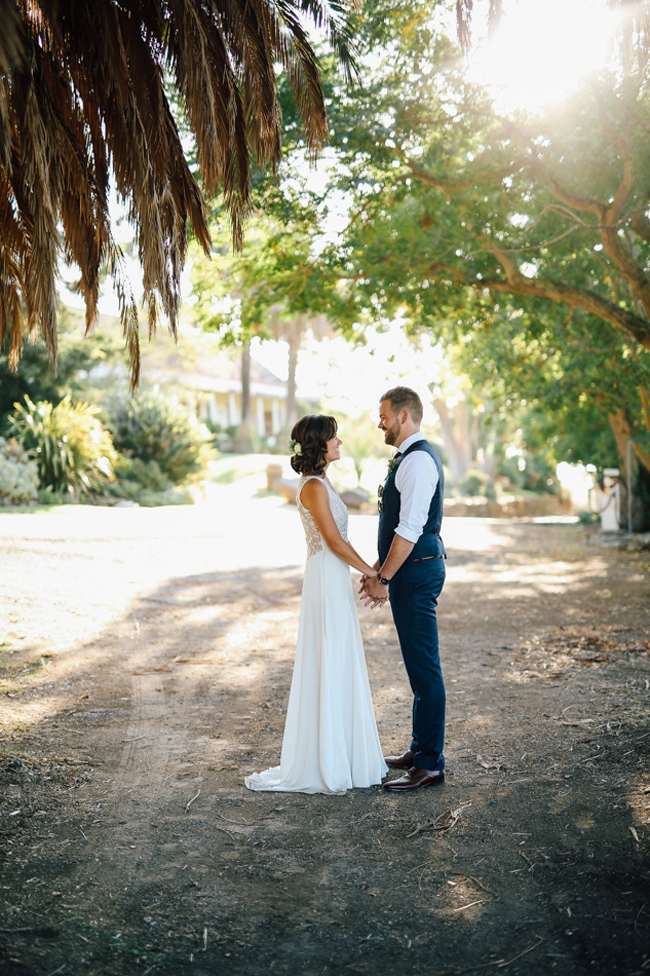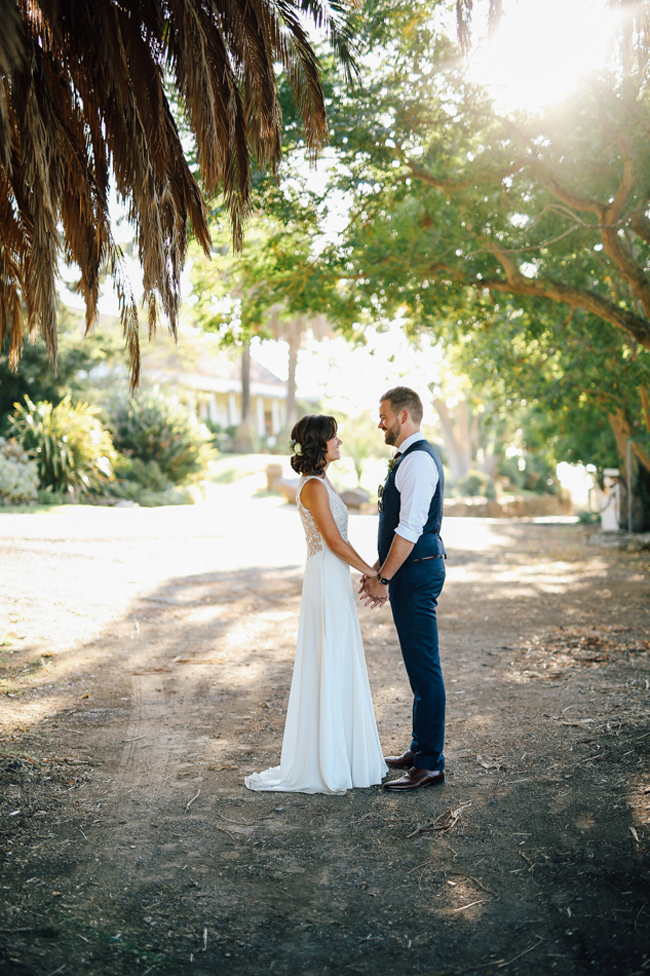 I've developed quite a crush on this whole celebration – and frankly, on the couple too, since Libby & Bren are chilled out, fun-loving and completely adorable (as you'll discover when you read their his 'n hers story of the wedding day below). To start off with, they chose one of our absolute favourite venues, the incredible Dairy Shed , for their rustic elegant, laid-back, outdoor, natural, Aussie-meets-South-African celebration. It really was the perfect setting, and along with stylish choices like mismatched bridesmaids and groomsmen, long wooden tables, wood, organic fynbos arrangements, copper flatware, strings of twinkle lights, and of course Libby's ridiculously gorgeous gown, it was an event to remember. Thanks in part to an awesome team, many of whom are long-time SBB faves: Theresa of Creation Events, who did a great job pulling everything together; Paradiso Flowers, who did the arrangements; Vizion Photo, who did the video; and the awesome Duane Smith, who captured these beautiful photos.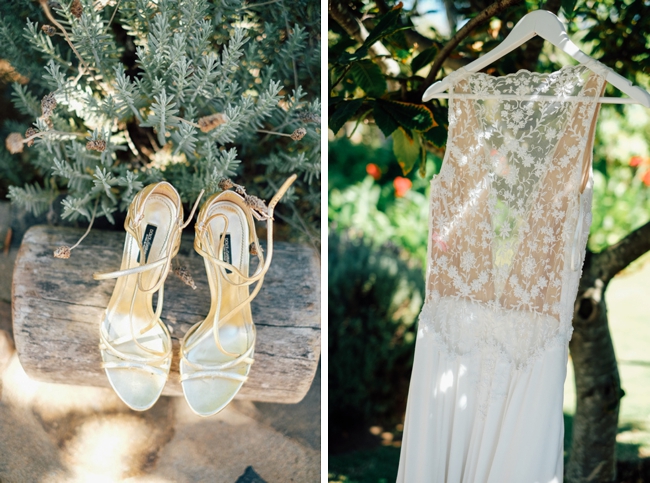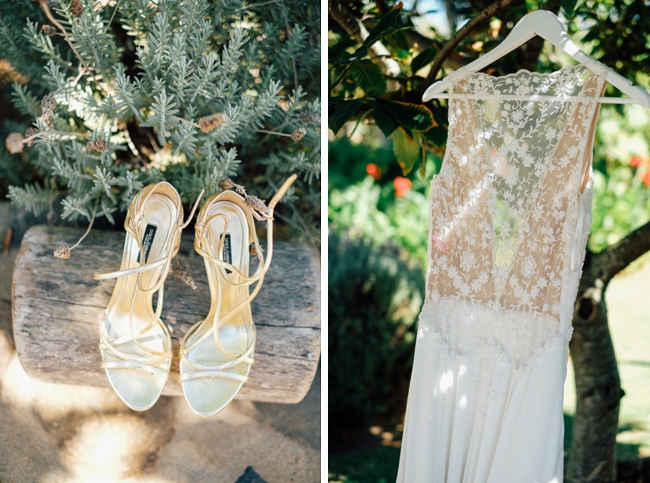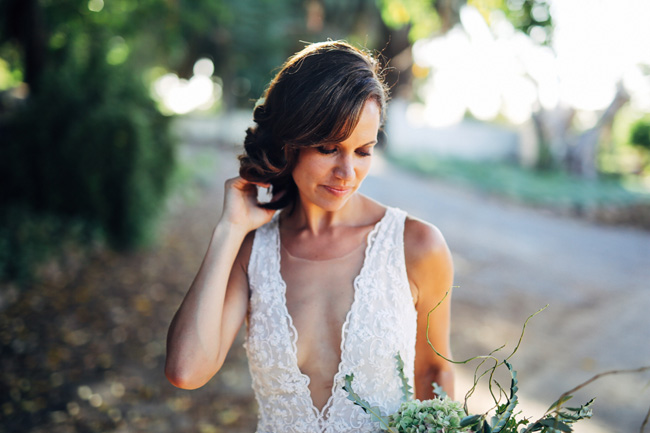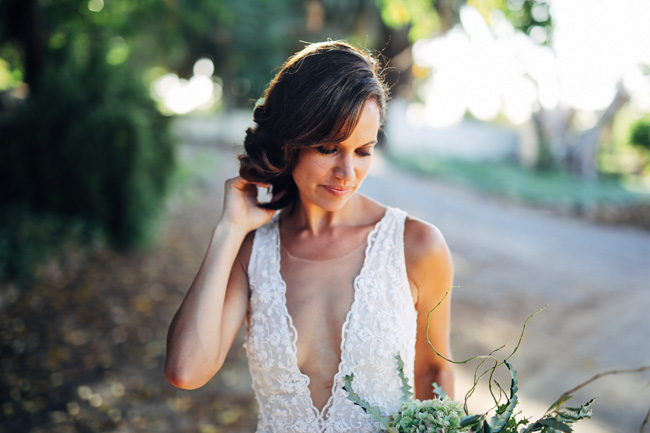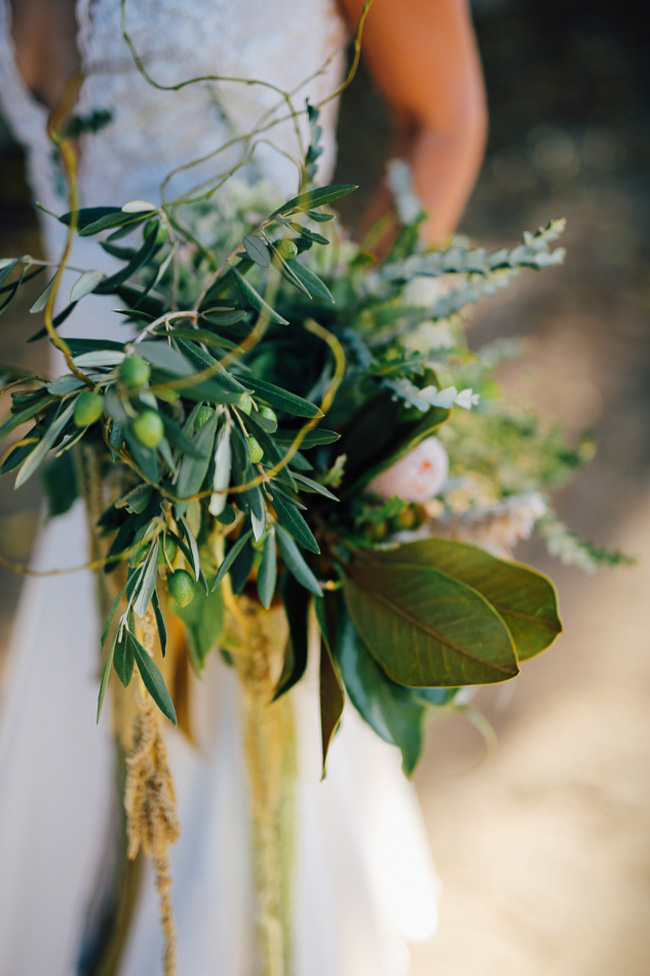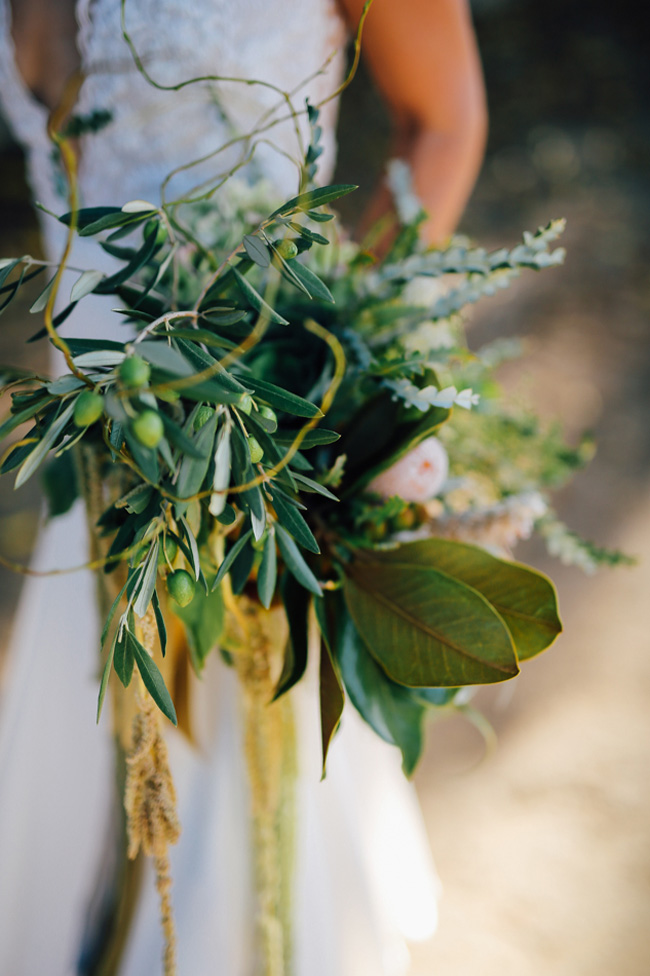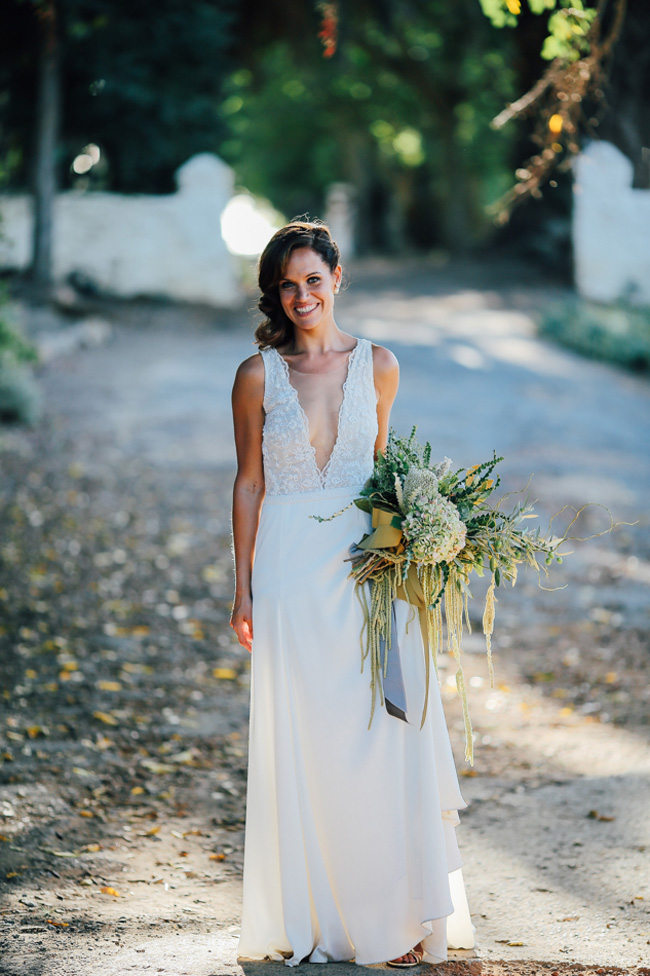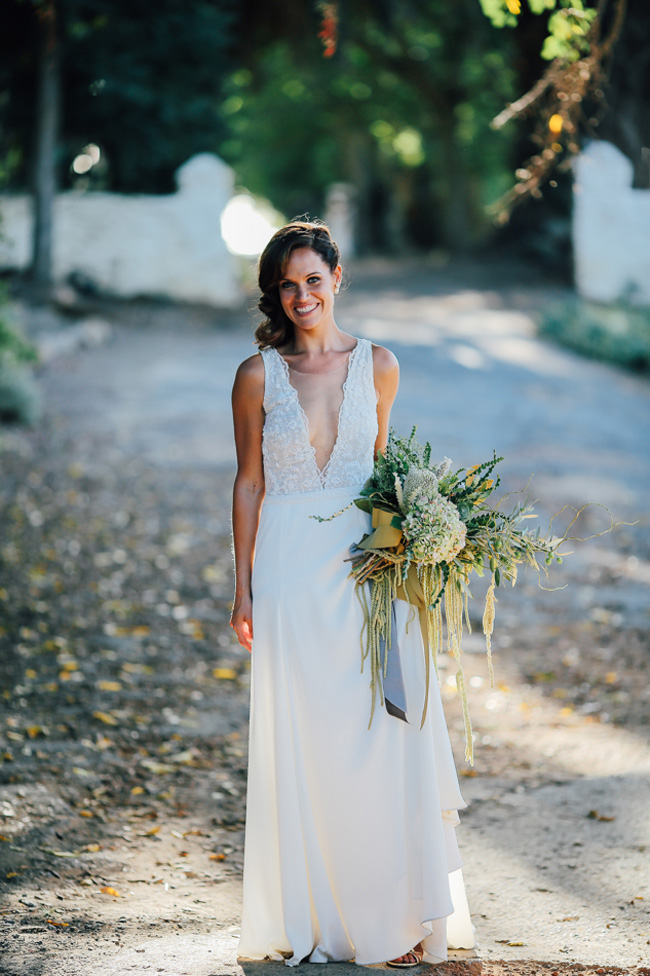 Love Story
We met through a mutual friend, when we were both living in London (where else would an Aussie and a Saffa meet!?). We were friends for a year or so before either of us even had any thought of getting together. Bren had a trip planned to go to Sweden, and was telling everyone he was 'going wife shopping in Sweden'! Then he missed his flight and ended up at a friend's birthday. Bren says he could tell straight away Libs was keen! Libs even admitted she had a moment thinking 'hmmm he's actually not bad…' After that we dated for a while… until Bren went back to Australia to get his sponsorship visa and would be away for eight weeks. Playing it cool, he said: "let's just see what happens, hey…" Three days later we were spending hours a day on the phone and Bren was calling, saying 'I miss you'!
The Proposal
Bren: We got engaged on our last trip to South Africa. Home soil, friends and family is something that is so important to Libs, and I know she has given up so much of that to live in Australia, so I couldn't think of anywhere more important to both of us than in her home country! Her friends and family are amazing as well, so I knew it would be special to be able to celebrate with them while we are here. I must say, I did also think we would get married in South Africa as well, so thought we could get a couple of weeks of venue hunting in! :) Libby's mum and Dad, Jill and Des, were taking us on a trip up to the bush at Impodimo in Madikwe, so I thought that would be the perfect opportunity – and would also be so awesome to be able to celebrate with her family there with us! I organised a bush walk with one of the rangers, thinking we could be in the middle of the bush, at a beautiful spot and then come back to Libs' family waiting for us at the lodge with champagne. Of course when the time came to go for the walk, Libs didn't want to go, wanted to hang with her family, wanted to watch the Proteas lose the cricket… anything but go on this walk – she must have known! Meanwhile I was getting way too intense about this walk… and nerves were obviously kicking in. When the ranger who was taking us came, he rocked up in his Porsche Cayenne, stepped out with his rifle in his arm, and was basically a male model…. great start. We then went on the bushwalk, and it was honestly so interesting learning about the bush, tracking, flora, etc., that I forgot that we were actually there so I could propose. We stopped under a tree, and the Ranger just said 'Ill just be a minute'…. that's when I remembered why we were there! So nerves went into overdrive and the rough speech I had planned went out the window. I mumbled something about how good our life is together, how much we have travelled and how I want to spend the rest of our lives travelling the world together… Libs started crying… like ugly crying… and we kissed and hugged standing under a beautiful tree on a waterhole in the middle of the bush… amazing… After a few minutes, the ranger sheepishly poked his head round the corner and said "am I ok to come out now?" We went back the lodge, had champagne with Libs' family and an amazing dinner overlooking the lights of Gabarone. Job done!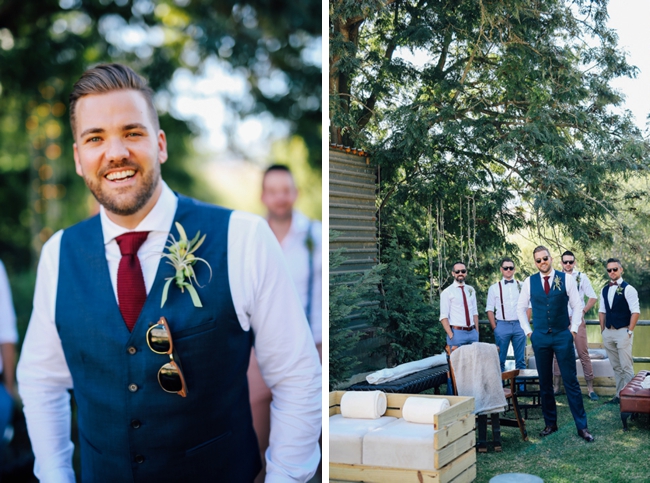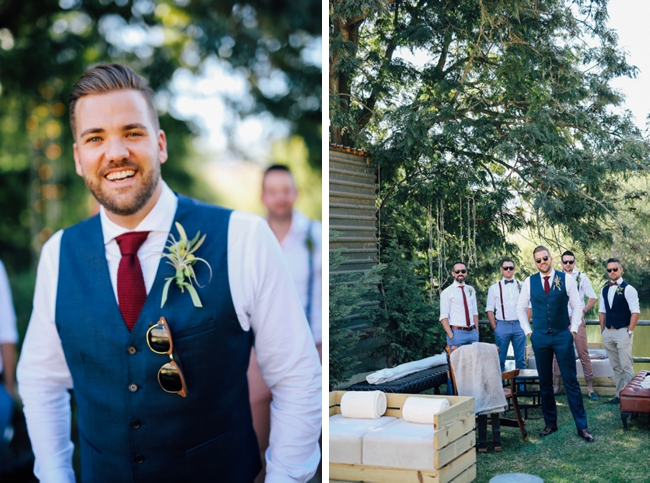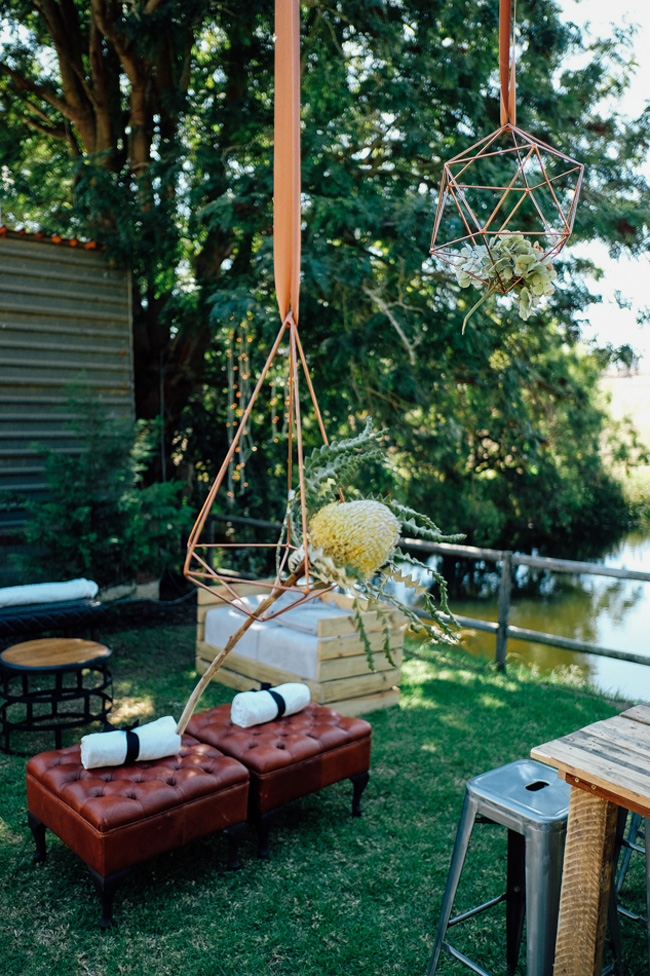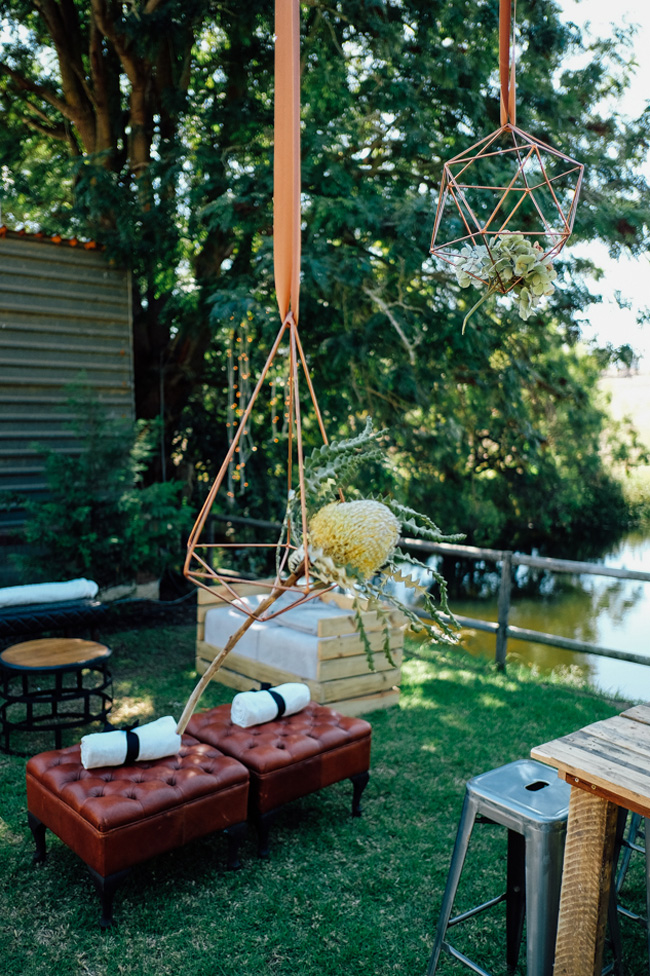 The Venue
Bren: We had an exhaustive three week search of wedding venues (if I had have known we'd see that many I'd have proposed later on our trip!) taking in Elgin, Constantia, Cape Town, Caledon, etc. etc. We really wanted a rustic, farmhouse feel to the venue but with an understated elegance, and a bit of a cool, different edge to it. The layout was also really important as we knew we wanted a relaxed party vibe, with access to an outdoor area really important. The majority of weddings in Australia are really formal – you have the chicken, you have the beef, white linen, sort of vibe. I'd only ever seen weddings in SA with such cool, rustic vibes – outdoor, repurposed venues, etc. We wanted somewhere that would give that vibe as well. We were very close to a few venues, and all of them very different. In the end, one of Libs' friends went to a wedding at The Dairy Shed in Durbanville, and said we should take a look… As soon as we saw the pictures from Two Birds' website, we knew that was it… The venue had everything we wanted (even if we didn't know it). Rustic charm, beautiful outdoor space, the dam, and the old dairy shed which was just stunning. Plus it was a really intimate space, and really lent itself to the fun we wanted to bring to the night!
Wedding Style
In the first few weeks, Bren and I went mental with the ideas… and kept coming back to the bohemian, rustic, farmhouse feel, with a touch of luxe to it. We loved natives for the flowers, we loved the random old furniture, and little things like using a window pane as the table plan. We knew we wanted the rustic wood, native greenery colour scheme. A lot of these things really set the inspiration for the theme. I wish we could say we had an vision… but it was more of a mood board than a artistic vision. Our wedding planner Theresa from Creation Events really was responsible for taking our 'mood boards' (literally) and turning them into an actual 'theme'. She was definitely the best investment we made. From there the venue really helped set the tone, with an outdoor wedding next to a dam, at an old converted Dairy Shed – it was just a matter of building our theme around that. We also wanted to make sure above all it stayed relaxed, intimate and unstuffy. So that inspired the family table style dining setting, meals, etc. It was also something different from most weddings we had been to in Australia, so we loved to show a different way to do things. We also knew our guests (and both of us) wanted to make sure it was fun above all else – so we pretty much tried to find ways to eschew tradition to keep it chilled, fun, relaxed and intimate. This inspired us to do things like espresso martinis instead of wedding cake, shots of Patron after the first dance, the pizza truck at the end of the night. We just wanted to make sure that everyone we loved, who had made such an effort to get there, had the best night ever!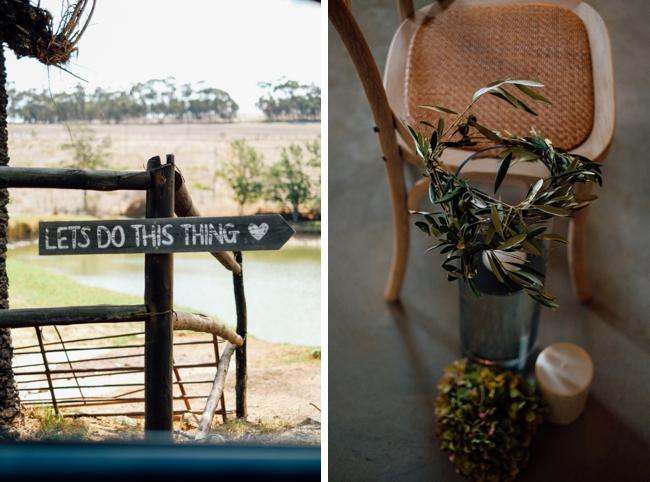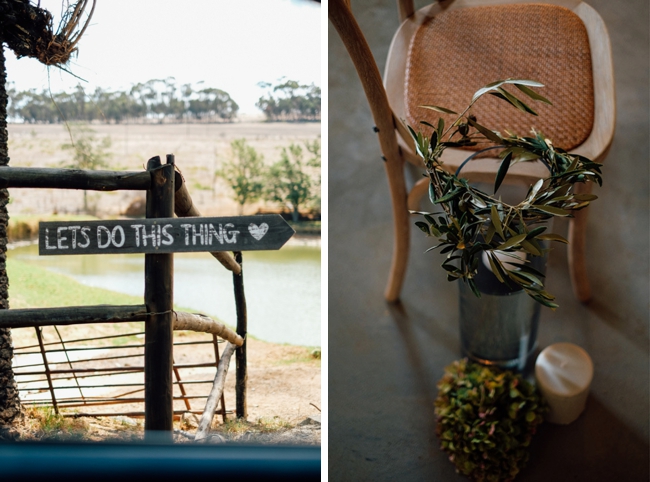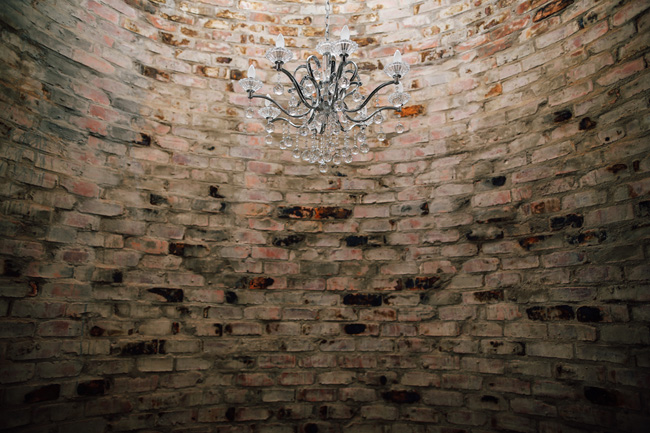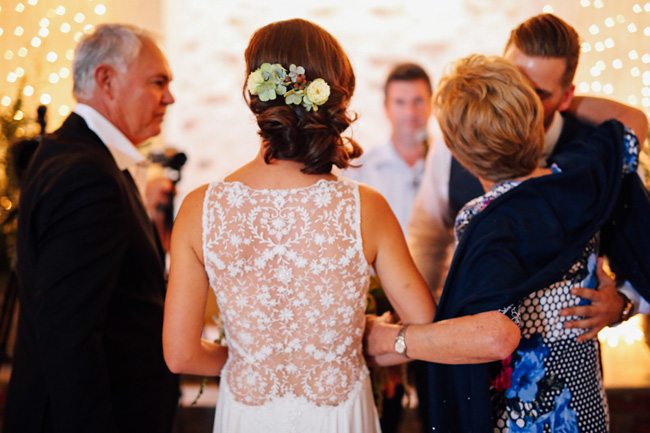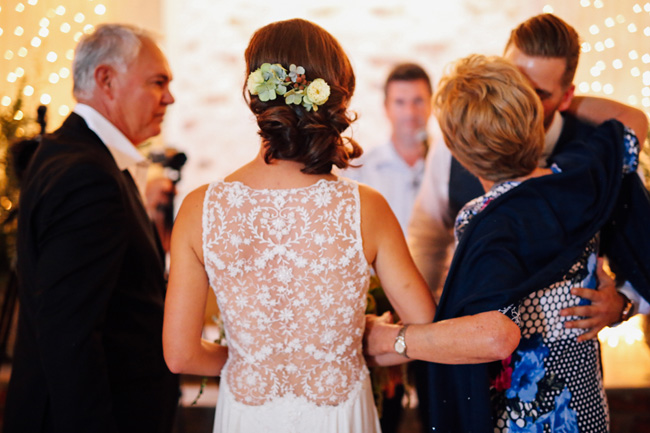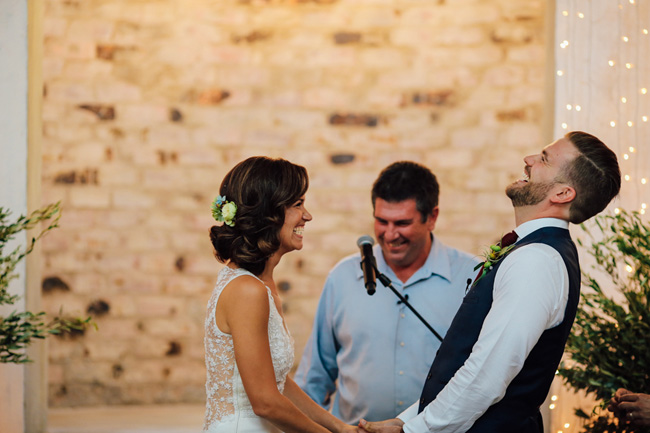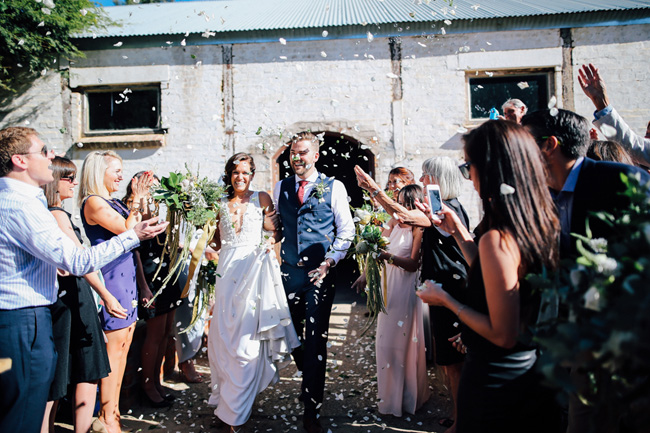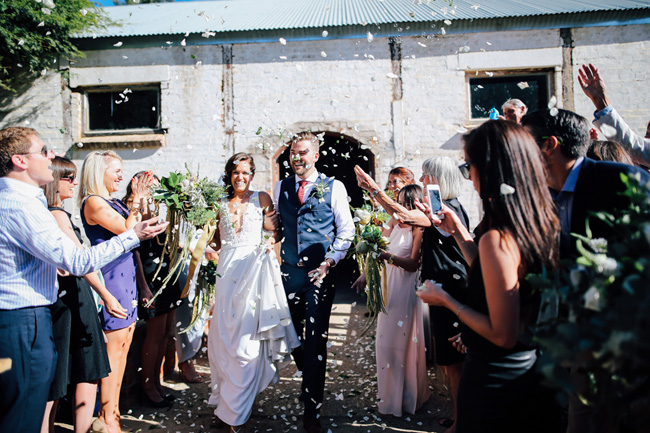 Wedding Details
Copper cutlery – Bren actually had the only 'bridezilla moment' when we thought wed missed out on this element, and looking at the video and the pics it was worth it, as it just added a cool, classy element to the rustic feel. Native plants (fynbos) – we actually had a mix of natives from SA and Australia. Theresa really went the extra mile to get both proteas, as well as things like Kangaroo Paws. This theme also ran through our wedding invites, website, etc. which was a nice subtle representation of our two backgrounds coming together. Lighting – visually we thought this was so important, and added so much to the look. All the videos, photos, etc. we saw online, we just loved the look of the lights against the night sky, adding the ambience, and also adding to that intimate setting. There is something magical about a string of lights, lighting a group of people who are just so happy and celebrating together. The lighting across the dam was another Theresa suggestion – and it really added so much – added space, and a sense of the space of being outdoors. Family style dining, long tables, having drinks on arrival, then drinking with our guests straight after the ceremony – and not going for photos for an hour or so, so that we could enjoy the tunes, the sunset, and drinks with our mates made it so much more relaxed. We are very social and both have such loving, close and important friends all over the world that were coming together for probably the only time ever. It was really important to us that we all celebrated 'together' and felt the love. The wedding parties mismatched clothing was something we both really liked. Bren saw a picture in a wedding mag, and straight away knew that's what he wanted. Rolled up sleeves, short leg hems, no socks with casual smart shoes, suspenders, waistcoats and bow ties… but with the burgundy theme running through it… I felt the same about the Bridesmaids, and was a bit worrying trying to mismatch without making it look unmatched. All the girls bought their own dresses with a basic brief of neutral tones… it works perfectly I think! Bren's sister Aleia also played at the pre-drinks, and she is just amazing. Having family involved like that was really important – and she was amazing! Finally all the little touches, like the espresso martinis and shots, the pizza truck, the boys walking down the aisle to Chet Faker… all little elements to try add some fun to the night, to thank our guests for making so much effort and to just make it a cool night!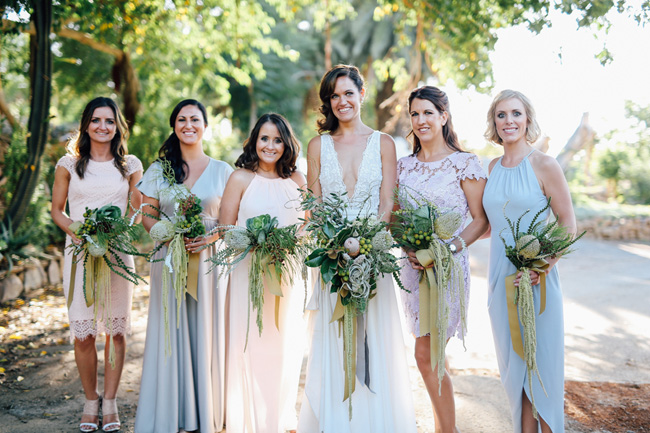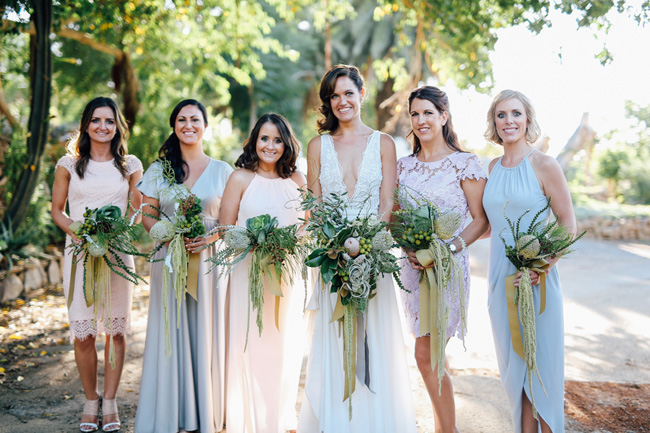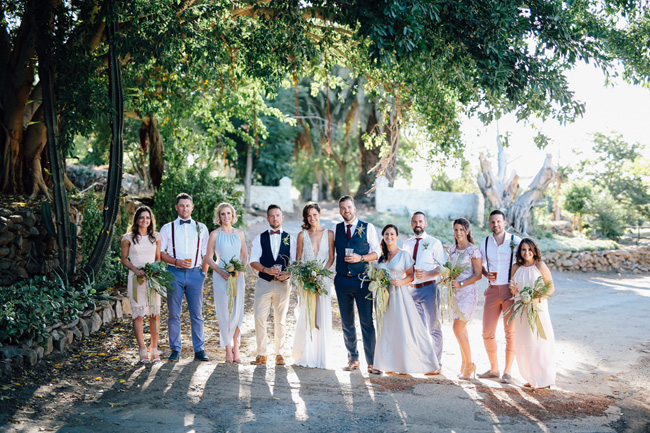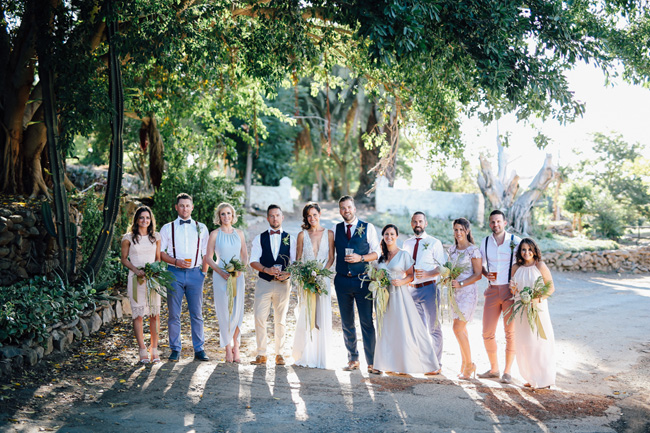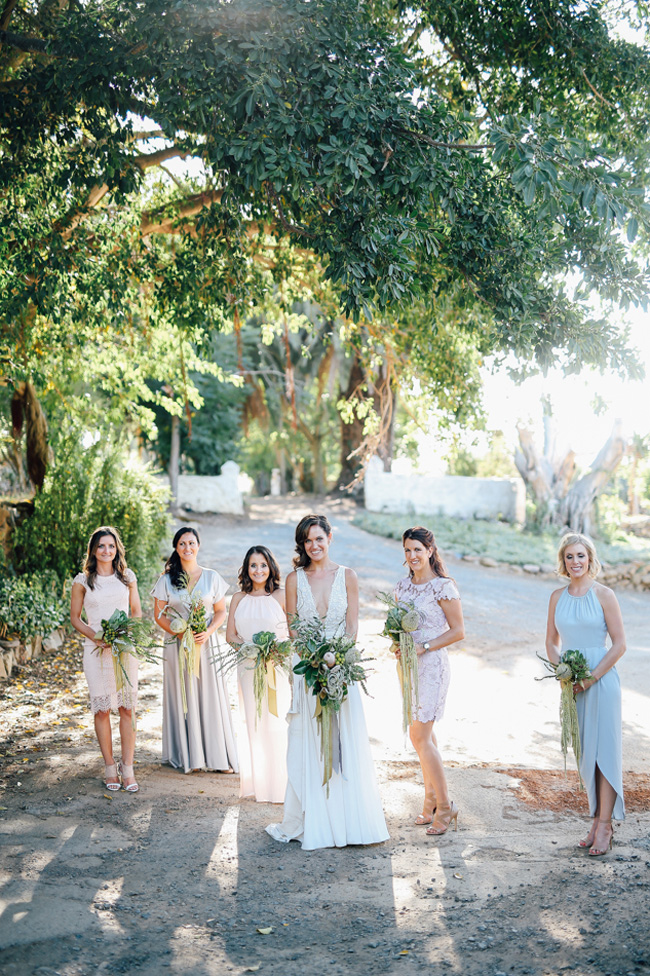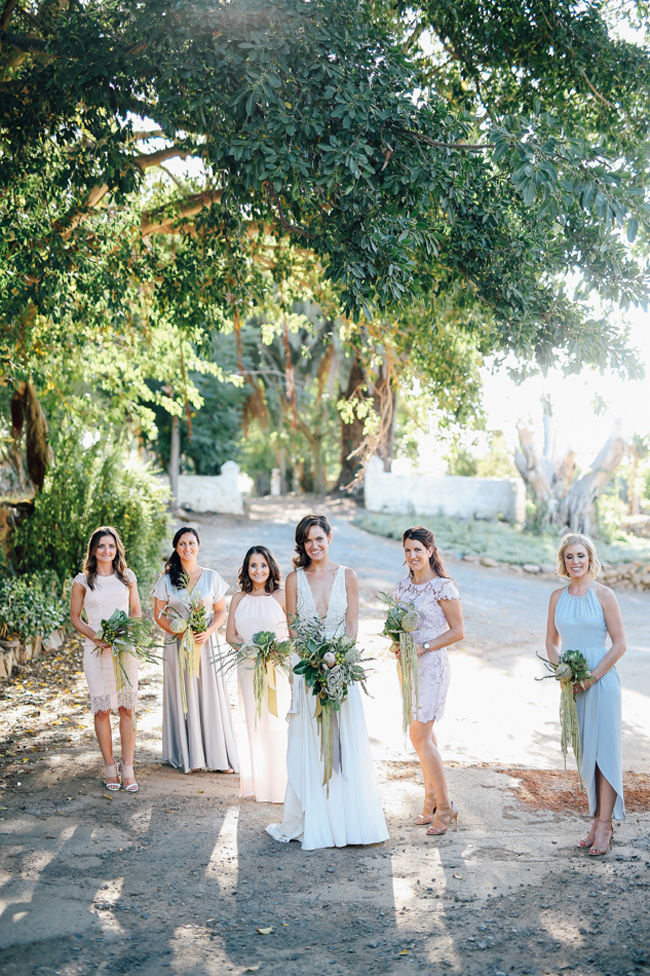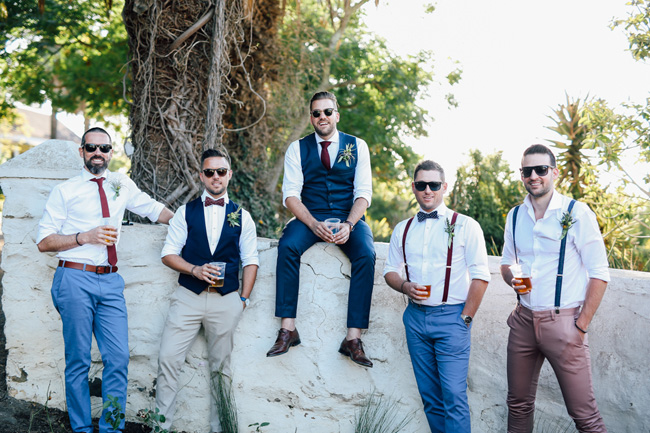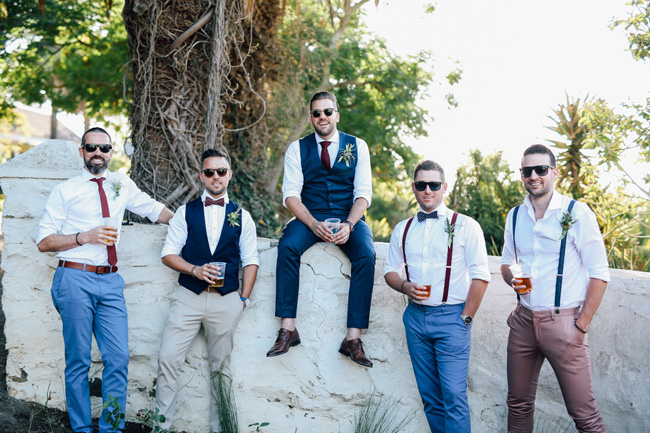 DIY Elements
We only had one DIY element, which one of our dear friends Tim made – the signpost which was placed in the middle of the garden with the locations and distances that everyone had travelled to get there. It was a really nice touch, and was so cool to actually see – Shanghai, New York, London, Melbourne, Perth, Sydney, Johannesburg, etc. – to physically see the effort everyone had made to be there.
The Flowers
As I said before we wanted the rustic, native succulent style – but still wanted to have a softness to it. Thanks to Theresa, we also incorporated South African natives, as well as Australian such as proteas and kangaroos paws into the floral arrangement, which was a nice representation of us.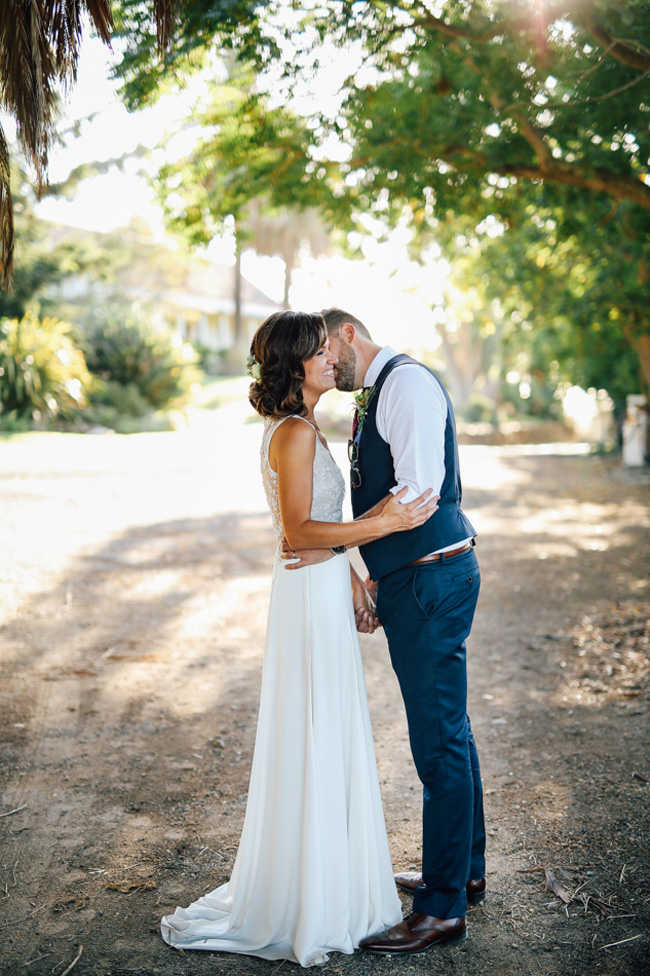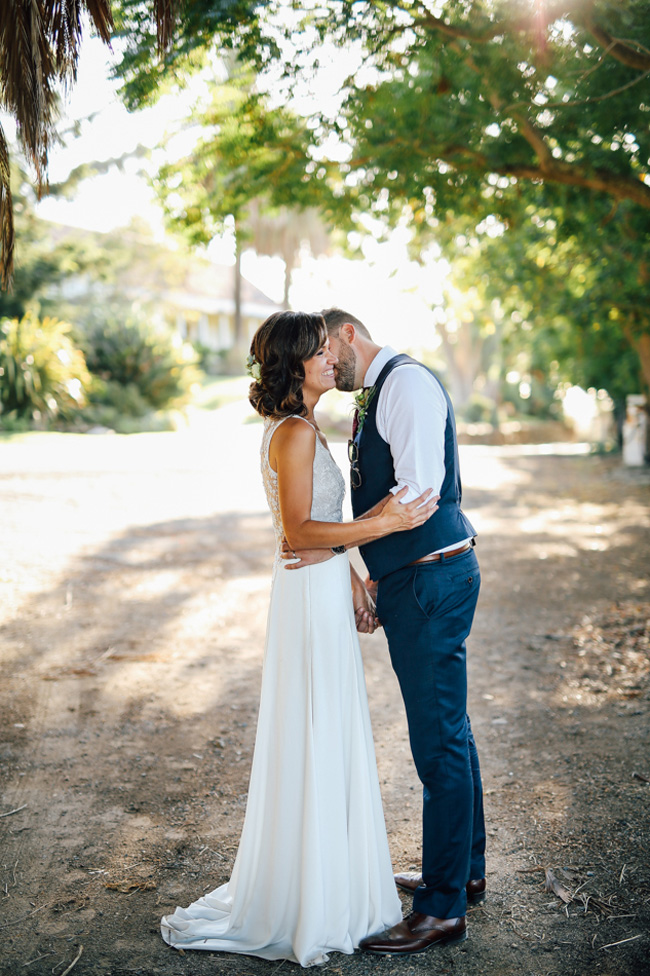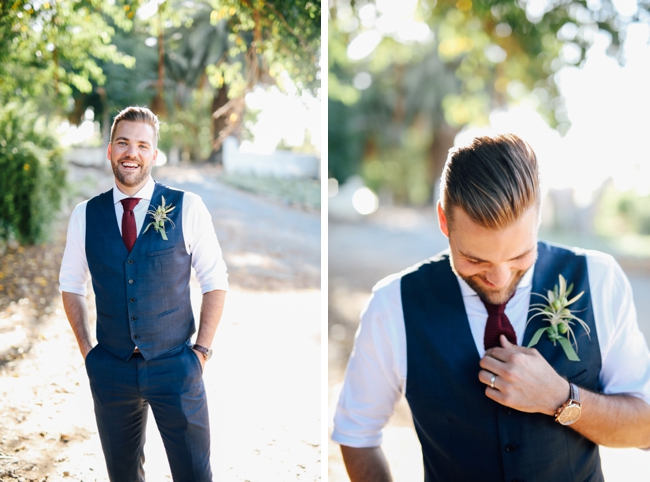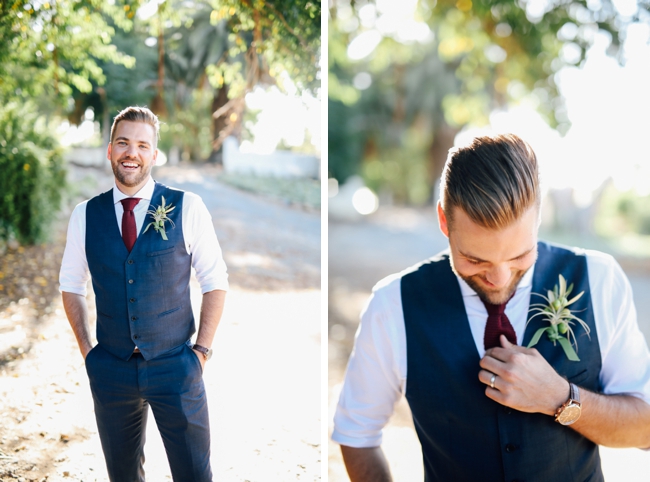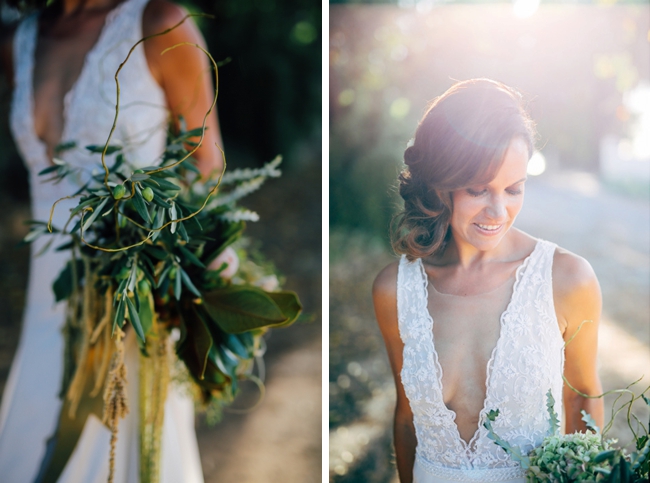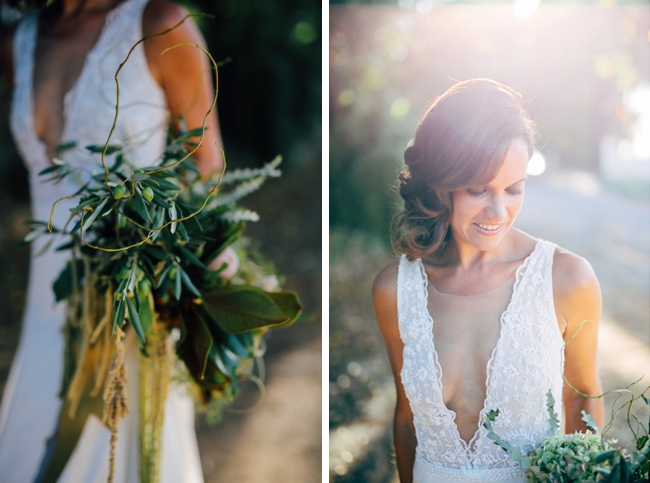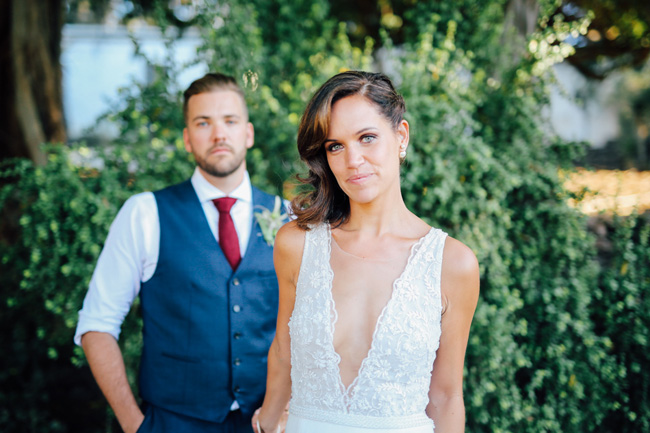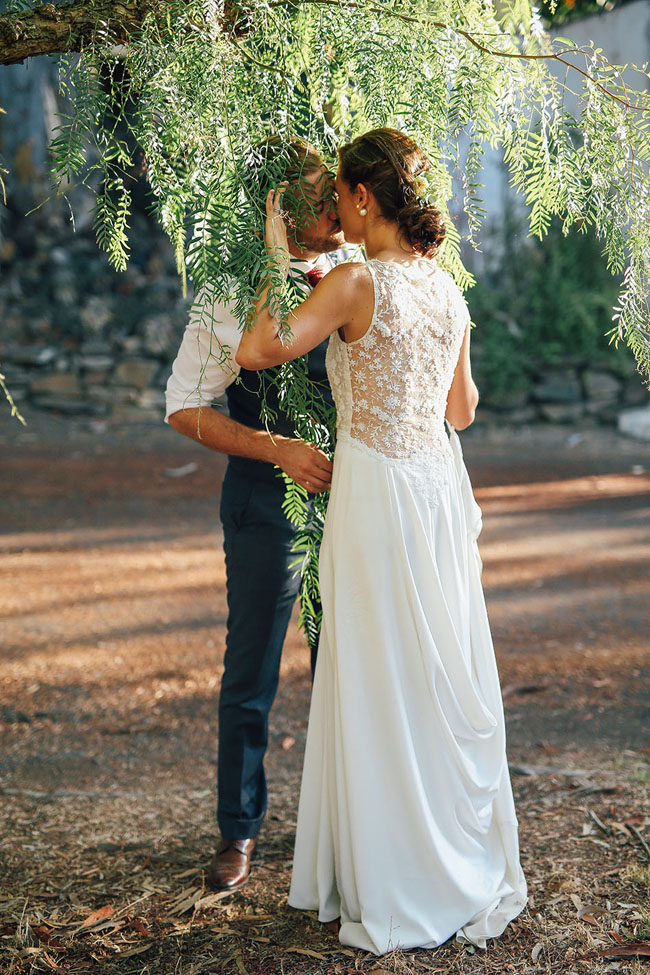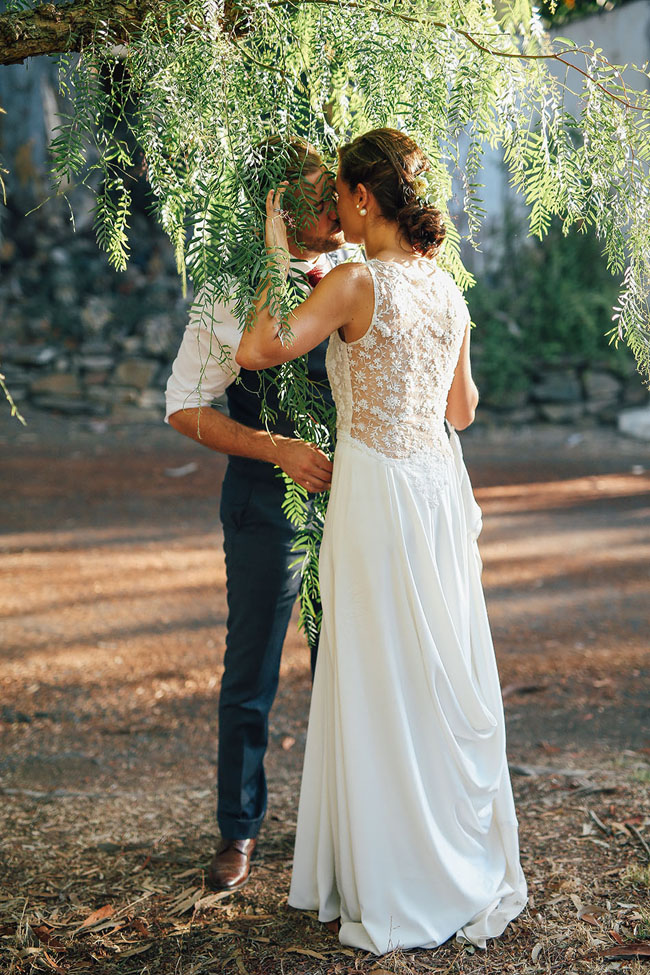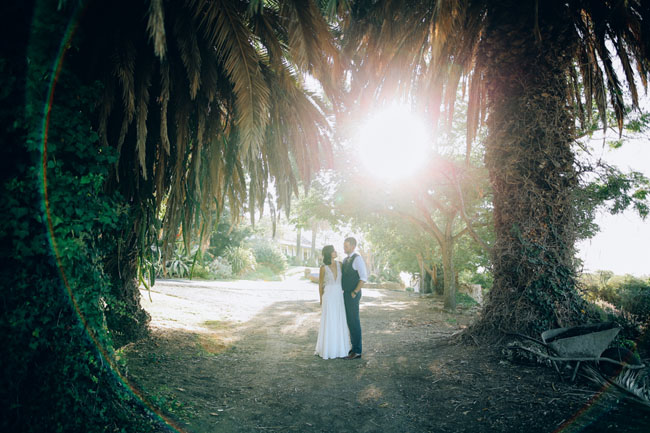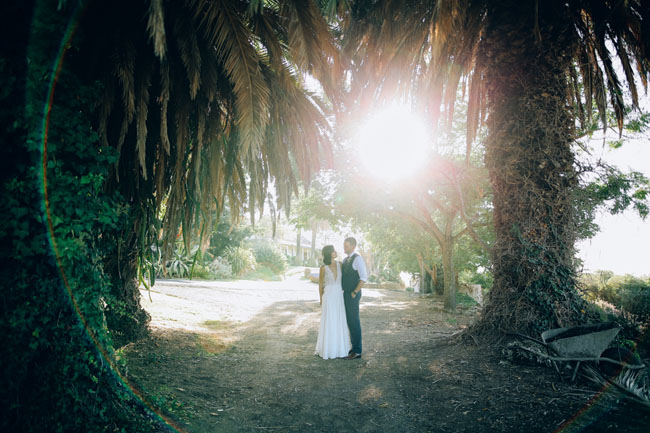 The Dress
I knew what I didn't want, but had no idea what I wanted. I was close to designing my own with a designer, but one night my bridesmaid and I went to a sample sale (a bit hungover). I tried on this dress and bought it instantly. It's not your usual wedding dress, and the plunging neckline was a bit of risk. But it just reflected my style so much more than a traditional dress, and I loved it straight away… and I still love it (and so did Bren, which is lucky!)
The Bridesmaids
Because everyone was from different countries, and all different personalities, I wanted them to choose their own dresses. I also know people don't want to be wearing the same dress as someone else at a party! Really I wanted them to suit what they wore, and feel good in it – the only brief was to try and keep neutral colours. When they all came back, and I finally had everyone in the same room, I was amazed at how perfect they all looked together!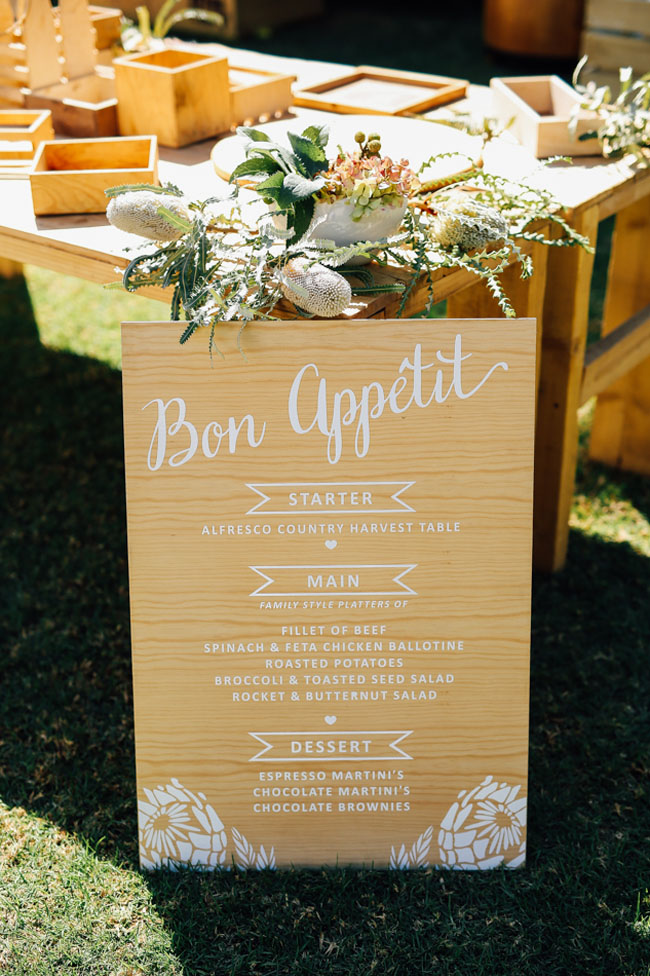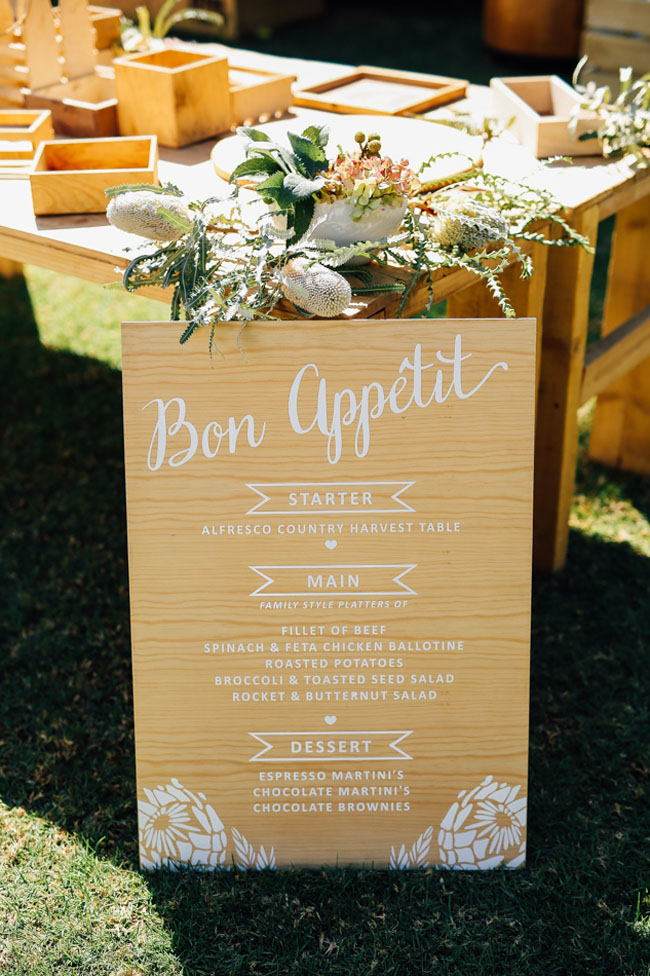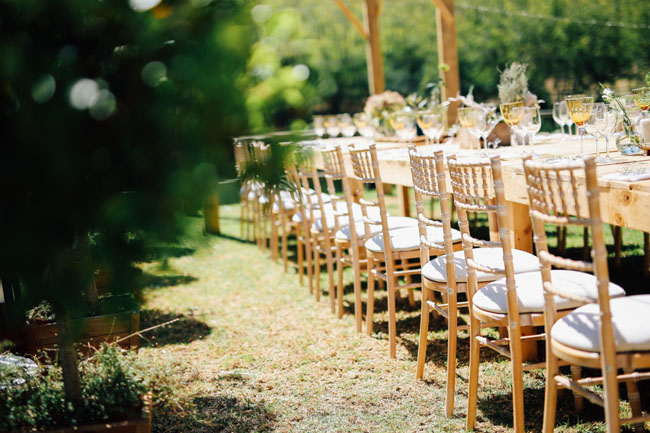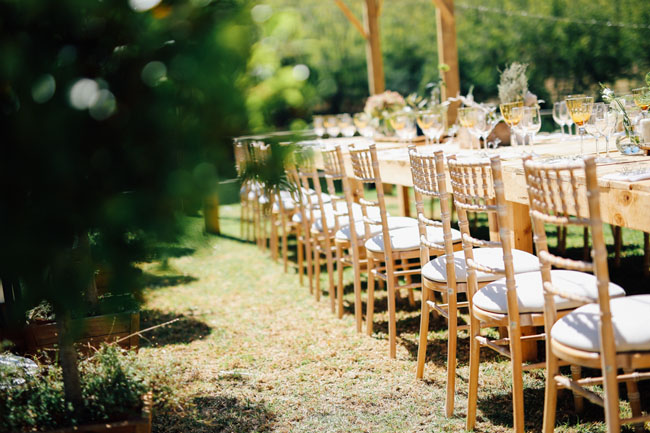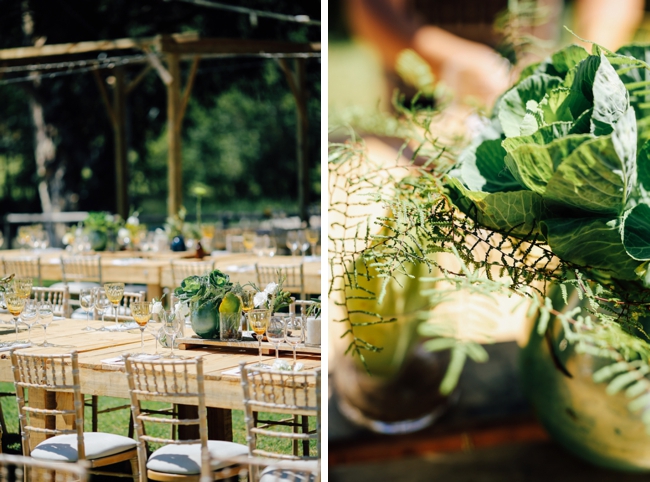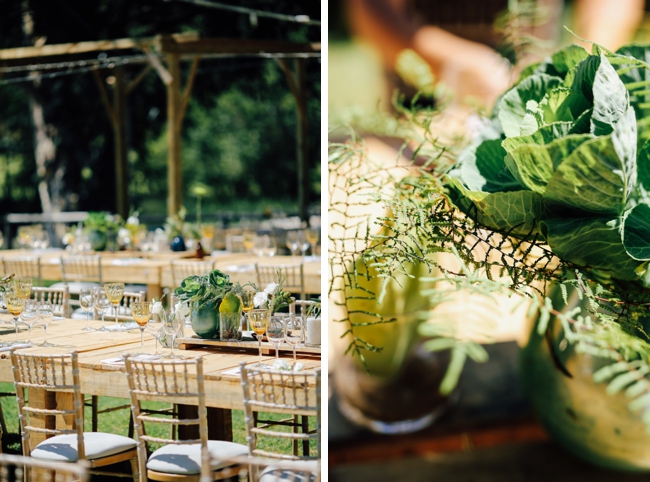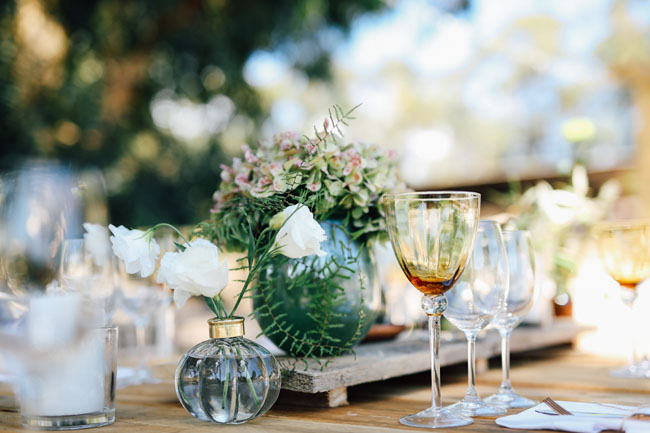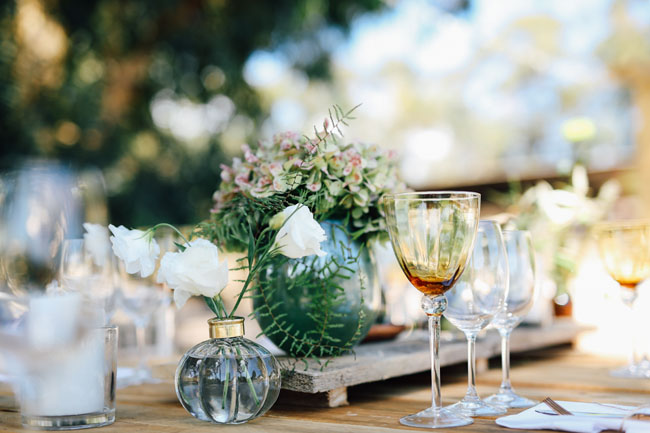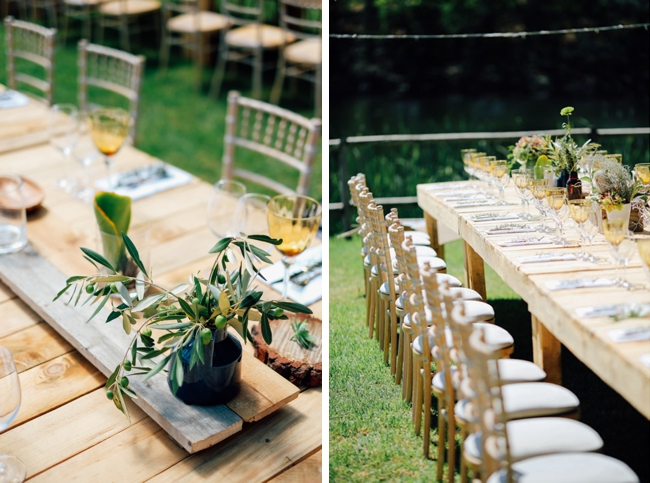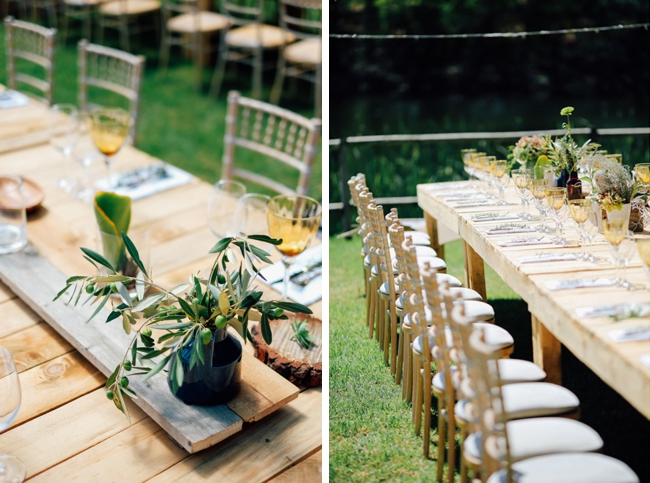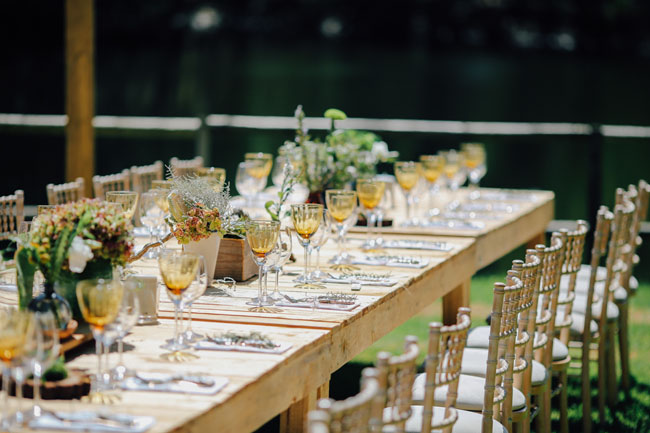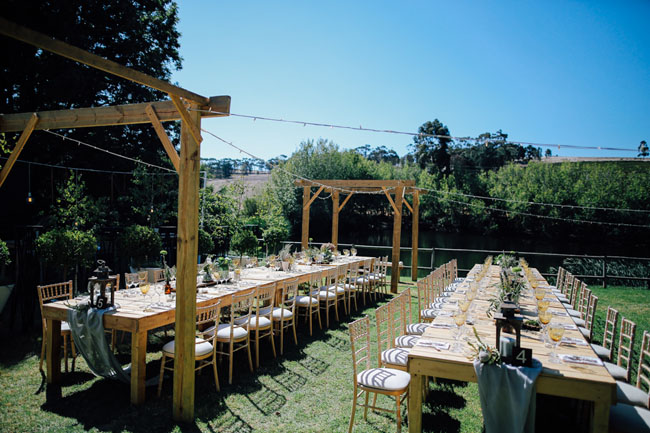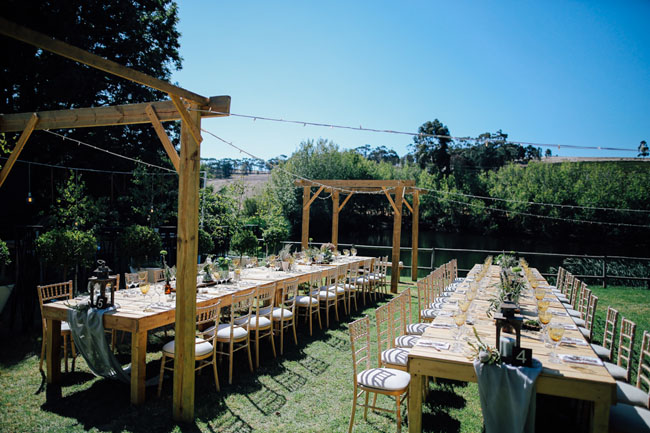 Memorable Moments
Everyone says it goes fast, but it is all stil so vivid. The one moment that probably sticks out is our second song (after the first dance). We danced to INXS 'Tear us Apart' – we then went straight into Justin Bieber "Where R U Now" with 100 of our best friends getting around us on the dancefloor… hard….. that was love right there! The other moment was when Libby had her speech and asked everyone who had caught a plane to stand up… to see 80% of people stand up was a pretty humbling and heartwarming moment!
Proudly South African Details
We definitely wanted a nod to south Africa. I think the relaxed wedding feel, and outdoor wedding is very South African. The proteas and natives, and Libby's dad talking about Lobola were probably the biggest ones! And Castle Lights!
New Traditions
The main detail we are proud of is that we intentionally tried to eschew tradition as much as possible. Having both parents give Libby away, boys walking down the aisle first, no wedding cake, shots of Patron, pizza truck snacks at the end of the night. Also, we loved the vibe, and the love that night so much so that we ditched the private room to go back and party with our mates. We both looked at each other when the shuttles arrived and said 'this is so much fun, I don't want it to end… shall we go with them?"… so we did!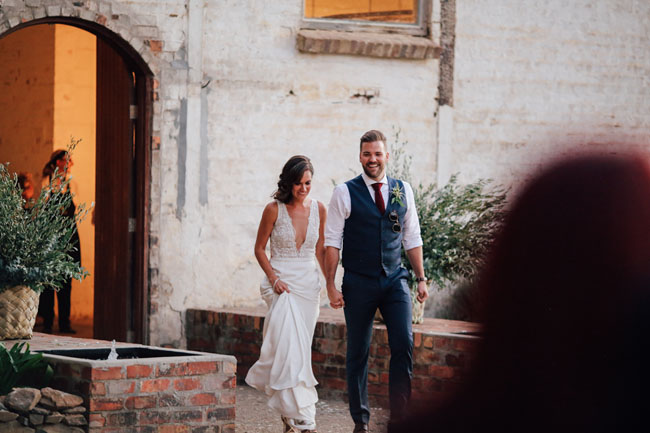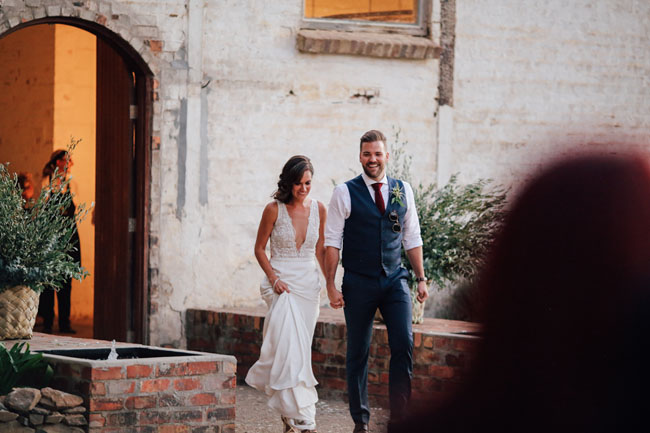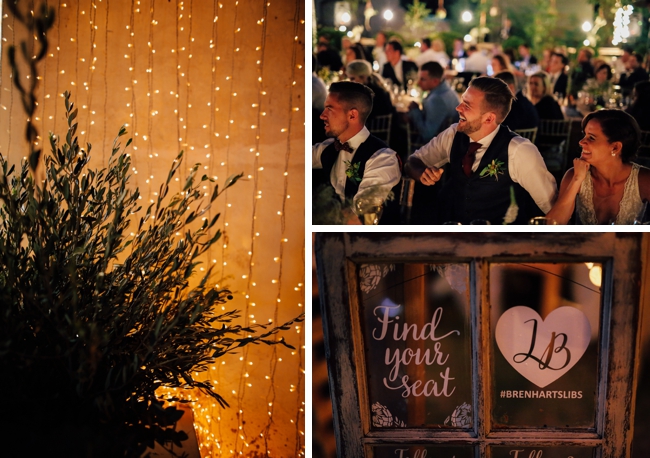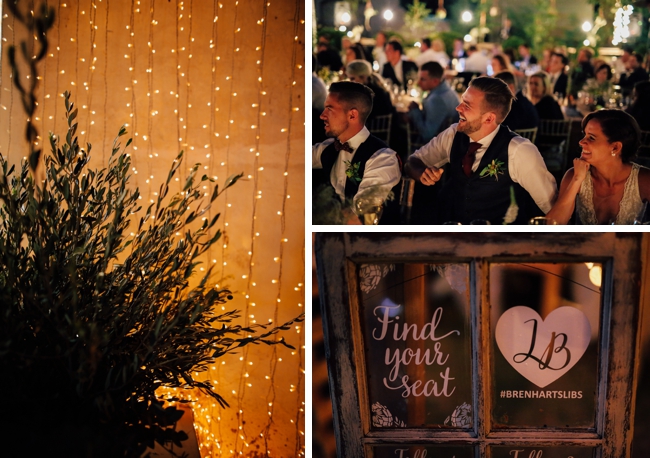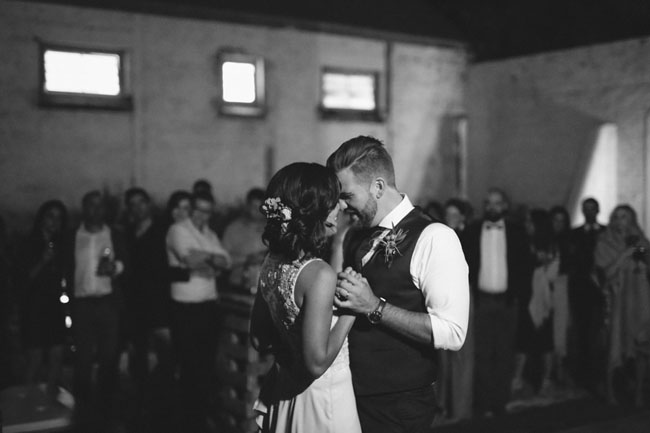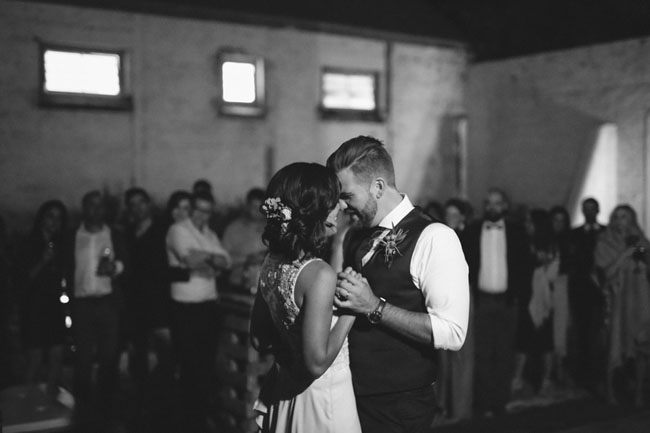 Best Decision
Bren: I'd have to say choosing the right wife?! We feel that we made so many right decisions but three probably stand out.
Getting Theresa on board as wedding planner… neither of us have that eye for detail or would have come close to making it happen as easily as she did. The number of suppliers, decisions, coordination and styling choices that she had to deal with would have crippled us – especially trying to plan from thousands of kms away… also the extra things she came up with we wouldn't even have thought of… and she stayed until 1am to make sure it was perfect!
Getting a videographer and having a photographer that suits your style and personality. We were really unsure on the videographer a lot of the way through we tried to cut out anything unnecessary that didn't add to the night. We thought that everyone does that 'will we ever watch it?' But looking back at the video was such a special way to re-live the night – and it all goes so fast that you can remember moments you would have surely forgotten. With the photographer, we actually had quite a funny exchange that meant we knew we'd found the right guy. Libs wrote that she definitely does not want any fake laughing, posed group shots, jumping shots or anything that felt forced. We wanted more candid shots of our friends, family and us. Duane laughed in his response and made it clear this wasn't his style either – so our wedding pics came out exactly as we wanted.
The location, the venue and the setting. Having our wedding in South Africa with such a big travelling group meant that we didn't just plan a wedding, we planned a whole holiday, from luxury houses in Camps Bay, to winery tours, to shark diving, all the way up to the bush in Madikwe…. we had a 2.5 week celebration, not just one day. It meant that everyone didn't just get along, but made genuinely good friends, and that added to our day so much. Also the venue, and having the outdoor wedding was a tough choice – weather was a big risk… but we couldn't imagine having it in any other setting now – it was perfect for what we wanted!
Advice for Future Brides & Grooms
Probably the biggest thing I could say is to not worry about tradition, or what people expect you to have at a wedding. If you don't care about beautifully printed invites, just email them. If you don't really give a shit about wedding cake, then don't have it… whatever it is, weddings these days can be whatever you want – and it is essentially just the best party you will ever throw – so make it what you want. Also, none of the detail is that important – they all add to the day and make it special – but if the flowers aren't right, or the wrong cups come out, or someone forgets the running order… just roll with it. Its the only day you will ever have with a hundred or so of your most favourite people getting around you for a day… so just enjoy. All that matters is that your friends and family are there… that you have plenty of booze, and that you thank your family… no one remembers the table setting, or the flowers hanging above the altar – or even the copper cutlery! :) Also… go for the spirits as well as beer and wine!
SERVICE PROVIDERS
Venue: The Dairy Shed | Catering: Malita Joubert | Photography: Duane Smith Photography | Co-ordination: Creation Events | Flowers & décor: Paradiso Flowers | Stationery: Mocholoco | Video: Vizion Photo | Bride's dress: Suzanne Harward | Hair & makeup: Chantelle Candice Brown | Hiring: In and Out Events; Two Birds; Creation Events | DJ: Andre Van Assche




Save