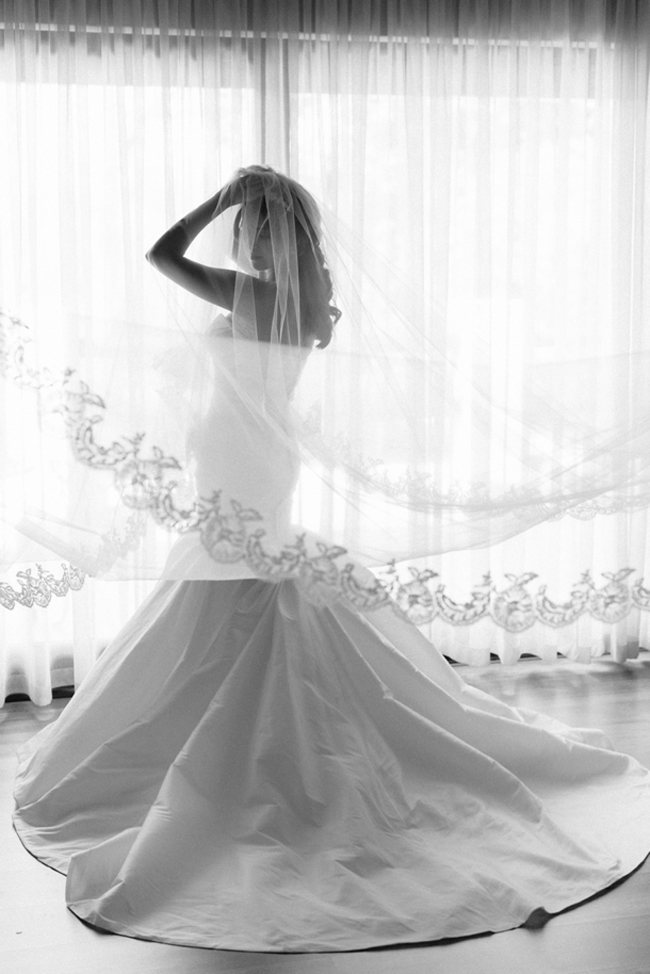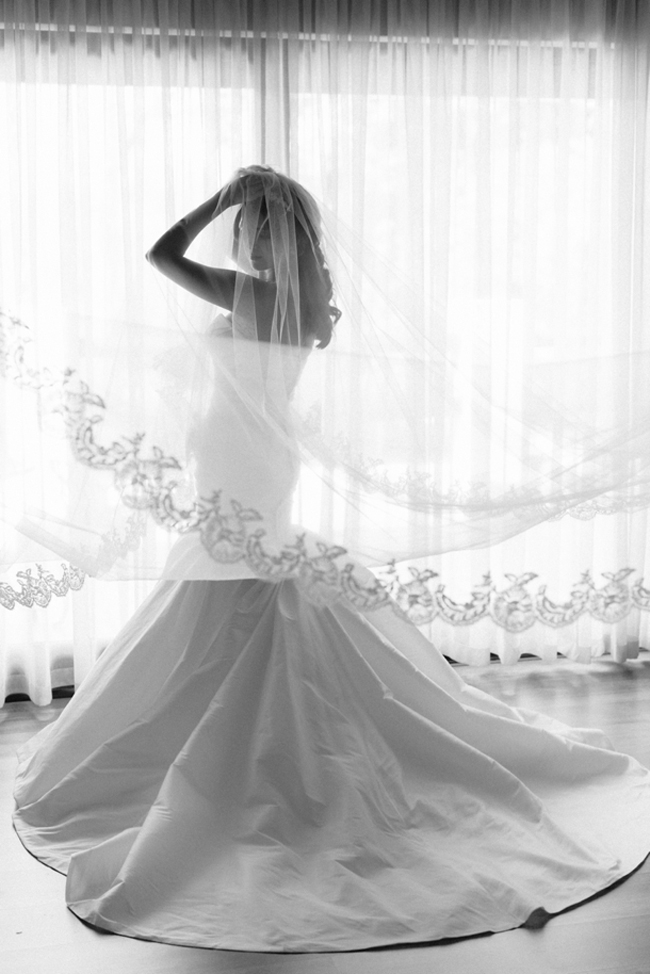 One of the things you take for granted when you've been wedding blogging as long as I have, is that the terminology that's part of your everyday life isn't necessarily something that all brides know, off the bat, when they get engaged. After all, you ladies have a lifetime of other things to think about! That's why I love putting these guides together – quick visual references that give you the tools for your planning, whether that's in choosing a veil, or deciding on the shape of your bouquet, type of cake, etc. A lot of us know dress silhouettes a bit better, but even if you know your ballgown from your mini, do you know your mermaid from your trumpet? So today we're focusing on the different dress styles, and illustrating each with some of the most gorgeous gowns I could find on Etsy. Win-win!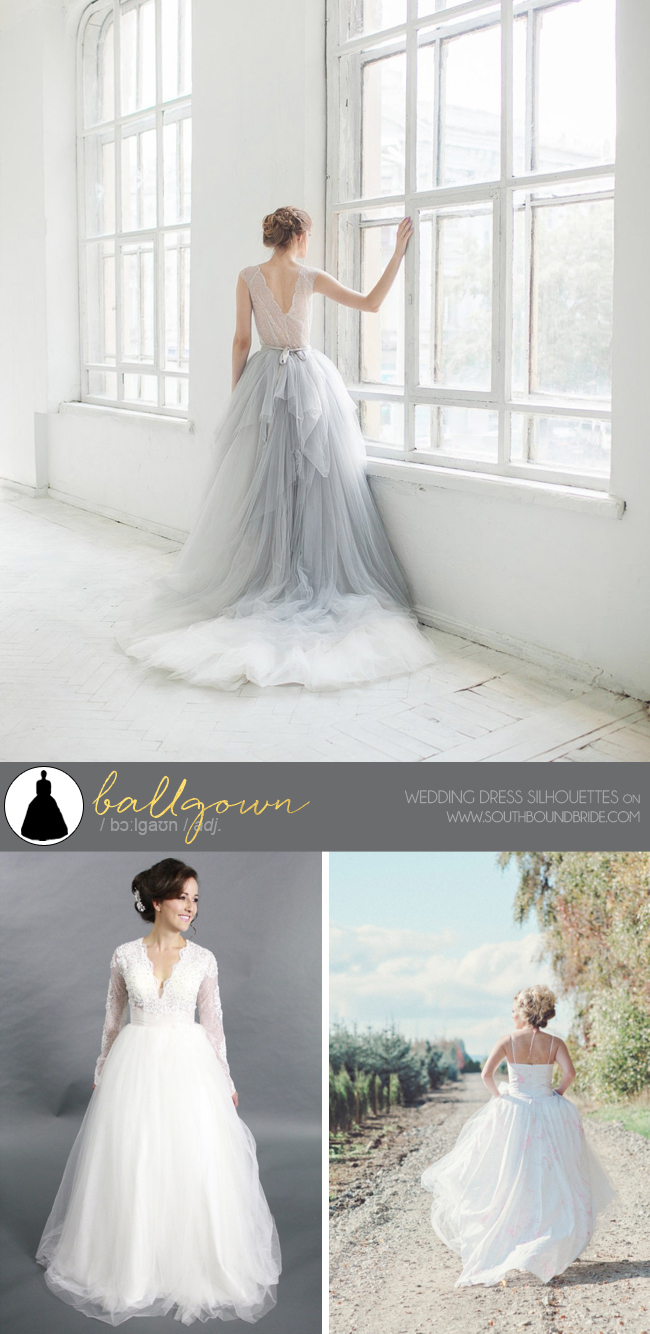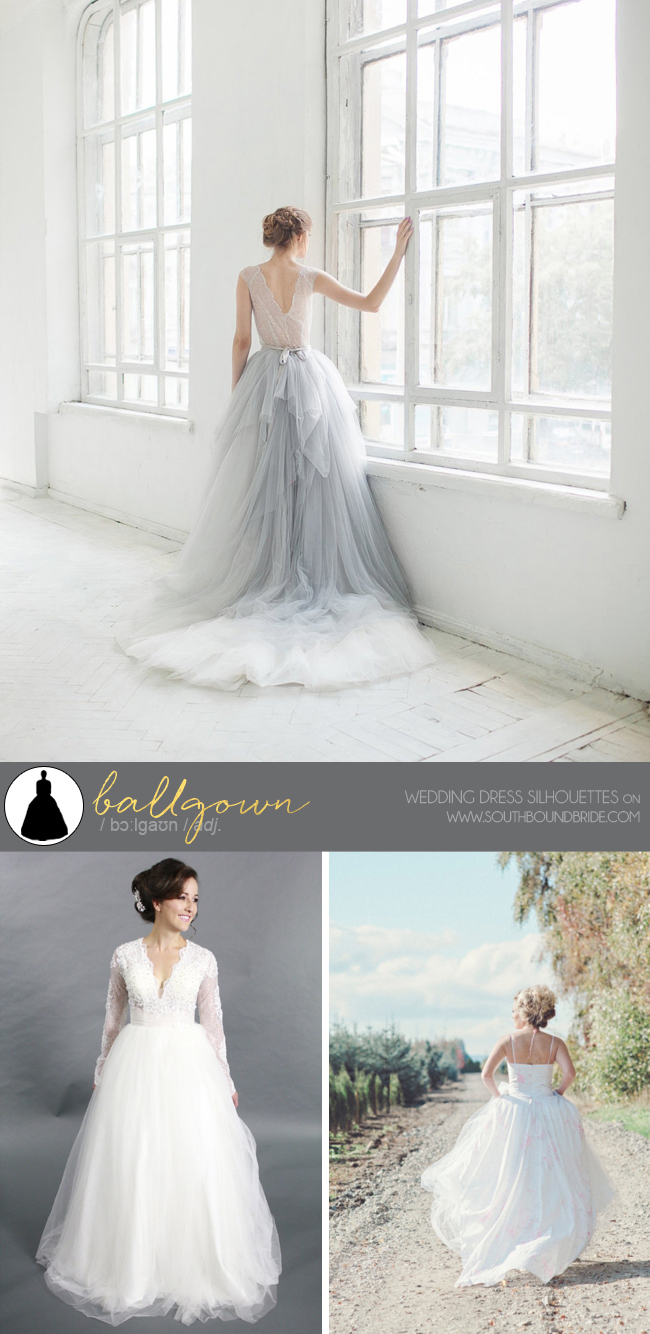 Gardenia Wedding Gown by Carousel Fashion (top) | Long Sleeves Lace Applique Ballgown by Forever Us (bottom left) | Catalina Floral Wedding Dress by French Knot Couture (bottom right)
Princess brides, this one's for you! The BALLGOWN is the classic fairytale gown, which new brides either love because of its epic romance, or consider far too much dress for one person. But don't judge too quickly – many are the brides who never saw themselves in a 'meringue' but find themselves falling in love with its magical, flattering shape. Ballgowns have a fitted bodice, which flares at the waistline into a beautiful full skirt. They're flattering on most shapes (especially pears, since it's kind to full hips), but can overwhelm a petite frame.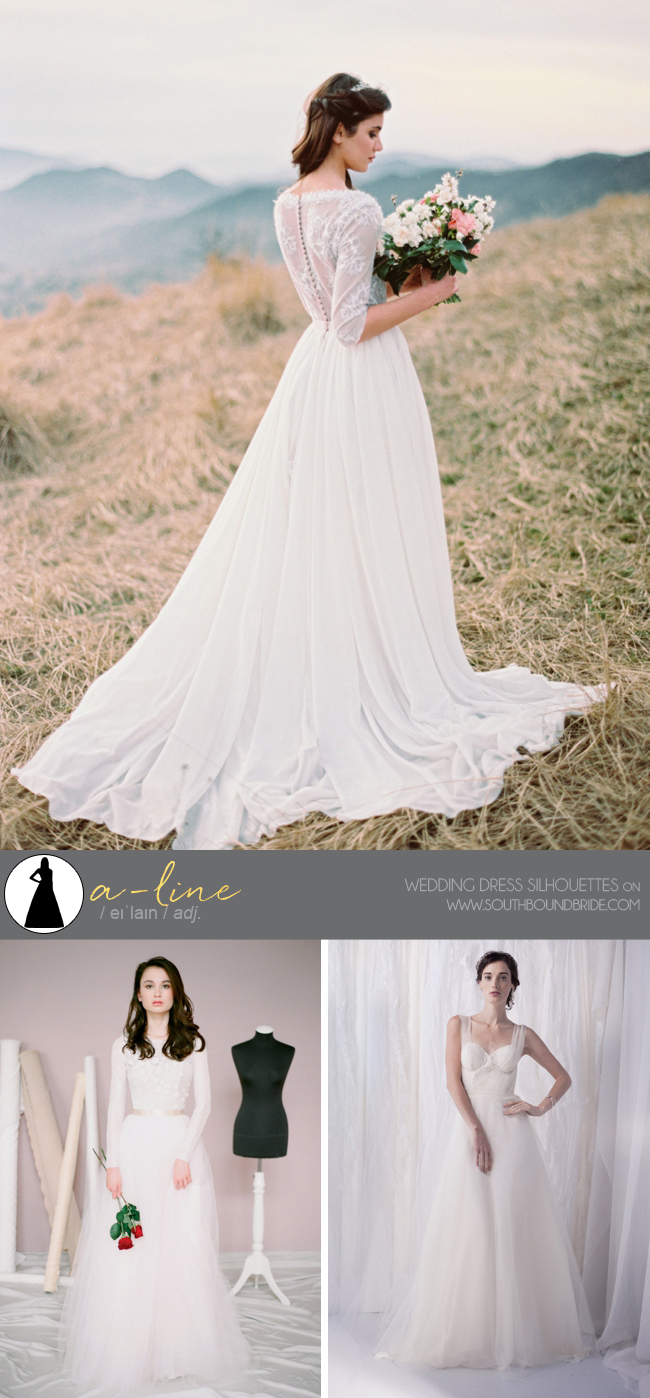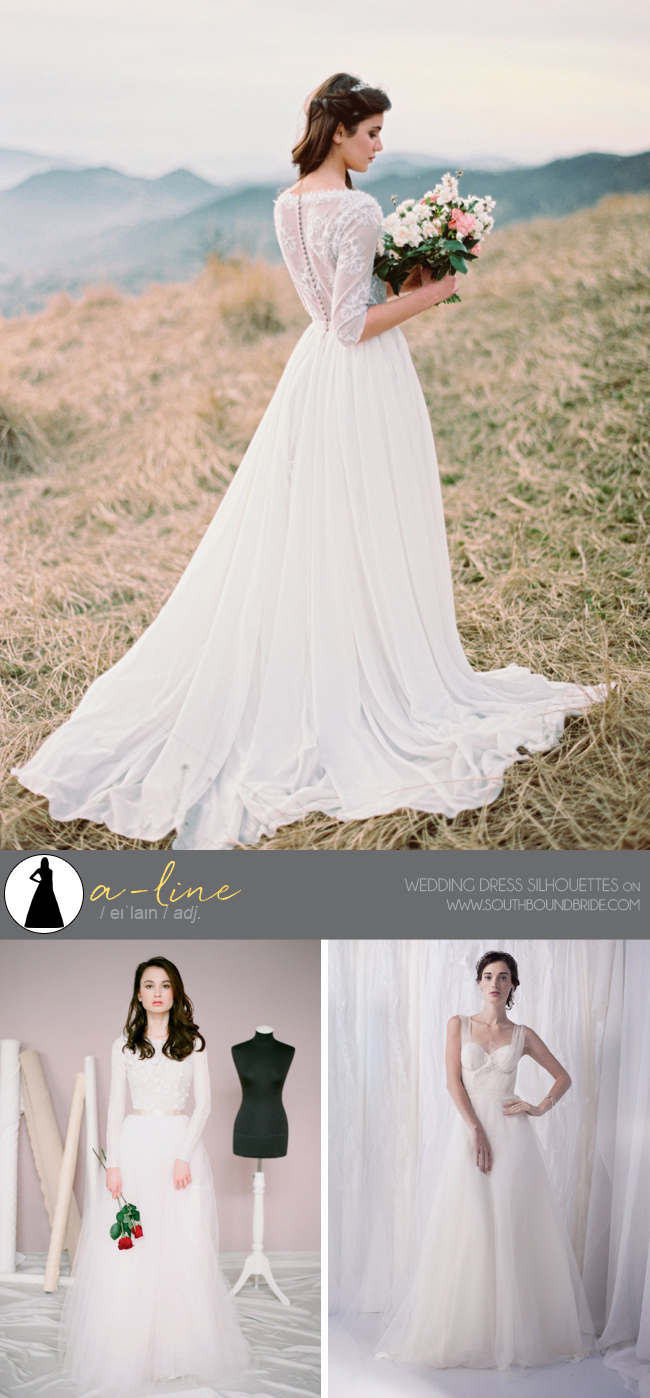 A-silhouette Wedding Dress with Nude Lace Bodice by Cathy Telle (top) | Amy Lace Wedding Dress by Milamira Bridal (bottom left; Image by Ksenia Milushkina Photography) | Bohemian Tulle Wedding Dress by Molteno Creations (bottom right)
Speaking about flattering, the A-LINE has to be the all-round winner in this department because it basically looks good on everyone. It also sports a fitted bodice, which flows down through the waist into a long skirt in an unbroken line, resembling a capital A. A MODIFIED A-LINE is the same, except that it hugs a little closer to the body.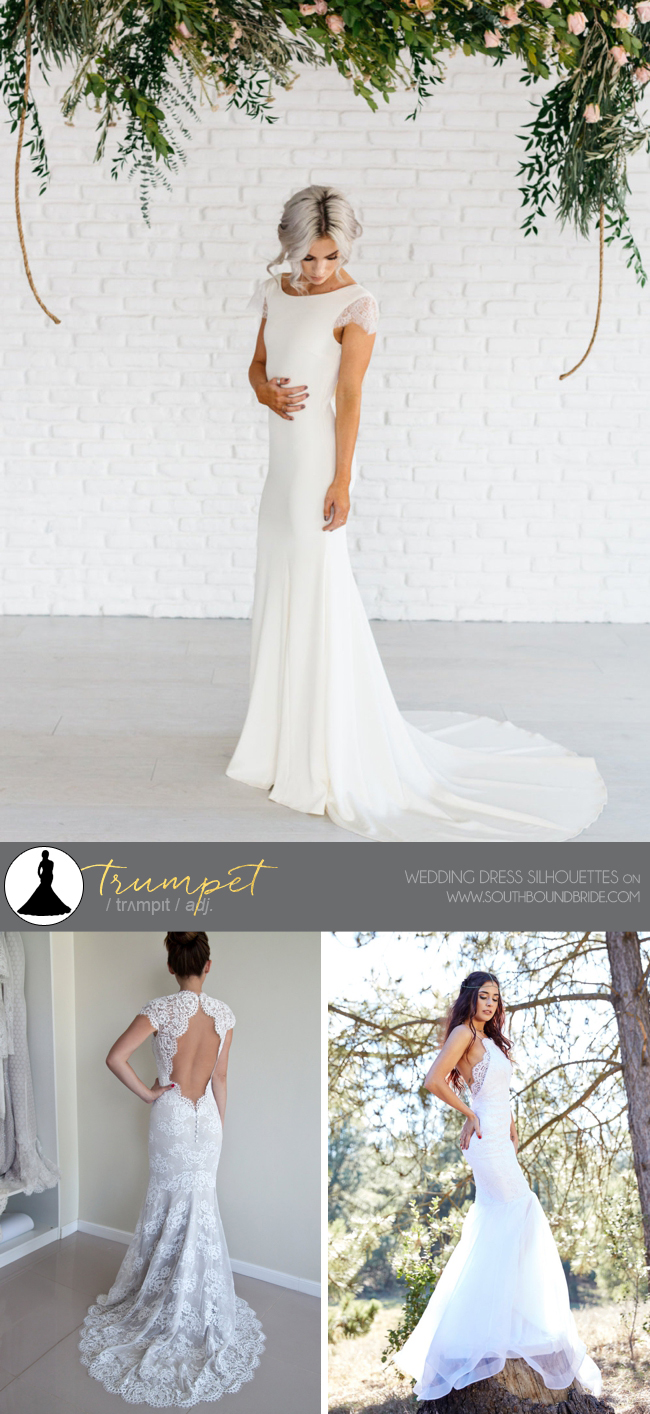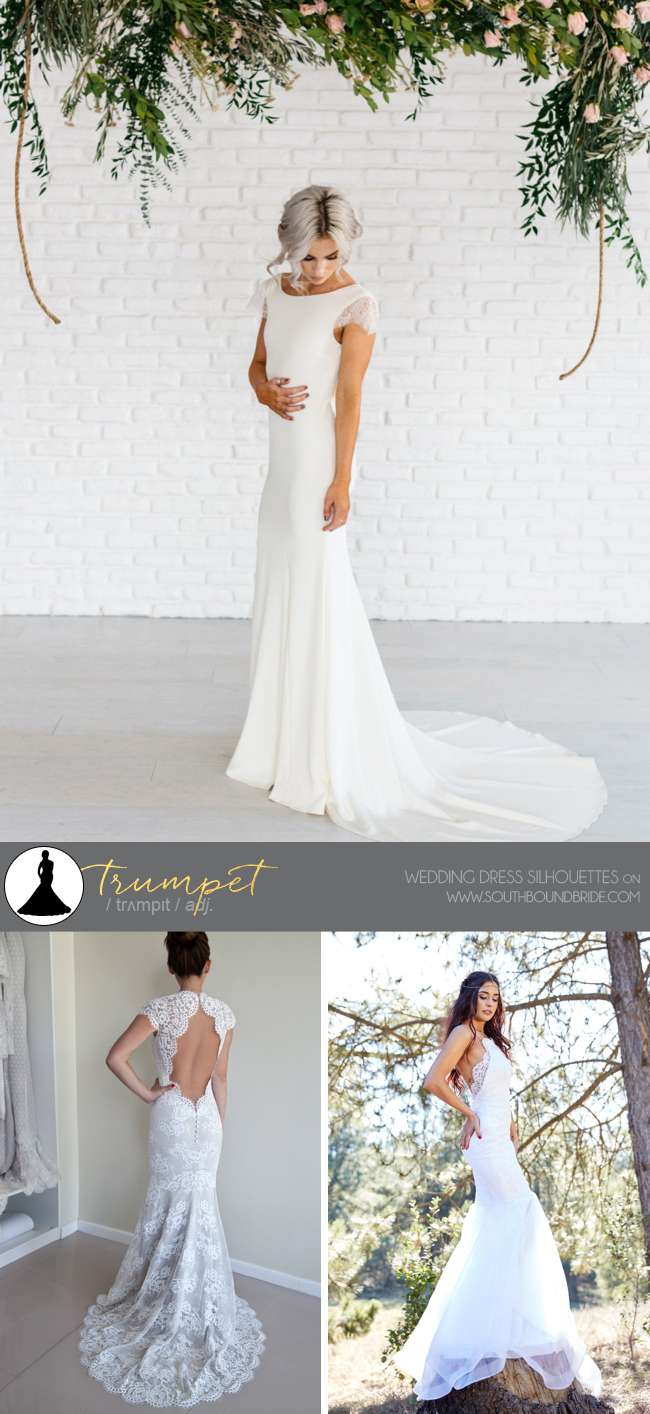 Patricia Wedding Gown by Chantel Lauren Shop (top) | Keyhole Back Wedding Dress by Polina Ivanova (bottom left) | Low Back Wedding Dress by Victoria and Fitz (bottom right; Image by www.sergionphoto.com)
The subtly sexy TRUMPET silhouette fits close to the body before flaring mid-thigh, and widening gradually to the floor. The key difference between this and the often-confused Mermaid is that it flares above the knee. It looks amazing on brides with naturally nipped in waists, but isn't good for apples and pears, because it's fitted across the stomach and thighs.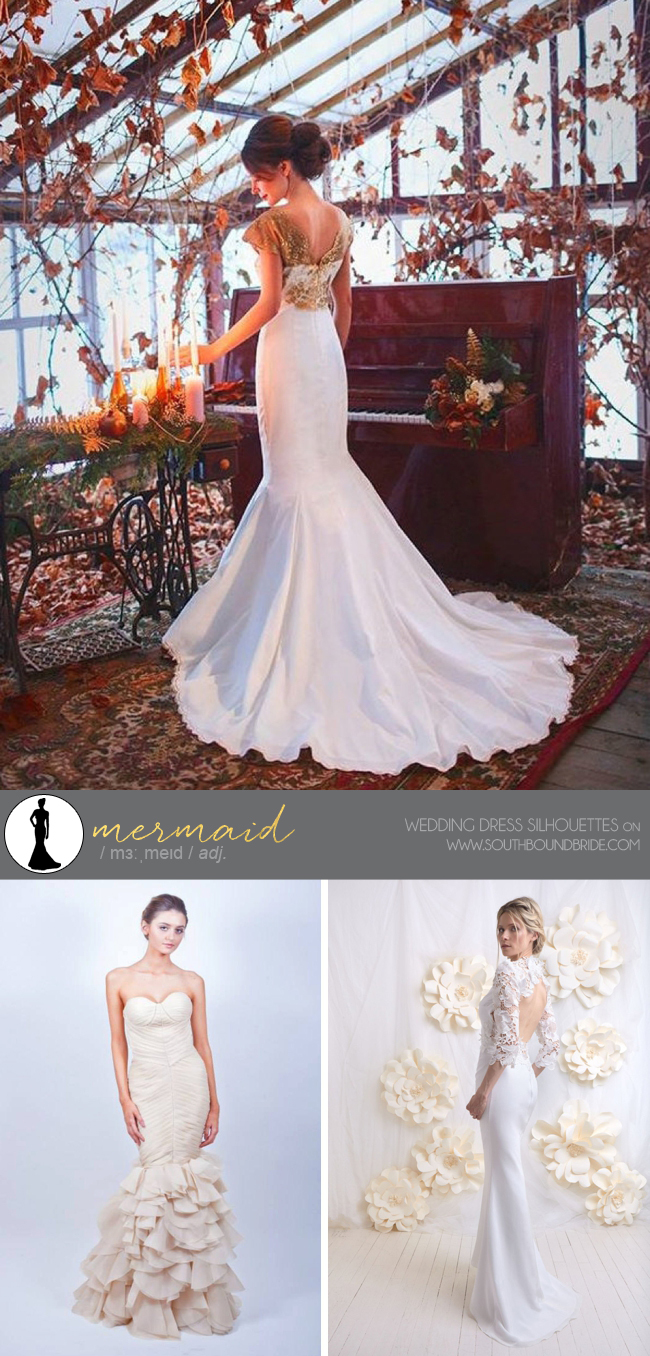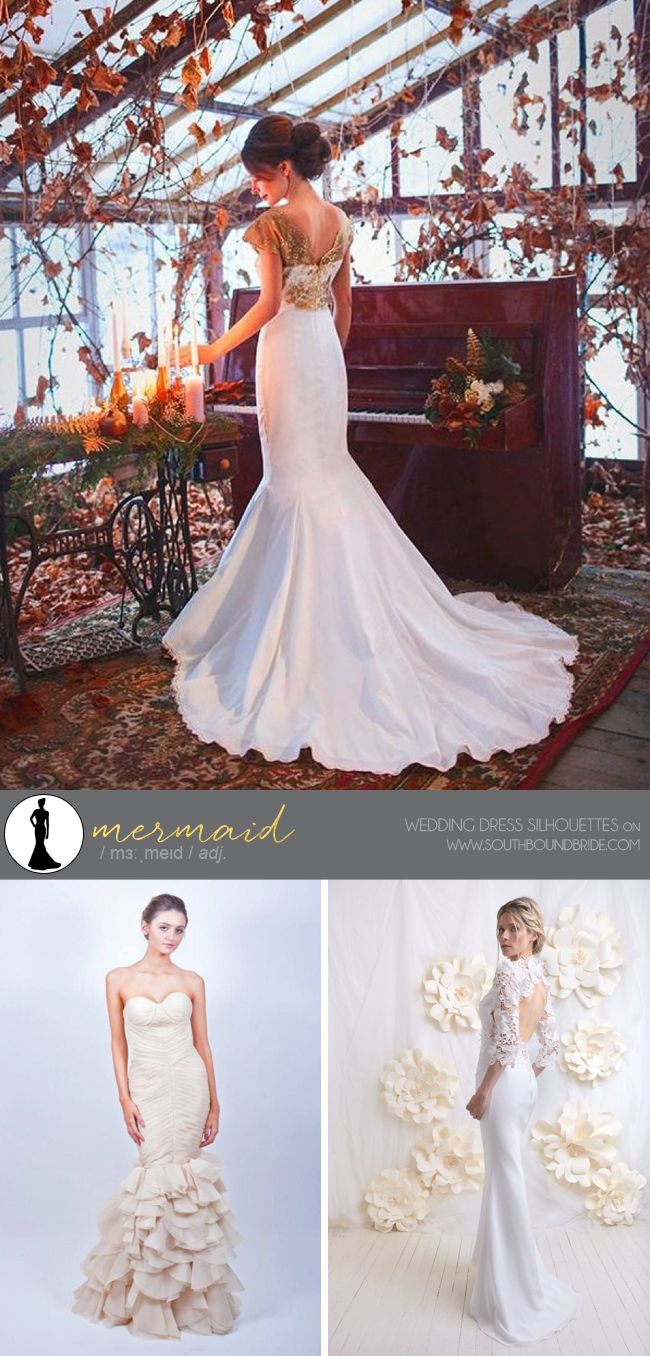 Mermaid Wedding Dress by Karina Make Clothing (top) | Beige Mermaid Wedding Dress by Alma Vidovic (bottom left) | Mermaid Wedding Dress by Faith Cauvain (bottom right)
Fitting close to the body from chest to knee and then flaring out to the floor, the MERMAID has some serious va-va-voom! It's perfect for a bride who's ready to show off her curves, and super flattering on an hourglass figure especially. Not so much for apple shapes, since, as with the Trumpet, it's unforgiving to wider waists.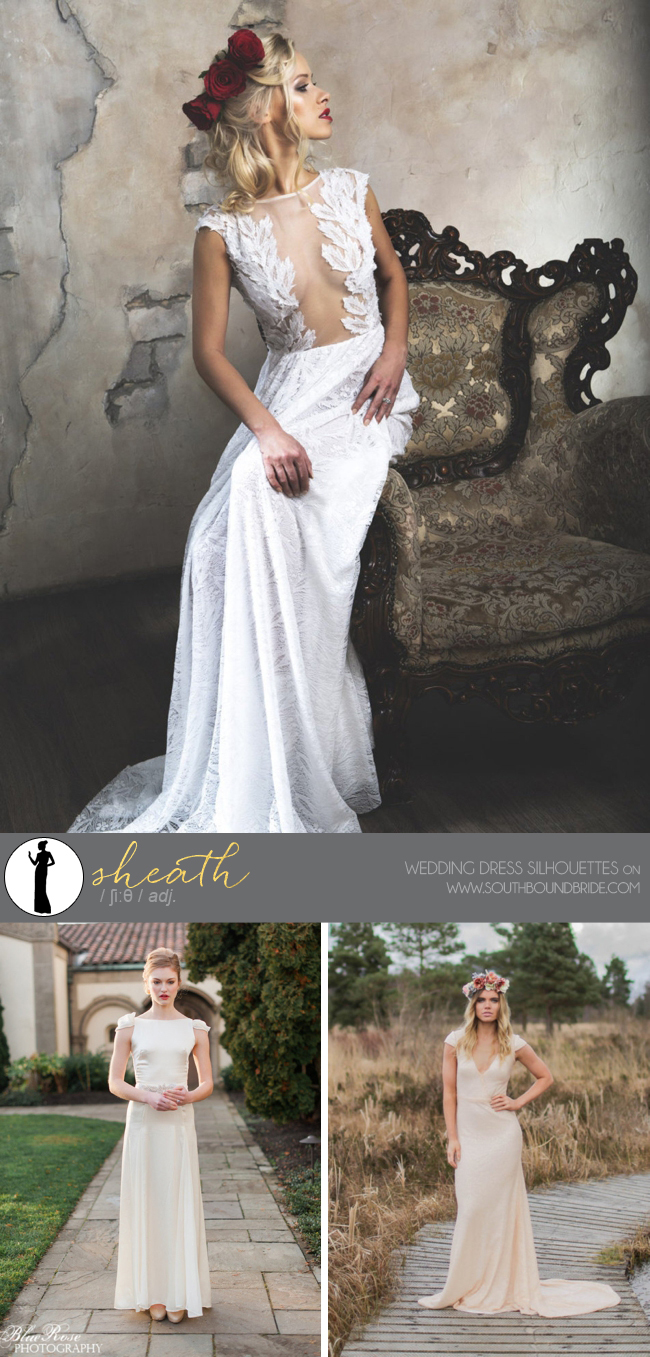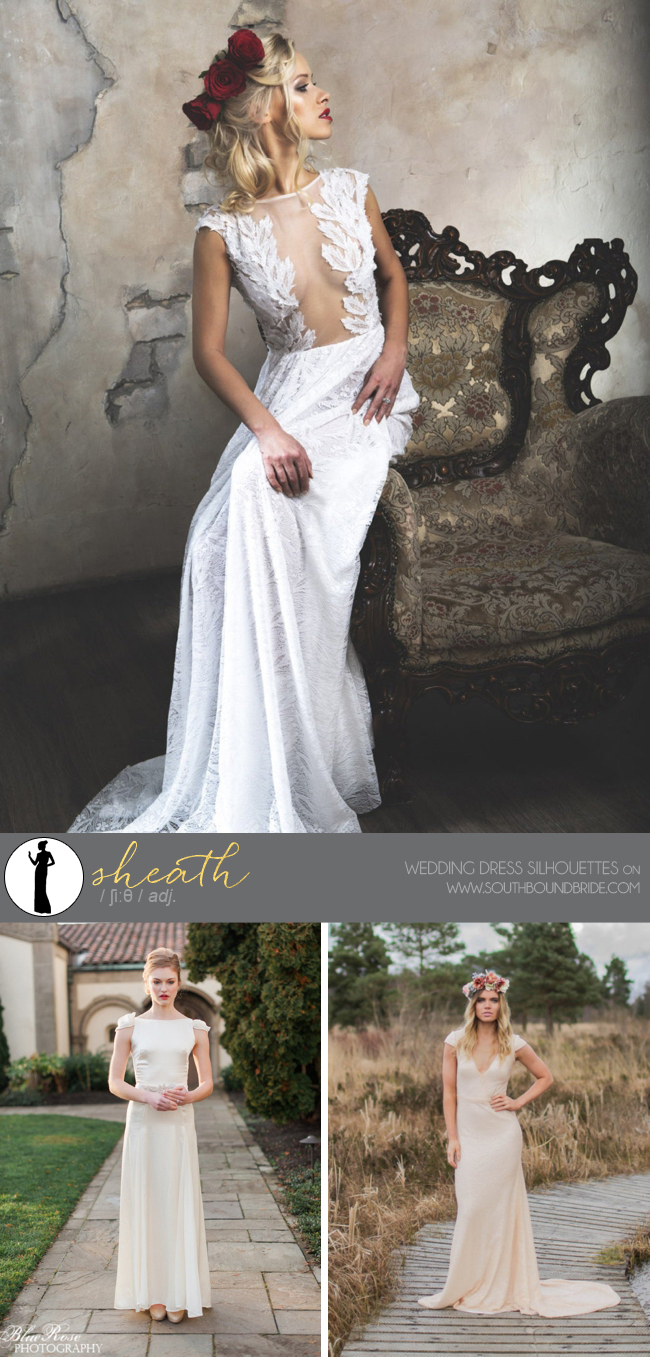 Pure White Wedding Dress by Cathy Telle (top) | Stella Retro Wedding Dress by Jillian Fellers (bottom left; Image by Blue Rose Photography) | Bacall – Ivory Blush Luxe Bohemian Wedding Gown by Gibson Bespoke (bottom right; Image by KLJ Photography)
SHEATH dresses also fit closely to the body, but in this case with a narrow line that flows from neckline to hem, a straight skirt with no waist. It looks amazing on lean, athletic body types, and super sexy on hourglass figures who want to show off their curves.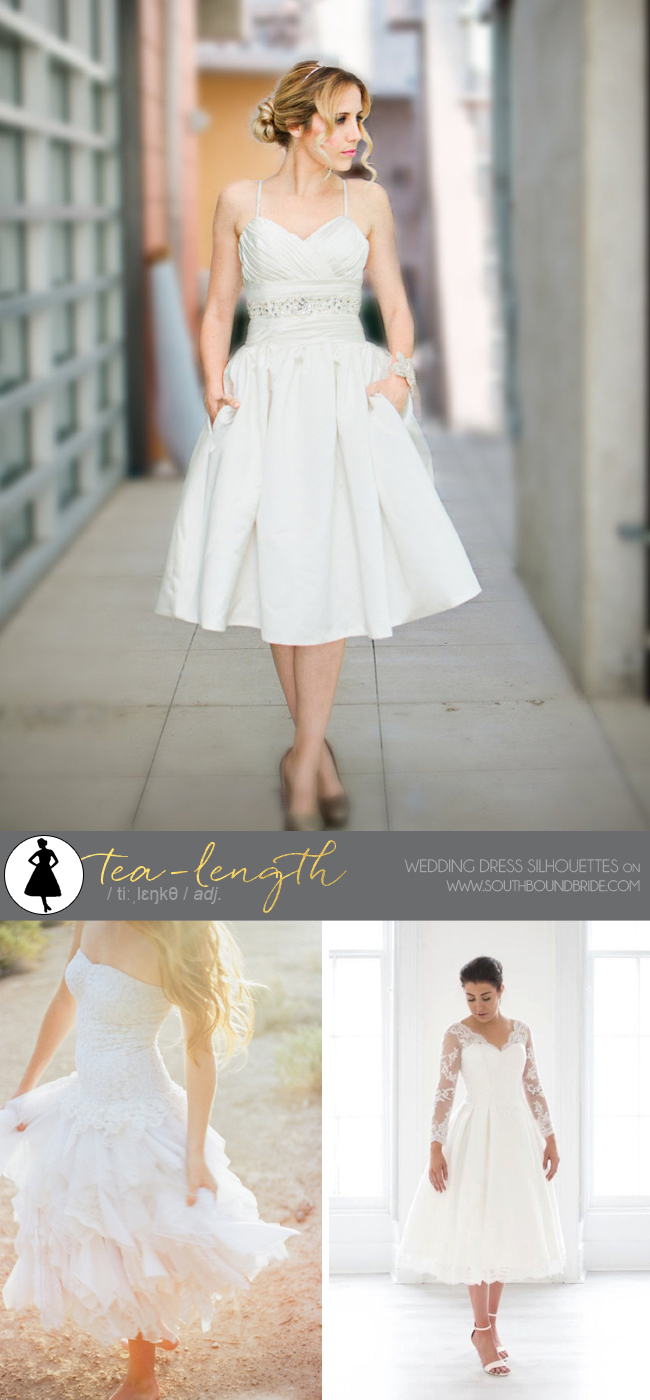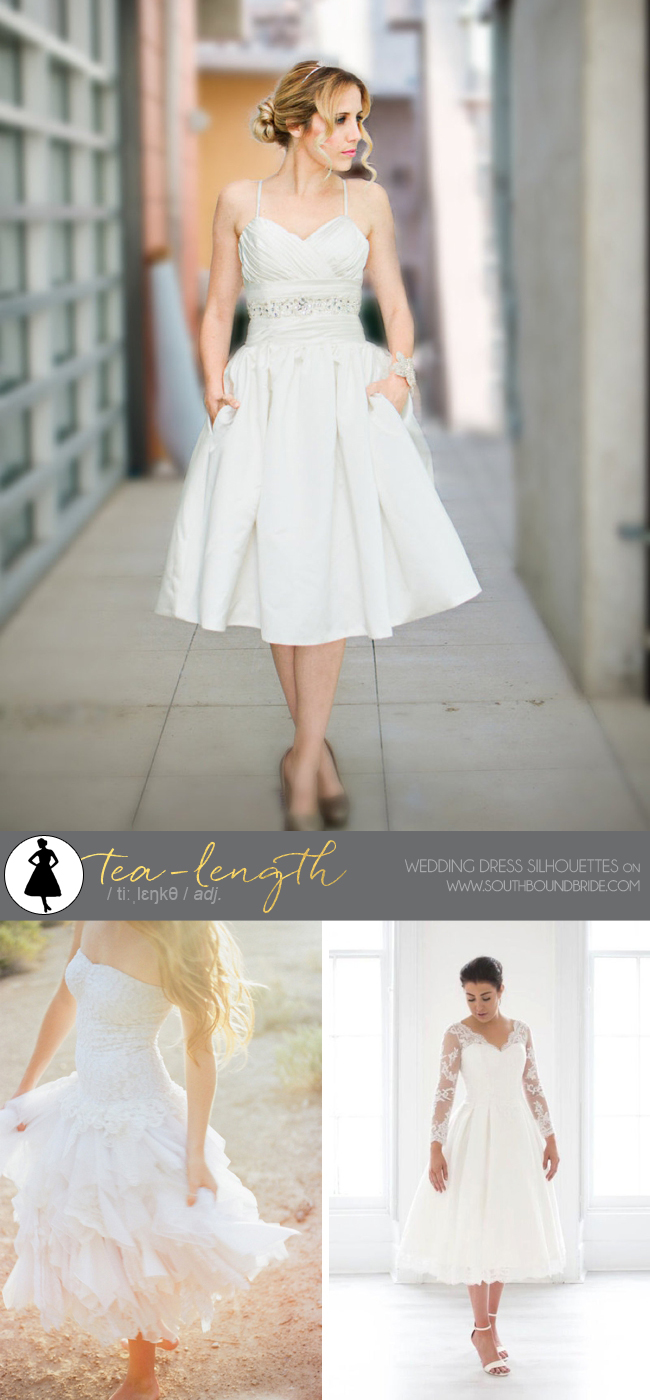 Sabrina Short Wedding Dress by Iselle Bridal Studio (top; Image by 3PIXstudios) | Tea Length Wedding Dress by Alice Sioux Bridal (bottom left; Image by Gaby J.) | Beautiful Tea Length Wedding Dress with Sleeves and Keyhole Back by Bridal Lounge (bottom right)
When it comes to shorter dresses, TEA-LENGTH is my personal favourite. The skirt falls in between the knee and the ankle, which gives it a flirty yet demure, retro chic look. It also happens to be flattering on all body types.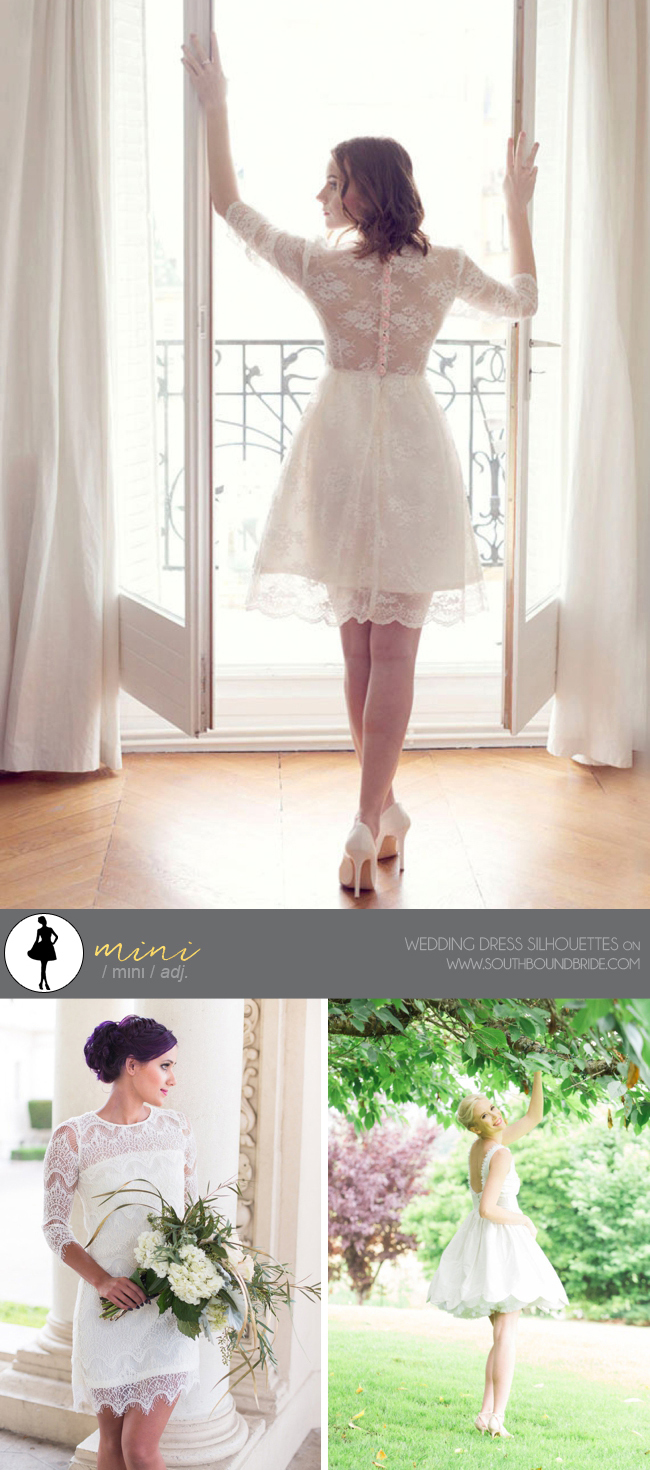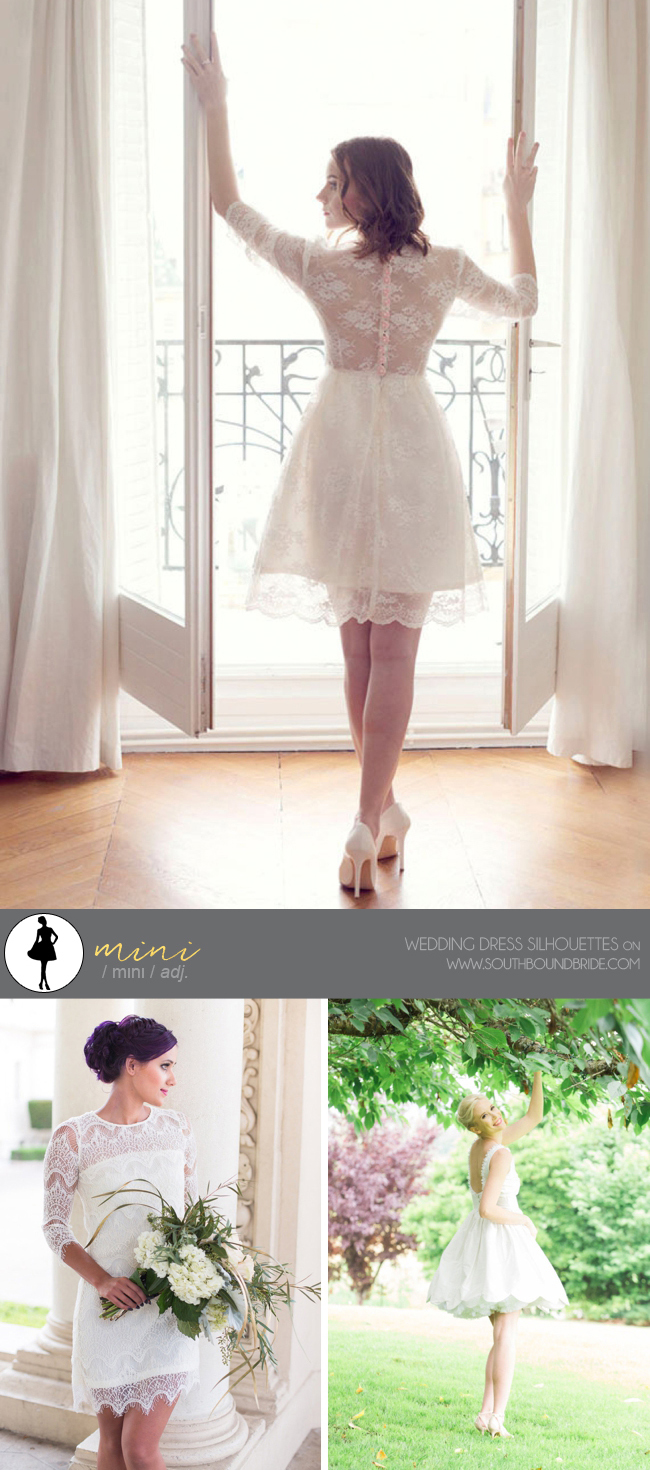 Short Wedding Dress with Long Sleeves by Alesandra Paris (top) | Lace Wedding Dress by Iselle Bridal Studio (bottom left) | Poppy Backless Short Silk Wedding Dress by French Knot Couture (bottom right)
Finally, we have the MINI, and of course the name says it all! With a skirt falling above the knee, this is the dress for those ladies who want to show off their pins and dance the night away!
Top image: Louise Vorster on SouthBound Bride
Links in bold denote sponsored affiliate links. SouthBound Bride may earn a commission if a sale is made.
Save
Save