Happy Friday, loves! What do you have planned for the weekend? Before we head off, I thought it was time for some education, SBB style. As much as I advocate hiring great wedding pros and then trusting them to do their job for you, you'll want to give them an indication of the kind of styles and ideas you have in mind. Pics are great, but there's some wedding-speak that will help communicate those ideas (so that you're not like me at a hairdresser: "short, but not, like, short short") and that's what this glossary is all about. So today I'm breaking down the most common bouquet types, with lovely, pinnable examples of each!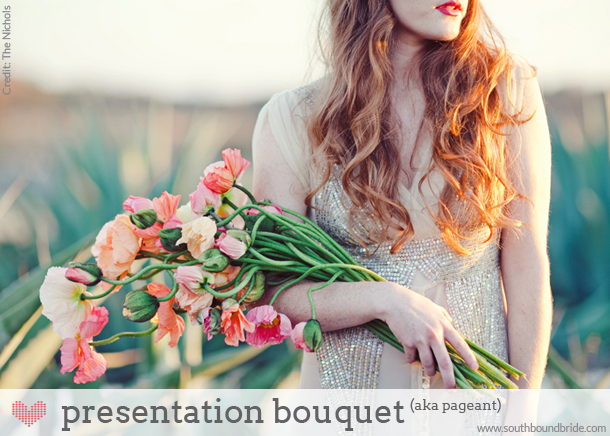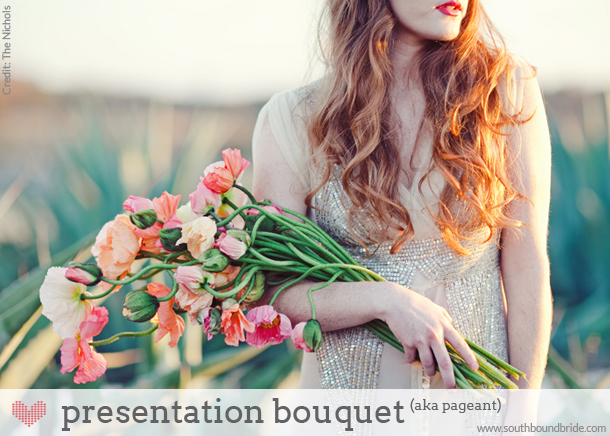 The key to envisioning a Presentation bouquet is in its other name, the 'pageant' bouquet – remember when as a little girl you pictured yourself winning Miss South Africa? (Oh come on, we all did.) Well, a presentation bouquet is the one that the winner would receive, that lies over the arm like you're cradling a small baby. Usually used for long-stem flowers, it's an elegant choice.
Image: The Nichols/The Nouveau Romantics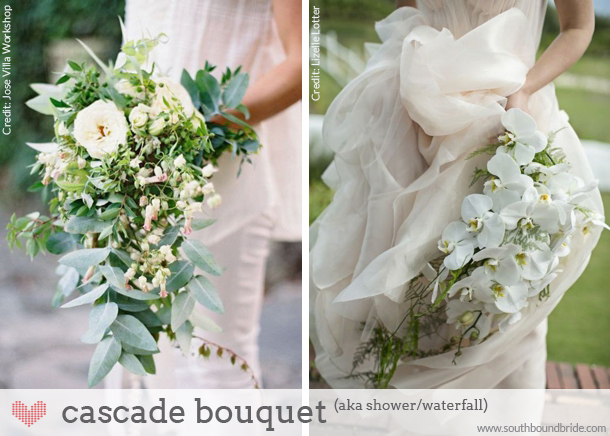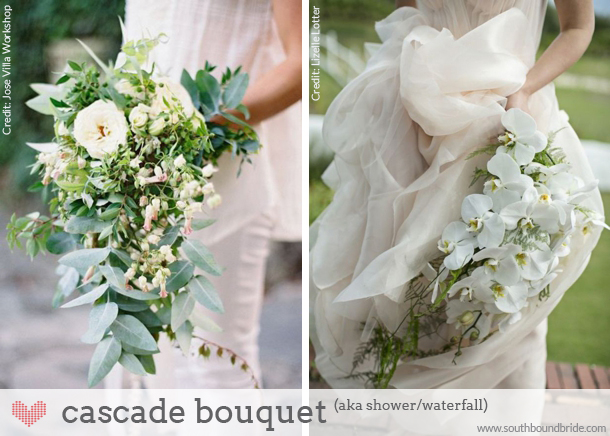 Cascade bouquets are very much in vogue at the moment, and they make a beautiful statement, with their waterfall-like tumble of flowers and greenery. Traditionally used in the most formal of weddings, but finding a new lease of life for rustic, romantic and garden-style weddings as well. For more glorious cascade bouquets, see our roundup here.
Images: Jose Villa Workshop/Mindy Rice via Style Me Pretty (left); Lizelle Lotter via SouthBound Bride (right)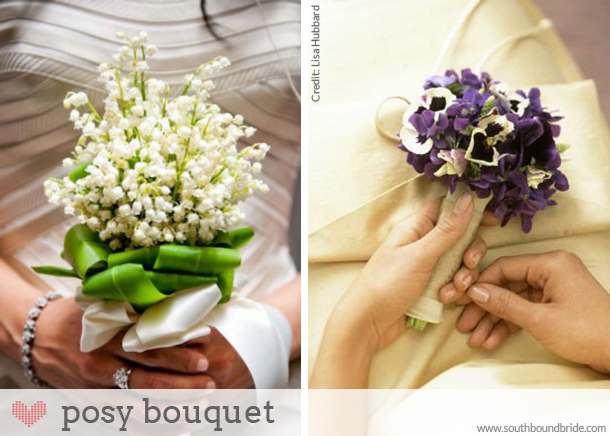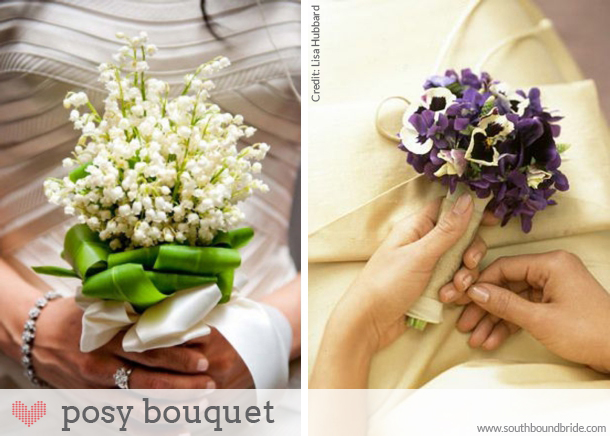 The smallest bouquet type, posy bouquets are often used for flowergirls or bridesmaids, or casual brides (they're great for a relaxed second wedding, for example). They're made similarly to nosegays; the key difference is in size. Kate Moss carried one for her wedding to Jamie Hince.
Images: via The Wedding Specialist (left); Lisa Hubbard via Martha Stewart Weddings (right)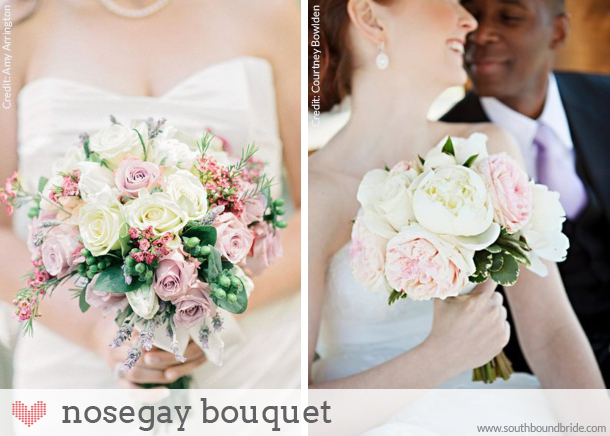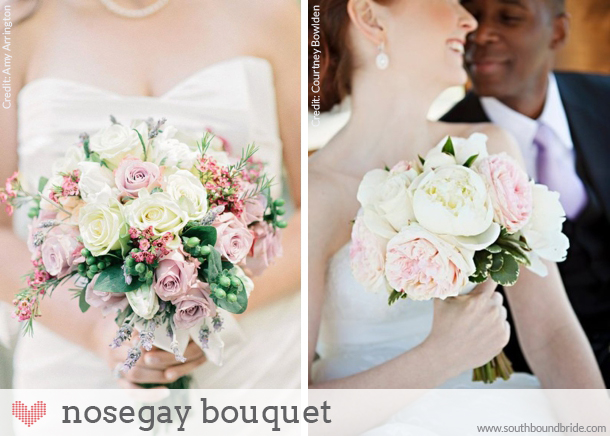 Nosegay bouquets are compact clusters of blooms, cut to a single length – great for either a mix of flowers or a single type. Smaller than round bouquets, and usually with a tighter arrangement.

Images: Amy Arrington Photography/En Plein Air Floral Designs via Style Me Pretty (left); Courtney Bowlden Photography via Wedding Wire (right)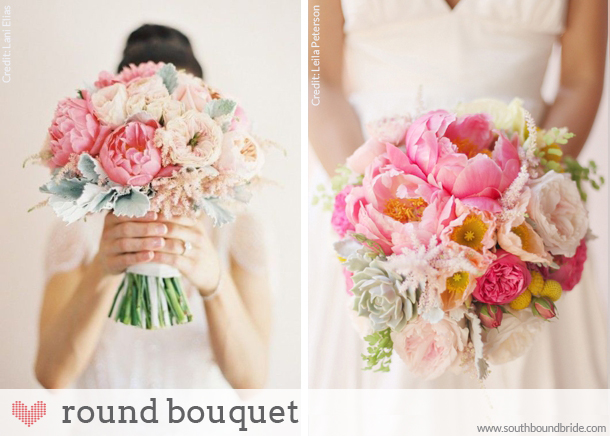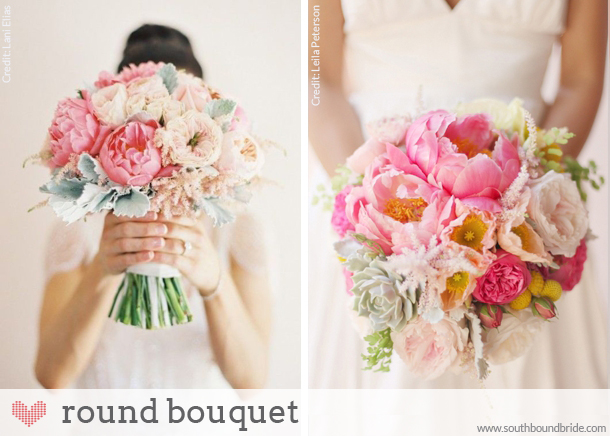 Round bouquets are a classic way of making a statement without obscuring too much of the dress, and often consists of large flowers loosely arranged (although secured more tightly than the hand-tied bouquet).
Images: Lani Elias Fine Art Photography/Academy Florists via Style Me Pretty (left); Leila Peterson/Honey And Poppies via Wedding Chicks (right)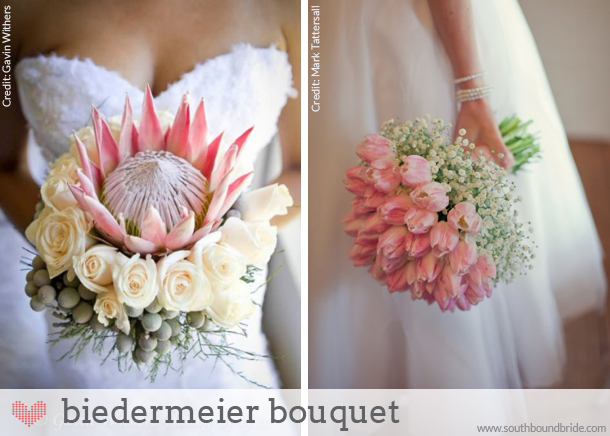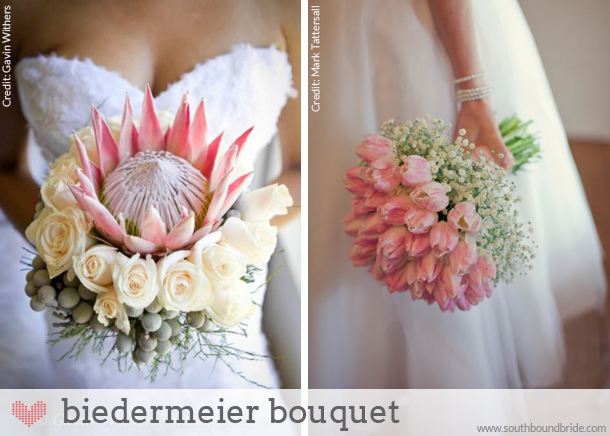 A special variation of round bouquet is the Biedermeier bouquet, which has different types or colours of flowers in concentric circles. Often seen in our local weddings as a single protea at the centre surrounded by collars of roses and fynbos.
Images: Gavin Withers/Floral Services via SA Weddings (left);  Mark Tattersall Photography /Perfect Choice Planning /Laurel Weddings (right)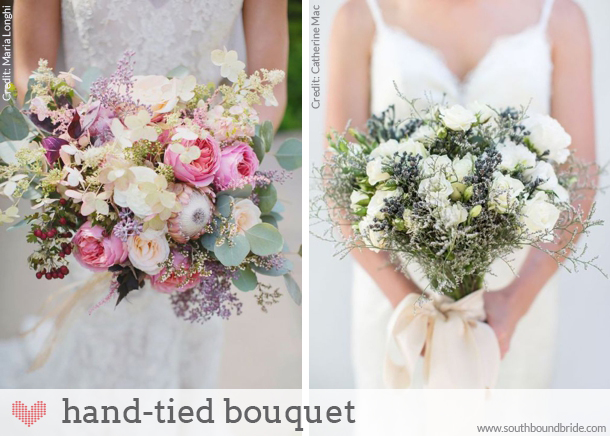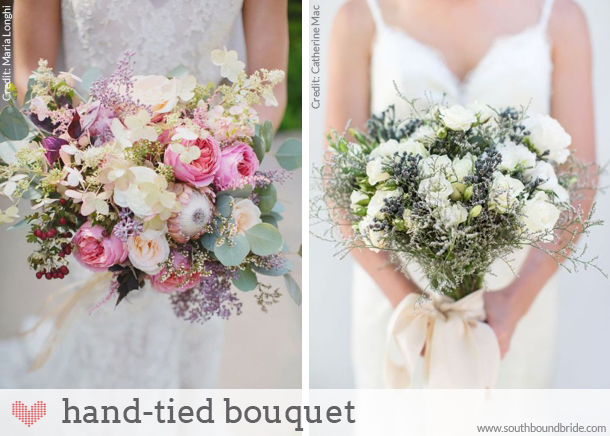 For a fresh-from-the-fields, natural look, you can't do better than a Hand-tied bouquet, which is why they've become so beloved by brides and wedding pros. It's essentially a dense bunch of flowers tied together – can be wired or simply bound with ribbon or lace.
Images: Maria Longhi Photography/The Little Branch via Style Me Pretty (left); Catherine Mac/Nell Volschenk via SouthBound Bride (right)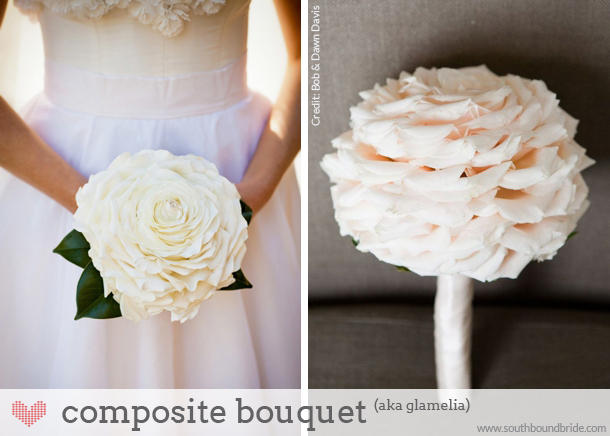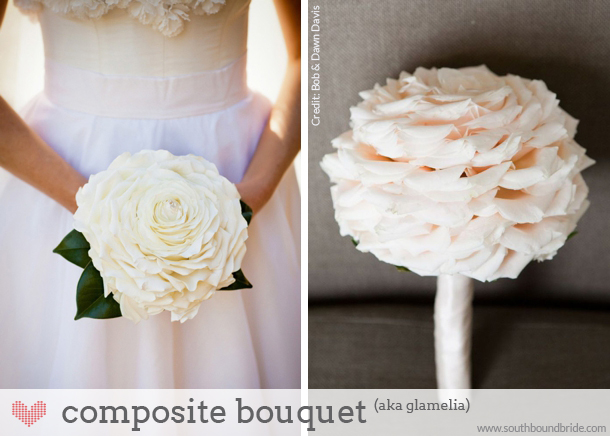 You don't see composite (or glamelia) bouquets often, but they really make a statement! They're made up of different petals or buds wired together on a single stem, creating the illusion of a single, lush flower. So pretty!
Images: via Brides of Adelaide Magazine (left); Bob and Dawn Davis/Marks Garden via Revelry Event Designers (right)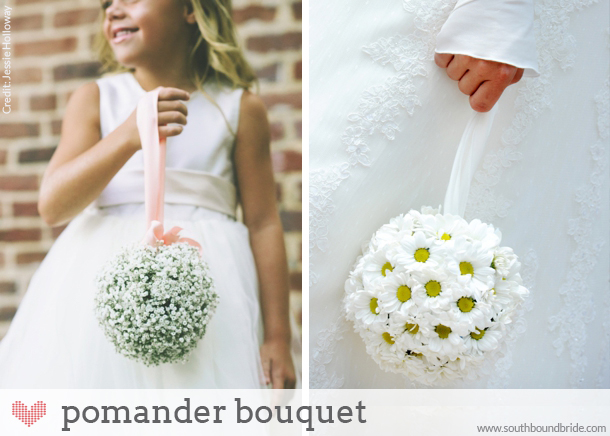 Finally, the pomander. A ball shape covered in flowers which hangs on a ribbon from the wrist. Often seen on the arm of flower girls, but can be a good option for a bride who wants to go hands-free.
Images: Jessie Holloway Photography/Brocade Nashville via Ruffled (left); Ilnibbiubruno (right)