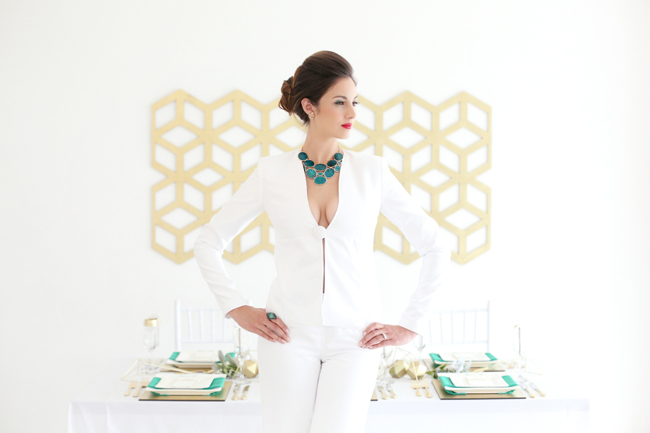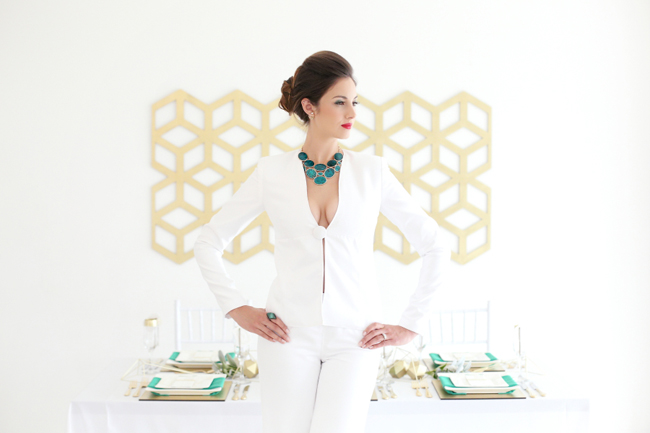 I promised you guys some amazing styled shoots this month, and I wasn't kidding! Plus, today's slice of chic comes courtesy of one of our favourite local suppliers, the lovely Dominique of Hello Love Photography, which makes it extra special. Dominique and her team decided to create a look inspired by geometric minimalism – a bold, modern, and oh-so-stylish take on both bridalwear and table design that comes in two parts. The colours are incredible – stark white and gold with pops of deep emerald in Part 1 of the shoot and teal in Part 2 – and the geo details are fabulous, from the gold backdrop to the table decor to the cake. Oh, the cake! Add in some statement paper succulents, bold makeup, and a lush organic bouquet, and you have something really special. I especially love the fashion choices here, because as we discovered a couple of weeks ago, bridal pantsuits are so hot right now! And the kimono top and tulle skirt combo in Part 2 is just as amazing. So, let's get inspired!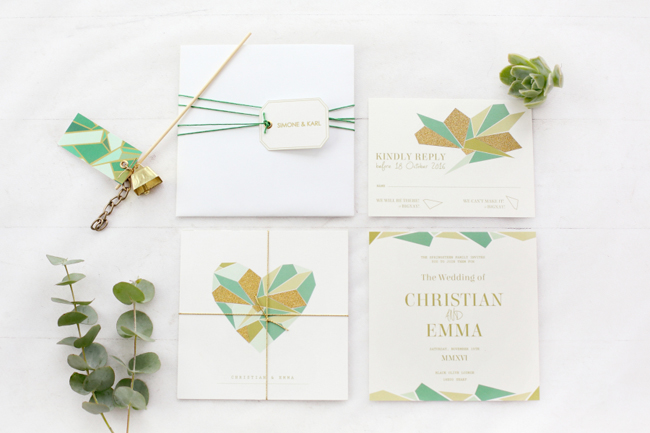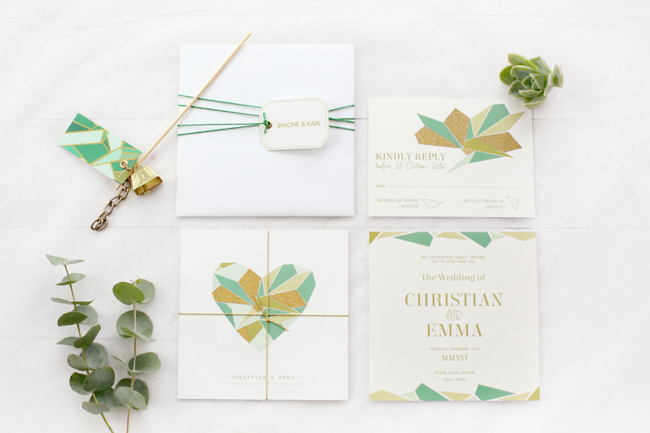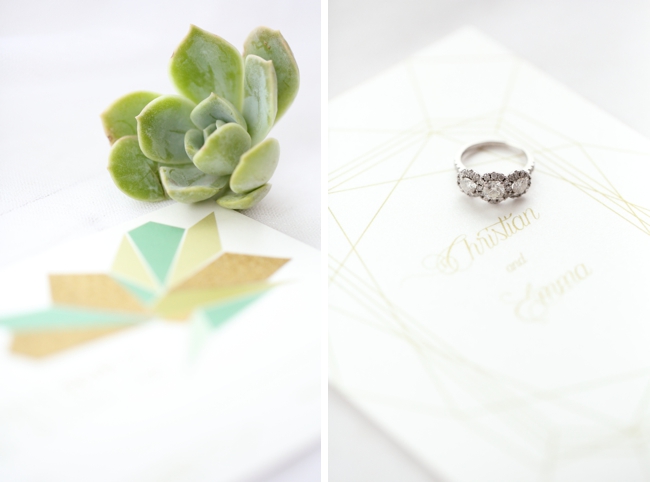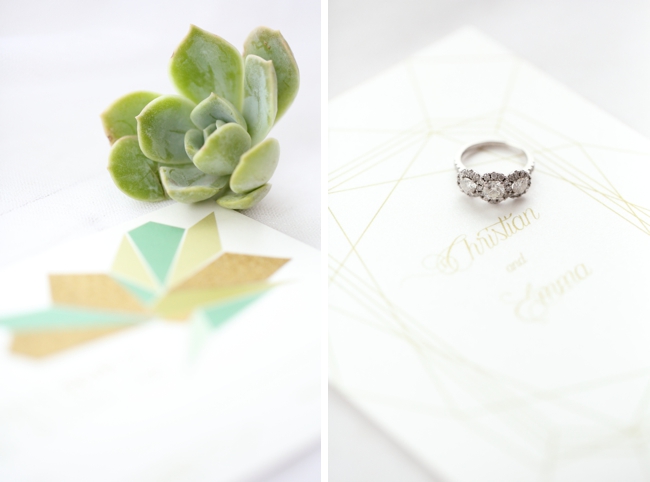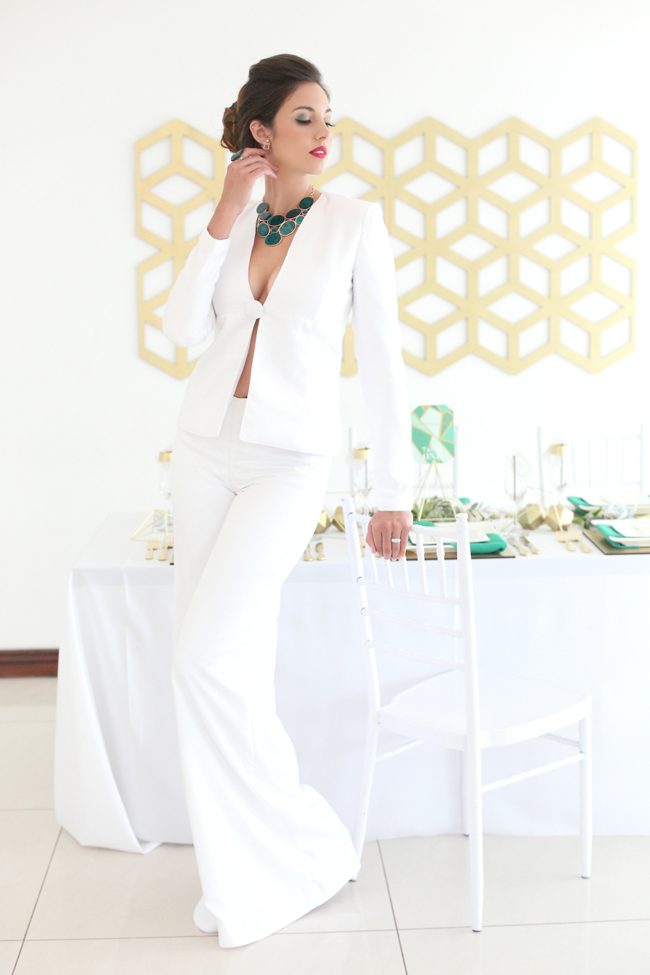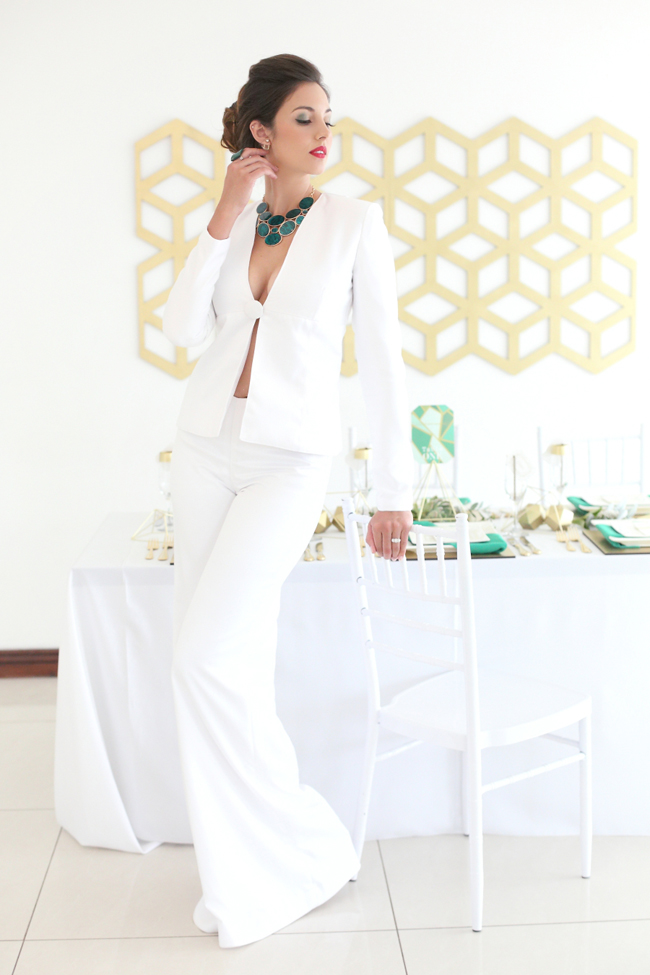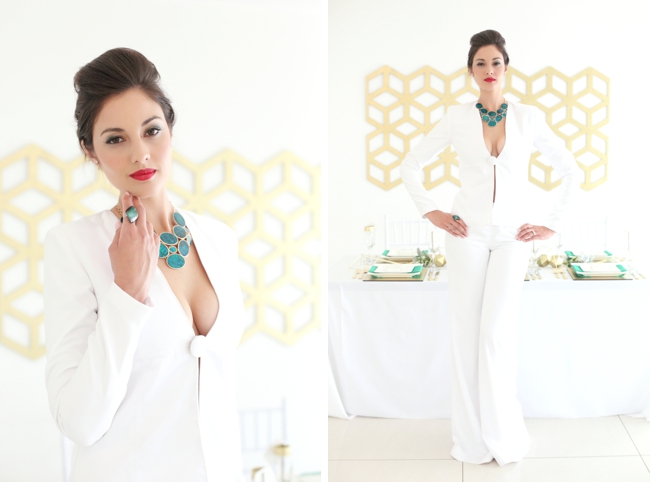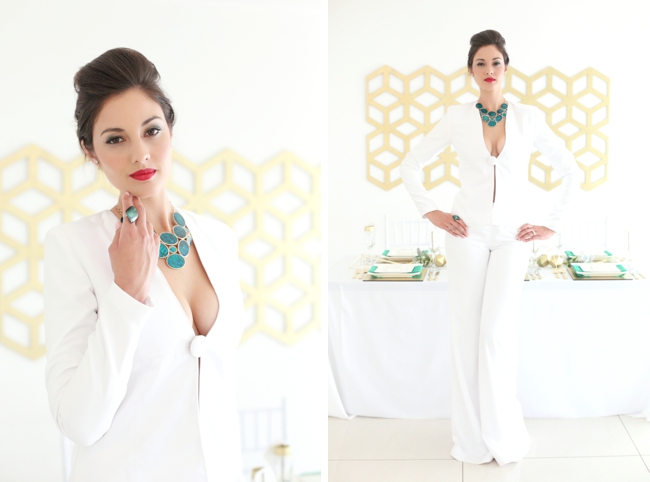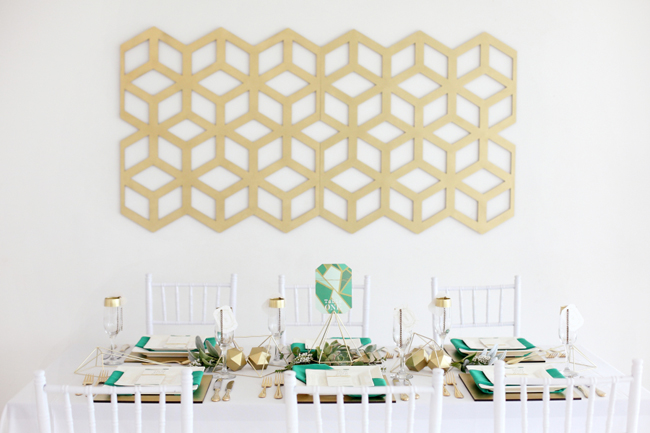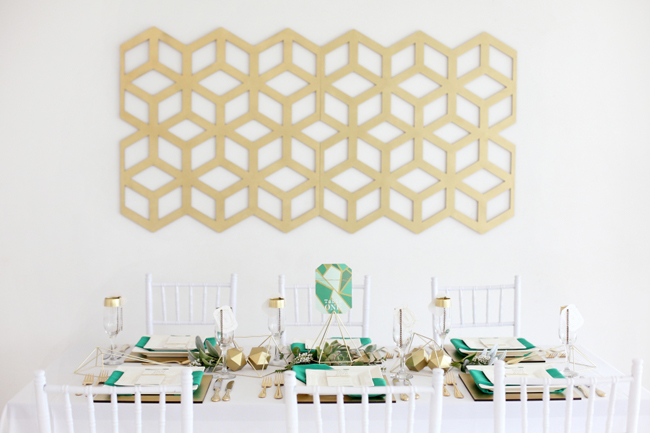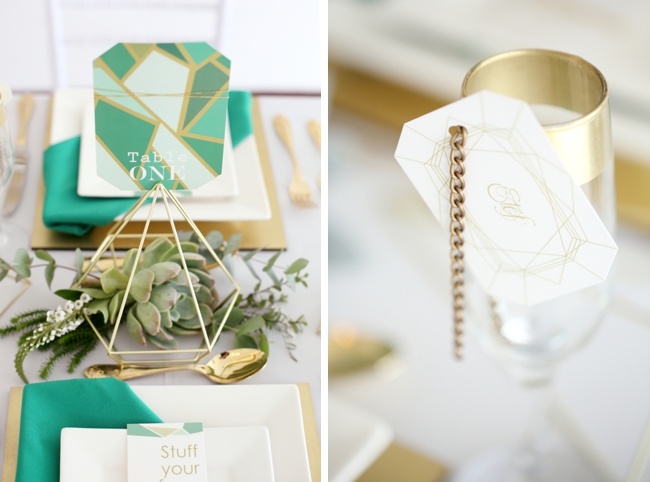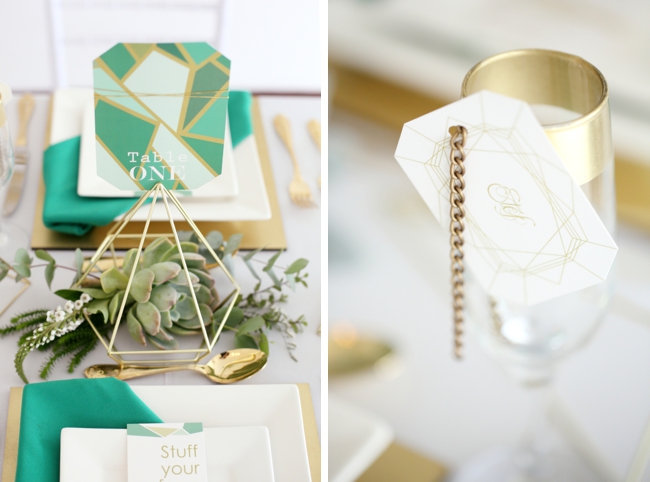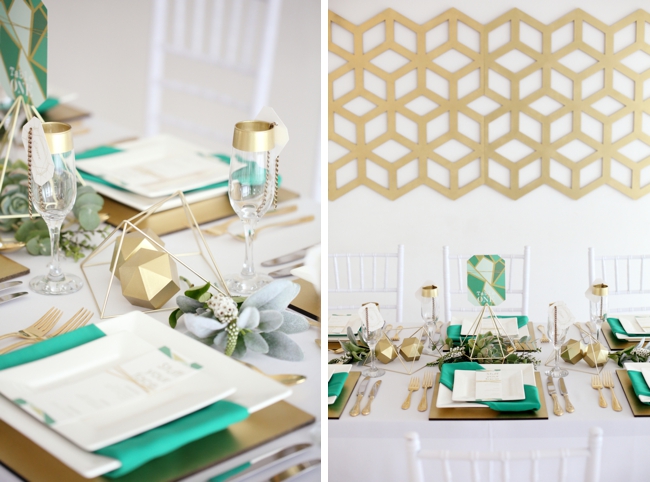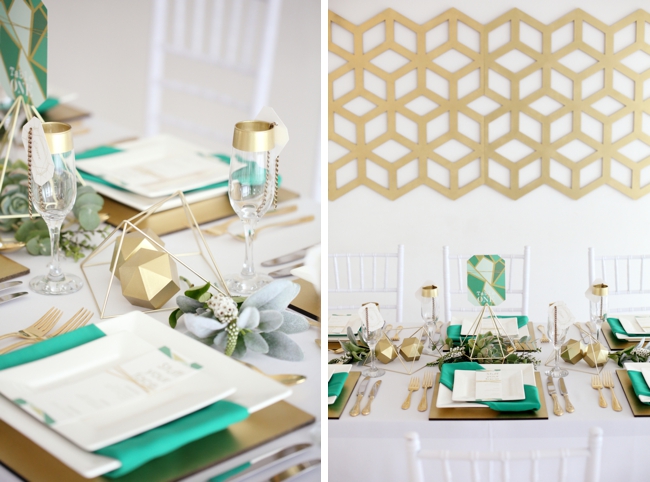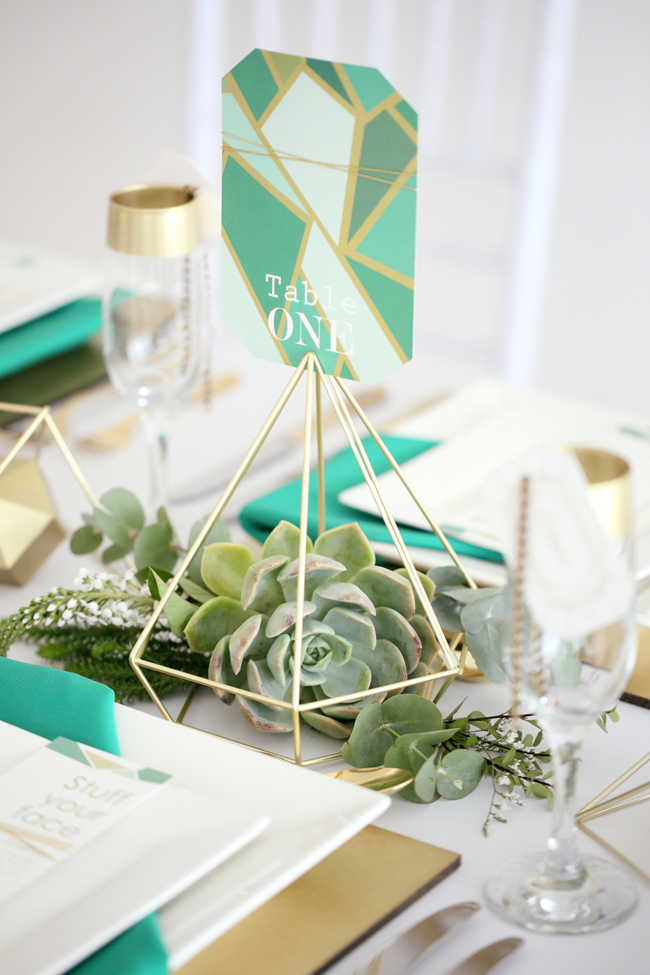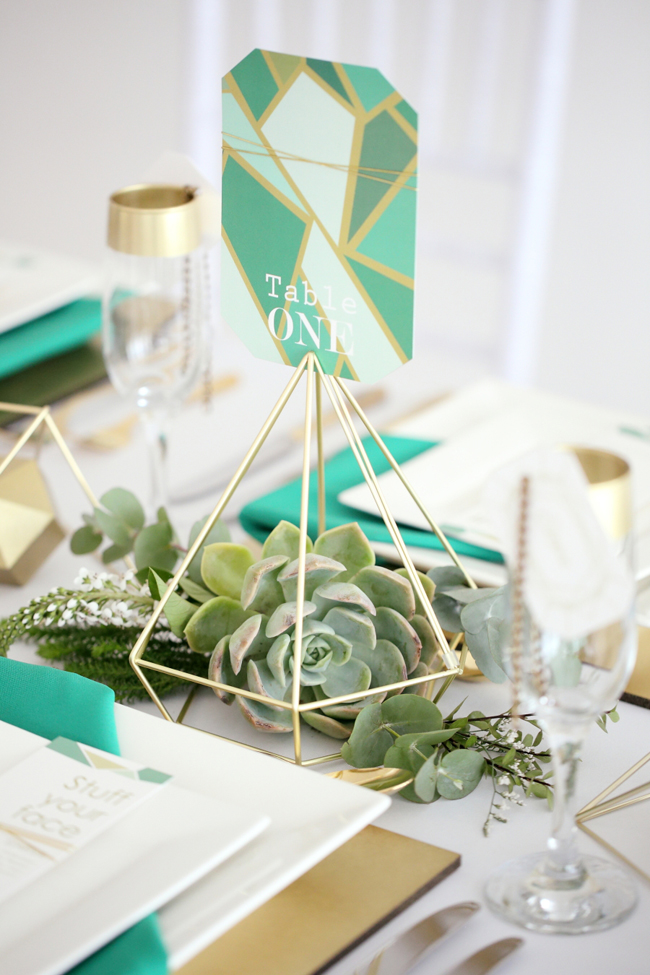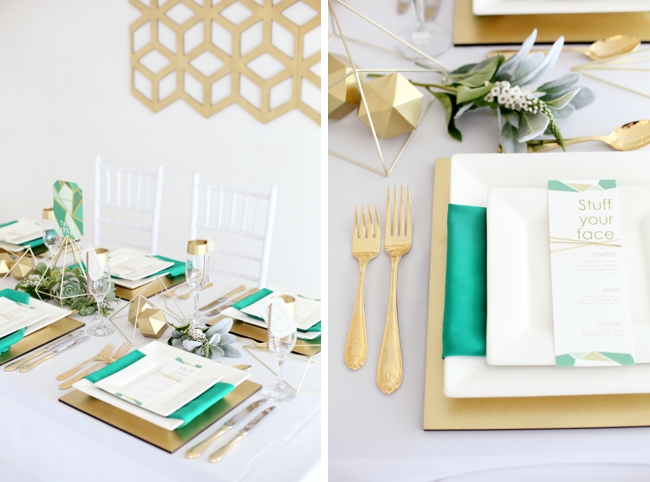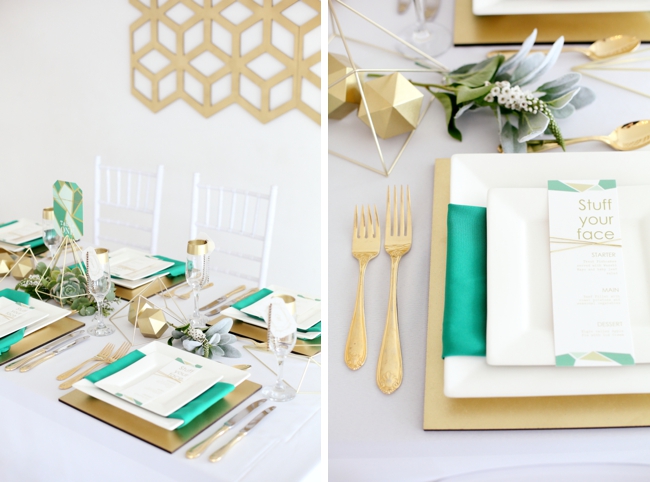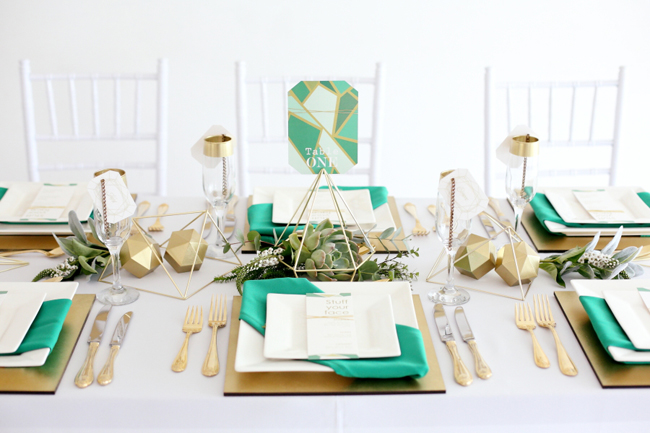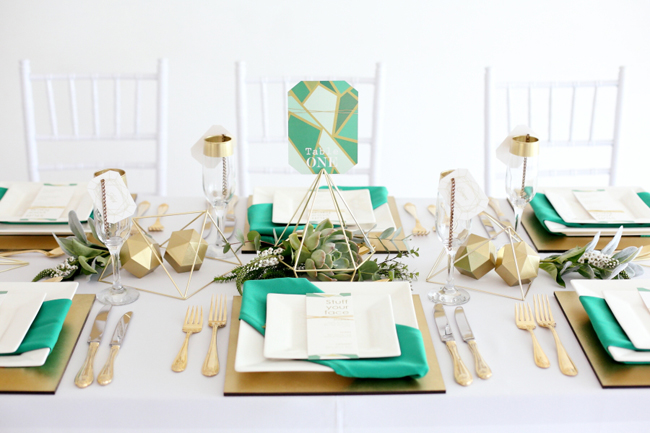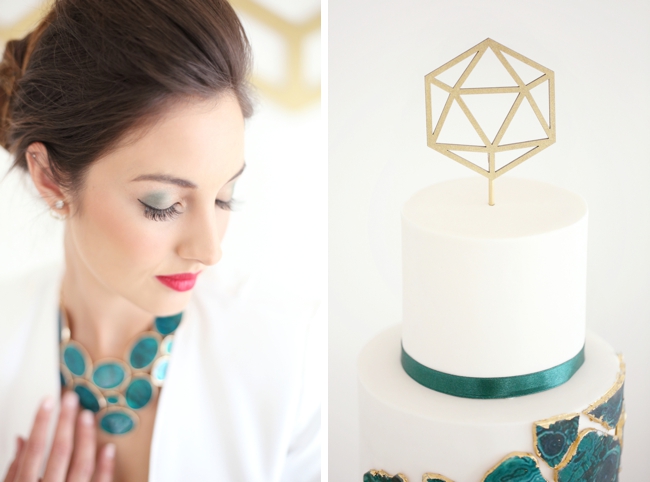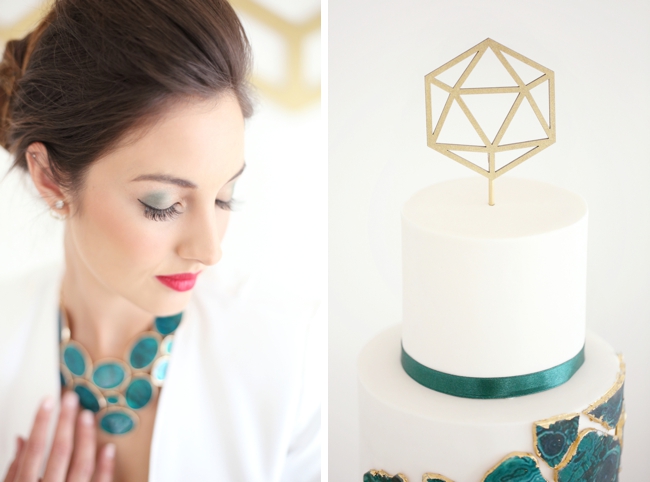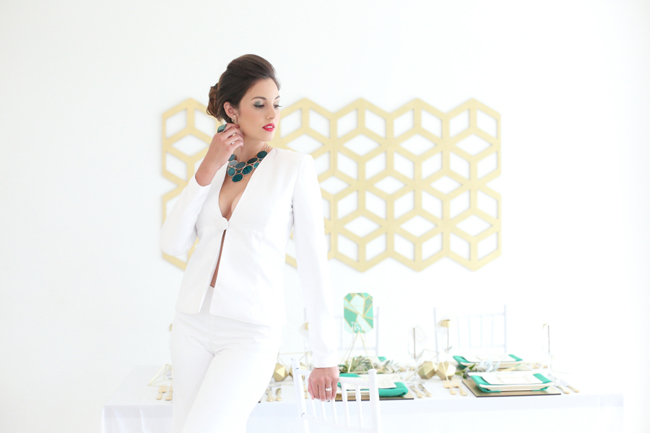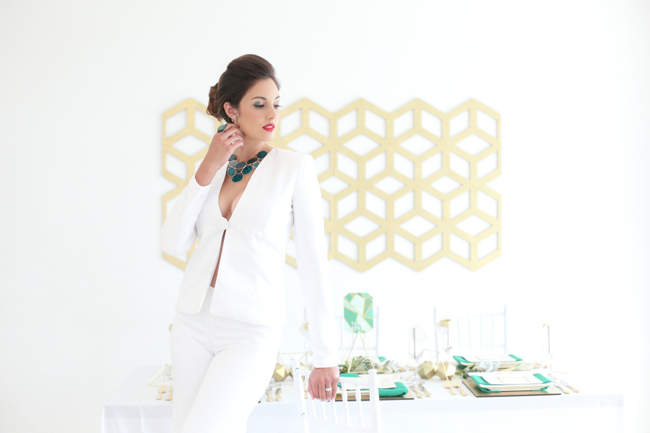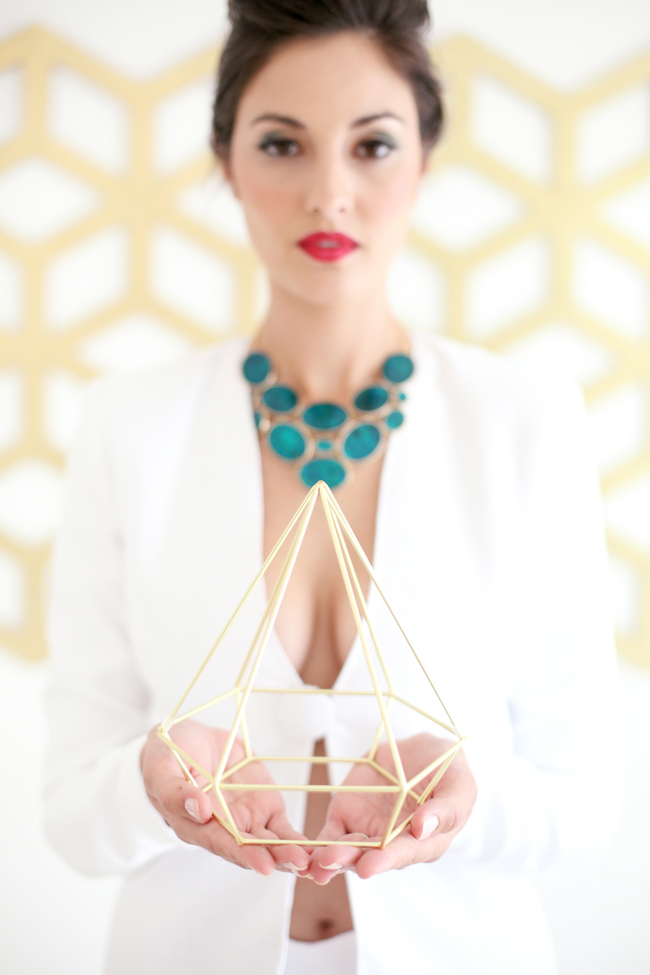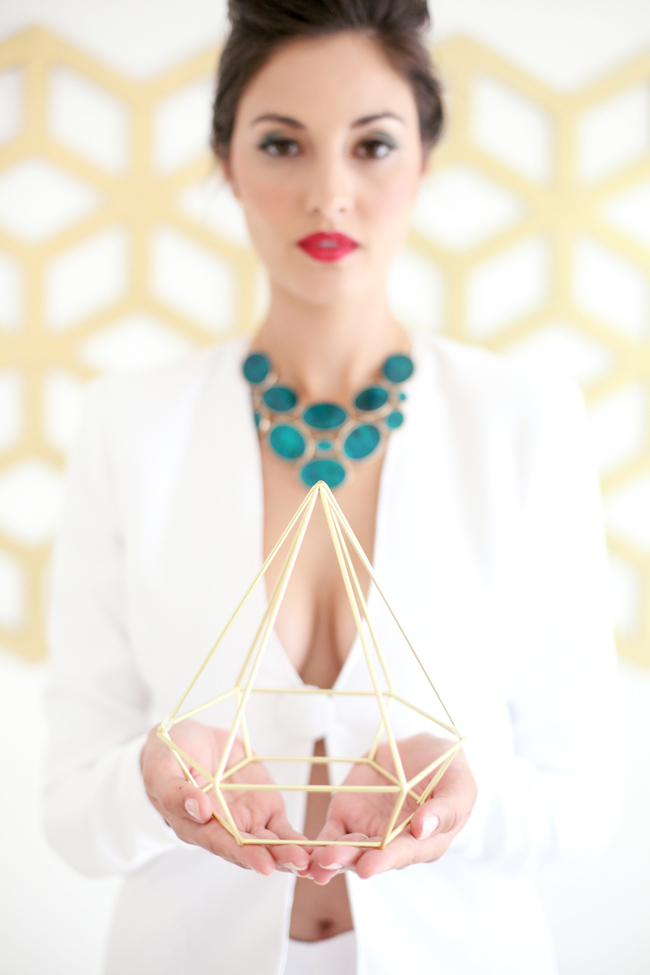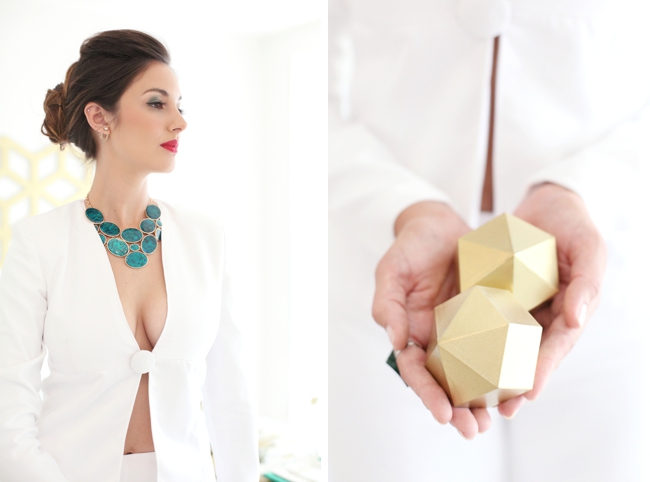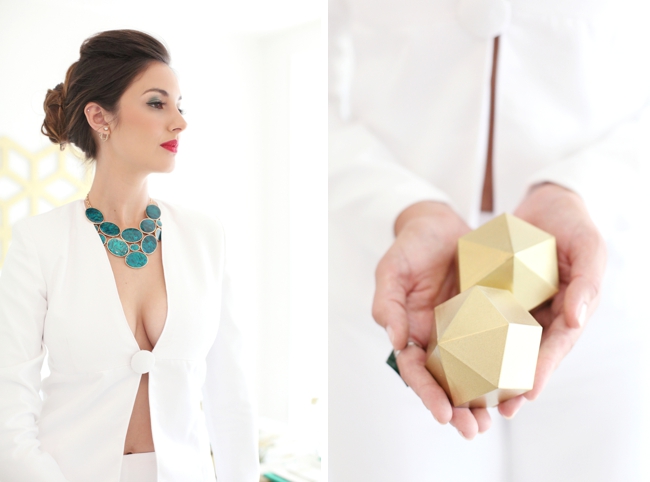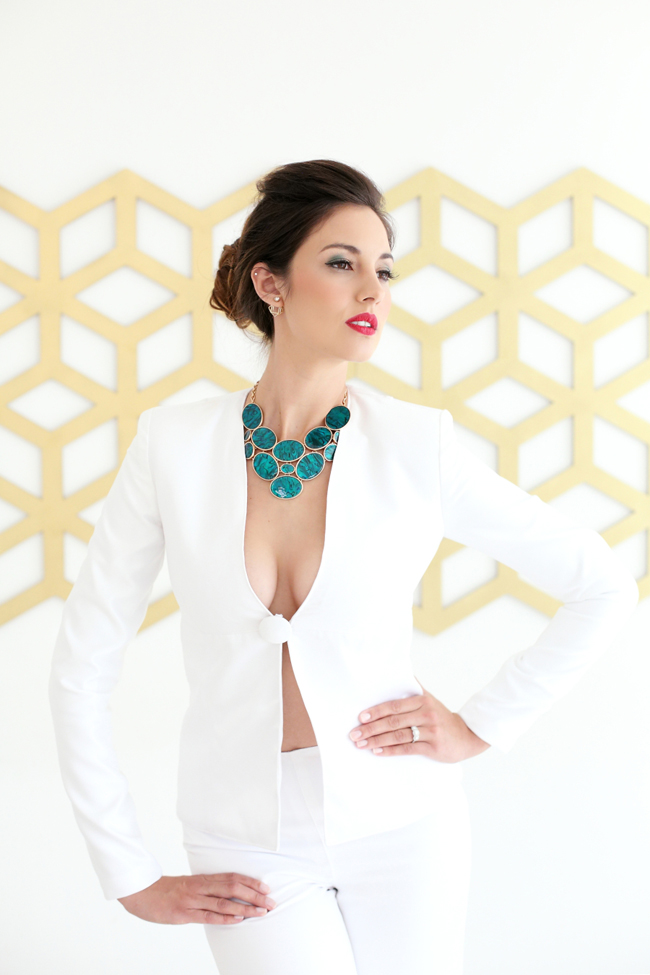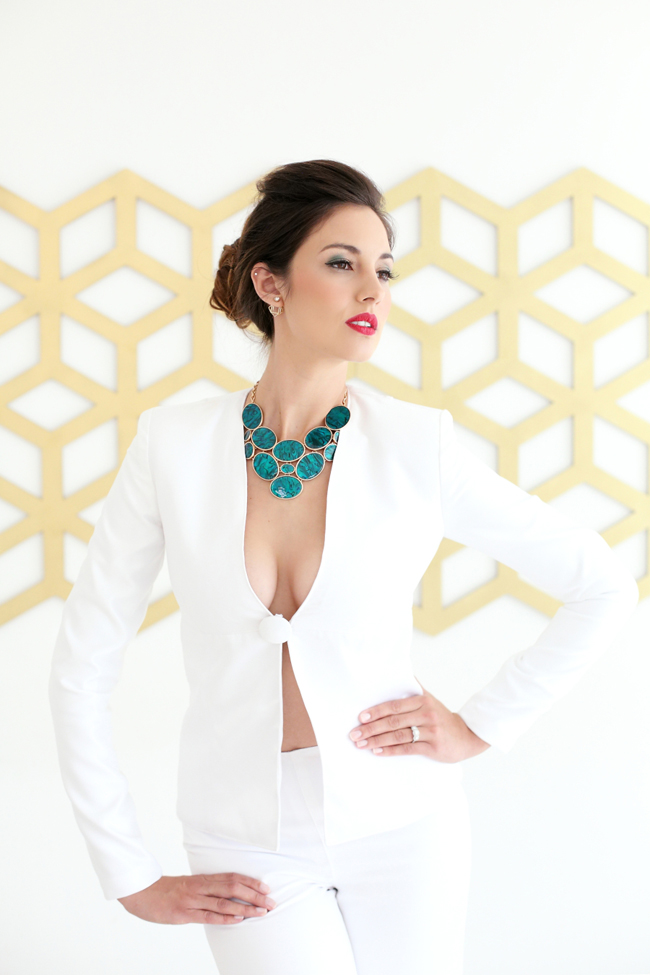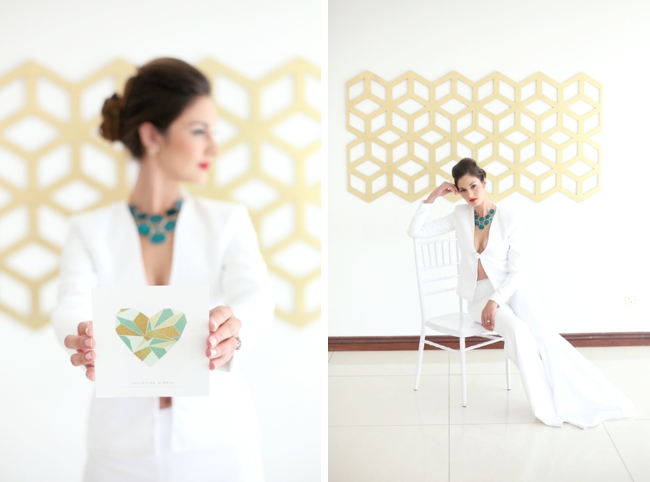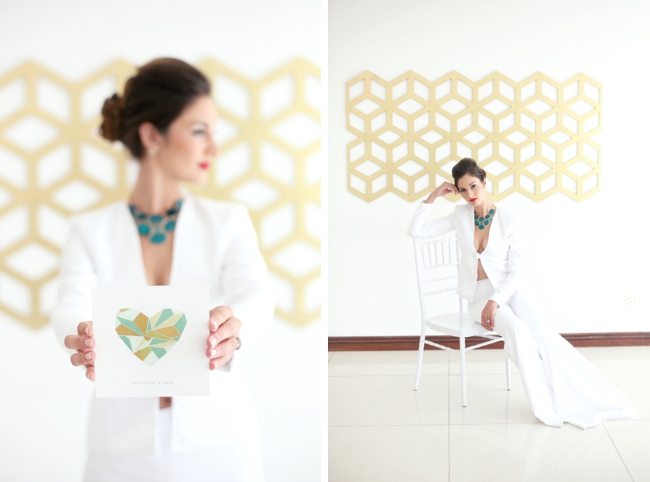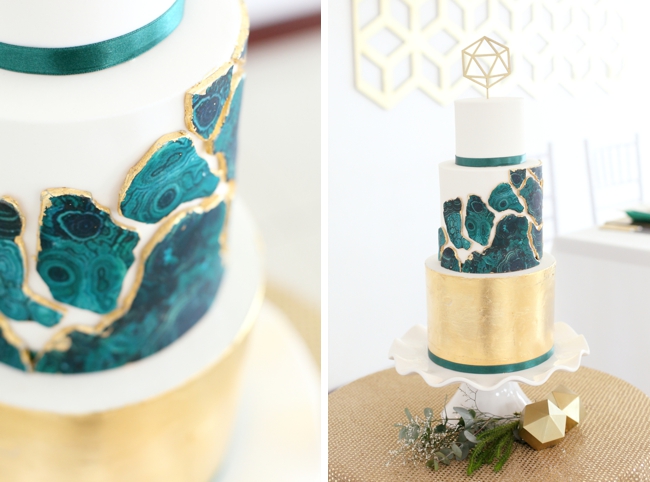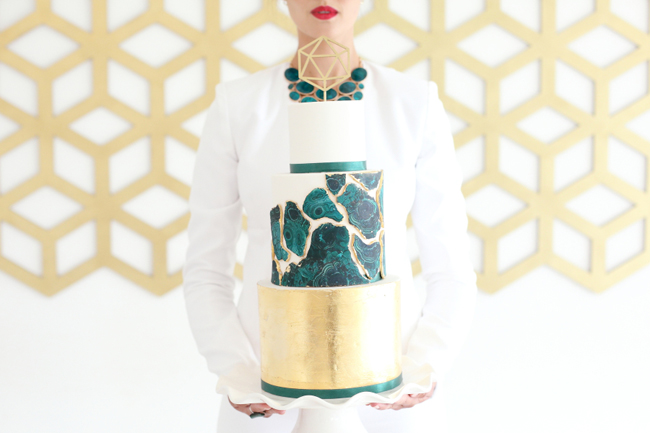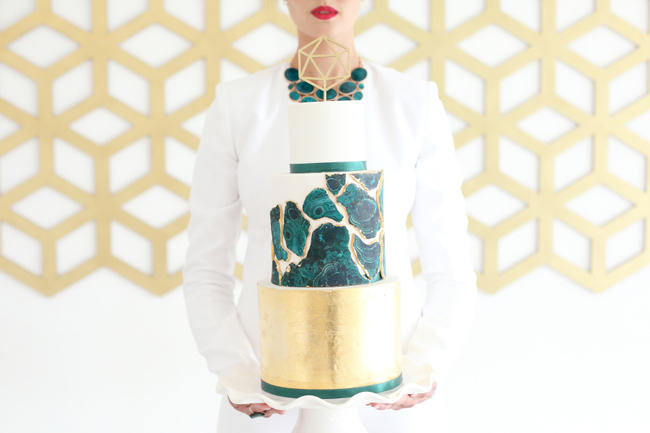 From Dominique:
We wanted to create a look that would resonate with the modern bride – clean geometric lines, with a touch of emerald and gold to establish a feeling of luxury and sophistication. In Part 1 of our shoot, the model wore a sophisticated pantsuit – which is in line with current international wedding fashion trends. However, we still wanted a look that would be feminine and sensual for the bride who dares to be different. Our colour palette included touches of gold to add shine to the table décor, cake and stationery, as well as an added element of glam in the semi-precious stone look of the jewellery and cake.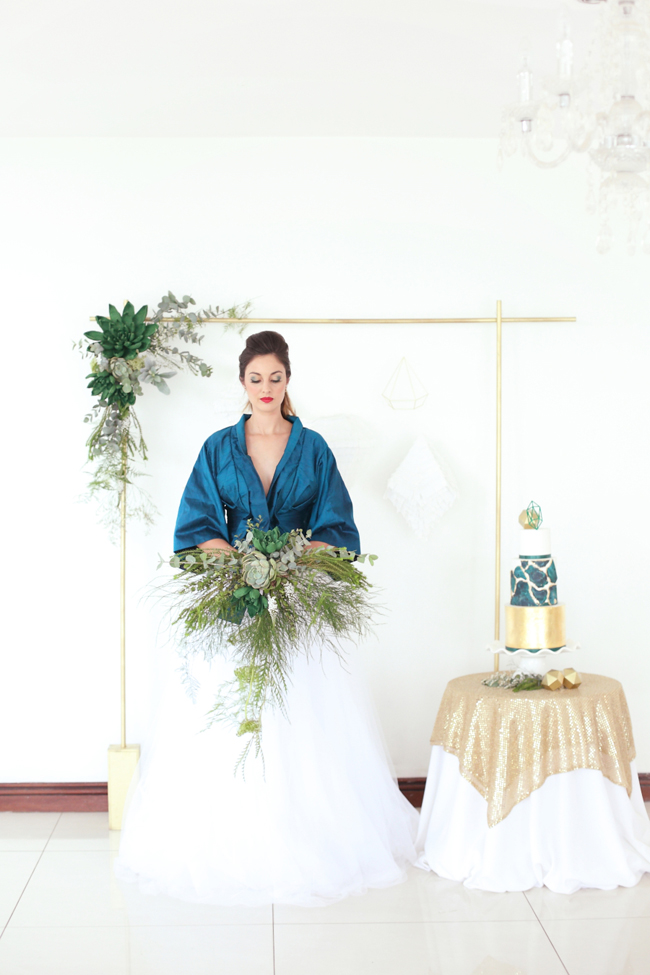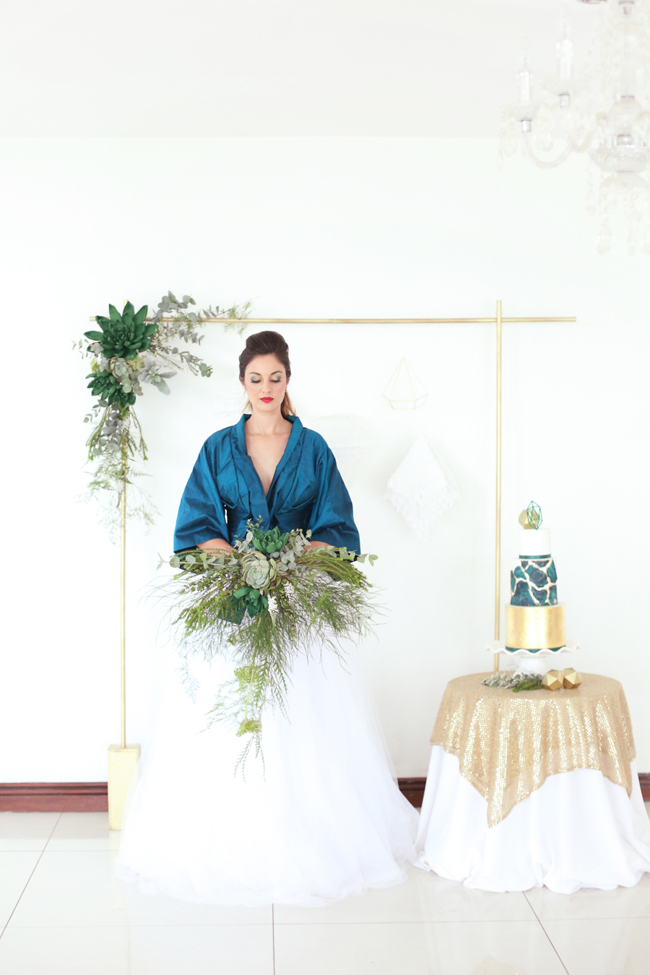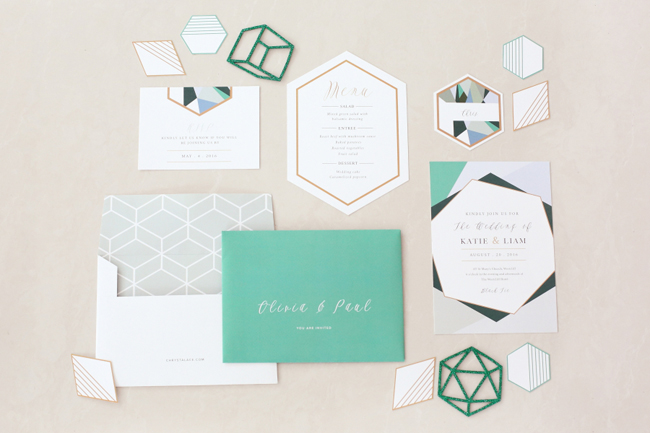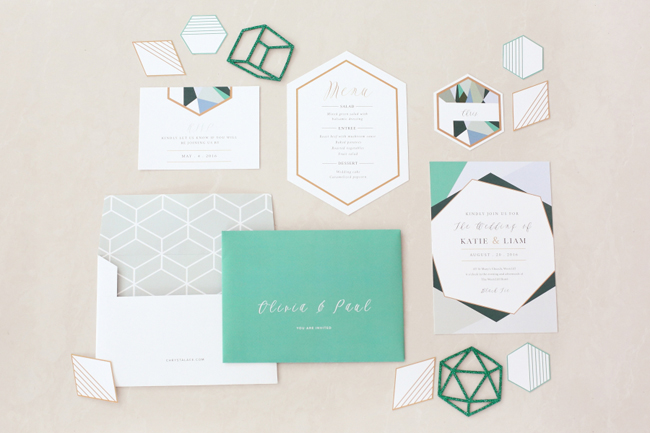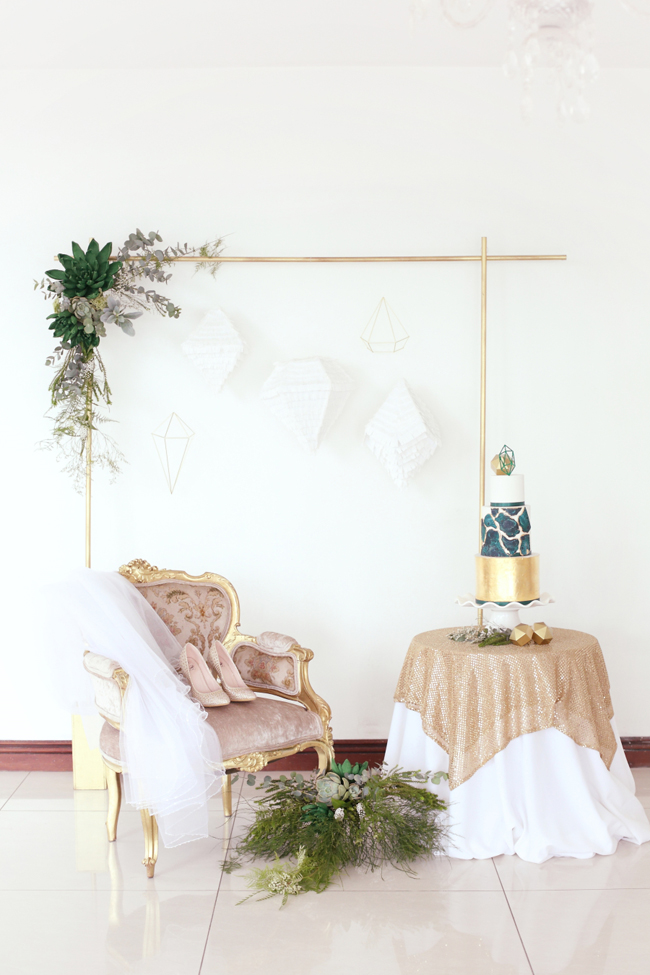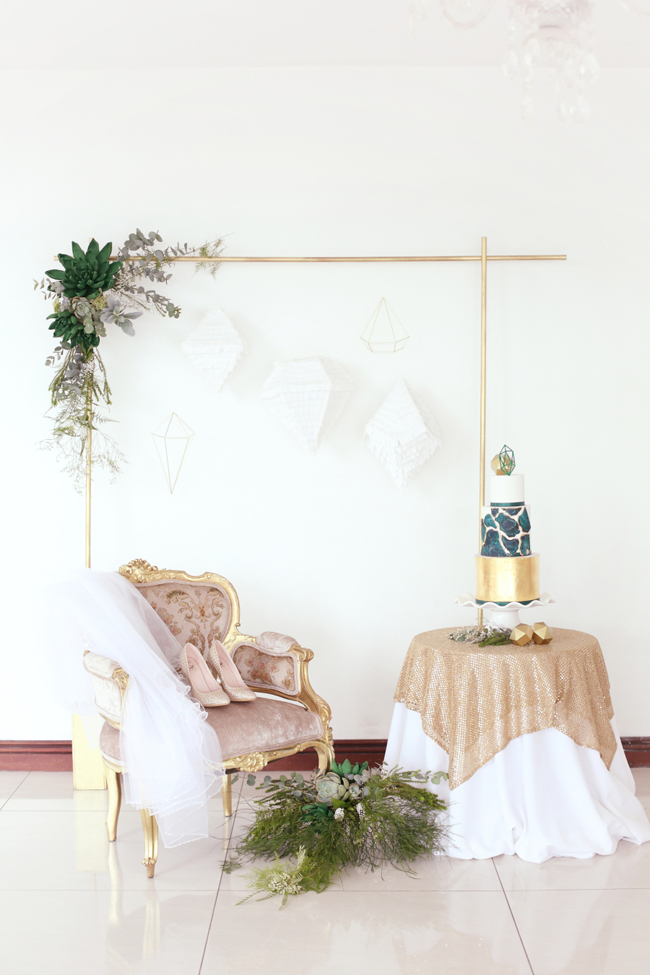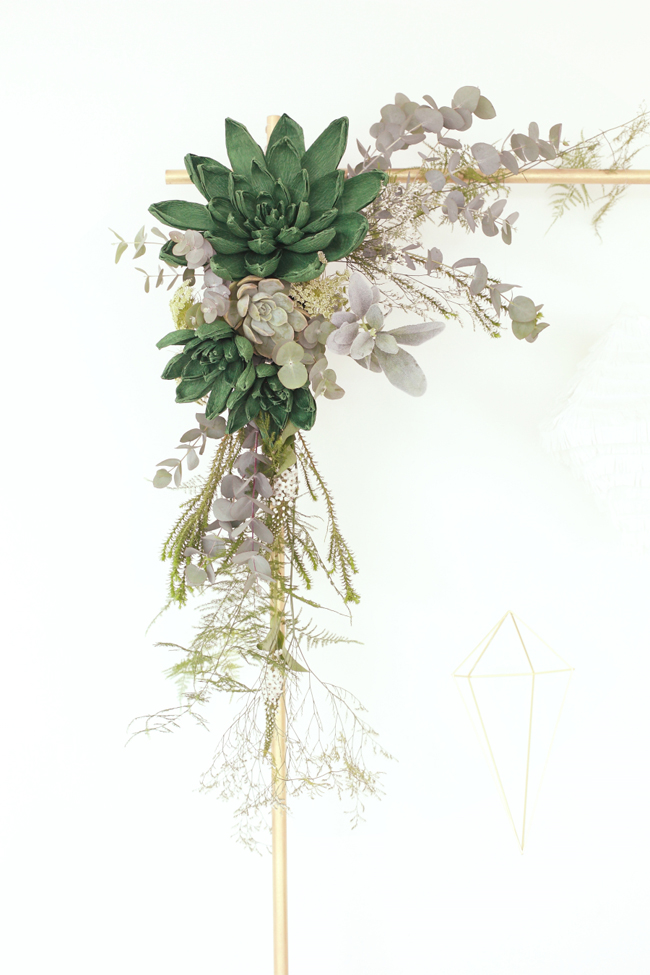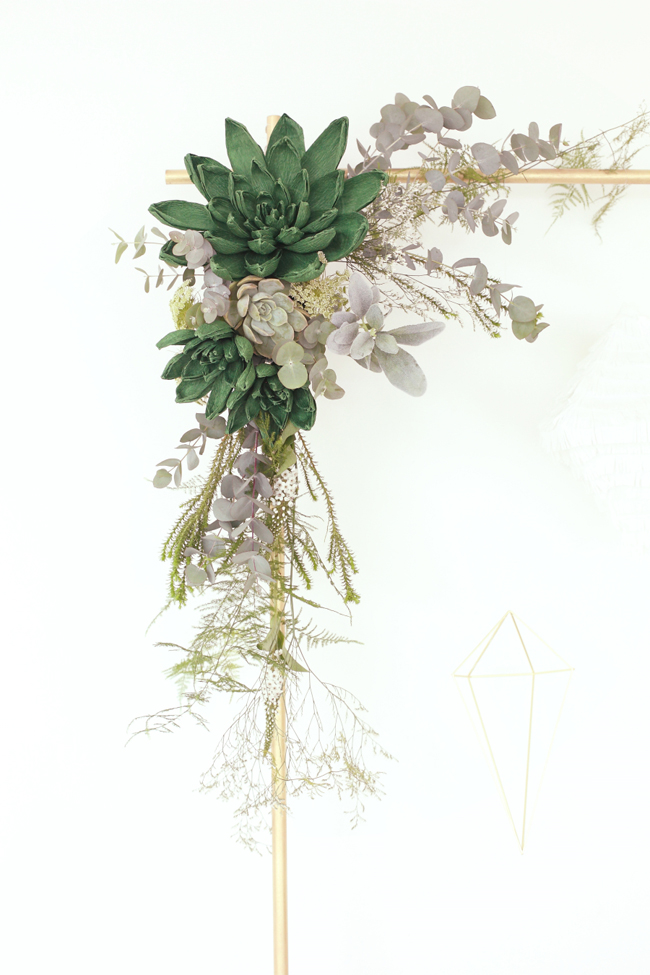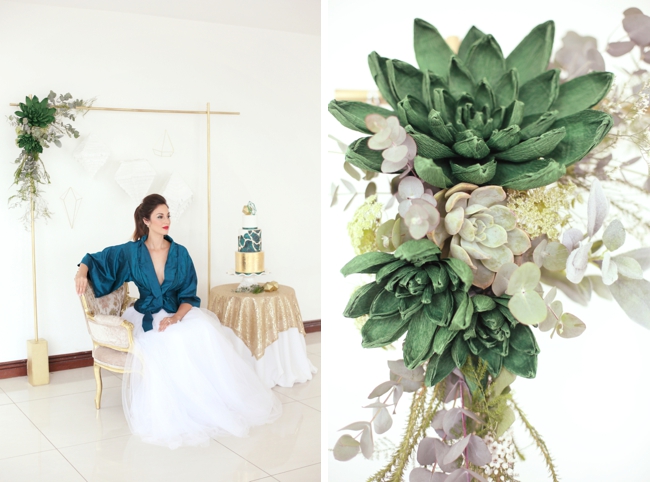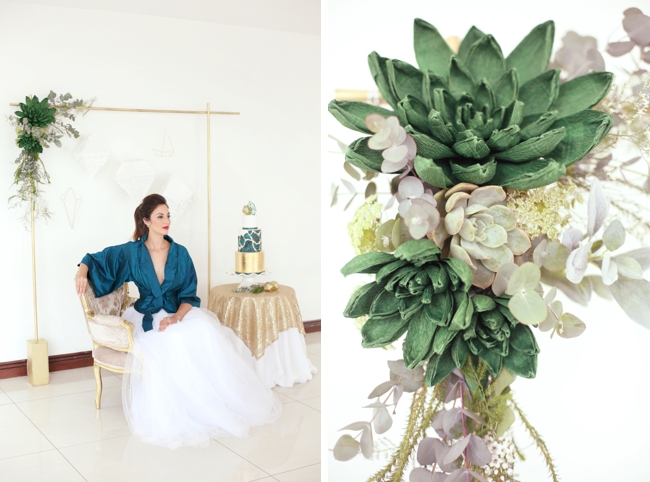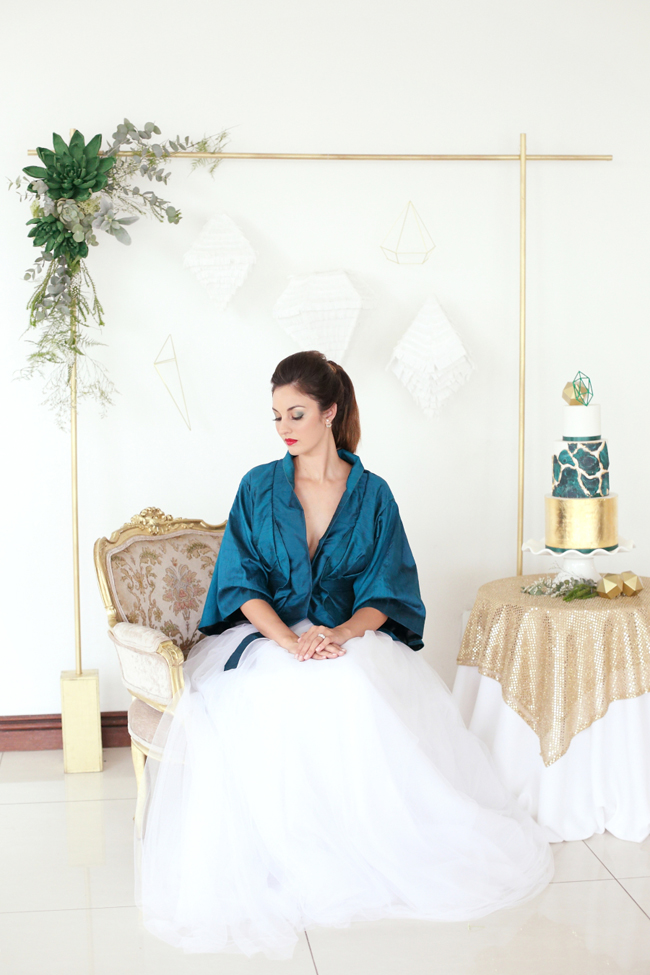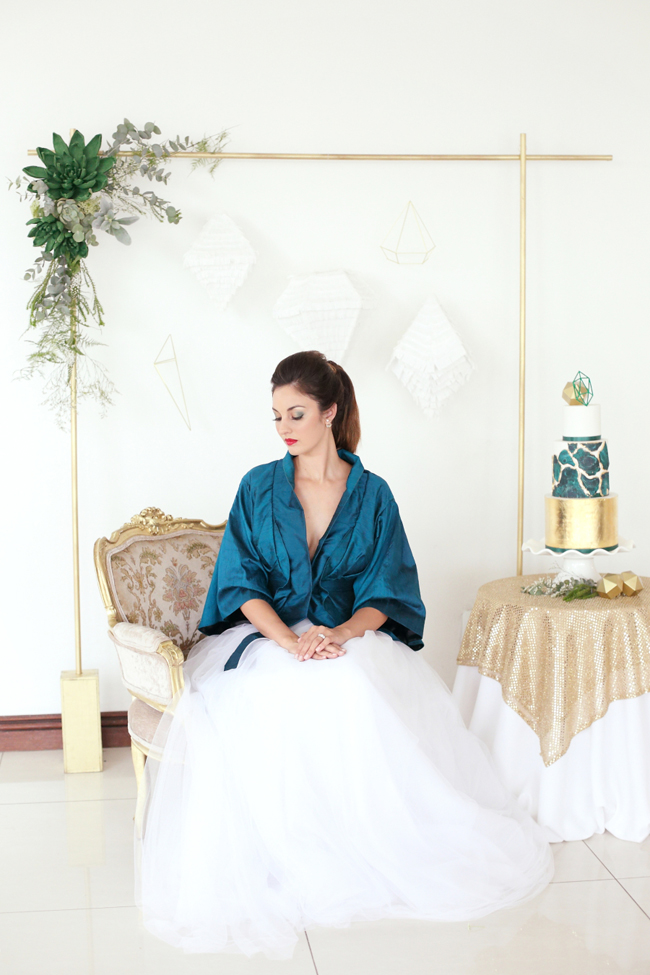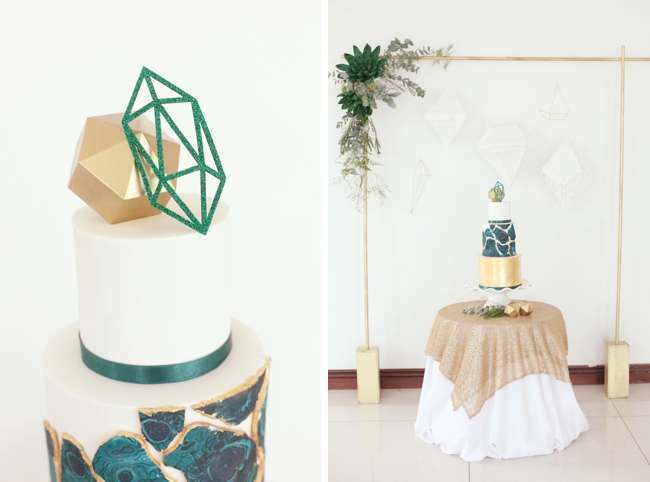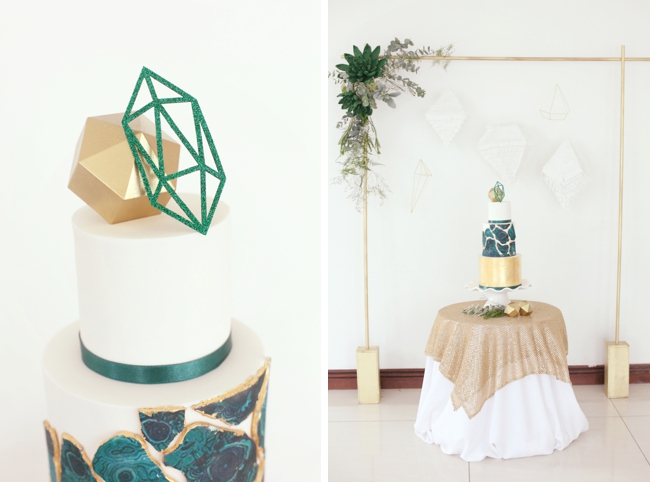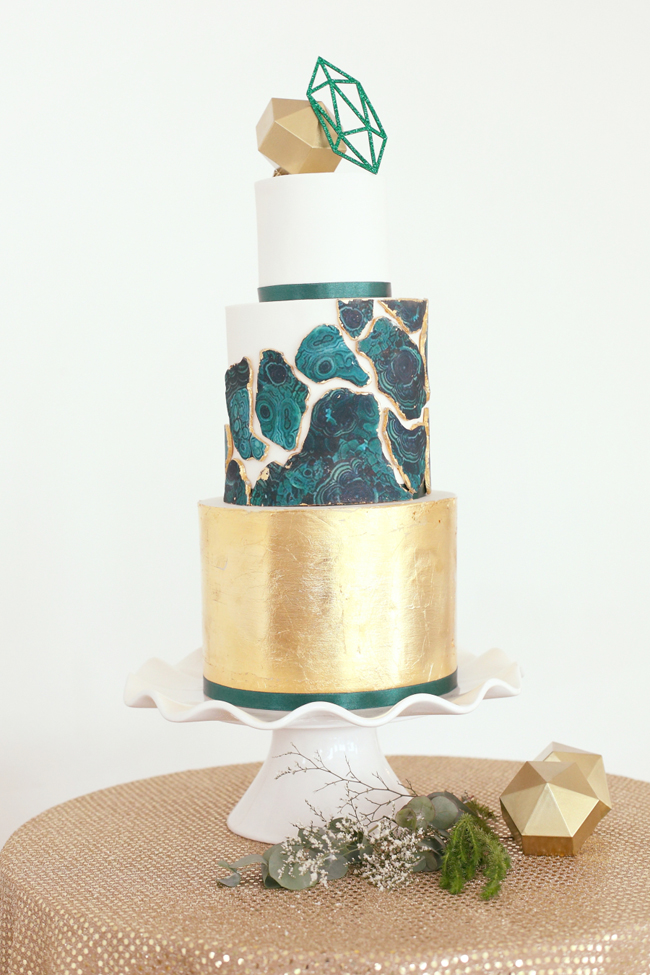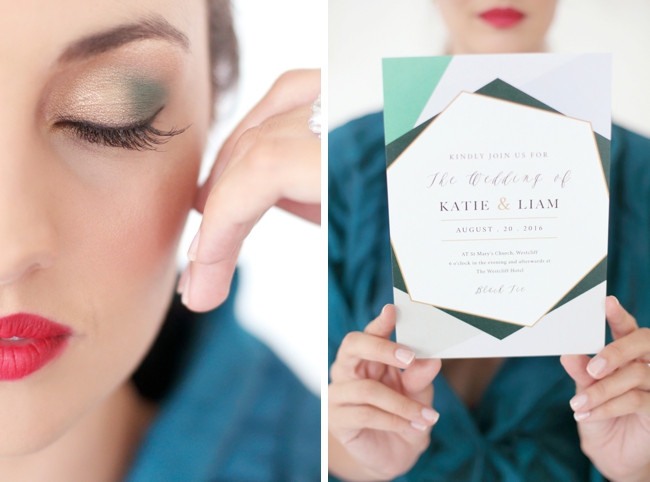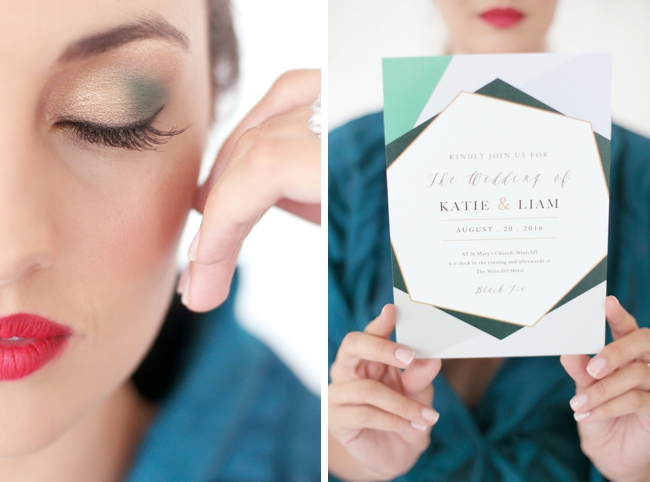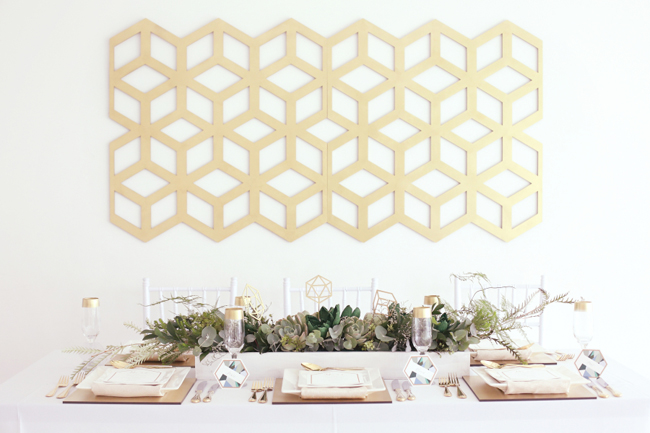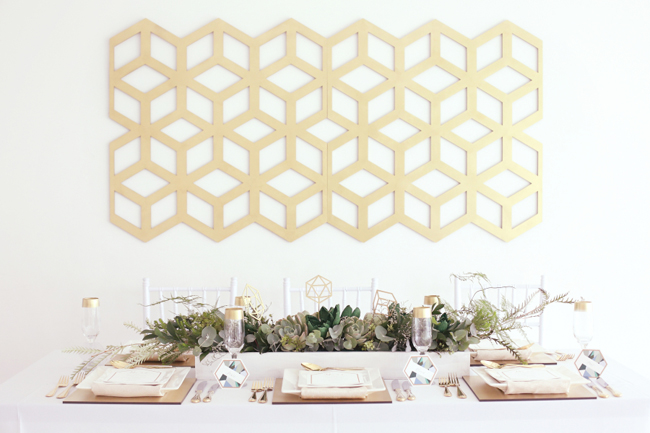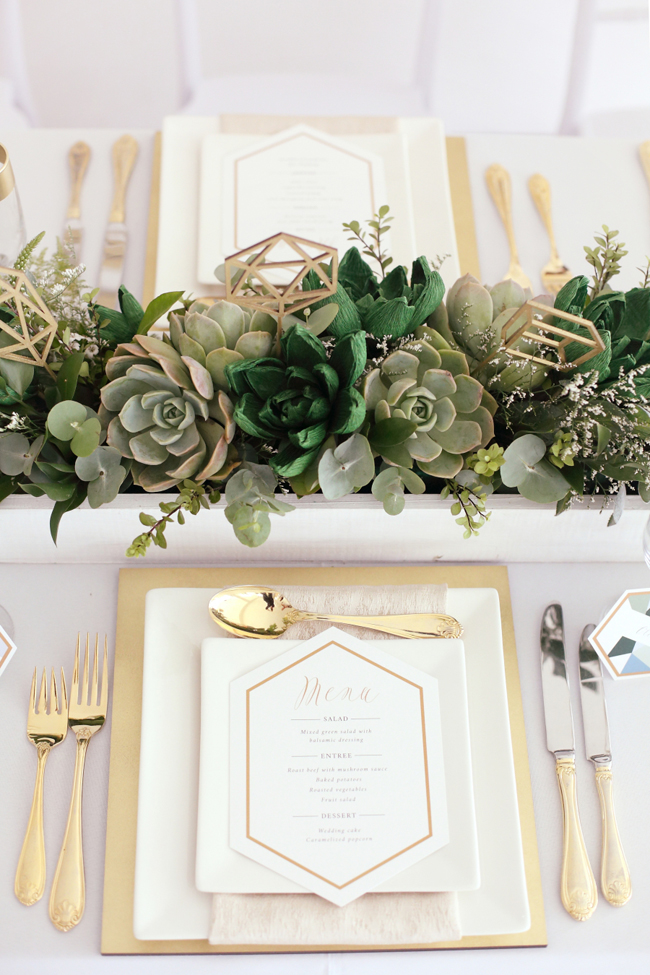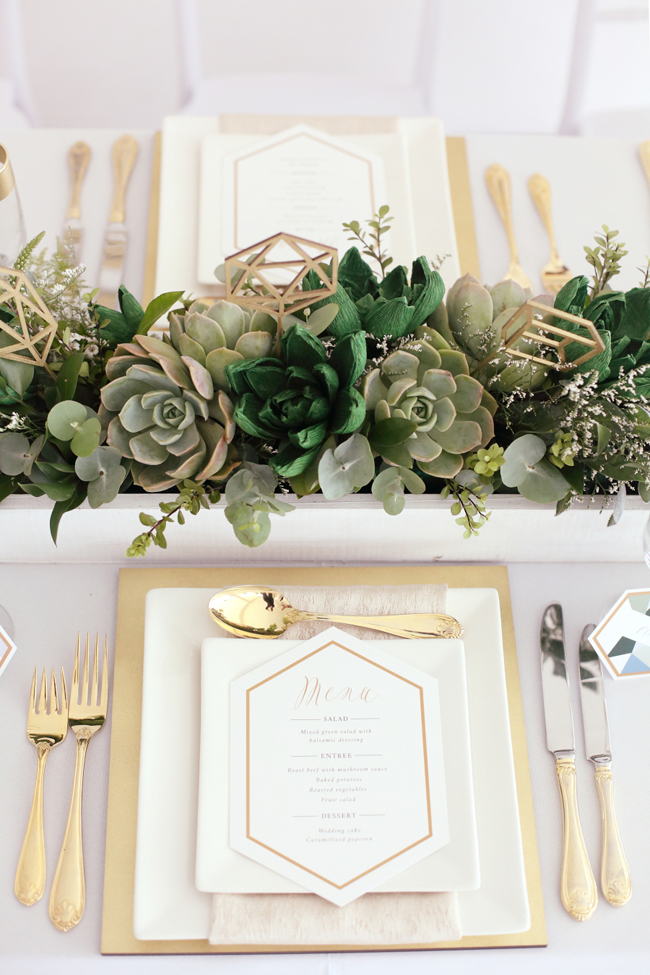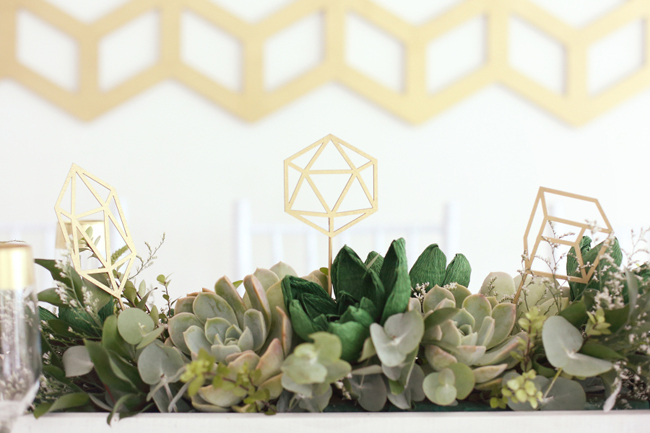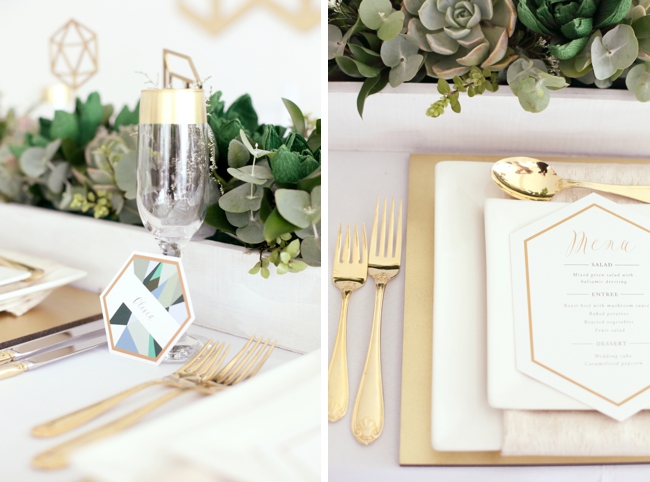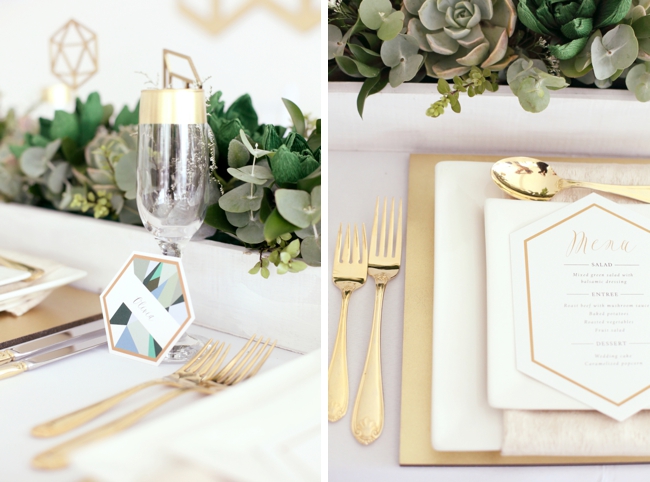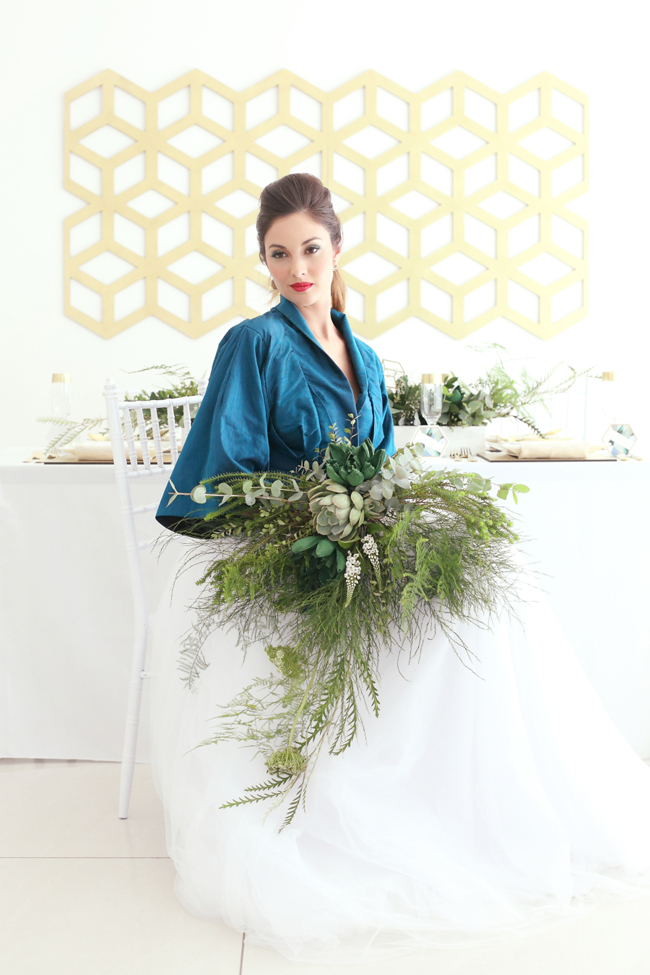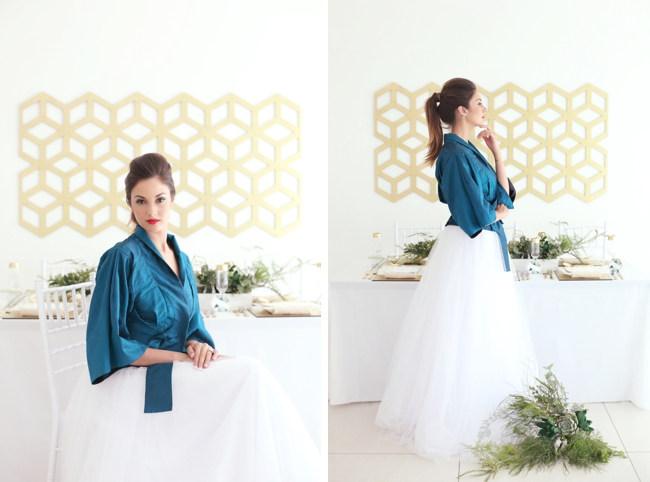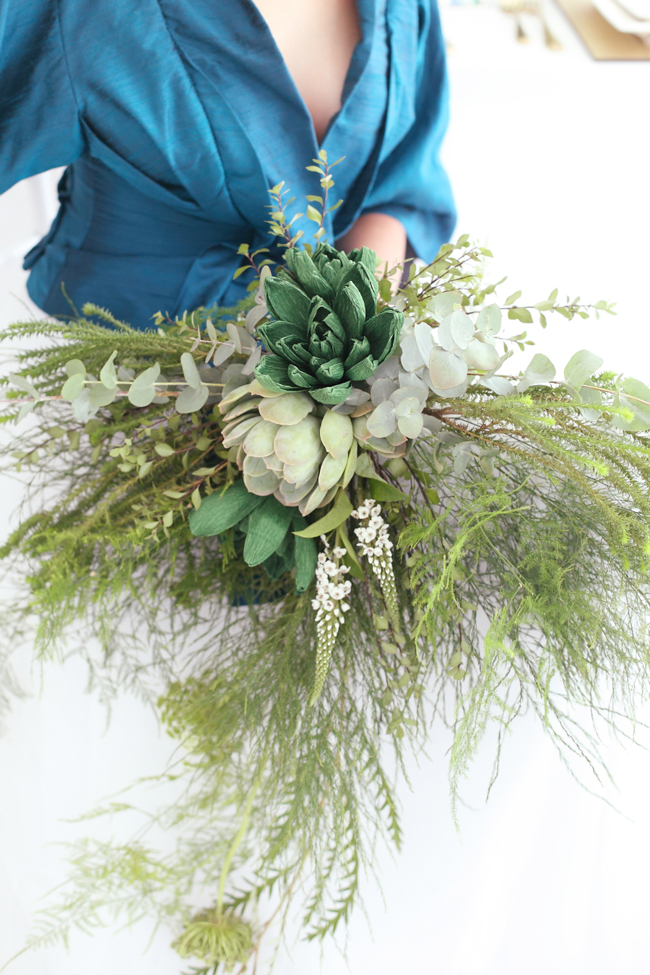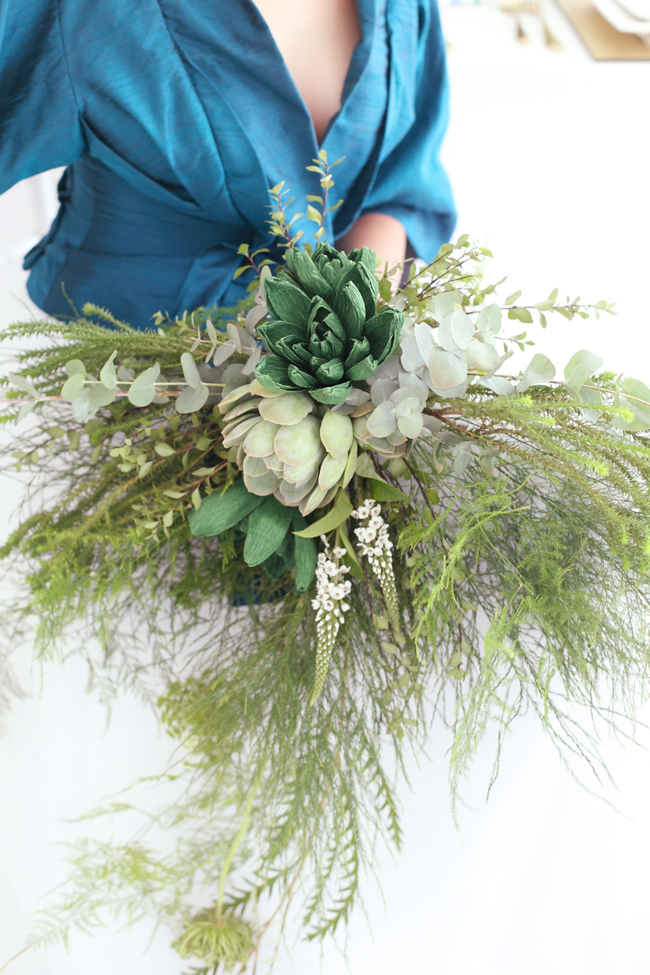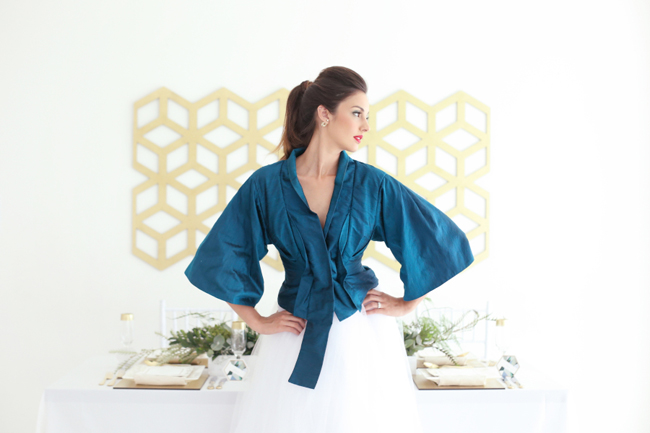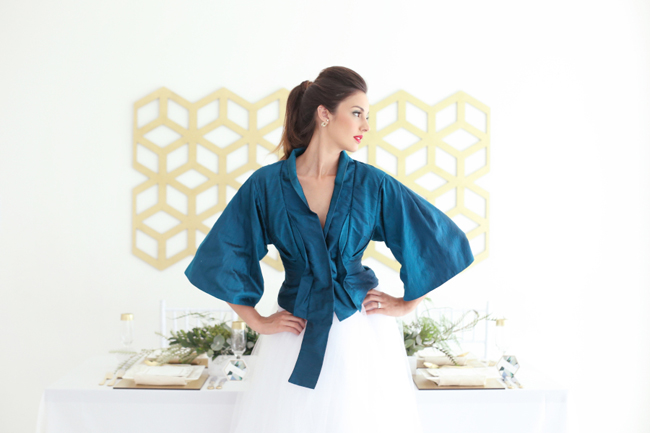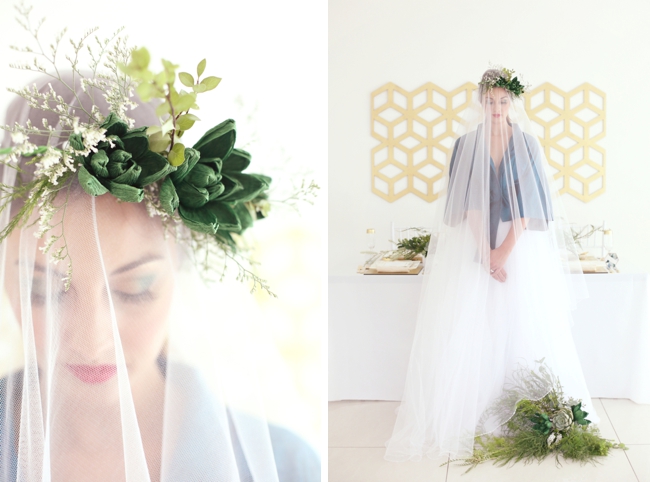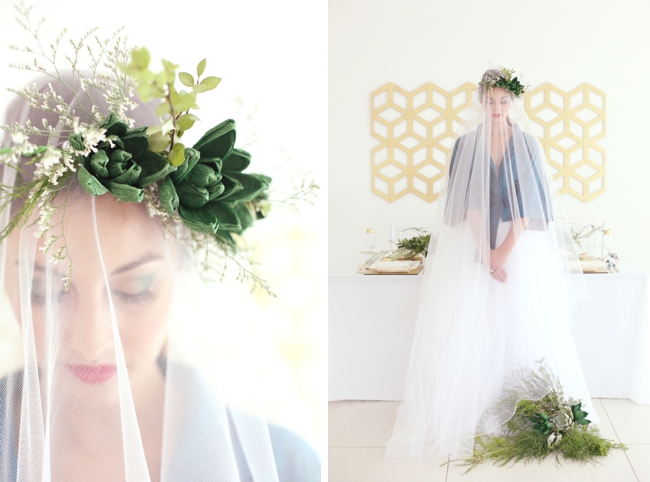 In Part 2, the model wore a two-piece dress. We added a pop of colour to the top, which tied in very nicely with our colour palette – again keeping in line with current international wedding fashion trends (coloured wedding attire is now all the rage for the "rule breaker bride"!). Our floral elements included some fresh foliage as well as hand-made paper succulents in all the bouquets as well as the flower crown.
Be sure to check out the behind the scenes video from The Great Exposure!
SERVICE PROVIDERS
PART 1: Photography: Hello Love Photography (by Dominique) & Jeani.V Photography | Lasercut Wall Art: Craft Cut | Cake: Pippa and Polly Cakery | Décor & flowers: Joy Bella | Stationery: Rebelle Design | Make-up & hair: Makeup by Monique | Venue: Black Olive Lounge | Suit designer: JVR Couture | Co-ordination: Co-ordination by NadiaM | Video: The Great Exposure Video Productions
PART 2: Photography: Hello Love Photography (by Dominique) & Jeani.V Photography | Lasercut Wall Art: Craft Cut | Cake: Pippa and Polly Cakery | Décor & flowers: Joy Bella | Stationery: Chrystalace Wedding Stationery | Paper Flowers: Luna Artistry | Make-up & hair: Makeup by Monique | Venue: Black Olive Lounge | Designer: JVR Couture | Co-ordination: Co-ordination by NadiaM | Video: The Great Exposure Video Productions


Save