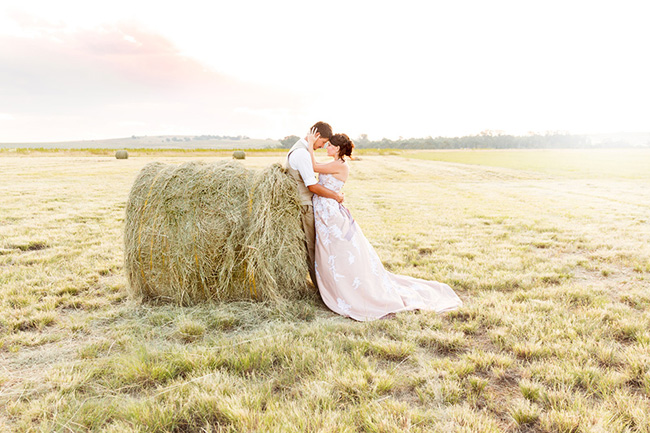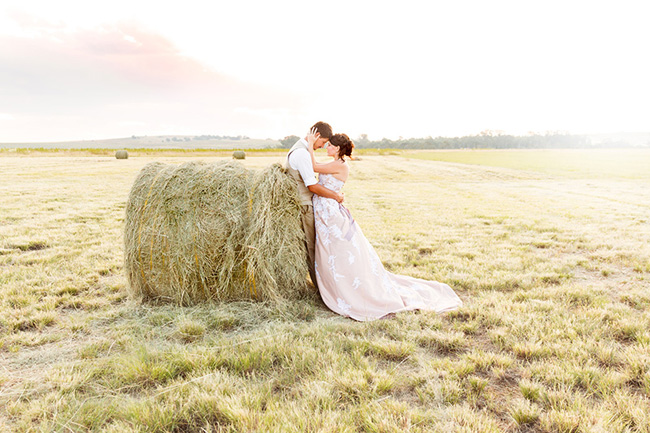 Planning a rustic wedding filled to the brim with fynbos and burlap and cute 'down on the farm' touches? Well then, this one's for you, brideys! Christel and Andries, farm lovers at heart, wanted a real 'plaas troue', an intimate celebration with family and friends that brought all their favourite things together: proteas, succulents, windmills, hay bales… even some adorable tractor-themed touches! My favourite detail is their escort display using little enamel mugs – so adorable! Everything was DIY, pretty much, which created a much-cherished opportunity for family to share special times creating all the decor. And I can't not mention Christel's dress, with its unusual nude lace overlay effect – love! – as well as the groomsmen's leather braces and bows (definitely the farm wedding must-have in SA this season!). DGR Photography were on the scene to capture every farm-fabulous detail of the event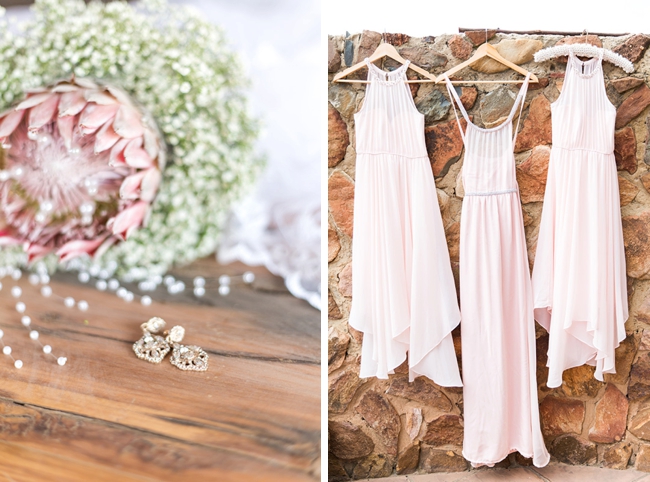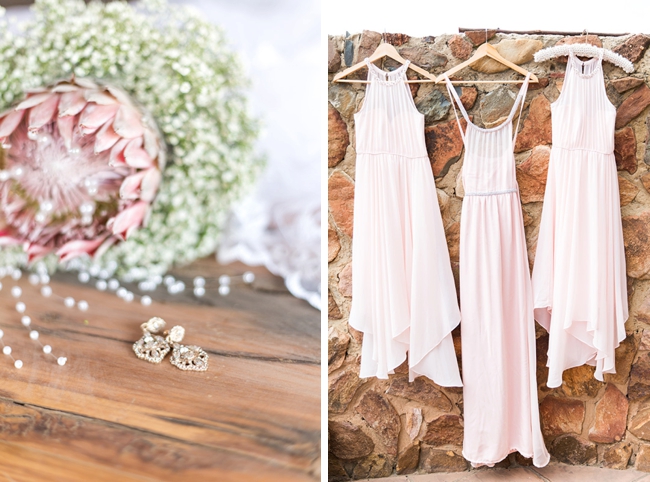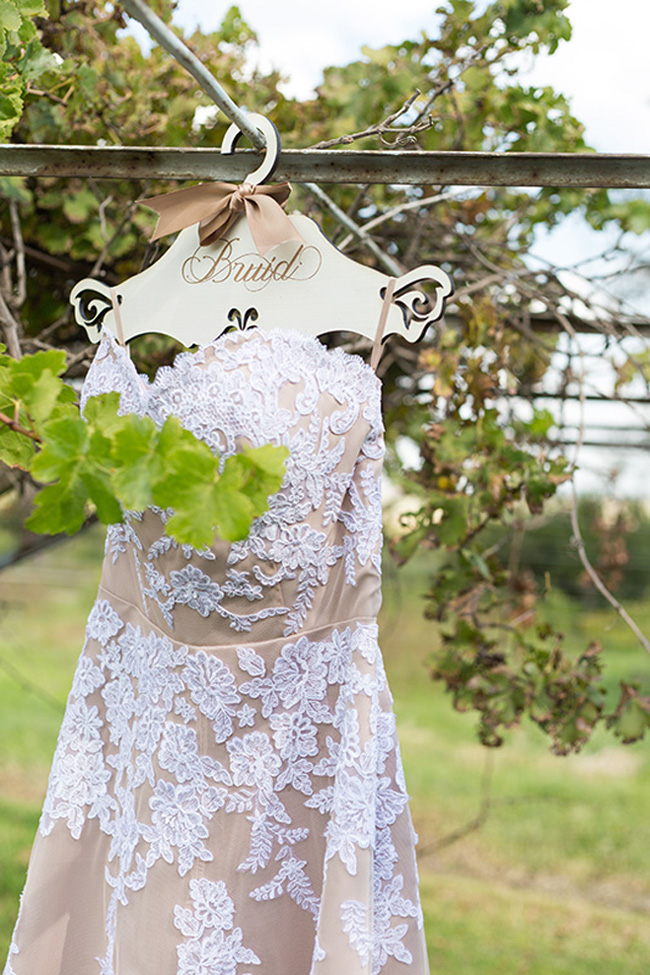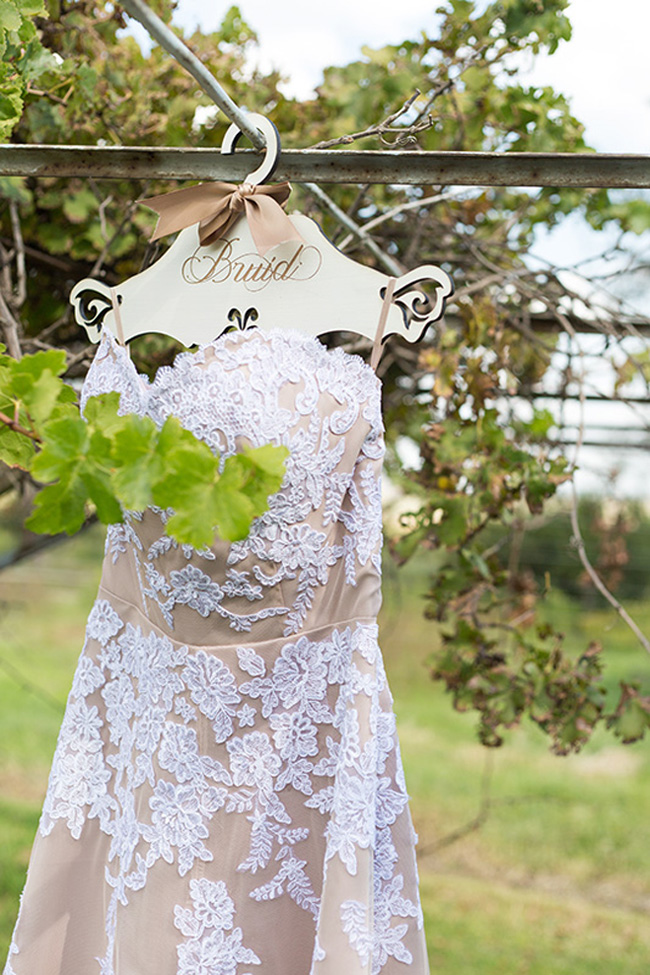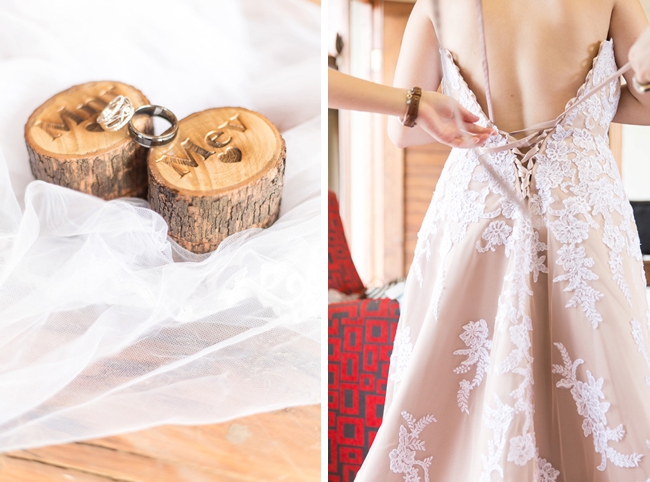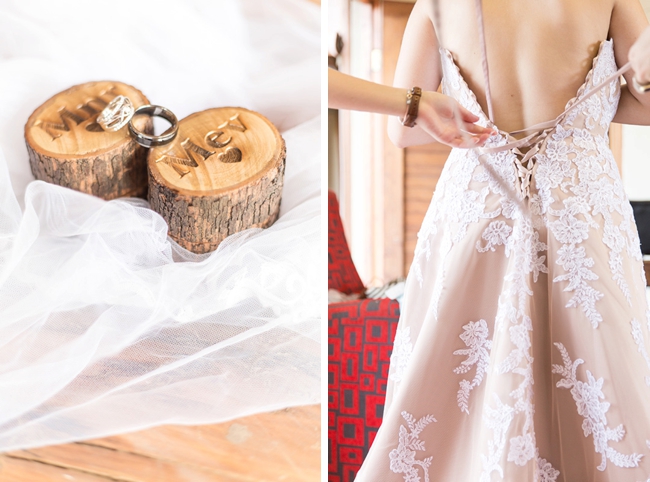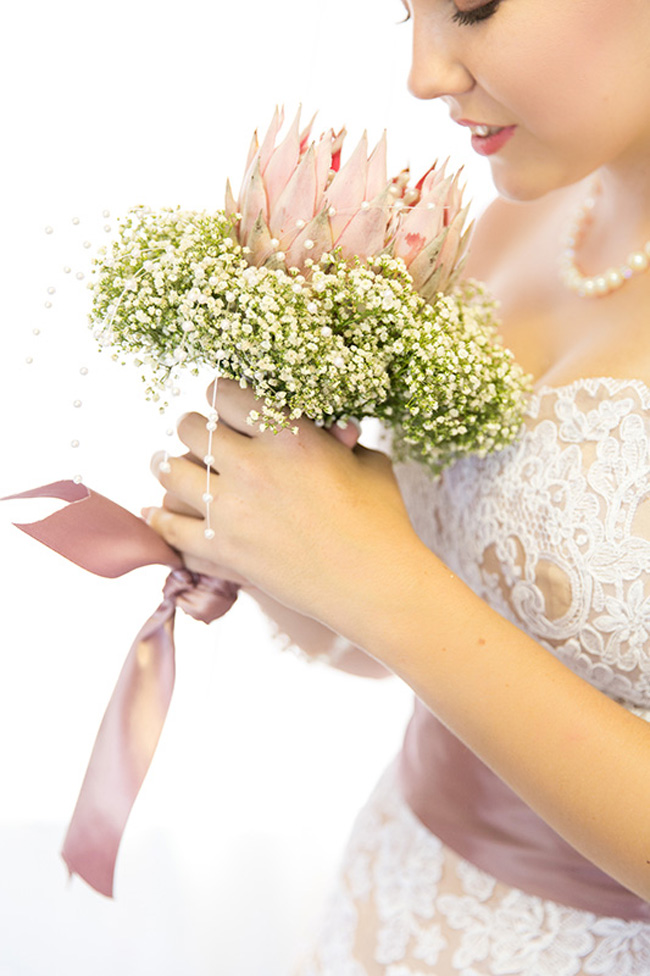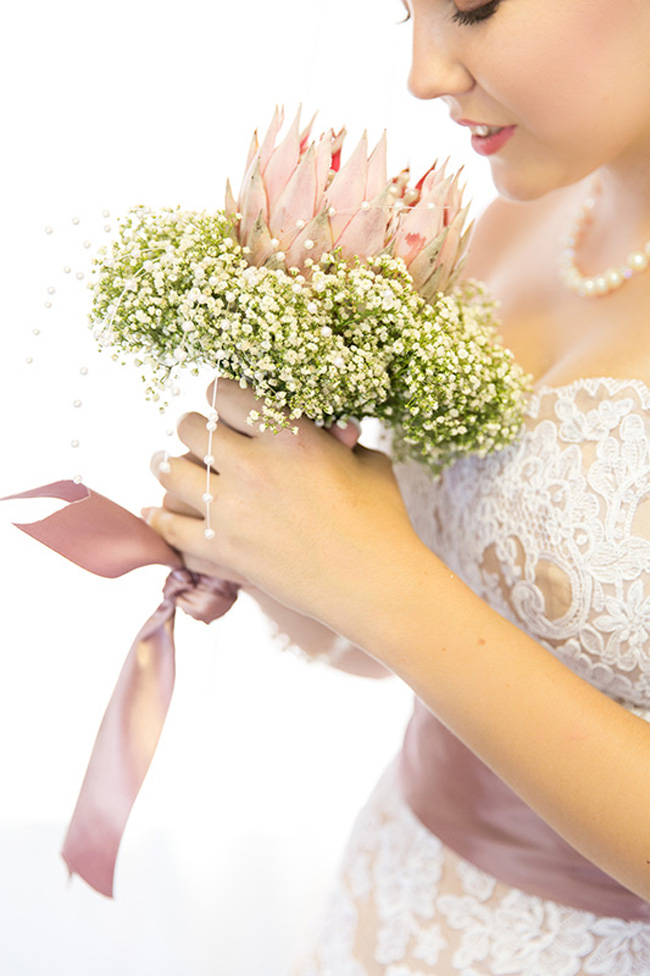 Love Story
One Valentine's Day we were both dateless, and went out with mutual friends in Potchefstroom, the small town where we were studying. Initially, I was not very keen towards Andries, but he was persistent and asked for my number. We went on our first date the following day, and have been inseparable ever since!
The Proposal
One morning in December, he woke me and said we were having breakfast in Hartebeespoort. We also went to the Chameleon Village to do a bit of shopping. As we got in the car afterwards, I assumed we were going home… Next thing I knew, we were at Sun City! This is when I got suspicious, but as fate would have it, the place was packed and we left shortly after. (Andries is not one for crowds.) I was bummed as I thought he would go down on one knee! I fell asleep in the car and as I woke, we were back in Harties, at the cable car. I was terrified to go on it, as it was very windy. Next moment he caught my attention as he drew the ring out of his pocket! It was such a surprise after the day we had and it was so special!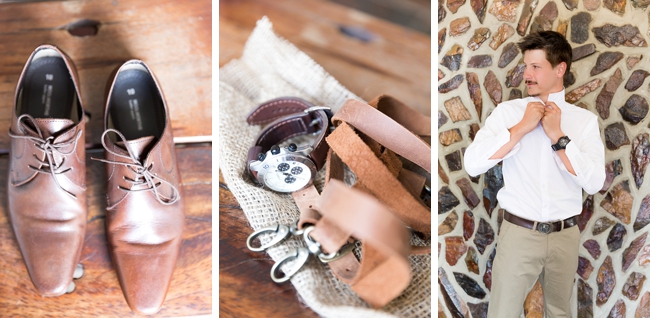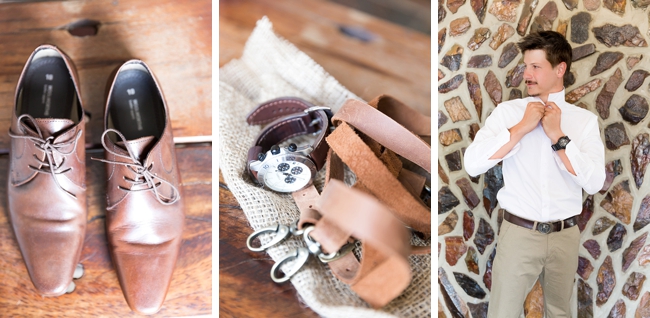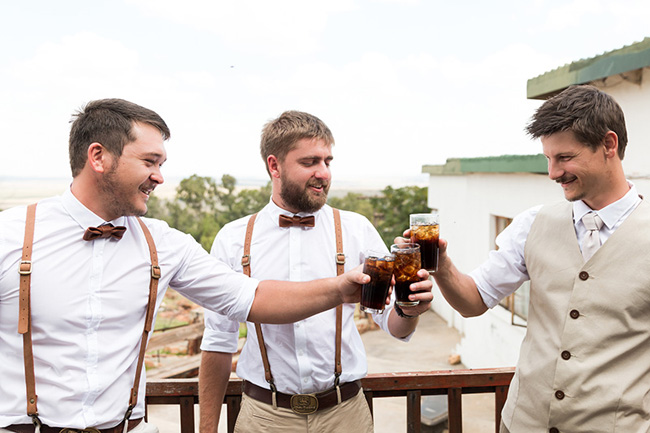 The Venue
We looked at so many venues, but were looking for a real 'farm feel' to suit the relaxed atmosphere we wanted for our wedding. I stumbled onto Karen's number (owner of our venue) and we went to look the next Sunday. As we drove through, Andries immediately said: "This is where we are getting married". We booked immediately and were not let down by the stunning De Hoek Country Lodge!
Wedding Style
Our main theme was 'Farm' and we were set on having a very relaxed atmosphere at the wedding, our main goal being for everyone to have the most fun they could! We kept everything very simple, without frills. I did almost everything myself. My mother-in-law made our bunting and Andries, my sister, my grandmother and I did all the flower arrangements ourselves. Everything we used was farm orientated and all our decor was made up of original farming items like milking cans, mini windmills, etc. To add colour, we decided on a soft pastel palette, and it complemented the browns and rustic elements so well! We decided to have a small intimate wedding with just our nearest and dearest family and friends, and were so glad. It made every element of our wedding so special and I would not change a thing. I can honestly say that not one thing went wrong on the day and everything worked out PERFECTLY!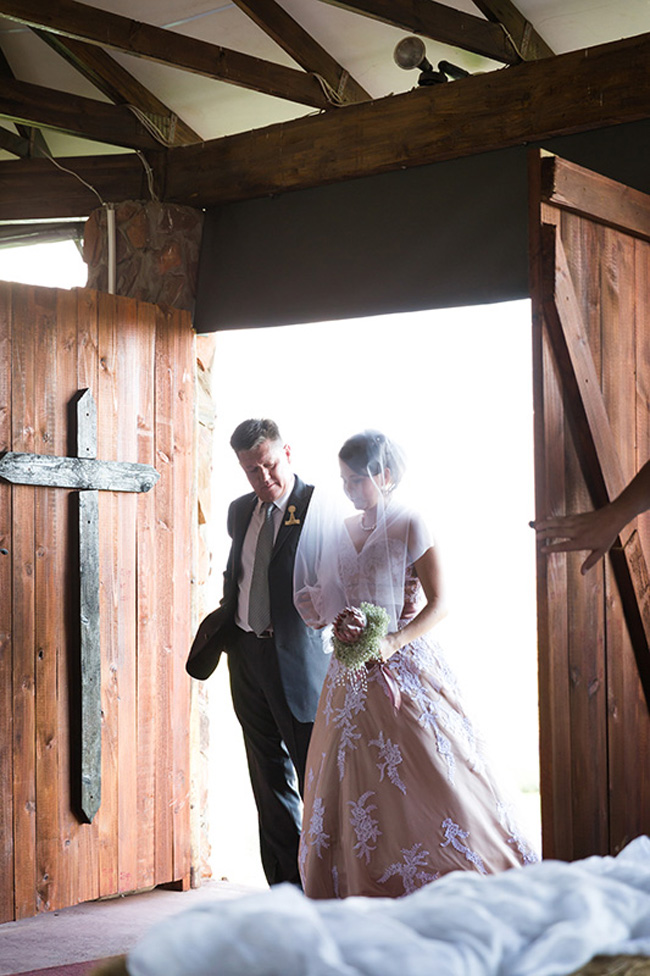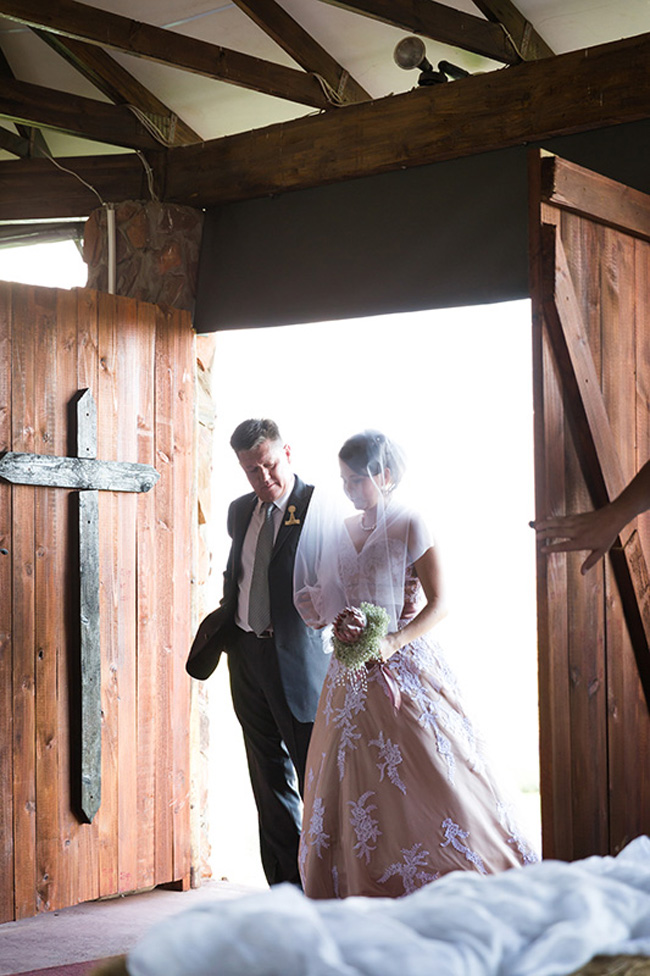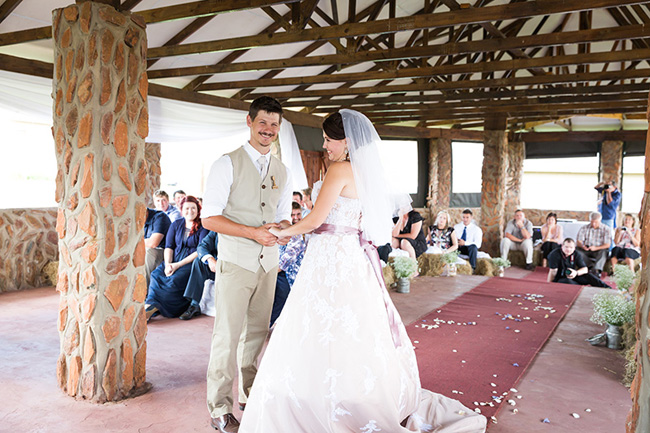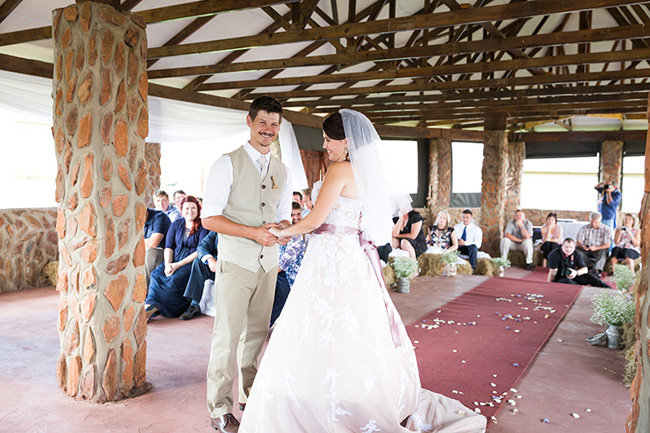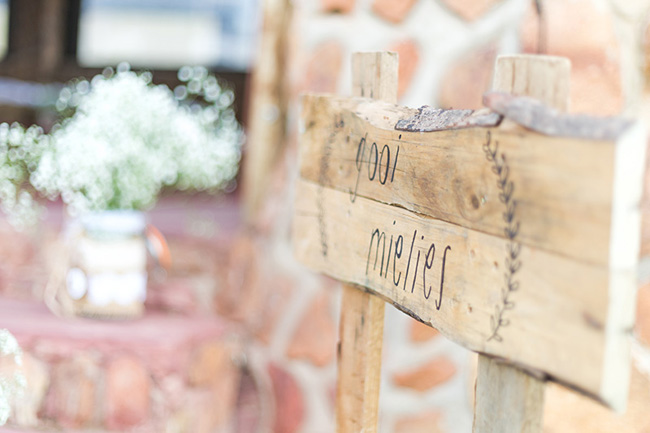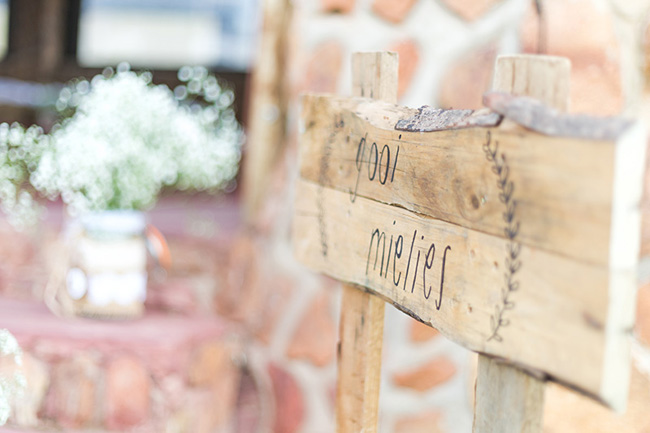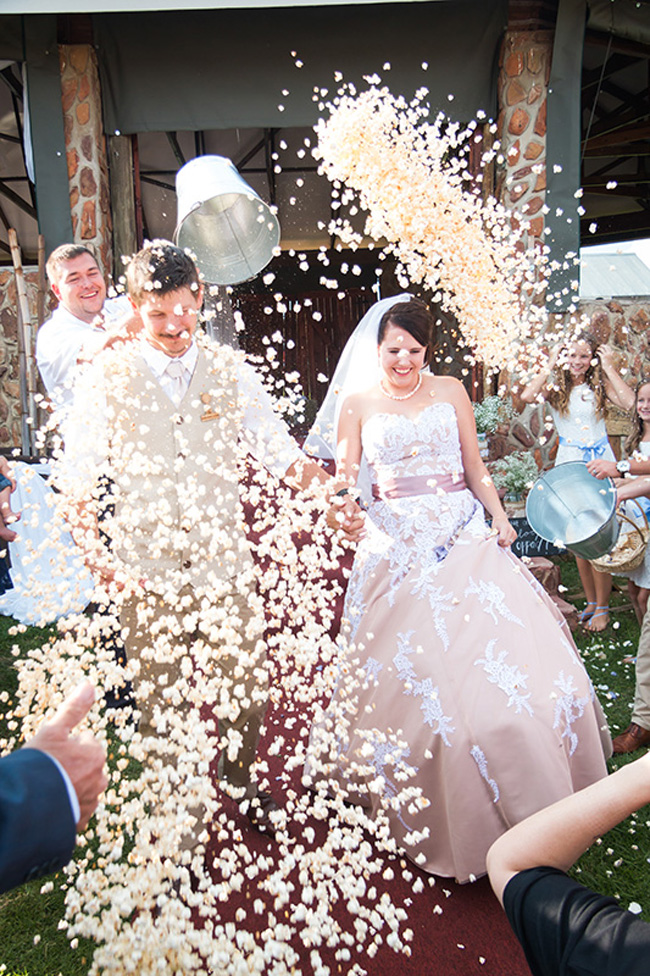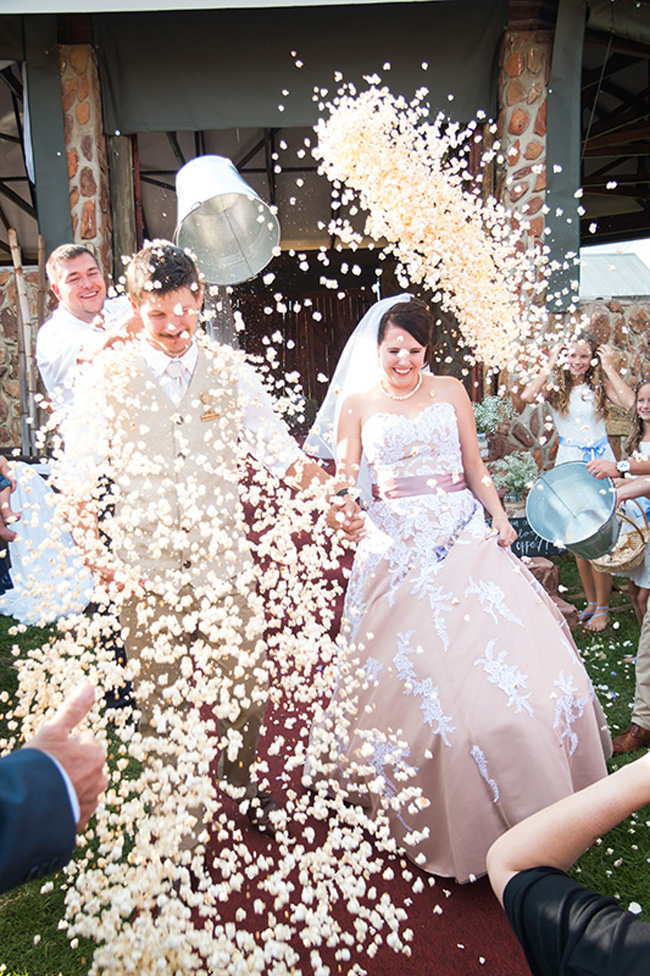 Wedding Details
We are farm kids – it is where our passion lies! Our favourite elements were all our different windmills and the John Deere elements (we had random John Deere bunting flags as well as a mini replica of a John Deere tractor on our cake). My other favourite was the succulents and Proteas we used in the flower arrangements.
DIY Elements
The whole wedding was DIY, from the flower boxes and arrangements to the bunting we hung. We did not rent anything, and made/borrowed all our decor. We also decorated the chapel and reception hall ourselves the day before the wedding with the help of family.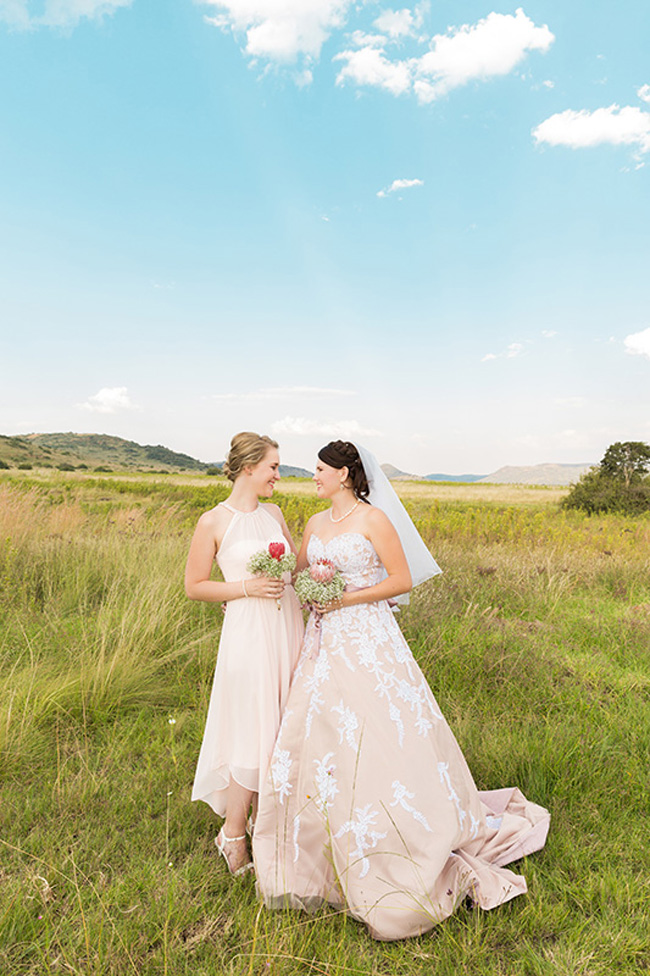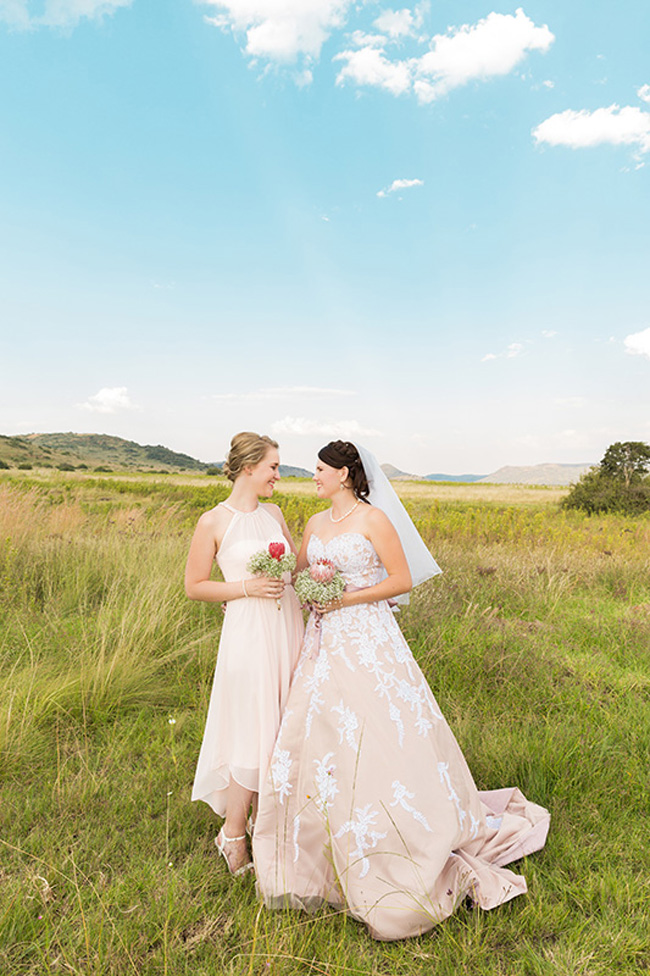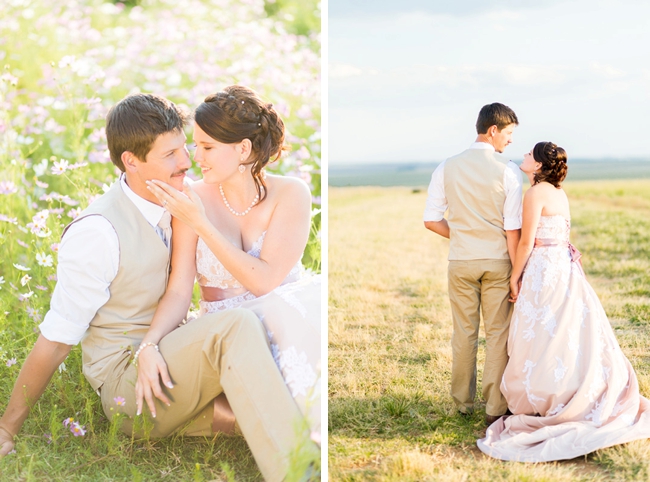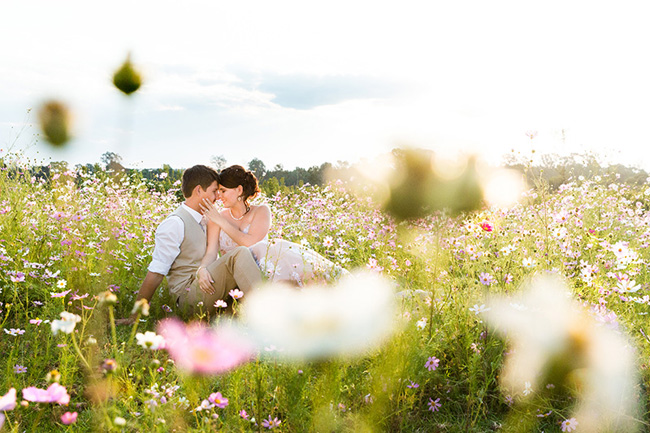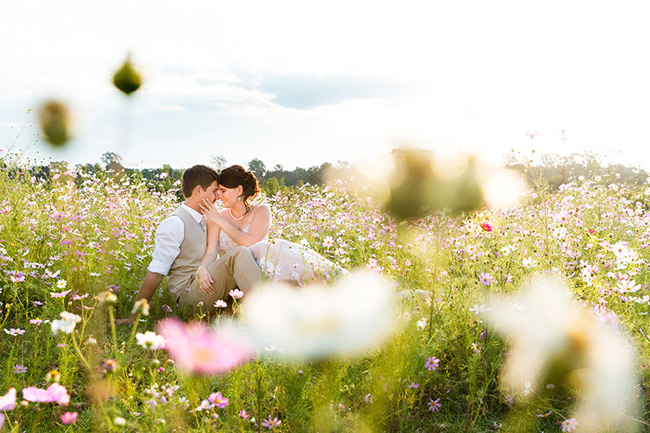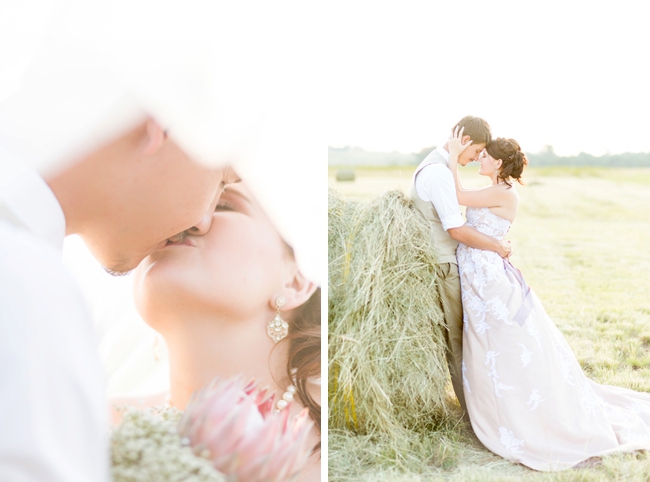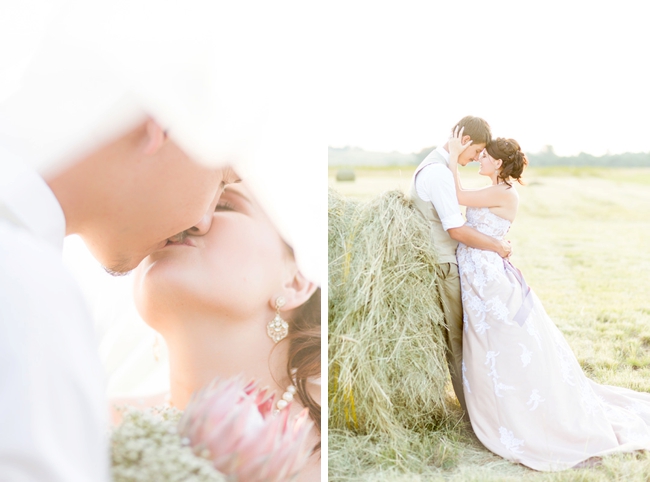 The Dress
Even before we got engaged, I saw the picture of my dress. I searched everywhere, but could not find a similar dress with the same elements and the original dress was way above my budget. I then got hold of Maxine Stander of Belle of the Ball and she realised my vision! I wanted something unique as I was no ordinary bride, and Maxine brought that to life!
The Bridesmaids
Christie, my sister was maid of honor, and  Zaandre (my best friend since primary school) and Olivia (a friend from University) were part of my bridal party. I wanted them to feel comfortable in what they wore. Initially I chose a color palette (pastel pinks) and said they could each choose their own dress. Eventually it all worked out so well as my sister and Zaandre decided on the same dress, and Olivia decided to make a dress similar to the other two ladies. They all looked spectacular!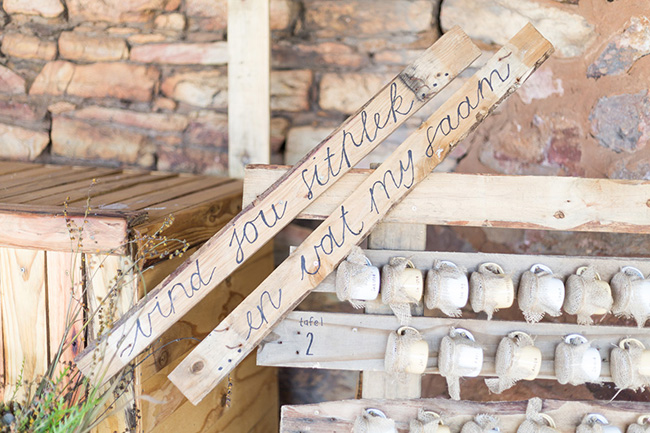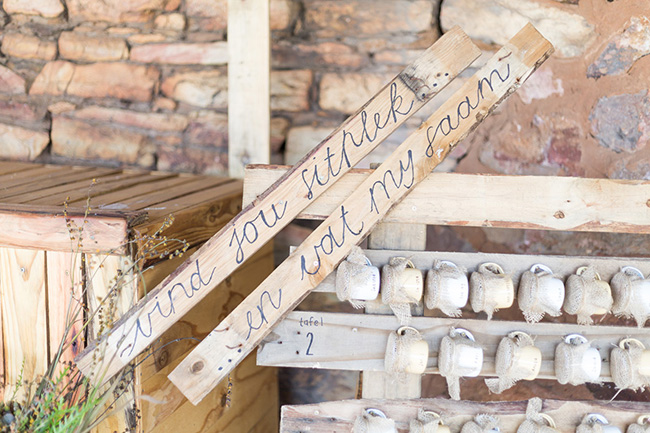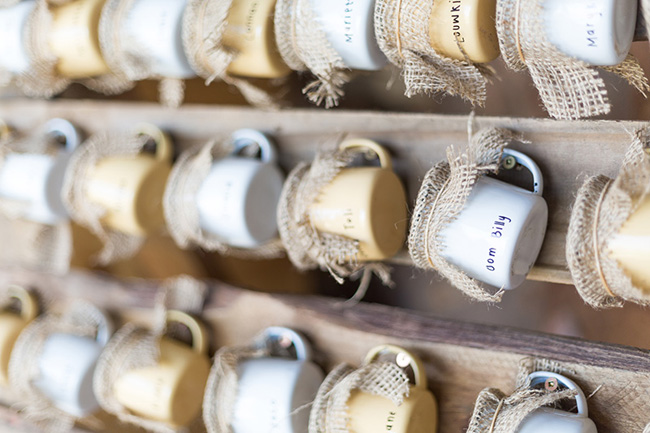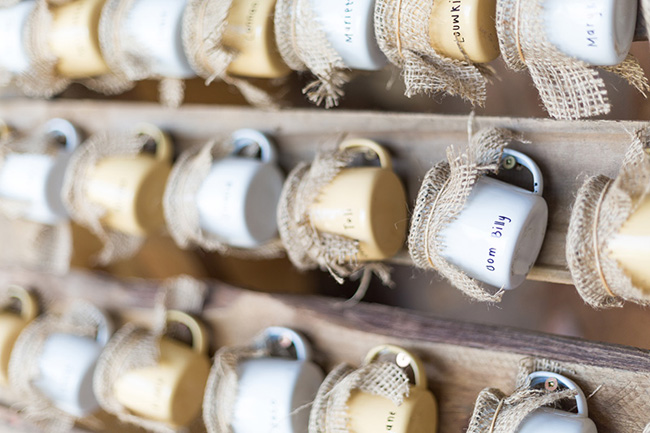 The Flowers
We wanted 'no fuss' flowers that were rustic and fit with the theme. We used lots Sylvia proteas, succulents and fynbos elements of many different kinds. The fynbos added the amazing texture we were after and the proteas added enough of the 'softness' we desired. It was all so perfect!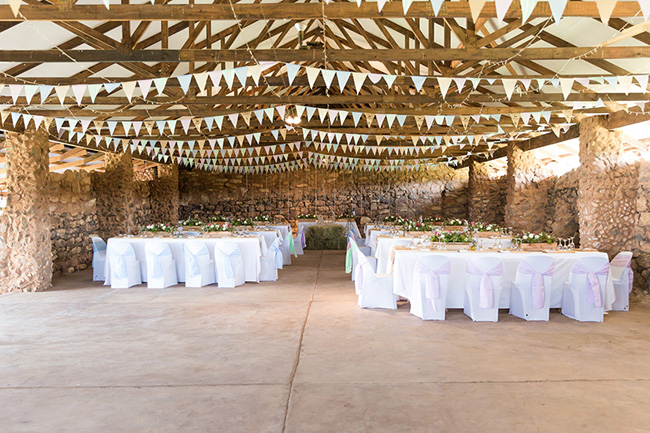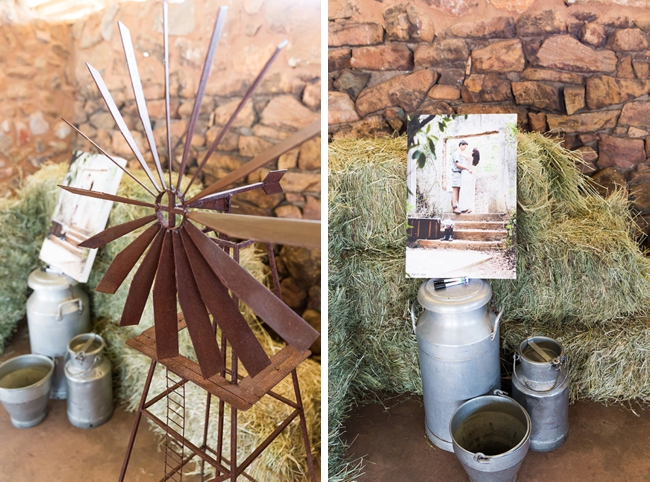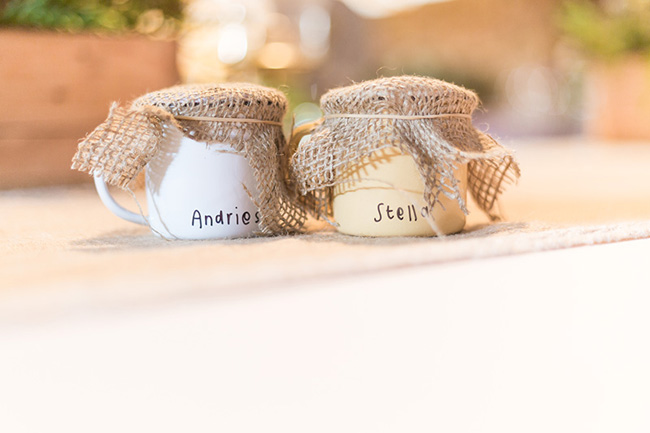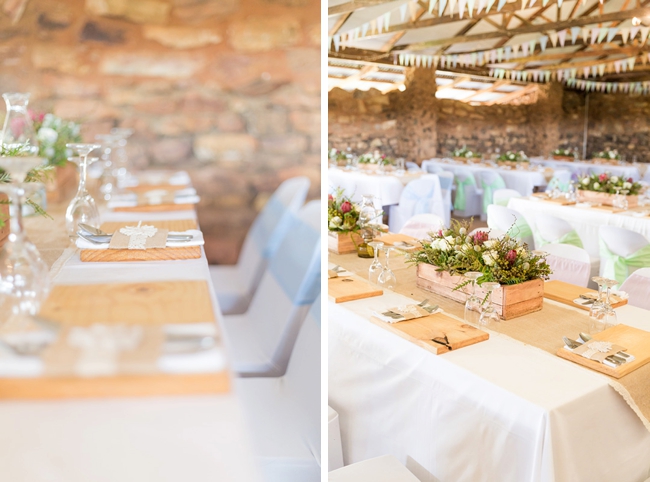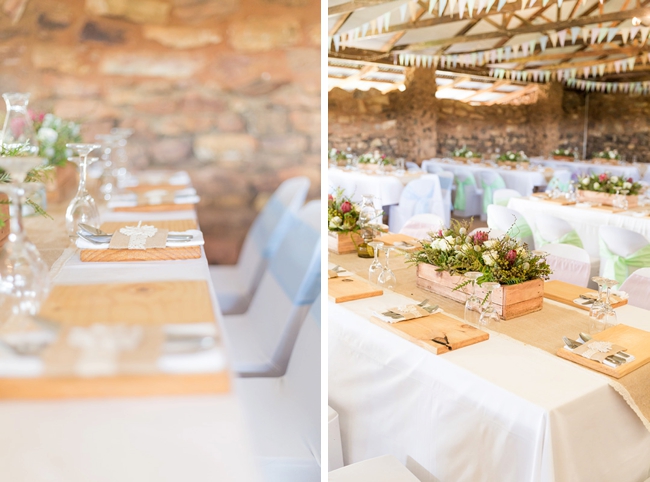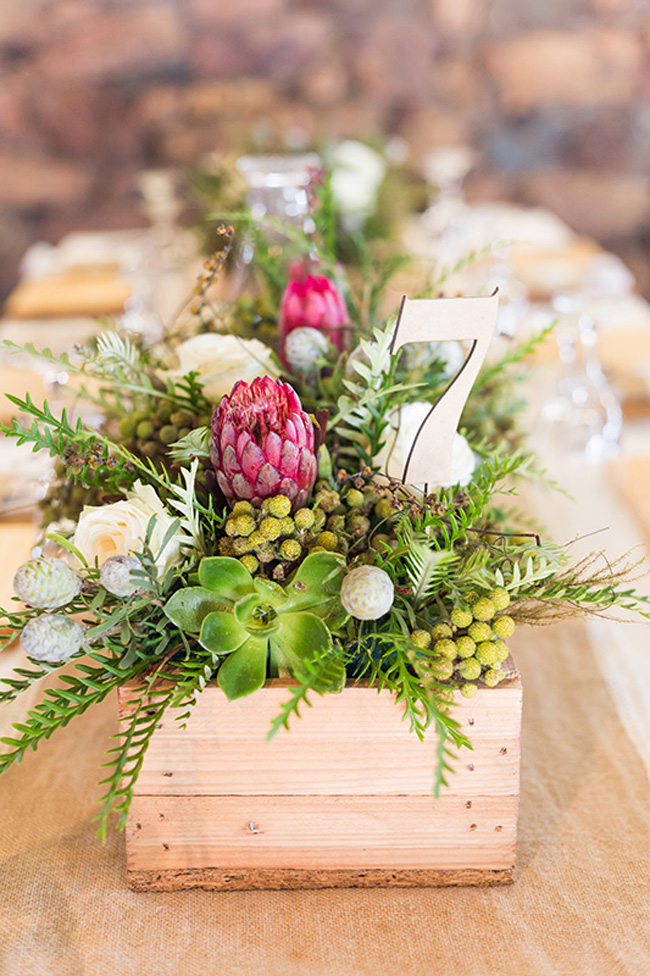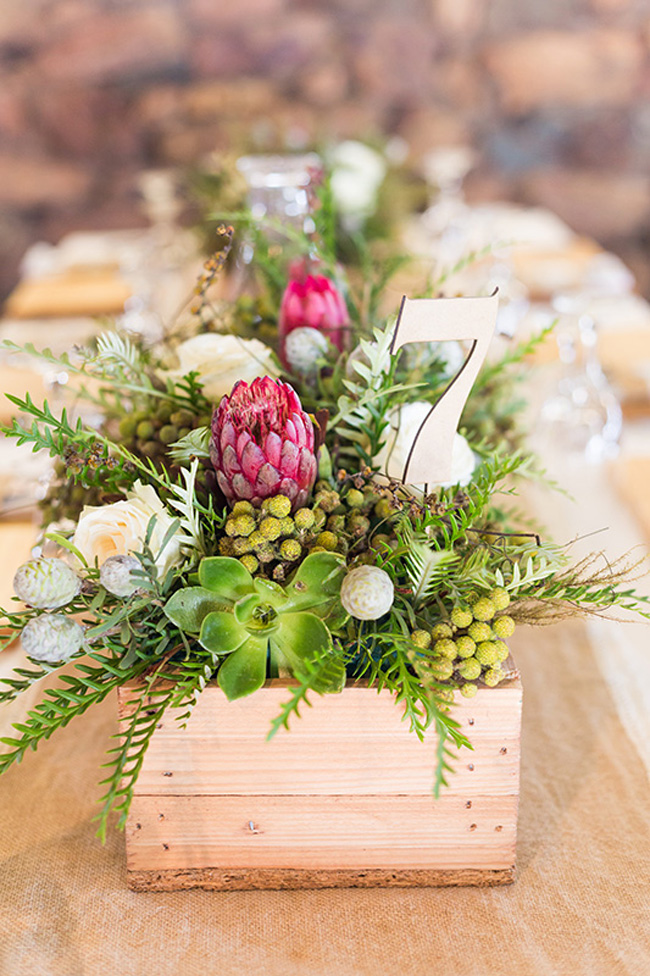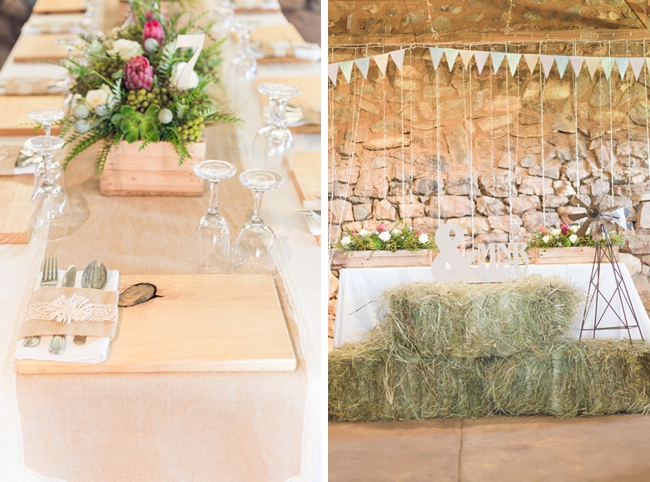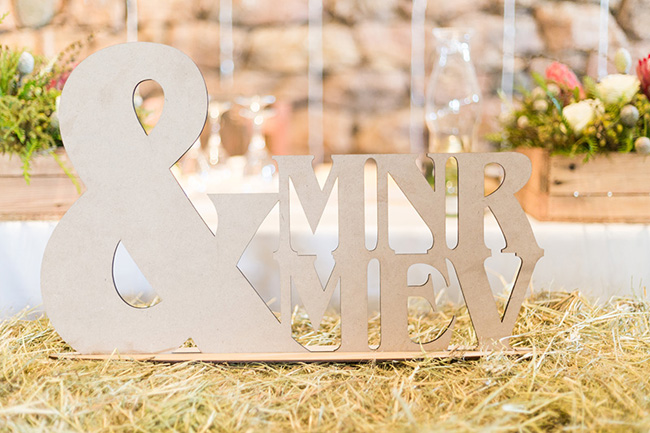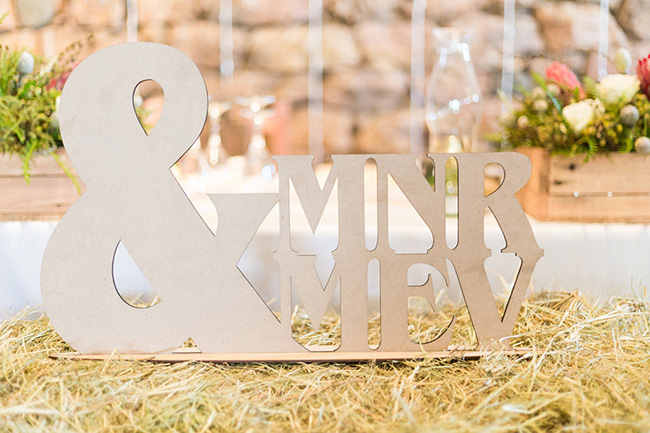 Memorable Moment
The most memorable part was arriving at the chapel (crying my eyes out on the back of a tractor as soon as I saw my dad waiting for me), and then walking down the aisle with my dad (after tripping over a step in the chapel haha!) towards my future husband. It was such an emotional entrance as I heard everyone crying! Most of our guests had known us our whole lives; it was such a special moment.
Wedding Traditions
We had a very traditional 'Boere' wedding and followed all the traditions we grew up with regarding a wedding. I had my something old, something new, something borrowed and something blue. We also made a lot of effort not to see each other before the wedding and we exchanged gifts the morning of the wedding via my bridesmaids.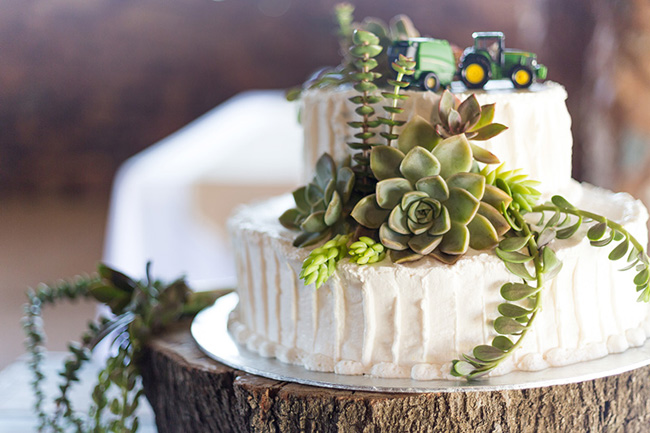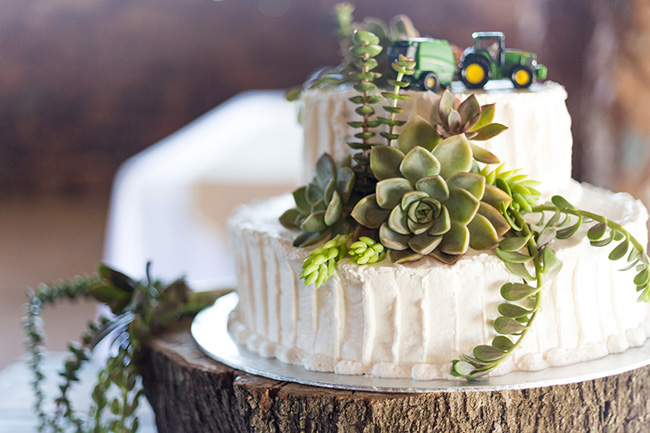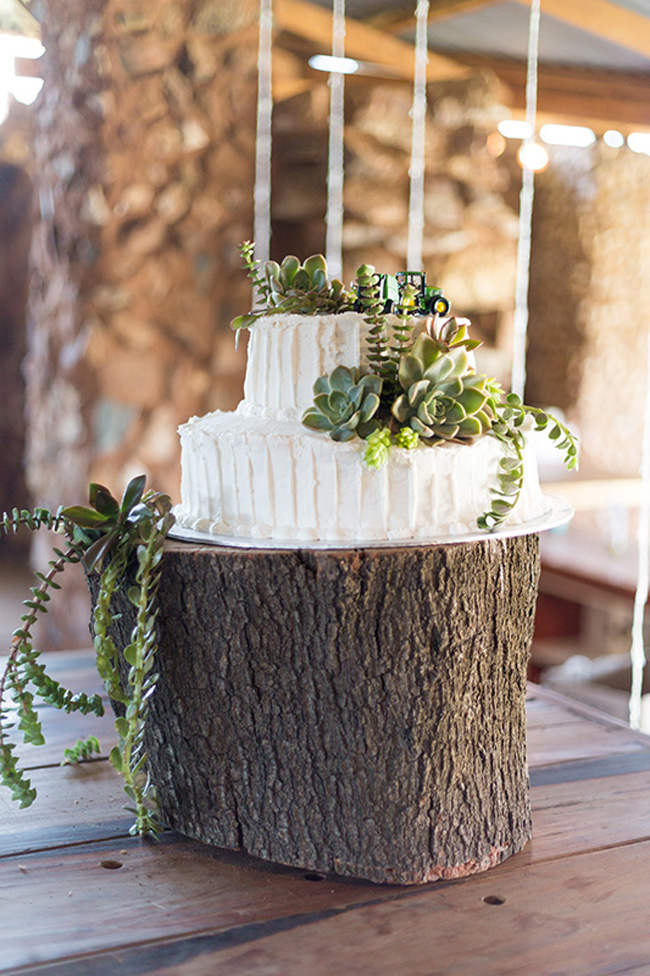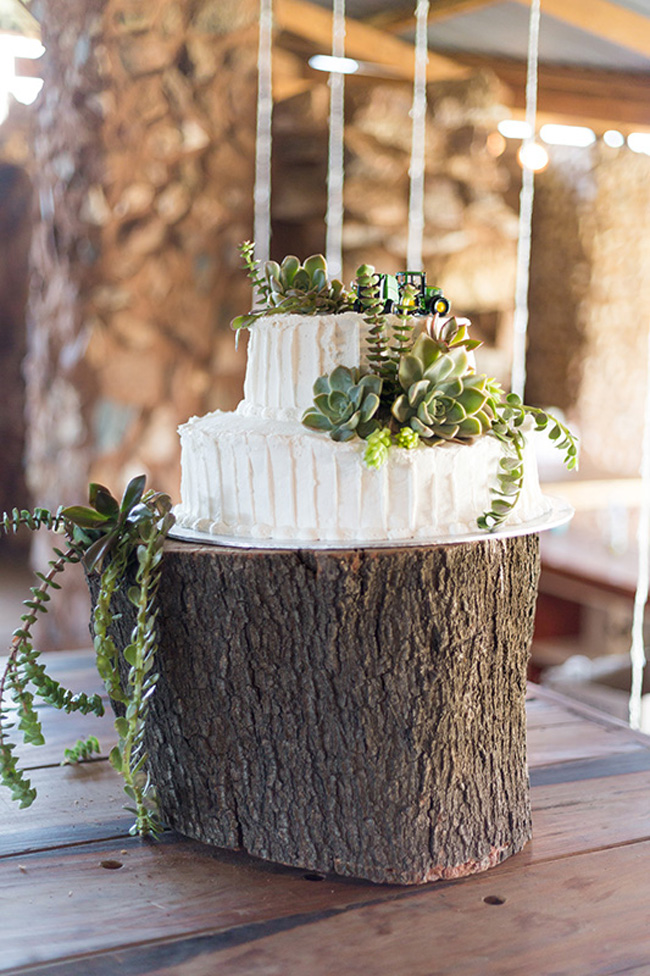 Best Decision
To do a DIY wedding and having my husband, mom and sister with me with every step of the way as they helped me plan our perfect wedding. Without them, I would not have been able to do it! It brought us closer and I will forever cherish the times we spent in planning the wedding.
Advice for Future Brides & Grooms
Don't sweat the small stuff – it all works out in the end. We had so much drama prior to the wedding, one of the biggest being getting Andries' waistcoat two days before the wedding and it being two sizes too big! But it all worked out in the end, thanks to the support we had! Enjoy the process, it's all over before you know it and then all you have are memories – therfore keep those memories, happy ones.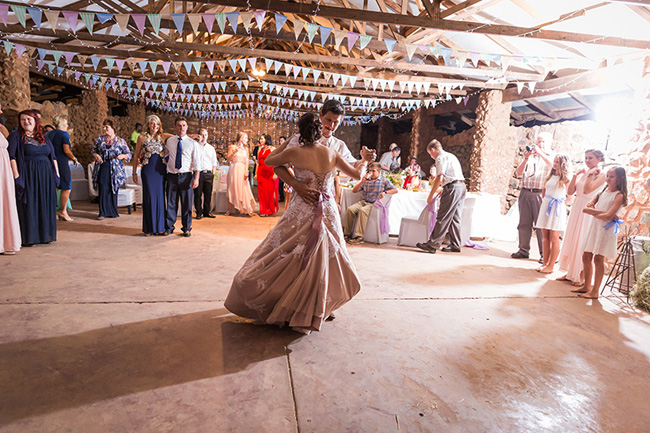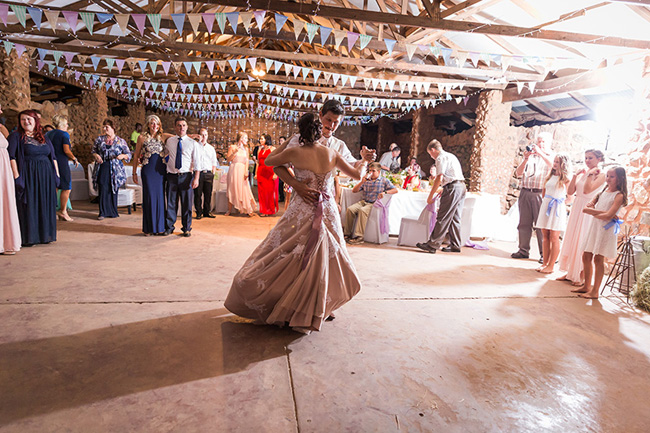 You can see more from this wedding on the DGR Photography blog.
SERVICE PROVIDERS
Venue & catering: De Hoek Country Lodge | Photography: DGR Photography | Cake: Blue Bird Confectionery & Bakery | Stationery: Lean Breytenbach | Bride's dress & veil: Belle of the Ball | Bride's shoes: Moda Shoes | Hair: Leigh Swanepoel | Makeup: Contour Creations | Bridesmaids' dresses: Forever New | DJ: DJ Max | Groomsmen's gifts & decor items: Wedding Faire
Save