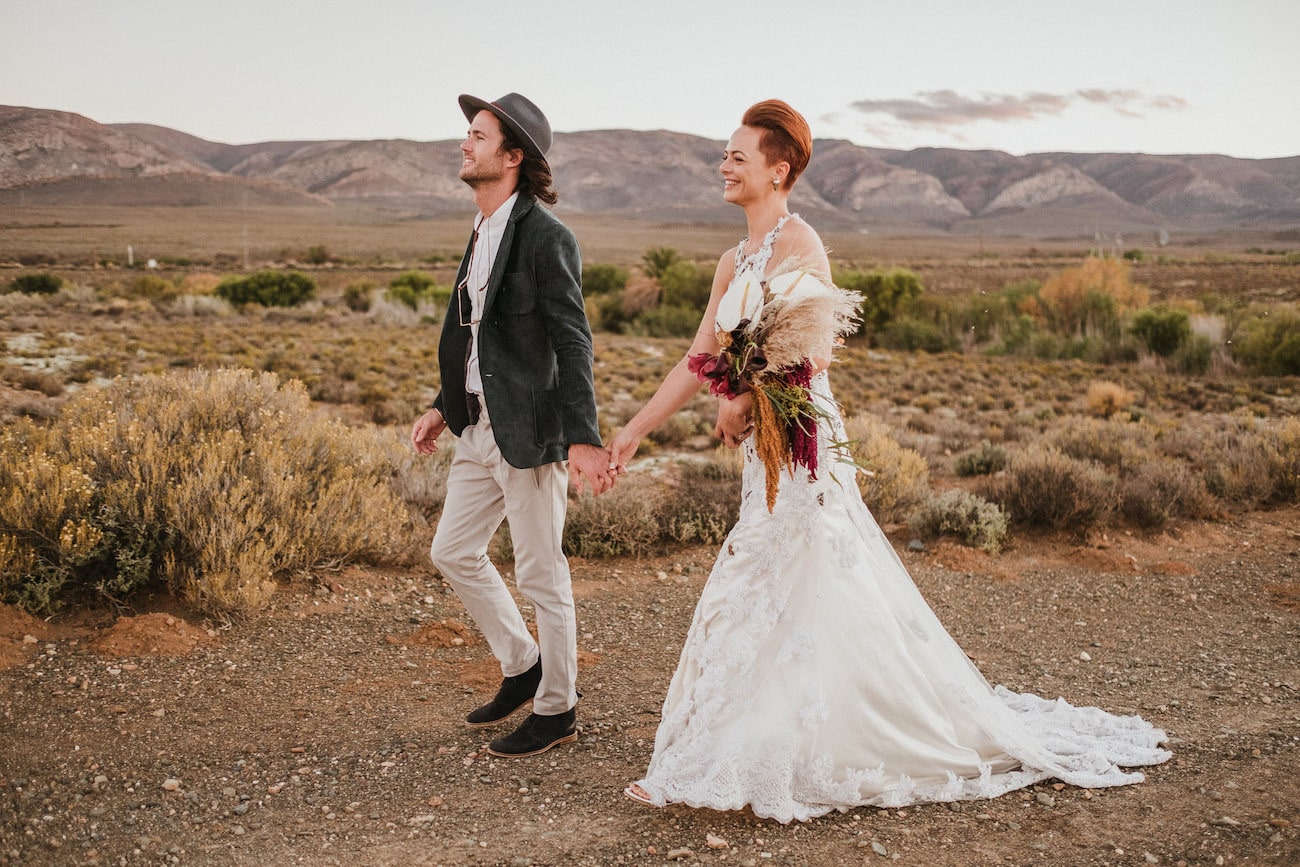 We'll be talking trends a lot this month on SBB, and this is one of those weddings that rolls out many of those trends, but in a way that is effortless and authentic and cool. You'll spot a groom in a hat, a macrame ceremony arch, and some of the most stunning dried flower and grass floral displays we've ever seen. But you kind of get the sense that this is just who Adri and Vincent, the gorgeous bride and groom, really are. They both looked fabulous – especially in love with Adri's hand-beaded gown and short do! They chose the most awesome venue for their big day, Matjiesfontein, which has a bit of a quirky old world vintage vibe, but also reflects the colours and textures of the Karoo (something which means a lot to the couple). They adopted a desert palette for the wedding, a rich array of oranges and reds and golds, with a huge pampas display as the centrepiece. It's stunning, and was perfectly captured by the talented Hewitt Wright.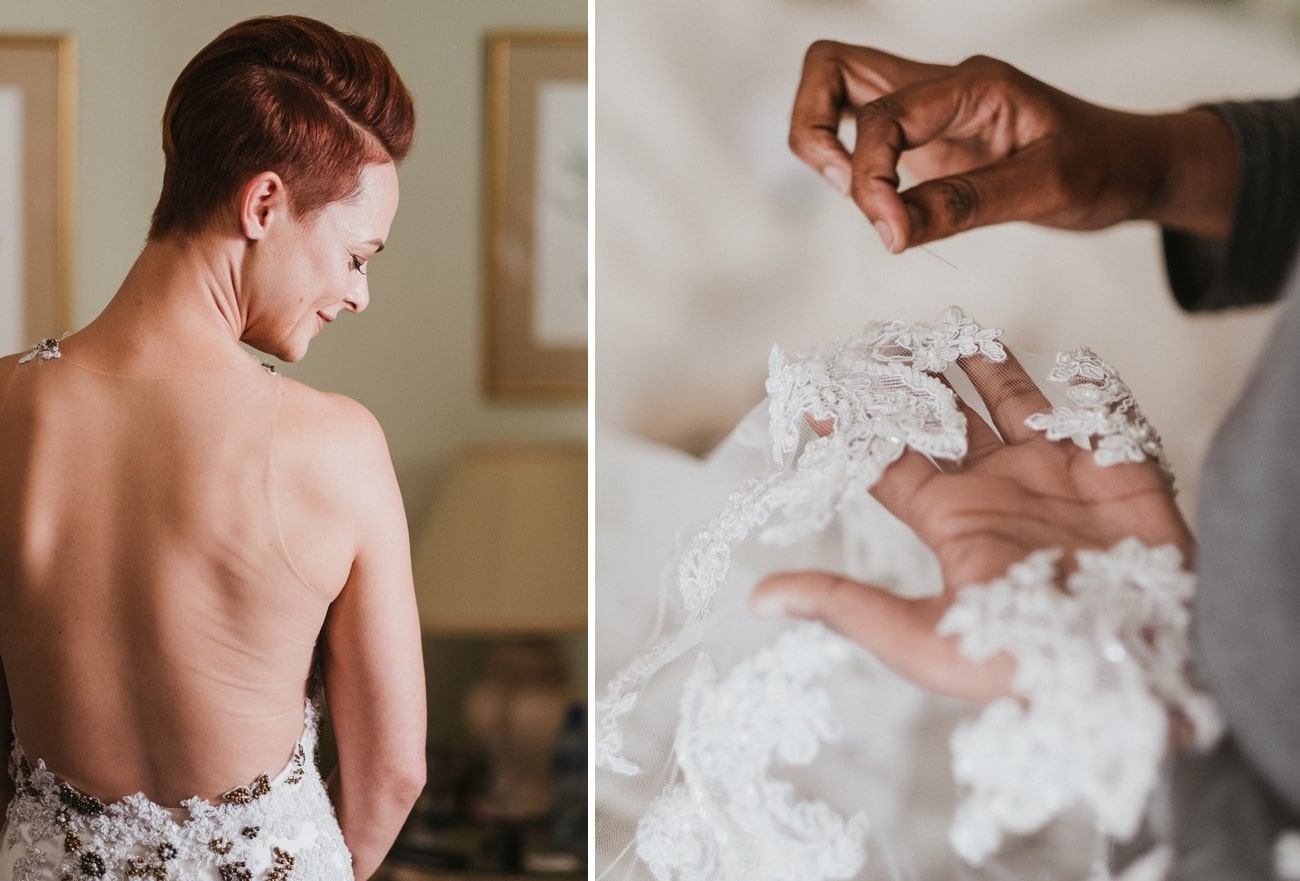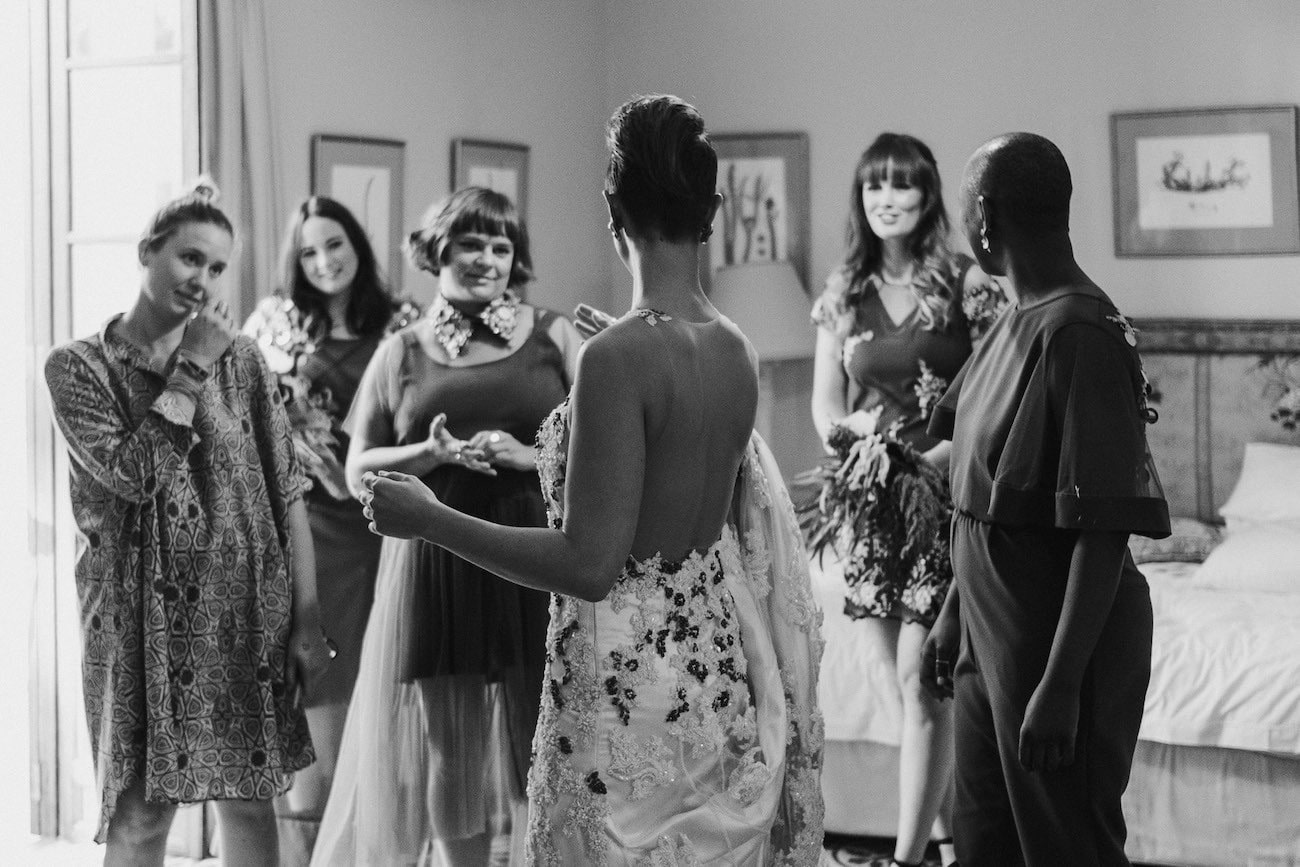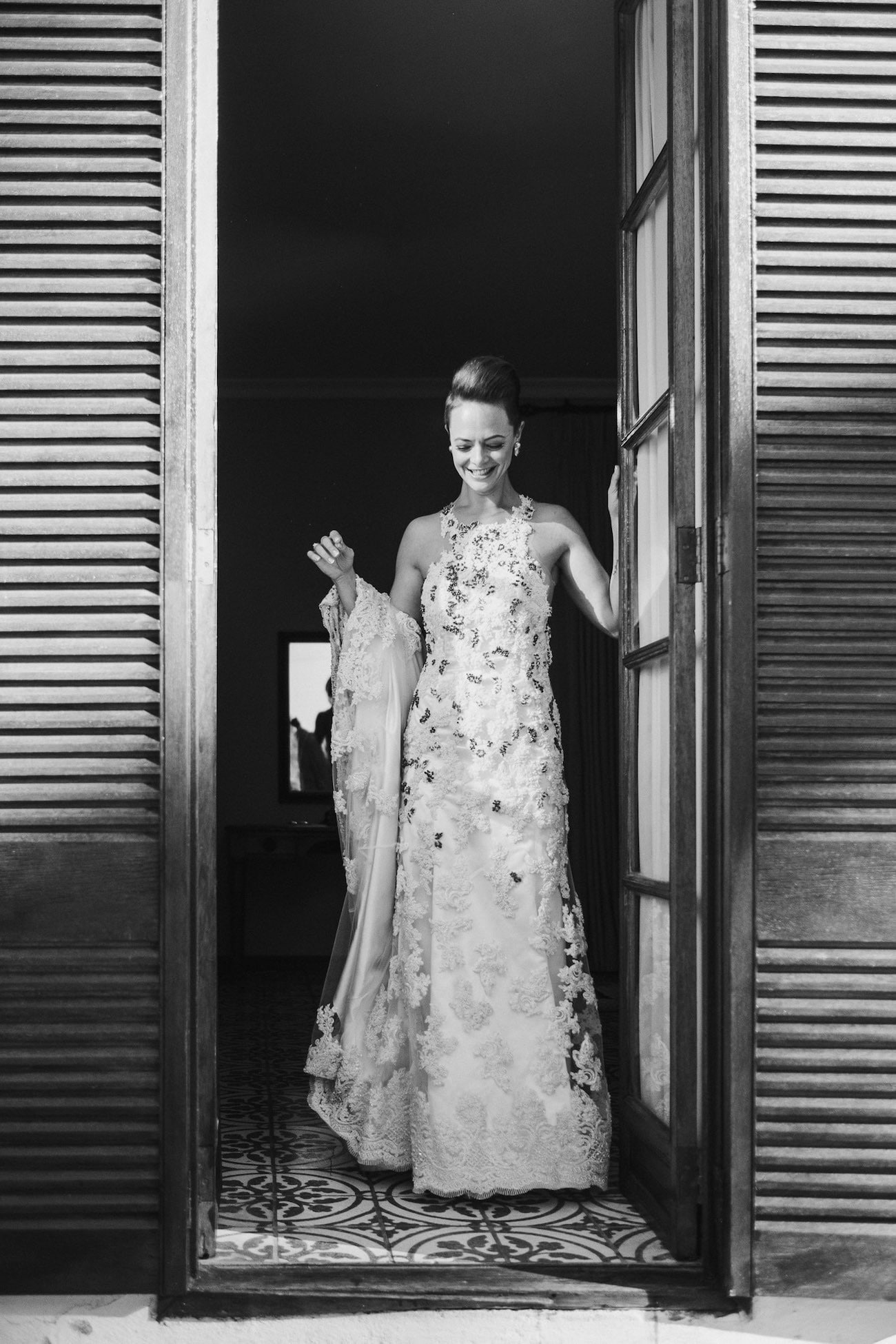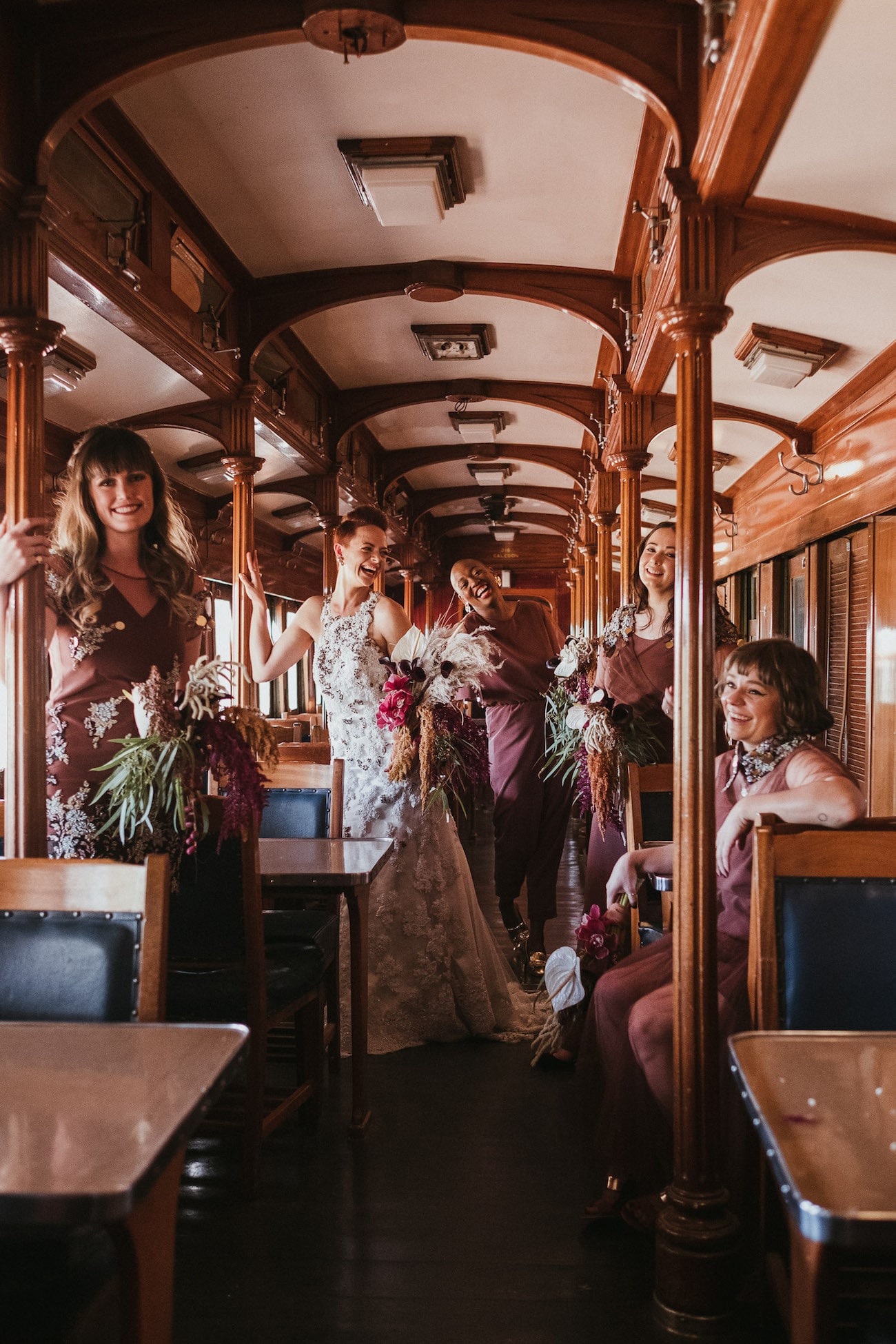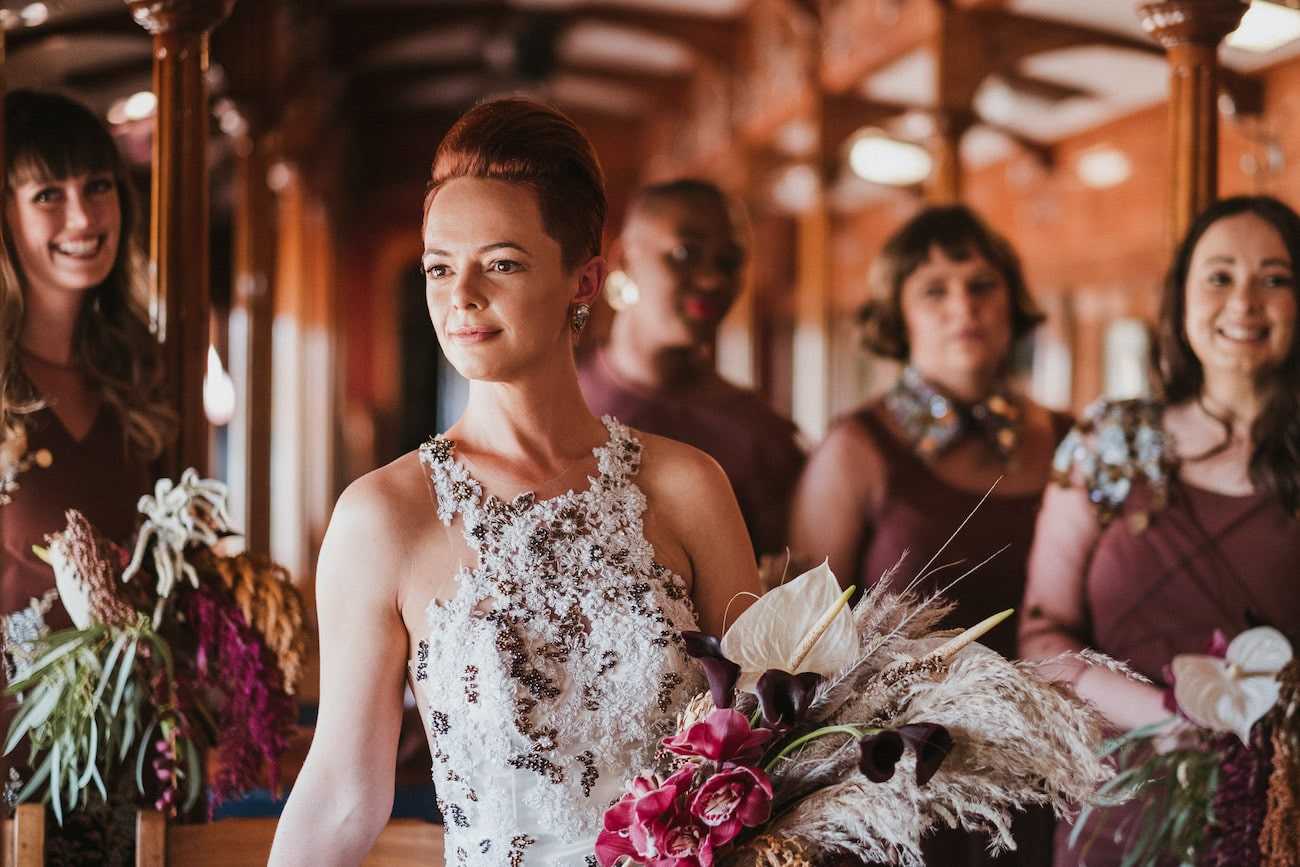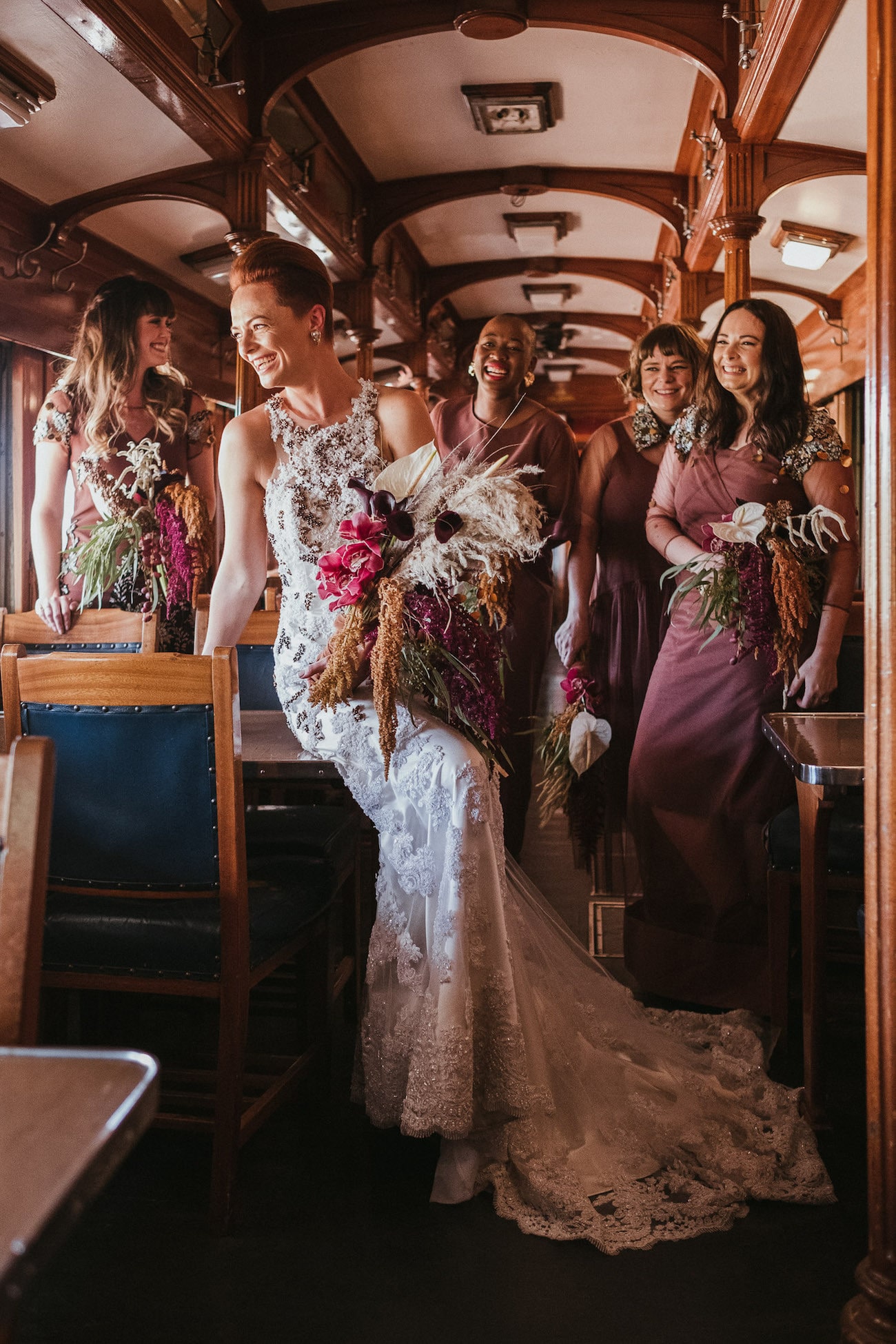 Love Story
We met through mutual friends at dinner one night and, to borrow from F. Scott Fitzgerald, "slipped briskly into an intimacy from which we never recovered".
The Proposal
Vincent proposed at Afrika Burn under an artwork that he'd built as a surprise – a large cairn made from white ocean rocks. Adri means 'rock' in Hindi.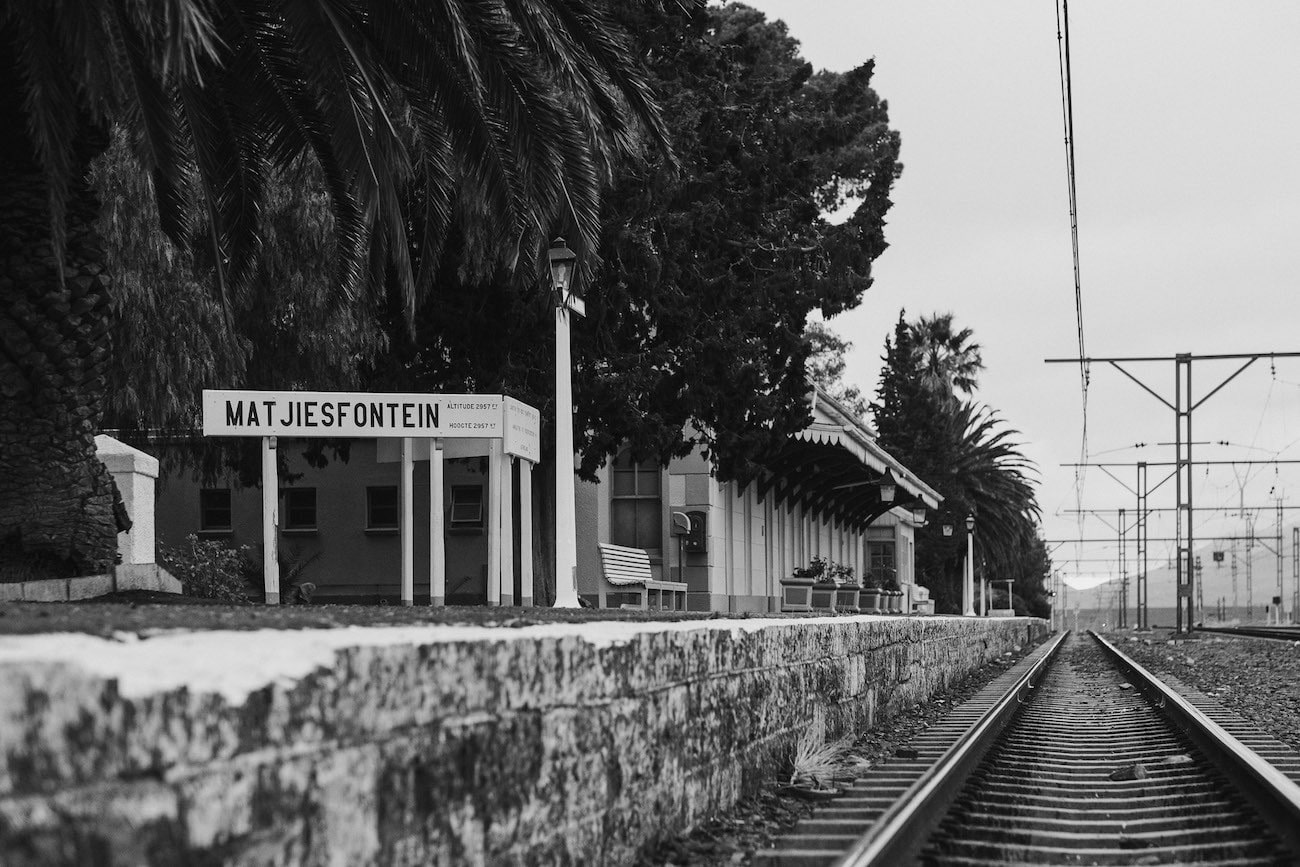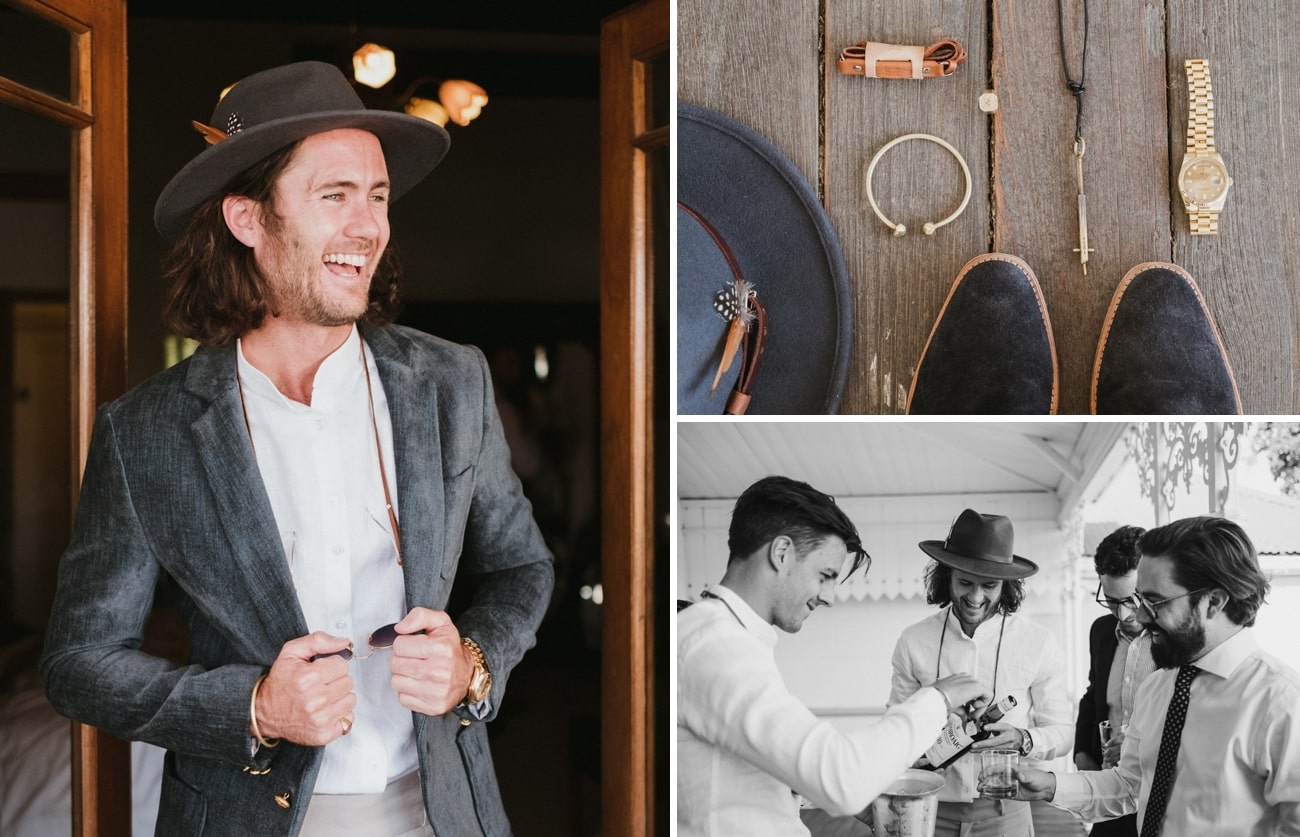 The Venue
We both love the Karoo. My mother's family is from Calvinia and Vincent's family have a long history with Matjiesfontein. We wanted to do something different from your Cape vineyard style wedding and Matjiesfontein felt just right – earthy and rustic with lots of history and a slight touch of madness, like something out of a Wes Anderson film.
Wedding Style
We wanted the decor to be earthy and rustic, blending naturally into the beautiful Karoo landscape. The setting itself was so unique, from the Lord Milner Hotel built in the 1800s to the Vintage Car Museum to the railway station and fertile gardens, that we didn't want to detract from any of it but rather use as much of the grounds as we could as a changing setting throughout the weekend.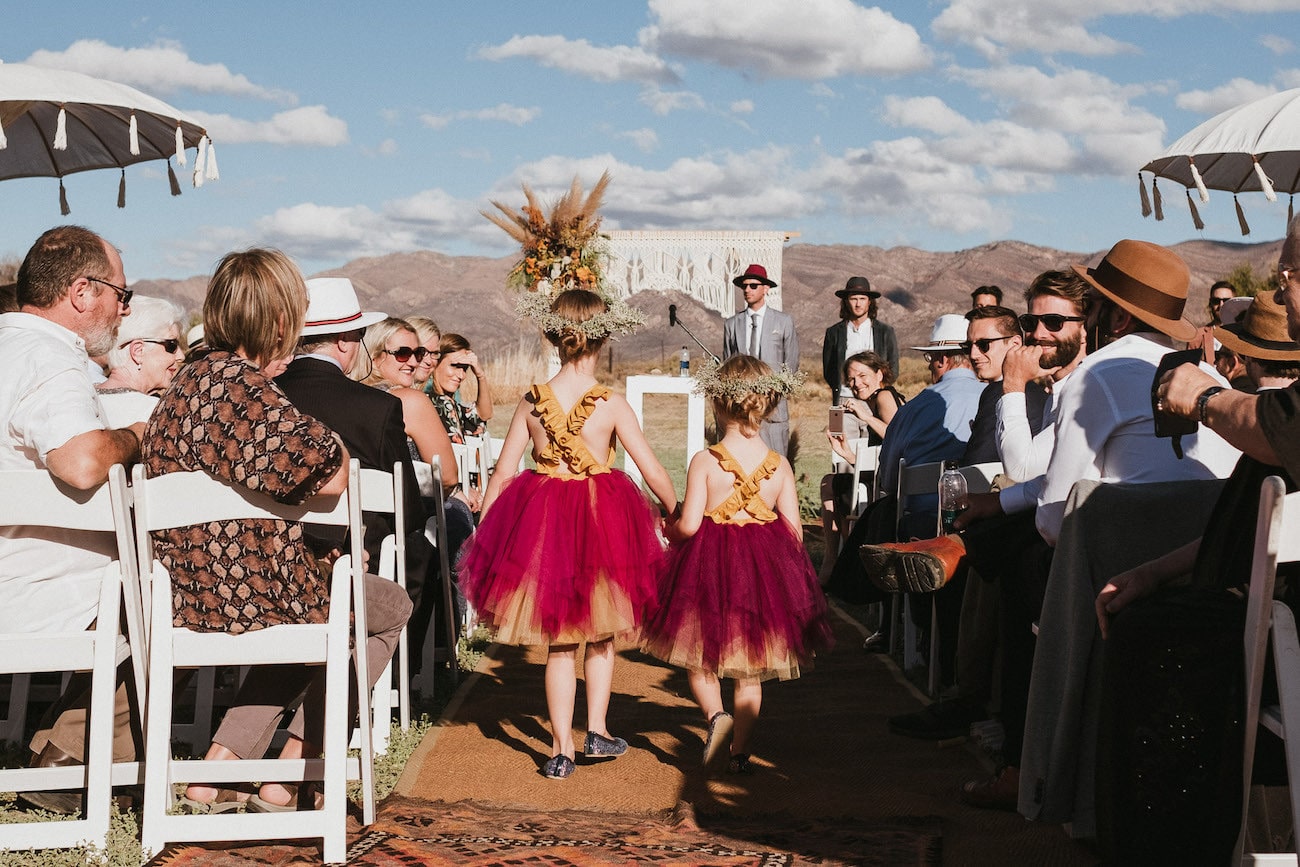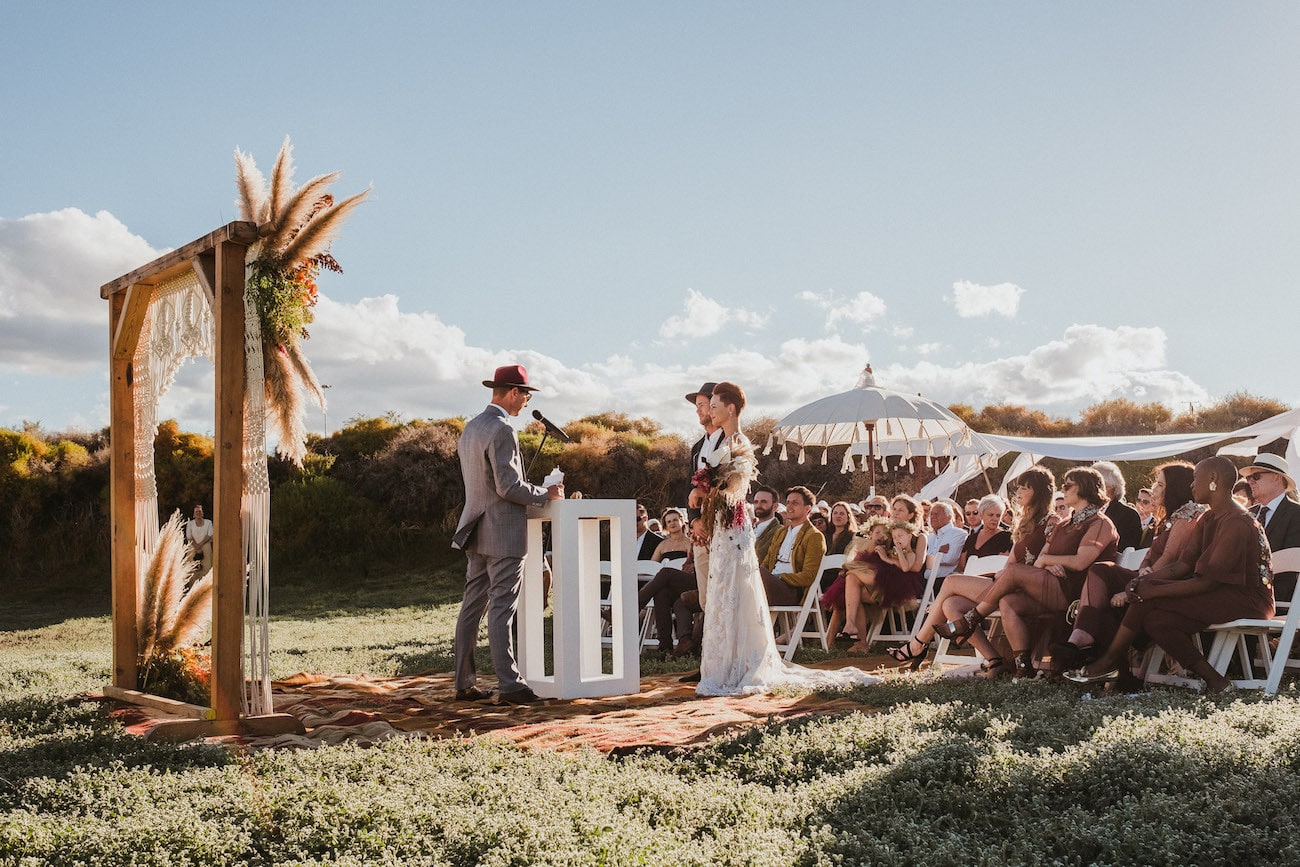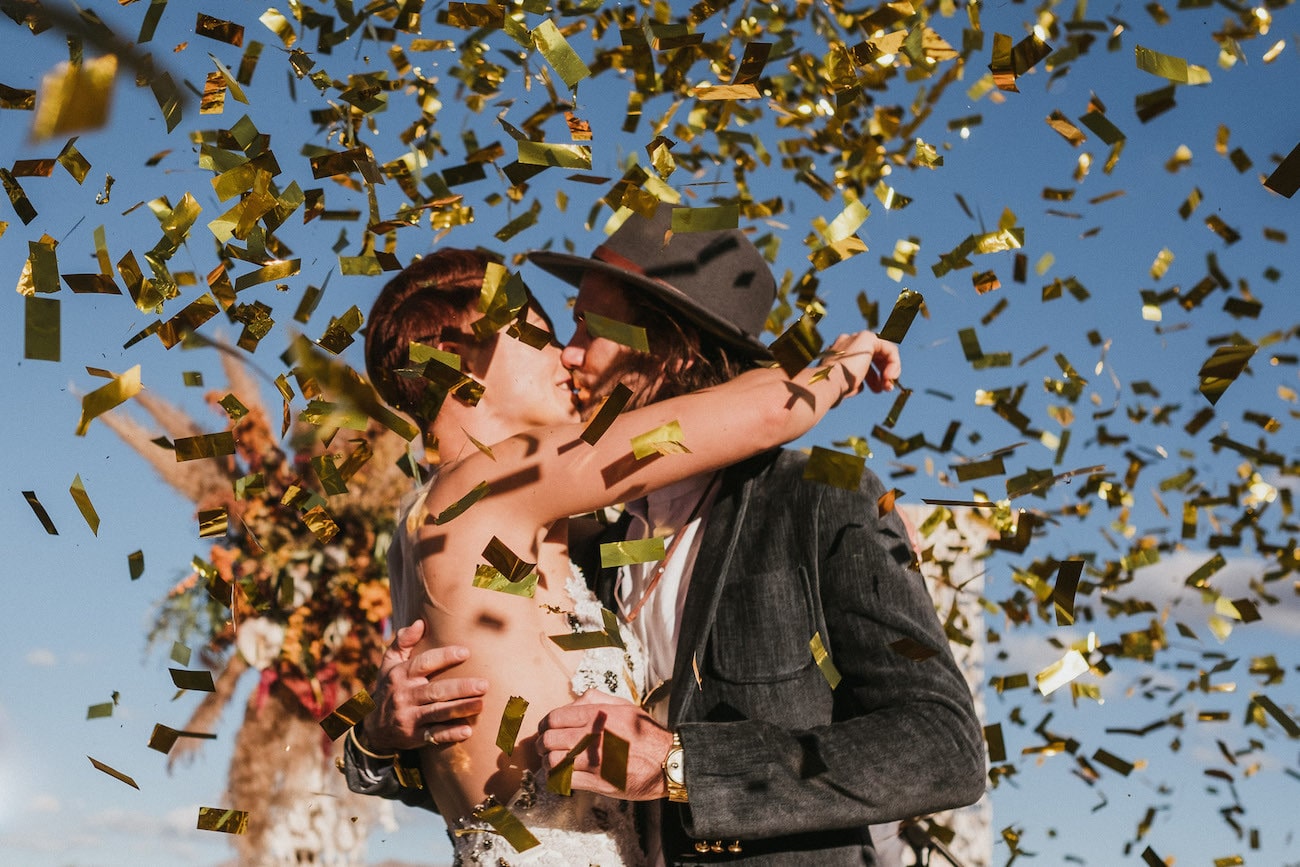 Wedding Details
For us it was all about the small details. From mini cairns made from sea rocks collected in Franskraal (my beach house) to hundreds of individually-named tiny cactuses as gifts (grown by our parents), to the traditional Van Zyl wedding 'kaaskoek'. The cheese cake is a family tradition – instead of desert of we had a big tiered wedding cake made of concentric wheels of cheese with evening cocktails.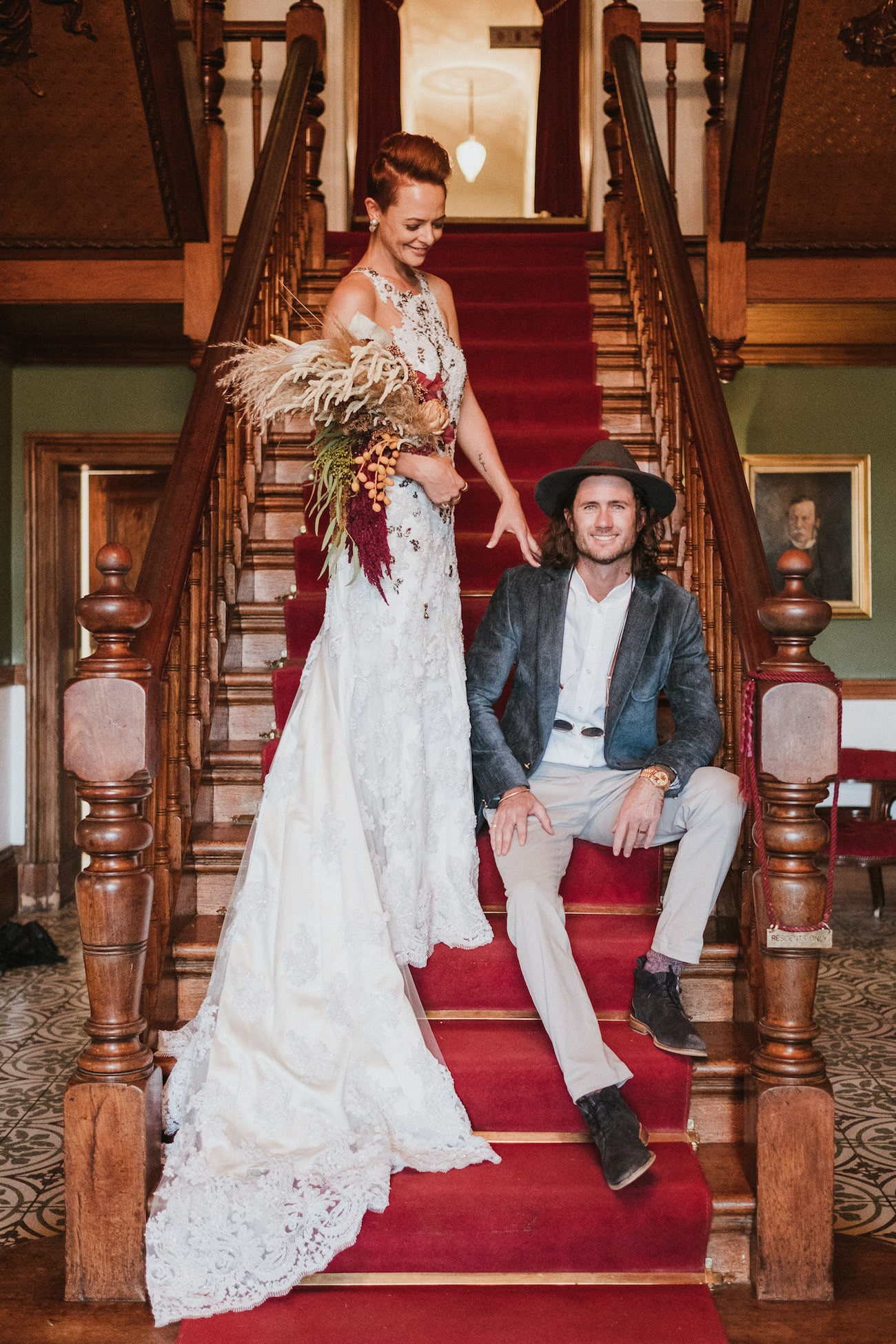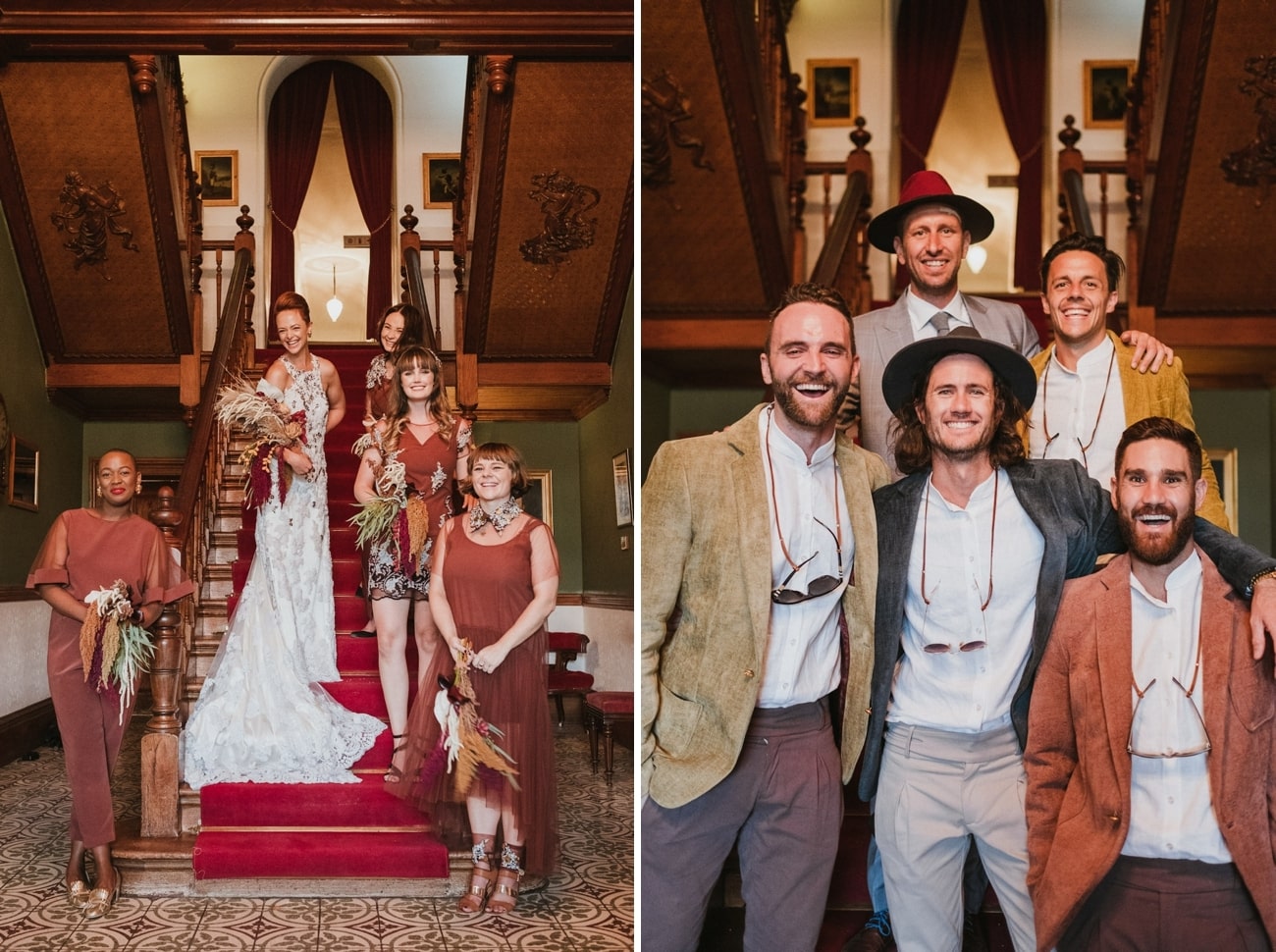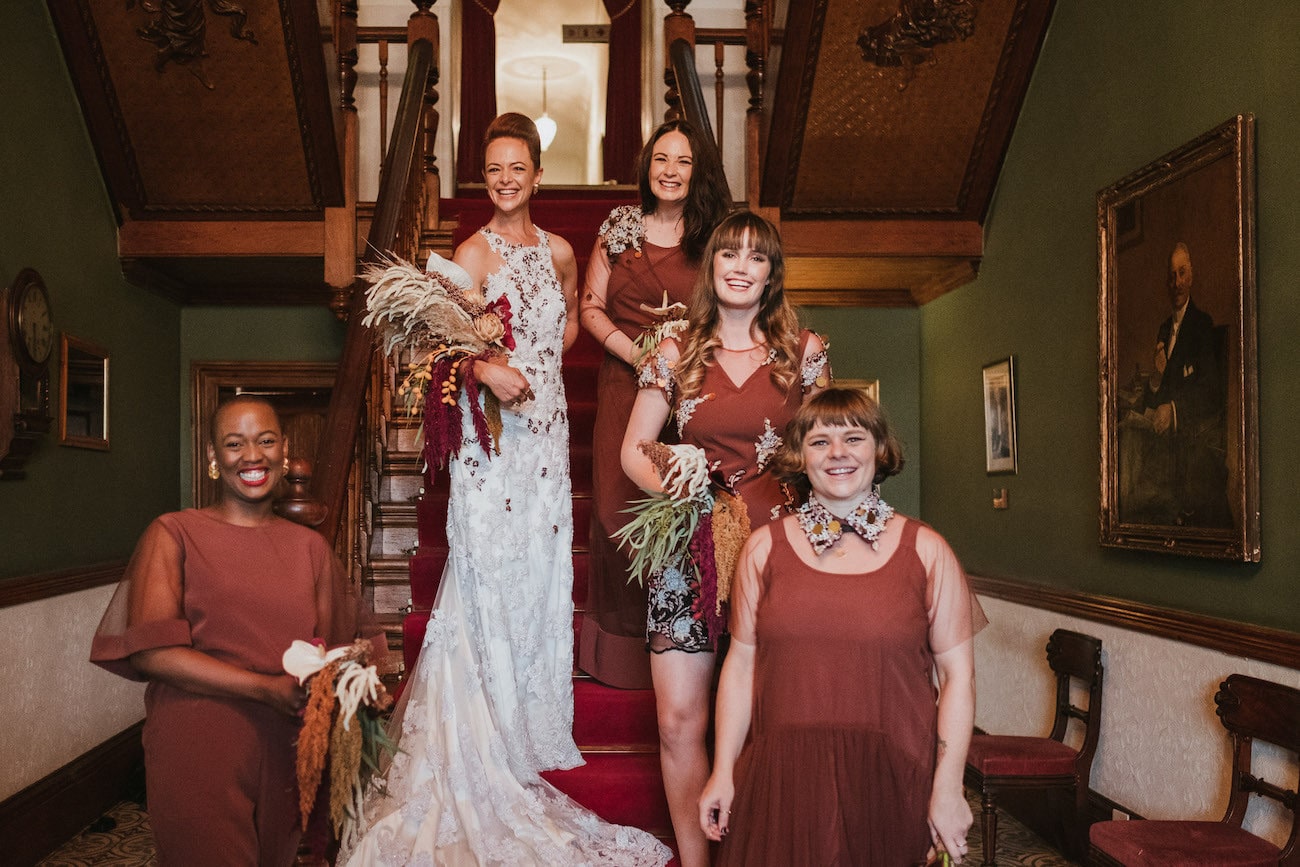 DIY Elements
We did all of the stationery and signage ourselves, as well as all the cactuses in homemade concrete pots.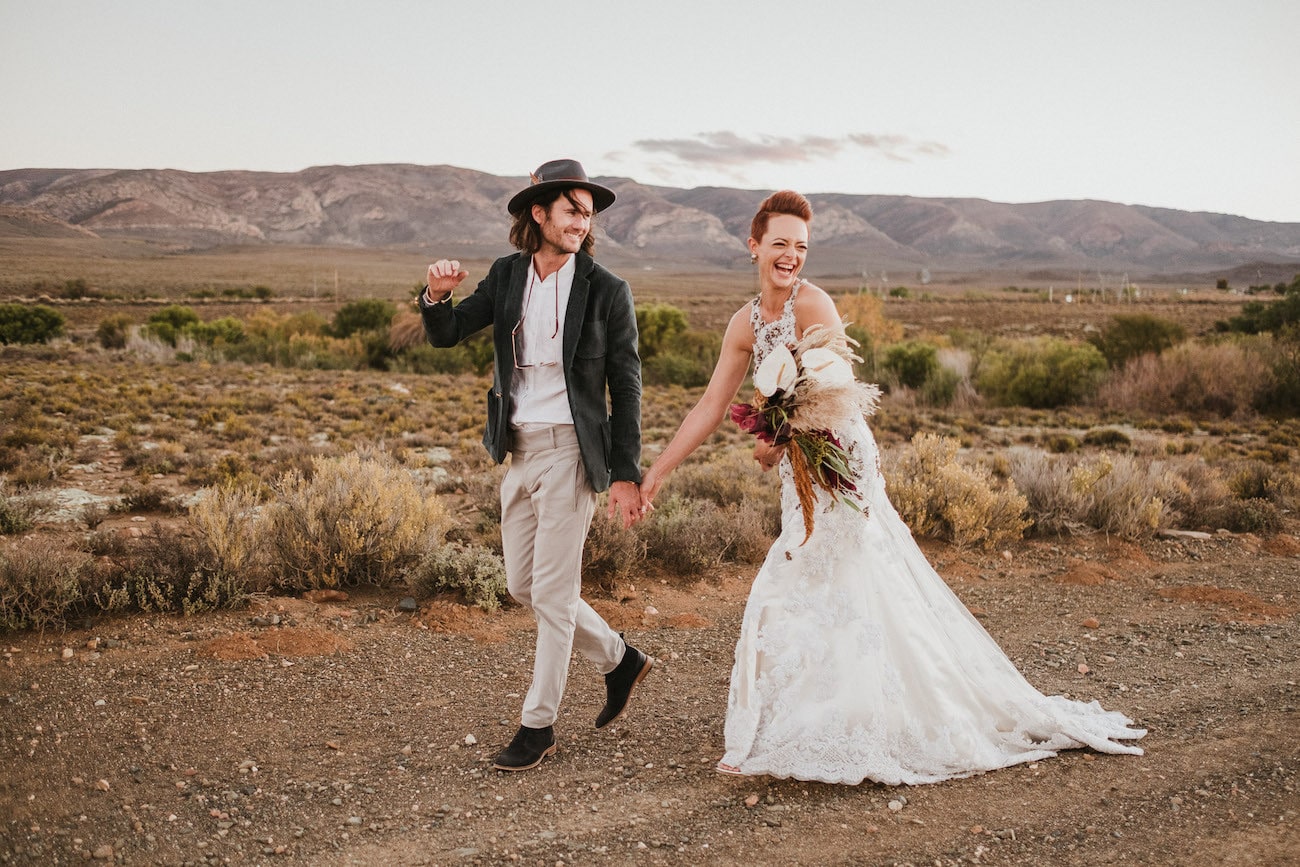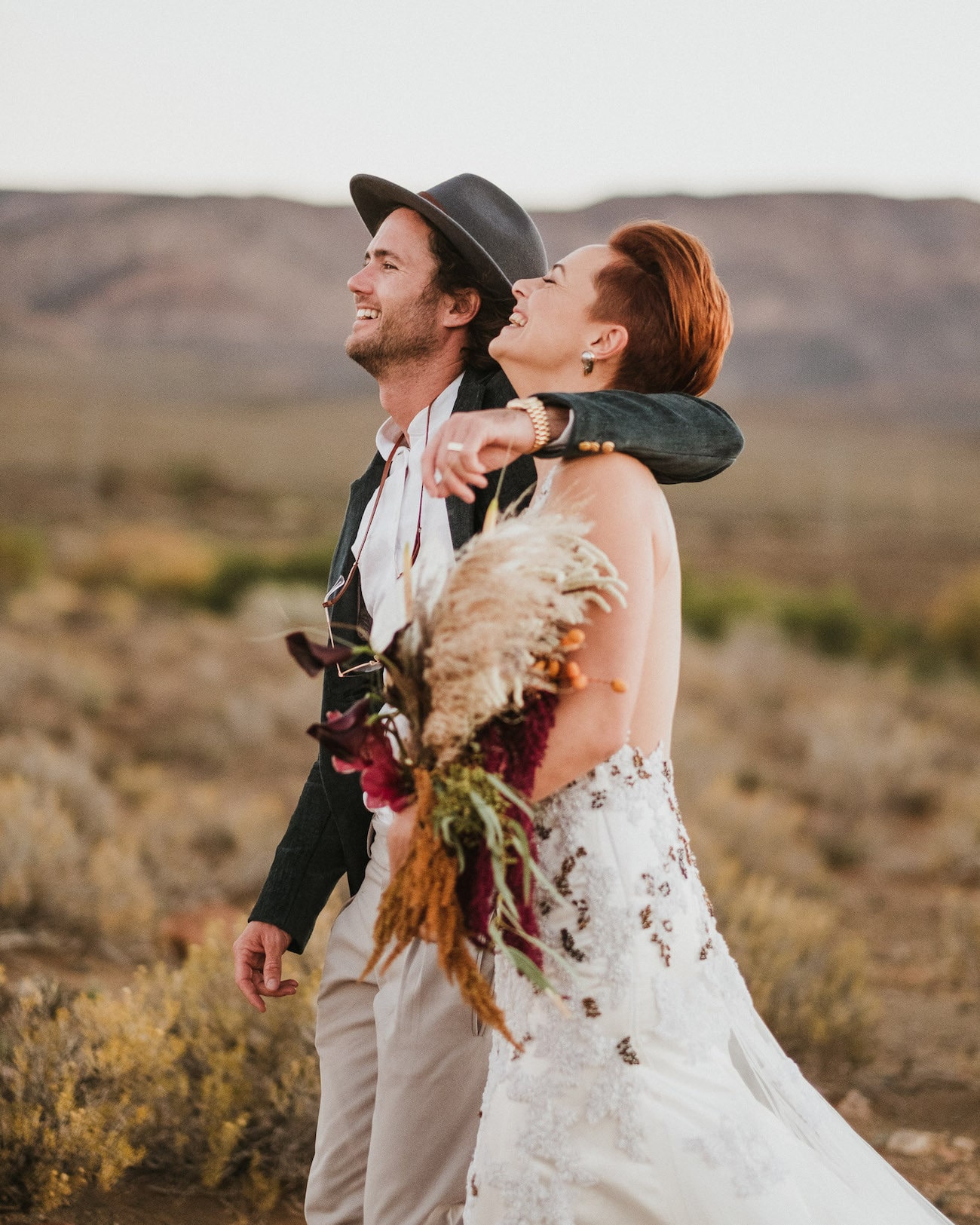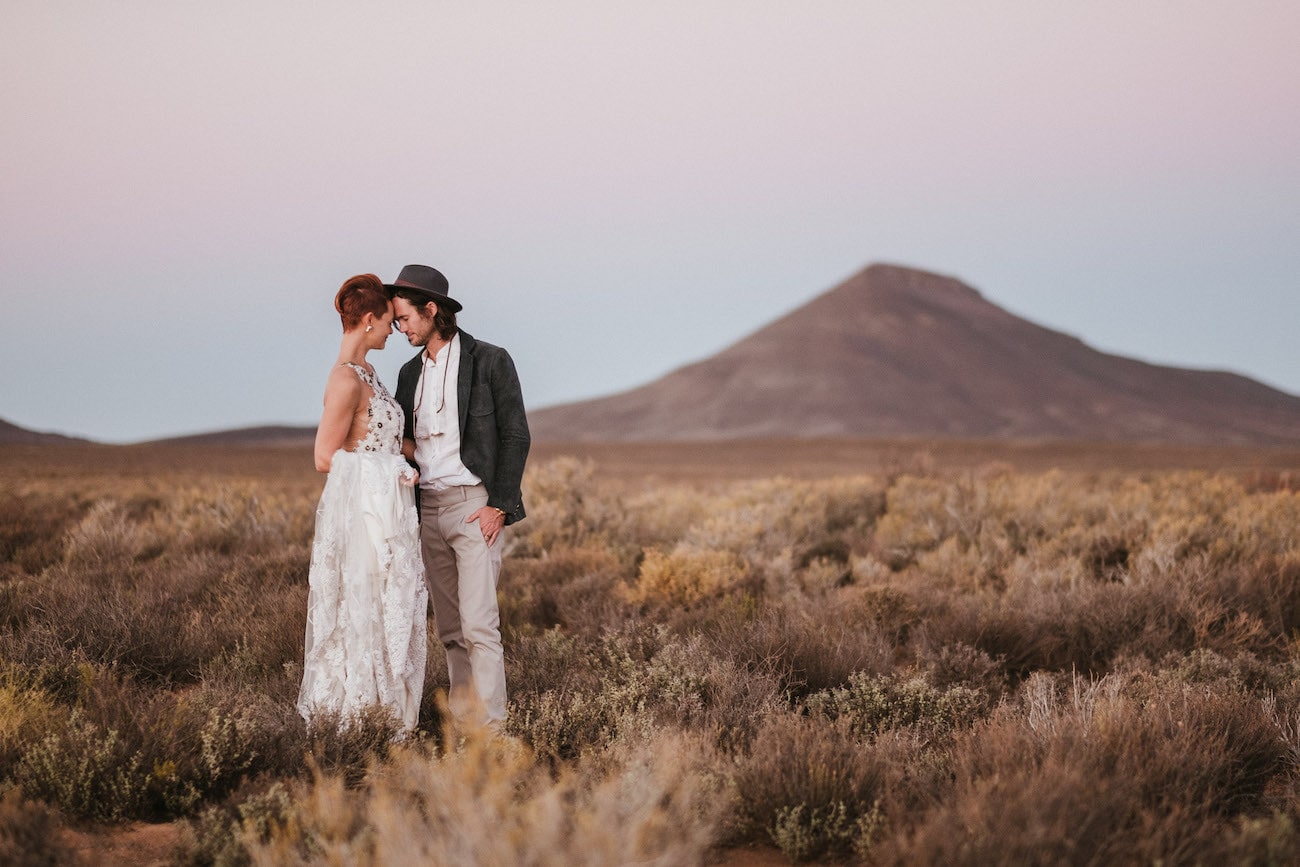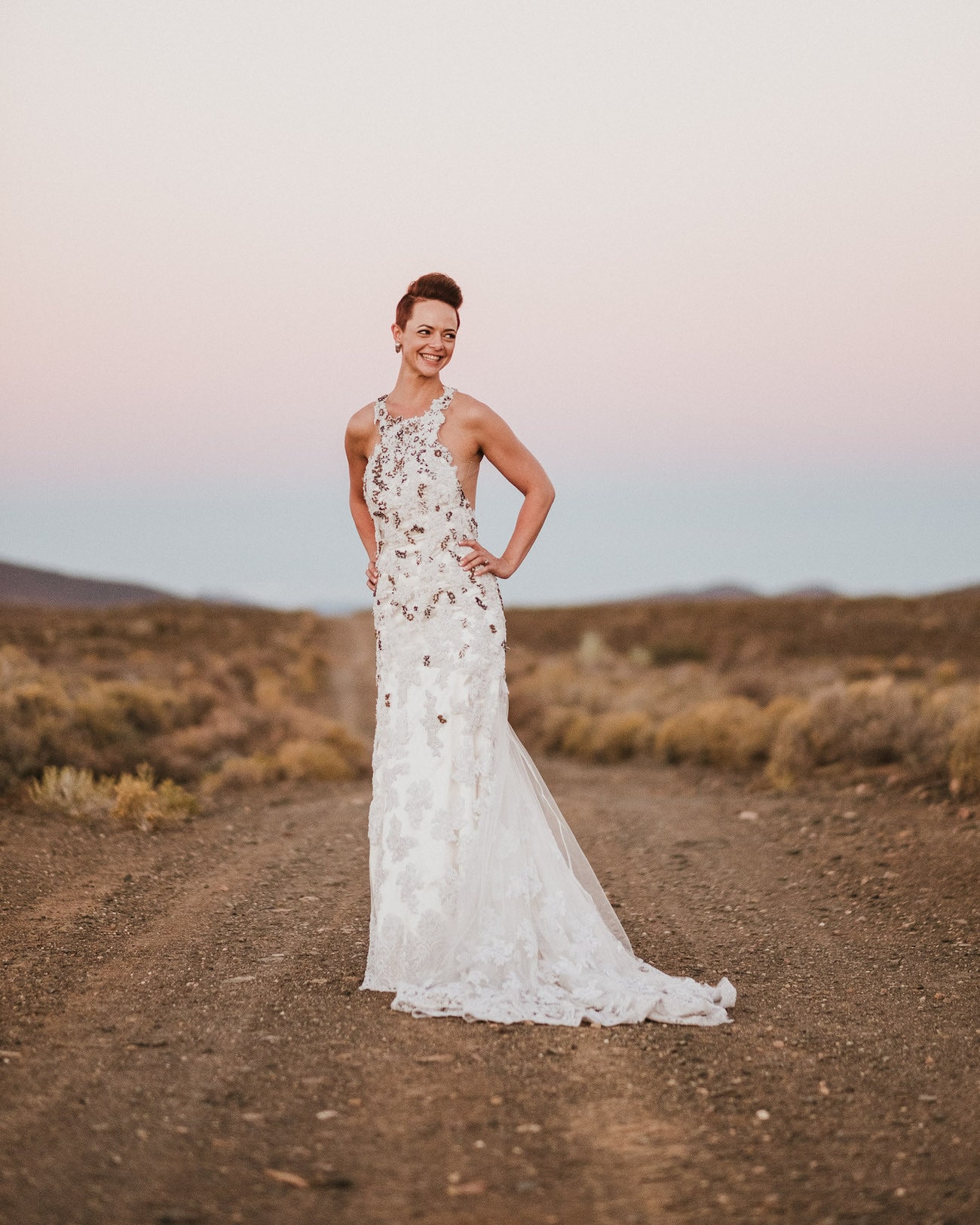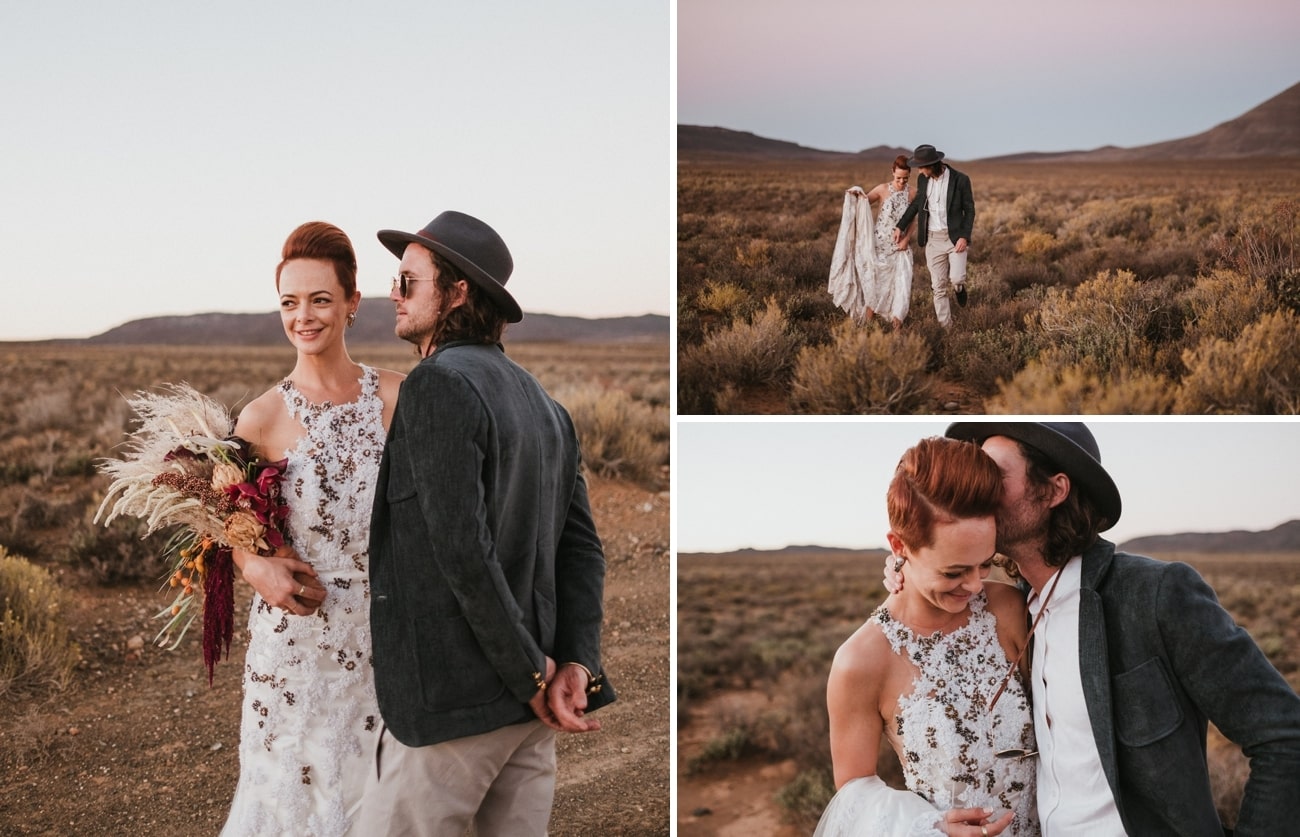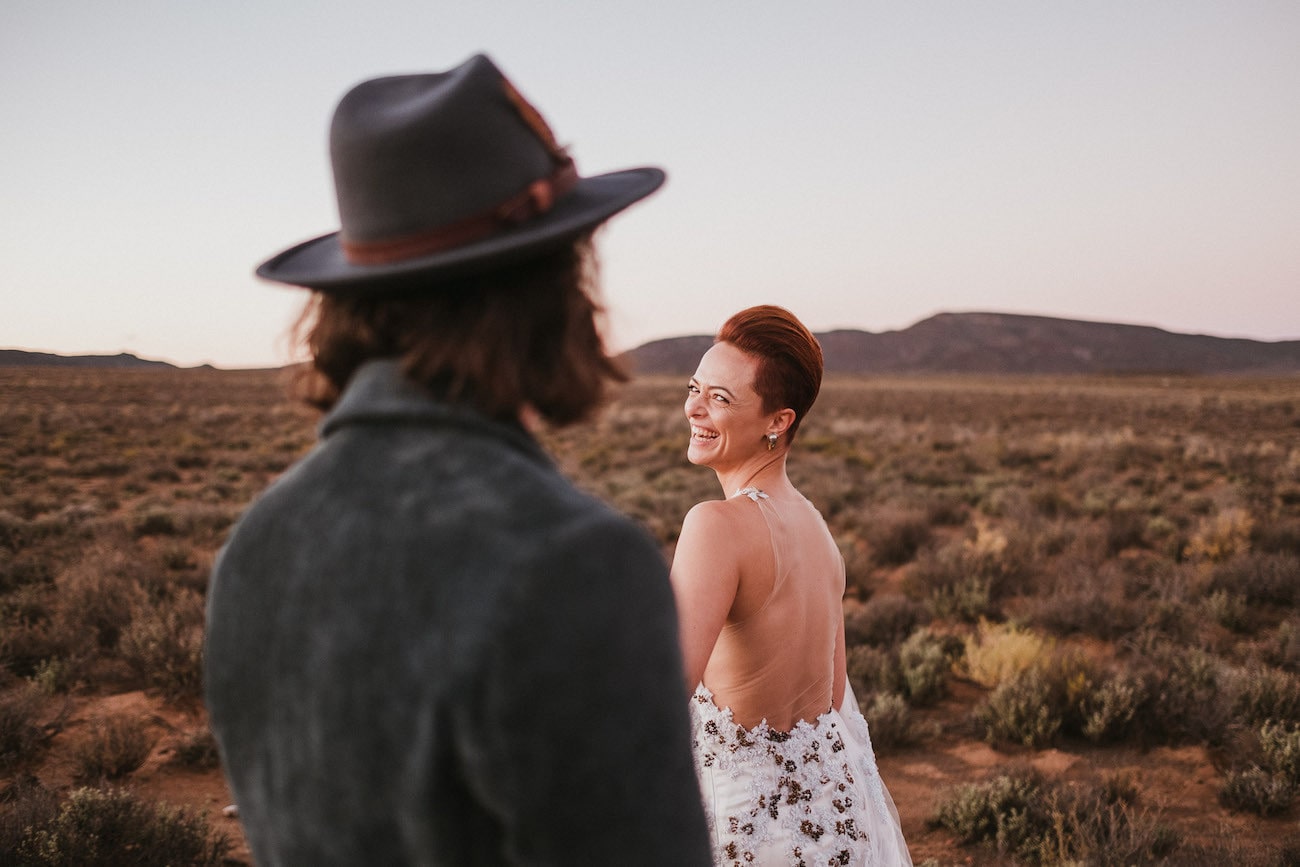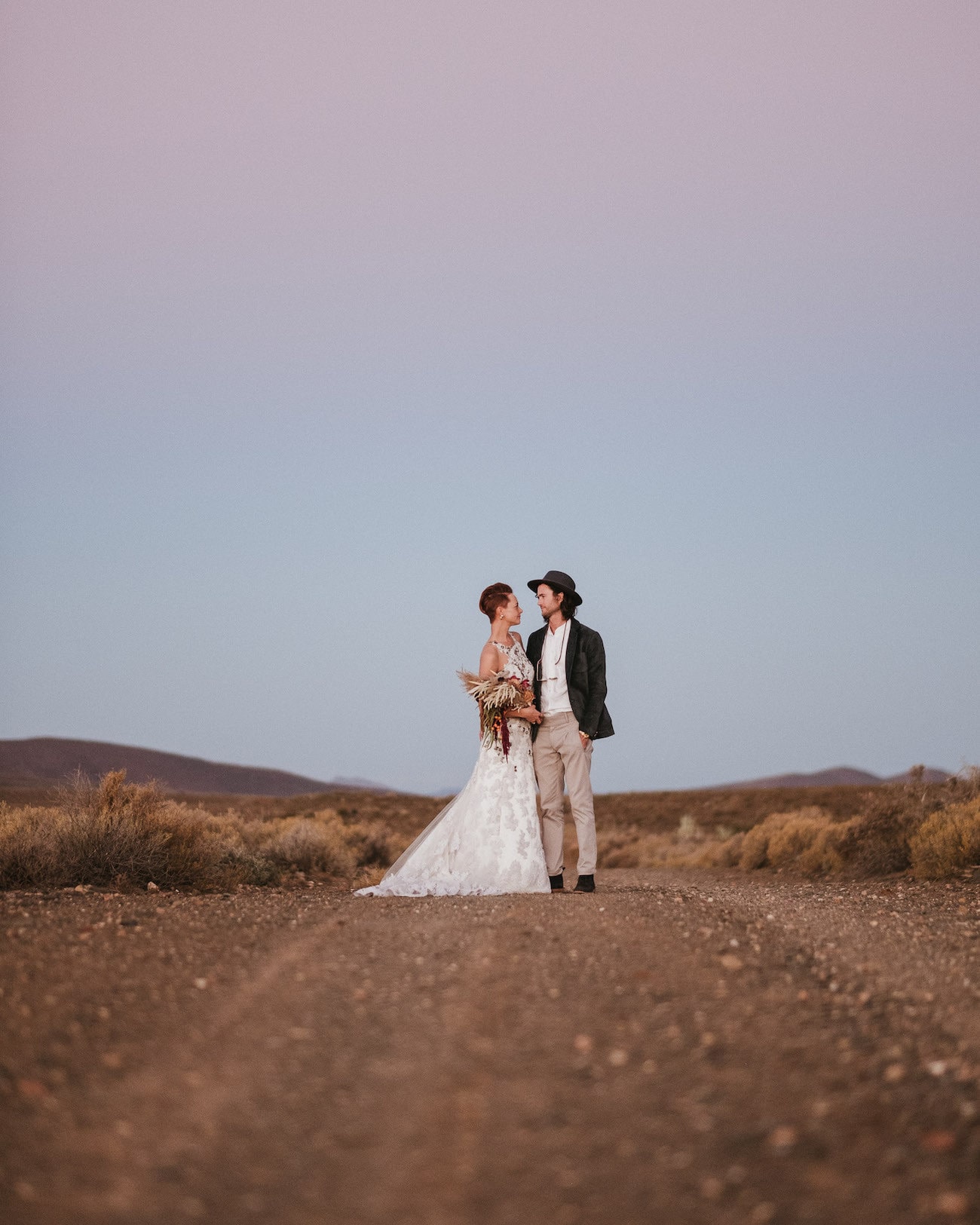 The Flowers
We wanted weird and wonderful flowers that blended into the desert hues. Janine from Foraged did a fantastic job at sourcing unusual blooms for us, as well as bringing to life our vision for a big pampas grass hanging arrangement.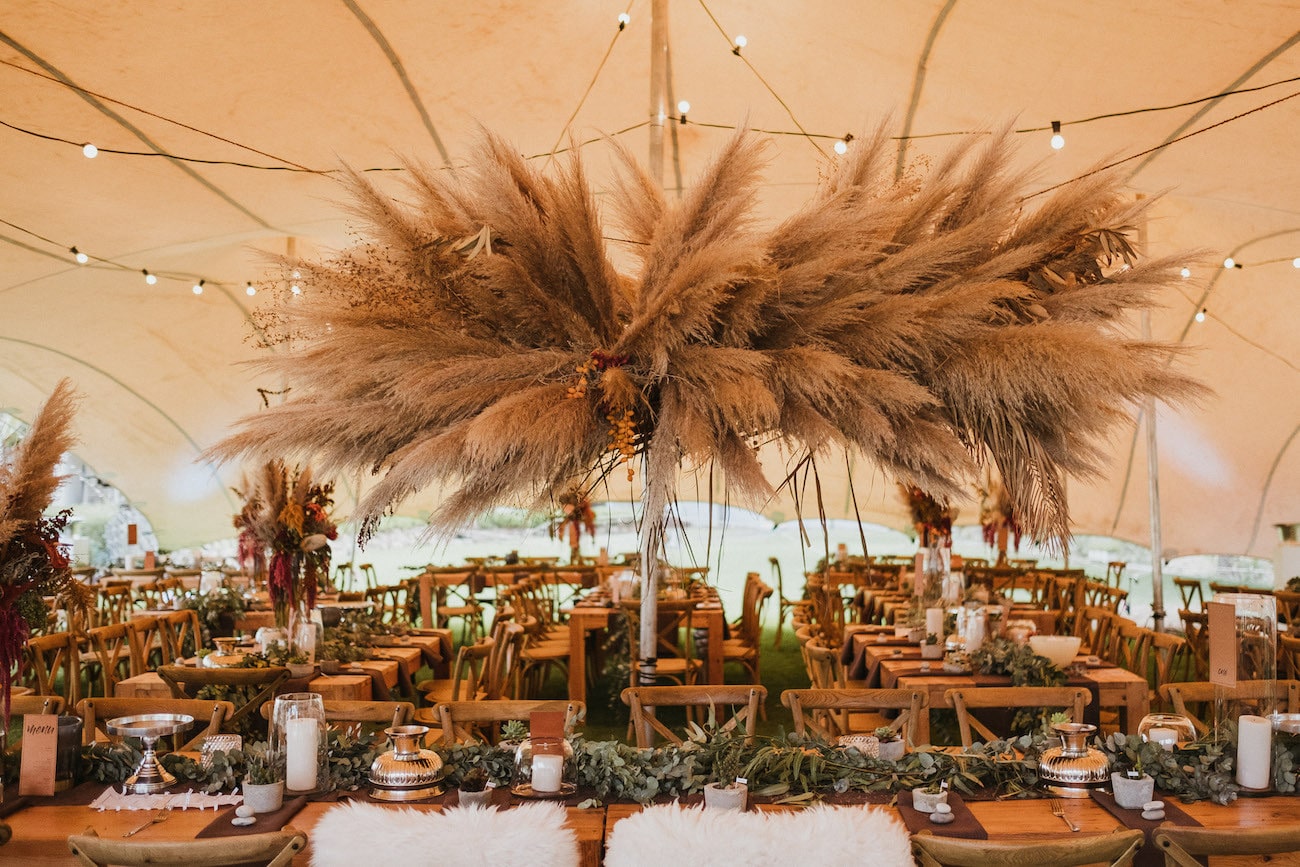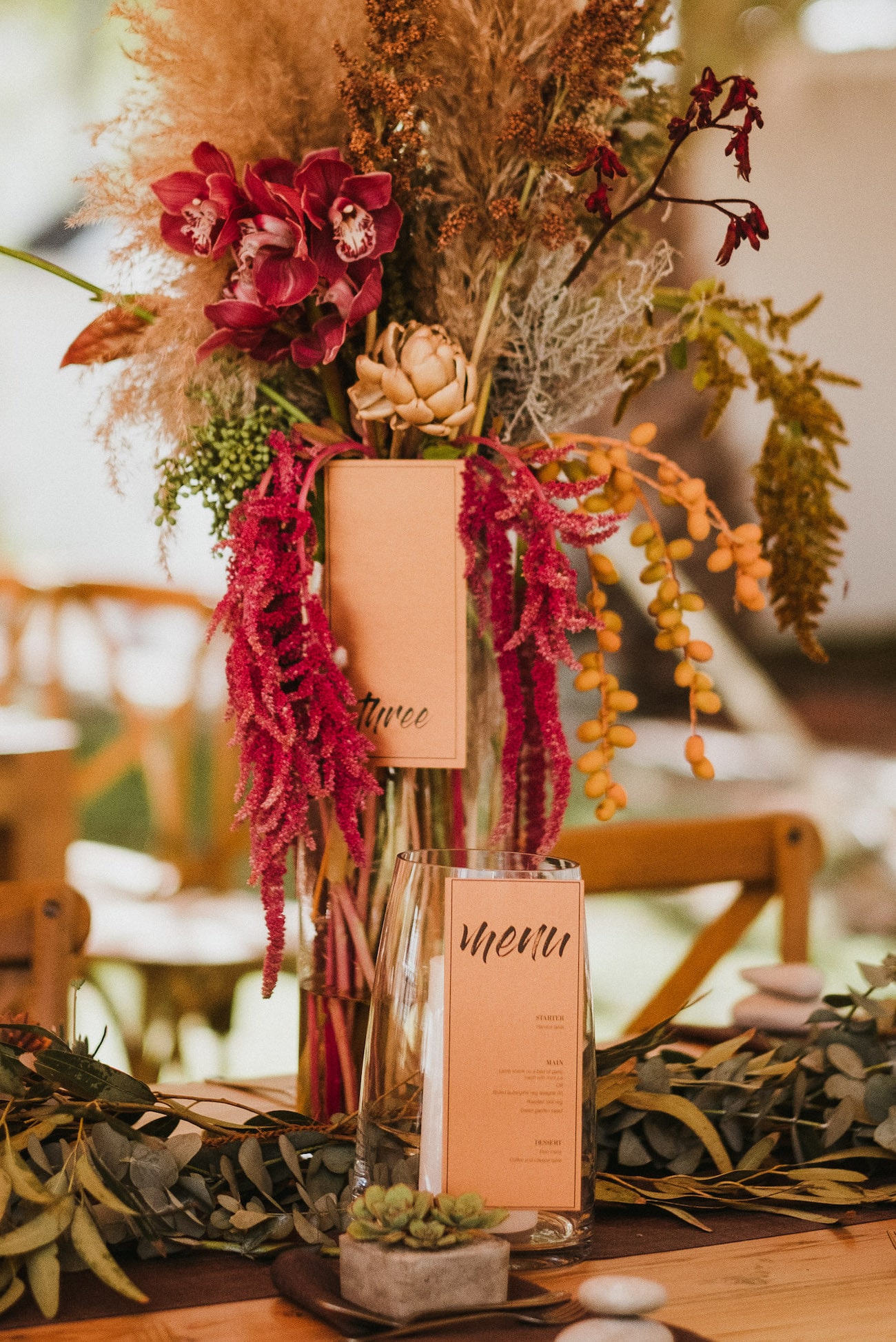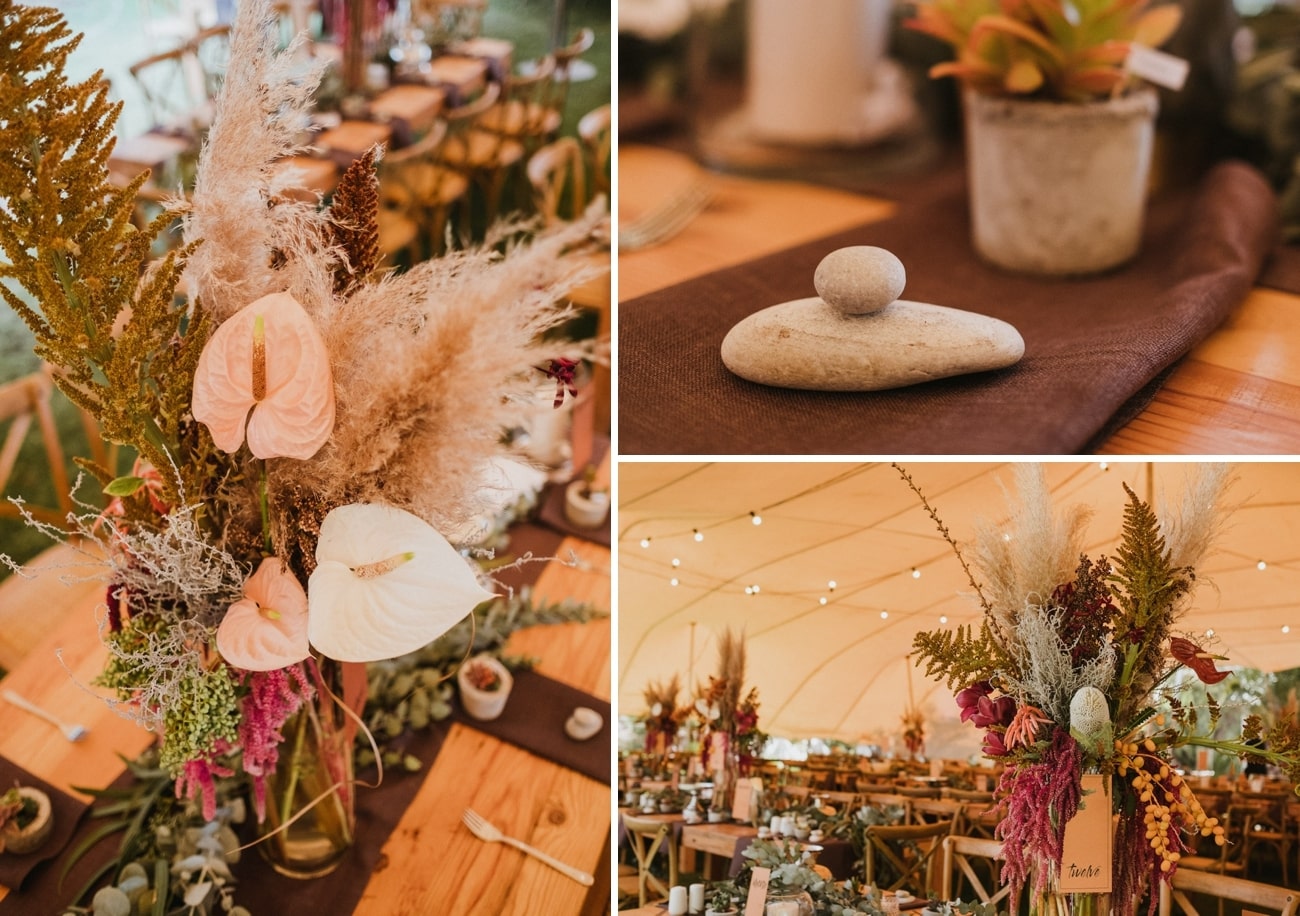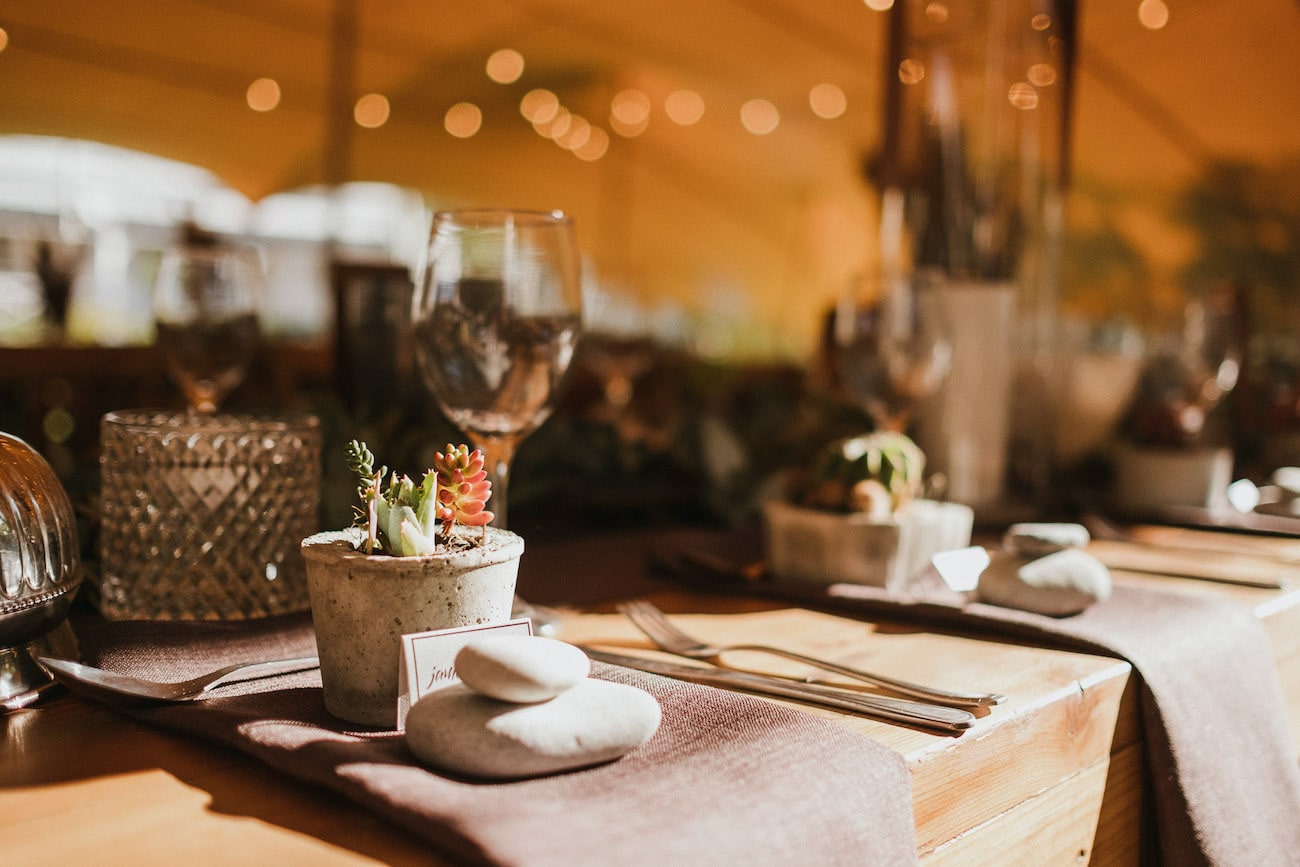 The Dress
The wedding dress was commissioned from good friend Deeva from Merwe Mode. Together we came up with an unusual halter-style hand beaded design.
The Bridesmaids
We went with a rusty-mauve fabric, in keeping with the Karoo aesthetic, and gave the girls free licence for their own designs, again with hand-beaded details, also made by Deeva – which resulted in everything from a jumpsuit to a collared shirt dress.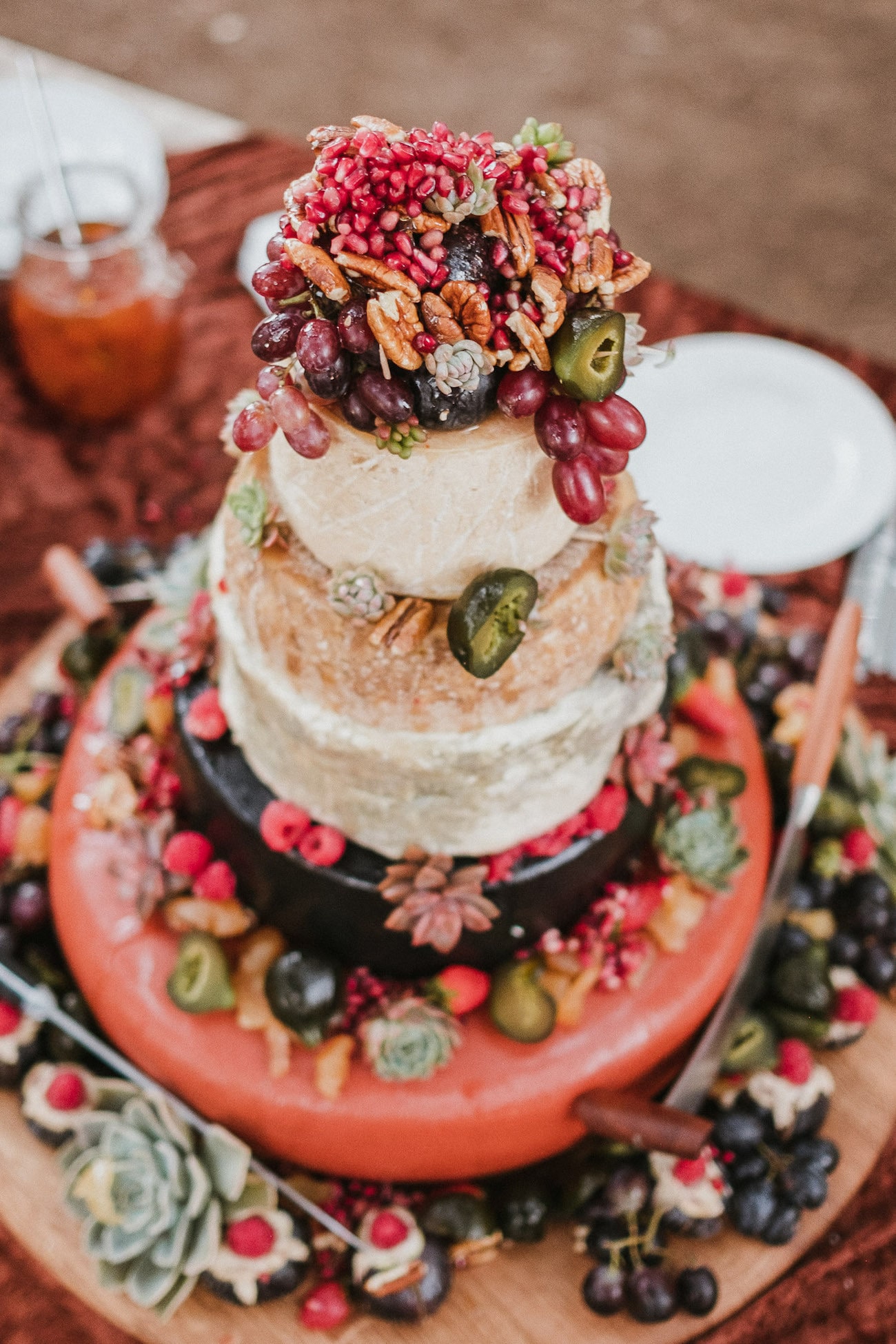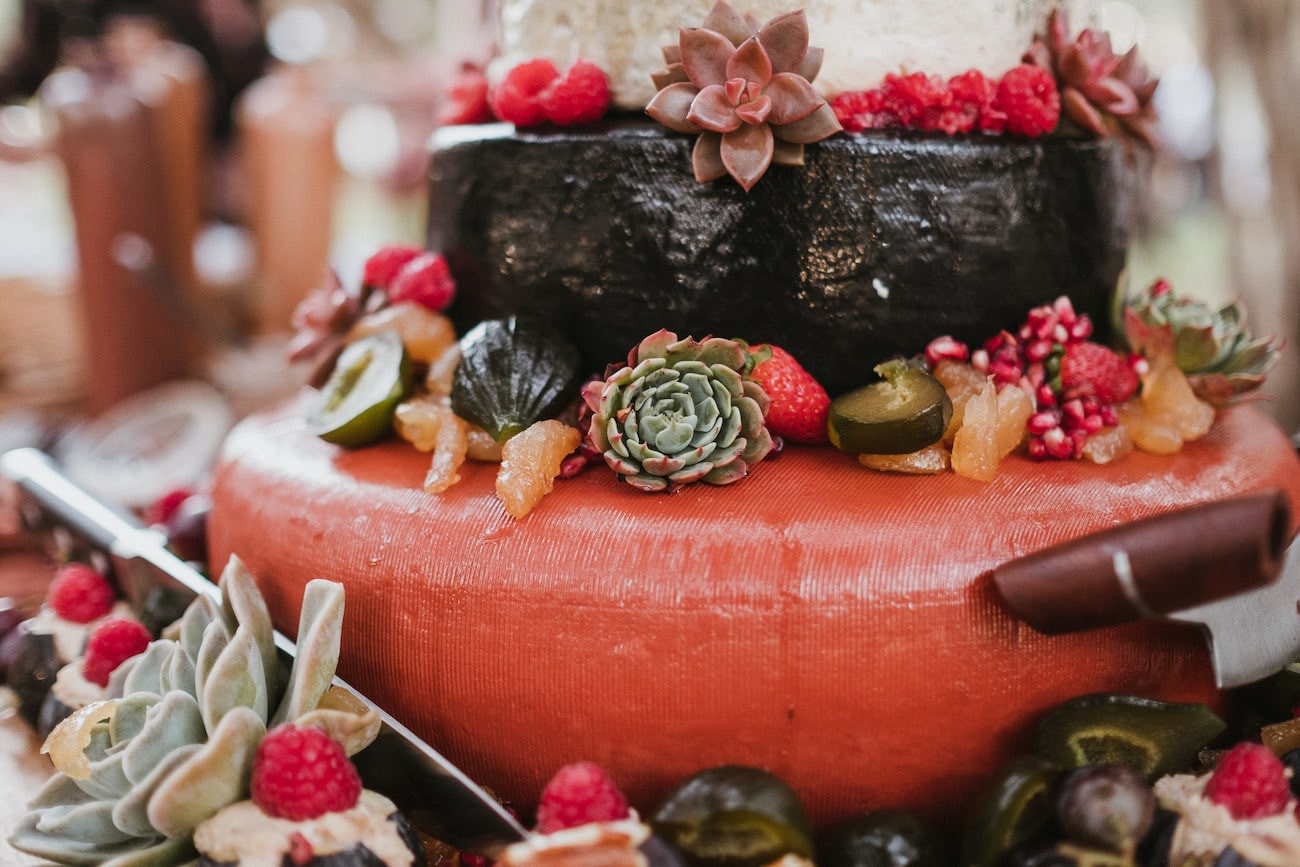 Memorable Moments
It's impossible to pick just one. The ceremony will stay with us for ever, but the overall feeling of love coursing through everyone towards everyone else was palpable throughout the whole weekend and made it the most magical few days imaginable.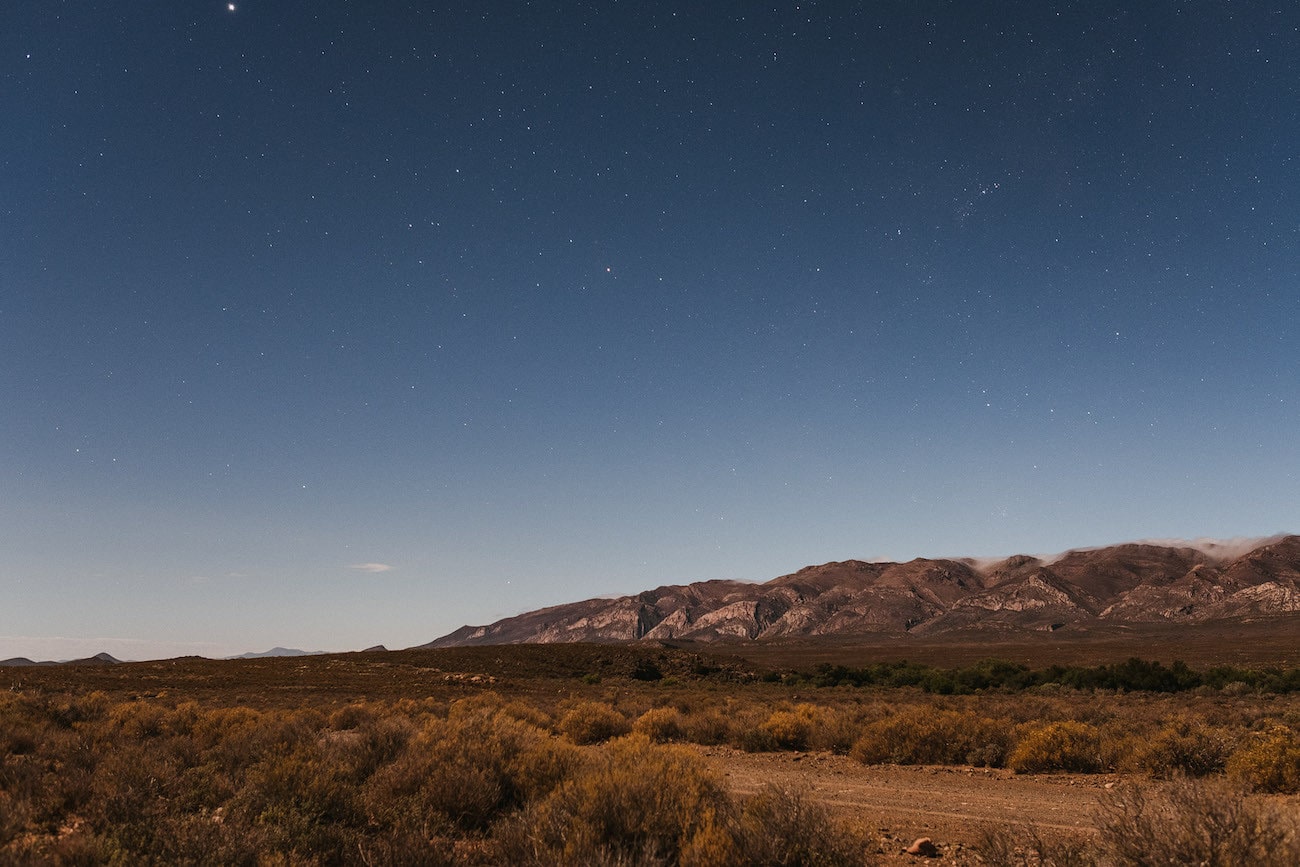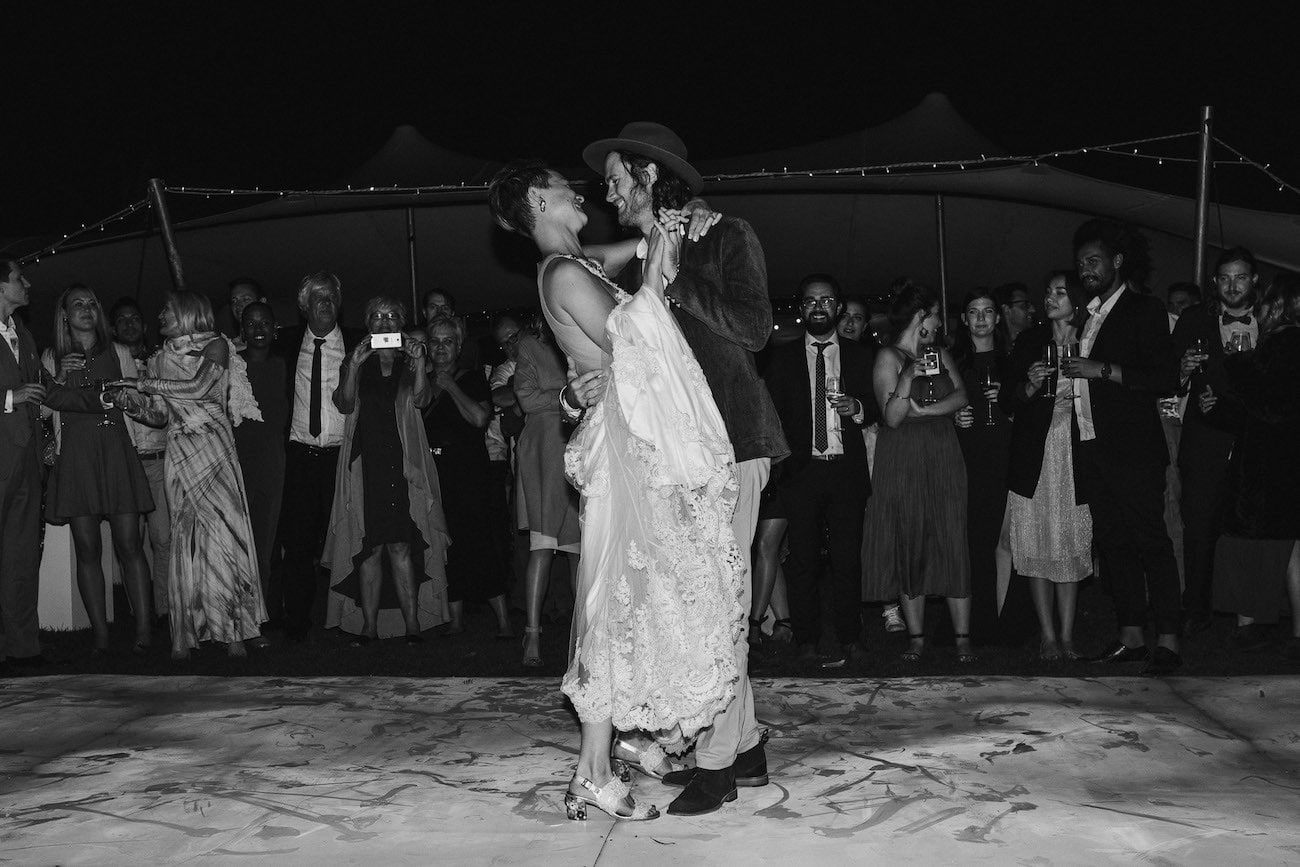 Best Decision
The venue was incredibly important for us as it really set the tone for the weekend, transporting everyone back in time, and allowing us all to be together uninterrupted for a whole weekend.
Advice for Future Brides & Grooms
Select the right venue for you and focus on what is really important in terms of budget. Small details often go a lot further than grand gestures.
Get a wedding coordinator for the event itself. This was crucial in allowing us to become guests at our own wedding from the Friday. (Celeste from Celeste Styled Events was great!)
Take the time to make sure that you have the right musicians and DJs – it made all the difference.
Get a videographer and photographer that you like and feel comfortable with. (Hewitt Wright & Jaques Nel made a fantastic team.)
SERVICE PROVIDERS
Venue & catering: Matjiesfontein | Photography: Hewitt Wright | Co-ordination: Celeste Styled Events | Flowers & décor: Foraged | Video: Sunset Savant | Bride's dress: Merwe Mode | Bride's accessories: Swart Jewellery | Hair & Makeup: Nandi & Alet | Bridesmaids' dresses: Merwe Mode | Groom & groomsmen's attire: Merwe Mode | Groom's accessories: VRVO (jewellery) + The Real Crystal Birch (hat) + Silas Crawley (sunglass straps) | DJ: Rumswinger | Entertainment: Tommy Gun