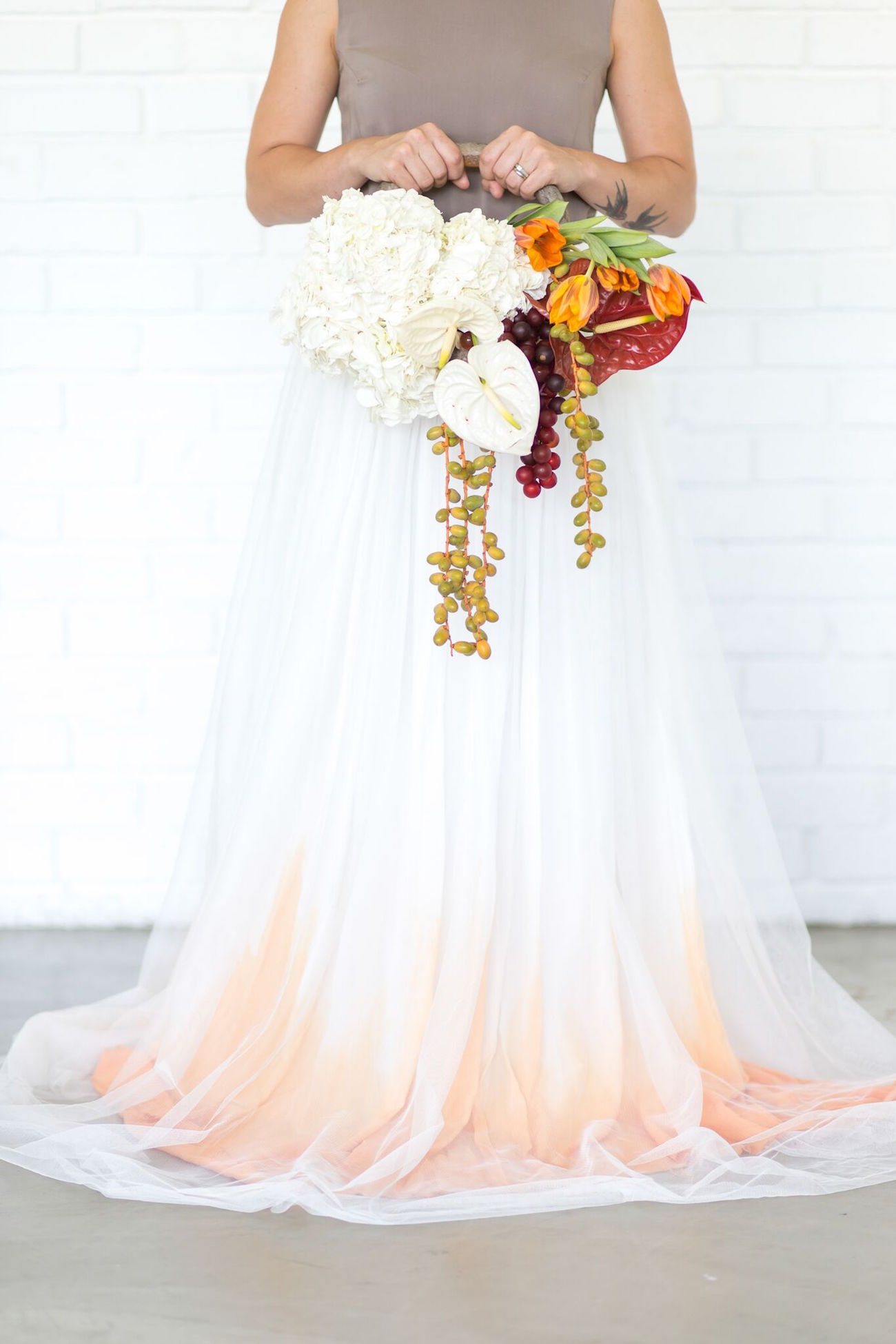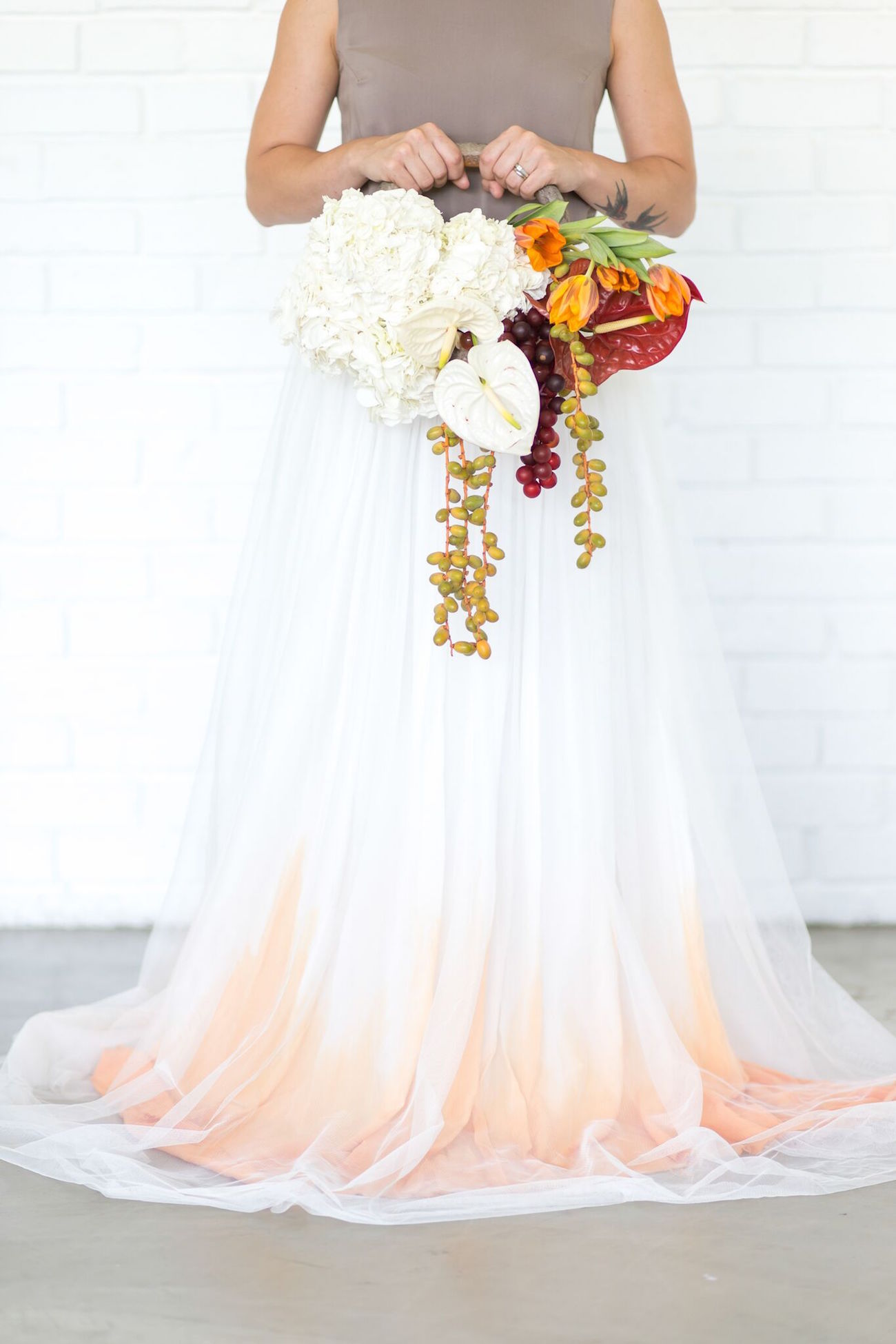 As much as I hate to admit it (and I really, really do), there's a chilly wind blowing since I touched back down in South Africa and autumn is definitely on its way. And while I'm sad to see the end of another summer, this season brings such pretty wedding inspiration with it, such gorgeous natural hues and such cozy details, that I can't really complain. So in amongst our beach wedding goodness, I thought it was only appropriate to share this gorgeous harvest-themed styled shoot from a talented local team, led by Alicia S Photography and Kadou Decor and Flower Design. This is perfect for a bride between seasons, with soft, romantic details like an ombre dress and cake (sigh!) contrasting with bright oranges, deep reds and decidedly cold weather textures like leather and wood. And the touch of rosy gold foil? Bliss!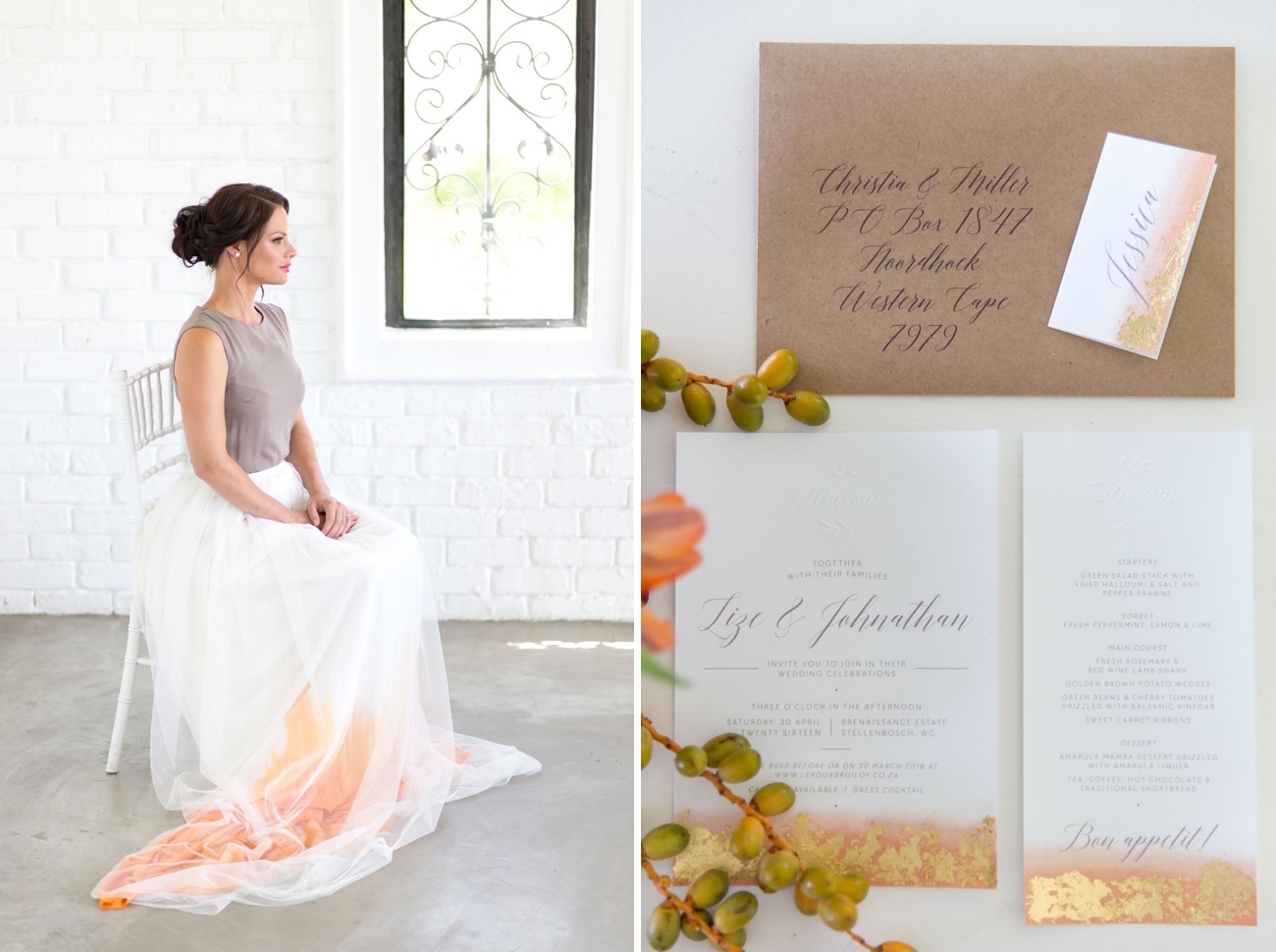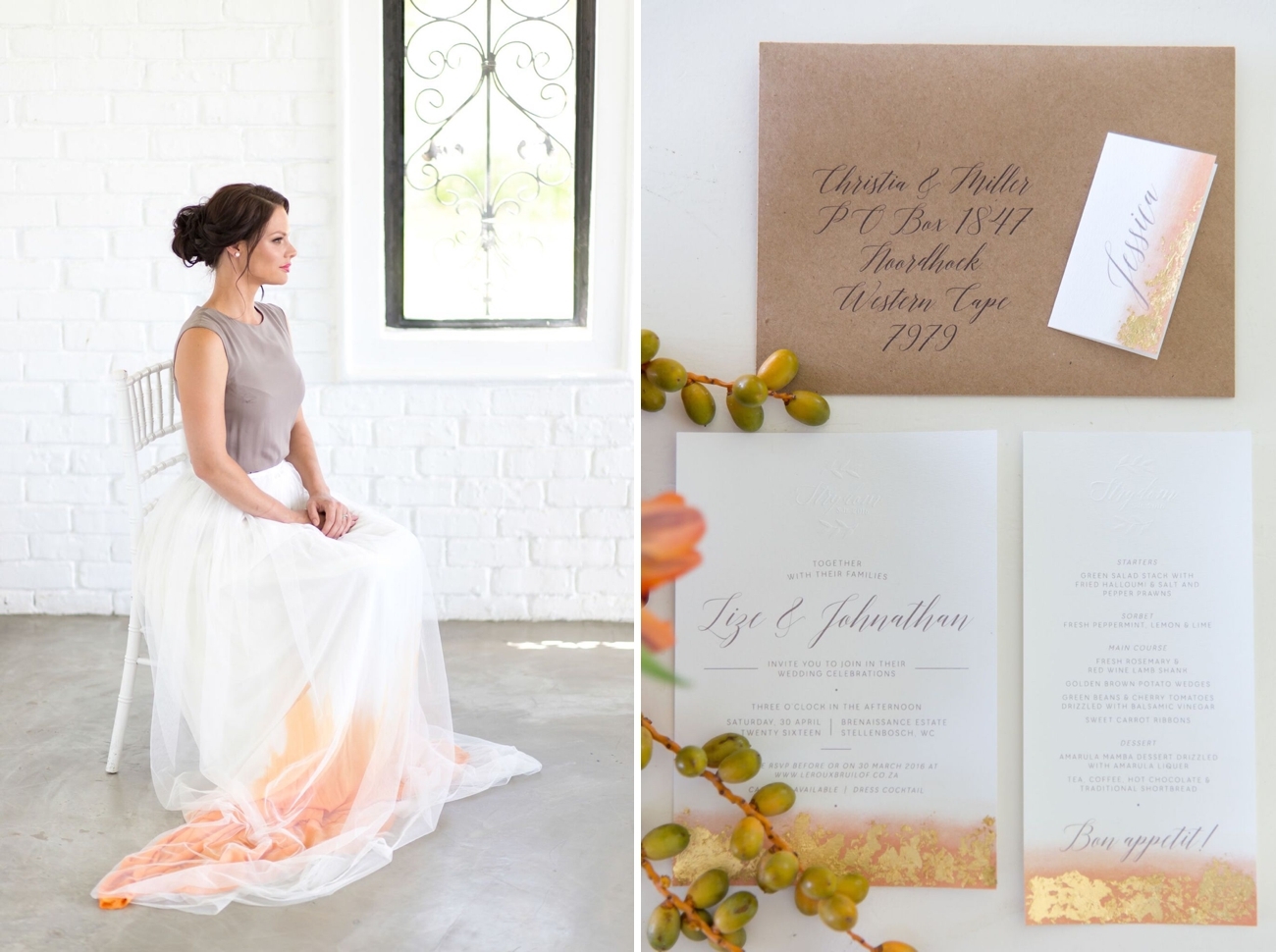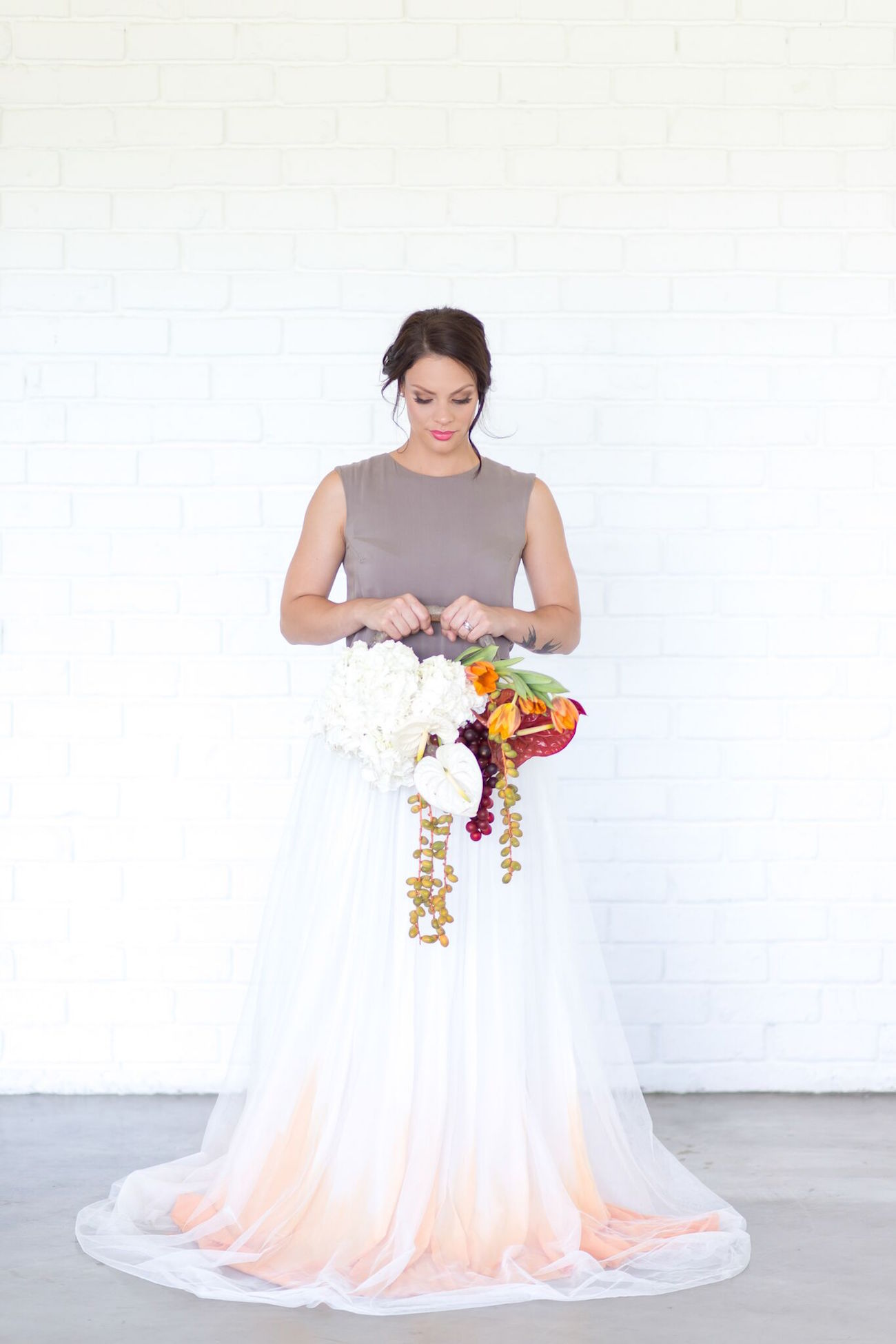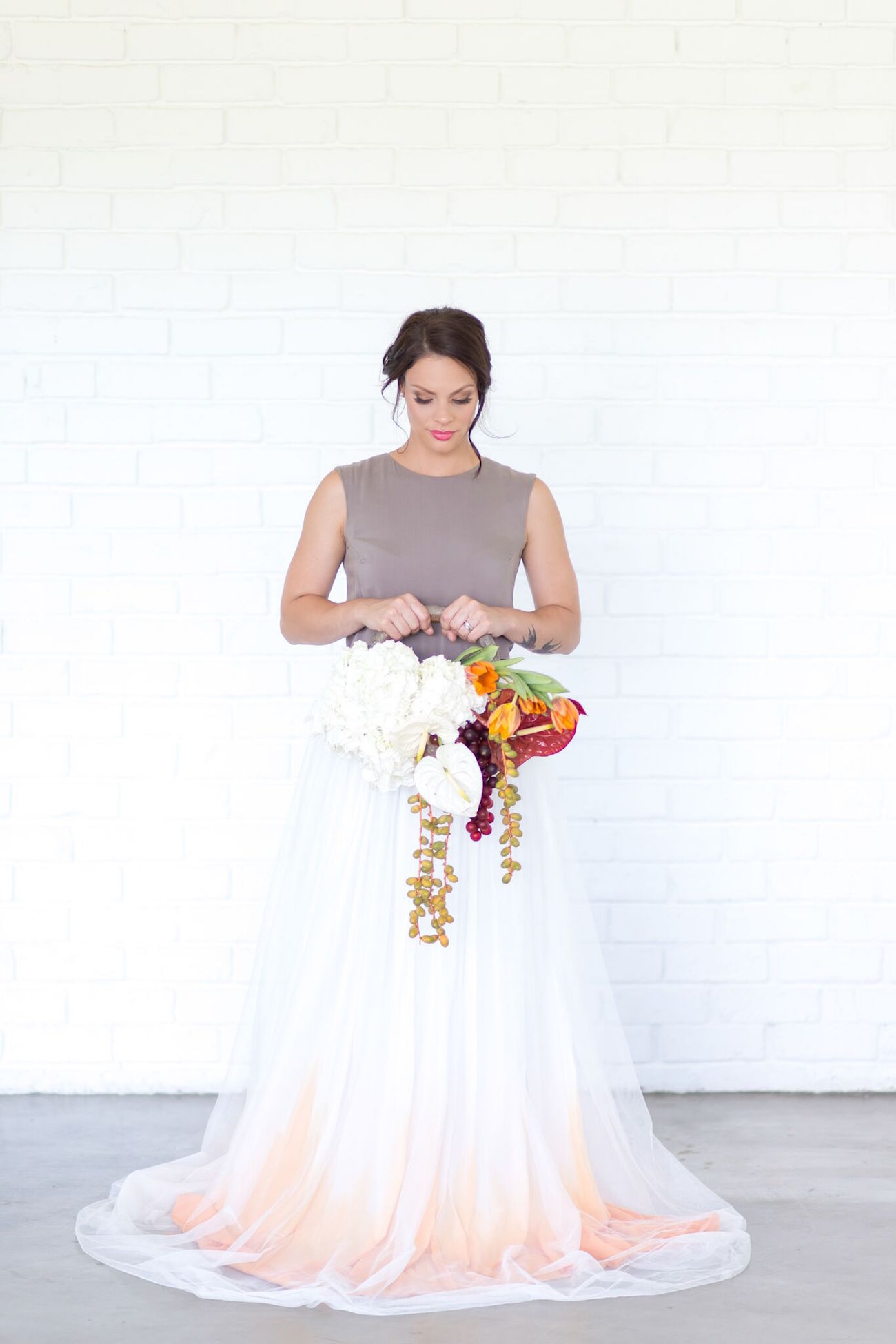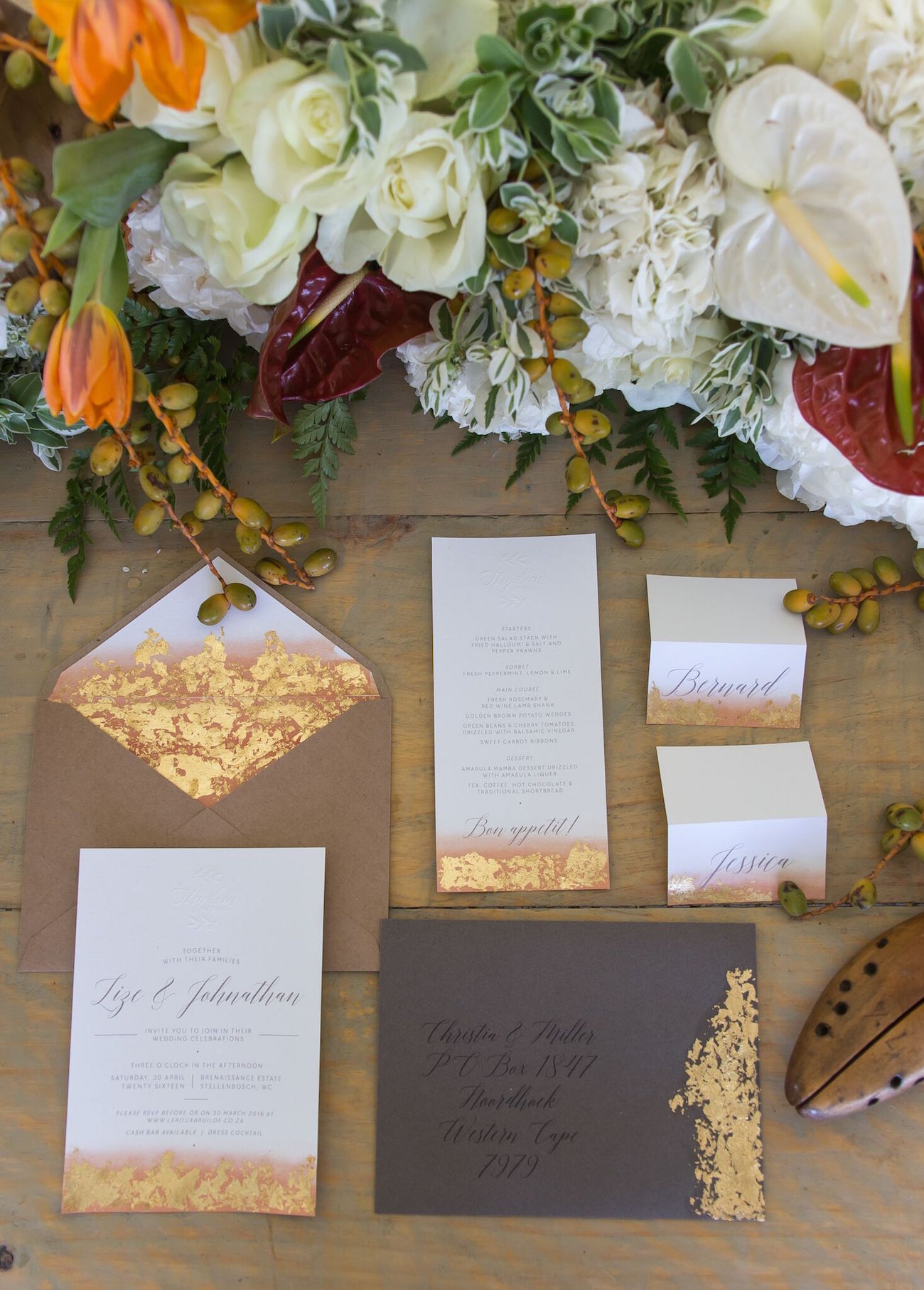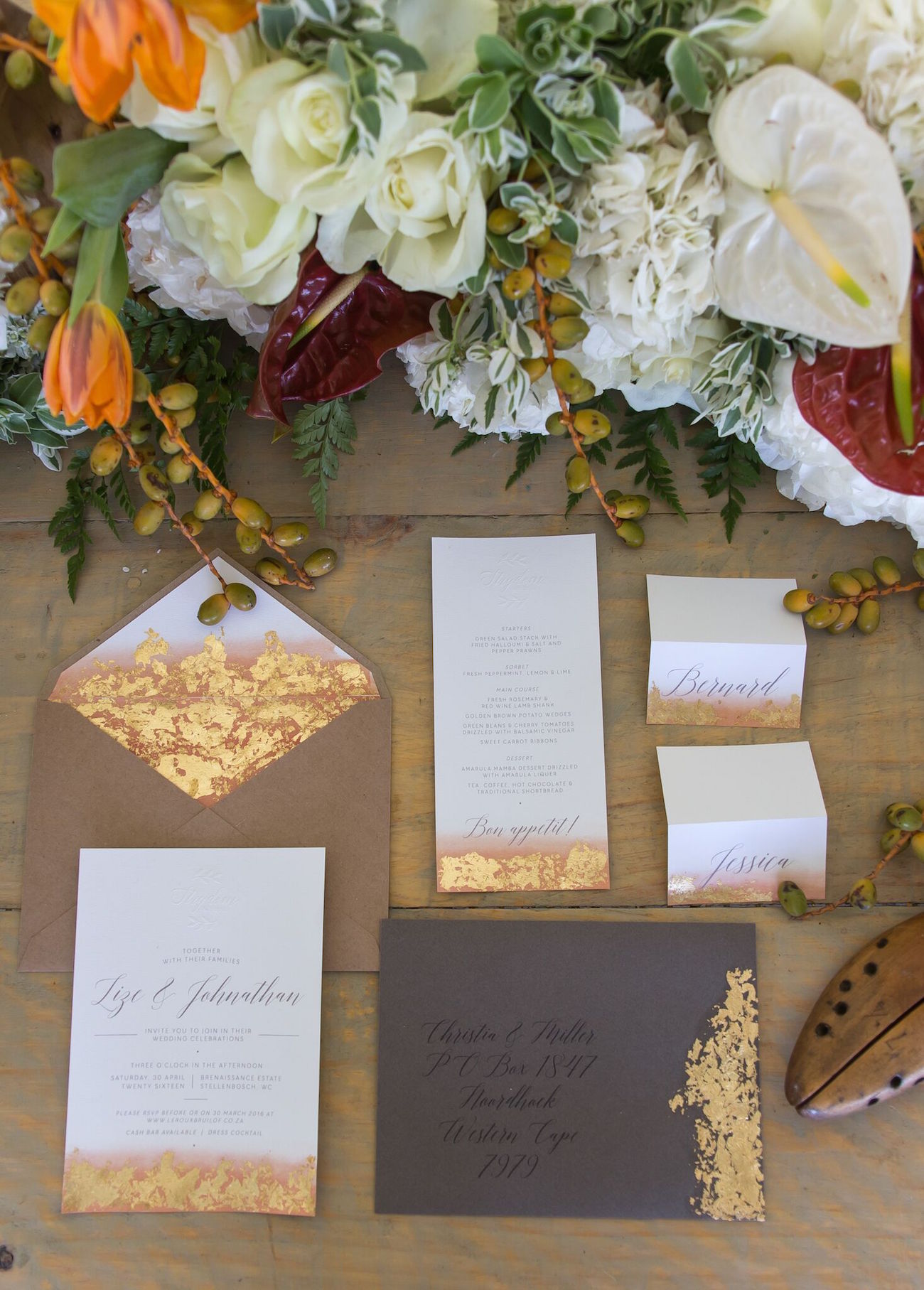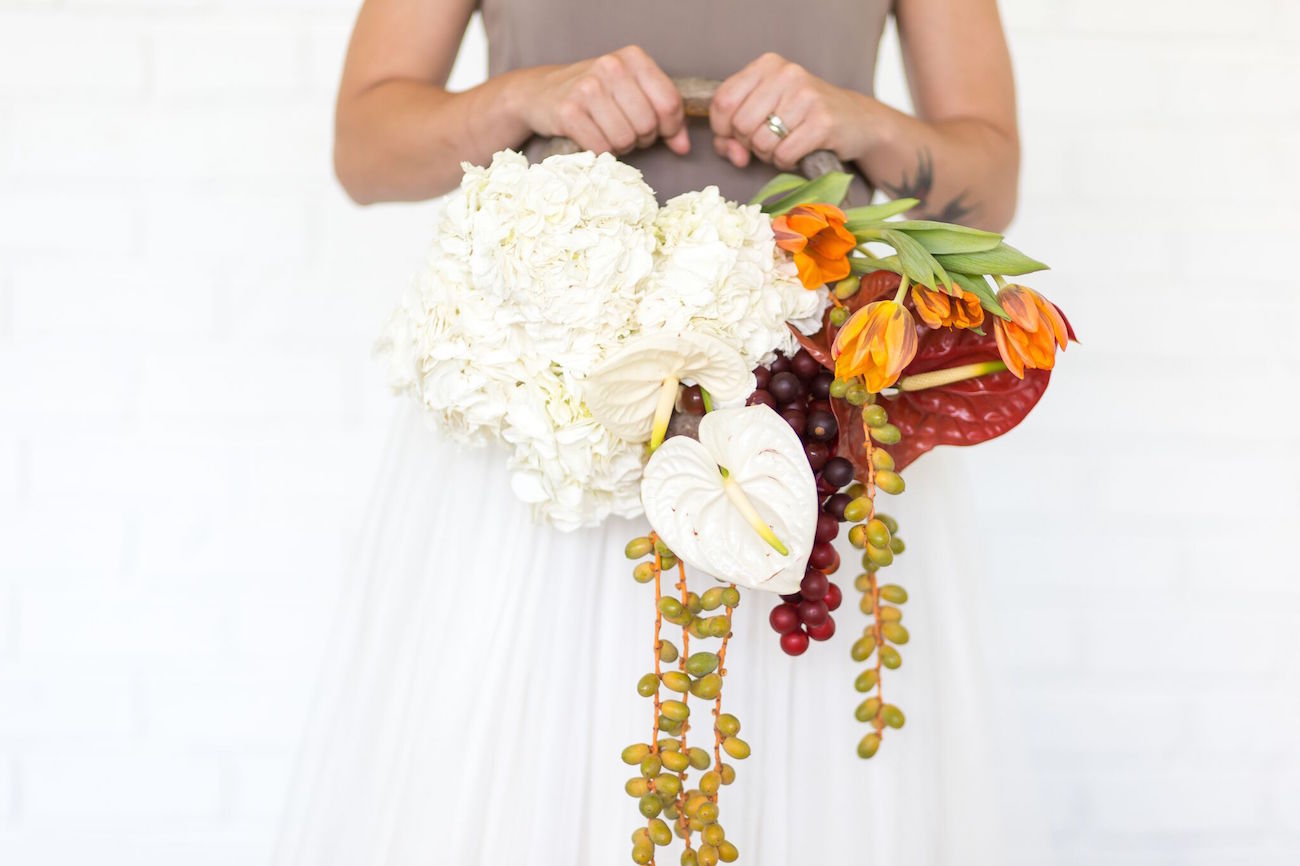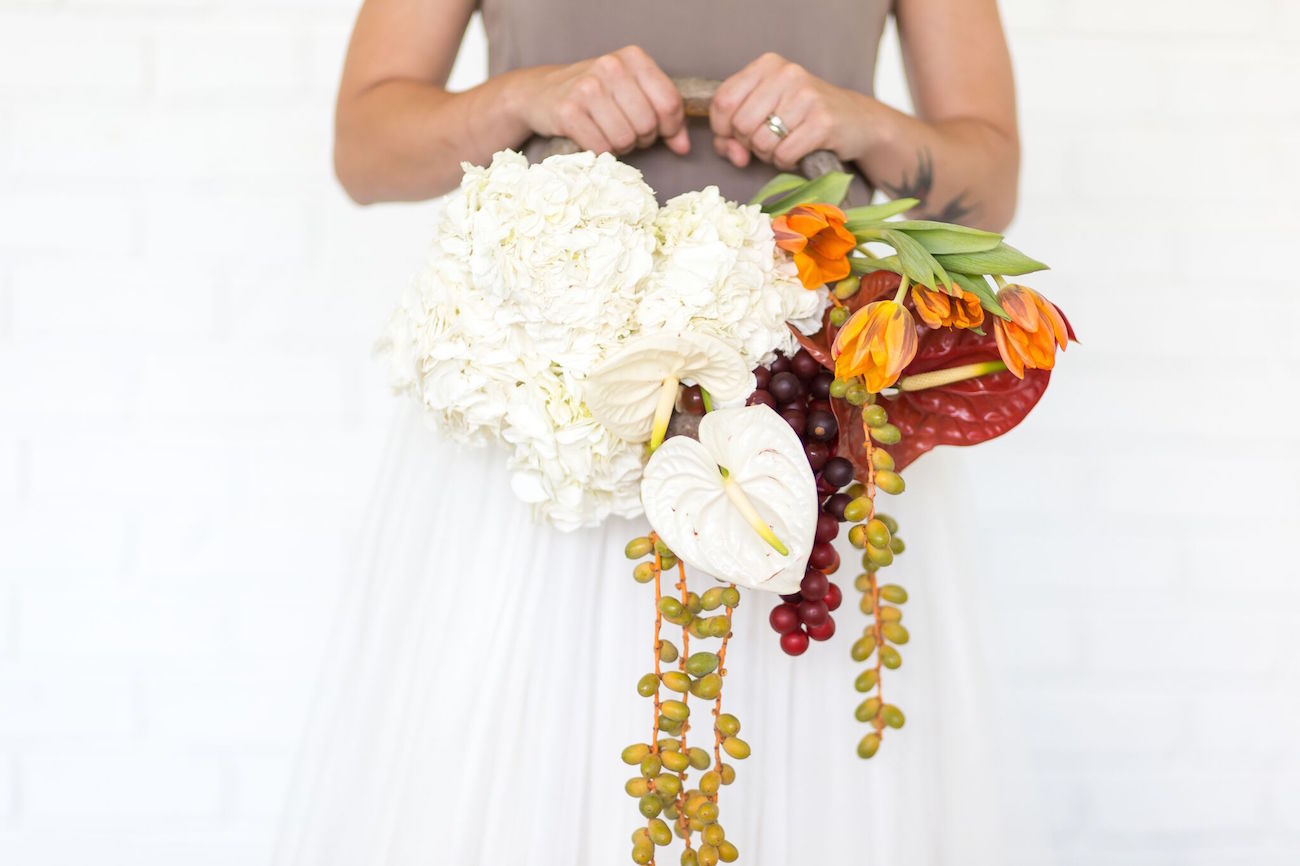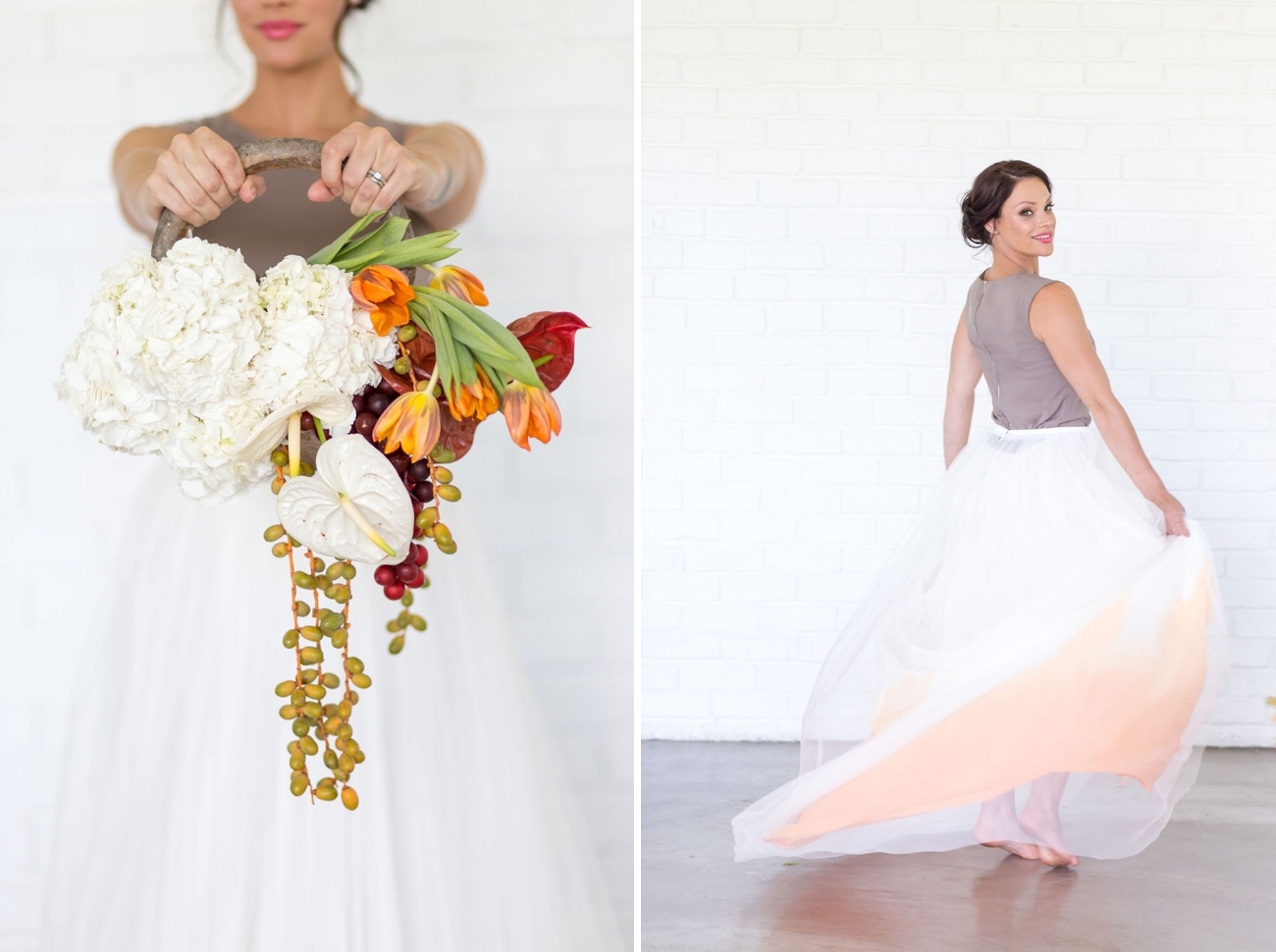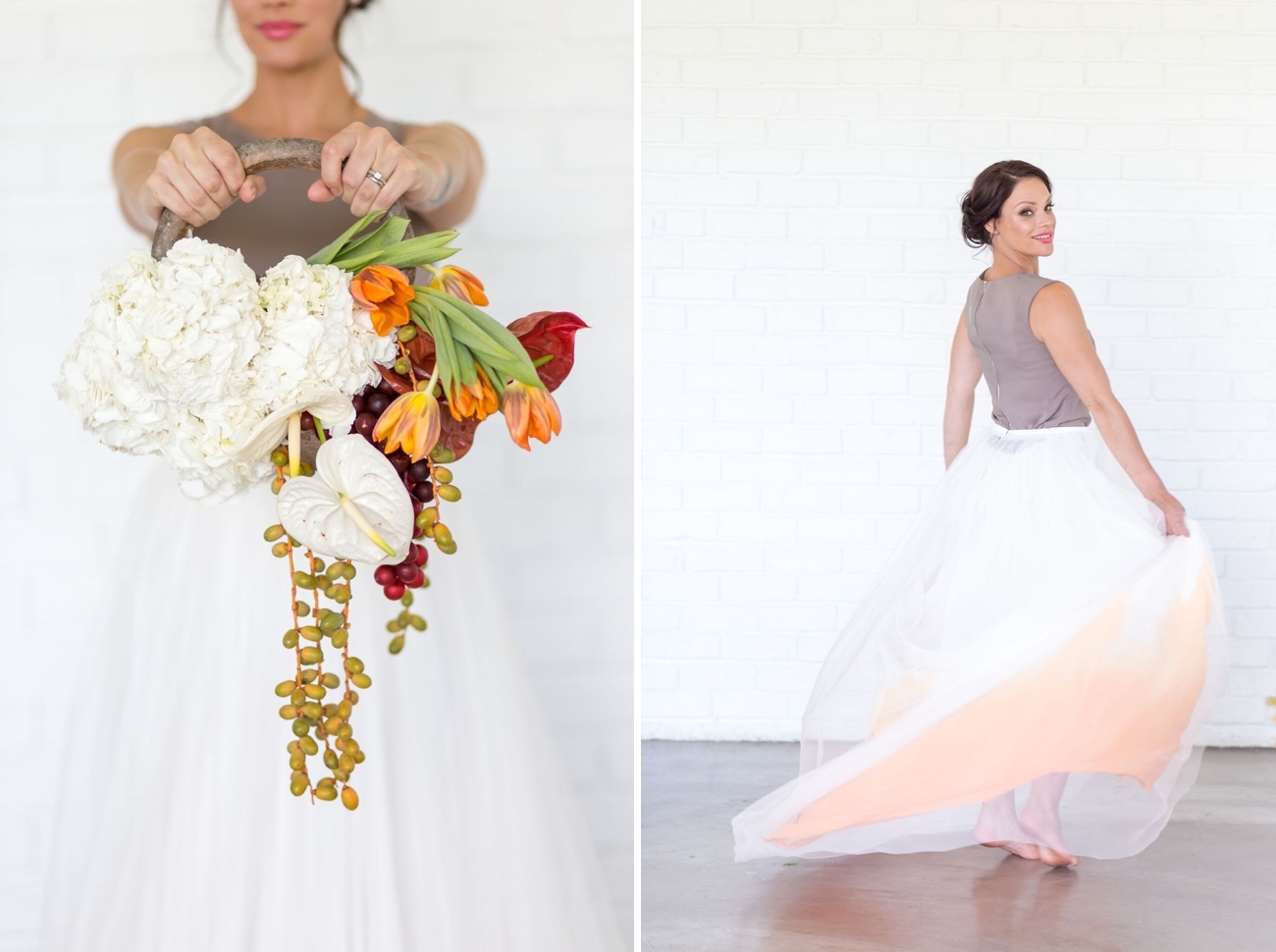 Here's some background on the shoot from the creative team:
The colours traditionally associated with winter and autumn are surprisingly warm and inviting. This wedding theme evokes the atmosphere of a cold night spent in front of a roaring fireplace. It's a look for the bride who has an edgy creative side, but who still loves the traditional elements of a white wedding. The decor revolves around vintage objects and a harvest-style look. The base of the tablescape is raw wood with grey tones and on-trend floral runners create dramatic visual impact. Placed between the flower holders, vintage elements like an old salt box, wood container, cast iron meat grinder, and a wooden shoe, provide talking points. White crockery with orange edges, gold-sprayed cutlery wrapped in leather offcuts and vintage glassware complete the place settings, while romantic ombre and gold leaf stationery complement the look. Flowers included white hydrangeas, white roses, white and burgundy anthuriums, orange tulips, date berries and greenery, which all suit the fall theme and season. Pairing the hydrangeas and roses with berries, tulips and anthuriums makes for a luxurious combination in the warm colours of winter. The bouquet was built on top of an old dried out kalbassie. The kalbassie was dressed with the same flowers found on the table, with some deep red grapes added for colour and texture.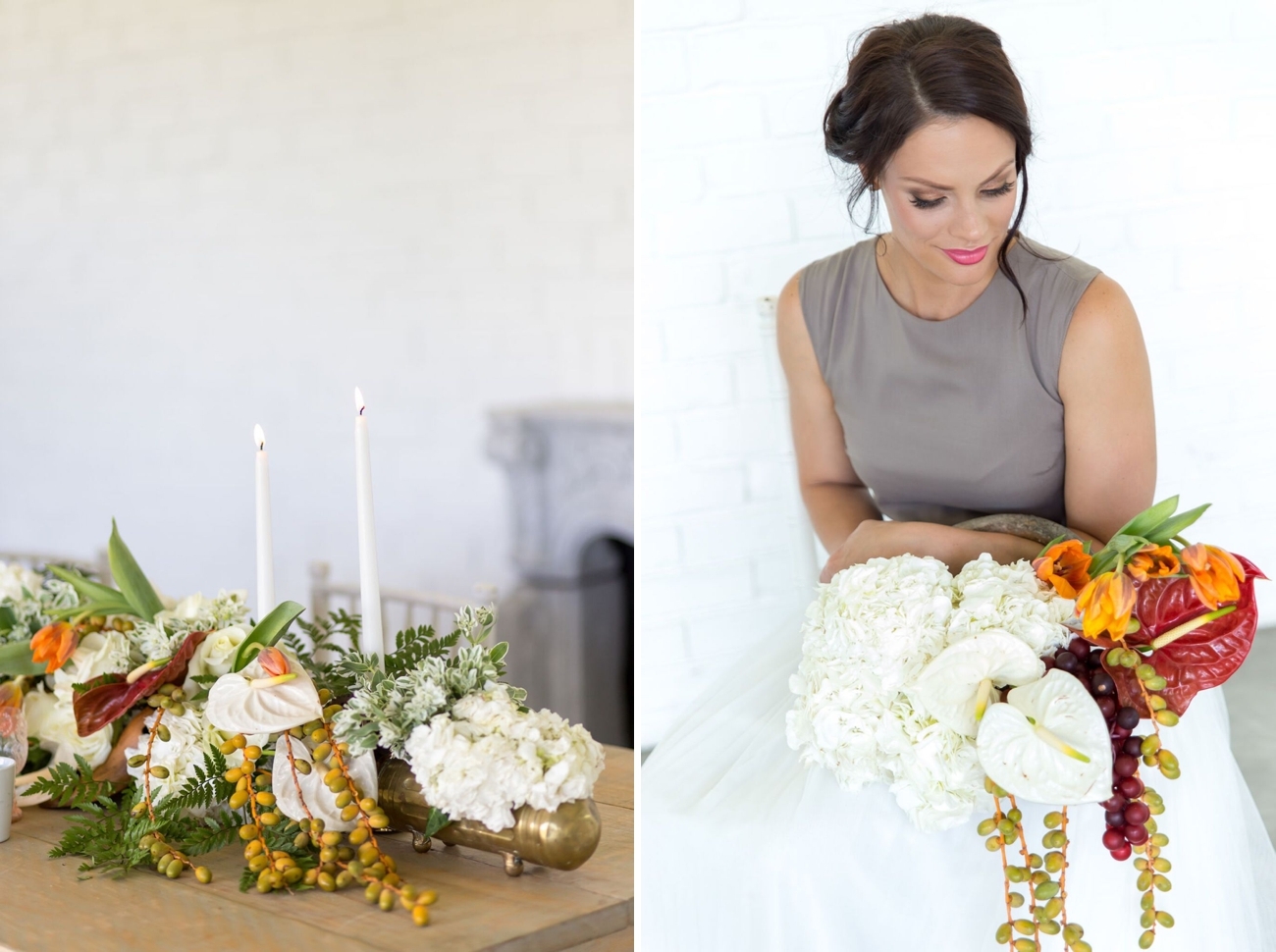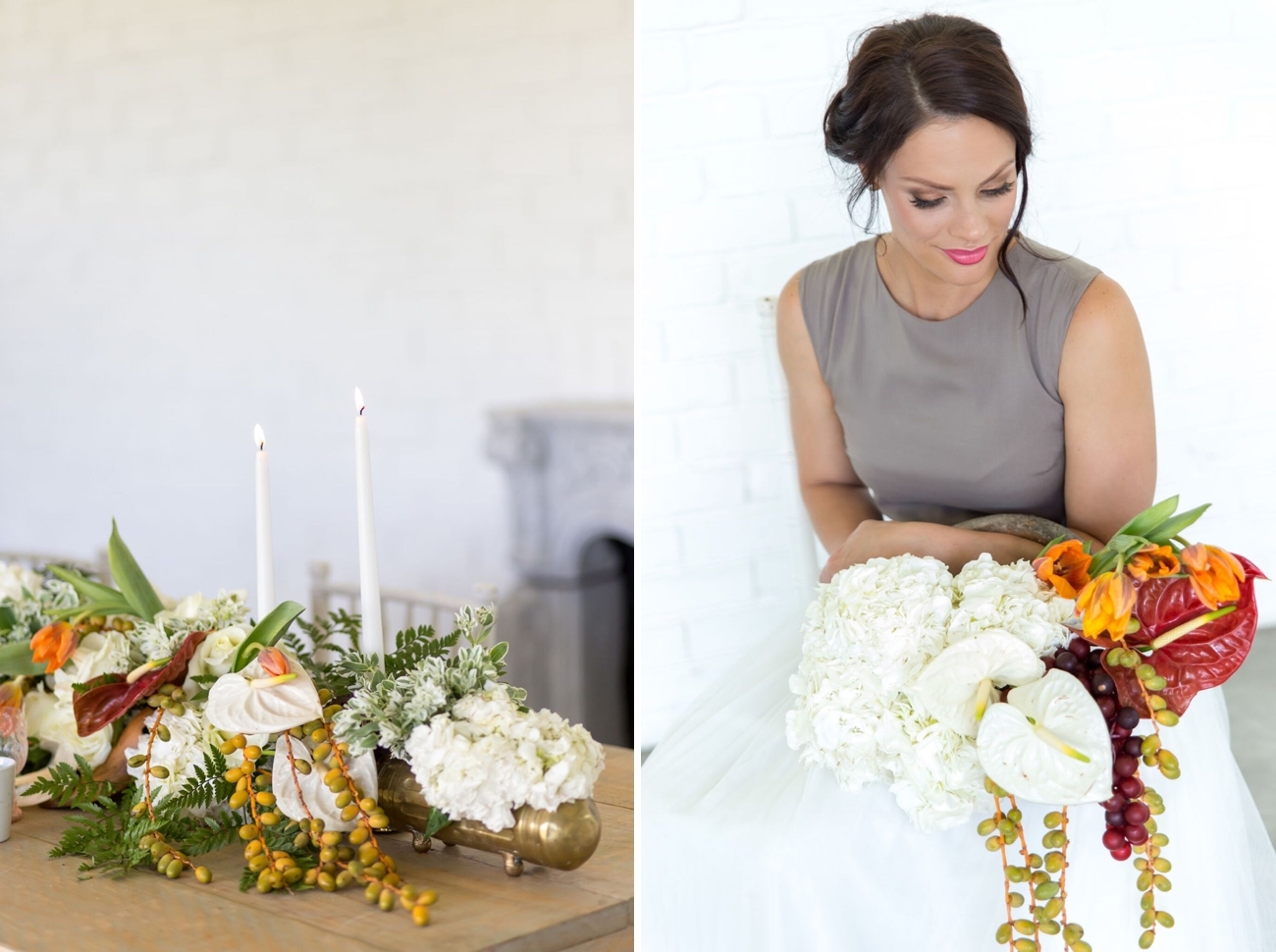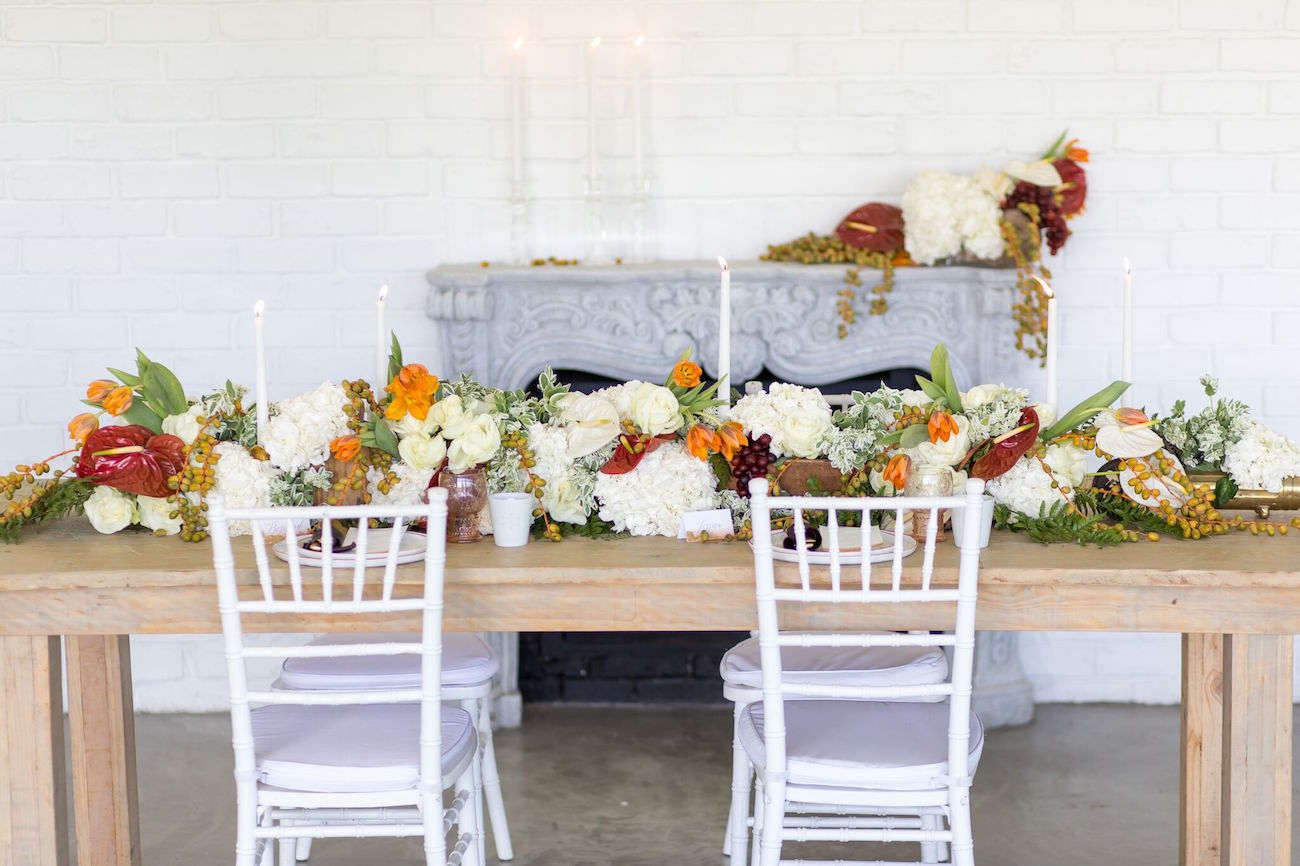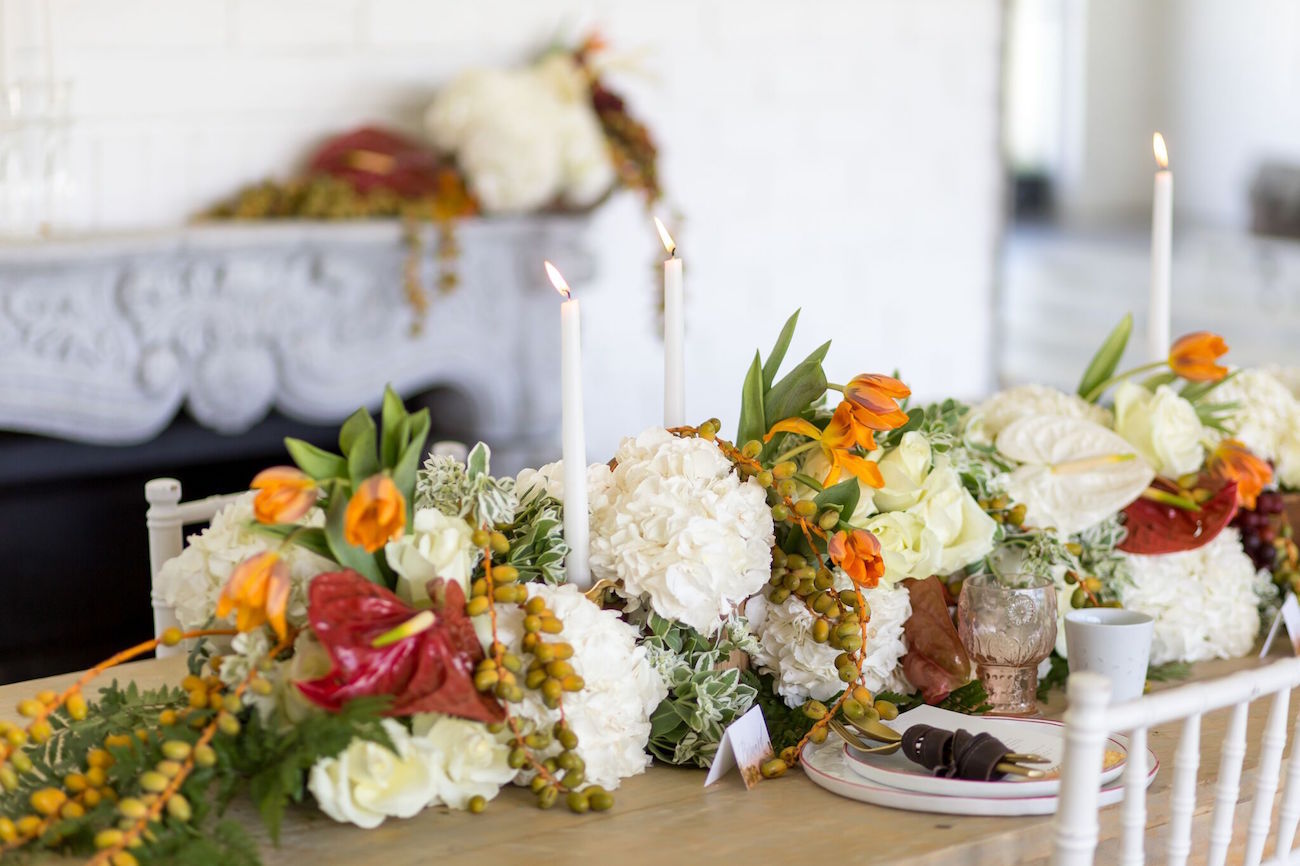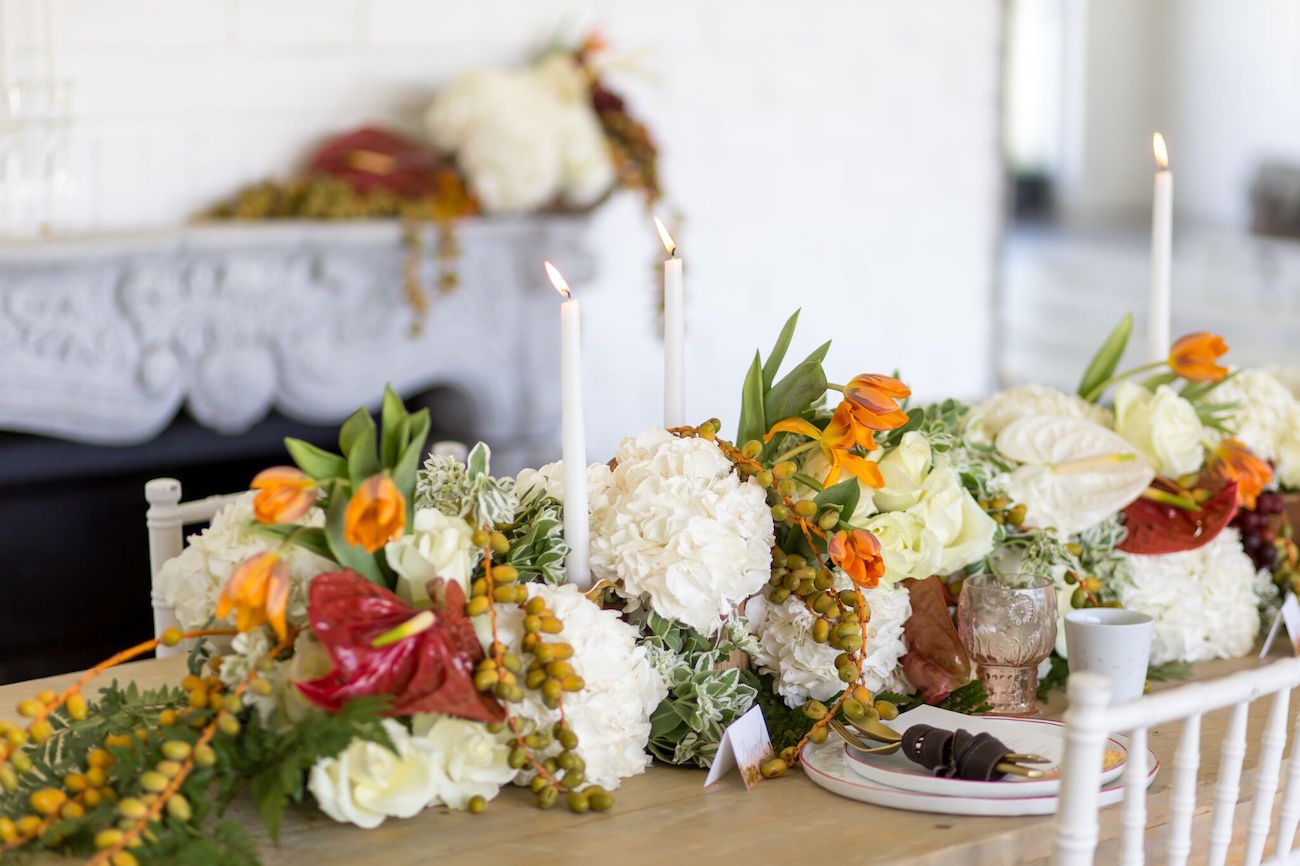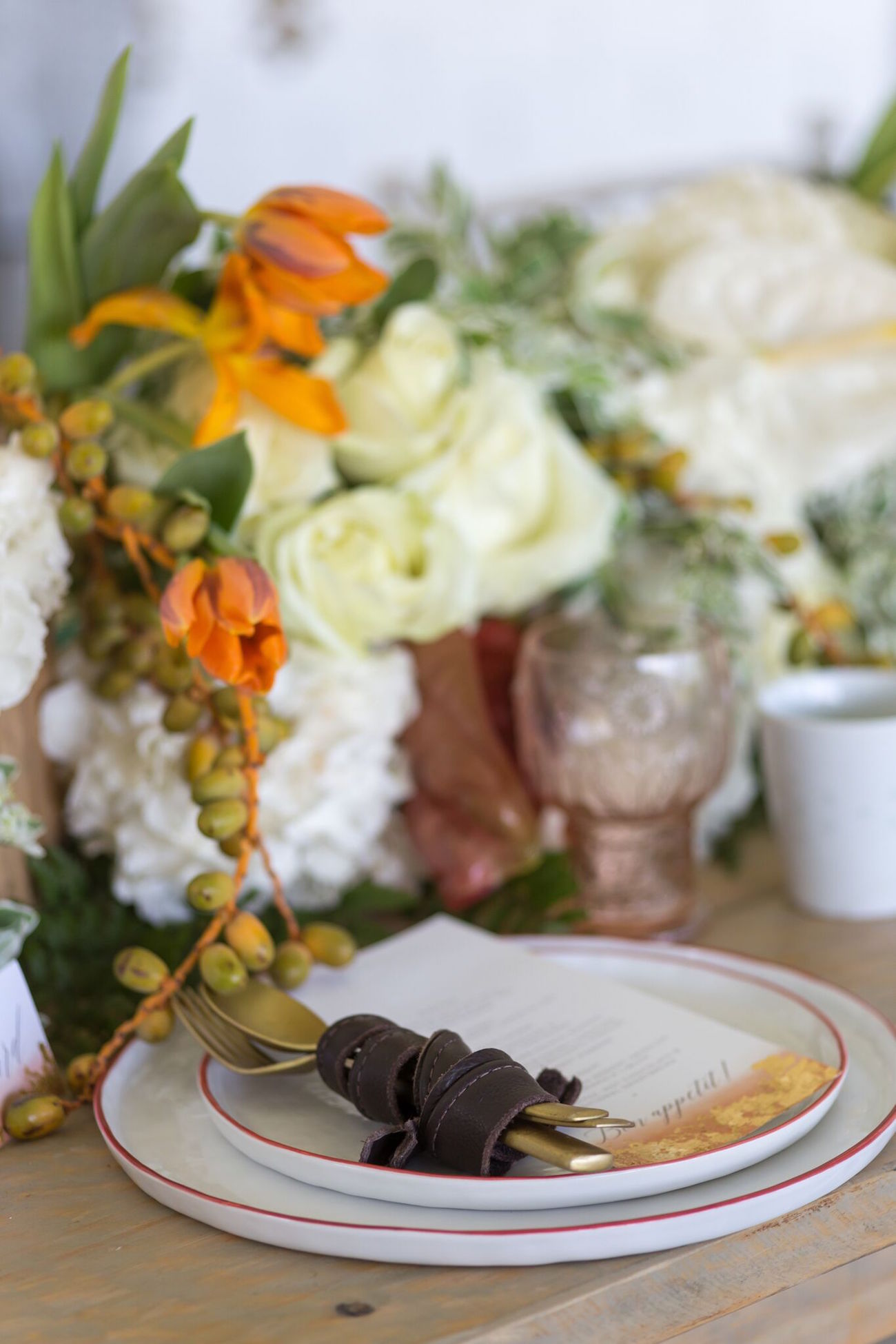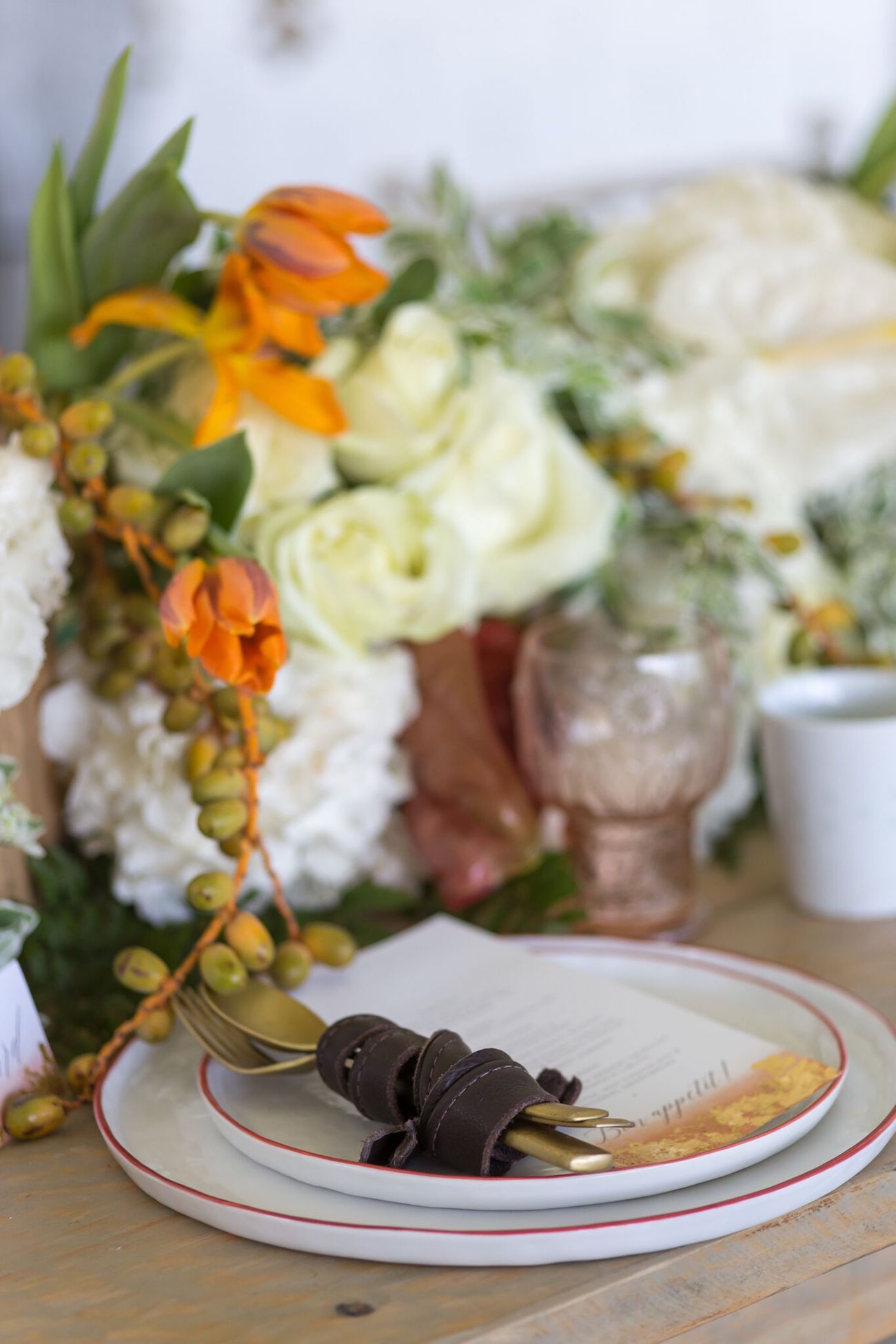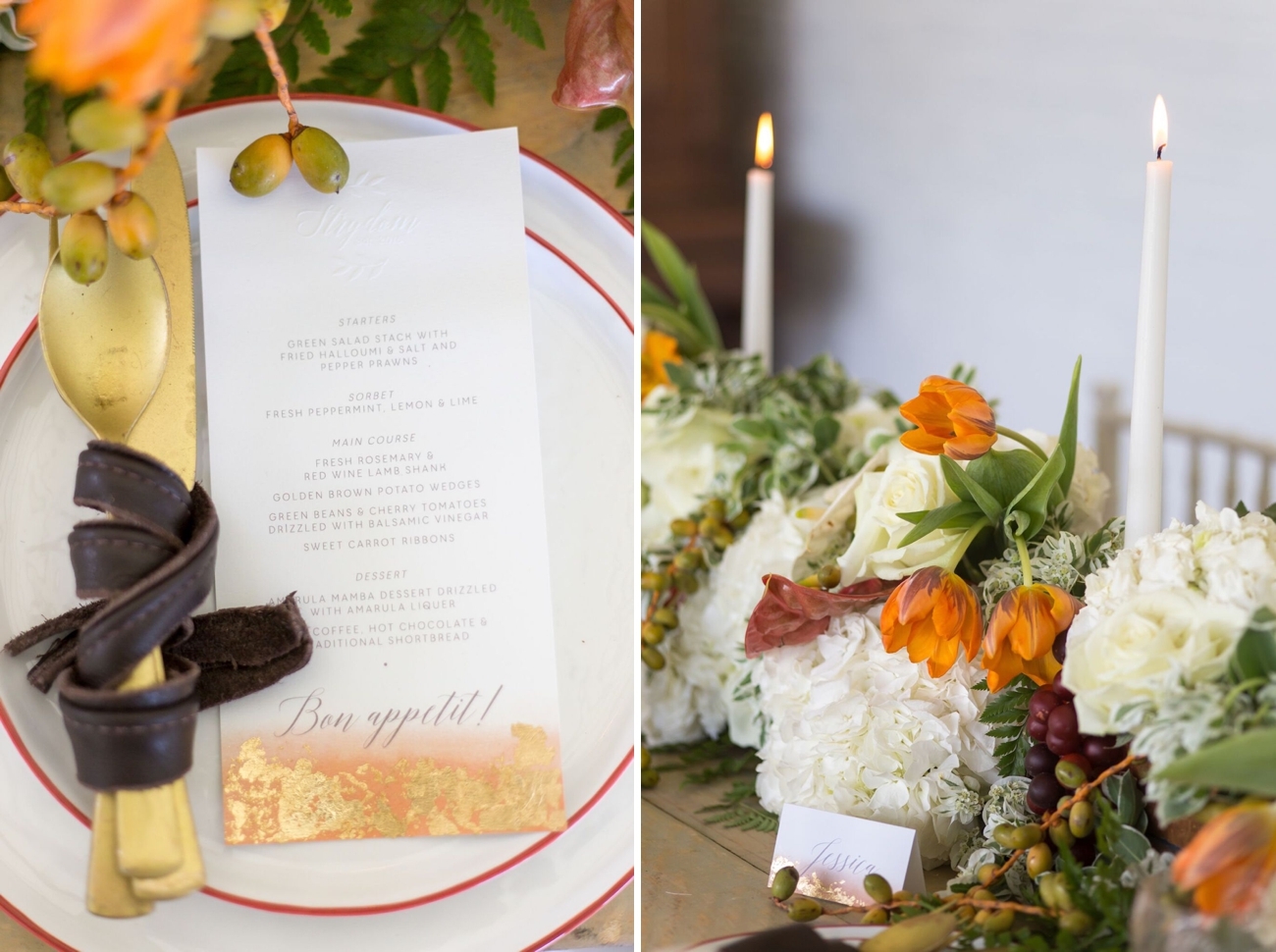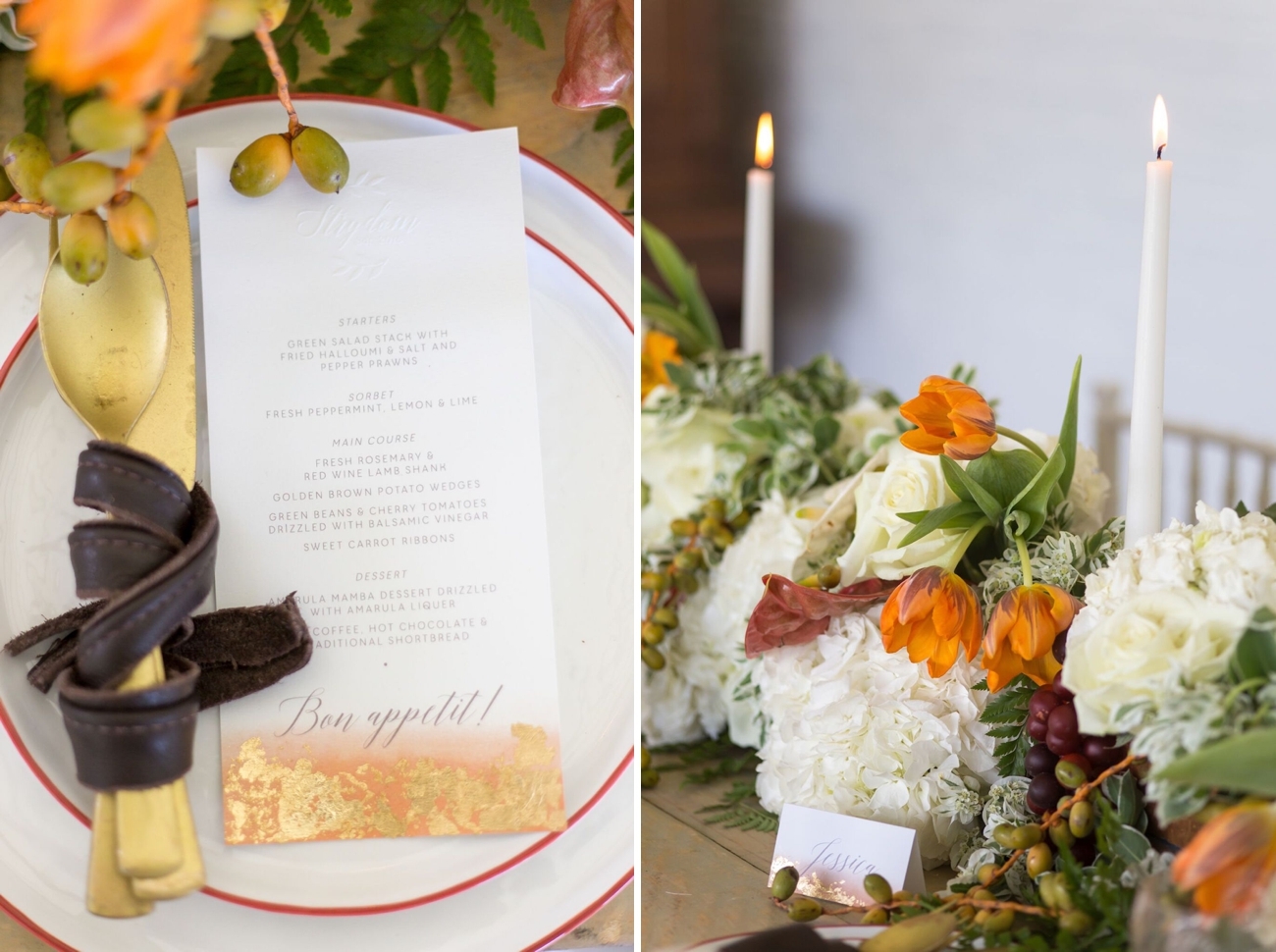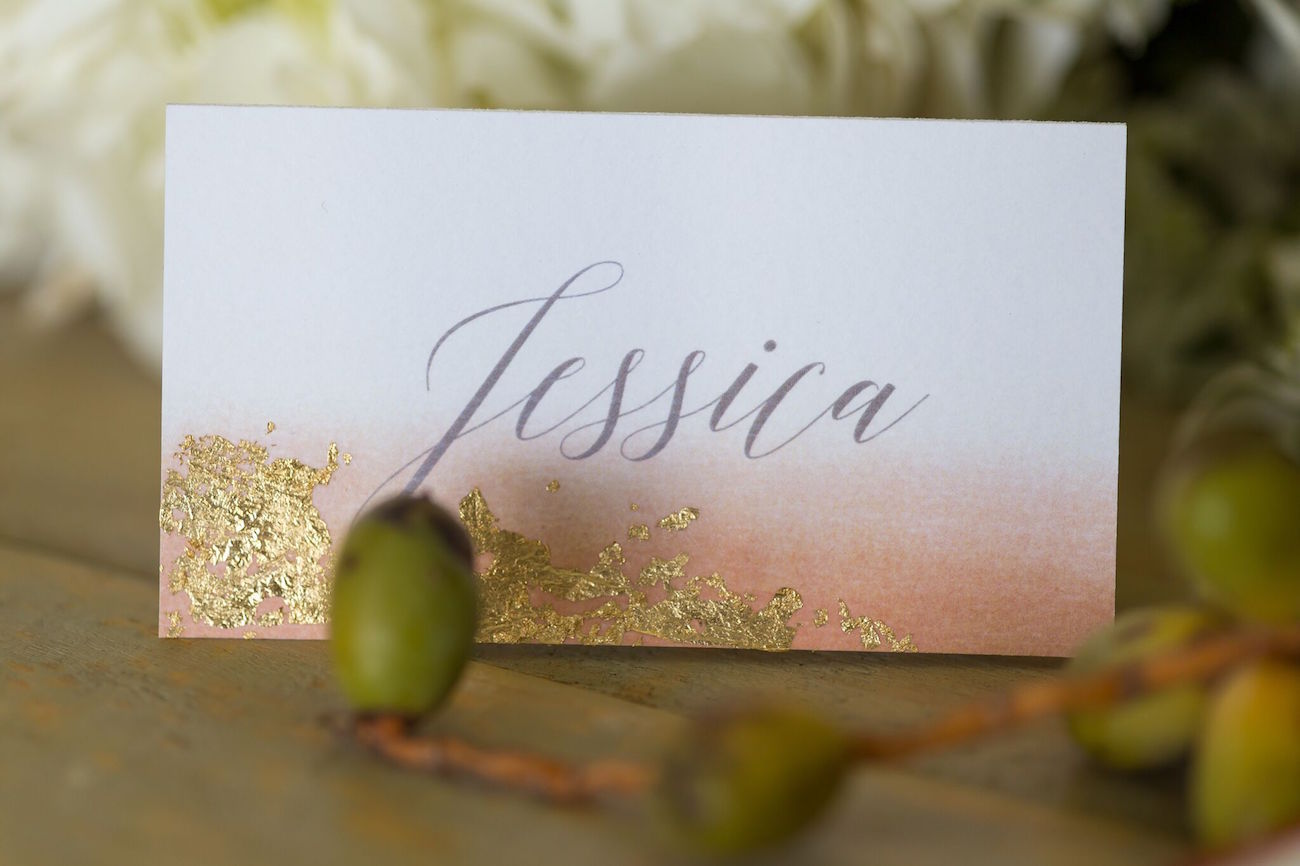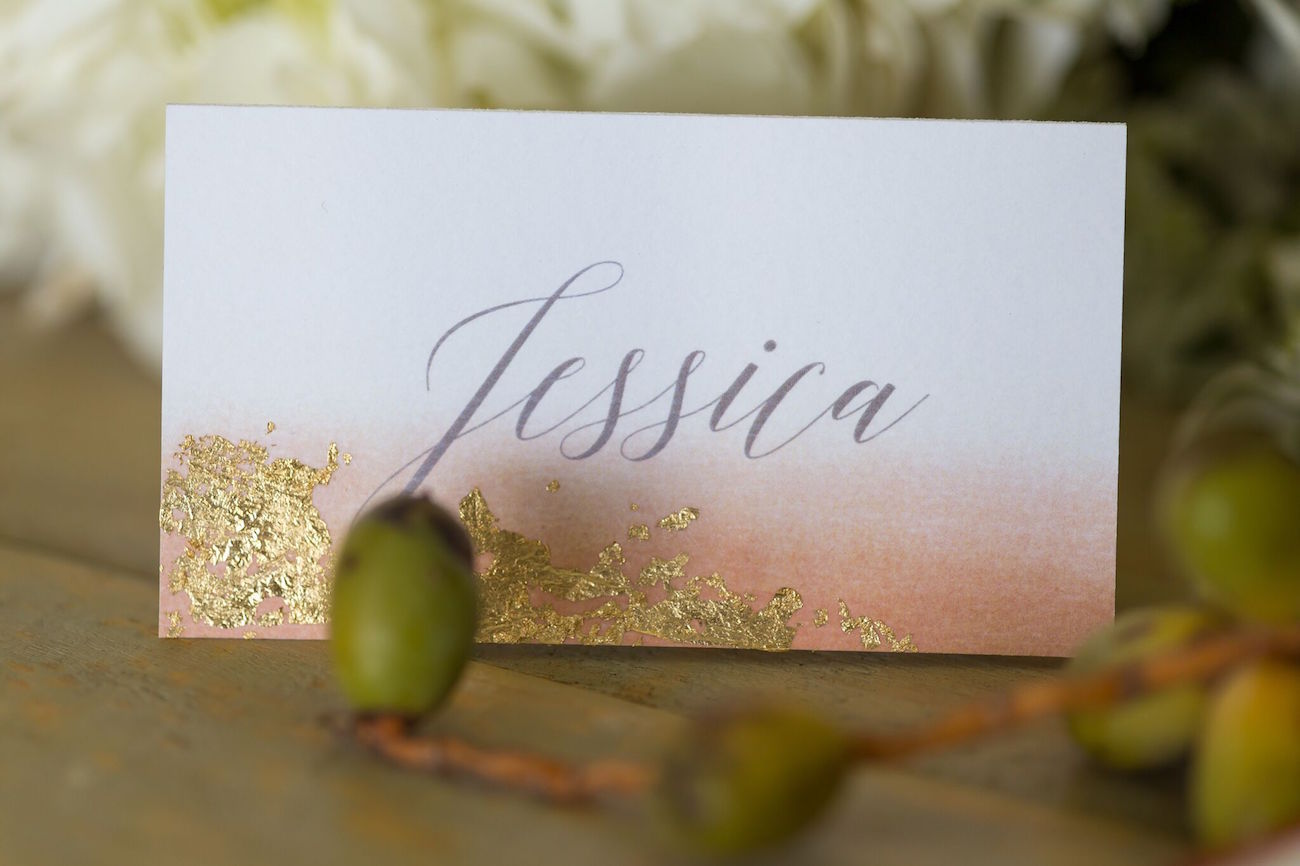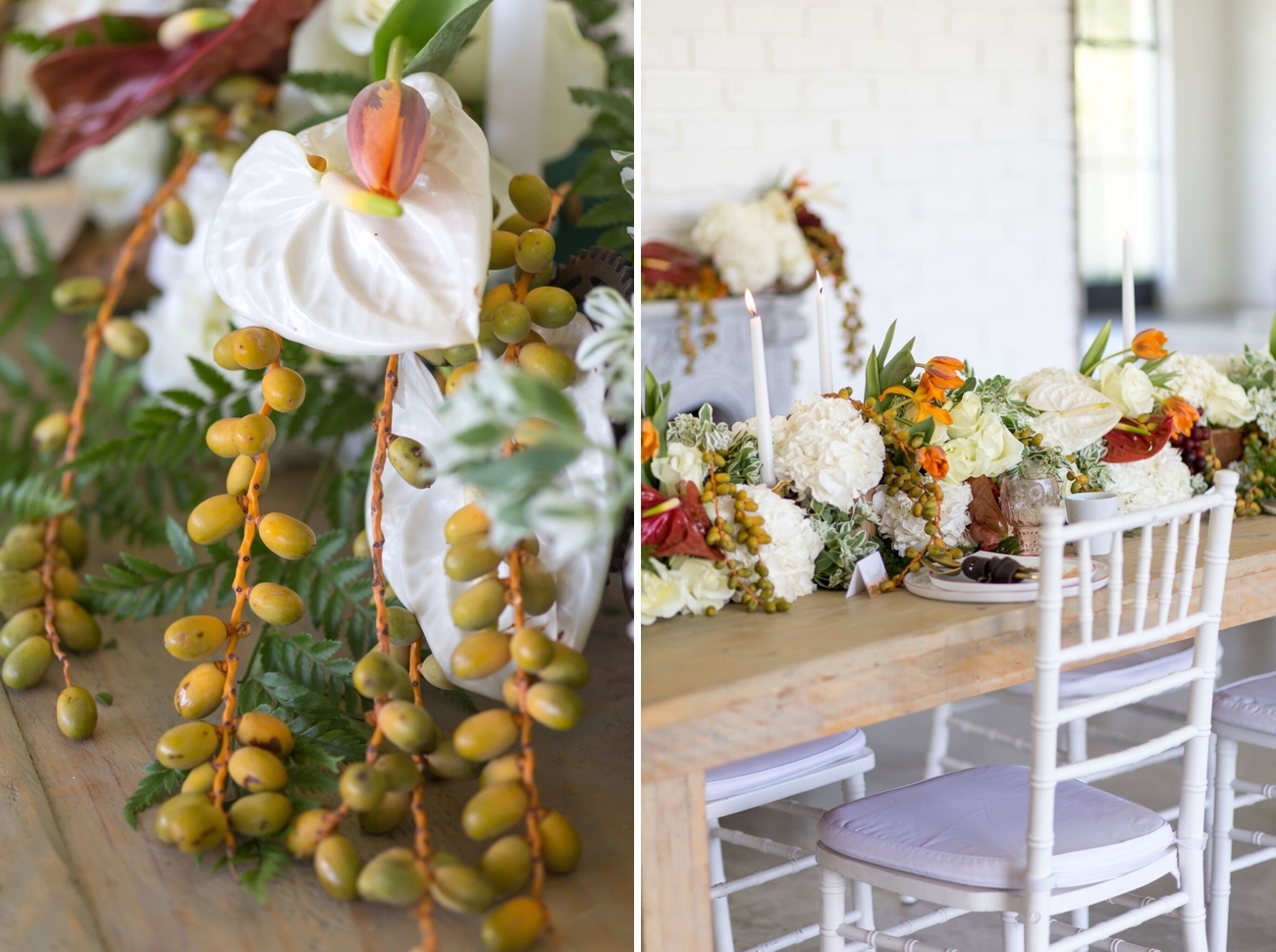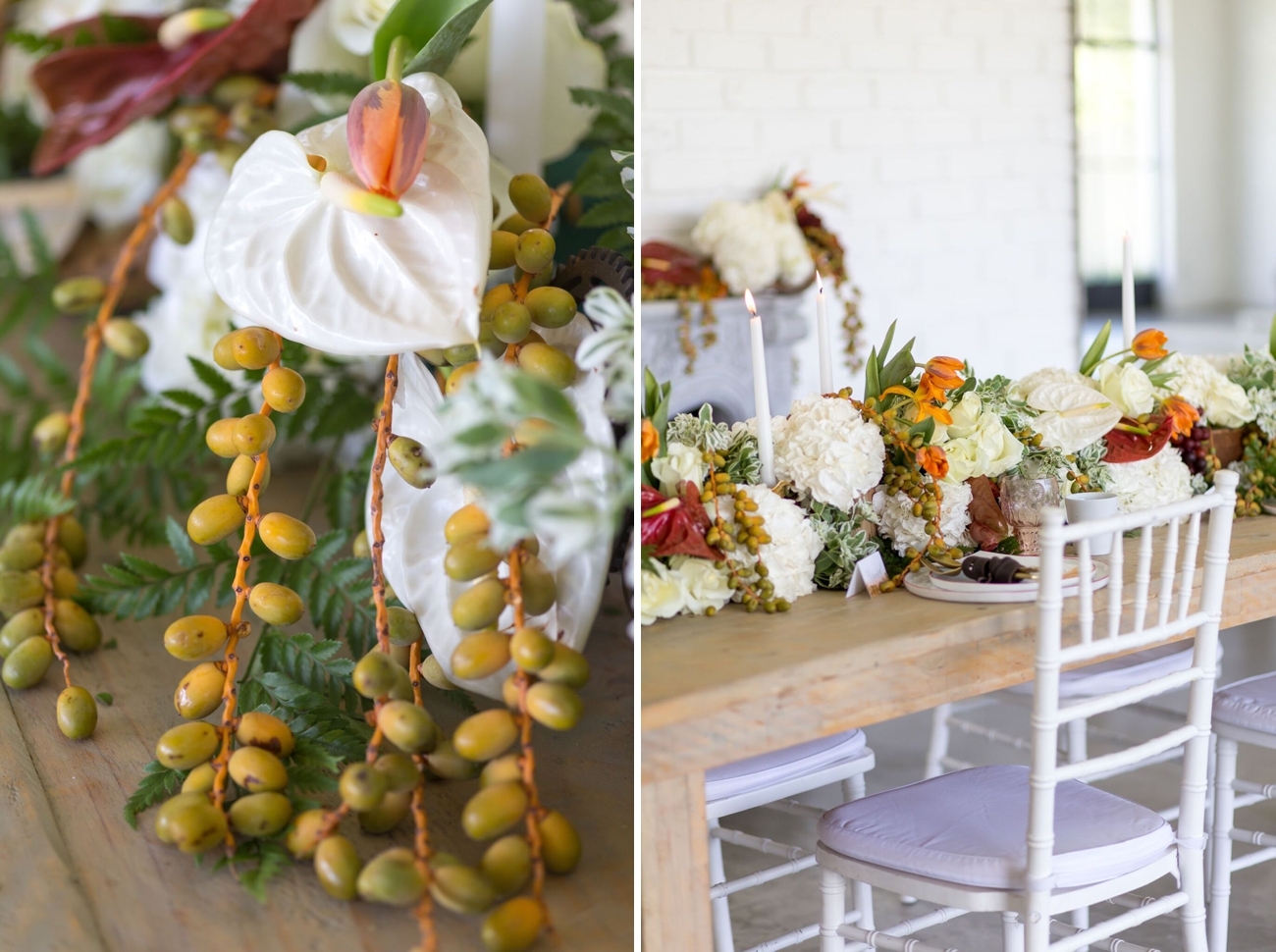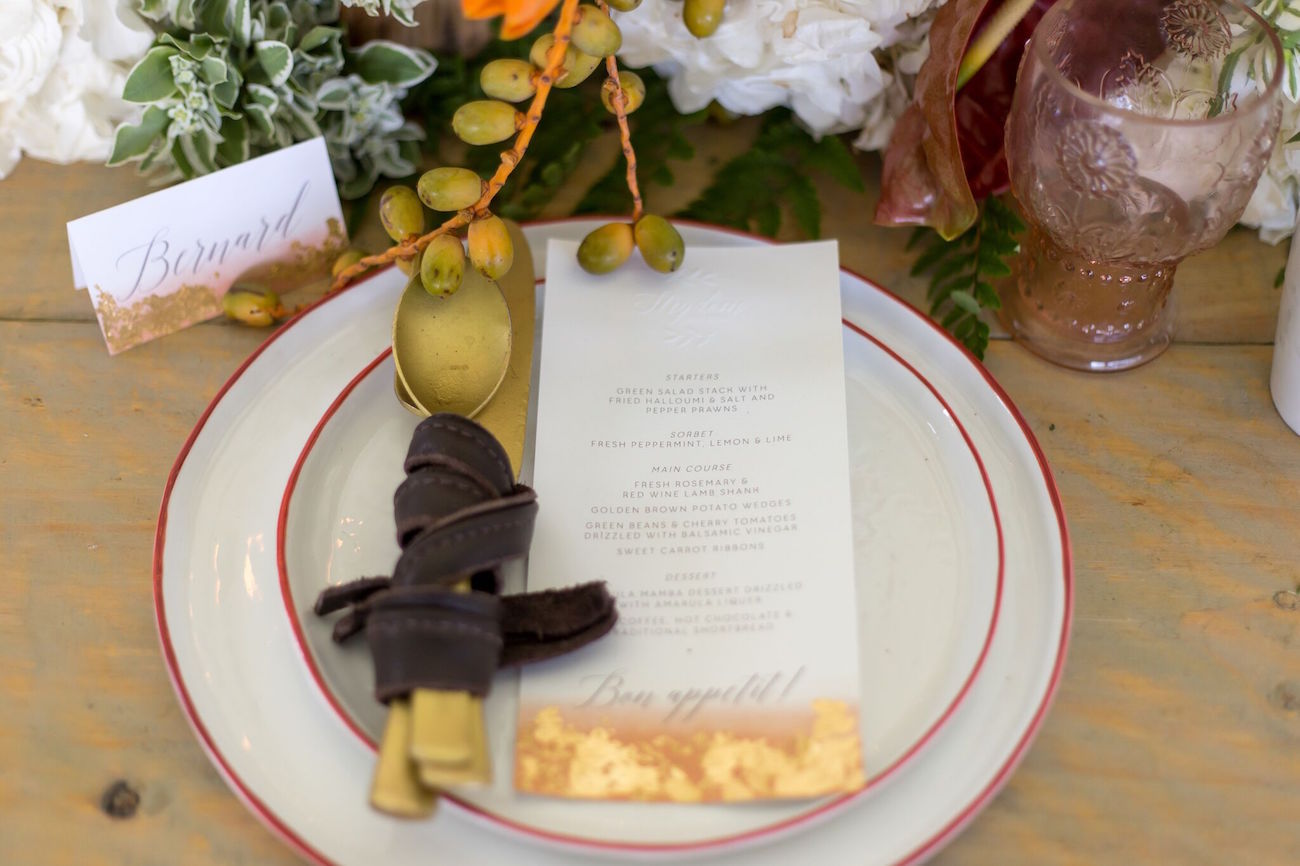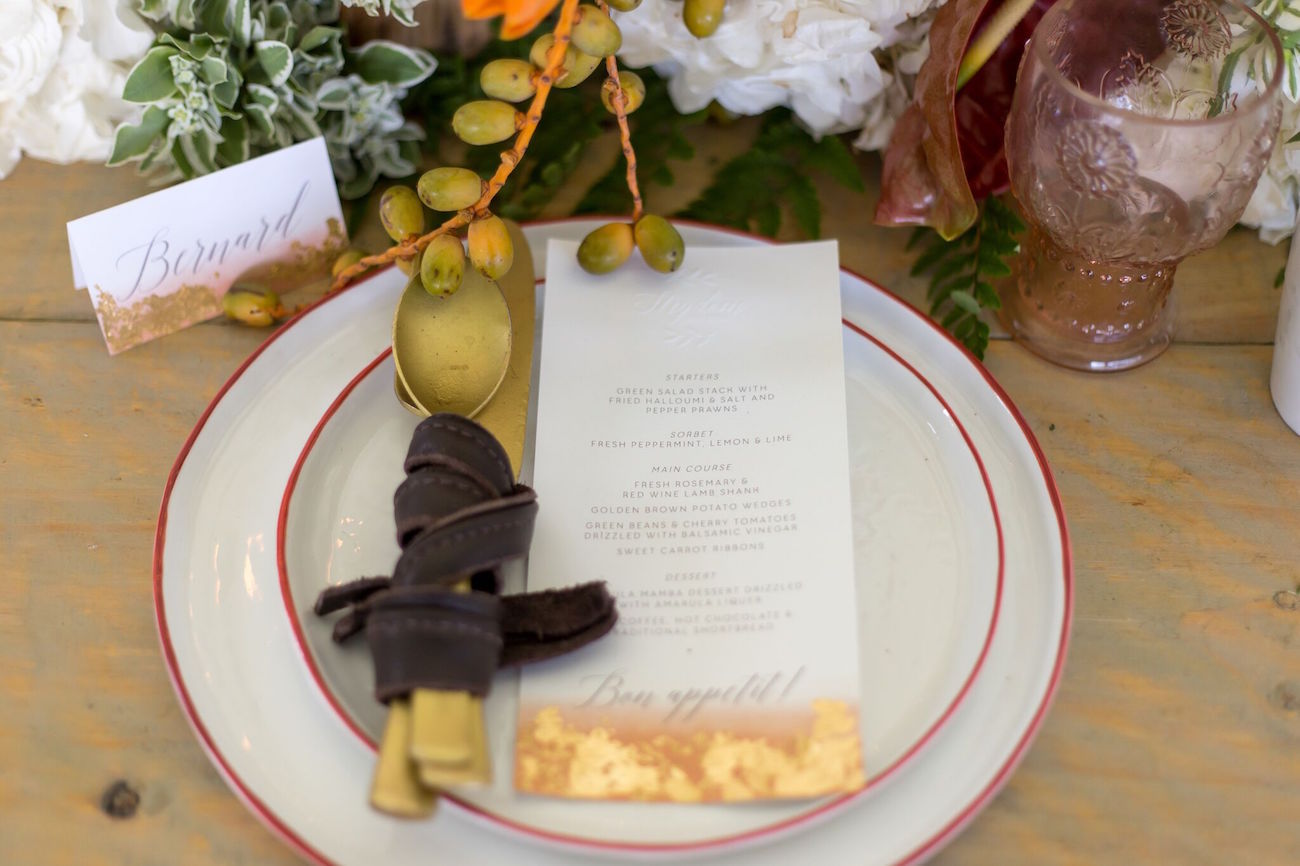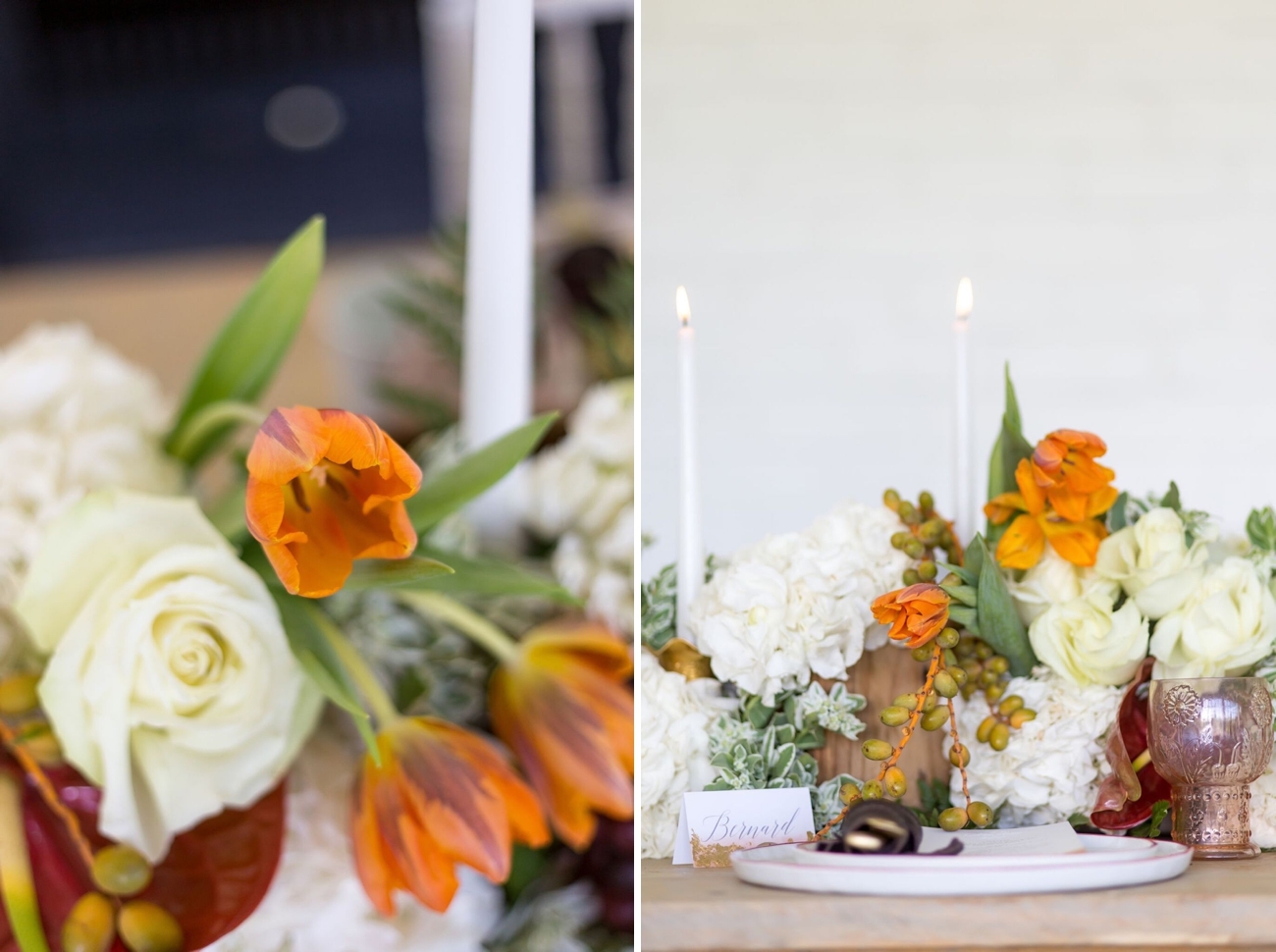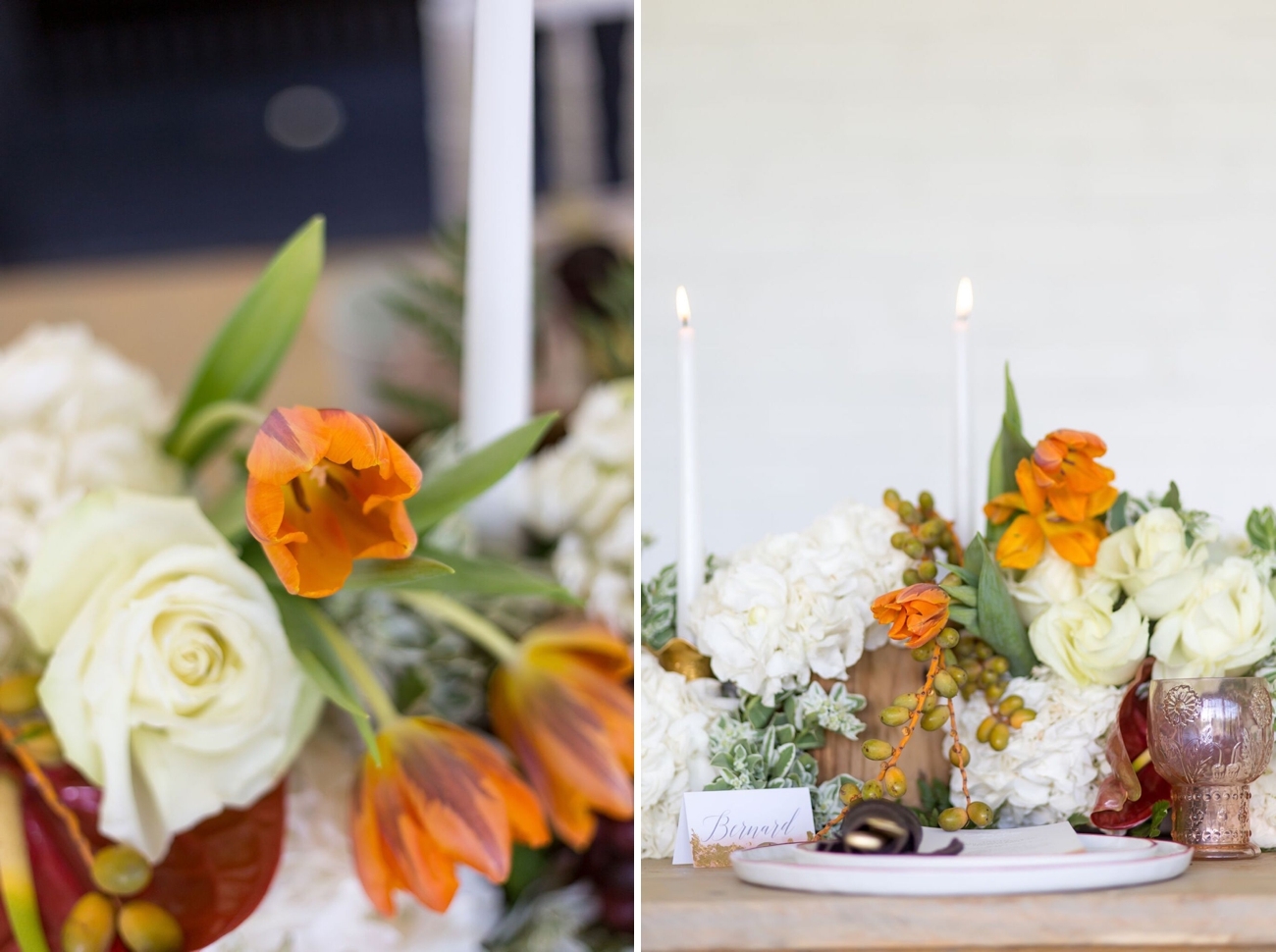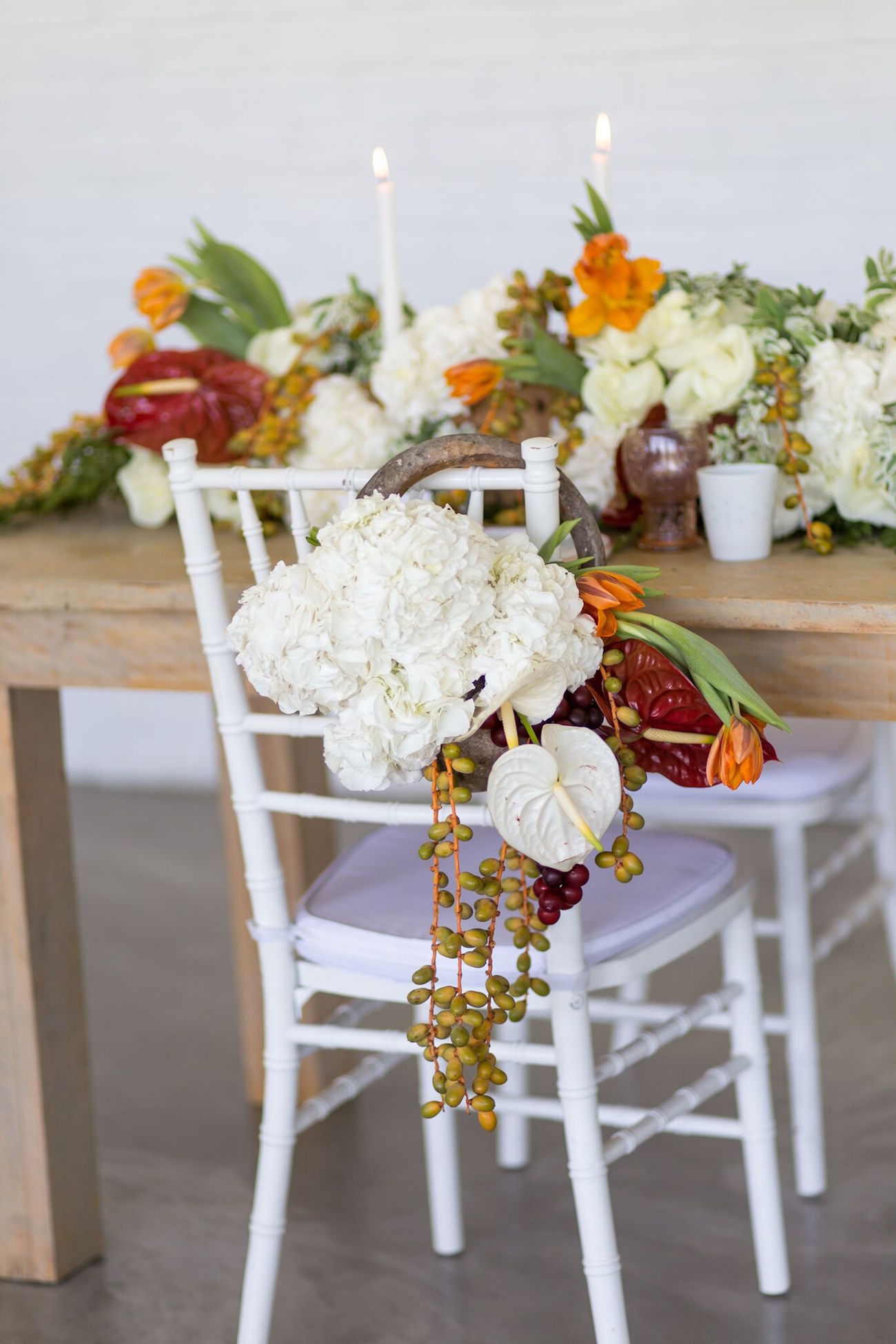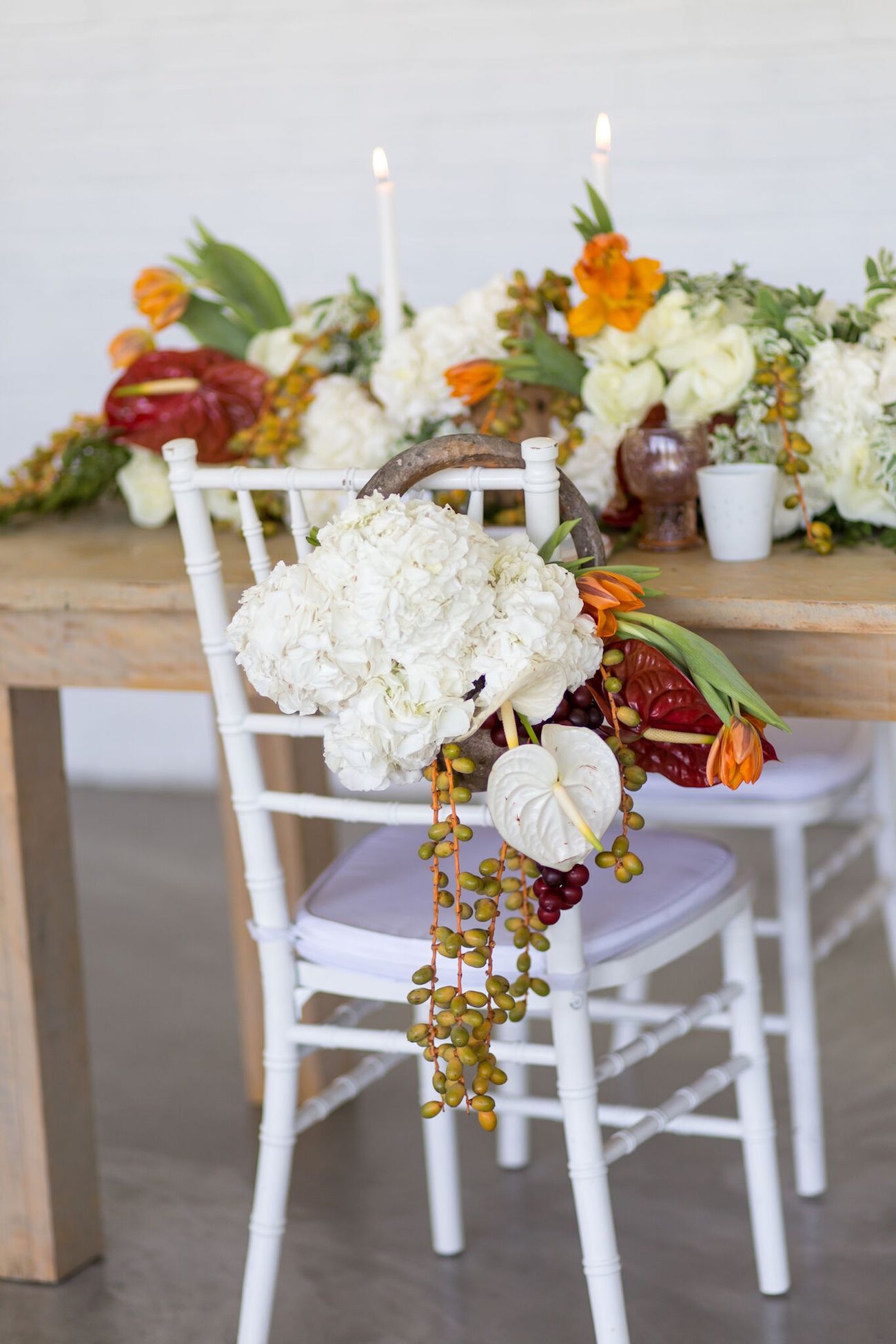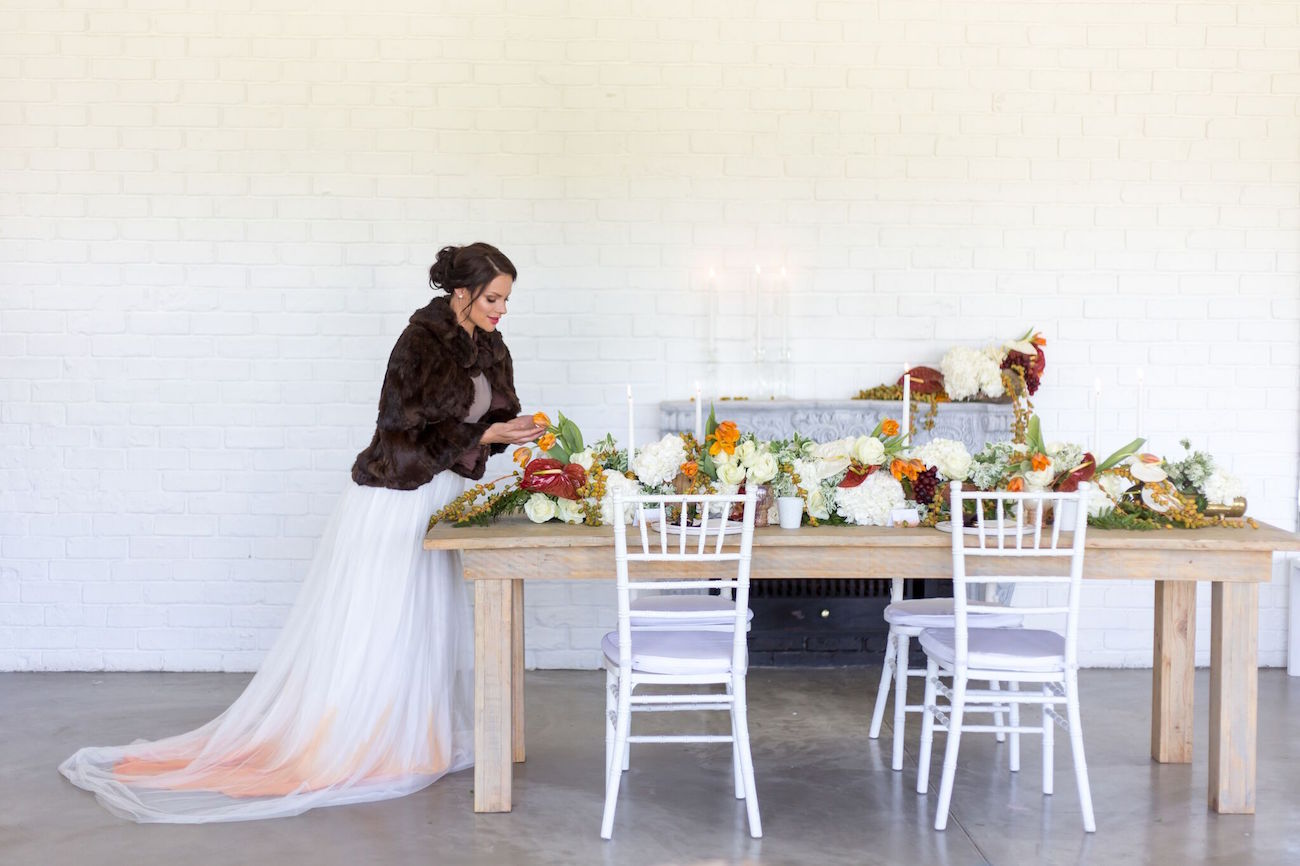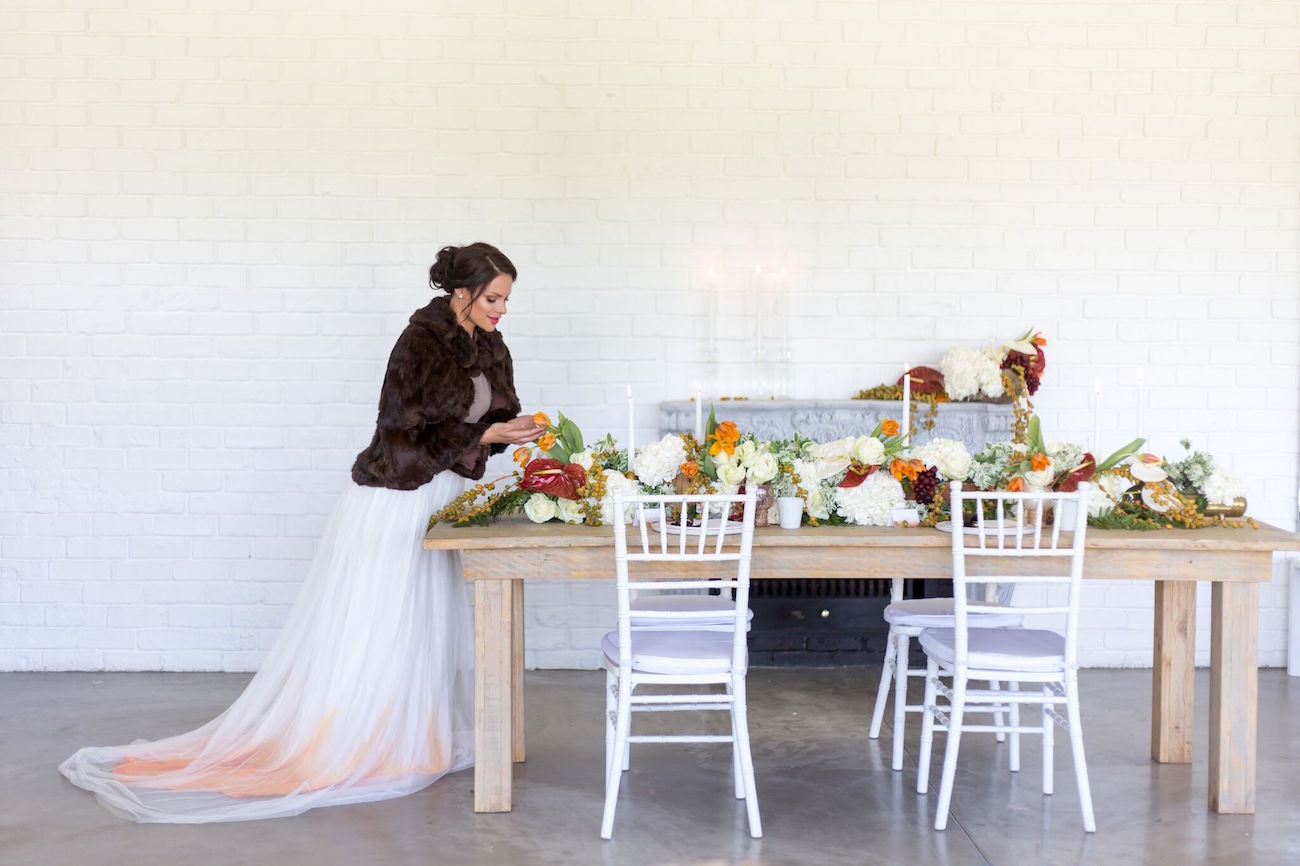 Both dresses were designed by the extremely talented Chantel de Bruyn. The first dress suits the theme perfectly. The taupe bodice and ombre-dipped skirt pick up all the colours of the tablescape – and it reminds brides that the wedding dress doesn't have to be white! Our cake was covered in fondant, dressed with date berries and hand-painted to provide an orange ombre base that mimics the ombre dress.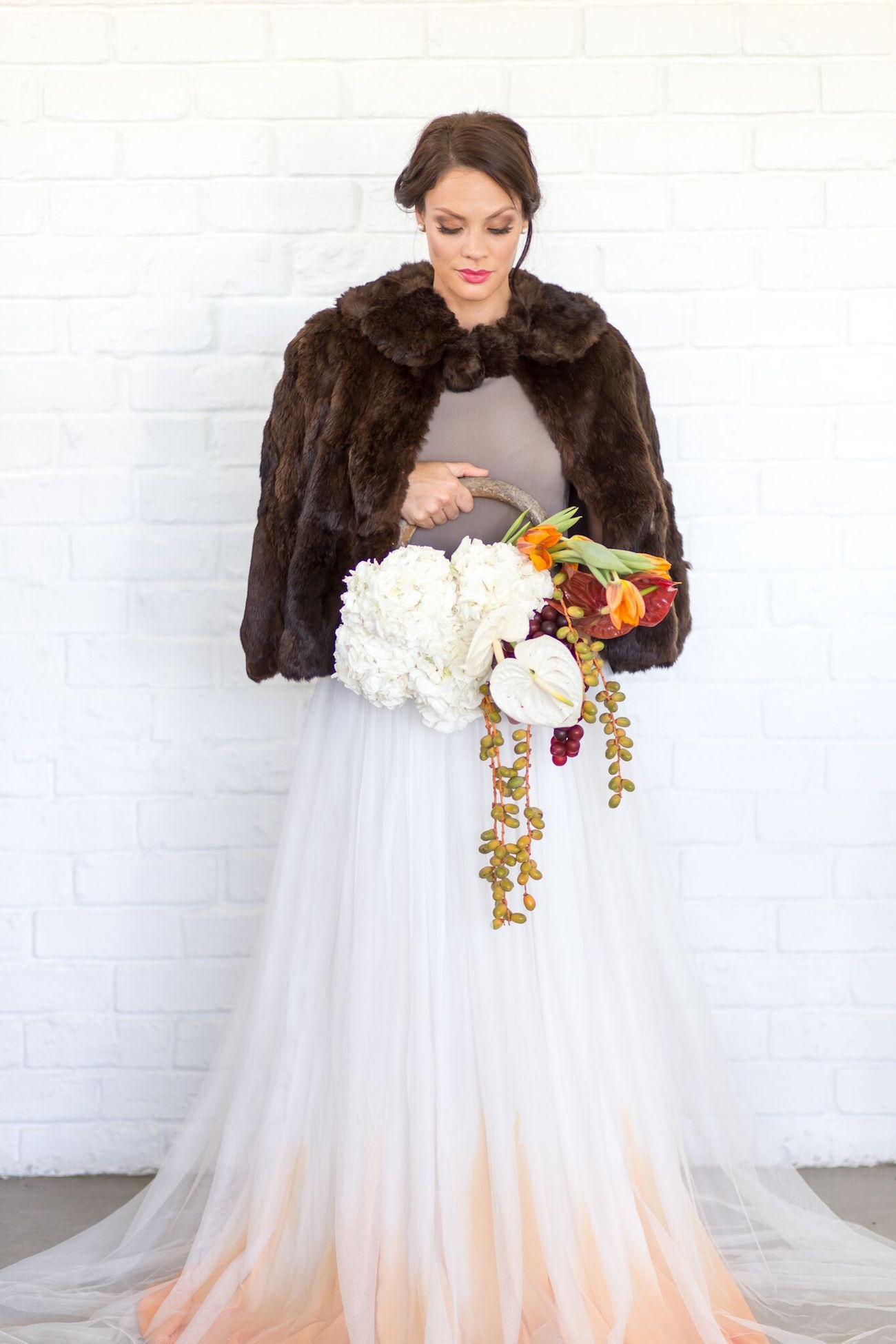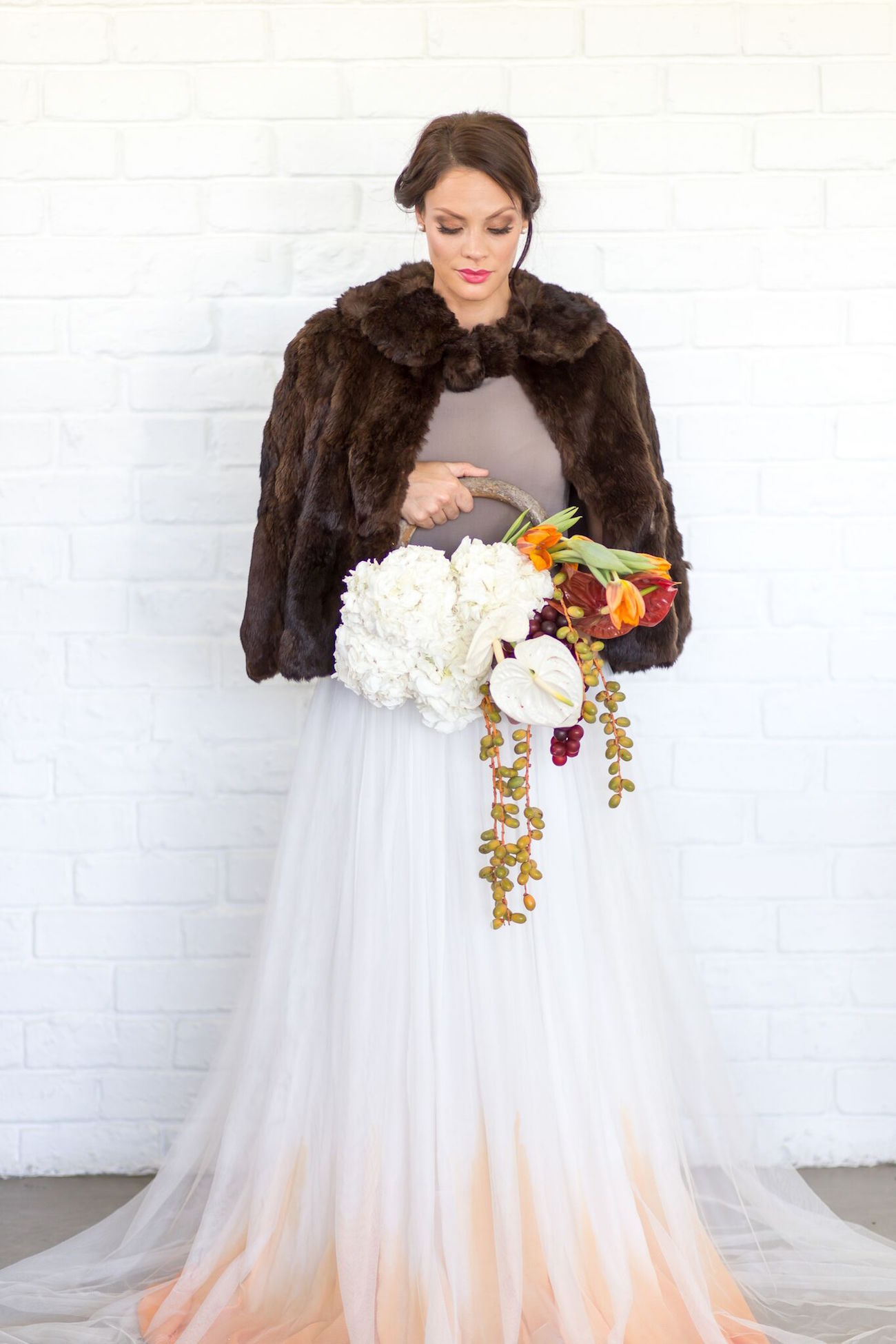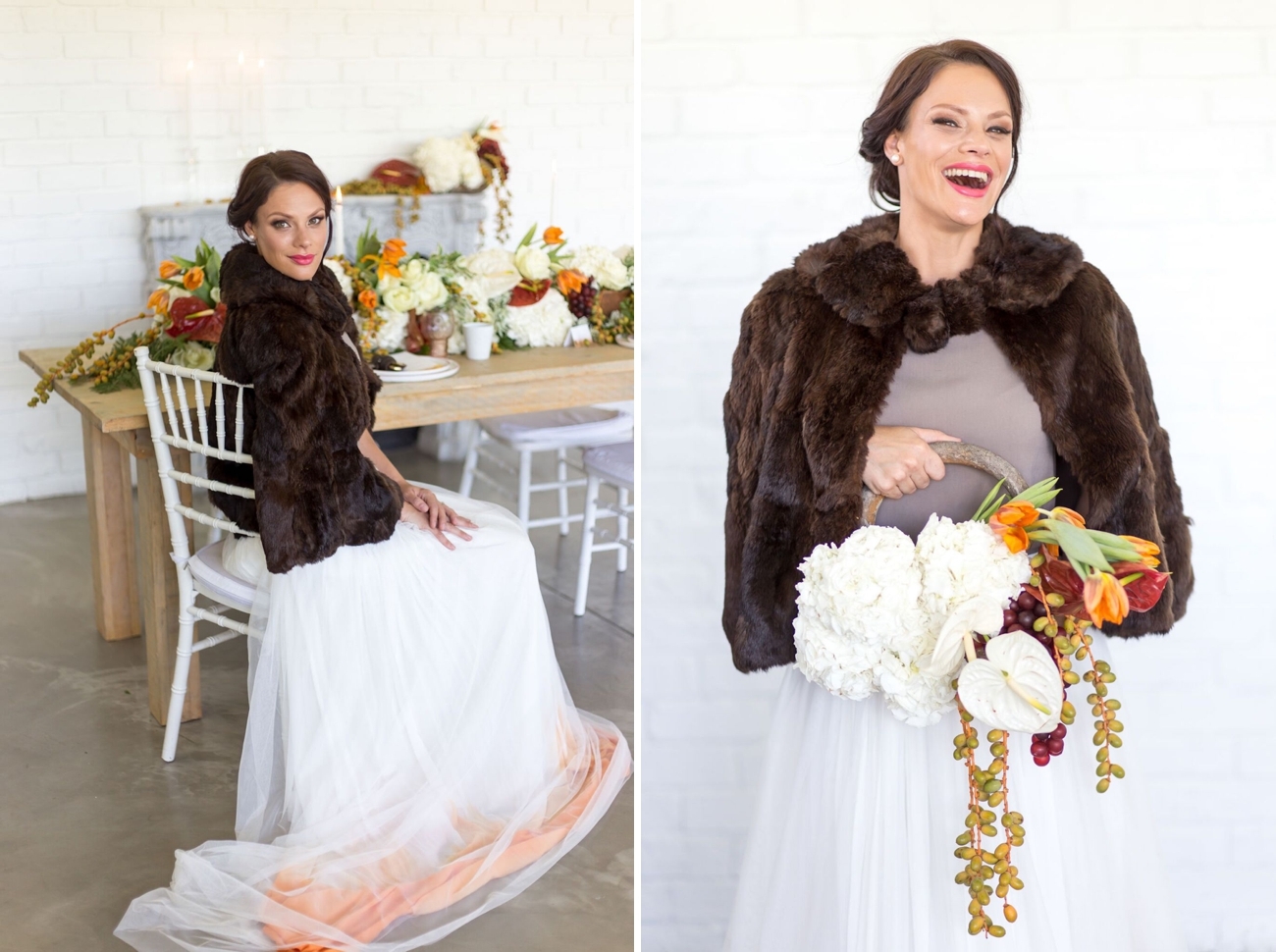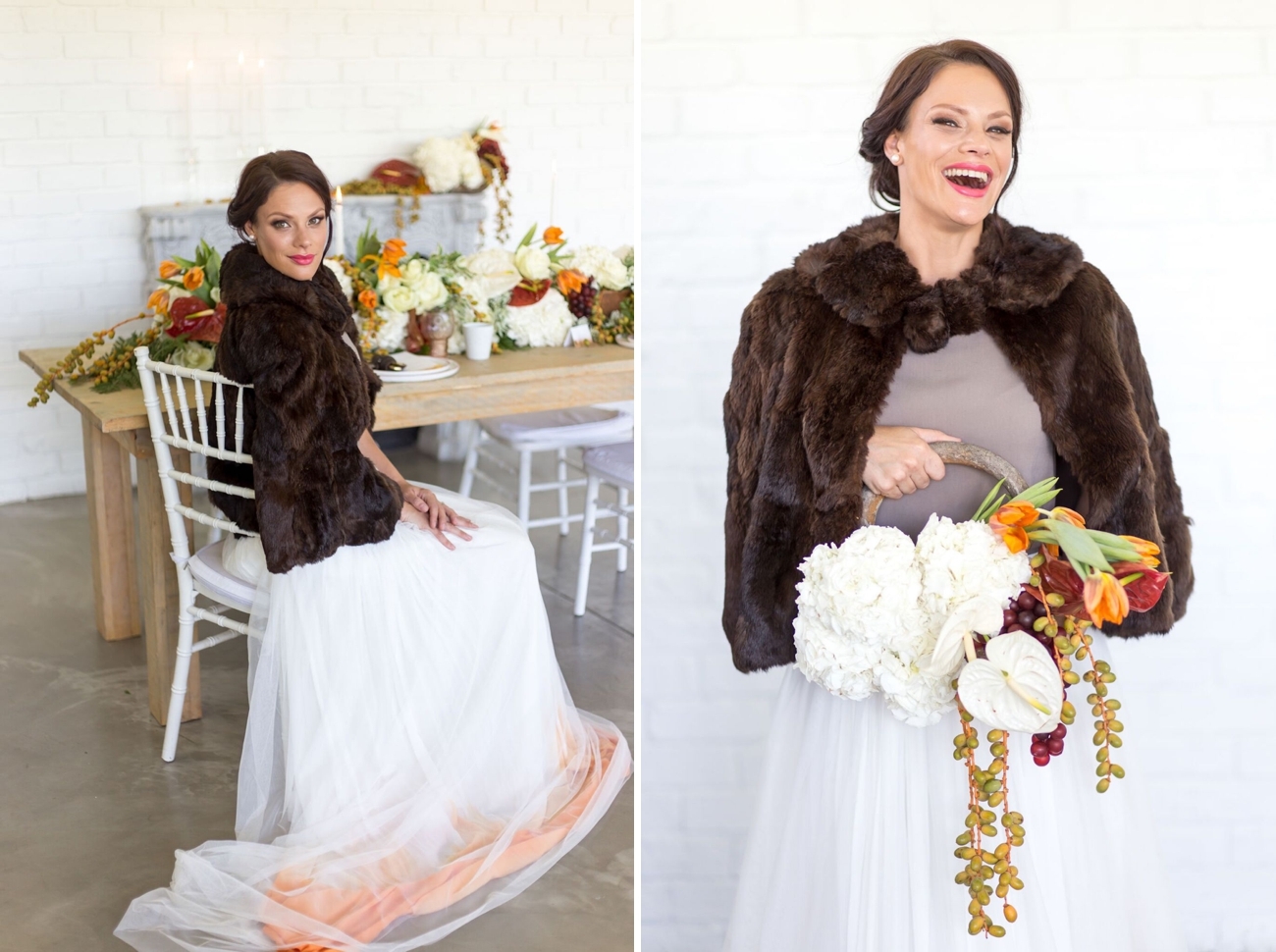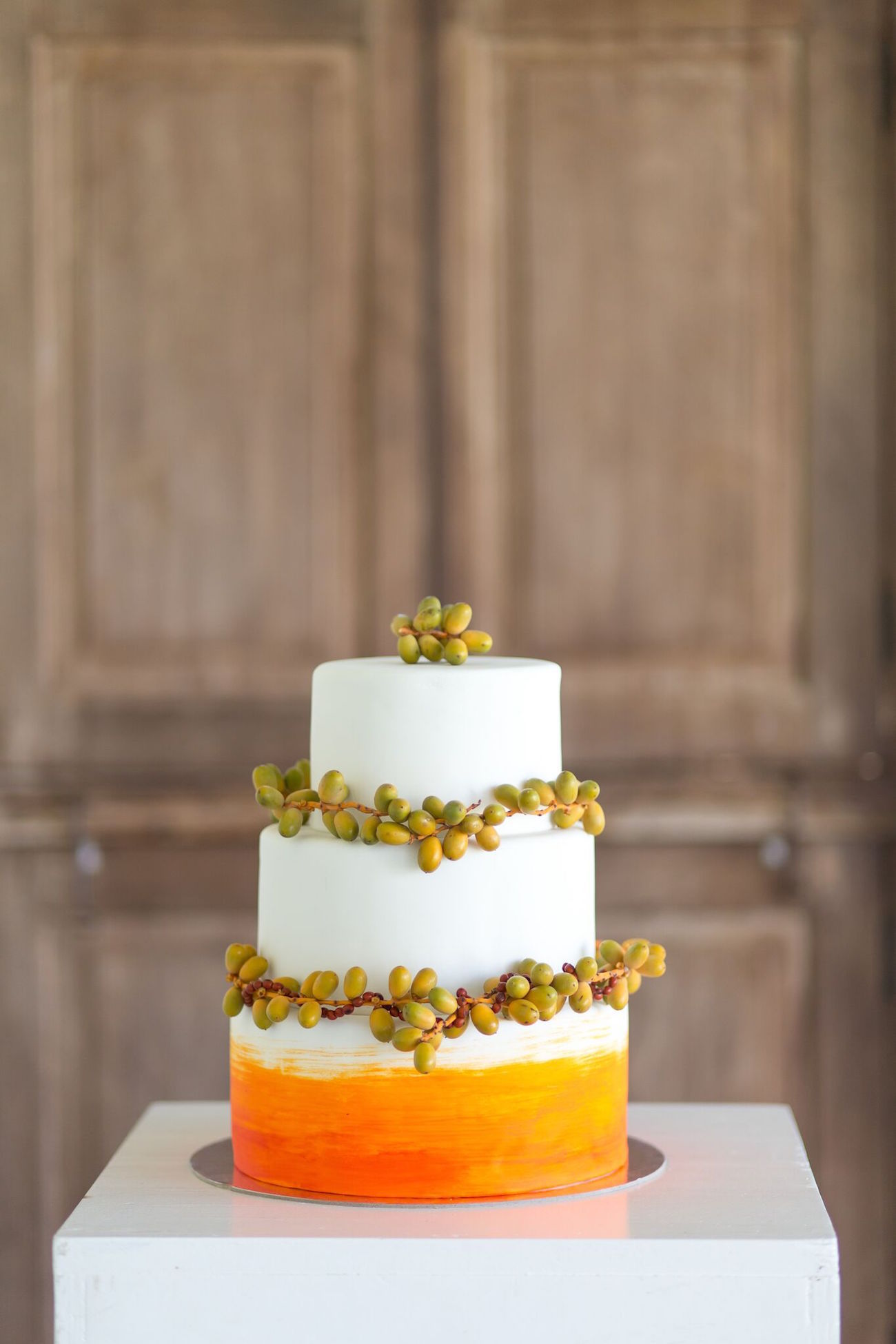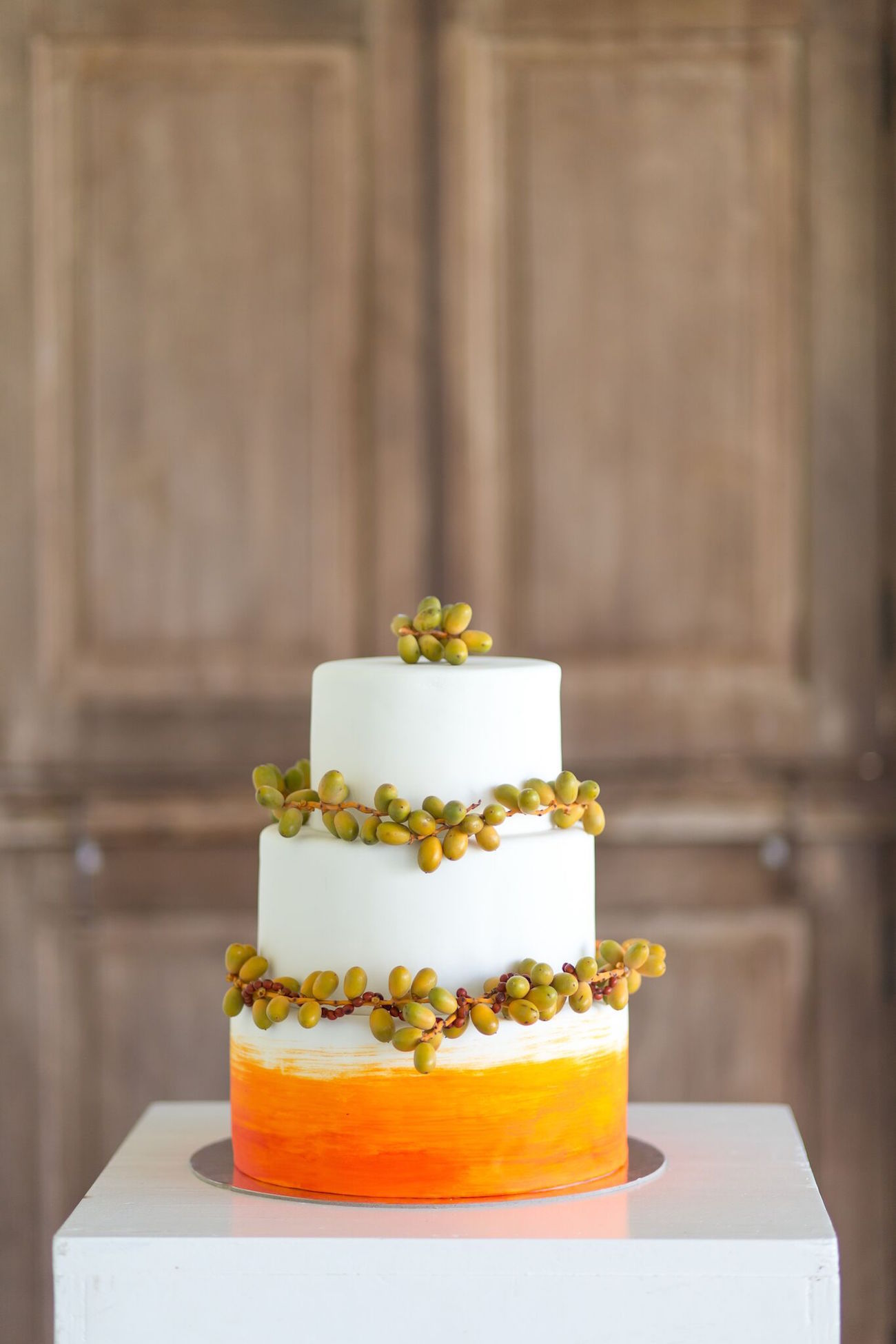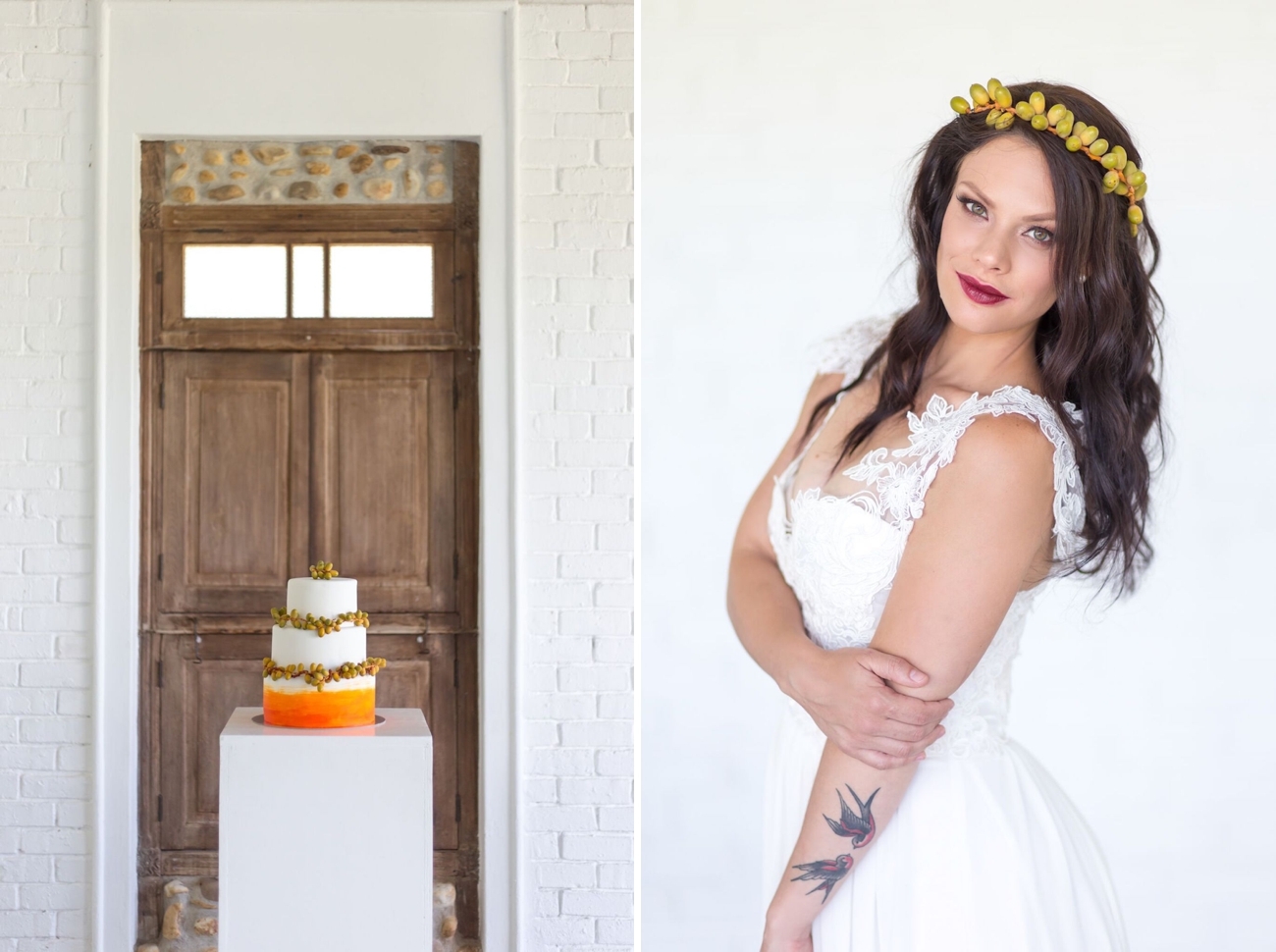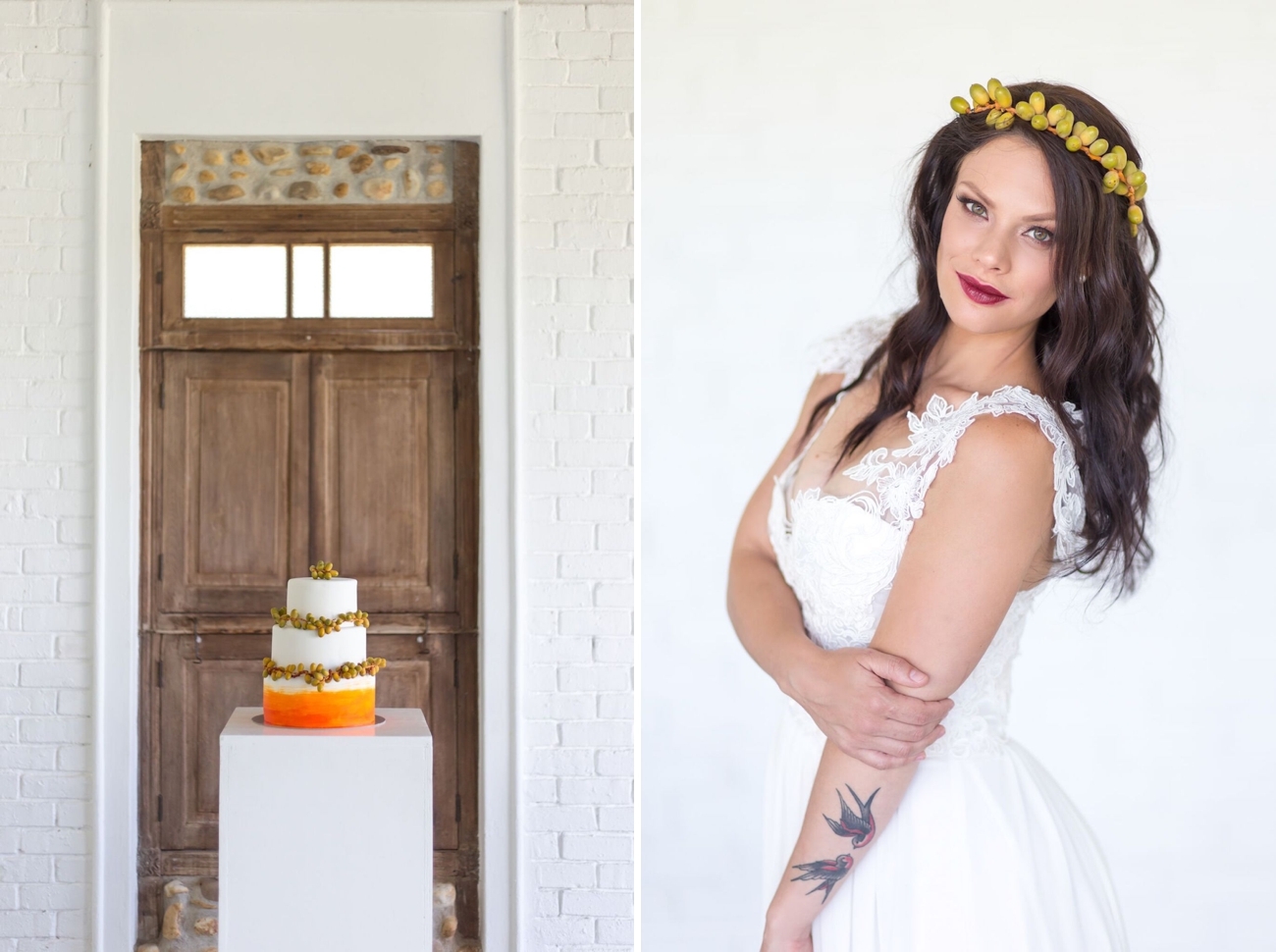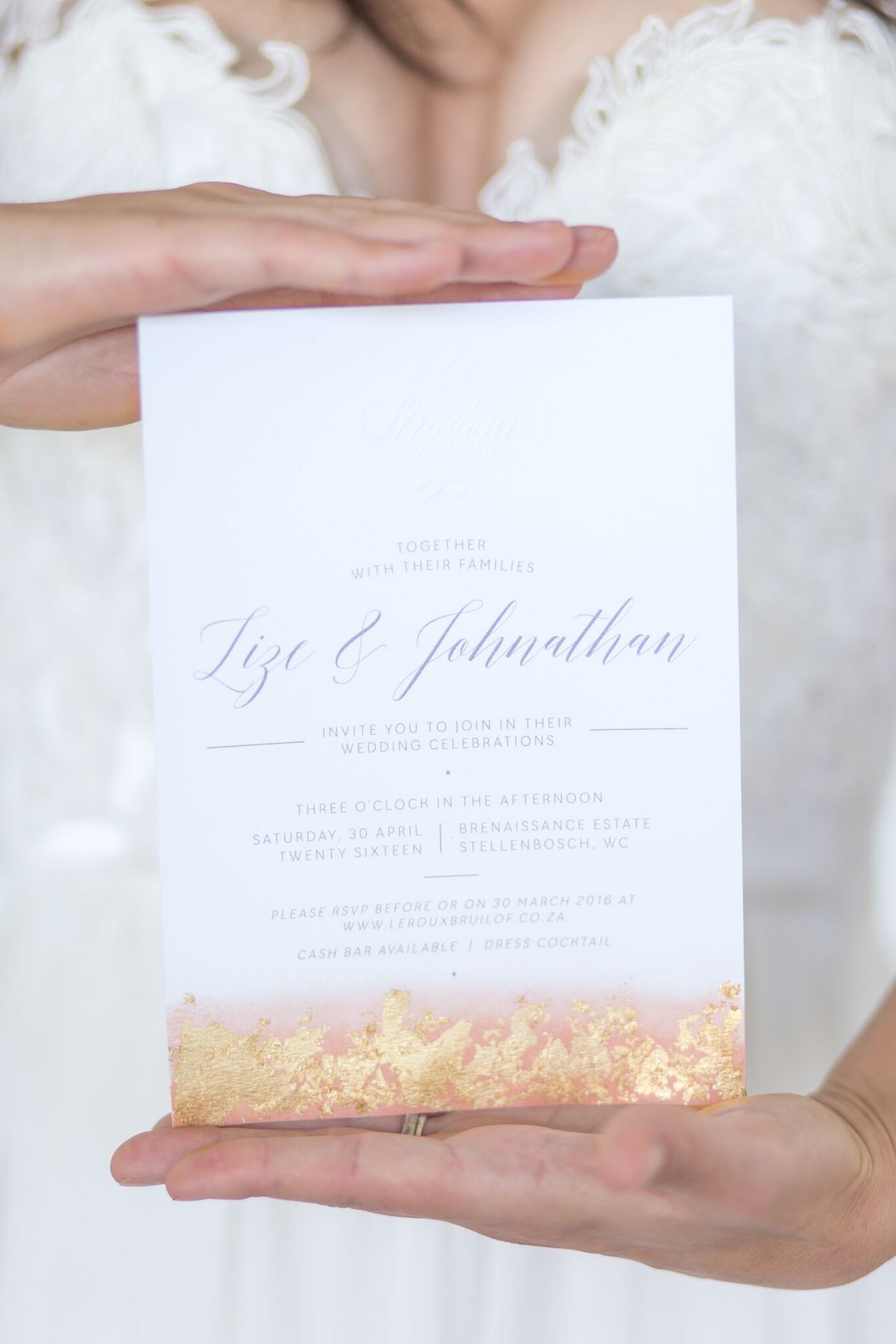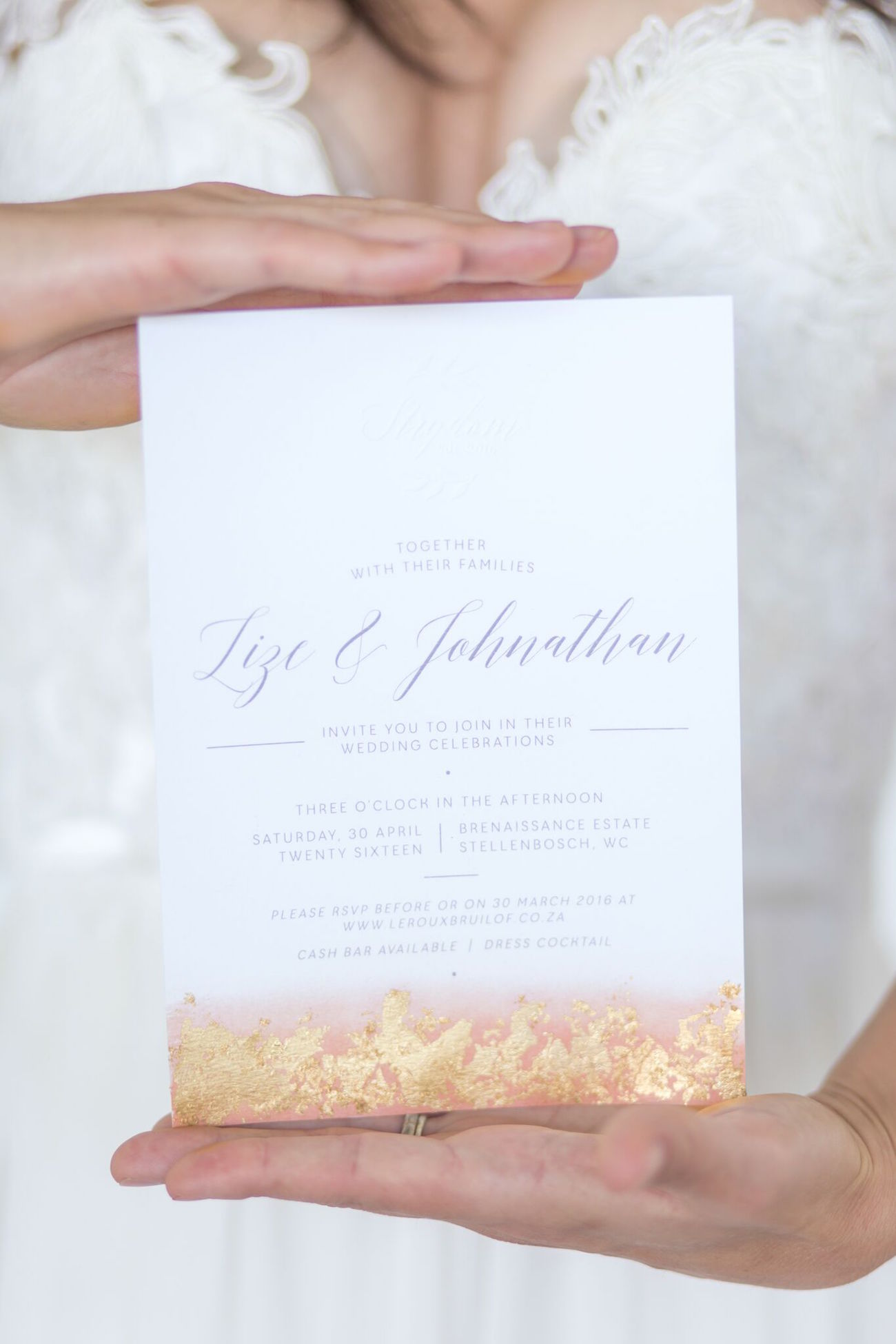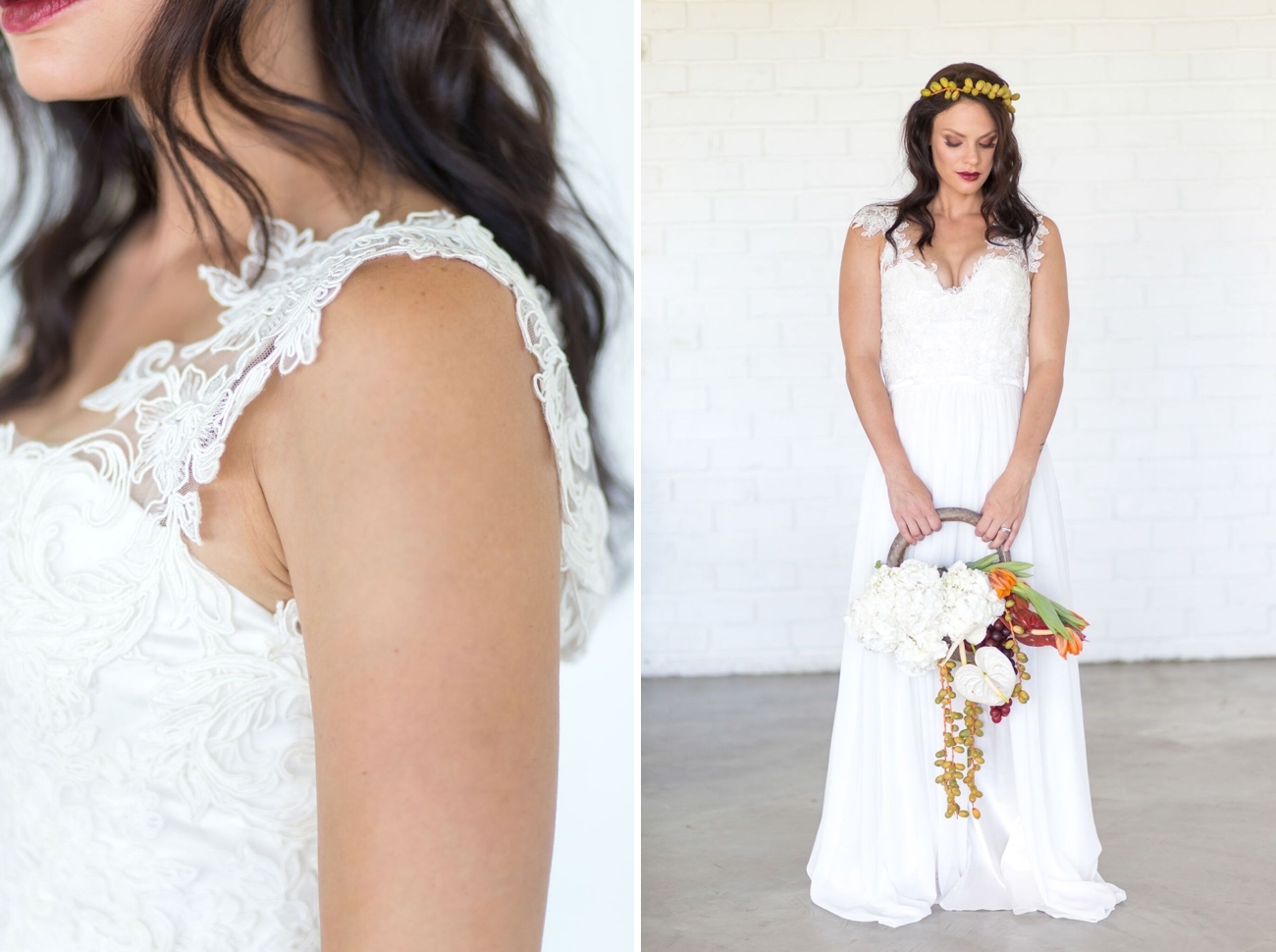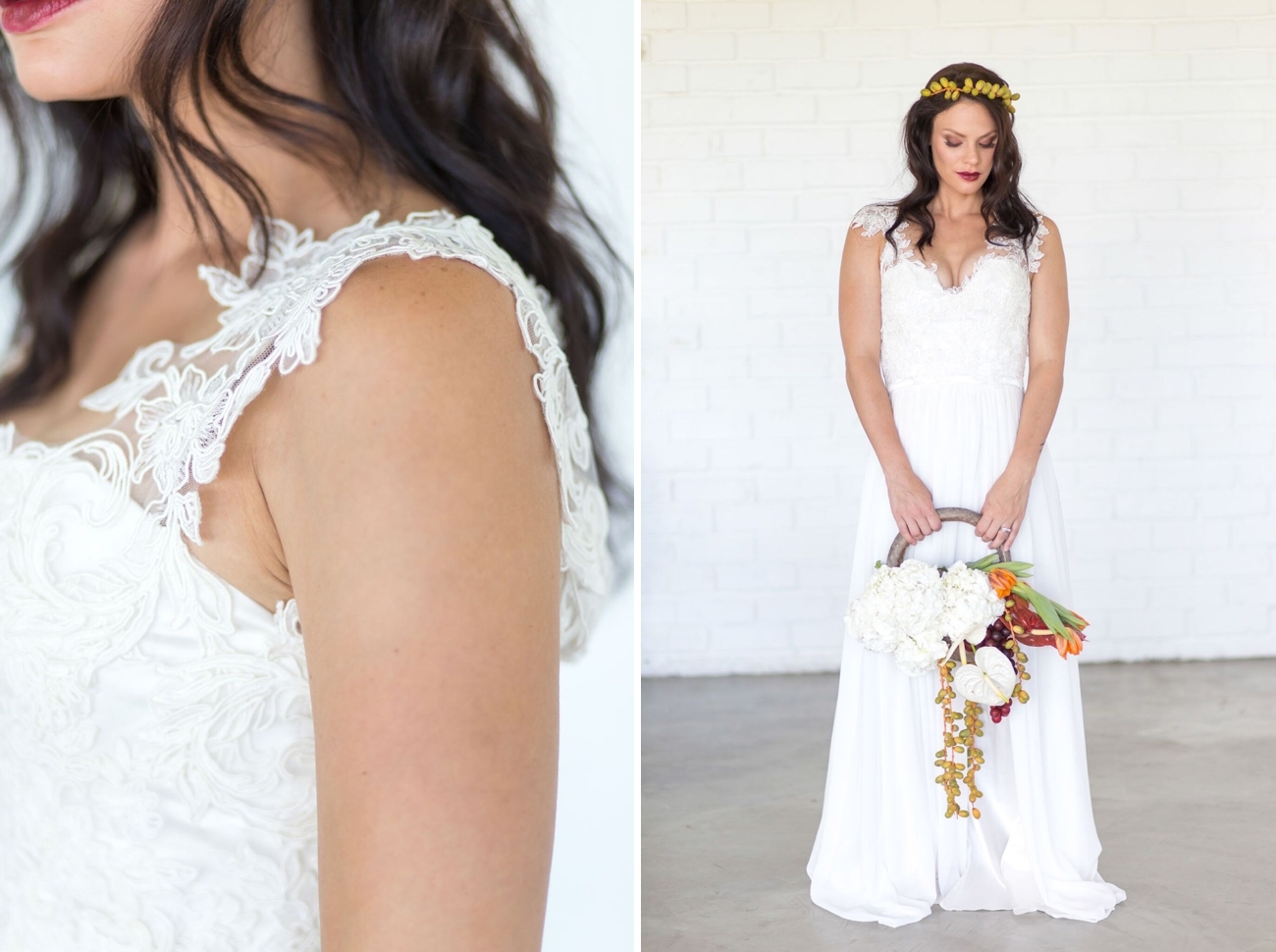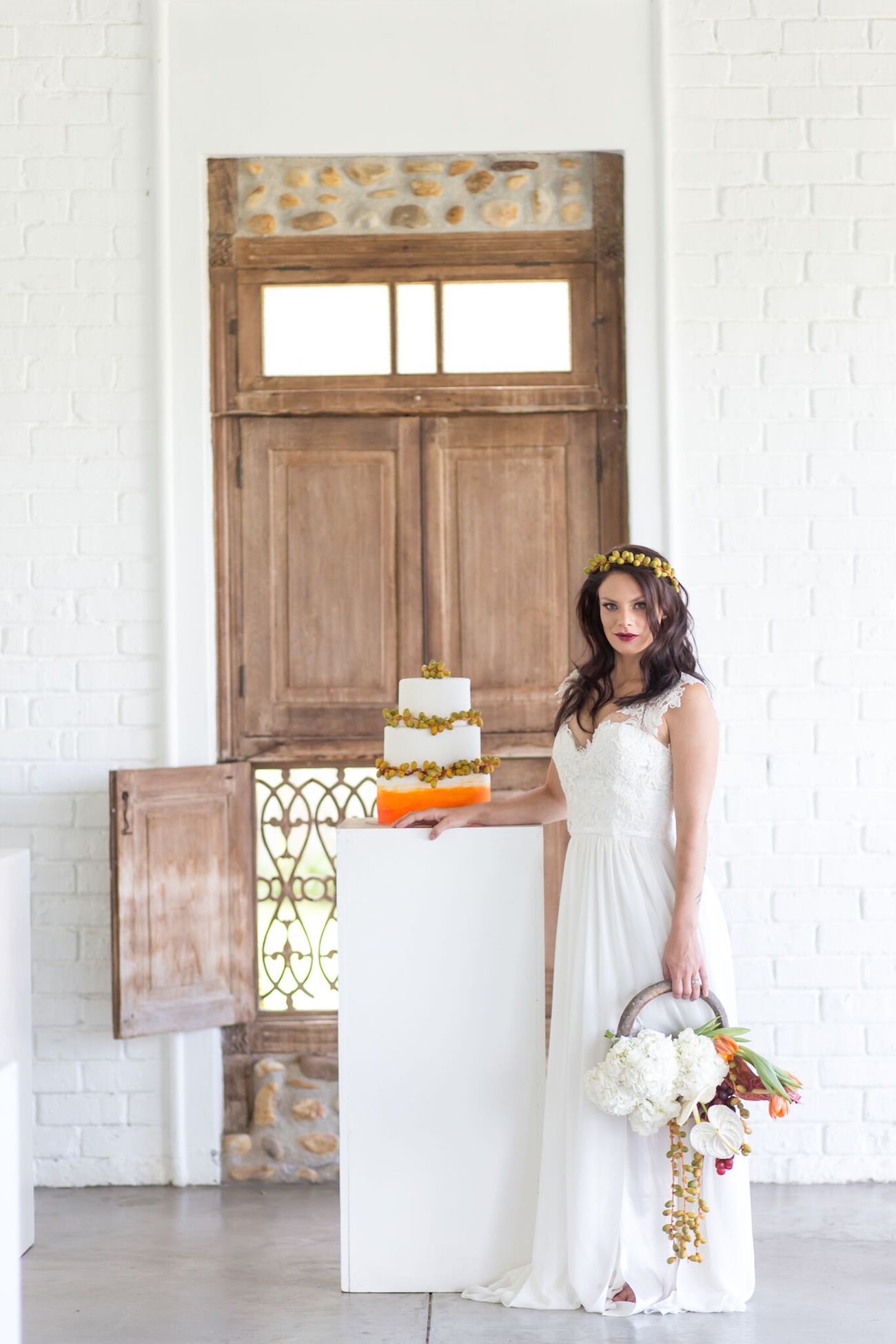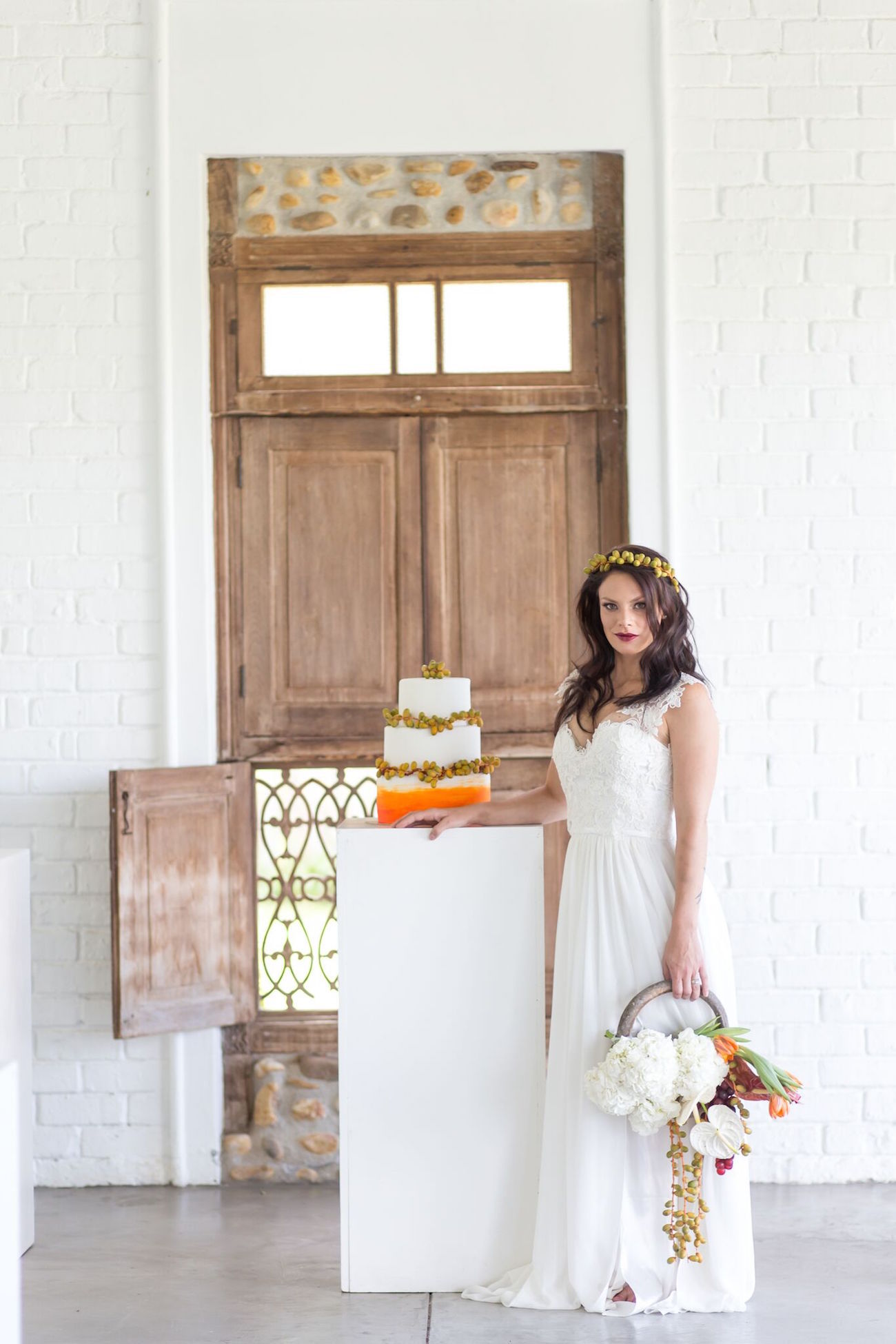 SERVICE PROVIDERS
Photography: Alicia S Photography | Styling, flowers & decor: Kadou Decor and Flower Design | Stationery: Lieflingkind Design | Cake: Le Petit Four | Dresses: CDB Chantel de Bruyn – Design Create Inspire | Hair & makeup: Skoonlief | Venue: Brenaissance Wine & Stud Estate | Model: Cheri Bjornstad
Save