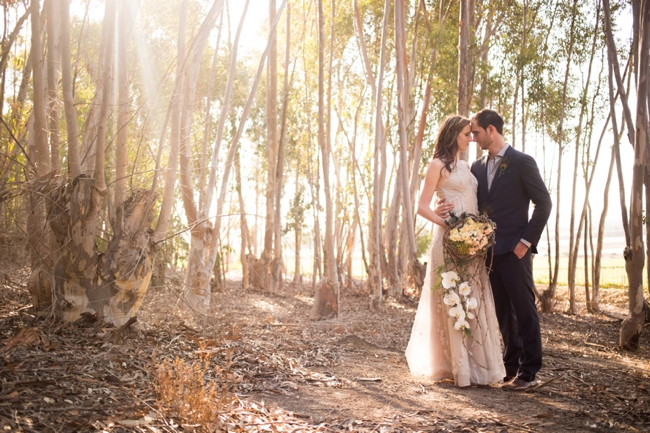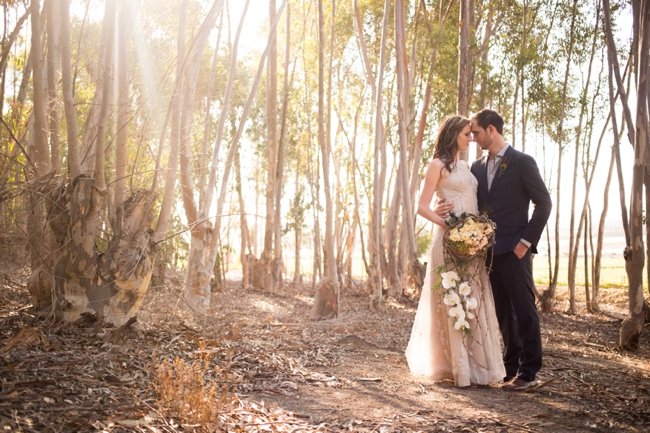 We're coming to the end of our month of organic, farmer's market, farm-to-table, generally rustic content, but before we do, we have a special wedding to share with you that has a completely unique take on farm weddings in general. When asked to describe the feeling she wanted to create for her wedding to Jake, Khanya came up with the word 'abundance'. Abundance in food and drink, abundance in joy, and to reflect that, a feeling of plenty in the decor and design. Together with her interior designer mom, she interpreted that as a sort of farmer's feast, decking the tables in vegetables instead of flowers, carrying a stunning bouquet that referenced the bird motif that was included throughout, and even having a few feathered friends peeking through the greenery or perched on urns and vases. It sort of reminds me of a harvest festival from a few centuries ago, but with a modern refinement, of course, and it's safe to say we've never seen anything quite like it! (Plus, we're in LOVE with Khanya's gorgeous dress!) To make it even more special, the venue was the groom's family wine farm and an event space that was created just in time for the wedding, and the images below are all from Lilys and Horns Photography, who also happens to be one of the bride's BFFs.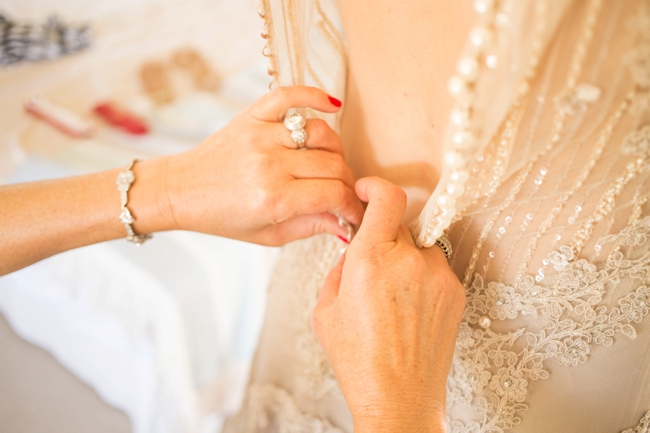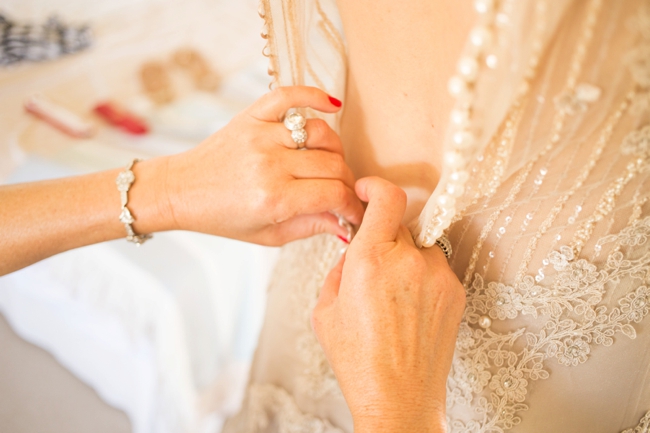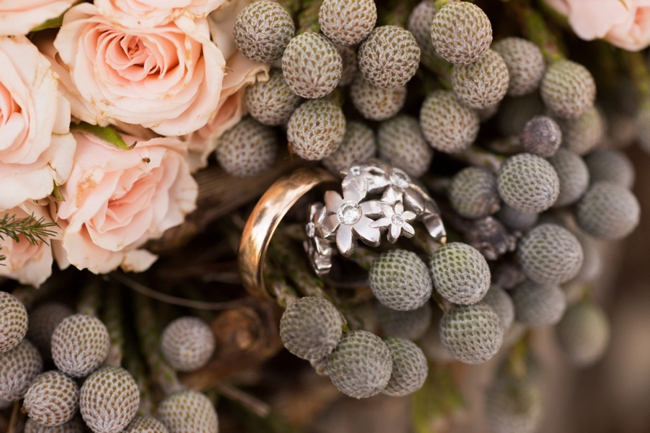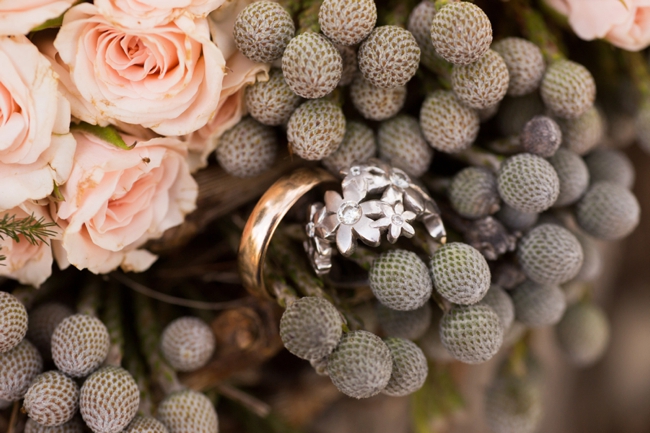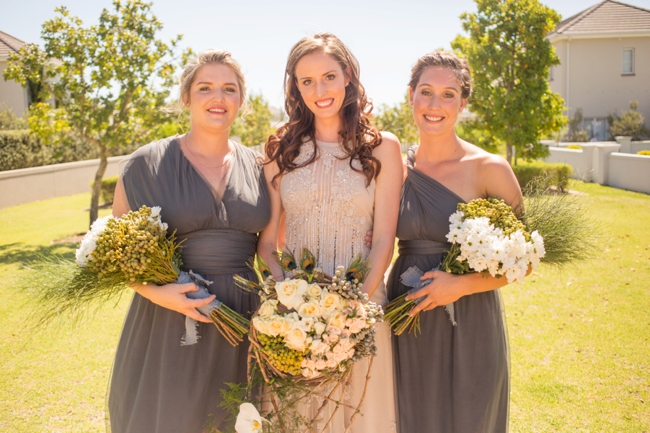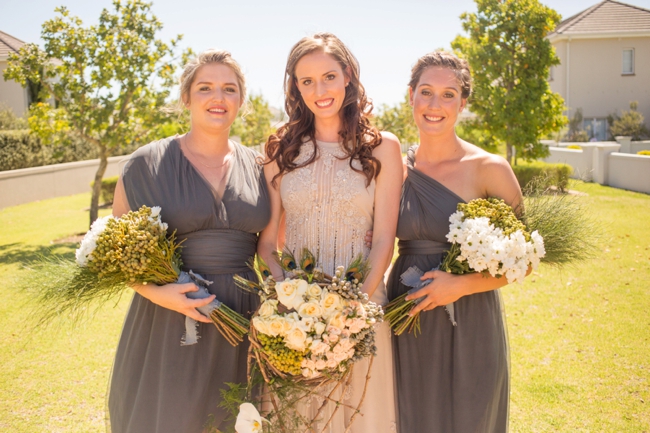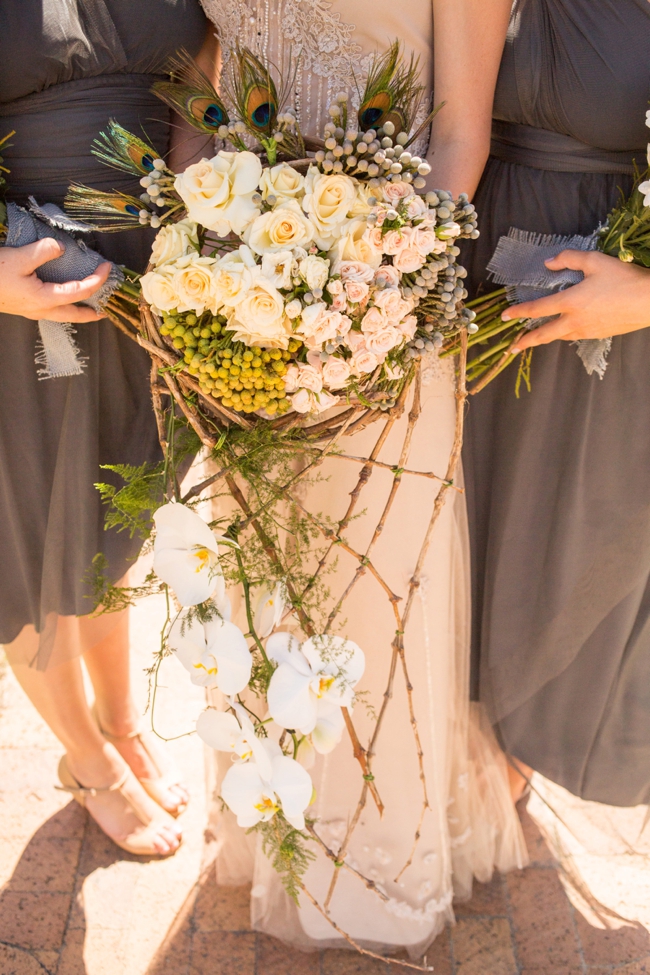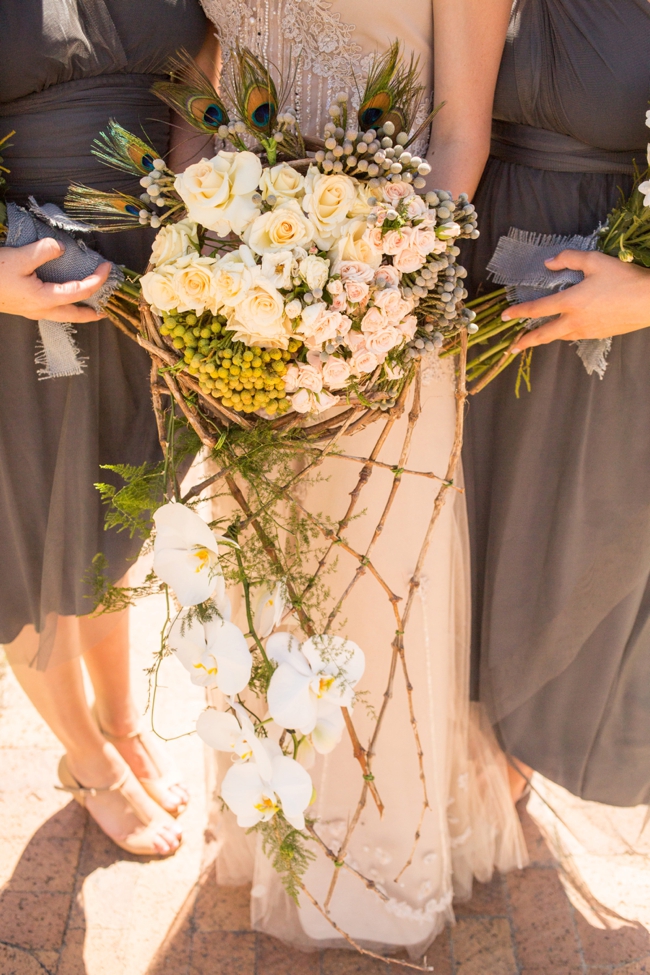 Love Story
We met at Stellenbosch University, when Jake walked up to me in the street at the event named Trollies. After bit of romance and some determined pursuit, I finally acknowledged Jake as 'the boyfriend'. He is three years older than me and he was in his Honours year of Physics while I was in my second year of Civil Engineering. Both in Stellenbosch residences (Helderberg & Irene), we enjoyed Stellies together and lived by the motto 'work hard, play hard, and go on dates often'! Jake graduated and got an Erasmus Scholarship to do his Masters in Belgium. I popped bubbly, already in love, and we decided to try long distance. Lots of highs and lows, missing each other, difficult studies, exciting research, and THE most unforgettable holidays. Jake survived Belgian education, I waxed my skripsie, and we were finally together again! We headed off to Pretoria to move in together and start new jobs in the big city. Jake couldn't wait to marry me, so he started hustling diamonds, liaising with jewellery designers and planning surprises!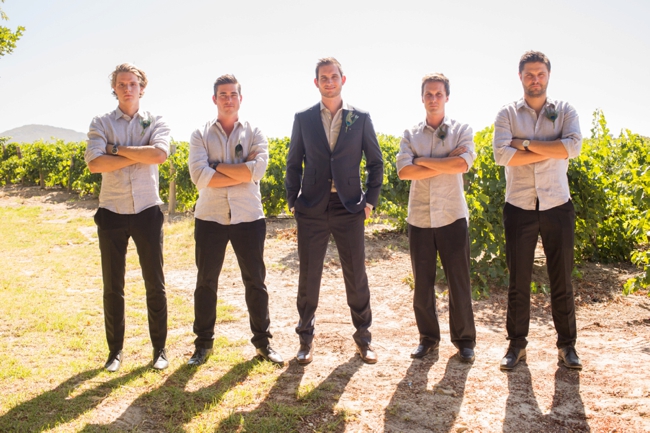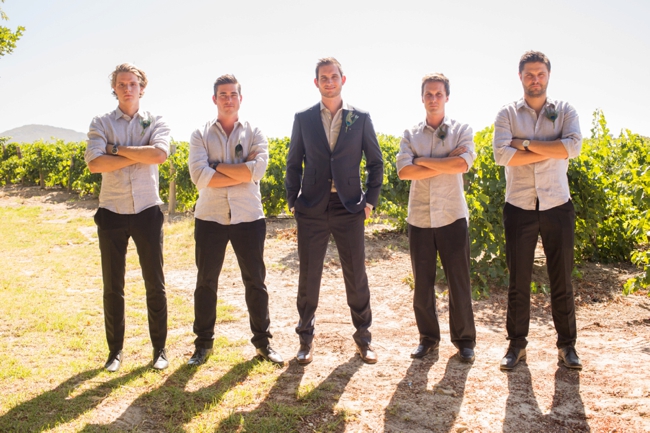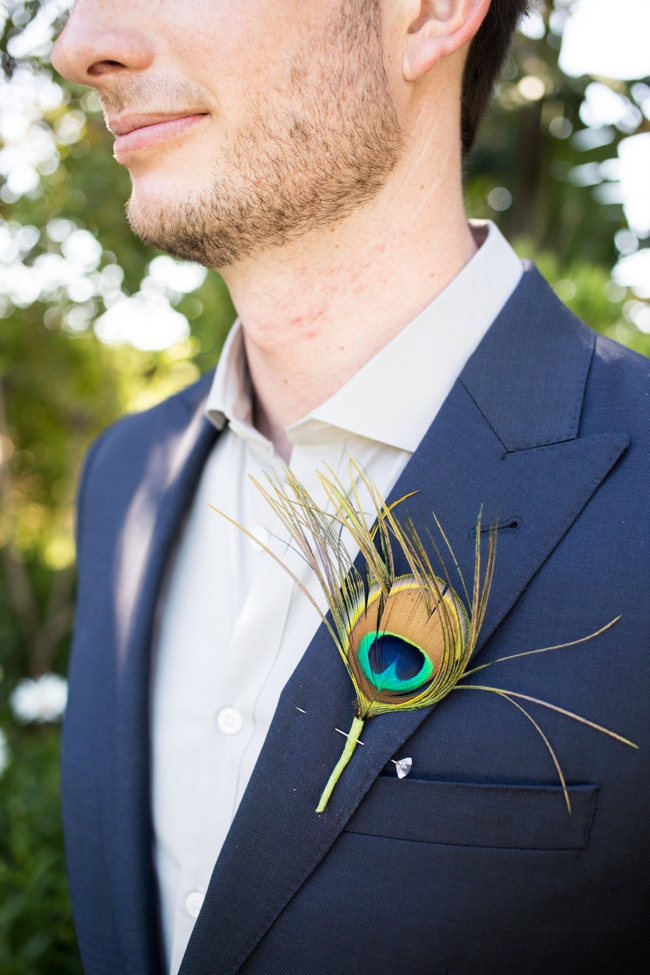 The Proposal
He proposed one Friday evening. I came home after a particularly bad day at the office to find Jake already there, but since he had taken my keys that morning, I couldn't get into our flat. I yelled from the security gate for him to open up. When he came to the gate he handed me a scarf and told me to blindfold myself. Very bewildered I put it on and demanded to be let inside. Little did I know Jake hadn't been to work that day and the power had been out since six that morning. He led me into the sunroom where it was decked out with candles, but the power was out so I thought nothing of it. There was a bottle of bubbly, but because Jake's parents are wine farmers we often drink champagne. He had cooked up a storm with a delicious platter of haloumi, chorizo, artichokes, etc., but Jake is a terrific cook, so once again I thought nothing of it. I settled in and started to moan about my day. I realised he was wearing a tie, so I commented that he looked very smart and carried on talking. I don't think Jake said a word. At six he looked down at his watch and announced: "On to phase two", blindfolded me again, directed me into the lounge and sat me down in a chair at the table. As he undid the blindfold he was on one knee and I could not stop crying. Mid-proposal, the power came back on and we had a good laugh before he continued with his speech. He had proposed with diamonds that were the perfect size for the ring I had my eye on because he had liaised with the jeweller. He could not wait any longer. He had cooked up a meal, representing all the places we had been together: caprese salad from Italy, prawns from Mozambique and wine from France. After dinner he told me he had another surprise – in the bedroom was a bag packed with both our passports and a stunning itinerary he had designed for our engagement weekend down to the Cape to go spread the news to our parents in person and hand in the diamonds at the jeweller (Penchant, in Franschoek). I was completely overwhelmed and overjoyed.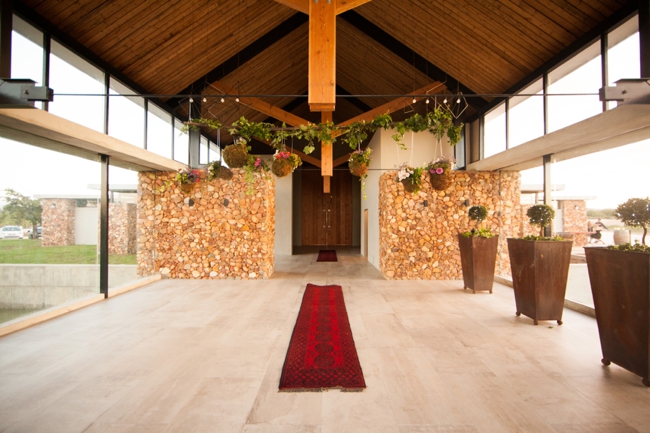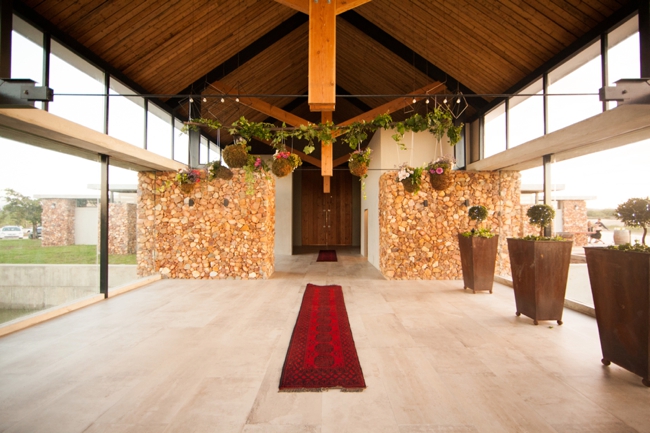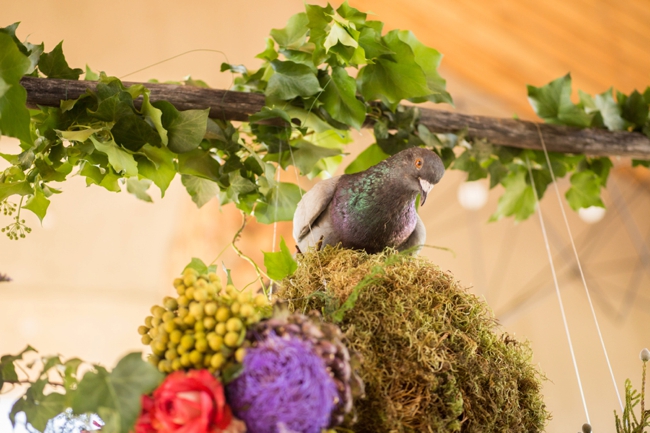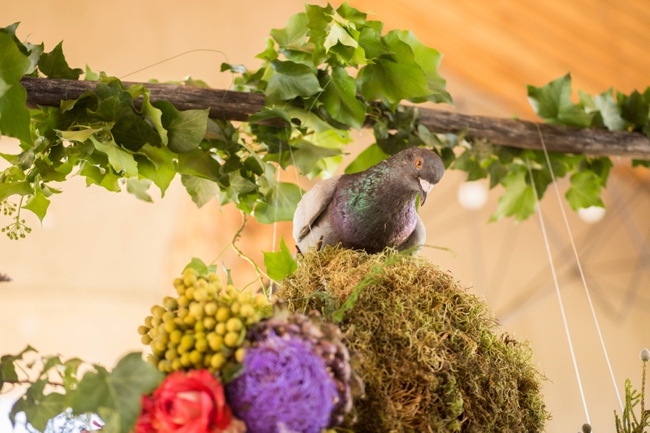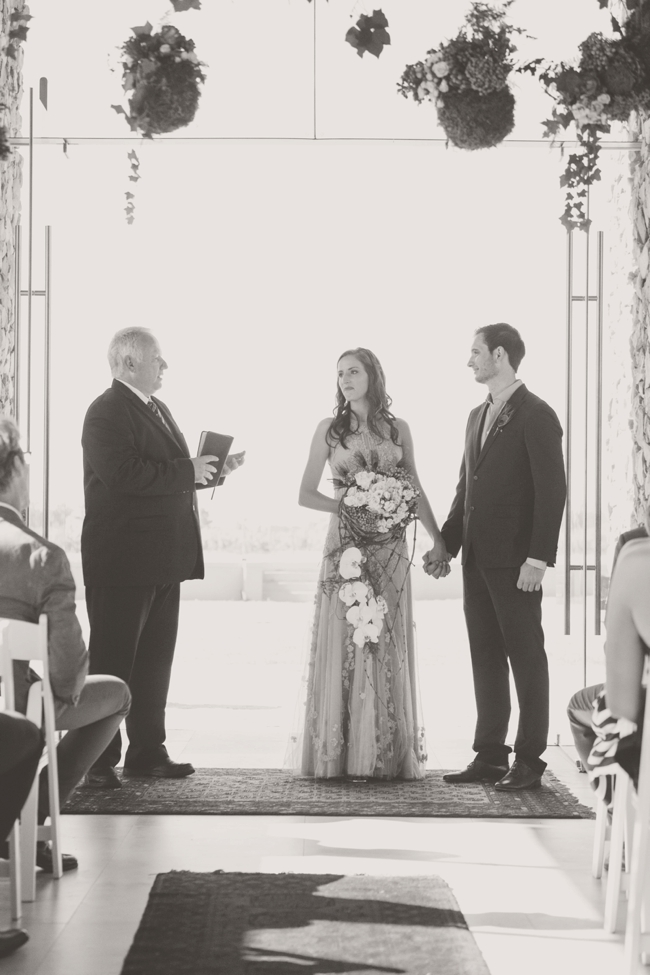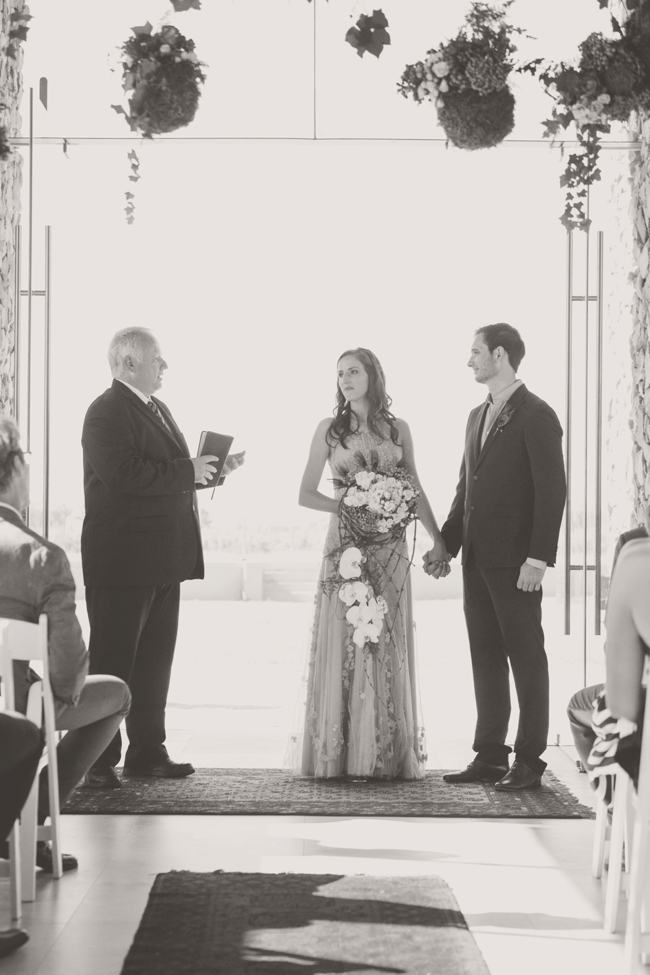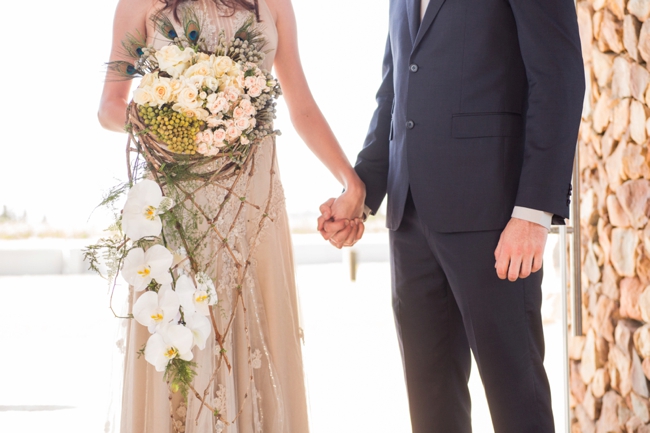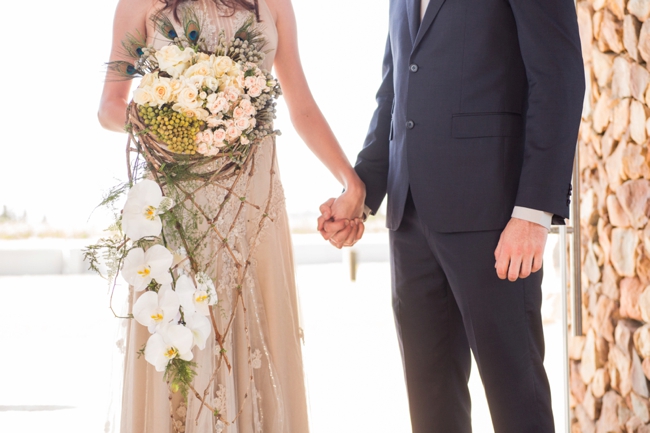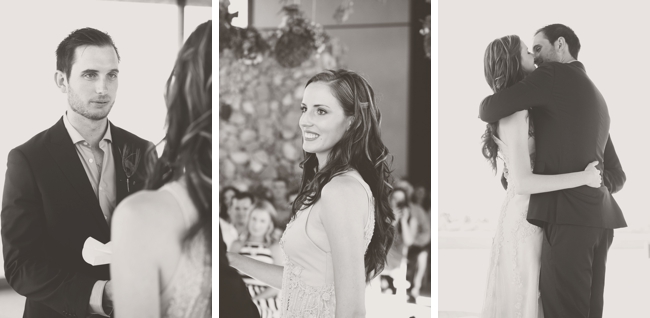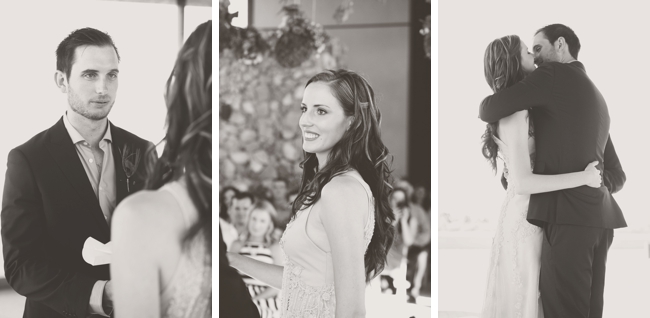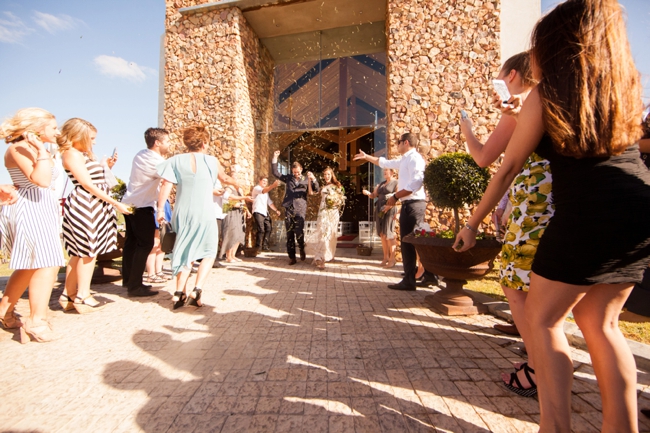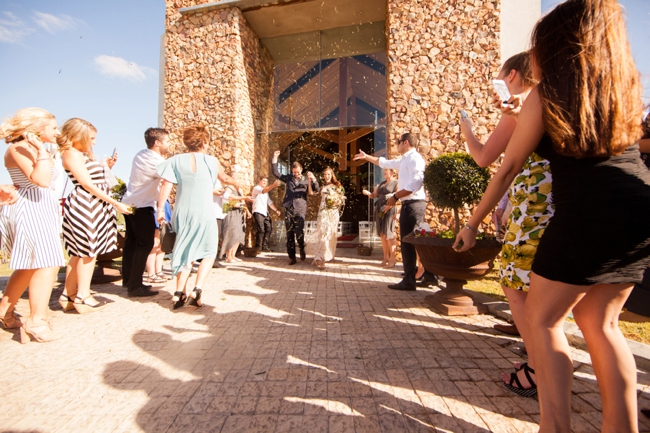 The Venue
The wedding was held on Jake's parents farm, Anura Vineyards in Stellenbosch, which was very important and symbolic for him. I have the nickname "Bos nymph" and I was delighted to host it on a stunning farm in the place we met, Stellenbosch. His parents started building a conference centre/wedding venue at the end of 2014 and when Jake popped the question the following year, Tymen "Jake's dad" took it as an instruction to finish the venue in time. It was pure pandemonium as his family raced to finish while we gave him three occasions to pull out before we started to fix the caterers, tables, chairs, flowers, etc. But Tymen was adamant. We were so blessed to be wed in such a drop dead gorgeous, earthy venue. It was far beyond our wildest dreams.
Wedding Style
My mother asked me at the start of this journey: "What would you like your theme to be?" Not being a girl that dreamt of her wedding day, I said "Abundance". I wanted everyone to be enveloped in the abundance of love and friendship in the room. Immediately my dad's shoulders dropped and his wallet started to squirm. We had to be clever. I wanted it to be organic, yet romantic and one big feast that everyone had come to share in. Together with that I demanded that there must be taxidermied birds in the decor, not as a focal point but as part of the scenery, bringing the outdoors inside and feeding my fascination with birds which started when I was young and hand raised four ducklings just like 'Fly Away Home'. My mother is a very talented interior decorator (Old Farmhouse Interiors) and was a huge part of the look and feel we wanted to create on our wedding day.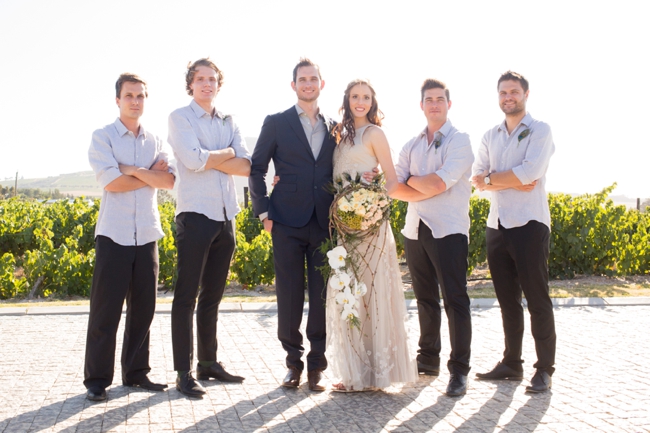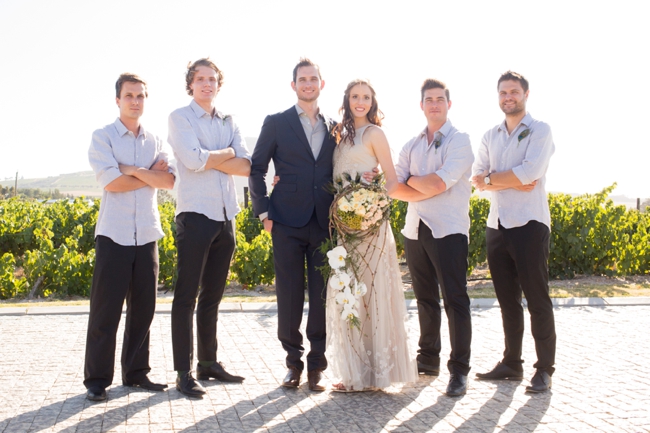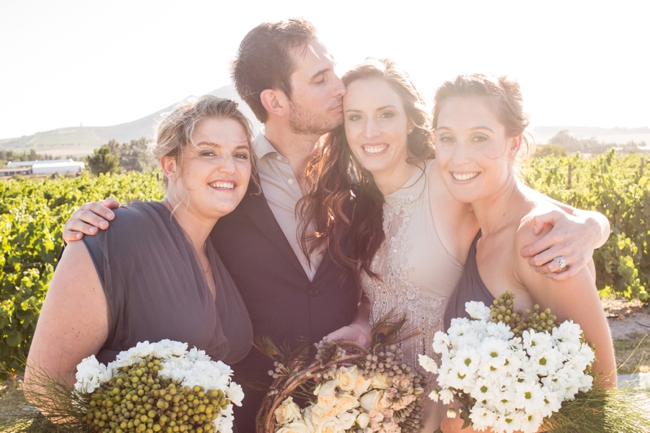 Wedding Details
My mom made the gorgeous Hessian table cloths, covered by a linen one and all 110 linen napkins. This was something I wasn't willing to skimp on as it was a big part of the Abundance feeling we wanted to create. I wanted as few flowers as possible and as many veggies as possible because I loved their colours and wanted my guests to join in the harvest and take the veggies home to enjoy over the festive season with their families. It worked out quite nicely as all the guests had a story after the wedding of where the veggies landed up. The taxidermist birds were a dream of mine. I wanted to bring the outside inside and let them be part of the feast like a real farmhouse. I wanted organic and real. I loved the gorgeous name tags with the birds on them, complementing the gorgeous tones of the tablecloths.
DIY Elements
As well as the linens, my mom made my bouquet, the bridesmaids' bouquets, all the flower arrangements, the table settings, and the arch for the ceremony. The favours were flower seeds in envelopes with our logo spray painted on by Jake's mom, as well as our favour bags. The dessert table was done by friends and family. A huge table overrun with delicious real homemade treats. Huge blocks of fudge by a family friend, Rocky roads by grandma, chocolate wheels by my mom and a cheese platter by my sister in law, and tons of fruits. Jake organised a whisky bar with all the single guys bringing a bottle of whisky to the bachelor's. So you could choose and pour your own whisky, and there was also a wine table with Anura's wine, where you could taste and pour a glass or take a bottle to your table. This worked really nicely.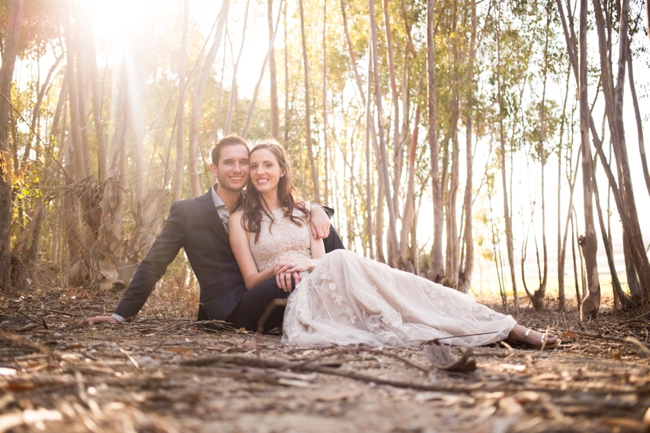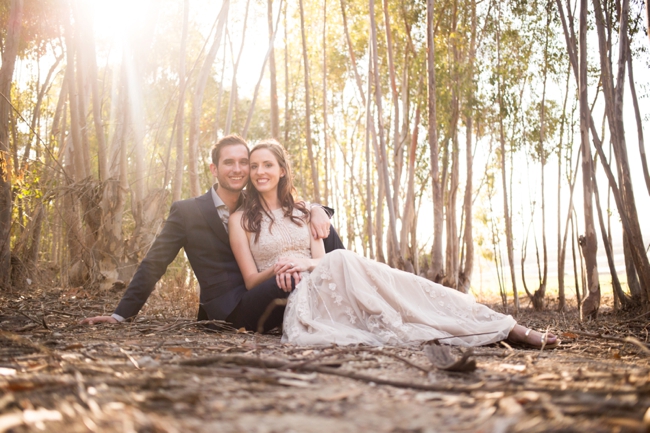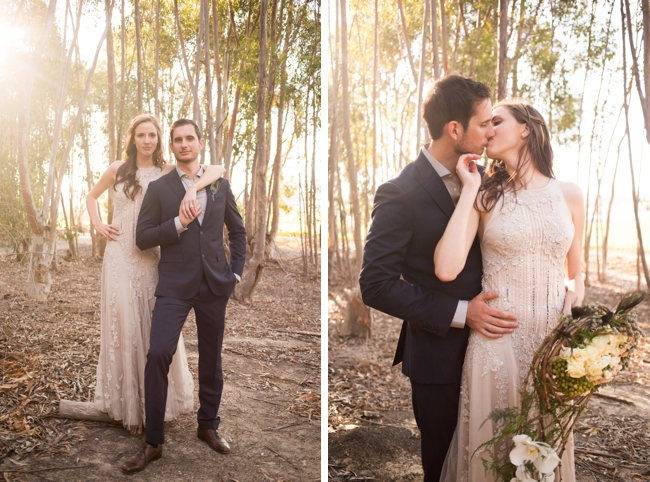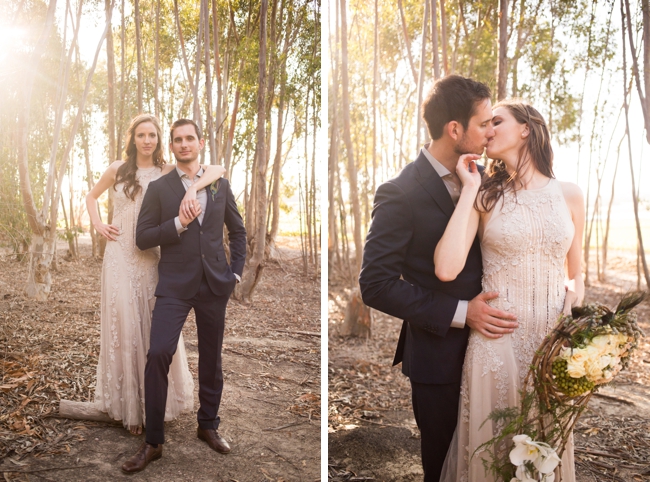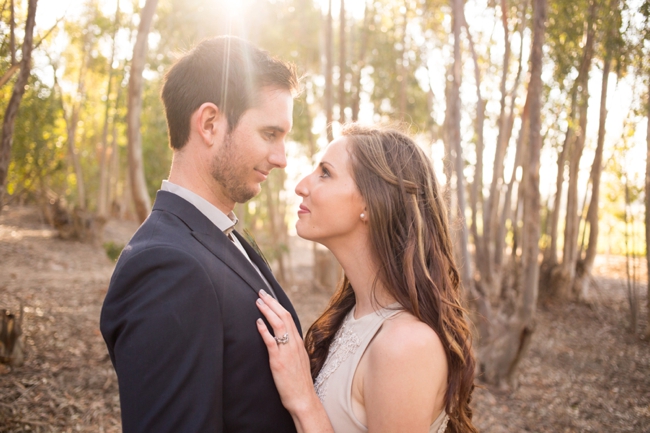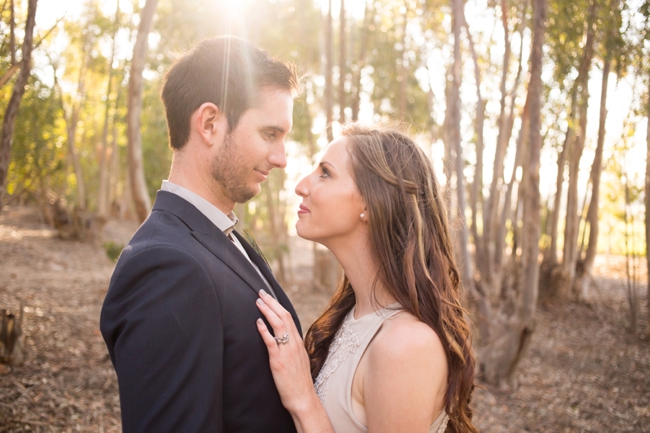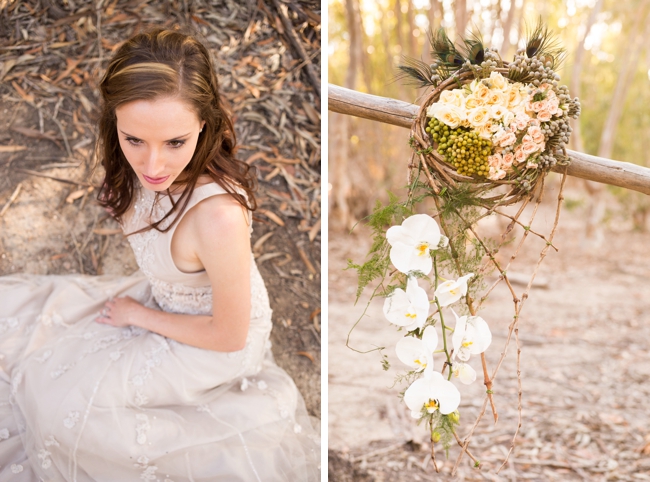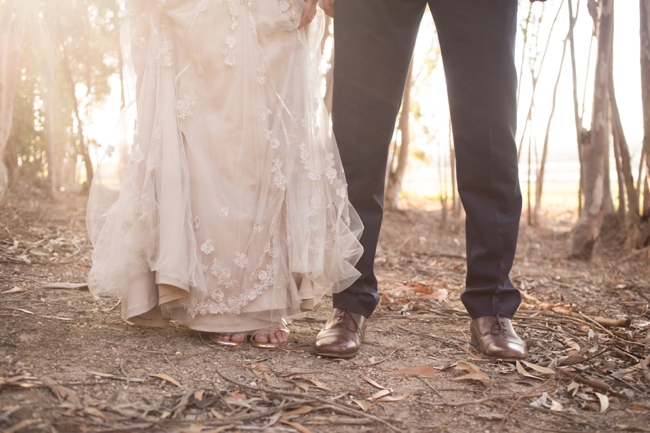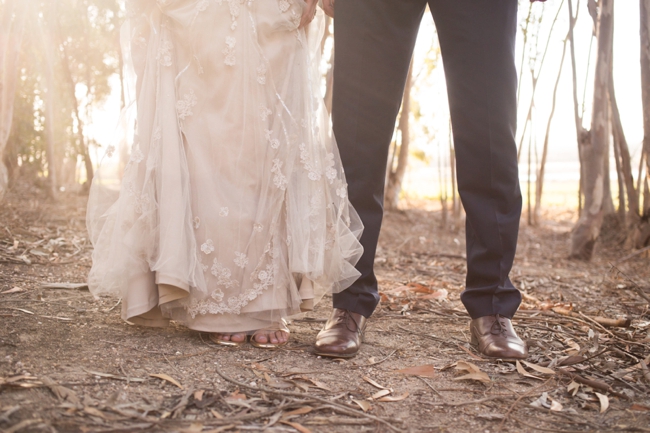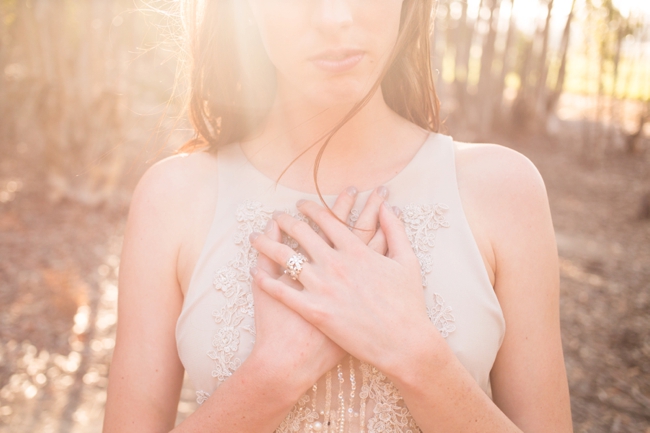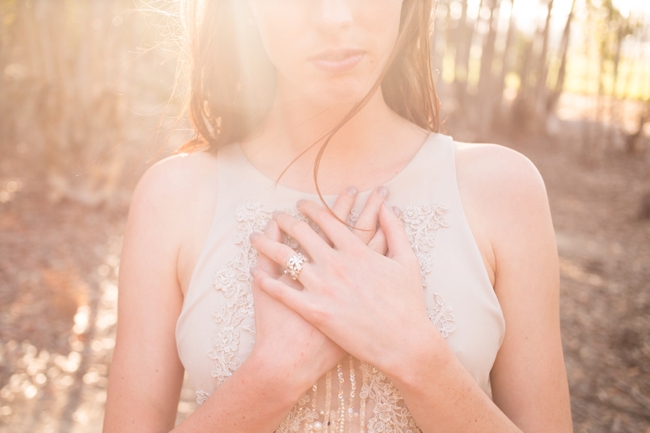 The Dress
I have a very unique style. We started to look around and were unimpressed by what there was on offer in the price range we considered reasonable. Desperate for someone with the same flair and raw fabrics, we called up Karen ter Morshuizen – a family friend and designer (LUNAR) for my mother and I for a long time, who also made my matric dance dress. We knew she had left her studio, but when we called her up, she said there was no way anyone else was making my dress. We were elated! I showed Karen the dress I had been eyeing for ages, and she immediately fell in love and got to work. She is a genius – it fitted perfectly, and my mother finished up the final beading before the big day.
The Bridesmaids
I had two bridesmaids – they were incredible. They were always available to help and guide me. Bianca had crowns made for each day for me to wear in the lead up to the wedding. They organised the most stunning kitchen tea at Val de Vie.Because they were only two I wanted then to wear the same thing. Eventually we settled on a charcoal colour and decided to get a dress they could wear in any style and wear again. They choose the style they were most comfortable in and rocked it on the day.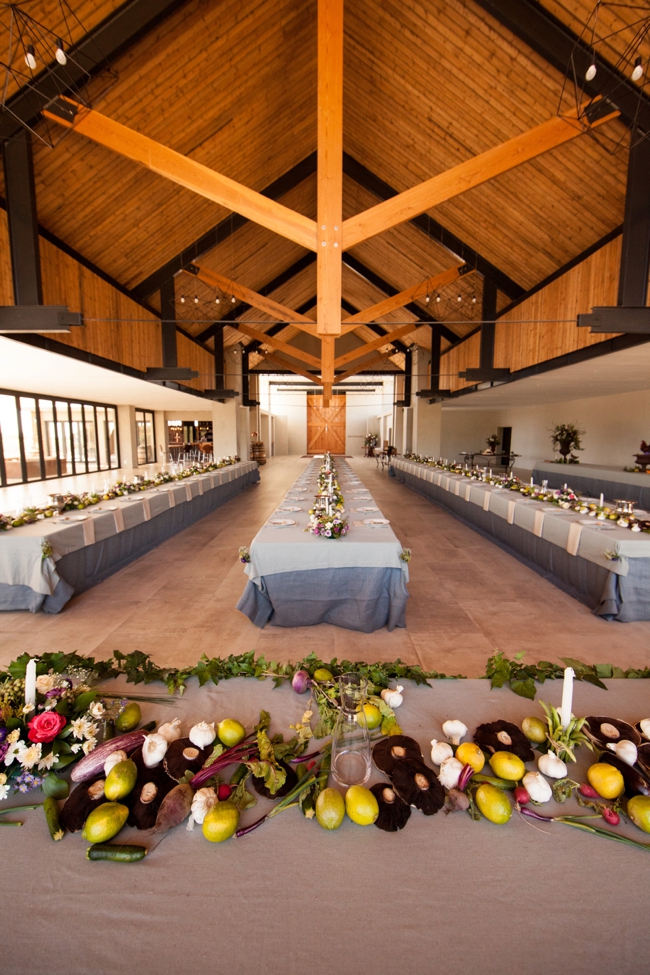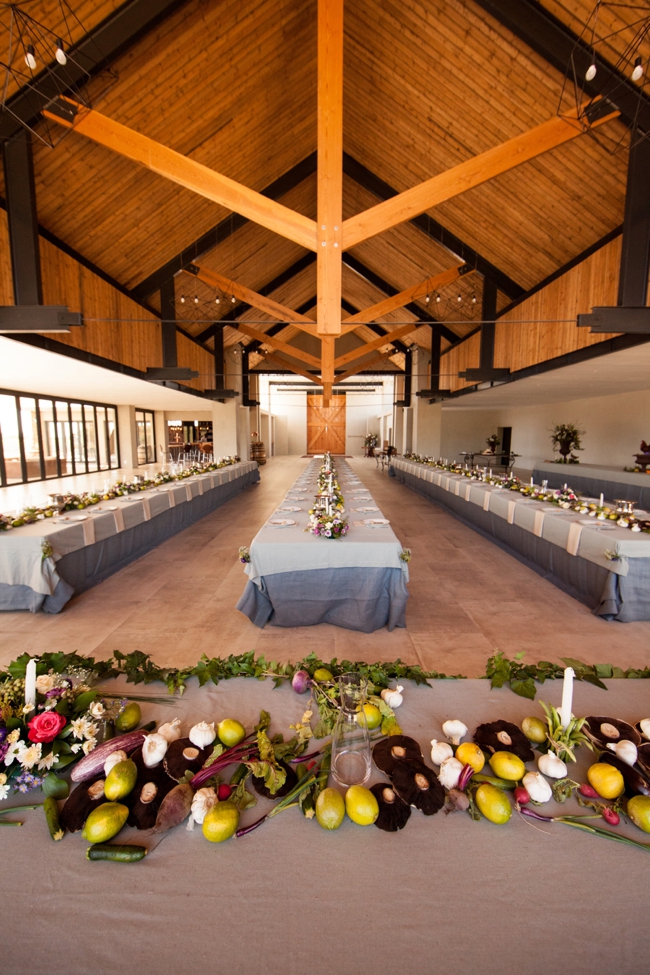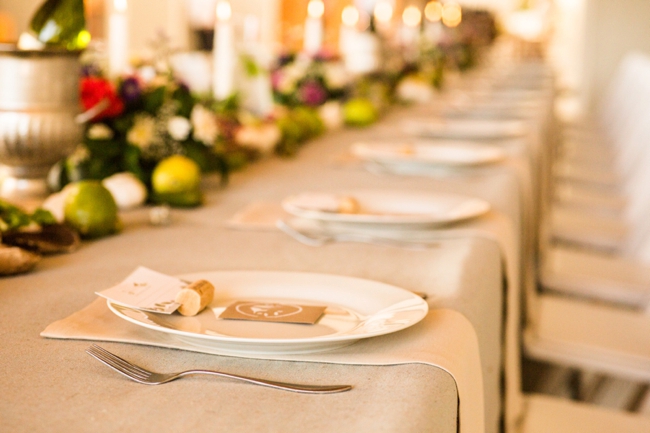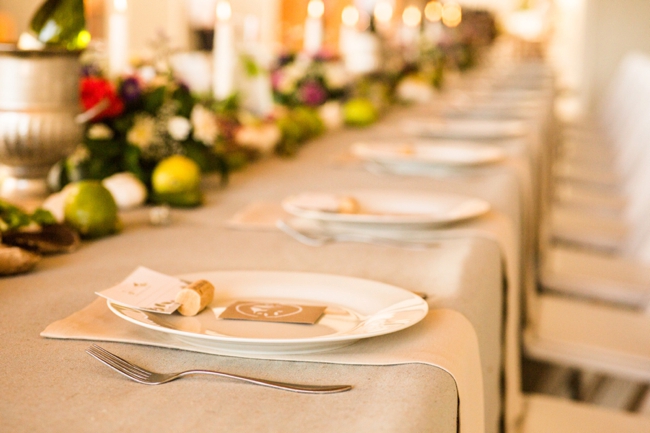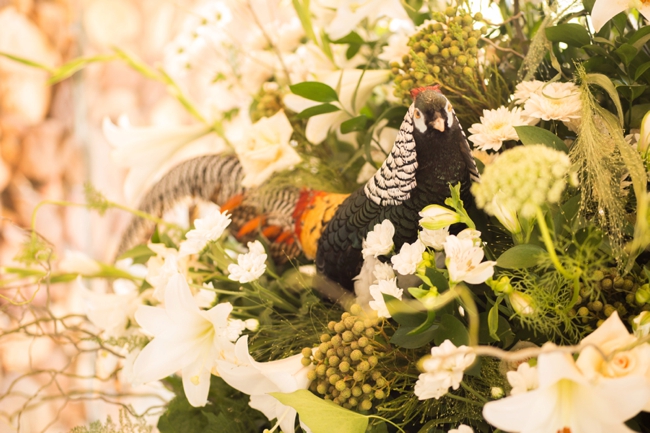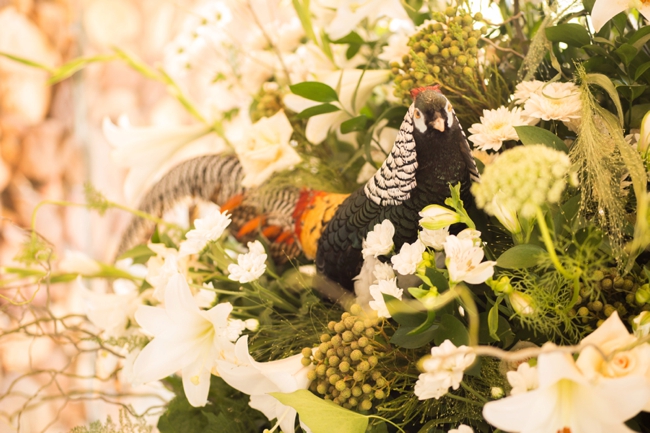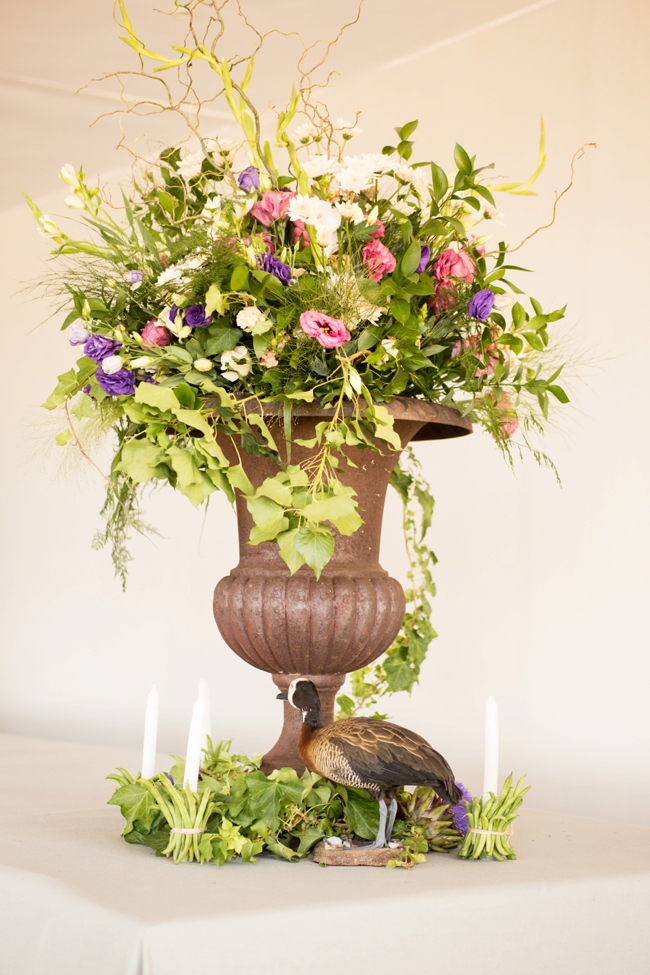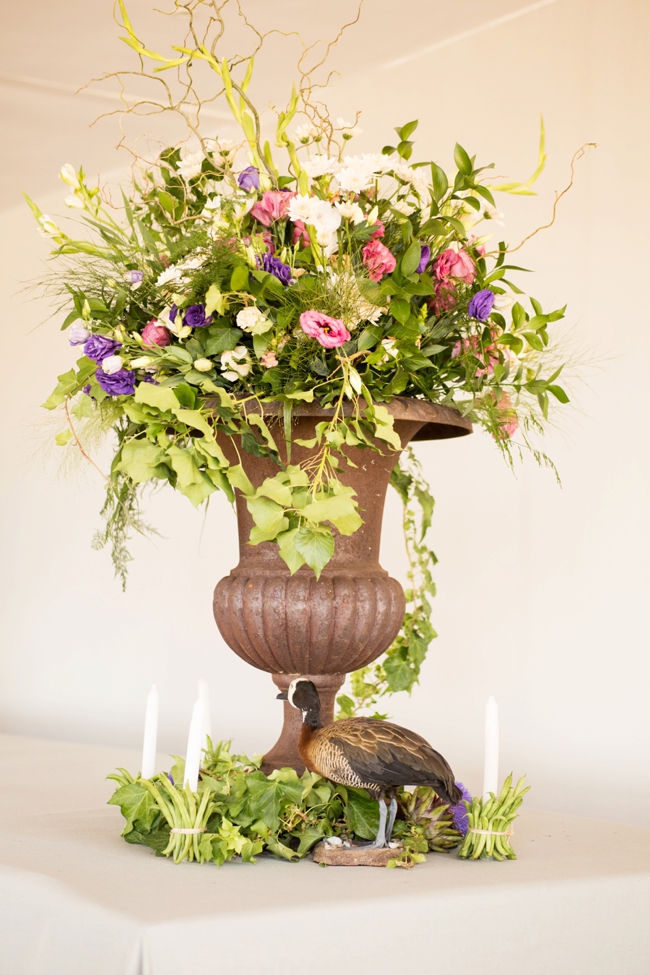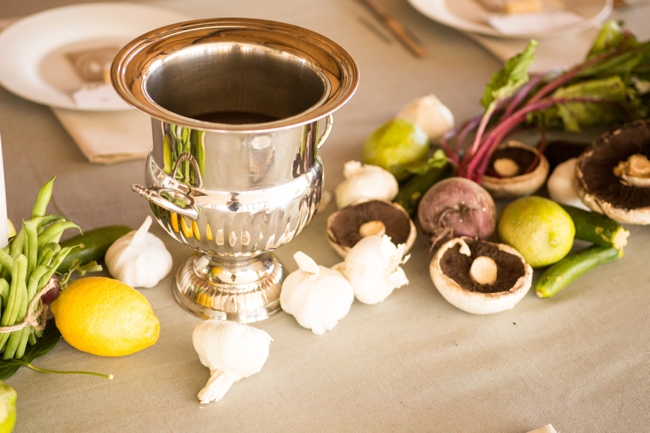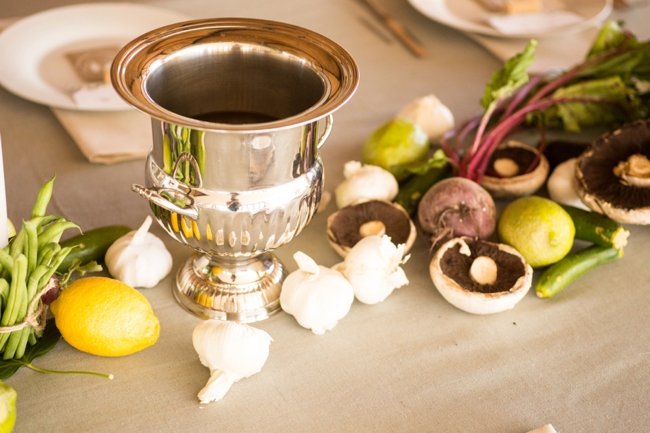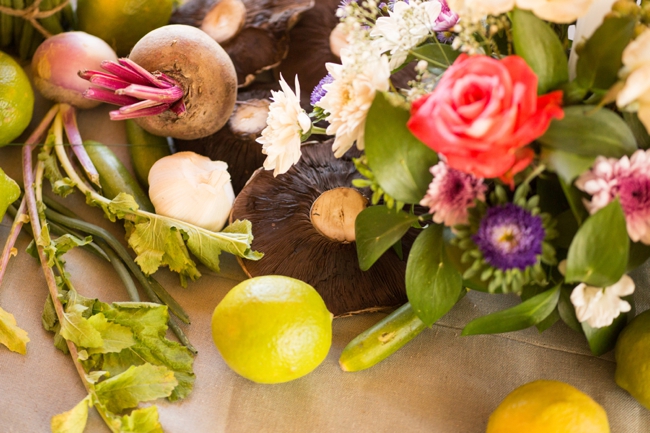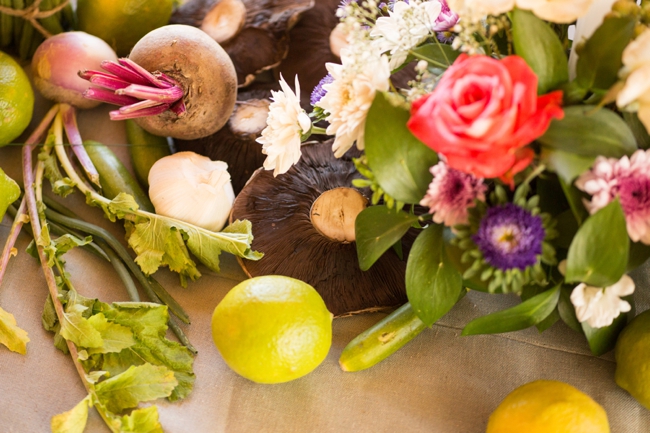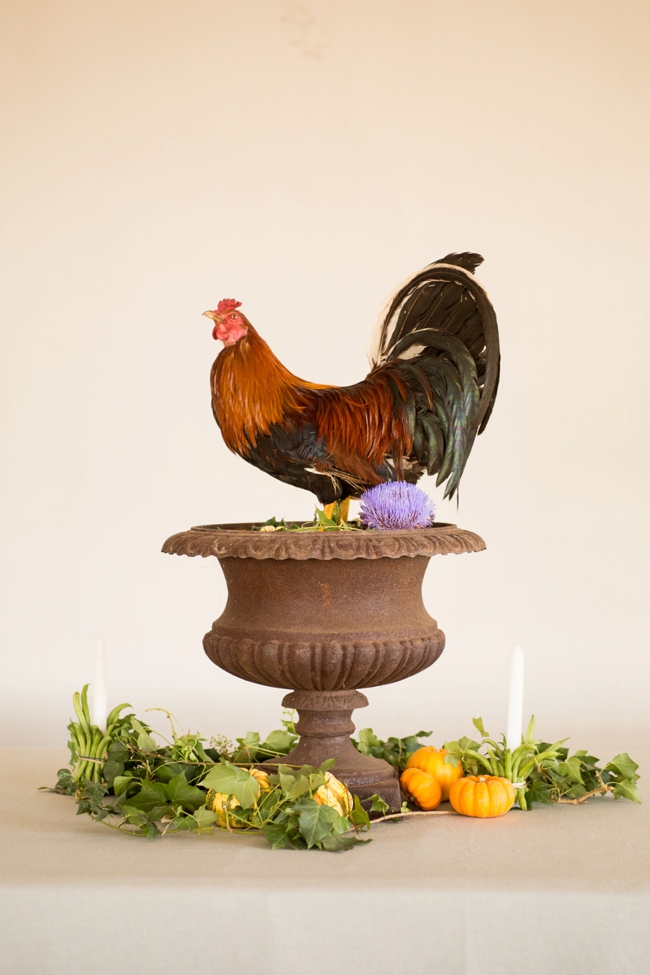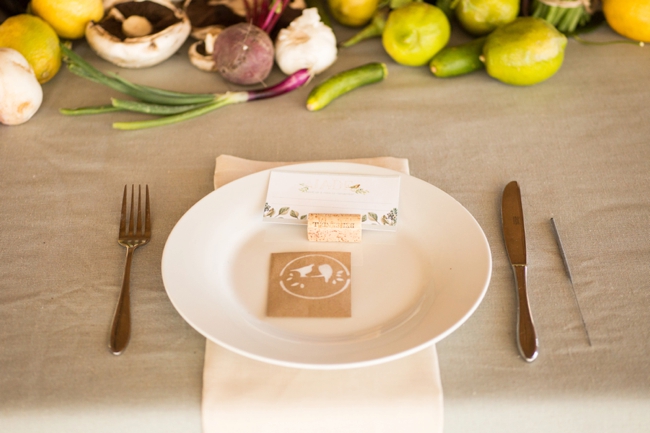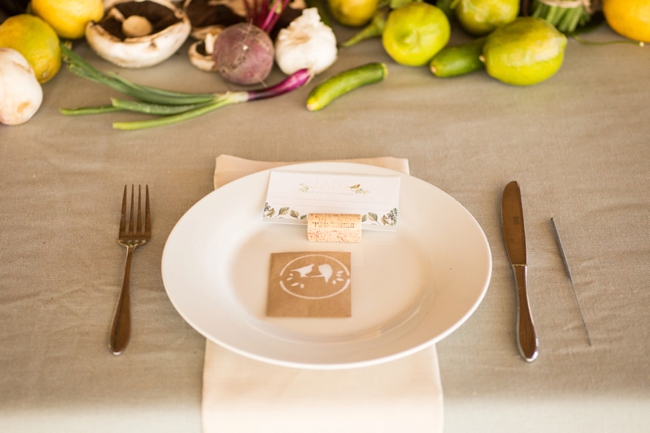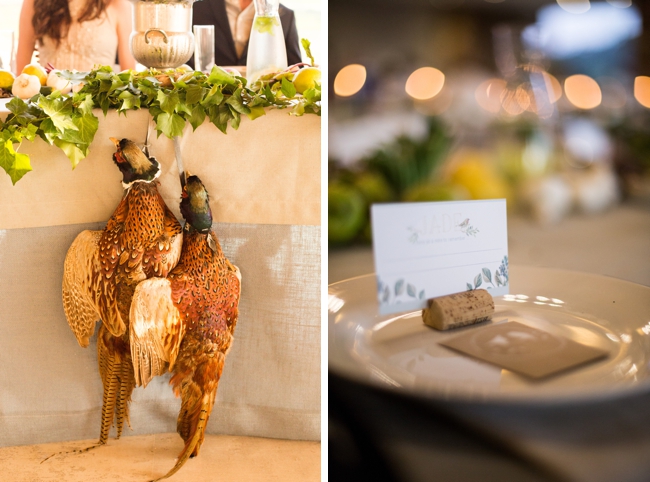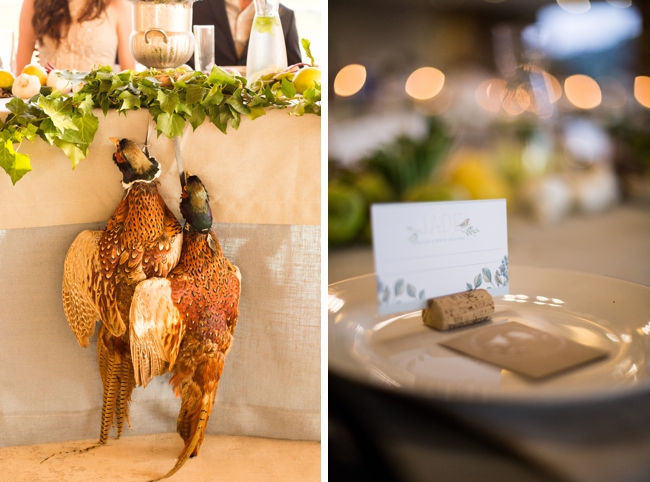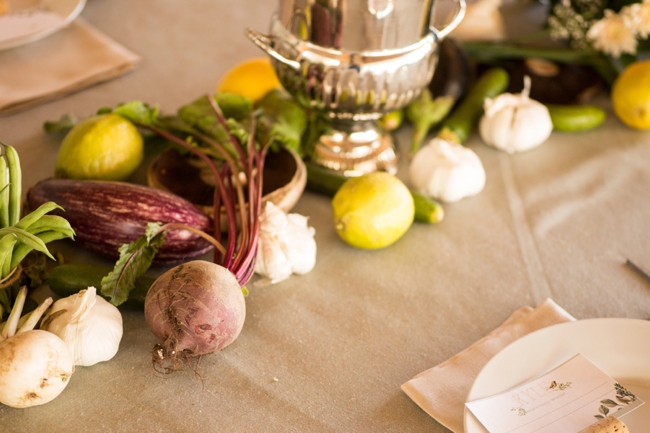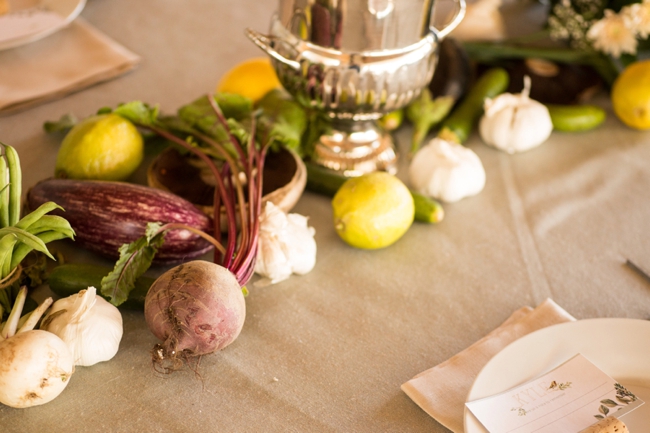 The Flowers
We stayed with the theme of the veggies – mainly lemons, garlic, mushrooms, baby marrows, spring onions, and beetroot. I had roses in the large arrangements but predominantly I had daisies, the same as my ring, because I love them so much. For my bouquet, I wanted the vines from Anura and my mom came up with the stunning design. The birds' colours also played a part in the palette we choose.
Memorable Moments
I remember waking up that morning with gigantic butterflies in my stomach, and fondly remember watching my parents arrive at the house, peeking from the window with my bridesmaids so excited to see them. Standing behind the door before I walked down the aisle and suddenly realising that my song was playing , grabbing my dad's arm and taking a deep breath before I saw my future husband. Later in the night rocking out to ACDC on the dancefloor with my brother and dad.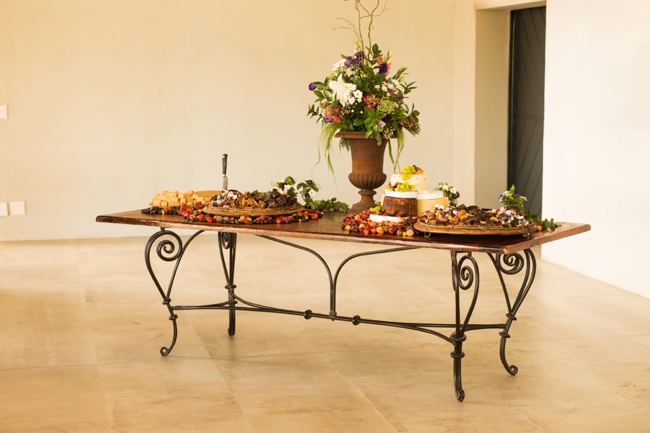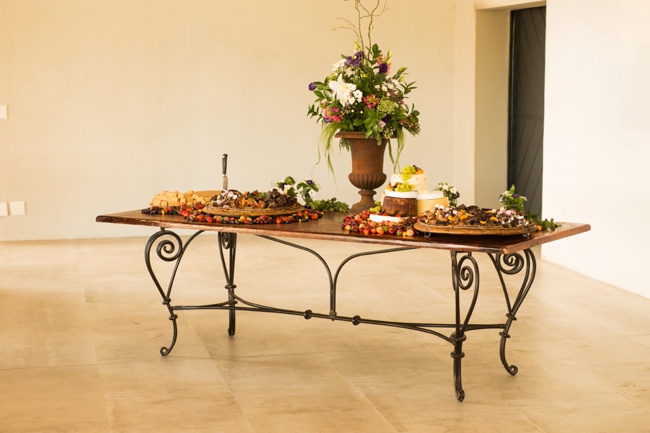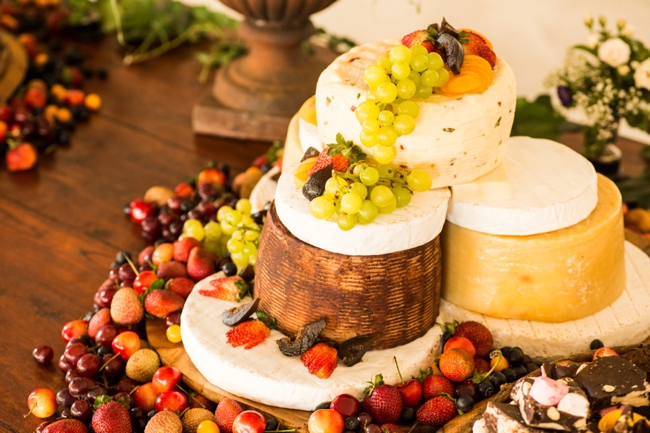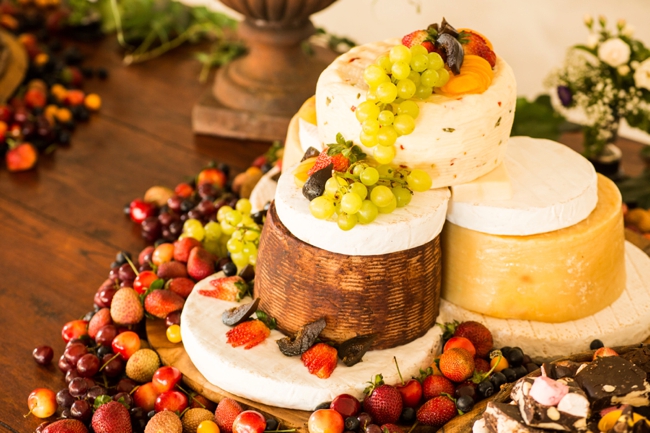 Best Decision
To delegate. I had an incredible team mate, my now-husband. Planning the wedding from Pretoria with both parties down in the Cape was a challenge as well as the tight deadline we had everyone under and the chaos of the silly season in the Cape with regard to vendors. Not to mention the fact that I would be away the whole month of September on a bucket list trip with my best friend and "Professional Photographer" to Alaska. We really had to be creative and decisive. So within two weeks Jake made our website and I had our logos designed so we could fix everyone to a date and have numbers to work with. We made a plan to finalise the large items before I left so that gave us a month to collect quotes and make a choice. Jake took on equal responsibility and helped lighten the load tremendously. I would not have been able to do it without him. And then the colliding of two super forces from my family and Jake's family! Everyone pulled their weight and made it as smooth sailing as possible.Our bridal party was incredible and just helped wherever they could. We wrote up a weekly brief with everyone's responsibilities, as we were doing a lot of it ourselves, and it helped to avoid confusion and to make sure everything would get done.
Advice for Future Brides & Grooms
Whatever you think your budget is, times it by 1.5 at least. There are so many little things you don't think of when you are planning it alone. If you are doing it under a tight deadline don't be afraid to delegate!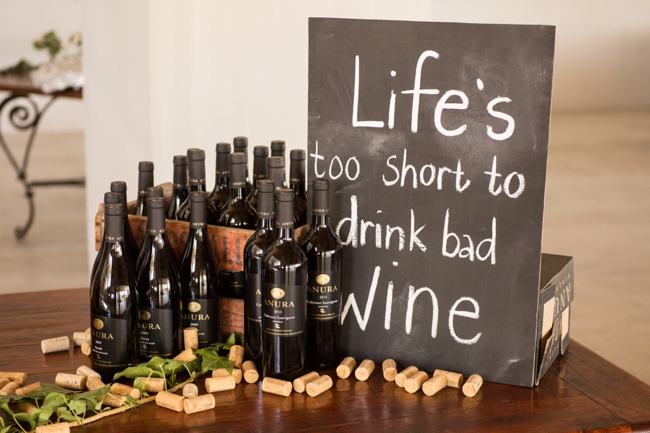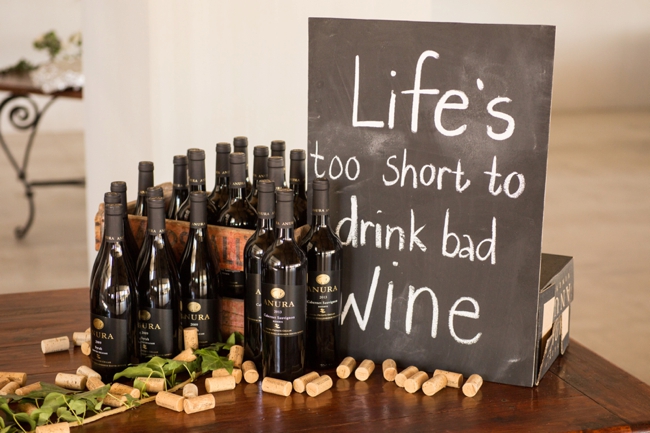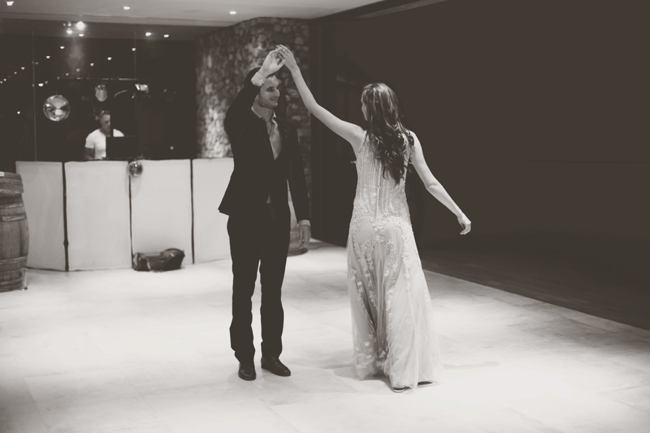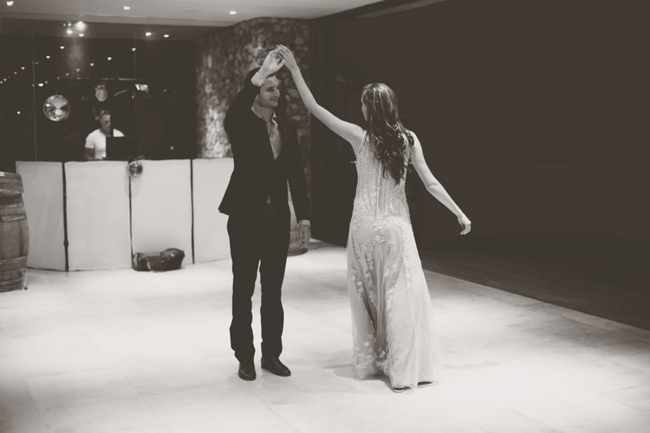 SERVICE PROVIDERS
Venue: Anura Vineyards | Catering: Salt and Pepper Catering | Photography: Lilys and Horns | Flowers & décor: Old Farmhouse Interiors | Stationery: The Kreativ Studio | Bride's dress: Karen Ter Morshuizen | Hair & makeup: Eunoia | Bridesmaids' dresses: Gelique | Groom's attire: Trenery | Hiring: Ten of Cups (tables); Wilgenhof Hiring (chairs) | DJ: Essential Music | Entertainment: Live Music