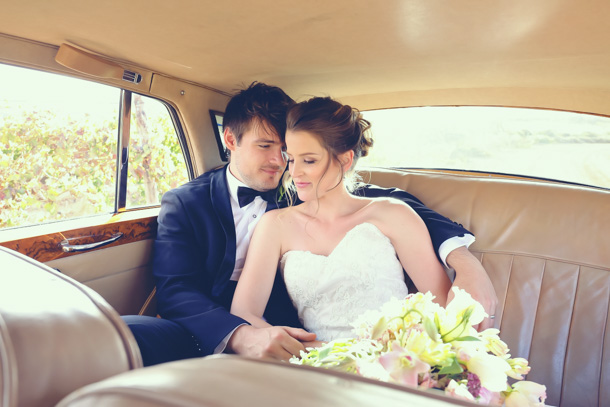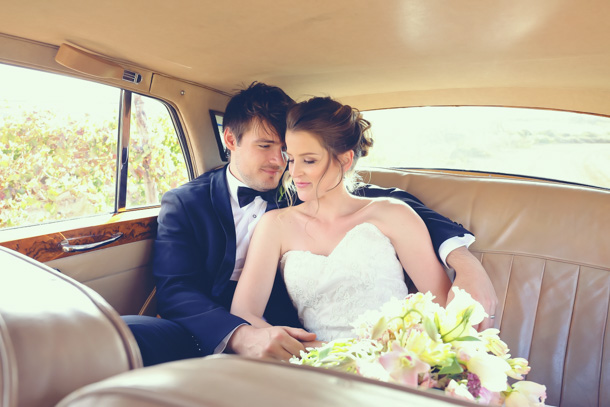 Since we're all about vineyard weddings this month, it's only appropriate that we kick off our real weddings with a winelands celebration, and this bright beauty comes from some of our favourite wedding pros, including Wedding Concepts, Leipzig and Agapé Studio. What a lineup! Lara and Louis opted for a romantic modern style, employing 50 shades of pretty in pink across their flowers and decor, with just a touch of rose gold glitter. Everything about it is stylish and contemporary, but just the right amount of soft and girly too. But the best blush of all, is the blush of love across these lovebirds' cheeks, as they celebrate their best day ever with family and friends and, of course, each other. Beautiful!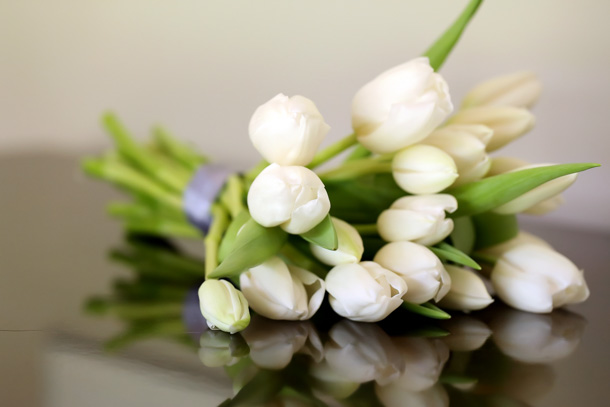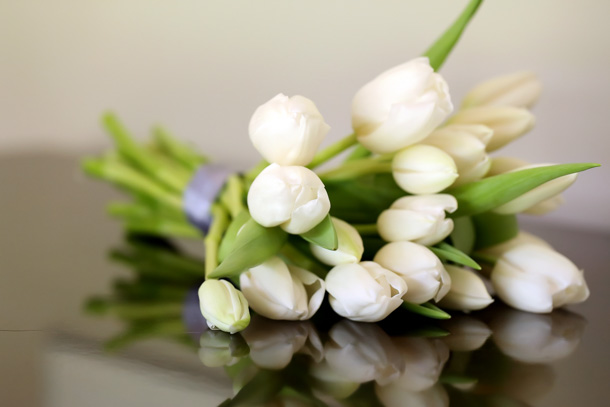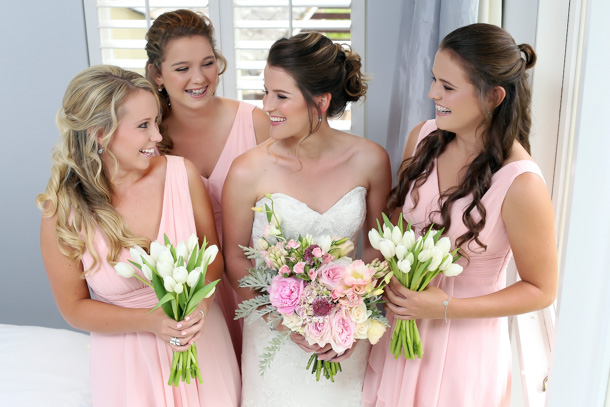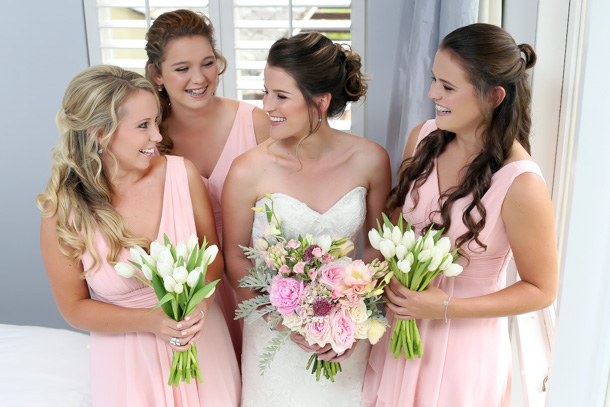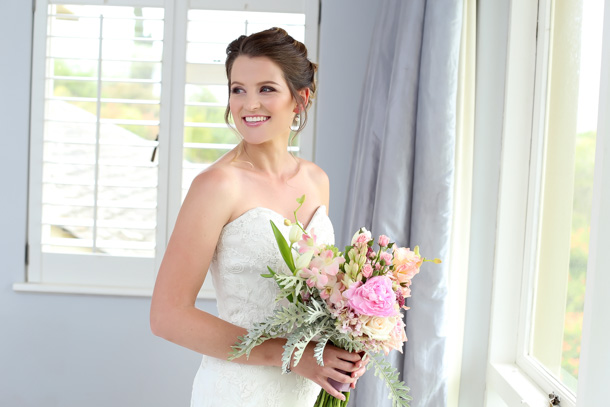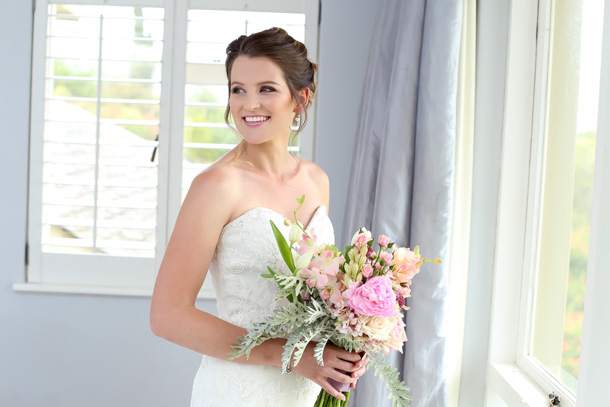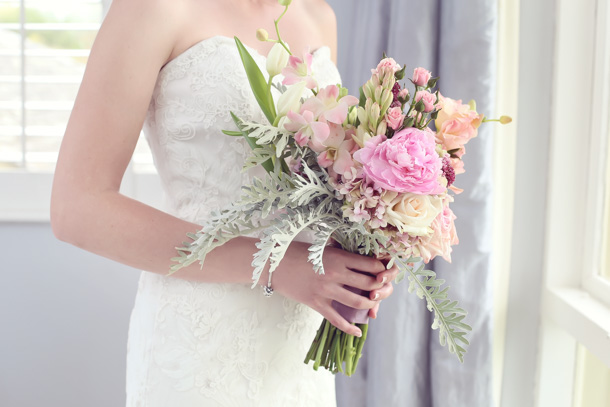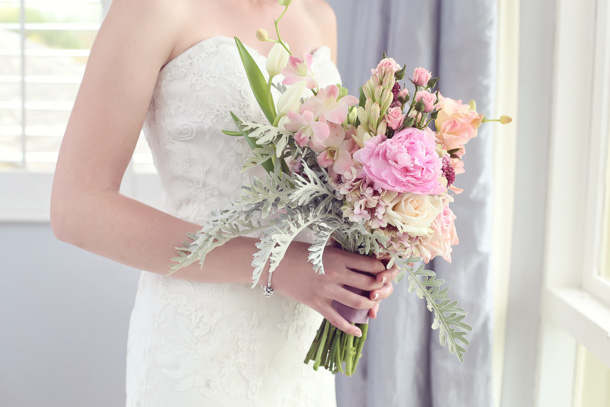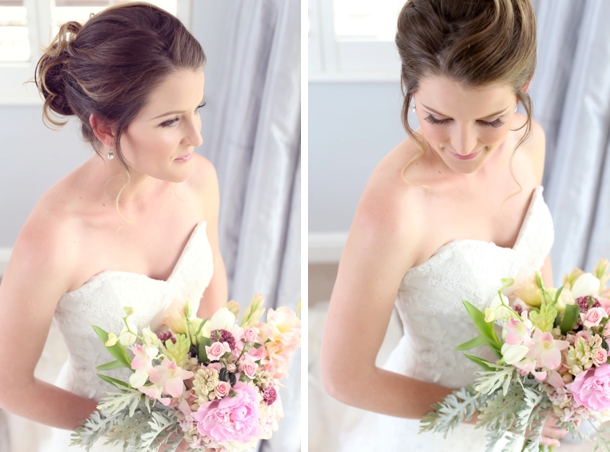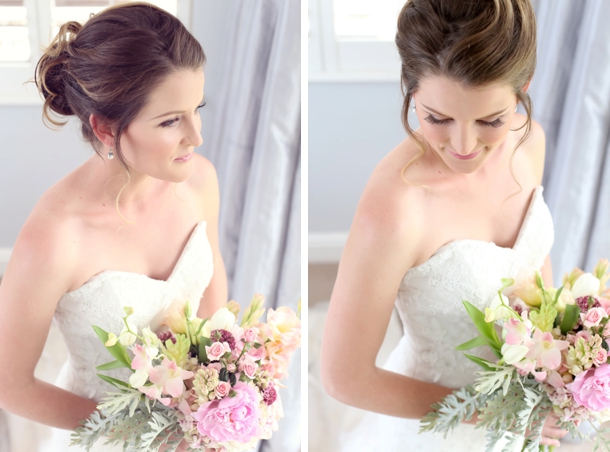 Love Story
We met in a little town in the west of Botswana called Ghanzi. It was all thanks to my cousin; she came to pick me up to go to a party and there Louis was with her. He was such a gentleman, he opened the door for me and offered me a drink and chatted to me but I played hard to get. A few days later happened to be Valentine's day; we went on our first date, he bought me roses, he bought me dinner and we have never looked back. I am just as in love with him (if not more) than I was that first day! He stole my heart, he's my best friend and I wouldn't want it any other way! :) 
The Proposal
My husband proposed to me at Oribi Gorge in Kwazulu-Natal. It was a complete surprise. We went away with our two best friends for the weekend for what I thought was an adrenaline packed weekend of gorge swinging, abseiling and zip lining. Turns out I was wrong. As the sun was setting on our second day we went up to the famous 'over hanging rock' to watch the sun set. Our friends were taking some pictures of us and when I turned around my husband was down on one knee with a ring in his hand, and with a beautiful view and the sun setting I said yes! Everything is a blur of excitement and when I turned around again our friends were there with a bottle of champagne and glasses. We toasted to the most exciting day of our lives! After that we went for a romantic dinner with a fireplace crackling in the background and more champagne.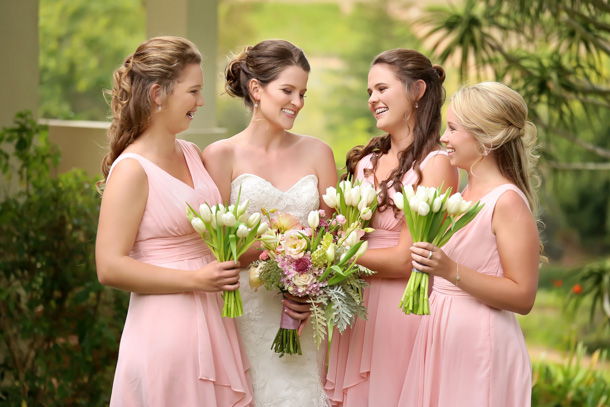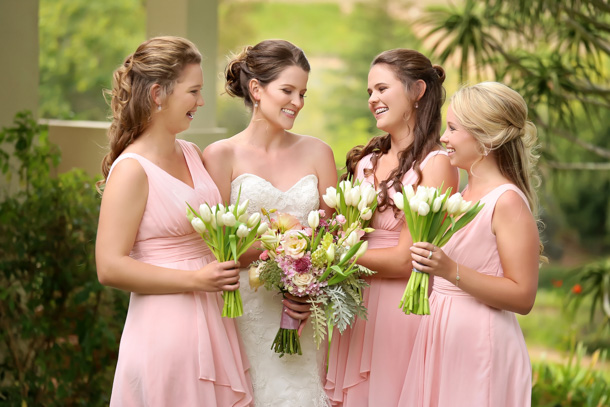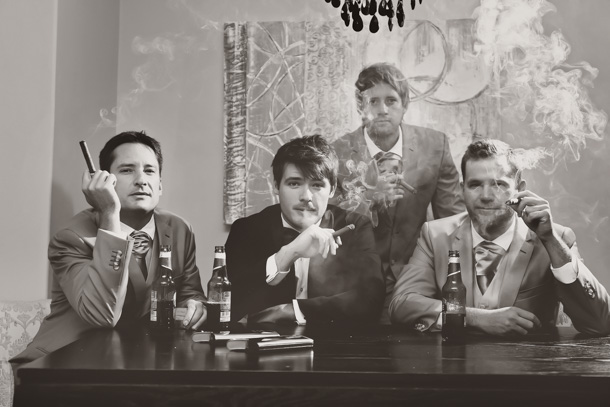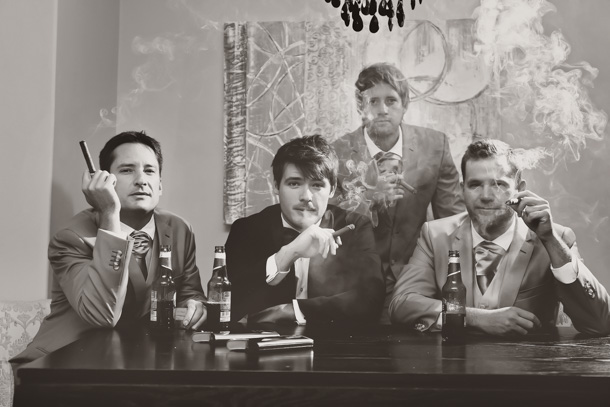 The Venue
I fell in love with Landtscap when I saw it. From the beginning we wanted a wedding in the vineyards, but then I also wanted mountains. So Landtscap was perfect! It has amazing views and the venue itself is beautiful. It also has an outside area where I could have my outside ceremony (which didn't happen due to weather) but that didn't matter because they made the inside work. The people at Landtscap are also great and friendly and that definitely helped in making up my mind. 
Wedding Style
Our wedding style was romantic and sophisticated but laid back. We wanted everyone to be able to let their hair down and enjoy themselves but also to have the best night possible. I wanted a fairytale wedding, flowers everywhere, candles, fairy lights… and I got my dream. Our colour palette was light pink and grey. I wanted it to be soft and romantic and that's exactly what I got.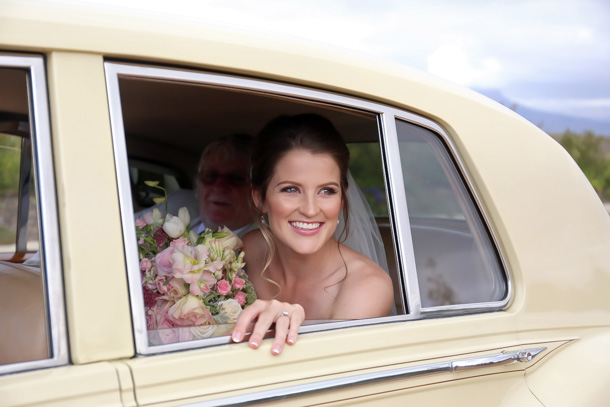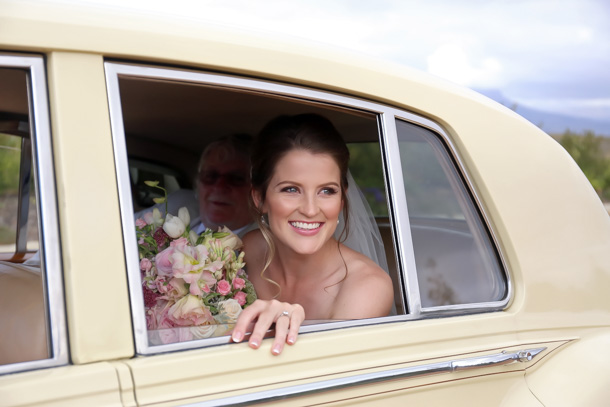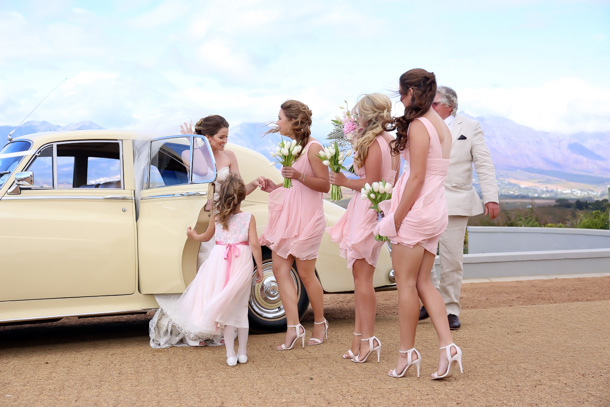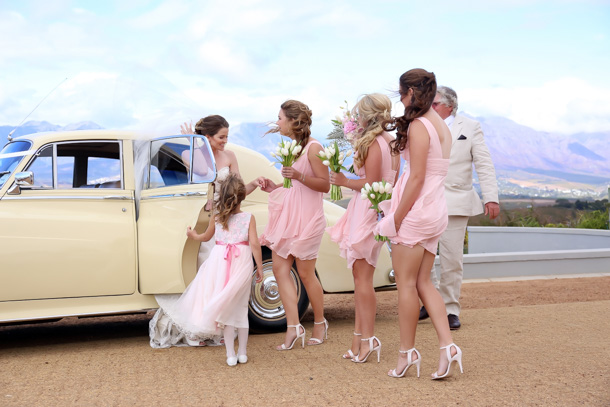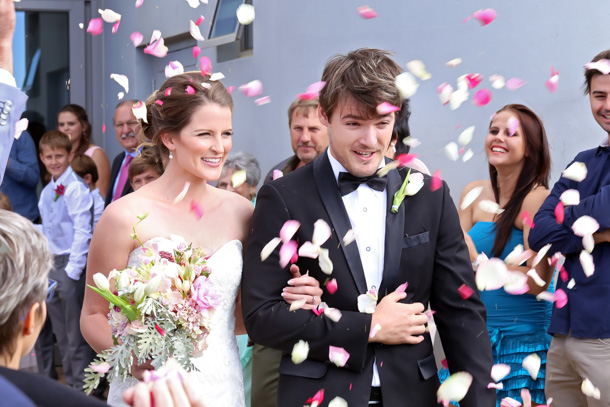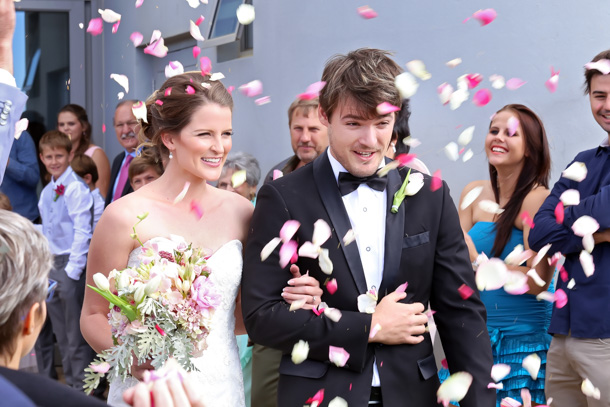 The Wedding in 3 Words
Special, breath-taking, gone-in-a-flash.
Wedding Details
I think the details of our day showed our personalities. We're both bright happy people and we like sophistication and things to be perfect but we also like to enjoy ourselves and to be relaxed and not feel like we have to put on a show. We want to be able to be ourselves and I think our wedding helped show that. We both love food and champagne and there was no shortage of this, and overall I think everyone had an amazing time including us, which is want we wanted to achieve from the beginning. After all, weddings aren't just about you and your husband, but about your family and friends as well.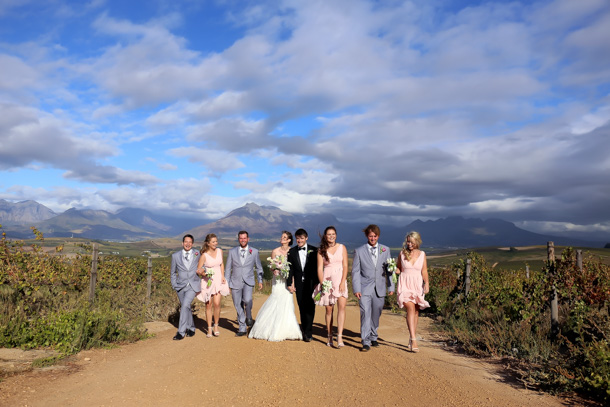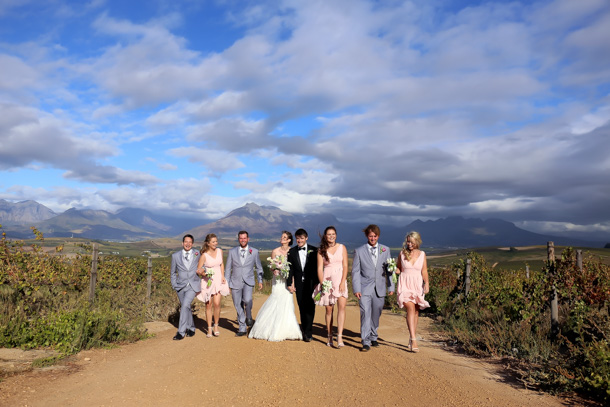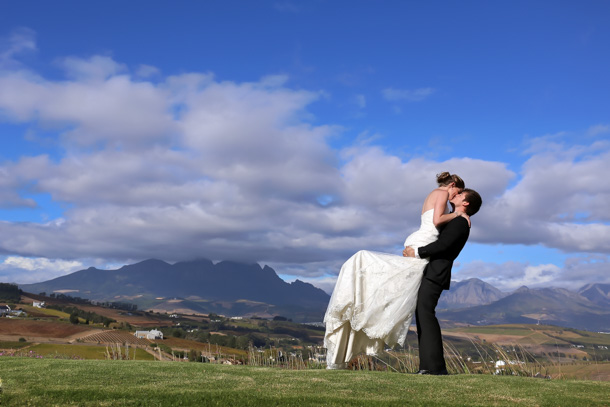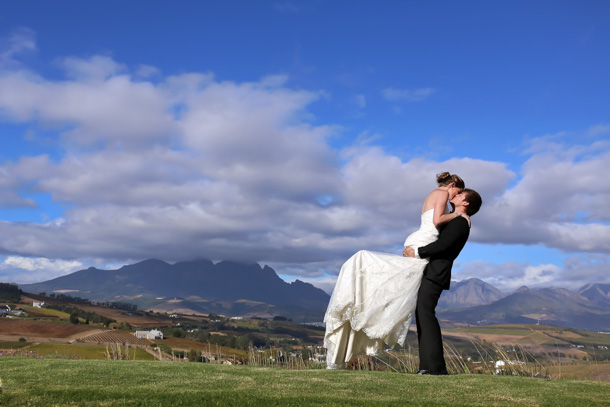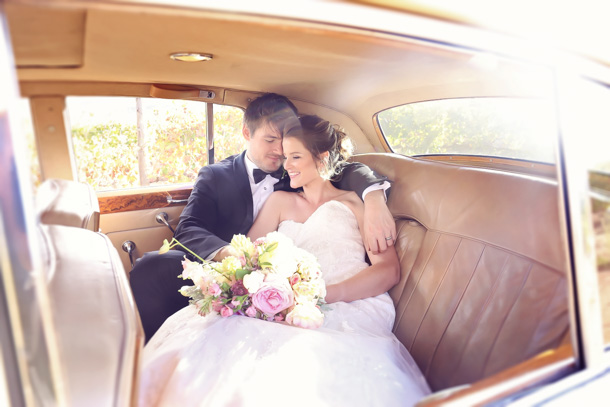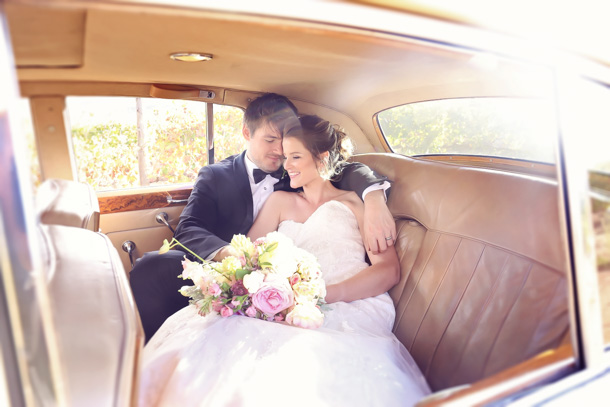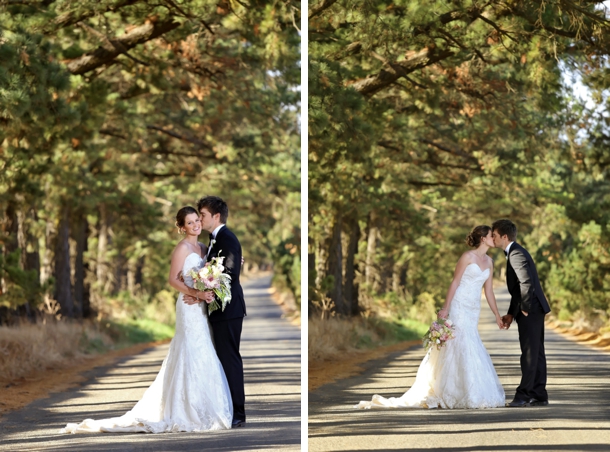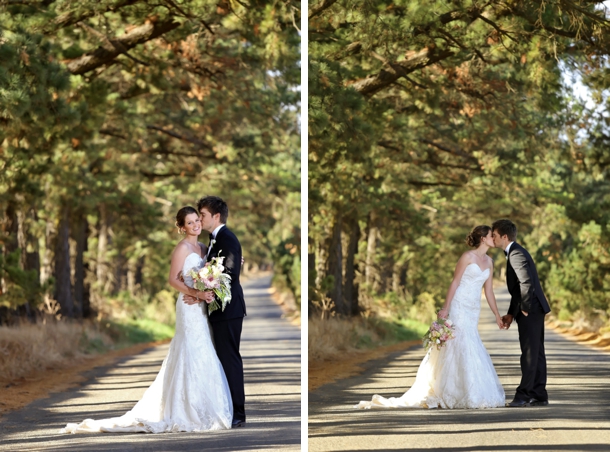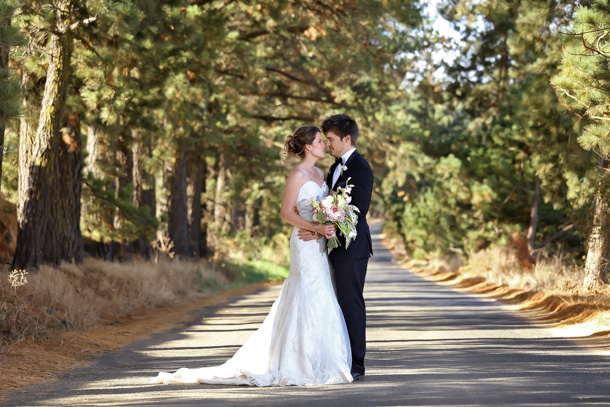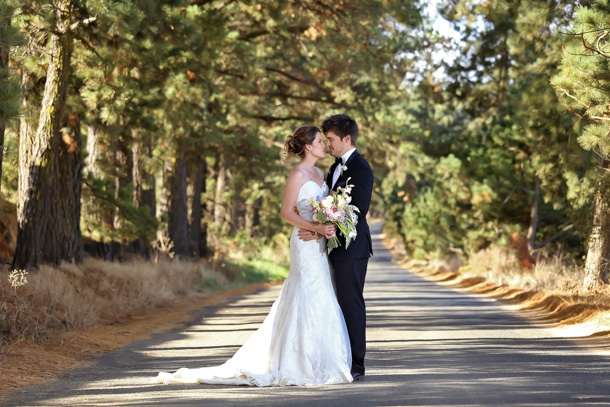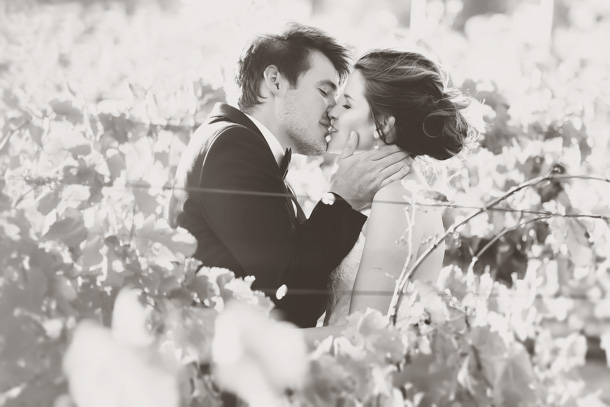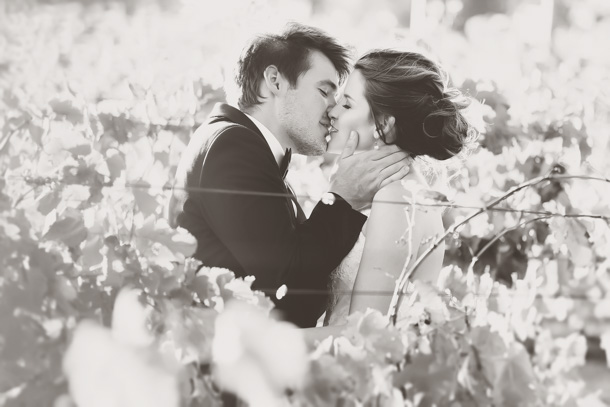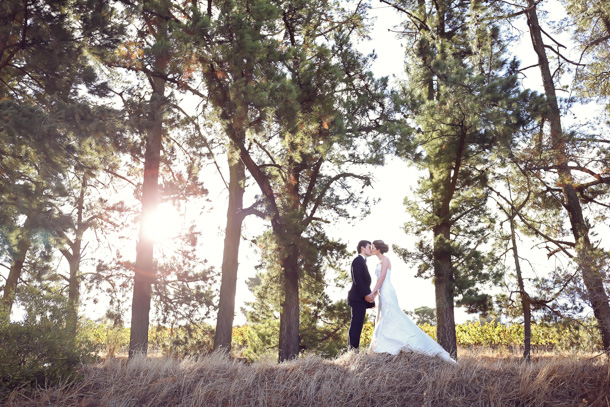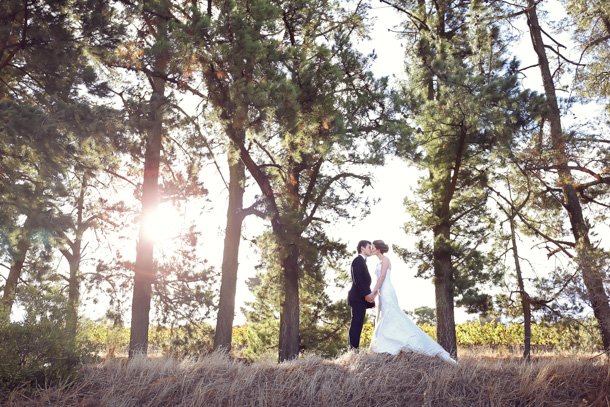 The Flowers
From the beginning I wanted tulips (everywhere) and peonies and roses and flowers similar to these. I gave the décor team free rein with this but I did tell them I wanted tulips and I wanted pink, white and grey flowers. They did an amazing job with the flowers. They were everywhere and they were beautiful!
The Dress
I had an idea in the beginning about my wedding dress. I wanted a plain silk dress, I didn't want anything puffy or fancy. Turns out I didn't realise what I wanted until I started trying dresses on. I started with what I thought I wanted and then I tried on a vintage style dress of lace and tulle, and I fell in love. I did stick with my sweetheart neckline that I wanted, but I do believe that I fell in love with my dress the minute I tried it on, that much that they say is true.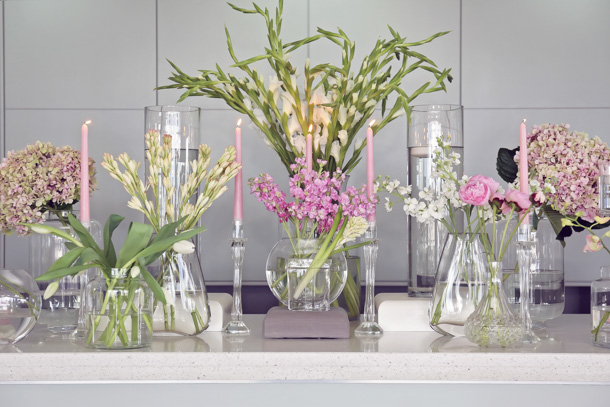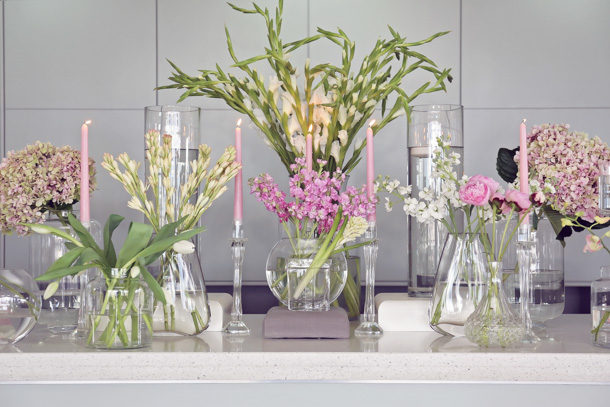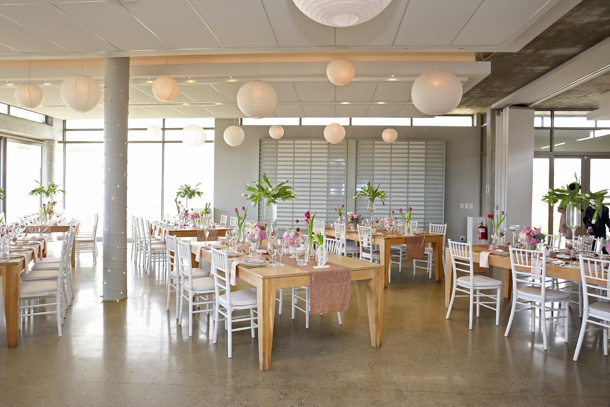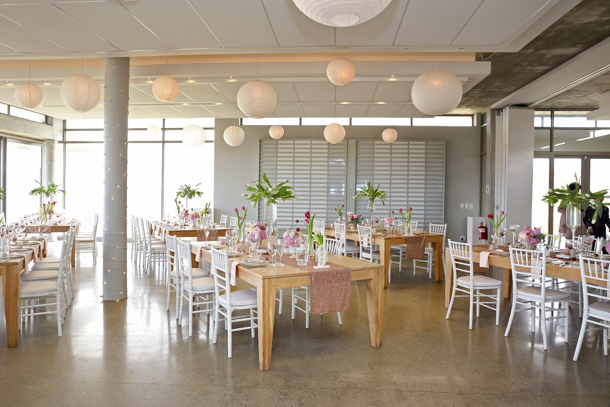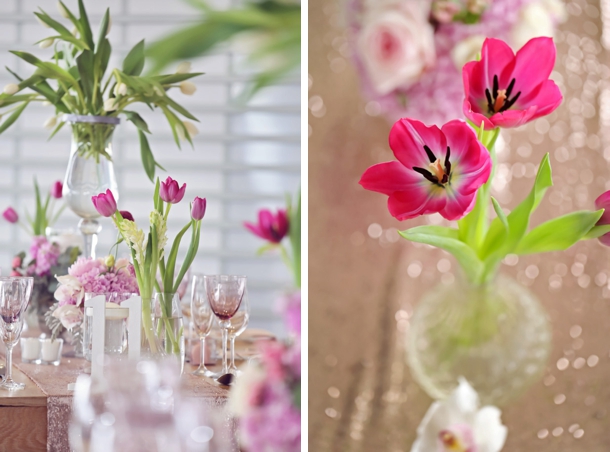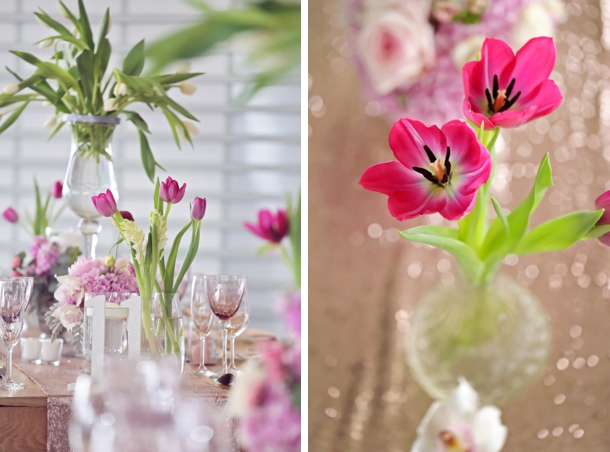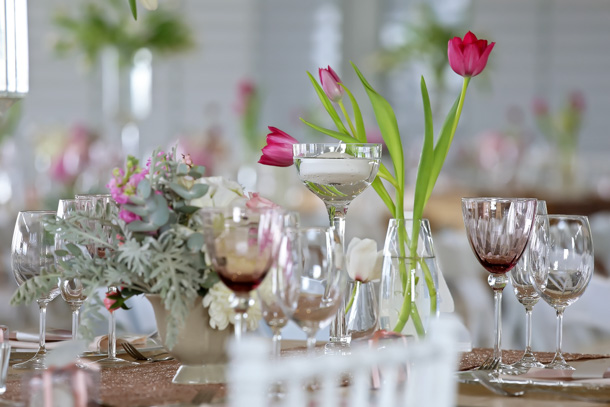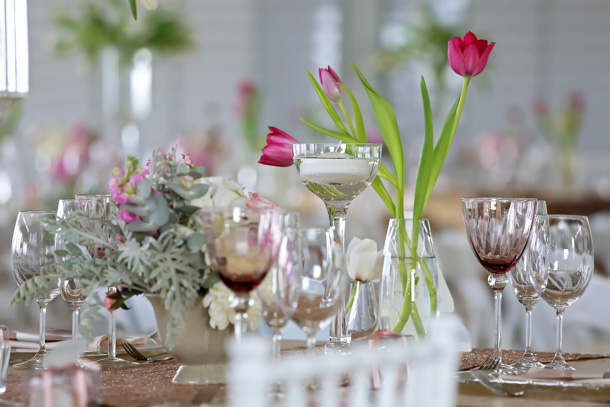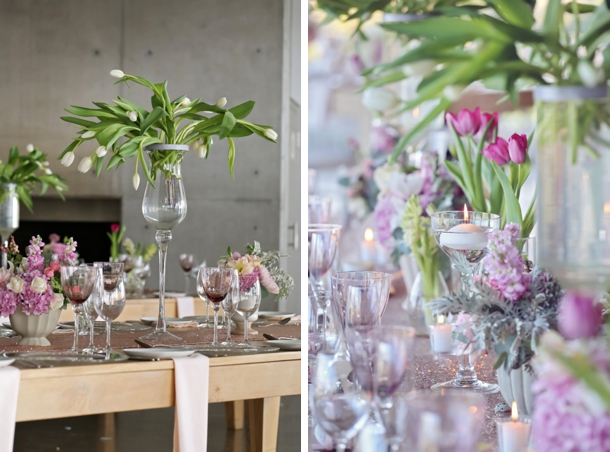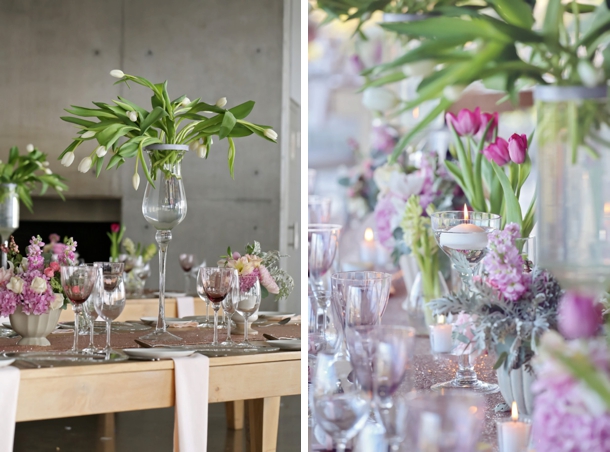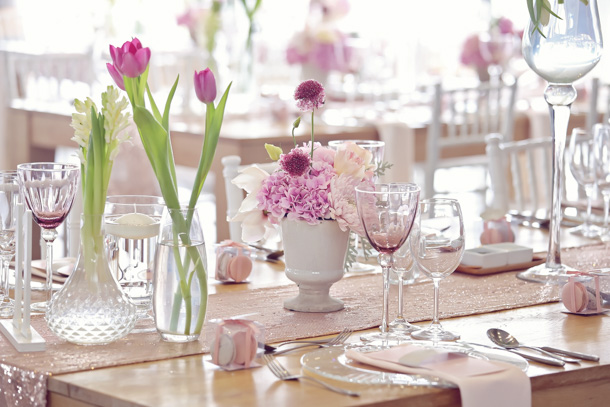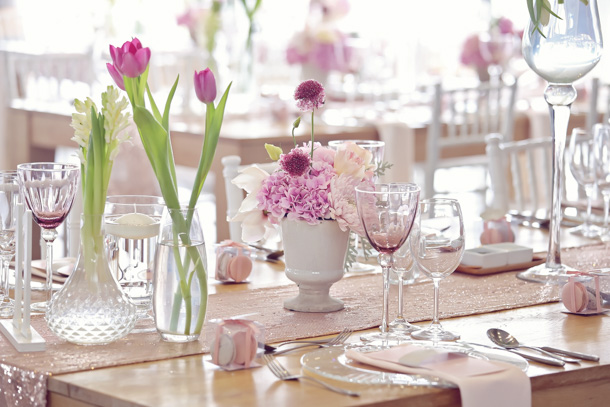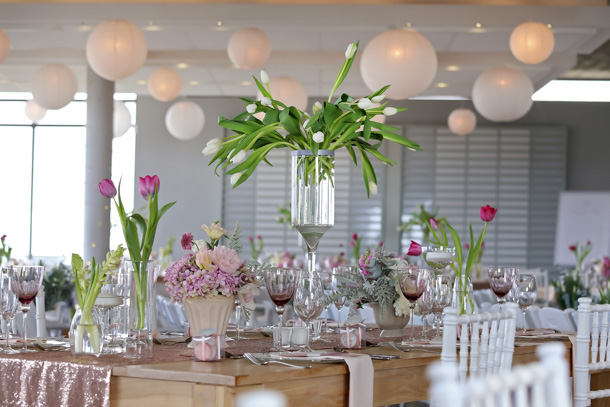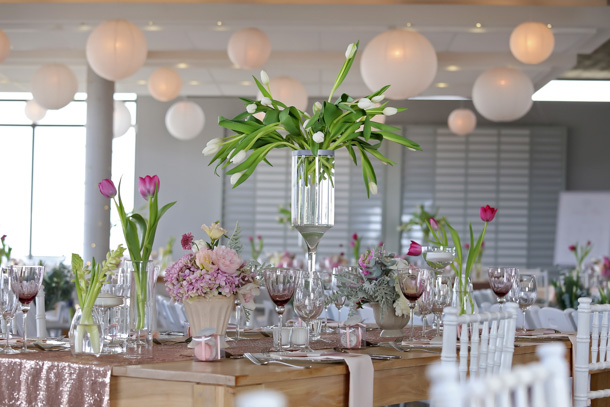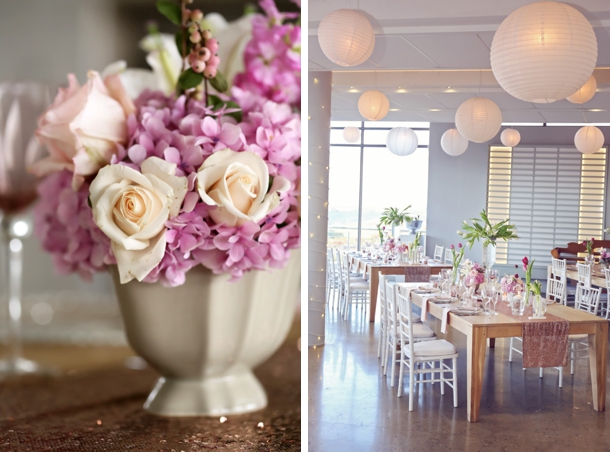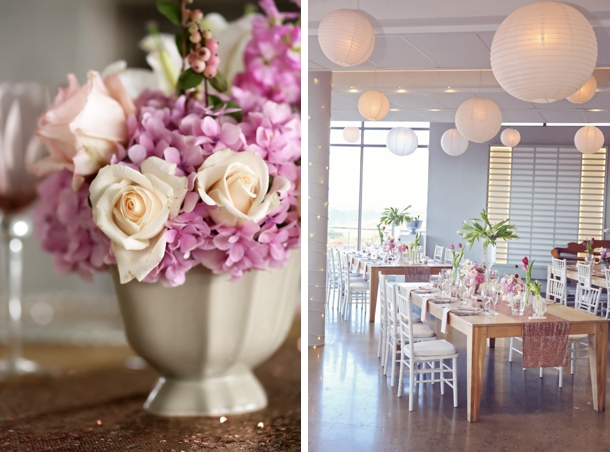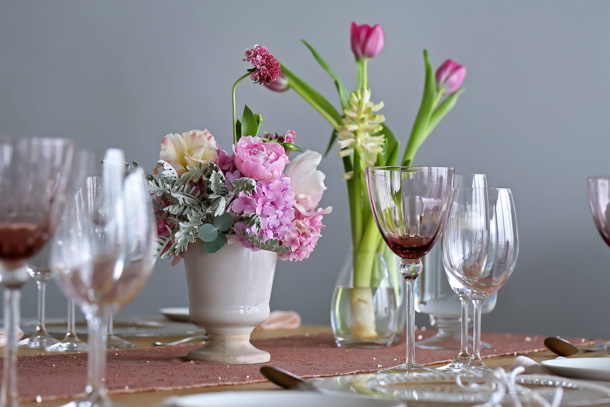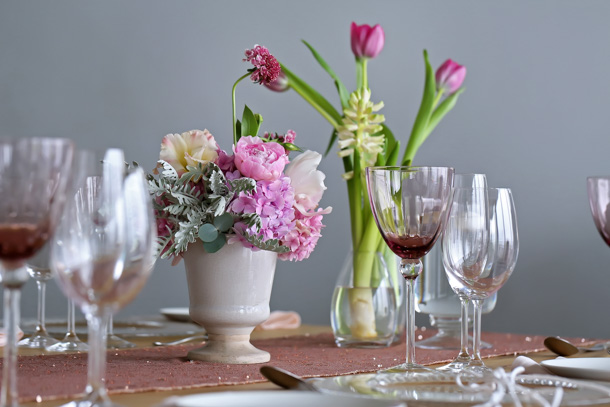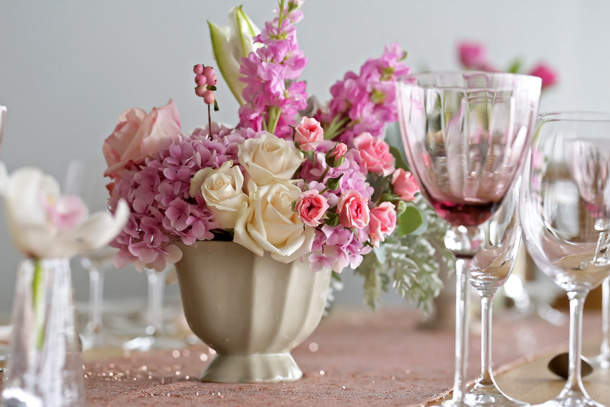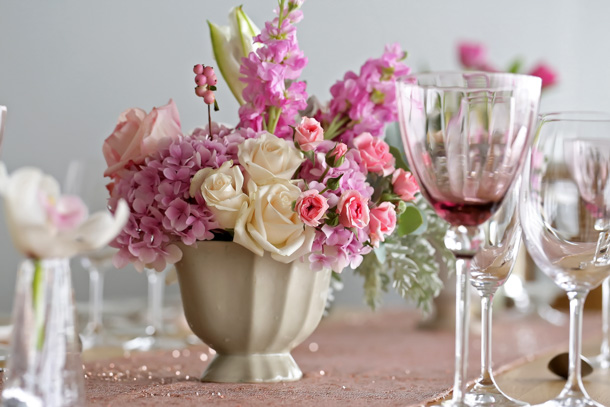 Memorable Moment
I would say this would have to be the full moon. Just after our main courses I looked over my shoulder and coming up over the mountains was this huge full moon. I grabbed Louis and Charl and told them we had to get some pictures of us and the moon, which Charl did without hesitating. They came out beautifully! With the fairy lights illuminating the outside area and the moon coming up this was a magical moment for me. 
Proudly South African Details
One thing that stands out for me that was proudly South African was the food. We had lamb shanks and milk tart spring rolls and koeksister flavoured ice cream that made up parts of our menu… Traditional, I think so! :) Another thing was our song choices. My husband is Afrikaans and I like Afrikaans music, so we had some Afrikaans music mixed in with the rest of our song choices and we were doing 'lang arm' dancing and everyone from both sides of the family got involved, it was amazing! Weddings do really bring people together!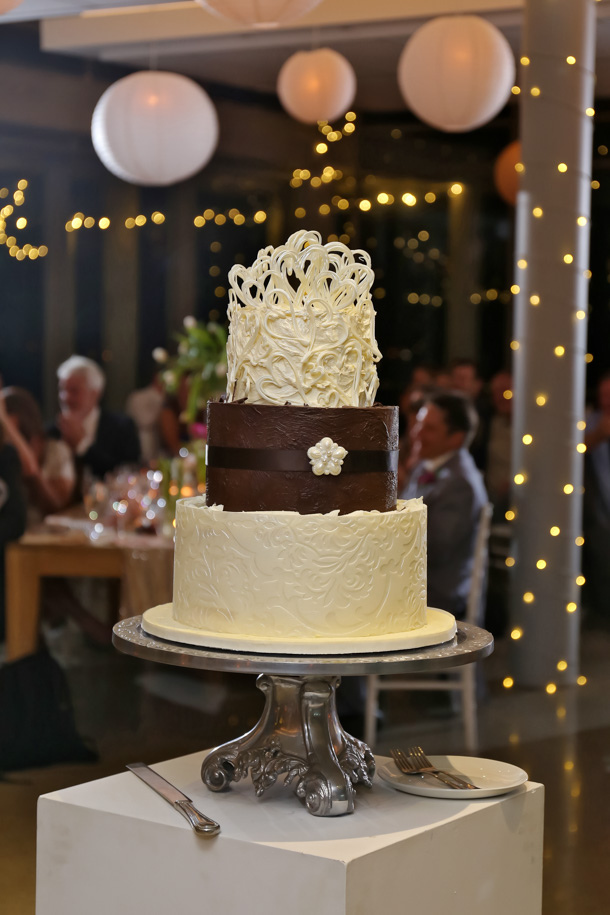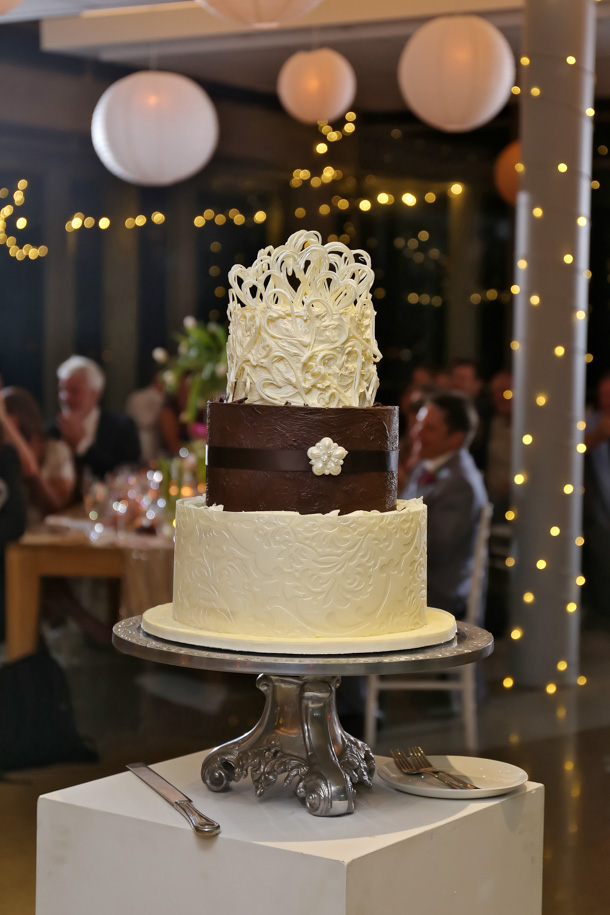 The Honeymoon
This was a complete surprise for me. My husband planned the whole thing and only told me where we were going on the Sunday after the wedding just before we were going to fly out. We went to Thailand! We started off in Koh Samui for a few nights and then on to Koh Tau for another few nights for some diving which we both love to do, and then we ended it off in Koh Lanta which was an amazing island that I would go back to tomorrow if I could! :) The most amazing honeymoon! My husband outdid himself with the hotels he picked and little extras in the rooms! He is the best husband (not biased at all)
Advice for Future Brides & Grooms
I think my most important part of advice would be to accept help! You can't do it alone without pulling your hair out! If you can't get a wedding planner (which was my life saver) then get family and friends involved. Let them do stuff, and don't forget hubby, get him involved, after all its his day too! The second part of my advice: on the day of your wedding, relax, the weather is going to do what it wants no matter what you want, drink some champagne, get pampered and enjoy your day, you only get to do it once, make the most of it, take in every second, enjoy the fact that everyone is looking at you for this one day, it is yours and no one else's. That doesn't happen often.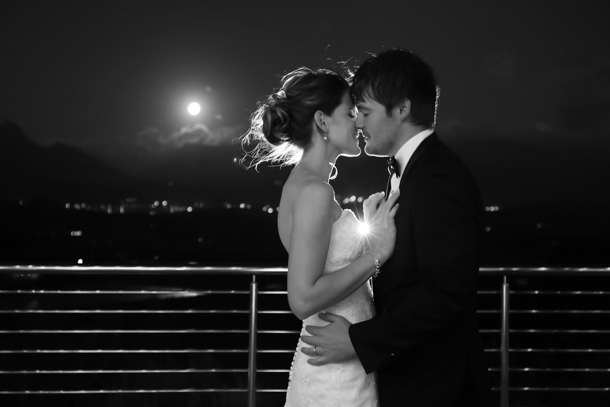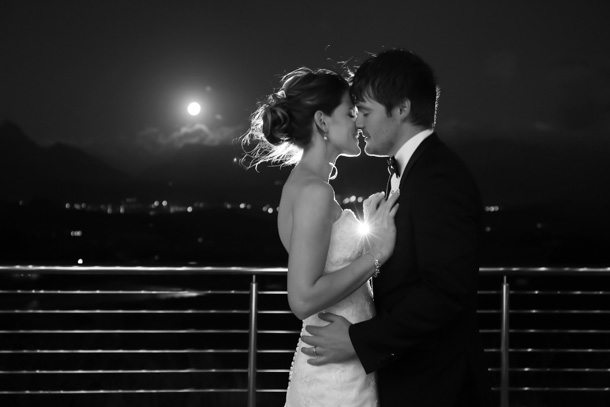 You can see more from this wedding on the Agapé Studio blog.
SERVICE PROVIDERS
Venue & Catering: Landtscap | Photographyr: Agapé Studio Photography by Charl Smith | Co-ordination & stationery: Wedding Concepts | Videography: Shake and Bake Entertainment | Cake: Cakes by Wade | Flowers & Décor: Leipzig | Bride's Dress: Bridal Manor | Hair & make-up: Yolande du Toit | Bridesmaids' dresses: Bridal Allure | Groom's Attire: Suit Yourself Suit Hire and Sales | DJ/Entertainment: Capricorn Music
SBB ♥ Leipzig Wedding and Function & Wedding Concepts, a featured member of our Directory